Not sure if boyfriend jeans are the right fit for you? It's a denim style that's held it's own in the trend department for quite some time, long enough to land itself on the classic denim list. If you aren't familiar, boyfriend jeans have more of an oversized, relaxed aesthetic to them.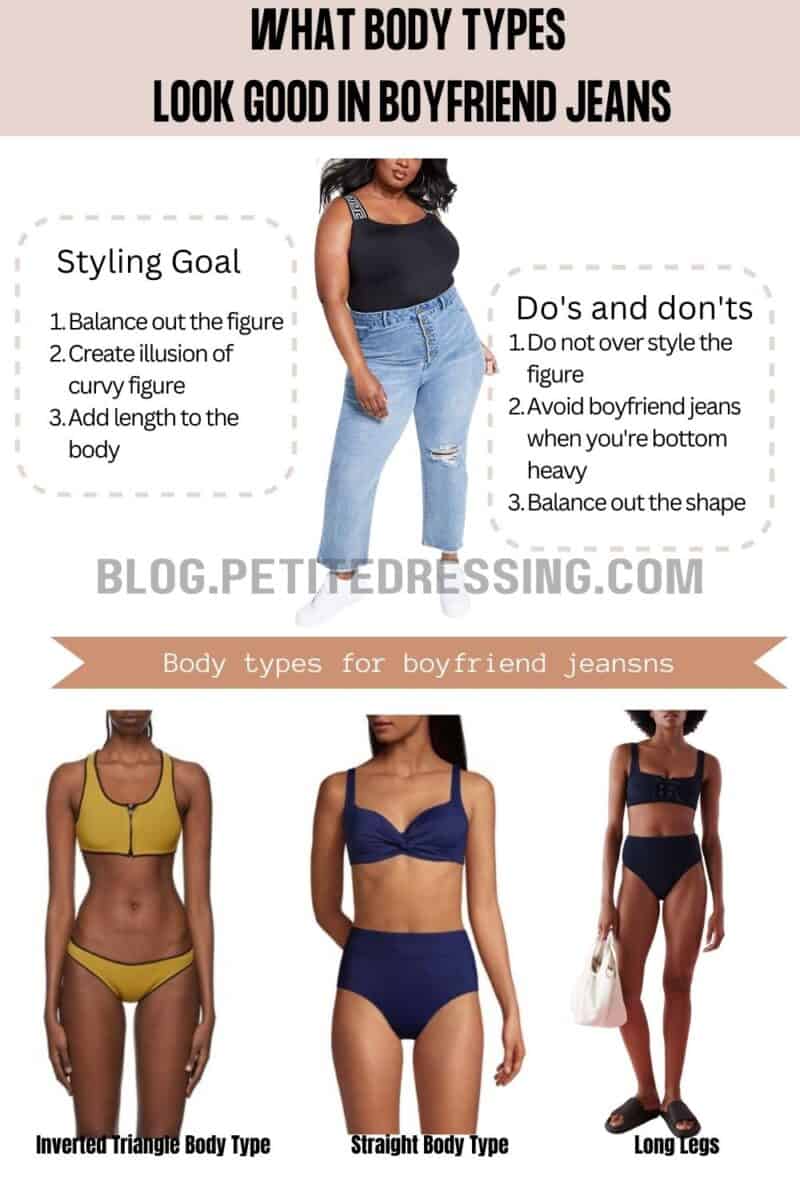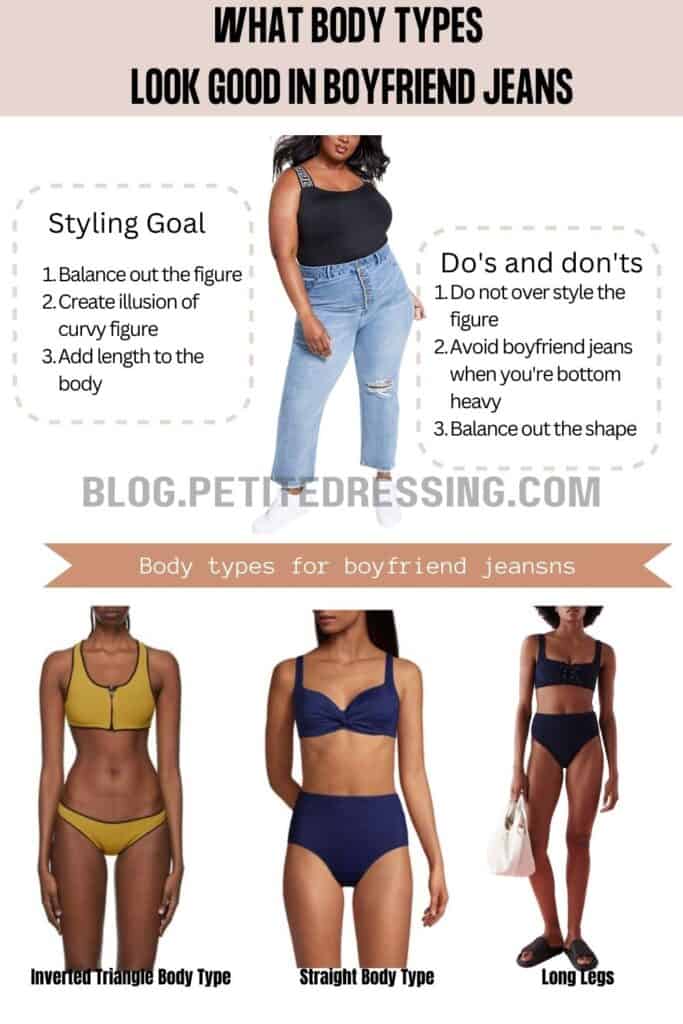 Boyfriend jeans differ from other denim styles in that there's a significant range you will find in this fit. More specifically, you will see some boyfriend jeans that are more exaggerated in their loose fit compared to others. Overall, however you're going to get a similar feel from the style itself.
Now you may be wondering if boyfriend jeans flatter every body type.
In short, no.
Truthfully, not all denim styles are going to flatter every body type. Below is a bit more insight as to which body types are going to look best in this style of denim.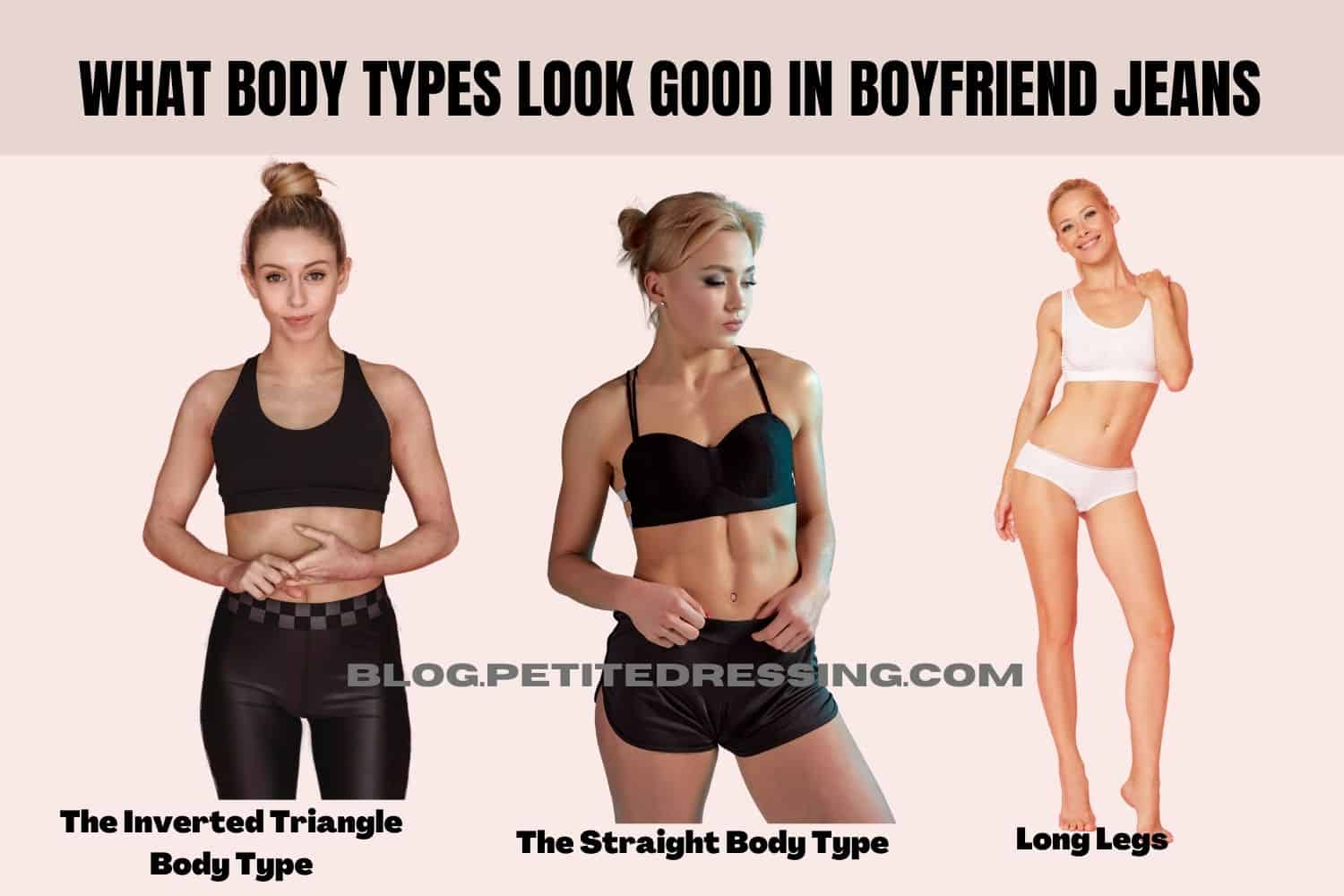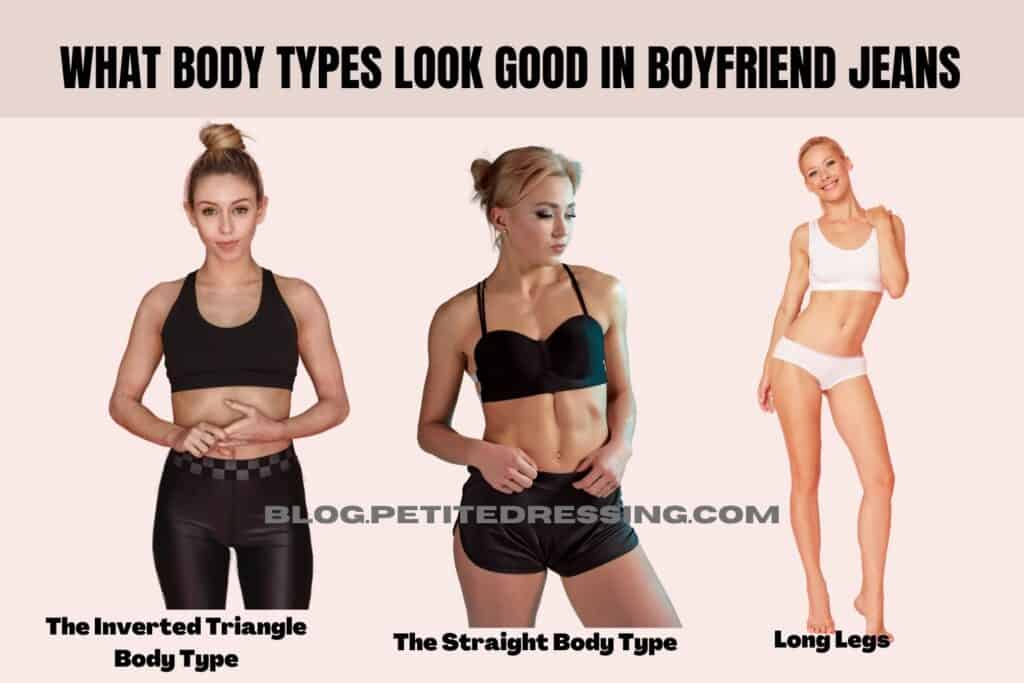 The Inverted Triangle Body Type
Boyfriend jeans are one of THE best denim styles for the inverted triangle body type.
Thanks to the looser leg fit of the boyfriend fit, it perfectly balances broader shoulders of an inverted triangle body.
Fortunately for your body type you can wear any variation of the boyfriend fit because it plays so well to your natural shape. In other words, don't be afraid of the slouchy fits.
One thing you will want to keep in mind with the trend is opting for more of a mid-rise. This will help to establish a waistline and ensure your legs don't appear shorter than they are – which is something that can happen with a lower rise.
With an inverted triangle shape, you will want to style boyfriend jeans with tops that fit fairly close to the body. No worries, it doesn't have to be SUPER tight fit. It's important that you don't wear tops that are loose fitting when styling boyfriend jeans so you're able to maximize the figure flattering benefits.
As a shape with broader shoulders, adding more bulk to the top half will further emphasize that instead of creating balance to the shape. Let the boyfriend jeans be the looseness in the outfit.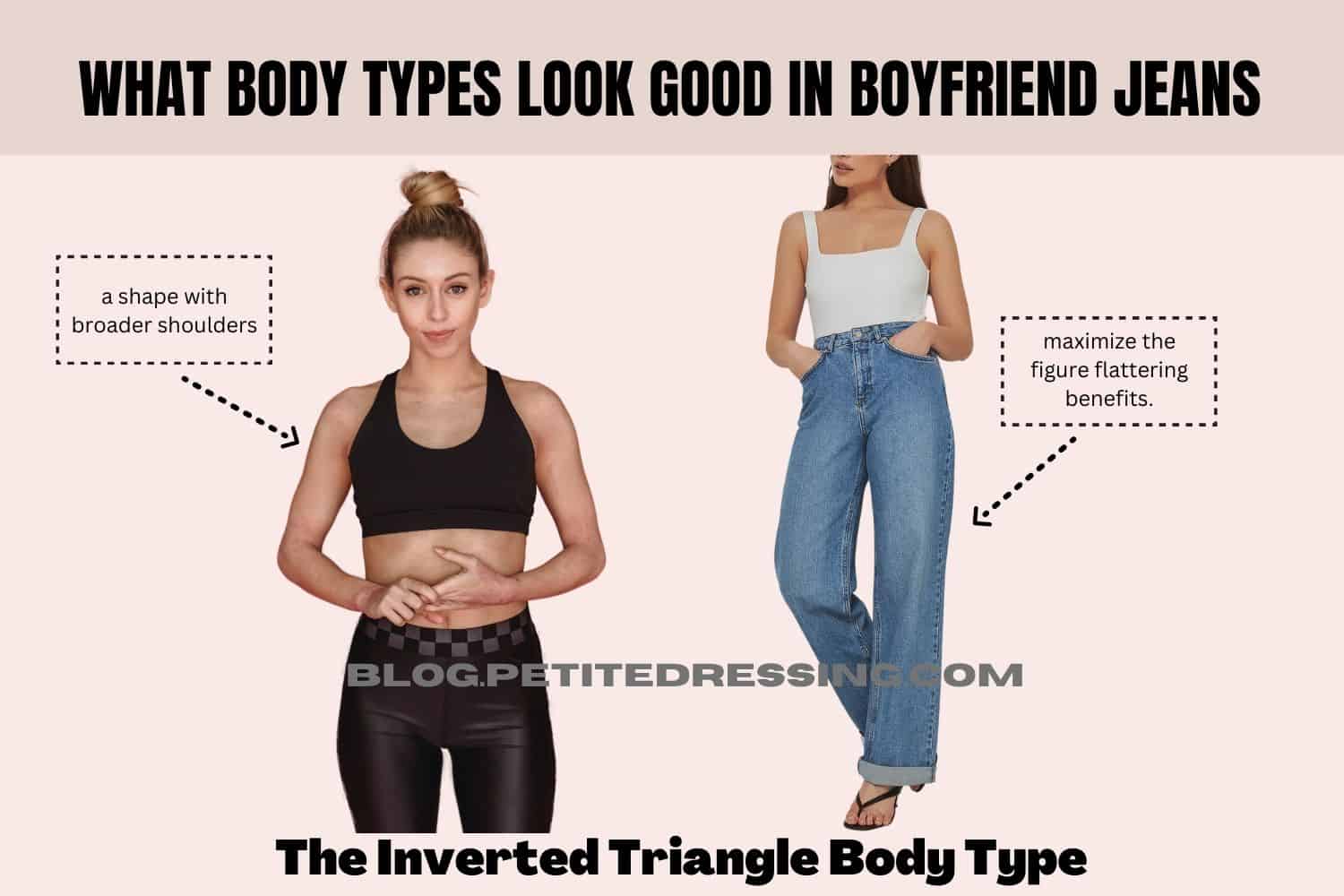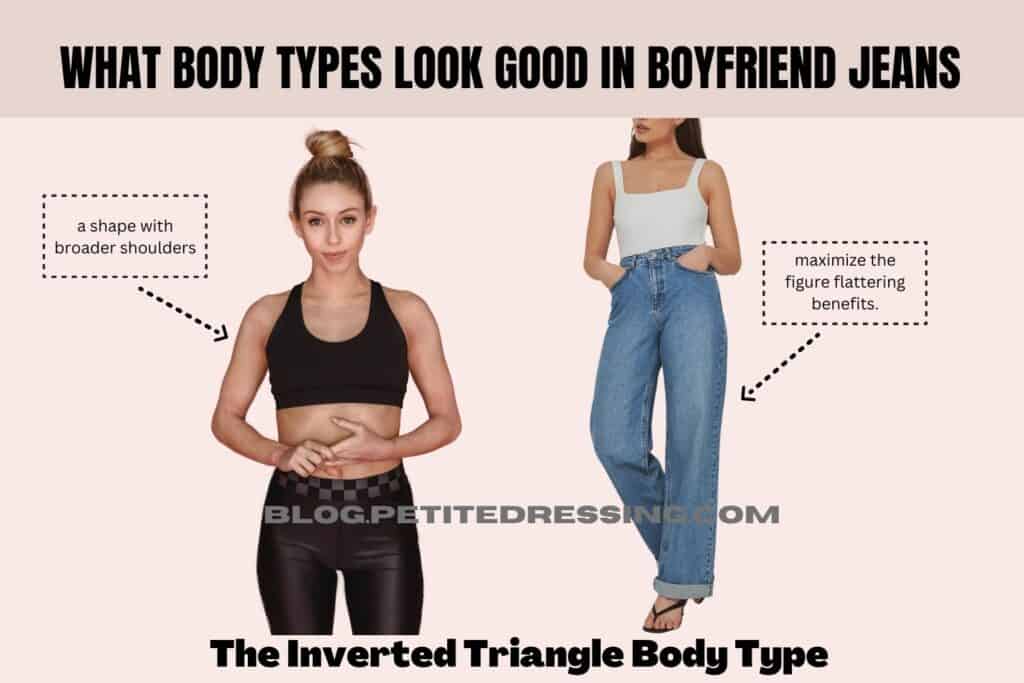 The Straight Body Type
If your body shape is straight, sometimes called athletic or rectangular, boyfriend jeans are for you. It's a great style to embrace if you want denim that gives the illusion of a curvier figure. Thanks to the slouchy fit, this type of denim does just that.
One of the best ways to work with your straight shape is by selecting different clothing styles that give subtle volume to the parts of your body where you would like to give the look of curves. If you want your hips and thighs to have curves – boyfriend jeans are the answer.
Because of your straight shape, you're able to wear boyfriend jeans that range from a slimmer fit to those that are much more exaggerated in their slouchy effect. It really depends upon your personal preference and style.
The preferred rise will depend on your goal with what you want to accentuate. For example, if you want to add curves and more waist definition you'll want to stick with a mid to high rise boyfriend jean. If your goal is really just to enhance a curvier aesthetic to your hips and legs you can enjoy wearing a low or mid-rise fit.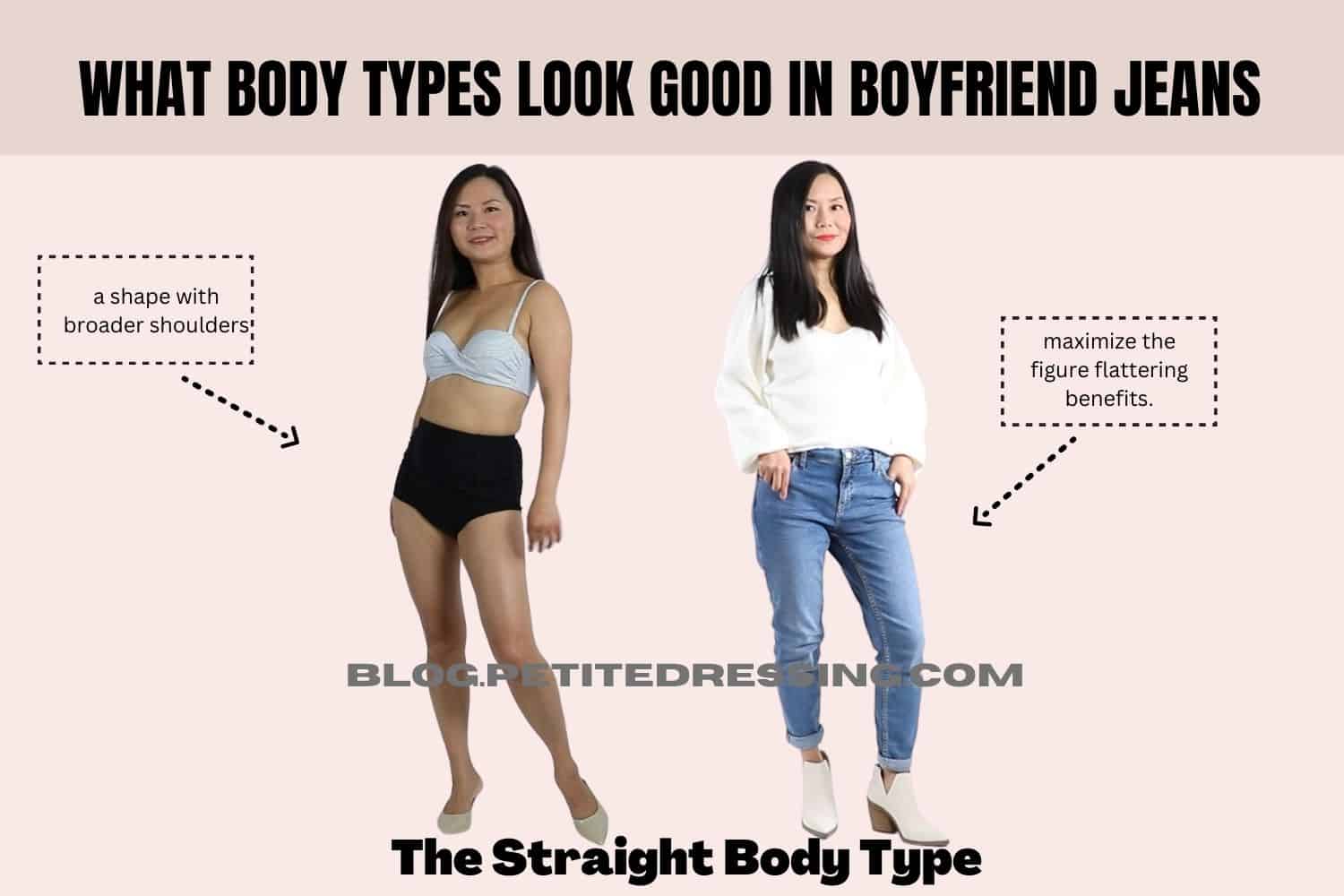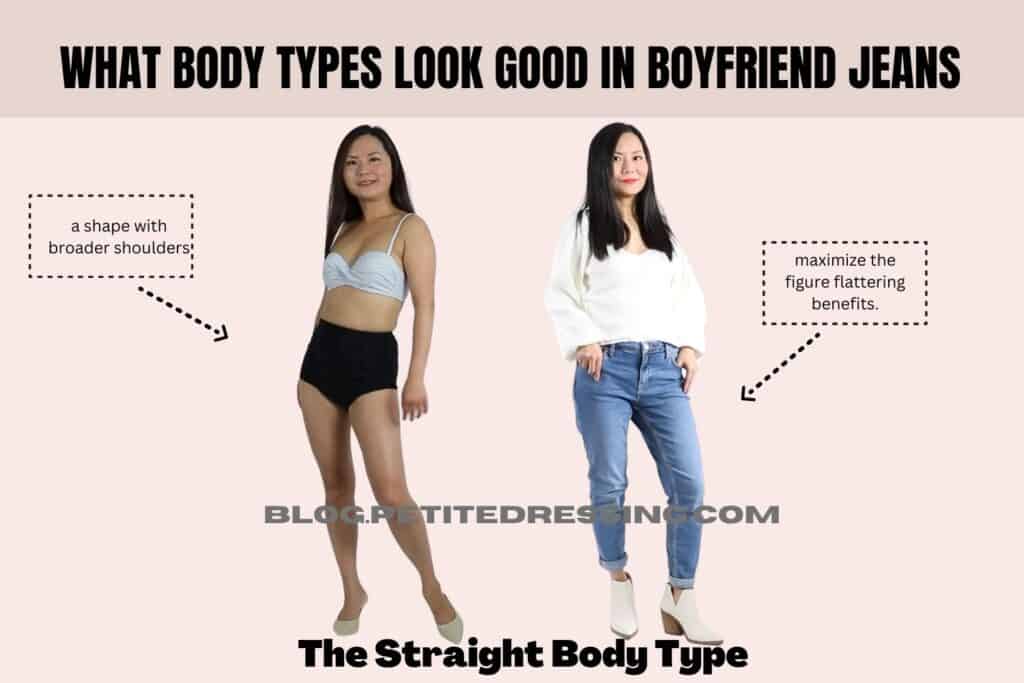 Long Legs
If you're a woman lucky enough to have long legs, you may want to think about wearing boyfriend jeans more often (if you're not already). Believe it or not this style denim can do wonders for balancing out long legs.
While long legs isn't a problem, in fact, it's an attribute a lot of women would LOVE to have, there may be times you'd like your body to appear more balanced between the legs and torso. When that's your goal, enter in the boyfriend-fit jeans. Particularly, low-rise boyfriend jeans.
The reason low rise is something to favor with long legs is simply that they bring the waistline down on the body which 'shortens' the legs and lengthens the torso. When you have naturally long legs what this is essentially doing is making your legs and torso look more proportioned.
Because boyfriend jeans have this slouchy fit it further adds to the shortening effect when paired with a lower rise. If low rise isn't really for you, mid-rise fits will provide a similar effect just not quite as exaggerated.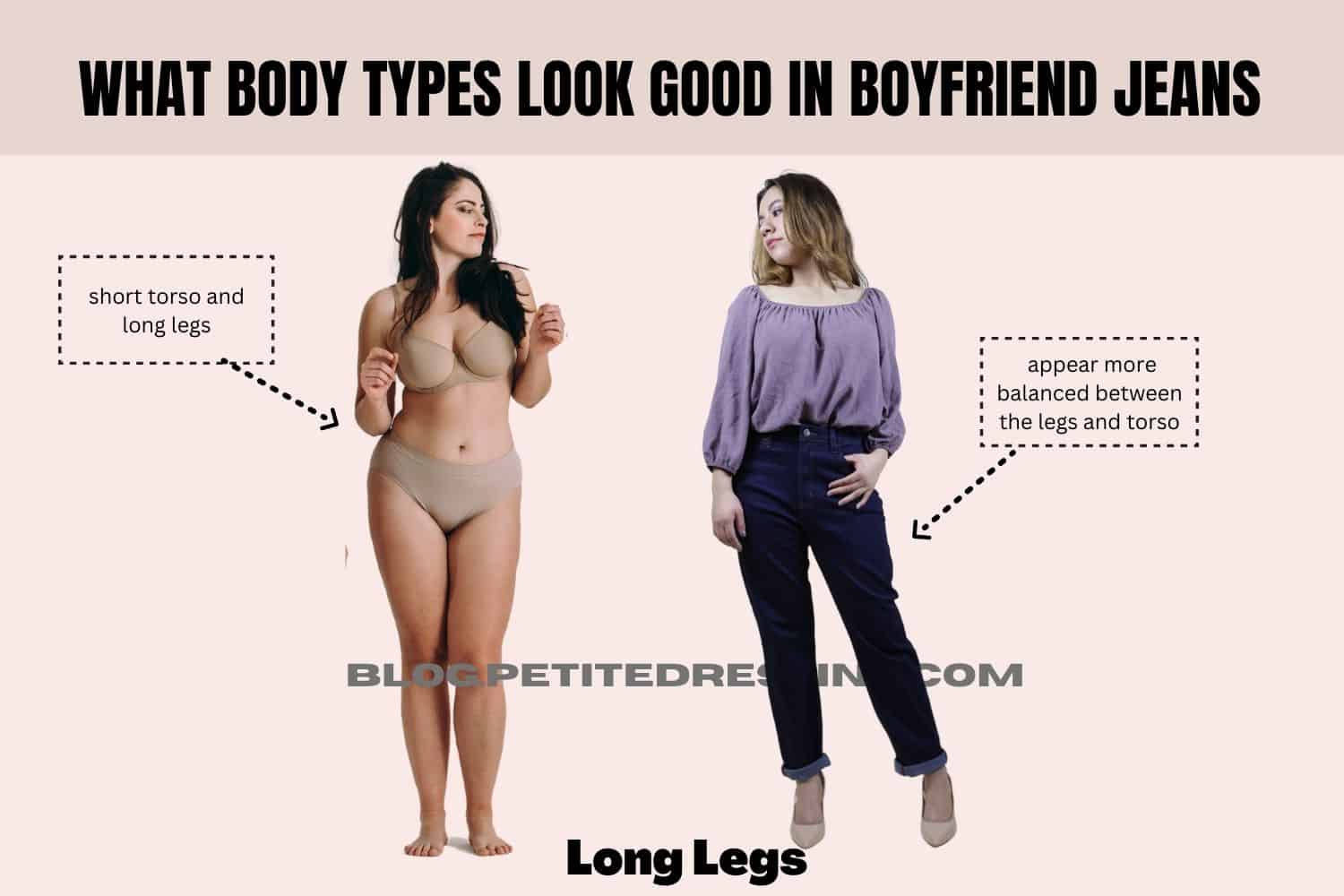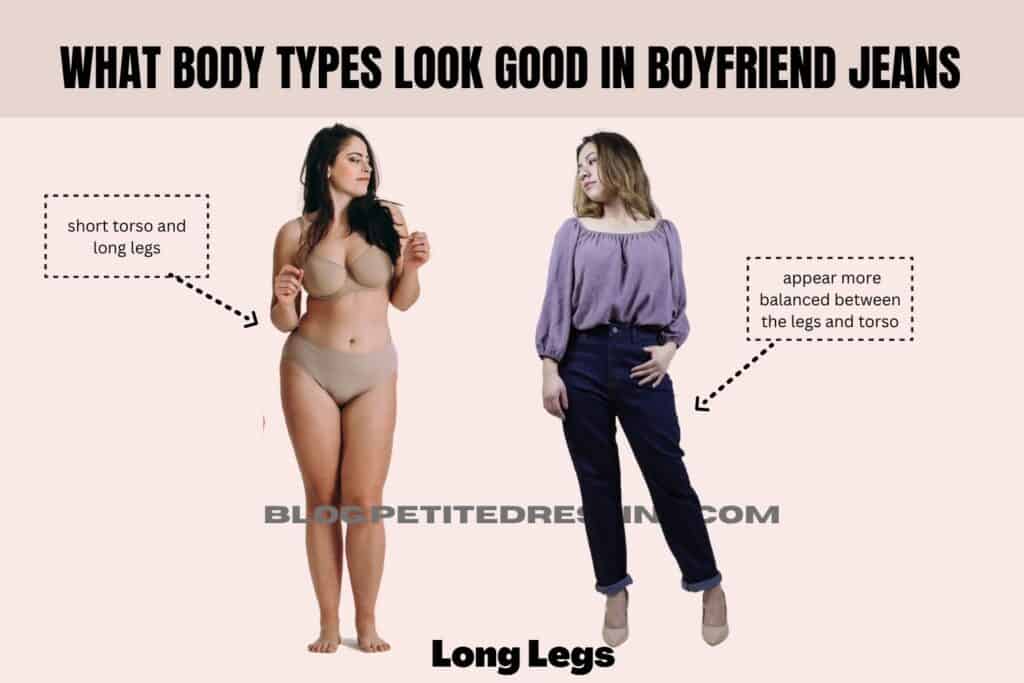 Who Should Avoid Boyfriend Jeans
The truth is boyfriend jeans aren't going to be a flattering option for everyone – and that's ok! Luckily there are quite a few different denim styles available now so you can easily find an option that does work for your shape.
If you're still not sure if boyfriend jeans are for you, here are a couple of things to consider.
First, if you have wider hips and thicker thighs, this fit may not be the best route to go. The relaxed fit will lend to bulking up that area of the body.
If you do not have tighter-fitted jeans like skinnies, you can go for the "girlfriend jeans", which is a modified version of the boyfriend jeans as it is less baggy but in the meantime still gives you plenty of space in the leg shape.
Another thing to consider is if you tend to carry your weight in your stomach (i.e. if you have a muffin top), boyfriend jeans can be a tricky style to pull off in a flattering manner. This is primarily because this particular style of denim is usually found in lower rises, which isn't generally favored by those with more of an apple figure.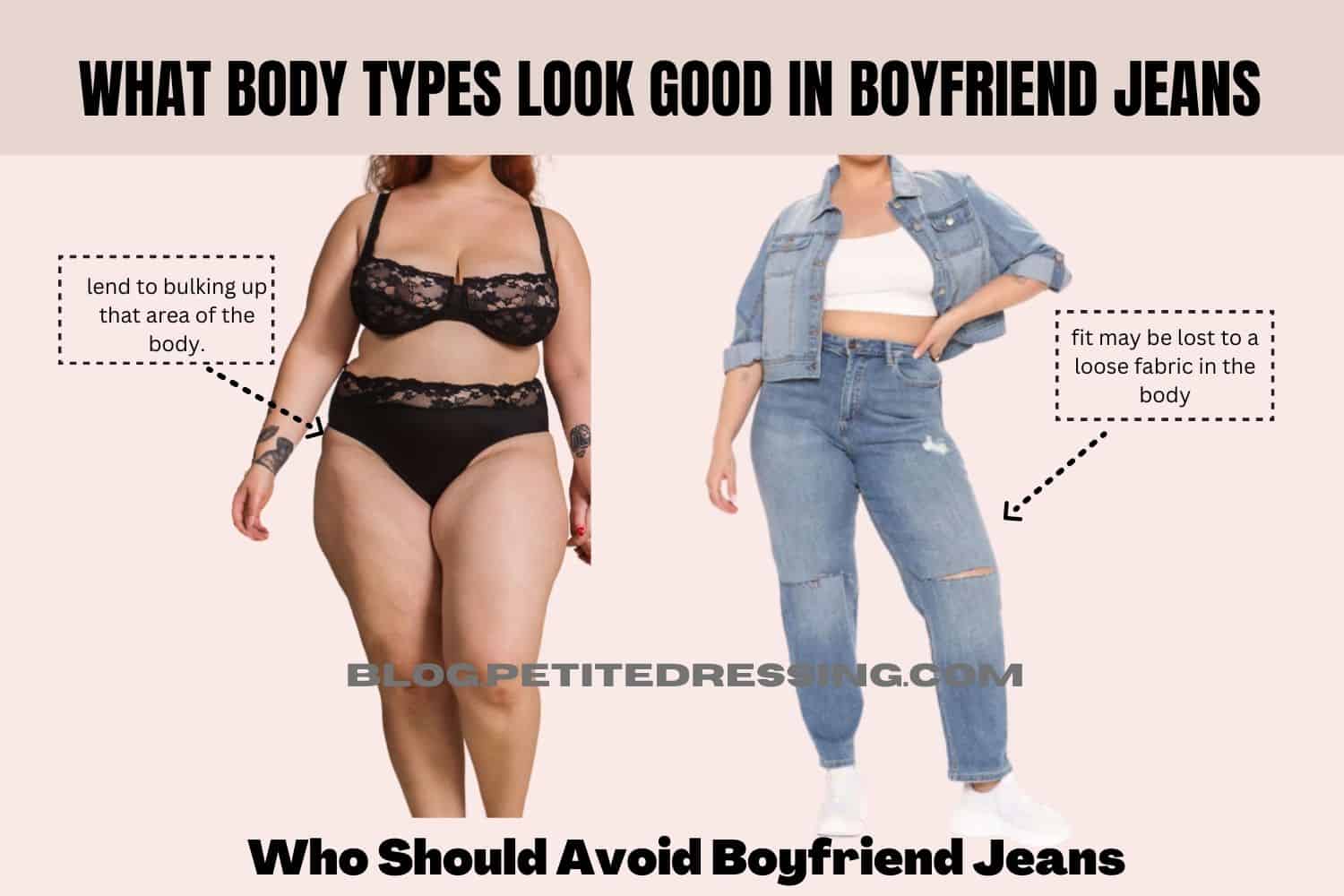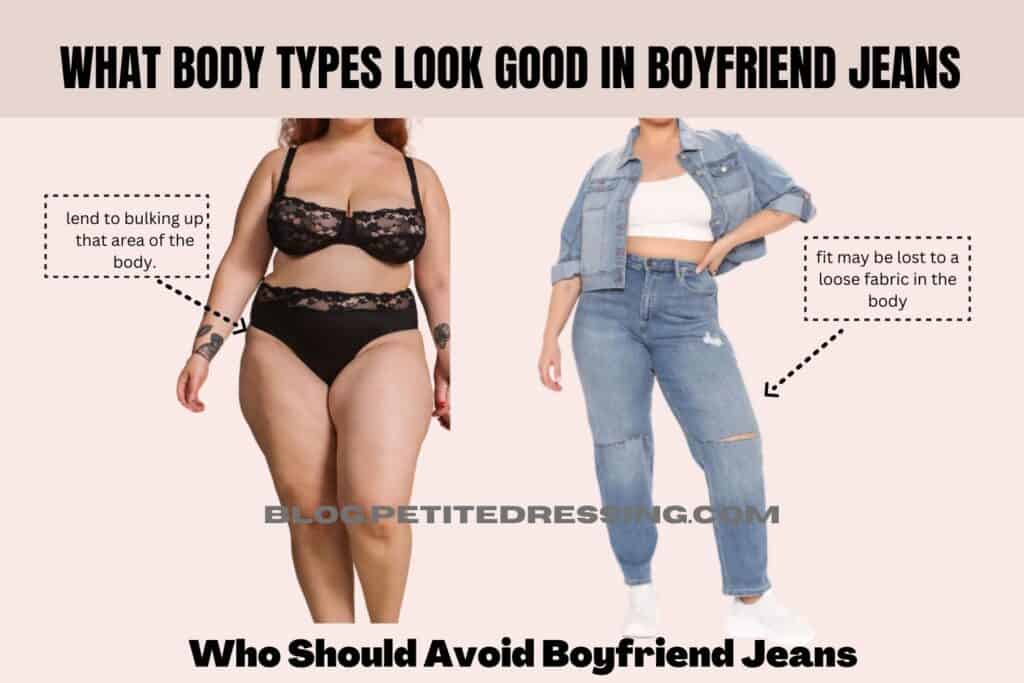 Style is, first and foremost, all about self-expression and having fun. So if boyfriend jeans are new for you and your wardrobe it may take a little getting used to styling them in a way that you feel confident in.
That being said, one tip many stylists often recommend when it comes to wearing boyfriend jeans is to keep the top half of the body structured and fit closer to the body. These fits are going to ensure you're not lost in a lot of loose fabric, due to the fit of boyfriend jeans.