Wondering if wide-leg jeans are suitable for short and chubby women? It is a common question because people think wide-leg jeans will make them look bulkier. However, with our guide, you can style wide-leg jeans and look leaner. The styles of wide-leg jeans we have mentioned complement short and chubby body types. So, let's get started!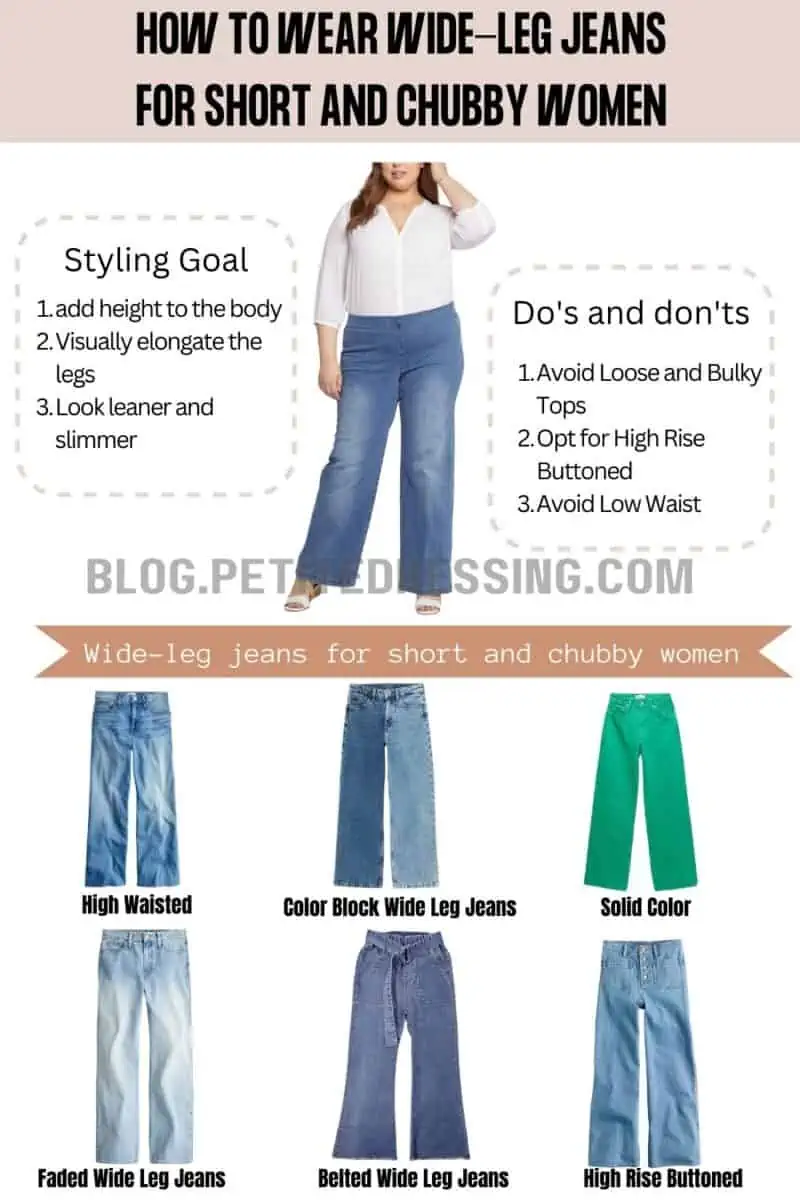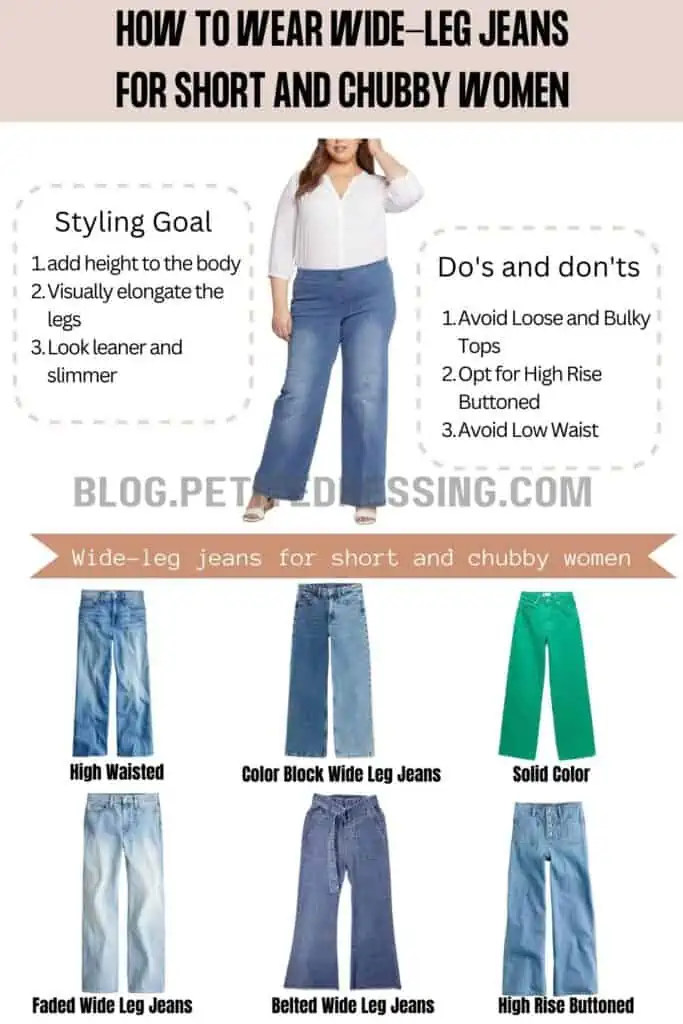 The Length
Length is an important aspect of wide-leg jeans. Wide-leg jeans are already so baggy that they can make a short and chubby person look heavier. But if you choose the right length, it will add height to your body and make you look leaner.
Wide leg jeans are super comfortable and look stylish as well. Styling wide leg jeans is easy so why should you avoid them? All you have to do is look after the length you choose for wide leg jeans.
Go for above-ankle length or cropped length for wide-leg jeans. The above ankle length makes you look slightly taller seamlessly. However, the cropped length reveals half your calves as well. So, it is perfect for women with short legs.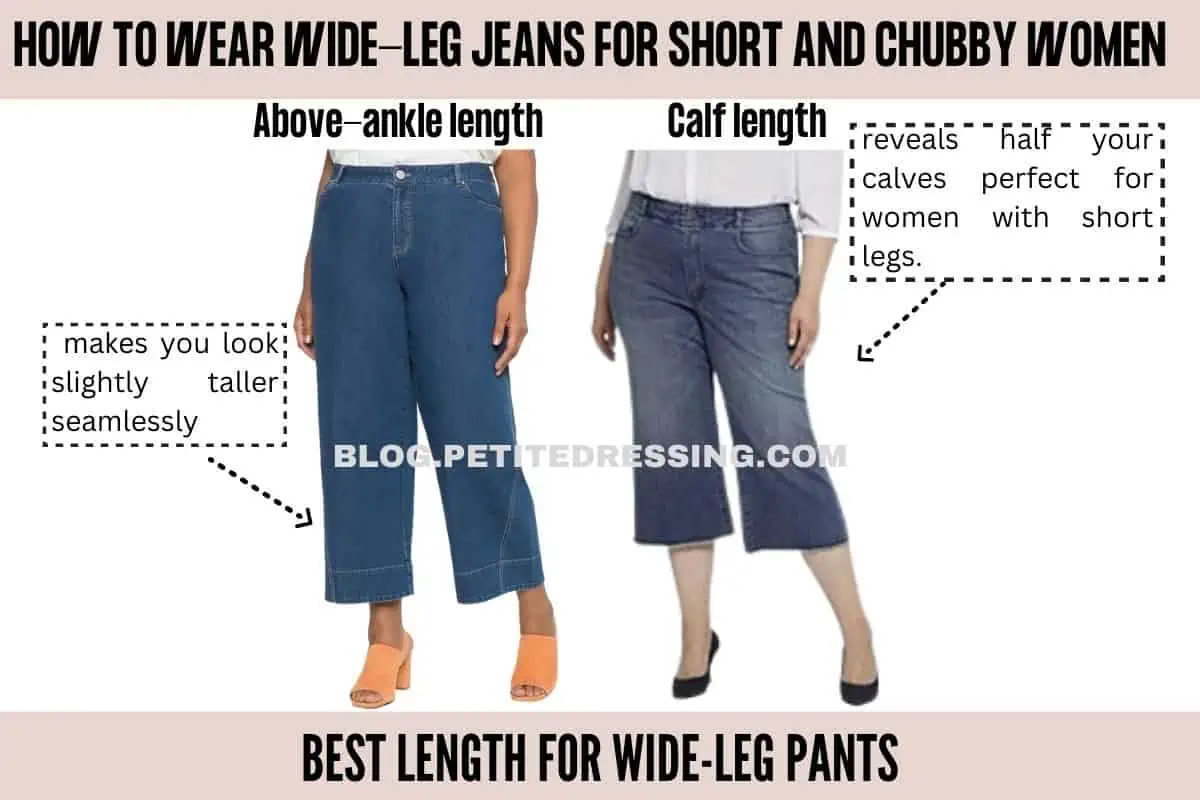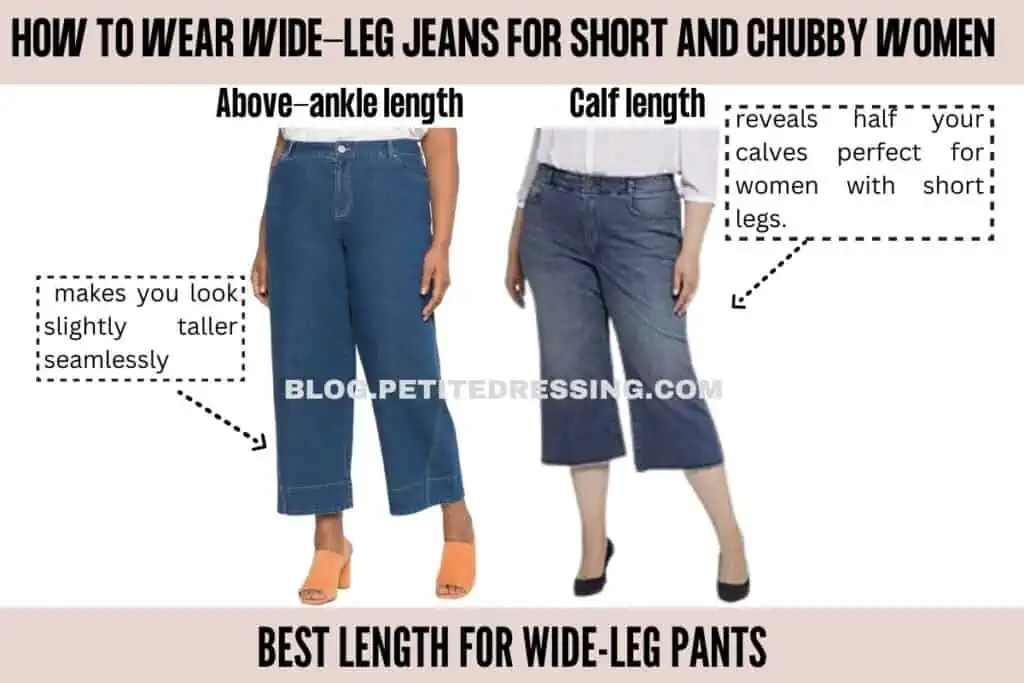 Chubby and short women should go for outfits that make them look taller instead of wider. And cropped wide-leg jeans will do that trick for you.
High Waisted
Don't want slits or prints in your jeans? Then go for simple wide-leg jeans with a high waist. The high-waisted jeans will make your waist look slimmer as it sits above your tummy. The tummy fat easily sits in the jeans without adding any width to your waist. 
This way, you achieve a balanced body silhouette and a comfortable outfit effortlessly. Pair simple t-shirts with high-waisted wide leg jeans. Don't forget to tuck the top inside the jeans otherwise the purpose of a high waist will go in vain. Complete the look with white sneakers for a casual and chic outfit.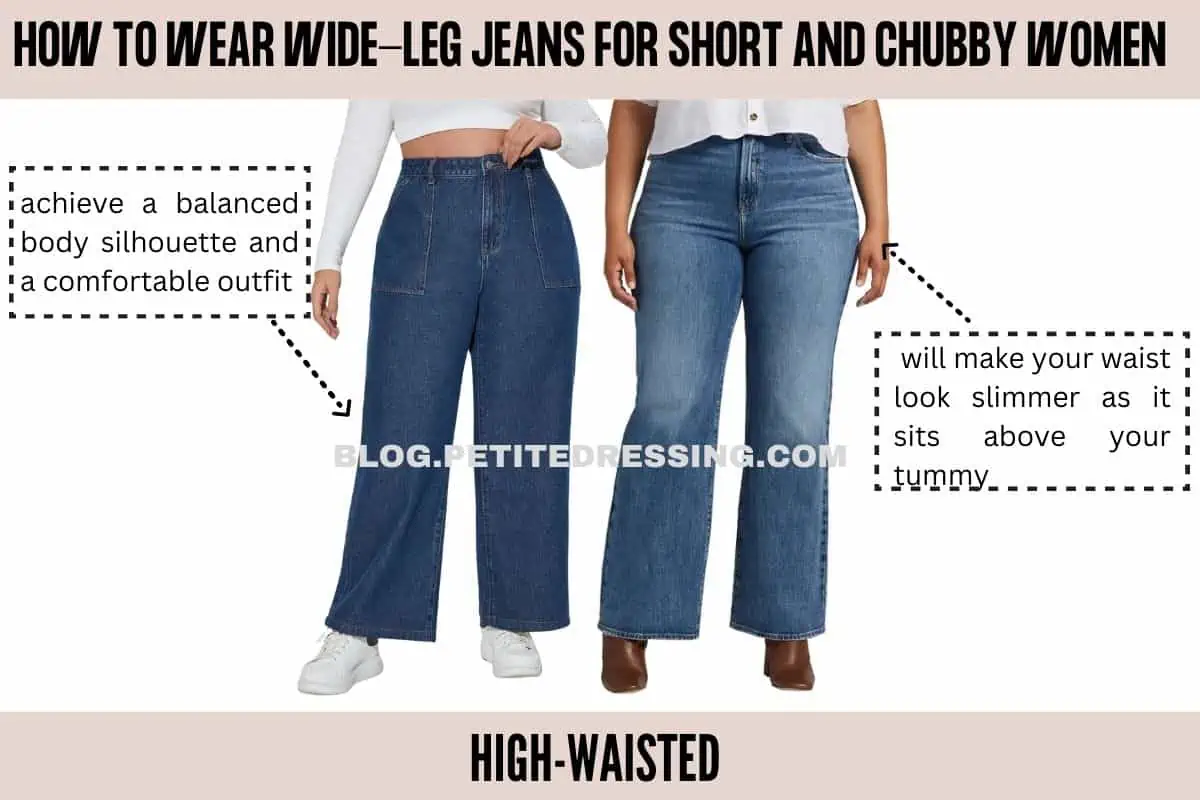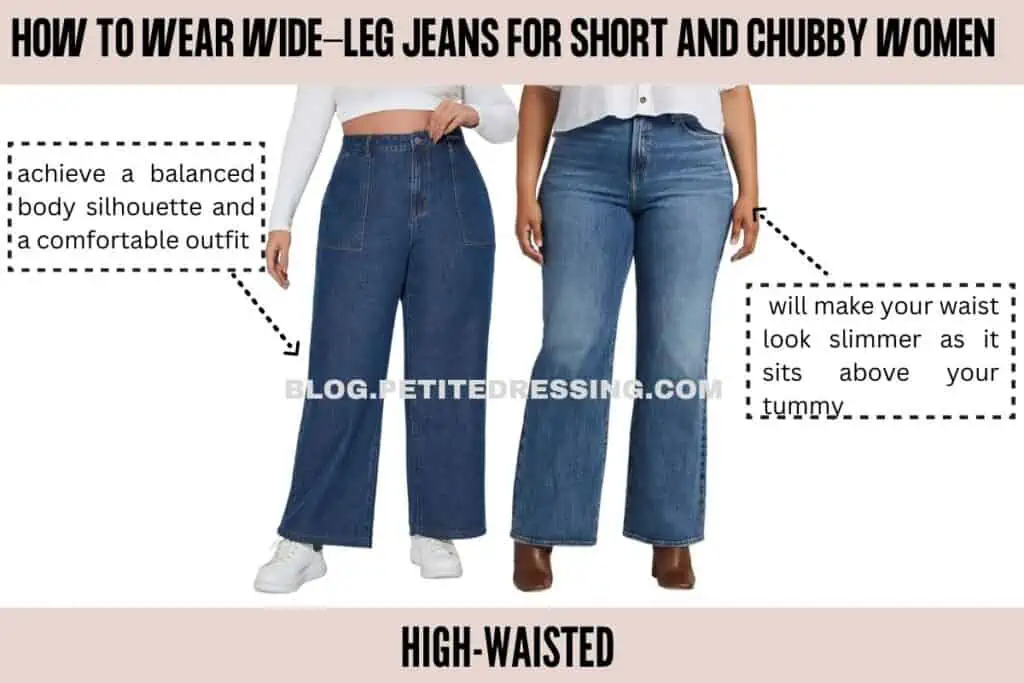 The high-waisted style makes your legs look longer. So, it is suitable for short and chubby women.
Color Block Wide Leg Jeans
The different colors in color block wide-leg jeans give the illusion of taller legs. As the color isn't the same throughout the jeans, the added colors make you look leaner. You can get away with full-length wide-leg jeans too if it has a color block style. Pair the jeans with heels or chunky loafers to add some height. 
Color block jeans can be hard to style but go for a simple fitted top and you are good to go. Fitted tops look good with wide leg jeans and make you look put together.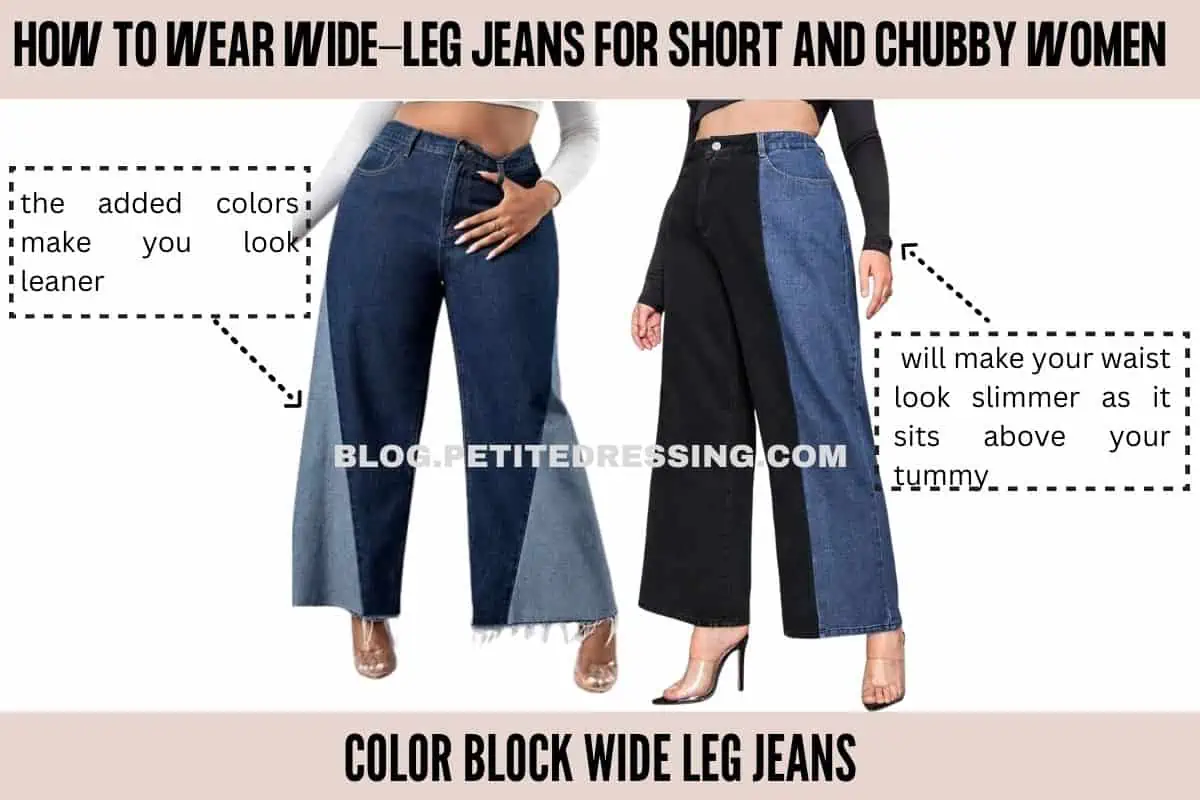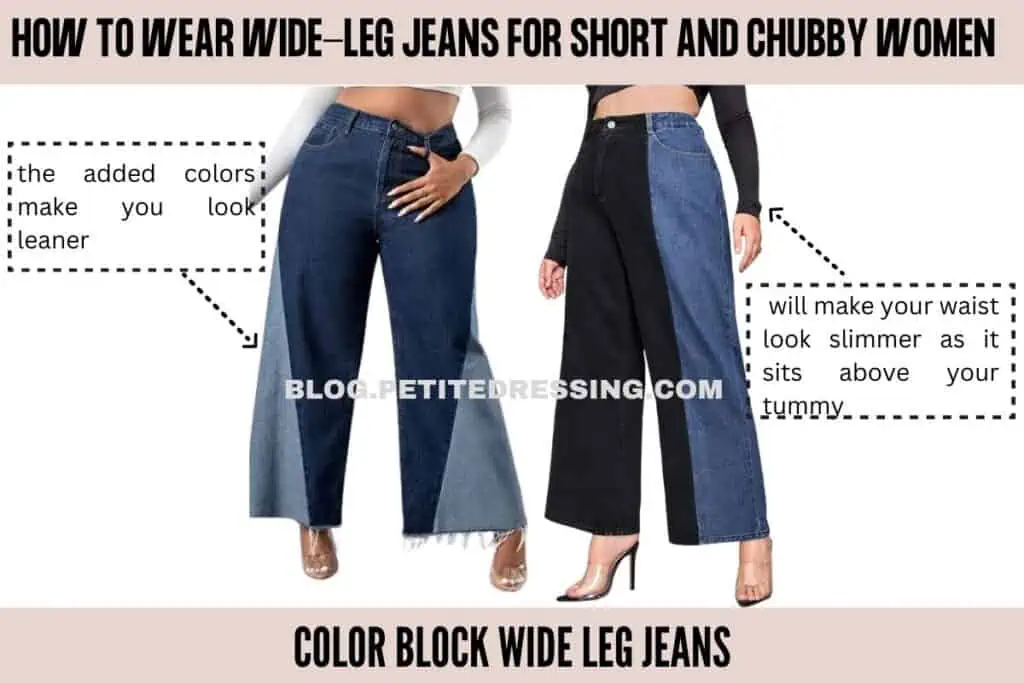 Solid Color
Who said wide leg jeans only have to be a shade of blue? You can style different solid colors in wide leg jeans too. Dark colors have a way to make you look slimmer so you can incorporate them into your wide leg jeans. This way, you will automatically look leaner.
Colors like red, pink, dark green, black, orange, etc are great for wide-leg jeans. They are quite trendy nowadays as they make you look like a fashionista. Pair a simple white top with colored wide-leg jeans to keep everything in balance.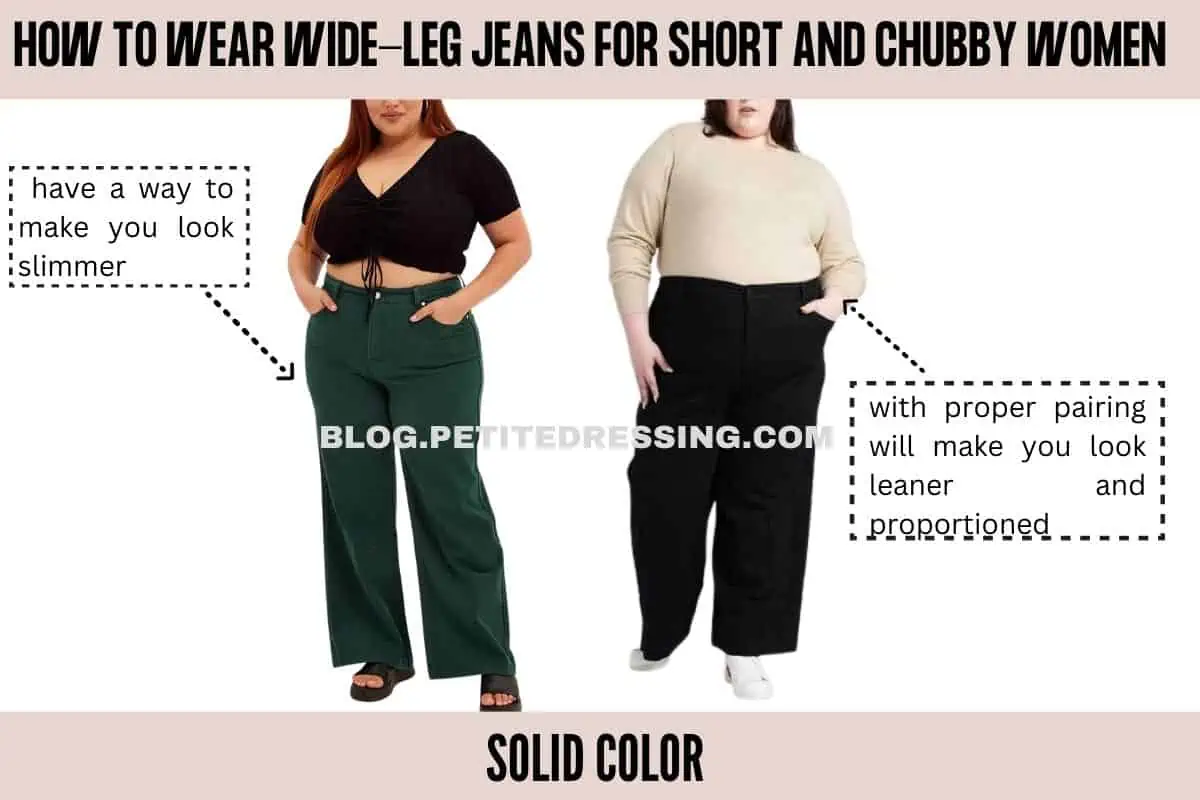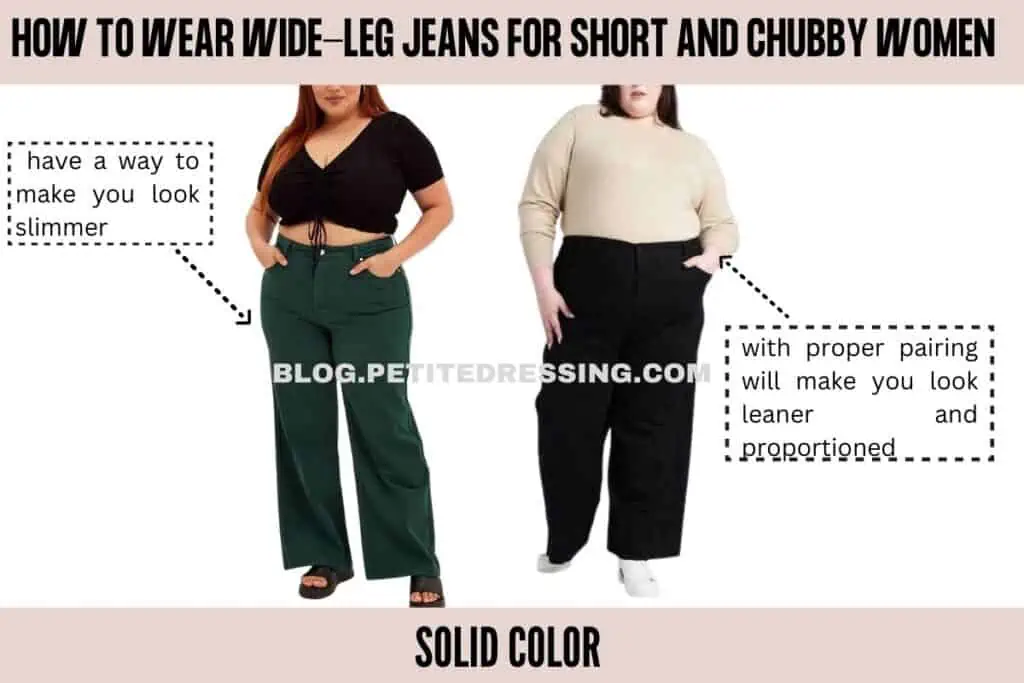 Faded Wide Leg Jeans
Wide leg jeans with fades on your thighs work like magic. They make your legs look slimmer and taller. So, it is a win-win situation in every aspect. The position of the fade matters a lot. So, choose the one that is in the center. Overall washed jeans won't have the same effect as faded center ones.
Faded jeans seamlessly conceal your thighs instead of making them look heavier. This style is trendy among Gen Z. We also love this trend because it suits short and chubby women a lot. That's why you must give it a try!
Pair a solid-color top with faded jeans and white sneakers.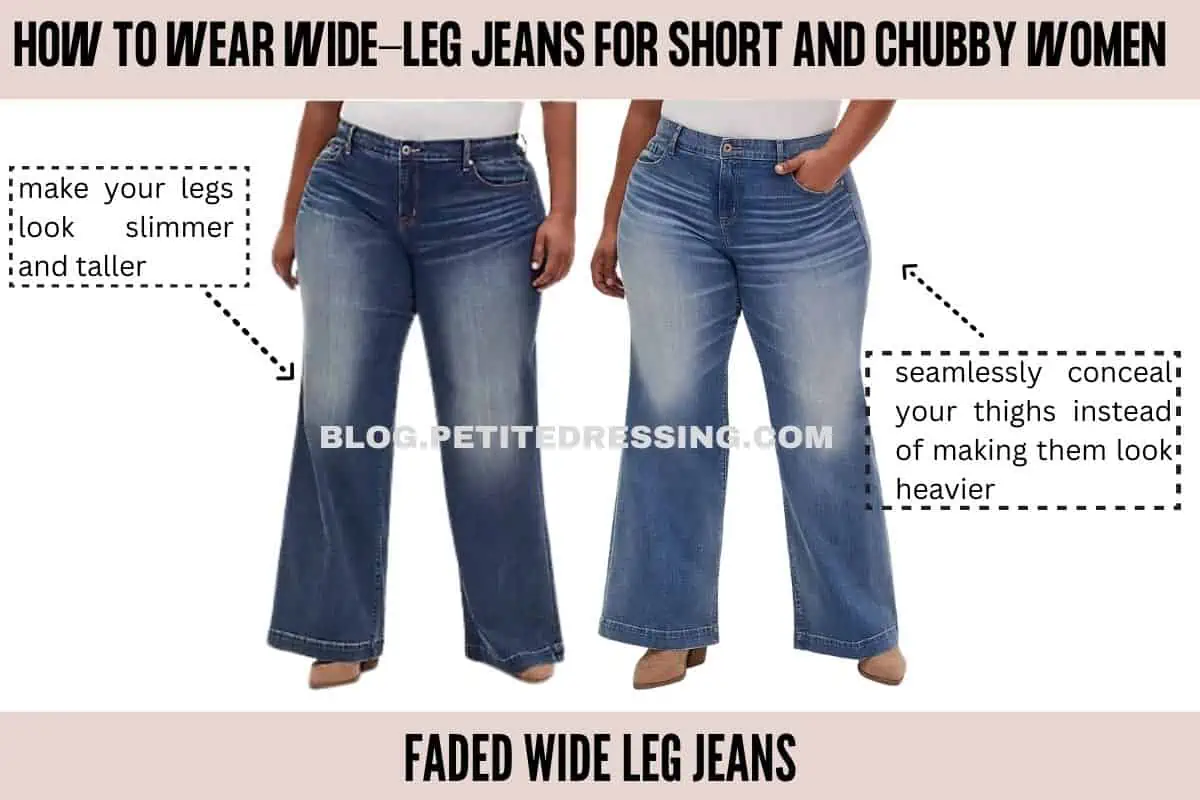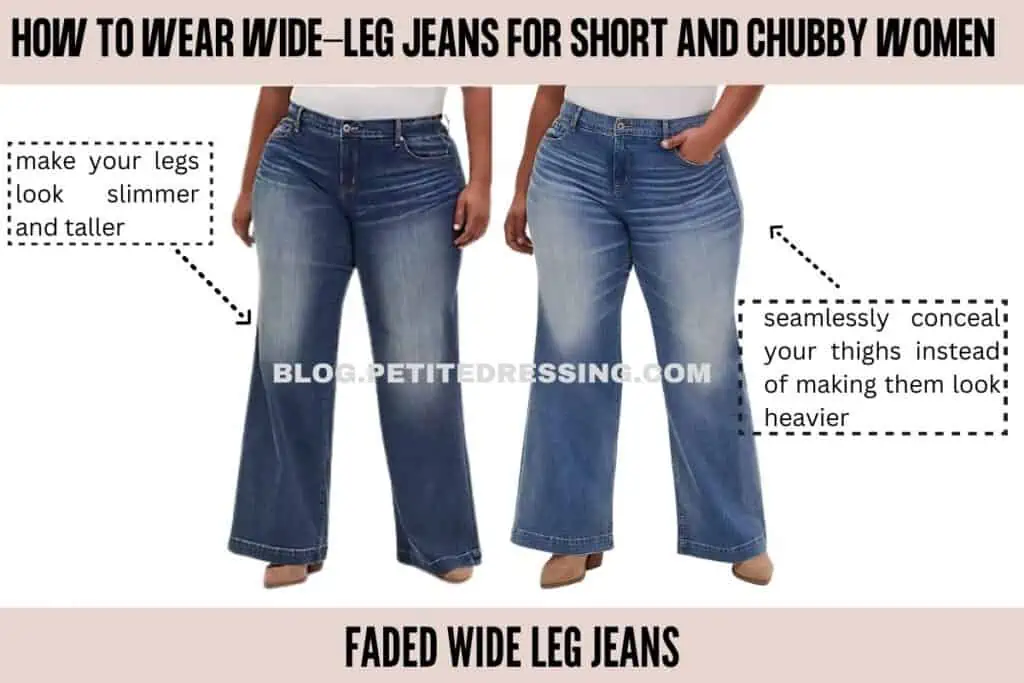 Belted Wide Leg Jeans
Belted wide leg jeans come in various styles. You have to tie the belt and it makes your waist look smaller. You can tie it as tight as you want according to your waist. This way, your body looks leaner. 
Belted wide-leg jeans are suitable for short and chubby women because they don't add width to your body.
Choose a top you can tuck inside the jeans otherwise the belt won't be visible. Keeping the top over the belt will make that area look bulky. That's not a flattering look at all. 
Go for a cropped length in belted wide-leg jeans to add height to your legs.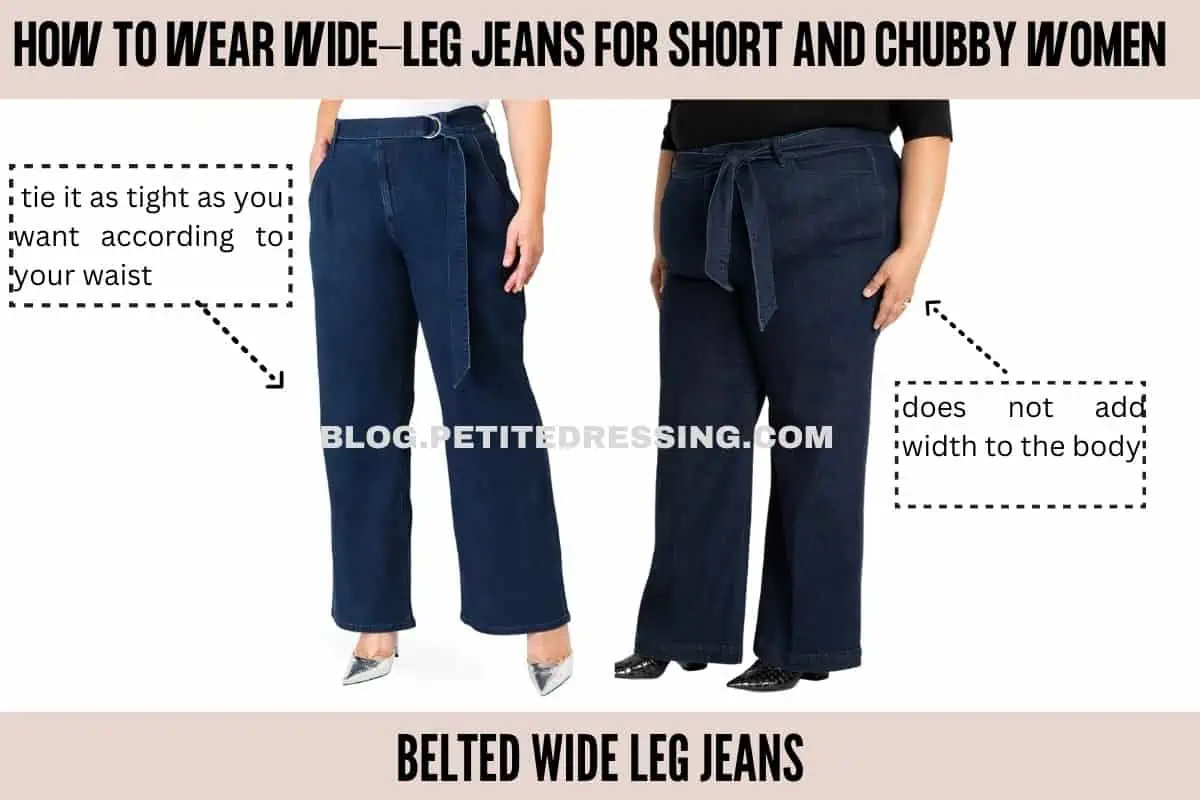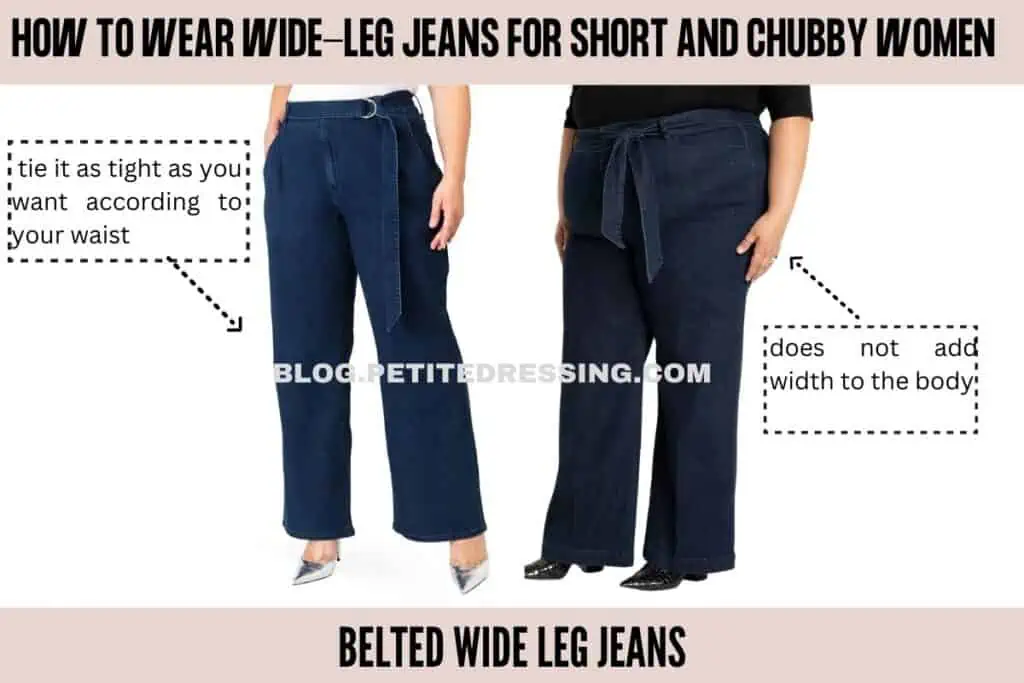 High Rise Buttoned
Button detail wide leg jeans have a slimming effect on your waist. They come in high waist styles and keep the focus away from the size of your waist. The style looks chic and makes you look fashionable.
The buttons are placed in such a manner that they make your waist look small. This way, your legs look longer due to the added waist where the buttons are placed.
While choosing a top with button detail wide leg jeans, go for something you can easily tuck inside. Another choice is to go for a cropped top. That will make you look taller as well.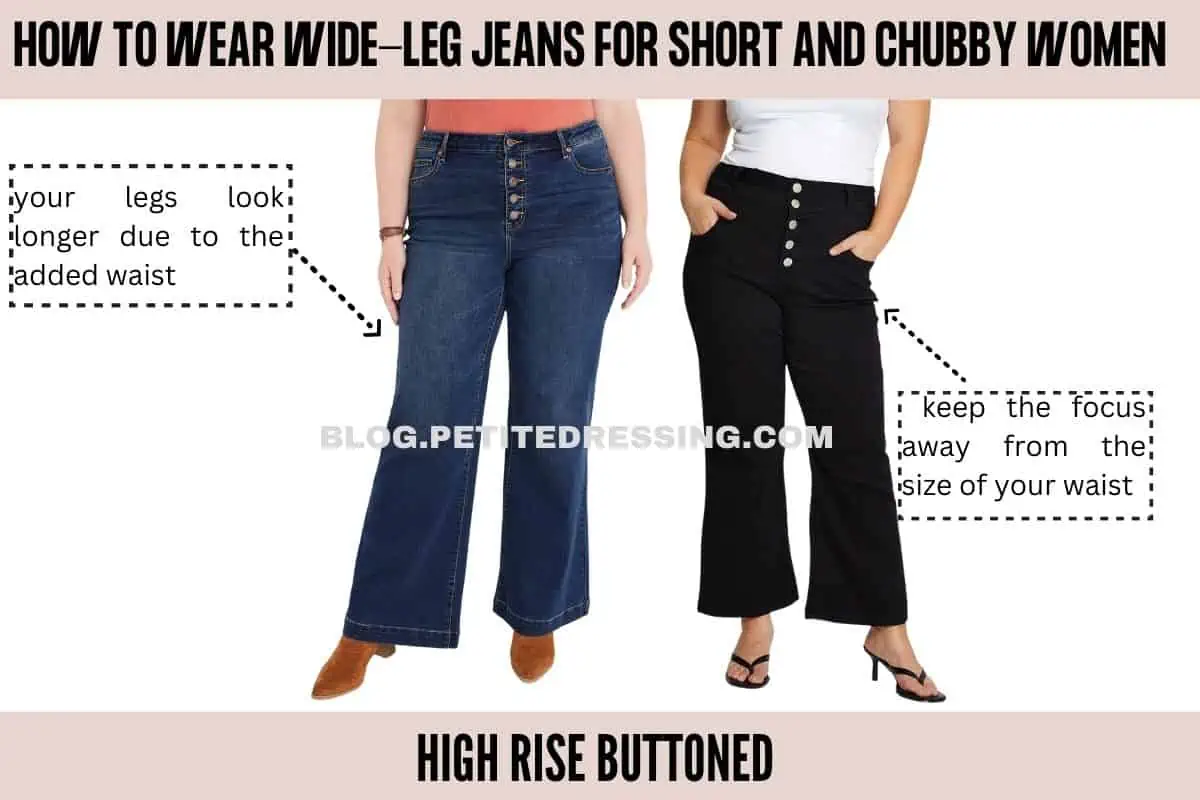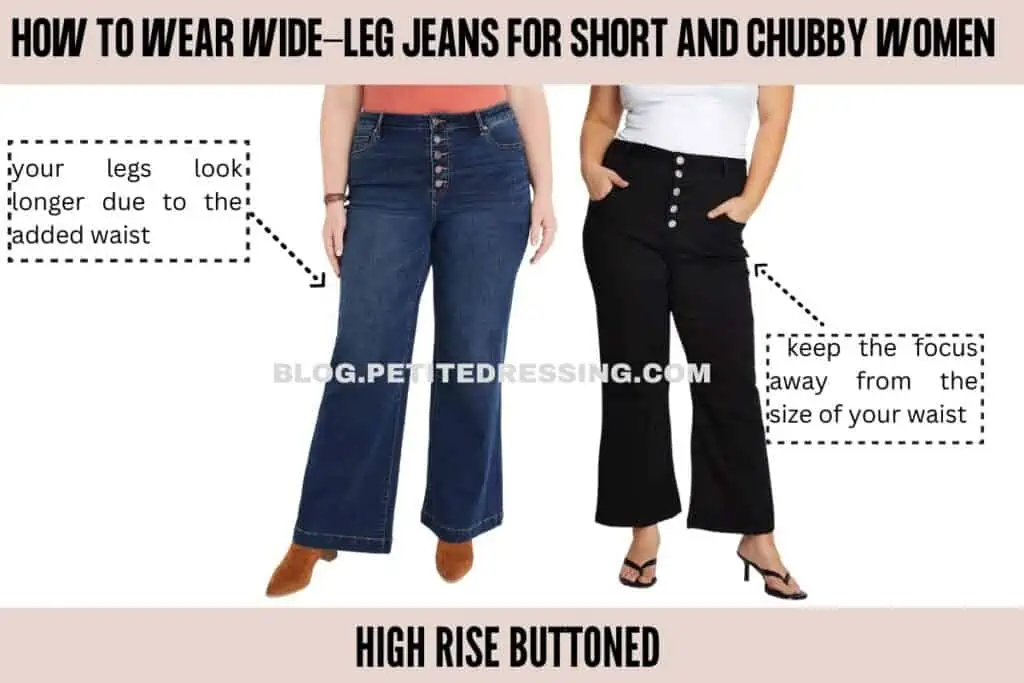 Avoid Low Waist
Wide leg jeans with a low waist won't suit short and chubby women. Such a waist sits right below your tummy and makes it look heavier. It adds width to your body instead of height so you will end up looking chubbier. Go for mid rise or high rise wide leg jeans if you want them to complement your body type.
Avoid Loose and Bulky Tops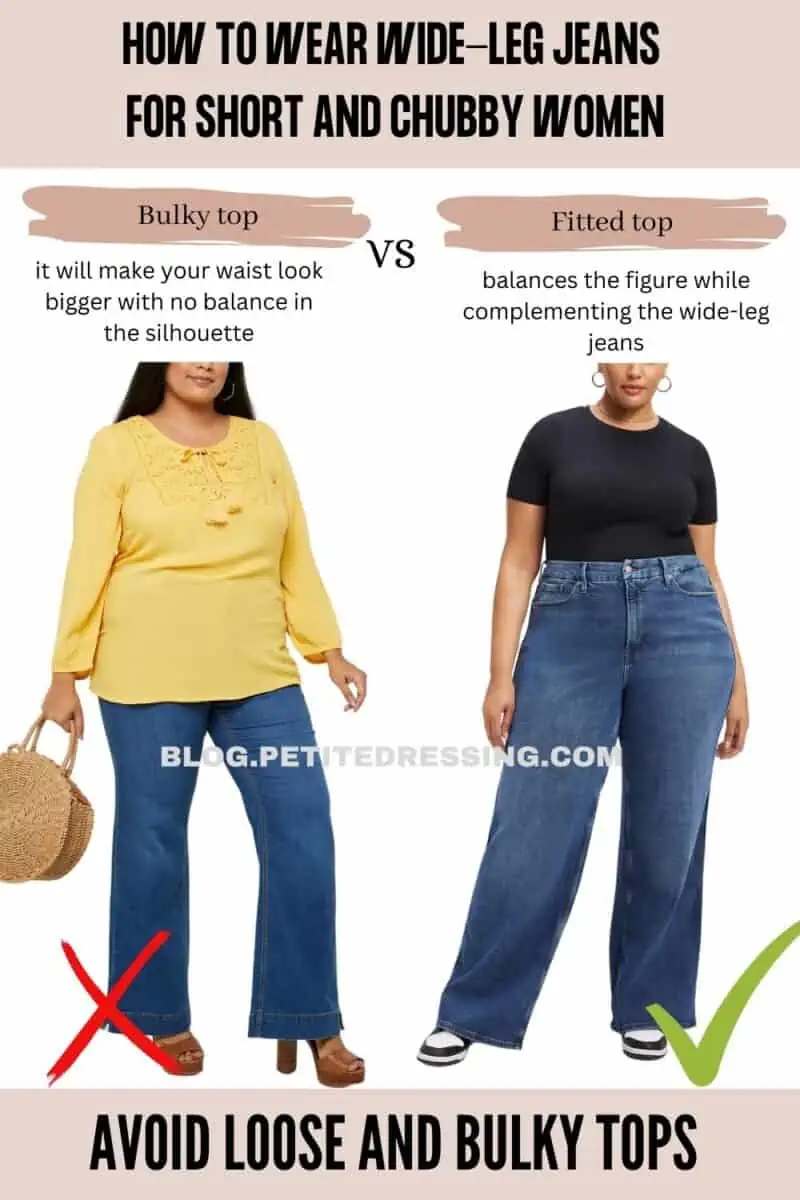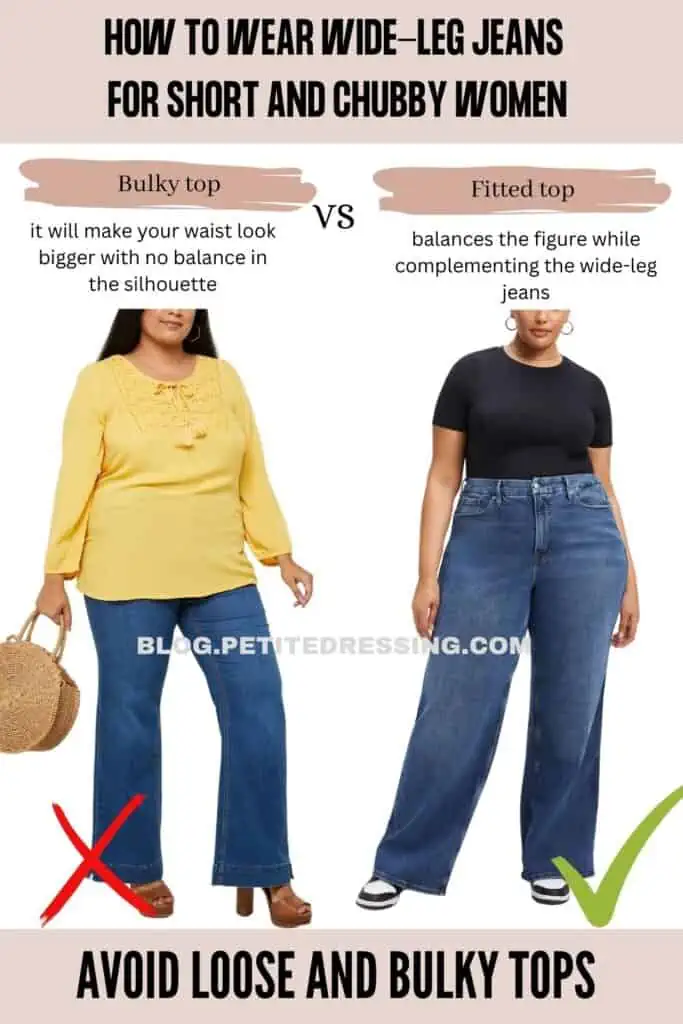 Loose tops with wide leg jeans will make you look out of proportion. You can end up looking shorter than you already are because of the added width to your whole body.
Usually, wide leg jeans look better when you tuck the tops inside the jeans or pair them with a cropped top. But if you tuck a bulky top inside the jeans, it will make your waist look bigger. The whole point of wearing high-waisted jeans will go in vain. So, avoid stiff and bulky tops while wearing wide leg jeans.
Avoid Cargo Style
Cargo wide-leg jeans have big pockets everywhere. They may look stylish but they will make you look bulky. Your legs will look heavy and you will end up looking short. That's why this style isn't suitable for short and chubby women. Avoid any wide leg jeans style that can make you look bulky.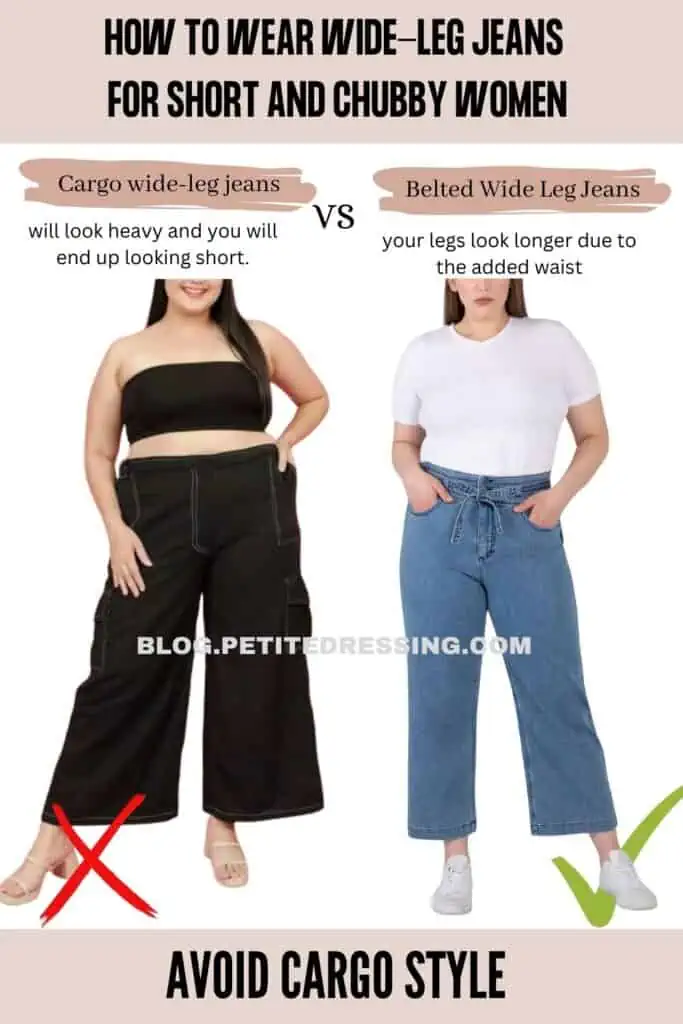 Final Thoughts
Now you know what styles of wide leg jeans look good on short and chubby. Short and chubby women think that wide leg jeans aren't going to suit them. This isn't true. All you have to do is find the right pair of wide leg jeans with a suitable length and style. Other elements of your outfit are also important while styling wide leg jeans. Your shoes and tops should go well with the wide leg jeans you are wearing. Avoid the styles that make you look short and bulky.