Over the knee or OTK boots are one of the hottest footwear trends this season. This style of boots are usually built for women with long legs, well that's the stereotype anyways.
Learn how to wear over the knee boots when you're petite with the following tips to feel confident wearing the trend this season.
Should You Wear OTK Boots if you are Petite?
Proportions play a big role in dressing a petite body, particularly because the wrong proportions can lend to appearing shorter.
Over the knee boots take up a lot of space on the body, more specifically the legs, which is generally a style rule petite stay away from due to fear of legs getting shortened.
That being said, OTK boots are a trend petites can and should embrace wearing this season. Believe it or not they can provide the RIGHT proportions to flatter (and lengthen) short legs, it's just a matter of knowing how to style them properly to achieve the benefits.
The Style That Looks Great on Short People
It's no secret over the knee boots are a statement and cover most of the legs.
Because proportions and dressing to lengthen the body are such a focus for short women, the best OTK boot style to look for is something that's minimal in its design.
Avoid any options with loud patterns, folds, bunching or bulky fits on them as these styles can lend to legs being cut of and, in turn, shortened. Instead, sticking with solid colors that fit close to the leg are styles to favor.
These styles are going to help aid in making legs look longer and leaner, and make it easier to style with shorter legs.
The Perfect Over the Knee Boot Length for Short Legs
Clearly, length plays a role in petite dressing (that's pretty clear by now).
Over the knee boots and where the length of them lies on the body is incredibly important to wearing this trend gracefully as a petite woman.
With this particular style of boots, it's best to select an option where the length rests just above the knee and/or just below the widest area of your thigh.
Avoid options that rest around the mid to high area of the thigh as this widens AND shortens legs instead.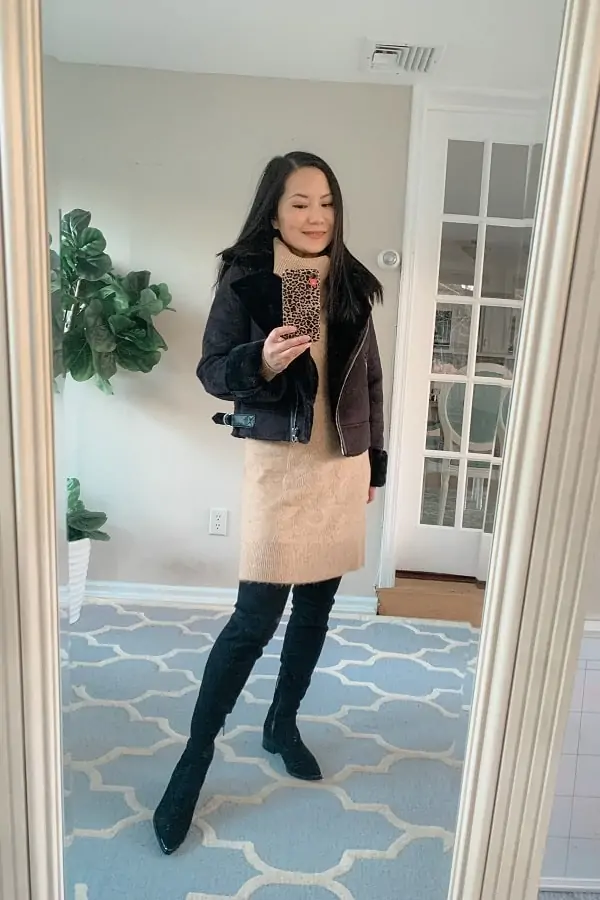 Get the Right Fit
Fit can make or break the look of OTK boots when you're petite, something that's common in the petite fashion realm.
With over the knee boots, however, if the fit isn't in check they'll look quite unflattering to the body.
The main areas to check for fit are the shaft and top of the boot – these areas should fit close to the leg and be free of any bunching, buckling or slouching. Furthermore, the shaft should stay up on the leg even when walking. Because fit is such a vital role in OTK boots, it may mean trying on quite a few different pairs in order to find the perfect option (and fit).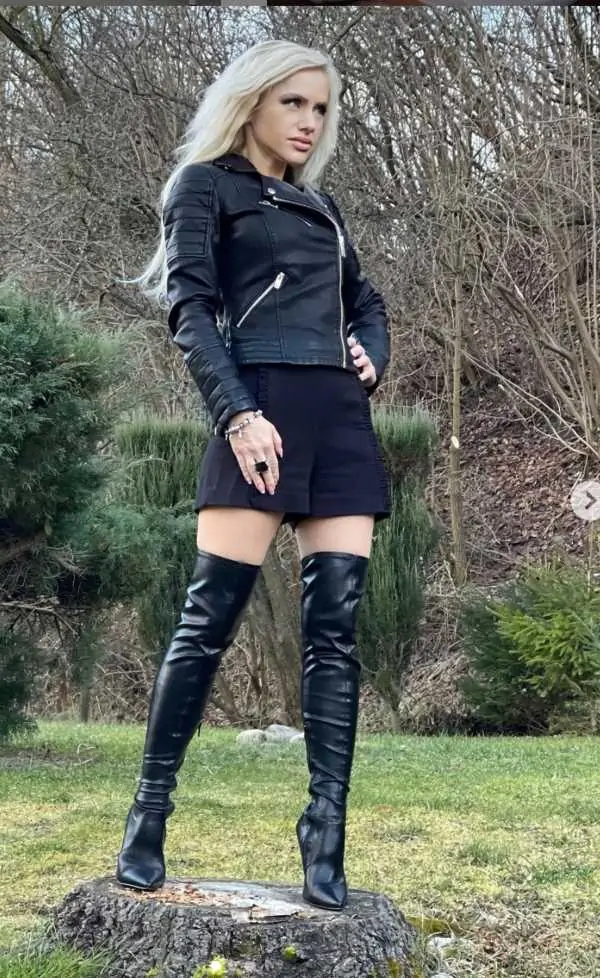 What to Wear with Over The Knee Boots if you are short
The good news is once you've found the perfect pair of OTK boots there are a lot of stylish ways to wear them and make sure they flatter a petite body.
A few fun ways, to get started include:
Skinny jeans and/or leggings: any type of pants worn with OTK boots should be a skinny fit. This is for a couple of reasons. First, this style is going to fit into OTK boots the best. Second, they will help accentuate the elongated leg illusion created by the boots.
A-line skirts: believe it or not skirts are a great match for over the knee boots. For a figure flattering effect with the tall boots it's best to select a skirt that rests above the top of the boot, leaving some space between the boots and skirt.
Dresses: similar to the way skirts are a great pairing, dresses are as well. A fun style to wear with OTK boots for the fall and winter months are sweater dresses. Just make sure the dress isn't shapeless or overwhelming to the body so it provides a flattering balance to over the knee boots.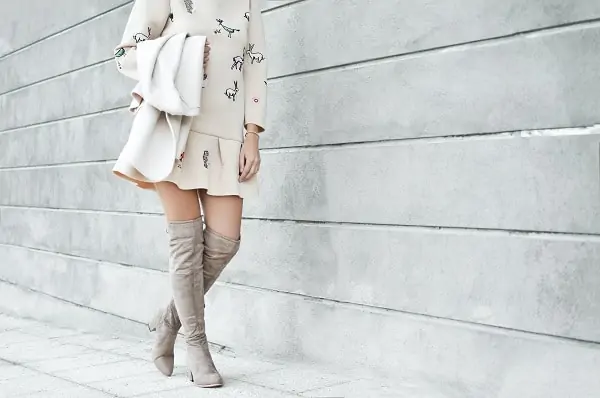 Styling Tips to Look Taller
A few key tips to utilize to look taller in OTK boots include, but are not limited to the following:
Opt for heels: this is a pretty easy one, and something most petite women are well versed in, but choosing OTK boots that have a heel on them is the quickest way to add some height. The heels don't need to be sky high, either. Even a 2" can add just enough length to the body for a flattering effect.
Dress monochromatically: OTK boots or not, truthfully, dressing on a monochromatic outfit is incredibly lengthening to the body. Keep this in mind when wearing OTK boots.
Focus on fit: as previously mentioned, fit is essential when wearing OTK boots and it will make a big difference in appearing taller while wearing them. If the fit is off they're likely to shorten already short legs.
Wear high waisted bottoms: visually raise the waistline while simultaneously lengthening legs with high waisted bottoms paired with OTK boots. A higher rise provides this effect and makes legs look a mile long.
Try shorter length tops: shirts and tops that are SHORTER in their length expose more area of the legs, which tends to make legs look much longer than they are naturally. This means being cautious when wearing longer length shirts as they can shorten legs, especially when worn with OTK boots.