If you are a petite plus size, chances are you may find dressing for your body shape quite challenging at times. I know this from first hand experience, as I have a clothing line for petite women and I hear feedback from thousands of petite customers.
First, let's understand the main traits of your shape. Below is Bianca, my assistant, who is 5 foot and plus size.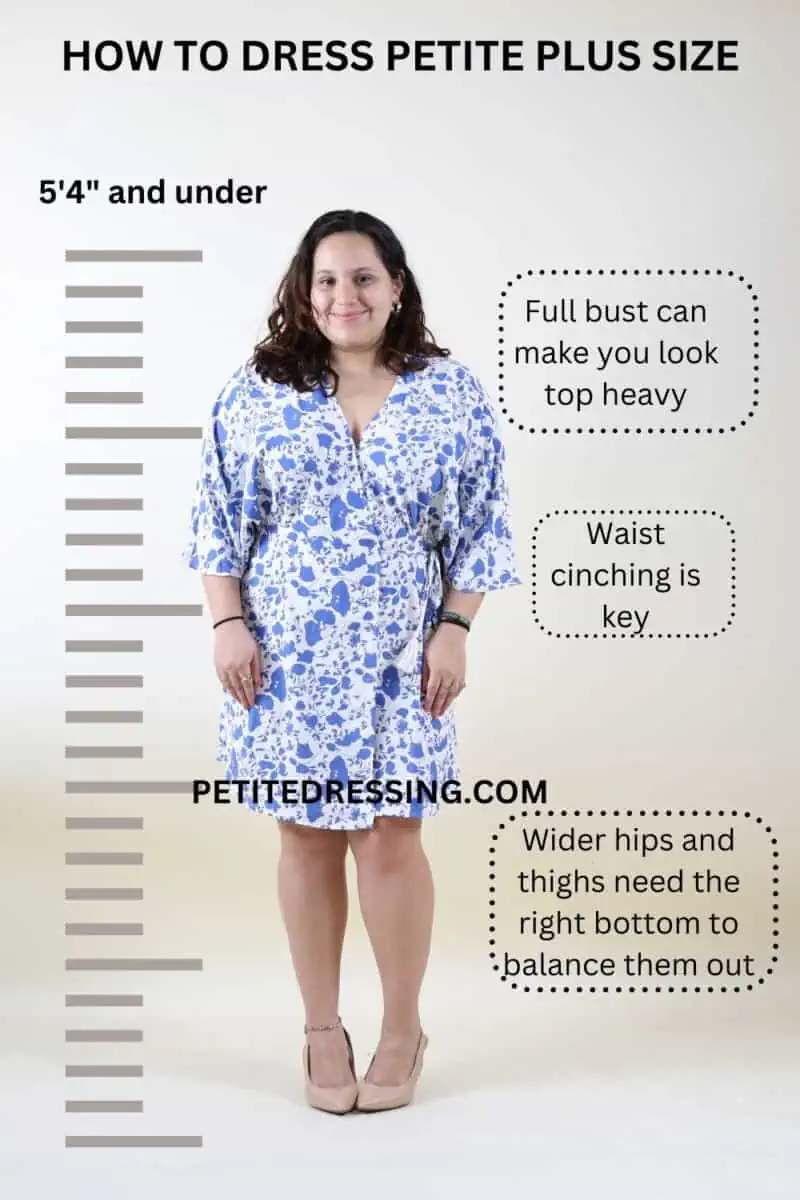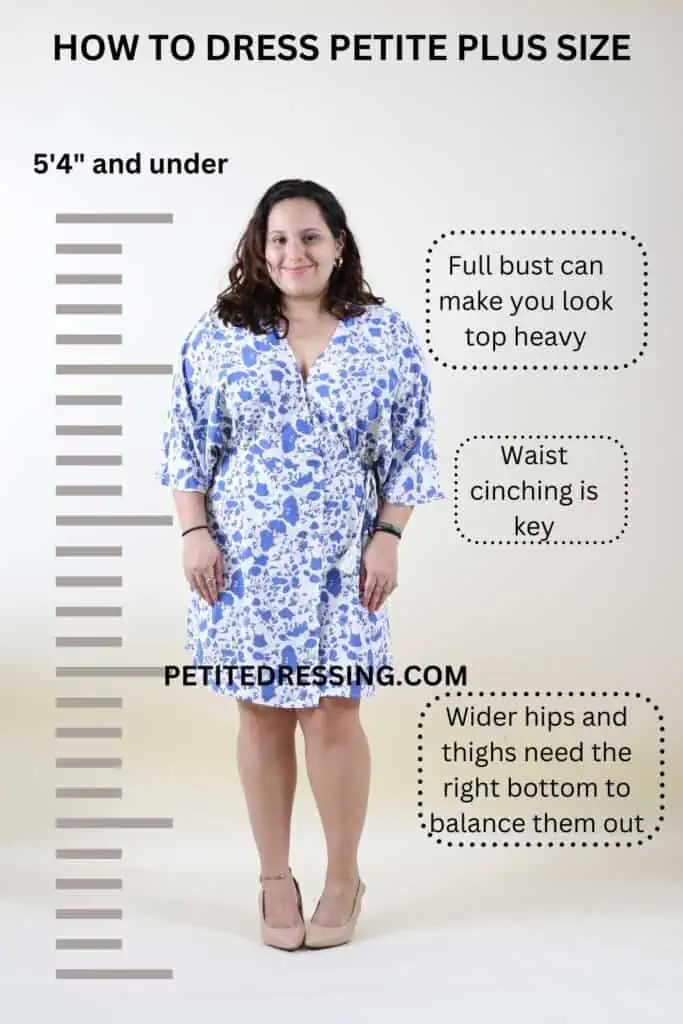 The key is to understand that
Because you are petite, you have a shorter frame to work with.
On top of that, if you are a plus size at the same time, that means your petite frame need to accommodate all the ins and outs of your curvy shape.
That is the reason you need to be very selective on what you wear and how you wear them when you are short and curvy.
The best outfits for you should focus on elongating since you are short, and in the meantime make you look more slender.
Here is the best ways to dress the petite plus size women.
Wear Lower Necklines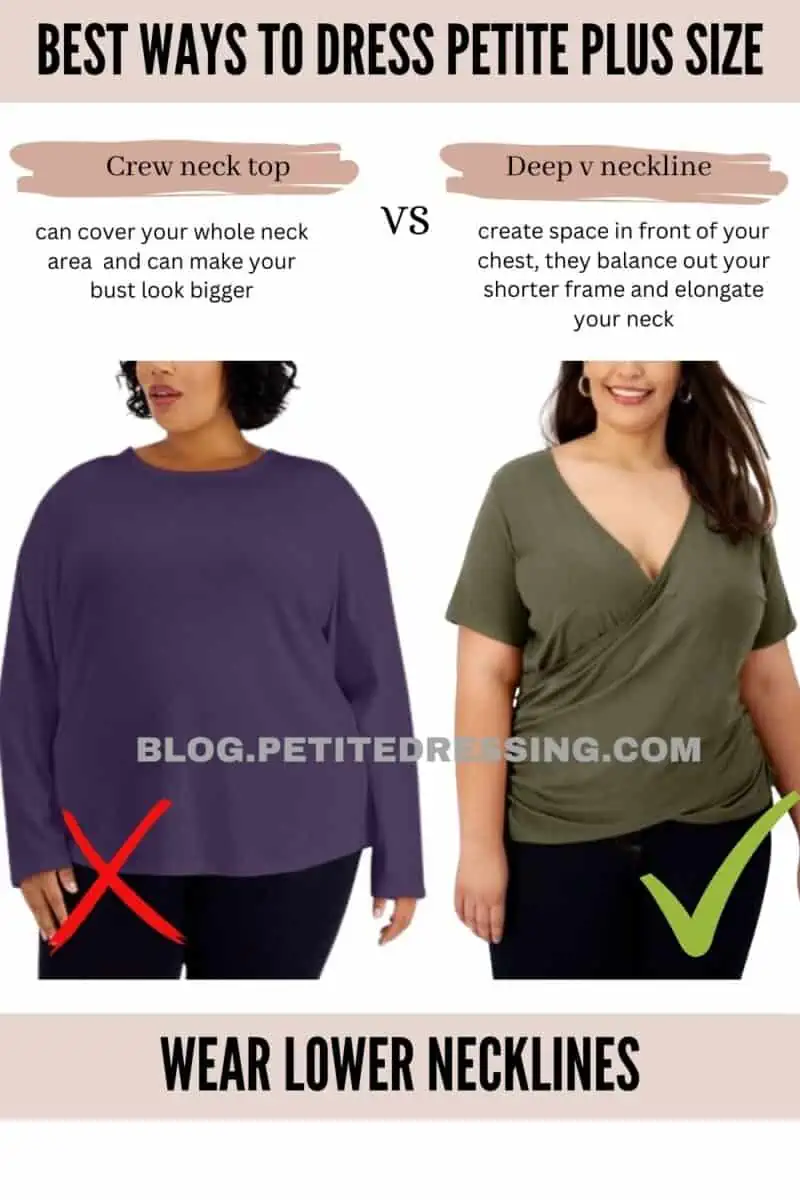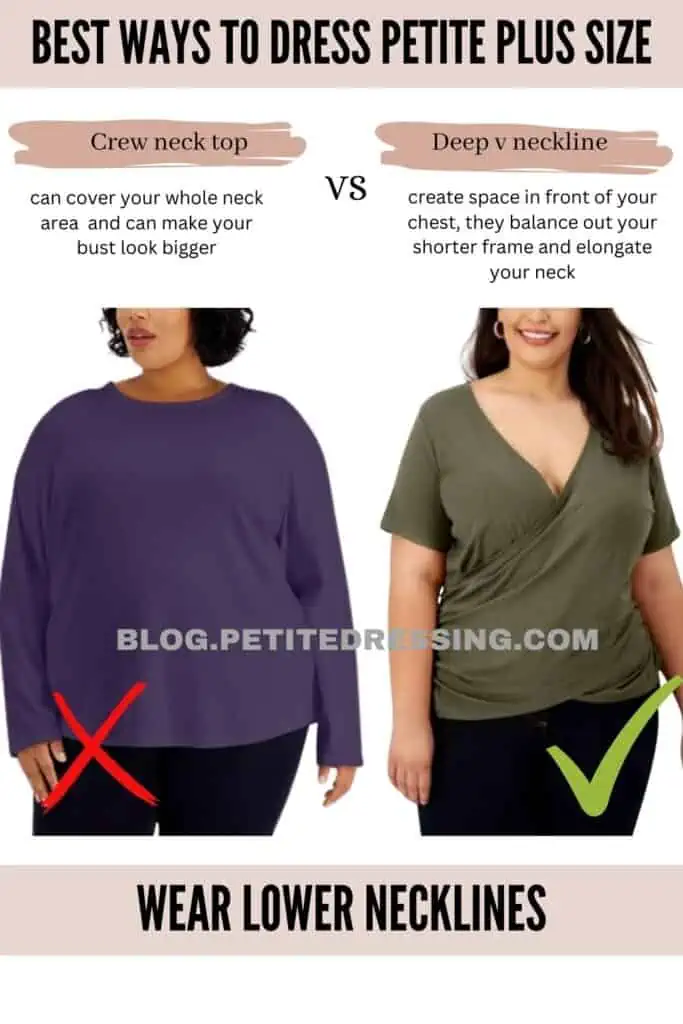 Regardless of your height and specific body type, petite plus-size women's best assets (or one of the best assets) are their full chests. Choosing the right necklines for plus-size women is critical, regardless of your height.
That is why you need to wear lower necklines, such as the U neck, deep V neck, or the sweetheart's neck, to accentuate your assets.
This is especially important if you are petite and busty.
Because lower necklines create space in front of your chest, they balance out your shorter frame and elongate your neck, making anything you wear, whether it's top or dress, look more flattering on you.
Wear High Rise Jeans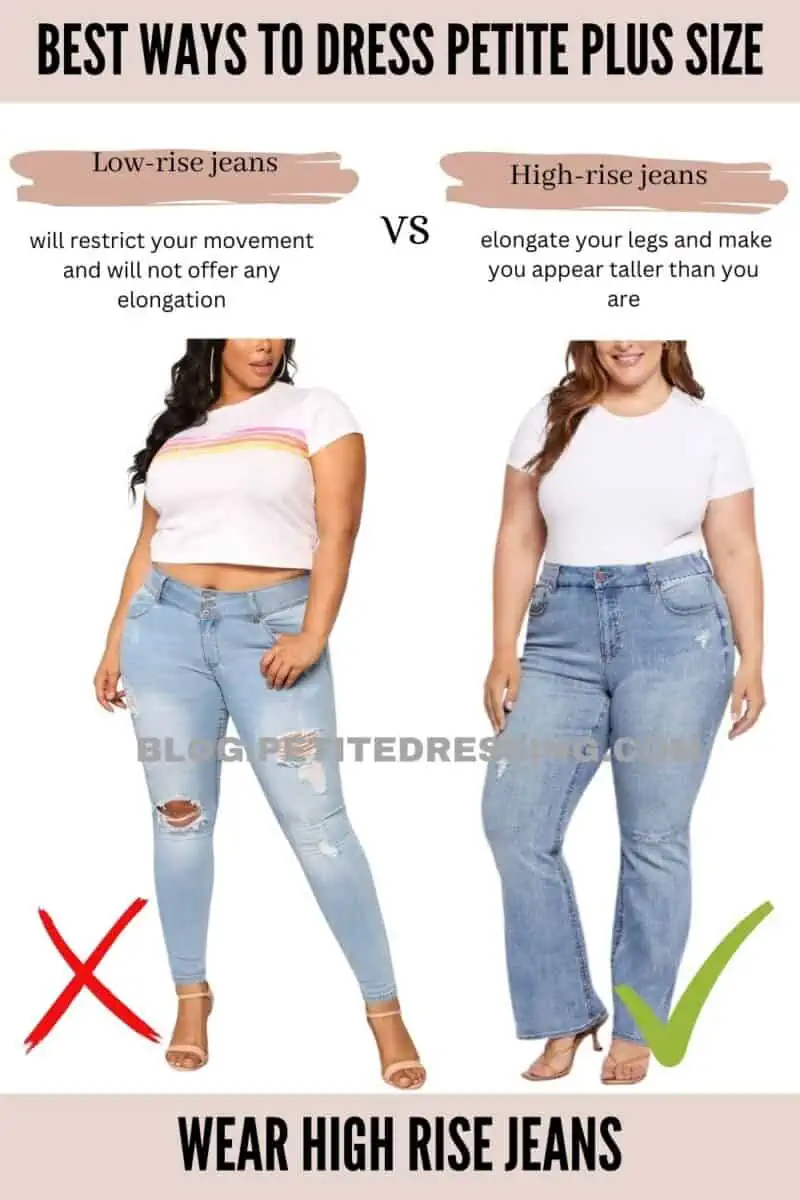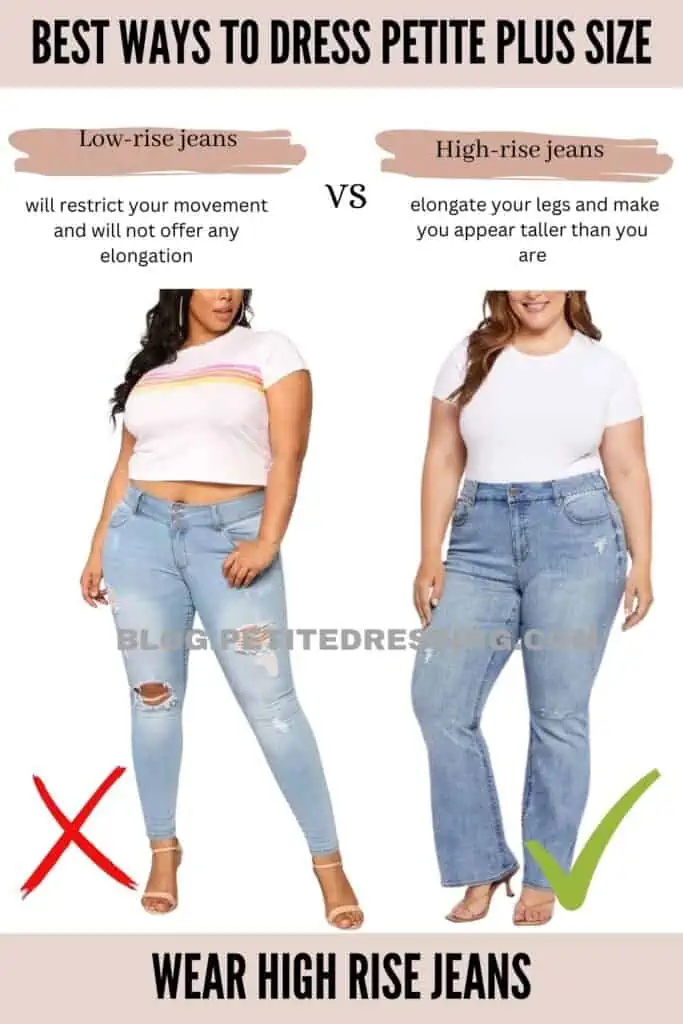 If your goal is to look taller and leaner, high rise jeans is one of the best jeans for curvy girls, besides, they also elongate your legs and make you appear taller than you are.
The reason is high rise jeans extend above your natural waist, creating the illusion of longer legs.
Another main reason they are the best friends for petite plus size women is that they can also hide your belly and make your mid section look slimmer.
If you happen to be a plus size girl with a bulging stomach, wearing anything less than high rise jeans may likely be restricting you in the widest part of your belly, which is quite uncomfortable.
The caveat here, however, is you need to be careful with high rise, if you happen to be a plus size girl with short torso,
High-rise jeans can make your torso even shorter.
That is not to say you need to stay away from them completely, You can still wear them (if they make you feel more comfortable than mid rise or low rise, but you should use some techniques such as layering to balance it out.
Wear Fit and Flare Dress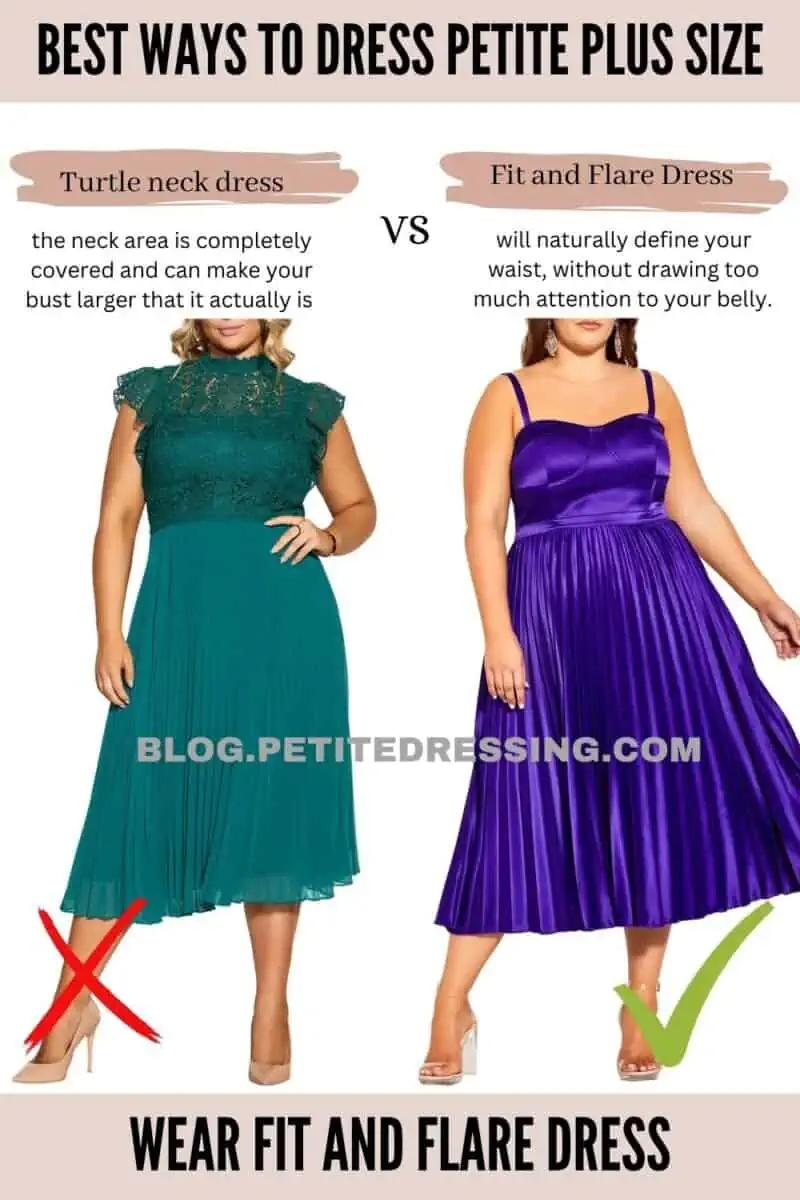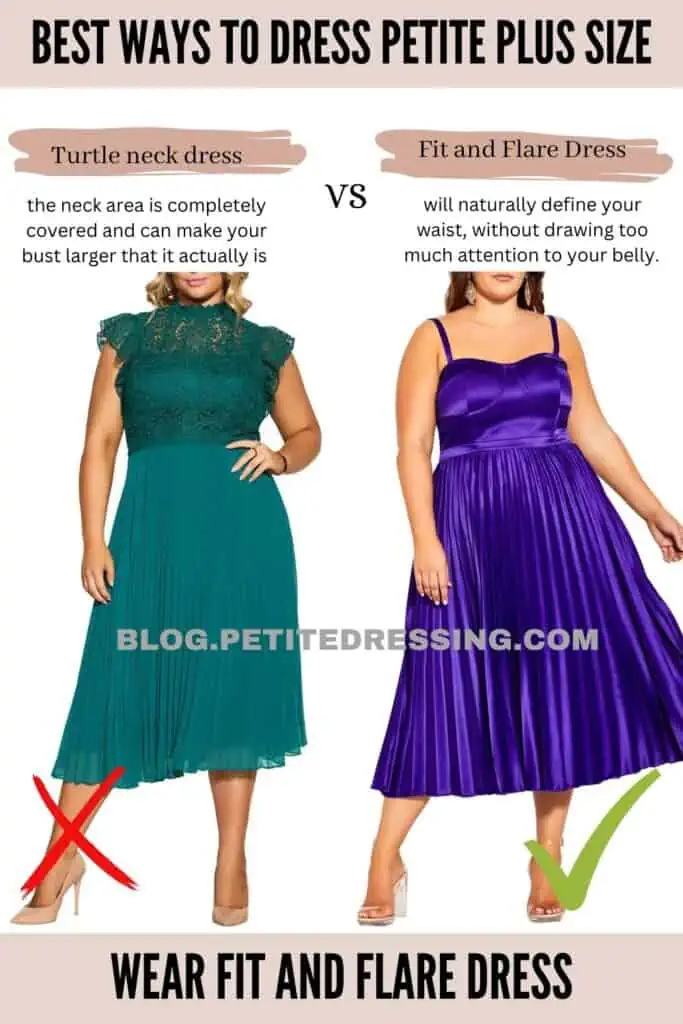 Fit and flare, also known as the A line dress, is one of the most flattering silhouette for women of all body types and any height.
If you are a plus size petite girl, wearing the A line shape will naturally define your waist, without drawing too much attention to your belly.
They can also easily hide your midsection, if that is your concern, because they flare out under your hips.
Elevate your Waistline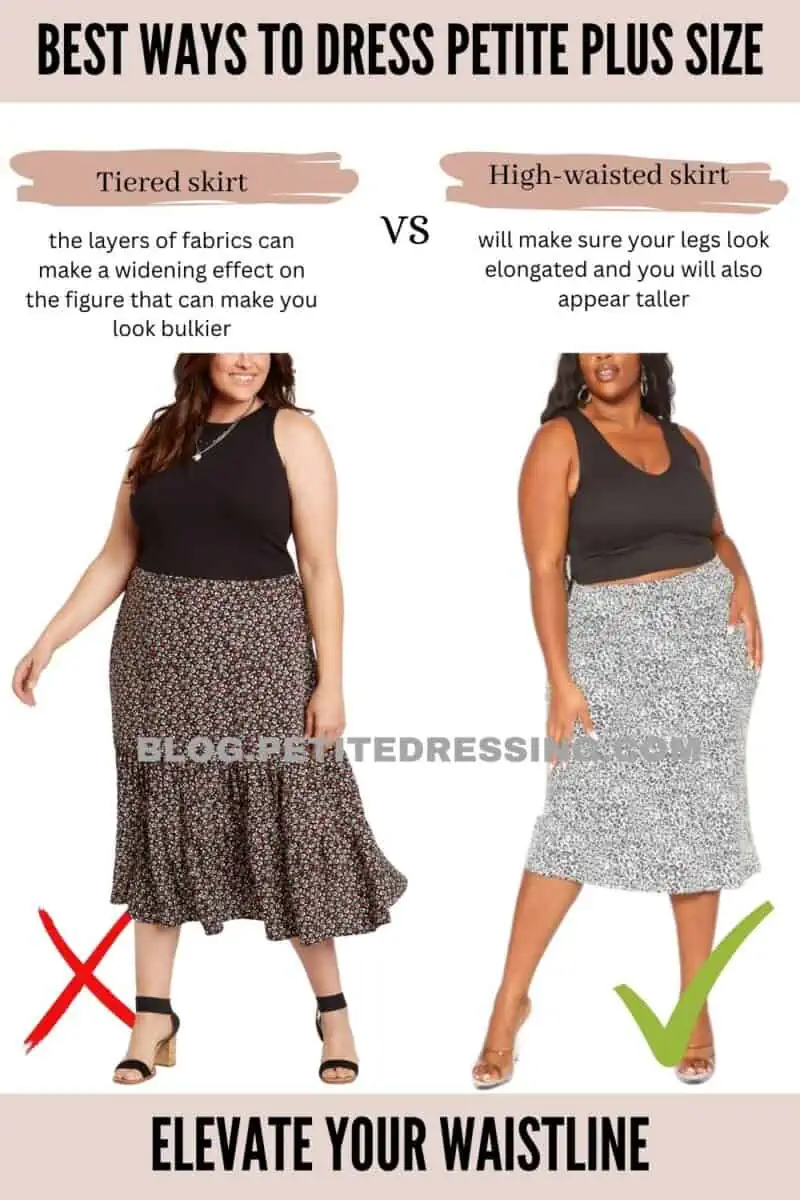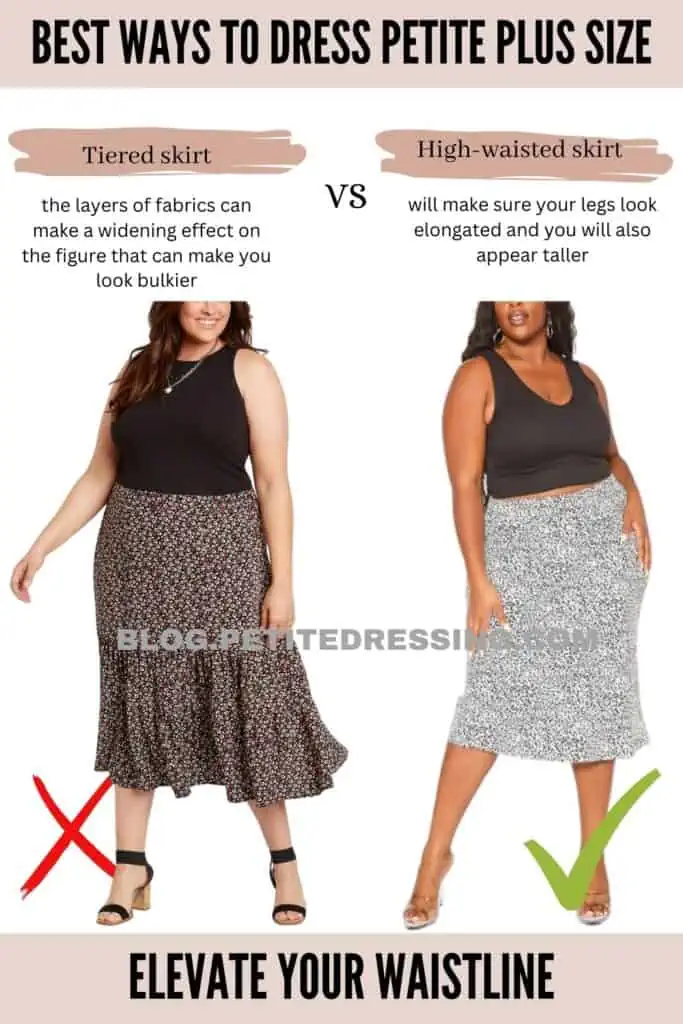 For petite women of any size, one of the most flattering ways to style your outfits is to elevate your waistline.
That means when you are wearing a dress, look for those who have a waist higher than your natural waist, That will make sure your legs look elongated and you will also appear taller. If you are a plus size, elevating your waistline can also bypass the widest part of your midsection, making you look leaner.
Wear Shorter Tops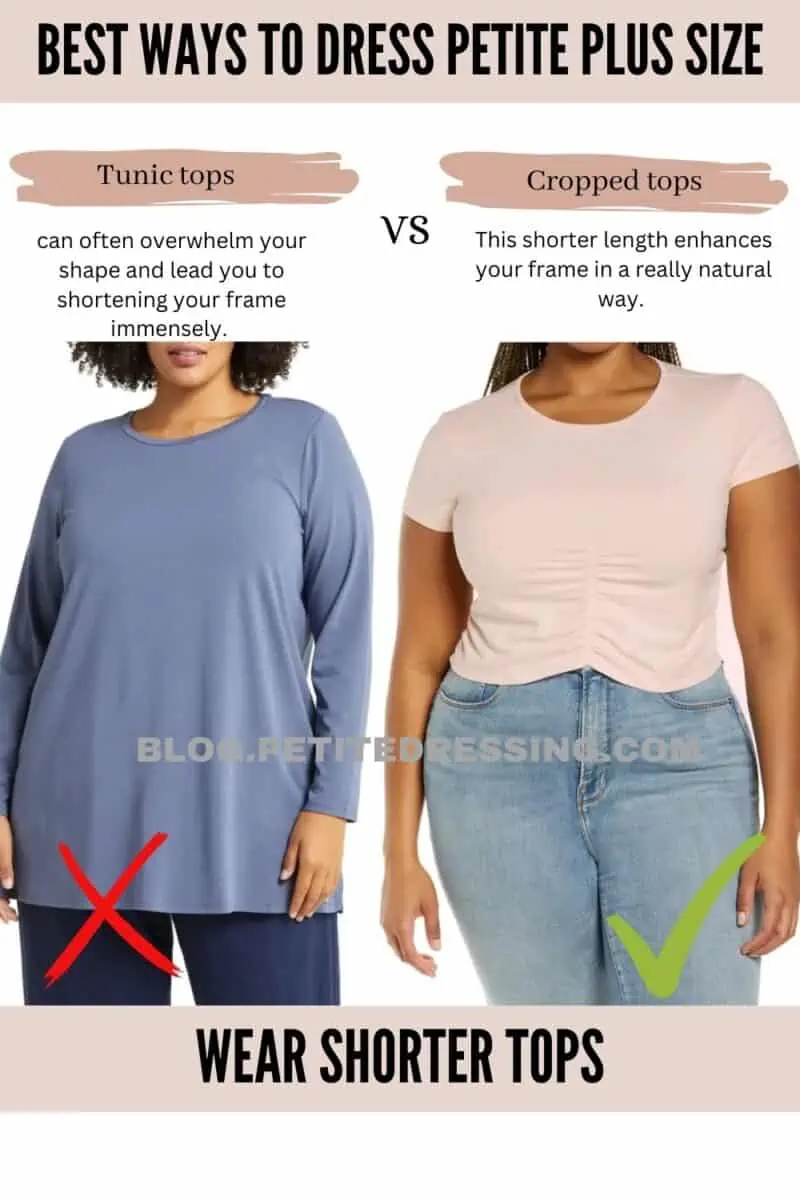 As tempting as it may be to want to only stick with long, tunic-length tops (especially if you often try to 'hide' your body).
I want to urge you to avoid this.
When you're a petite woman, long tops like that can often overwhelm your shape and lead you to shortening your frame immensely.
Not just that, but as a curvy woman, those long tops tend to add bulk to your shape that don't highlight your frame.
In other words, long tops aren't your friend as a petite plus size woman. Instead, stick with tops that lay just above the hip area. This shorter length enhances your frame in a really natural way.
Wear One Piece Garments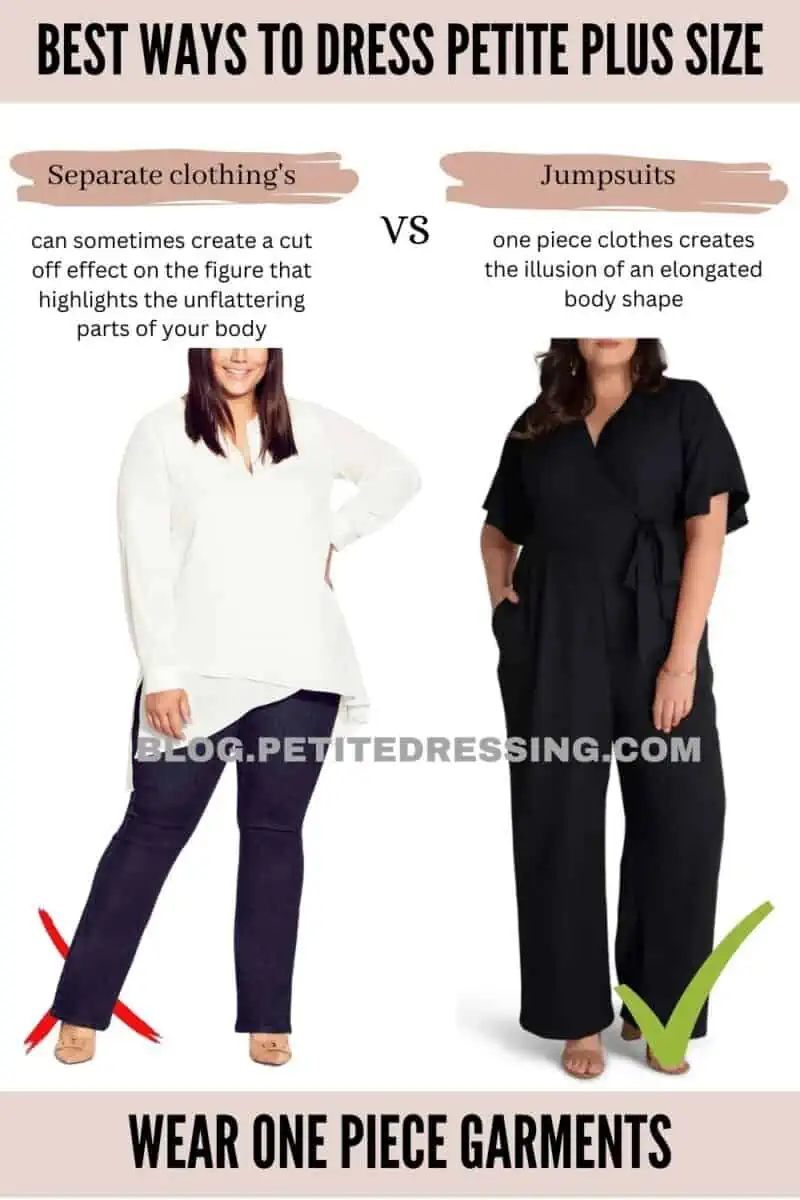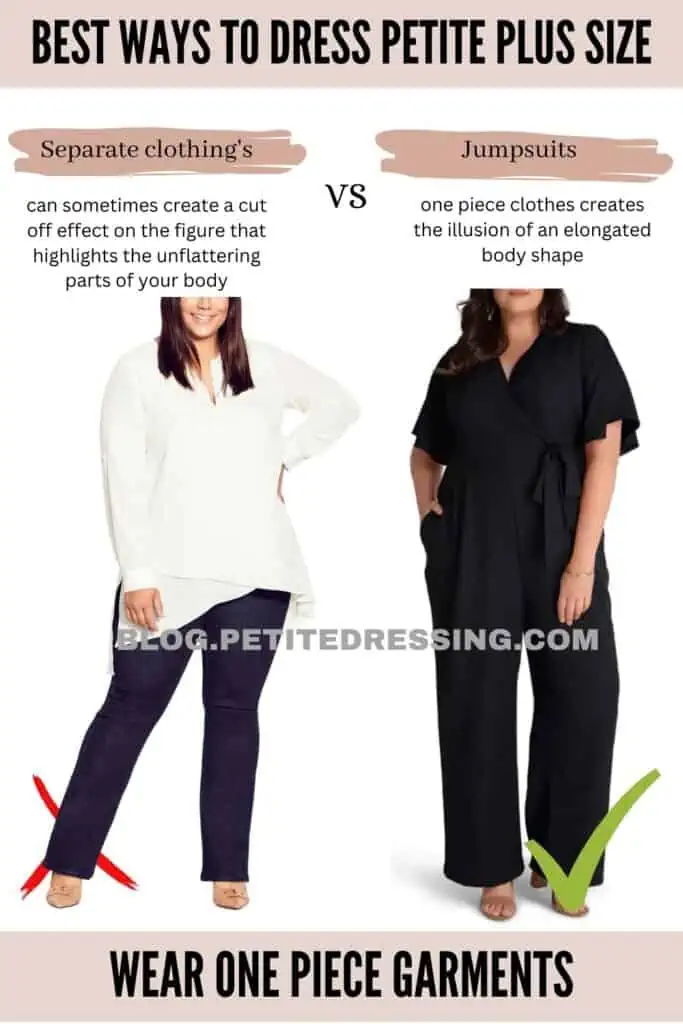 One piece garments are things like jumpsuits and dresses. The reason one piece garments are so great for petite plus size women is for a couple of reasons.
The first is because a garment that's one piece creates the illusion of an elongated body shape, hence the one solid piece.
Because your body isn't getting broken up in different areas by a shirt that's one color and pants that are another, it gives one solid straight line down your body.
Another reason I love one piece garments? They're SO easy to wear. It really doesn't get much easier than throwing on one item and being dressed.
While one piece garments, like a jumpsuit or dress, can be incredibly flattering for a petite plus size woman you still want to make sure you're keeping the basic style tips in mind. I.e. the length is right, the fabric isn't TOO flowy and loose, etc.
The point is, don't be afraid to at least try a jumpsuit. I find these are one of those underrated types of garments among petite women – don't be afraid of them!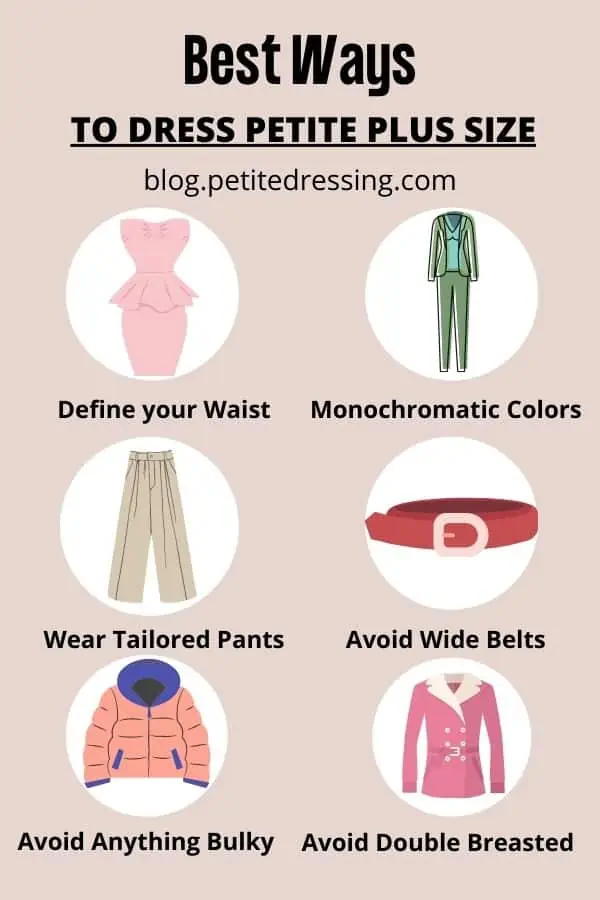 Define your waist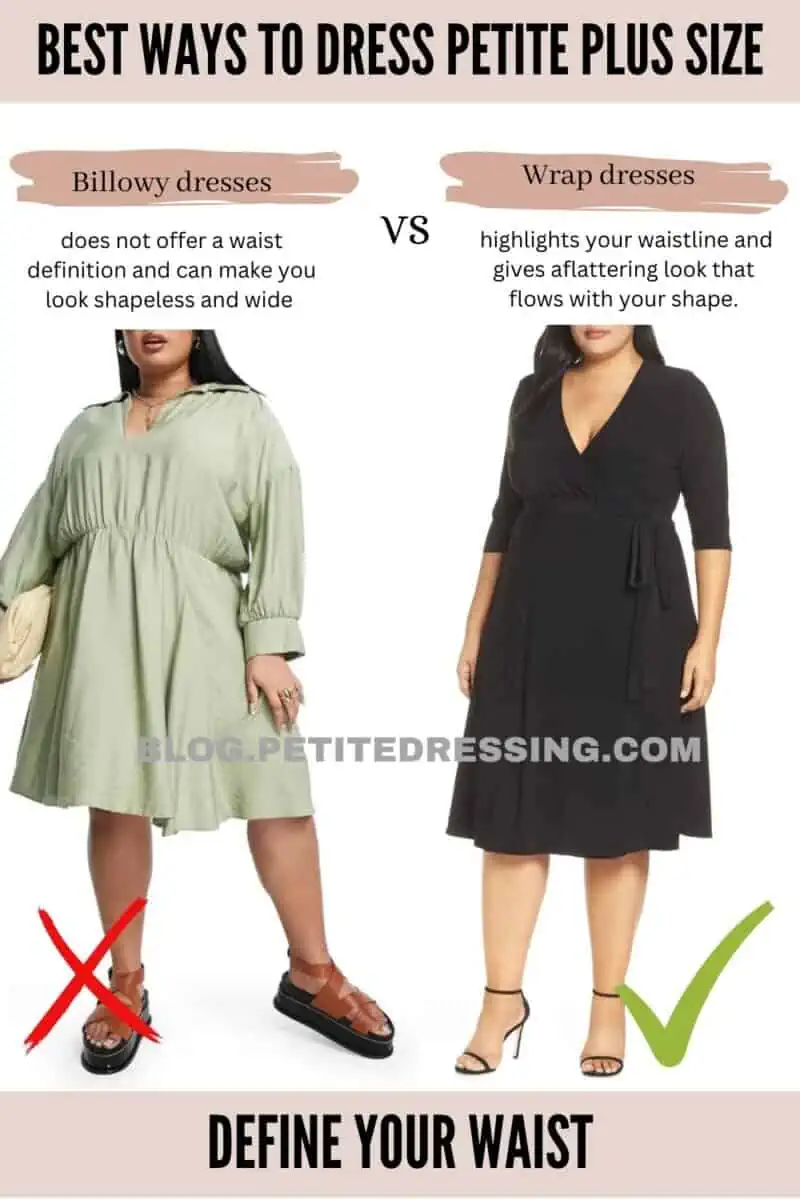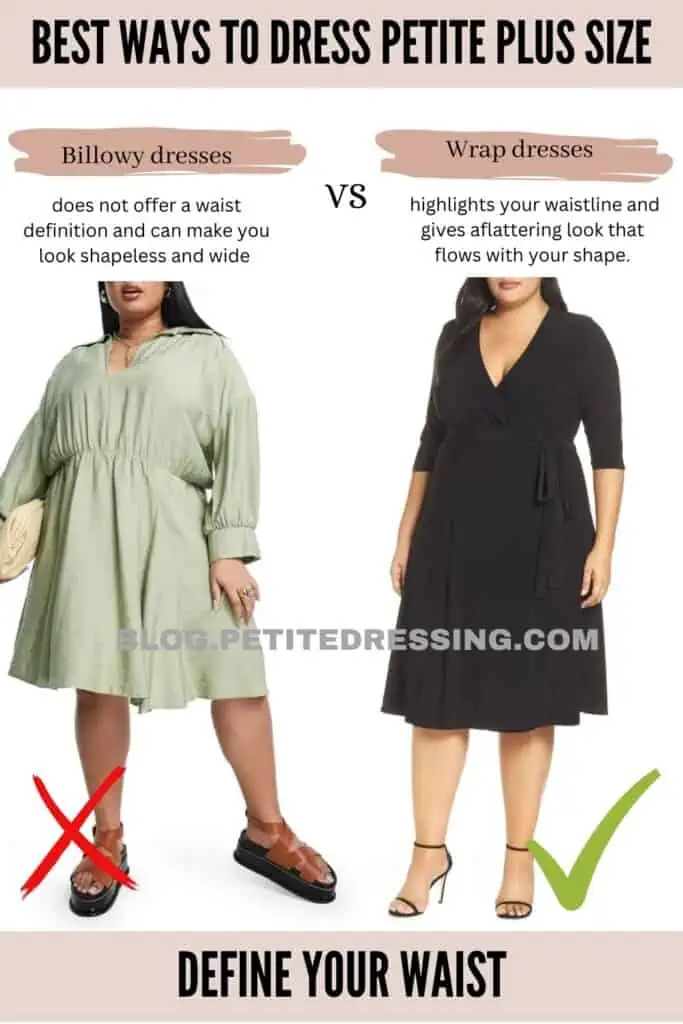 An incredibly powerful way to embrace your shape is by dressing in a way that highlights your waistline. Focusing on highlighting this part of your body is tricky for a lot of women because let's face it – most of us don't LOVE this part of our body.
Opting for dresses that have a defined waist like a belt wrapped around, or a top that offers some structure around the waist are easy touches you can make to your styling that will really transform how flattering your clothes are on your body.
They also ensure that your shape isn't swallowed up by an abundance of fabric.
Keep in mind, that highlighting your waist is a great way to also wear items that may be a smidge flowy in their design.
Let me explain.
Say you have a dress that has ruffles and is rather flowy.
Traditionally that wouldn't be the most flattering option for a petite, plus size frame.
However, if that dress has a belt wrapped around the waist it can instantly transform the shape of the entire look.
Now with the belt you have highlighted your waistline and have a flattering look that flows with your shape.
Dress in Monochromatic Colors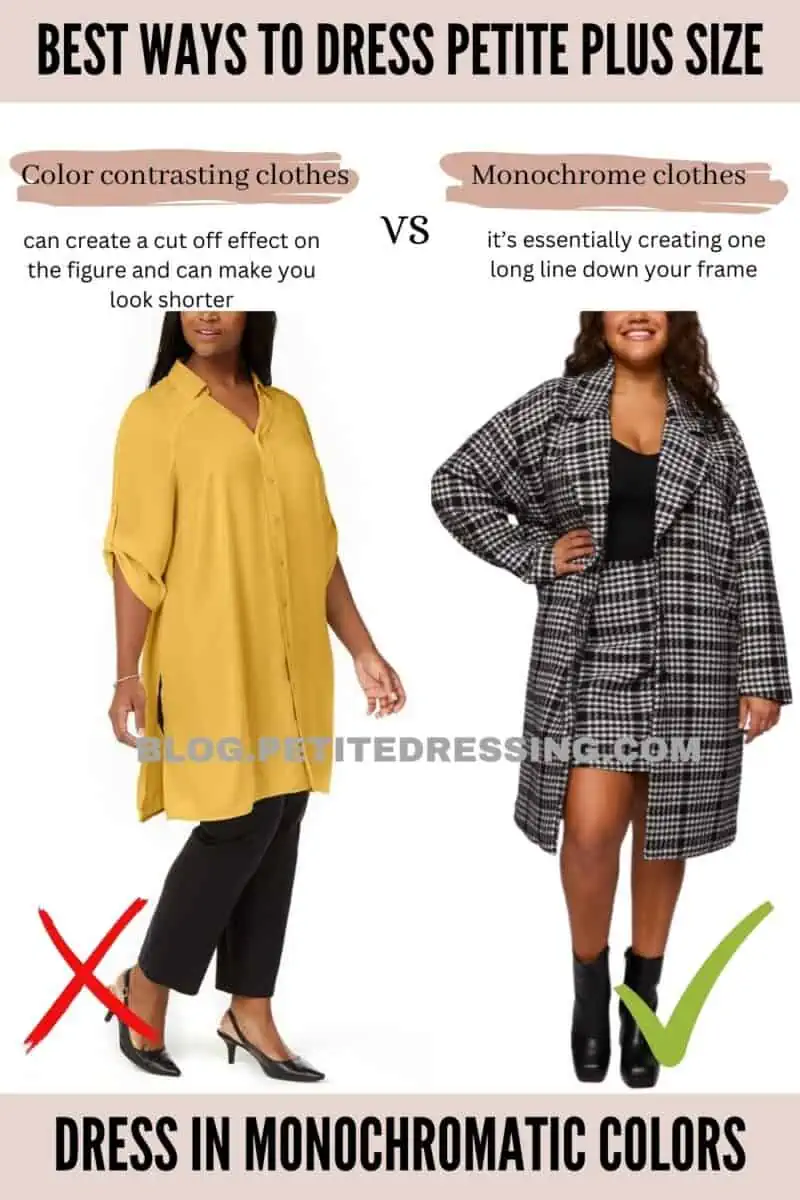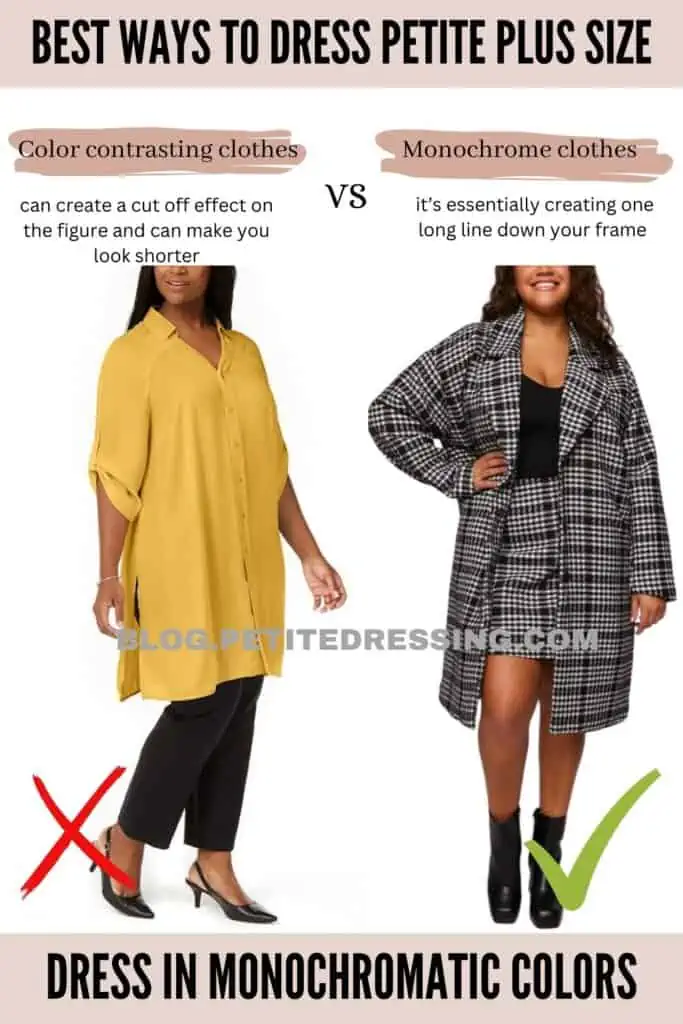 Similar to what a one-piece garment does for petite plus-size bodies, dressing in a monochromatic color scheme can do the same thing!
Just to circle back to what I mentioned previously, monochromatic dressing is gorgeous for petite plus size because it's essentially creating one long line down your frame.
Naturally, you still want to ensure that you're wearing pieces that offer a tailored fit to your body.
If you're not super familiar with what monochromatic dressing actually is, allow me to explain.
A monochromatic outfit is dressing head-to-toe in the same color, or color scheme.
For example, when you wear a shirt, jacket, and pants all in black you have a monochromatic outfit.
This type of outfit can be styled using ANY color. If you're looking to introduce more color into your wardrobe and what you wear on a daily basis but afraid it may not be flattering – monochromatic dressing is a great way to rock it!
Wear Tailored Pants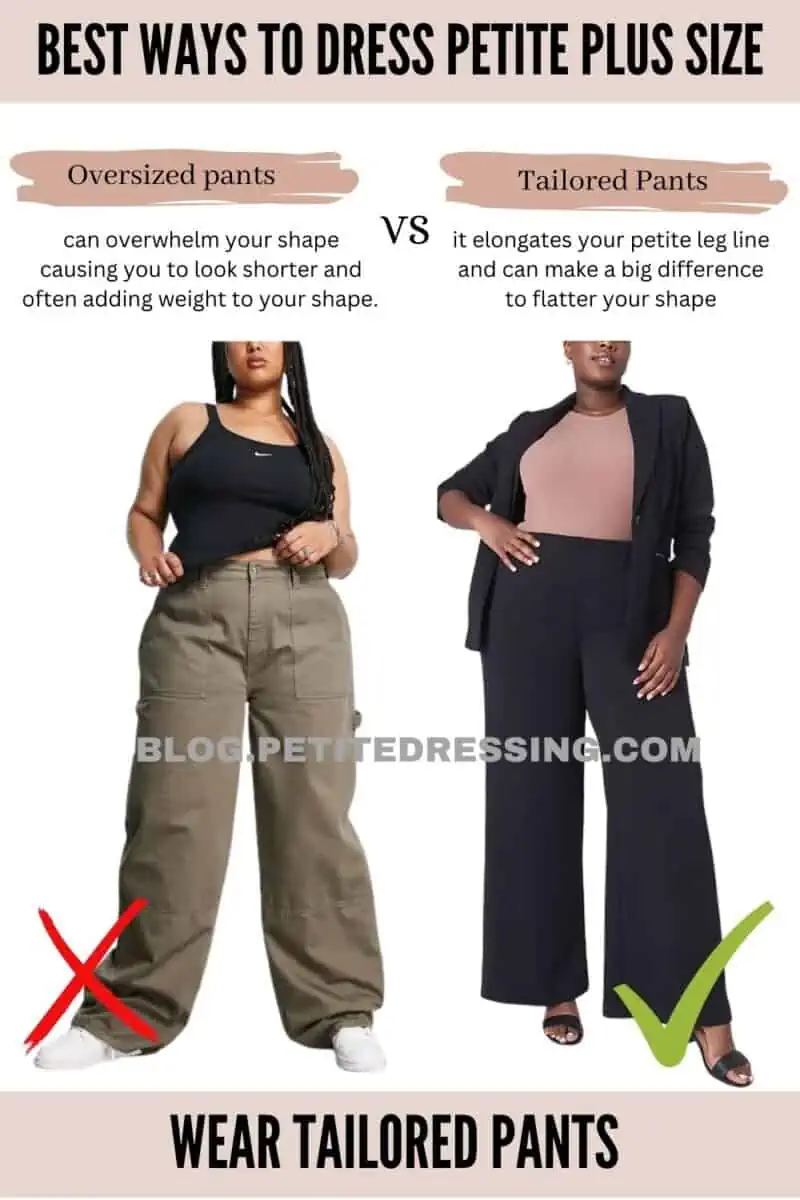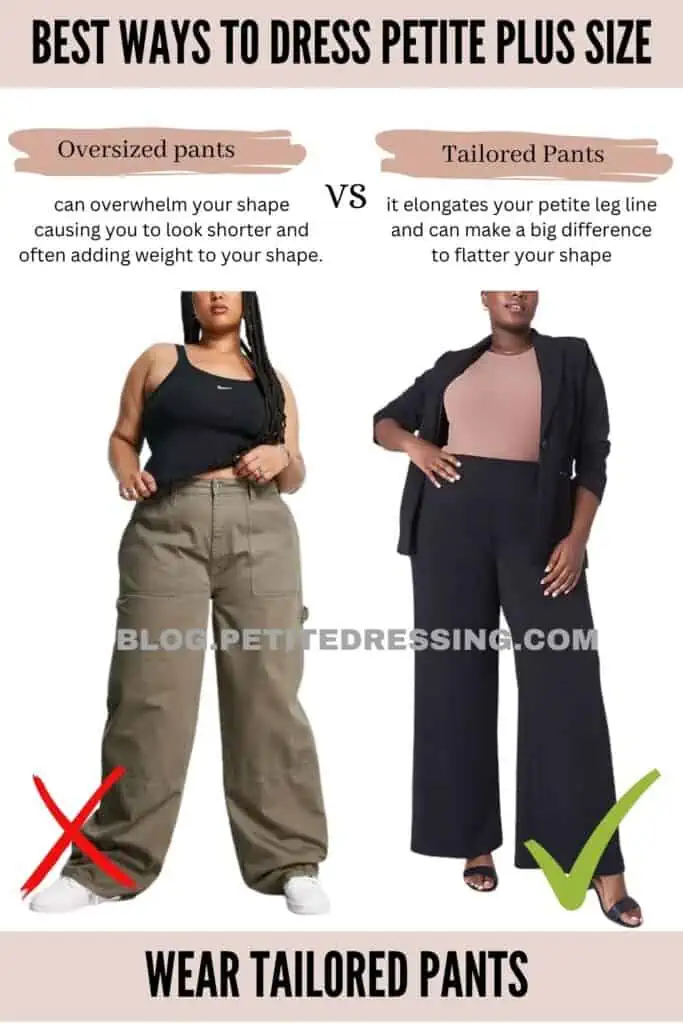 Over the past year there are a lot of different pants silhouettes that have become quite popular. While I'm all about experimenting with your style, dressing to flatter your figure is a much more beneficial way to style yourself. Petite women everywhere know pants are one of the hardest things to fit, and fit well.
Because pants are such a specific type of garment that can be ALL WRONG when the fit isn't flattering, it's even more challenging to find when you're petite plus size.
Overall, to best suit your frame I suggest sticking to tailored pants.
There are a few things to keep in mind when shopping for tailored pants.
First of all, mid to high-rise is going to be your best bet!
The reason mid to high rise is the best option for you is that it elongates your petite leg line (even if it's just a couple of inches!) and can make a big difference to flatter your shape. Basically, avoid low rise!
Next up, I suggest sticking to straight or skinny leg silhouettes for your tailored pants.
As a petite woman, wearing pants that are too loose or big in their silhouette can overwhelm your shape causing you to look shorter and often adding weight to your shape.
Avoid Wide Belts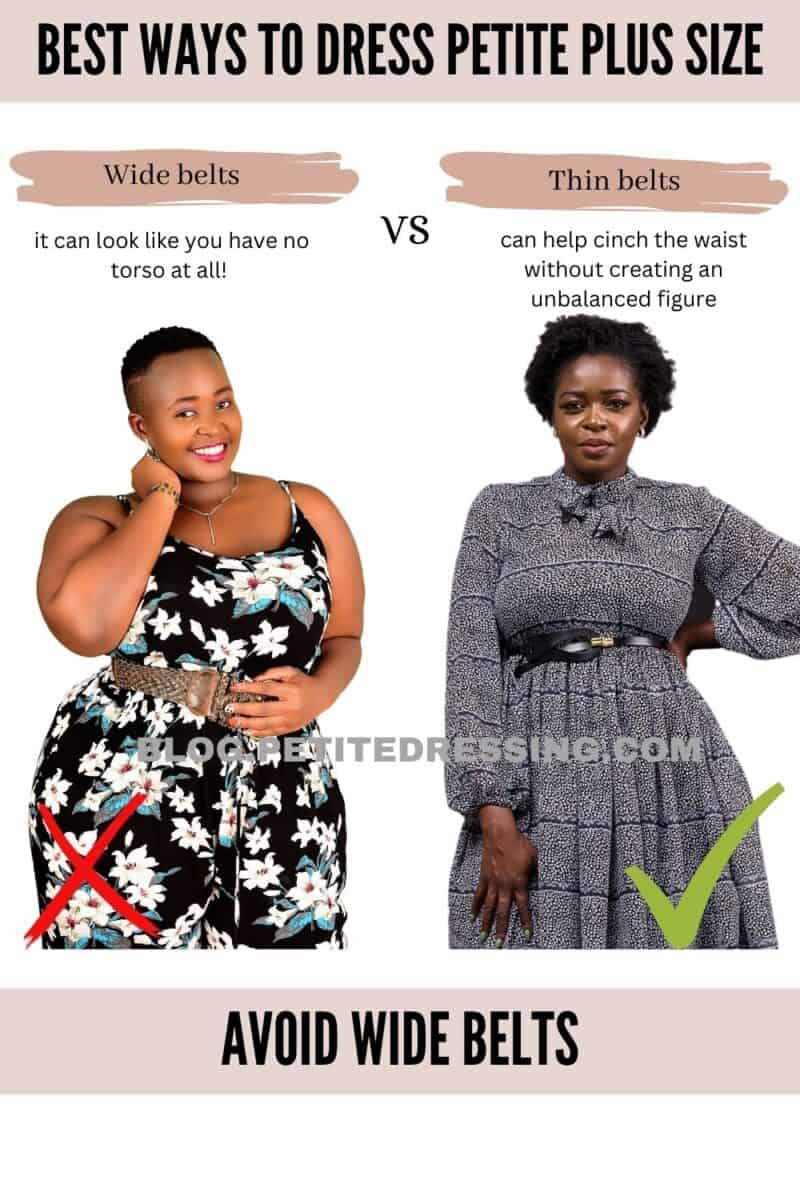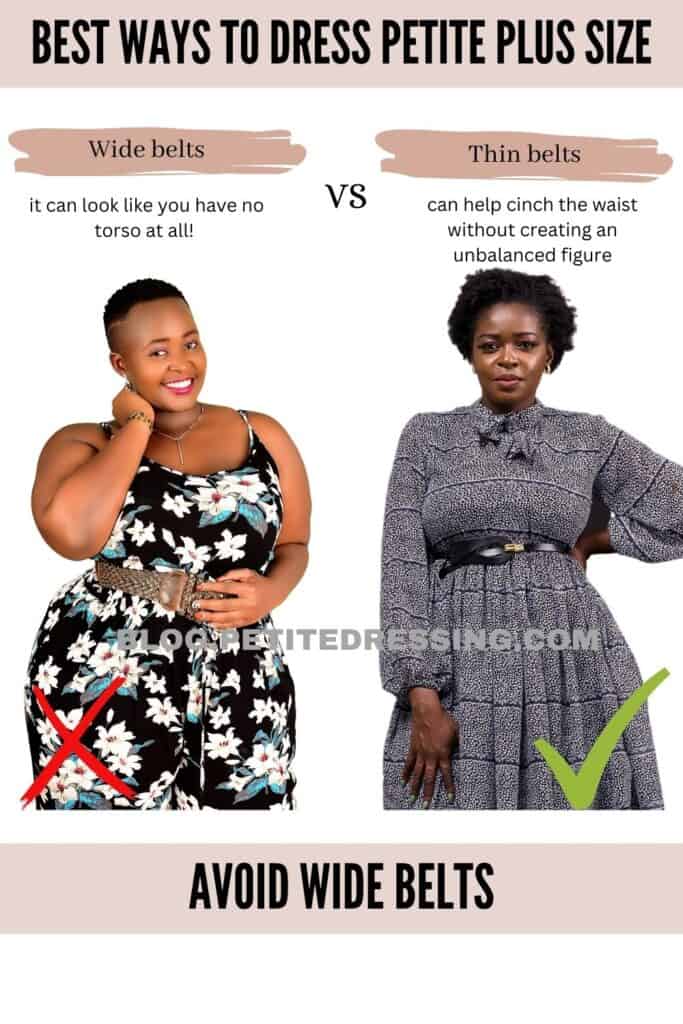 Many petite women tend to have a shorter torso, which means there is not much space under your bust and above your waist.
If you are petite plus size, because you also have a fuller bust, that implies there is even less space to work with under your chest.
Therefore, you should avoid anything that takes up too much space around your waistline.
Wide belts are in of the most obvious examples. When you wear wide belts, it can look like you have no torso at all!
So, to look more balanced, petites with large bust should use other ways to define their waist, which I will talk about later in this post, and stay away from wide belts.
Avoid Anything Bulky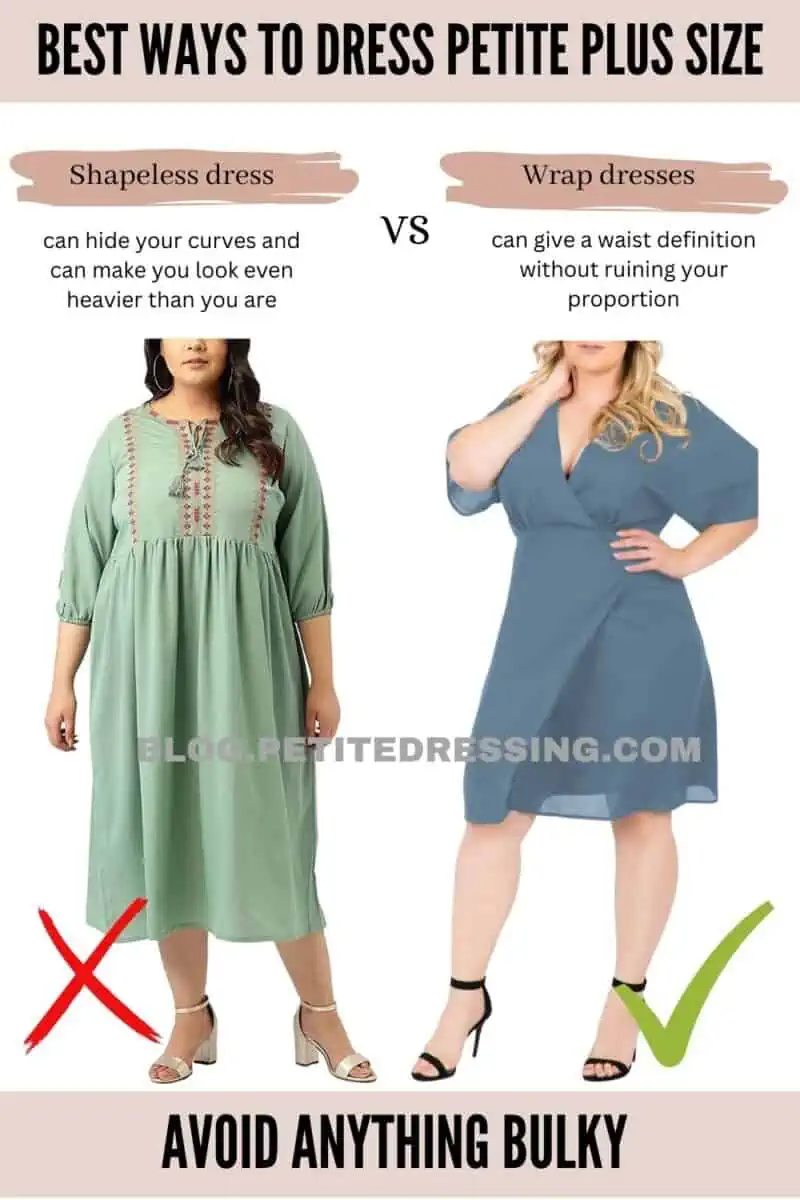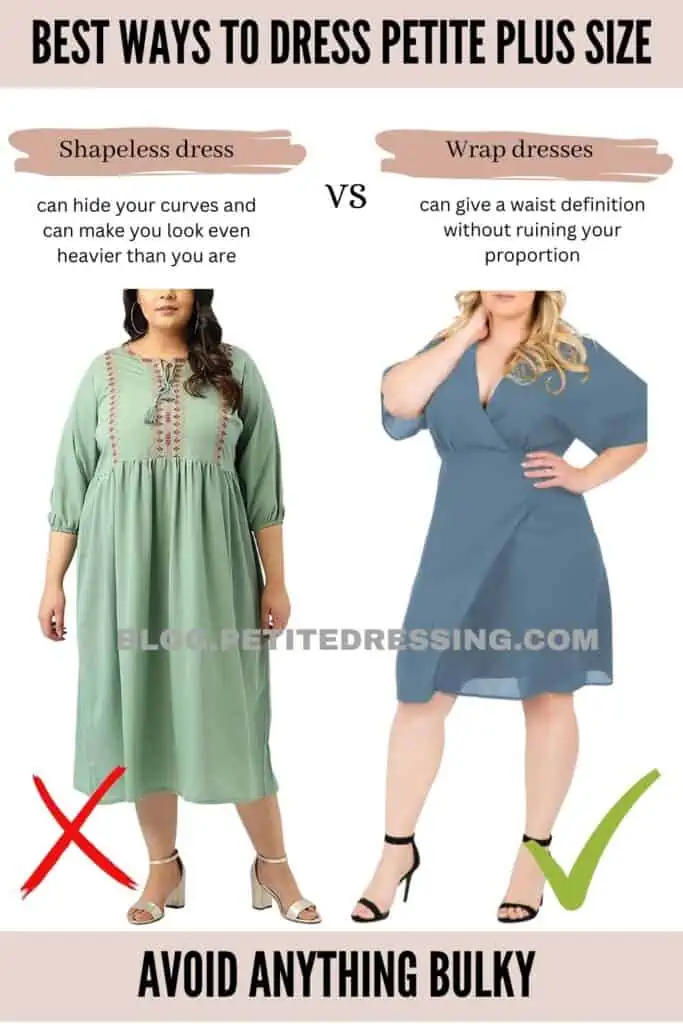 As tempting as it can be to resort to wearing free-flowing tops, dresses, etc. the fact of the matter is those shapeless garments aren't doing anything for your petite, curvy frame.
One mistake a lot of plus size women make is sticking to shapeless garments. It's comfortable, but they do not look flattering on petite women with a curvy body.
In fact, not only do they not hide anything, they actually can make you look even heavier than you are.
Avoid Double Breasted Anything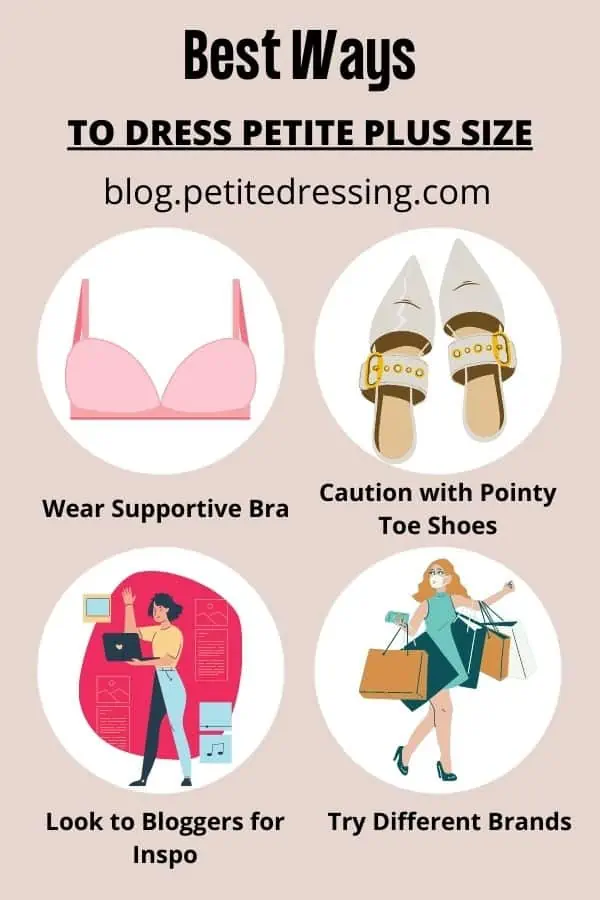 Double breasted design, whether it's a jacket or coat, is not your best friend, if you are short and curvy. The reason is they expand you horizontally, which can make you even shorter and even heavier. That is the least a petite plus size girl wants.
In stead, if you are looking for a blazer or a coat, go with single-breasted design. These can draw the eye up and down, creating the illusion of a longer and thinner torso, therefore much more flattering on a petite woman with curves like yours.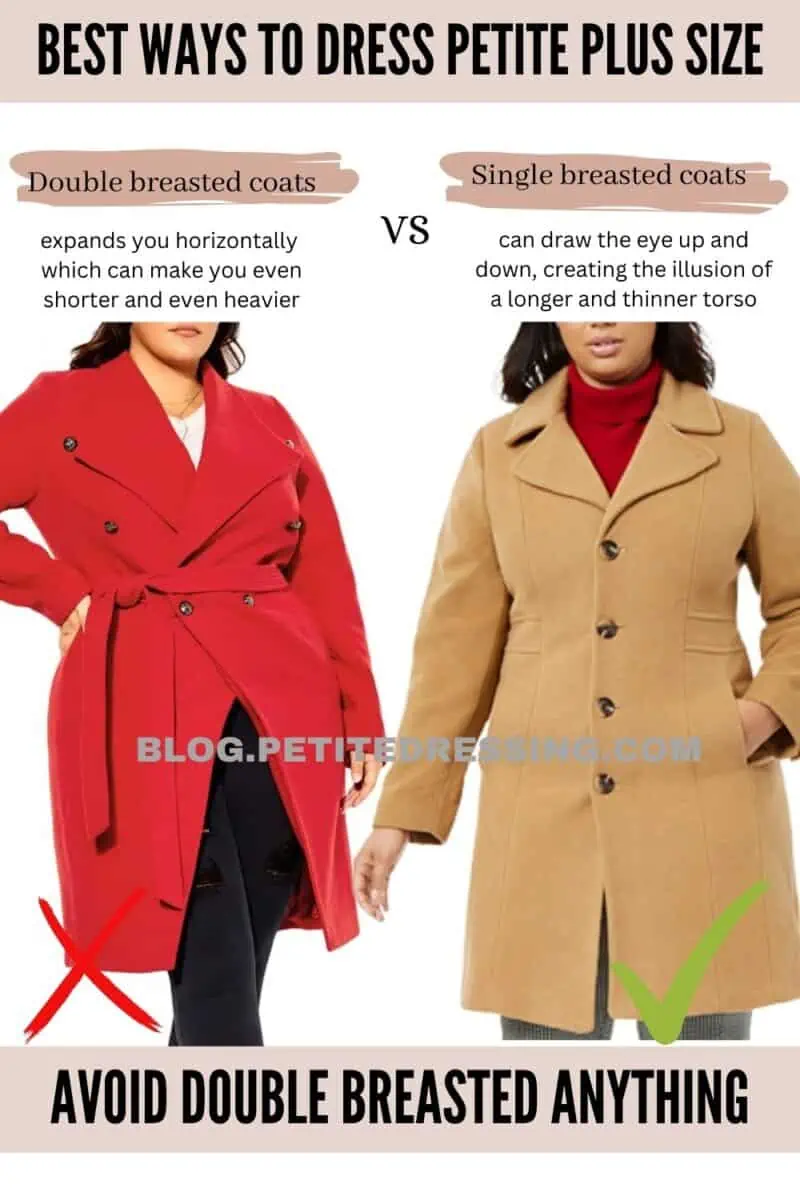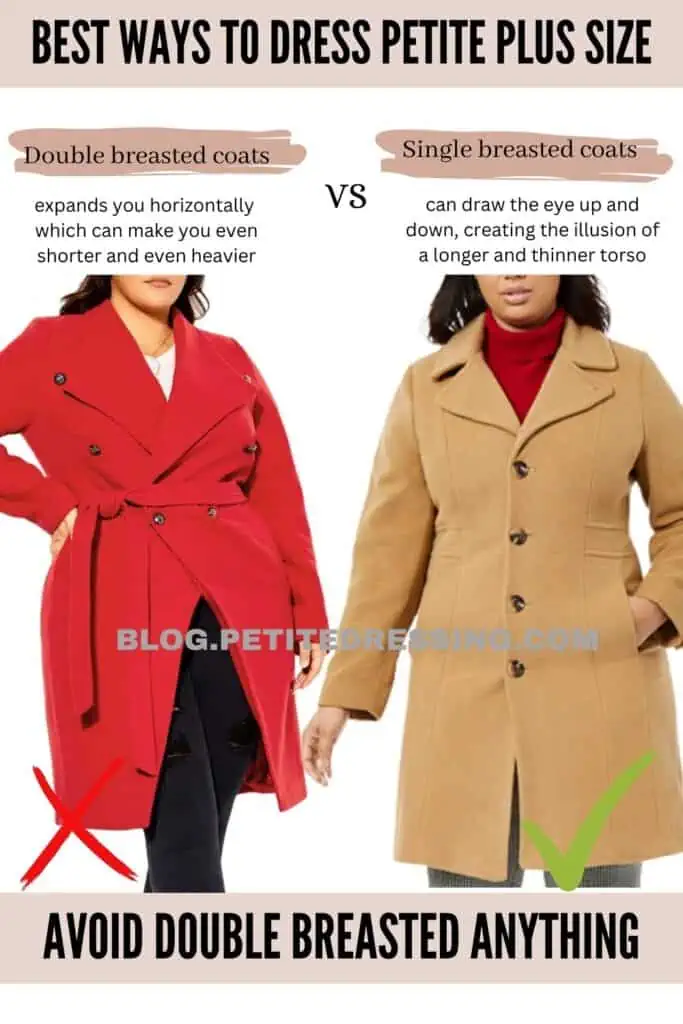 Wear Supportive Bra
This may sound very basic, but you will be surprised how many women are wearing the wrong sizes of bra. This is especially critical for plus size petite women, because your full chest needs the best support you can provide with the bra. When your bra is providing enough support, your posture will look different, and everything you wear is going to look better.
Our body is constantly changing as we go through life, so it is important we go back and remeasure our bra size every couple of years, especially after significant weight gain or weight loss due to life events.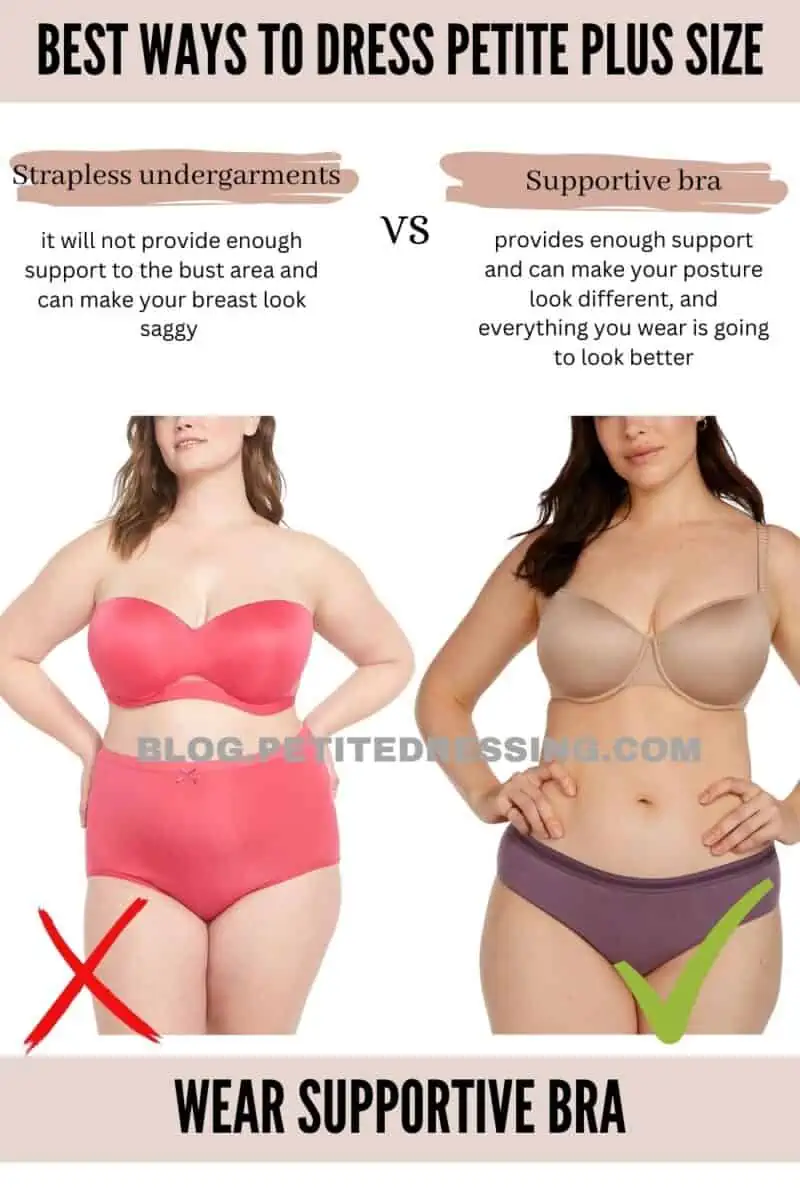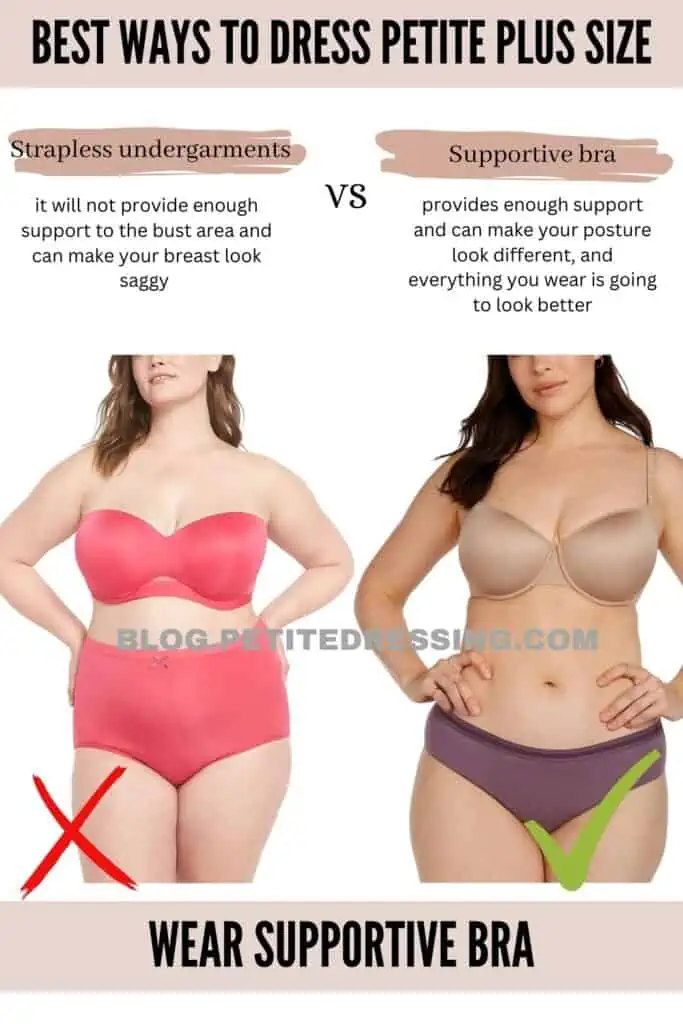 Caution with Pointy Toe Shoes
Pointy-toe shoes is one of the best ways to make a petite woman look taller. The caveat is when you are petite plus size, they may not look in harmony with your body scale. This especially true if you happen to have thick legs and thick ankles. Wearing sharp-toe shoes will only make your legs and ankles look even thicker, because of the comparison.
Instead, opt for rounded-toe shoes. These look most in harmony with your overall shape, because they relect your body type.
I do not recommend square-toe shoes to petite women, whether plus size or not. This is the kind of design that can make your legs look shorter. That is why you should stay away from any square toe pumps, flats or boots.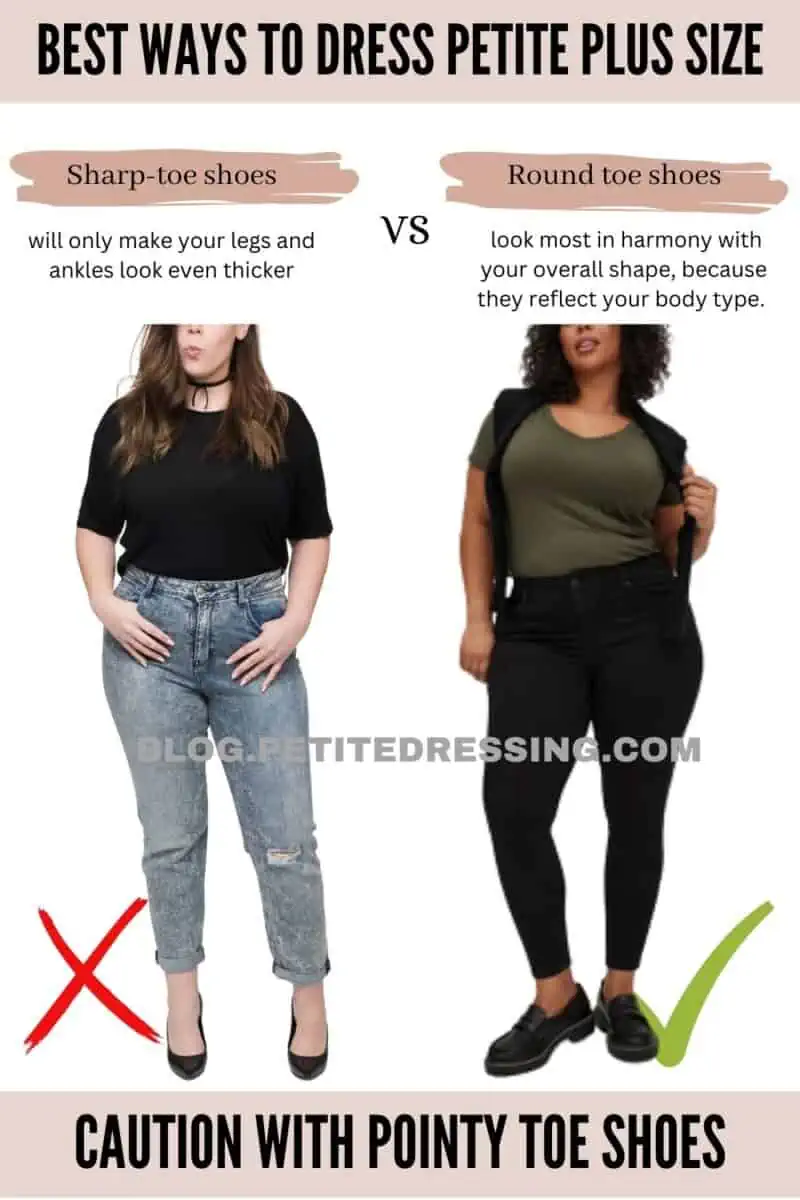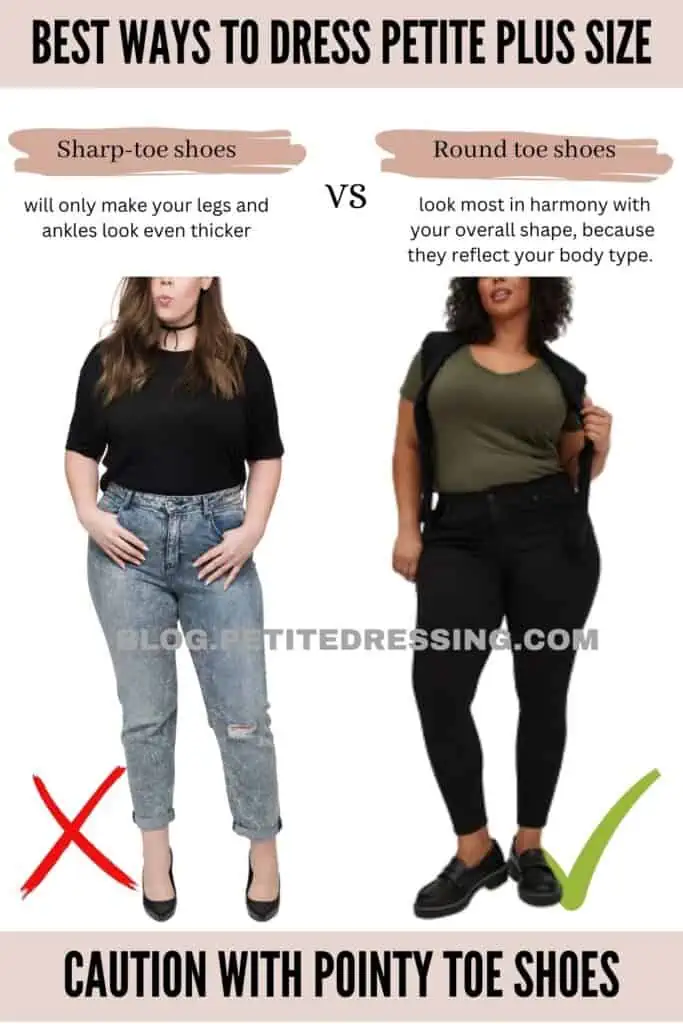 Look to Bloggers for Inspo
One of the great things about the world we live in today is how we have access to SO much.
Style inspiration is included. S
ites like Pinterest and Instagram are incredible resources to tap into for a dose of style inspiration.
If you're really feeling a certain fashion trend right now, but you're not quite sure how to wear it in a way that flatters your petite plus size shape look to others for some inspiration.
Chances are there are plus size bloggers or influencers out there who has a body type similar to yours – they're great individuals to lean on for style inspiration to use for your own wardrobe.
Try Different Brands
I know one of the main struggles plus size petite women face is feeling limited in where you can actually shop for clothing.
Fortunately, many brands and retailers and now beginning to offer more and more options. As frustrating as it can be, I want to encourage you to think outside the box and try shopping around more.
If you've been going to the same one or two stores for many, many years – step outside your comfort zone. Since there are many companies who are being much more inclusive there are more options than ever before. You just have to shop around a bit more and be open to other shopping sources.
Styling clothes according to your personal shape and height is no easy task. Although, I'm sure I don't have to remind you of that. I know a lot of women get frustrated due to the lack of standardized sizing in clothing, which can sometimes feel like it's nearly impossible to find YOUR size/silhouettes.
The truth is, because women are all shaped so different it would be nearly impossible for brands and designers to create clothing that will fit EVERY single woman the same way.
This is exactly why it's essential we all have the tools and knowledge to dress our own unique shapes. When you have a solid sense of what to look for and what to avoid for YOUR body shape it makes shopping and getting dressed much easier.
Don't be afraid to shop online, either!
What you will begin to notice is many retailers have a much more broad selection of petite and plus size options available online.
Just be aware of the return processes so it's not too complicated. The nice thing about online shopping is you have the ability to try clothes on in the comfort of your own home.
Honestly, what's better than that?! Some favorite retailers for petite plus size are ASOS, Nordstrom, Macy's, and Lane Bryant just to name a few. I suggest doing some online research and browsing to find a handful of retailers you enjoy and place an order to see how you like their clothing!