Want to wear different skirts but don't know which skirt styles will suit short and chubby women? No worries, as we have a detailed guide on how to style different skirts for petite and chubby women.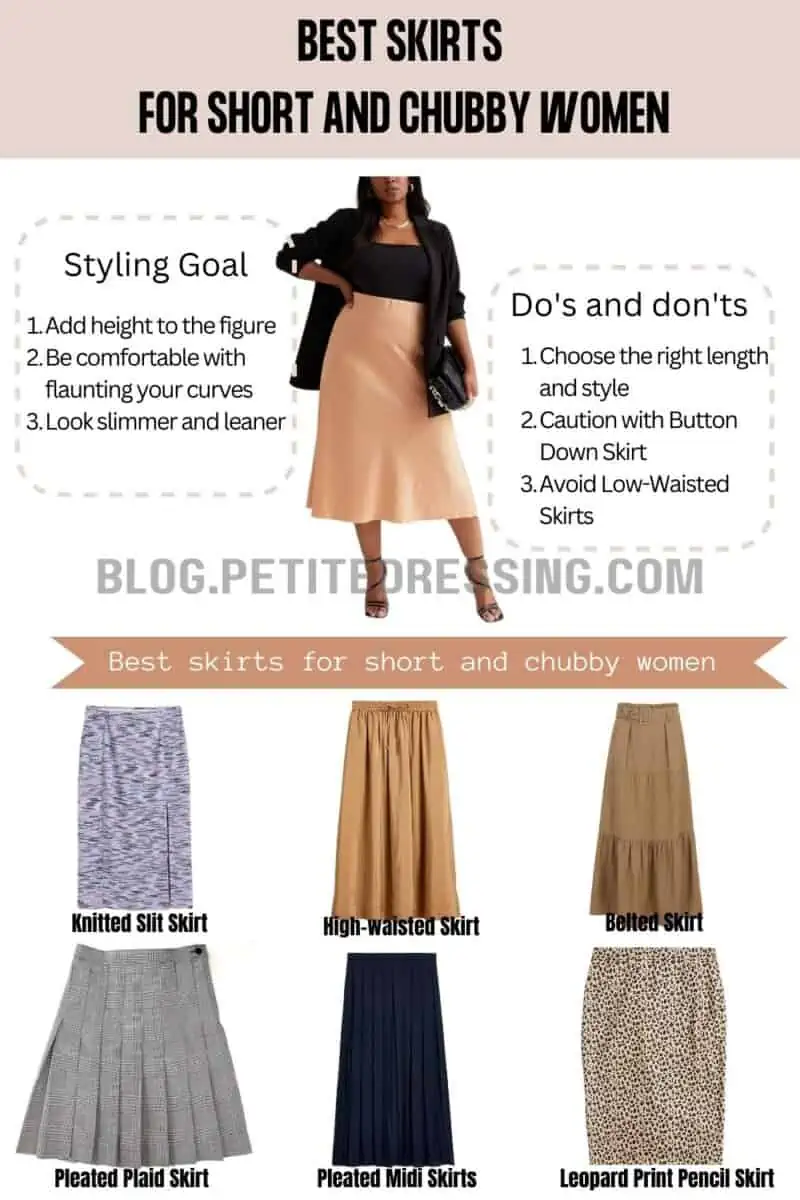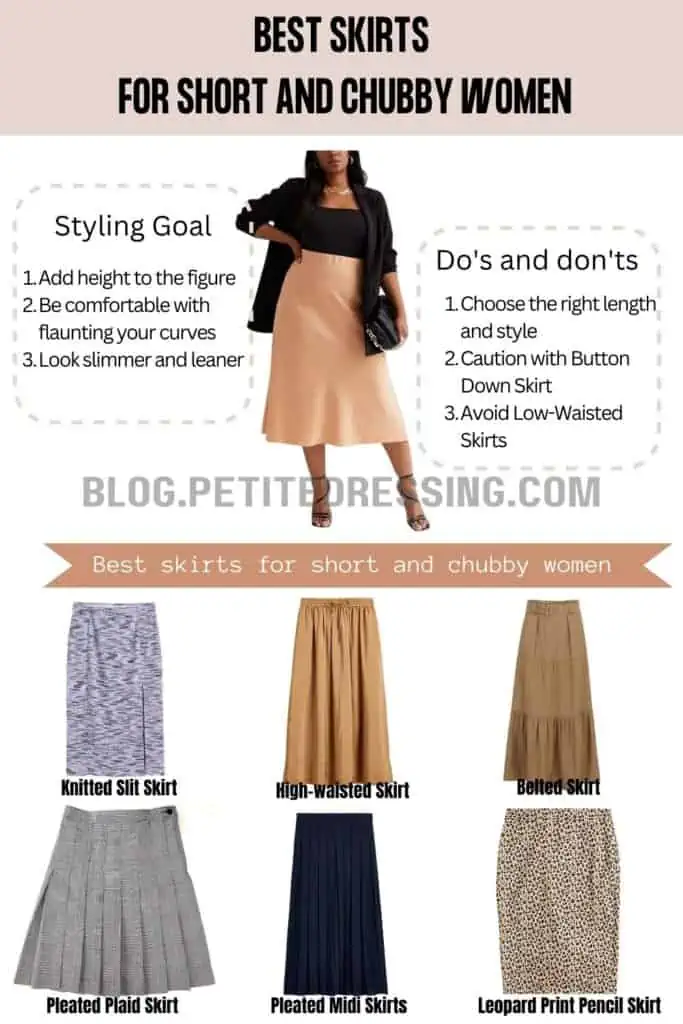 Skirts can make or break your outfit if you don't choose the right length and style. But our detailed guide will help you learn which skirts suit your body type and how you can up your fashion game. So, let's get started!
Knitted Slit Skirt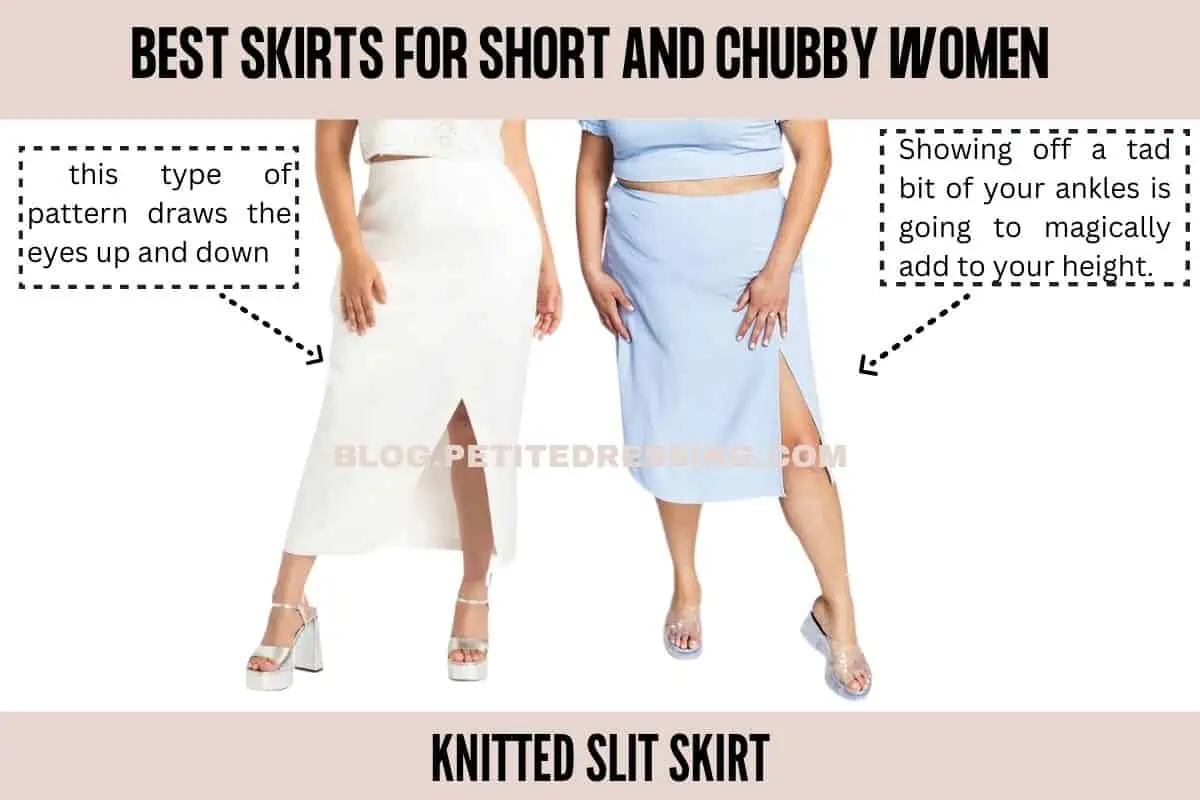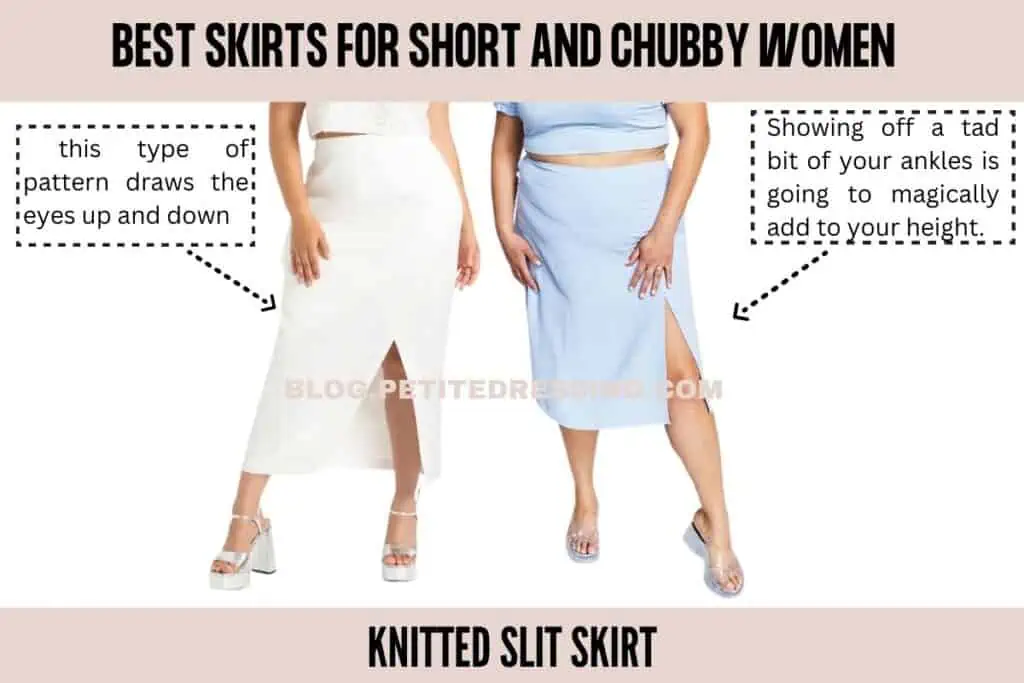 Knitted skirts are gorgeous on plus-size women because they maintain the shape of the skirt instead of clinging to the skin. You can slay in a knitted slit skirt in the winter. Choose a skirt that shows your ankles while the slit shows your legs. It will be a perfect length for petite women and make you look taller.
Slit skirts aren't too tight or too loose. Therefore, they are perfect for chubby women. Showing off a tad bit of your ankles is going to magically add to your height.
You can pair a knitted slit skirt with a plain ribbed top. Long cardigans look amazing with slit skirts too especially if you aren't comfortable with flaunting your curves.
High-waisted Skirts
High-waisted skirts are a lifesaver for chubby and petite women.
They are easy to style and complement such a body type perfectly.
The high-waisted style makes you look slimmer and gives the illusion of a leaner body. So, it is alluring in all aspects.
Belted Skirt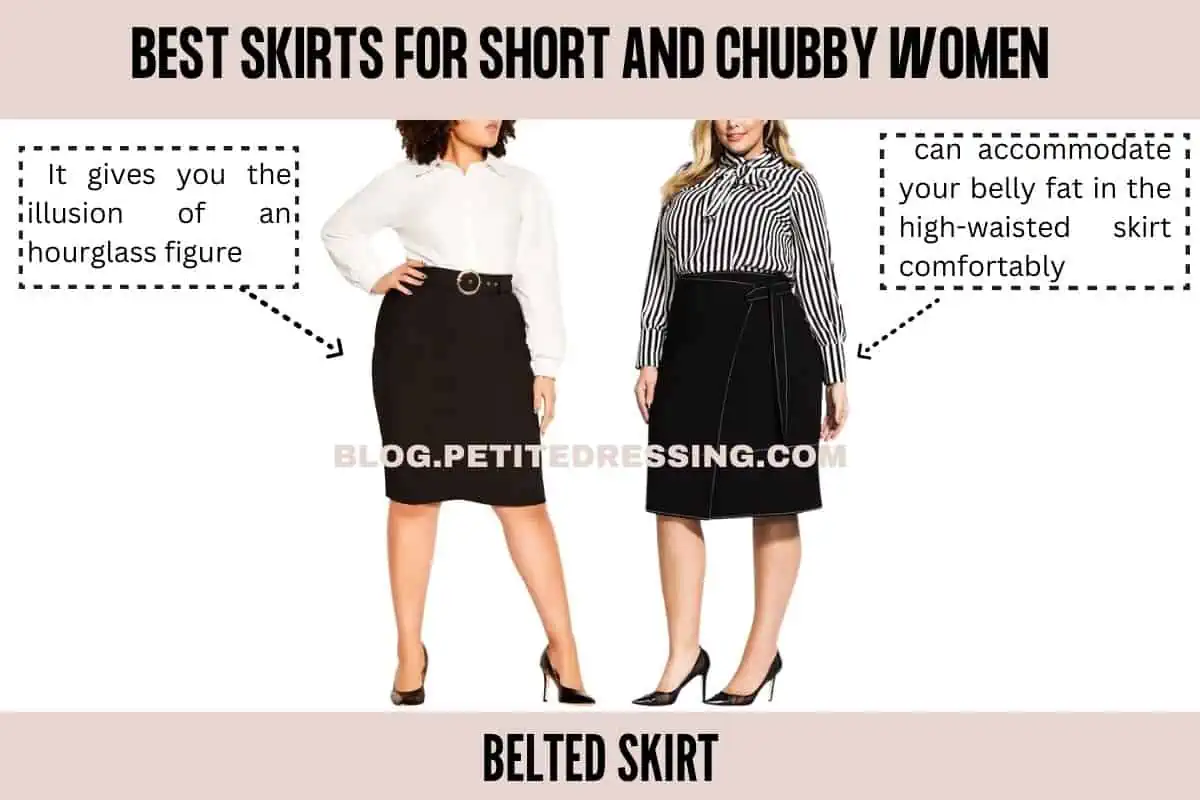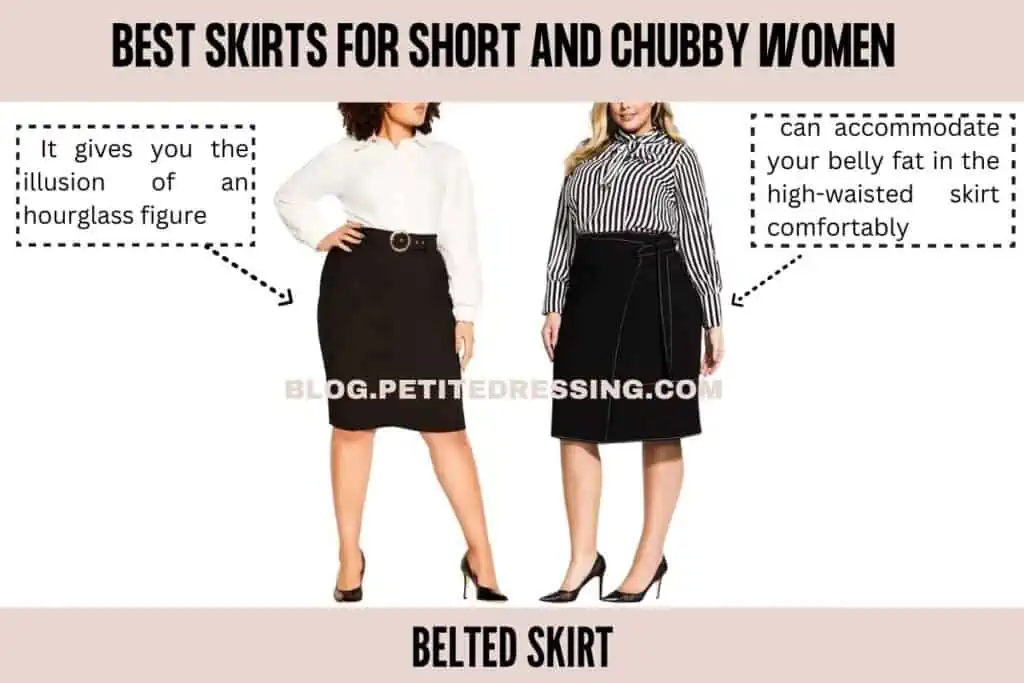 Belted waist allows you to make your waist as small as you want. This way, you can accommodate your belly fat in the high-waisted skirt comfortably. It gives you the illusion of an hourglass figure.
Belted skirts also look elegant for any occasion. You can wear a white button-down shirt with this skirt and pair the outfit with black strappy heels.
Pleated Plaid Skirt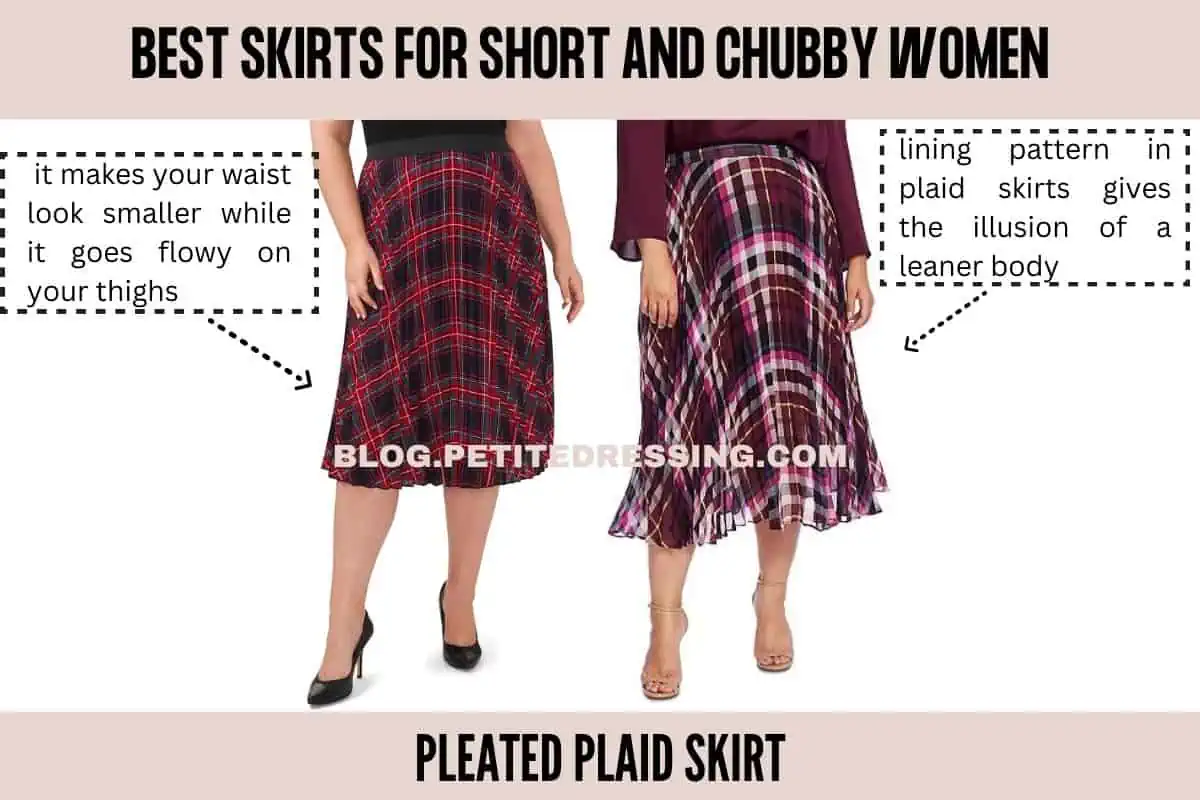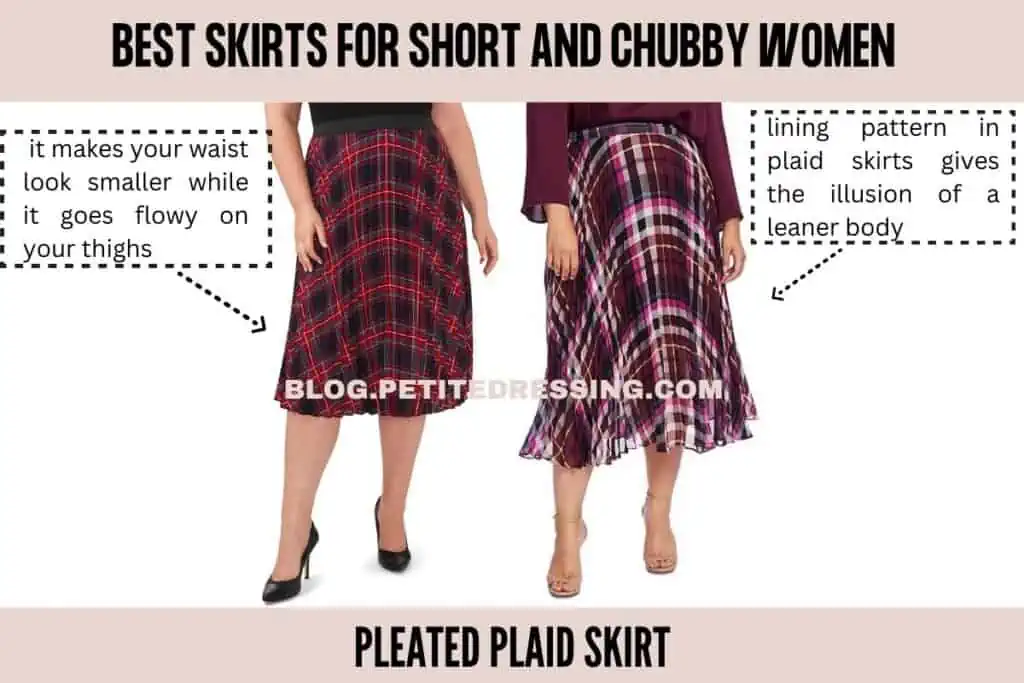 Who said you can't wear a short skirt if you are chubby? Chubby and petite women must have a pleated plaid skirt. These skirts aren't only chic but will make you look taller and slimmer. The lining pattern in plaid skirts gives the illusion of a leaner body.
The pleated style is better than the pencil style for chubby women. Because it makes your waist look smaller while it goes flowy on your thighs. It won't make them look larger than they already are.
You can pair pleated plaid skirts with a square-neck white top or puff-sleeved top. The latter will give you a vintage aesthetic which is quite trendy nowadays.
Pleated Midi Skirts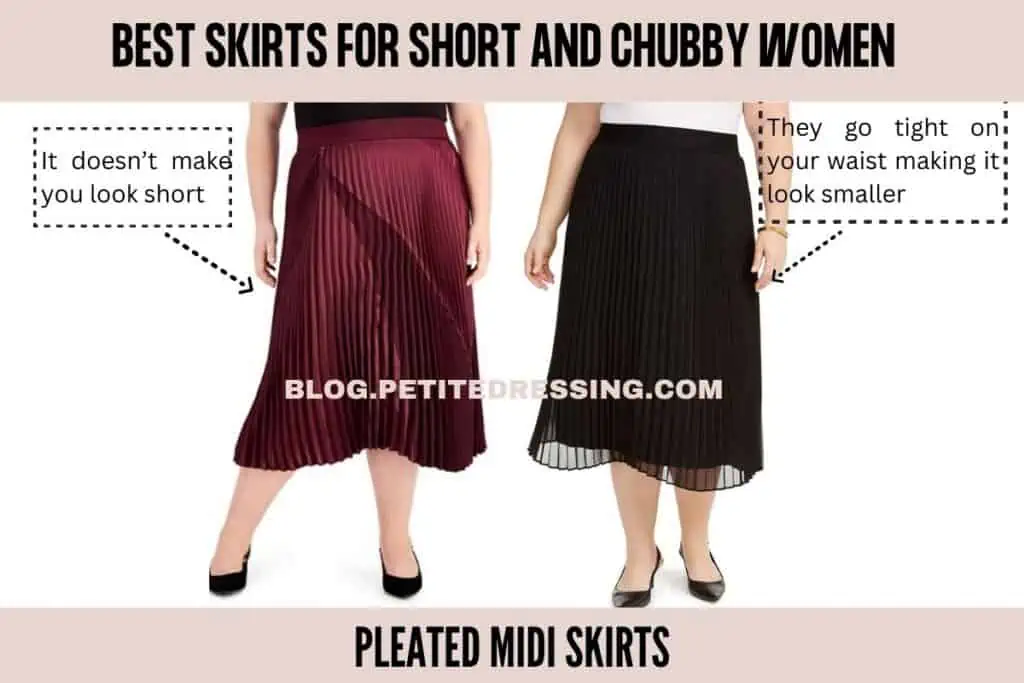 Midi skirt length is the best for petite women. It doesn't make you look short. In fact, you will instantly look leaner while wearing a midi-length skirt. Pleated midi skirts are great for chubby women because they don't make you look heavier than you already are. 
They go tight on your waist making it look smaller. You can trick anyone into thinking you have an hourglass figure. Who doesn't want that?
As pleated skirts are flowy, you won't have to worry about your hips and thighs looking heavy. It will make you feel confident and beautiful.
Pair the pleated midi skirt with a silk blouse to dress it up. Wear a beautiful pair of plain heels to complete the outfit.
Leopard Print Pencil Skirt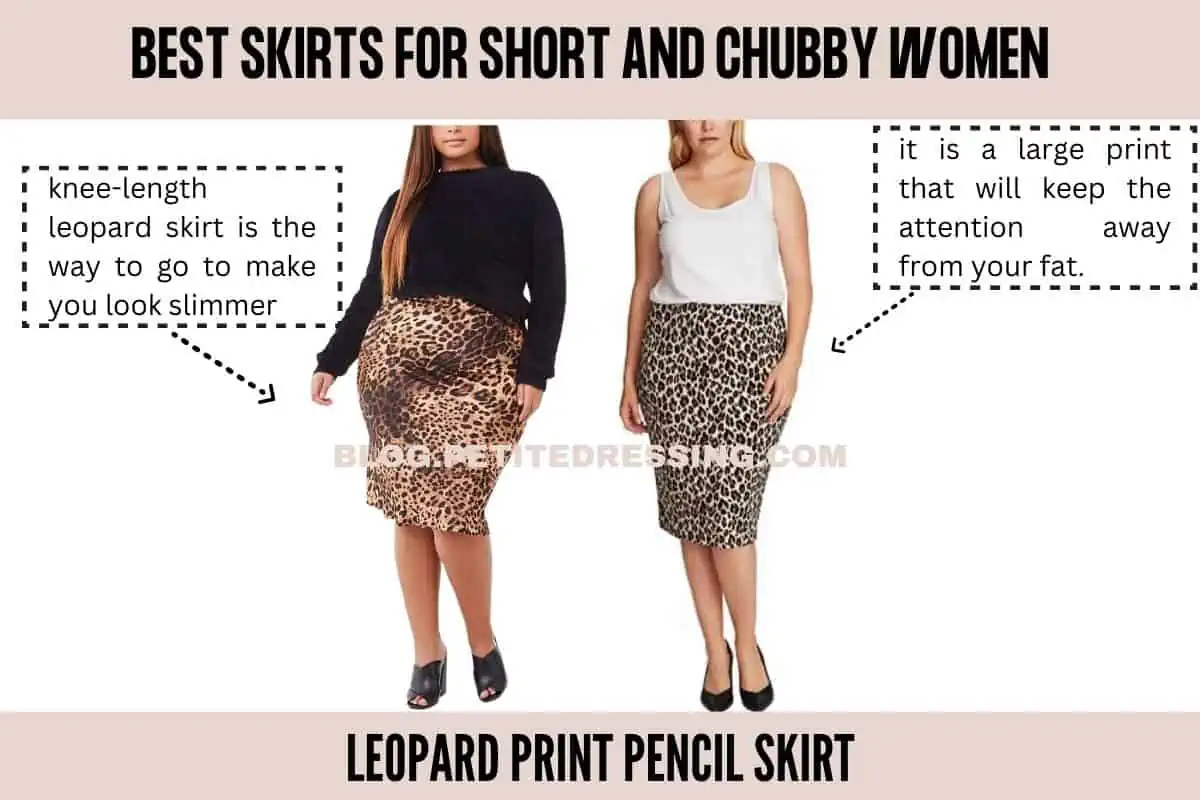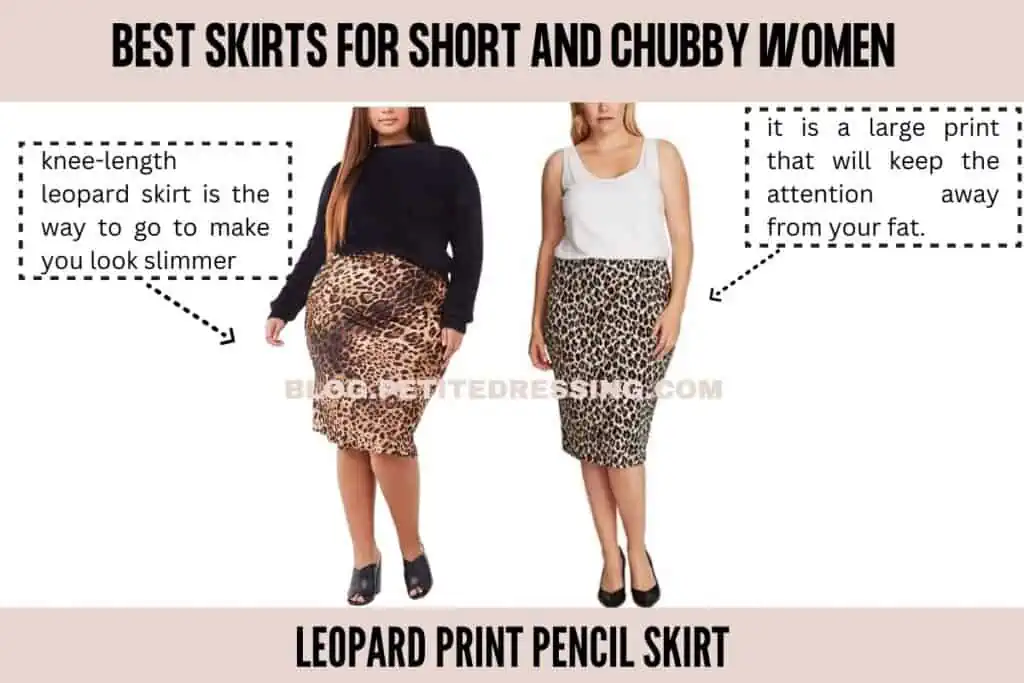 Being chubby doesn't mean you can't wear a tight skirt. All you have to do is choose a suitable print and length that won't make you look heavier. A leopard print is perfect for a pencil skirt because it is a large print that will keep the attention away from your fat. 
A too-short pencil skirt won't look good if you want to look slimmer. So go for something that goes at least till your knees. It is a perfect work outfit and you will have everyone's eyes on you.
You have to be careful while pairing a top with a leopard print pencil skirt. Something plain and solid-colored is going to look good with it. A nude-colored top is a perfect choice. Tuck the top inside the skirt for a put-together look. Complete the look with pump heels.
High-waisted A-Line Skirt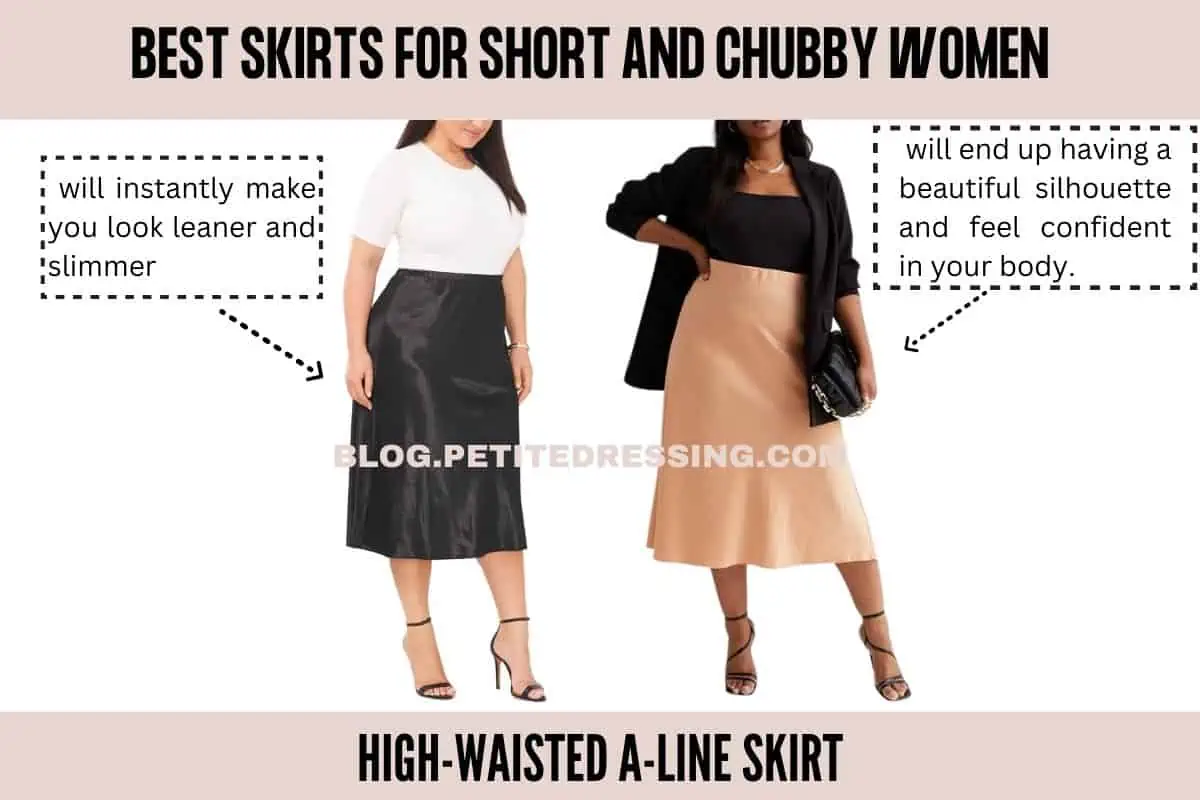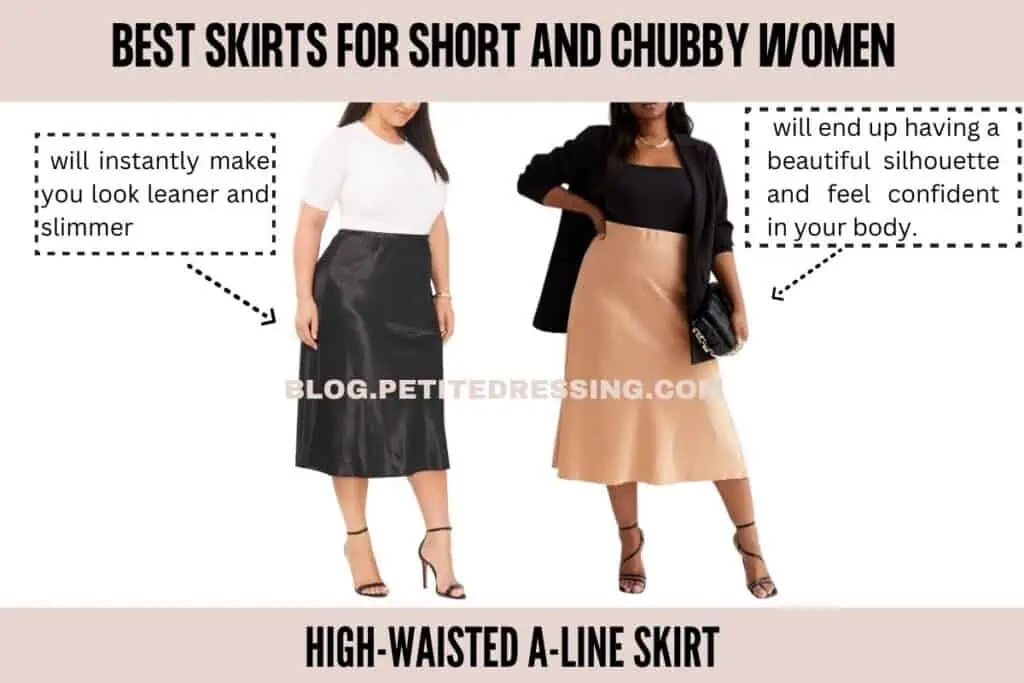 High-waisted A-line skirts are one of those styles that are suitable for short and chubby women. This skirt style will instantly make you look leaner and slimmer. Go for a dark color as it will make you look slim.
The A-line pattern and high waist will make your waist look smaller. You will end up having a beautiful silhouette and feel confident in your body. 
Choose the length of the A-line skirt carefully. A midi-length or knee-length is perfect for petite plus-size women.
If you go for a solid color for A-line skirts, pairing it with a top is extremely easy. That's why you must have this type of skirt in your wardrobe.
You can go for a printed top or match a color with the skirt in a silk top. You can have a lot of outfits with a single skirt. That's why it is a favorite.
Caution with Button Down Skirt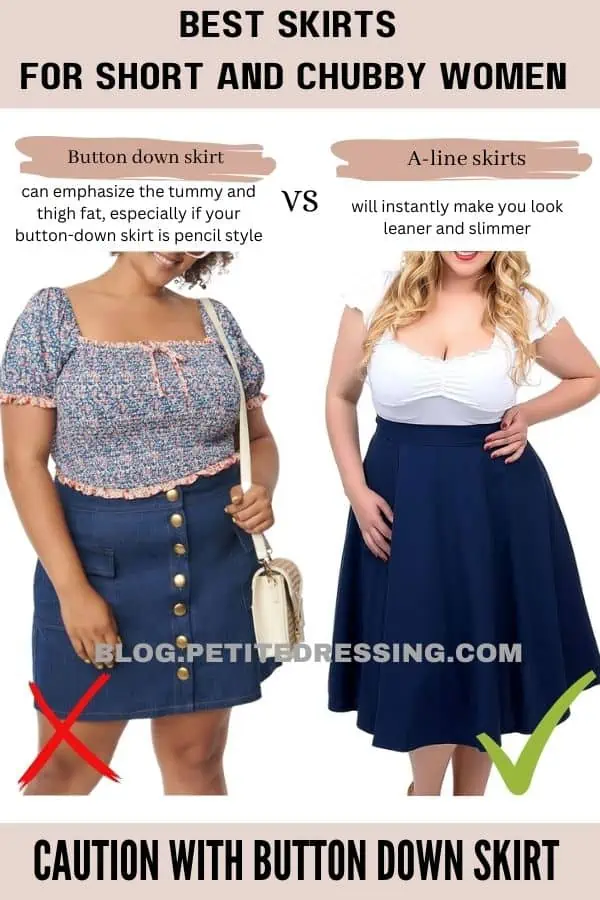 Button-down skirts can look chic, fashionable, and gorgeous. However, if you are short and chubby, they have the risk of making you look heavier.
The reason is that buttons can emphasize the tummy and thigh fat, especially if your button-down skirt is pencil style which completely clings to your thighs.
Avoid Low-Waisted Skirts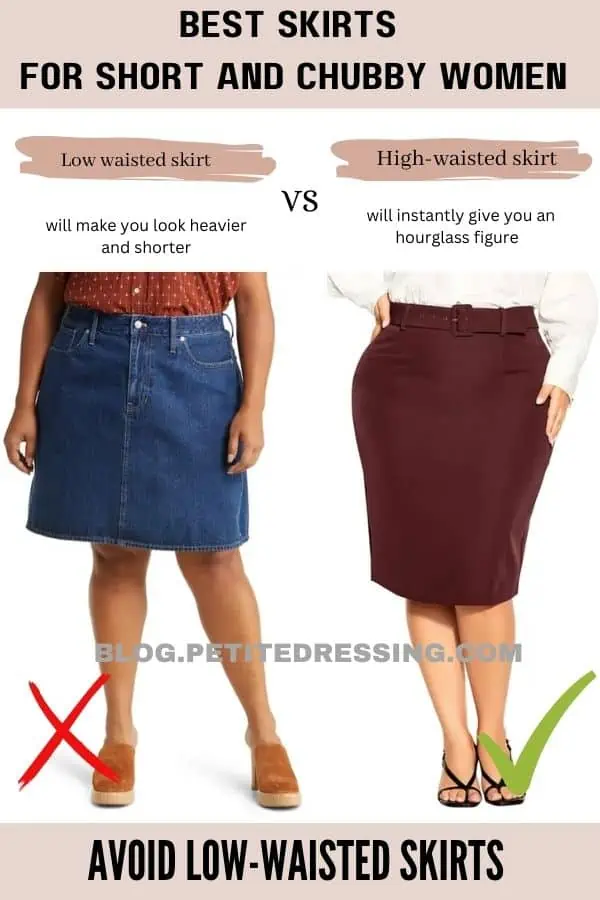 Low-waisted skirts aren't suitable for chubby and short women. They will make you look heavier and shorter and that's exactly what we don't want.
Low-waisted skirts don't look flattering on such a body type because the tummy fat is exposed in them. A mid-waist or high-waist is ideal for petite plus-size women. Such a waist will instantly give you an hourglass figure so why not wear a mid or high-waisted skirt?
Avoid Tulle Skirts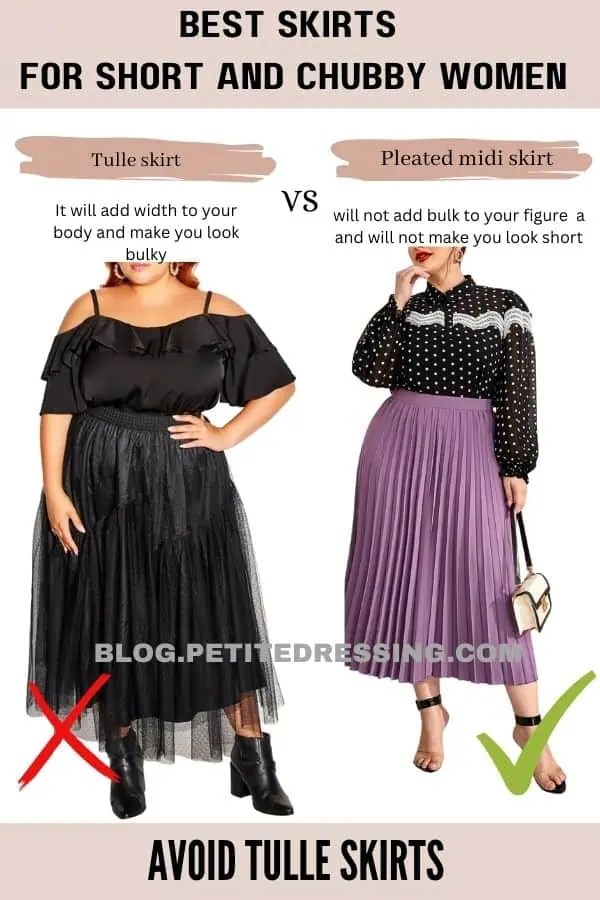 Tulle skirts have too much fabric to them and they don't look elegant unless you are a teenager.
It will add width to your body and make you look bulky. Consequently, you will look shorter. That's why you should avoid this style. No matter what length you choose, it will not look decent so why not avoid such a style?
Avoid Mini Pencil Skirts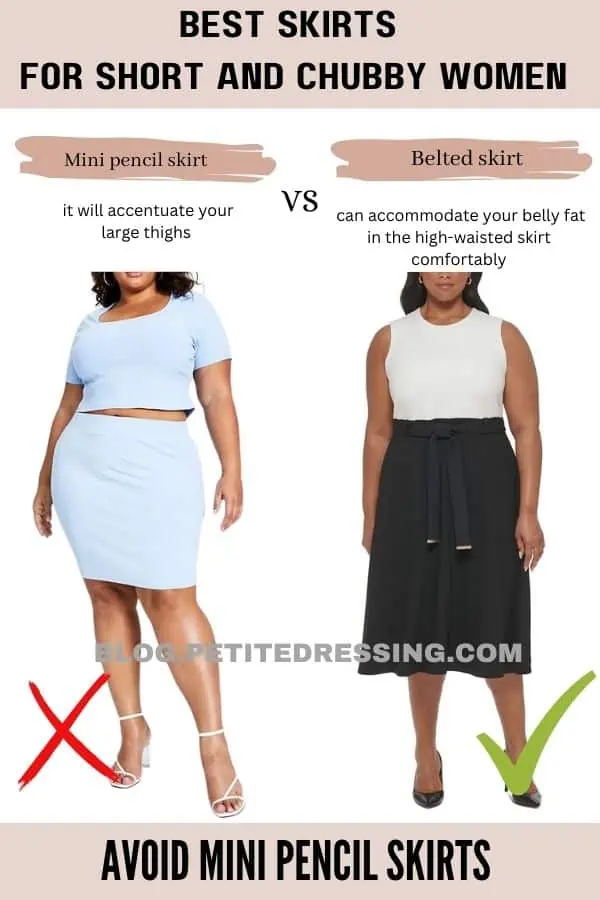 If a skirt doesn't cover your thighs fully and is too tight on that area, it will accentuate your large thighs. This isn't a suitable style for women who want to look slimmer and leaner. If you want to wear a pencil skirt, choose knee-length instead of a mini skirt. It will suit you much better and make you feel comfortable as well.
Final Thoughts
Now you know how to style skirts if you are short and chubby. You can look mesmerizing in different skirt styles. All you have to do is pair them up with the right top and choose the right length of the skirt. High-waisted and knee-length or midi-length skirts are ideal for petite plus-size women. Such a style will make you look slimmer and leaner.