When you think of underwear, all you want is beautiful underwear that is comfortable too. Choosing the right underwear for your body shape can be challenging, and you have to be extra careful.
Remember, this underwear should make you feel sexy and comfortable simultaneously.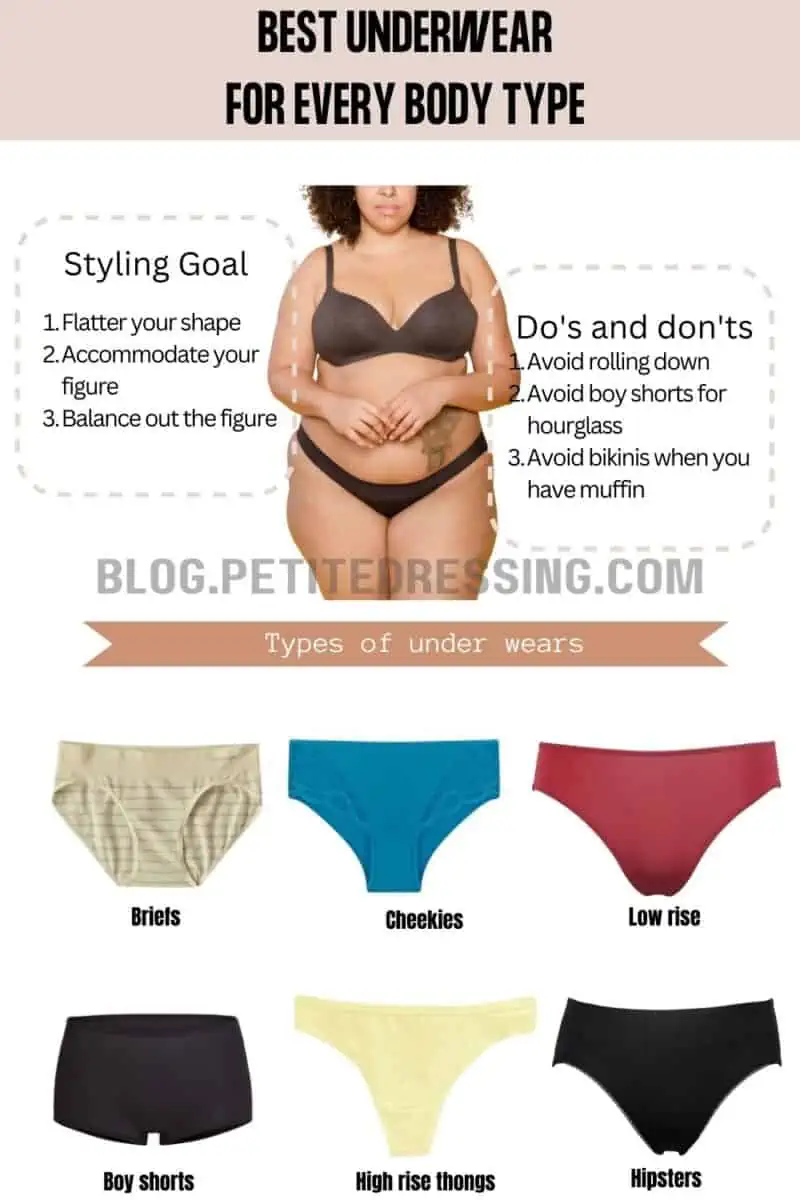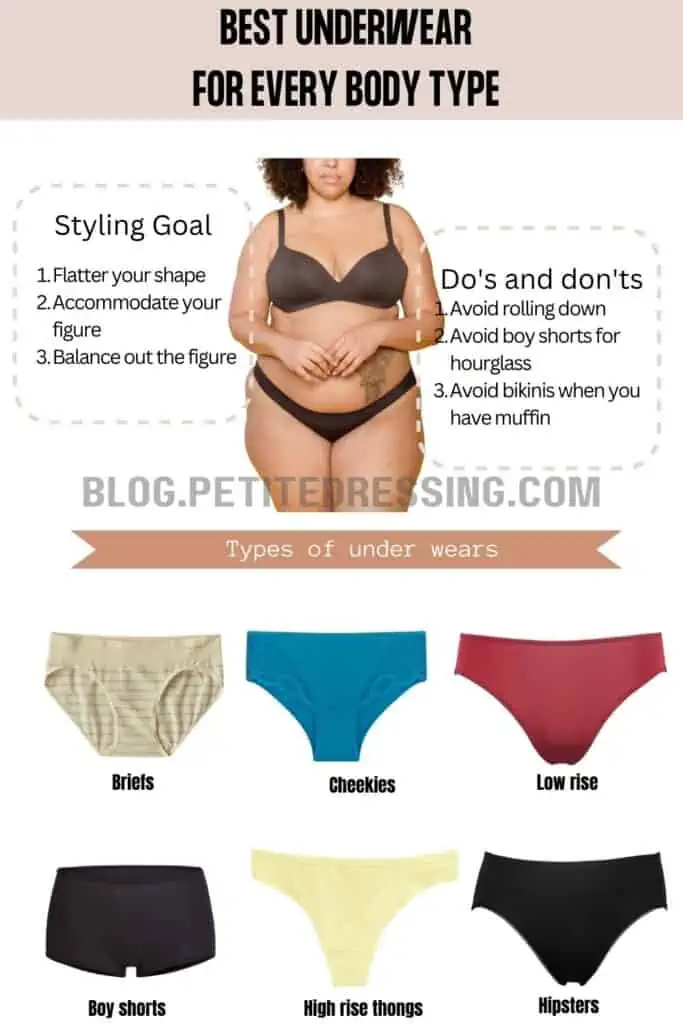 Types of Underwear
Most people shop for lingerie by name, before we look at which underwear suits your body shape, the first step is for you to understand the difference of each style.
Briefs
These are the most "traditional" type of underwear. They are typically high-rise.
Because they offer the most coverage, sometimes they are also called the "granny panty".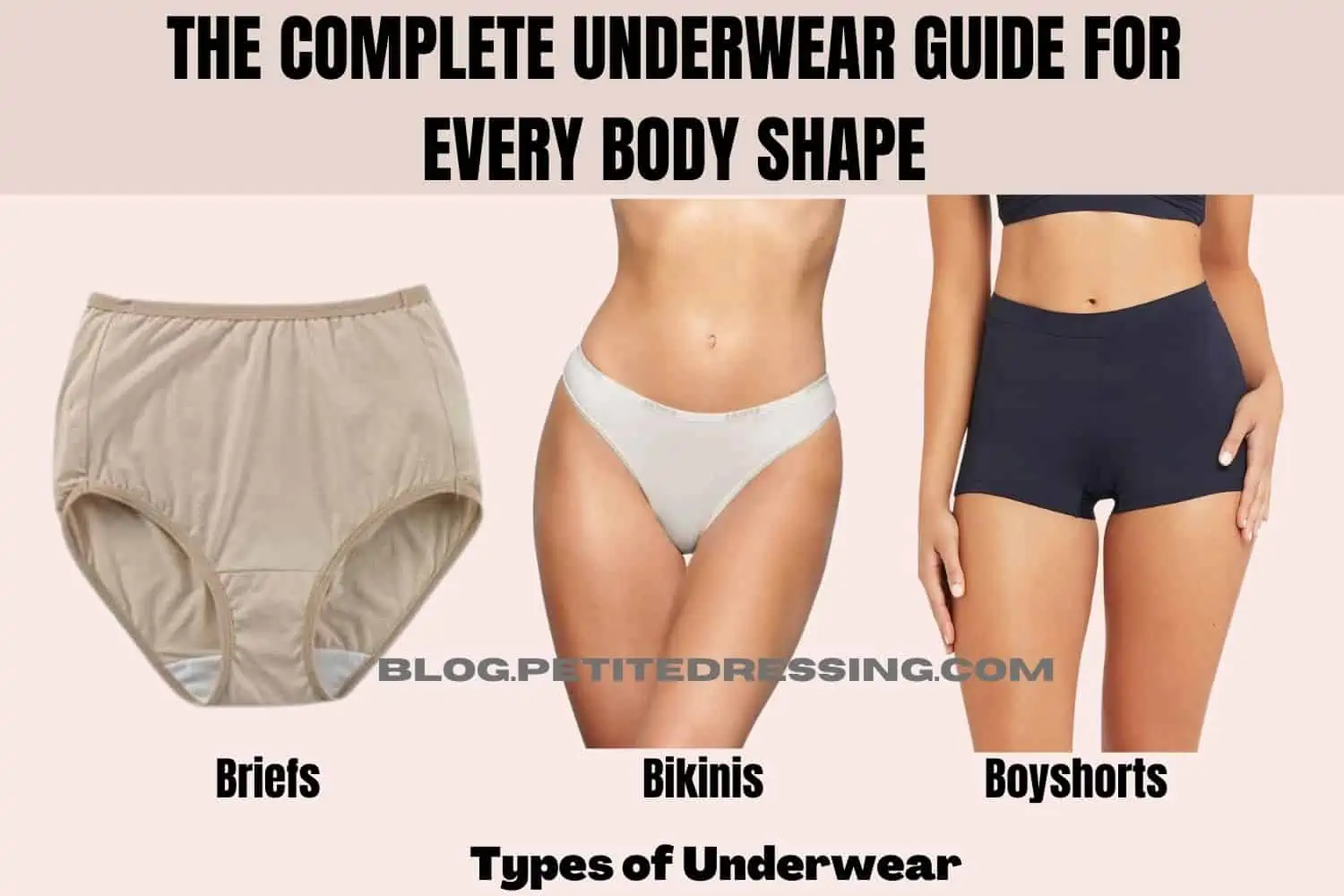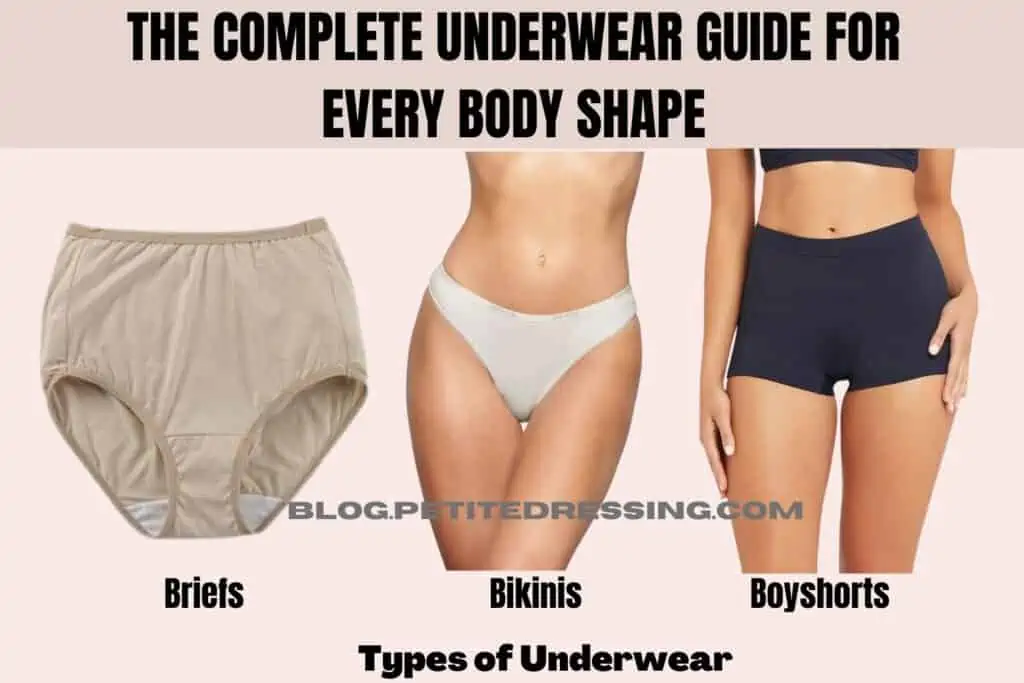 Bikinis
They are the cutest and most admired underwear style; however, they are the most delicate and don't bring out the best of most body shapes.
Since bikinis are low-cut, they offer less coverage compared to other underwear styles.
Boyshorts
They are identical to shorts that volleyball players wear. They have low leg openings.
There are low rise and high rise boyshorts available on the market. The high rise boyshorts are the most comfortable as they have full coverage on the back.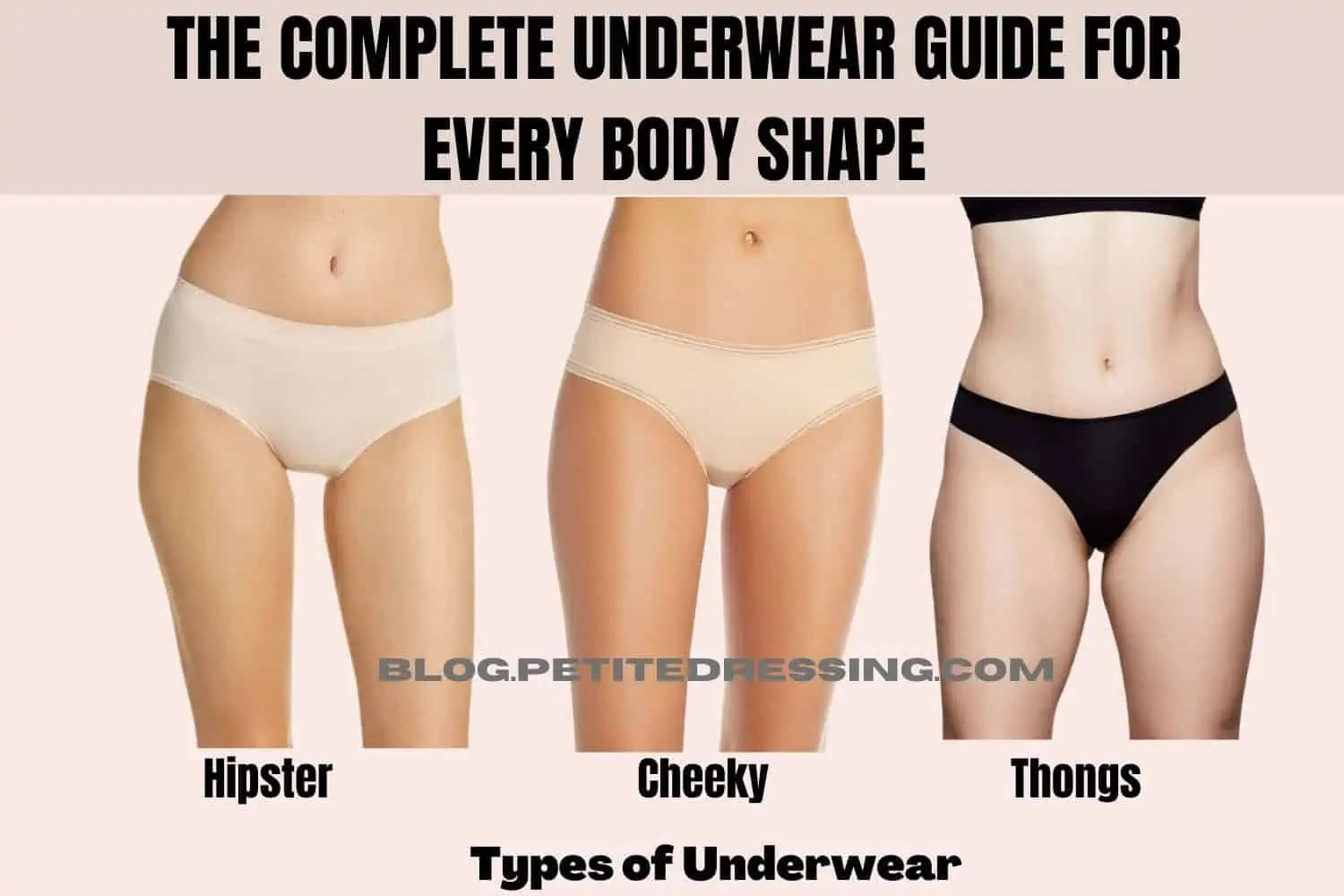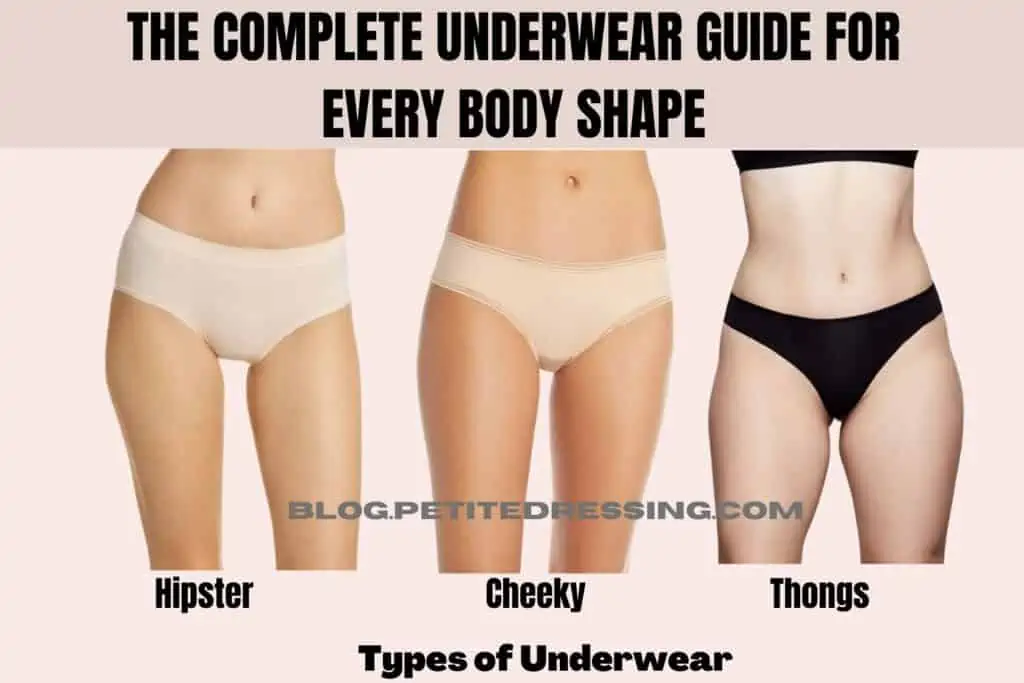 Hipsters
These are somewhere in between two different underwear styles: bikinis and boyshorts. They have more coverage than bikinis but less than the boyshorts.
Typically, hipsters do not cover the navel and usually lie a few inches below the navel.
Cheeky
They have a low rise and tend to be open at the back, giving less coverage. You have to be extra careful and concerned about your body shape when it comes to these. These don't favor most body shapes.
Thongs
By definition, the thong style of underwear is made of a larger front and smaller back triangle, connected by a band, whether wide or thin, with little to no cheek coverage.
Apple Body Shape
It is quite common that many plus-sized ladies have an apple body type, but you can be any size and still be an apple. Even when the apple is skinny, you still may have a protruding stomach.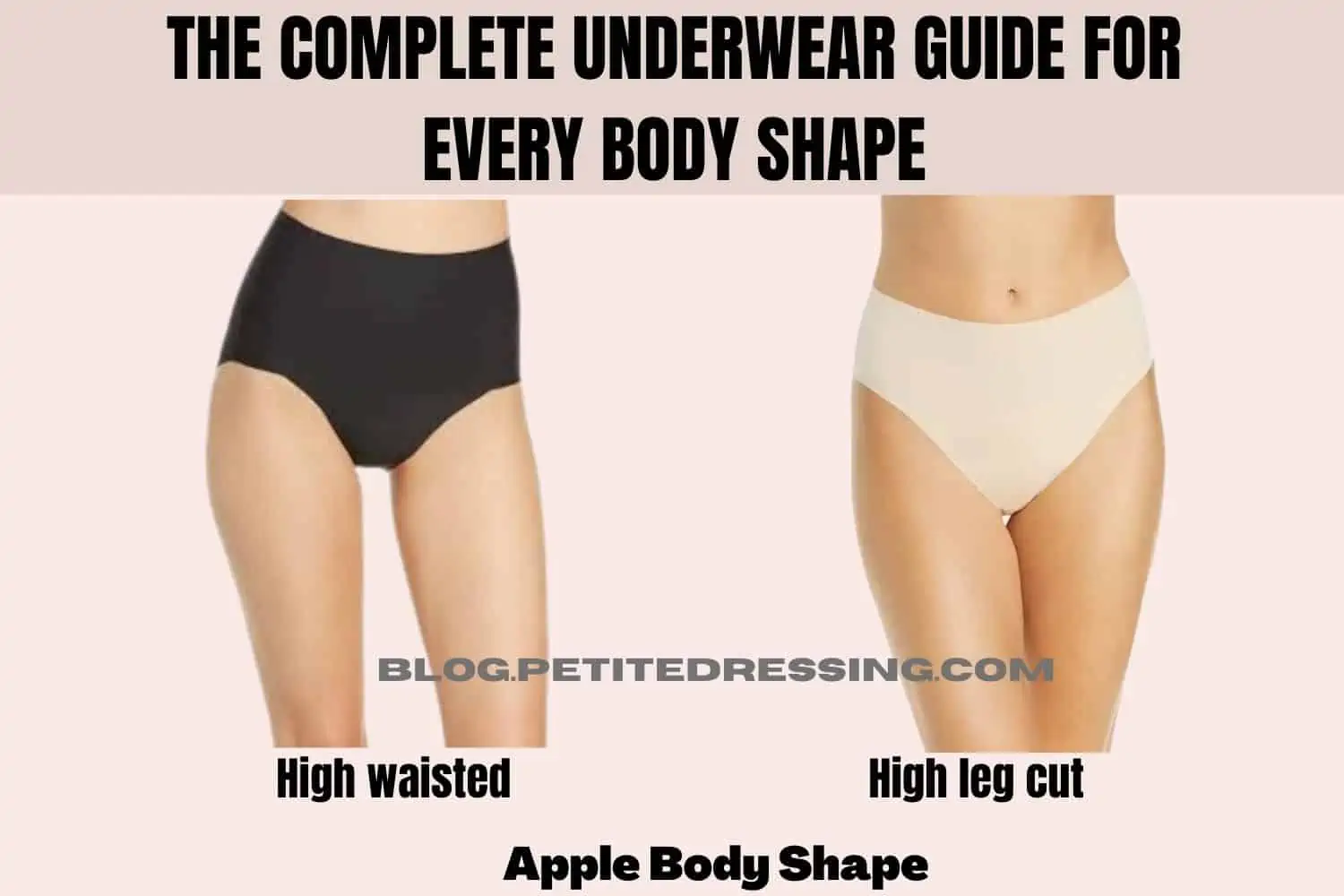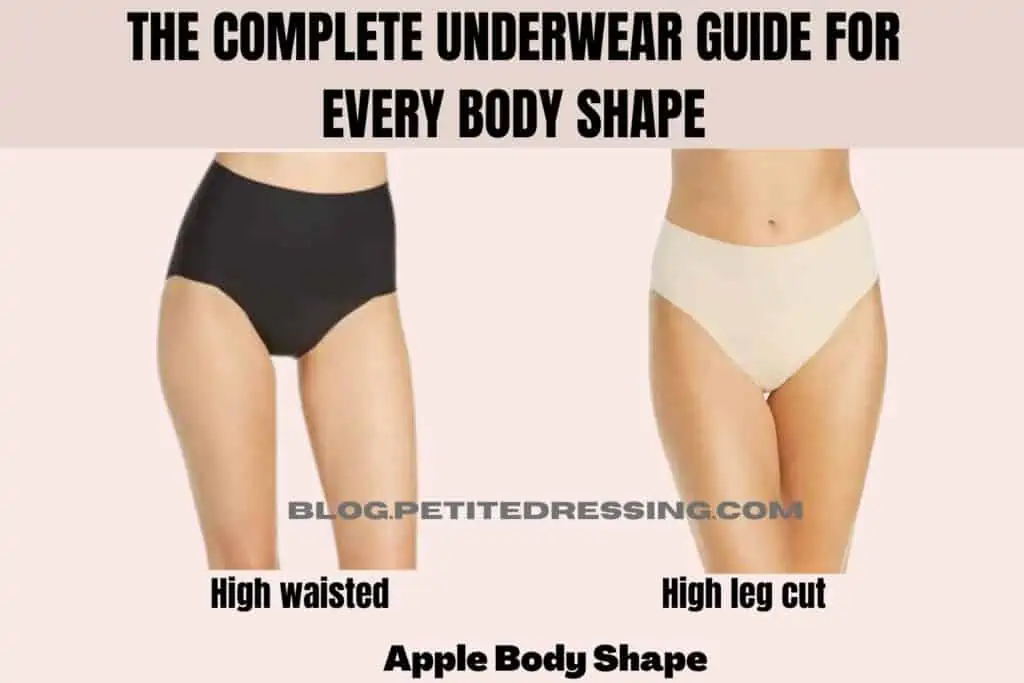 High waisted
Since the apple-shaped lady typically has a rounded tummy, it is critical you choose a high-waisted underwear style
The high-rise brief or the high-rise boyshorts will generally flatter the apple-shaped body
High leg cut
The probability of you having a flat bum is very high, and therefore choose underwear that has less coverage in the back to avoid excessive fabric that will show in tight leggings. In that case, go for high-rise underwear that also has a high-leg cut.
Avoid low rise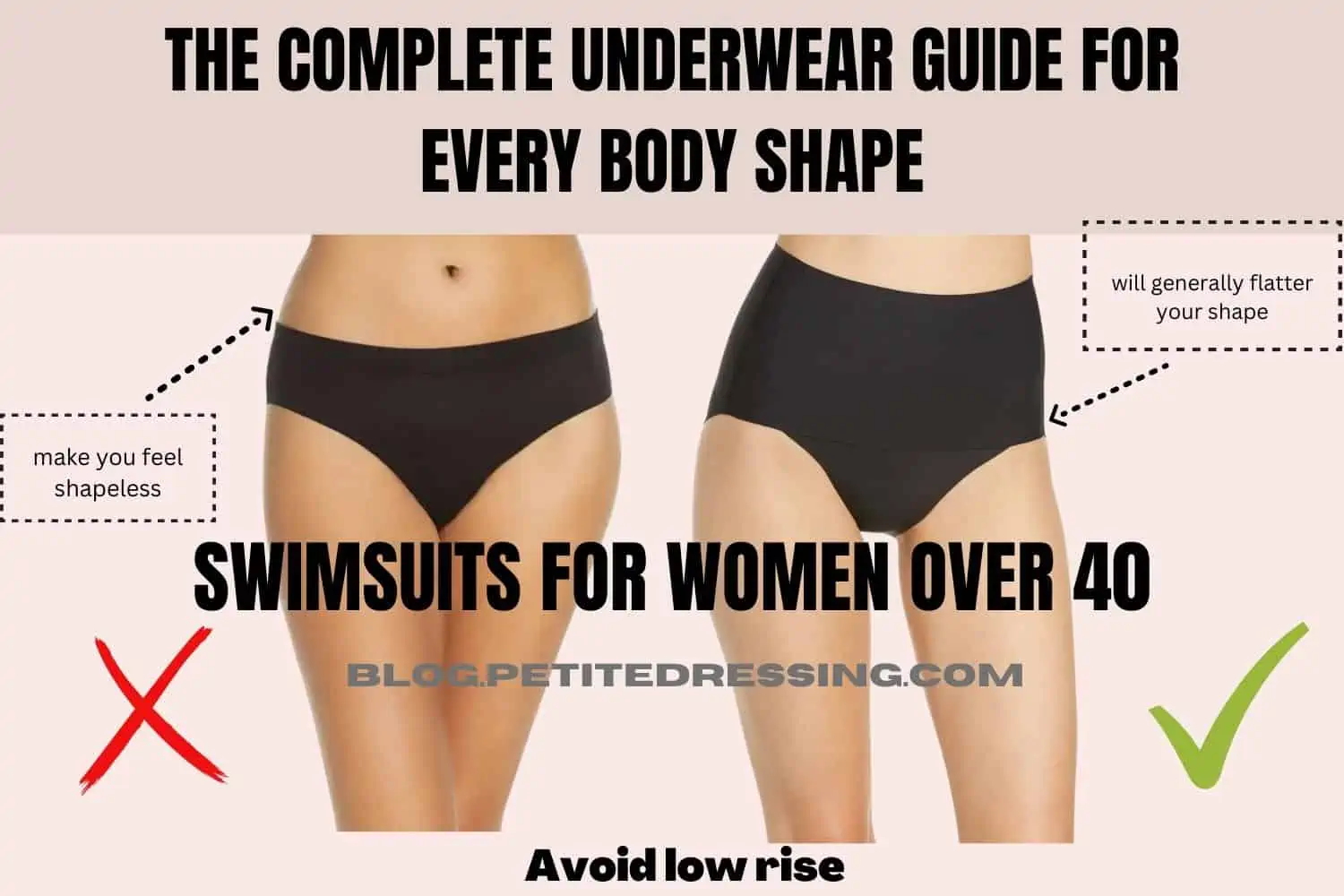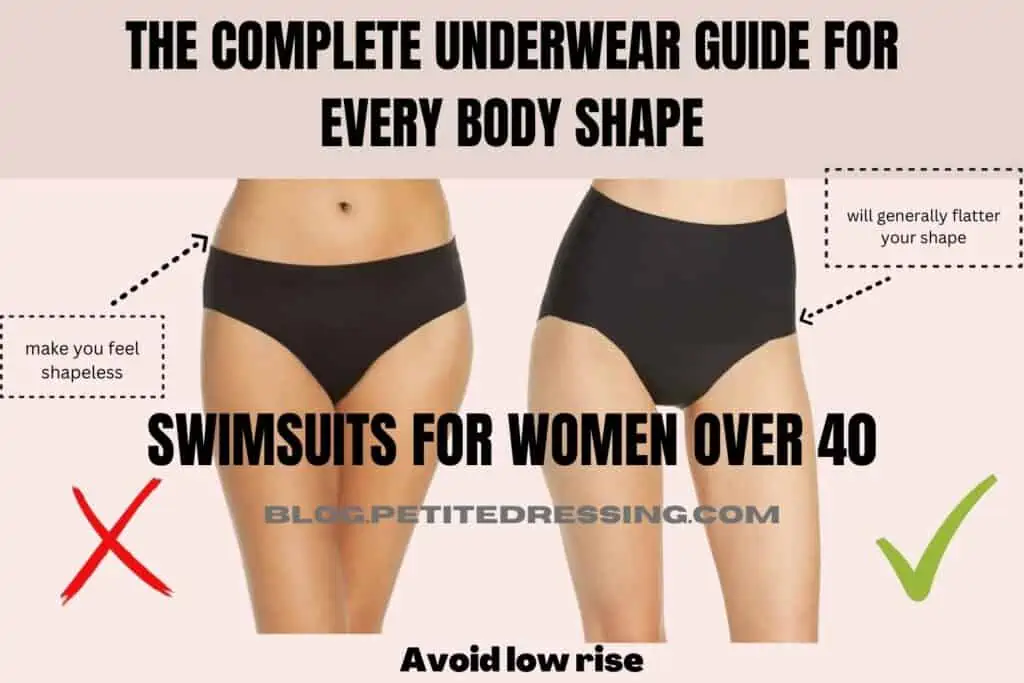 Having low-rise underwear such as bikinis is suicidal, as it will make you feel shapeless because your stomach area tends to protrude.
Avoid underwear below your navel like the hipsters, as this will make your stomach pop out.
Avoid rolling down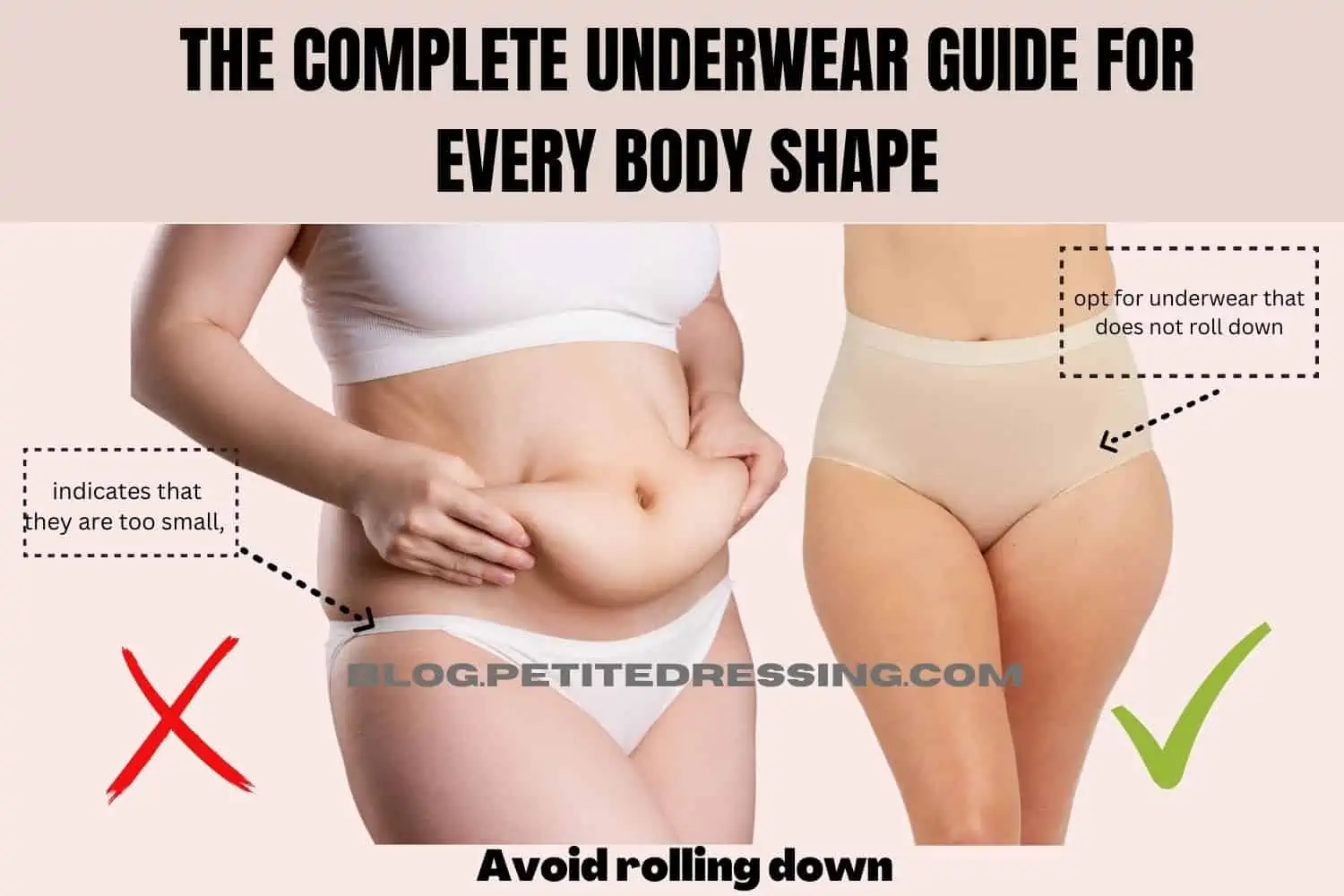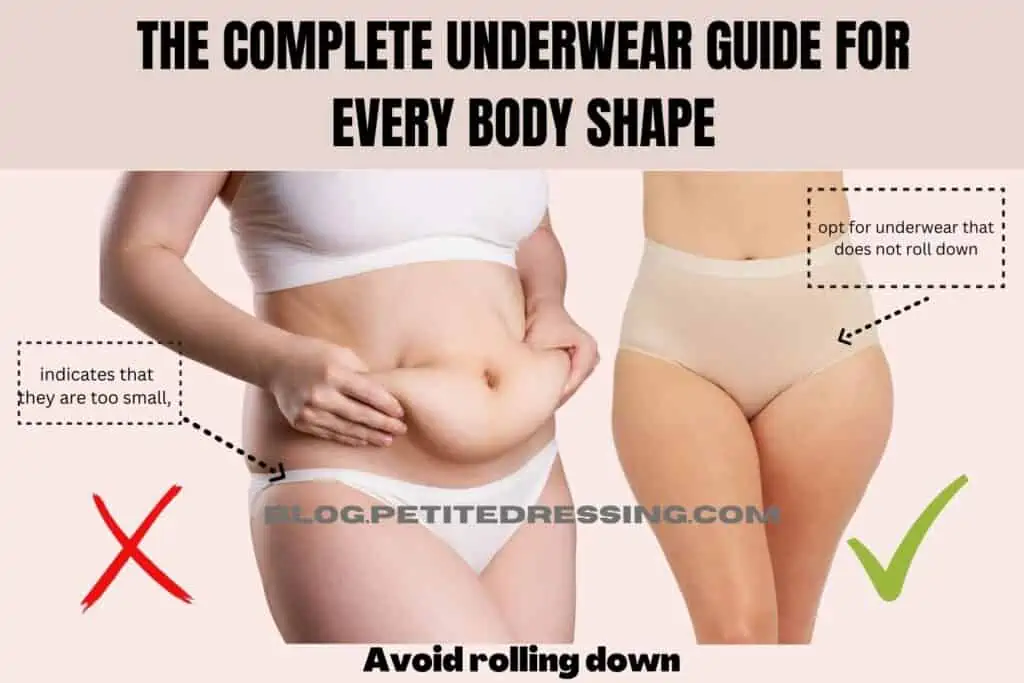 A common underwear issue for the apple shape is it tends to roll down.
These are the most awkward problem you can ever experience with underwear. When you are in a public place like a shopping mall, it can be very stressful.
Underwear that rolls down after wearing indicates that they are too small, and replacing them with the correct sizes would be the best decision ever.
Hourglass Body Shape
You have the most coveted body type, but when it comes to underwear, the hourglass also faces unique challenges.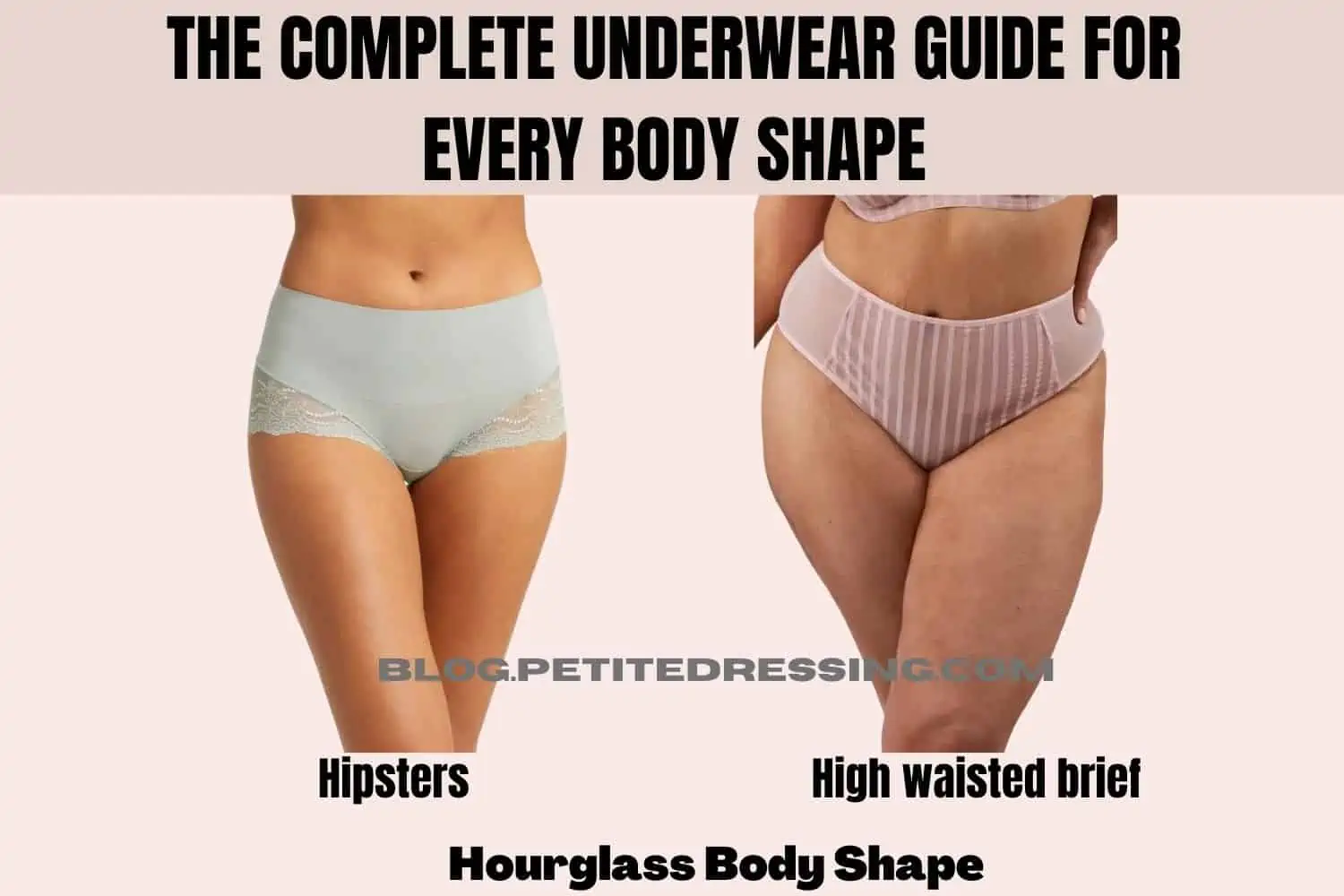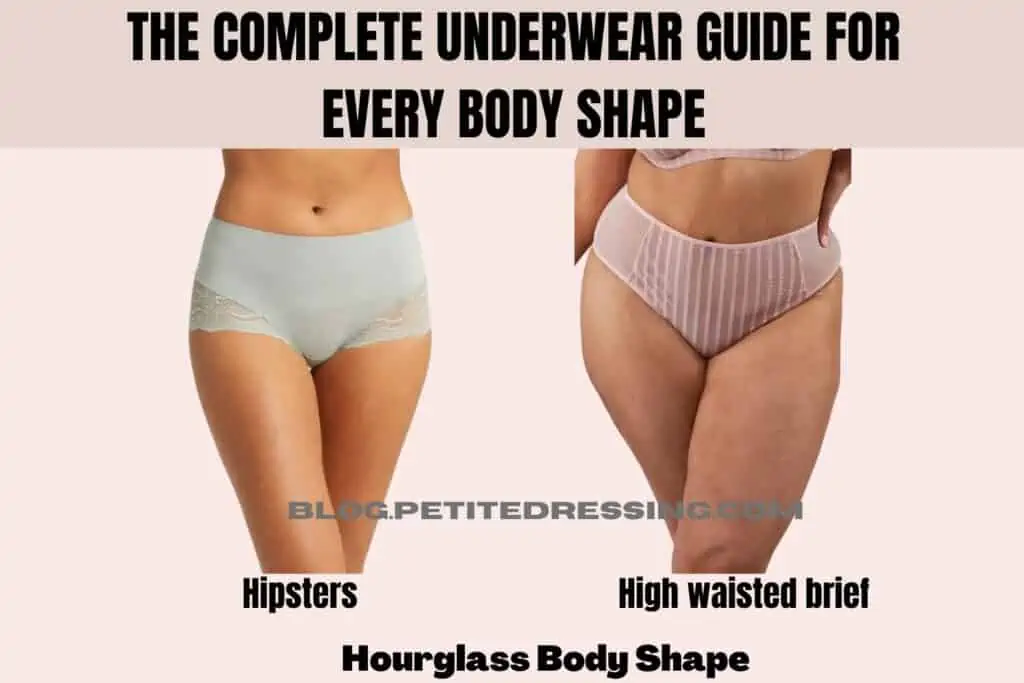 Hipsters
Hipsters are ideal for you as they combine boy shorts and bikinis.
This will give you more coverage and style.
High waisted brief
Many hourglass shaped women have a longer rise, which means the distance between your waist and crotch tends to be longer than average
If that is your case, high waisted briefs can be the most comfortable for your shape.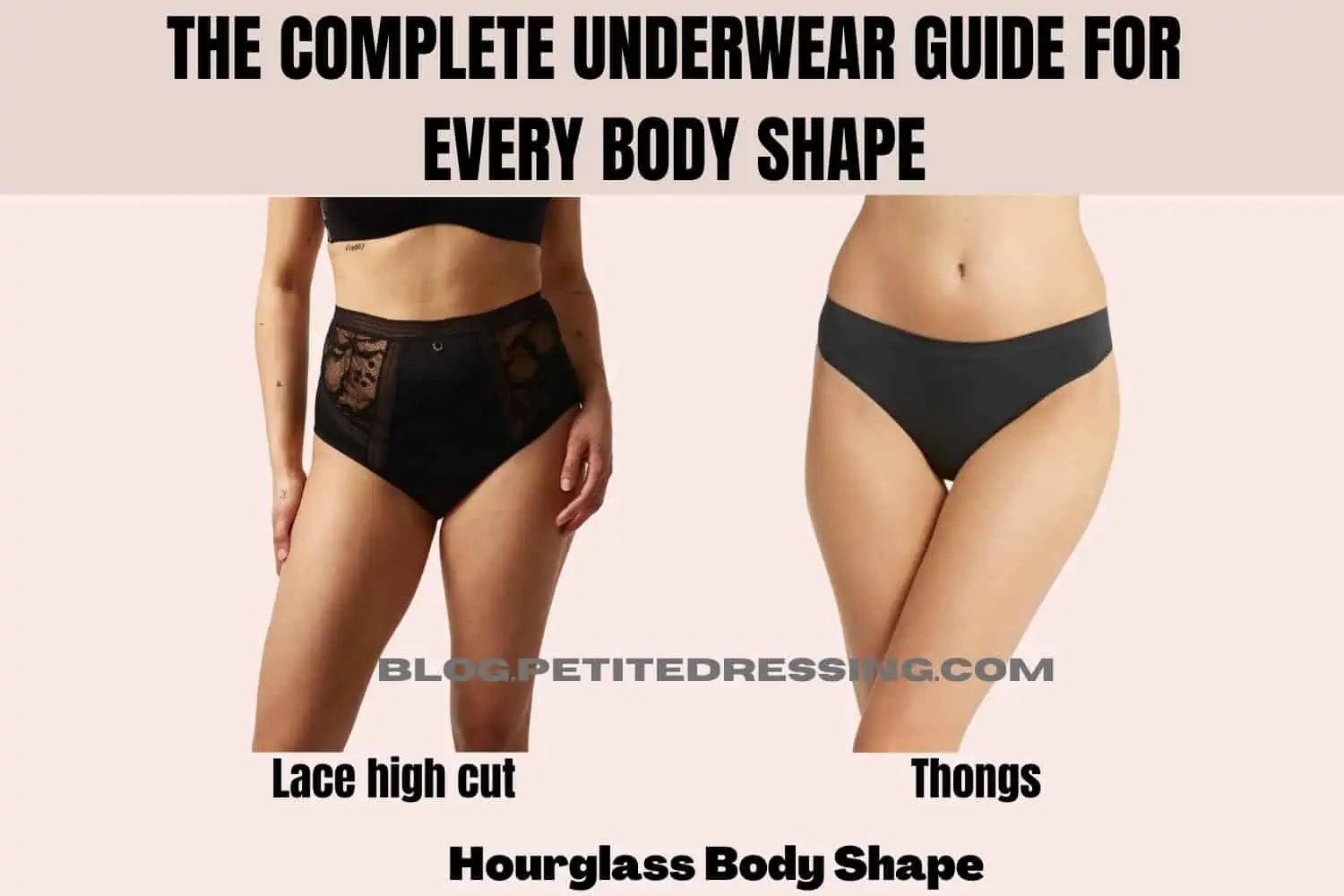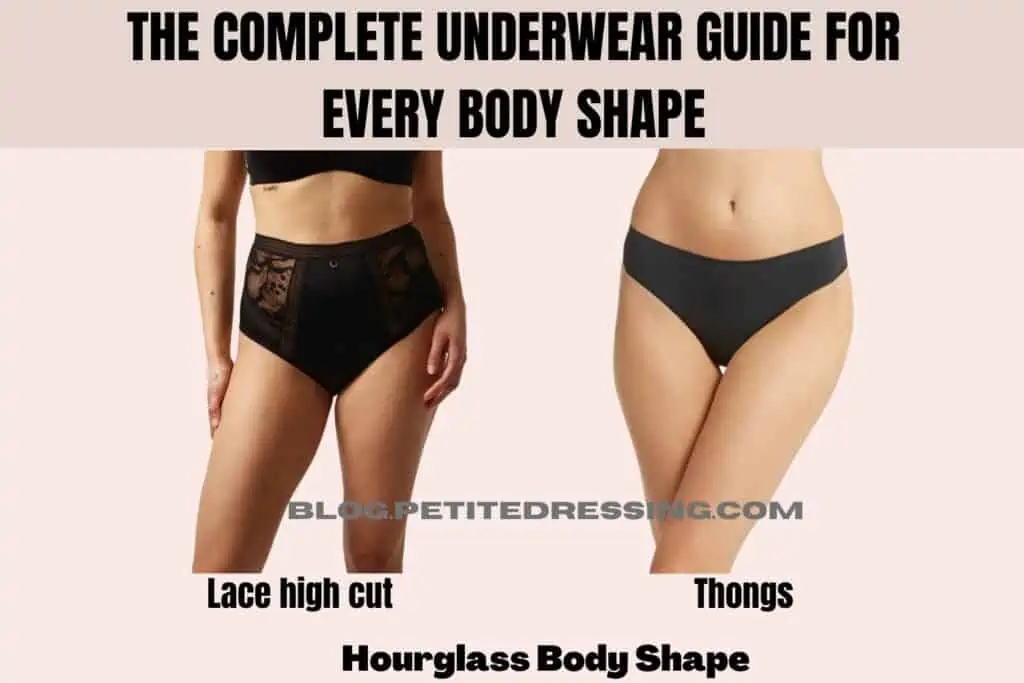 Lace high cut
Lace underwear that has high leg cuts is also suitable for you.
You can choose different lace styles and rock them.
Thongs
Because the hourglass have rounded and full hips, a common issue is your underwear tend to creep up on the back.
If you have less coverage on your backside, you definitely will have underwear that creeps. Go for comfortable styles of your exact size.
To completely eliminate the creeping issue, you can also go with thongs. If you are comfortable with wearing thongs, these can be the most invisible underwear.
Pear Body Shape
The key for the pear shaped women to find the best underwear is to look for designs that accommodate your small waist, wide hips and thicker thighs at the same time.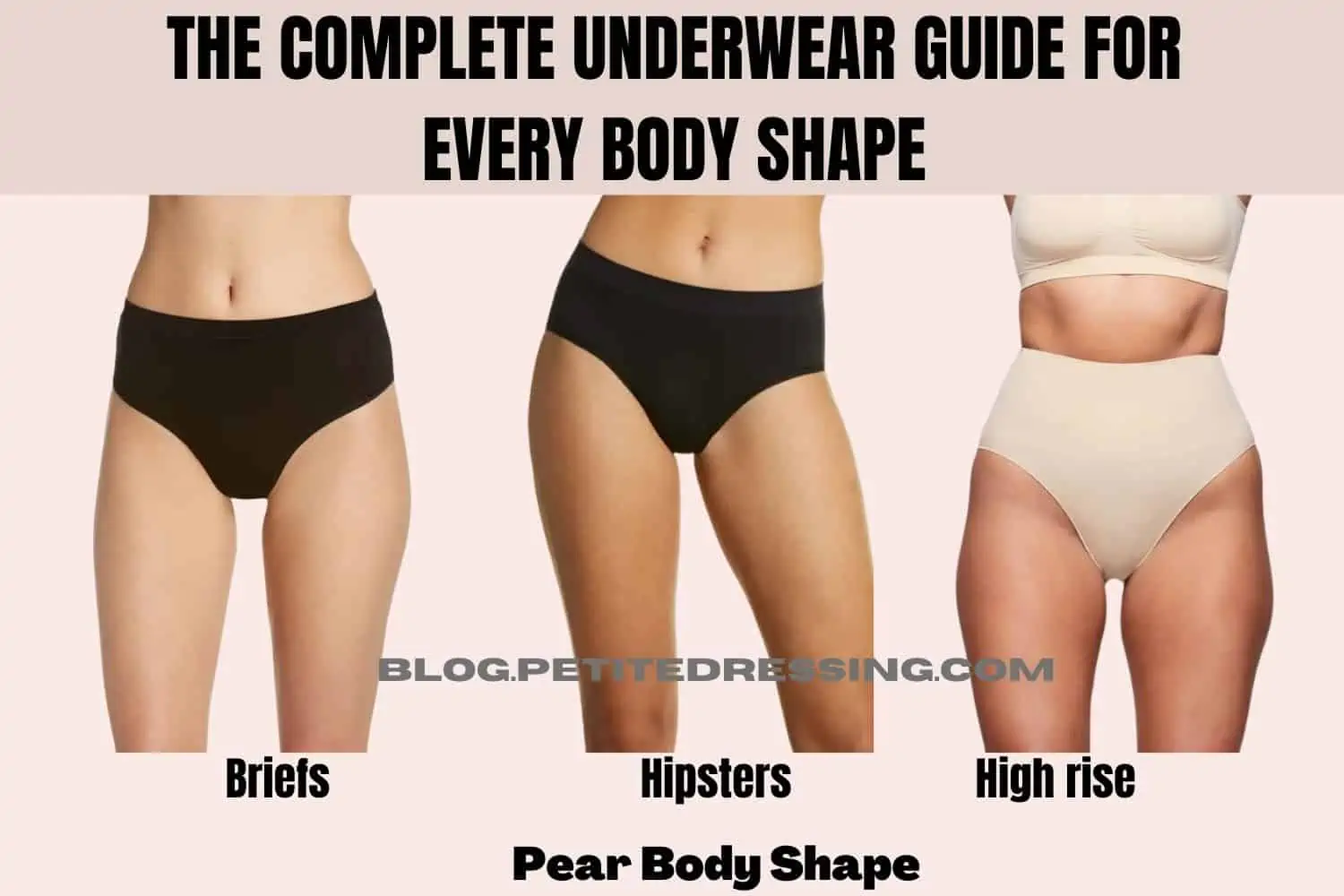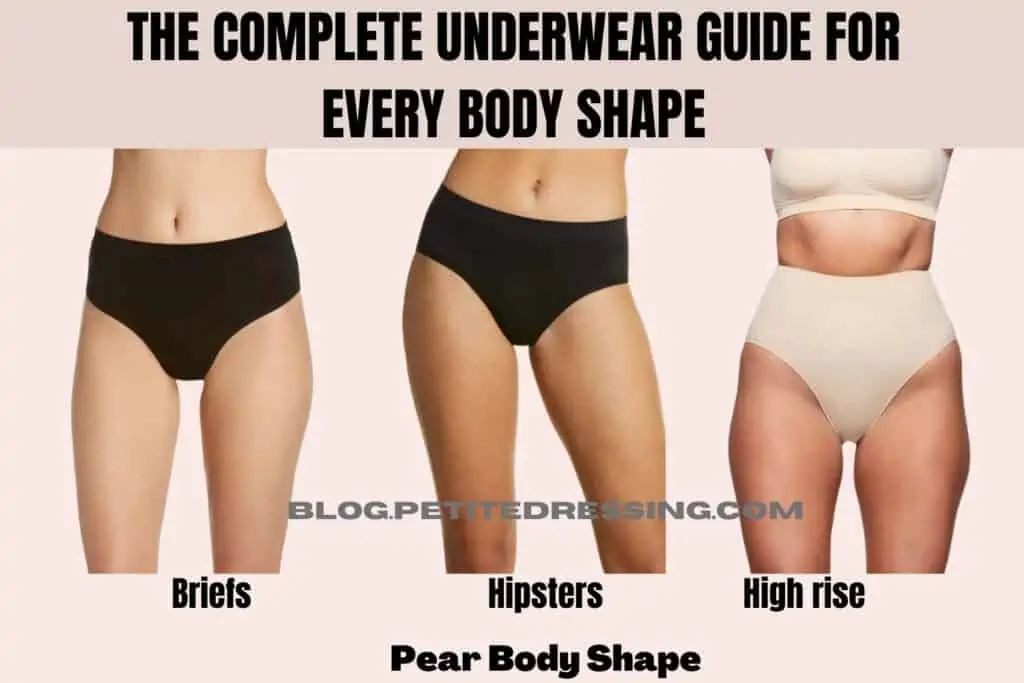 Briefs
If you are a pear with a longer waist, briefs are the best for you as they give more coverage than bikinis and cheeky.
Hipsters
If you are not a long waisted pear, you can try the different hipster designs available in the market in different colors to break the monotony of your drawer.
Feel all sexy by rocking the right underwear for your body shape.
High rise
Having a longer rise is quite common among pear shaped women
That implies the distance between your crotch and waist is longer than average, which means anything high-rise will make you feel more comfortable as it can give you more coverage
Avoid boy shorts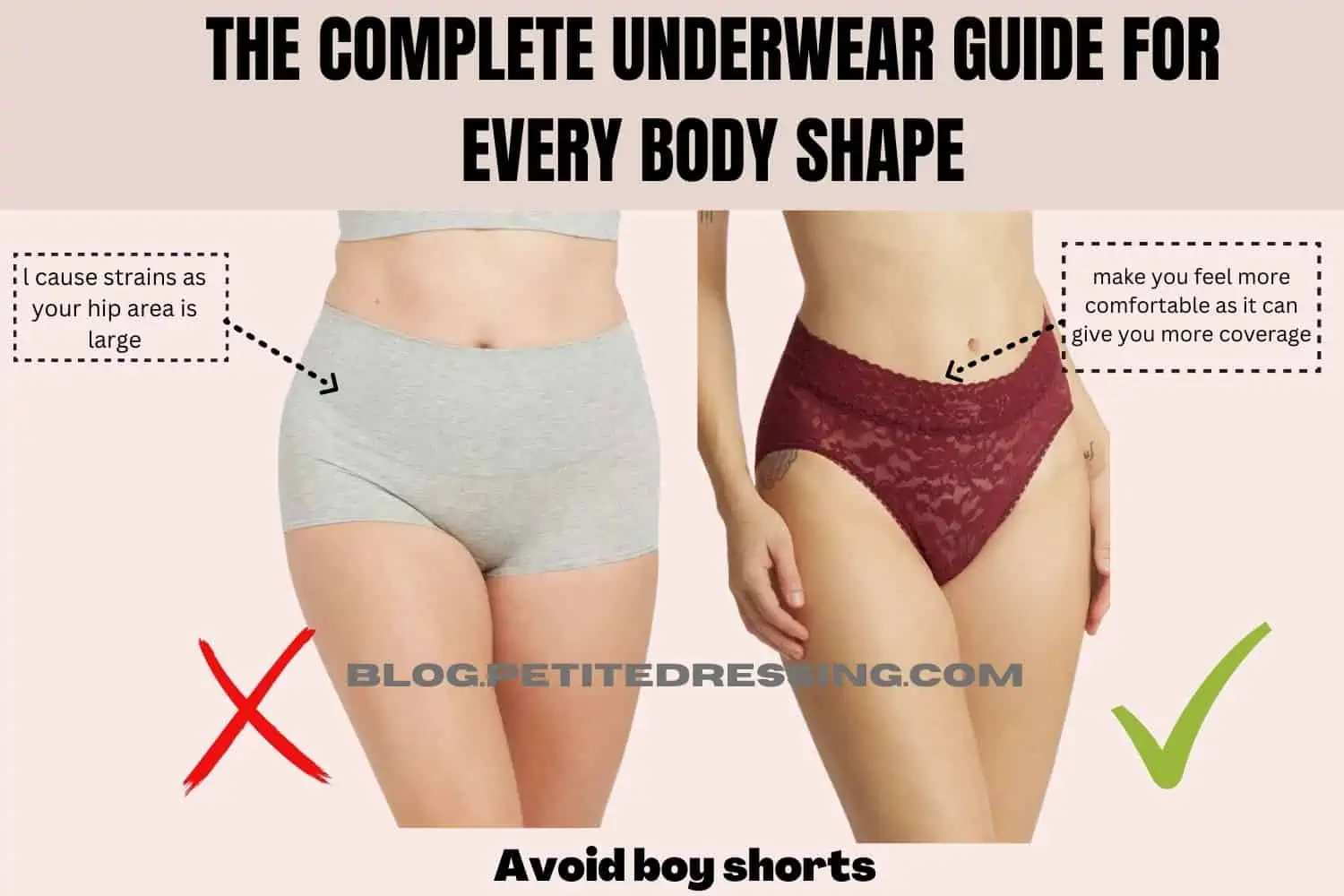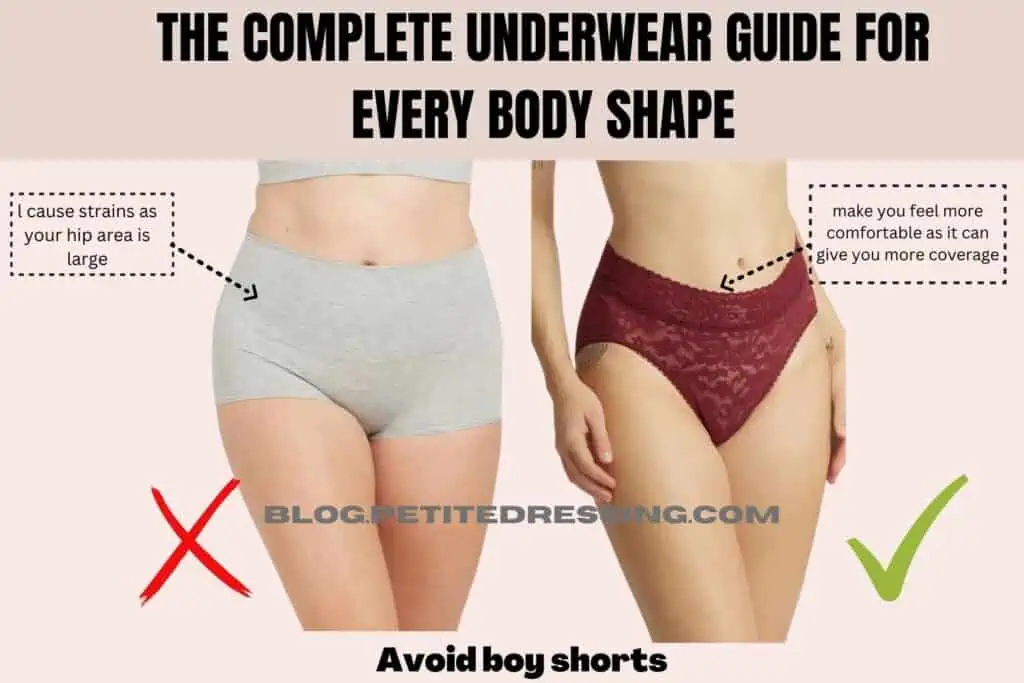 You might be tempted to try boy shorts, but this isn't the best for the pear shape.
They will cause strains as your hip area is large
You probably will also feel restricted in the thighs.
Since they are long, you may also see them showing under your jeans
Inverted Triangle
An inverted triangle body shape typically has narrow hips and your waist is not defined.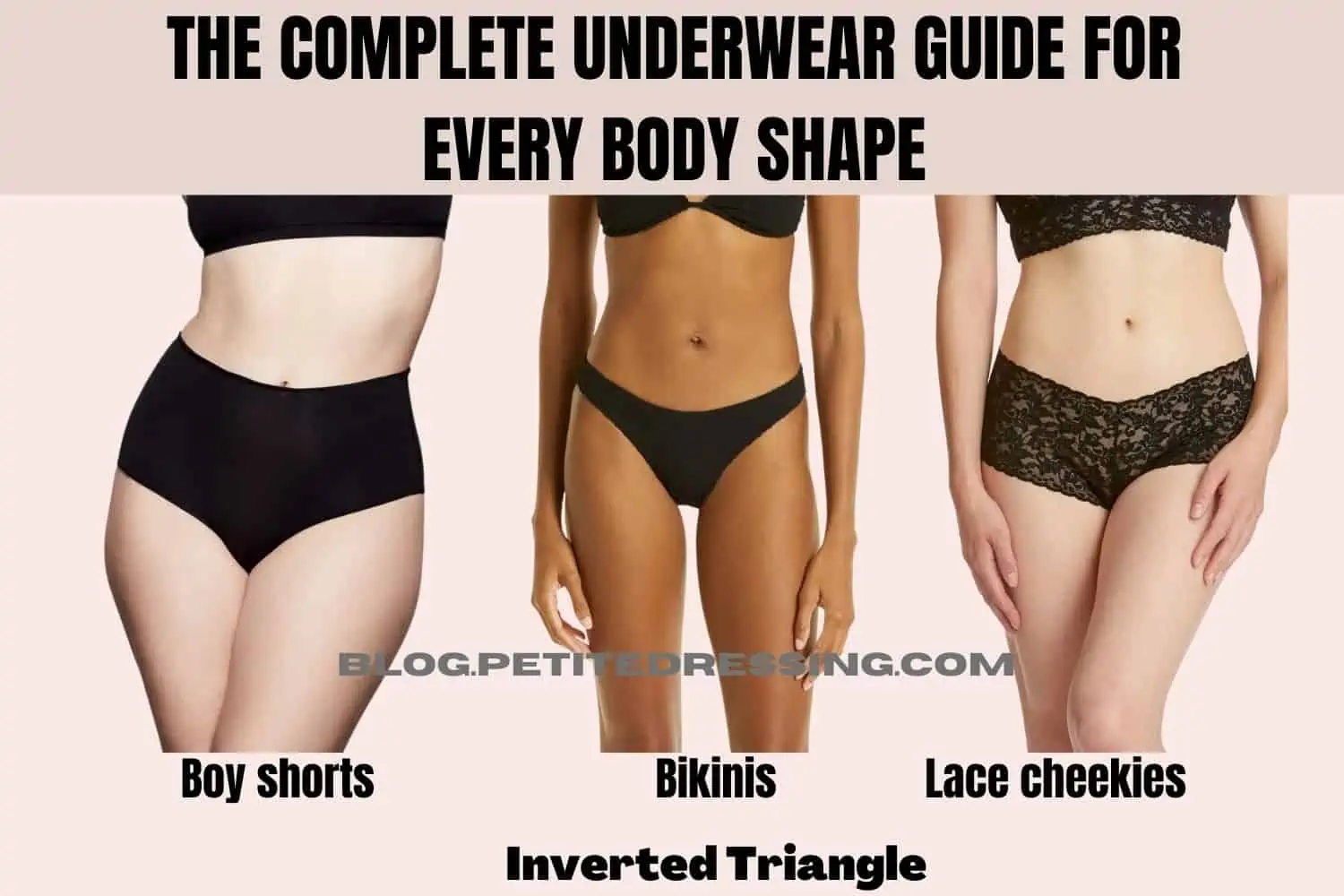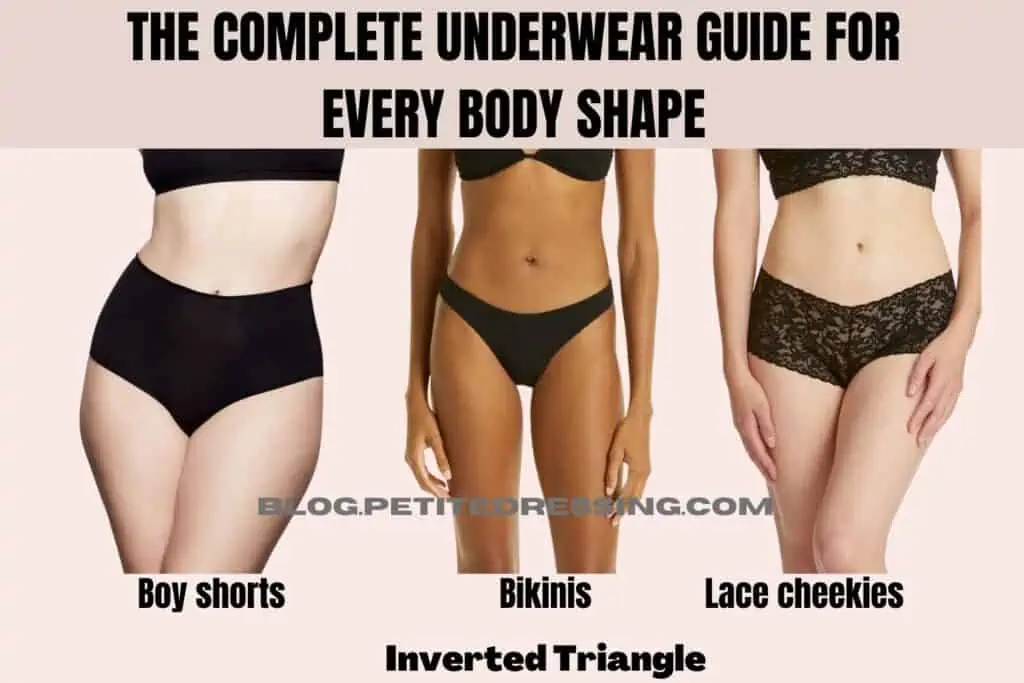 Boy shorts
Since the inverted triangle tend to have an athletic build, boy shorts are a plus for you
Getting the right size is very important. Ensure that the boy short is comfortable and it makes you feel good while rocking them.
Bikinis
Many inverted triangle women tend to have a shorter rise.
If that is your case, you can also try bikinis, as they give less coverage.
As long as you get the right size, there won't be cases of visible panty lines.
Lace cheekies
Cheekies are similar to bikinis in the sense that they provide less coverage for your bum
This is a great style for the inverted triangle shape as they can avoid your butt come across as flat
Avoid briefs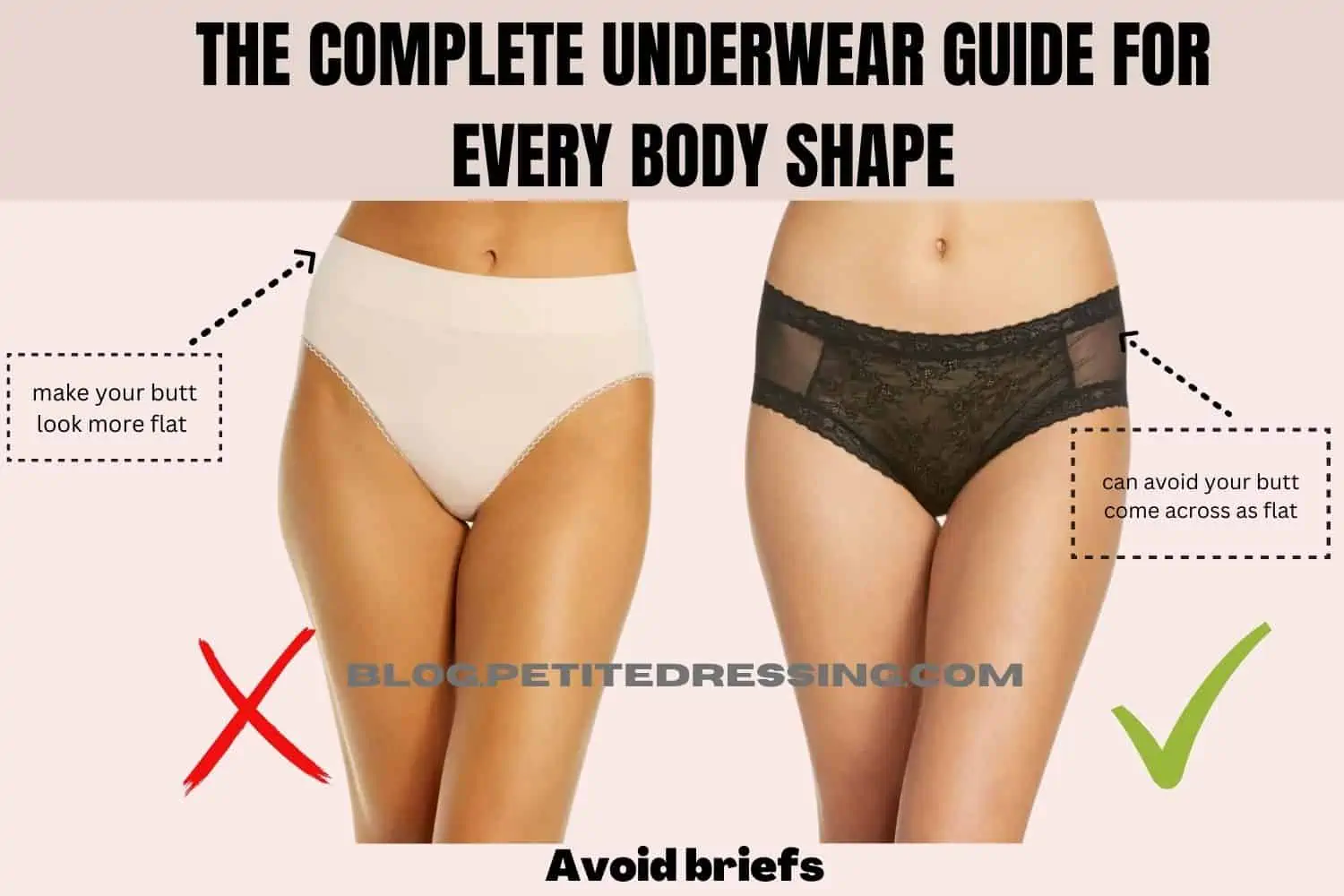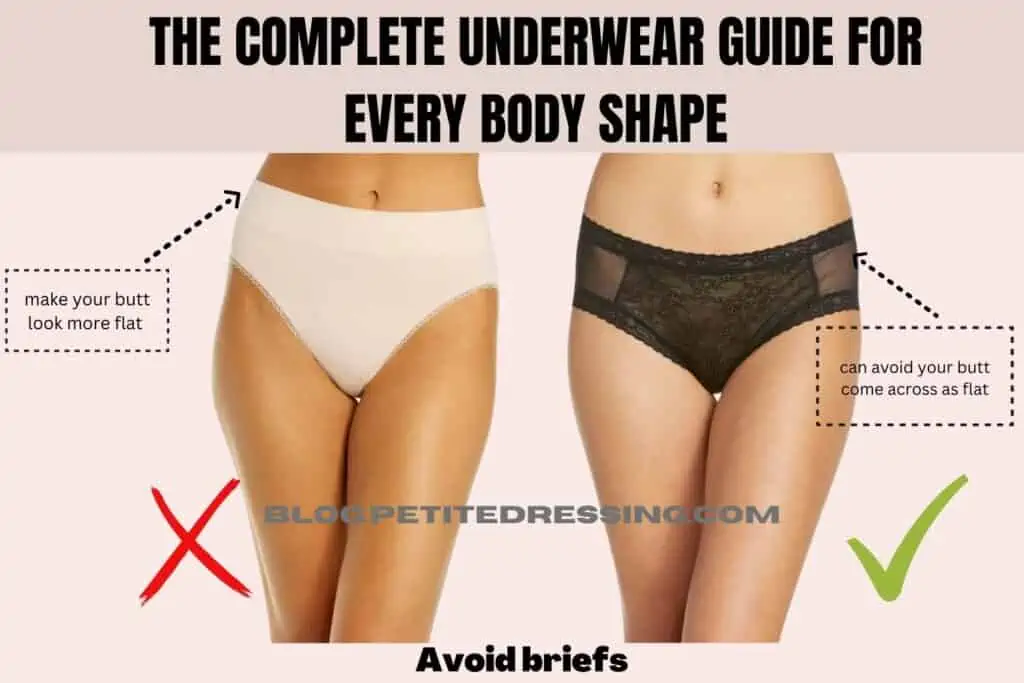 Avoid underwear that offers full coverage such as briefs.
These will make your butt look more flat as there will be a lot of extra fabric.
Rectangle
Having a rectangle body shape implies your body goes straight up and down, and you do not have a natural waist definition. Rectangle body shape tends to have a shorter rise.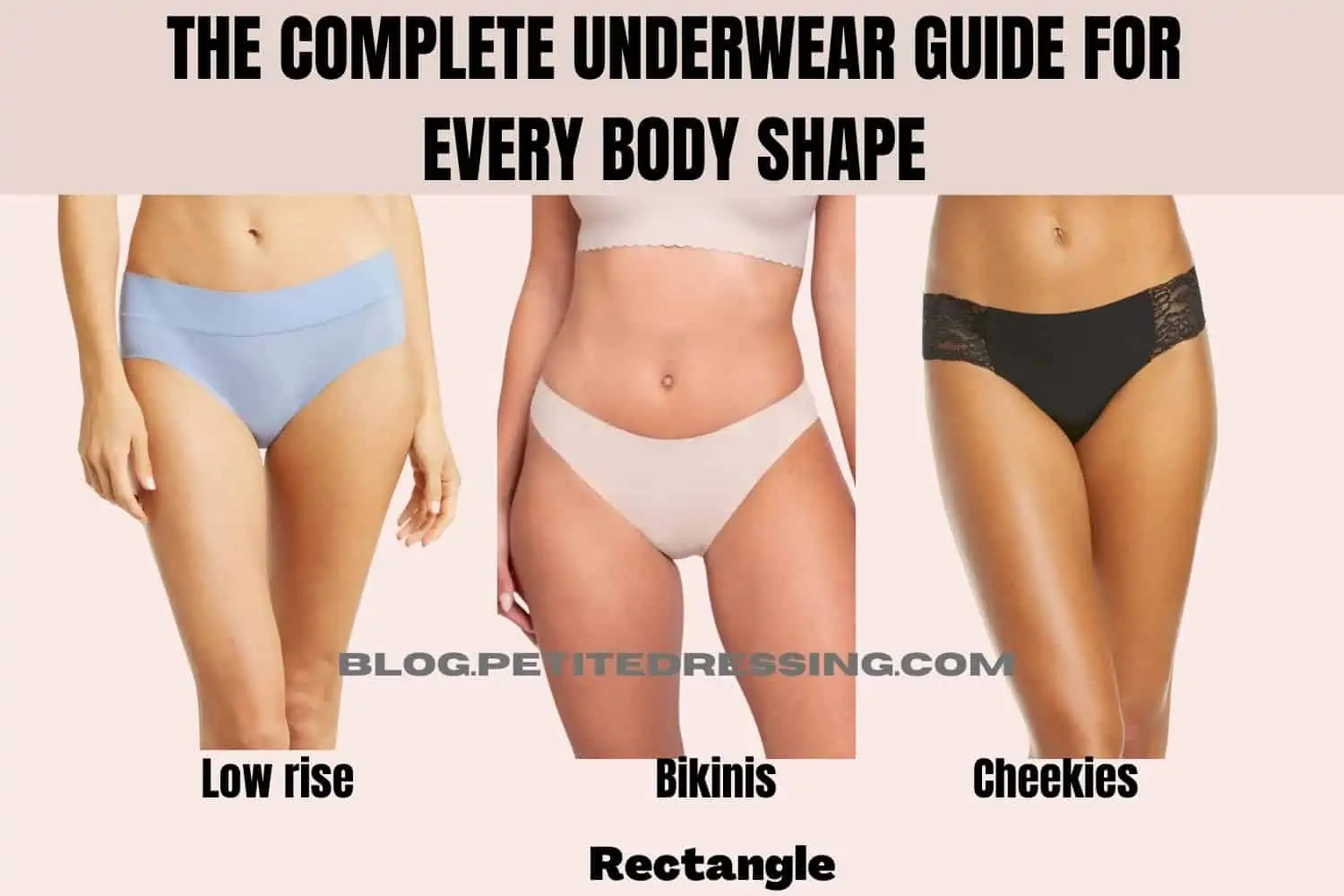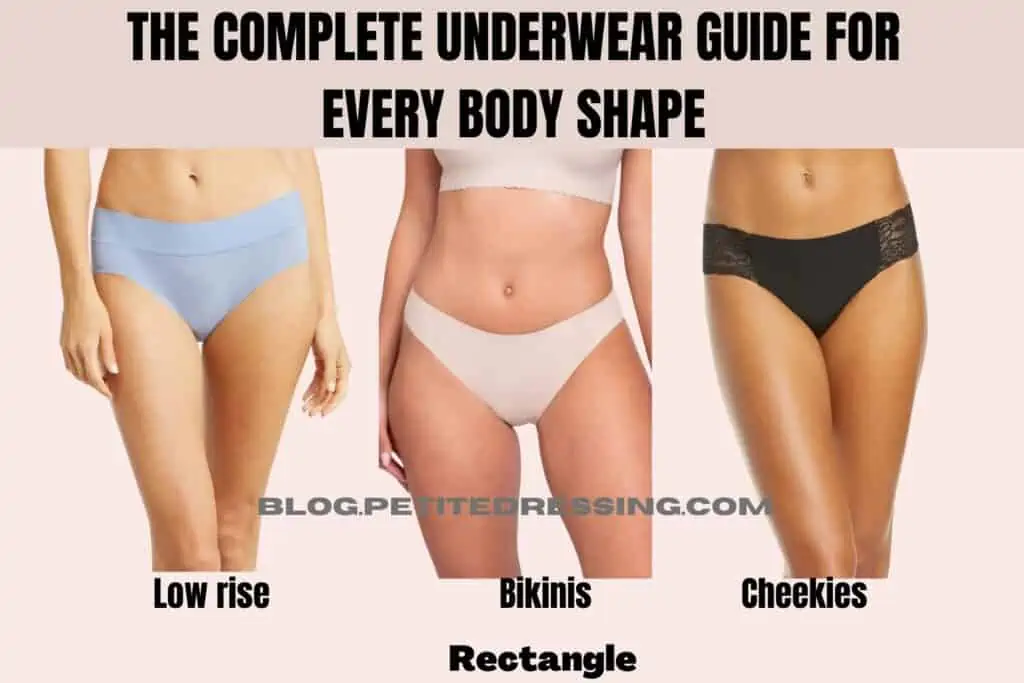 Low rise
You have no restrictions when it comes to underwear, so you can go with underwear with a lower rise
Many rectangle shaped women have a shorter rise, which is why low rise panties can be quite suitable for your shape
Bikinis
They are a great option for your shape as they offer less coverage
These will be so comfortable and will also make you feel sexy and different from the normal underwear.
Cheekies
These are good idea as they also give less coverage
Besides, you won't have to worry about visible panty lines.
Avoid briefs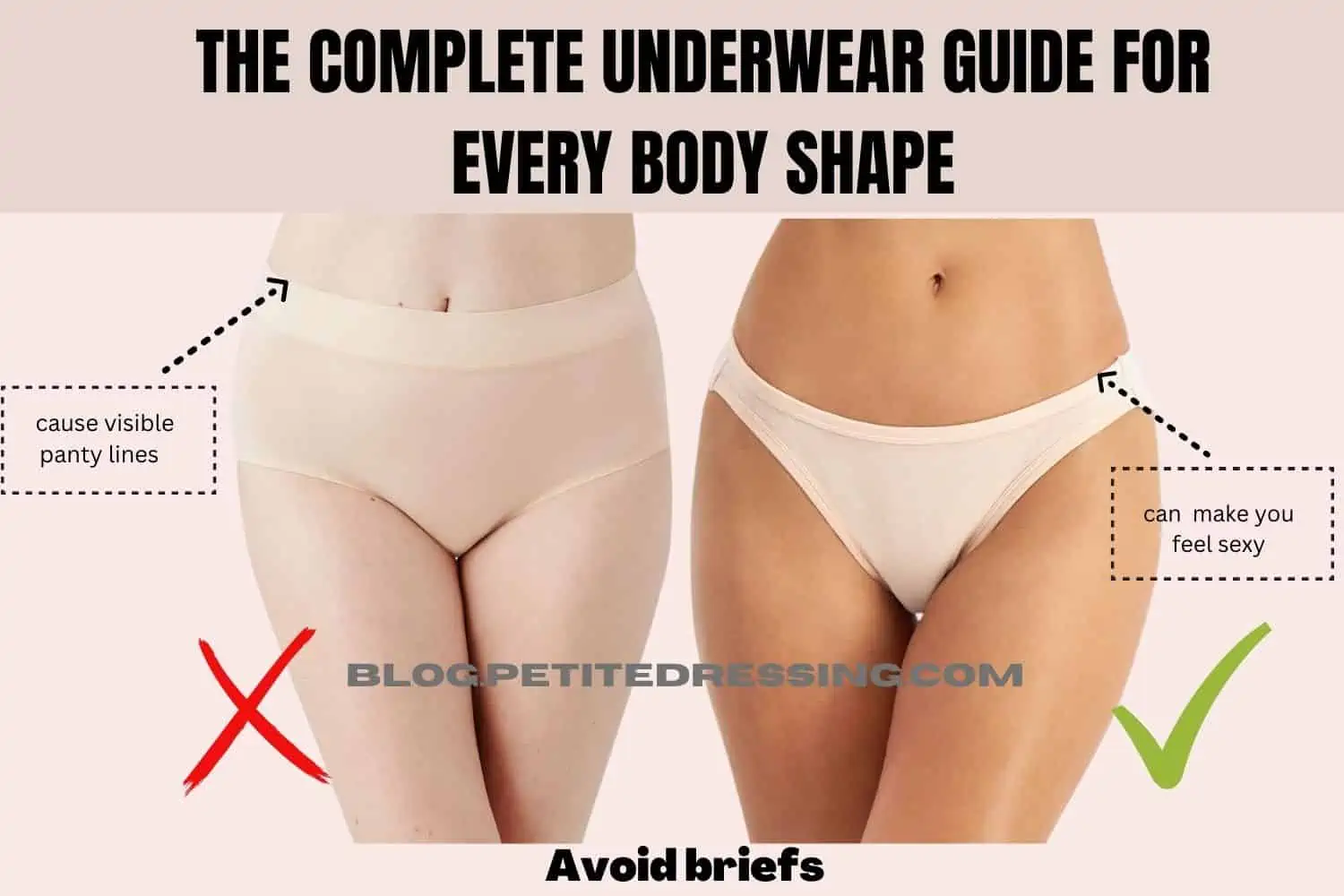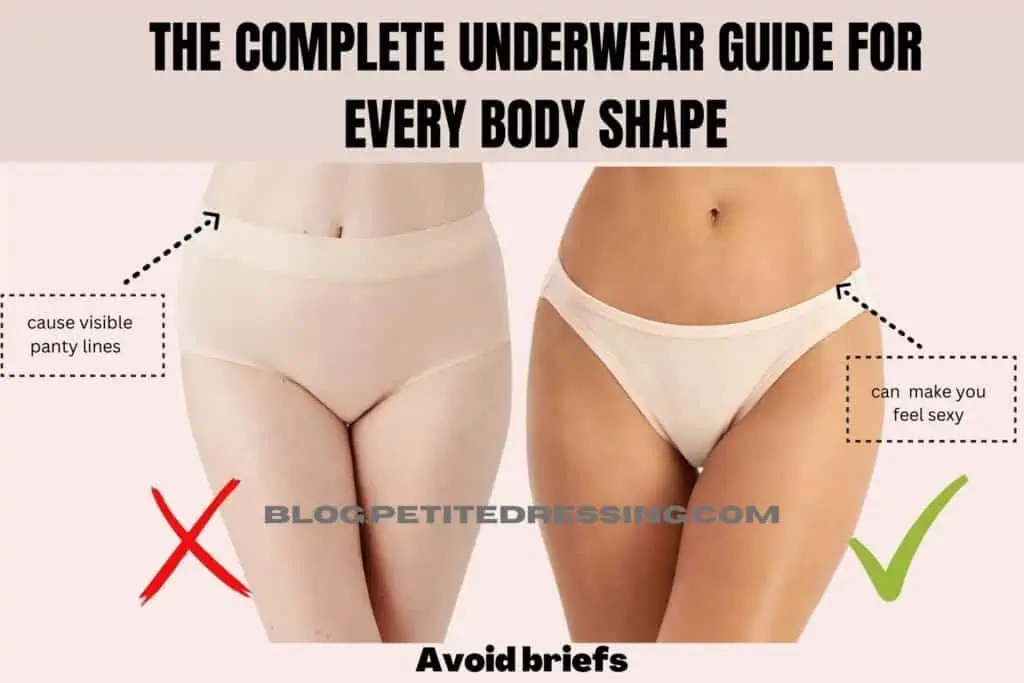 Because briefs have the most fabrics of all the underwear designs, they are not the best options for your shape
Very easy to cause visible panty lines when you have too much coverage on your bum, and this won't look good when you wearing jeans.
Muffin Top
You could be any body shape and have a muffin top. It's common that we can get midriffs when we gain weight, but this can also happen when you don't get the right underwear for your body type.
A lot of women go through this and very few have the knowledge of underwear and how to solve this problem.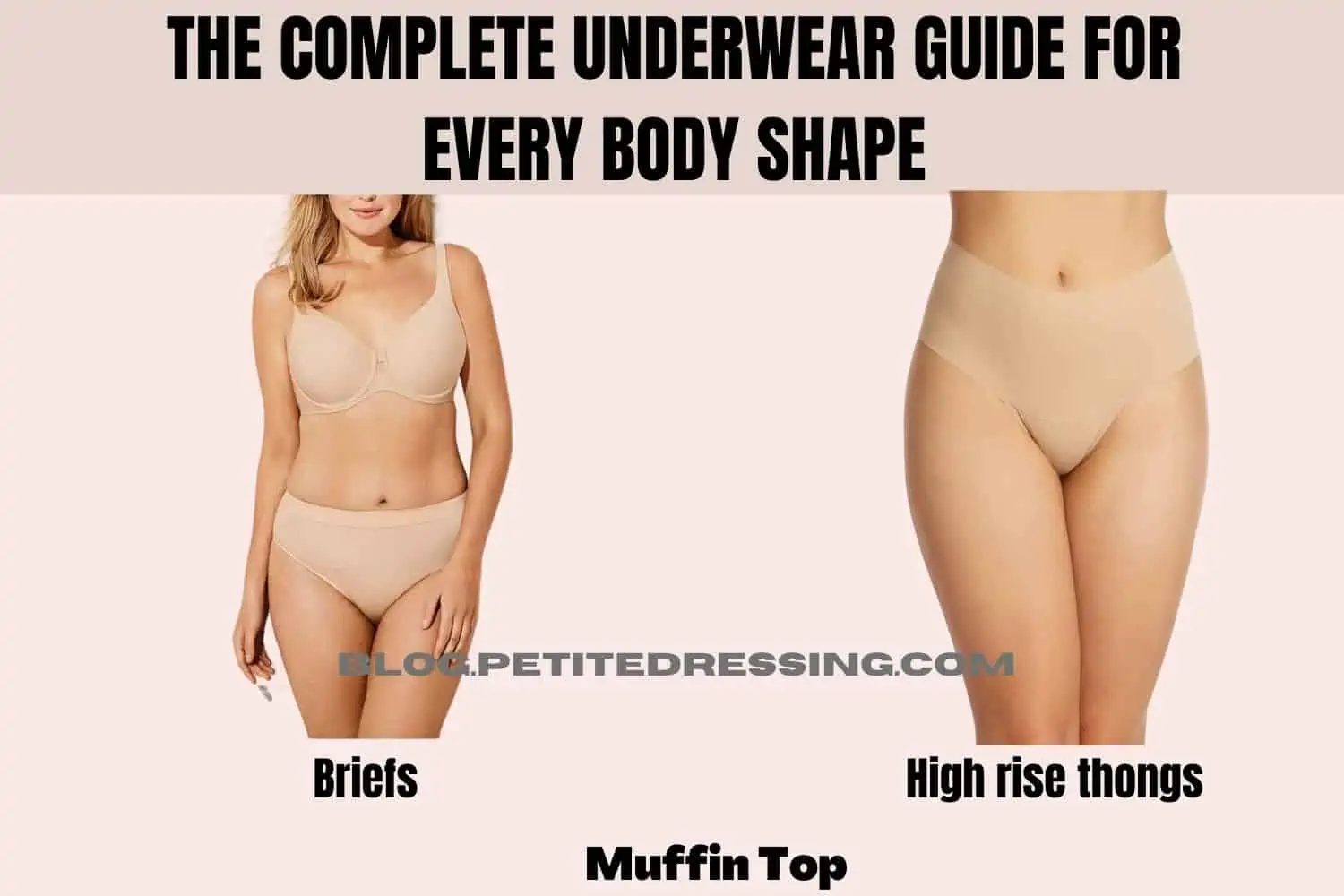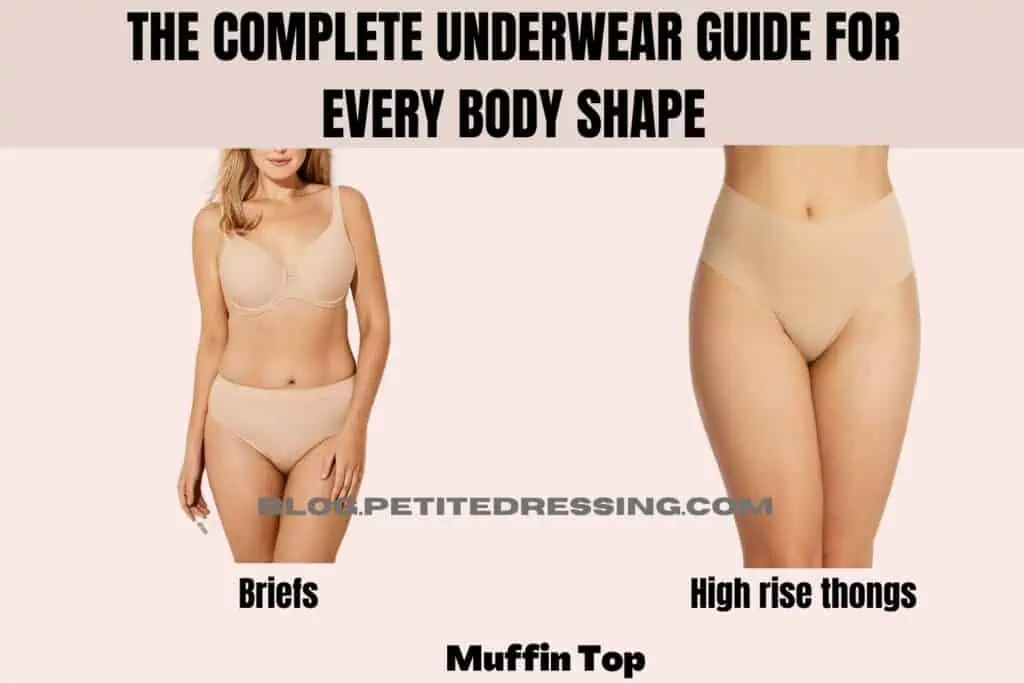 Briefs
Getting underwear that has full coverage is the best decision you can ever make if you have a muffin top.
The full-coverage underwear will cover the fat that is extending horizontally over the edges of the waistline.
Briefs are your savior as they have a high rise and this will take care of the love handles.
High rise thongs
Having a muffin top does not mean that you have to compromise for "grandma" style underwear that look unattractive
High rise thongs are great for your shape, as they can comfortably cover your tummy, but still look sexy and will make you feel feminine
Avoid bikinis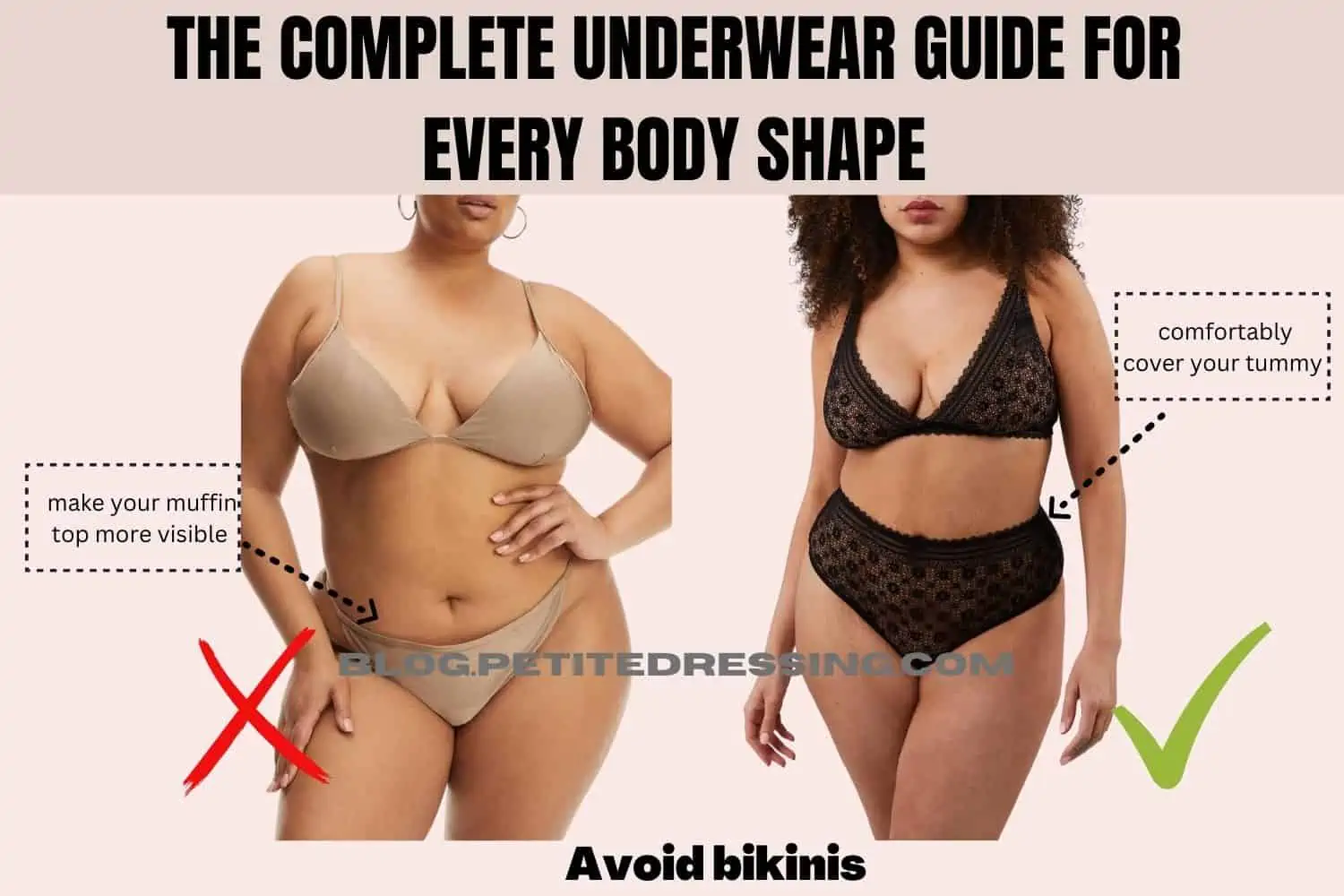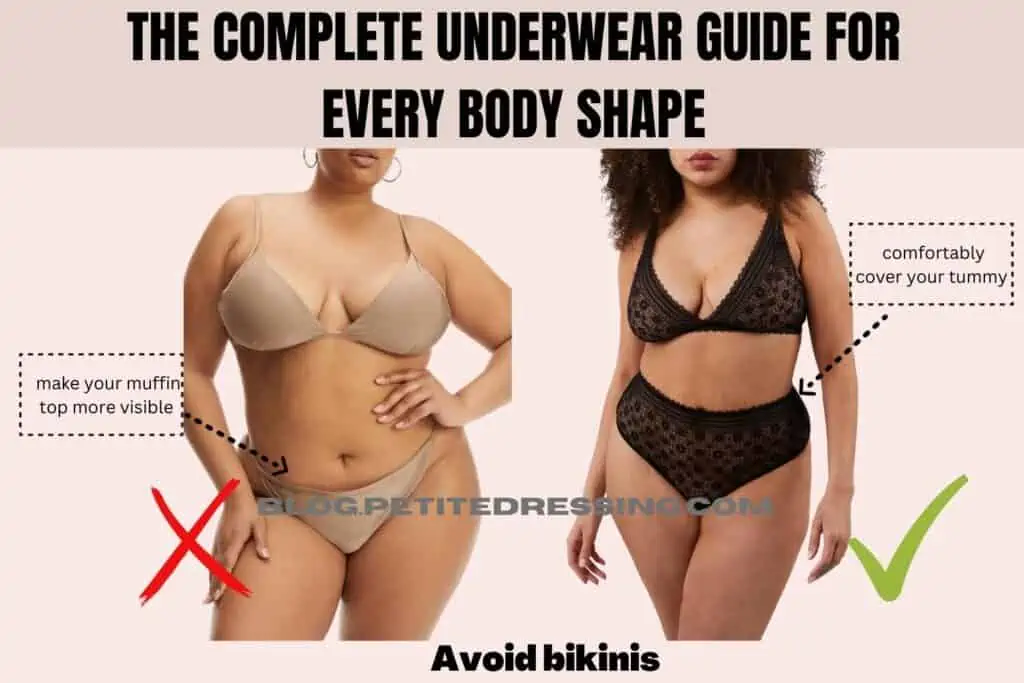 Avoid this style if you have a tummy concern as bikinis are low rise
This will make your muffin top more visible, especially when you wear pants
Avoid cheekies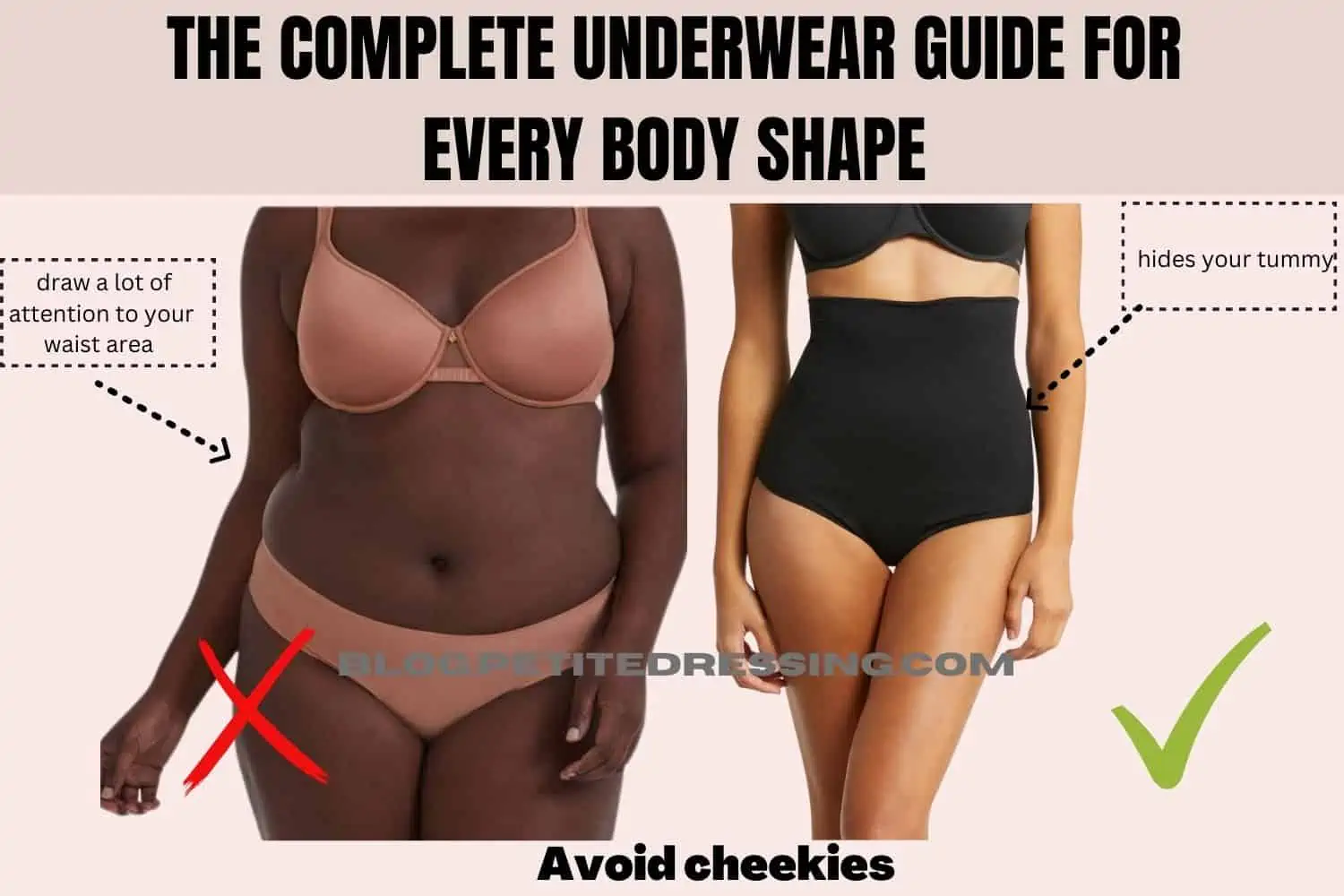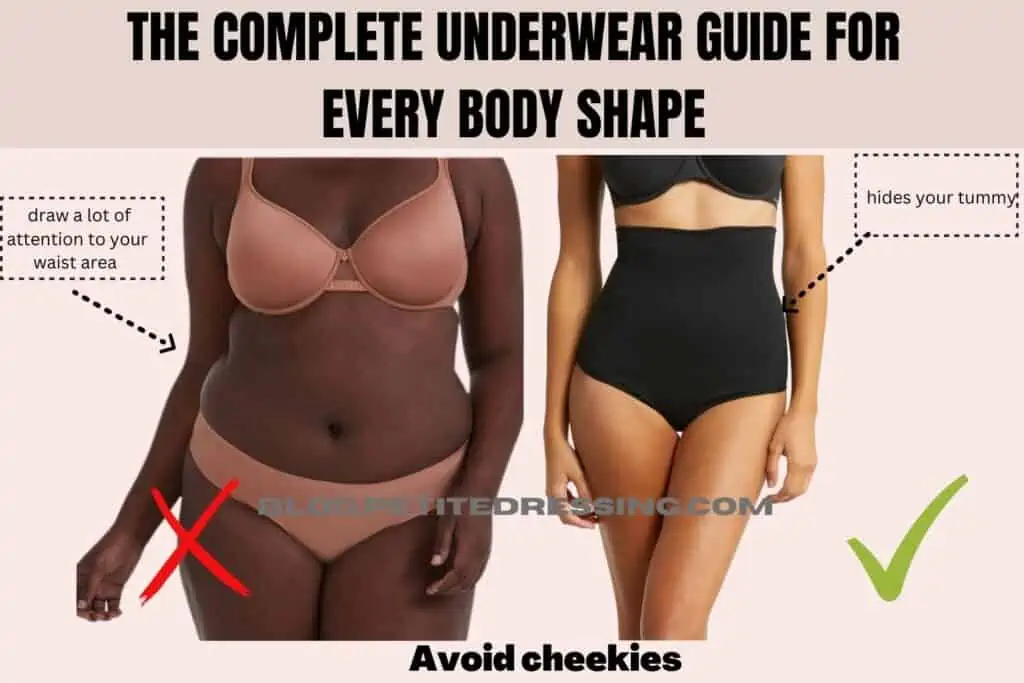 This is another low-rise style you should avoid if you have a midsection concern
This will draw a lot of attention to your waist area and this won't be good for you in any way.
Long Waist
Having a long waist can make it tricky to find the right underwear. Since your rise is long, the first and foremost is to make sure you pay close attention to the rise of the underwear in order to accommodate your body shape.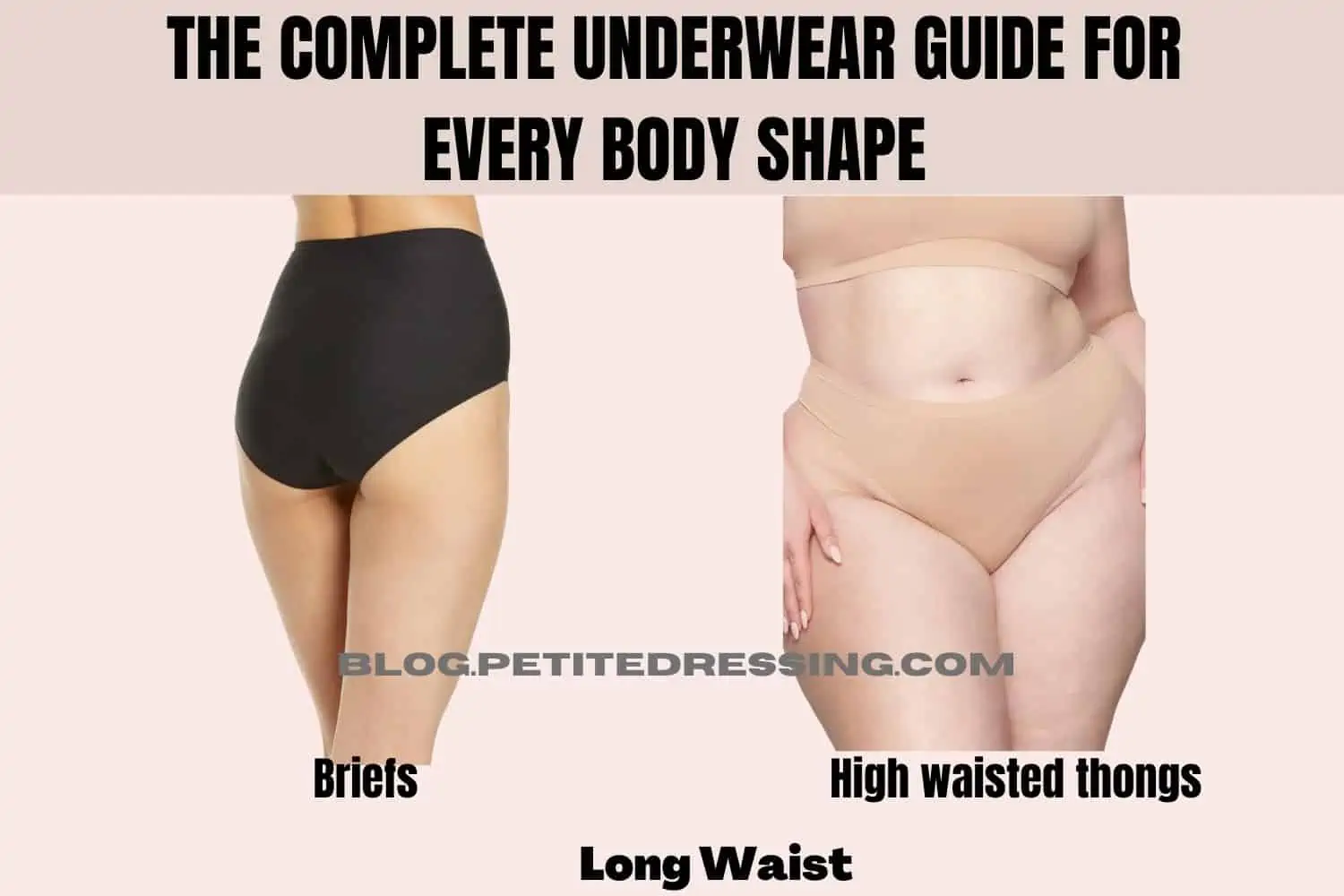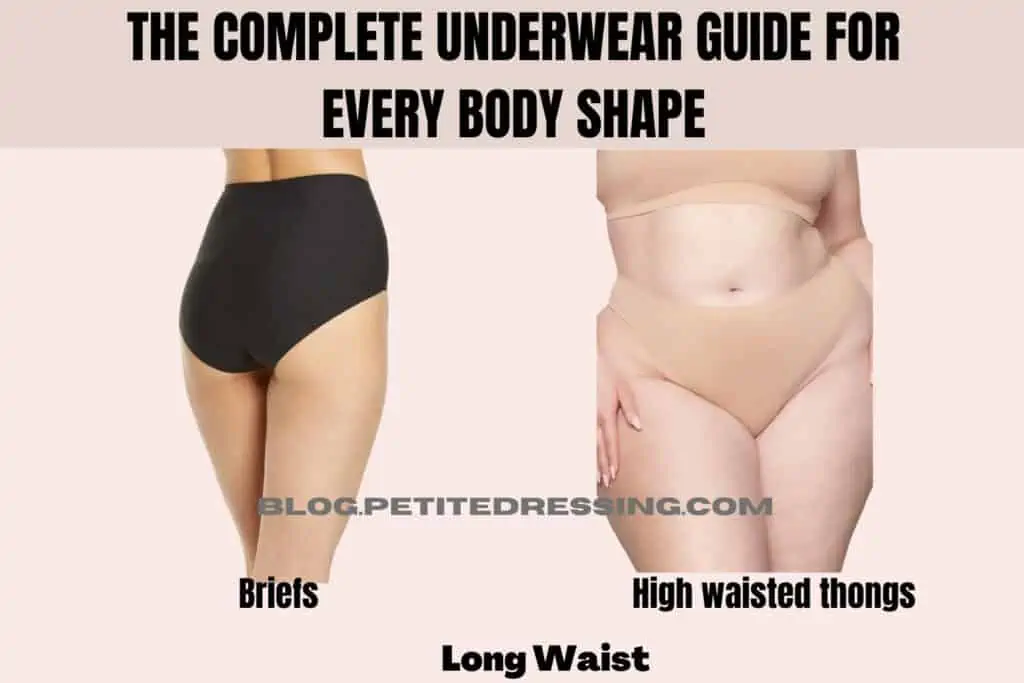 Briefs
Underwear that has a high rise are the best for you. The traditional briefs are one of the most comfortable underwear for your body shape.
This is because they offer full coverage and will cover your navel with no room for uncomfortableness.
You can also try underwear that has a high leg cut just to have a better and more comfortable finish.
High waisted thongs
Some thongs can work with women with a longer waist.
If you are used to wearing a thong, these can be a great option as they also eliminate any panty lines.
Avoid bikinis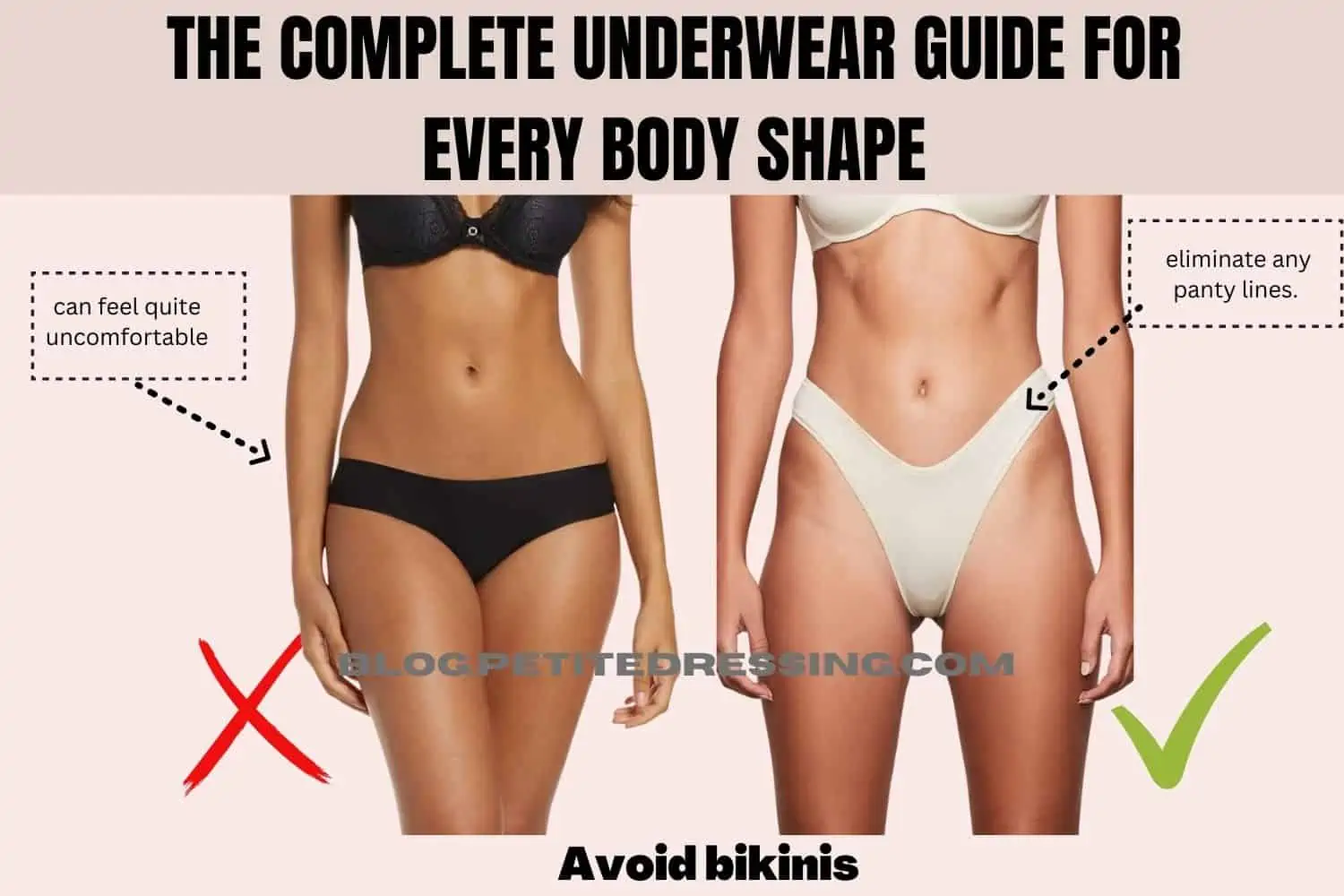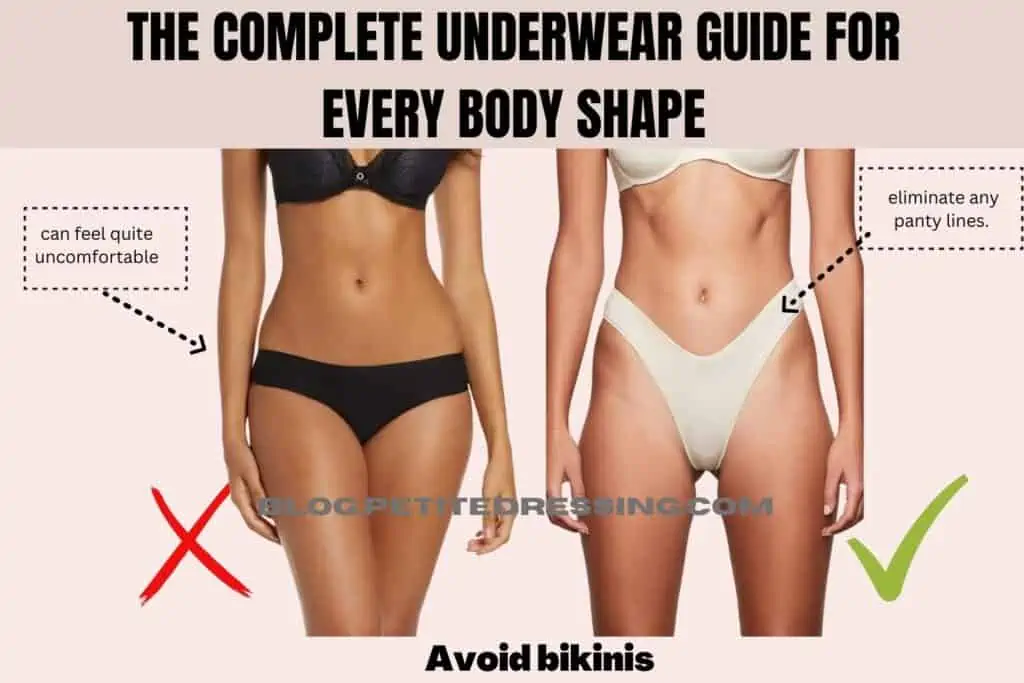 As they fall below your navel, they may always make you feel like you need to pull it up
For women with a longer rise, bikini style underwear can feel quite uncomfortable
Avoid hipsters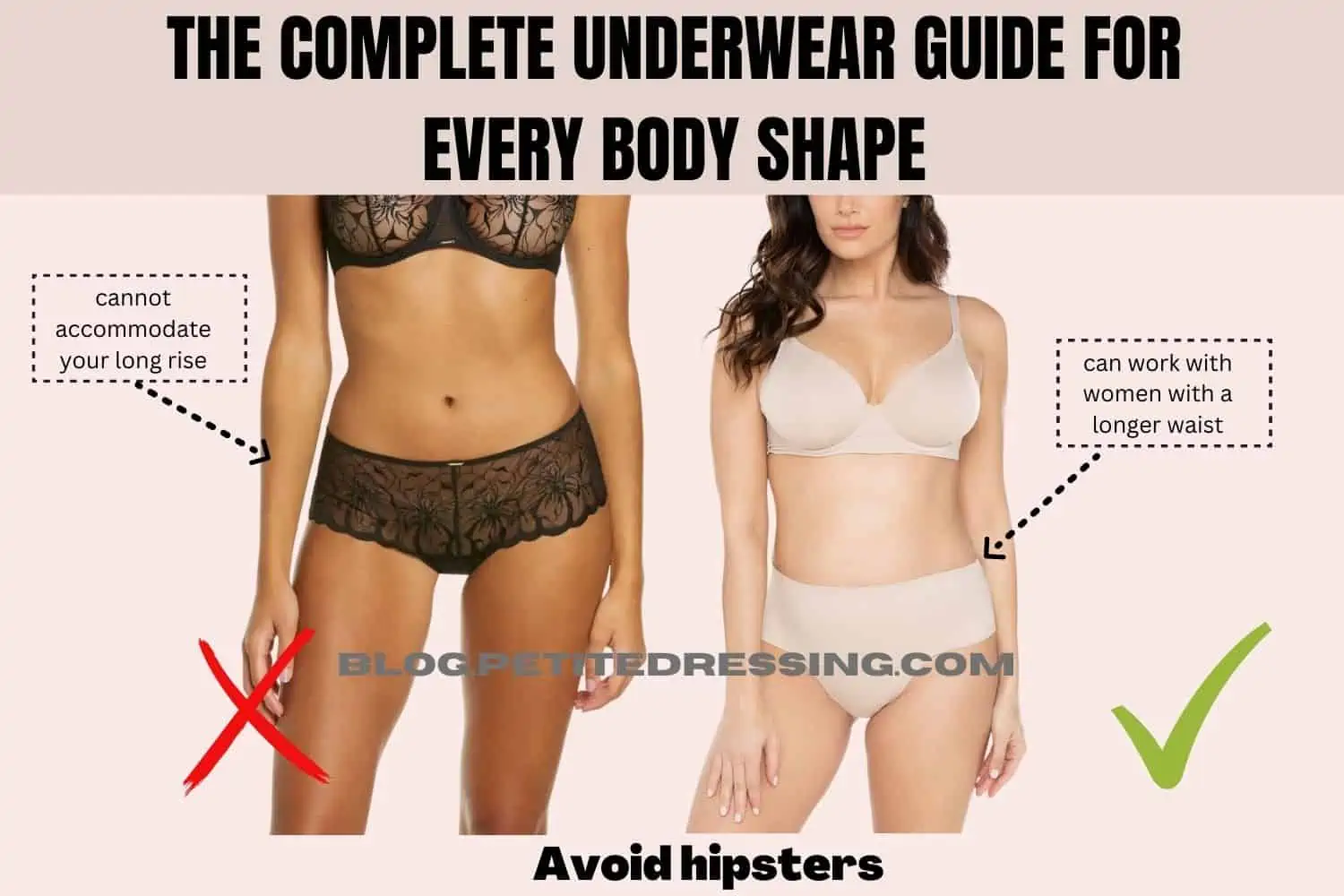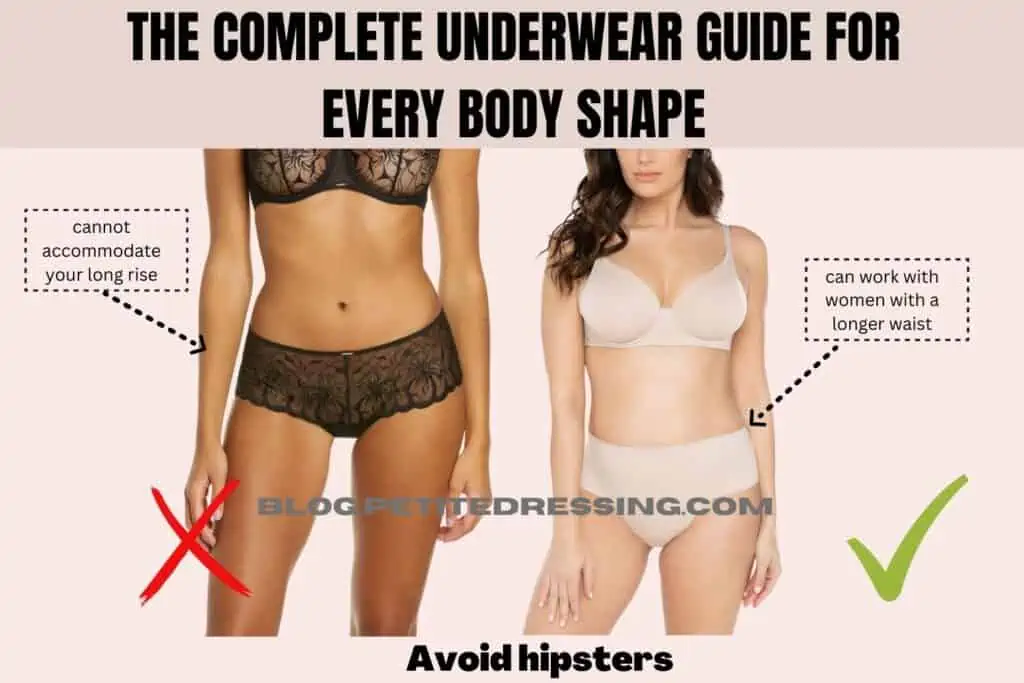 This is another popular underwear style but they are not the most comfortable style for women with a longer rise
Not only they cannot accommodate your long rise, but also they may cause muffin top because of lack of coverage on your tummy