If you carry weight in your arms, it can be a challenge to look for the right styles that flatter your shape. This is a comprehensive guide that covers every aspect on how to look good if your arms are thicker.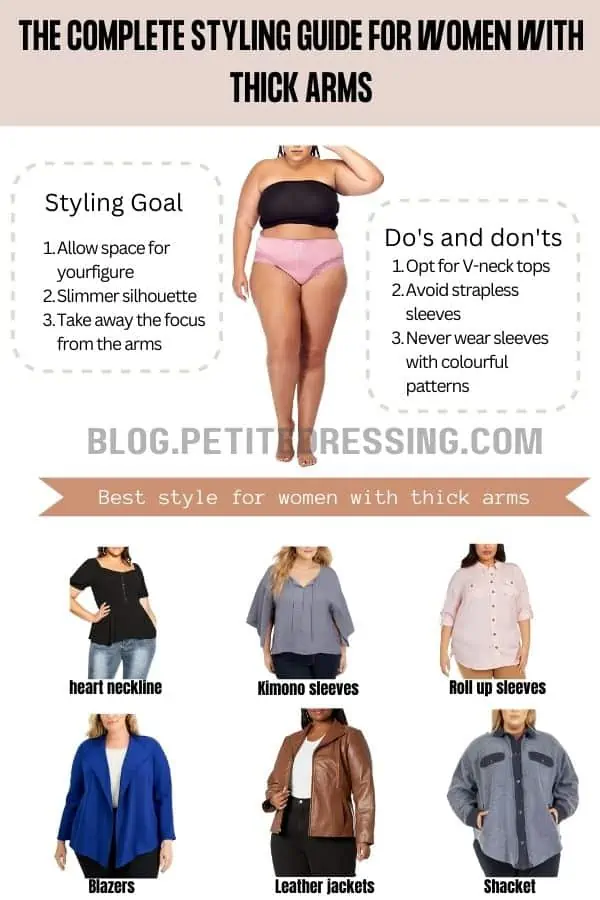 Styling Goal
To balance out your arms, here's 3 primary ways to dress
Shift focus
Cover it up
Bare your shoulders
Fabrics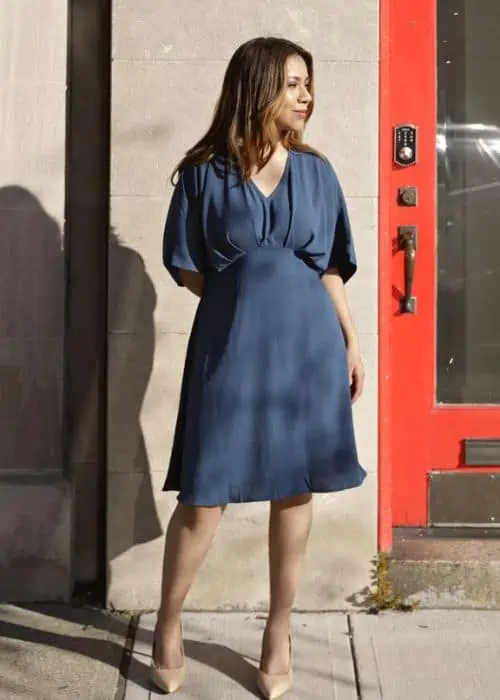 How to choose a fabric suited for thick arms
•Choose fabrics that are light and transparent: Light fabrics play around your arms and are comfortable. They offer relief and comfort, especially during warmer temperatures.
• They offer relief and comfort, especially during warmer temperatures.
•Opt for fabrics with smaller prints as it has the tendency to make your arms appear smaller.
Colors
•When making choices for your thick arms, never ignore the colour of your fabric. Dark colours for tops have high preference as they have a way of making the arms look slimmer rather than thicker.
Tops
Wear a wide heart neckline so as to draw focus to your neck and chest so eyes could be kept off the arms.
Opt for blouses with wide straps.
V-neck tops are another set of perfect tops for one with thick arms. They have a way of drawing attention to the cleavages and having big boobs is a higher advantage as your thick arms would be less noticeable.
Off-the-shoulder tops: They don't have anything going over the shoulders and begin at the upper arm. It's the most proficient way to keep your shoulders bare as exposing the skin on the shoulders is another way to lessen the focus on your arms.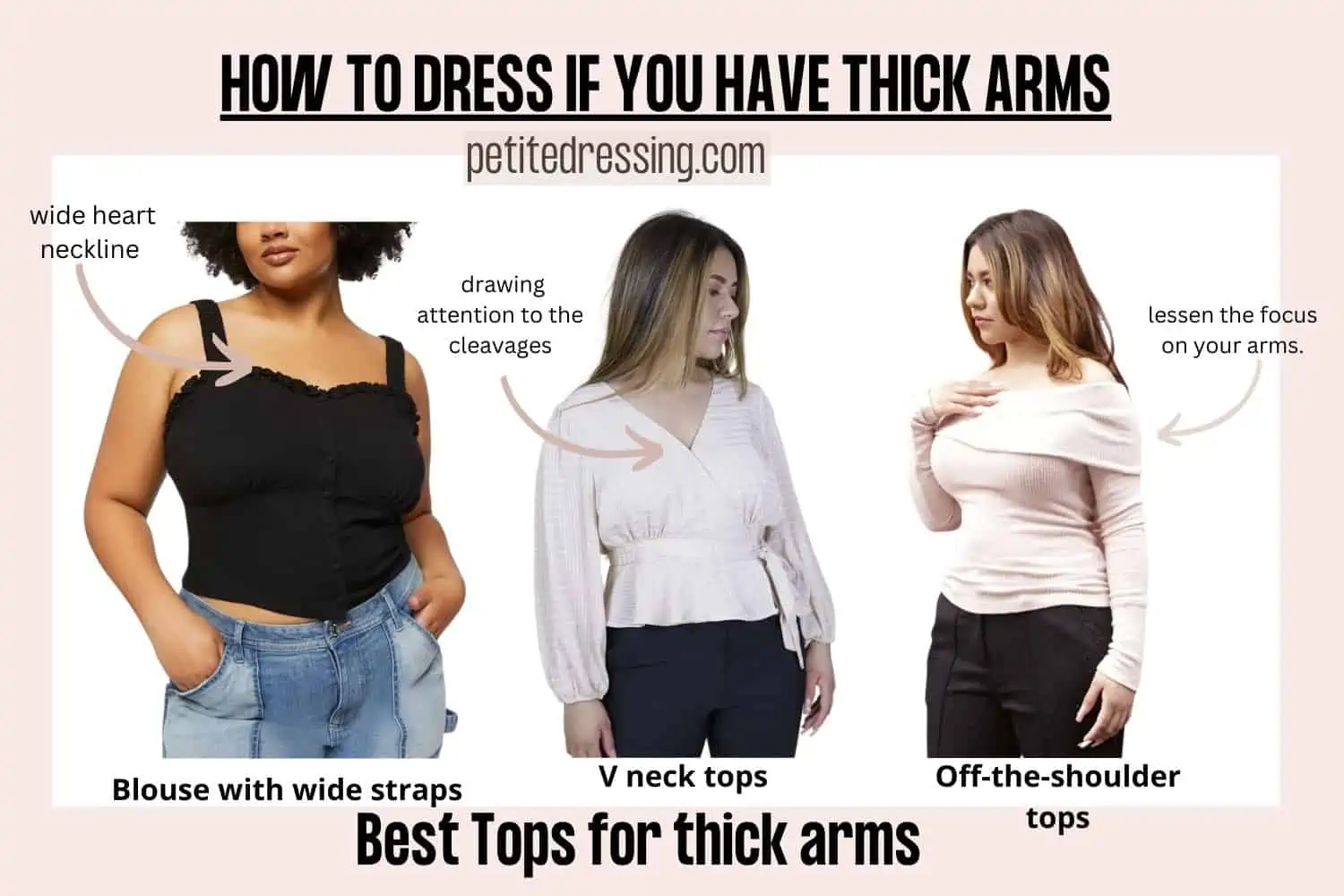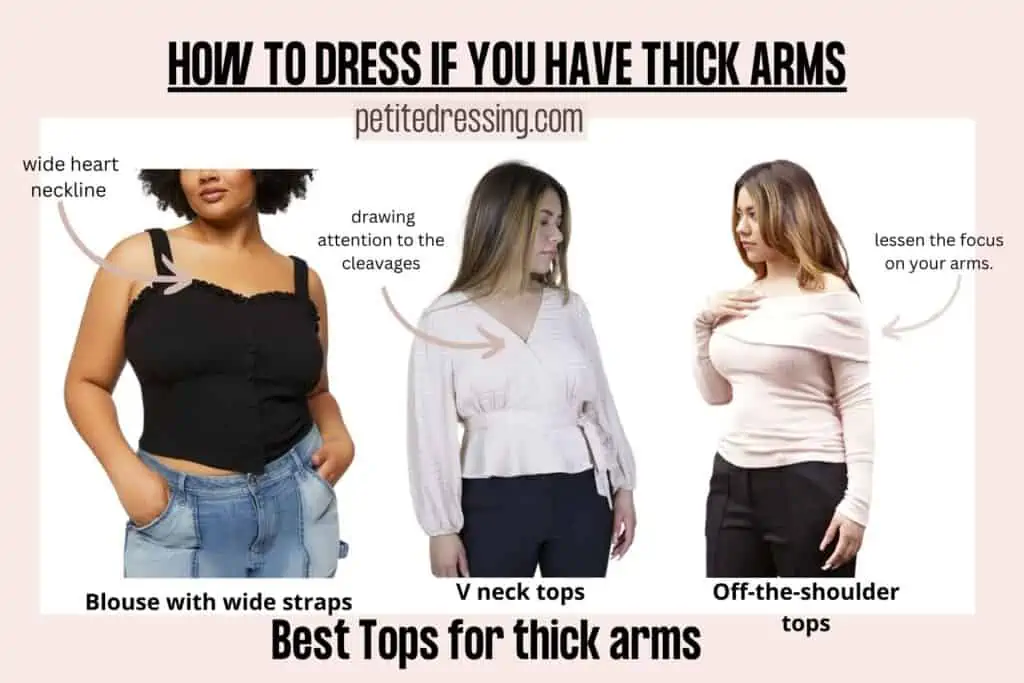 Cold shoulder tops: It exposes a little bit of shoulder while keeping your thick arms covered. They flatter the body giving a classy and stylish look.
Wear peasant blouses: They are very comfortable and help to camouflage the thick arms.
Button-down shirt: This sort of shirt is very simple and they draw little or no form of attention towards your arms and are of great preference for your thick arms.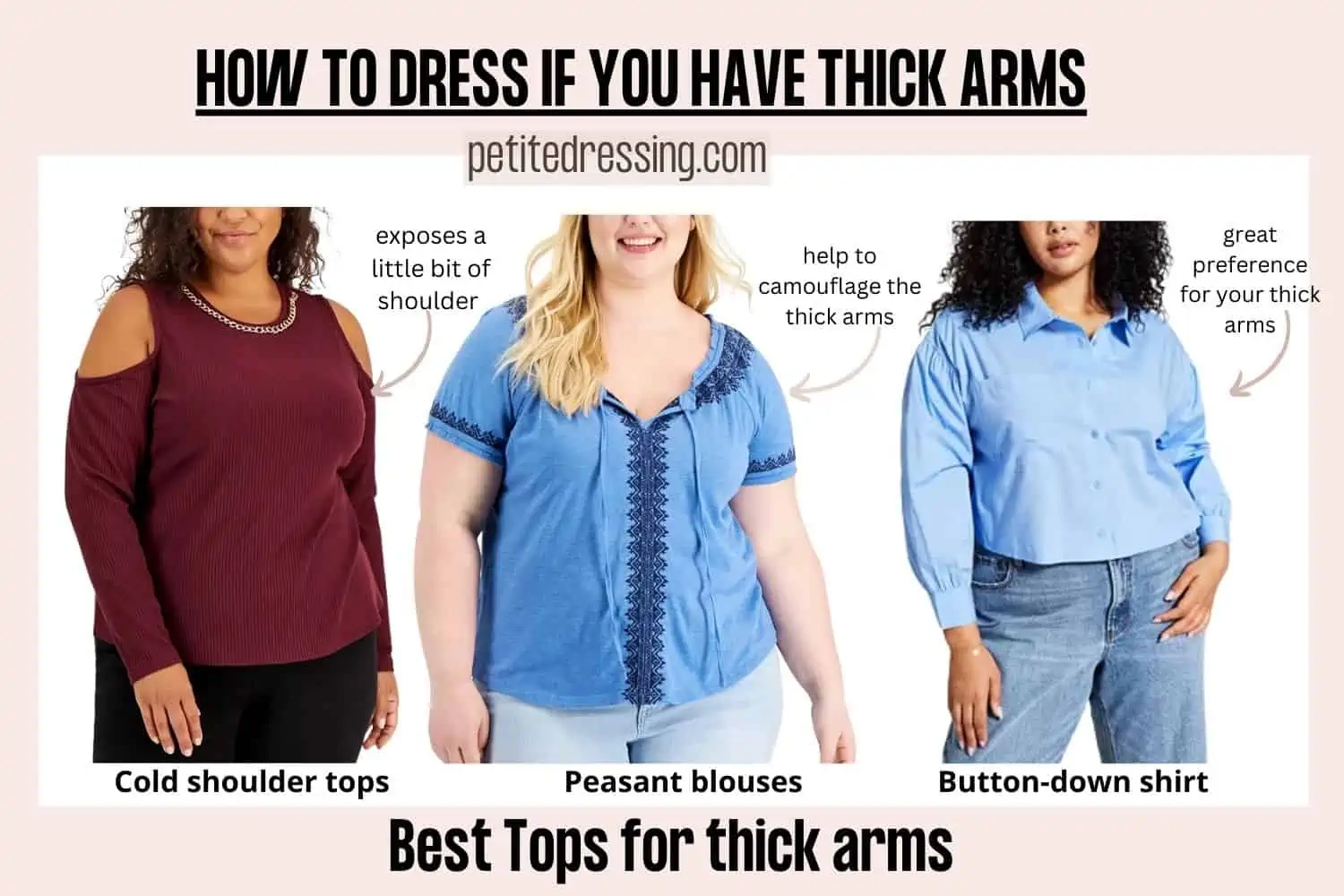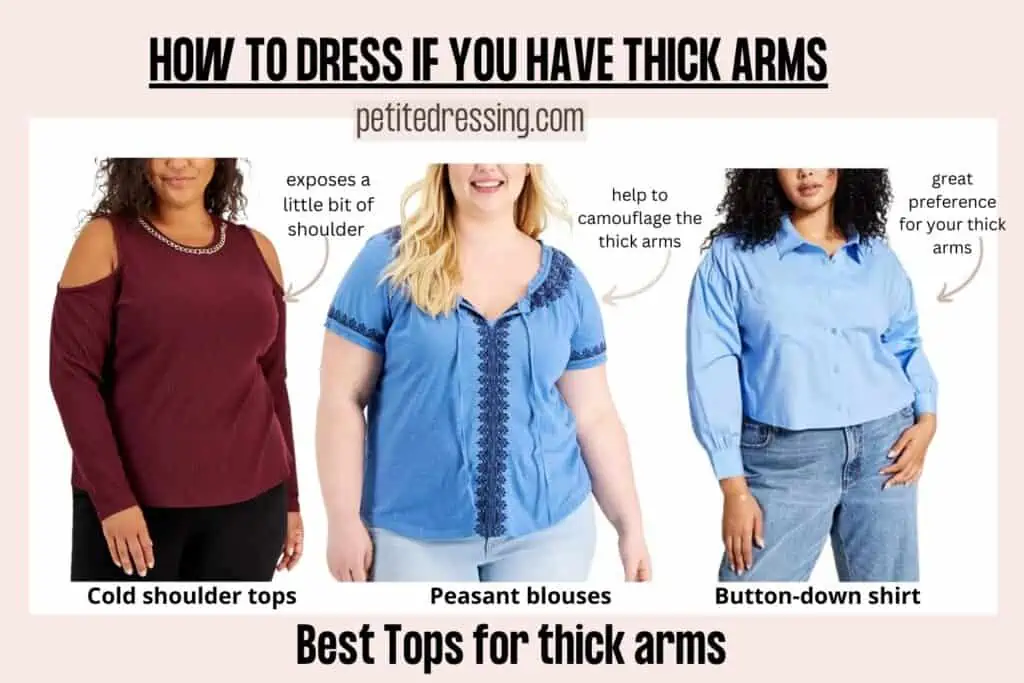 Sleeves
Sleeves tend to have a high effect on style and provide structure to any piece of clothing. Hence, the following sleeves should be given greater preference.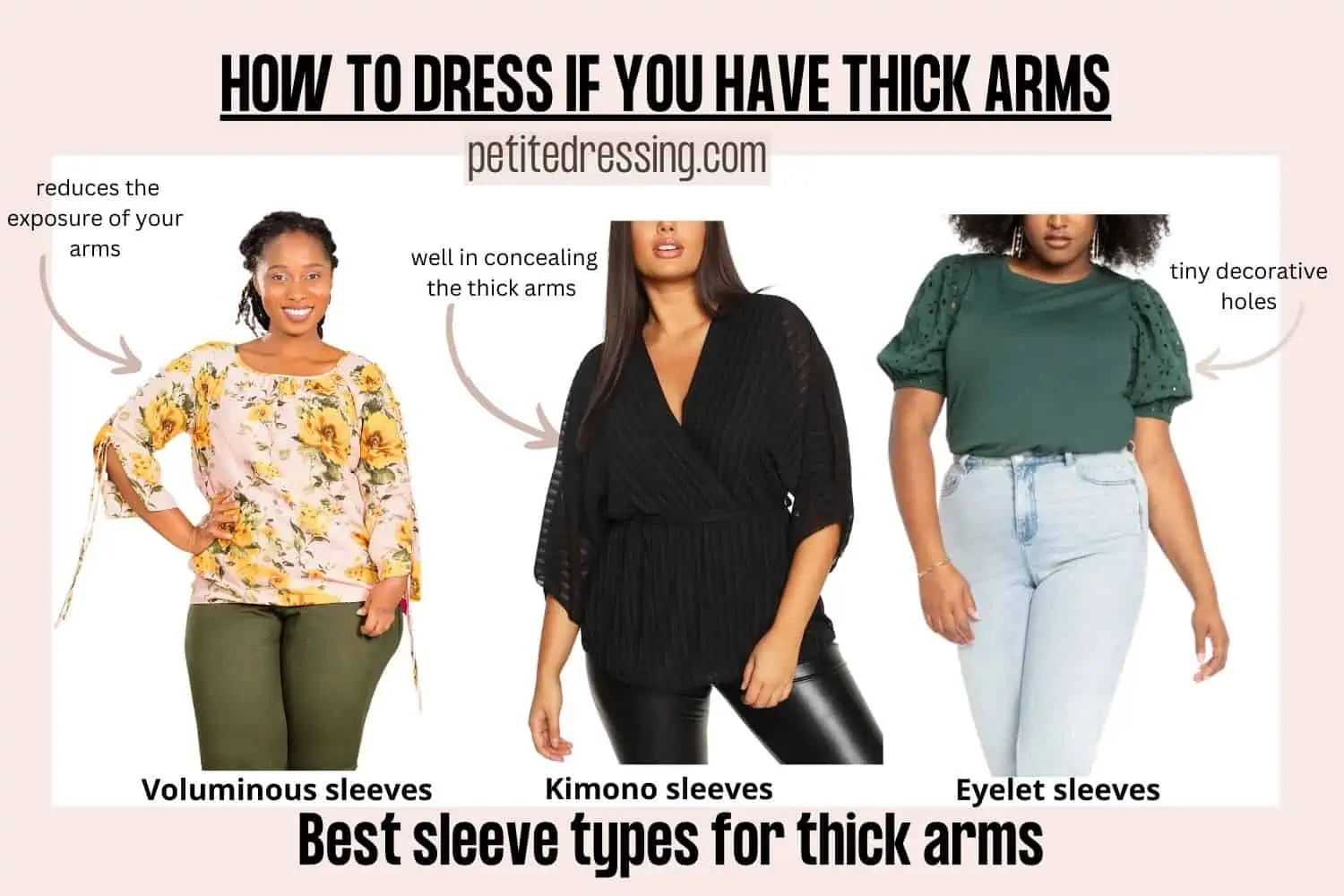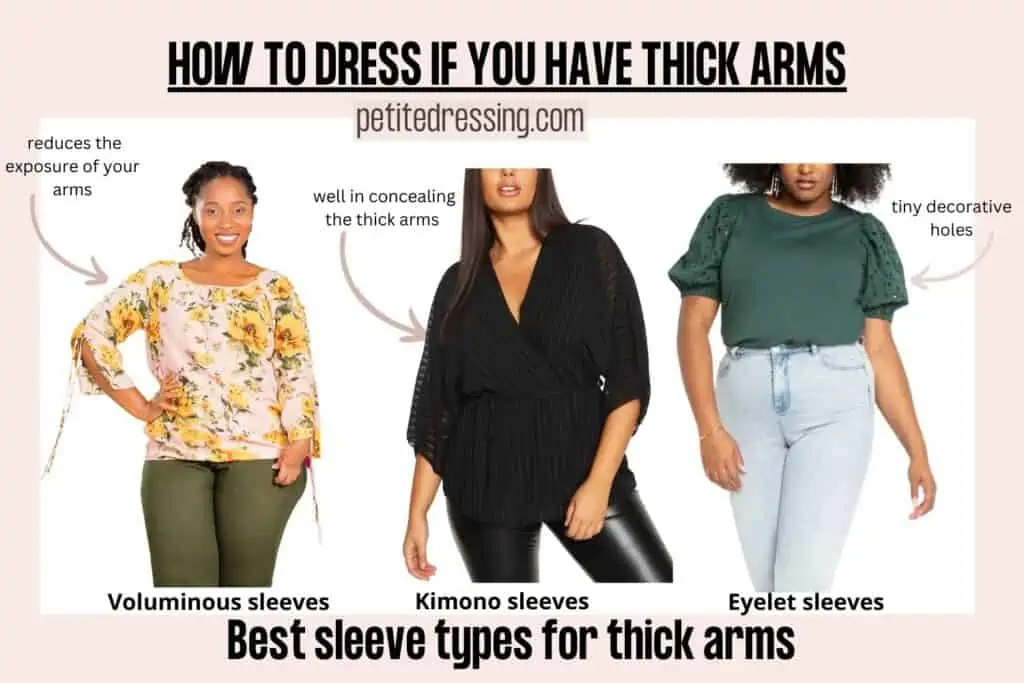 Voluminous sleeves: Opt for wide voluminous sleeves as it reduces the exposure of your thick arms giving you the confidence you desire for your feminine body.
Kimono sleeves: kimono sleeves have deep armholes and are long and flowy. They do so well in concealing the thick arms and adding a stylish and classy look to your outfit.
Wear eyelet sleeves with laser cutouts and tiny decorative holes.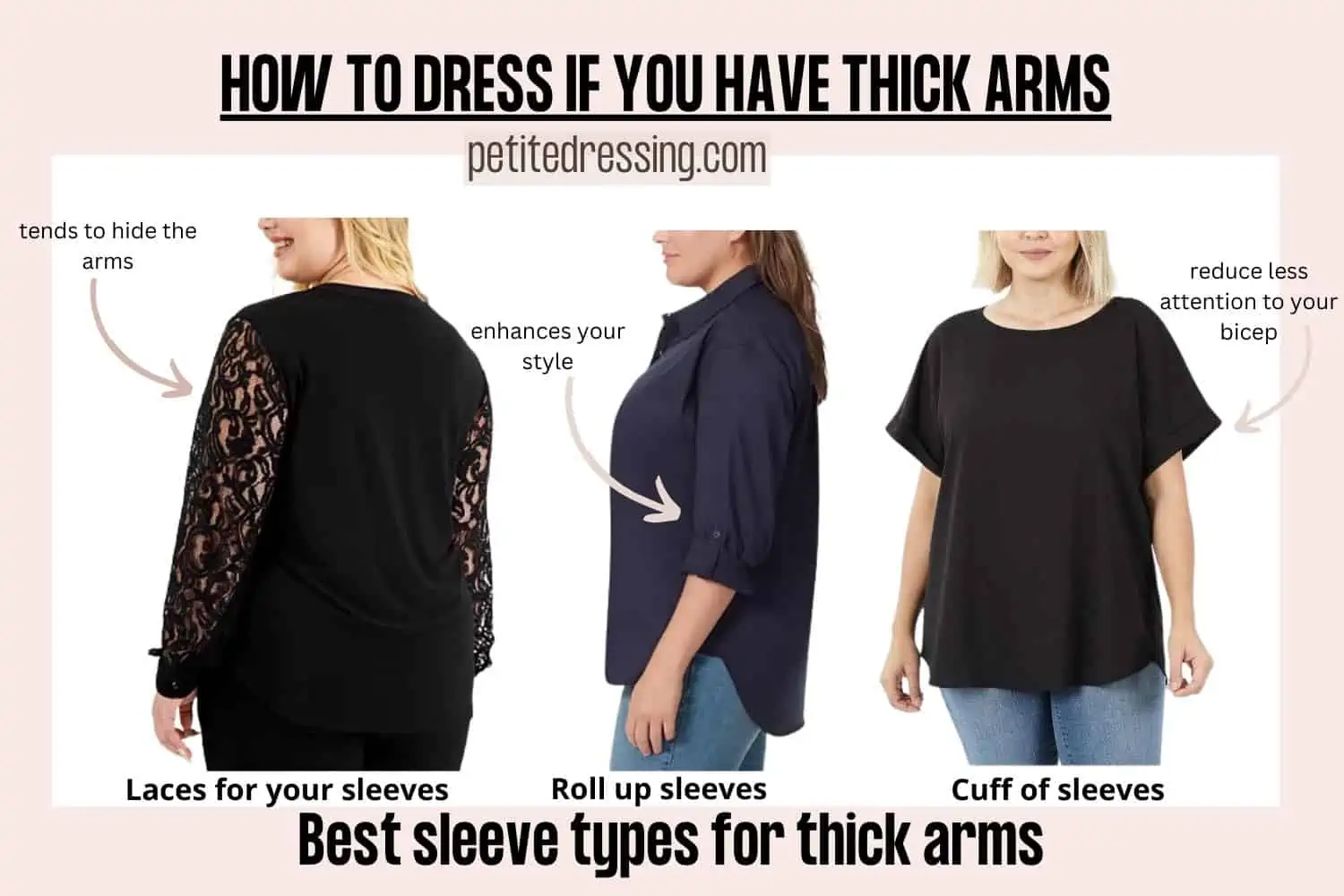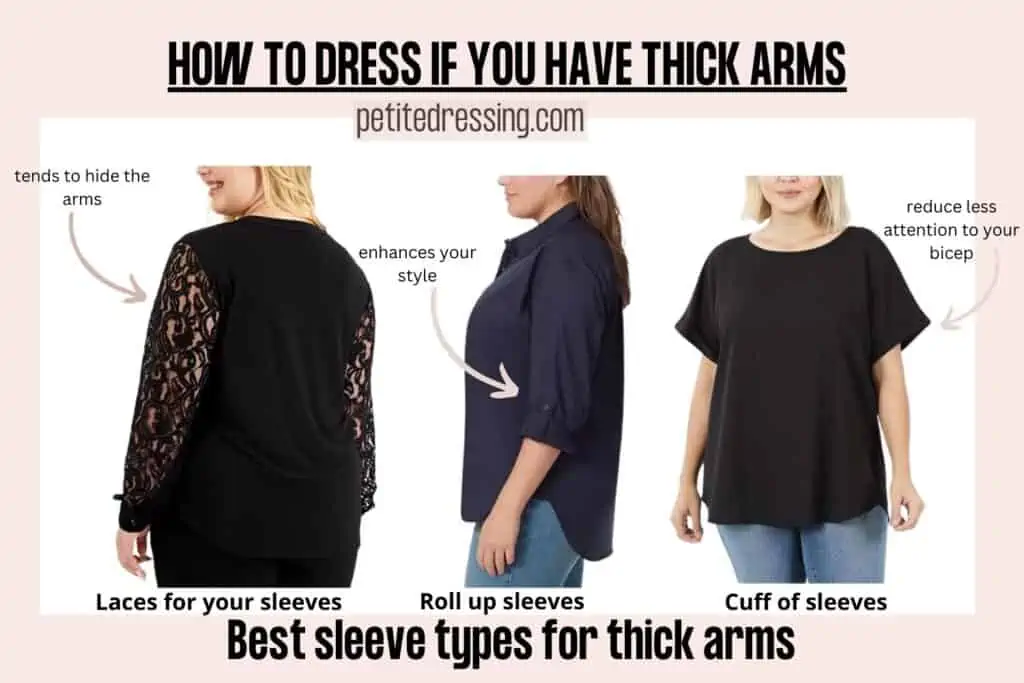 Use lace for your sleeves: Detailing lace sleeves tends to hide the arms and bring design and beauty to what you wear. You should therefore consider it when making your choice of sleeves for your arms.
Roll up sleeves: Another way to enhance your style and look outstanding with your thick arms is by rolling up your sleeves. This has its own way of highlighting your waist.
Cuff of sleeves: Add details to the cuff of your sleeves. It would draw so much attention to your wrist and reduce less attention to your bicep.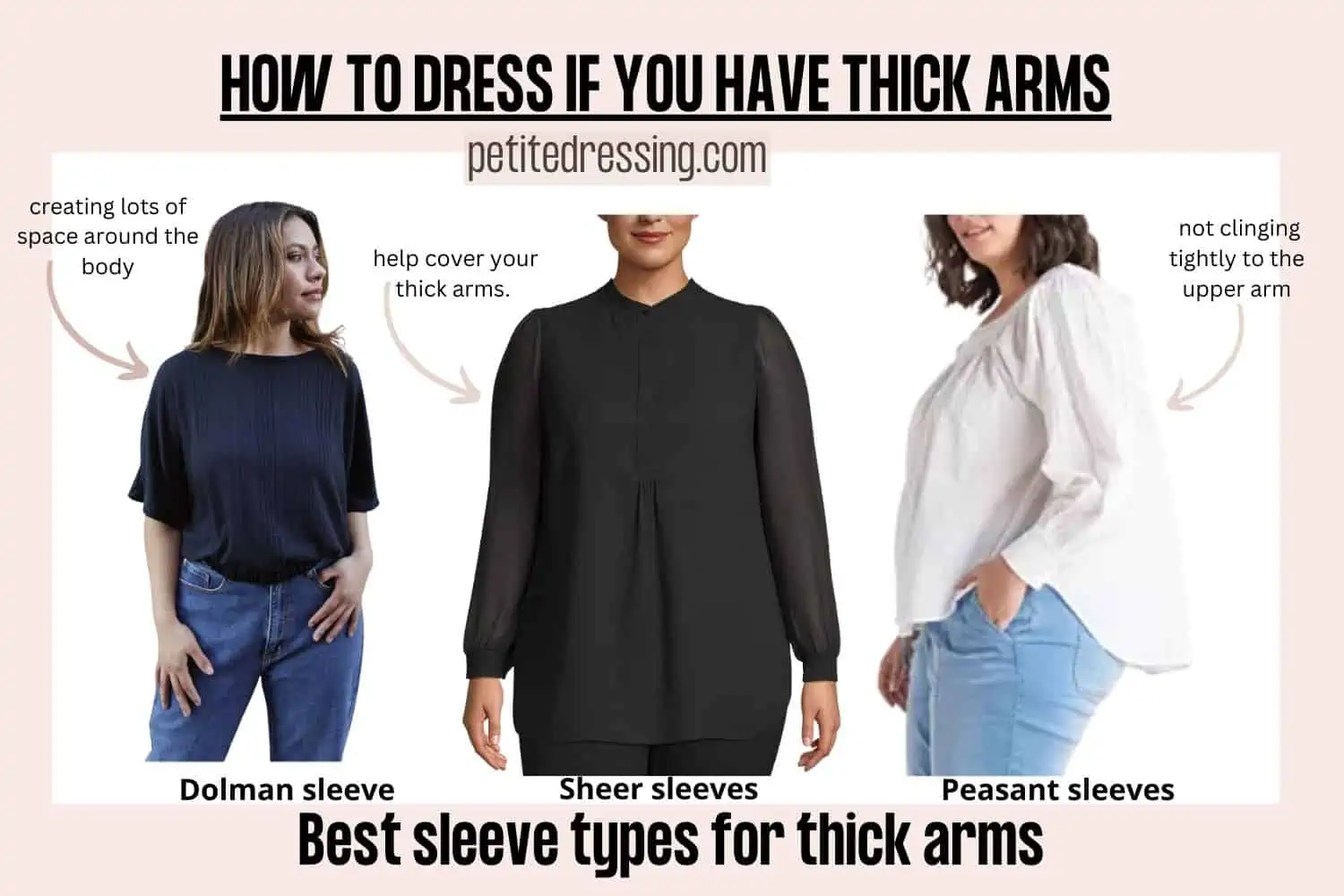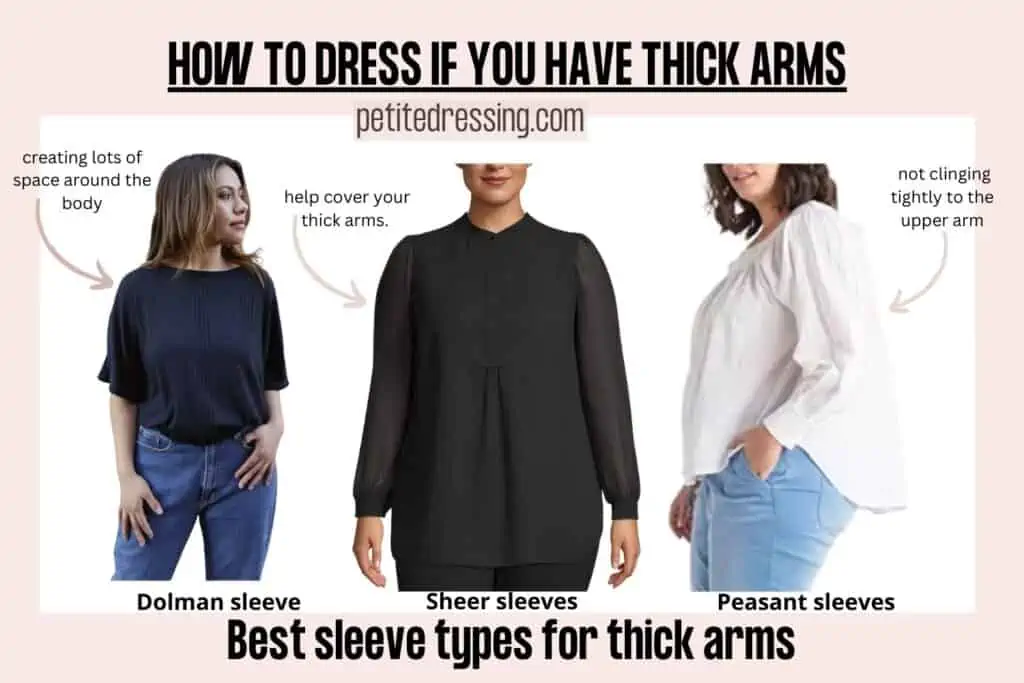 Dolman sleeve: It's also called the batwing sleeve having a deep armhole, till at least the waist level and is usually fitted at the wrist. This sleeve is a perfect choice for thick arms because it connects all the way to the body creating lots of space around the body.
Sheer sleeves are another choice of sleeves: They are made of translucent fabrics, are fashionable and help cover your thick arms.
Peasant sleeves: Peasant sleeve is a type of loose sleeve with poufy shoulders that holds firmly at the wrist with a cuff. They are loose right from the armhole not clinging tightly to the upper arm and should be worn for thick arms.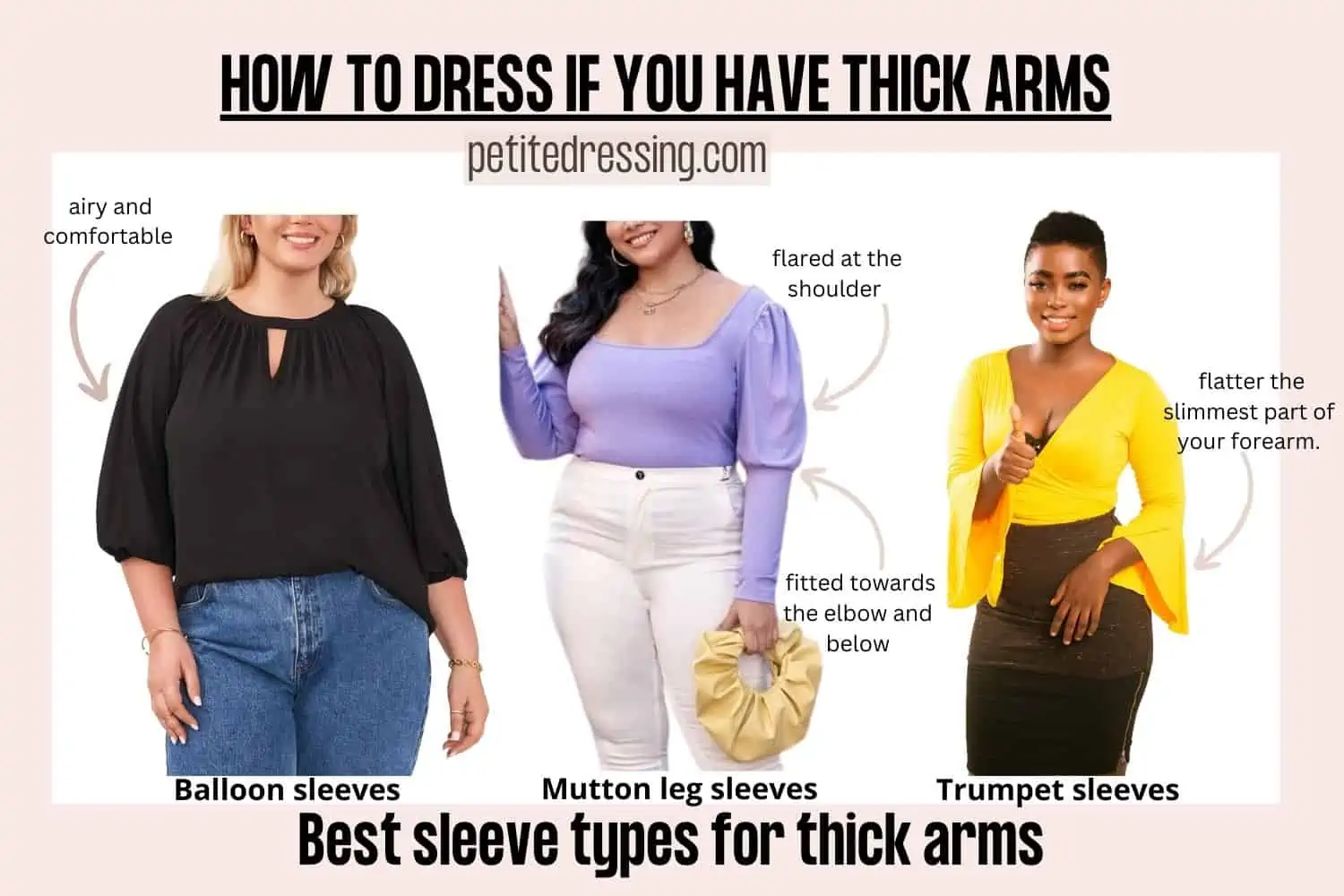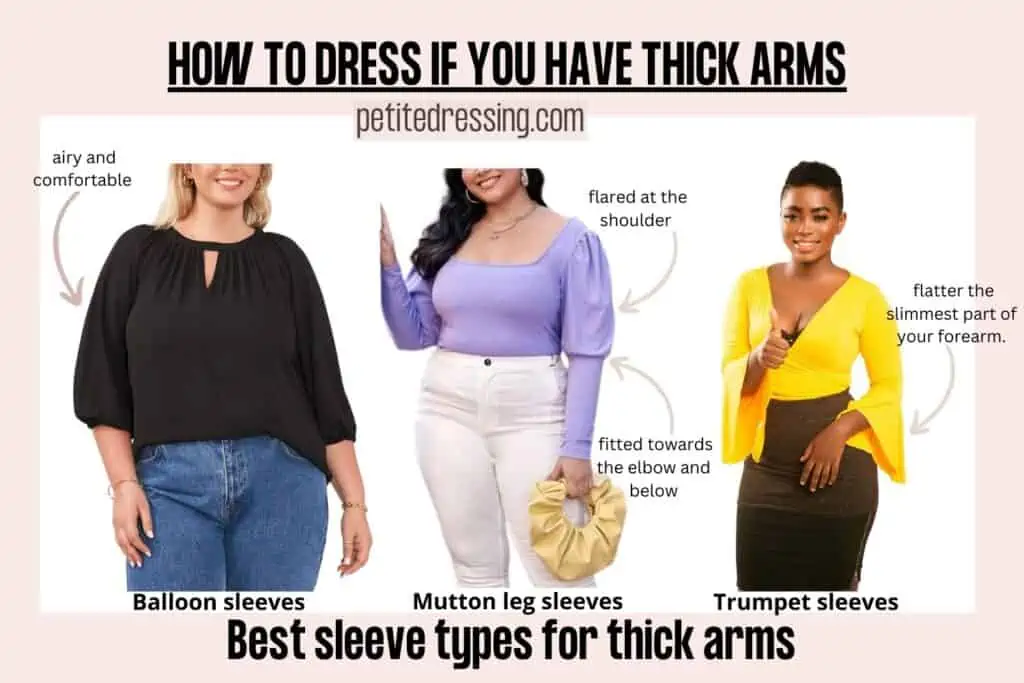 Balloon sleeves: For thick arms, the balloon sleeve is another better option of sleeves. As the name goes, balloon sleeves are airy and comfortable. It gives volume to the arms without causing constrictions and is tight around the wrist.
Mutton leg sleeves: They are flared at the shoulder and upper arm and gradually become more fitted towards the elbow and below. They're given that name owing to their resemblance to a mutton leg.
Trumpet sleeves: These sleeves are fitted at the armhole and then flare out gradually towards the bottom, either with a seam or seamlessly. They are a better option for thick arms as they help to flatter the slimmest part of your forearm.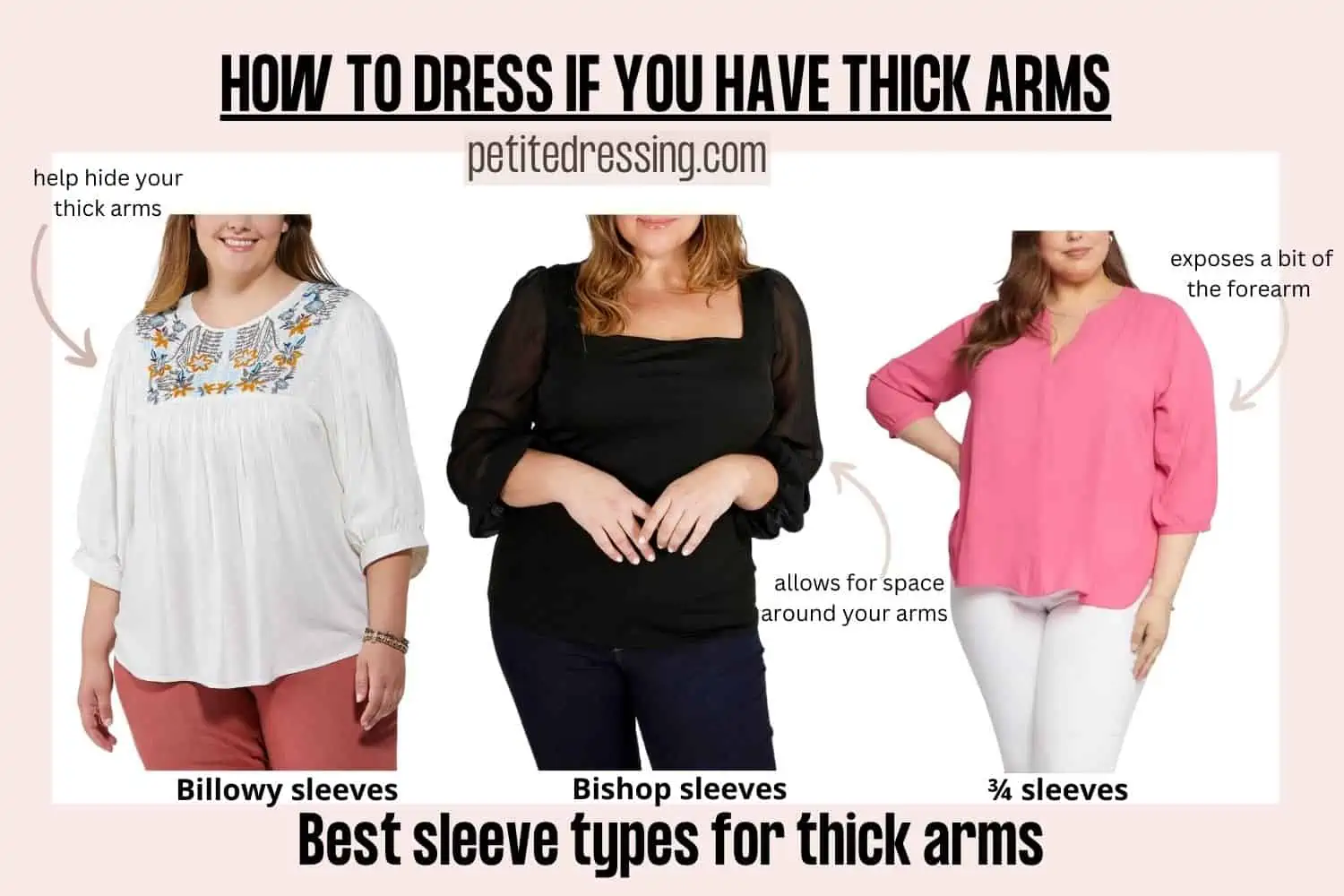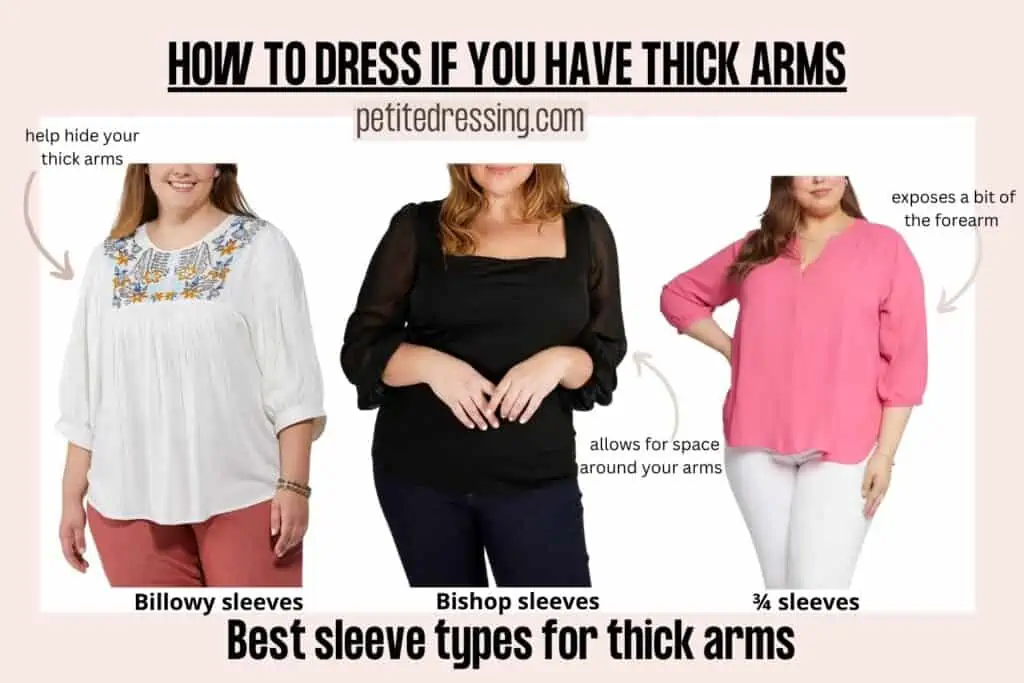 Billowy sleeves: These are sleeves that swell up along the arm, either towards the wrist or throughout the length. They help hide your thick arms and keep you comfortable in your style.
Bishop sleeves: This is a loose sleeve that is voluminous at the lower half and gathered at the wrist with large cuffs. It allows for space around your arms and still gives extra style and class to the sleeves of your dress.
Choose short sleeves with diagonal hemlines: Effective use of diagonal hemlines in fashion flatters the outfit and pulls attention away from your thick arms.
Wear ¾ sleeves: This type of sleeve is said to be the most universally flattering sleeve length for women. This is so because It exposes a bit of the forearm and wrist reducing attention in the upper arm.
Layering
Layering is one of the most useful strategies to dressing fashionably while staying comfortable.This is another way to conceal your thick arms and still rock your style. This can thus be achieved by wearing;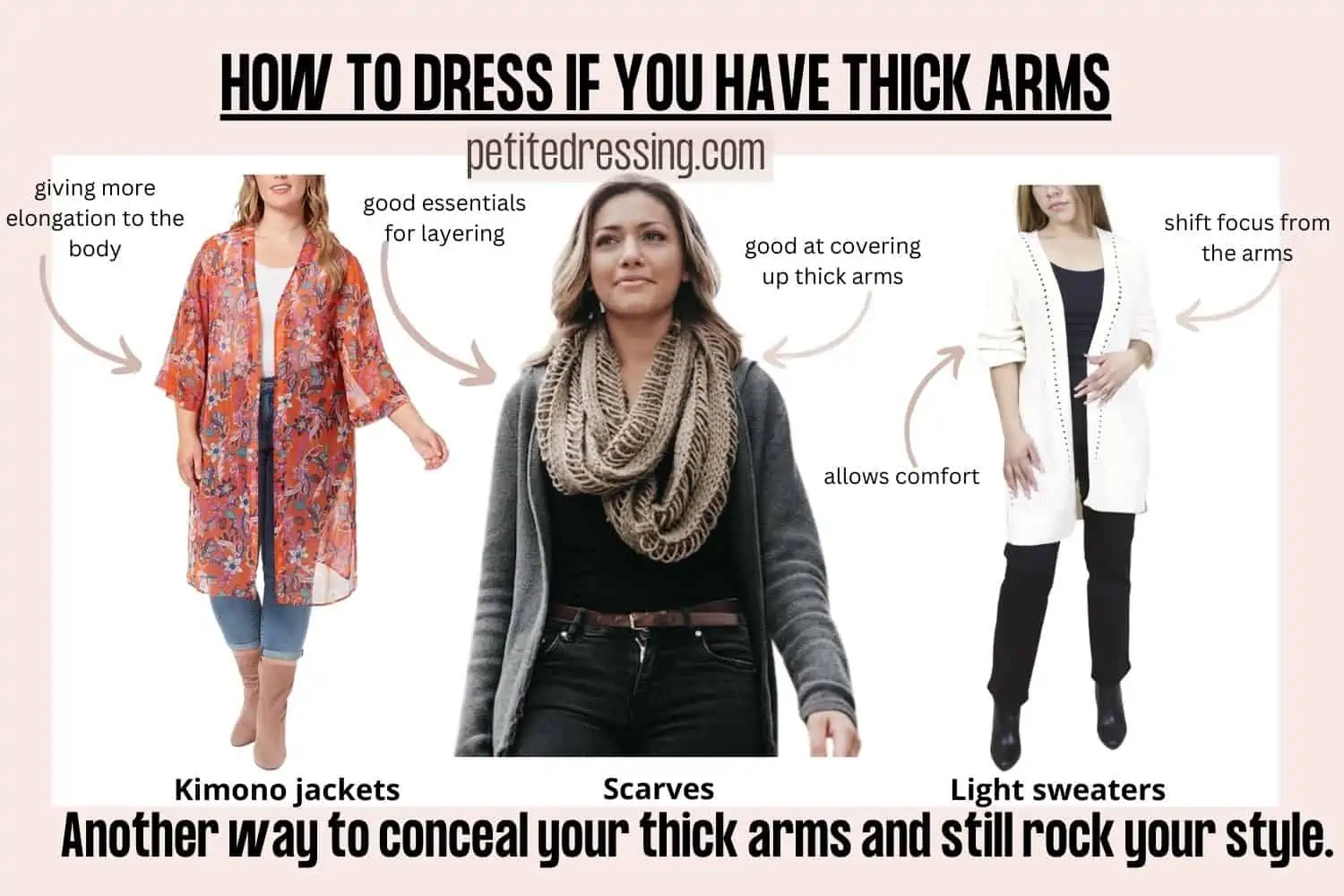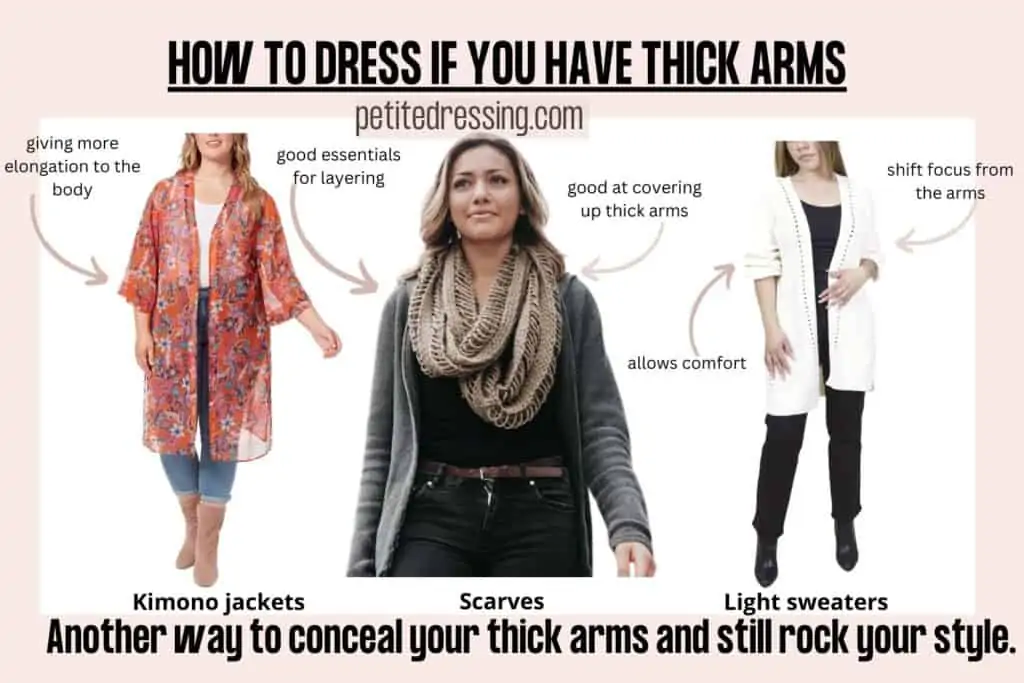 Kimono jackets: These jackets come in different designs and patterns giving more elongation to the body without having to highlight your arms. They can be layered with short sleeve tops.
Scarves: Scarves are a great layering piece that spices up any outfit while also keeping you warm. They are also really good essentials for layering and covering up thick arms.
Light sweaters: For thick arms, light sweaters are perfect for summer and could be worn over a sleeveless top. This doesn't only shift focus from the arms, it allows for comfort.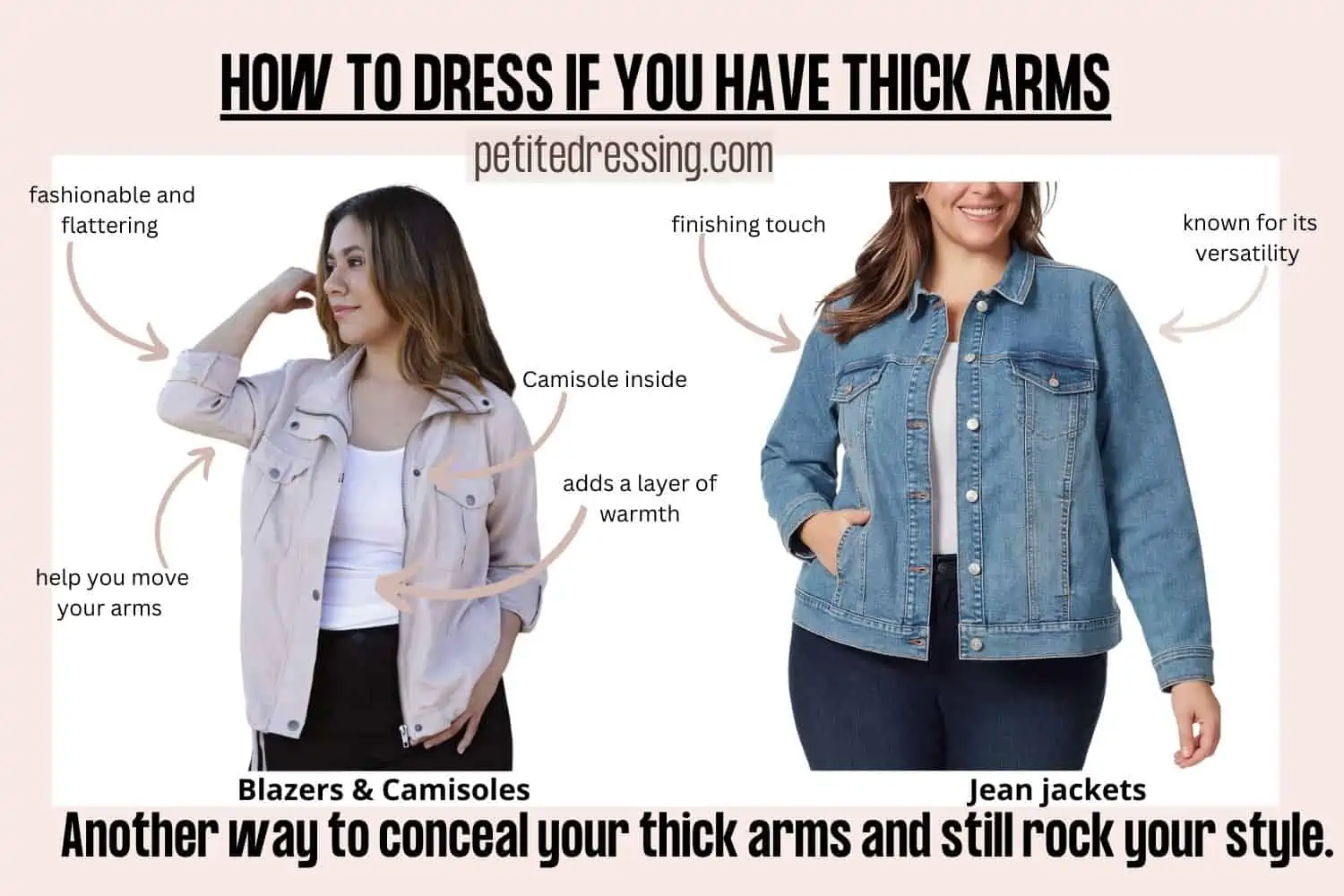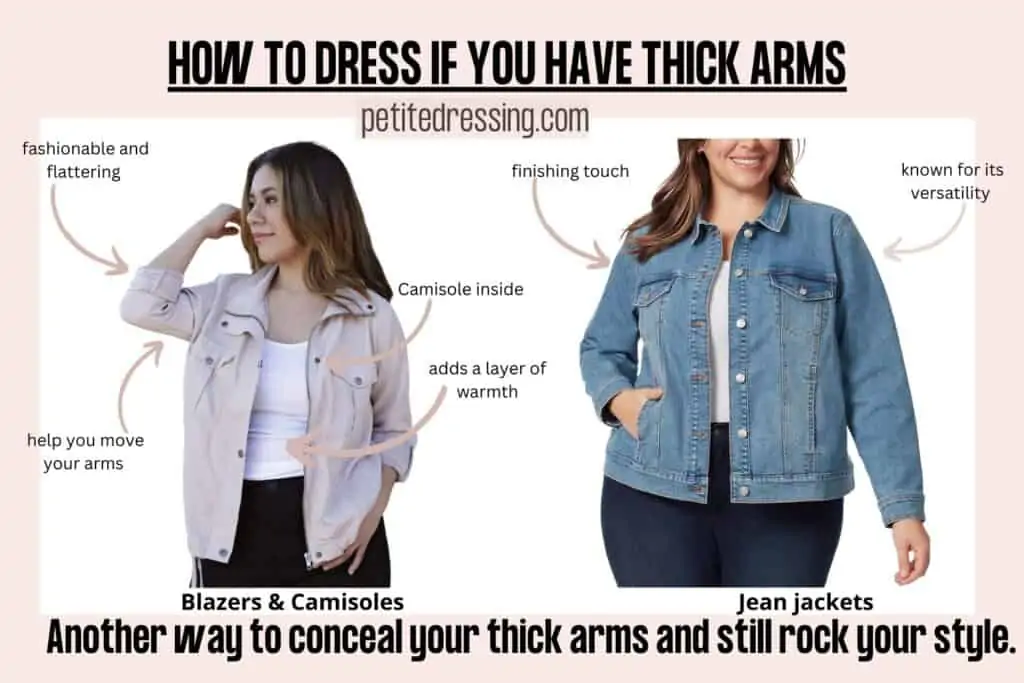 Blazers: They're really fashionable and flattering. The free sleeves help you move your arms easily by giving comfort and creating a stylish look on your body.
Camisoles: These are another layering piece that adds a layer of warmth to your outfit and is a great choice of coverage for thick arms.
Jean jackets: If you must cover your arms and layer your wear, then jean jackets are another great option. It is known for its versatility and could be a finishing touch for any outfit.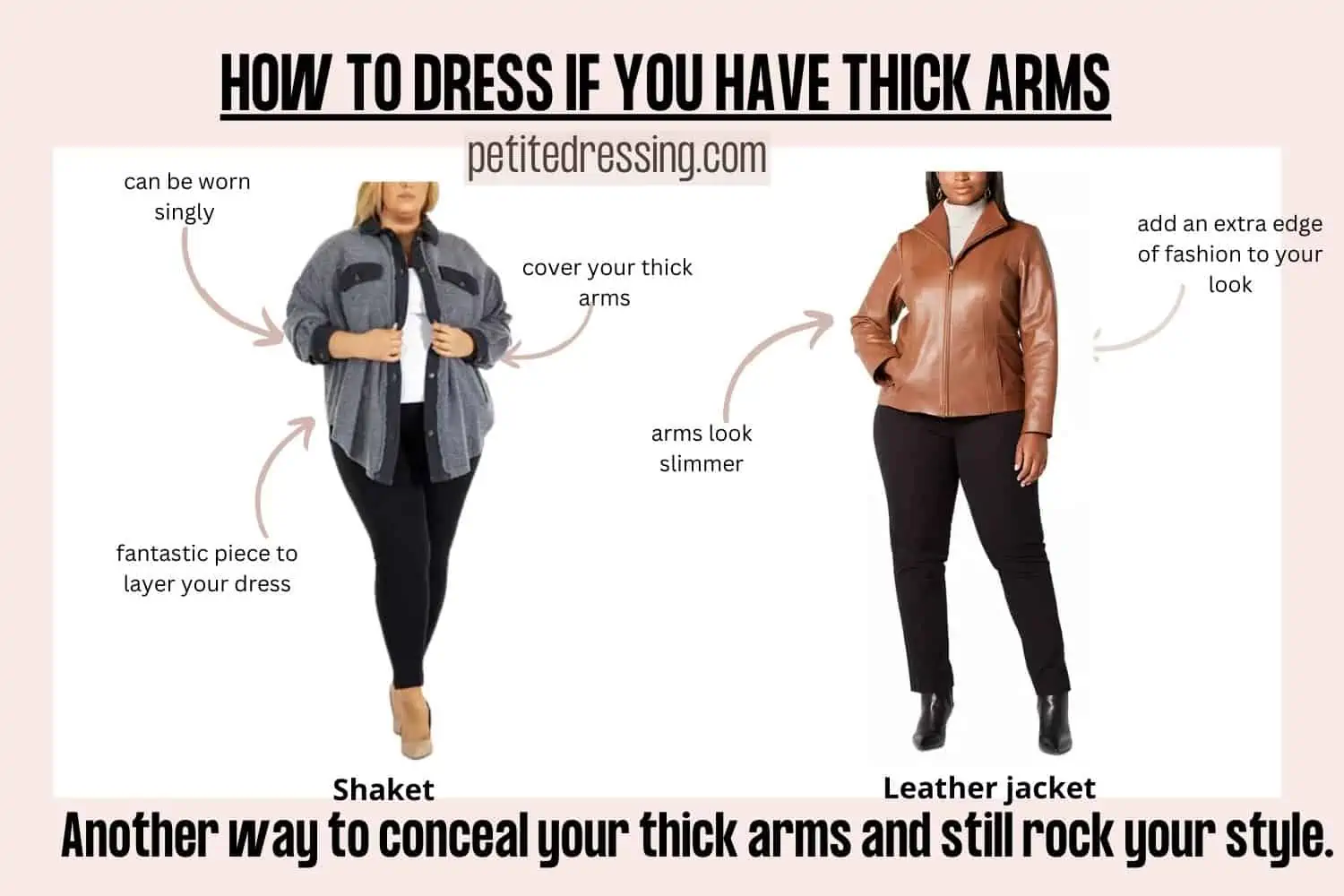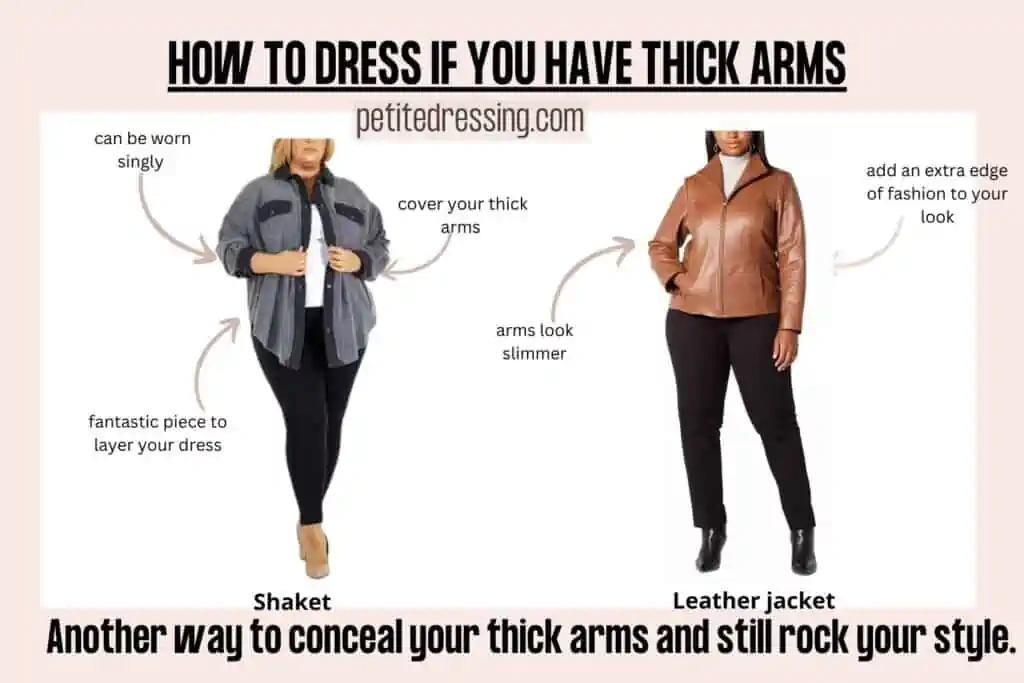 Shacket: The shacket is a layering piece for winter. It can be worn singly and still fit to be worn under a coat making it a really fantastic piece to layer your dress and cover your thick arms.
Leather jackets: Leather jackets help to add an extra edge of fashion to your look and could also make your arms look slimmer.
What to Avoid
Understanding fashion and what defines class cannot be over-emphasized. You should therefore avoid the following outfits for your thick arms.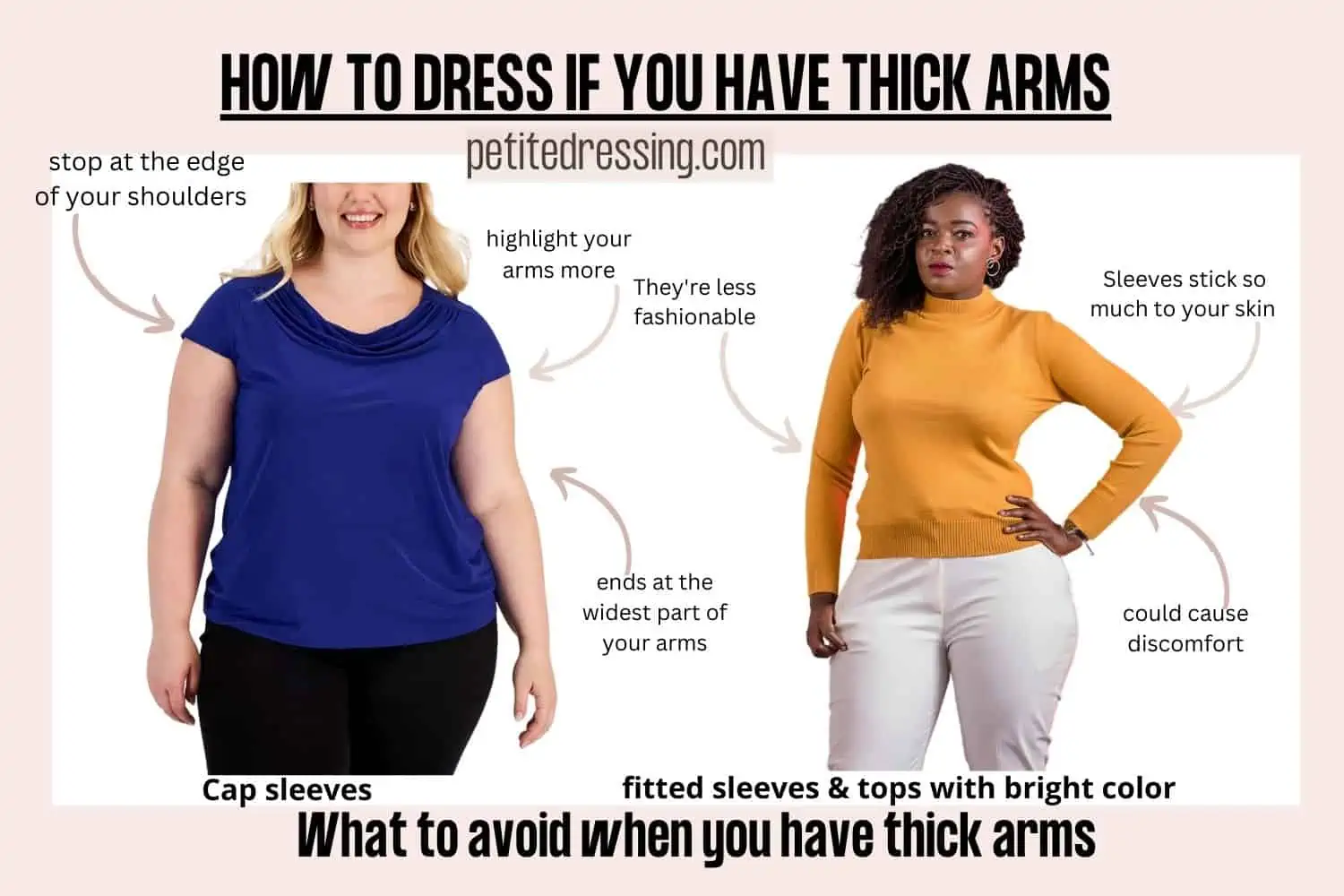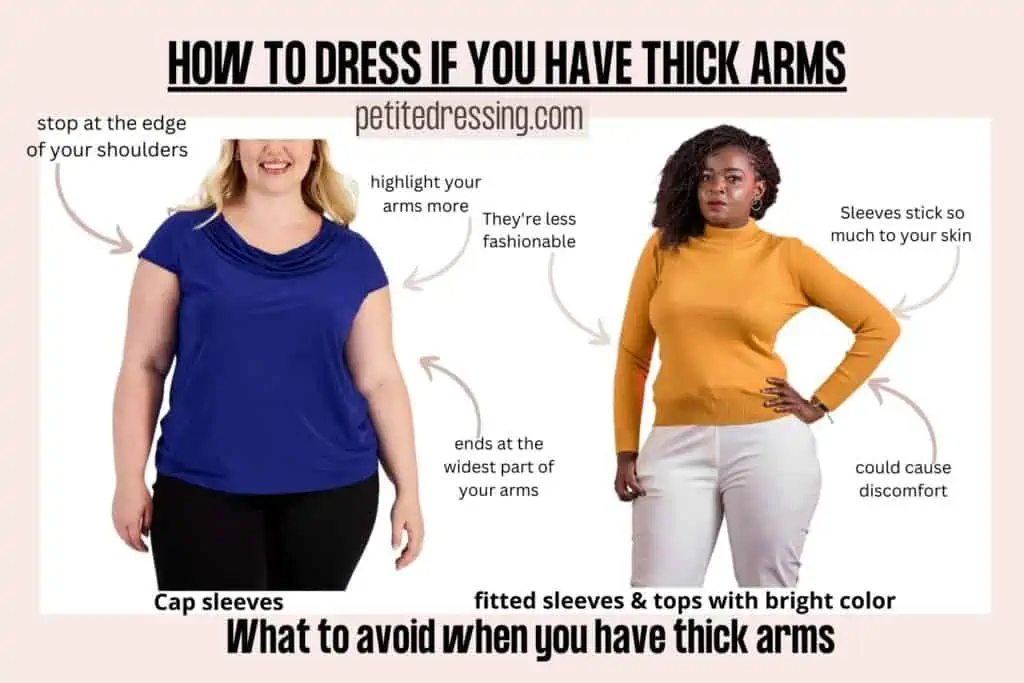 Cap sleeves: Do not opt for cap sleeves because they stop at the edge of your shoulders highlighting so much of your arms.
Avoid sleeves that end at the widest part of your arms. They're never the best option for your thick arms cause they highlight your arms more and sit uncomfortably.
Do not wear tops with fitted sleeves as they are not the best option for your thick arms. They're less fashionable and could cause discomfort.
Sleeves that stick so much to your skin shouldn't be an option for your thick arms. They're not a fashionable style for your arms.
If you have thick arms and you don't want them creating too much attention, you should avoid tops with bright colors as they draw focus to the upper body.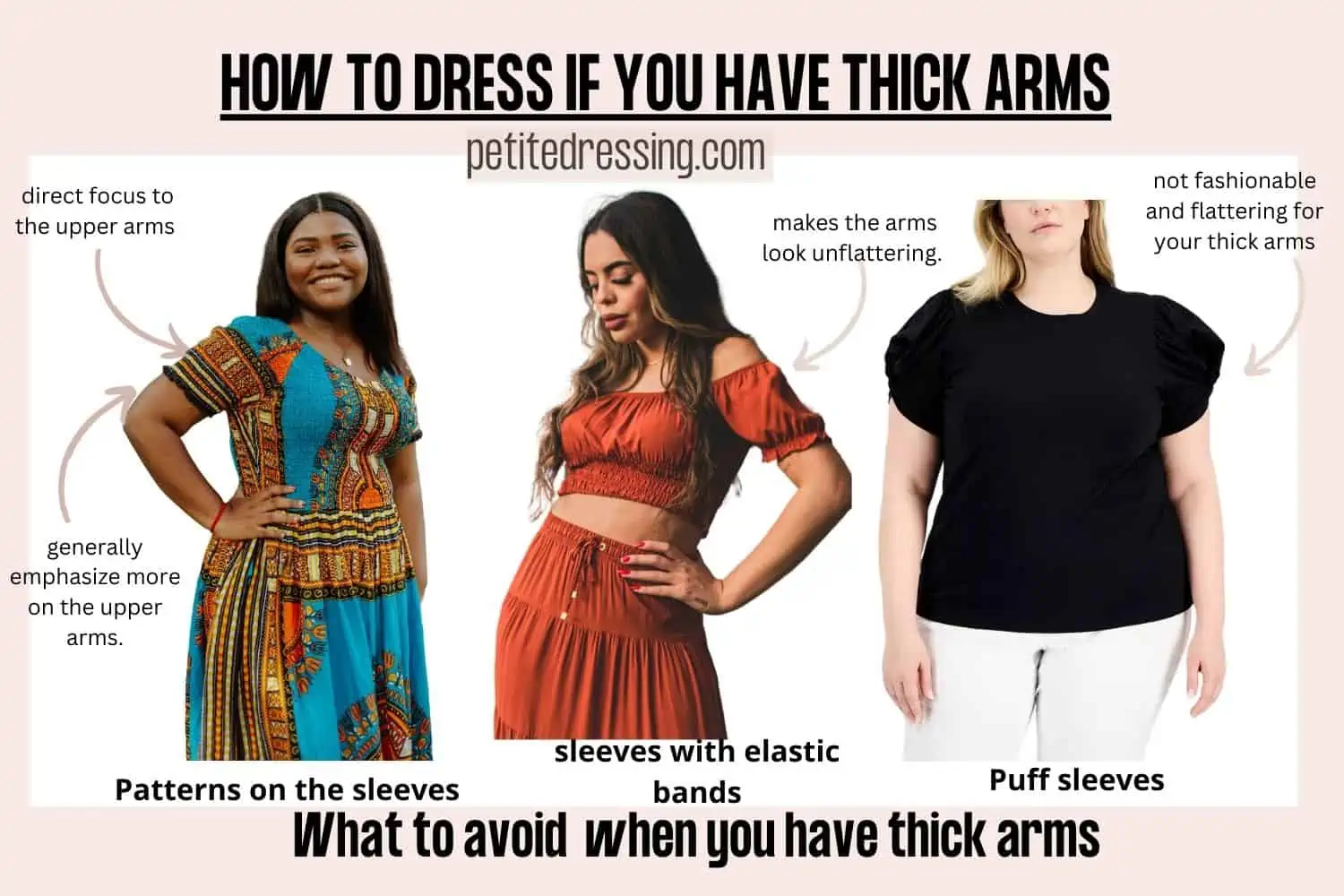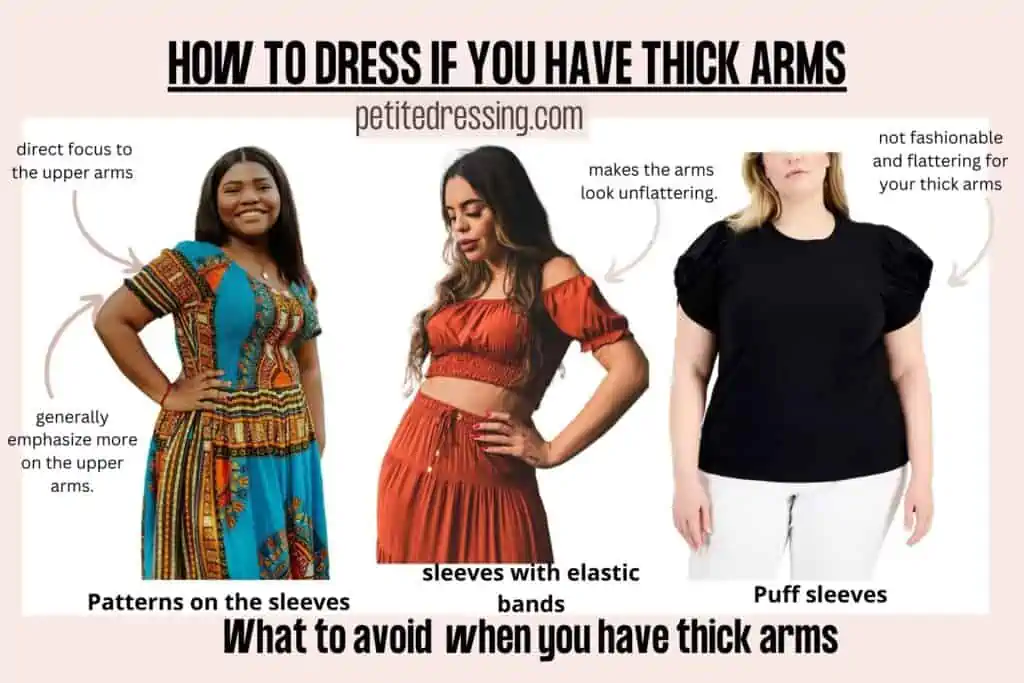 Patterns on the sleeves direct focus to the upper arms and as such aren't a good option for your thick arms.
Don't wear sleeves with elastic bands as it makes the arms look unflattering.
Puff sleeves: They are not fashionable and flattering for your thick arms and should not be worn.
Avoid long-sleeve tops because it has the tendency to accentuate your upper arms and should therefore not be worn if you have thick arms.
Never wear sleeves with colourful patterns and colours for your thick arms because they would generally emphasize more on the upper arms.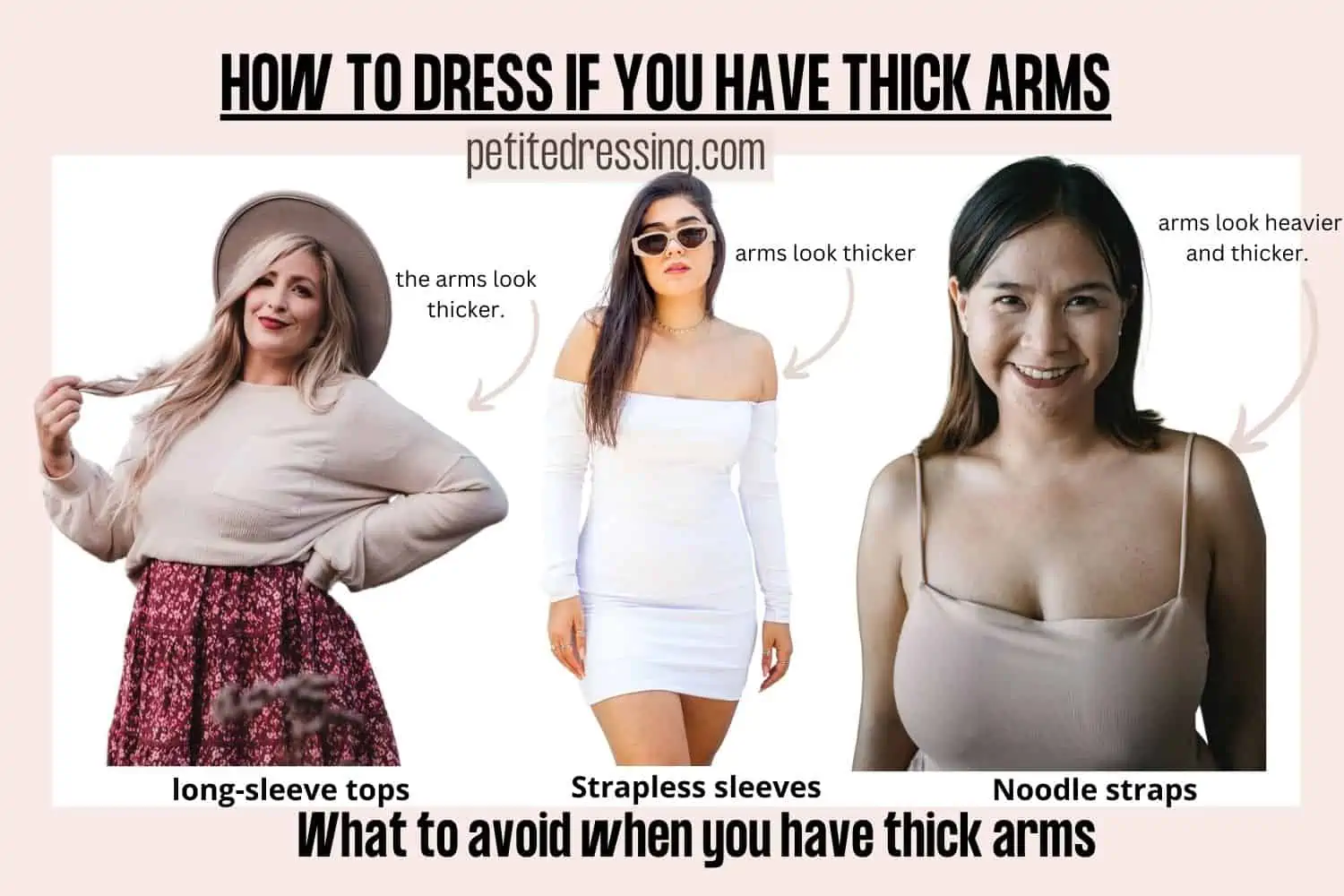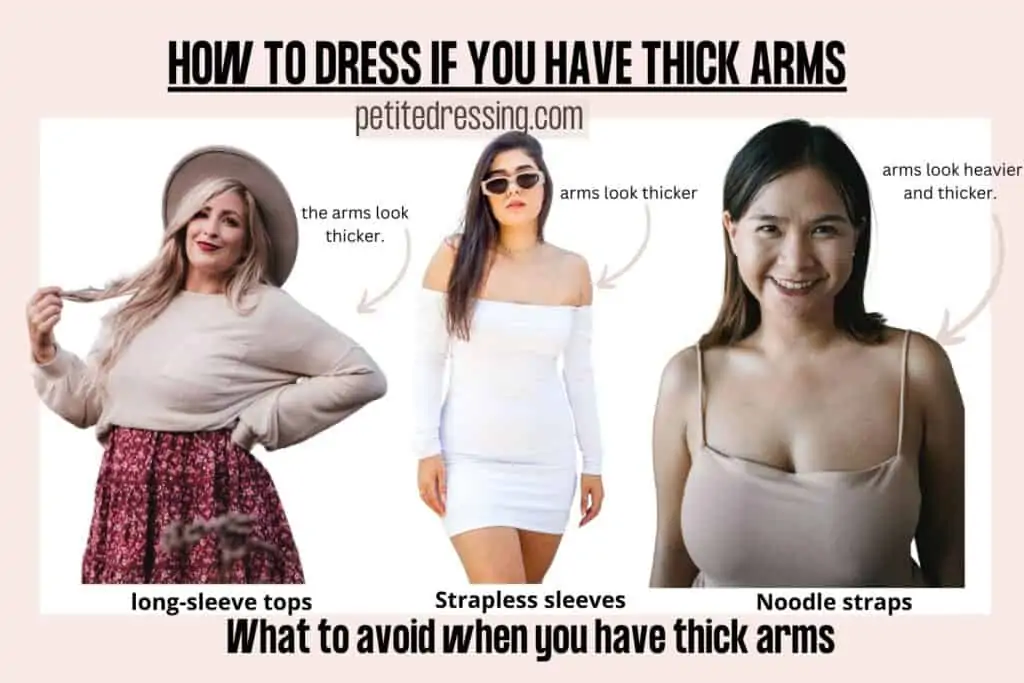 Strapless sleeves should not be worn for thick arms because they push out the skin around your armpit making the arms look thicker.
Noodle straps: Do not wear sleeves with noodle straps for thick arms. They only make the arms look heavier and thicker. They could be paired with shrugs or shirts.