If you have the skinny pear shape, that means your hips and thighs are wider, compared with your shoulders. Even though you are overall thin, you still can carry weight in your bottom half, and always see first sign of weight gain on your thighs.
Since I have a petite clothing line, I receive feedback from thousands of my petite customers, some of whom have the skinny pear shape. Based on their feedback, I've put together this detailed guide to help you find the perfect jeans.
Styling Goal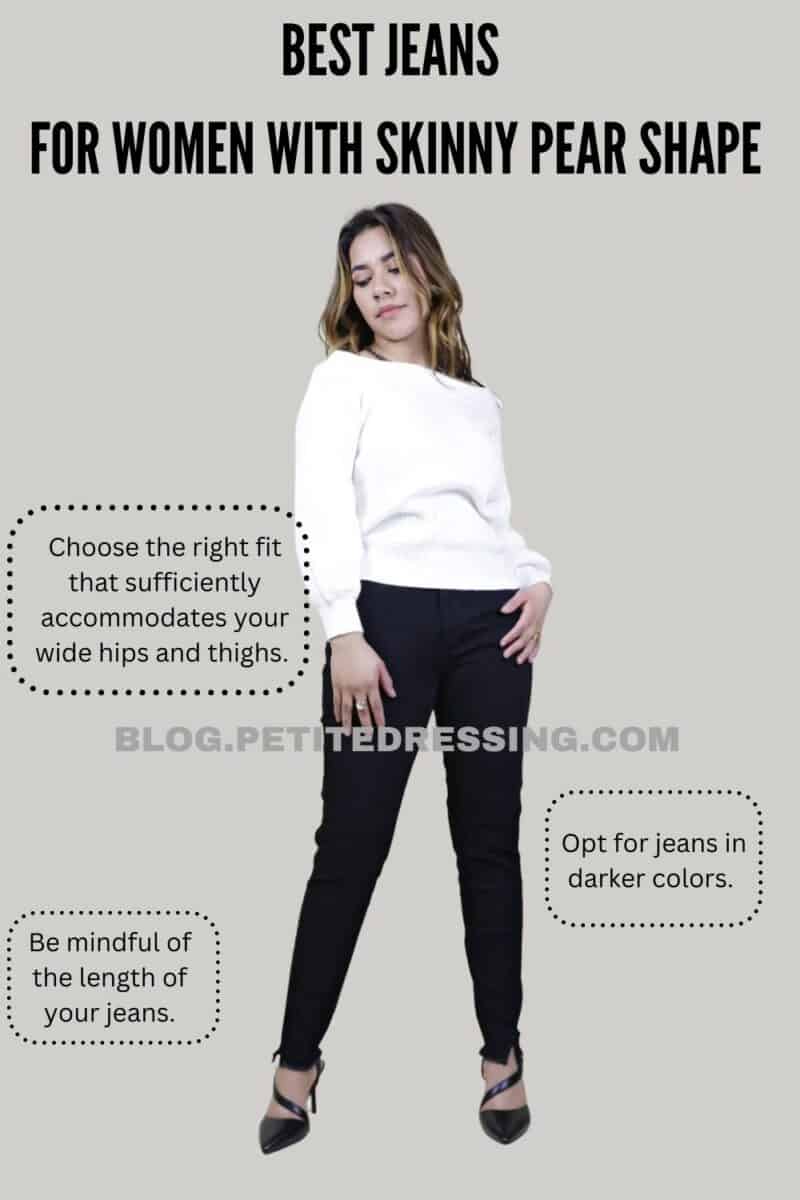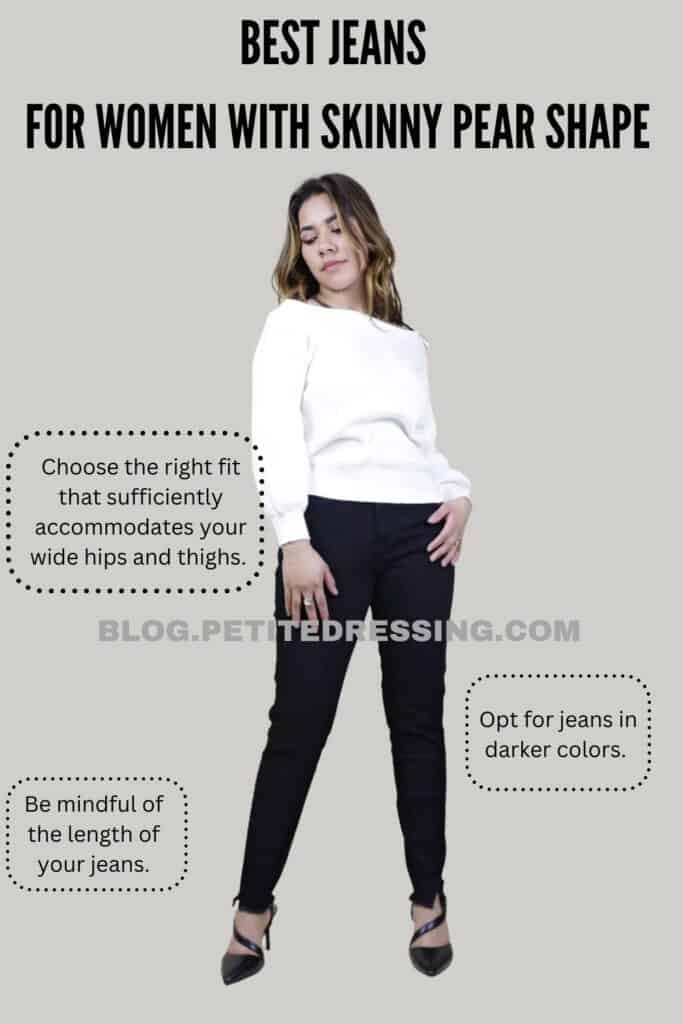 Choose the right fit that sufficiently accommodates your wide hips and thighs. Your jeans should give enough space to your hips but at the same time, not look too baggy overall.
Opt for jeans in darker colors. Dark washes are generally slimming so it can be beneficial in terms of toning down the size of your hips and thighs.
Be mindful of the length of your jeans. The length can also be a contributing factor to whether your jeans will highlight your problem areas or enhance your figure's assets.
Ankle-Length High-Waisted Jeans
High-waisted skinny jeans are a great option for skinny pear-shaped body types because they elongate the legs and cinch in at the waist, creating a flattering hourglass shape.
This can help balance out the proportions between the upper and lower halves of the body, which can be particularly helpful for skinny pear-shaped body types who may have a narrower waist and shoulders, as well as wider hips and thighs.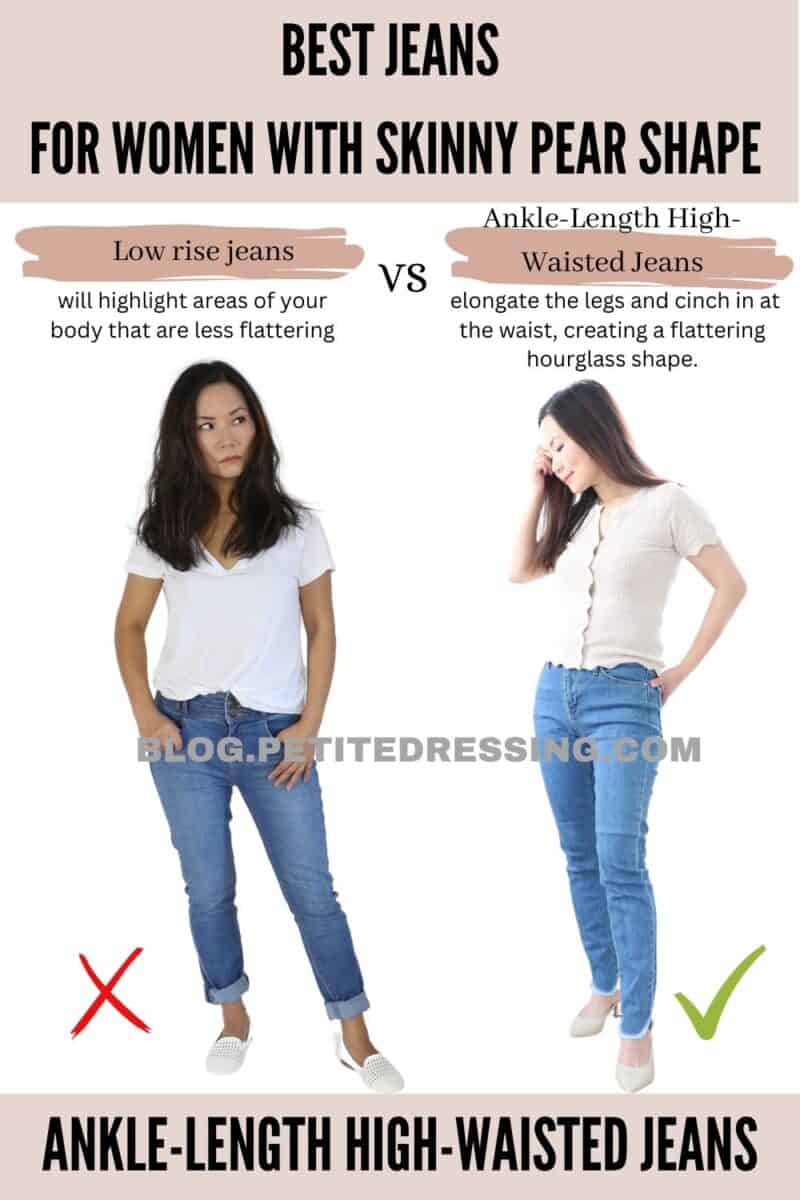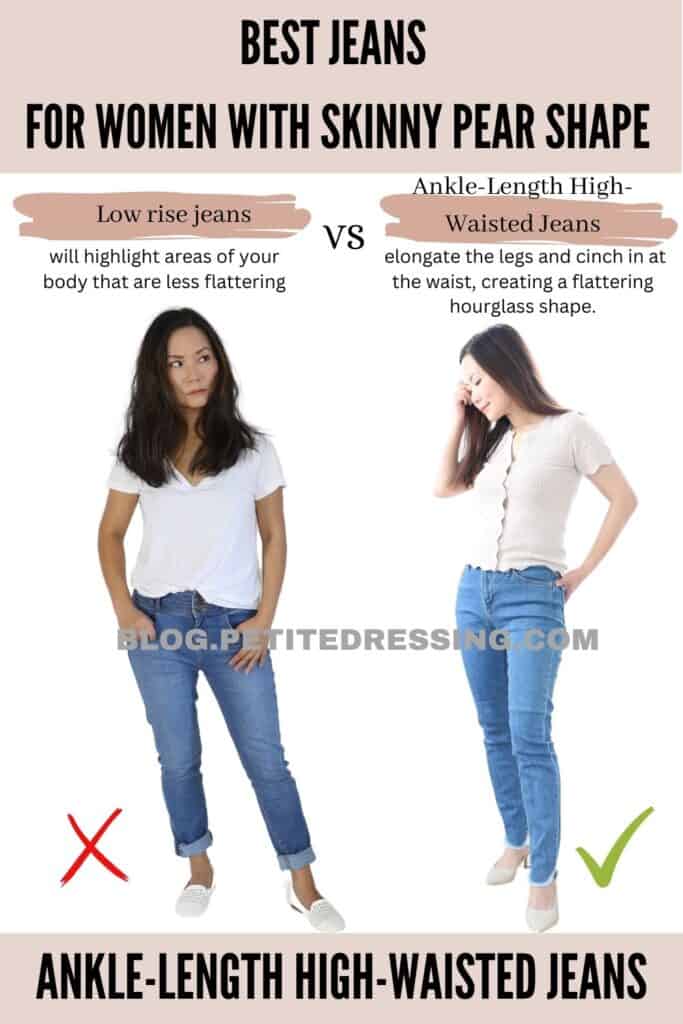 Additionally, high-waisted jeans can elongate the legs and tone down your torso which is typically longer than your legs. By drawing the eye upward towards the waist, high-waisted jeans can also help shift the focus away from the hips and thighs, which can be a trouble area for some pear-shaped body types.
Dark-Washed Jeans
Dark colors are known to have a slimming effect, and this is especially true for jeans. Dark-washed jeans can create an illusion of a slimmer and more streamlined silhouette, making the legs appear longer and the hips less wide.
When you're a pear-shaped girl leaning towards the skinny side, everything else is slim except your hips, thighs, and buttocks. Dark-washed jeans can help with this and to add more style, you can also opt for jeans that have a darker wash on the hip area and gradually lightens subtly along the end of the pants.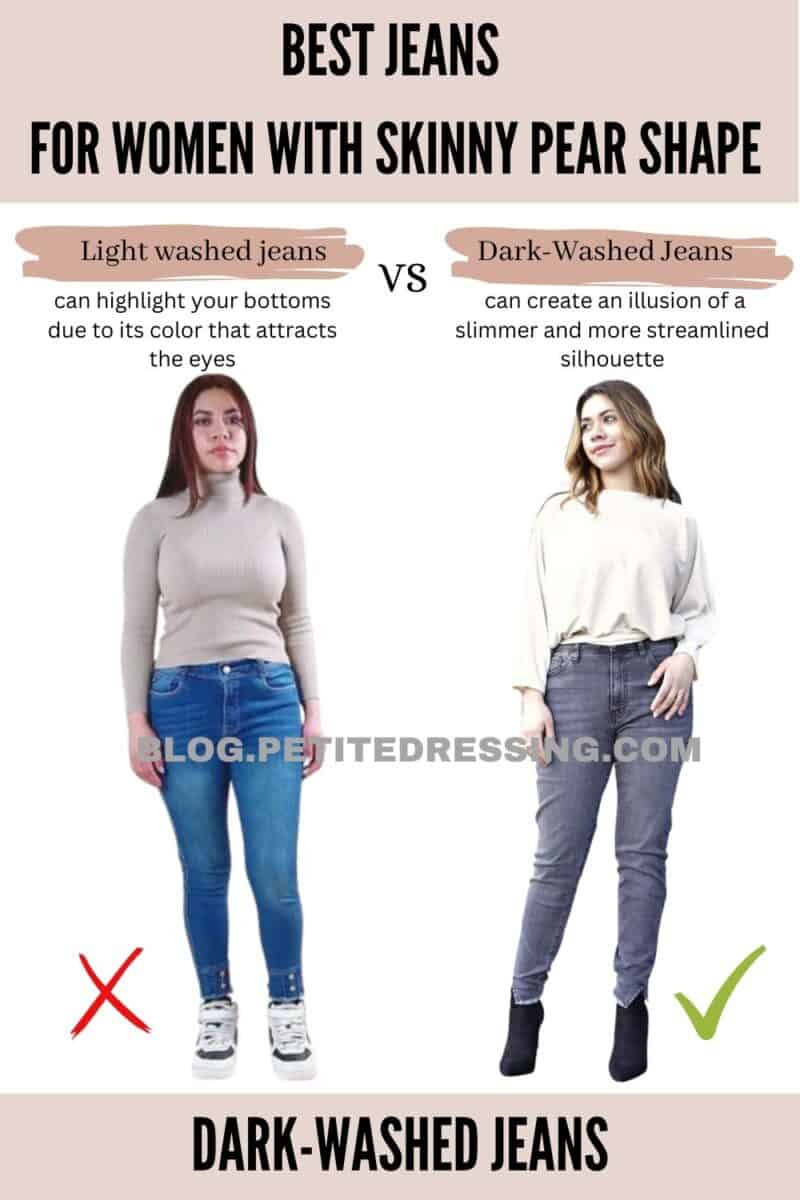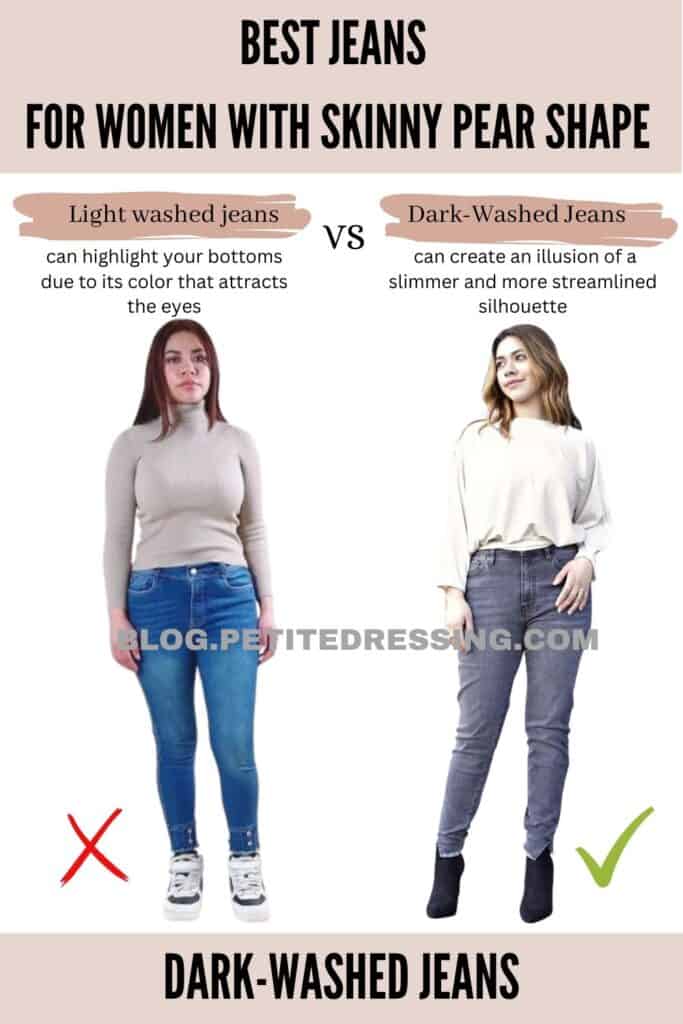 Structured Straight-Leg Jeans
Straight-leg jeans are fitted from the waist to the ankle, creating a streamlined silhouette that elongates the legs and balances out the body's proportions.
Straight-leg jeans have a consistent width from the waist down to the ankle, which can create a streamlined silhouette for skinny pear-shaped ladies. This style of jeans can help balance out wider hips and thighs by having enough space to accommodate them without looking too baggy.
They also make the legs appear longer and leaner due to their clean structure. This style of jeans can also draw attention to the ankles rather than the hips as the ankles are deemed to be the neutrally proportionate part of the body.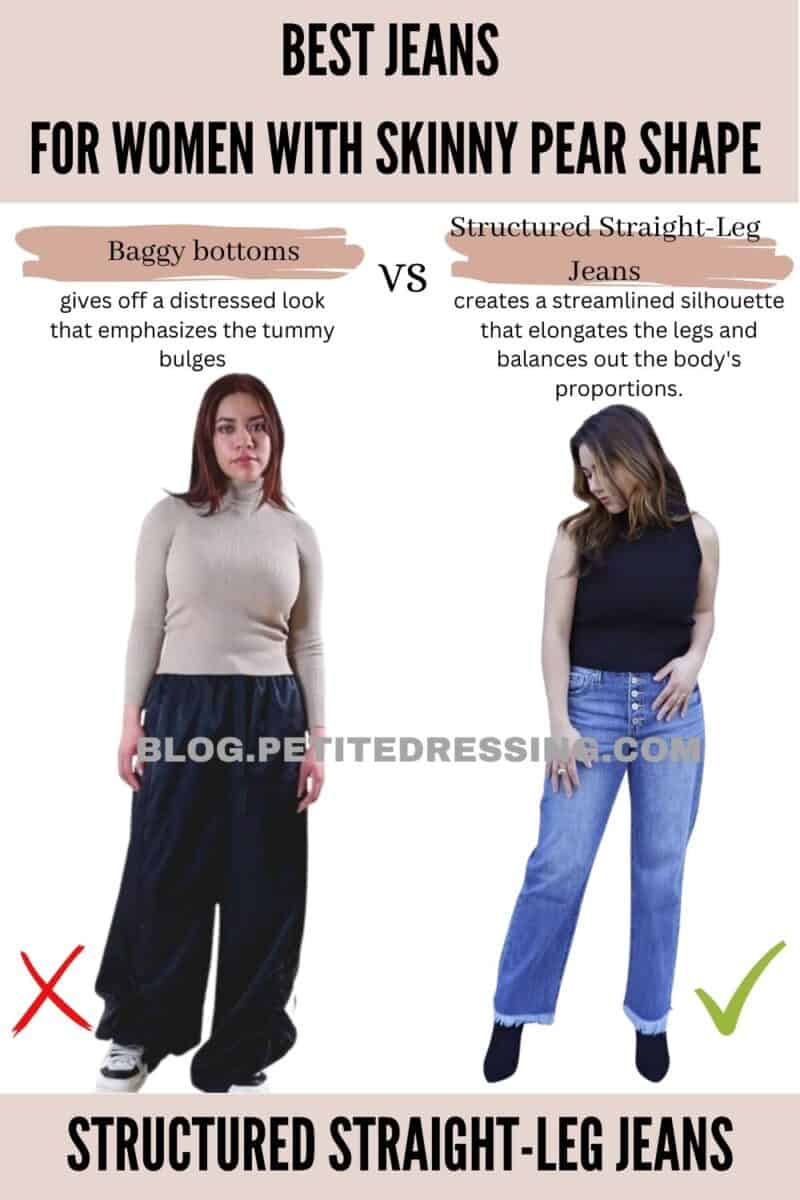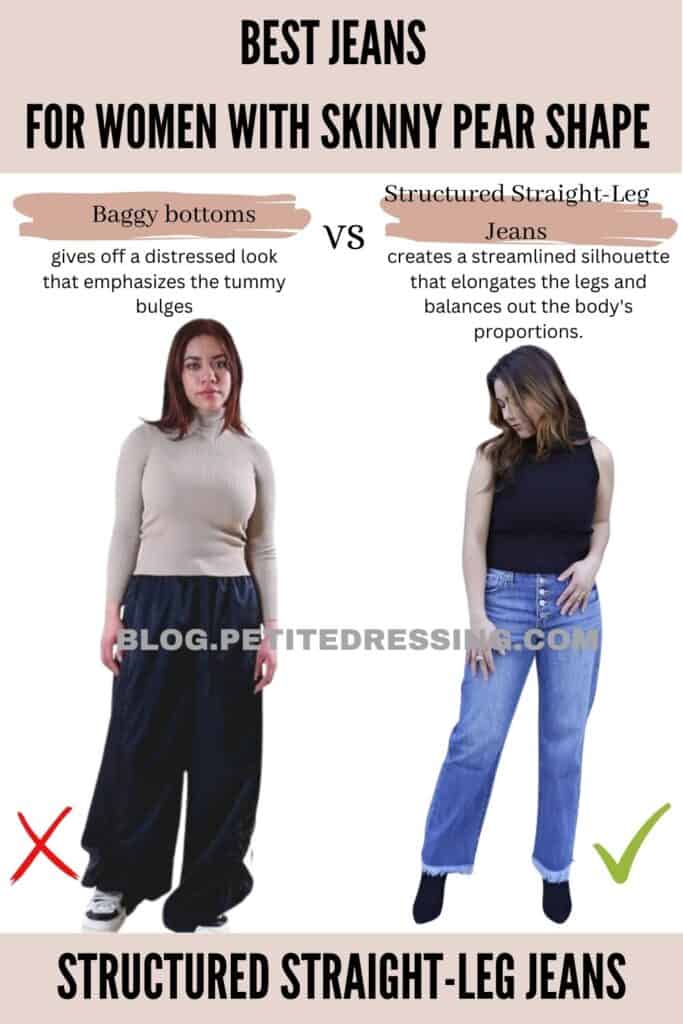 On top of its visual style benefits, straight-leg jeans are quite versatile. You can easily wear them with pretty much any top, as well as layer your ensembles effortlessly with this pair, without worrying about frame imbalance.
High-waisted Mom Jeans
Mom jeans are high-waisted, relaxed-fit denim pants that were popularized in the 1980s and 1990s. The pants have a loose fit around the hips and thighs and are typically tapered at the ankle which is why this style of jeans works perfectly on skinny pear-shaped ladies.
Mom jeans are often recommended for women with skinny pear-shaped bodies because they accentuate the waistline and they efficiently neutralize the size of the hips and waist. Because of the fact that it provides more space for the hips, then it subtly conceals the size difference compared to your slim legs and smaller upper half.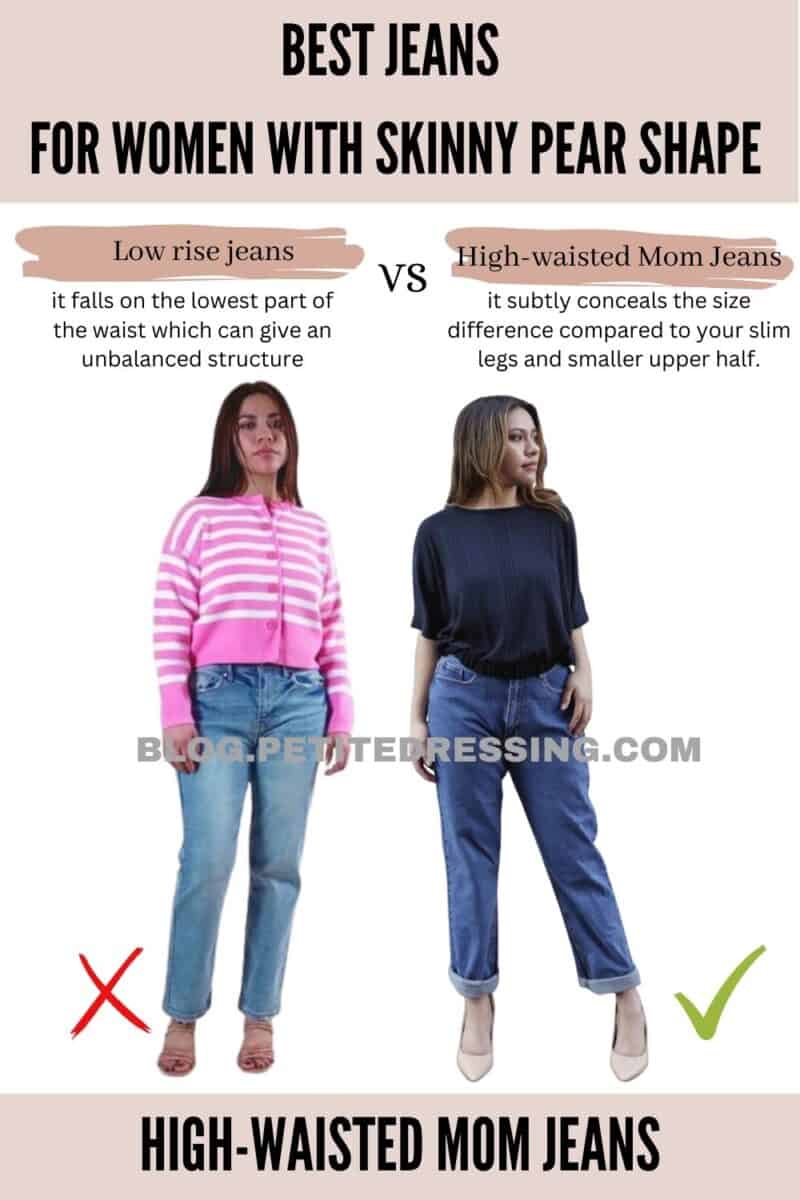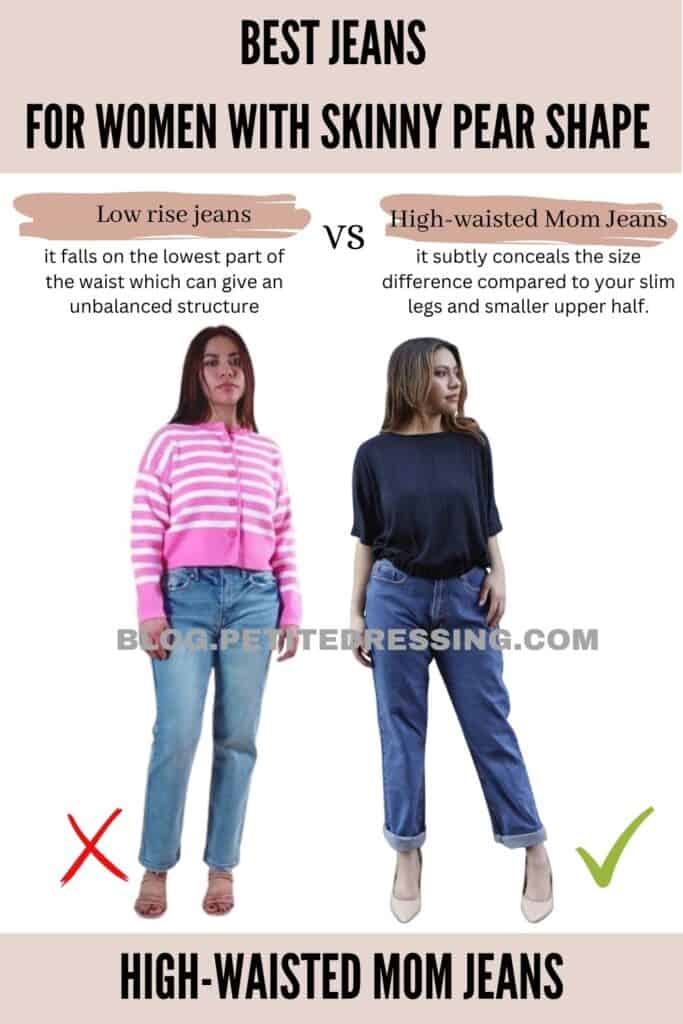 This jeans style is a perfect match for tops that are structured such as retro tops with shoulder pads. It's because it helps make the size of your shoulders and hips more proportioned.
Bootcut Jeans with a Subtle Flare
Bootcut jeans are fitted at the waist and thighs and flare out slightly at the knee, balancing out a skinny pear-shaped body's lower half.
Bootcut jeans are a great choice for skinny pear shape girls because of the slight flare it has from the knees down. This subtle flare doesn't look too voluminous and is enough to balance out your wide hips and thick thighs.
Another reason why bootcut jeans are flattering for skinny pear shape girls is that they can help to elongate the legs. Because bootcut jeans flare out at the bottom, they create a longer, leaner line from the hip down to the foot.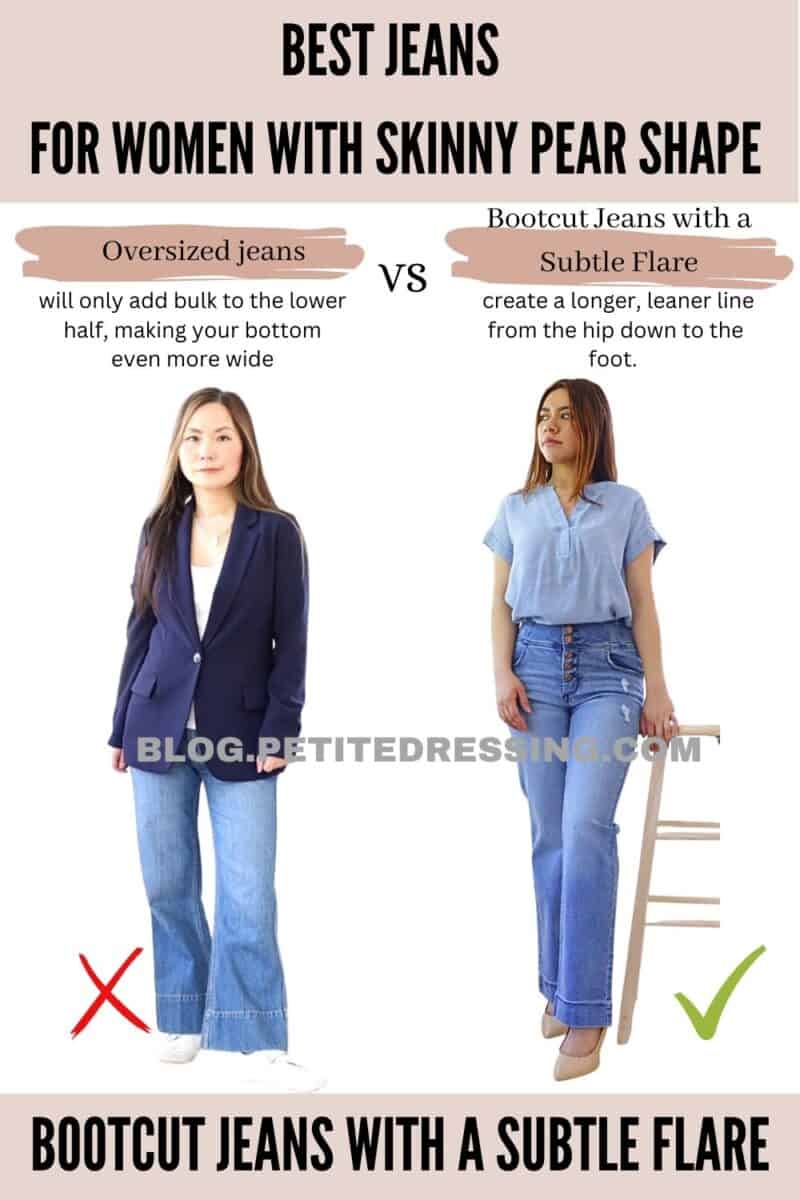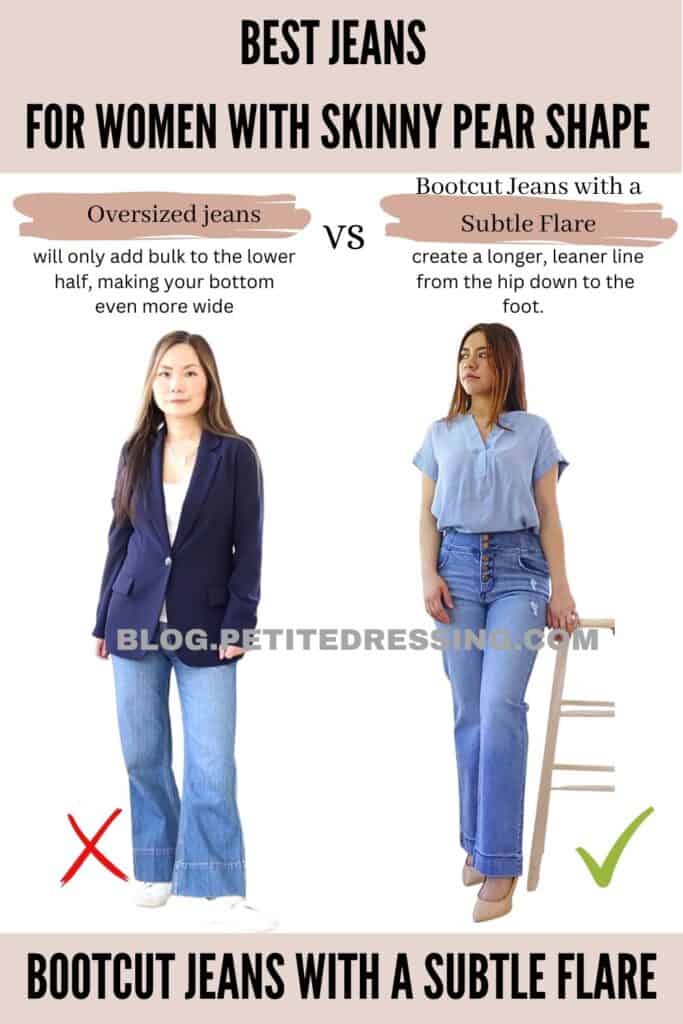 This can make skinny pear shapes appear taller and slimmer, but not in a way that you'd look too thin. Its structure's visual effect is more about the strategic balance in making your narrow shoulders and smaller bust correlative to your bigger hips and thighs.
Streamlined Boyfriend Jeans
Just like mom jeans, boyfriend jeans also offer a wider space to accommodate your wider hips and thighs. As your bottom half is way larger than the rest of your thin body, the best way to tone this down is by wearing a pair of jeans that can slim your hips down while also giving enough volume for your skinny legs.
This jeans style is often loose and slouchy, but you can opt for smaller sizes that have a more streamlined silhouette to fit your skinny frame. This will create a more flattering ratio between your upper half and bottom half.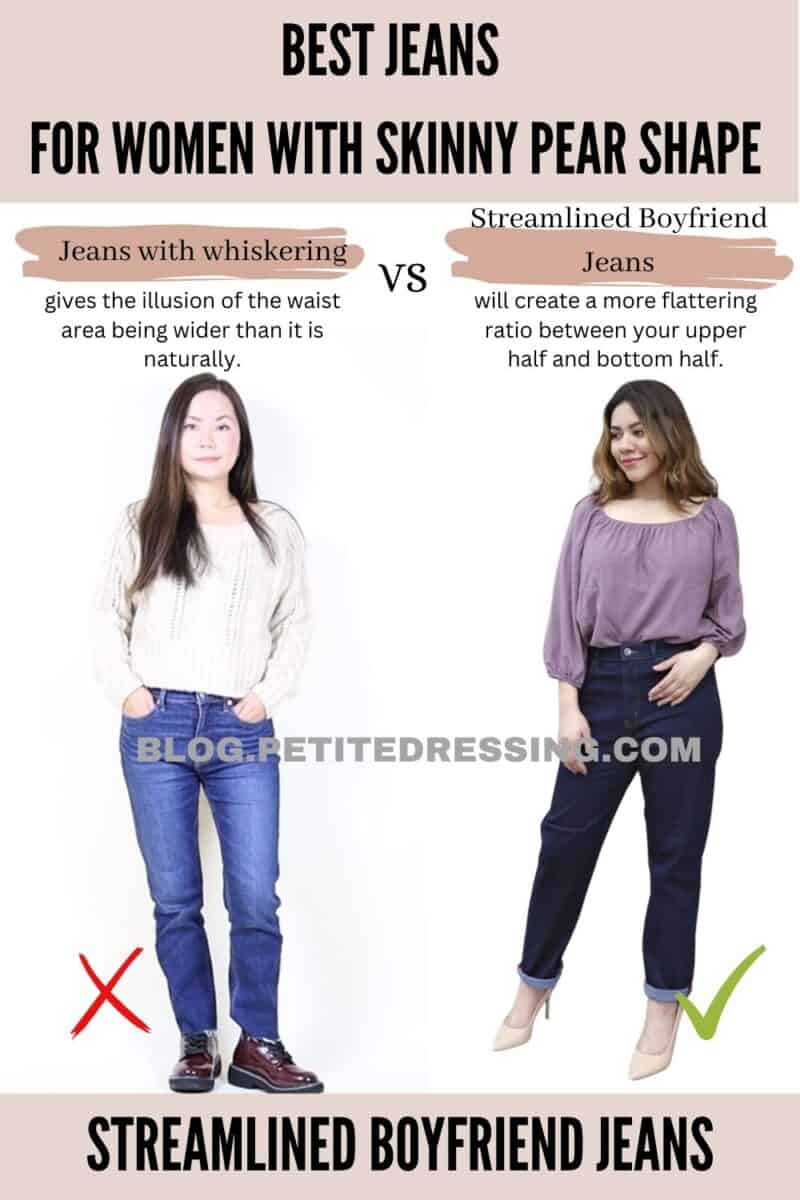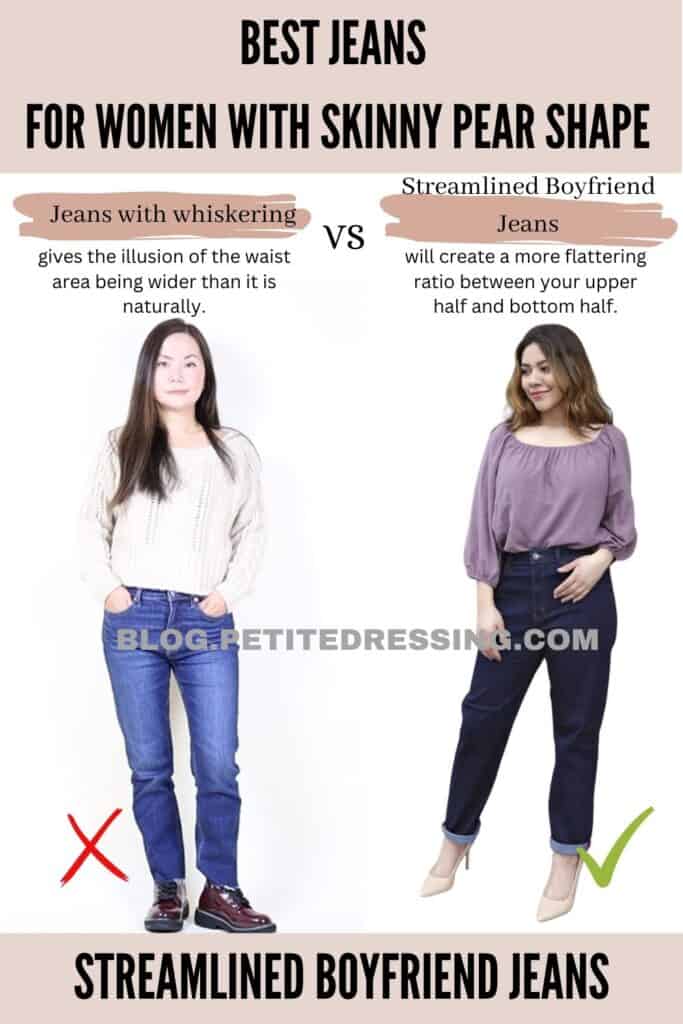 In addition to the fact that it visually balances out your body proportions, it's undeniable that they make a comfortable option for your daily casual wear. They are designed to be loose and relaxed, which can make them more comfortable to wear for long periods of time.
Wide-leg Jeans with Contoured Waistband
Wide-leg jeans are another great option for skinny pear-shaped body types because they create volume around the hips and thighs, adding curves and balance to the body. They also feature a very relaxed fit that doesn't hug the lower body too tightly or too loosely to give superior comfort.
Wide-leg jeans with a contoured waistband can also be a wonderful option for skinny pear shapes looking to tone down their problem areas and bring more structure to their lower body. These jeans typically sit high on the waist while gently skimming through the hips on the way to the hem which are great features in terms of balancing your slim legs with your wide hips and thick thighs.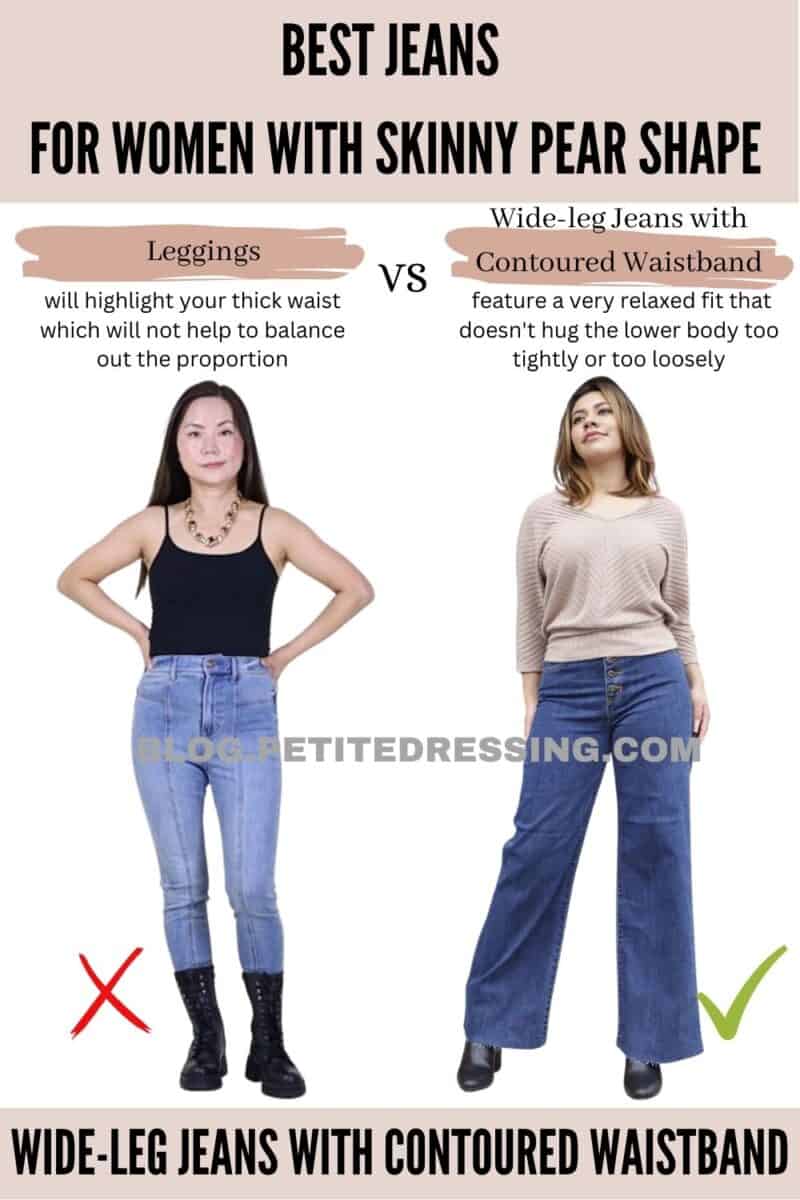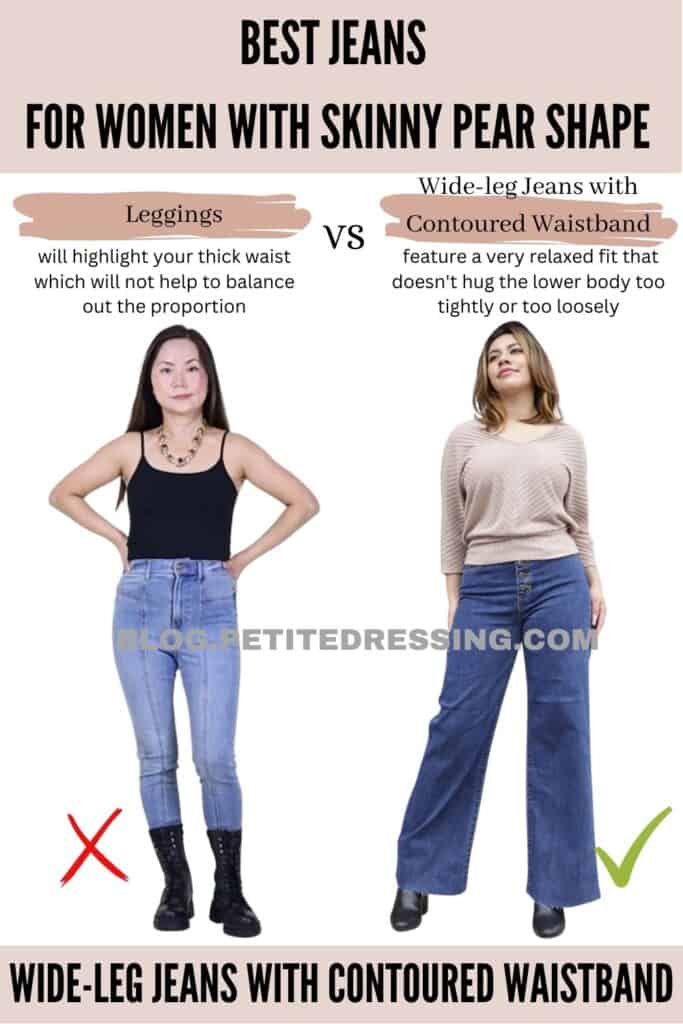 The contoured waistband is designed to fit the curves of the body, which can be especially flattering for skinny pear-shaped women who have small waist and wider hips. The waistband is typically higher than that of other jeans, which can create a more elongated, streamlined look.
Caution with Skinny Jeans
With a thin body and wider hips and thighs, it can be difficult to find jeans that flatter your unique body shape. While skinny jeans may seem like an obvious choice, they can actually be one of the worst options for this body type.
Skinny jeans are designed to be very fitted to cling as close as possible to your body and this very feature can actually emphasize your problem areas if you have wider hips and thighs. When the jeans are too tight, they can highlight your big hips and overwhelm your skinny body frame.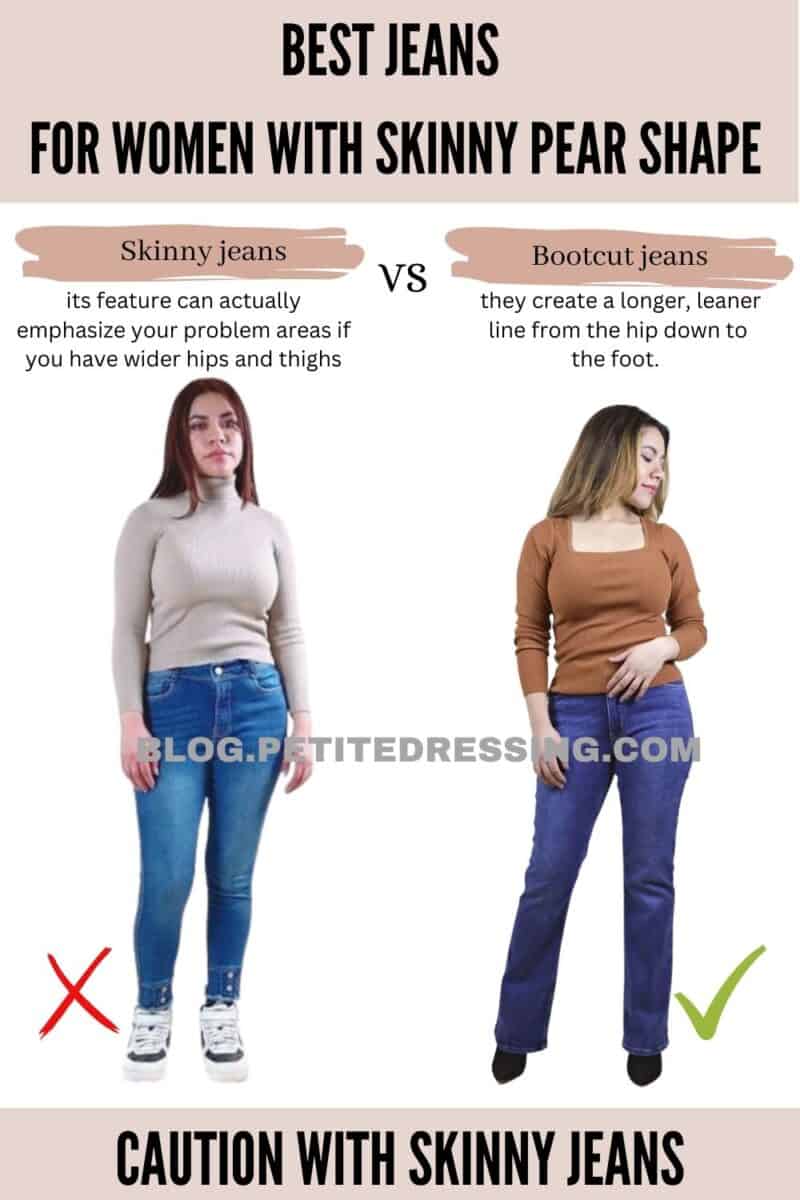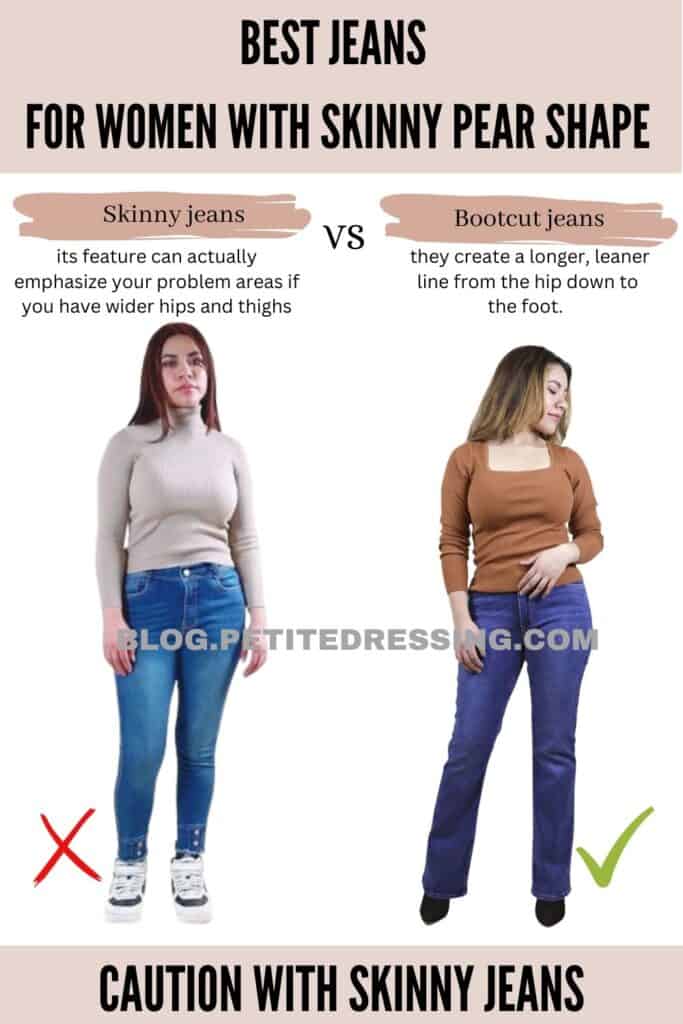 Caution with Jeggings
Just like skinny jeans, jeggings can also be very unflattering for women who have skinny pear shape body types. Jeggings are a combination of leggings and jeans, and they are usually made of stretchy materials like spandex or elastane, which are designed to be form-fitting and provide a snug fit like leggings, but with the appearance of denim jeans.
Skinny pear shapes tend to have a smaller upper body and wider hips and thighs. Jeggings, however, are often designed with a tight, stretchy fit that can accentuate the hips and thighs, making them appear larger.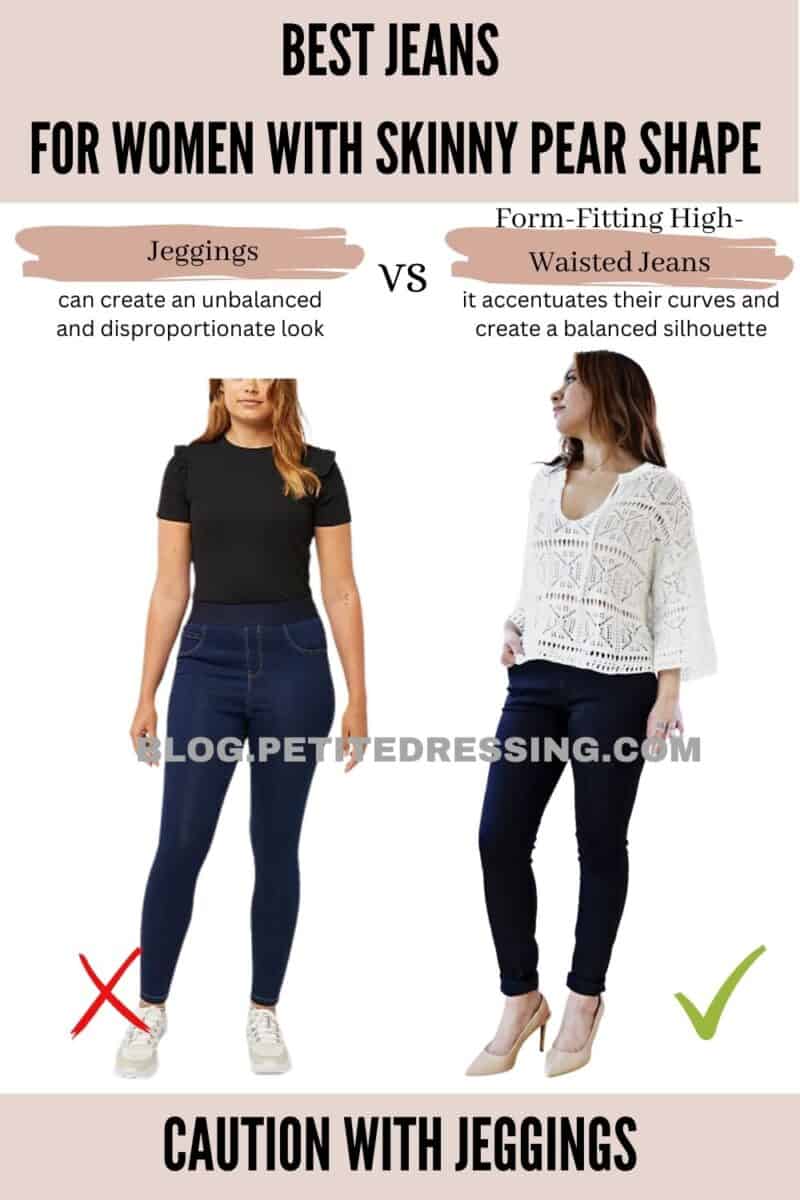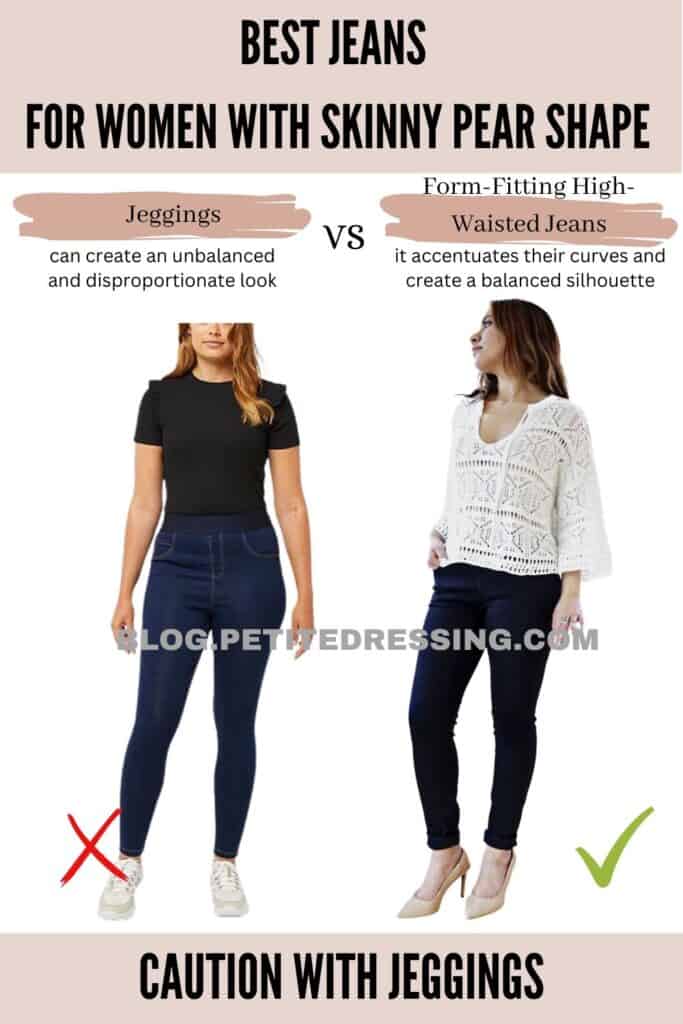 Additionally, jeggings are often made with thin, stretchy material that can be clingy and unflattering if it doesn't fit properly. This can create an unbalanced and disproportionate look, which you would want to avoid if you have a skinny pear-shaped body.
The Key Takeaway
Being more style-conscious when it comes to picking your pair of jeans is quite essential because the right pair can make a huge visual impact on your overall look. By considering these style tips, you can fully embrace your skinny pear-shaped body without any worries!