Since I'm 5'2″, I understand that wide-leg jeans can seem like a big challenge for a petite woman.
Since I have a petite clothing line for women 5'4″ and under, I receive feedback from thousands of my customers. Wide leg is actually one of our best-selling silhouettes in our pants and jeans collection.
The reason is that if you master the RIGHT ways to style them, they CAN be one of the most stylish pieces in your wardrobe!
Based on my own years of trial and error, as well as numerous feedback from my petite customers, I've put together this comprehensive guide to help you find the best wide-leg jeans.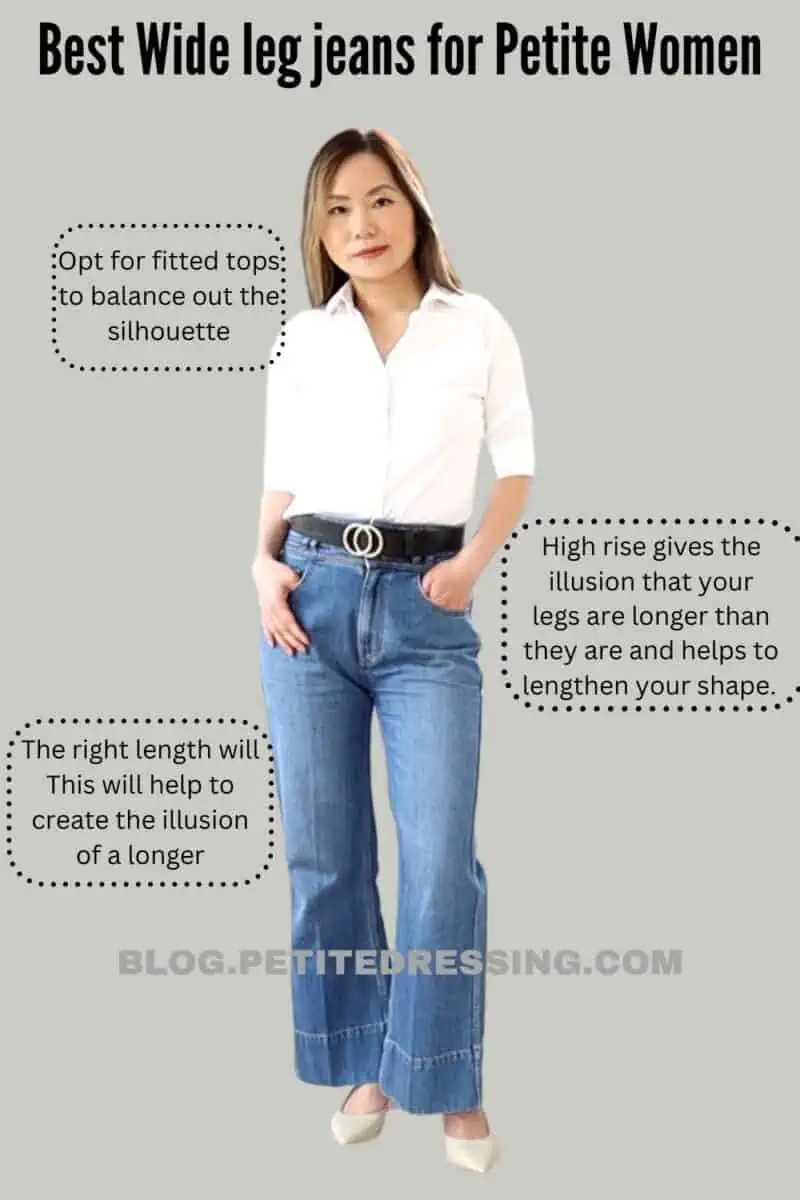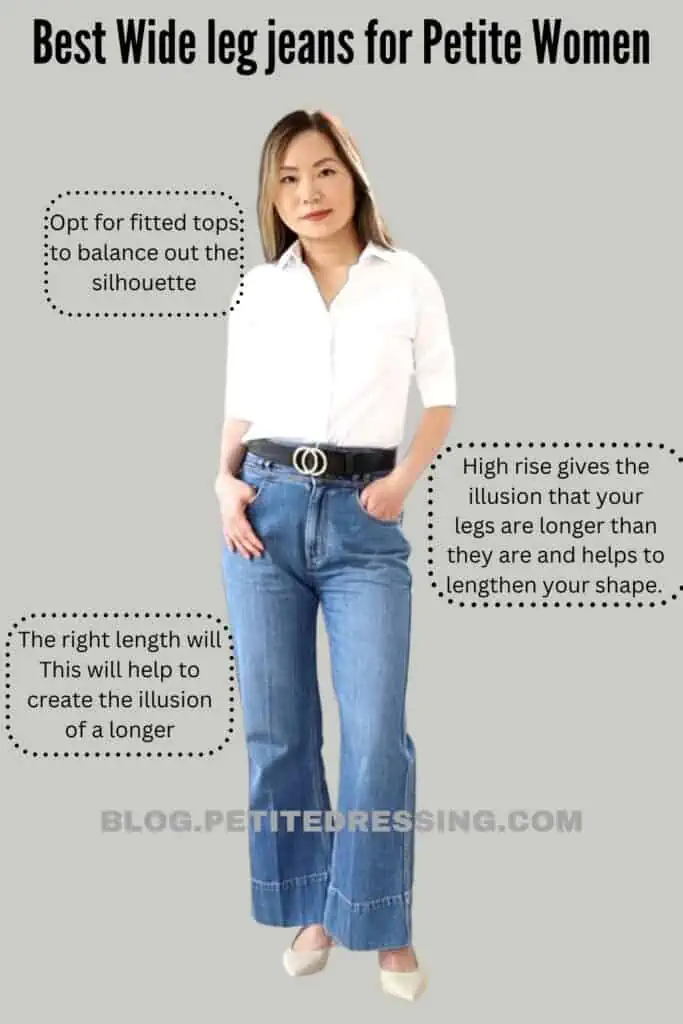 RISE
High Waist
This is crucial for all my petite women out there who want to rock wide-leg jeans or pants.
High-waisted style is your friend ladies. I'm so serious about this, especially when it comes to wearing petite-size wide-leg jeans.
The reason high rise is such a must for petite wide-leg jeans or pants is that when you have wider pants it's easy for your petite shape to get overwhelmed and shorten you, choosing a high rise gives the illusion that your legs are longer than they are and helps to lengthen your shape.
Pretty cool right? Honestly, this is why high-rise pants are every petite woman's best friend no matter what silhouette they are in.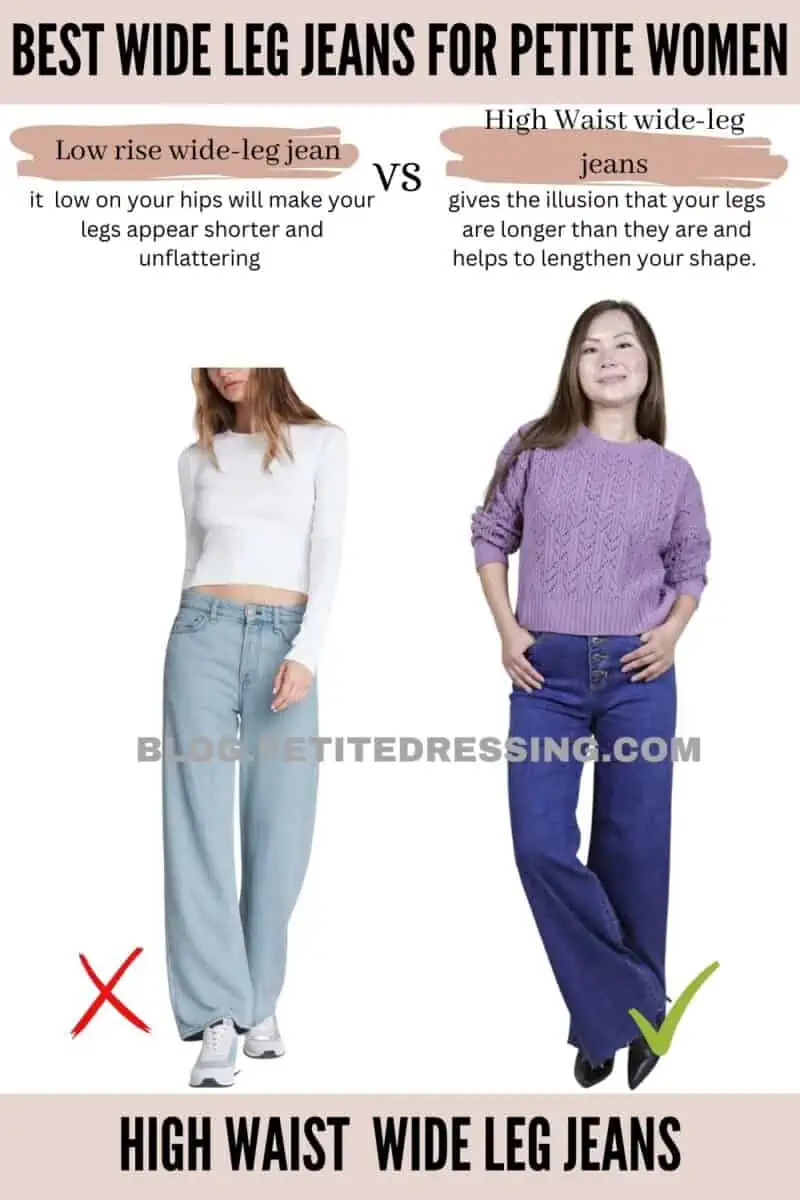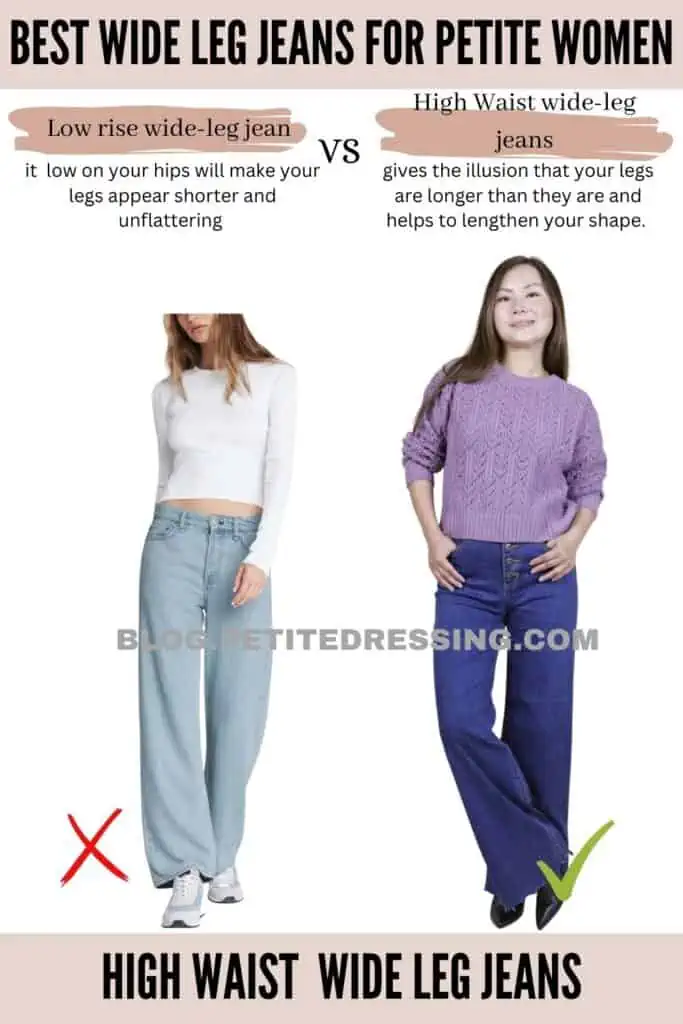 The most flattering place a high-rise pant can sit on your petite frame is going to be wherever the smallest part of your waist is.
Not only does this give you the look of longer legs but it's also incredibly figure-flattering. Even if you don't have a really defined waist, high-rise pants give the effect of having a defined waist. Double win, right?!
Avoid low rise
Even though low-rise jeans are making a huge comeback, it is not the best style for petites.
The reason is that anything sitting low on your hips will make your legs appear shorter.
Not only that, they can also expose your stomach, which is quite unflattering especially for those of us with a bit of a midsection concern.
So, skip the low rise and make sure any wide-leg jeans you wear have a nice high rise.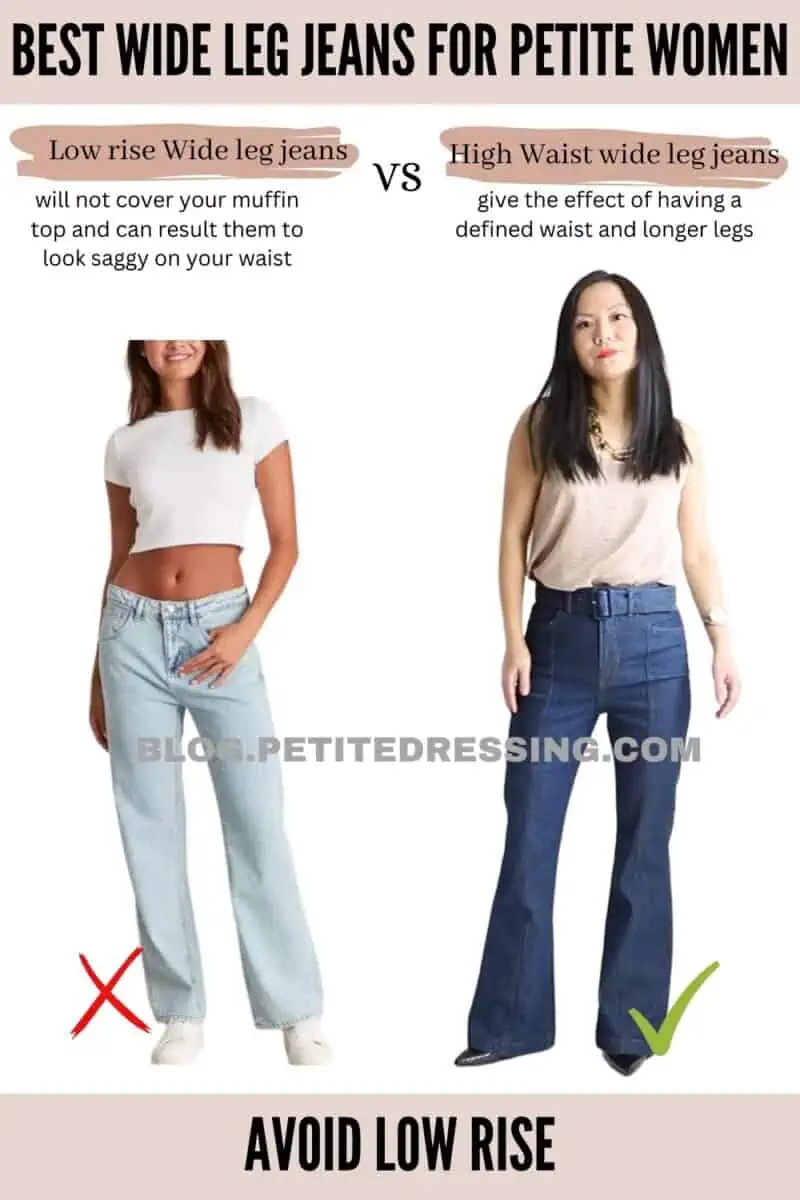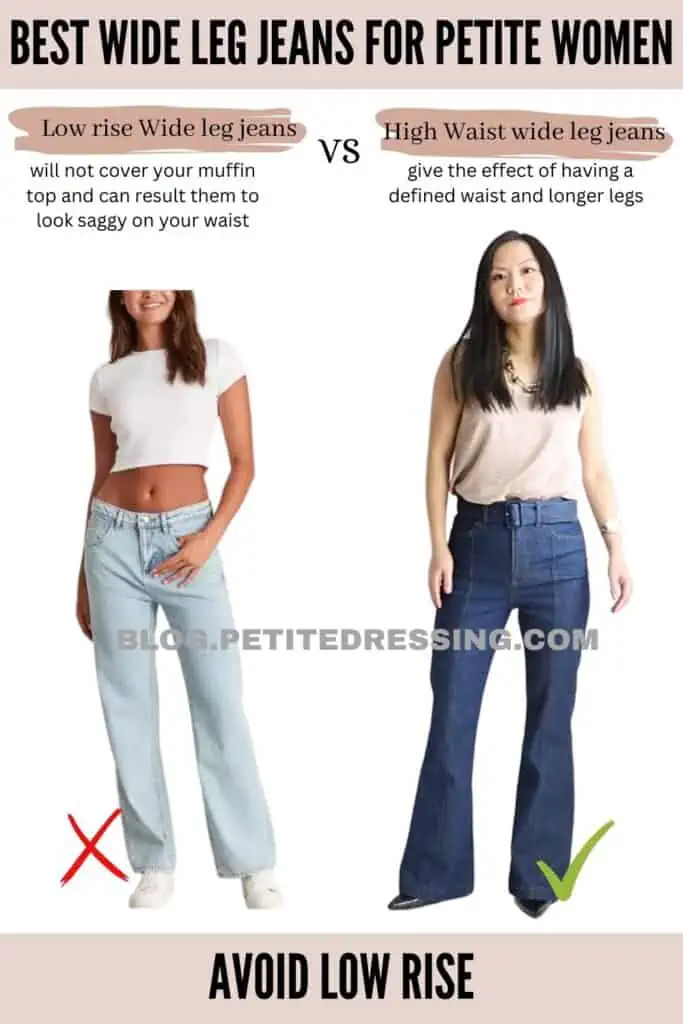 LENGTH
Choosing the right length is KEY in order to find the flattering pair of wide-leg denim for a petite girl. The truth is the inseam length can be a bit tricky
Avoid too cropped
It is very tempting for Petites to want to wear cropped length because they just seem easier. Plus, you don't have to worry about hemming.
But the truth is you do NOT want anything wide-leg to be too short on you.
The reason is that the hem of the wide-leg jeans forms a horizontal line on your ankle, which CAN make your legs look quite cut off.
The shorter your wide-leg jeans, the more obvious they will make your legs look cut off!
Therefore, even though cropped jeans are a big trend, it's best to skip them if you are petite.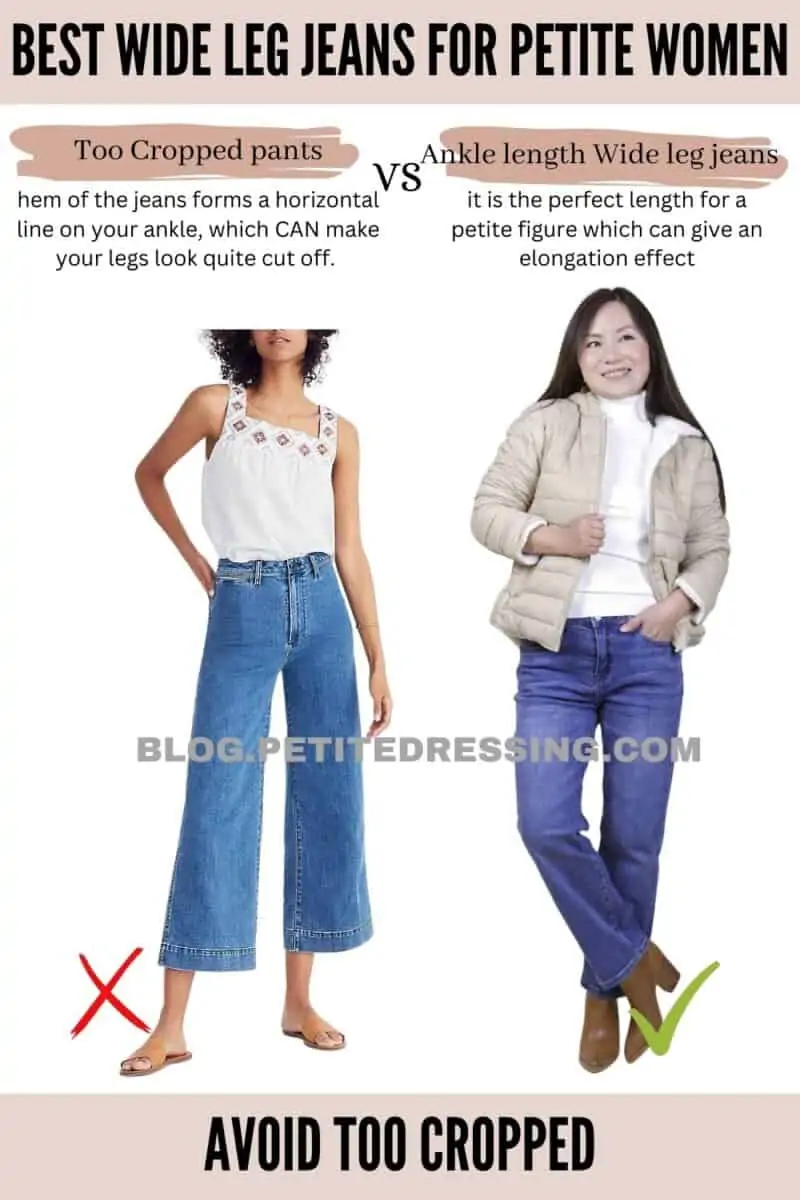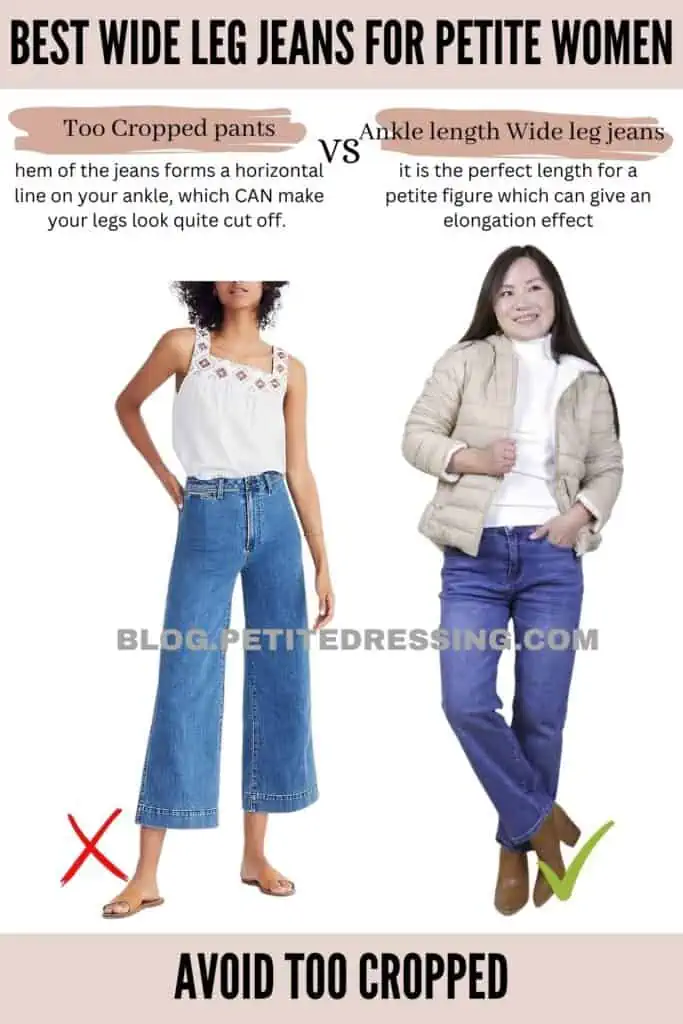 Avoid Too Much Length
Wide-leg jeans are often going to be rather long in their length because of their style and trend of them. That means you are going to need to make sure the length is on point in order to flatter a shorter frame.
If they're too long, they're just not going to do your shape any favors. Unfortunately, too much length on a petite woman is a recipe for disaster. The additional material will shorten you and add bulk where you don't want it.
Because of that, it is critical for you to shop at petite designers. Getting your wide leg jeans in petite size is the first step that will make sure all the main measurements are tailored for shorter women, such as inseam length and rise.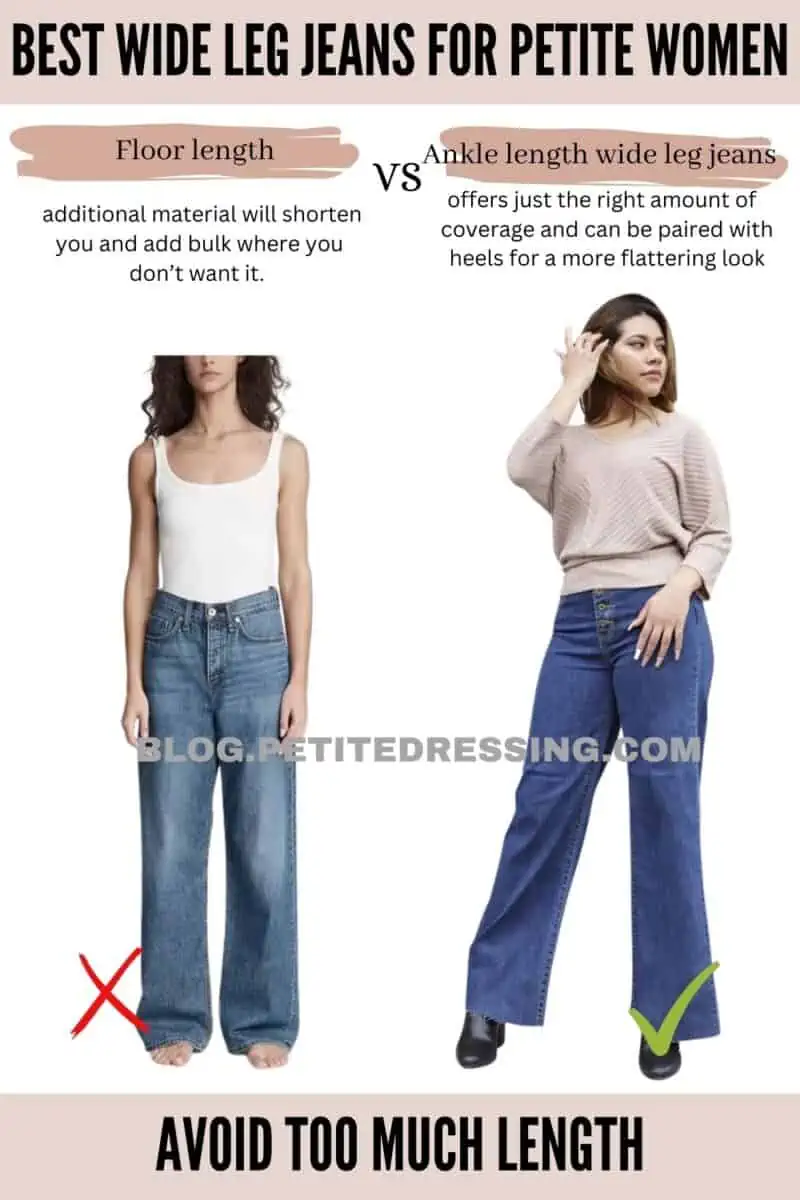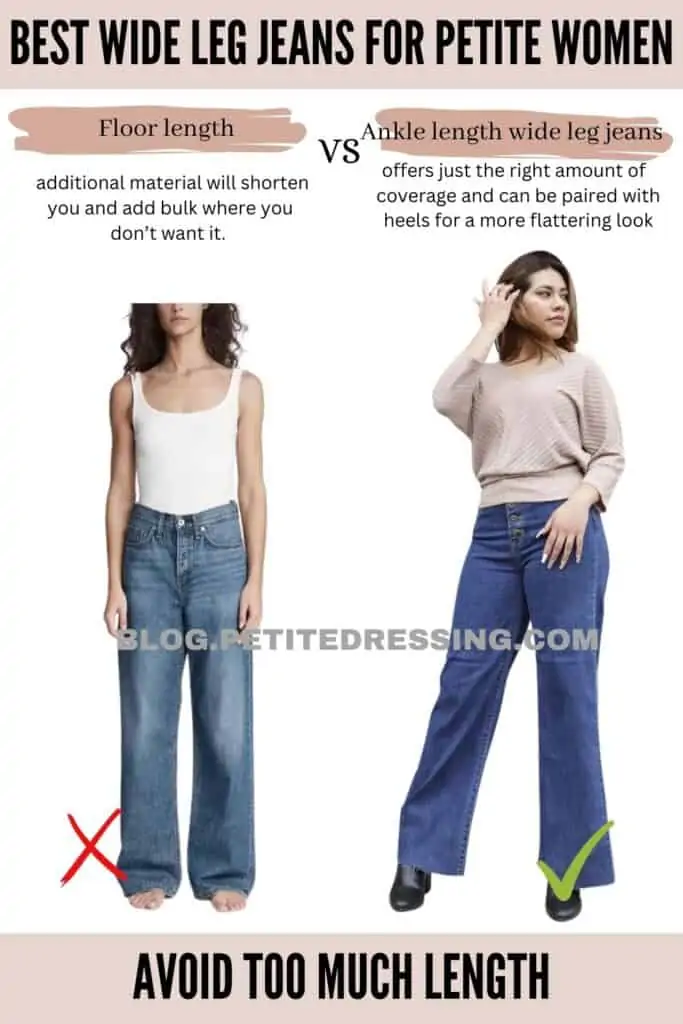 If you're not quite sure how to know whether or not the length is right, a good rule of thumb is to check to see if there's a break in the front when the pants rest on your shoes. If the material "breaks" or folds you're going to need to get them hemmed a bit. Another place to check is the back, you don't want the pants dragging on the ground at all.
LEG SHAPE
Straight leg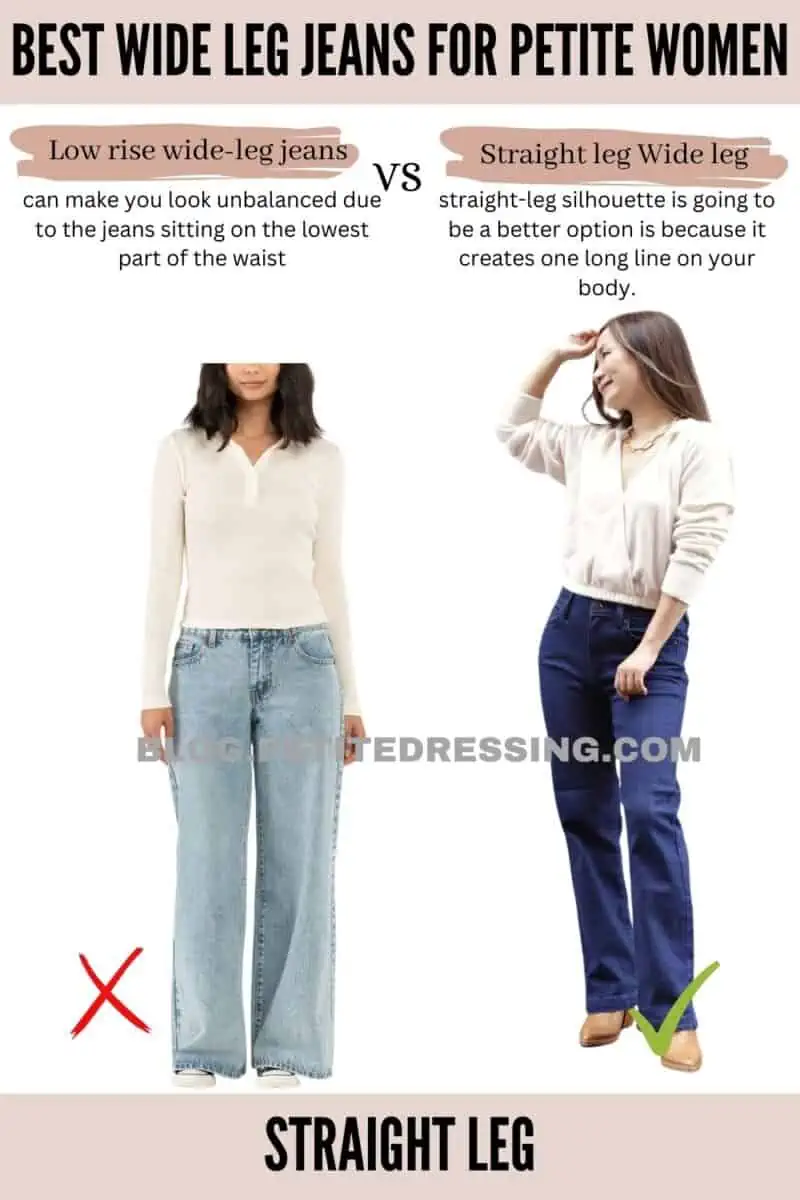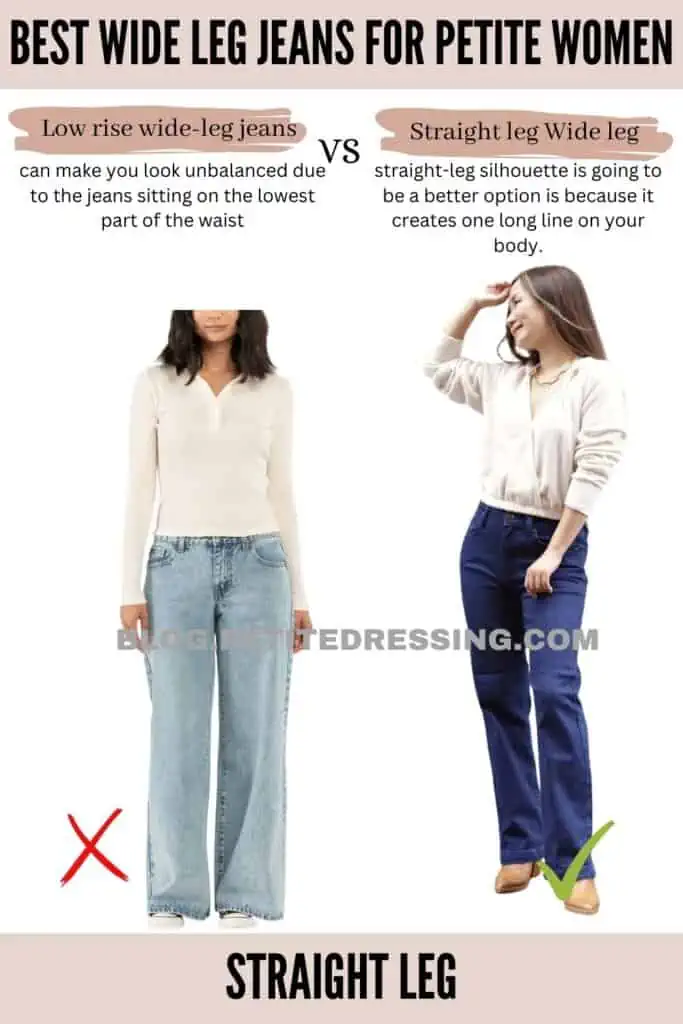 It's important that you focus on a straight-leg silhouette. The reason a straight-leg silhouette is going to be a better option is because it creates one long line on your body.
This will help to create the illusion of a longer, leaner leg which is ESSENTIAL when wearing petite wide leg jeans.
Avoid too wide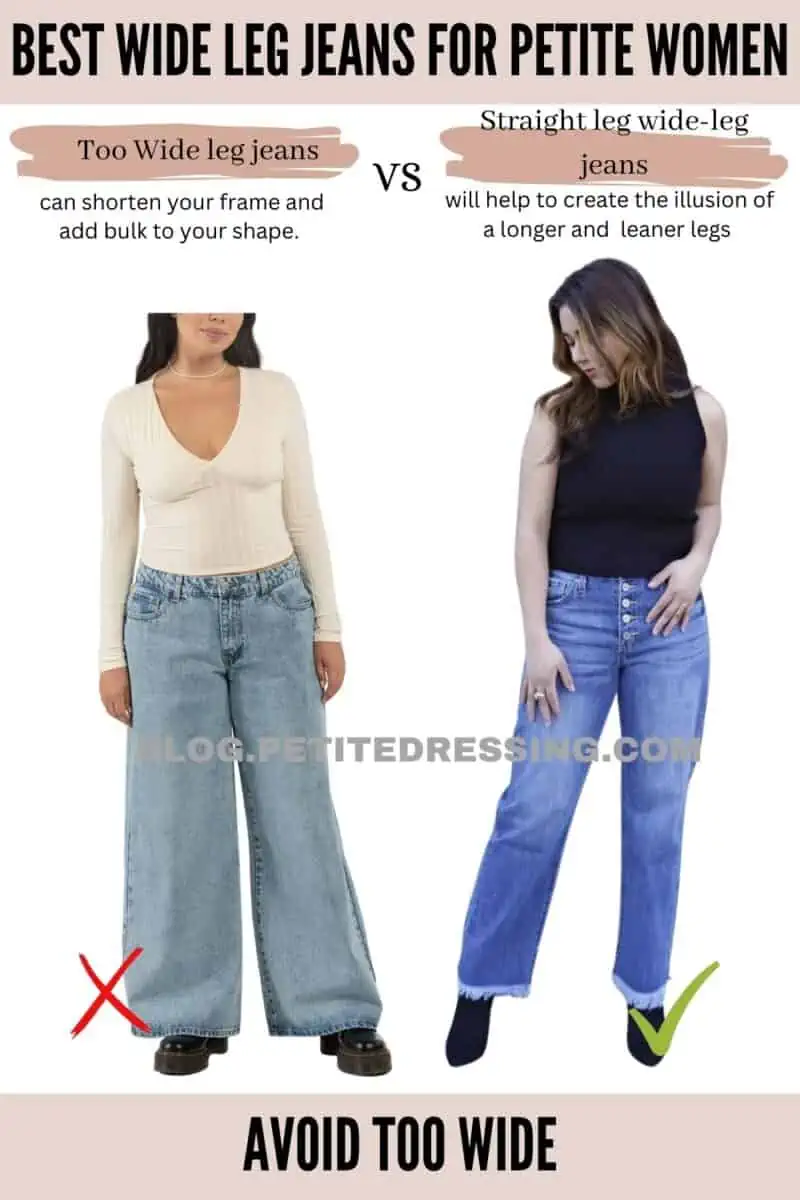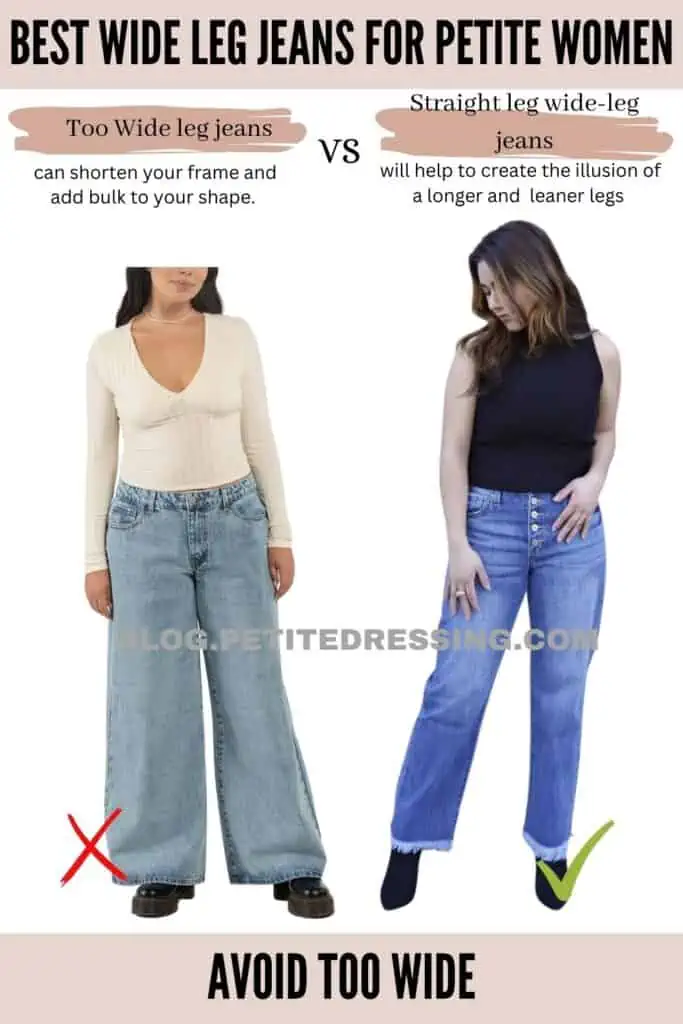 As a petite woman, when you wear silhouettes that are too wide, they can shorten your frame and add bulk to your shape.
These are obviously things we all want to avoid with our clothing, and that means opting out of big flares at the bottom of your wide leg jeans
FABRICS
Avoid stiff fabrics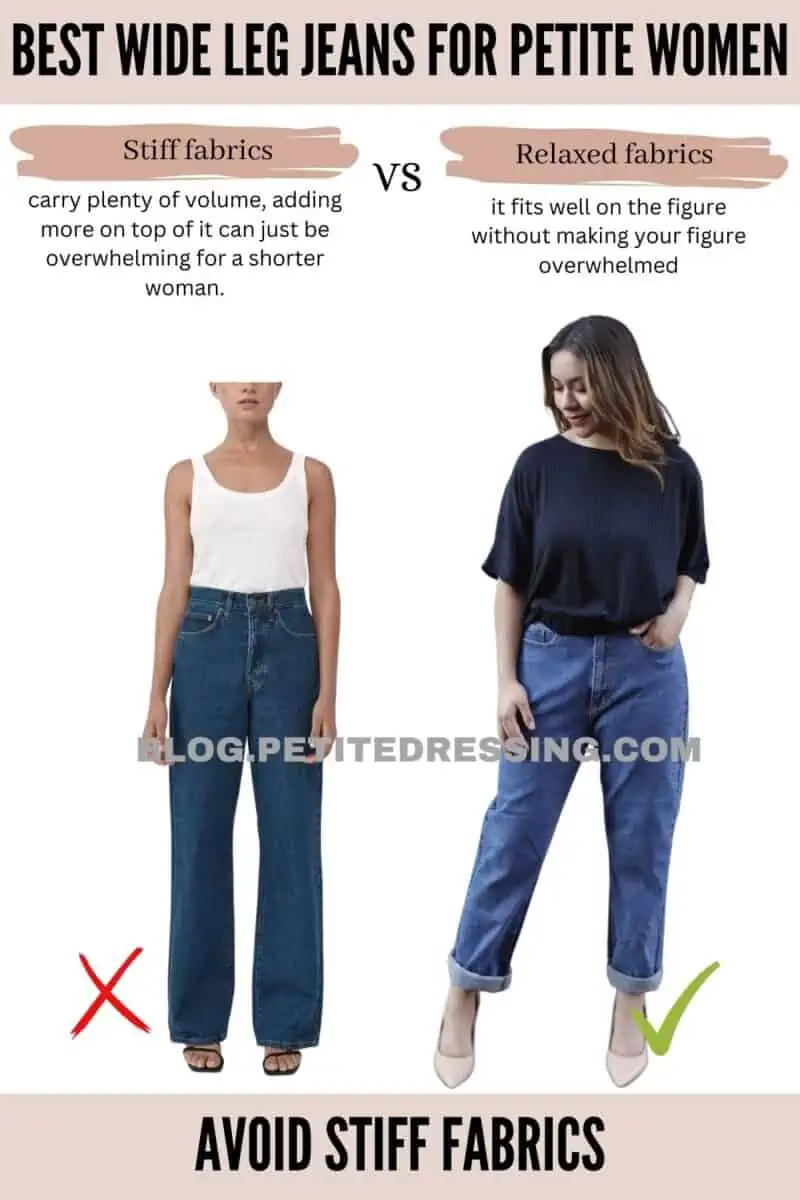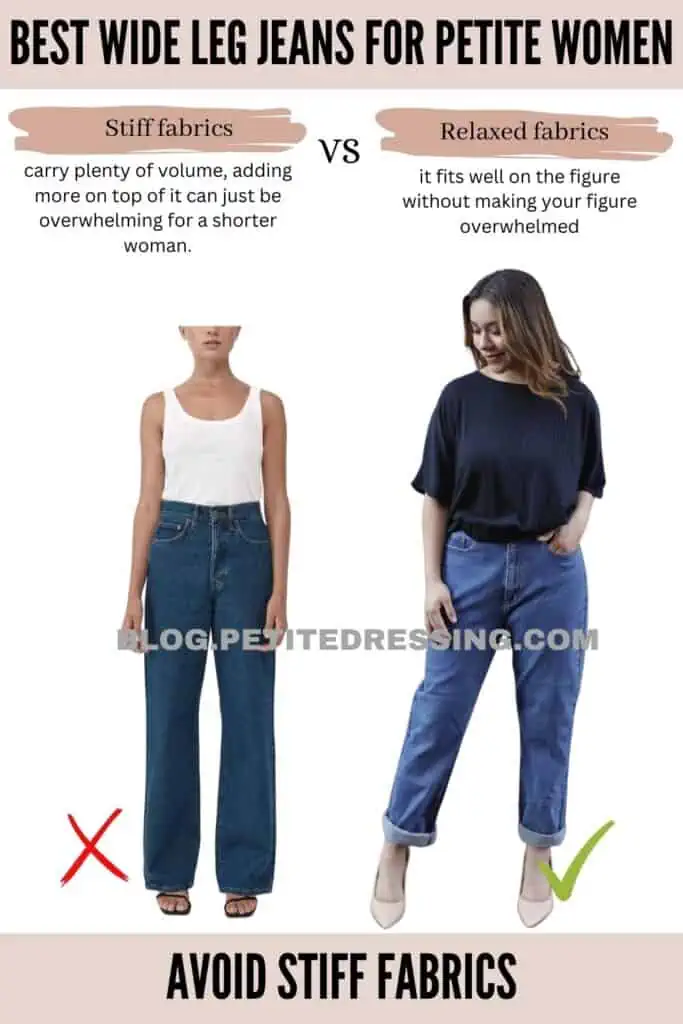 I have noticed that if the jeans fabrics are too stiff, they do not look flattering on a short girl.
The reason is stiff fabrics themselves contain a lot of volume. Since wide-leg jeans already carry plenty of volume, adding more on top of it can just be overwhelming for a shorter woman.
Choosing fabrics that flows means you should avoid any fabrics that are really heavy and too-structured. Those types of wide leg jeans will be too much for you as a petite.
TOPS
Fitted top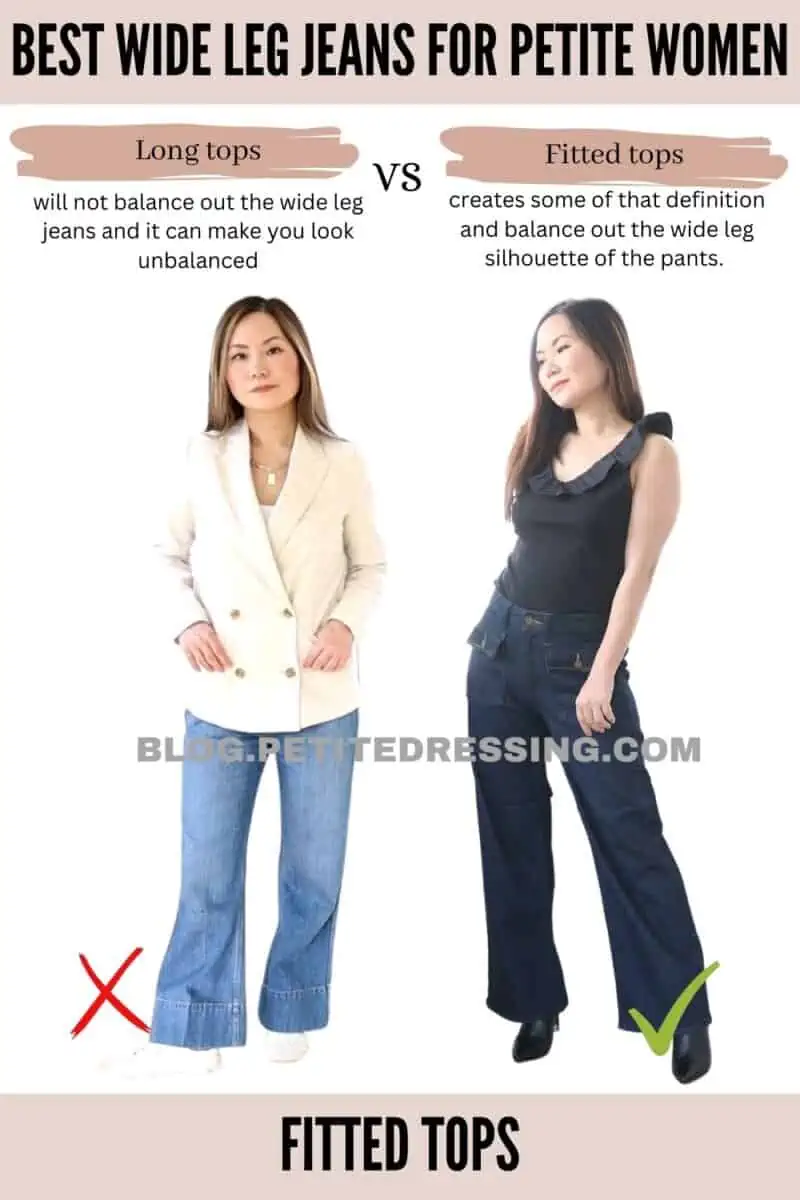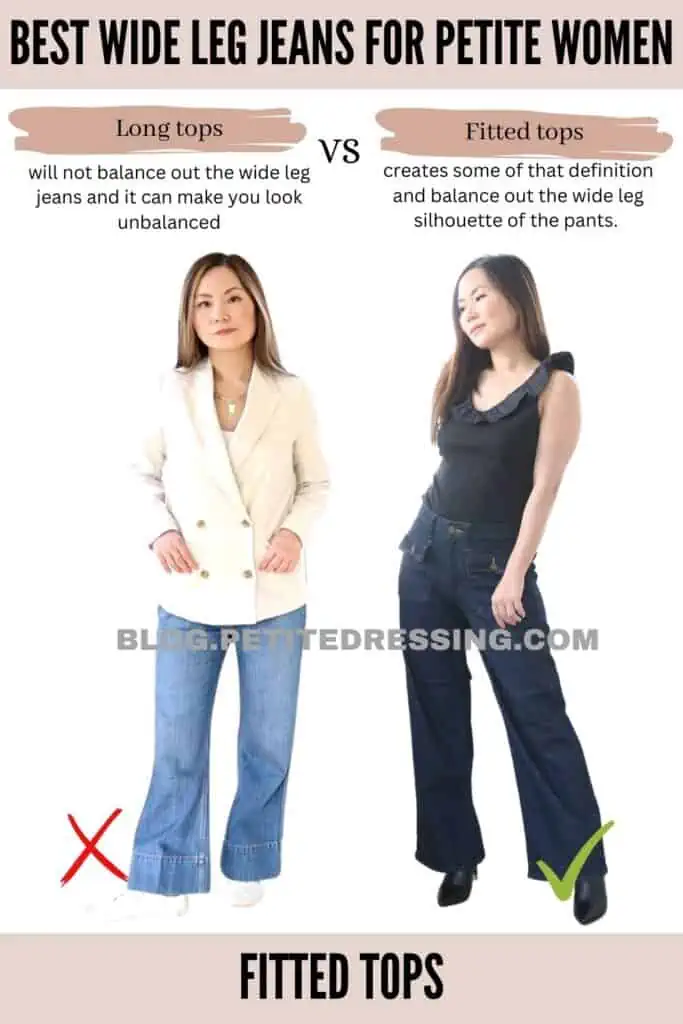 When it comes to what kind of top you should wear, keep the same balancing focus/idea in the back of your head when styling your wide-leg pants.
Just like with the shoes, you should choose a top to wear with your pants that fit closer to your body so you aren't in too much fabric.
You don't have to wear skin-tight tops but you should be able to see where you are at in the shirt to create some of that definition and balance out the wide-leg silhouette of the pants.
Cropped top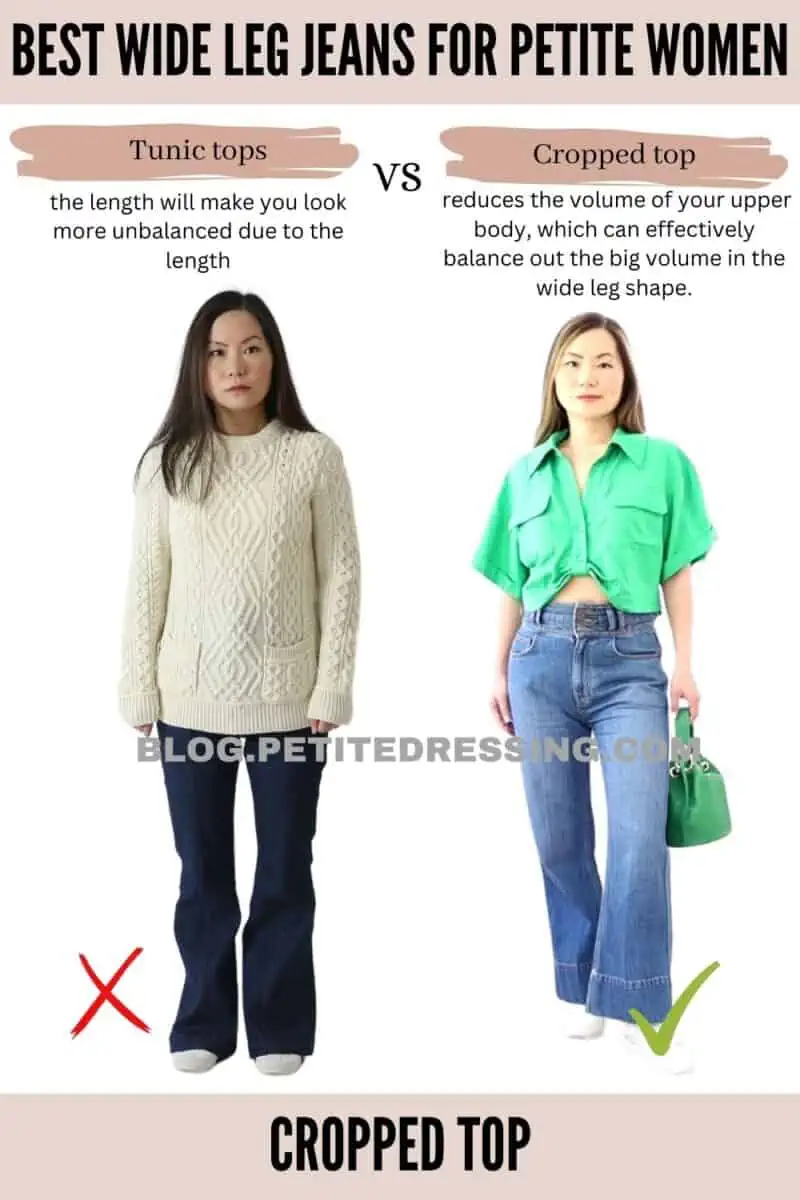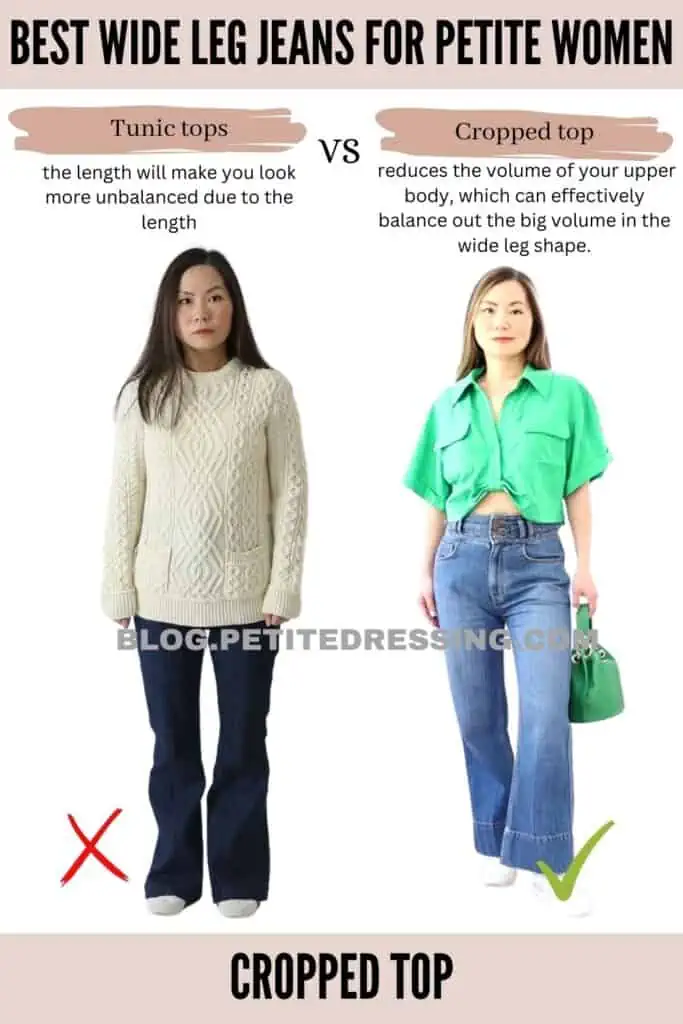 One of the best ways for Petites to style wide jeans is to wear them with a cropped-length top.
The reason is that a cropped length top reduces the volume of your upper body, which can effectively balance out the big volume in the wide leg shape.
Besides, a cropped top also make your torso appear shorter and your legs appear longer, which is a double win for a short woman!
SHOE PAIRING
Wear with heels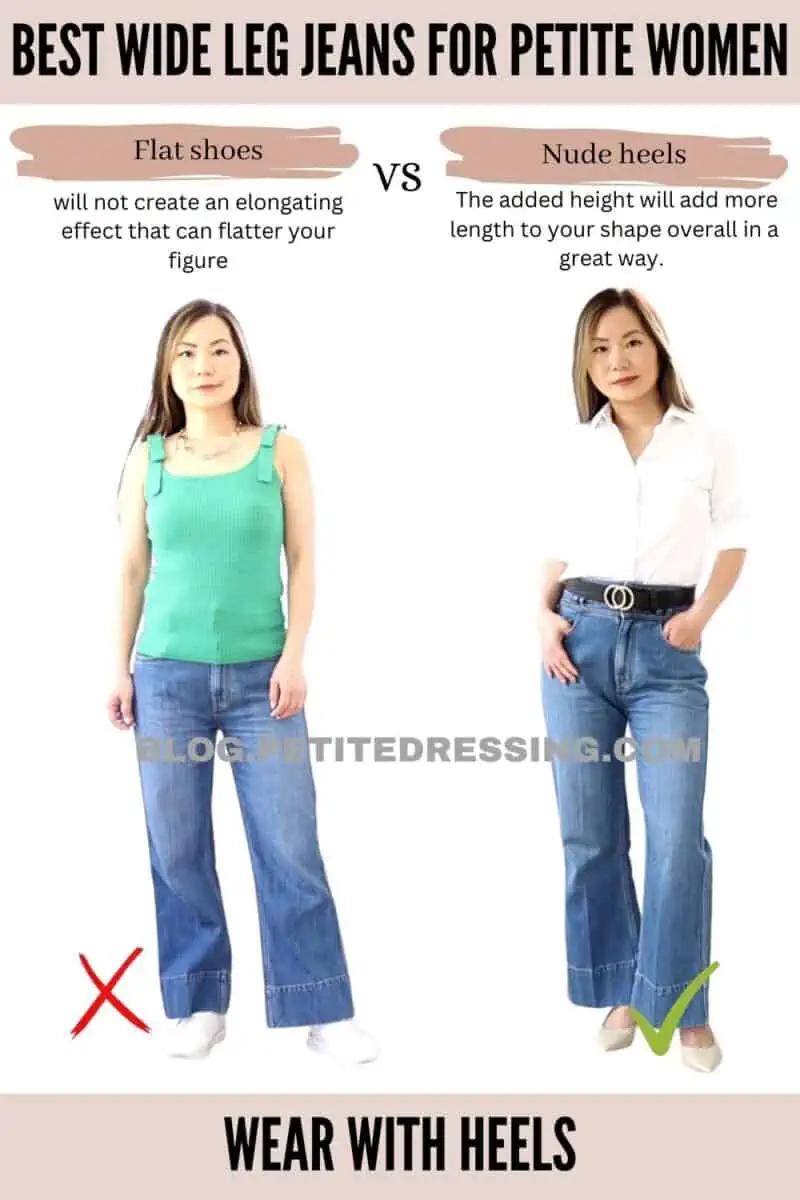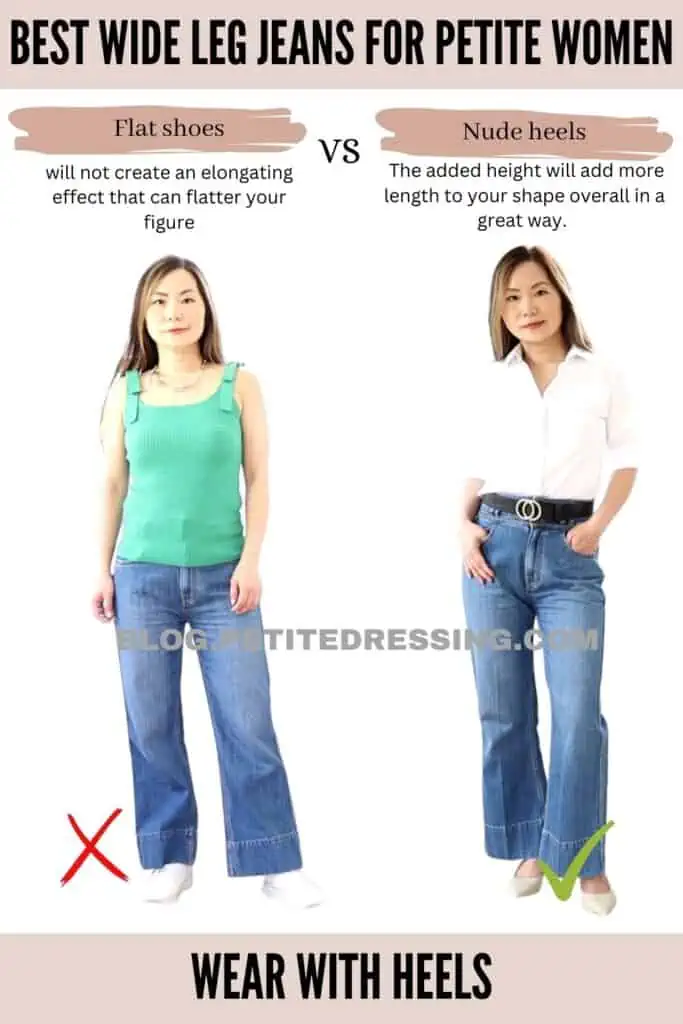 For a petite girl to look good in wide-leg jeans, you are going to need some balance to avoid them looking like they're completely consuming your body. That is why shoe pairing is critical.
One way that you are going to create some of that balance is to wear your petite wide-leg jeans with high heels.
I know high heels are every petite woman's go to for obvious reasons. But when you're wearing wide leg pants they're even more essential. The added height will add more length to your shape overall in a great way.
Avoid bulky shoes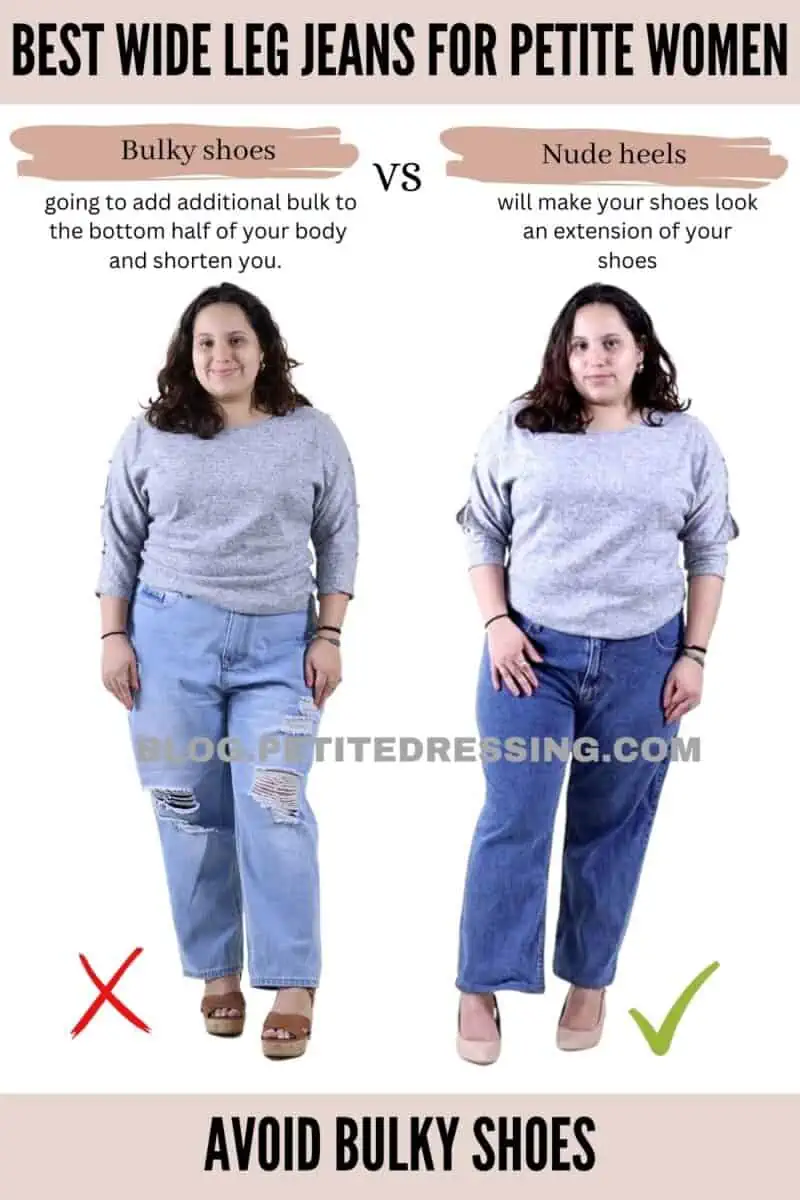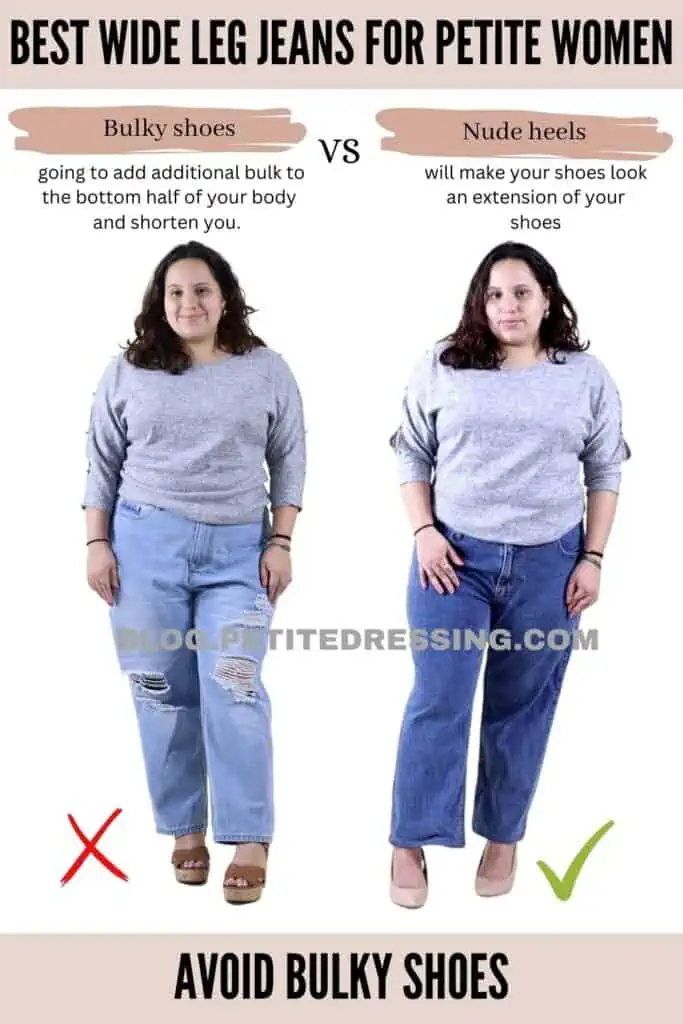 Even though it is very tempting for petites to want to wear platform heels under wide leg jeans, they are not the best option.
But the truth is you don't want to wear your wide leg jeans with anything that are too heavy.
The reason is big shoes are going to add additional bulk to the bottom half of your body and shorten you.
Even though platform heels or wedges may seem to give you extra height boost, but they actually do not do anything to help with your proportion.
They actually work against you by making you appear bottom-heavy.
So, if you are petite, stick with shoes like pumps, sandals, etc.