Choosing clothes that flatter your own body type is a key element to looking and feeling great in the clothing you wear. Understanding the best options for your shape is also the most challenging aspect of style. Pants tend to be one of the more difficult garments, particularly for petites, in regards to fit and flattery. Knowing which pants fit you, and which ones don't, will help you feel more confident in your clothes. Learn how to choose the best pants for your body type with the following tips.
Women's Body Shapes
Body shapes vary from woman to woman and understanding your own body shape is essential to dressing it properly. If you're not sure what your body type is, taking measurements is the best way to determine it. Make sure to measure the following key areas of the body: shoulders, bust, waist, and hips.
Generally, women's body shapes are categorized to fit into one of five common shapes. These shapes include: apple, pear, hourglass, inverted triangle, and rectangle. We'll dive into the specifics of each body type below (keep reading).
If You Are Petite
Most petite women are well aware of the struggles that come with finding clothes that fit and flatter a petite frame properly.
It's a challenge to say the least.
There are a few tips to keep in mind to ensure you're choosing the best pants for a petite woman.
First, pay close attention to length. When possible, always buy petite specific pants. Not only will they likely fit the body better, but it can also help to eliminate the need for a lot of alterations.
Second, avoid pants that rest in areas that shorten the body. This will be anything that rests around the widest part of the calf, generally.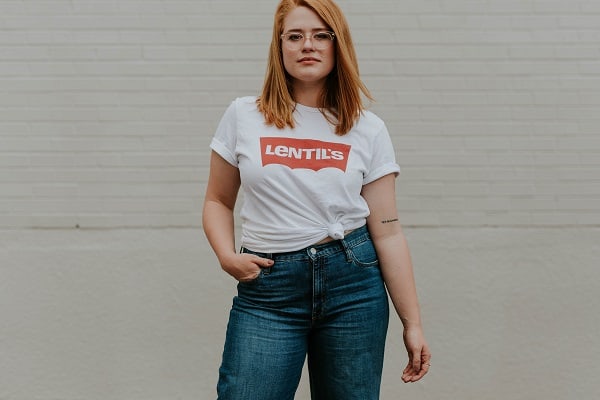 If You Have an Apple Shape
An apple shaped body is typically identified by the key measurements (mentioned above) all being quite close to one another. Generally, with an apple shape the waist area is not defined. Dressing to lengthen the body and create curves is a great way to establish balance to this body type.
Two of the most flattering style pants for an apple body type are straight leg and boot cut. Both of these give the illusion of a more balanced shape. Make sure to favor mid to high rise pants as well – these rises help to establish he appearance of a waistline and elongate legs.
If You Have an Hourglass Shape
An hourglass shape is defined by the shoulder and hip measurements being the same with a defined waist (meaning the waist measurement is a couple of inches smaller than the shoulders and hips). The hourglass is the most naturally balanced body type, allowing anyone with this shape to really wear what they enjoy. That being said, there are some styles that are more flattering than others.
A few things to pay close attention to when choosing the best pants for an hourglass body are the waistline and fit or shape of the leg. As someone with an already defined waist, opting for pants that offer waist definition is a guaranteed way to accentuate that area of the body in a really incredible way. Waist definition can be found in pants in a few different ways including high waisted (or rise), thicker waist bands, belted waists, etc. While an hourglass shape can really wear any style pants and look great straight leg and wide leg are favored among many style experts for this body type. The reason being is both of these silhouettes fit a curvy body really well and help to lengthen the appearance of legs.
If You Have a Pear Body Shape
The pear body shape is identified when hips and thighs are wider than the shoulder and bust area of the body. It's also commonly referred to as the triangular body type. Most pear shaped women also have a clearly defined waistline. Because of the hip and thigh area pear shapes have, it can be a little more challenging to find the perfect pair of pants – but it's certainly not impossible! There are quite a few ways to flatter.
Like with all the body shapes there are a few specific details that are ideal when choosing the best pair of pants for a pear shape. Starting at the top of the pants mid to high rise is the best choice for pears as it helps to further define and enhance your already slim waistline. Moving down to pockets, which should be a bit focal point as a pear. Always opt for flat pockets, avoiding flaps and options with a lot of detailing on them – this often brings too much attention to the hip and thigh area of the body. Flat pockets and a flat front (aka no front pockets) are ideal to smoothing the area without drawing too much focus. Finally, the overall shape of the pants. For pear shapes there is a variety to choose from and know they will flatter. These shapes include boot cut, straight and slim/straight legs. All of these are going to work with curvy hips while simultaneously lengthening legs.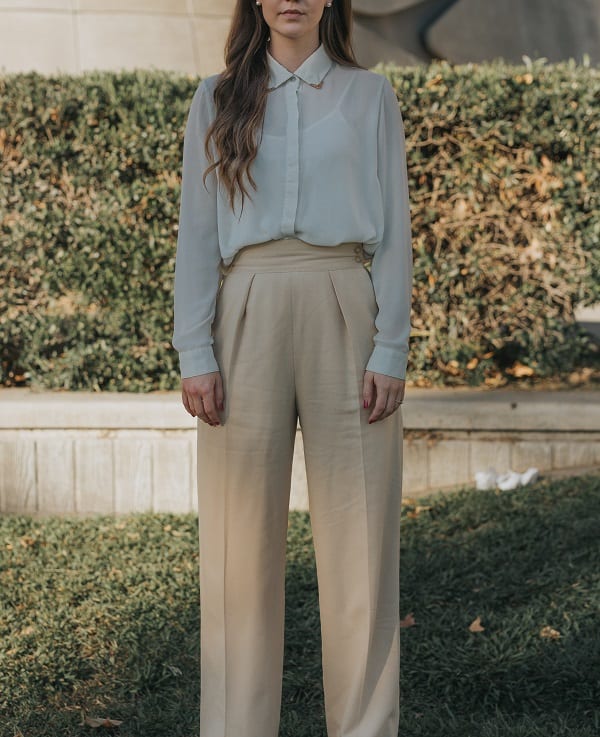 If You Have a Rectangle Body Shape
Also known as a straight or athletic body type, the rectangular body shape is identified by a shape that's, well…straight. The shoulders, bust, bust and hip measurements are all in line with one another – meaning they're quite close to each other – but what makes this different from apple is the straightness of the shape overall. Creating curves, with clothing, tends to be the most flattering way to dress this particular shape.
Lucky enough, a lot of different shaped pants look really great on a rectangular body shape. Everything from wide leg to slim-straight are quite flatter – particularly because all of these styles give the illusion of a curvier shape. That being said there are a couple of extras to pay close attention to when selecting the best pair of pants. One being the rise of the pants, naturally. This is something every body shape benefits from when chosen correctly. For a rectangle shape it's all about a high waisted rise to make legs look long, lean and create a more defined waistline. While on the topic of the waist line, this also means choosing pants that have any sort of waist detail to them like a belt or even pleats are something to begin favoring.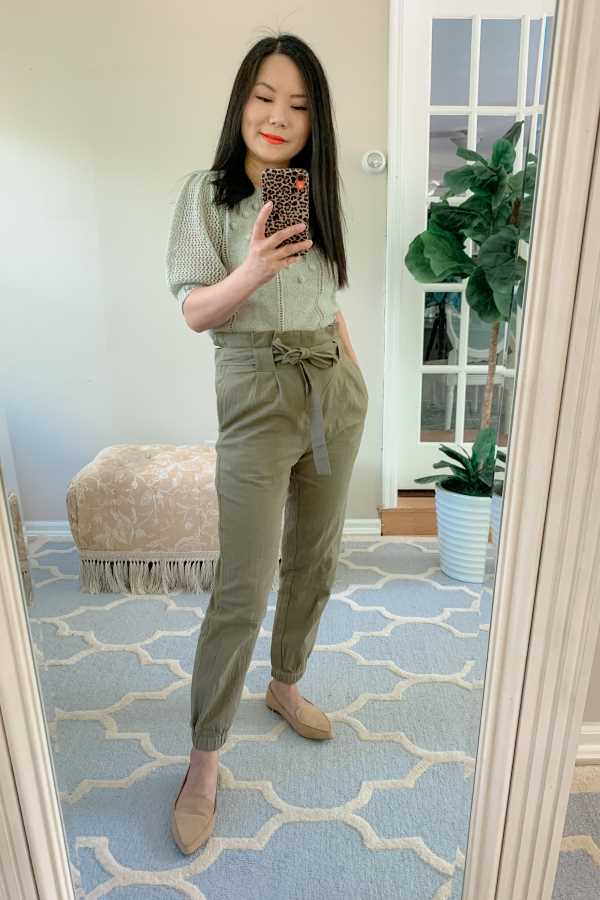 If You Have an Inverted Triangle Shape
This body type is essentially the exact opposite of the pear. Meaning the shoulder and bust measurements are wider than the waist and hips.
If you have an inverted triangle body shape chances are your shoulders are broad. Because of this, it's wise to choose pants that draw more attention to the bottom half of the body to give a more balanced effect.
Since drawing more focus to the lower half of the body is the most flattering way to go about selecting pants, it's not a bad idea to express your personal style through your pants by selecting pants in fun colors, patterns and prints. Of course that's not the only way to bring more focus, it can also be done with wide leg, cropped, flared or straight leg fits (just to name a few). In essence, fuller legs are providing that balance to the body. Most style experts recommend avoiding skinny fit for an inverted triangle shape for that reason.
If You Have Muscular Legs
Any woman with muscular legs knows finding the pants that fit really well is a HUGE challenge. It's not uncommon to find pants that fit in the thighs and are too big in the waist with muscular legs. A couple of style tricks to help make the search a little easier include ALWAYS favoring pants that stretch. That stretchy material is muscular leg's BFF because they will give that little extra wiggle room needed.
Another tip that many don't know is to choose pants that fit your thighs and don't worry about the waist, yes that's right. Don't worry about how the waist fits simply because it's an easy fix! Get the waist taken in by a tailor and you will have the perfect fitting pants.
If You Have Short and Thick Legs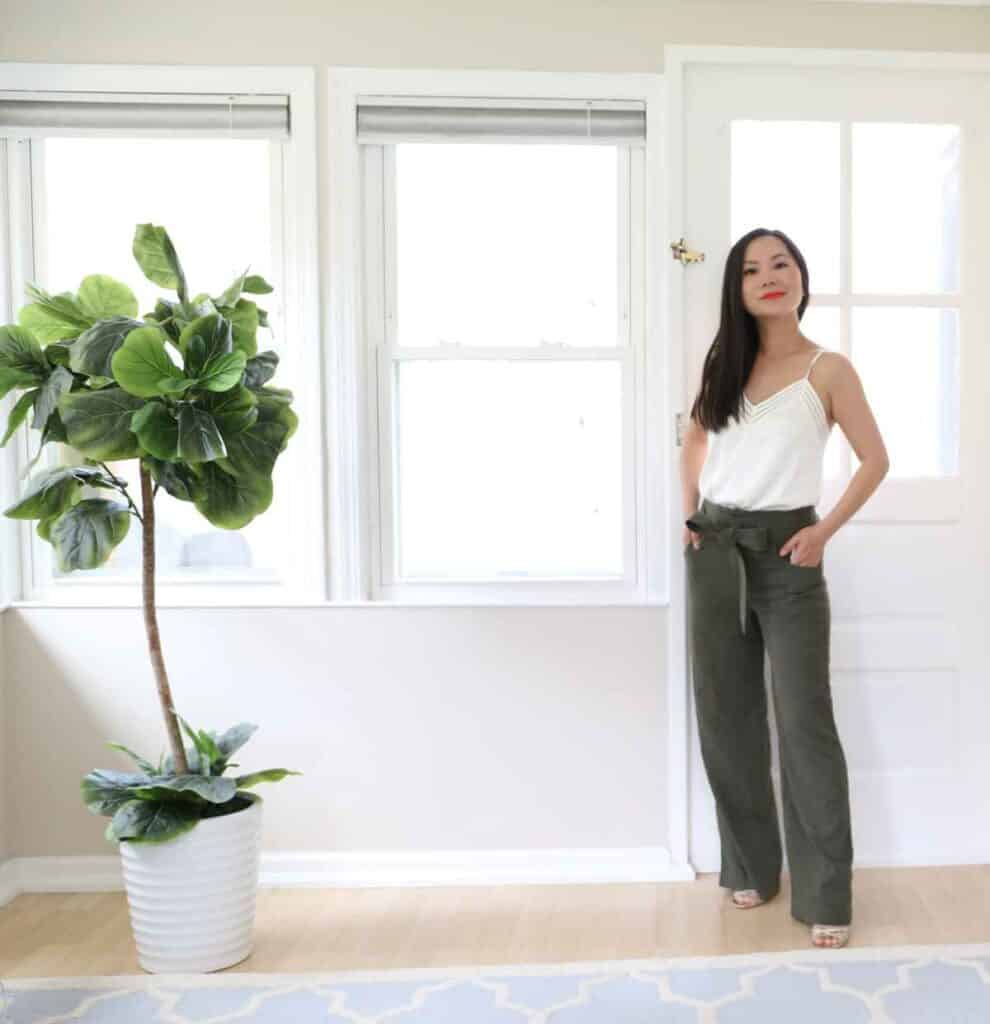 Short and thick legs can often feel like a hopeless challenge but the truth is many of the previous tips shared can be applied to help you find the perfect pair of pants. The main thing to keep in mind is that you'll likely need to get some alterations done and you know what? That's perfectly fine. In fact, stylists and experts recommend everyone enlisting the help of a tailor – it's not just for those with short, thick legs.
When selecting pants for your shape pay attention to how they add length to the body. With short, thick legs opting for pants that make legs appear (even just a little) longer can do wonders for your shape as a whole. Stay away from pants that cut the leg off in any wear places – i.e. capri length.
What Length Pants Make Legs Look Longer?
The short answer to this is full length pants. This is mainly because full length pants establish a long, uninterrupted line down the legs – causing them to look much longer than they are naturally. Add some high heels to the mix and even more length will be created. When selecting full length pants, just be sure that any necessary hemming has been done. Full length pants that bunch around the ankle will shorten legs.