Having a rectangle shape means your body look straight up and down, and you have an athletic build. While this means most jeans will fit your shape, there are certain styles that look better on your straight figure than others.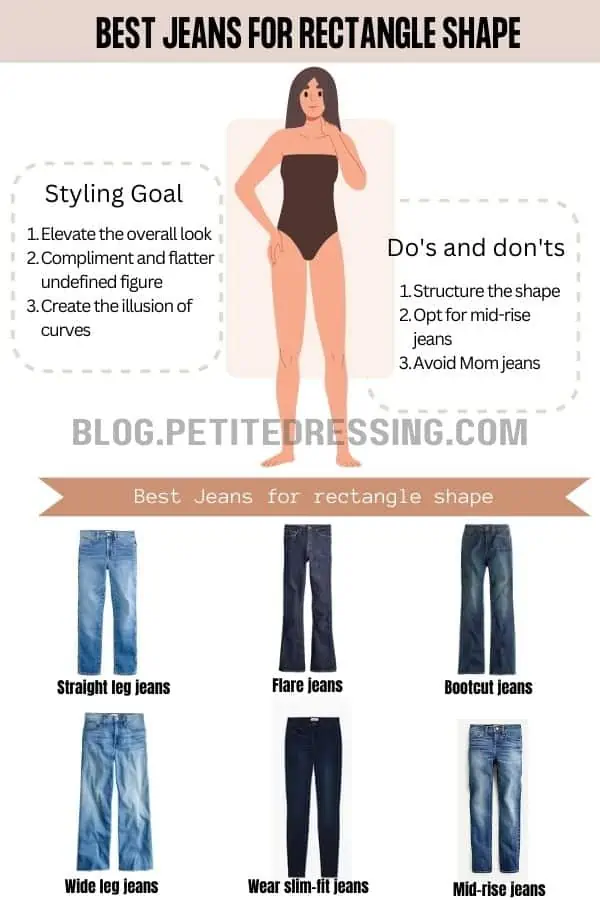 Below is a complete jeans guide with 9 best types of jeans for women with the rectangle body shape, and 2 jeans style you may want to use caution or even stay away from.
Straight leg jeans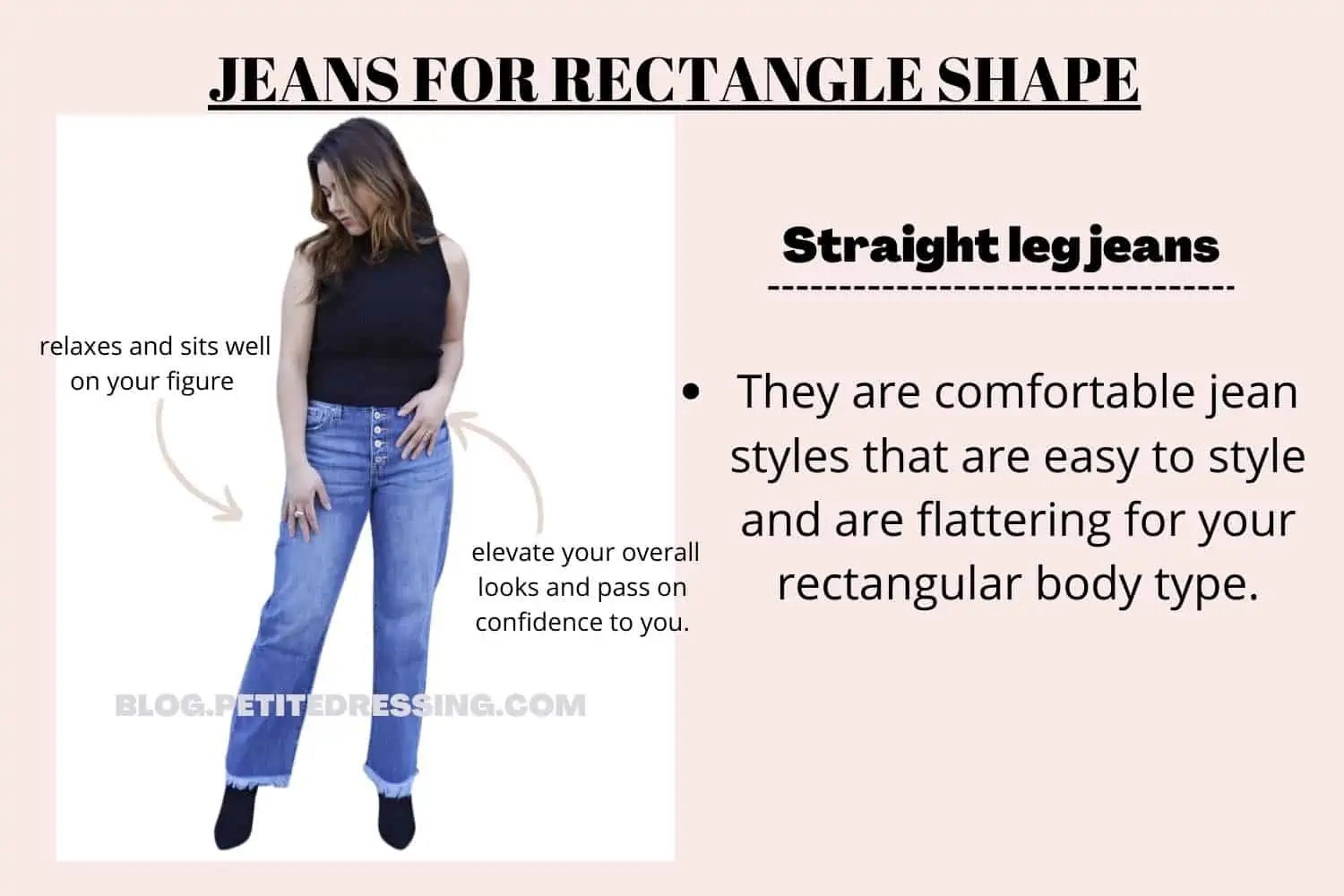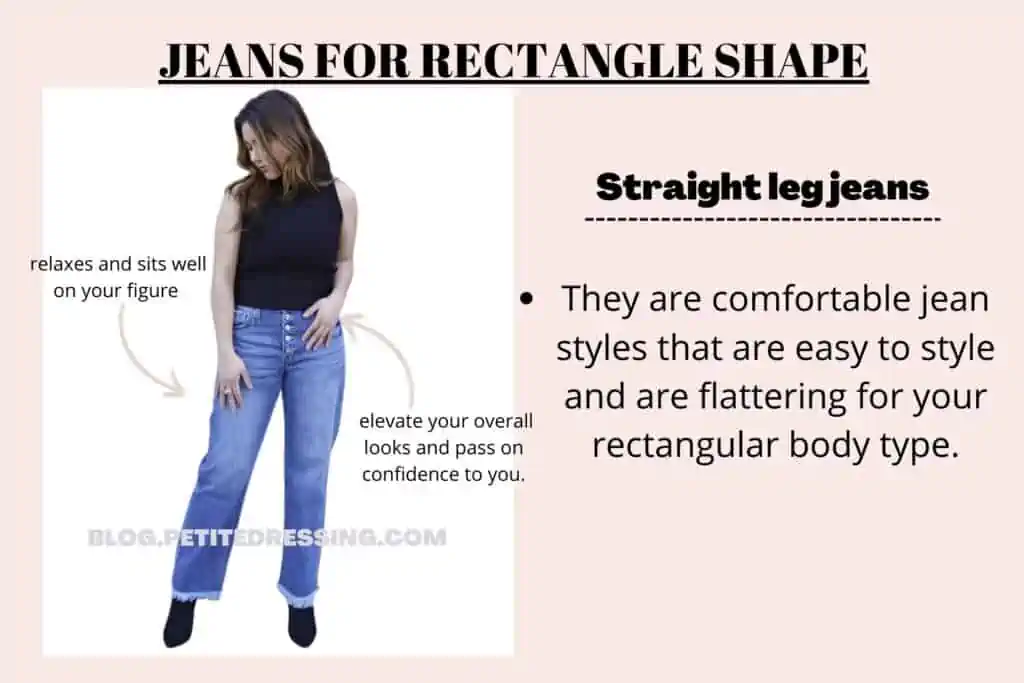 The rectangle shape is one that goes straight up and down making the straight-leg jean a unique style for you. Straight leg jean also has a cut that does work well in following the natural lines of your figure without hugging tightly.
They are comfortable jean styles that are easy to style and are flattering for your rectangular body type. It would not be out of place to own a few of these jean styles because they can elevate your overall looks and pass on confidence to you.
Straight-leg jeans are just perfect in offering you a structure that is slightly different from the natural one simply because it relaxes and sits well on your figure. They are undeniably versatile and would always remain a relevant piece for your rectangle shape.
Flare jeans
This is a trendy jean style that works to complement your structure by providing curves around your lower body. This structure breaks up the natural vertical line that runs along the rectangle shape.
Flare jeans as the name implies is fitted around the waist and thigh with a slightly exaggerated flare around the hem of the jean. It has a relaxed fitting on your figure while working to direct the eyes to assume volume in your bottom half.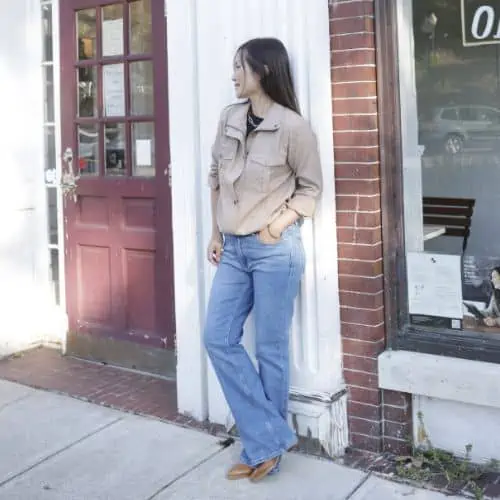 Things to consider when using flare jeans
It is important that you are conscious of the flare in the jean because if it is too wide, it could turn out to be overwhelming on your rectangle shape.
So, make sure you opt for those designs with moderate flare because those styles would flatter you better.
Bootcut jeans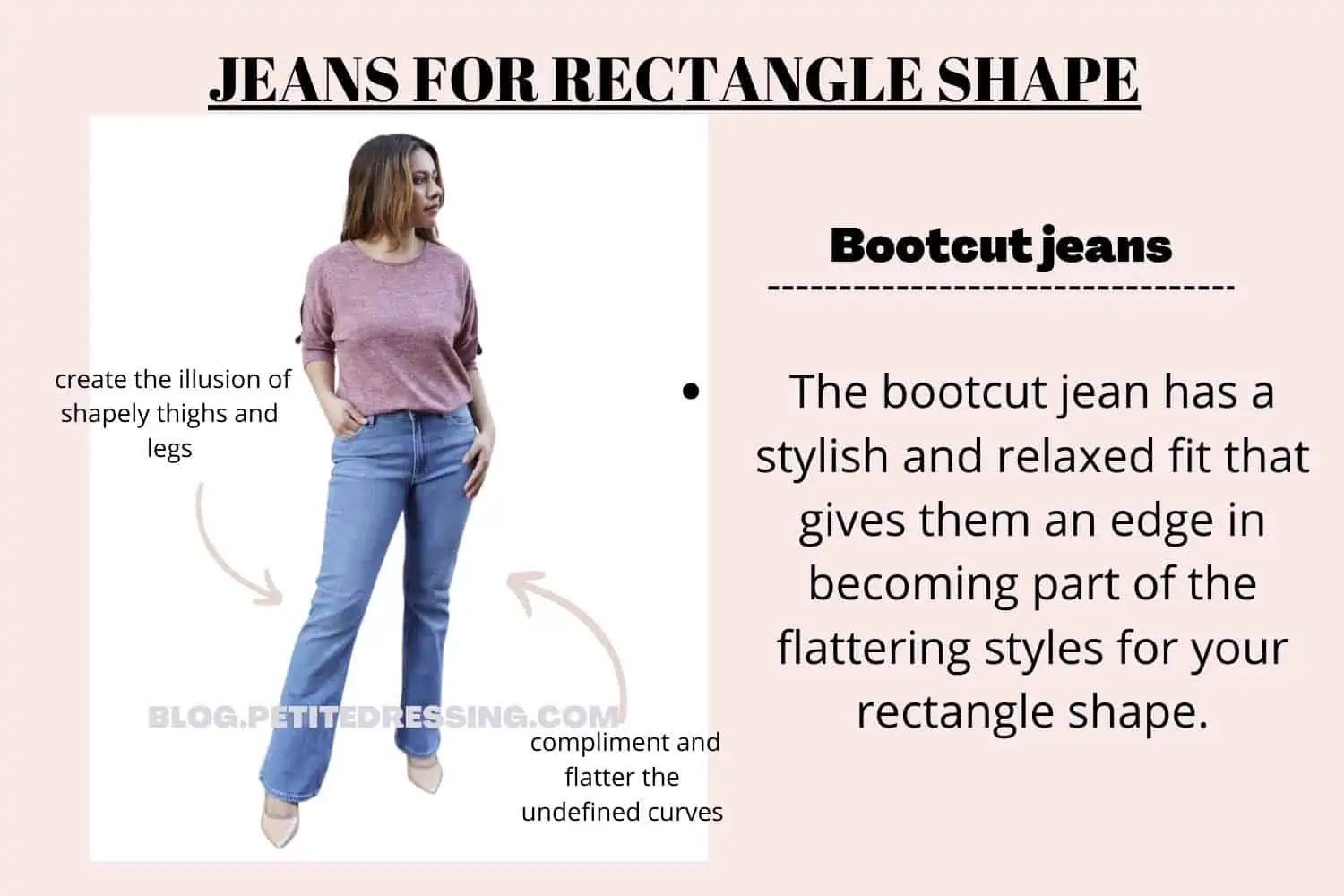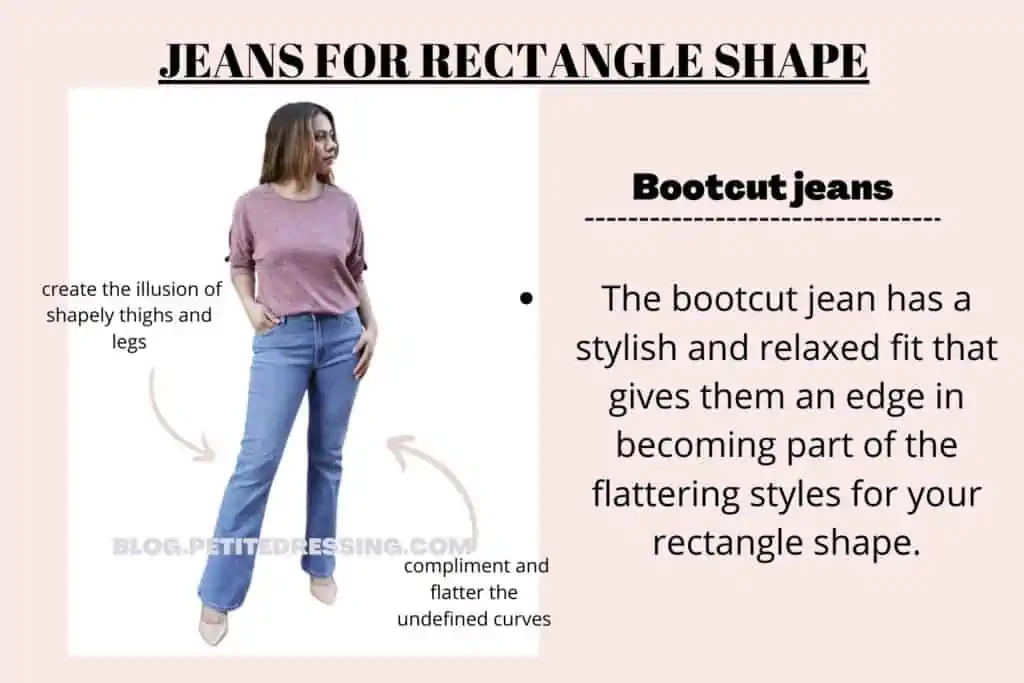 Wearing bootcut jeans is another way to compliment and flatter the undefined curves of the rectangle shape woman. This jean has a structure that hugs the butts before slightly flaring out at the knee down to the hem.
The structure of the bootcut jean is one that is designed to help create the illusion of shapely thighs and legs. The bootcut jean has a stylish and relaxed fit that gives them an edge in becoming part of the flattering styles for your rectangle shape.
Bootcut jean is a style that can help you achieve the styling goal of giving your rectangle shape an entirely different structure. This jean style would offer you a different feel of femininity that can help boost your confidence and get you prepared for any occasion.
Wide leg jeans
The wide-leg jean has a clean cut that brings balance to the silhouette making it one of the most versatile pieces for the rectangle shape. It is also a super flattering jean style with roughly the same width from the hips down to the hem of the jean.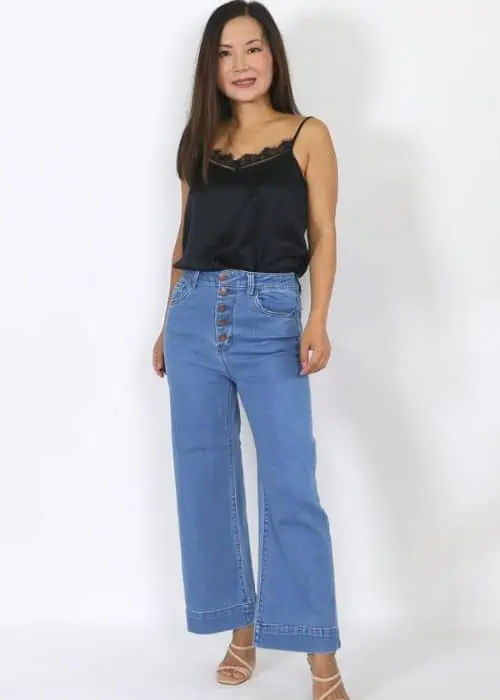 Why opt for Wide-leg jeans
Wide-leg jeans are a loose-fitting design that sits comfortably on your shape and gives room to your narrow legs and small hips.
The jean further goes on to de-emphasize the straightness in your rectangle shape structure.
This is a jean that gives volume to the bottom half as well as offers you the illusion of curves around the hips and would as such would make a great wardrobe essential.
They stand out as special designs that can elevate and restructure your shape to get you prepared for any occasion.
Wear slim-fit jeans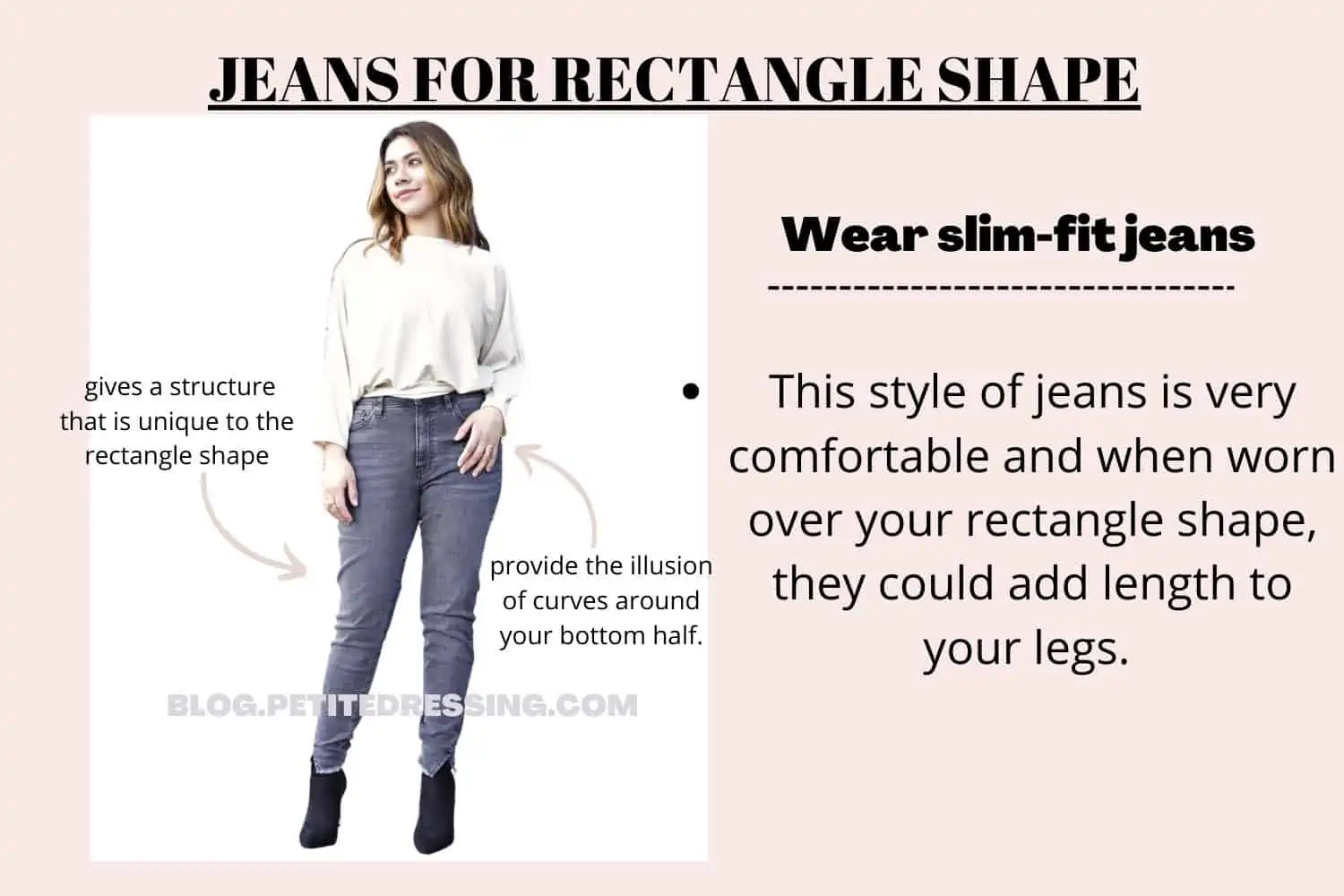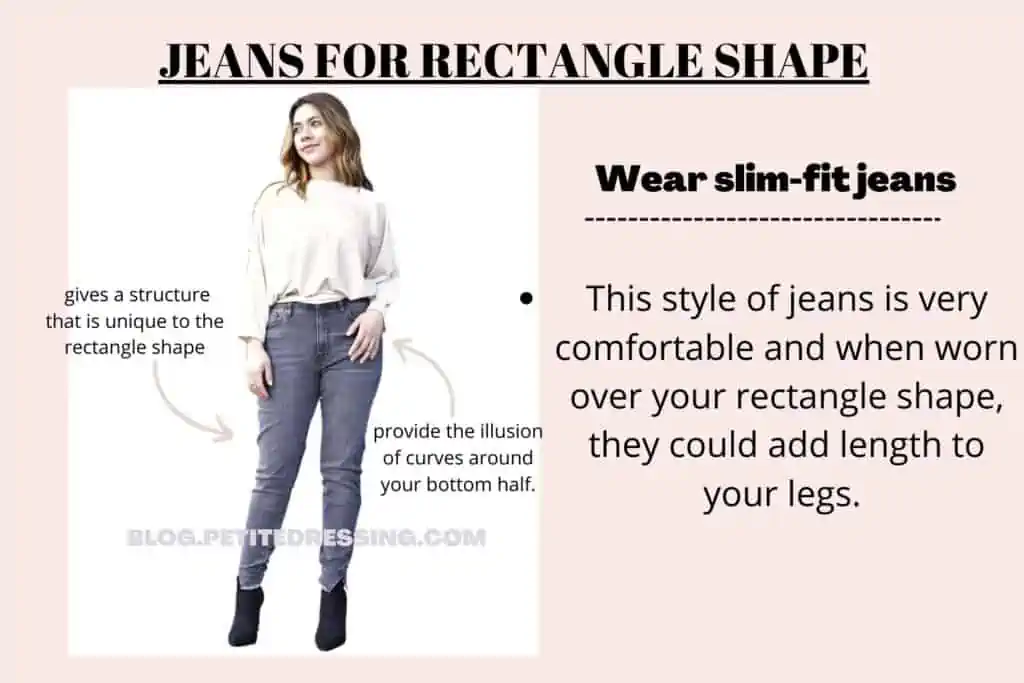 The slim-fit jean is recommended for your shape because it has a fit that works to complement the rectangle shape. it is structured to accentuate your slender legs and still provide the illusion of curves around your bottom half.
This style of jeans is very comfortable and when worn over your rectangle shape, they could add length to your legs. This is one stylish jean that is flattering on your straight figure because they would not exaggerate your concerned area.
Slim-fit jeans can help you appear elegant and are considered suitable for any occasion so feel confident whenever you rock them on your figure. The attractive fit of the jean is one that you should take advantage of because it gives a structure that is unique to the rectangle shape.
Mid-rise jeans
This is just the perfect rise of jeans for the rectangle shape because it helps to give you a defined waistline. Mid-rise jeans are highly compatible jeans that make them a go-to style option for your feminine structure.
This rise of jeans is very comfortable on your figure and is also best in giving a little more structure to the rectangle shape. Your lower body is naturally short and lean so for a better lengthening effect, the mid-rise is just the most desirable.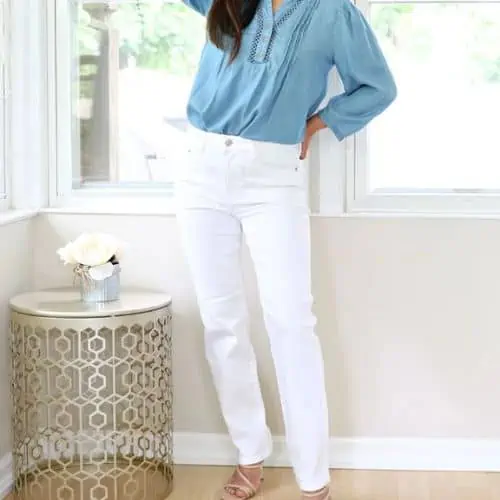 Mid-rise jeans are the perfect rise of jeans for the rectangle shape
Mid-rise jeans give the appearance of a longer leg line and can also help balance the upper half alongside the lower half of your rectangle shape.
This is a rise of jeans that should be a go-to option because they can rightly assist you in achieving a major part of your styling goal.
Wear jeans with a wide waistband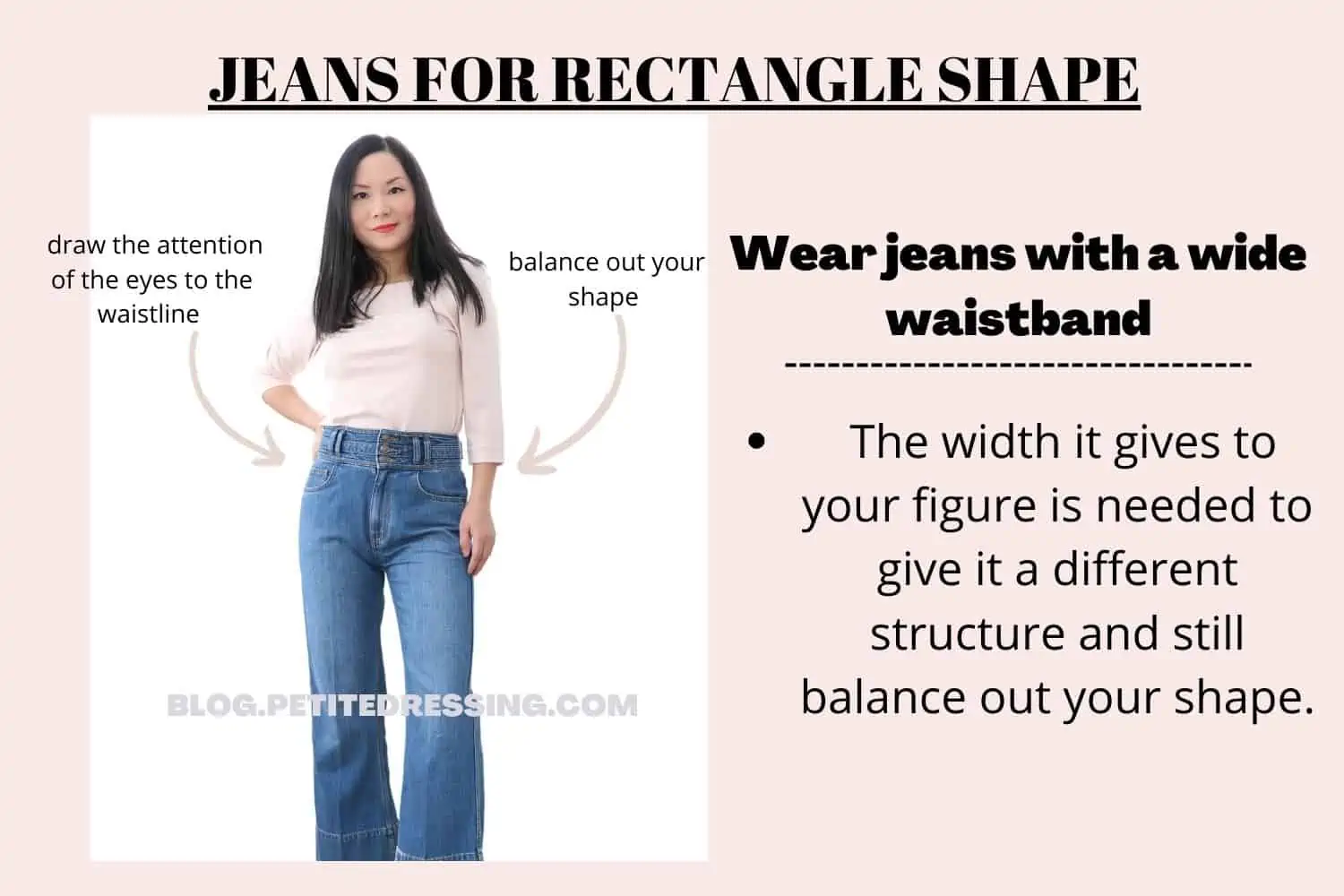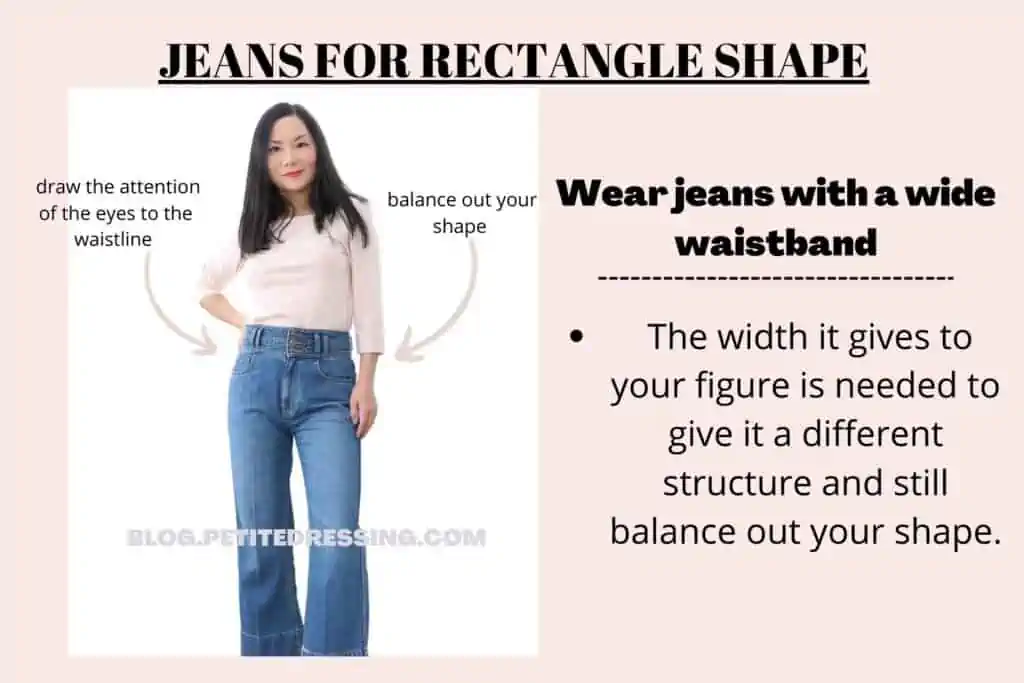 As a woman with a rectangle shape, it is normal that you naturally have no waist definition alongside small curves and that is not pleasing. For this reason, you should wear jeans that have wide waistbands and not those with thin waistbands.
Jeans with wide waistbands would make the narrow hips in your rectangle shape appear wider while still going further to add curves to the figure. The width it gives to your figure is needed to give it a different structure and still balance out your shape.
Jeans with wide waistbands have a high waist definition effect and are perfect on the rectangle shape. The size of the waistband is unique because it would draw the attention of the eyes to the waistline and make you appear more feminine.
Jeans with back pockets
Pockets are necessary detailing needed to give a different structure to the woman with a rectangular shape. Back pockets are used to visually add width to your lower half and that is why it is important for you to pay attention to its position.
Aside from the position of the pockets, the size of the pocket is another part to consider when making the best choices for your rectangle shape. You should opt for jeans with small back pockets as those bigger-sized pockets are not right for your figure.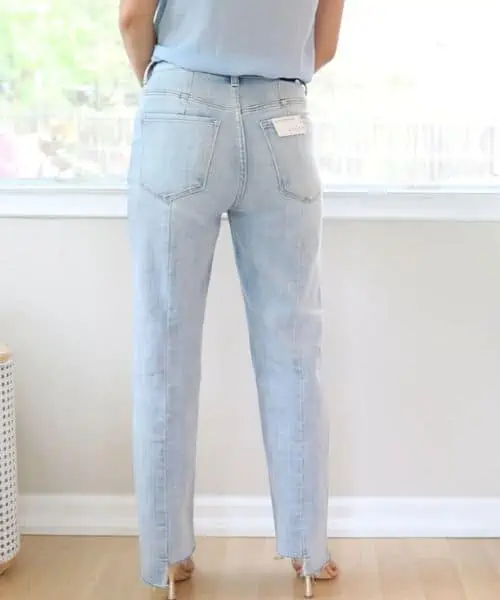 Why opt for jeans with back pockets
The back pockets in the jeans should sit high on your butt and not lower because that is the best way they can be effective on the rectangle shape.
The higher the back pockets sit on the jeans, the more lifted your butt appears in the jean.
Light wash jeans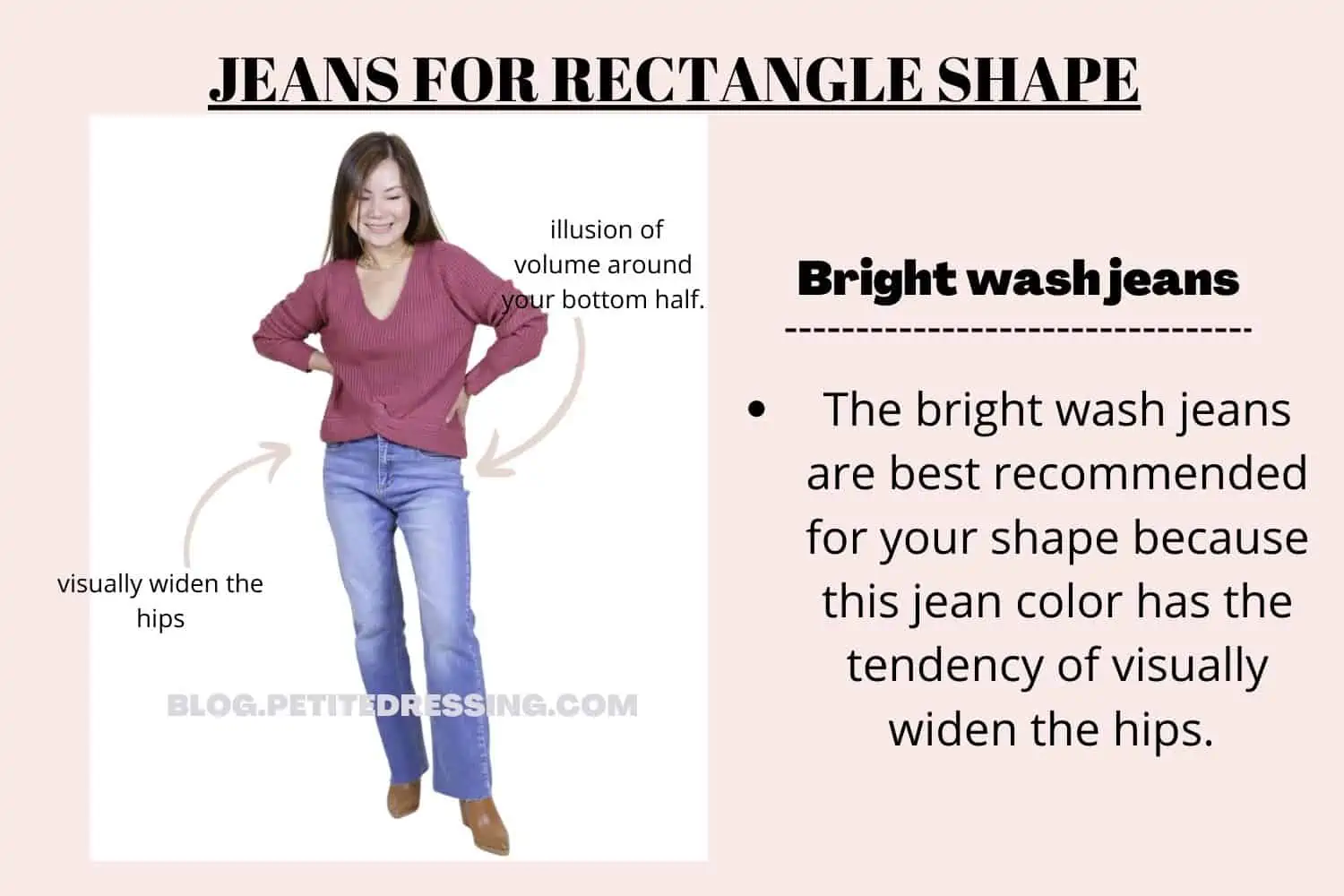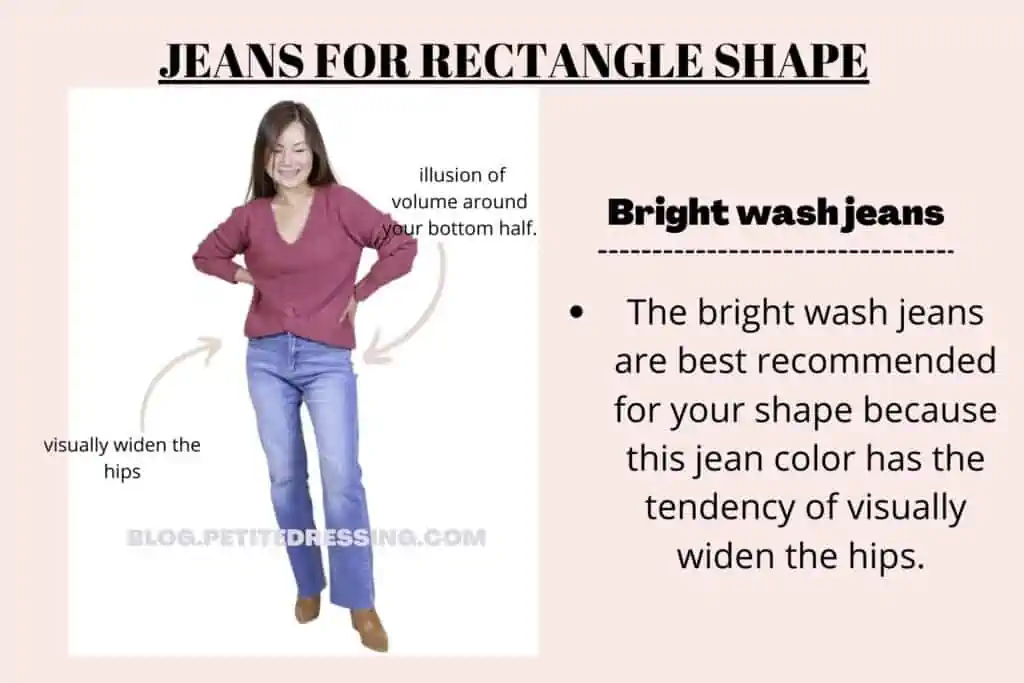 The bright wash jeans are best recommended for your shape because this jean color has the tendency of visually widen the hips. The rectangle shape is one that is narrow all through and as such you need details that would give the illusion of volume around your bottom half.
For a more balanced effect, the tops to be styled with this jean wash on your rectangle shape should be darker in color. This jean color is invariably the best jean to help enhance your feminine figure.
Dark-colored jeans would do the exact opposite of the bright wash designs by going further to slim down your shape. When these jeans is worn over your frame, it makes your column-like structure more obvious causing you to become less proportionate.
Avoid Mom jeans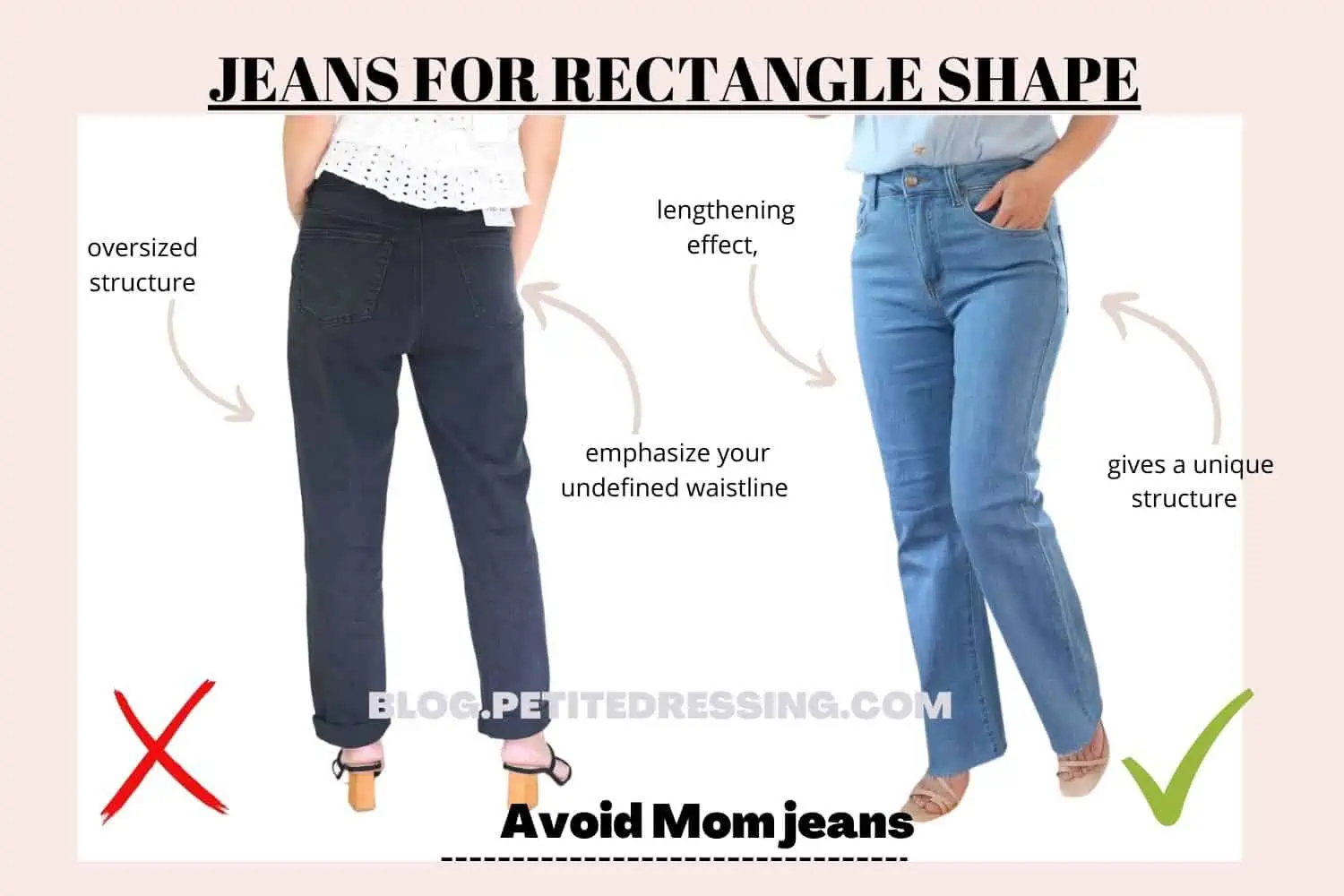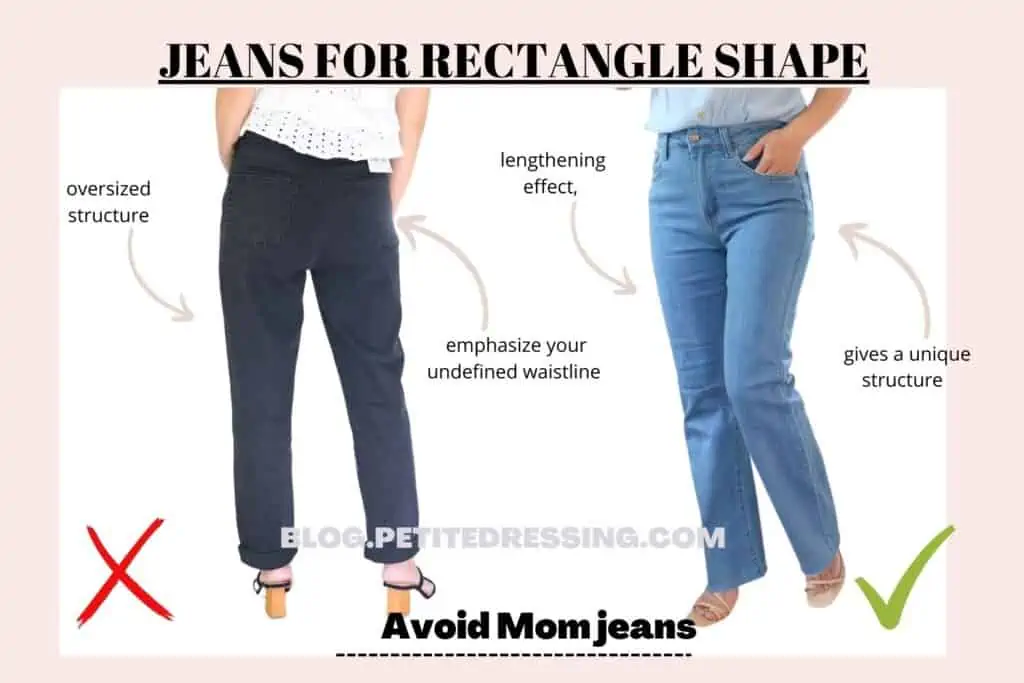 The rectangle shape is not one to look good in just any style of jeans and that includes the mom jean styles. You should greatly avoid the mom jeans because they would greatly affect how your lower body appears.
Mom jeans are designs that have an oversized structure that would emphasize your undefined waistline and small curves. They are not jean styles perfect for the rectangle shape because they can readily complement your looks so they should not make up a major part of your wardrobe essentials.
Wearing mom jeans over your rectangle shape could further make you appear shapeless because they could turn out to be drowning your feminine structure. These are jean styles that can be regarded as unflattering and unfashionable styles and it would therefore be great if you do not follow the fashion trend.
Avoid baggy jeans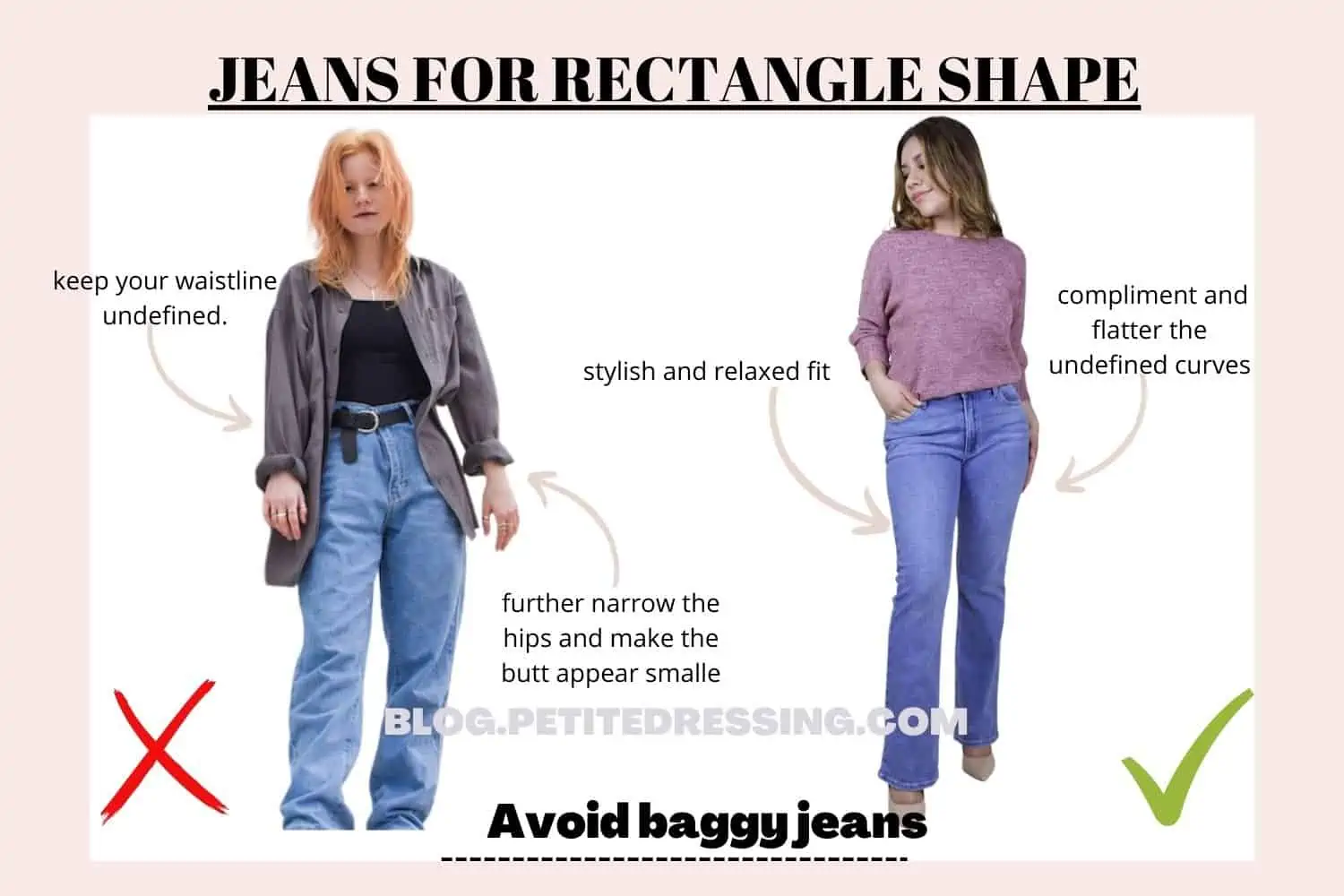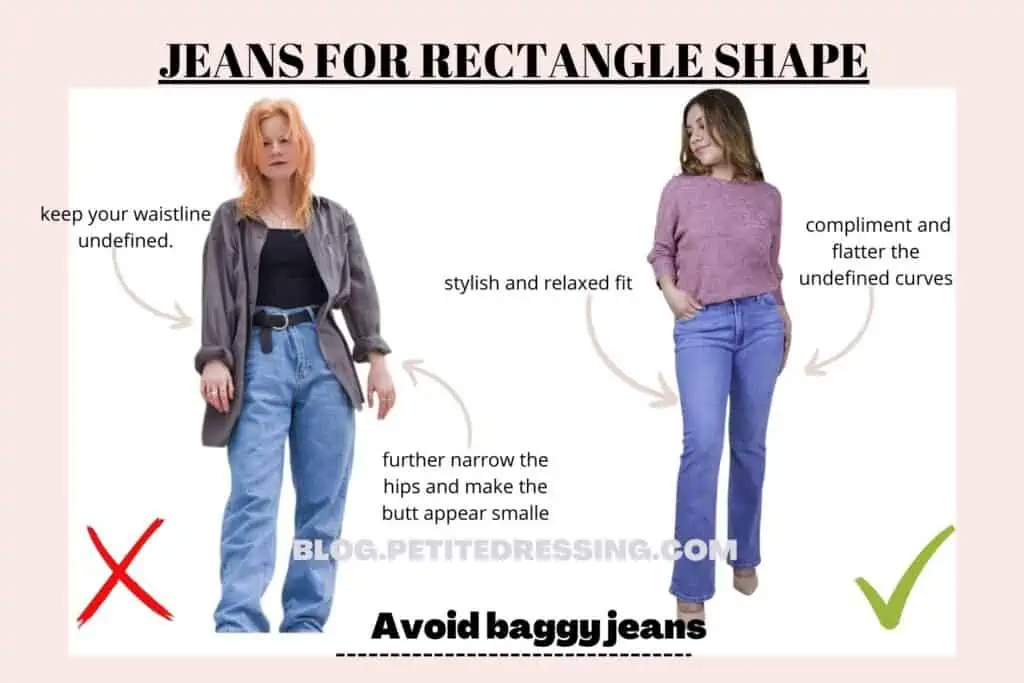 Baggy jeans styles are not flattering styles for the rectangle shape especially because they are easy to get wrongly styled. They have a very loose fitting that could effortlessly overwhelm you and keep your waistline pretty undefined.
Since the rectangle shape is not a well-endowed shape, wearing baggy jeans over it would further narrow the hips and make the butt appear smaller. Baggy jeans like boyfriend jeans should have no place in your wardrobe.
These types of jeans do not have figure-enhancing features so do not go on trying to purchase them for your rectangular shape. Baggy jeans are styles that you most definitely would not look best in because they would not give you the right fit for your structure.