If you have shorter legs like me (I'm 5'2″), finding the right jeans is never easy. While most jeans simply would not fit a short woman, certain styles just do not look flattering on someone who is petite.
Based on my many years of trial and error, I've put together this guide with 9 best types of jeans as well as what you should stay away from to help women like me to find the best jeans.
Straight leg jeans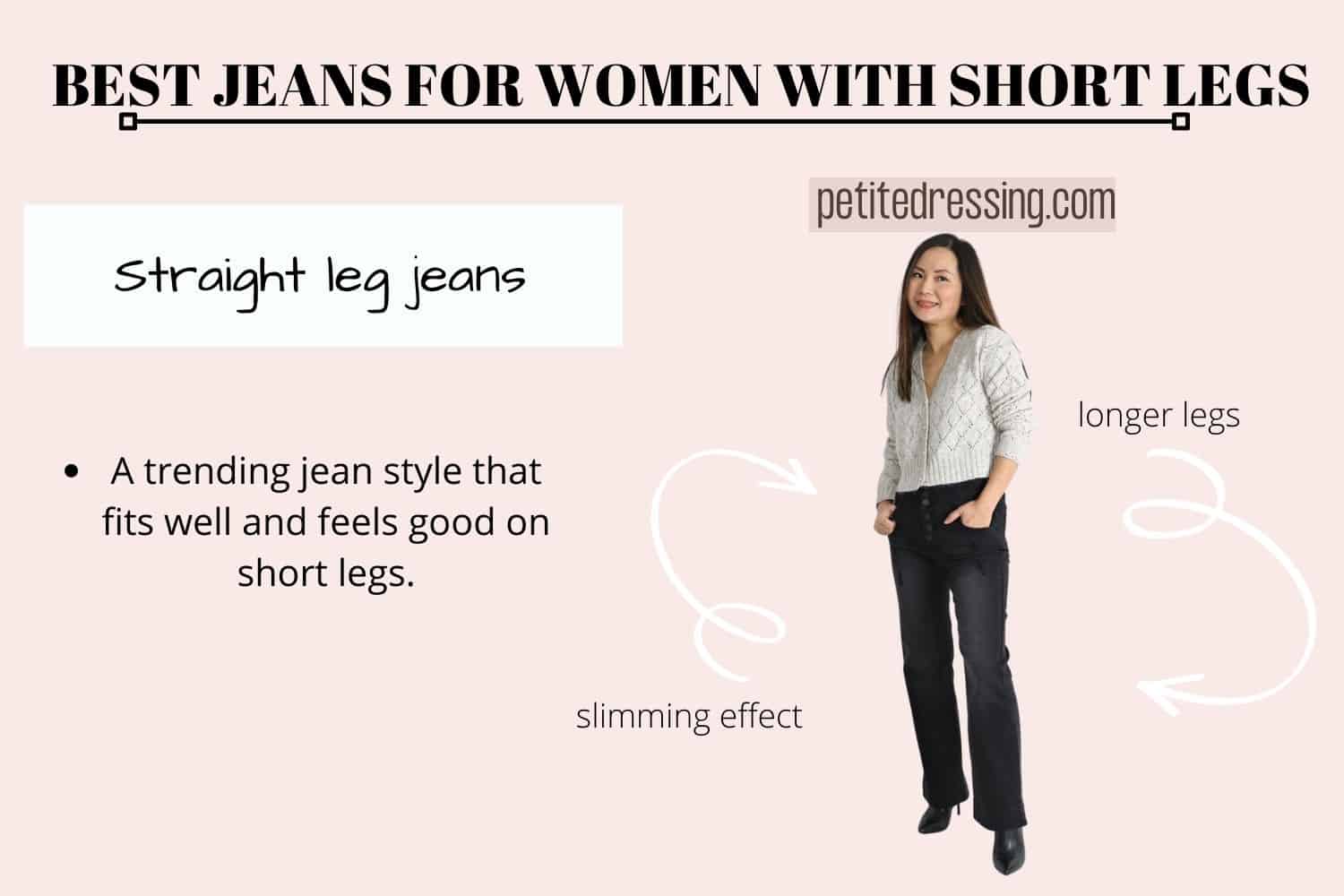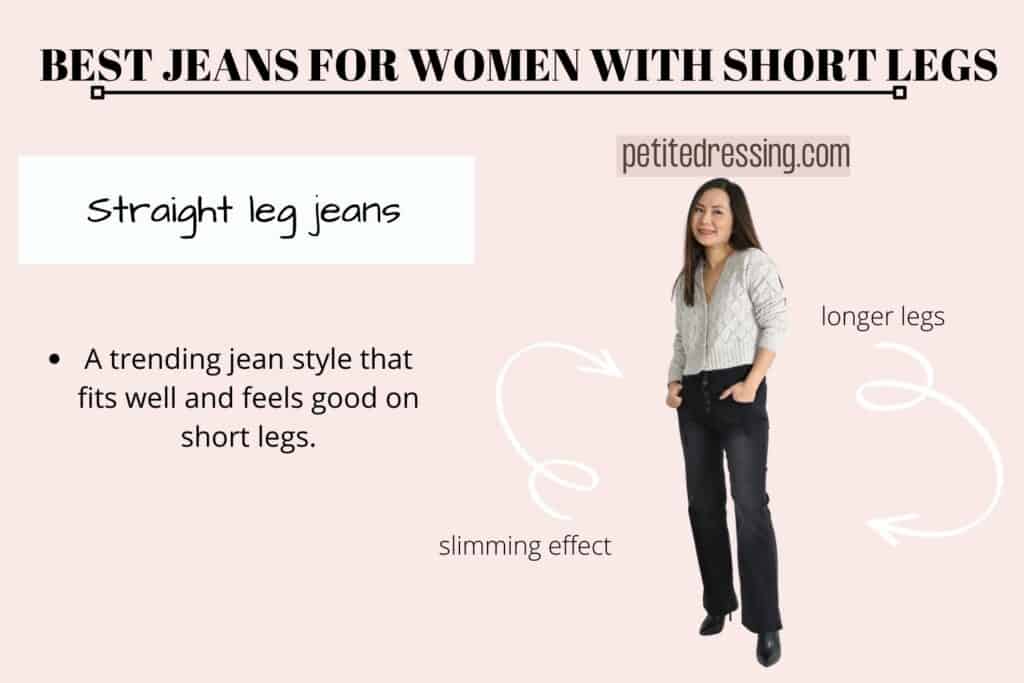 The straight-leg jeans are flattering jeans designed for short legs and they are most suitable if you want the legs to appear much longer. Make sure to choose straight-leg jeans that are of the right length to avoid you from appearing shorter than normal.
This design of jeans is versatile and can be paired and styled in varied ways. The straight-leg jean is structured to have a slimming effect on the legs because of the way they hug the legs to make them look skinnier and this in turn makes short legs appear lengthened.
The straight-leg jeans are a trending jean style that fits well and feels good on short legs. They are a fun-fitting jean style that is suitable and comfortable for short legs because of the shorter inseams they have that allows the leg width to be cuffed.
Flare jeans
It is normal to be troubled while on the lookout for jeans that suit your body figure especially if you have short legs because your leg length could limit you to one jean design that you feel is most suitable for you.
Well, that could be the scenario in most cases but flare jean is one of the most flattering jeans for short legs because they have the right length that doesn't create any form of visual imbalance in your body.
Flare jeans are an easy to wear jeans that are ideal for short legs and if paired with heels could make short legs look lengthened. Also, make sure that the jean is not bunching up on the heels as this would only make the jeans appear too long for your body length.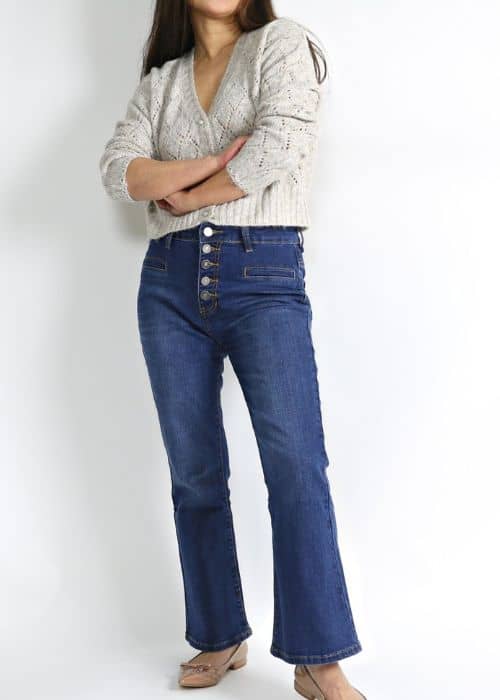 Why you should opt for Flared jeans?
As flattering as flared jeans could be, though fitted at the hip and thigh region, avoid wearing those with too much flare as it could reduce the fit for your legs and become less flattering.
Slim fit boyfriend jeans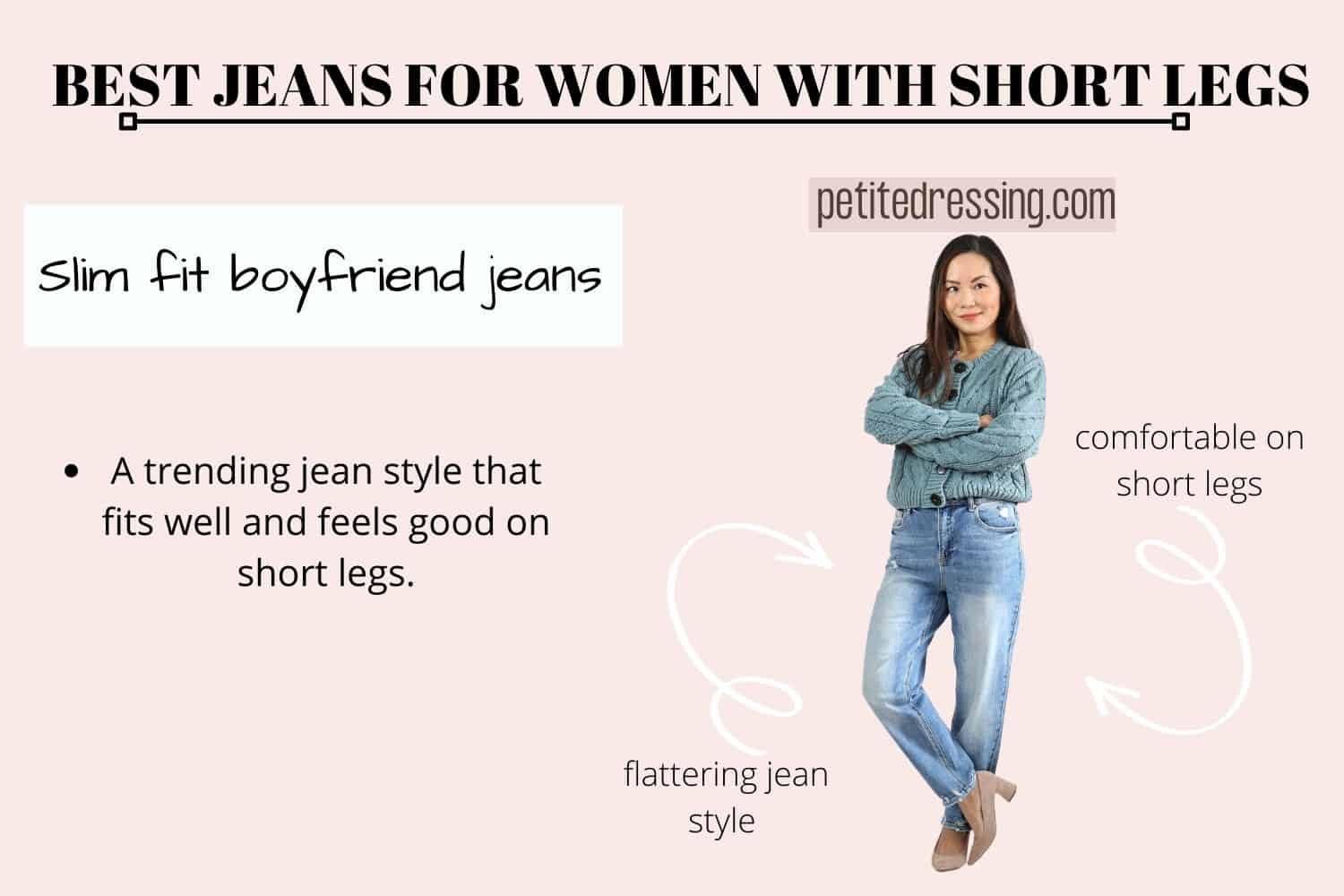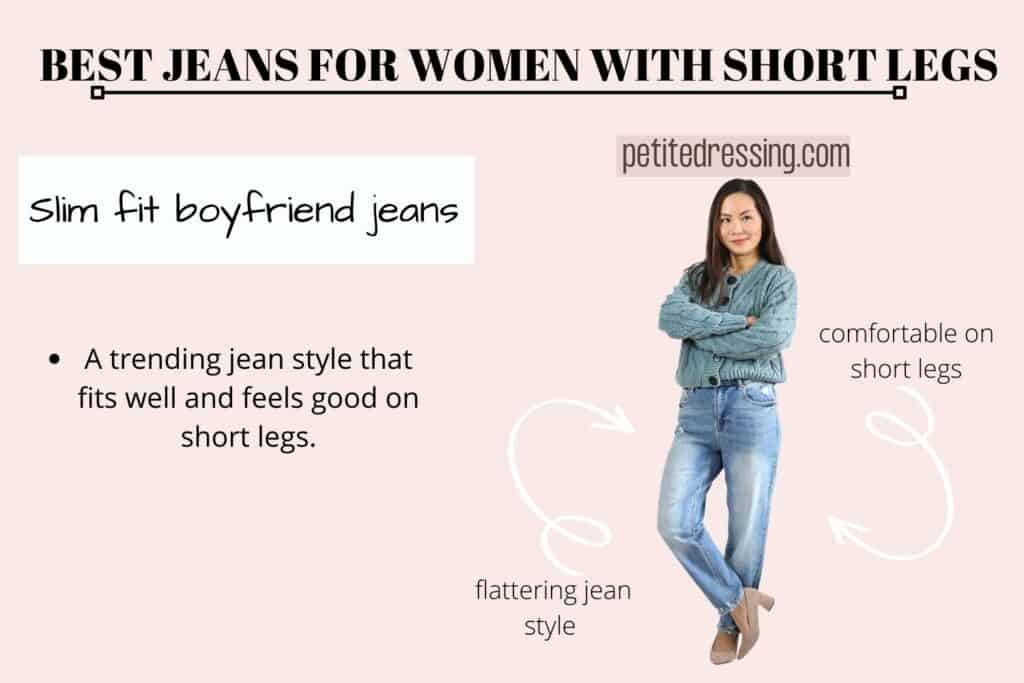 Baggy jeans could be trending and cool jean designs but aren't the best for short legs because they would only give a shorter appearance. It is, therefore, best to wear boyfriend jeans that have a slim fit as these would not make you look bulky on the legs.
Slim fit boyfriend jeans are very comfortable on short legs and they tend to give your legs a sleek appearance. Too slouchy and baggy boyfriend jeans should not be on short legs because they would create a heavy silhouette that is not convenient for short legs.
It is best to wear those boyfriend jeans that are not too baggy and don't have too much volume around the leg to avoid the short legs from appearing shorter. Slim fit boyfriend jeans are a flattering jean style that is recommended to give the illusion of a longer leg.
Boot cut jeans
Boot cut jeans that are too short could make your legs appear wider instead of lengthened and also too long boot cut designs could drown you, as such, you should pay attention to both the width and length of your boot cut jeans if you have short legs.
Jean length of about 1-2cm from the ground is the best for boot cut to avoid them dragging the ground or hanging on your legs. The boot cut jeans are flattering on short legs and are also a recommended jean style that is classy on the body figure especially if you want the short legs to appear lengthened.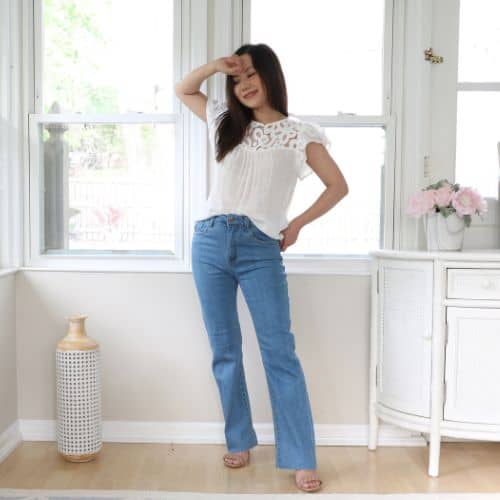 Flare jeans vs boot-cut
This jean style is almost similar to the flare jean design, but the boot-cut jean has a more relaxed flare at the bottom.
Boot cut jeans are designed with just a slightly bigger bottom to accommodate a boot under, which is why it has the name.
The modest flare is what makes it a great choice for one with short legs.
They look smashing on one with short legs especially if they are of the right length.
High rise jeans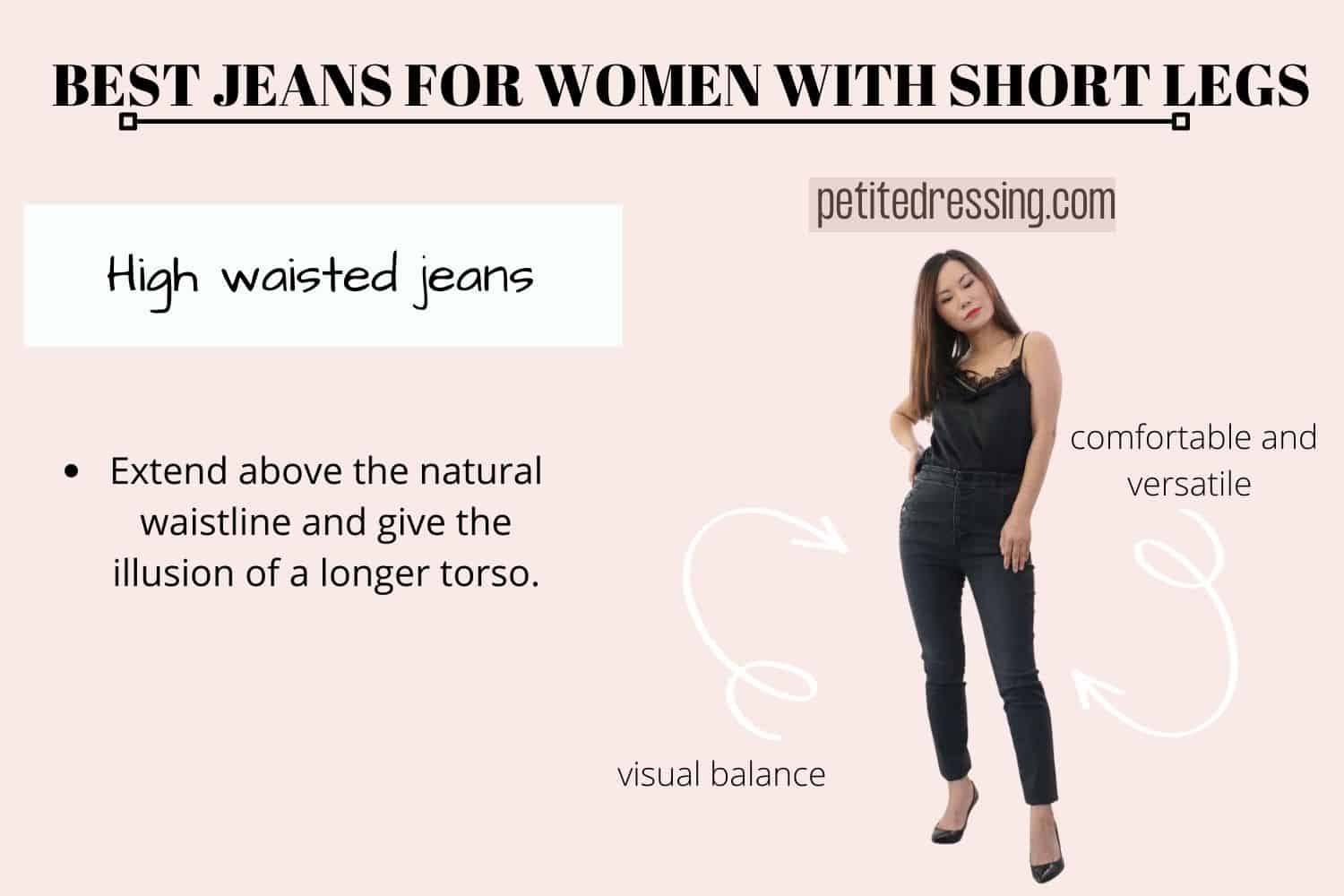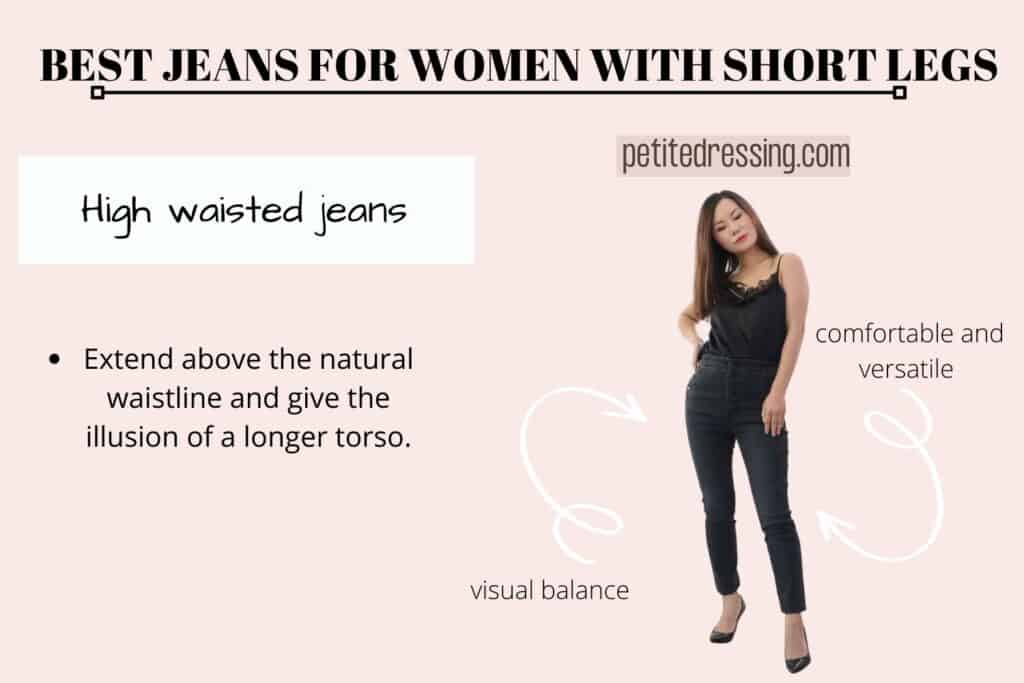 High-waisted is super flattering on short legs because they extend above the natural waistline and give the illusion of a longer torso. The design of high waisted jeans makes it possible to create some sort of vertical balance on your body.
The vertical balance created by a high waisted jeans takes the eyes upwards and downwards making the legs appear elongated. High waisted jeans are also very comfortable and versatile for short legs.
They should be a go-to option for your body figure if you have shorter legs especially if they are of the right length as hemming wouldn't be necessary. Also pairing them with just the right top designs could create a visual balance on your body.
Skinny jeans
Looking for jeans that are fitted to your body shape, then you should opt for skinny jeans. This is because the slimmer you look, the more lengthened your body could be.
The skinny jeans are a very convenient jean design for short legs and should be a part of your wardrobe staple, if you desire a style that fits your short legs appropriately.
Also, a dark color shade of skinny jeans could add a lengthening effect to the legs.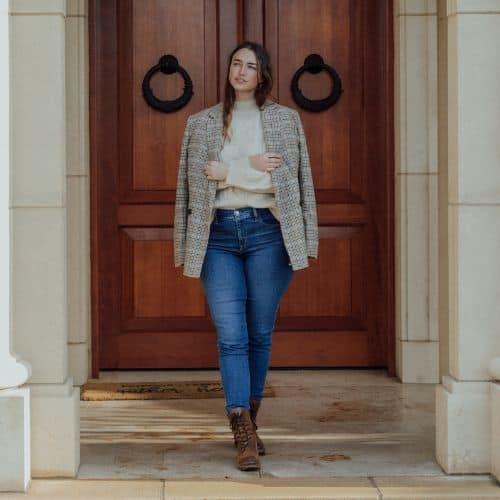 How to choose skinny jeans if you have short legs?
The inseam length is key when you are choosing the skinny leg.
Skinny jeans should hit your ankle, if you intend to wear it without cuffing.
If your skinny jeans are longer, alway cuff them to make sure they stay above the ankle.
Never leave your skinny jeans bunching up on your shoes,, especially if your legs are shorter.
While cuffing the leg of the jean, be sure that the cuffed region and the other part of the jean have almost similar colors, as this would make the jean not have the effect of unbroken vertical lines on short legs.
Mom jeans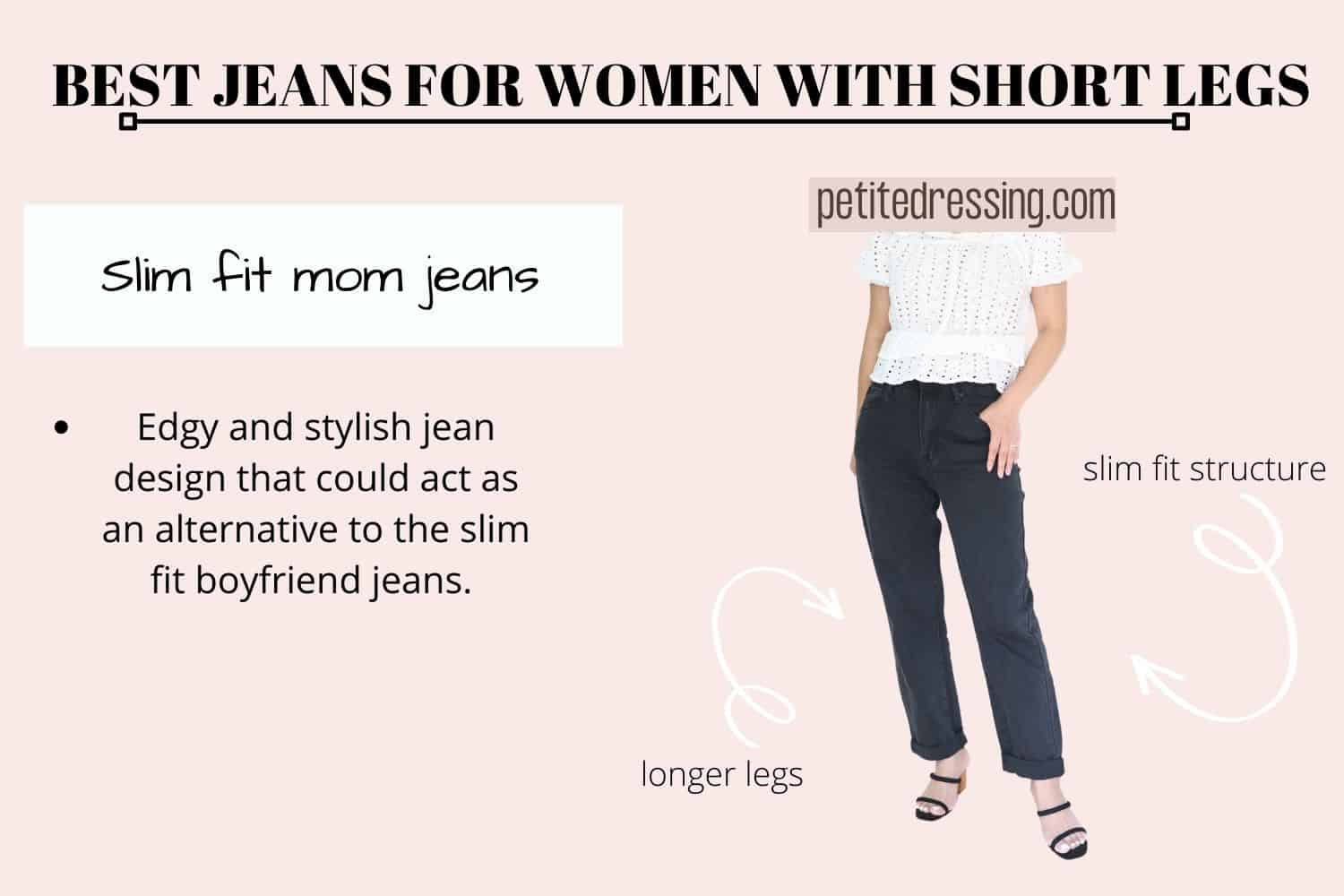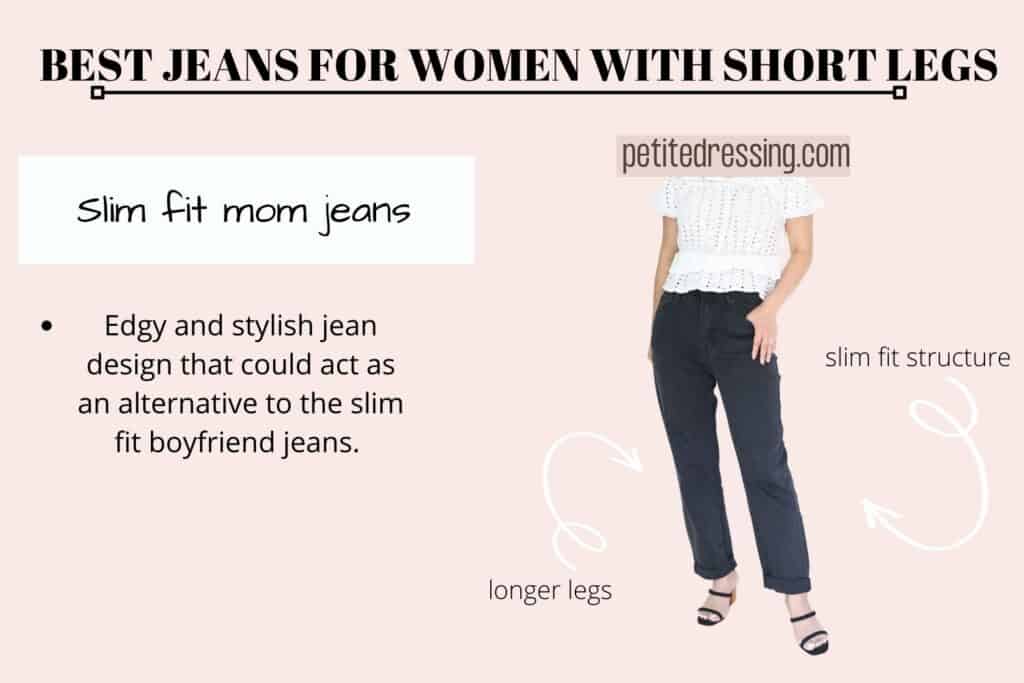 Mom jeans are designed to have enough room for comfort around the legs but to get the best of this design for short legs, they should be slim fit. Slim fit mom jeans are more flattering on short legs if they are slim fitted as this could make the legs appear lengthened.
They are an edgy and stylish jean design that could act as an alternative to the slim fit boyfriend jeans. The slim fit structure of the mom jeans doesn't make them look too baggy on short legs hence are one of the most versatile and timeless jean styles that could give a balanced proportion to your figure.
Slim fit jeans are a must-have jean design for short legs and should not be left out of the wardrobe staple if you want the legs to appear lengthened.
Wide leg jeans
Wide leg jeans can be pretty gorgeous on short legs, if the right sizes are chosen, because they have the advantage of hiding concerned areas.
If you have short legs, opt for wide leg jeans with full length and those that have a slight flare so your legs don't feel overwhelmed.
The best wide leg jeans for short legs should be fitted at the top and should not be too voluminous at the bottom as this would give the illusion of longer legs.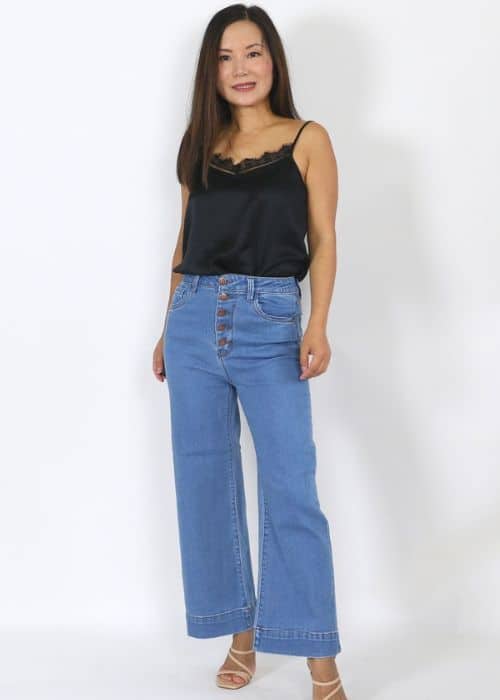 How to choose wide leg jeans if you are short?
The waist of the wide-leg jeans should be a high-waisted design if you intend to give your legs the illusion of a lengthened figure.
Do not underestimate the importance of heels if your legs are short, as this would effortlessly add length to your short legs and this could invariably increase your height.
This is critical when your jeans are full length. Always pair your full-length wide-leg jeans with heels.
Neutral colors are the best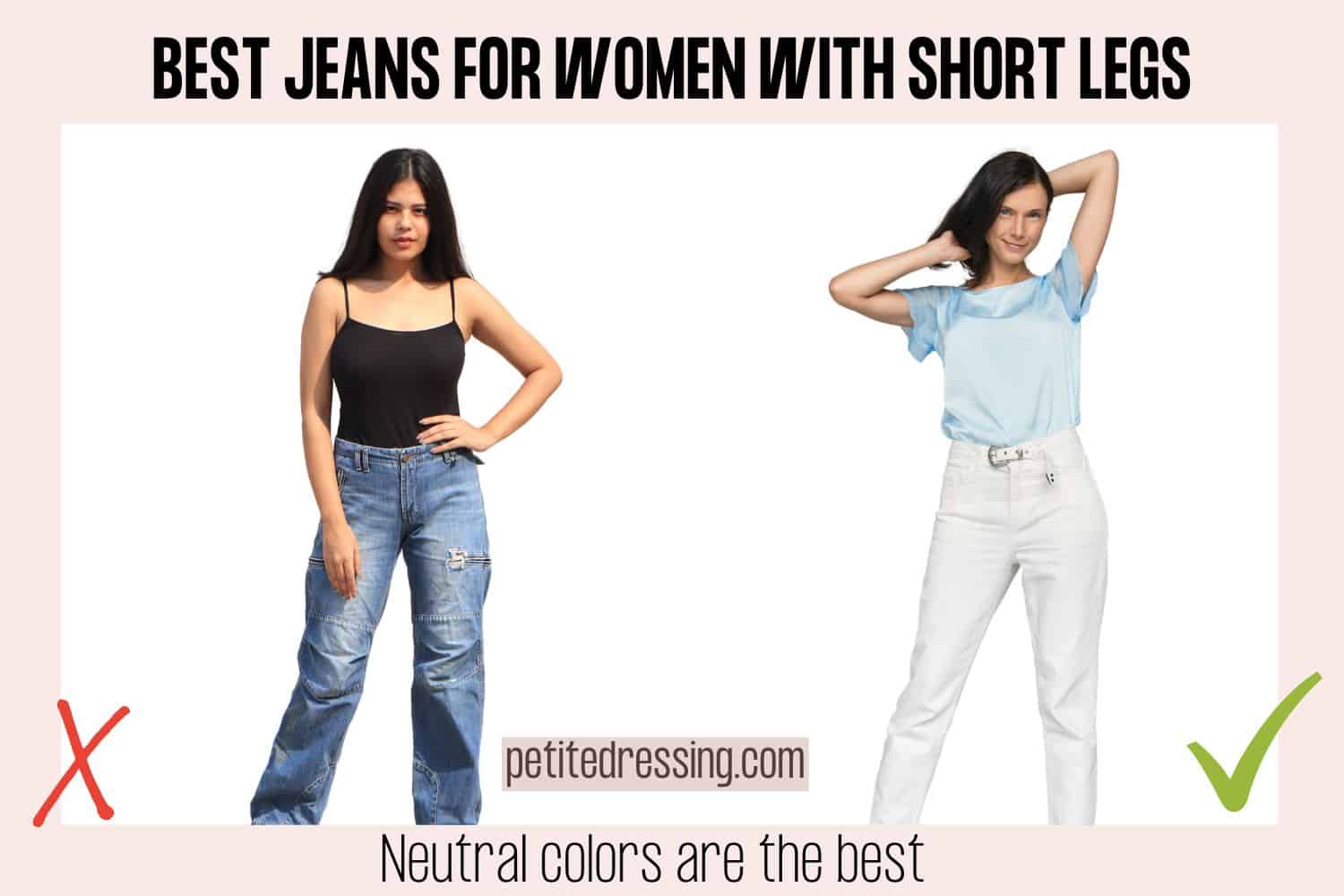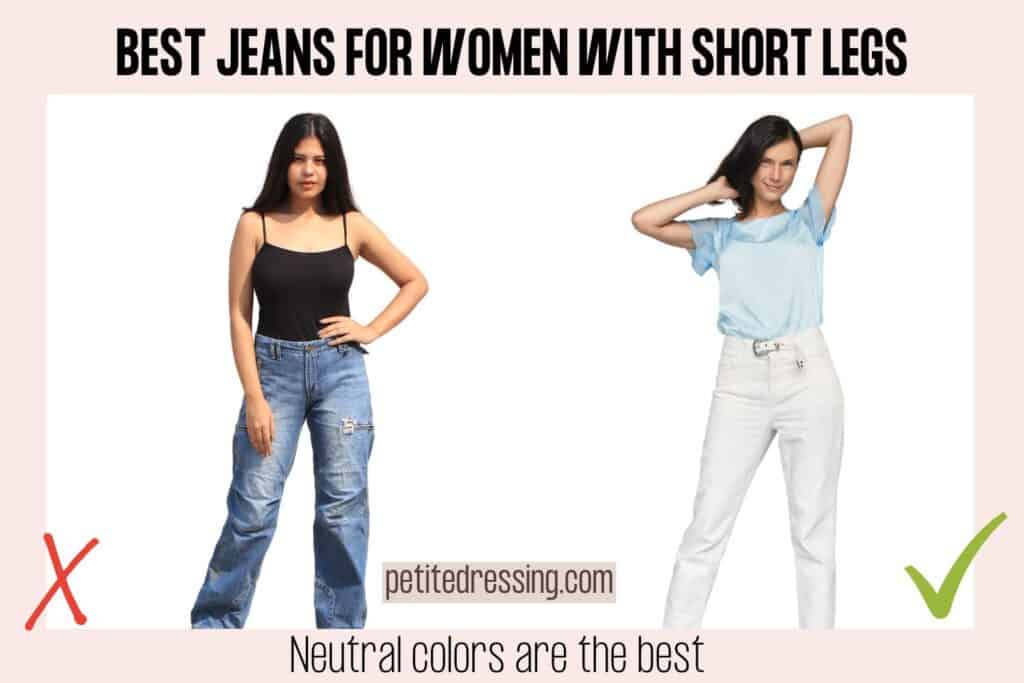 Colors on jeans could give it an exceptional look and if you have short legs the best color of jeans are neutral colors. Don't wear faded or neutral styles because they would give your legs a shorter appearance that's not intended.
Avoid cropped jeans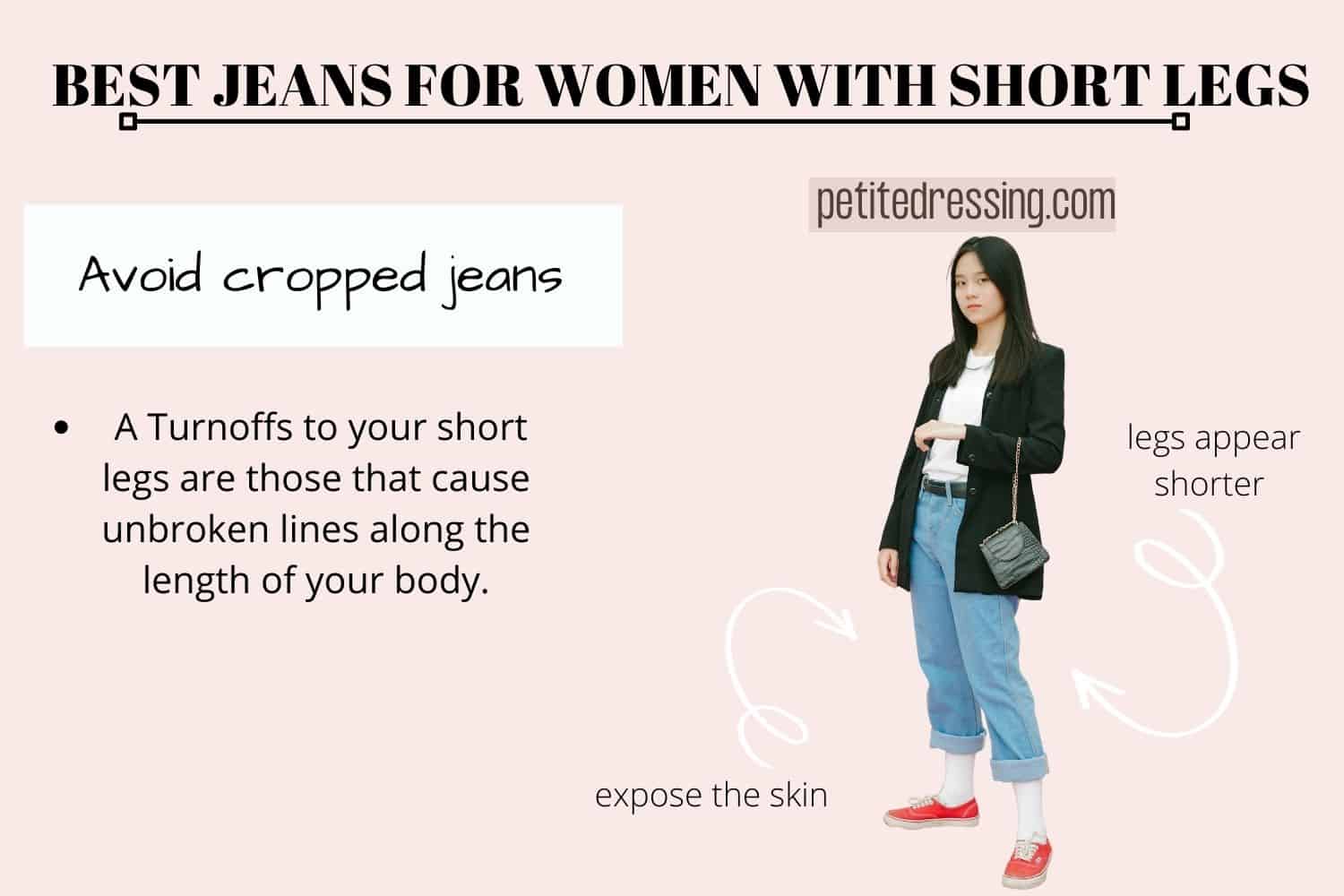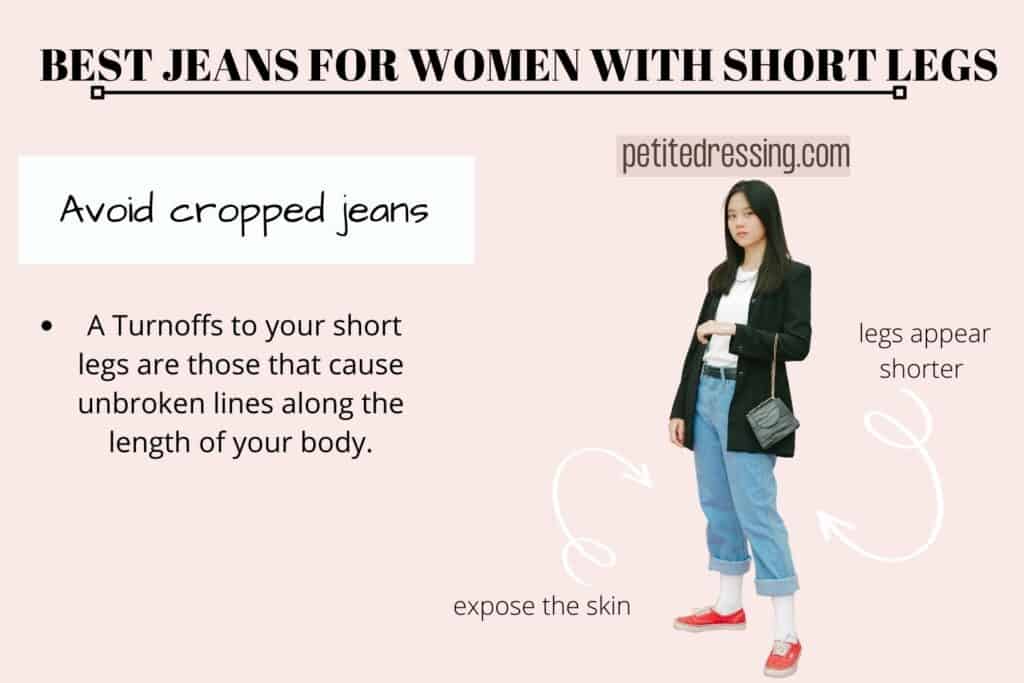 The very basic jean style that should be a turnoff to your short legs are those that cause unbroken lines along the length of your body. One of those designs is the cropped jean and they should be avoided if you have short legs.
Cropped jeans would expose the skin in your legs to create an undesirable proportion for your body. This style of jeans would make your legs appear shorter and this is not great for your body figure.
They do not flatter your short legs in any way and if you do not want a jean that doesn't give the illusion of a longer leg, then you should avoid wearing cropped jeans for your short legs.
Avoid low-rise jeans
One of the most unflattering and less stylish jeans that give room for discomfort is the low rise jeans. It sits low on the hips and could make the short legs appear shorter than normal.
Low rise jeans are not the best jean option and are also not the best fit for short legs because they would not make your legs appear long but give your legs a shorter appearance. The high rise is a better choice of jeans to be a part of your wardrobe staple if you have short legs.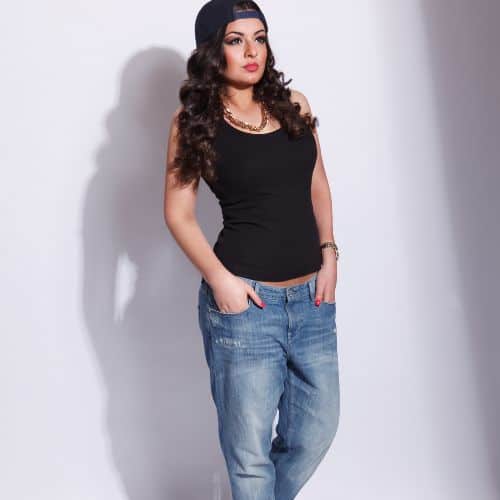 Why low rise is unflattering for shorter legs
They could have a stylish look around the stomach but that doesn't make it a great jean choice for short legs.
It is not a fashionable design for short legs because it causes an imbalance in body proportion.