Jeans play a pretty big role in fashion. It's a staple for nearly every woman's wardrobe because of the versatility they offer.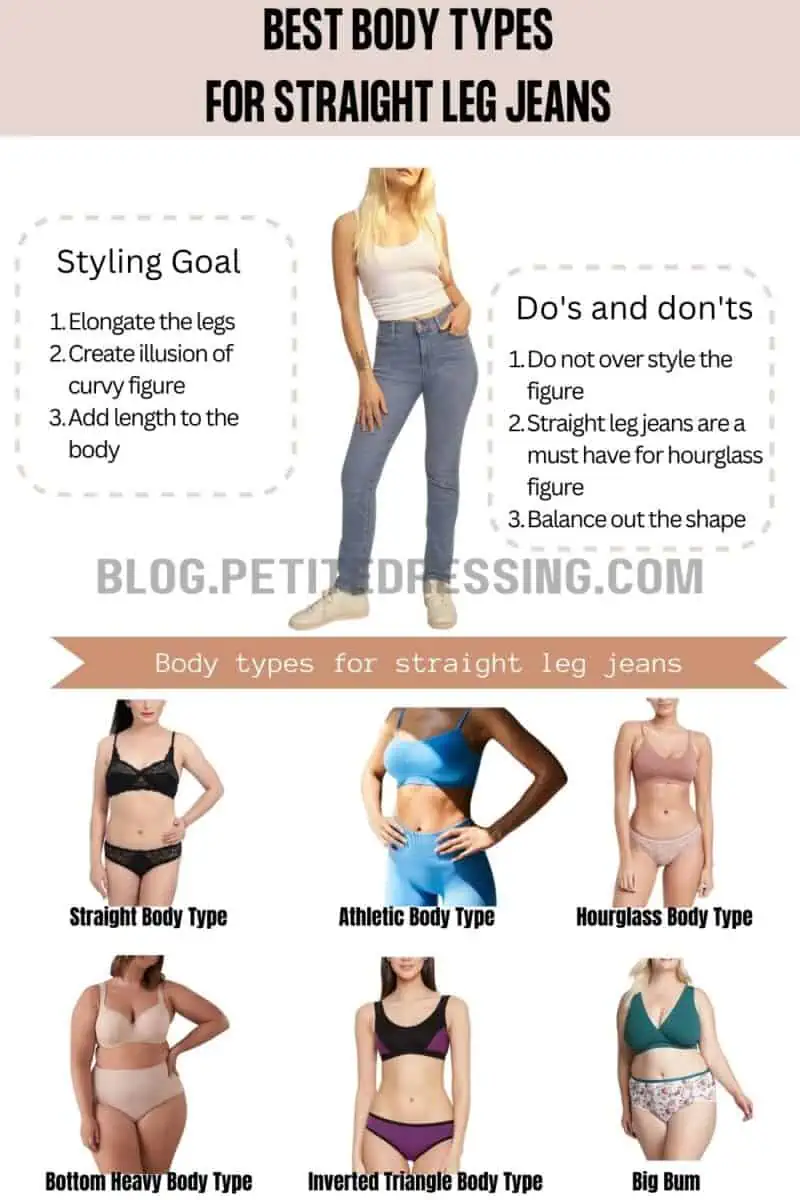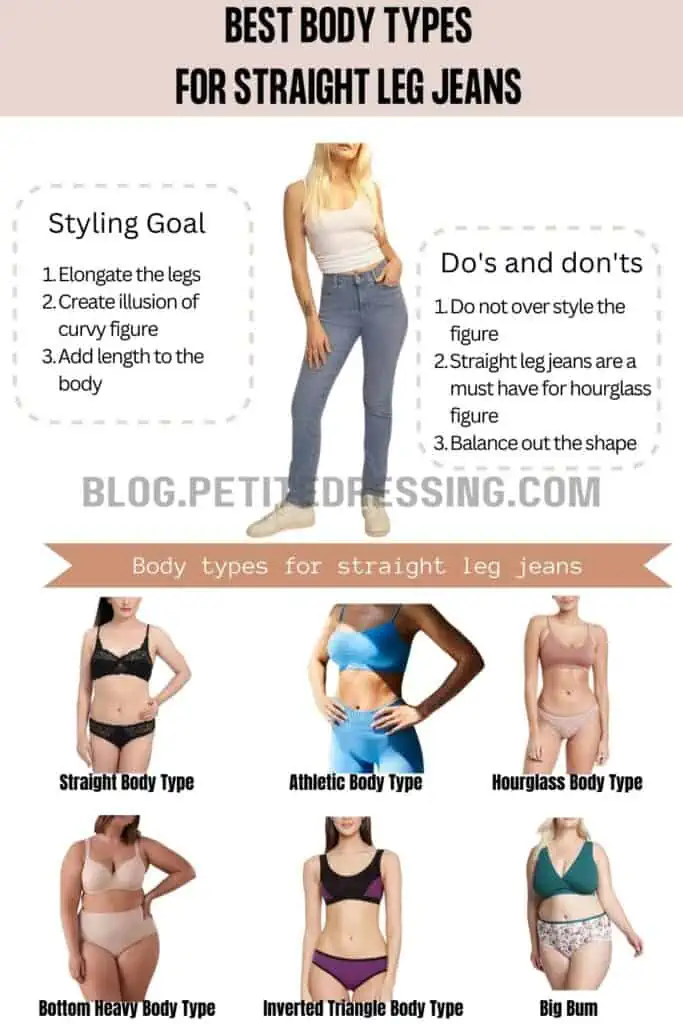 Chances are you already have at least one or two pairs of jeans in your wardrobe currently. Knowing what style of jeans is the most flattering for your body type is one of the hardest aspects of making the most of the wardrobe staple. Much like any other garment type, really.
Straight leg jeans have become a huge trend over the past two years, with so much 90's influence in fashion. The rise in popularity is good news for those who don't want to wear skinny jeans, or just don't feel that comfortable in them. Straight-leg jeans are universally flattering and can make your legs look longer if you style them the right way.
But what body types look best in straight-leg jeans? This is a list of the best body types for the popular denim style.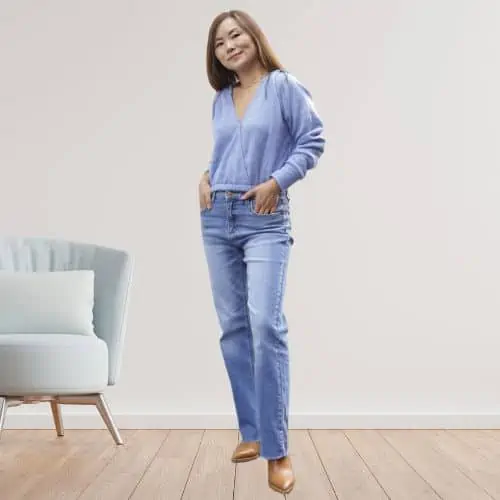 But what body types look best in straight-leg jeans?
This is a list of the best body types for the popular denim style.
Straight Body Type
Chances are you have a straight (or rectangle) body type if your measurements at the bust, waist and hips are nearly the same. While you may not have natural curves, you have a lot of options when it comes to denim options that are flattering.
Straight-leg jeans are one of the best styles for your shape. If you don't already own a pair, now is the time to add some to your collection.
When selecting straight-leg jeans for a straight body type, you will want to focus on a couple of specific attributes like the rise and hem length of the jeans.
The most flattering rises for an athletic shape are going to be mid rise or high rise.
Both of these are going to establish a more defined waistline, which can work wonders for your figure! Don't forget about the hem of the jeans also.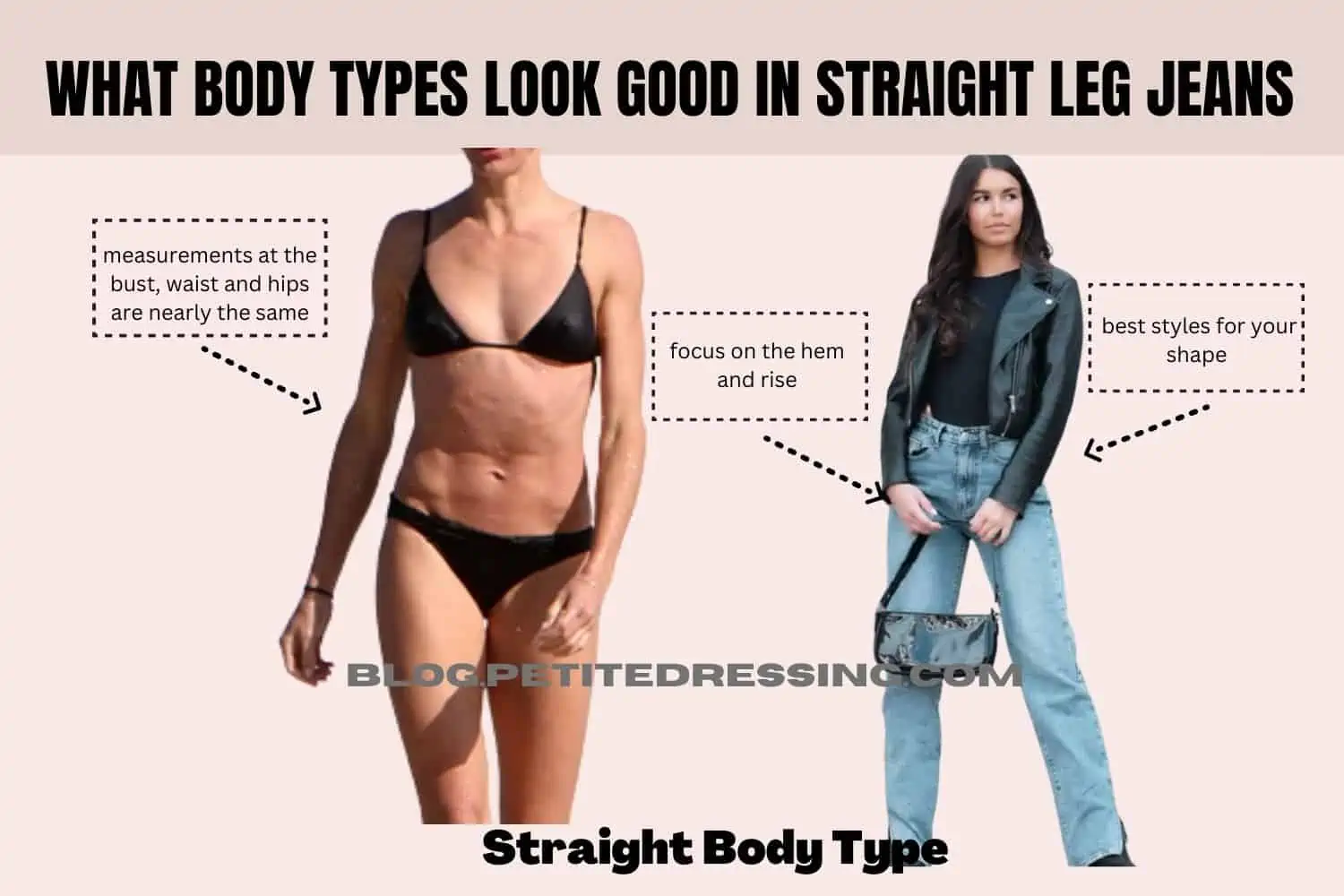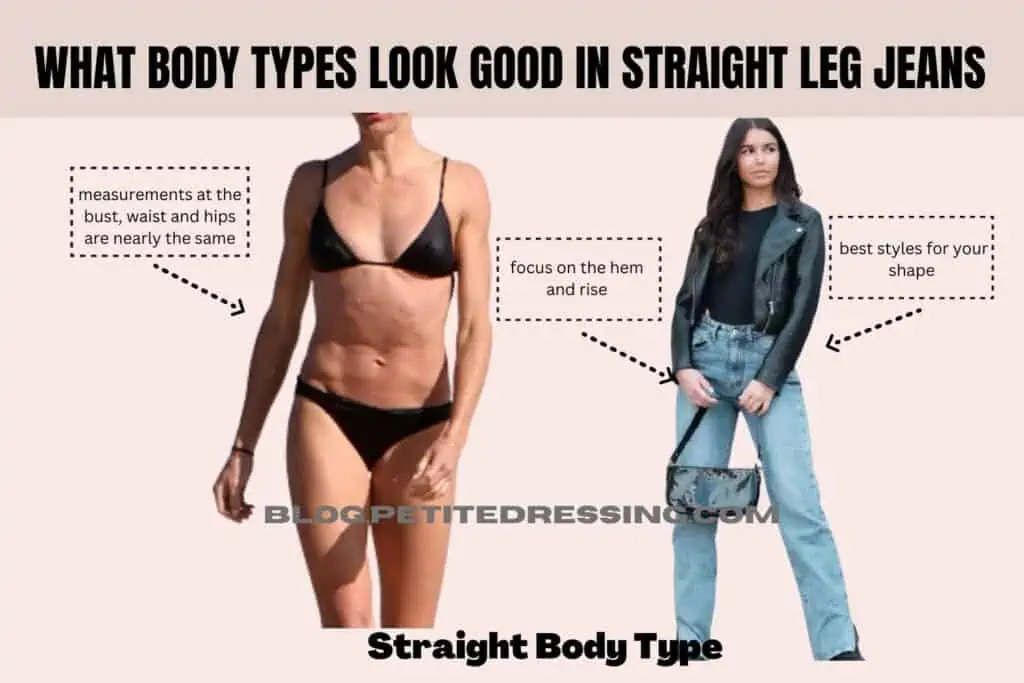 Avoid options that are too short and too long as the length can completely change the aesthetic of the way the jeans look and flatter the body.
Athletic Body Type
This denim style is great with an athletic body type for a couple of reasons.
First, the looser fit (compared to a skinny fit) can help create the illusion of a more curvy figure.
Second, if you have thicker thighs this style provides more comfort in that area – something that's a major bonus for women who are athletic.
Last but not least, straight-leg jeans can help lengthen your legs thanks to the straight fit.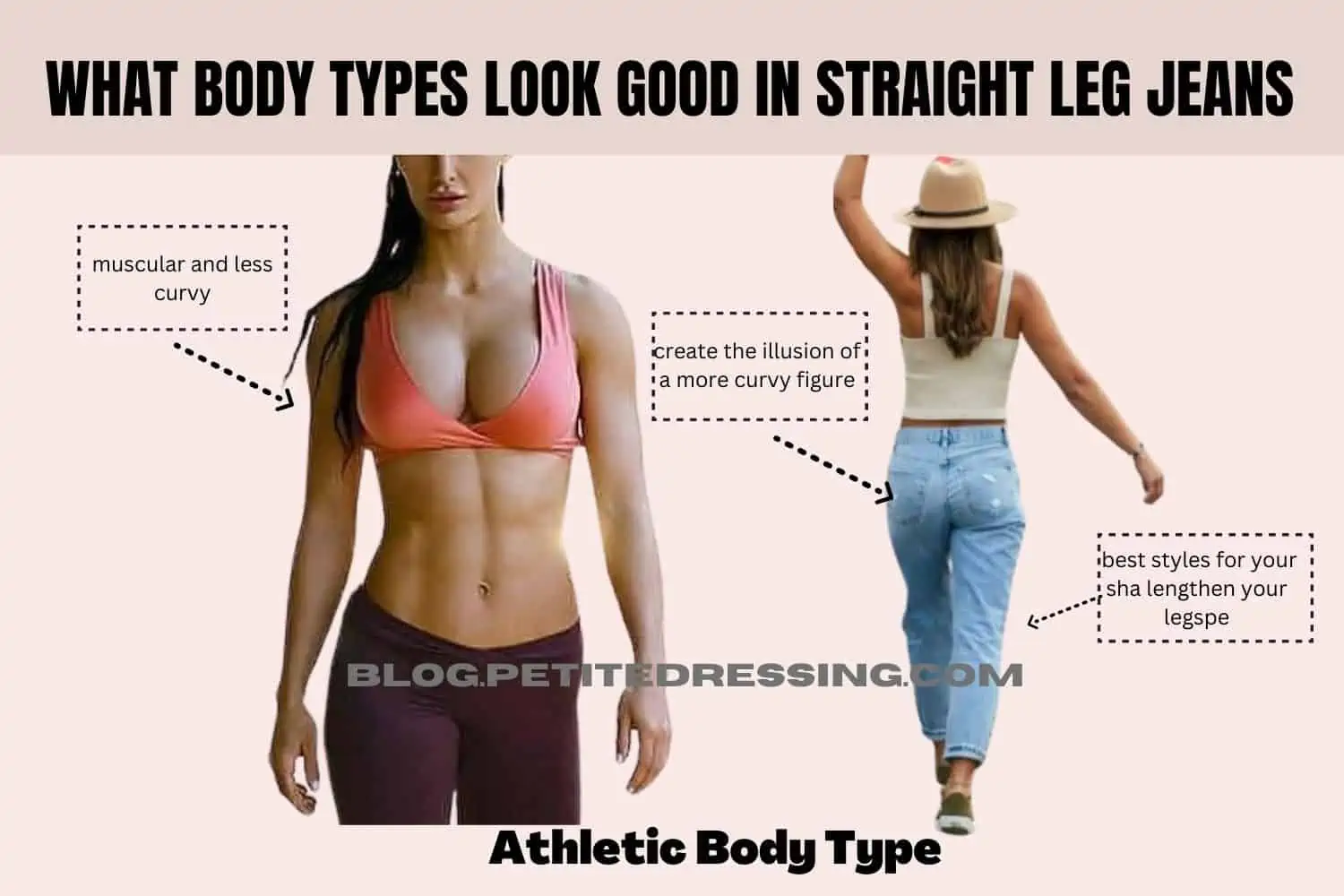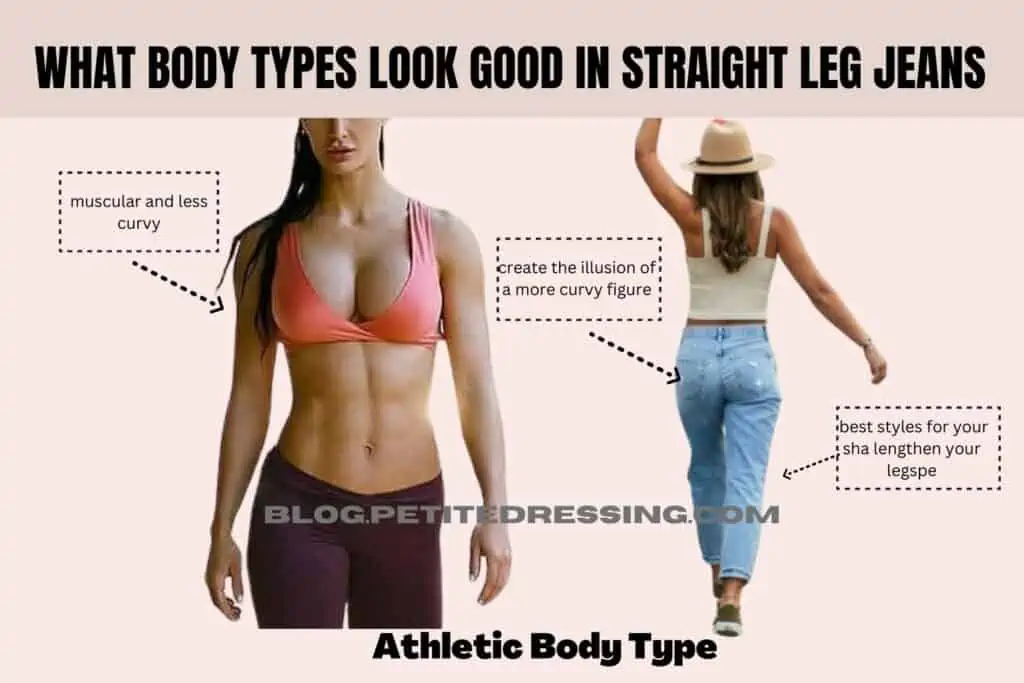 Hourglass Body Type
If you're lucky enough to have an hourglass body type that means you already have a distinguishable waistline and natural curves. Lucky you! While realistically almost any denim jean style is going to look great on you, straight leg is one in particular to consider wearing more often. If you're not already, that is.
As an hourglass body type any time you can wear something that brings more focus to your natural curves and adds length to the body is going to be a big win in terms of how flattering something is on your shape. That's why straight-leg jeans are such a great choice for you.
Not only do straight leg jeans help to subtly emphasize natural curves, especially if you're wearing a mid- or high-rise option. But they're also able to effortlessly elongate your legs. The reason straight leg jeans are so great at lengthening the appearance of legs is because they create one long, unbroken, line down the legs.
To make the most out of straight leg jeans, make sure the hip and waist area lay flat and close to the body. Avoid any options that are very bunchy around that area as it can look ill-fitting and doesn't exactly help flatter your figure.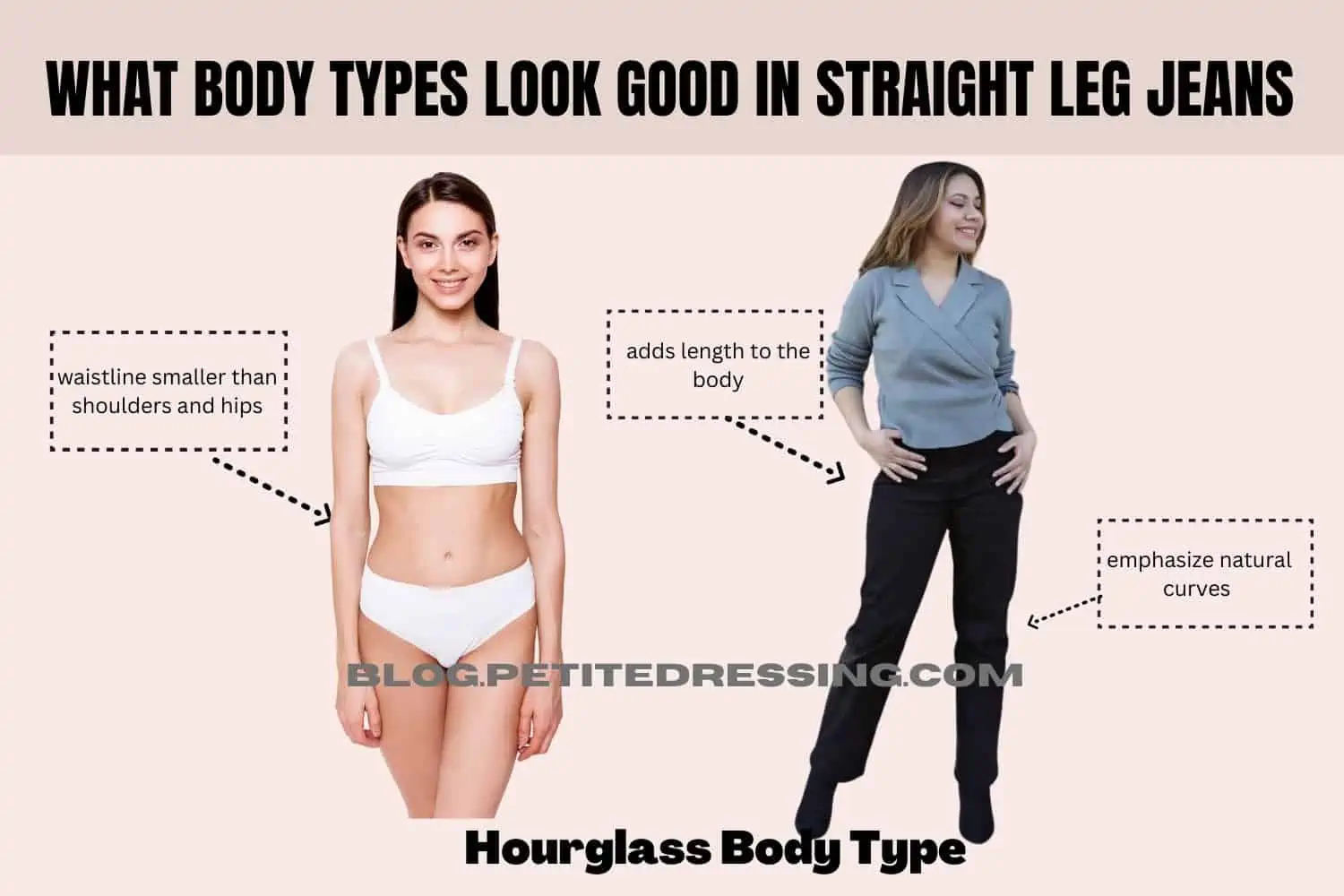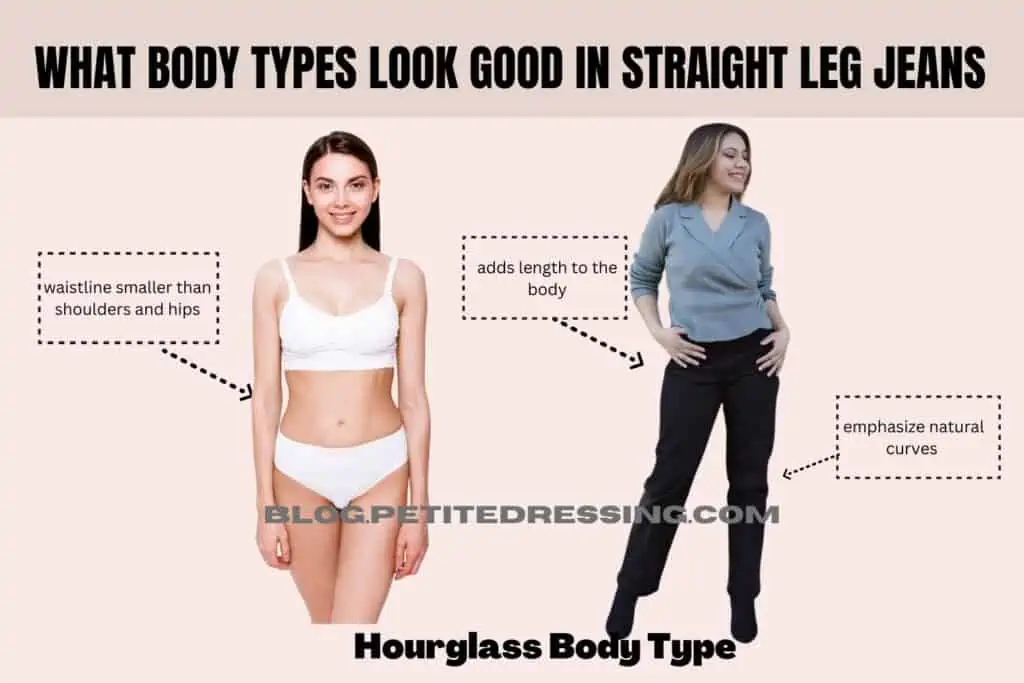 Bottom Heavy Body Type
If your bottom half is heavier than your top half, straight legs jeans are one of the best options for your shape.
The reason is straight leg jeans skim your bottom half instead of clinging to it, unlike some other jeans types such as the skinnies.
This is going to create a more balanced overall silhouette for your bottom heavy shape.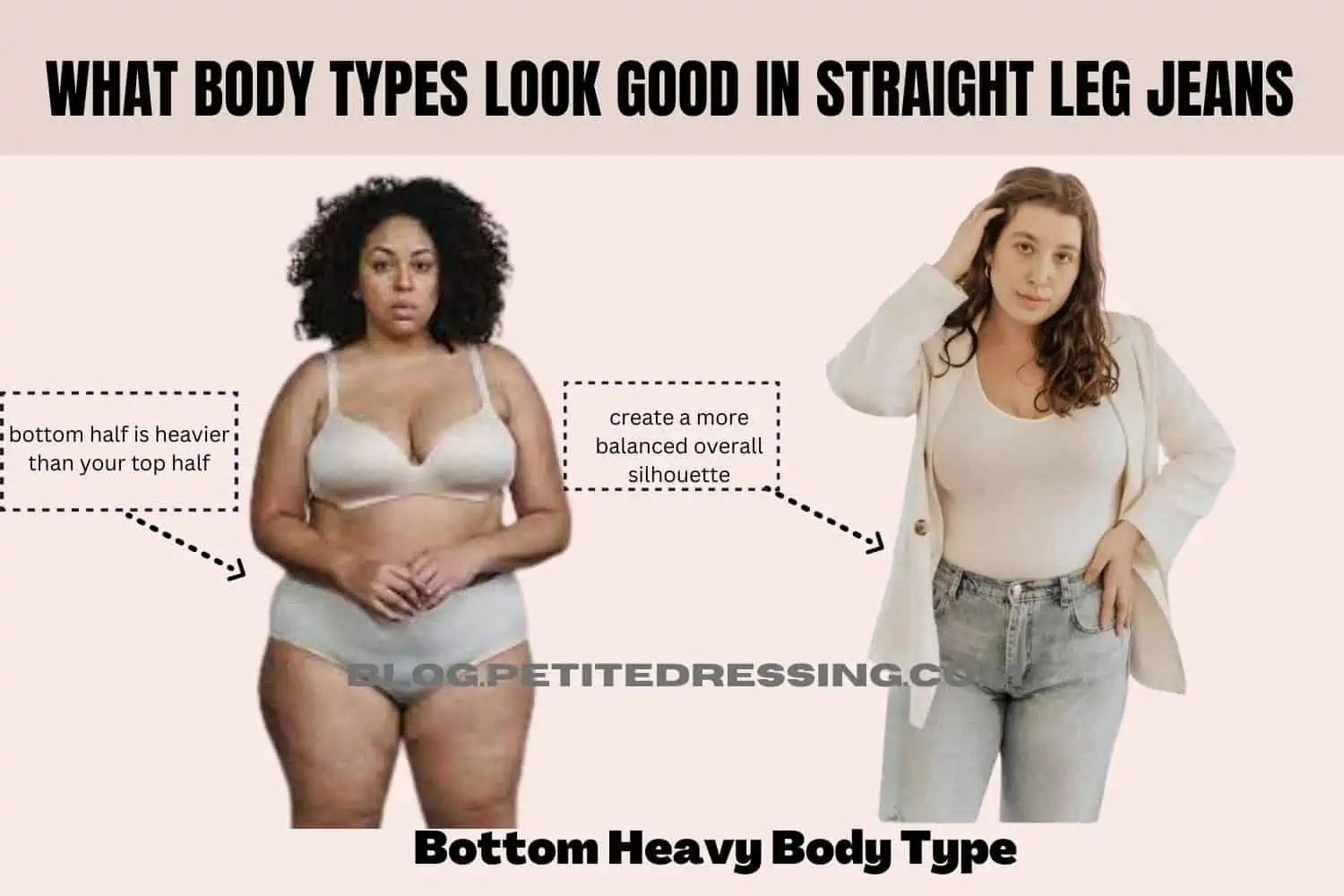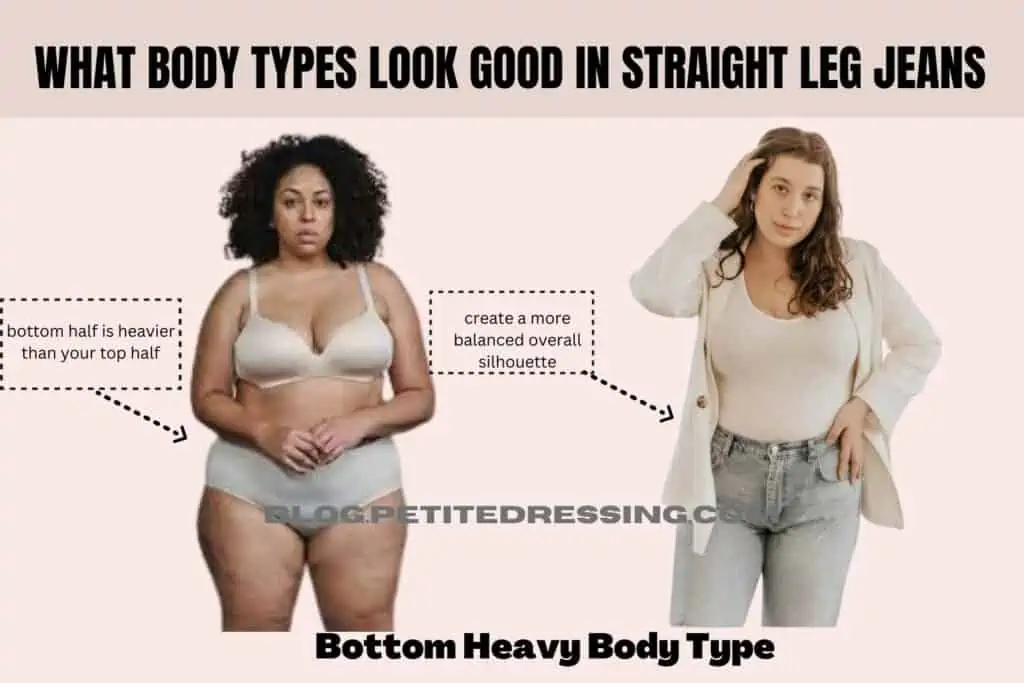 Inverted Triangle Body Type
You fit into the inverted triangle body type if your shoulder and bust measurements are larger than your waist and hips. Some may describe this body type as having broad shoulders and a narrower waistline.
Use proportions to flatter your figure by choosing styles and shapes that add a little more volume to the bottom half of your body. This gives the feel of a more balanced body, since your top half is on the broader side – straight leg denim jeans are the perfect option to achieve this cohesion.
Straight leg jeans are going to be one of the most flattering styles you can wear for your shape because they provide just a touch of volume to the leg and hip area. The lengthening effect they give doesn't hurt either.
While wide leg and flare style jeans are other wonderful options, straight leg is going to be the best classic approach to add to your wardrobe. It's an incredibly versatile style and while it's trendy right now it's also a classic silhouette that stands the test of time.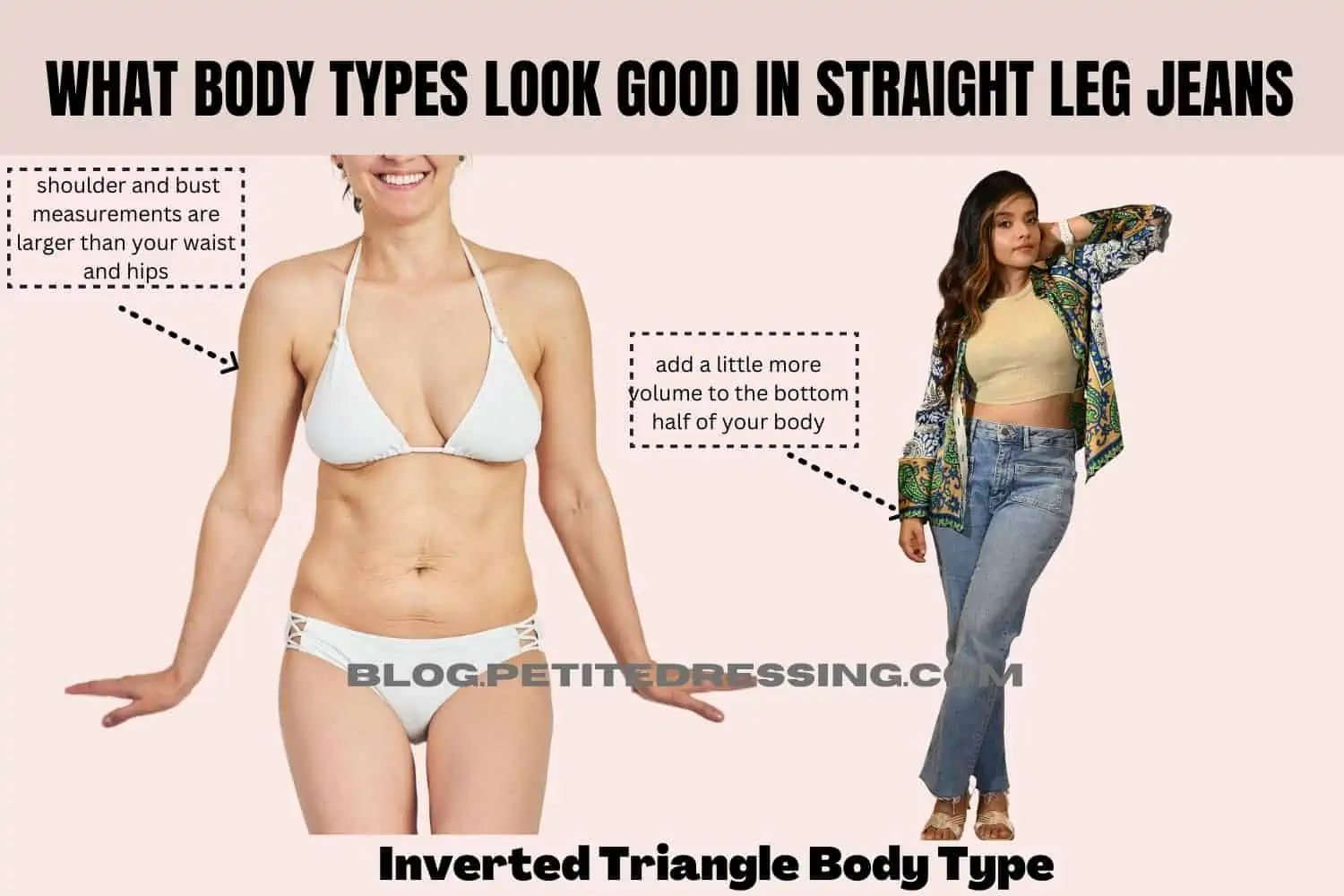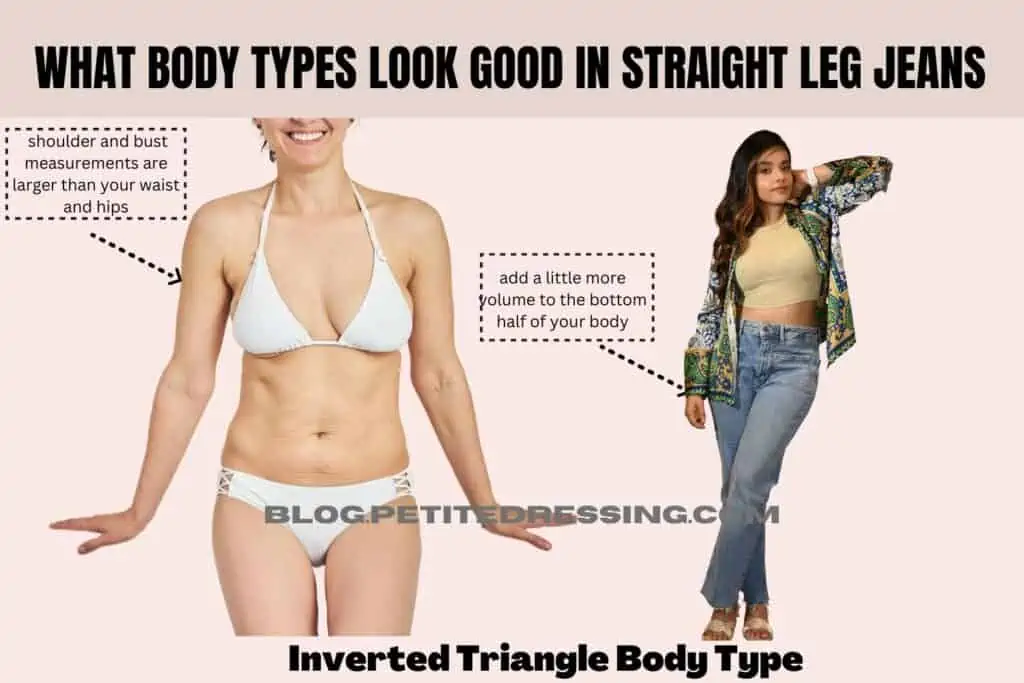 Big Bum
If you have a bigger bum, straight leg jeans are one of the best leg shapes to make your bum look good and balance out your body shape.
Unlike the skinny jeans which cling to your hips, straight leg jeans just skims your body, which is exactly why they are favored by many women with wider hips.
Straight jeans of any color can create this balanced look for you, but if you want to the jeans that make you look slimmer, go with a pair of dark washed straight leg jeans.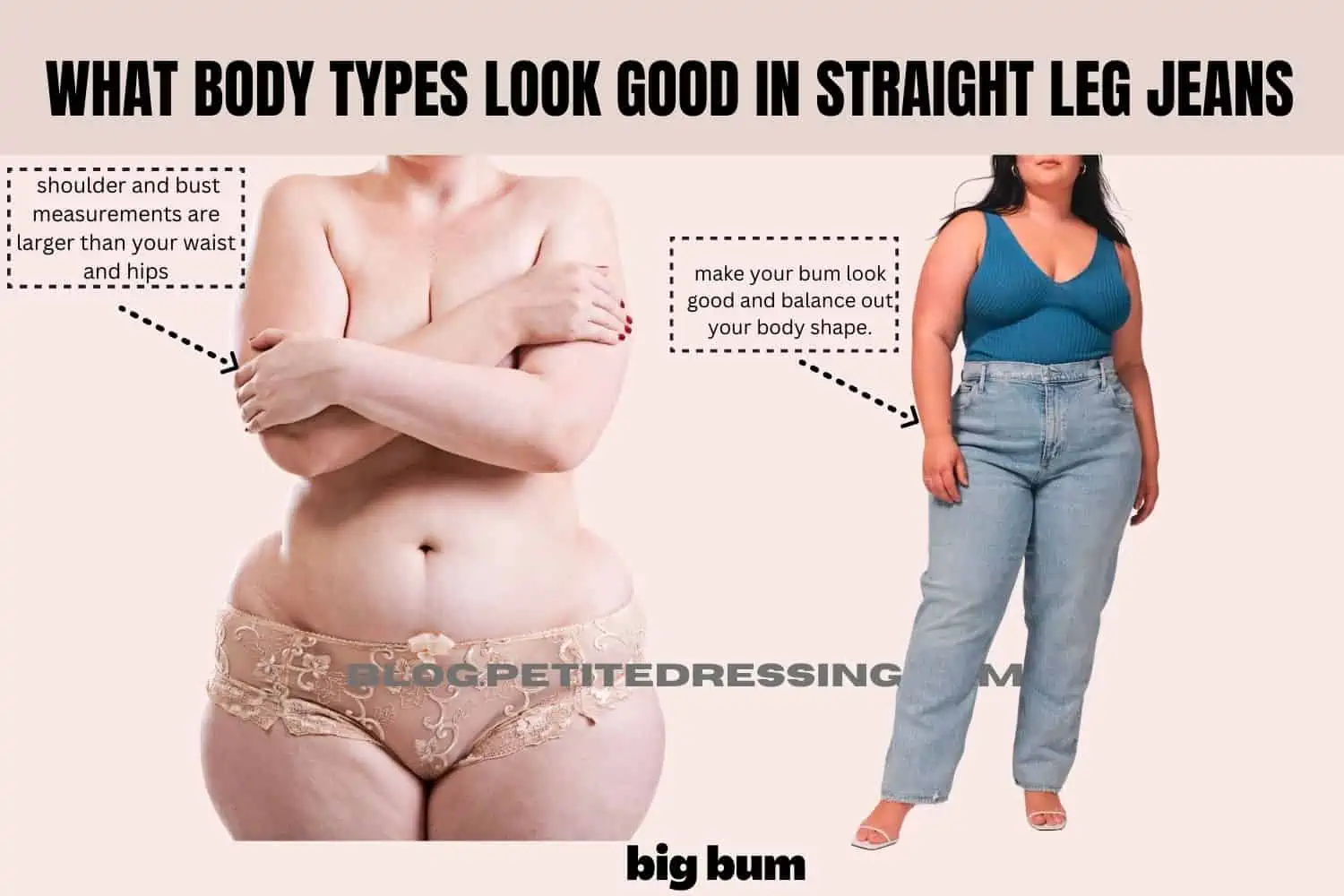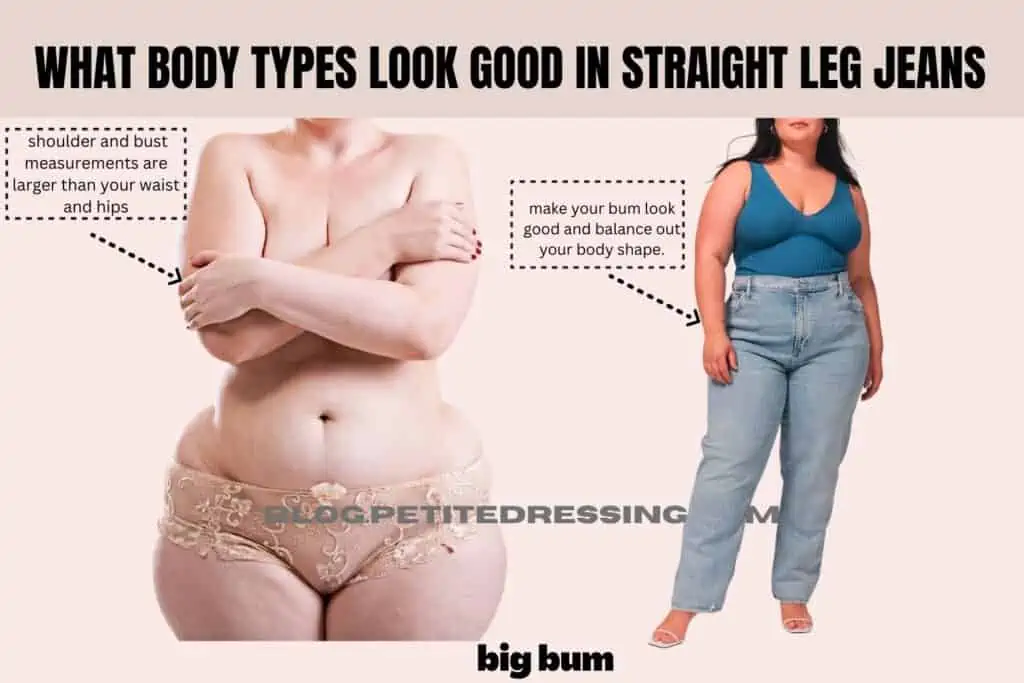 Big Thighs
Having big thighs can make some of us feel self-conscious. If that is you, straight-leg jeans are one of the more flattering leg designs for your body shape!
The reason is that straight-leg jeans have more space in the thigh area. It may sound counterintuitive, but that is exactly why they are going to de-emphasize your thighs.
If you've been wearing skinny jeans for quite some time, like many women have, the idea of straight-leg denim can be a bit overwhelming. Many women struggle to understand what exactly to wear with this looser-fit denim.
The good news? Straight-leg jeans are really easy to wear and style. Much easier than you may realize, in fact. Truthfully you can wear just about any style of shoe with this type of denim.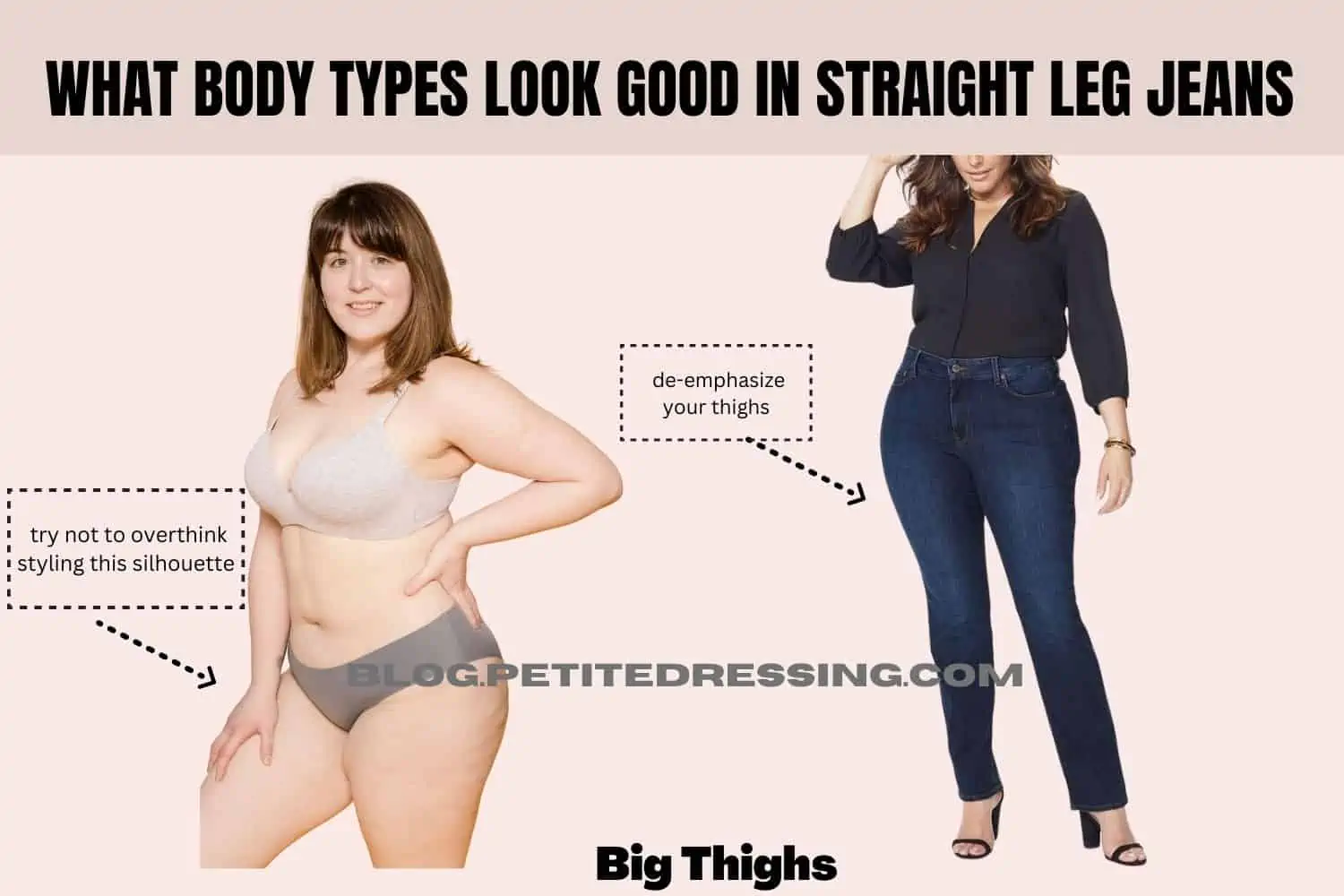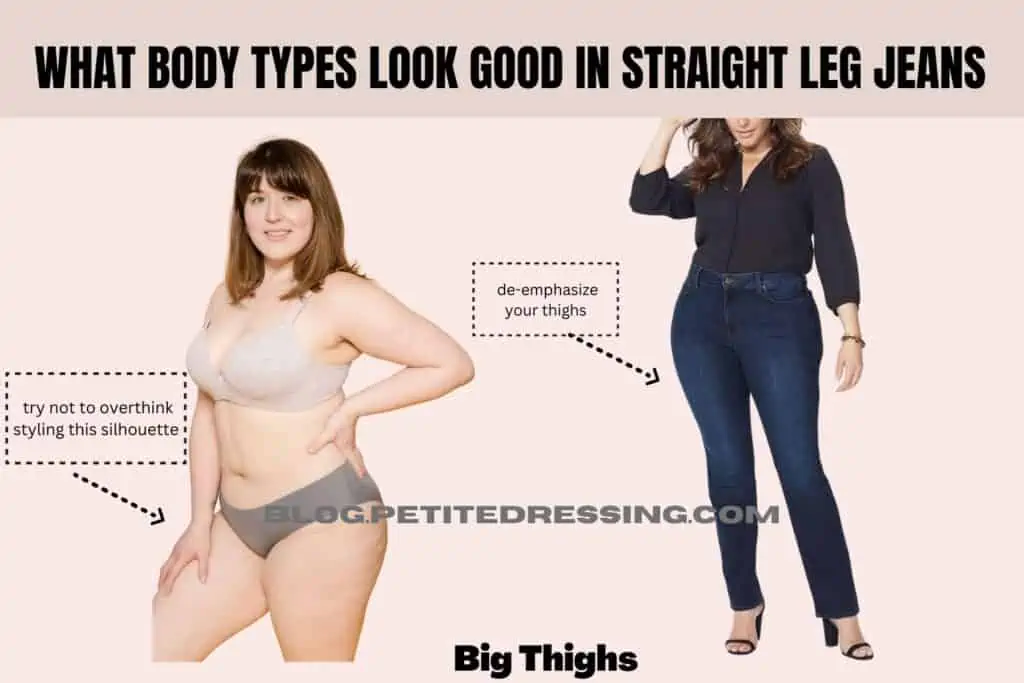 Just like shoes, you can feel confident wearing just about any top combination you would wear with skinny jeans…with straight-leg jeans. The point is – to try not to overthink styling this silhouette. It's classic and timeless which allows for a lot of outfit combinations to be worn with them.