Finding the perfect prom dress can be challenging, especially when you are petite.
Because I'm 5'2″, I have a lot to share with you from the perspective of a short girl on how to find the right prom dresses for petite figure. Besides, I also have a petite clothing line for women 5'4″ and under, so I style petite models of all shapes and sizes every week, for our product fitting and photos.
Based on my first-hand experience as well as feedback from my customers, I've put together this guide to help you find the most flattering prom dress for you.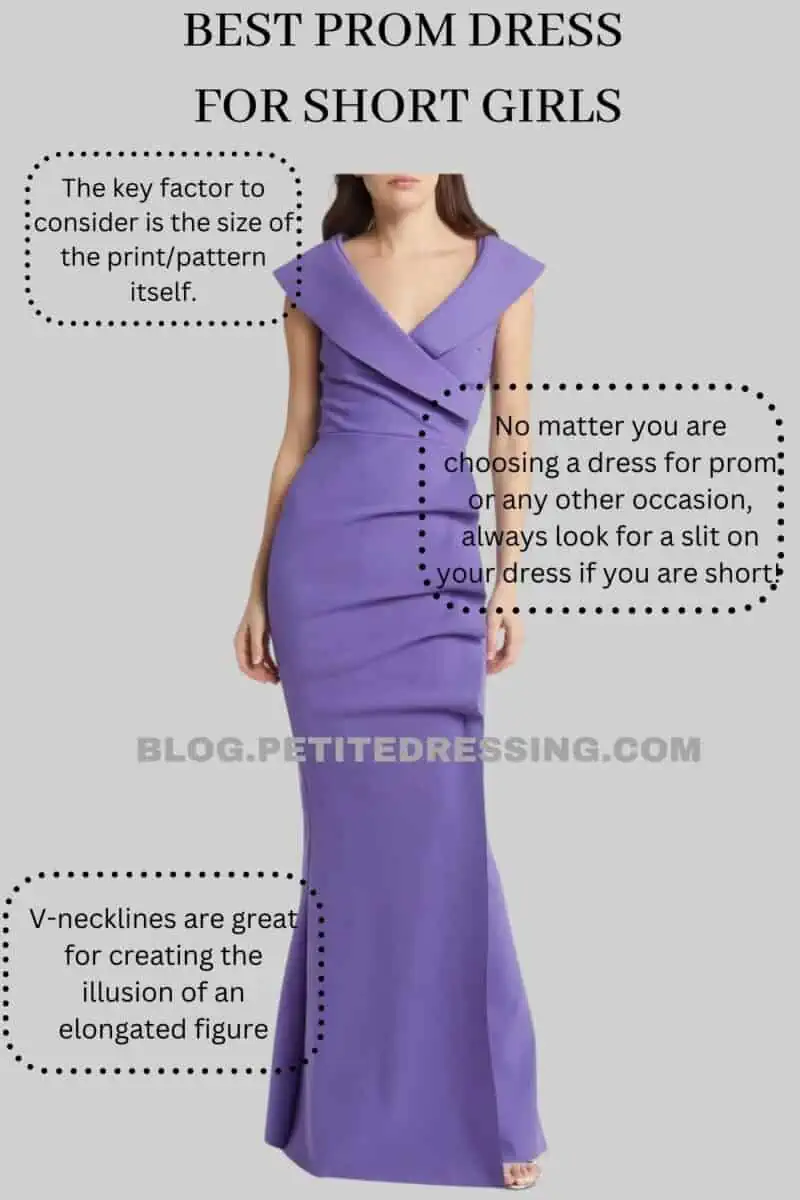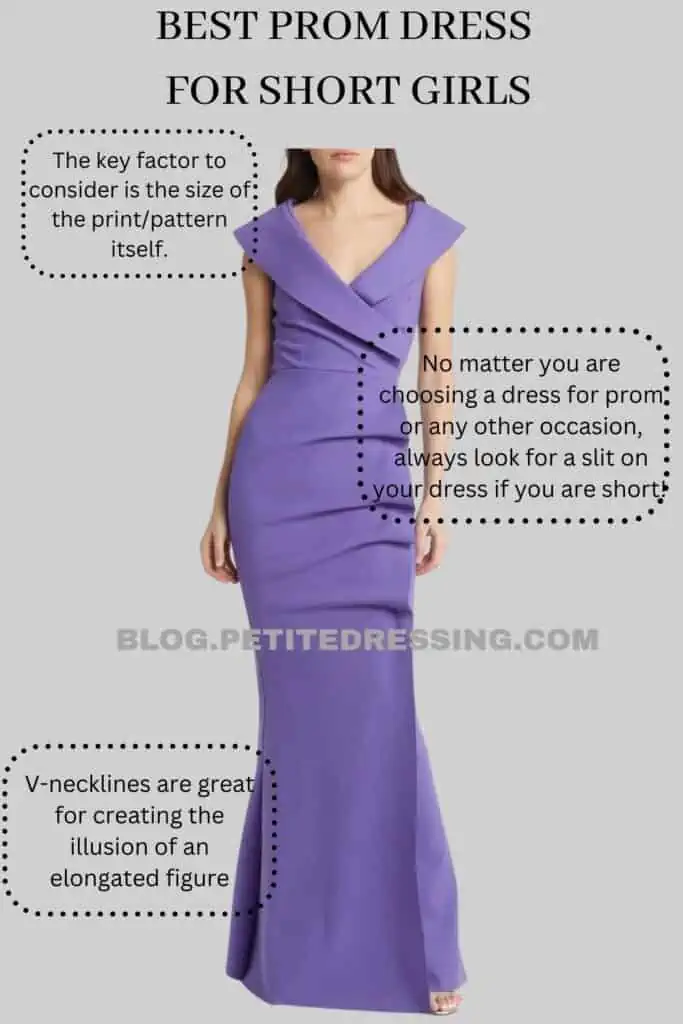 Best Silhouette
What is a silhouette? 
Simply put, the outline of your dress. The shape of the dress is the most important factor to consider, especially if you are looking for flattering prom dresses for petites.
The silhouette can make or break the way a dress looks on you. More often than not prom dresses that have simple silhouettes are the most figure flattering for petite women. The simple silhouettes enhance your petite shape, while more complicated silhouettes will often overwhelm you.
For example, a ball gown is an over-the-top silhouette with all the tulle and the large size of the skirt portion of the dress style. As I mentioned, simple silhouettes are a petite girl's best friend. That means focusing on prom dresses that fit closer to the body.
Simple silhouettes are not only great for preventing your dress from overwhelming you, but they also help to elongate your shape. Something all us petite ladies are eager to achieve.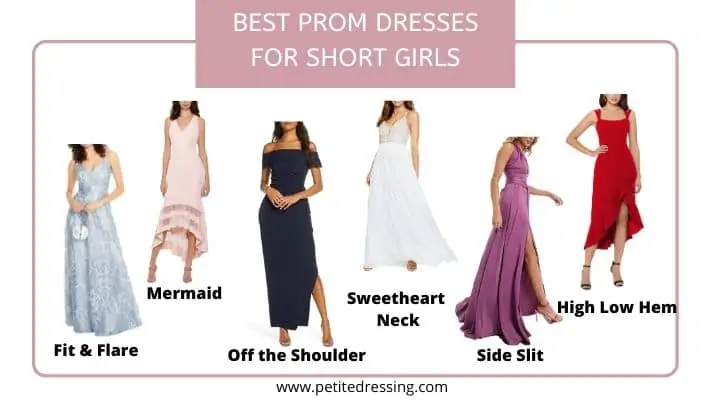 Most petite women would love to make their legs appear longer. So, the key to selecting the best prom dresses for short legs is to add length and create the illusion of height for us short girls. That is why it is super important to select the right silhouette more than anything else.
Below are some of the most flattering silhouette prom dress styles for short women. It's less about the actual length of the dress and more about the overall silhouette to flatter your petite shape.
Mermaid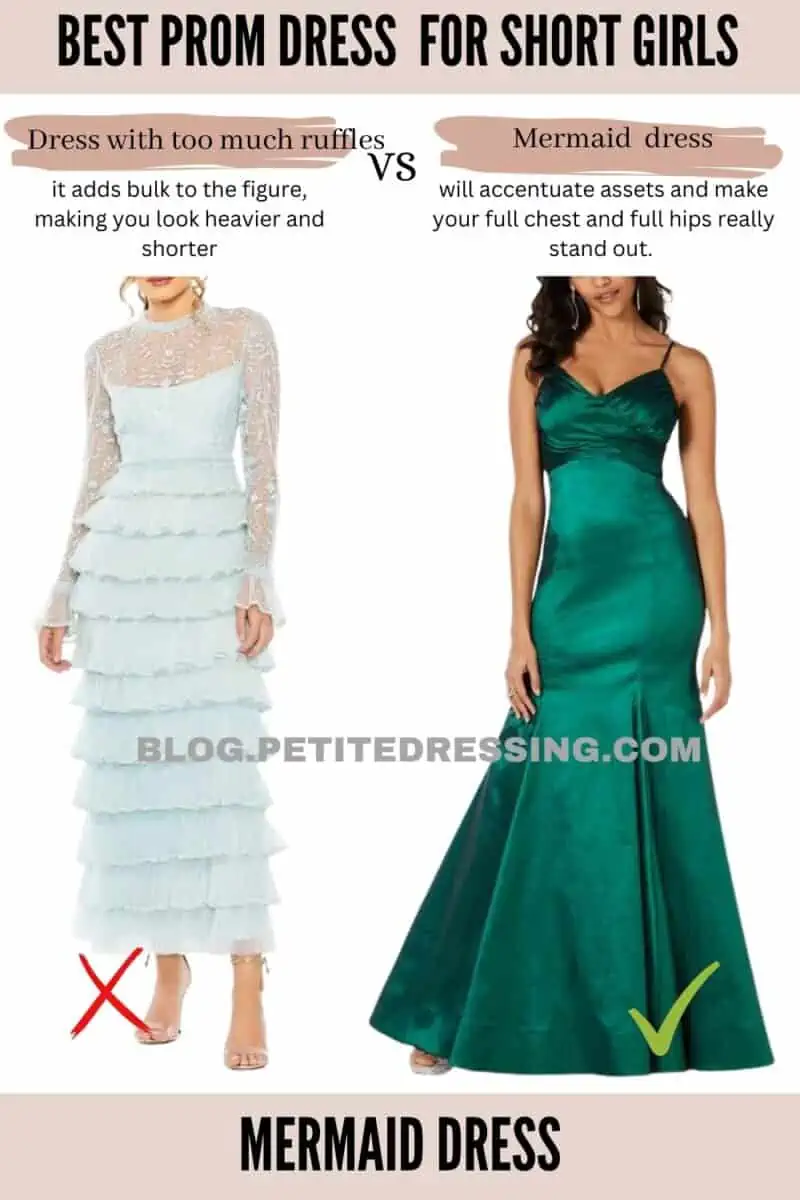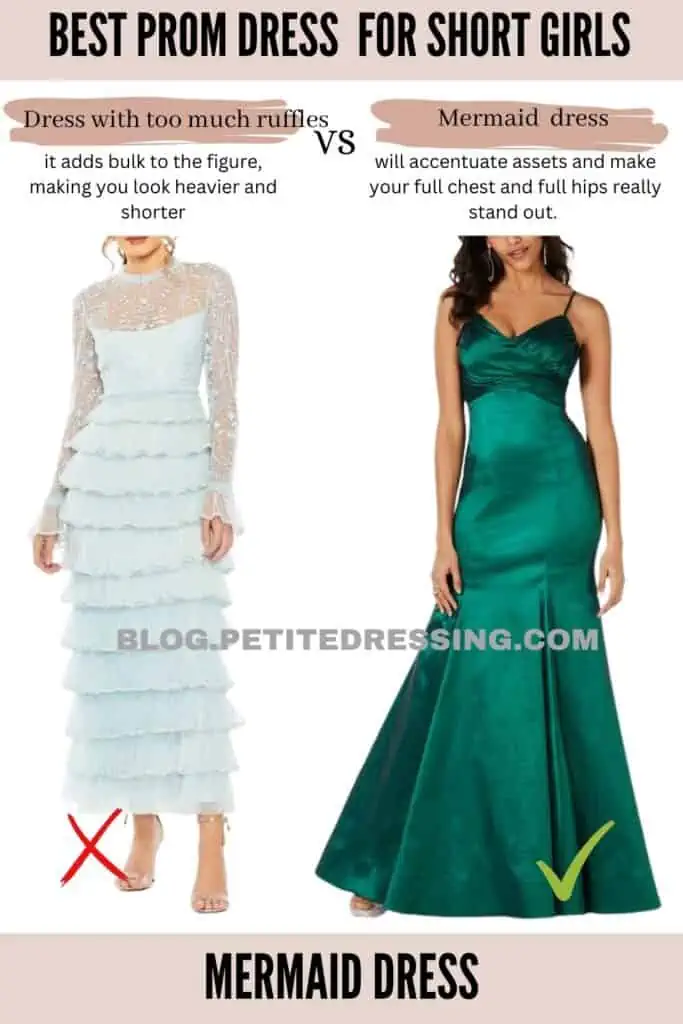 If you are a petite girl with natural curves, the mermaid shape dresses will accentuate assets and make your full chest and full hips really stand out. The mermaid dress hugs your upper body and your hips tightly, in the shape of an hourglass.
This is the most feminine design of any dress silhouette, so it is a wonderful choice for girls who want to show off their curve.
Trumpet
This is a close cousin of the mermaid shape. The only difference is that the trumpet dress hugs your hips not as tight as the mermaid dress, but it flares out more gradually under your hips. It is a simple and elegant shape that flatters most body types.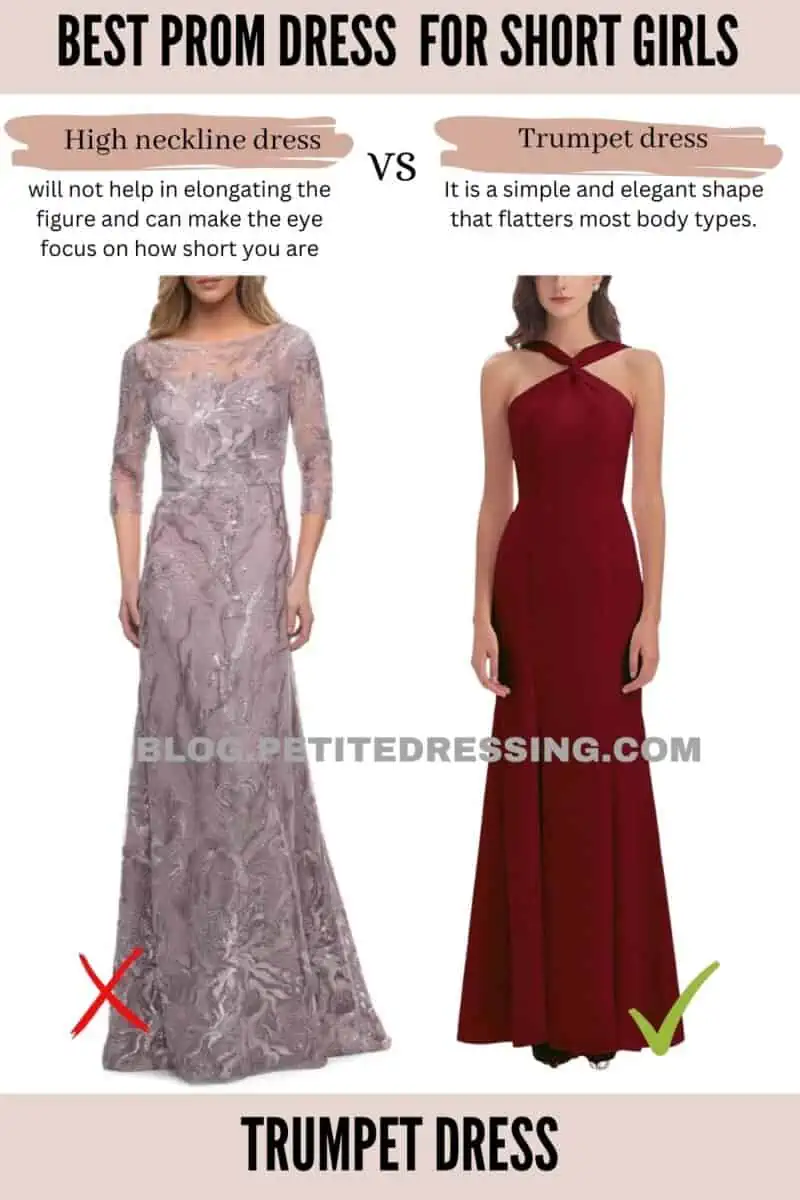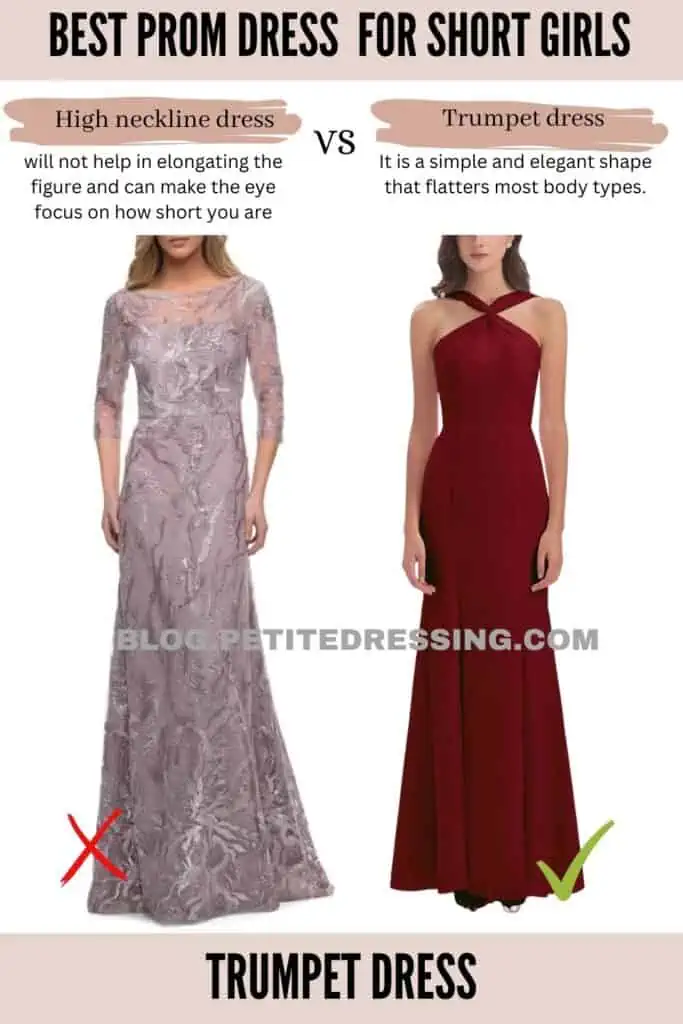 Fit & flare
This is the most universally flattering prom dress style. It is well fitted on your upper body, but it is not tight on your hips. So, it is suitable for any body type.
If you happen to be a pear shape or an apple shape, the fit and flare is the heaven sent to distract away from your weaknesses while emphasizing your assets at the same time.
For the pear shape, the fit and flare has the A line to camouflage your wider bottom and your prominent thighs. You will look very nicely balanced in this shape.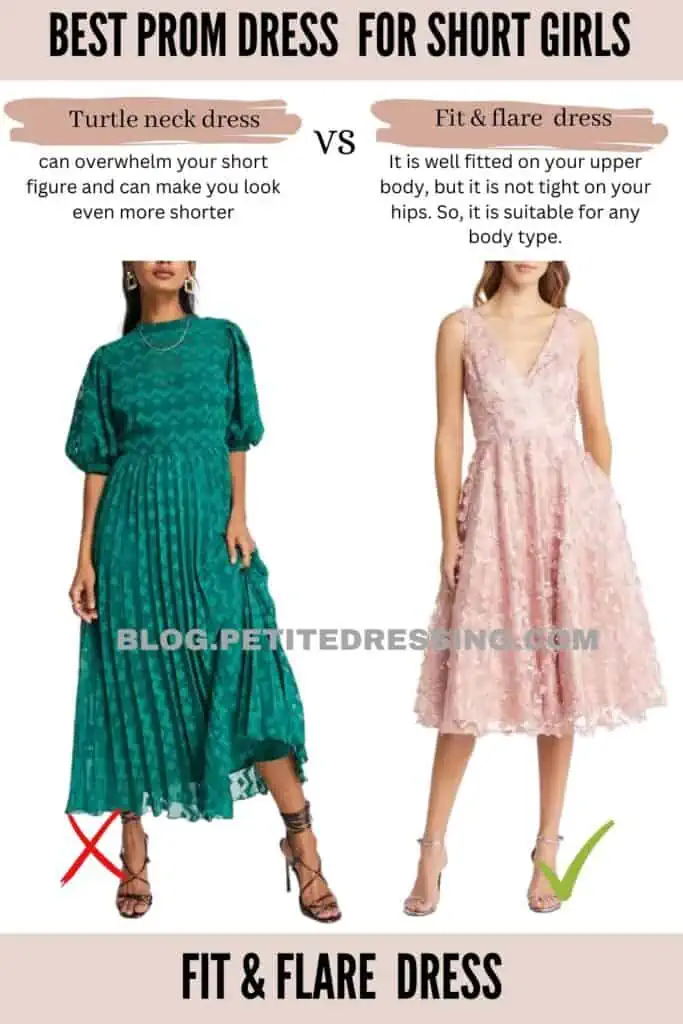 For the apple shape, the a line dress can make your heavier midsection look less obvious while showing off your nice breasts in the meantime.
Column
A column silhouette sometimes is also known as the sheath dress. This is the kind of dress that fits close to your body, but the cut of the dress is straight up and down.
Note the column dresses are different from the bodycon dresses in that column dresses do not cling to your body. Instead, column dresses skim your body, creating a more forgiving silhouette.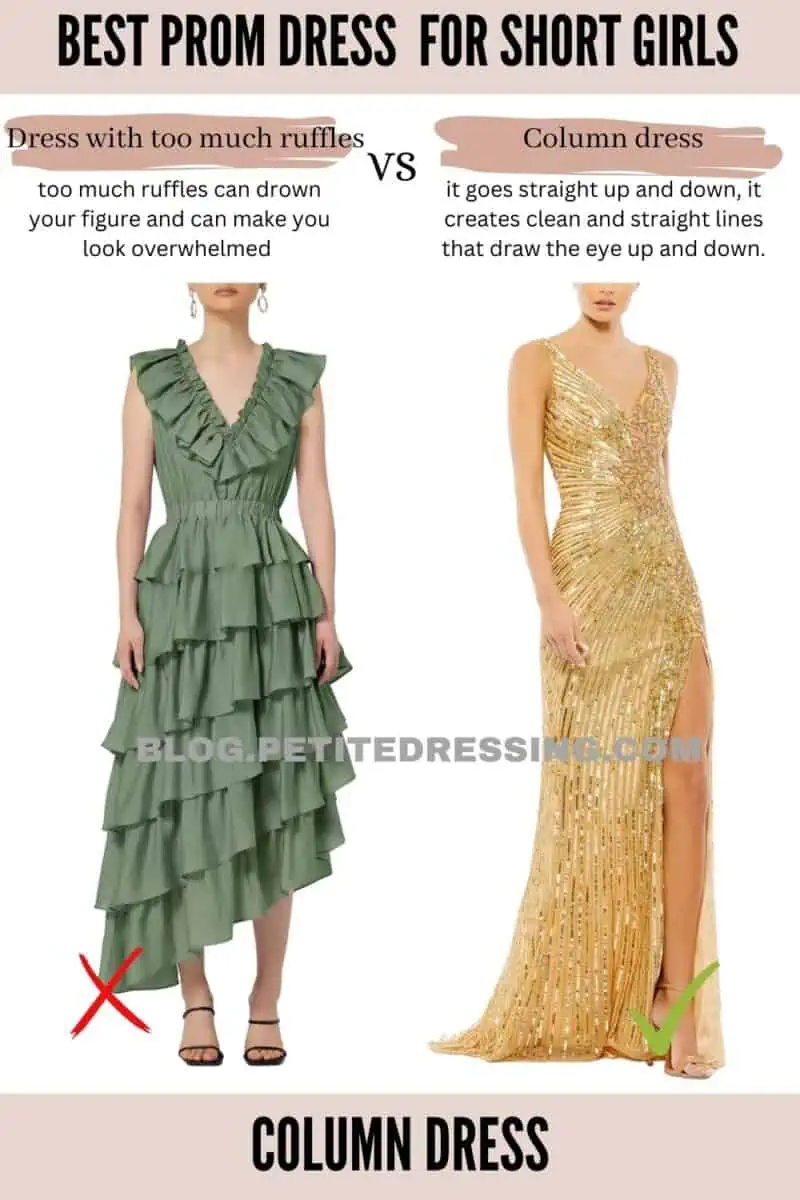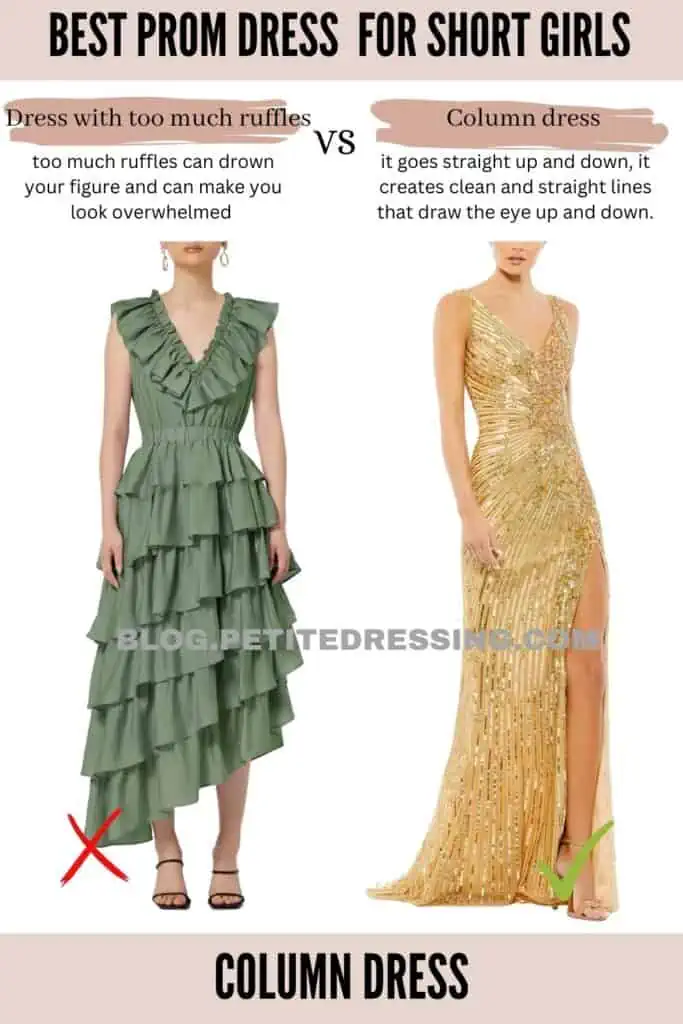 The reason this type of prom dress is very flattering on a short girl is because it is simple. Because it goes straight up and down, it creates clean and straight lines that draw the eye up and down.
This is one of the best ways to flatter a short frame.
Best Design
If you are short, look for these designs in your prom dresses.
High-low hem
The high-low hem is a very big trend for the last couple of seasons, and this is great news for shorter women. This kind of dress is shorter in the front, but longer in the back.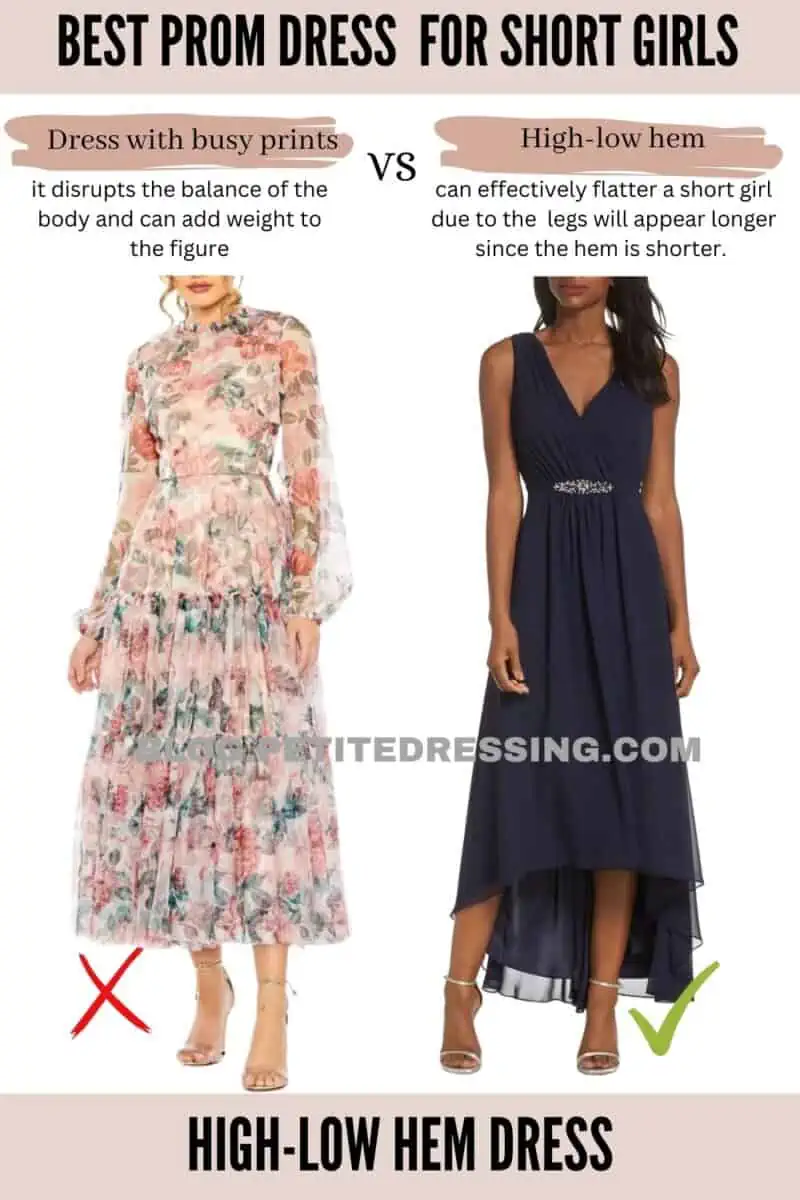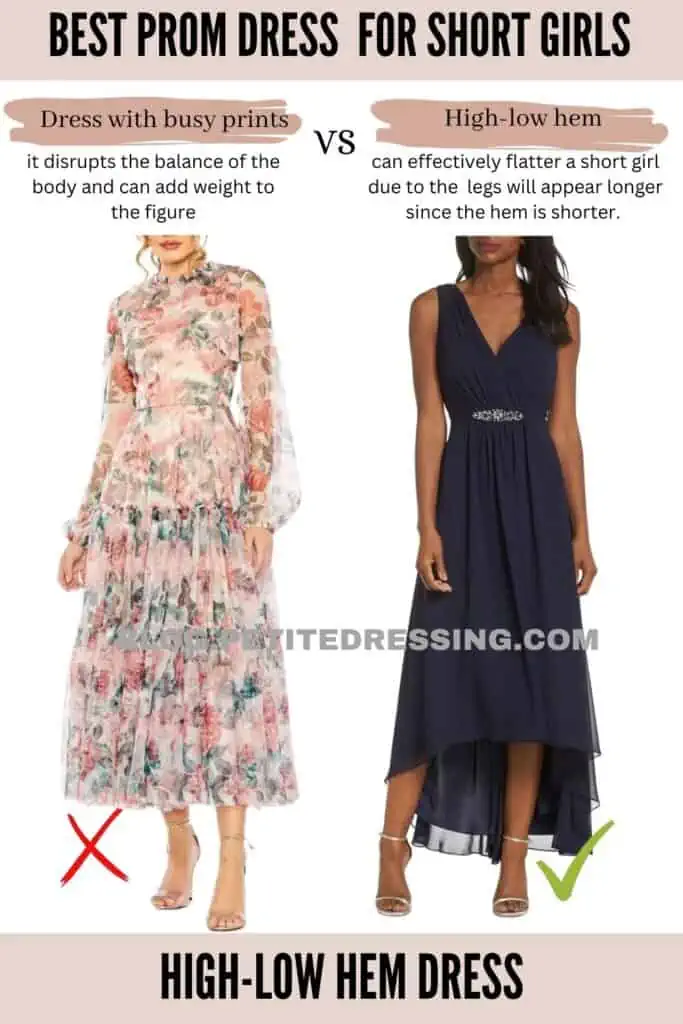 This is a very simple design on your prom dress that can effectively flatter a short girl because, in the front, your legs will appear longer since the hem is shorter.
This kind of design typically is found in longer prom dresses, which can be overwhelming for petite women otherwise. With the high-low hem, however, this is going to make sure a short person is not swamped in the long length.
Side slit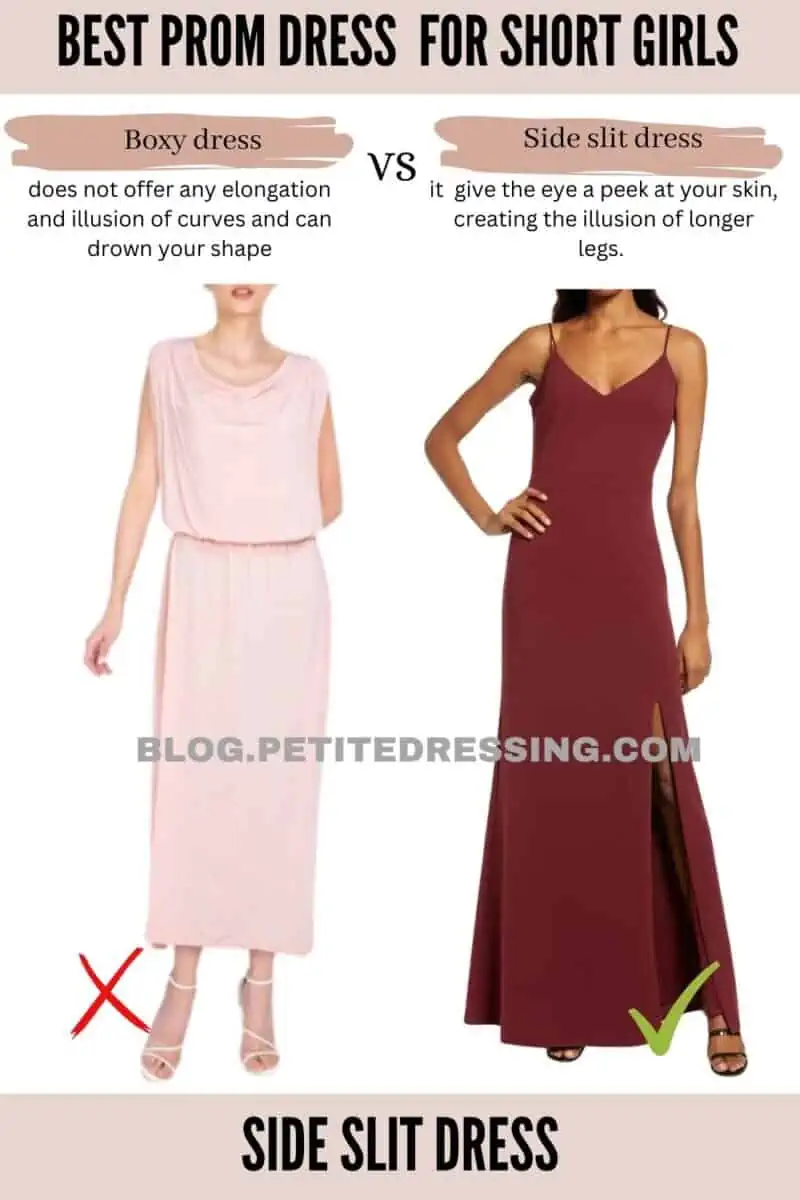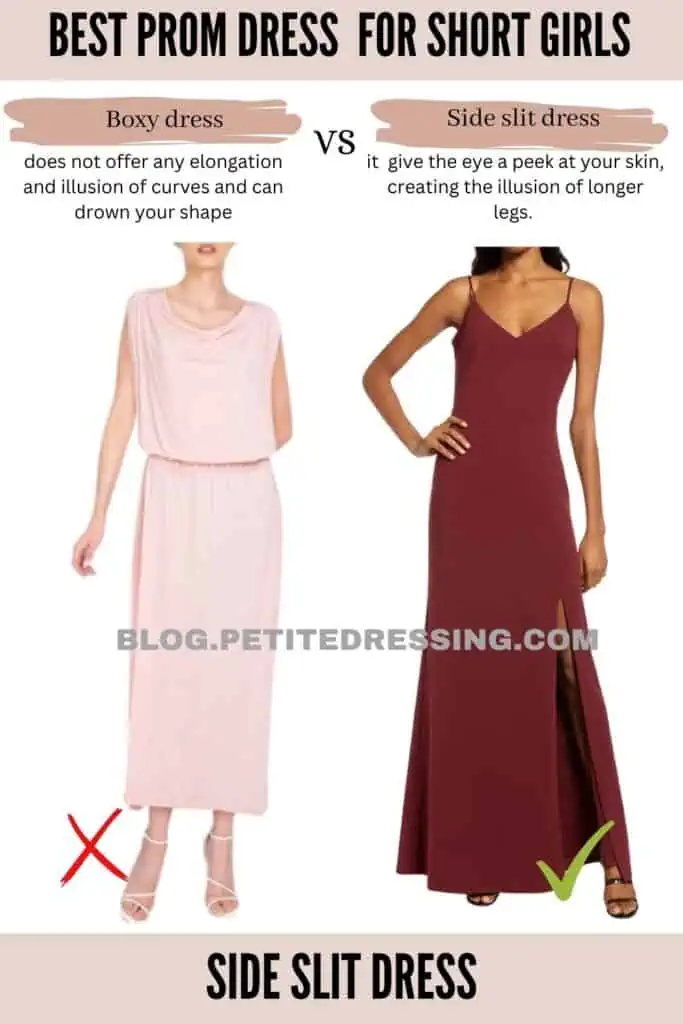 No matter you are choosing a dress for prom or any other occasion, always look for a slit on your dress if you are short!
The reason the side slit is so flattering for short girls is that they give the eye a peek at your skin, creating the illusion of longer legs.
In fact, it doesn't matter if your slit is in the front or on the side, as long as the prom dress has a slit, it is going to give you the same benefit of elongating your petite frame and flatter a short girl.
Best Length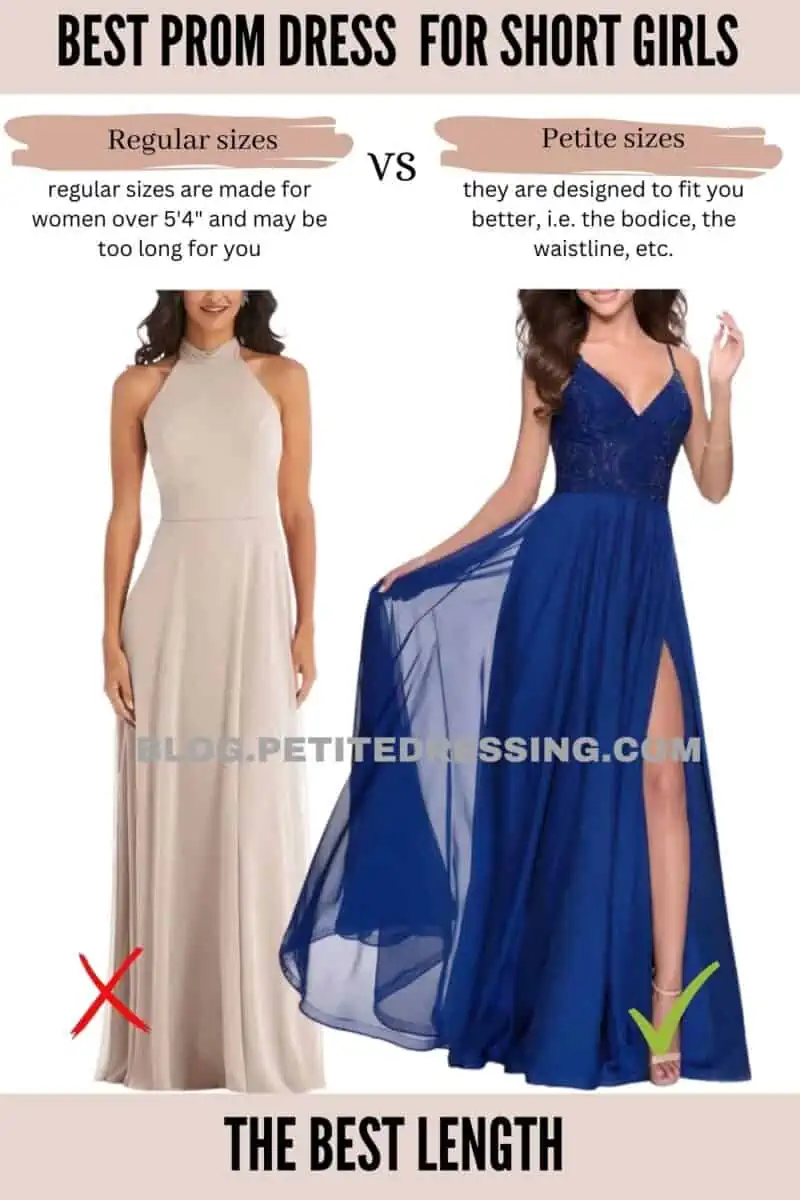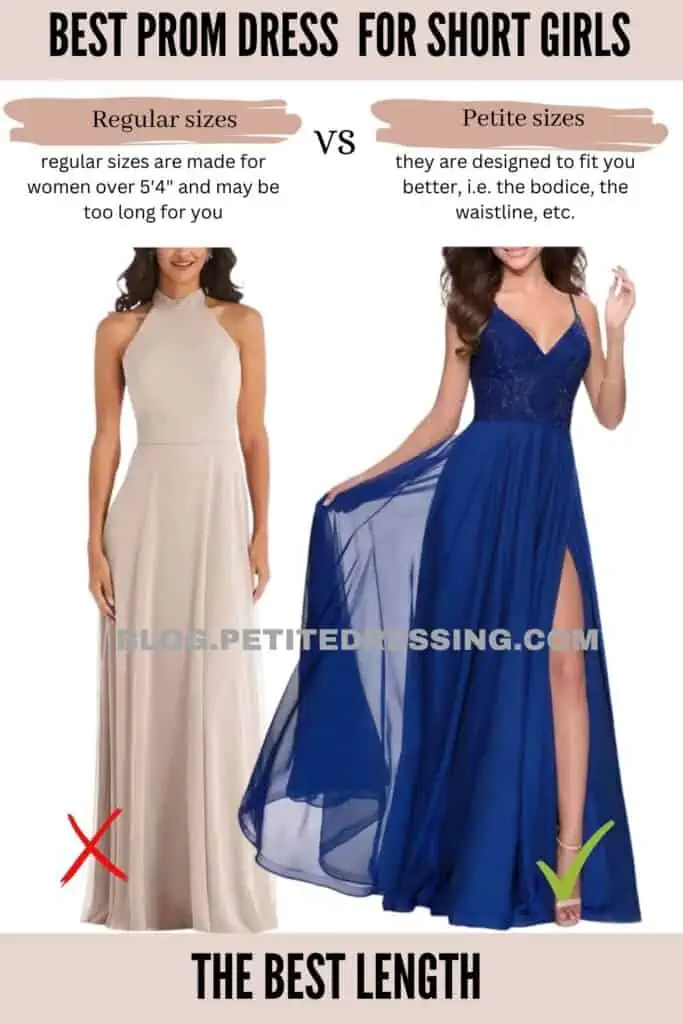 Short dress or long dress?  That is the never-ending debate, especially when it comes to petite fashion.
Over the years, many people have said petites shouldn't wear long dresses however that's not always the case. In fact, long prom dresses can look just as great on a petite as they do on someone who is tall. I encourage you, if you haven't already, to think outside the box and try some long dress styles on while searching for prom dress for short girls. 
If you do decide to go with a long dress, make sure you get it from a petite designer. The reason is regular sizes are made for women over 5'4″ (or women over 5'5″ for certain brands", so they are most likely going to be too long if you are petite. Another advantage of ordering petite sizes is that they are designed to fit you better, i.e. the bodice, the waistline, etc.
Of course, short prom dresses can be another fun option. My point is not to shy away from long styles just because of your height. I encourage all petites to try on a variety of different lengths when looking for a prom dress. After trying a couple options on you will begin to find you are drawn to one option more than the other.
The Best Necklines
While the silhouette is the most important element to consider when choosing your prom dress, but don't forget about the neckline. When it comes to choosing the best prom dress for petite women that flatters you from head to toe, the neckline plays a vital role.
Choosing a prom dress with an interesting neckline brings attention to your face and can add to figure flattery.
Fortunately, there's a great variety of neckline styles that you can try.
V neck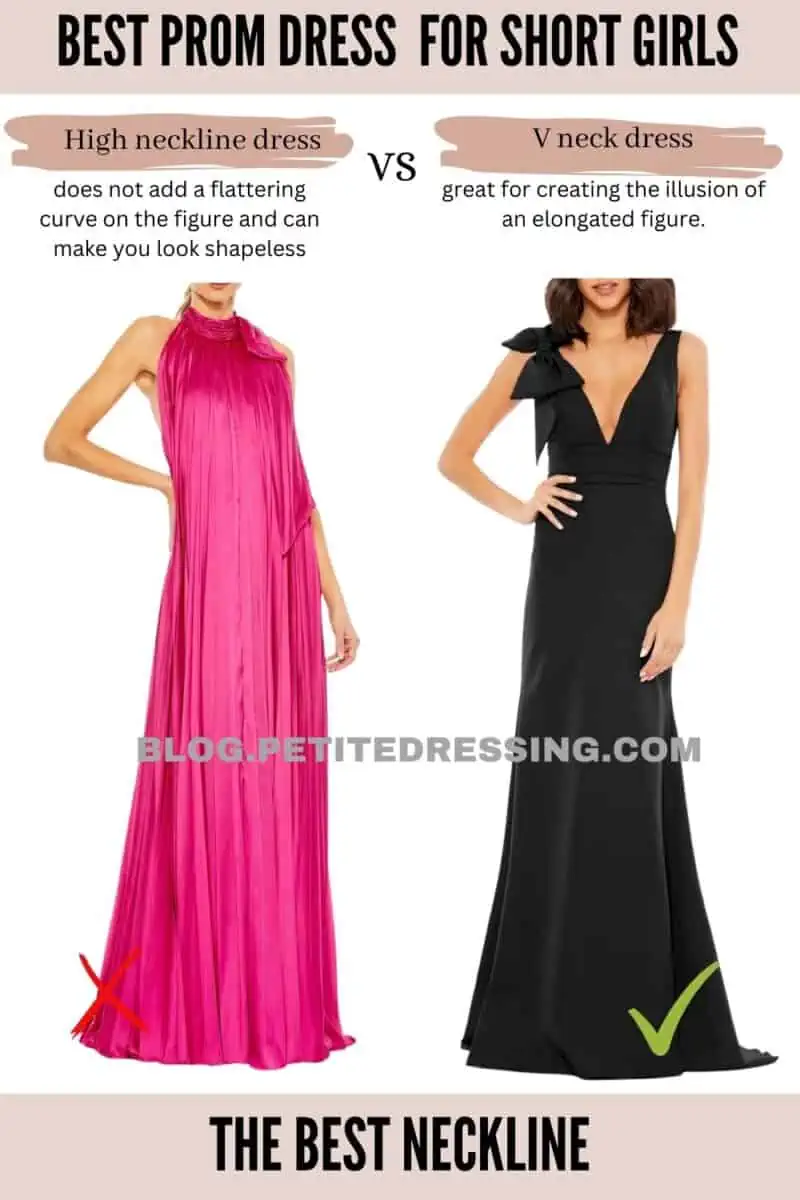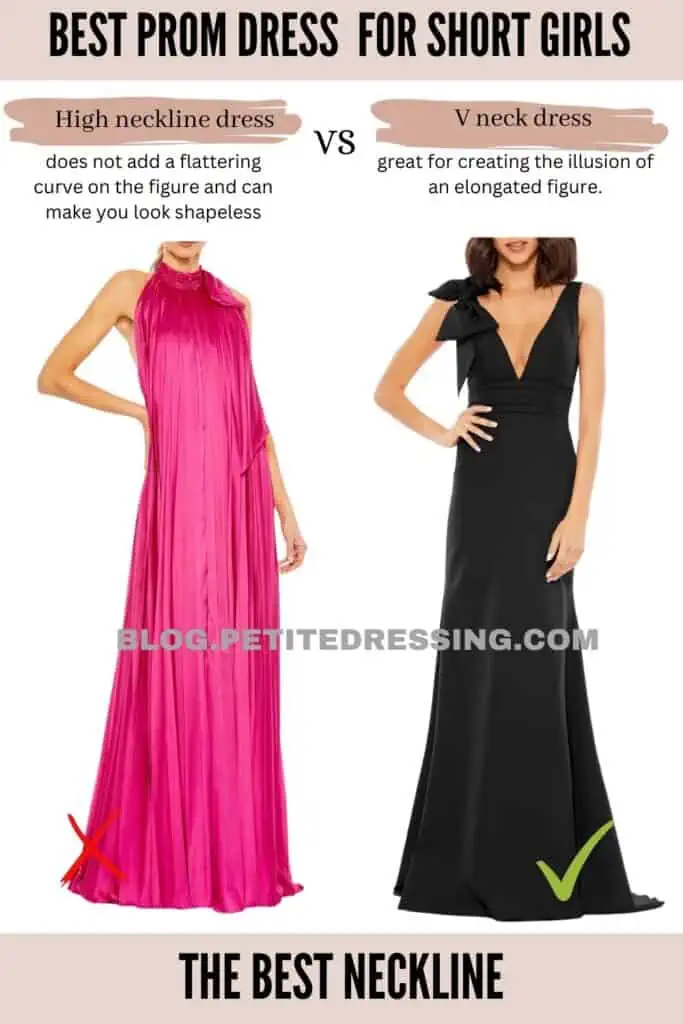 V-necklines are great for creating the illusion of an elongated figure. Most petite girls have a shorter necks, so the V-neck is a perfect choice to make your neck look longer.
If you have a full chest, then the V-neck also breaks up your chest, which makes you look more in proportion in the front.
Off the shoulder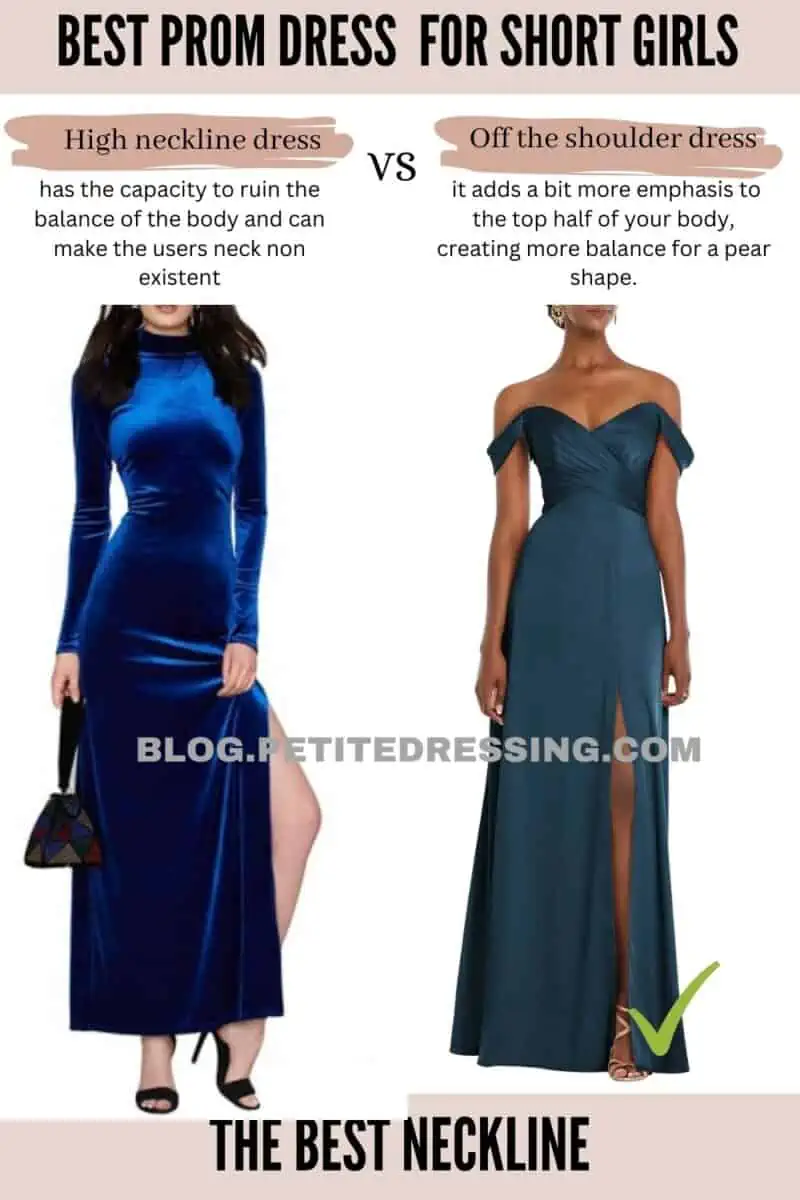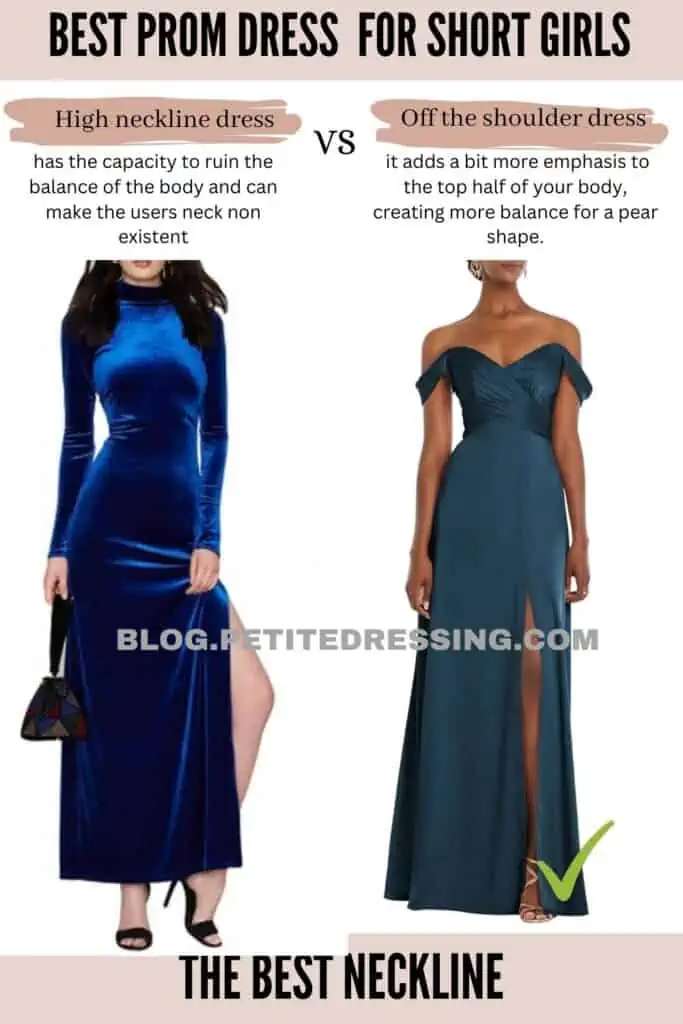 This has been quite a trend for the last several years. Why? It is one of the most universally flattering neckline, and it is hard to not be good in an off-the-shoulder dress.
Now, if you're petite and have a pear shape, an off-the-shoulder prom dress is heaven-sent for you.
The reason is it adds a bit more emphasis to the top half of your body, creating more balance for a pear shape.
Sweetheart's neck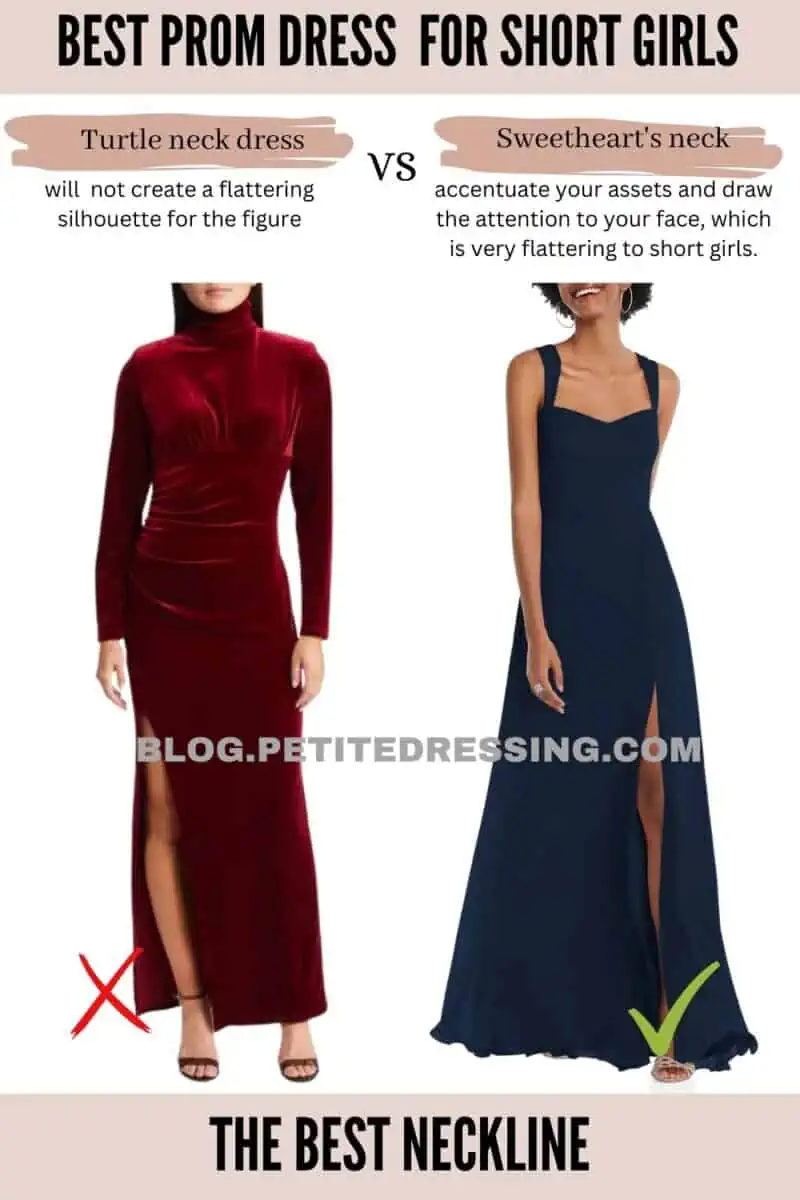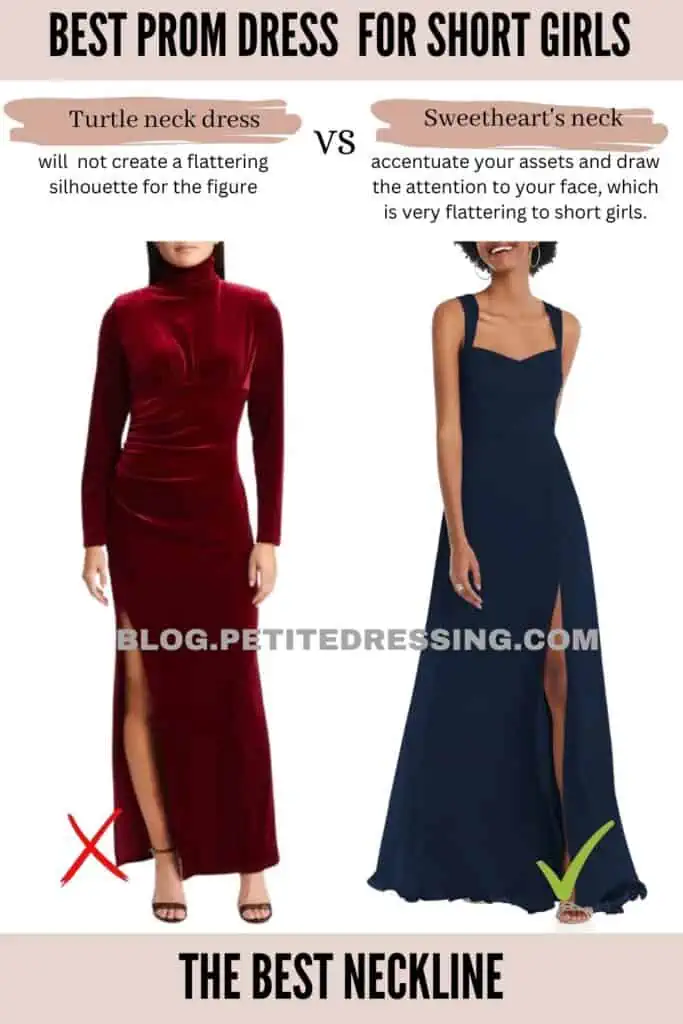 This is one of the best neckline for girls with full chest. It really accentuates your assets and draw the attention to your face, which is very flattering to short girls.
If you happen to be a petite girl with a flat chest, the sweetheart neckline can create the illusion of a fuller chest for you and adds some curves to your body.
Best prints
Prom is a great time to have fun and wear a dress you wouldn't normally wear – it's not every day you get to get all dressed up! As a petite, some prints and details can be overwhelming for your shape. This isn't to say you can't wear a printed prom dress, but if you do make sure you choose wisely.
The key factor to consider is the size of the print/pattern itself. If the print is really large in scale on a floor length gown it will overwhelm a petite figure. The combination of the print and length will have the dress wearing you, instead of you wearing the dress. Instead, choose a print or pattern that's smaller in scale to match your petite frame.
This tip applies to any prints, patterns or embellishments on the dress you choose. Similar to the silhouette, the more streamlined the design the more flattering it will be for you.
Besides, if the prints are vertically inspired, they tend to be more flattering to petite girls.  Because vertical designs draw eyes up and down, they create the illusion of height and make you appear taller.
If you happen to love prom dresses with busy prints, be careful with your accessories– you probably want to keep them simple since your dress already looks busy enough.
Of all the short celebrities, Reese Witherspoon has a very noticeable colorful wardrobe, and you can learn how to wear prints from Reese Witherspoon style.