If you are like myself, have a straight up and down body (i.e., you don't have curves naturally), there are many ways you can dress to flatter your shape and look feminine. Since I don't have much natural waist definition, I noticed what I wear can make a big difference.
Since I also have a petite clothing line, I style petite models with different body shapes and sizes for our product fitting and photo shoot every week.
Based on my first hand experiences, as well as feedback from many of my customers, I have put together this guide to help you. The key is to wear clothes that can add a moderate amount of volume to your bust and hips, and therefore create the illusion of curves.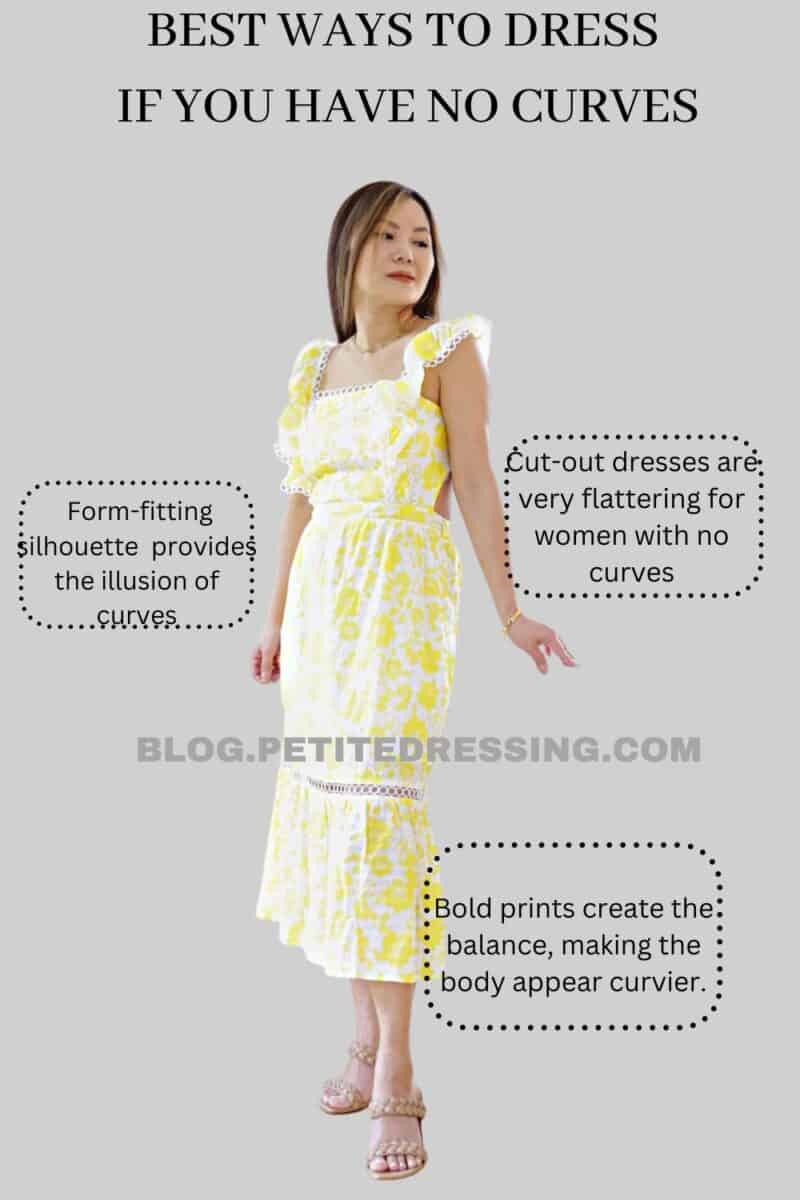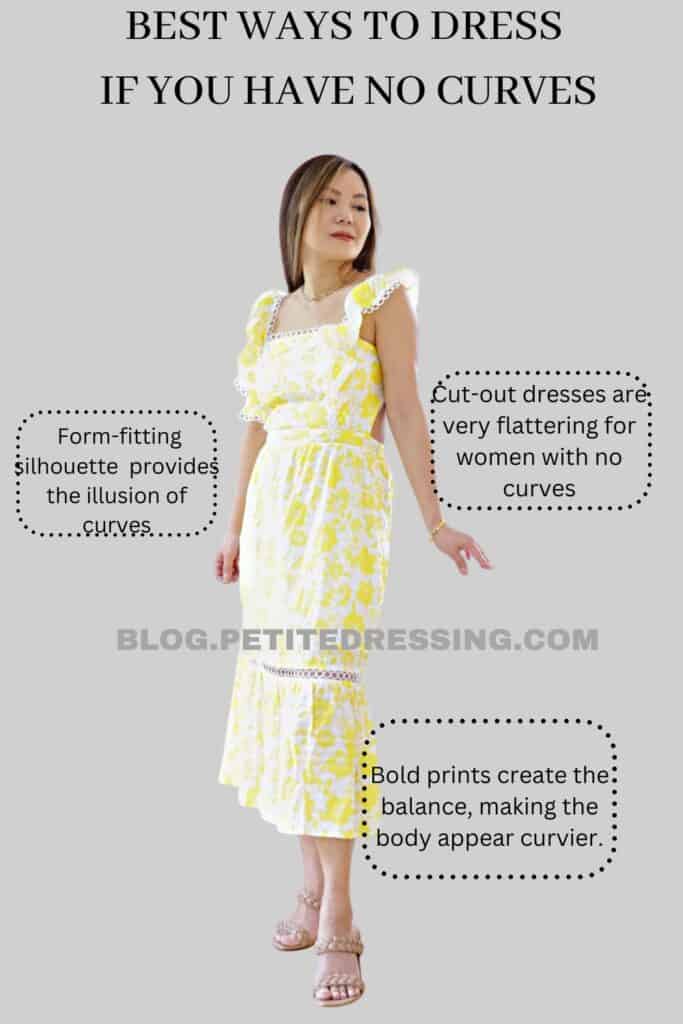 Add a Belt to Your Waistline
One way to wear shapeless garments in a way that's flattering for someone with no curves is by adding a belt. This is a stylist trick that works wonders, and it is my favorite way to elevate a dress or skirt. Throwing a belt on over something shapeless instantly makes it look like there are curves – even if you don't naturally have them.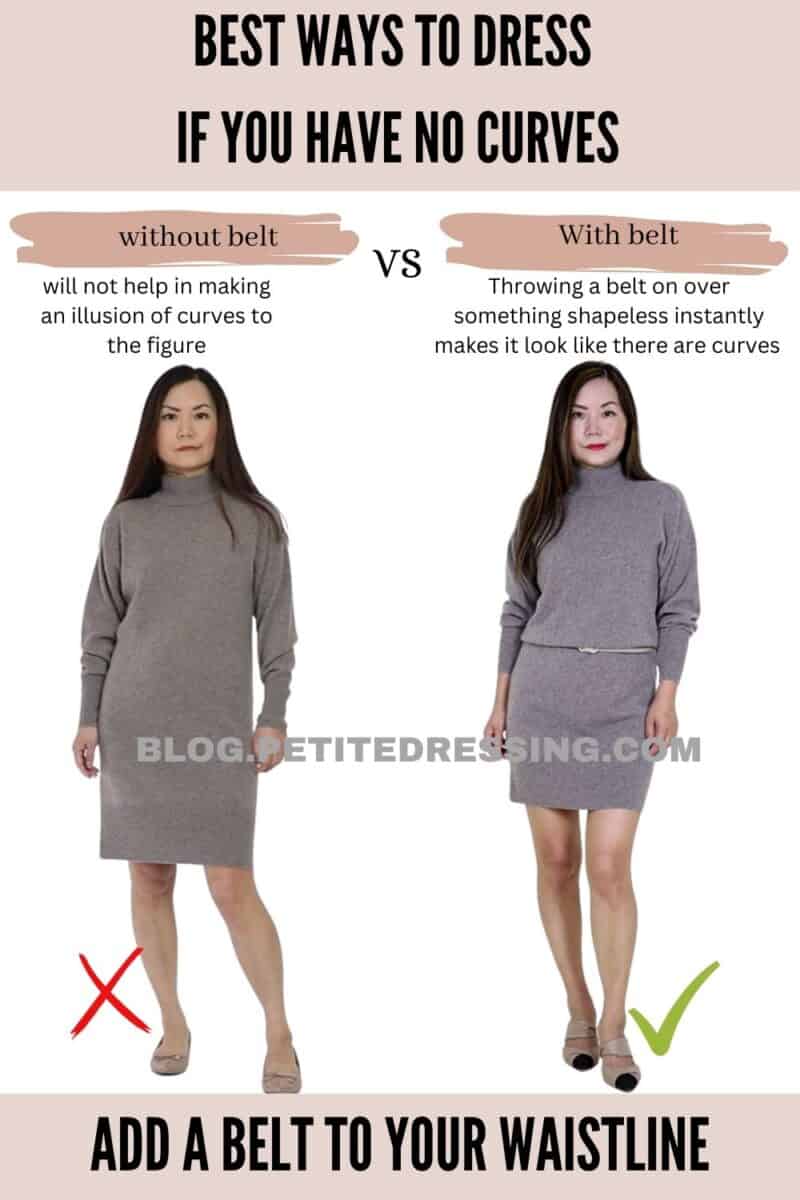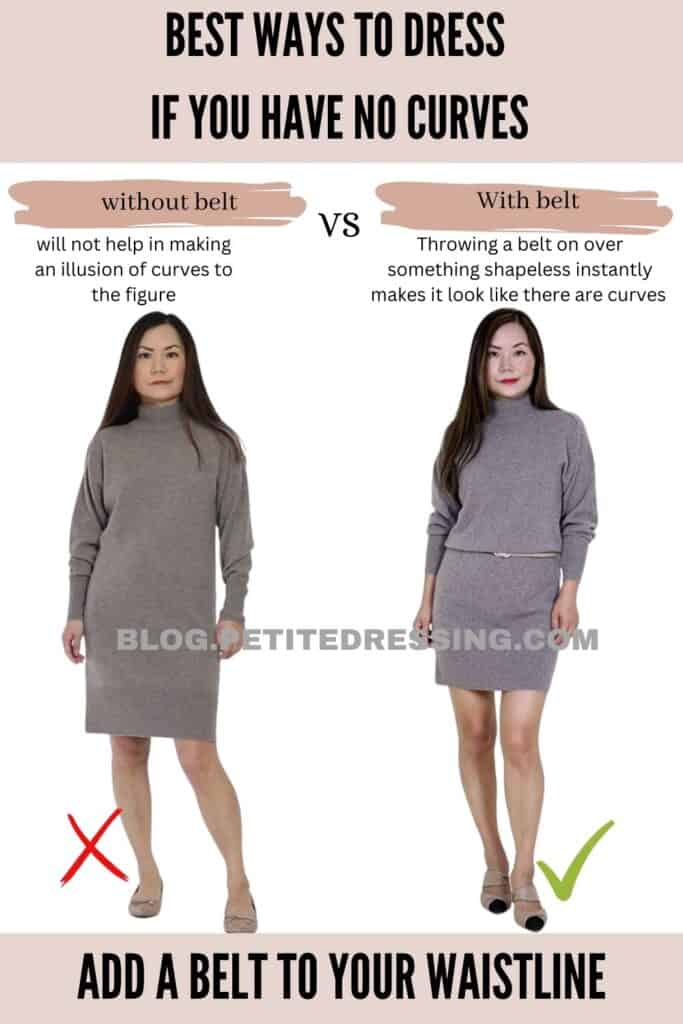 I was wearing this dress and added this belt.
Aside from turning shapeless pieces into something that gives curves, belts are a great accessory to utilize with a rectangular body type – another name for having 'no curves.' Belts instantly cinch the waistline, which makes the waist appear slimmer than the rest of the body. As a by product of this it makes the body look much more curvy. Anytime you feel like your shape looks straighter than you would like, try adding a belt to see the transformation that occurs.
Wear Pleats
If you want to add more of a curve aesthetic to your hip area, opt for a pleated skirt!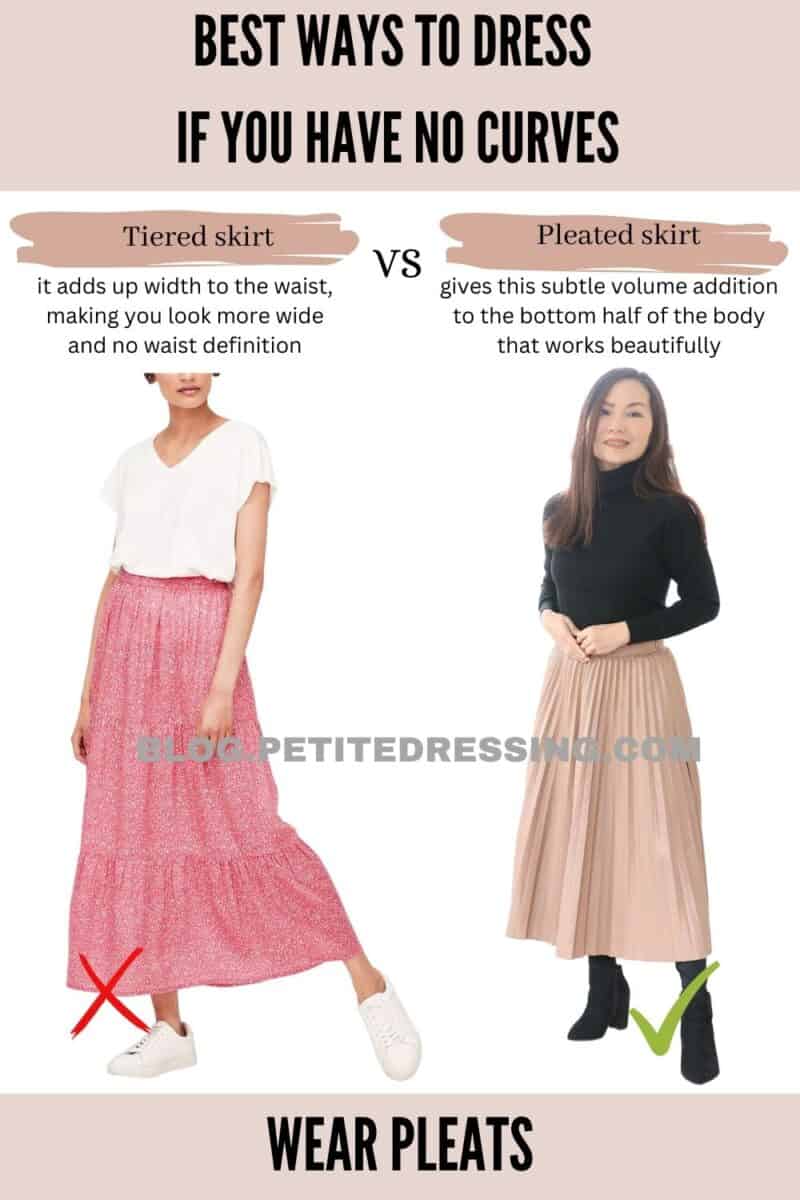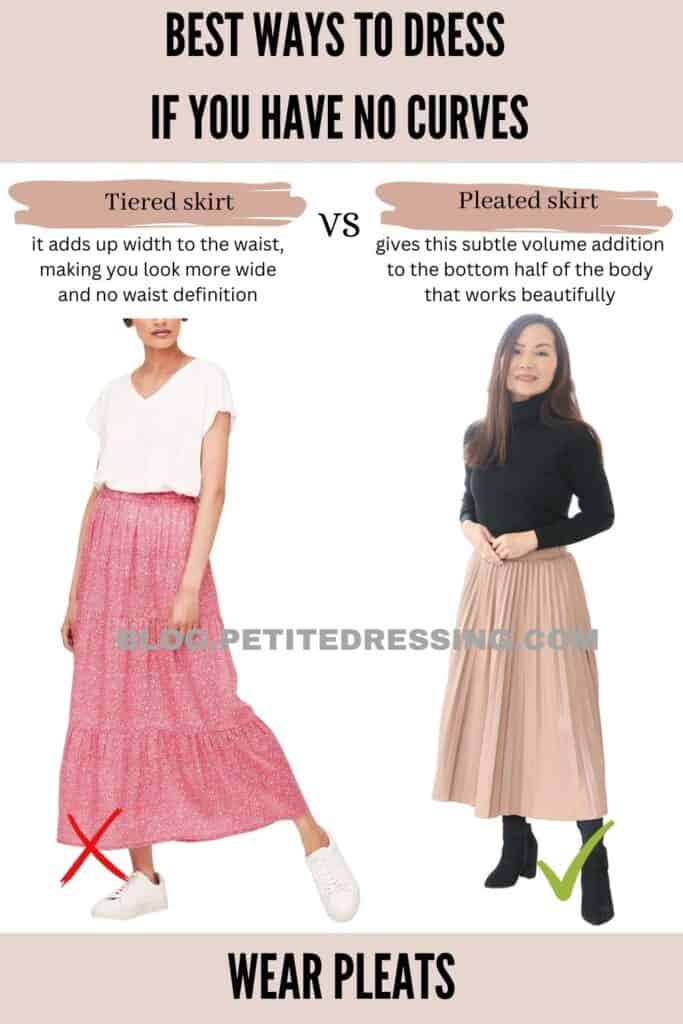 The pleating gives this subtle volume addition to the bottom half of the body that works beautifully. Don't be afraid of wearing things with ruffles and other details for this reason.
I was wearing this skirt.
Wear Bold Prints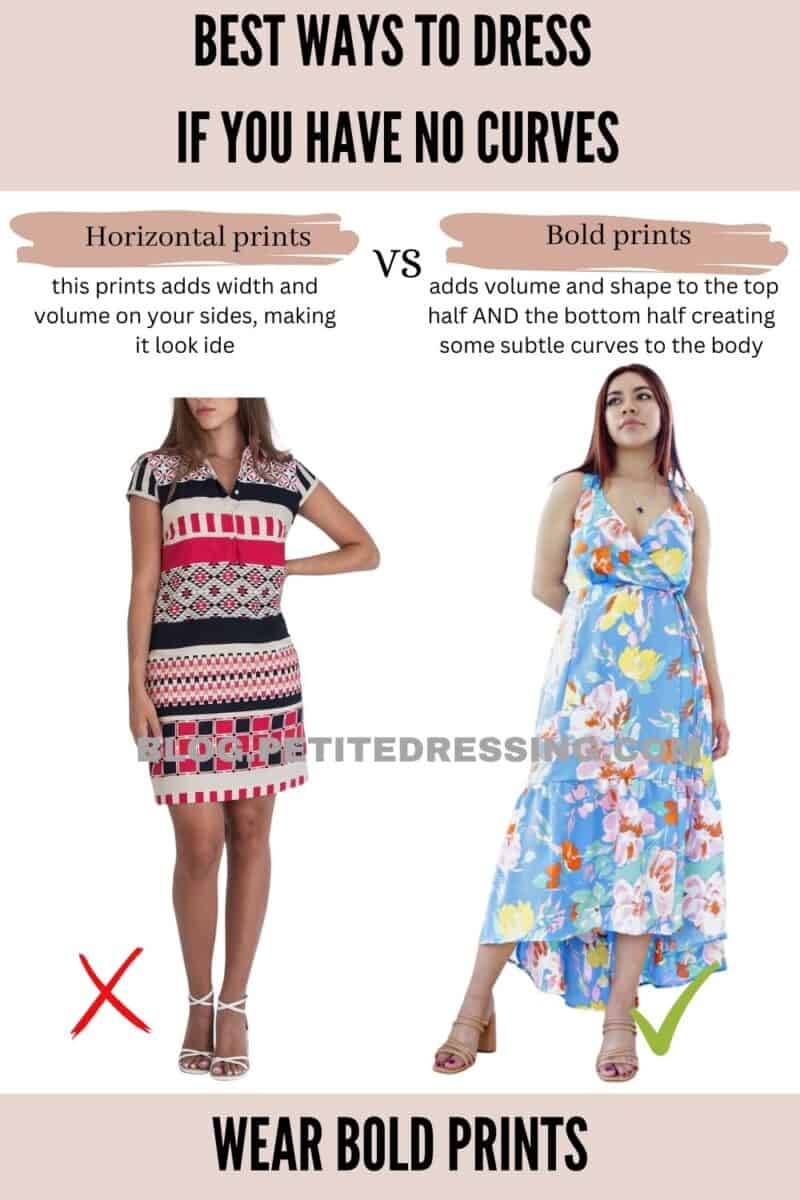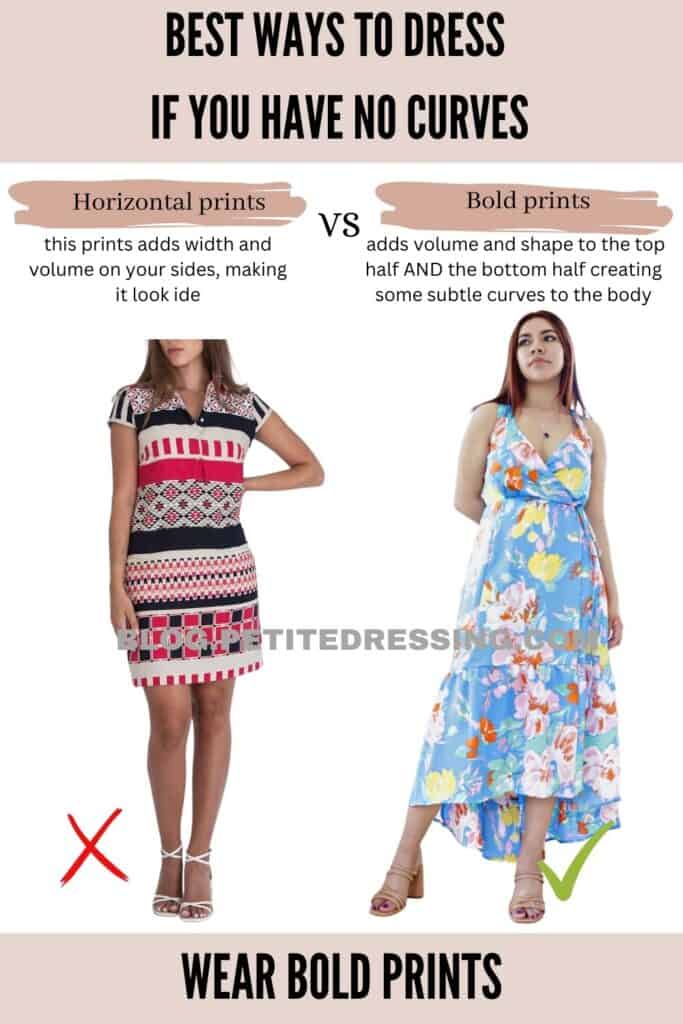 The main thing to keep in mind when dressing a body type with little to no natural curves is making use of 'small' details in clothing to add the look of volume in the right places. There are a lot of ways you could go about doing this, but let's get in to a couple examples. One option could be to wear a boldly printed top, perhaps with a boat neck and style that with a flare or wide leg pair of pants.
What this does is adds volume and shape to the top half AND the bottom half creating some subtle curves to the body. Notice how there are details on the top and bottom of the outfit so there's some balance along with making the body appear curvier.
Wear Pencil Skirts
Skirts, in general, can add a feminine aesthetic to the body instantly. Pencil skirts are something to favor with a rectangular body type. There are a few reasons why pencil skirts were something to specifically mention.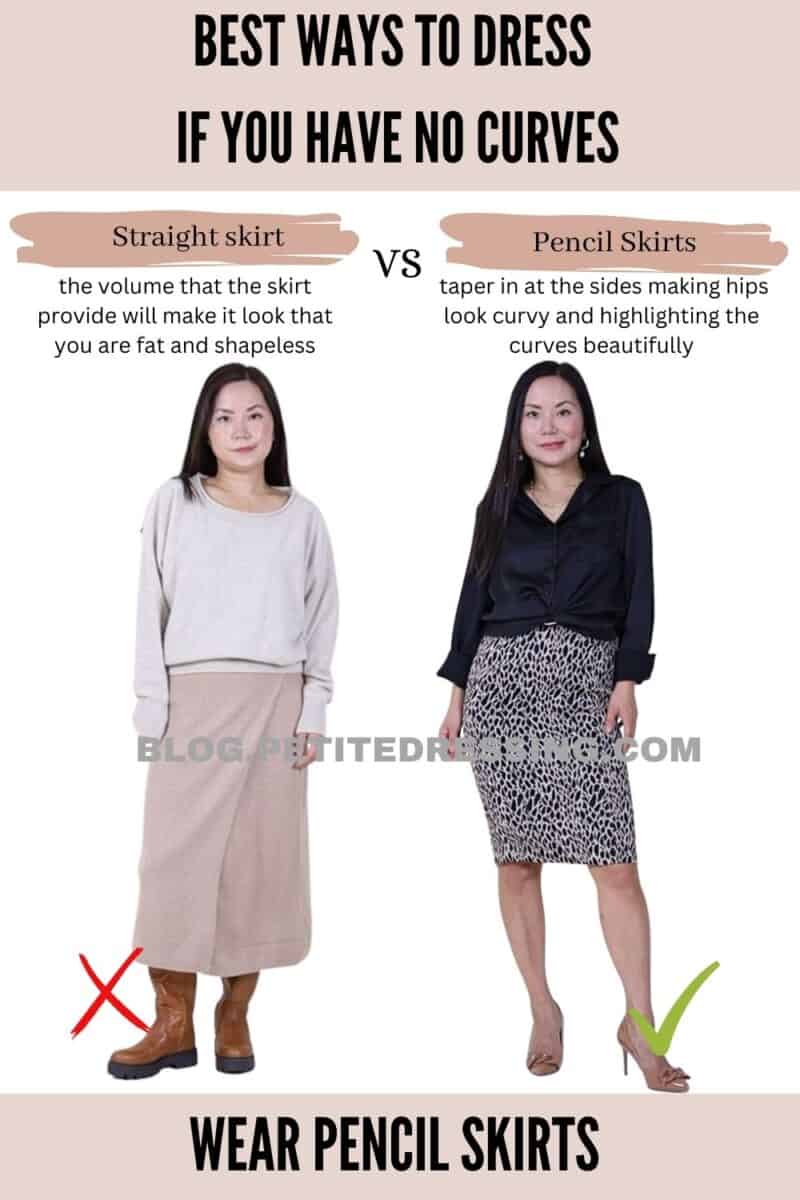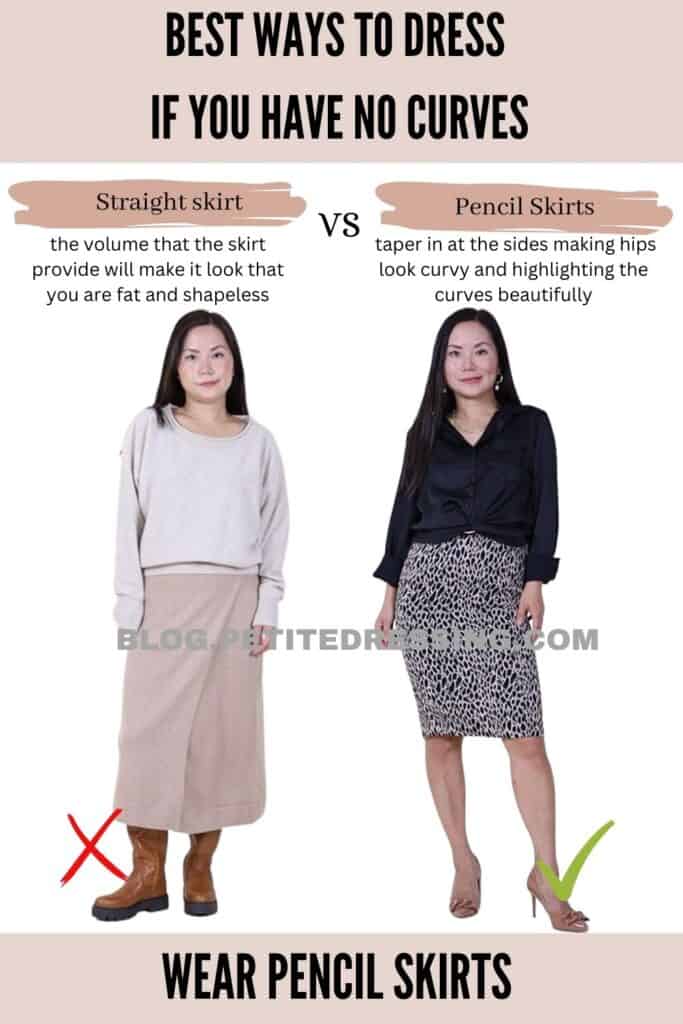 I was wearing this chambray shirt and this denim pencil skirt.
First, the form fitting silhouette of pencil skirts hug the body and give a curvier look – this is more noticeable with pencil skirts because they taper in at the sides making hips look curvy. Second, pencil skirts highlight the waistline beautifully. This is especially true when they rest higher up on the waistline area.
Wear Rompers and Jumpsuits
While dresses are a great style choice, jumpsuits and rompers are another incredible options when dressing a body with no curves. The main reason? Both jumpsuits and rompers (more often than not) have a defined waistline and as you know by this point in the article, that's a key component to dressing your shape.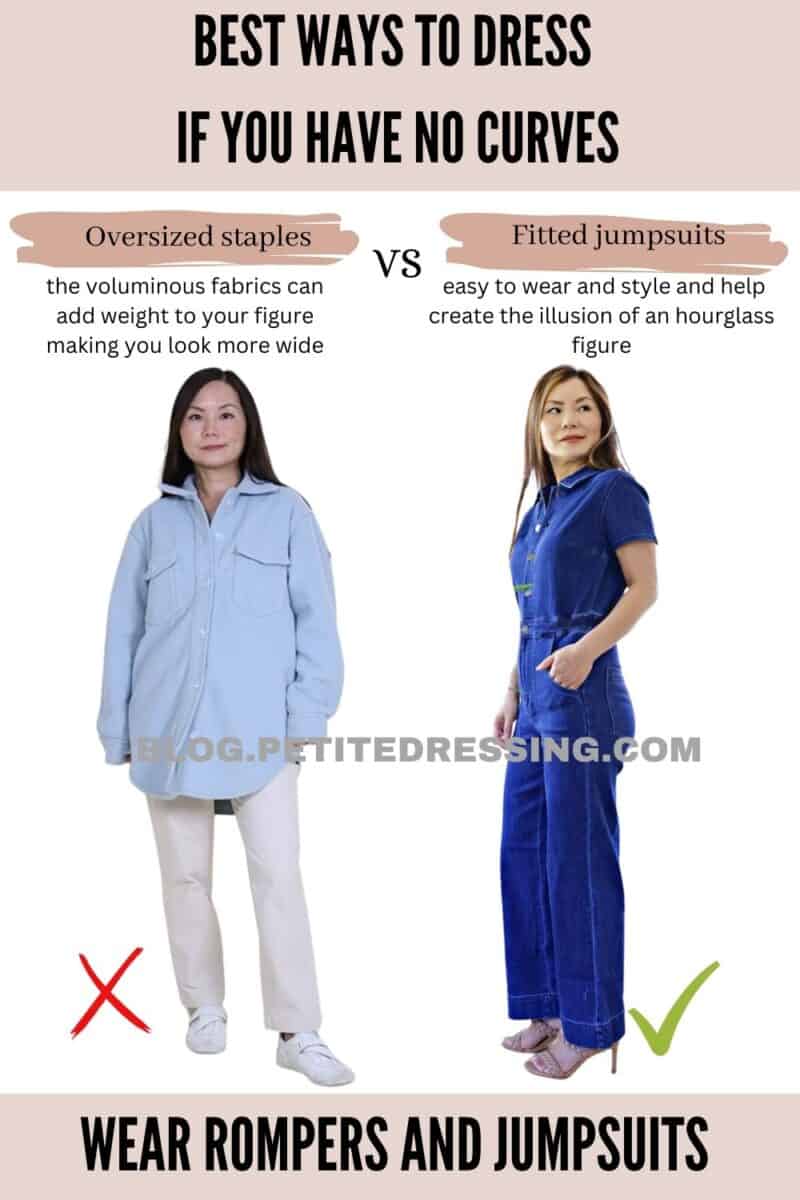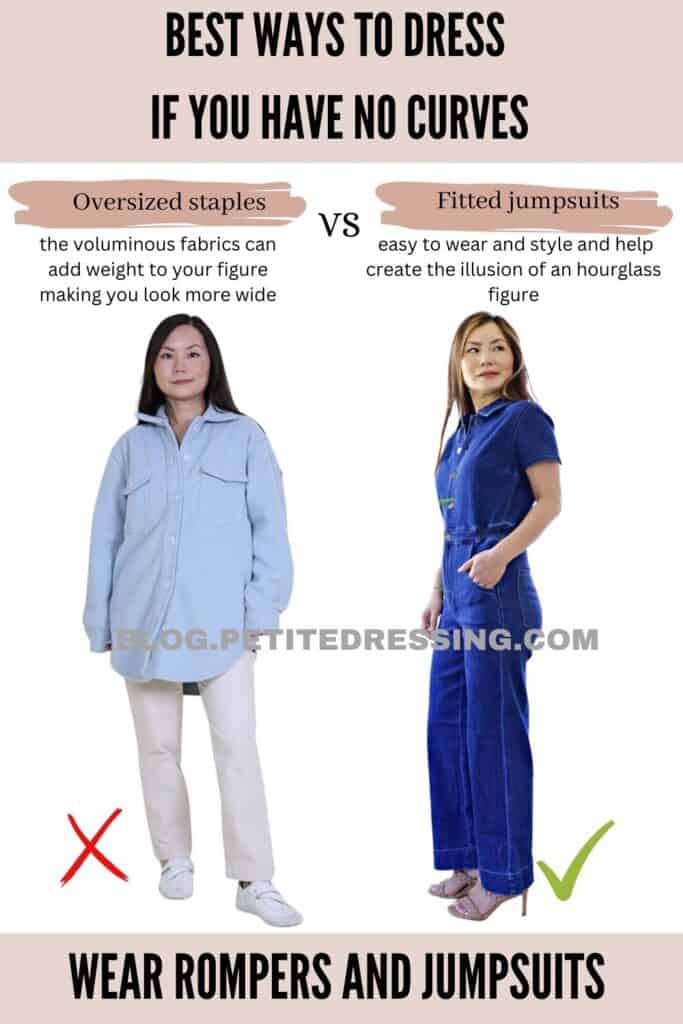 I was wearing this denim jumpsuit.
In addition to that, both of these types of garments fit slightly looser around the top half and bottom half which balances the waist definition just enough to create the illusion of an hourglass figure. An added bonus of jumpsuits and rompers is they're one piece, just like dresses – so they're SO easy to wear and style, especially during the summertime.
Dress in Color Blocking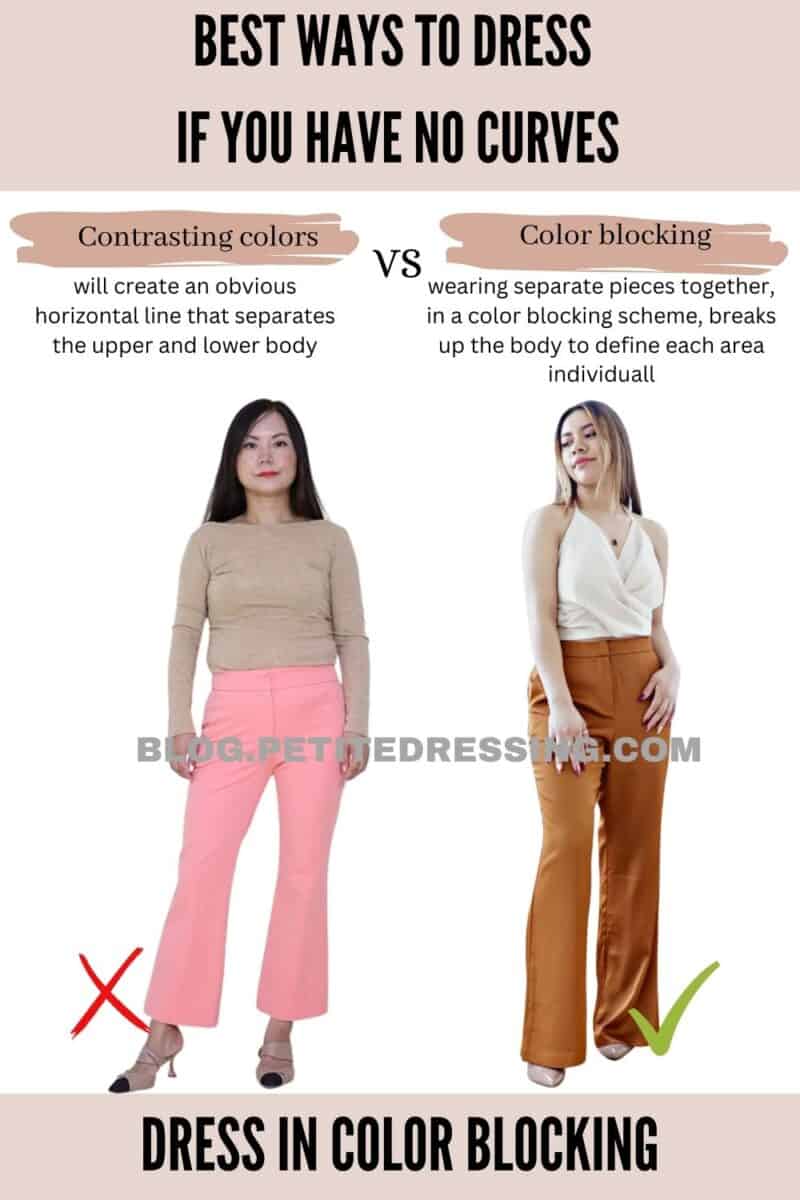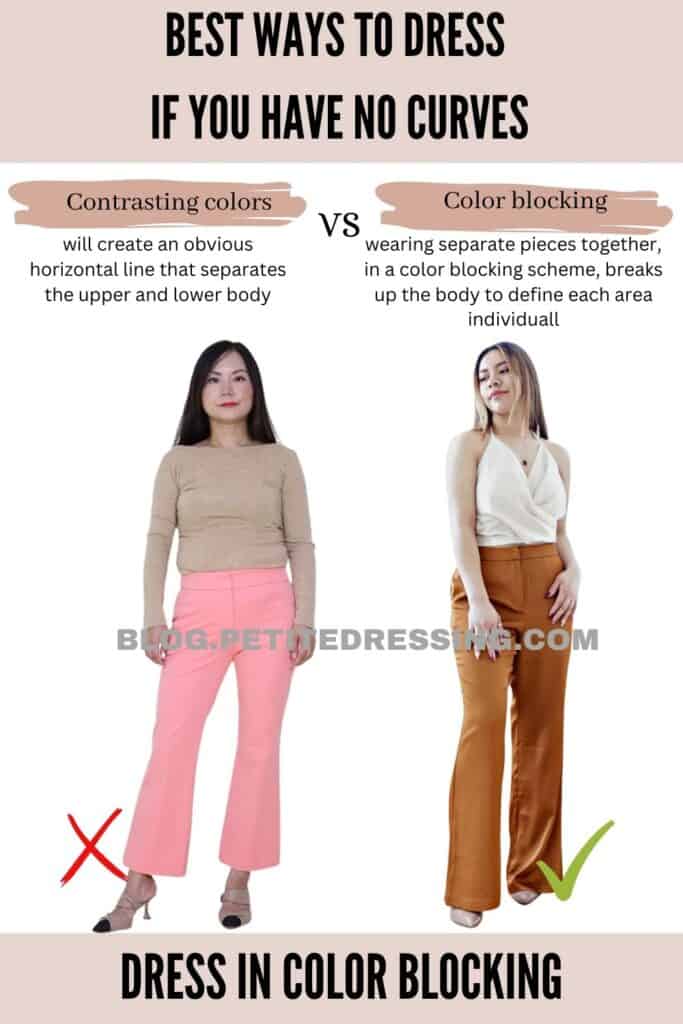 Another way to give the illusion of curves to the body is by using color blocking to get dressed. Color blocking, if you're not familiar, is the practice of wearing solid color pieces together. For example, an ivory top styled with a pink skirt.
The reason this styling technique is so great when you don't have curves is wearing separate pieces together, in a color blocking scheme, breaks up the body to define each area individually. When the body gets defined by separate pieces like this, it makes it look more curvy.
Wear Wide Leg Jeans and Flare Jeans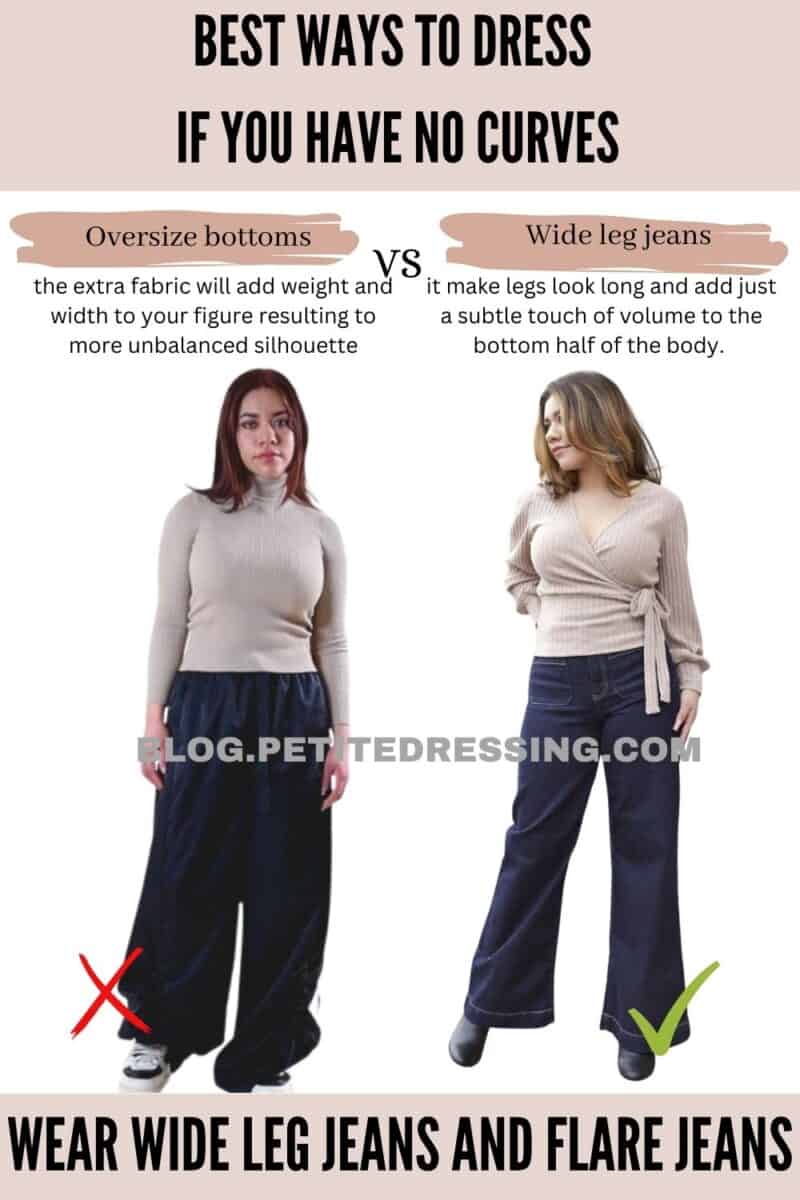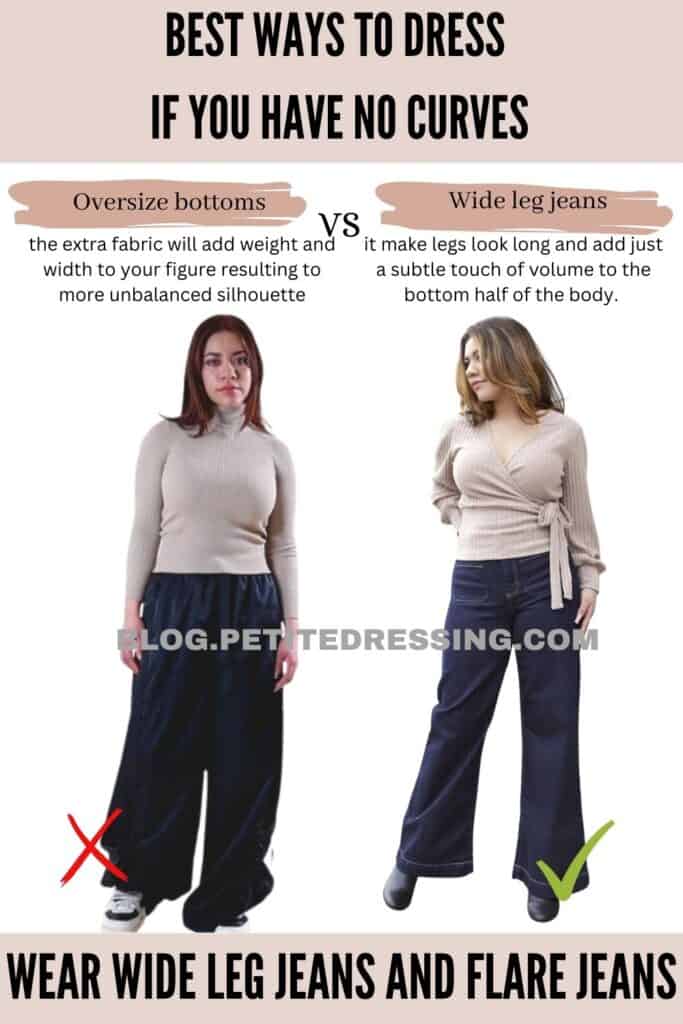 Lucky for you, a rectangular body type has the opportunity to wear a lot of different pants silhouettes and look great. Some of the best silhouettes to consider are wide leg and flare. Notice these silhouettes are all over the board and that's because they all look great for different reasons. When choosing jeans silhouettes for your straight figure, it's really about your own personal preferences. Wide leg, or flare leg, jeans and pants make legs look long and add just a subtle touch of volume to the bottom half of the body.
I was wearing this petite wide leg jeans.
Similar to wide leg jeans, flare jeans are also one of the best leg shape to flatter someone who does not have much curve. The jeans silhouette comes with plenty of curves itself, creating the illusion of a curvier figure on someone who has a straighter body shape.
Wear Ruffles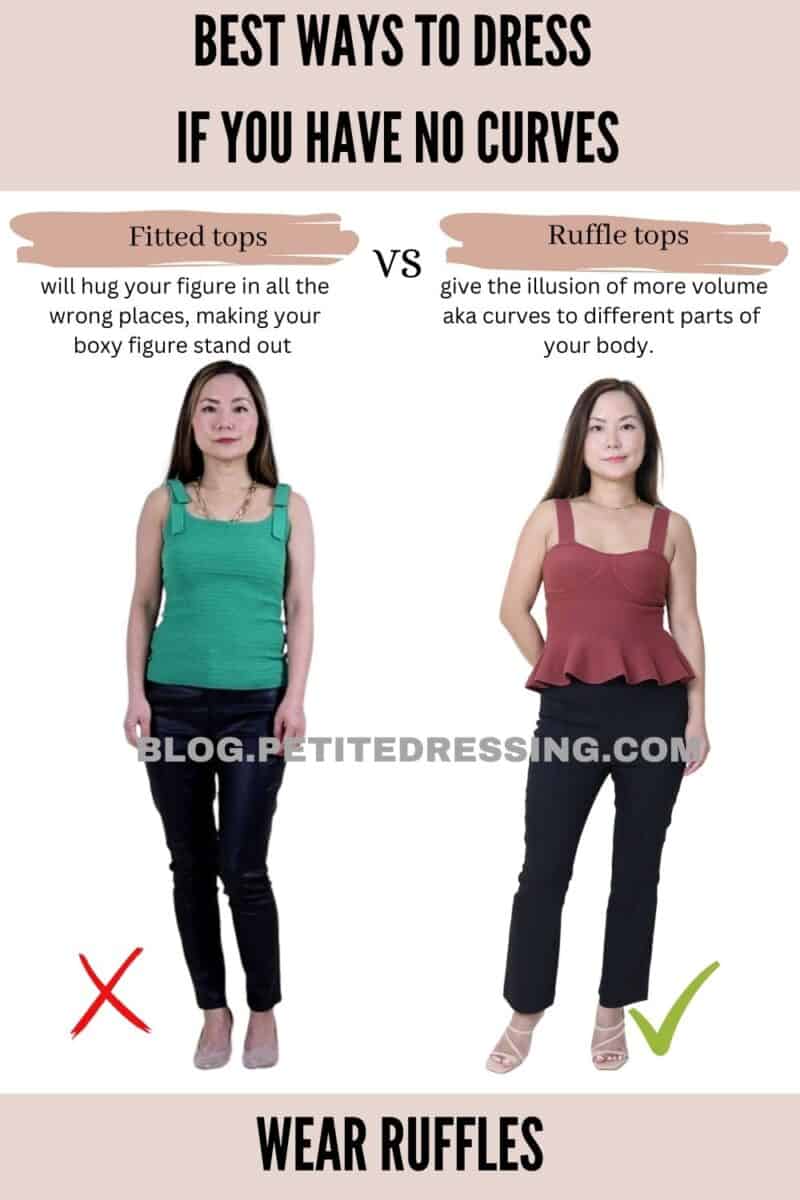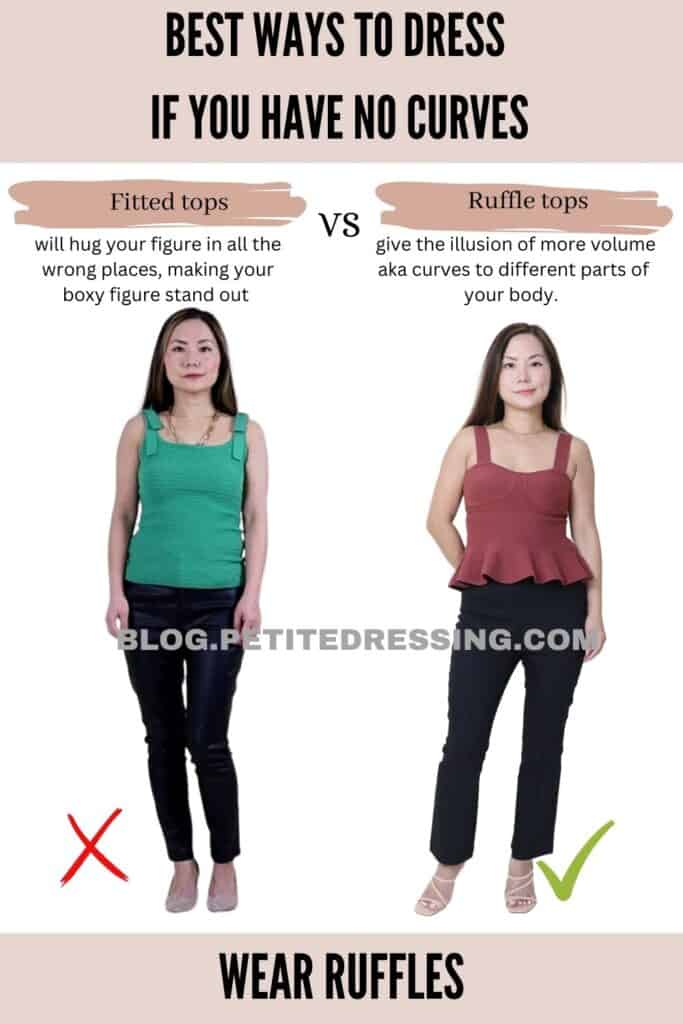 Details like ruffles, pleats, pockets, and more can be tricky to wear for many women because they bring more volume and attention to the area of the body in which they reside. Fortunately, as someone with a straight body type these details are things to use to your advantage. Use these types of details to give the illusion of more volume aka curves to different parts of your body.
Wear Mid – High Rise Bottoms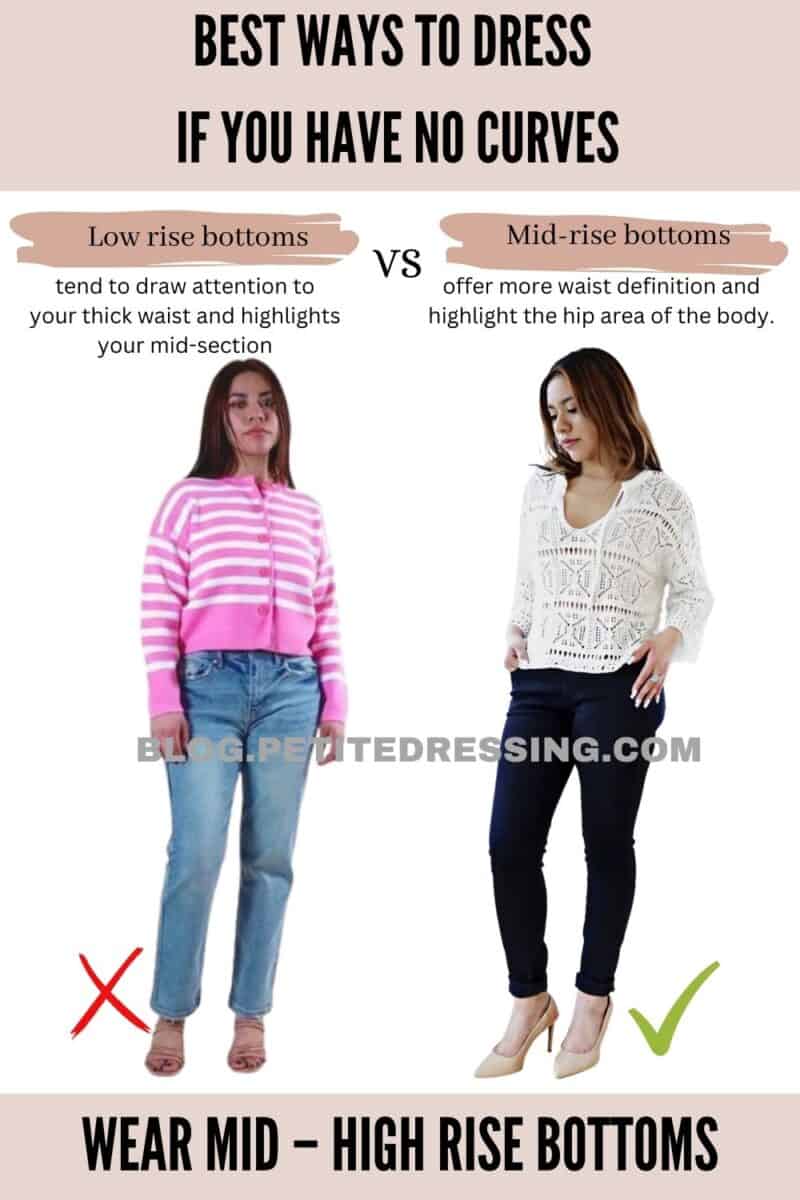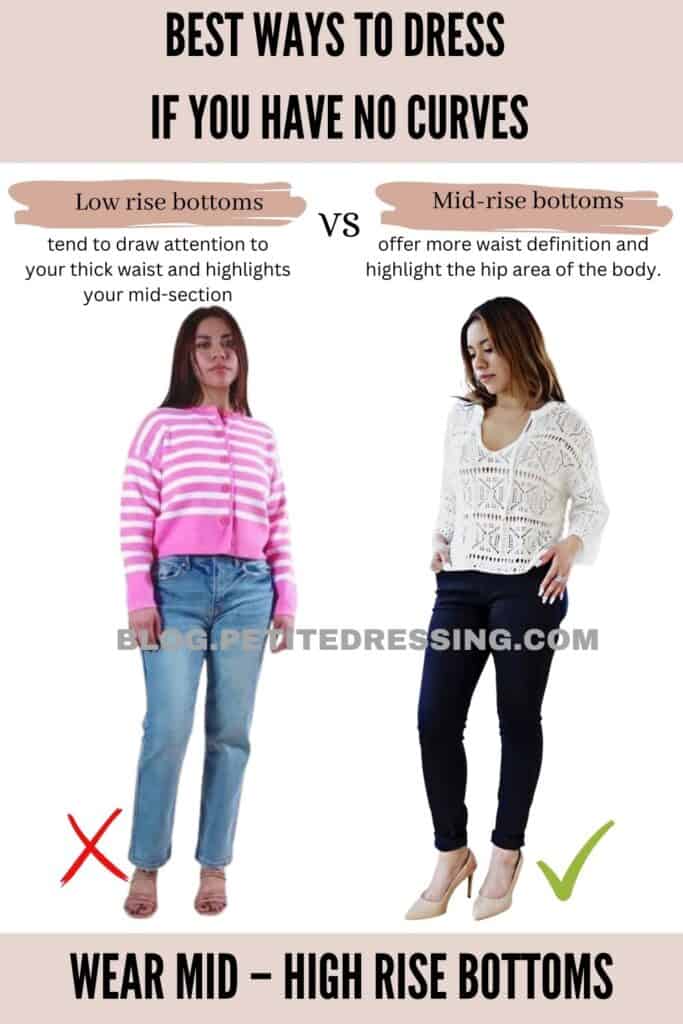 A common theme to dressing when you have no curves is highlighting the waistline, even if yours isn't naturally defined.
Wearing garments that do offer a defined waistline allows you to king of fake a naturally defined waist – another major hack stylists use often when dressing people. In the case of pants, skirts and shorts it's crucial to stick with mid to high rise fits. These higher rises offer more waist definition and highlight the hip area of the body.
Wear Skinny Jeans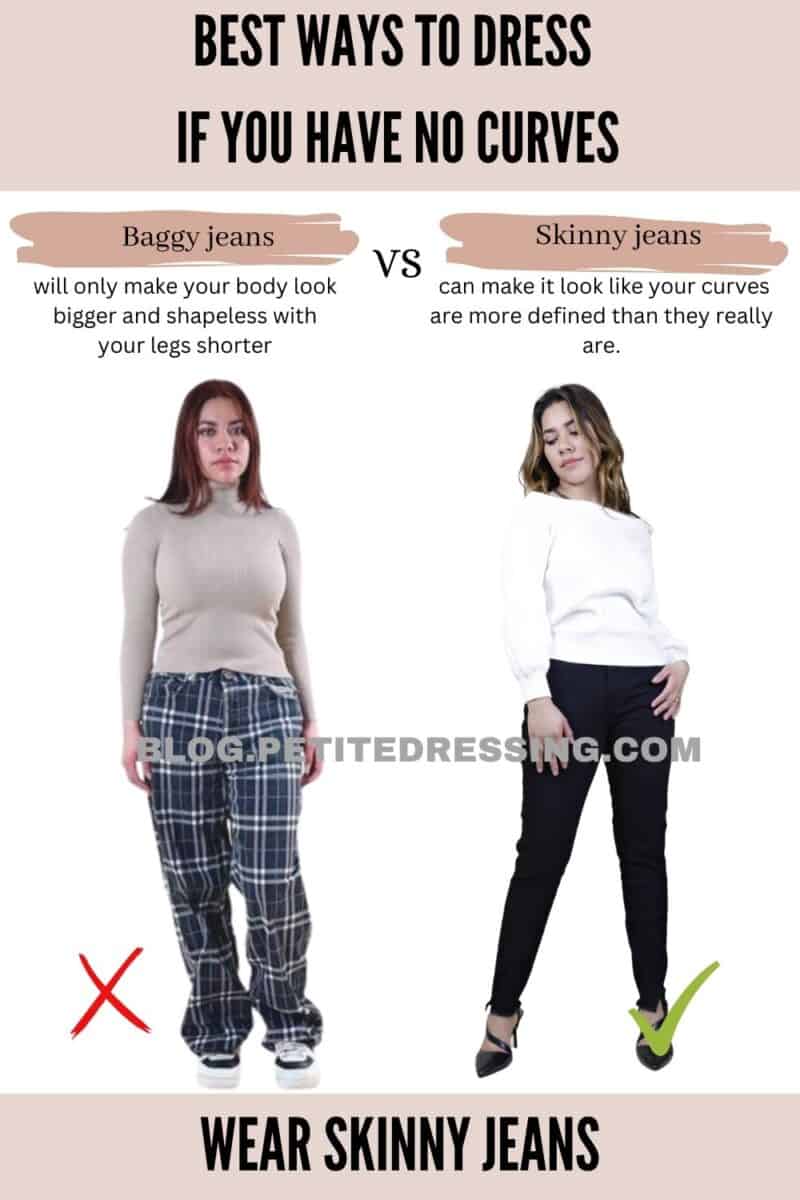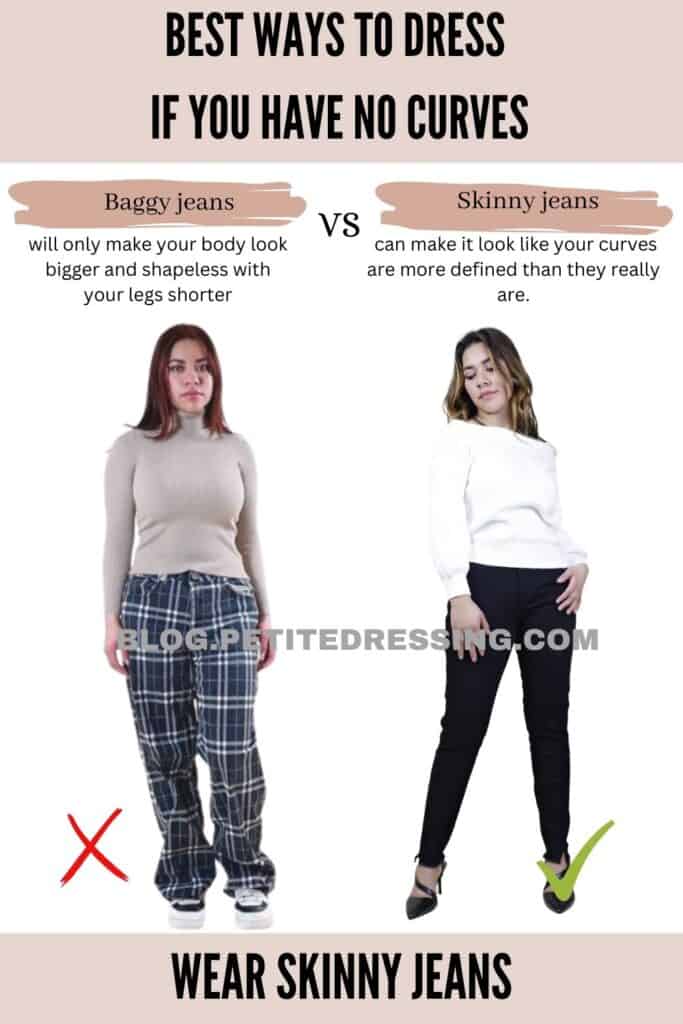 On the opposite side of things, skinny fit pants are just as flattering if you don't have much natural curves! The reason is because they fit closer to the body – even if you don't have curves the skinny fit can make it look like your curves are more defined than they really are.
Favor Dresses with Natural Shape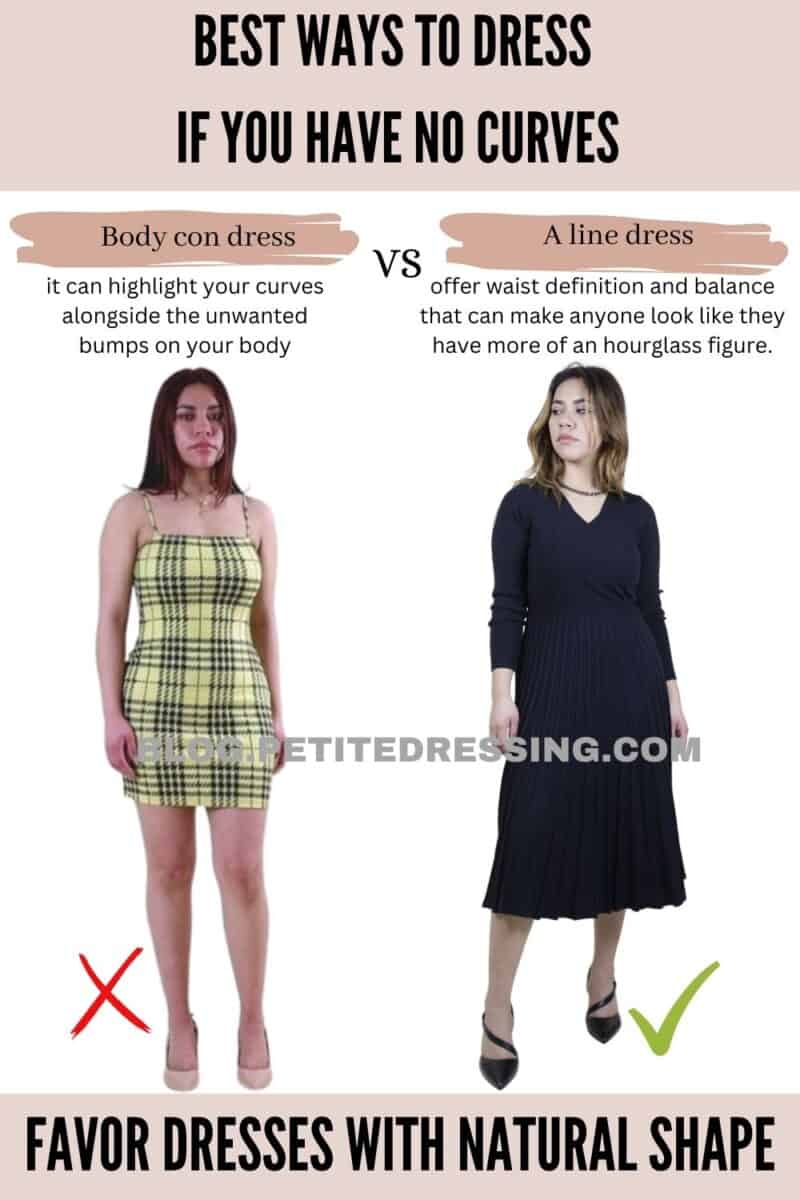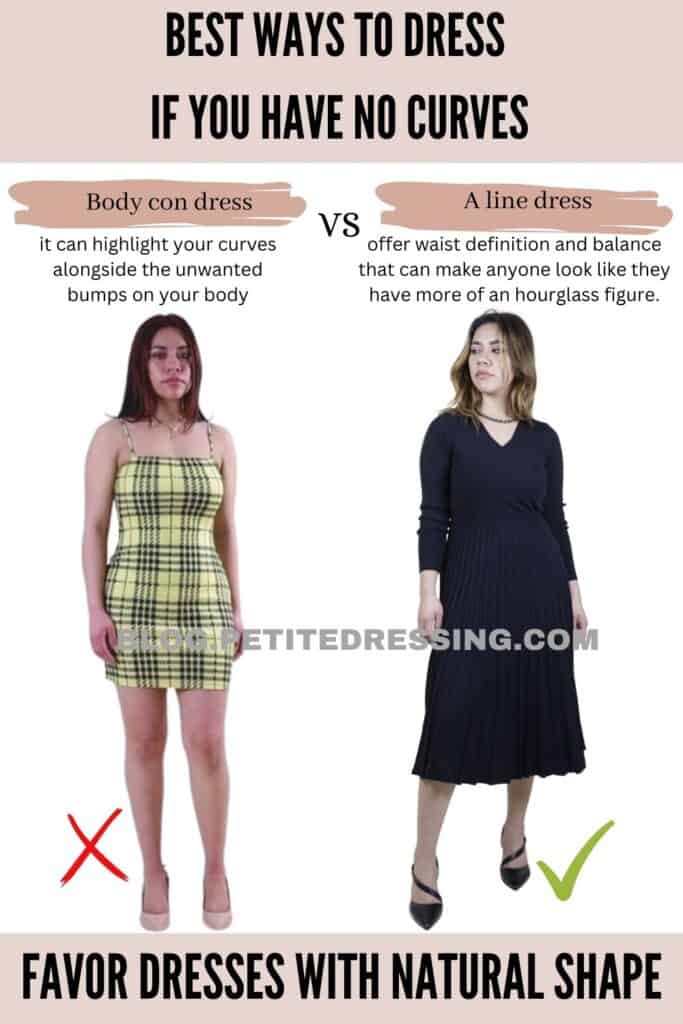 Dresses are a really great garment type to favor if your body is straight, or doesn't have a lot of curves. Because of the different types of dress silhouettes it can be incredibly easy to throw on the right dress and instantly look curvier. The key to doing this is opting for dresses that have shape on their own. This is going to be silhouettes like peplum, fit and flare, and A-line. All of these silhouettes offer waist definition and balance to the body that can make anyone look like they have more of an hourglass figure.
There are a lot of other dress silhouettes that provide a similar effect: shirt dresses and empire line for a few more examples.
Tuck in your Shirts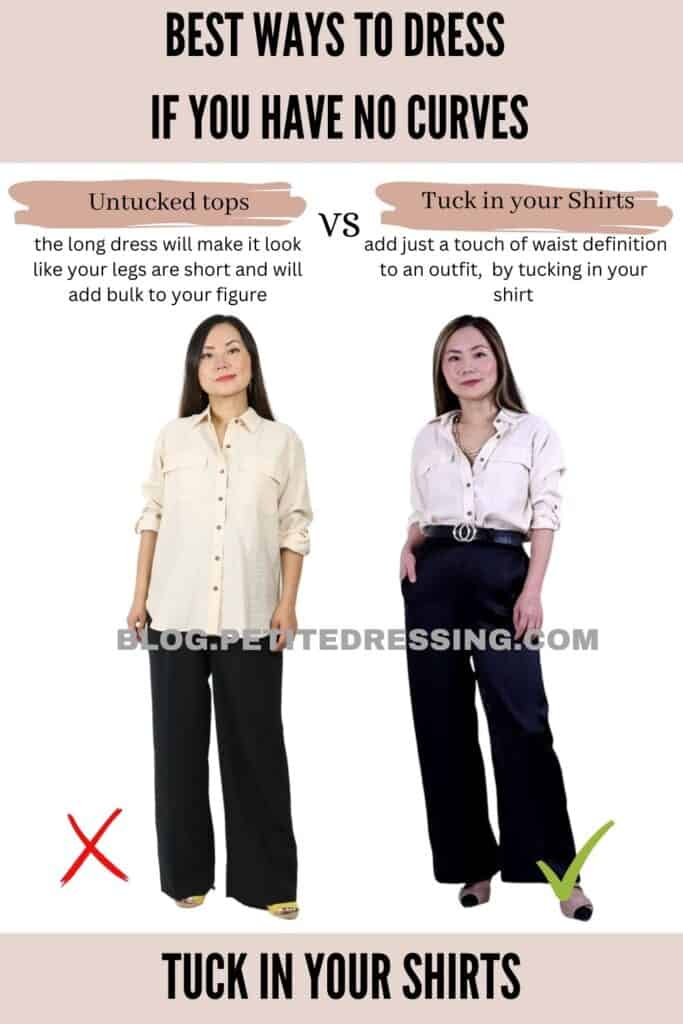 Obviously, defining the waistline (whether you have one or not) is an absolute must. The good news is there are plenty of different ways to do this to flatter your figure. If you want to add just a touch of waist definition to an outfit, consider tucking in shirts to the bottoms.
Even something as subtle and effortless as a half tuck will give a waistline illusion, and help make the body overall look curvier. It's definitely a win-win styling tip. Next time, instead of throwing on a simple t-shirt and jeans try tucking the shirt in and notice how it enhances your shape.
Wear cut-out dresses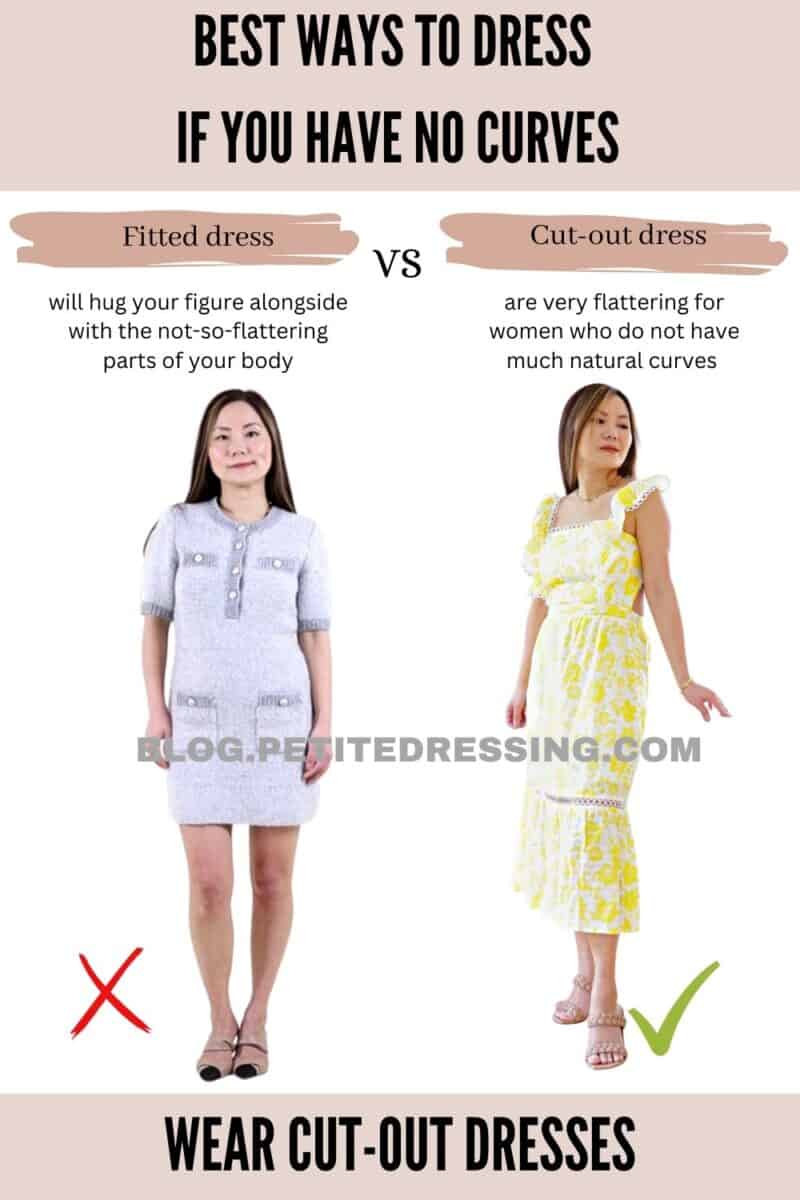 Cut-outs may sound intimidating to many of us, but believe it or not, cut-out dresses are very flattering for women who do not have much natural curves (when you wear the right styles of course).
The reason is because the cut outs can create the illusion of a waist on your body, even if you don't have much natural waist definition. It is worth mentioning you do want the cut outs to be around the narrowest part of your torso, in order for them to look more flattering.
Avoid Anything Totally Shapeless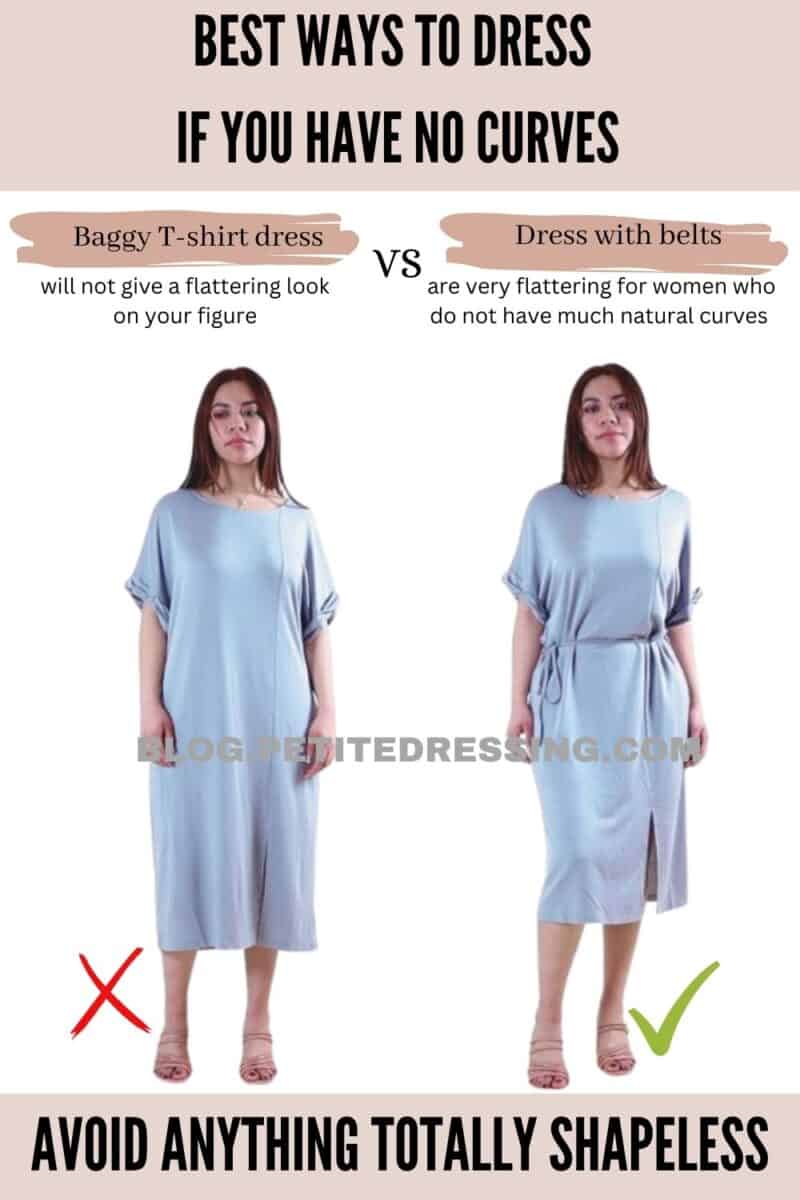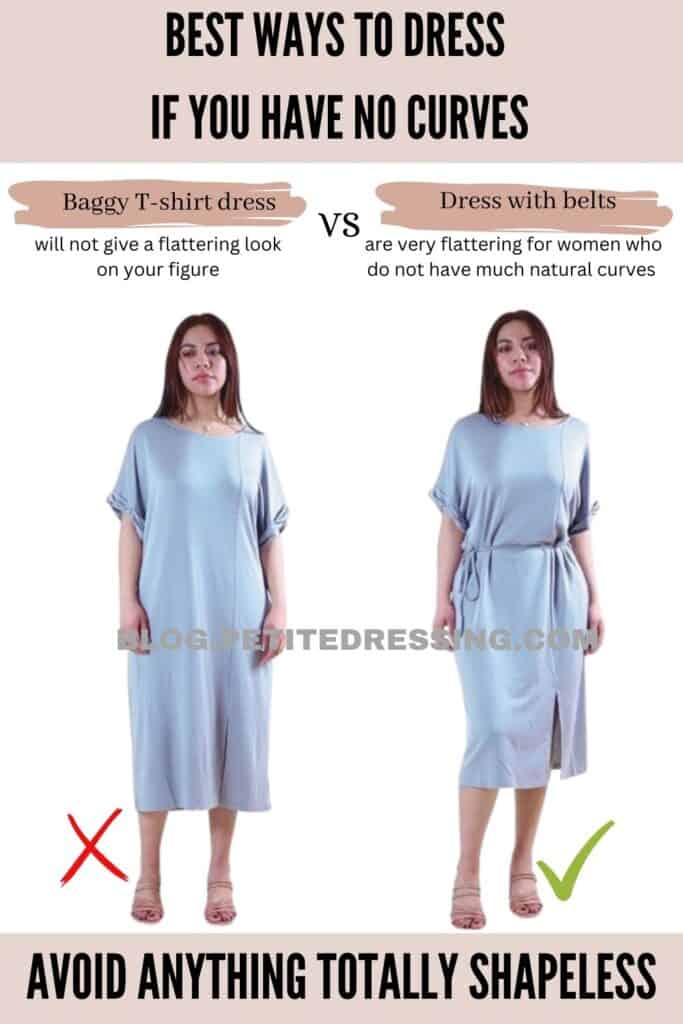 A common mistake many with no curves make is wearing clothes that are completely shapeless. The truth is, wearing clothes that are more form-fitting provides the illusion of curves because they fit closer to your body. Anytime wearing something that fits closer to the body, it enhances that part of the body. Try to keep shapeless garments for your lounging around time and make the most of the pieces you wear to flatter your figure.