Do you have a flat chest? You're in the right place because this is a breakdown of some of the most common necklines in fashion that will flatter your body type the best.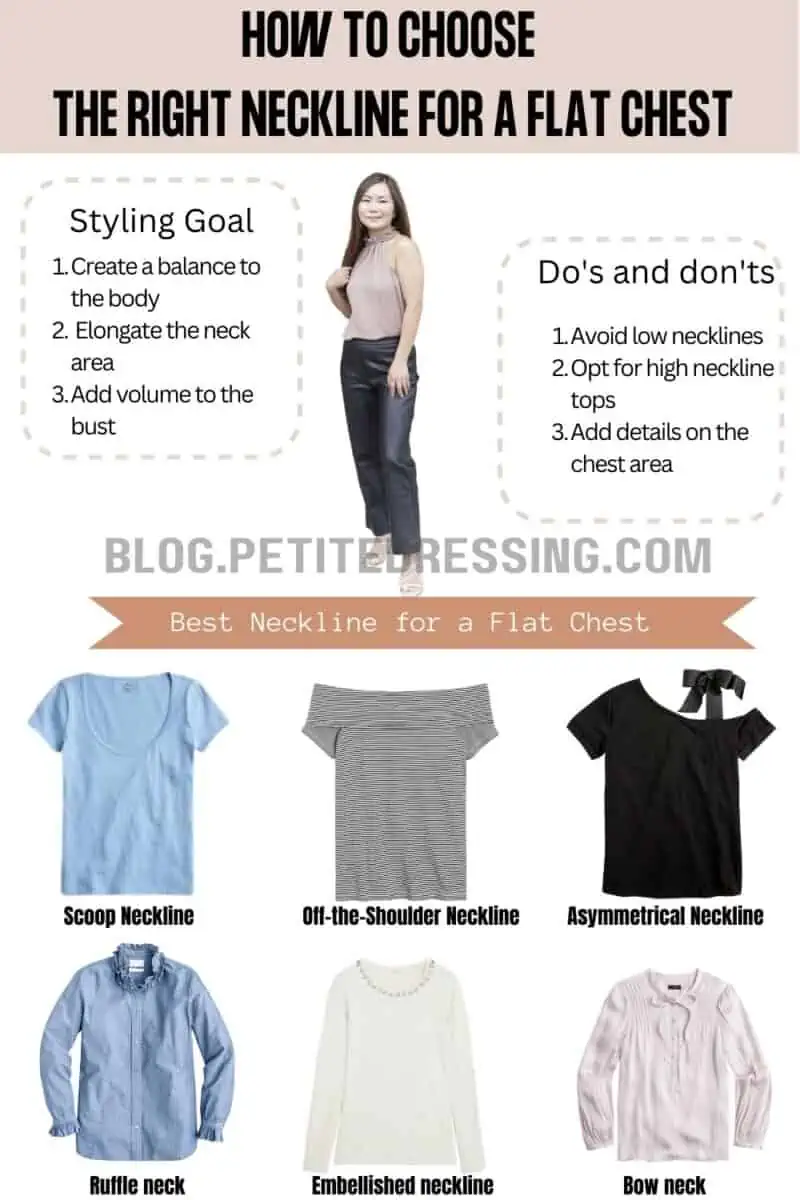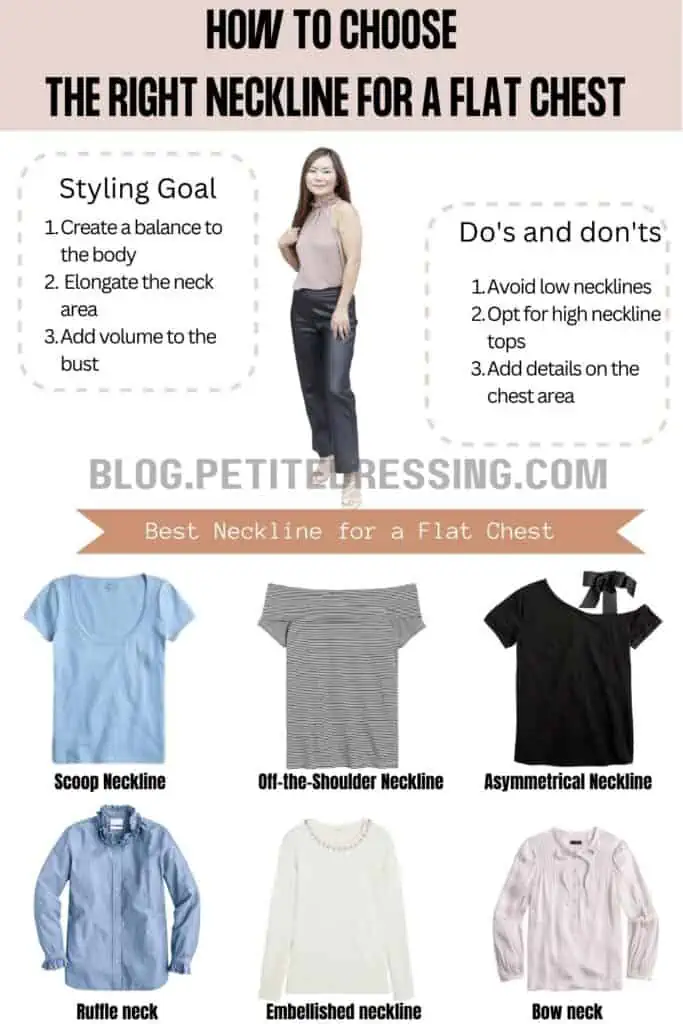 Realize it or not the neckline on a top, or dress, can completely change the aesthetic of an outfit. There's a reason why style experts often stress paying attention to the details when it comes to fashion – they play a big role in the overall look. Of course, the details that work for some may not be as flattering on others.
This is particularly true for different body types. As women we're all shaped different. It takes a little time and experimenting to figure out what works for your shape the best.
Boat Neckline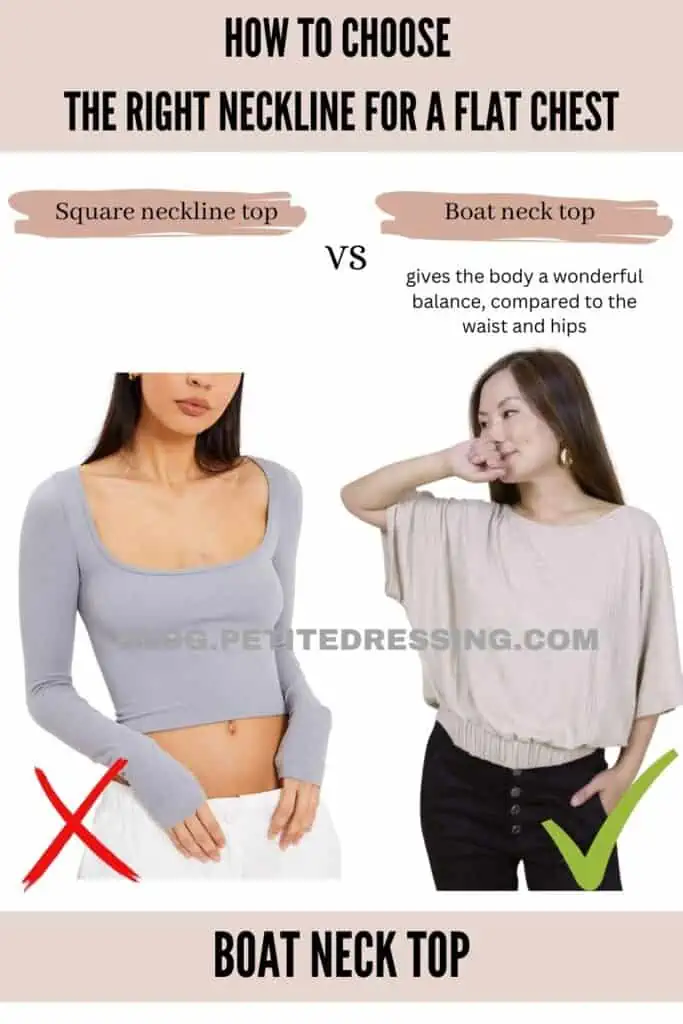 This is a neckline that can be difficult for some body types to wear, but it's one to embrace with a flat chest. The reason it's difficult is because of the widening effect it has on the torso – not ideal for women with a larger chest. However, this is why it works so well with a flat chest.
The subtly wide shape of the boat neck gives the body this wonderful balance, compared to the hips and waist. With a flat chest this is an easy way to achieve a more cohesive body shape.
All that being said, if you have a flat chest and very broad shoulders this isn't necessarily going to be the best neckline for you. Going back to the widening effect the boat neck provides, when worn with broad shoulders it will accentuate that attribute.
Turtle neck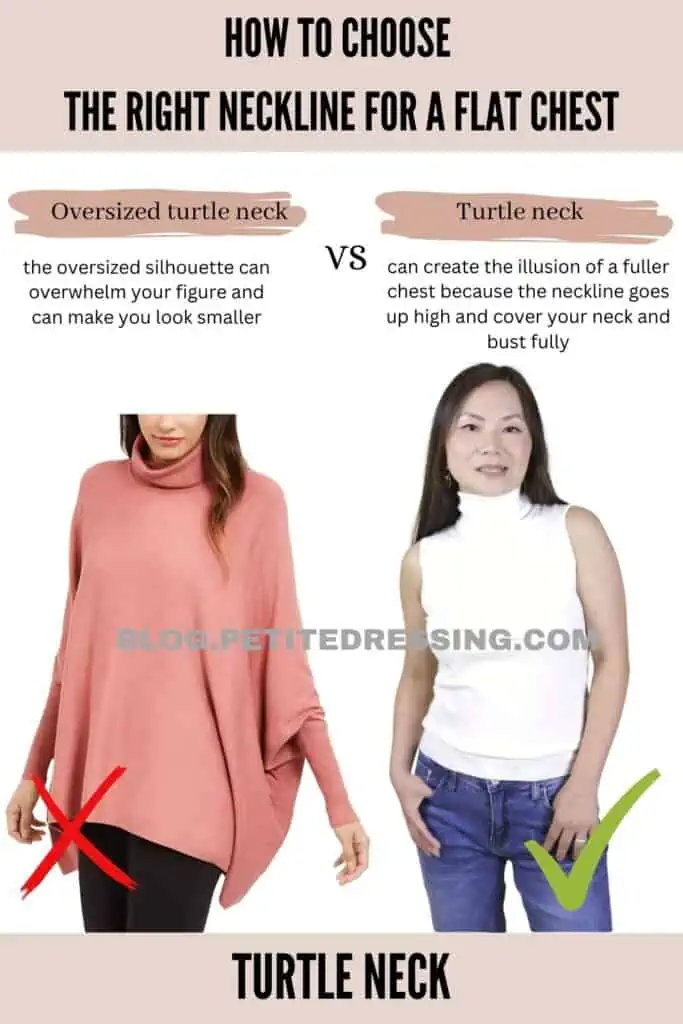 This is one of the most "basic" necklines out there, yet they look great on women with a smaller bust.
When you wear a turtle neck, they can create the illusion of a fuller chest because the neckline goes up high and cover your neck and bust fully.
In the fall and winter, a turtle neck is the most common neckline design for sweaters and other knit tops. Whether you go for a relaxed fit or a tighter fit, a turtle neck can make a flat chest look quite feminine.
V-Neckline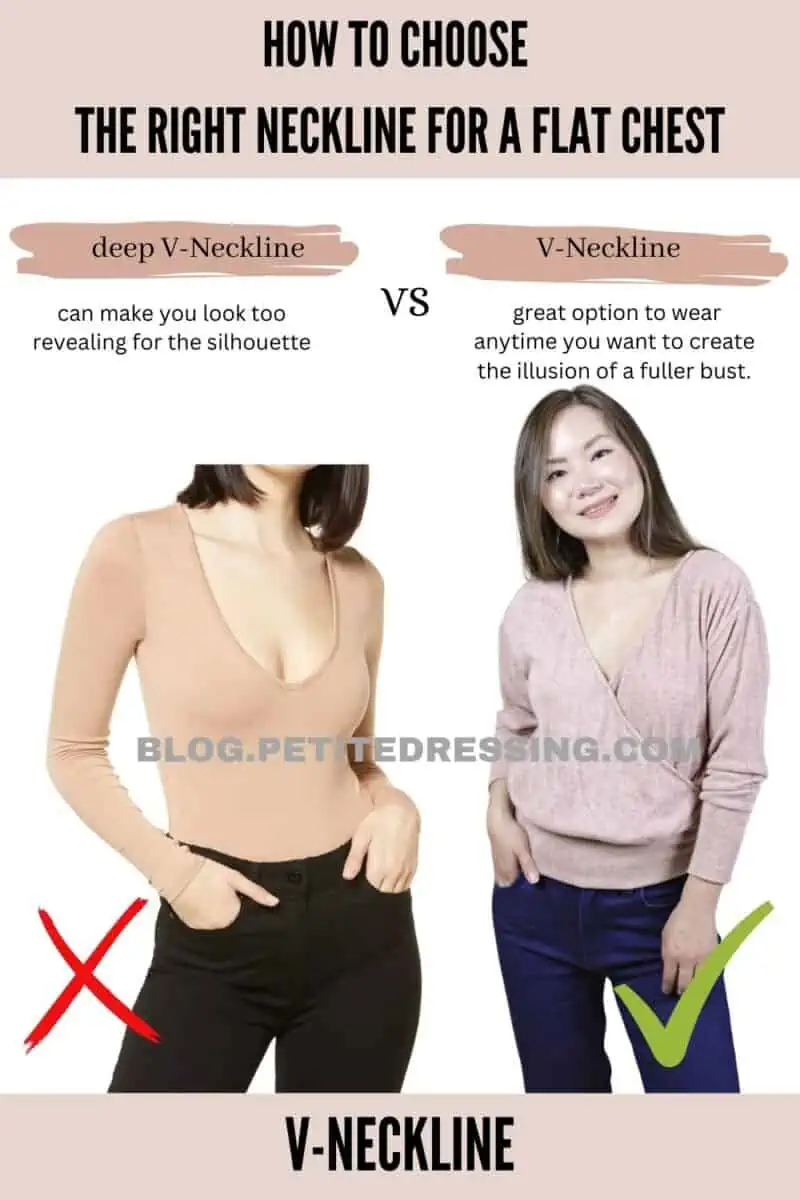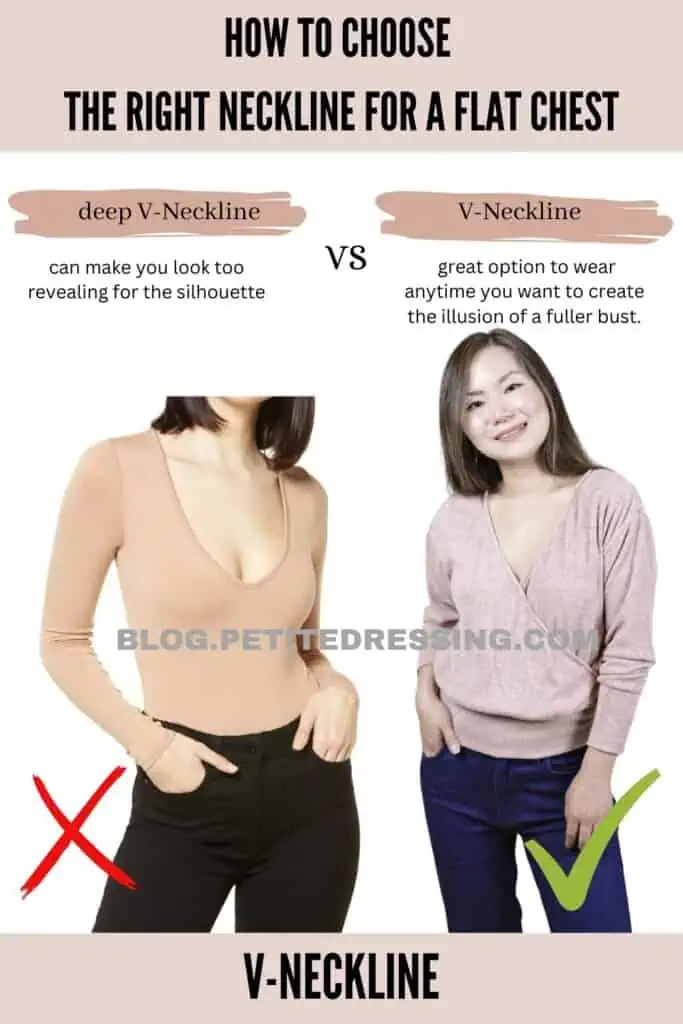 Truth be told the v neckline is one that flatters nearly every body type. It's versatility is quite impressive. Of course, it had to be mentioned on this list because it's definitely one to favor with a flat chest.
Many women with a flat chest tend to avoid this neckline, in fear it may bring more focus to a more minimal chest. Fortunately, the shape and illusion a v-neckline creates on the body flatters and enhances this.
The v shape of the neckline itself adds a subtle feminine aesthetic to an outfit, and your shape. Even without a deep, plunging v this is achieved beautifully. This is a great option to wear anytime you want to create the illusion of a fuller bust.
Scoop Neckline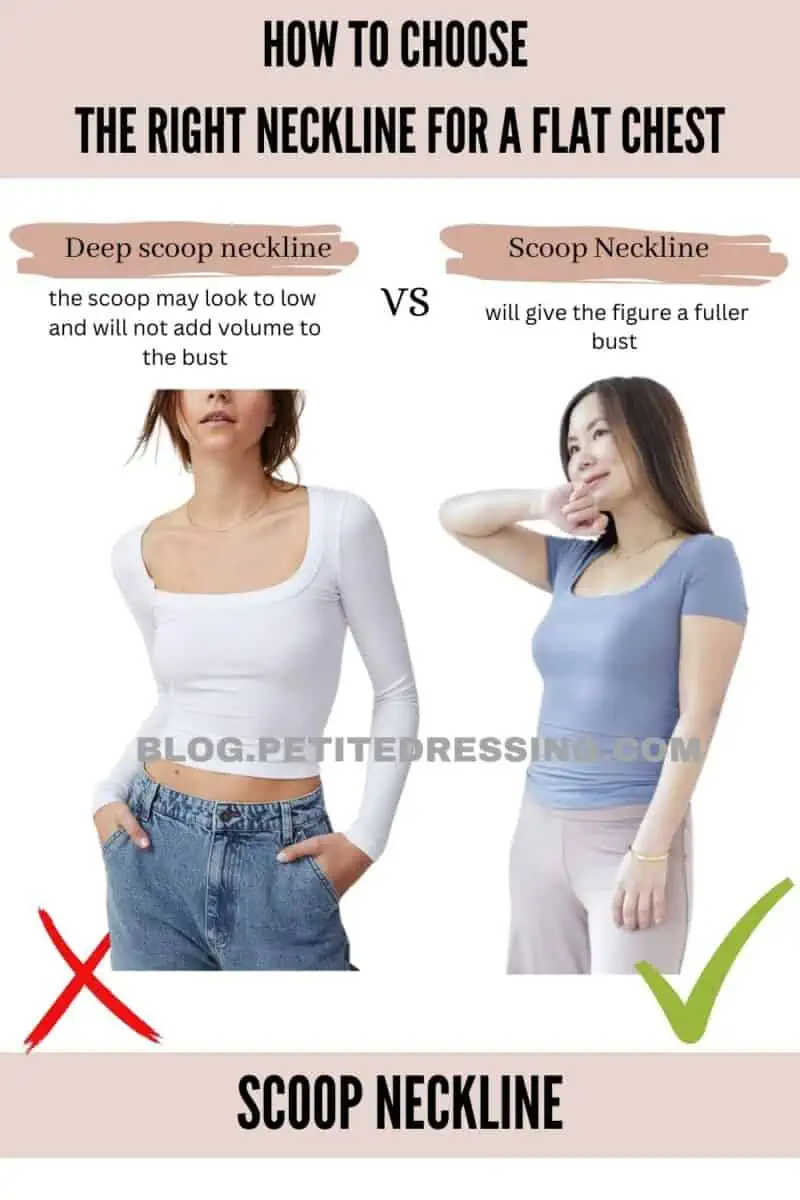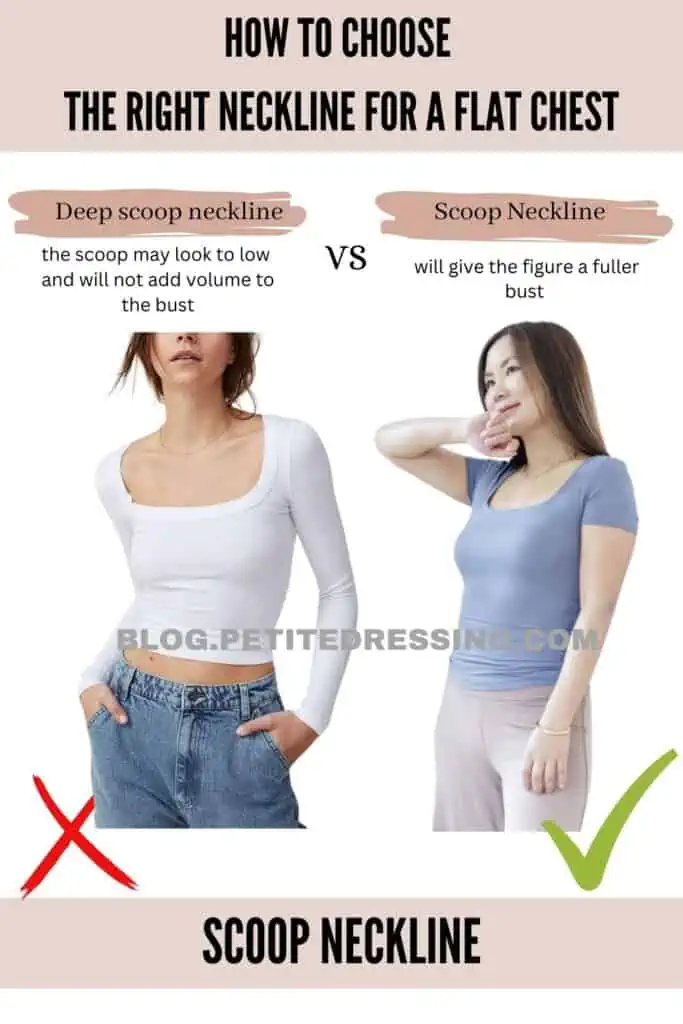 Another neckline that flatters a wide range of body types, is also something to enjoy wearing with a flat chest is the scoop neckline. This particular neckline is very similar to the v-neckline in the way it flatters the body, specifically a flat chest.
One thing that many women love about a scoop neckline in particular is the softness it provides to the body and the overall look. While the v-neckline is made with sharper lines, to create the v shape, a scoop shape is much softer aesthetically.
Fortunately, a scoop neck is classic and really easy to wear. Even just a minimally scooped shape will give the figure flattery benefits to a flat chest – most specifically, making the bust look fuller.
Off-the-Shoulder Neckline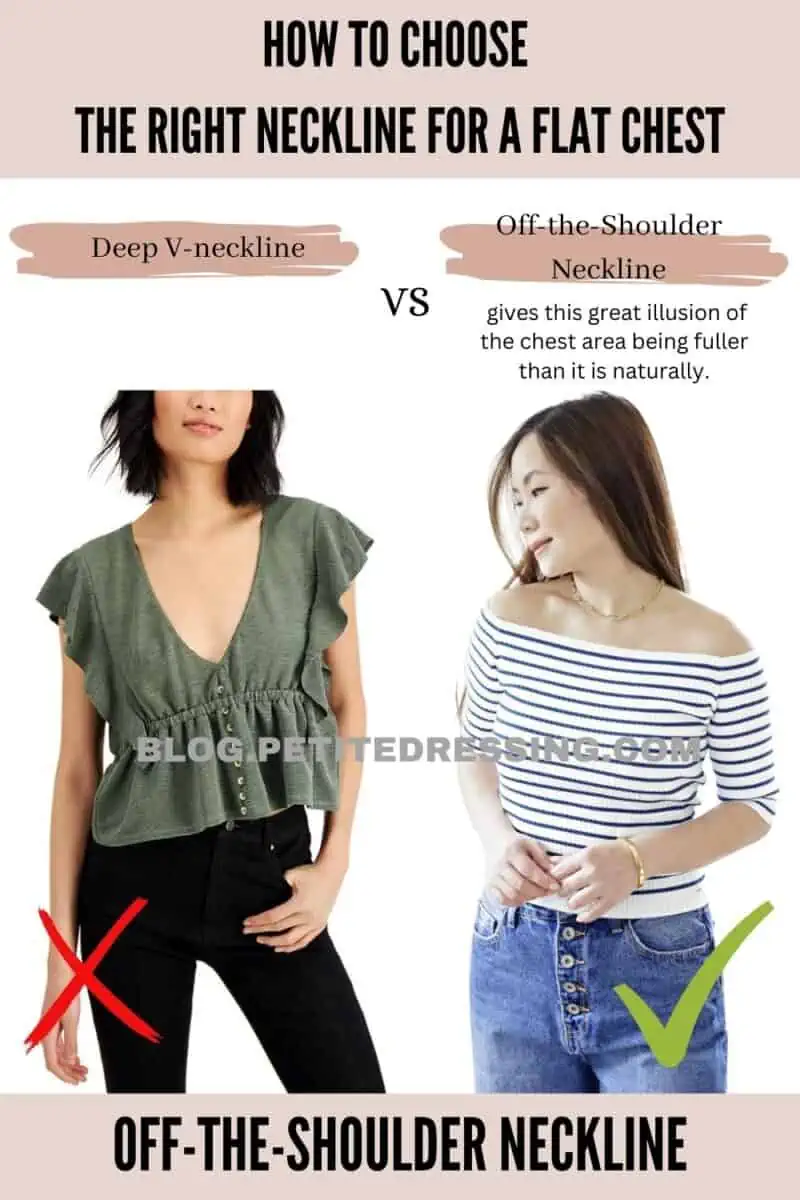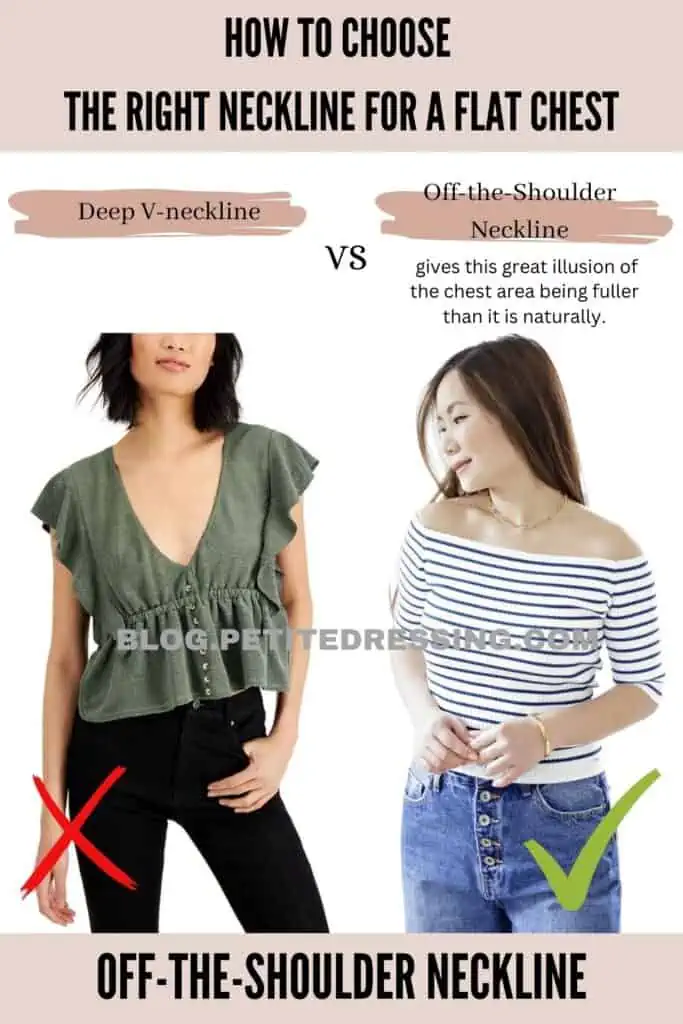 Chances are you've seen the popularity of off-the-shoulder necklines in everything from tops to dresses over the past couple of years. Well, it's not just a trendy but it's also a neckline that can be incredibly flattering with a flat chest.
Because of the way this neckline sits across the shoulder area, it draws a lot of focus to that area of the body which gives this great illusion of the chest area being fuller than it is naturally.
Think of the way this sits on the body as establishing a horizontal line across the shoulders. While horizontal lines have gotten a bad rap, they work well when dressing with illusions. Horizontal widens and this is a good thing when dressing a flat chest.
Off-the-shoulder necklines are even better for a flat chest when the fabric is a bit on the flowy side, further emphasizing the illusion of a fuller chest. Play it up even more with fun prints, patterns, and colors – this will only add to flattering elements with your body shape.
Asymmetrical Neckline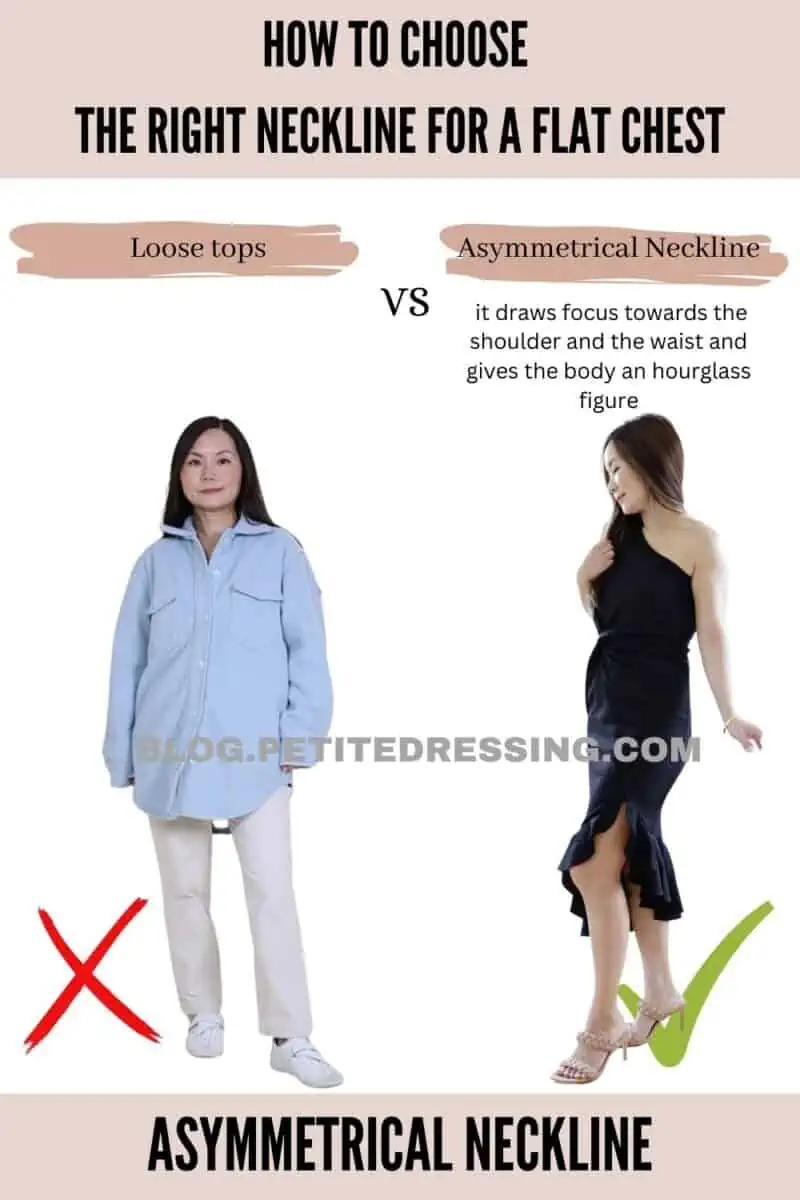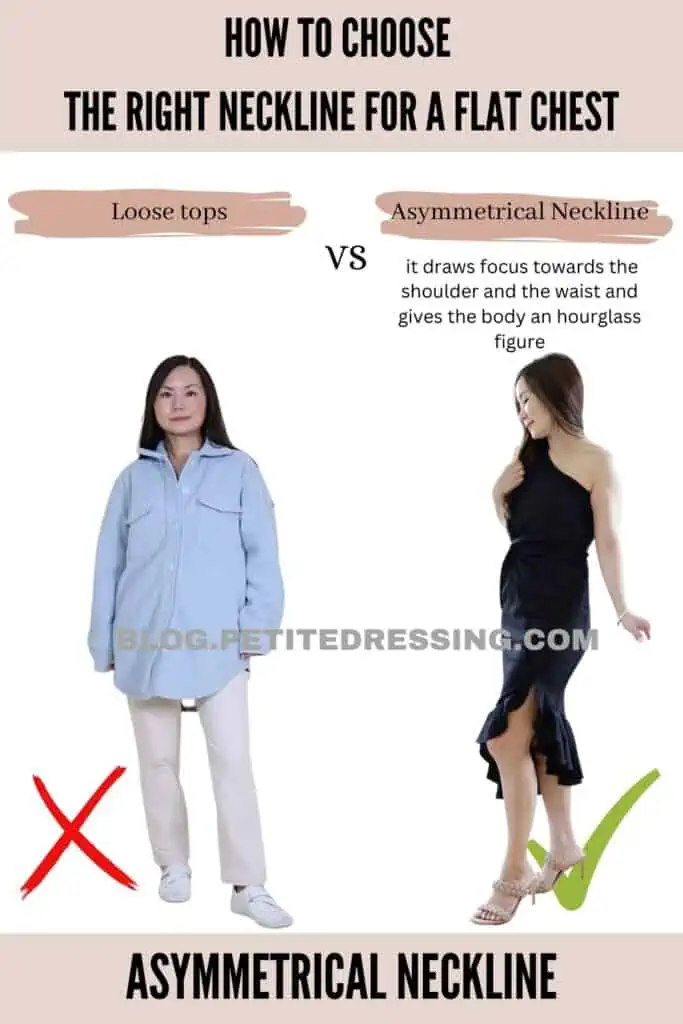 This neckline has been another one you've likely seen trending for the past couple of years. The good news is, it can really play up a flat chest and look incredible.
Because of the diagonal line that's established with the asymmetric neckline, it draws focus towards the shoulder and the waist. In doing this it can make the chest look more full, and gives the body more of an hourglass shape.
Asymmetric necklines are one that may come as a shock because of how many body types and figures it really does flatter and enhance. If it's new to you, make this year the one you try it out for yourself.
Ruffle neck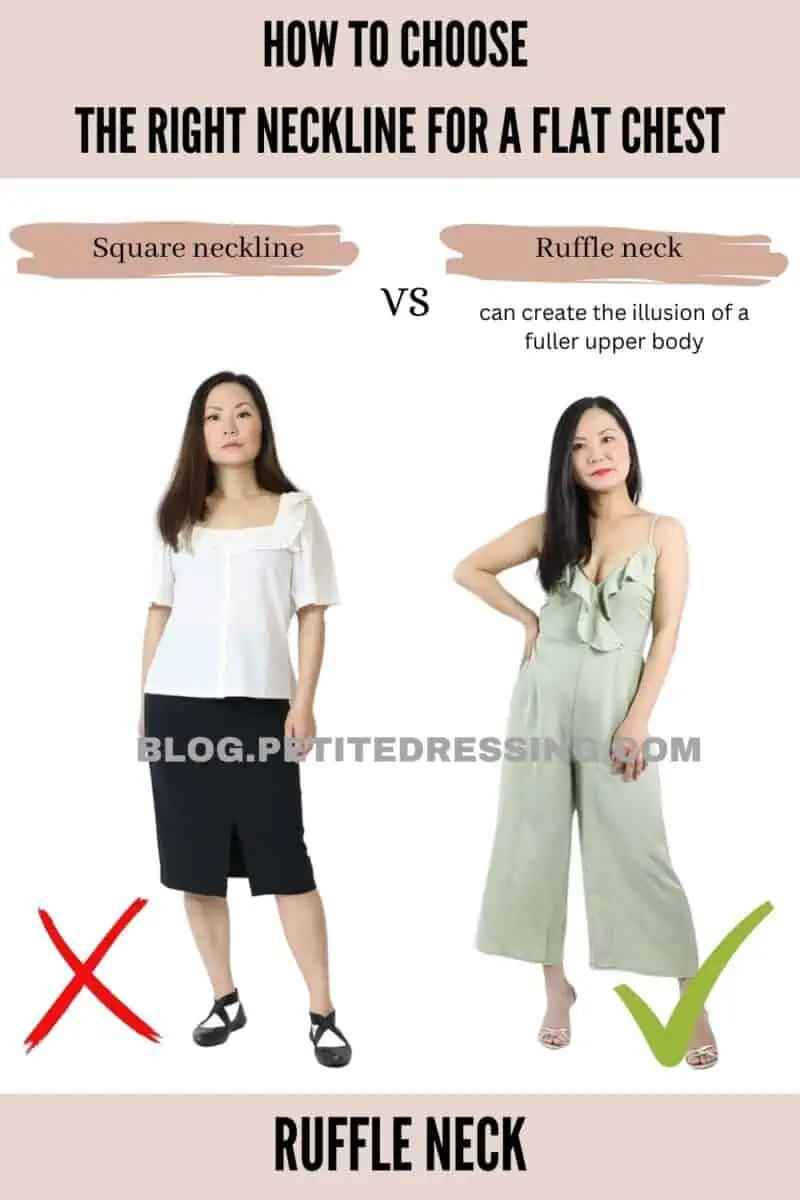 Now that you have a few solid neckline styles to reference for your body type, there are some other general style tips that can help you as you begin utilizing these necklines.
First up, is making use of smaller details like ruffles around the necklines.
Because ruffles add volume, they can create the illusion of a fuller upper body, let alone the feminine and elegant aesthetics we all love about the ruffled design.
This is something that can be adapted into any of the necklines, too.
Whether you are wearing a dress or a blouse, or even a T-shirt, looking for ruffles around your neck to flatter a small chest.
Embellished neckline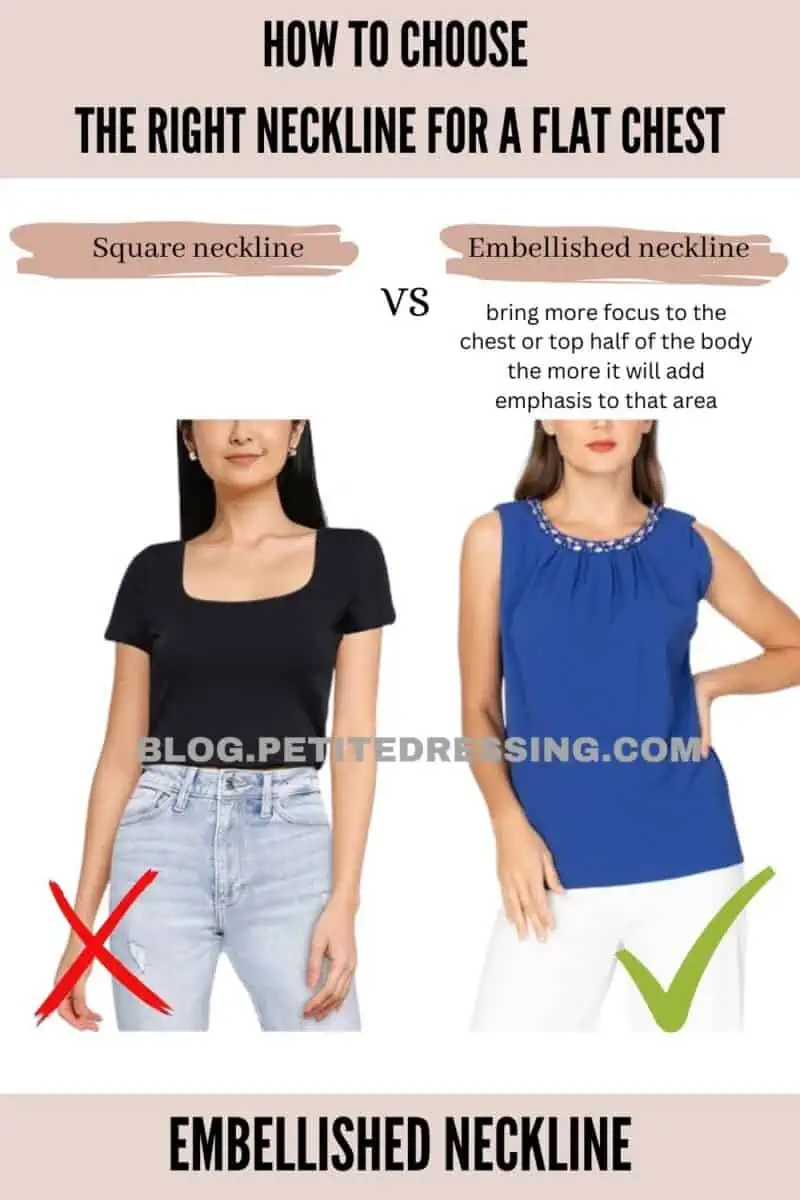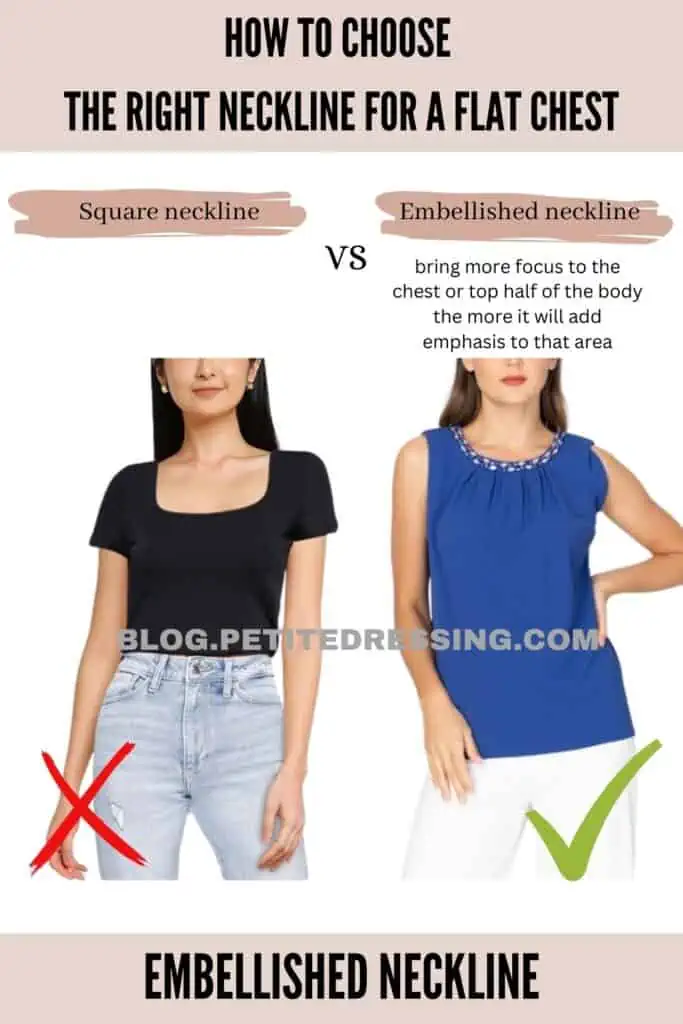 For a flat chest, any time you're able to bring more focus to the chest or top half of the body the more it will add emphasis to that area – flattering a flat chest.
That is why having details like embellishments around the neck is a smart way to dress if you have a flat chest.
Bow neck
Strictly speaking, this is not a "neckline" but a neck design.
A blow blouse is a classic staple for any woman, especially for women with a smaller bust. Not only are they very feminine, but they are also very versatile as you can easily wear them to the office or for a going-out outfit.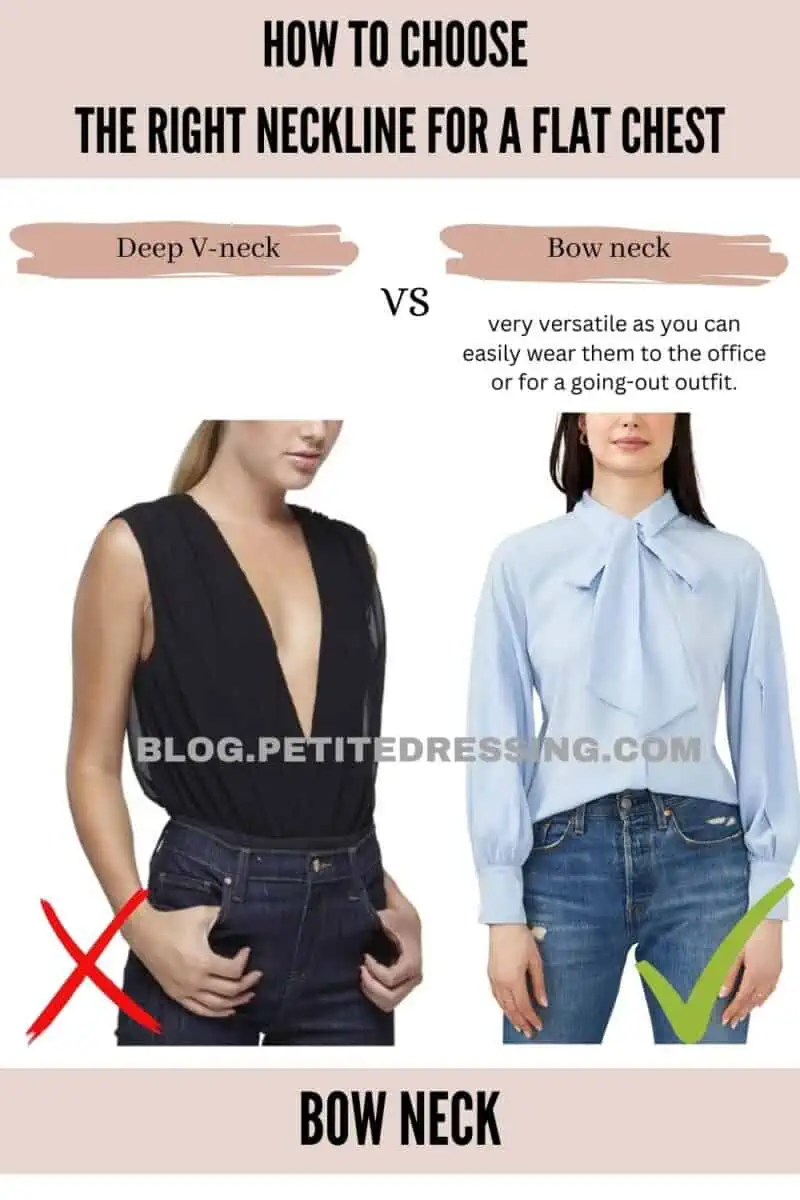 In fact, this is the advantage of having a flat chest, because they look much better on a smaller chest than on a full bust. Since the bow adds plenty of volume to your bust area, they can totally balance out the flat chest.
The next trick to utilize is embracing more bold prints and patterns. Similar to the way things like ruffles and embellishments draw focus, prints, and patterns do the same.
Bold patterns like horizontal stripes, for example, are an easy way to play with illusions when dressing. This is even more prominent when styling different necklines based on your shape.