Planning to attend a gala or have you got invited to a fancy formal gathering? We absolutely know the nerve-wracking task of finding the right formal dress and it gets extra difficult when you're concerned about your thick arms.
Having thick arms is not an uncommon concern and so a lot of women find this body aspect unwanted. It's no secret that thick arms can make us quite conscious especially when it comes to formal dresses where most designs are sleeveless or strapless!
But choosing formal dresses should never intimidate you because we are here to help you find flattering dress structures and silhouettes that will surely flatter your arms. We'll first discuss the key styling goals you need to go by and then proceed to the types of formal dresses that would suit you.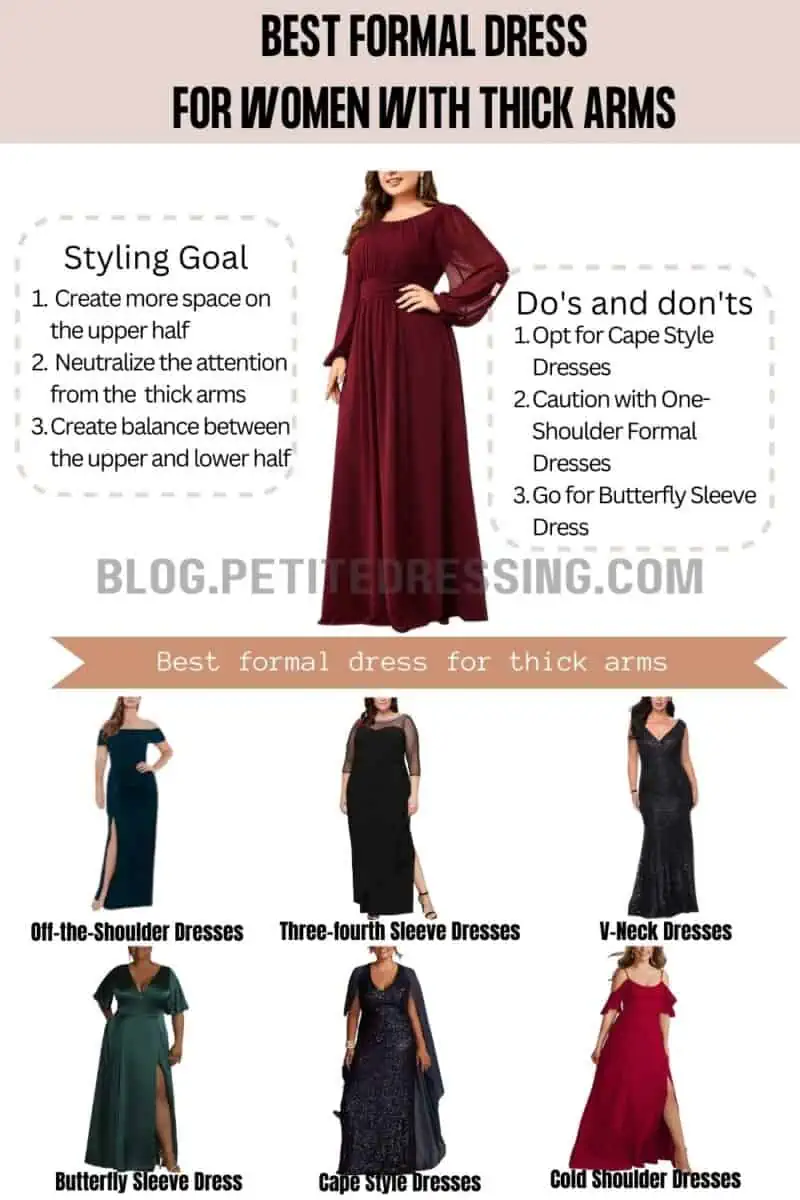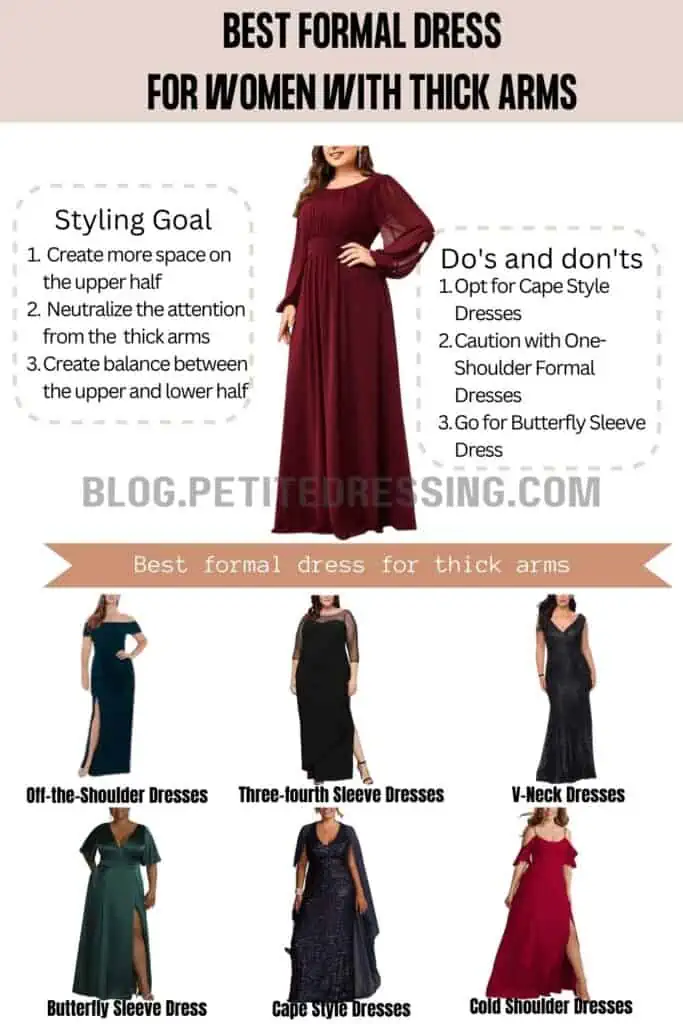 Styling Goal
Draw attention to your best features so people would set their eyes on these areas and not on your thick arms. Some of the universally flattering focal points should be the shoulders and waist area.
Avoid too much puff fabric and other bulky details placed on the sleeves, most especially on the upper part of your arms because this will just make your arms look thicker.
You don't always necessarily have to hide your arms. You can opt for silhouettes and cuts that visually give the illusion of smaller arms.
Wide sleeves will give your thick arms a more comfortable fit. Formal dresses tend to be restrictive at times but that shouldn't be the case for you because all you need to do is find the proper fit.
In the next section of this blog post, we'll dive into different types of formal dresses that you can go for if you're concerned about your thick arms.
Off-the-Shoulder Dresses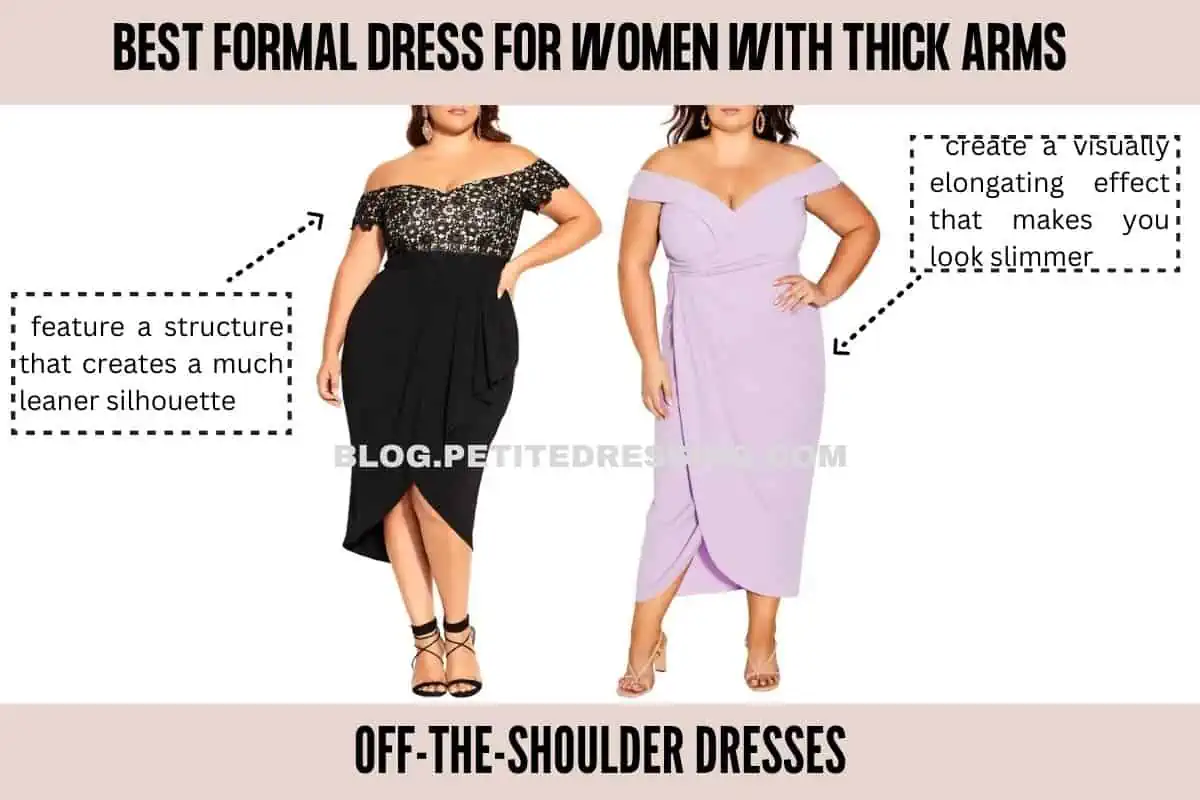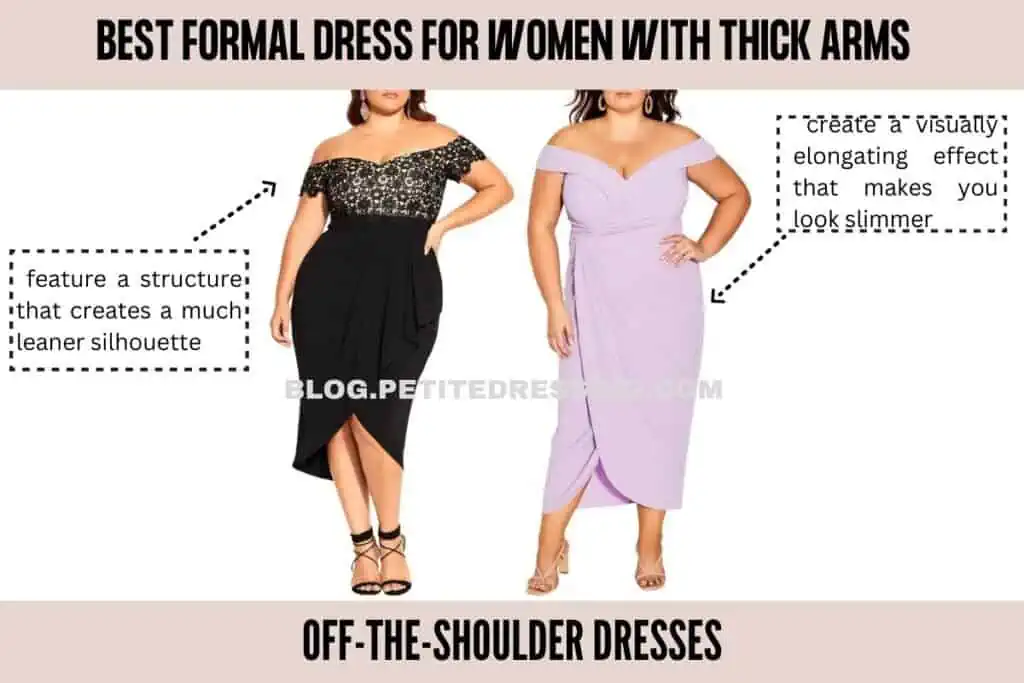 Off-the-shoulder formal dresses are absolutely ideal for individuals with bigger arms as they draw attention away from the upper arms and focus on the shoulders and neckline. Not only are they quite trendy, but they also feature a structure that creates a much leaner silhouette.
Off-the-shoulder silhouettes bring the eyes to the upper half of your body (neck, shoulders, collar bones) and therefore create a visually elongating effect that makes you look slimmer.
They should come in many different styles so you also have to be mindful in choosing the details of the formal dress to avoid highlighting your arms. For instance, off-the-shoulder dresses with too many bulky ruffles on the sides may look too overwhelming to the point of drawing the eyes on your arms instead of your shoulder line.
Three-fourth Sleeve Dresses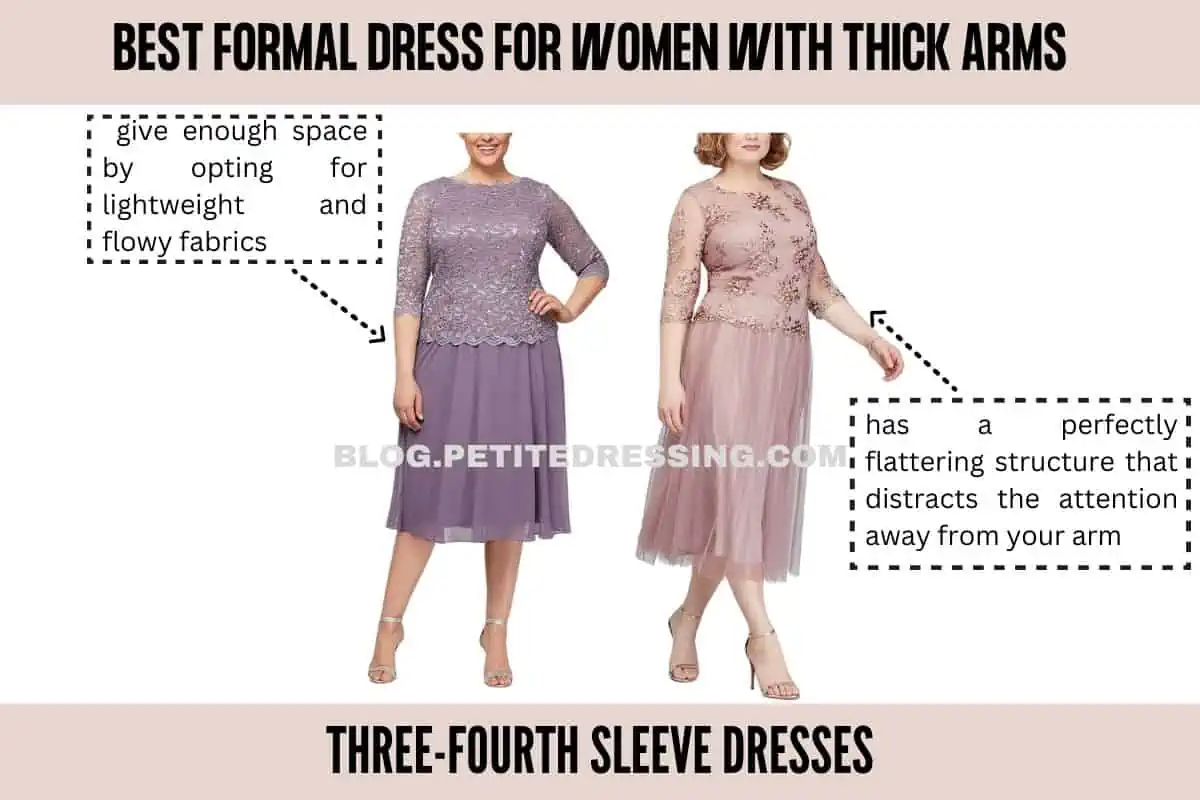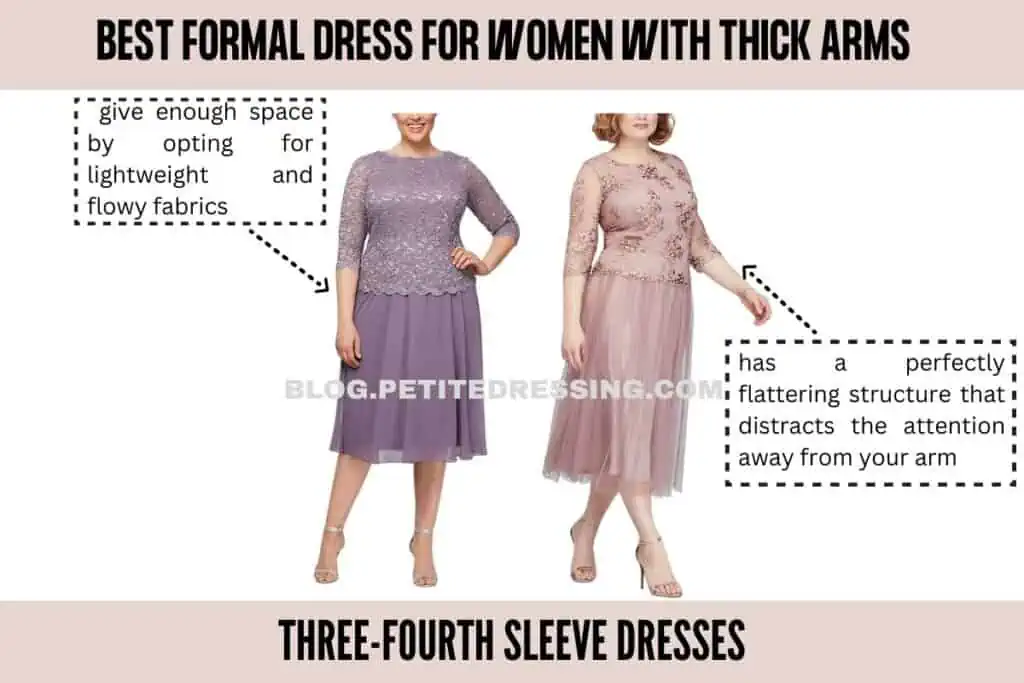 If you'd like your dress to have more coverage but don't want to go with full sleeves, then three-fourth sleeves will always be your thick arms' best friend. They are not too long nor too short so it has a perfectly flattering structure that distracts the attention away from your arms.
Just remember to pick one that doesn't have sleeves that are too tight. Stretchy fabrics tend to cling to your arms so it'll make the size of your arms more apparent.
Go for three-fourth sleeves that give enough space by opting for lightweight and flowy fabrics. You can also go for mesh or lace because they are sheer enough to camouflage the actual size of your big arms.
V-Neck Dresses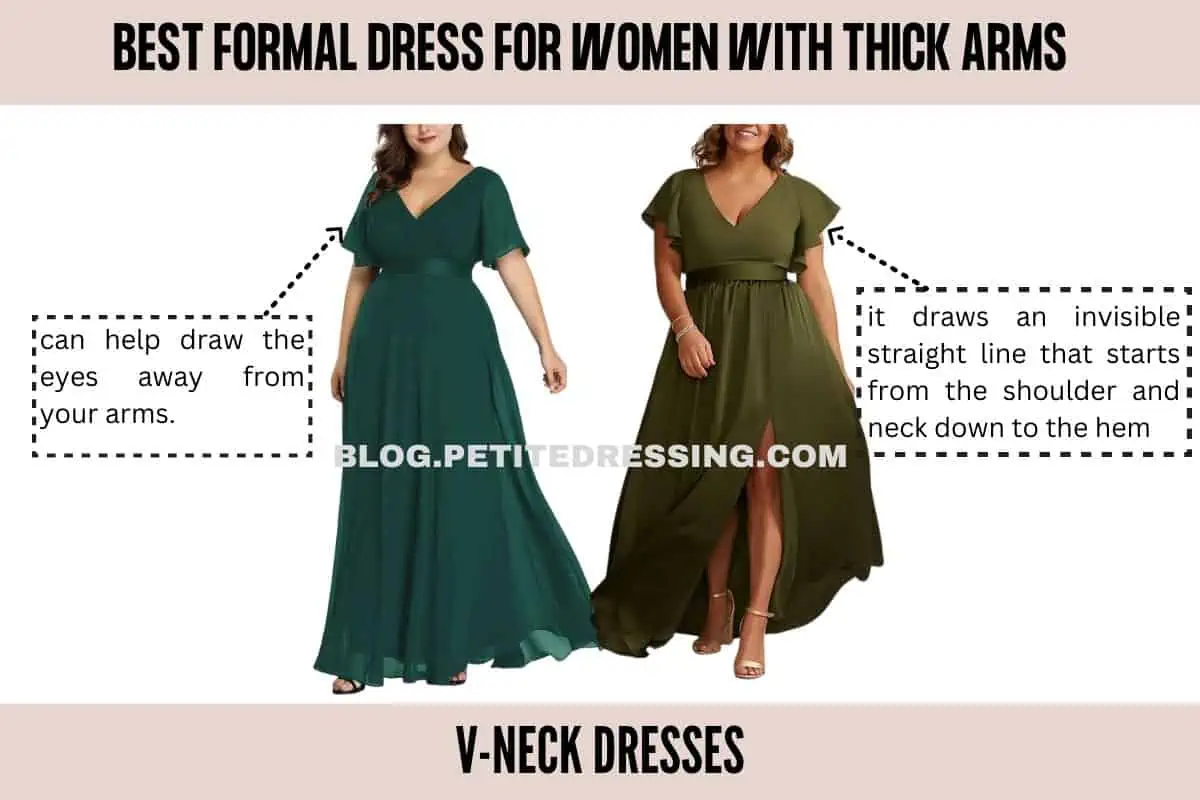 Necklines matter so much when it comes to choosing the best formal dress for your body shape. One of the most universally flattering necklines would be the V-Neck and if you have thick arms, going for a V-neck formal dress can help draw the eyes away from your arms.
V-Neckline naturally has a slimming effect because it draws an invisible straight line that starts from the shoulder and neck down to the hem. This cut makes the center of your body the focal point of your outfit and therefore diffuses the fact that you have thick arms.
If you want to show more skin but want to hide your arms with sleeves, then don't hesitate to try a plunging V-neckline! It's a stunning way to bring out your sexiness without compromising the size of your arms.
Butterfly Sleeve Dress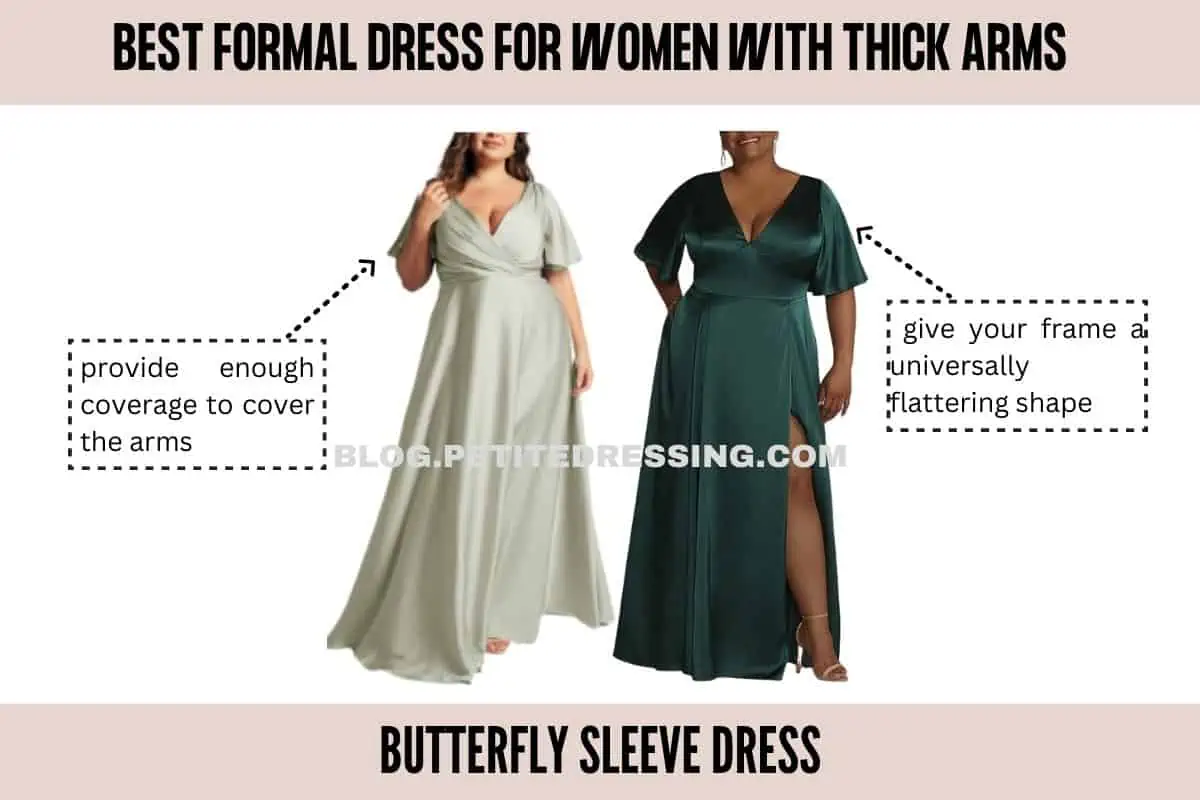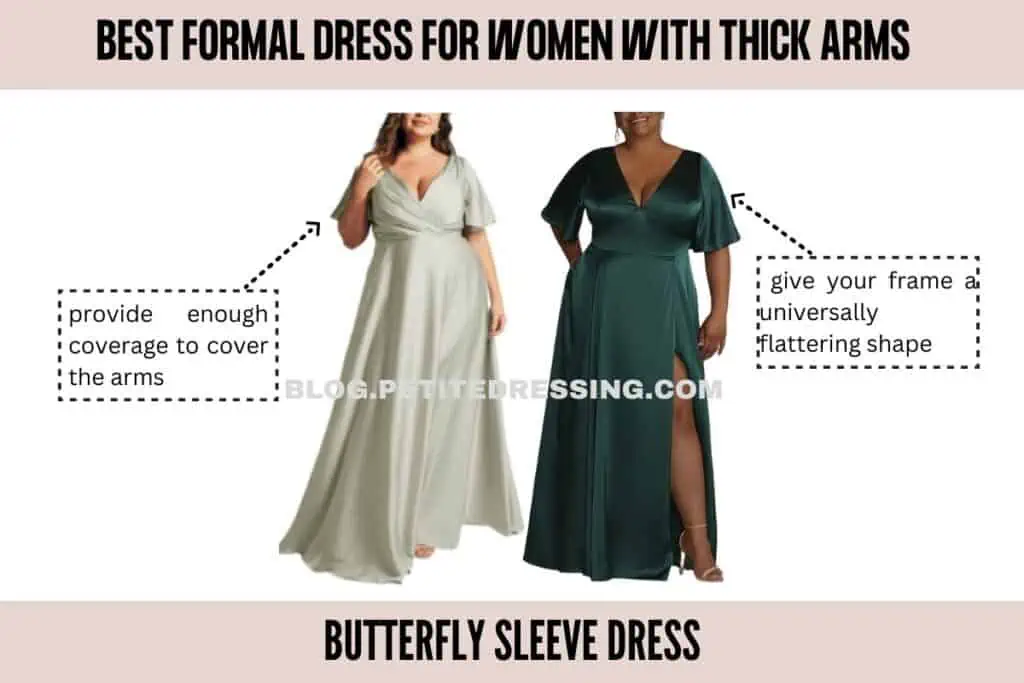 Butterfly sleeves feature soft flounces of draping fabric that covers the upper part of the arms. They provide enough coverage to cover the arms while still adding nice dainty details that add a very feminine touch to the dress' structure.
The draping effect of butterfly and flutter sleeves also gives the illusion of smaller arms because of the slight flare they have. The length of butterfly sleeves can vary from one design to another but they range from 20 to 30 centimeters from your shoulders so they are not quite short.
These types of sleeves go very well with V-necklines and square-shaped necklines as they give your frame a universally flattering shape. This combination makes you look leaner and taller as well.
Cape Style Dresses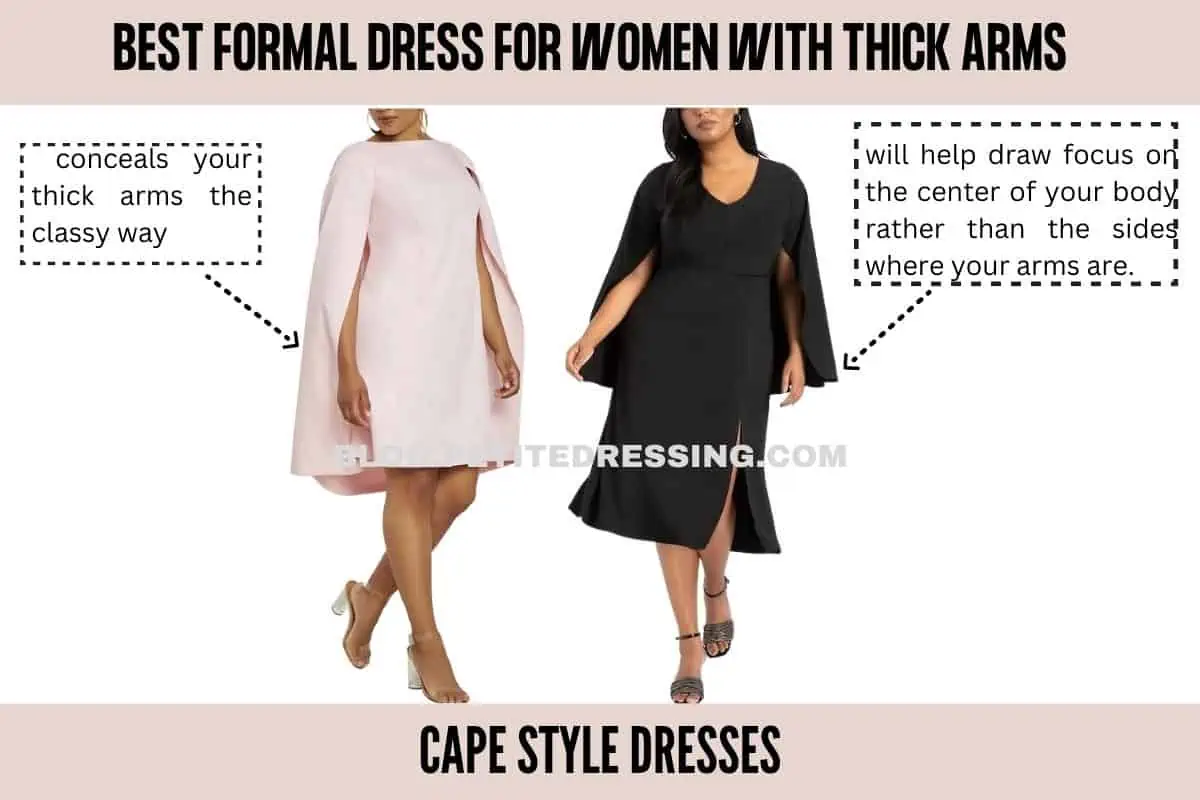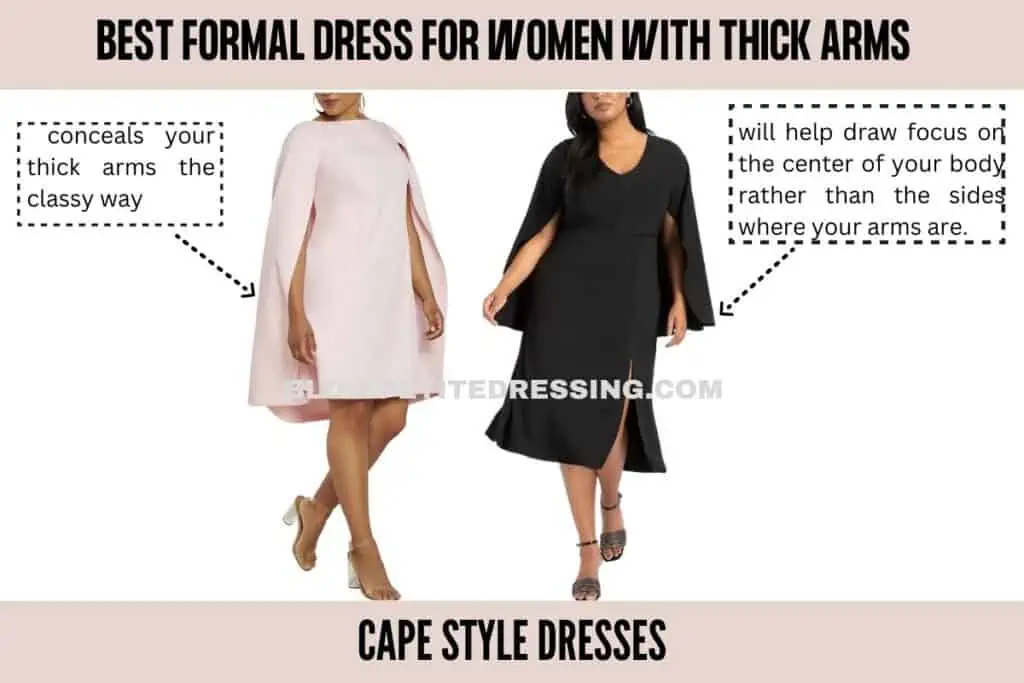 Cape styles are very stylish among different kinds of wardrobe pieces these days as they are edgy and elegant – totally suit the sophisticated modern women of our era! In formal dresses, cape-type ones are also an exceptional option if you're looking into concealing your thick arms the classy way.
Cape formal dresses usually come in thicker and slightly stiffer fabrics for more structure. This being said, cape formal dresses are great for colder temperatures because it's more cozy and comfortable at the same time.
Look for blazer-type cape dresses if you're looking for something chic and lavish. The lapel collars and V-neckline that these types of cape dresses usually have will also help draw focus on the center of your body rather than the sides where your arms are.
Flutter Sleeve Dress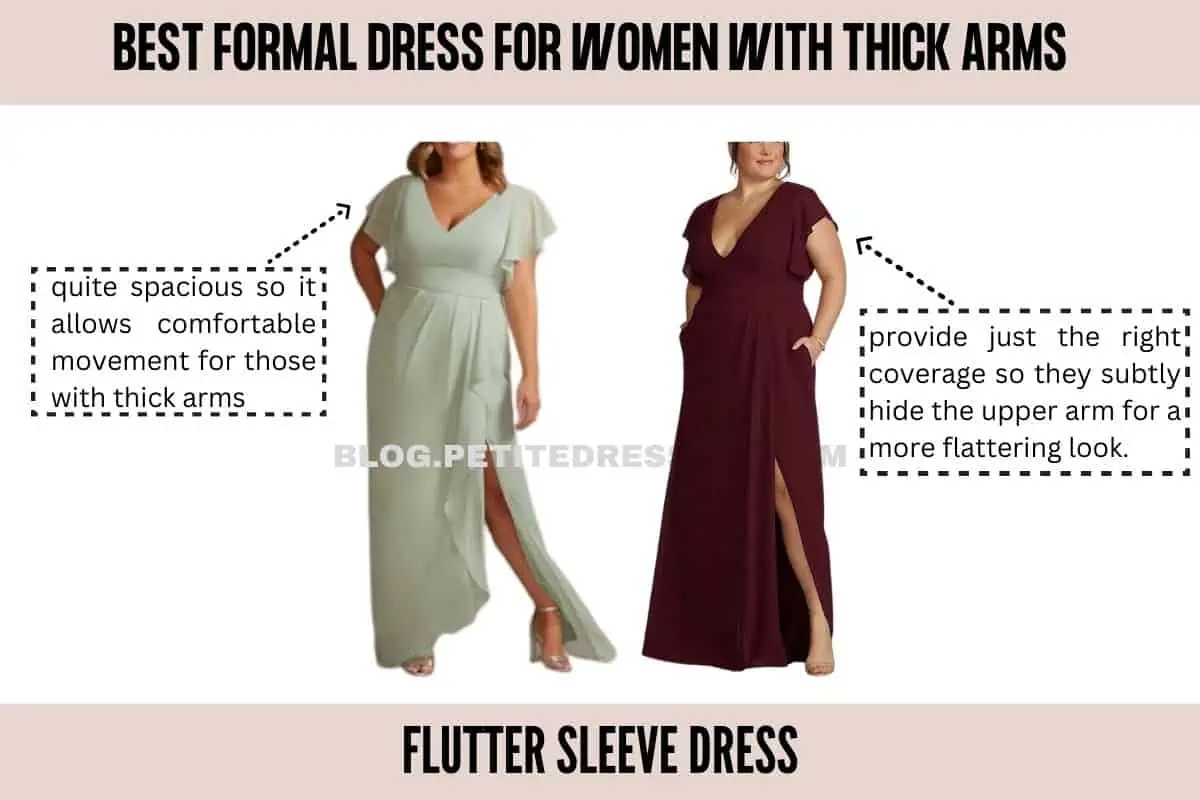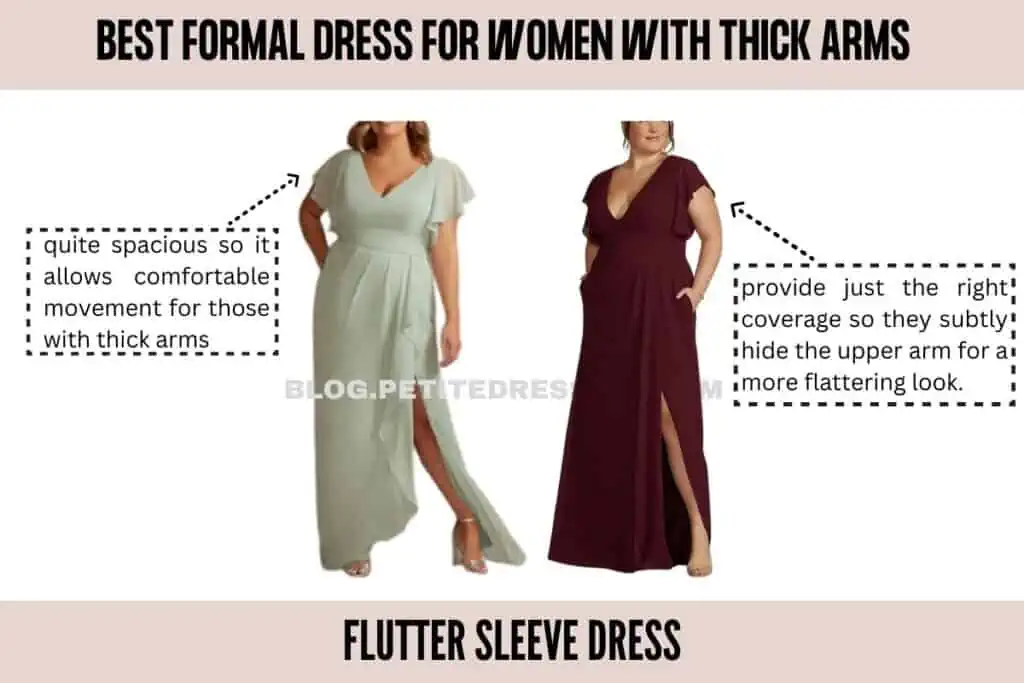 Flutter sleeves are almost the same as butterfly sleeves, but they're slightly shorter than them and are usually made from sheer, flowy fabrics. Since they are shorter, they are perfect for the warmer weather so it's more comfortable to wear.
They are also quite spacious so it allows comfortable movement for those with thick arms. Formal dresses with flutter sleeves provide just the right coverage so they subtly hide the upper arm for a more flattering look.
Flutter sleeves usually flare out so they also help create the illusion of slimmer arms. You can opt for flutter sleeves made in chiffon, georgette, or even organza fabric for a more classy touch.
Sheer Sleeve Dress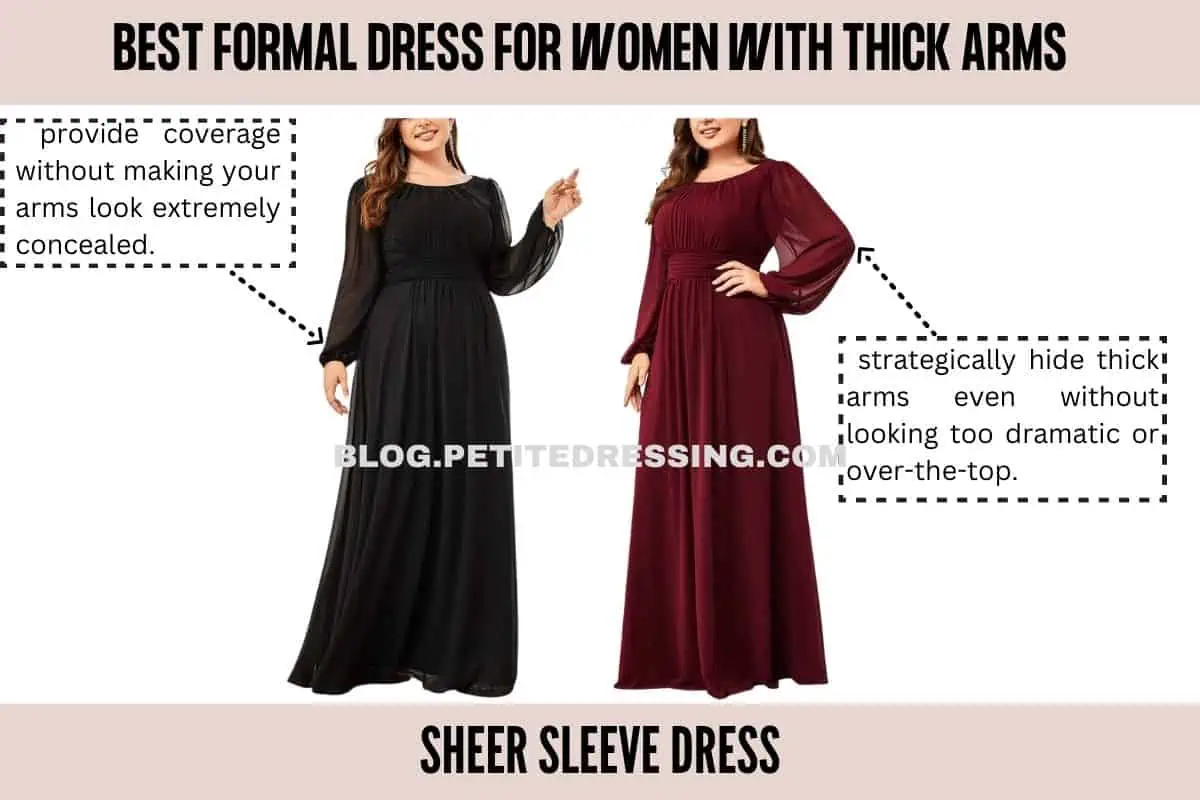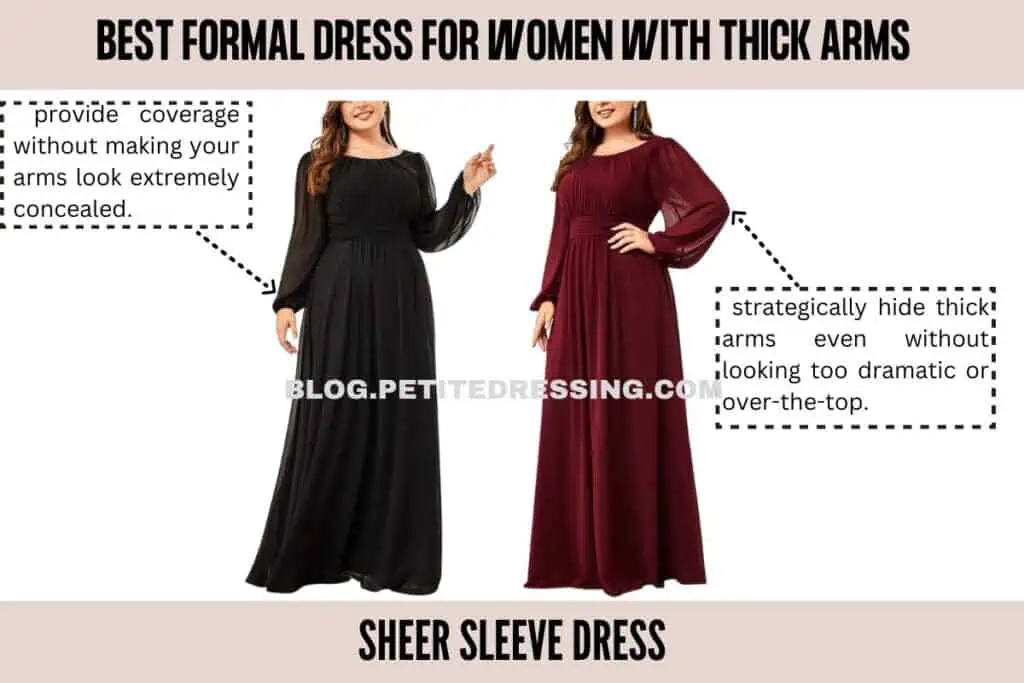 If you are quite conscious of the big circumference of your arms, another way to subtly minimize its size visually is to go for formal dresses with sheer sleeves. Sheer sleeves are generally flattering for women with thick arms because they provide coverage without making your arms look extremely concealed.
The best sheer sleeves for thick arms are made of mesh, soft chiffon, organza, or lace. It's because these types of fabrics strategically hide thick arms even without looking too dramatic or over-the-top.
It's still best to opt for sheer sleeves that are flowy and spacious to still allow your thick arms to move freely. A fit that is too tight can also be a dire fashion faux-pas because since sheer sleeves are usually made from delicate fabric materials, they are more prone to tears.
Caution with One-Shoulder Formal Dresses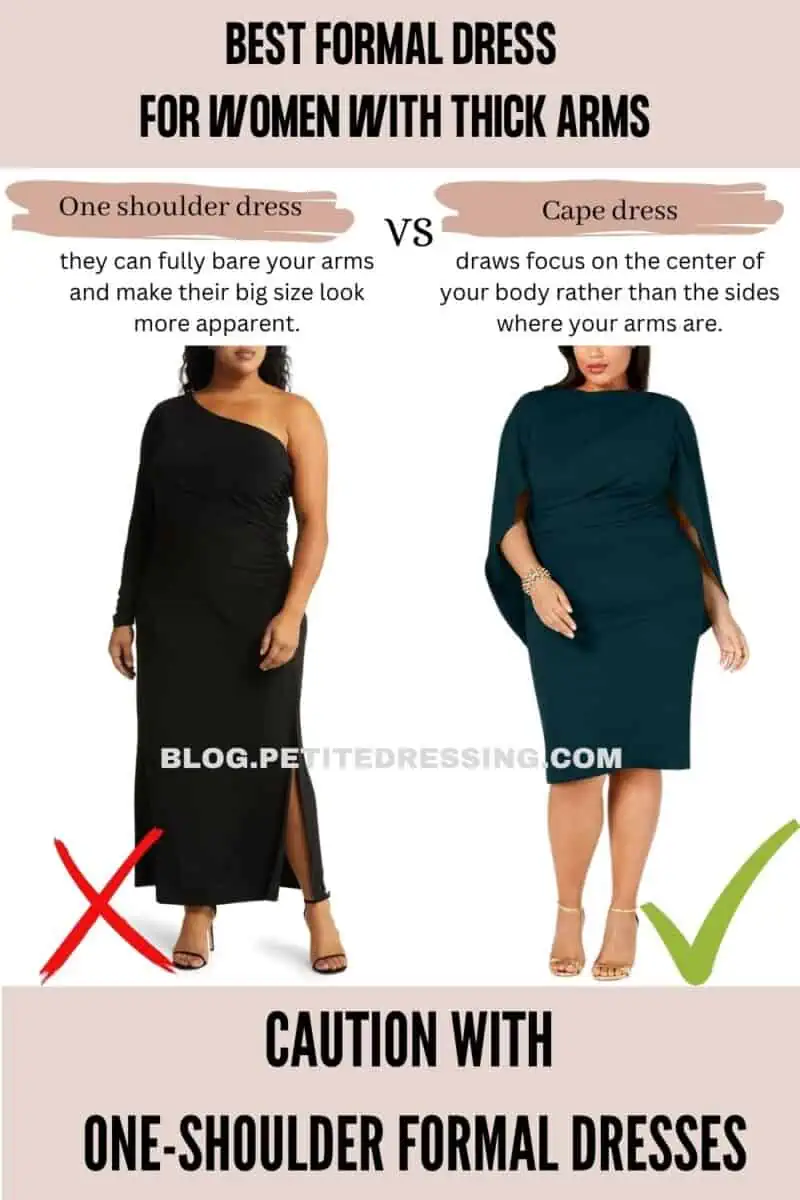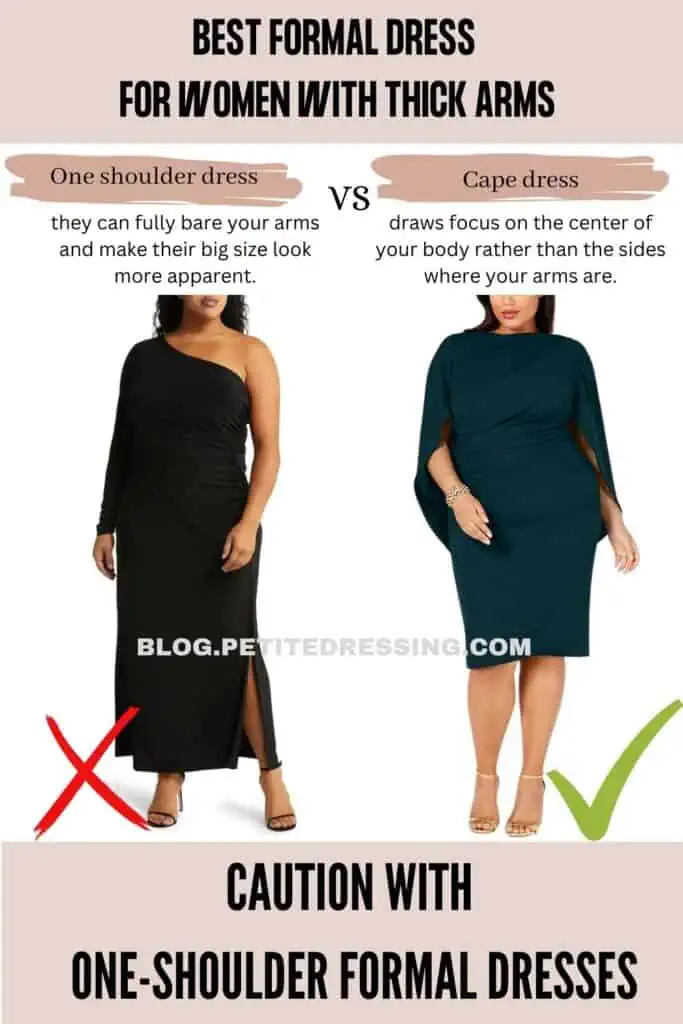 One-shoulder dresses can also look great on women with thick arms depending on the style you'll choose. Generally, you should not go for strapless dresses because they can fully bare your arms and make their big size look more apparent.
Since one-shoulder dresses are basically strapless on one side, you should be a bit more careful with how low the cut should go. The side without the strap should go lower (just right above your bustline) so that it would open more space on your top and draw more focus on your shoulders instead of your arm.
.
Preferably, go for one-shoulder dresses that feature a well-embellished full sleeve on the other side. This way, the side with the sleeves will get more attention, as well as your shoulder line and collarbones.
The Key Takeaway
You don't have to fully cover up yourself just to hide your thick arms in formal dresses! The best formal dress needs to be something that embraces the natural figure that you are comfortable in.
All you really need to do is to be very strategic with your sleeve choices by opting for ones that flatter your thick arms. It's about the proper fit and the right design!