If you are short, finding the right style for petite women can be a challenge.
The reason is you have a shorter frame to work with, thus many styles that work on taller girls can easily overwhelm you and do not look flattering on you.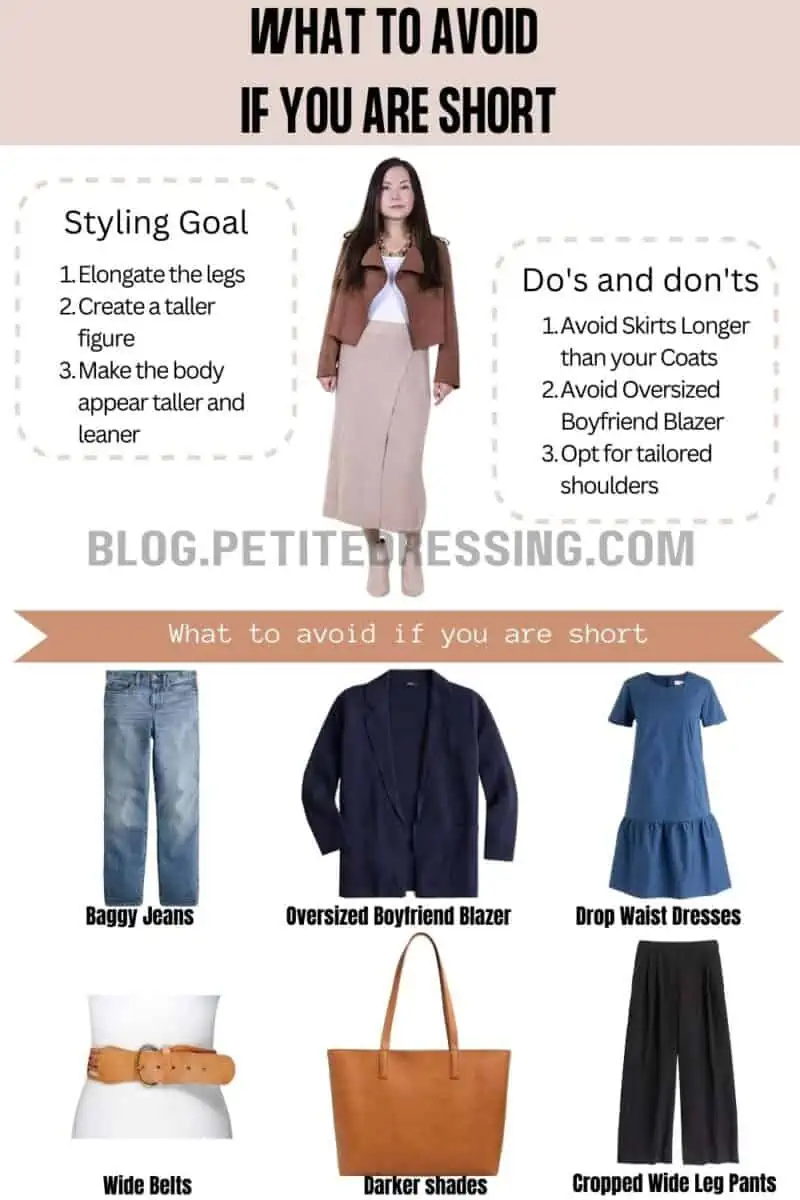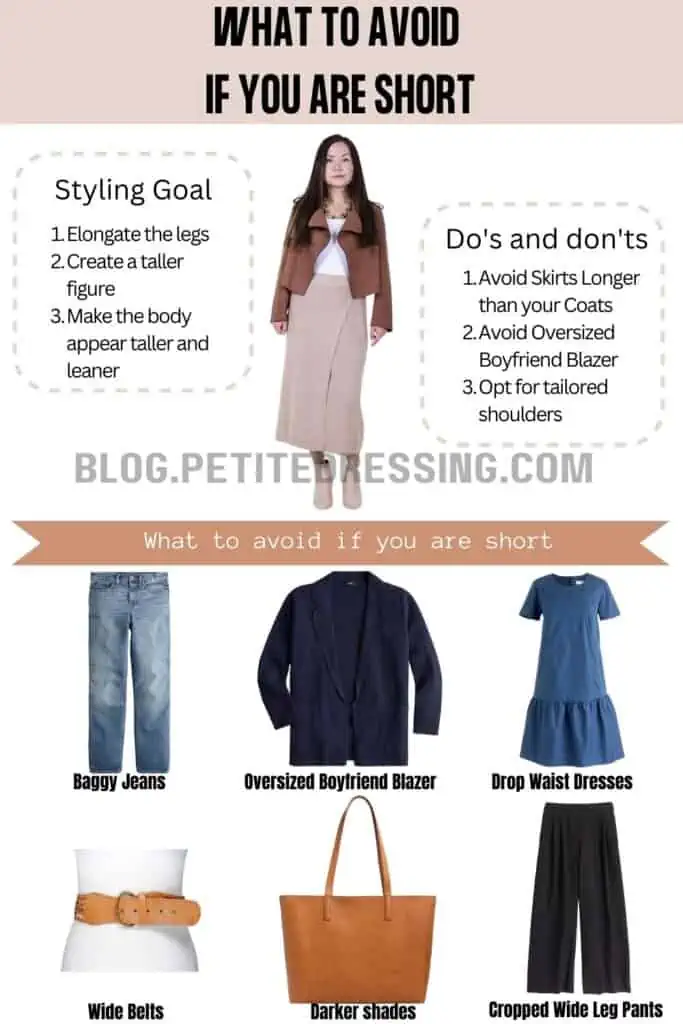 That is why you need to be very thoughtful on what to wear if you are short, and do not wear these if you are short.
Skirts Longer than your Coats
Is your skirt sticking out too much under your coat? If so, stop it immediately.
This is a very common mistake that many women make. This is especially common in the winter, when everyone wears a coat.
The reason this is so unflattering on a short girl is that your body is being divided by multiple horizontal lines, which draws attention from the left right instead of up and down.
Vertical lines length and horizontal lines widen.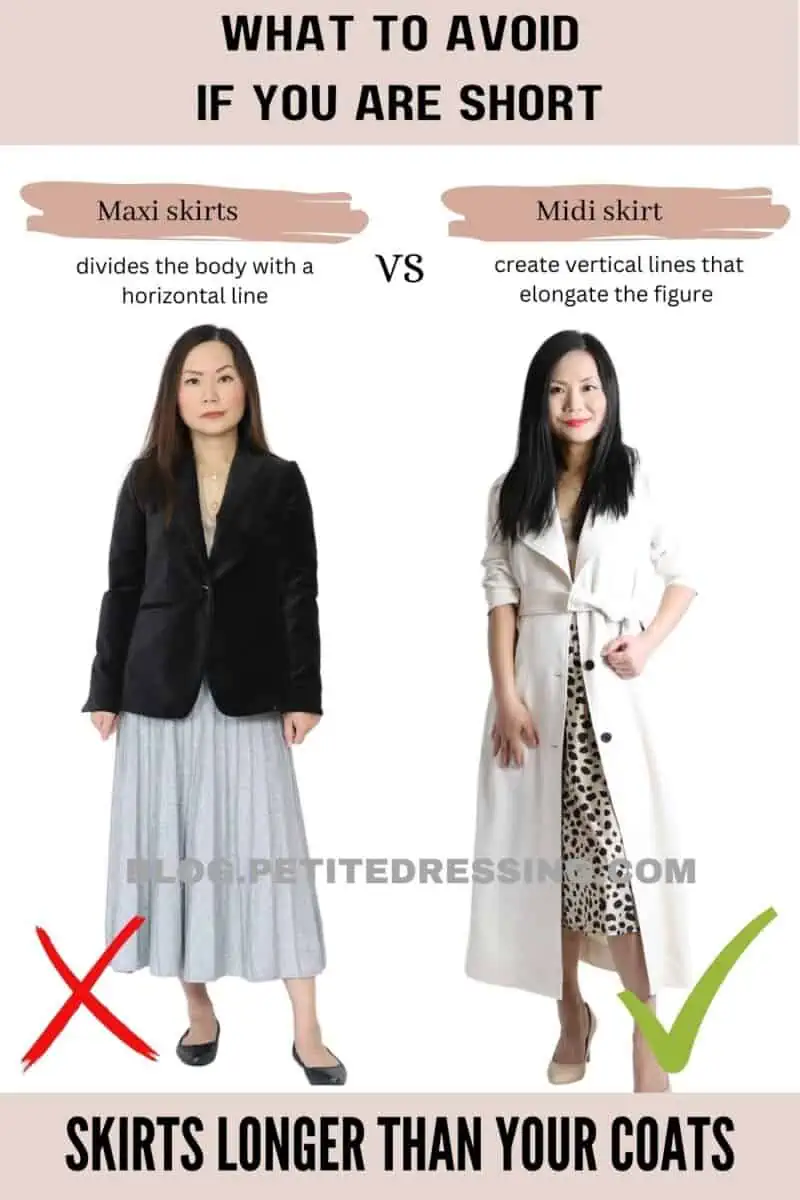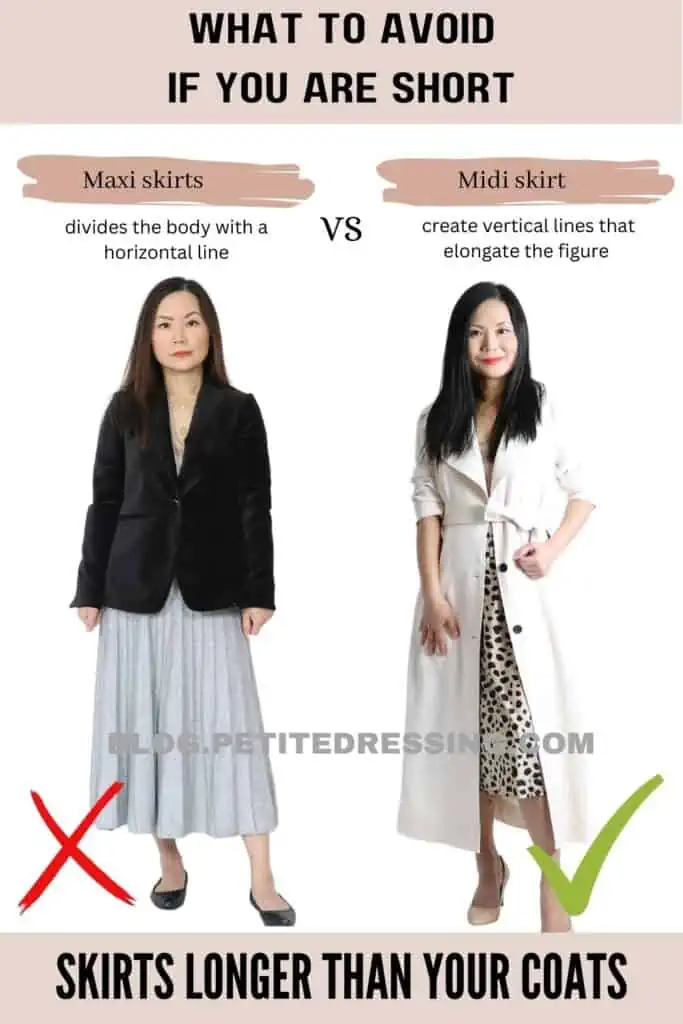 When you are short, you should eliminate any unnecessary horizontal lines in your outfit, and create vertical lines instead.
Therefore, if your skirts are showing too much under your coat, you should either wear a longer caot, or wear a shorter skirt.
Baggy Jeans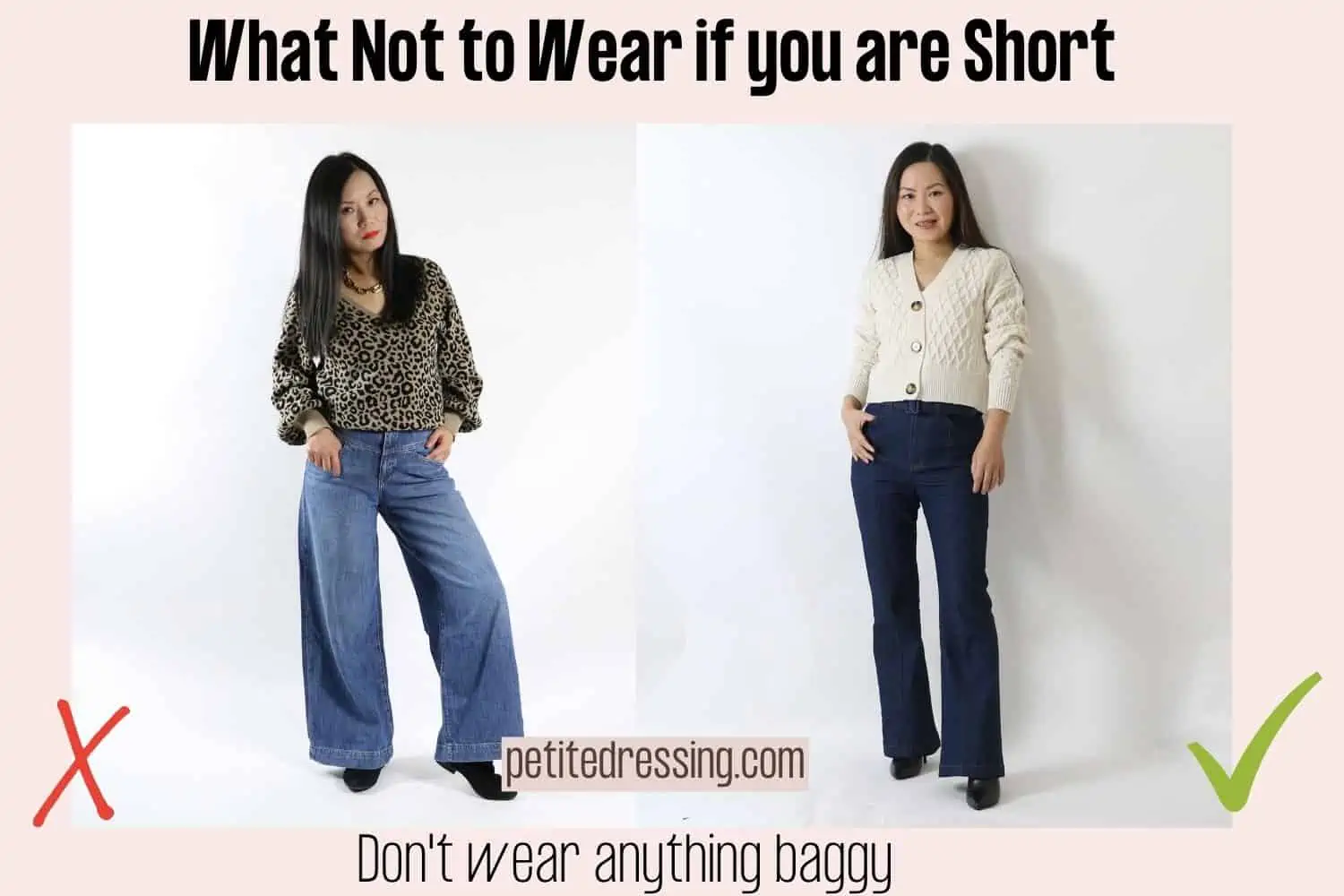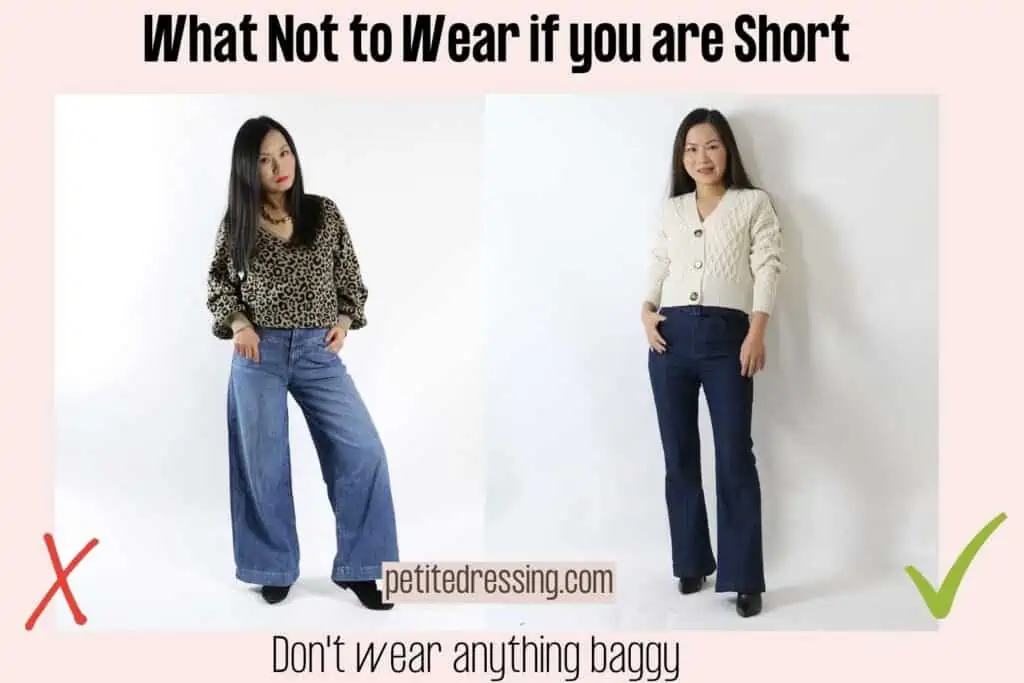 While the 90s style baggy jeans is a trend right now, it's a tricky one to wear when you're short.
Because they fit so loose, they will not only make you look wider, i.e. bigger, than you actually are, but also make your legs look shorter, something no one wants.
This is exactly why it's best to avoid wearing any clothing that's really baggy, oversized and/or shapeless.
Instead, opt for denim that fit closer to your body. They do not need to be clingy like the skinny jeans, but you do want them to be narrowly fitted and therefore make your legs look longer and leaner.
Oversized Boyfriend Blazer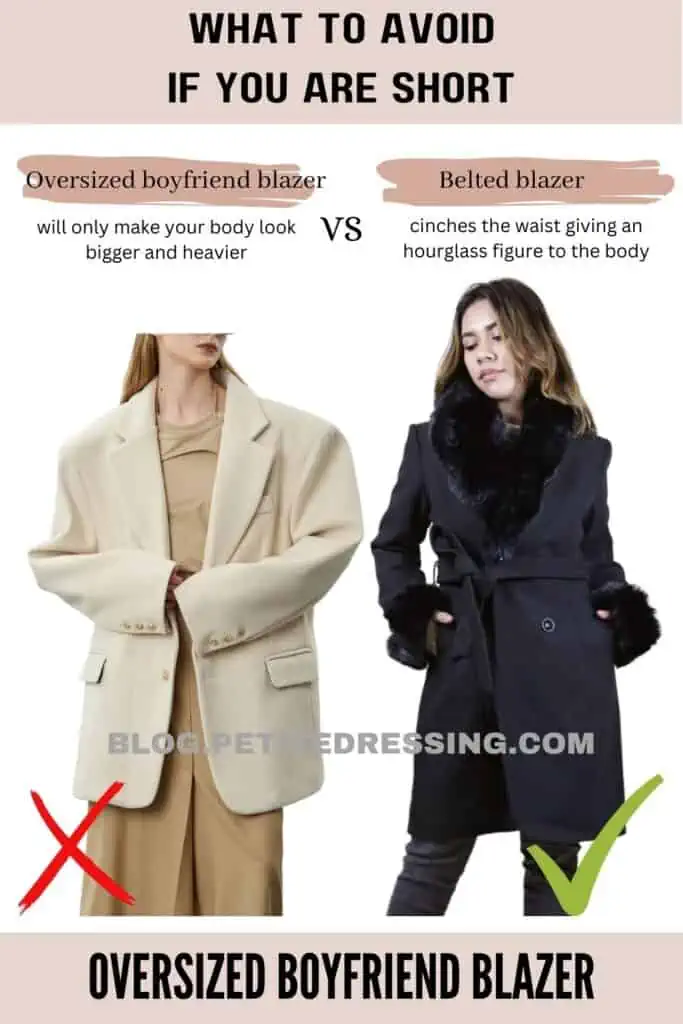 Another huge trend that is going on is the oversized blazer, i.e. the "boyfriend blazer".
The main problem with baggy clothing is it causes your body to be hidden, which then loses your body shape.
Besides, this type of blazer often has a shortening effect on the body – all things that short women (in general) are hoping to avoid when it comes to getting dressed.
If you really love the look of oversized pieces, however, there are a couple of styling tricks you can utilize.
For starters, find a way to give the oversized piece some shape.
An example, style it with a belt wrapped around the waist.
Another way to wear a beloved oversized blazer is by pairing it with something that's more form-fitting, for example, narrow-leg jeans, so the entire look isn't swallowing up your body.
Drop Waist Dresses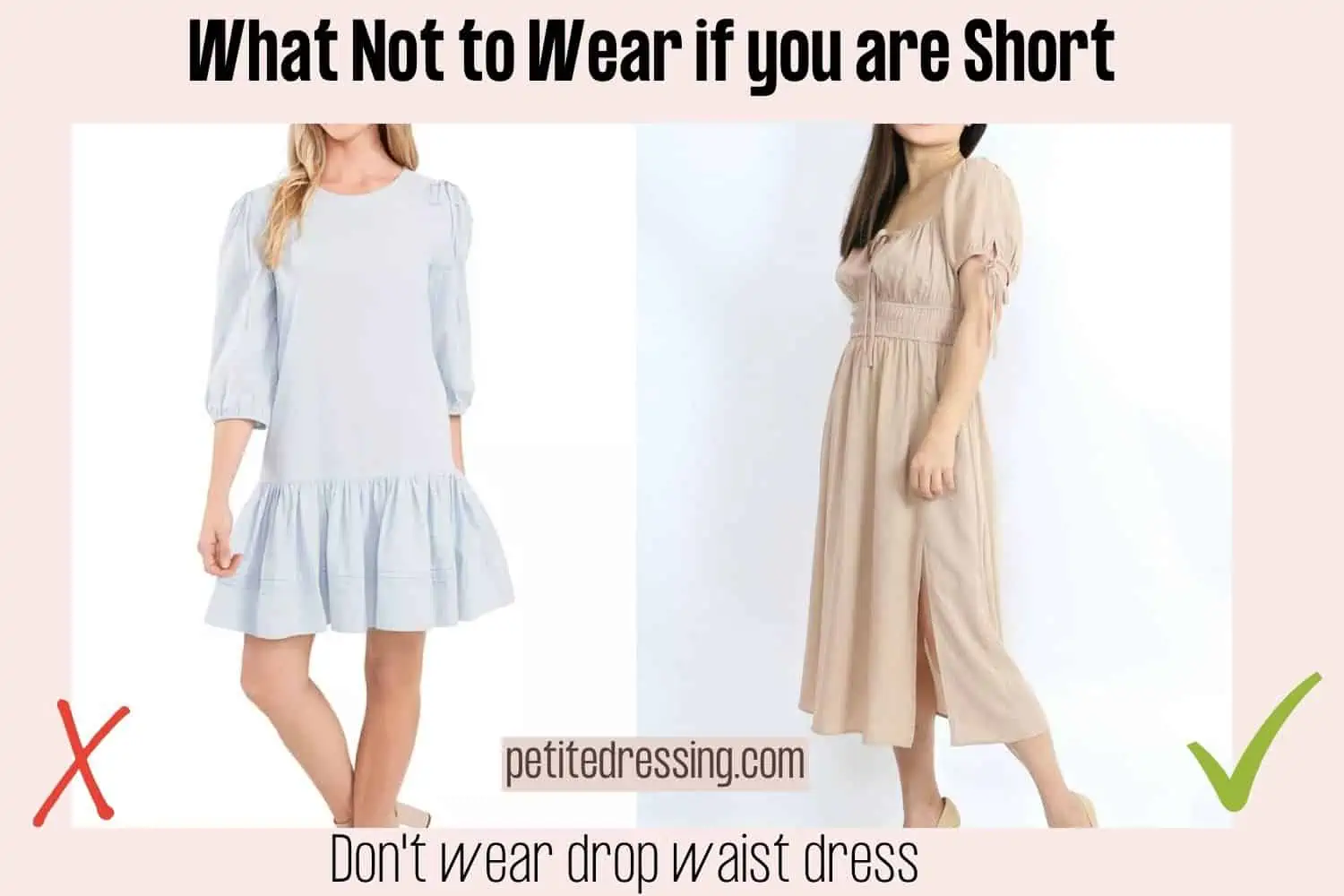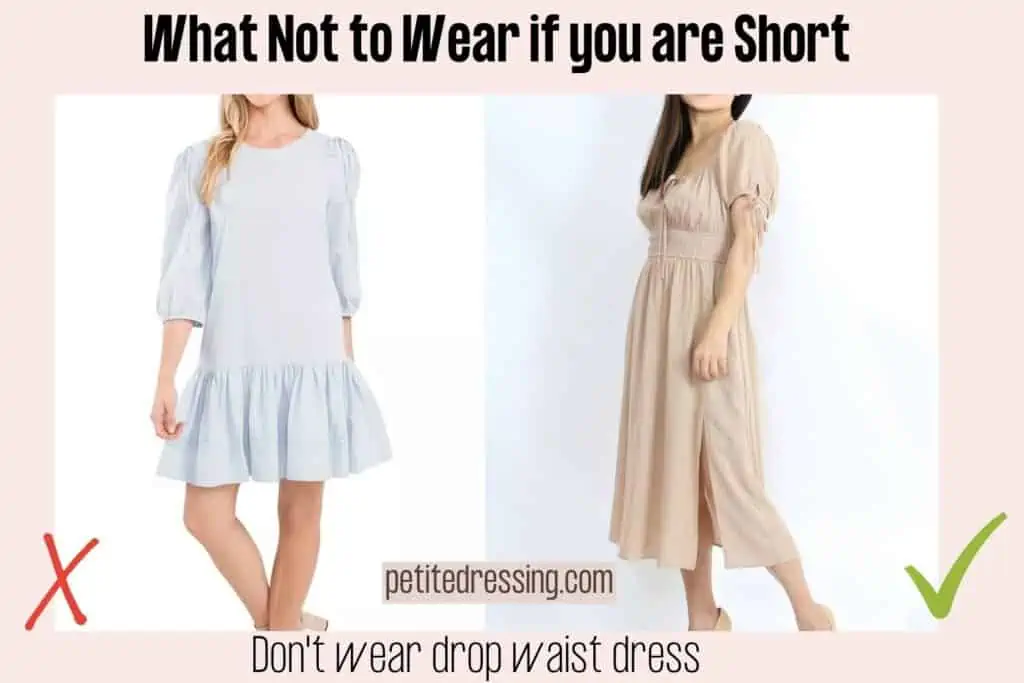 This isn't the most common dress silhouette, but you've likely seen it quite a bit and may have even tried to wear it a time or two (or more). When you're short, it's not the most ideal silhouette to wear for a couple of reasons.
The drop waist silhouette quite literally drops your waistline, at least the appearance of where your waistline is at on your body.
Because of this, it gives your torso a longer appearance and shortens your legs tremendously – the opposite of what you want to do in order to enhance a short body type.
Instead of drop waist dresses, stick to silhouettes that bring the waistline higher up on the body. This gives the illusion of longer legs and is incredibly flattering on a petite woman.
Wide Belts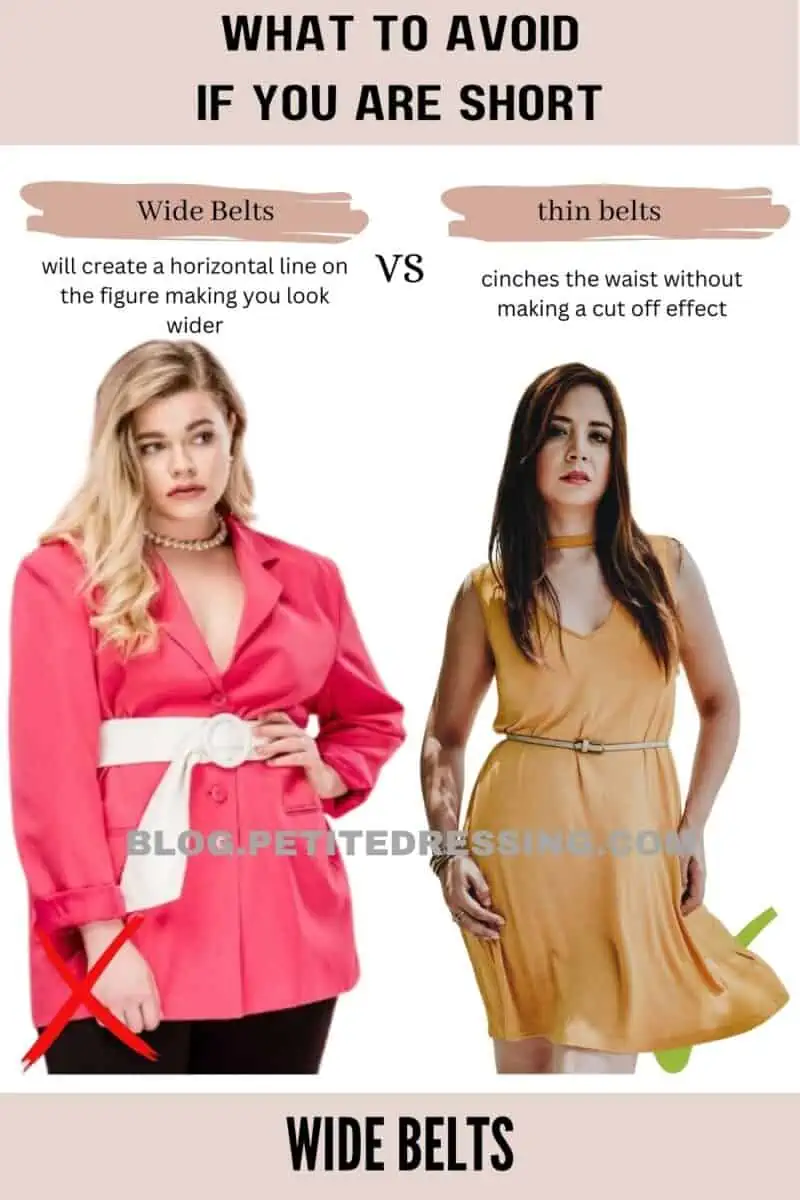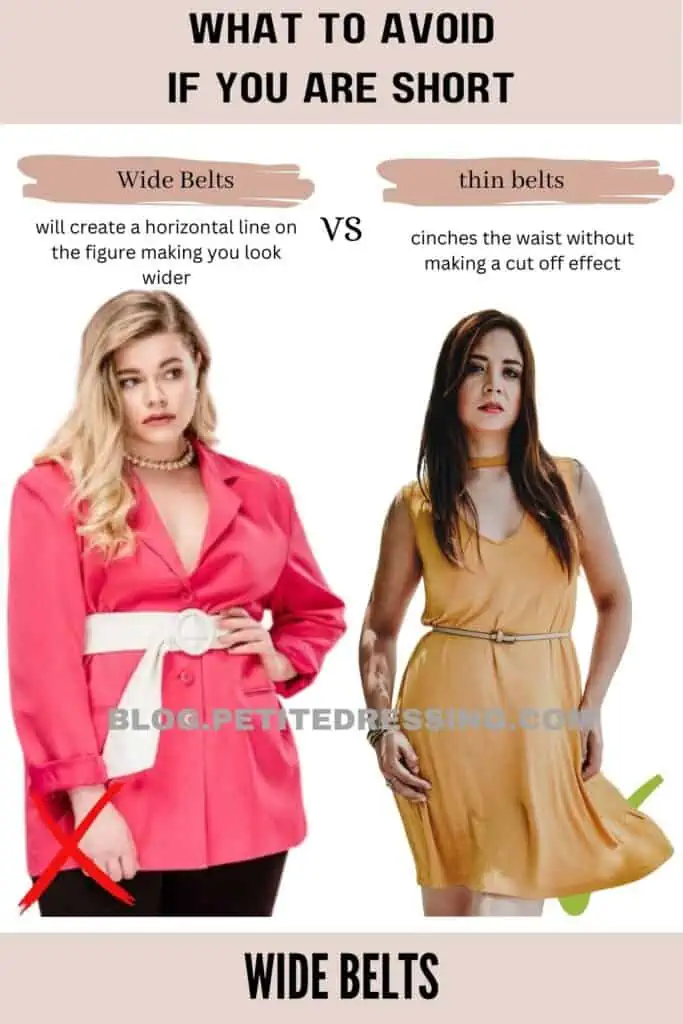 Belts are a great accessory to utilize anytime you want to highlight and cinch your waistline.
However, when you're short, it's important to avoid oversized belts.
This refers to anything that's wider than 2-3" (about). The problem with oversized belts when you're short is they take up a lot of space around your torso, which leads to shortening the appearance of your shape as a whole.
This is especially important if happen to be a petite woman with short torso.
Even though petite women generally all have a shorter torso, compared with taller women, but some petites have a short torso and long leg body type. If that is you, it is critical you should not wear any belt that is too wide, to avoid making your torso look even shorter.
Of course, you can still wear belts just keep them on the thinner side.
Take it a step further, and really flatter a short figure, by wearing a belt that's the same colors as the garment you're wearing it on. This creates a monochromatic aesthetic that elongates your legs.
Bulky Shoes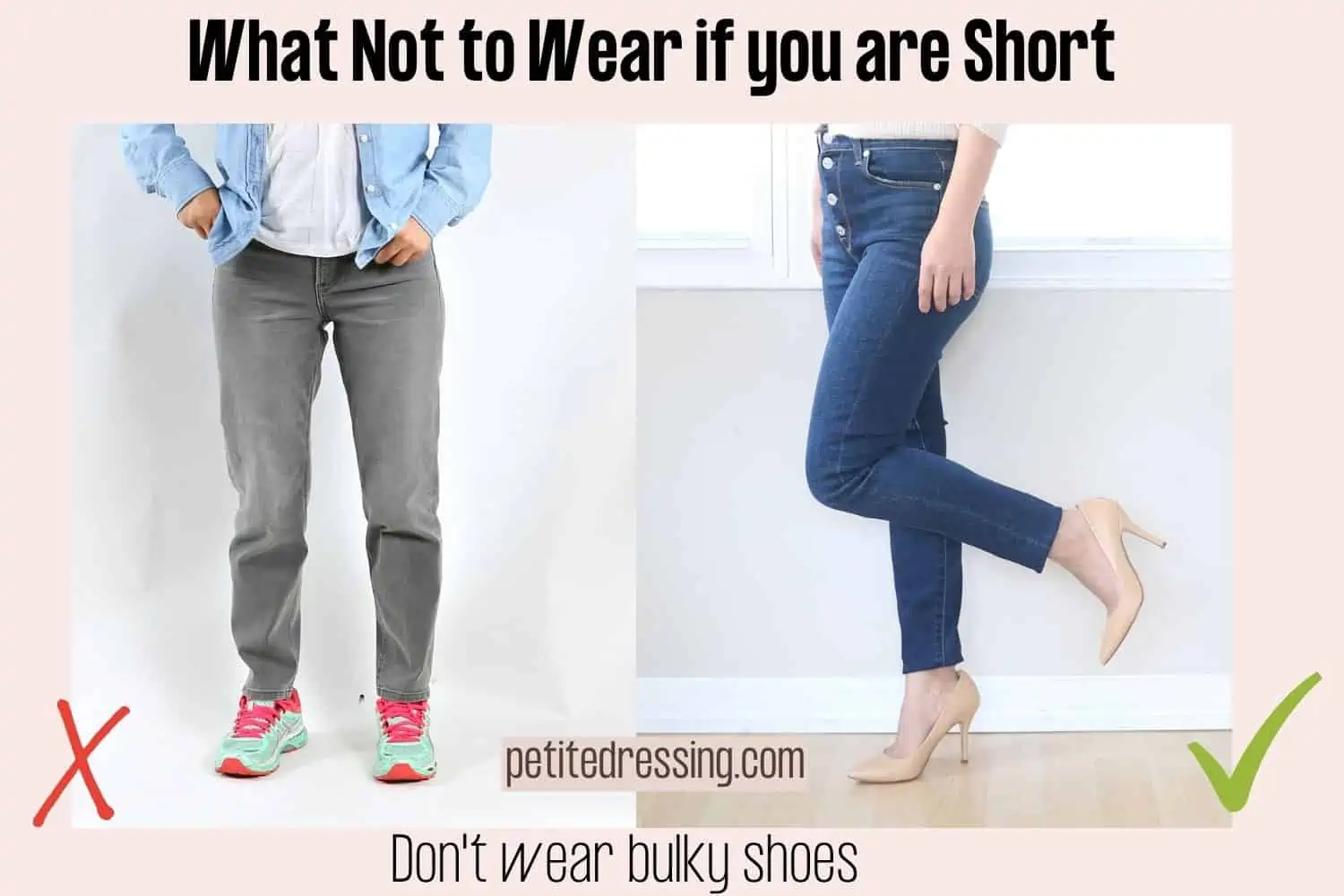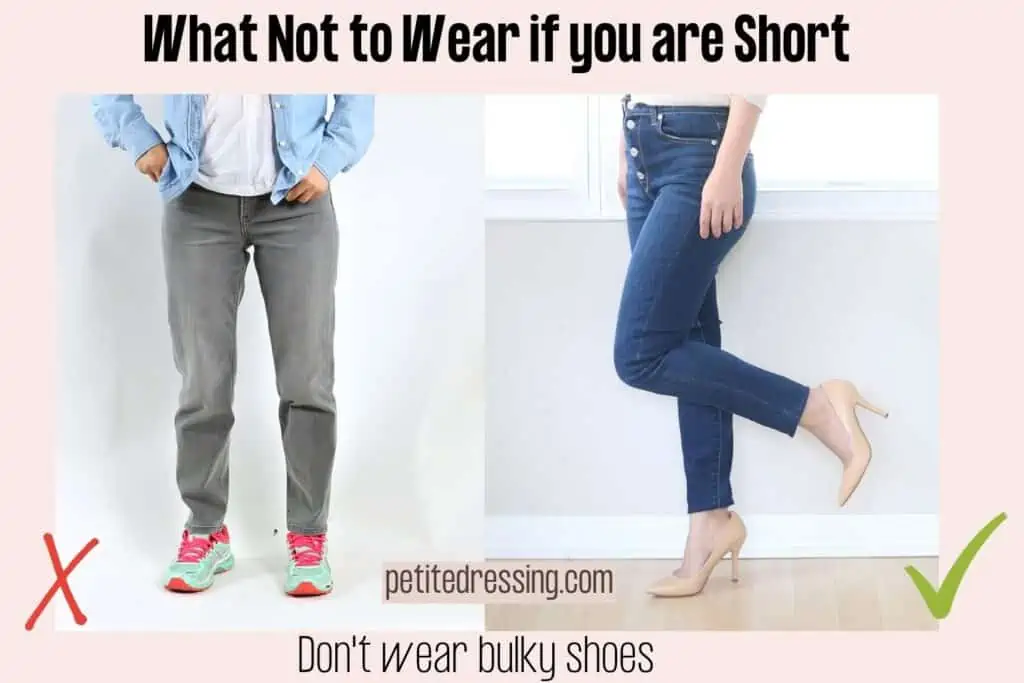 Chunky heels, sneakers, etc are tends that come and go but one thing remains the same about them: they're not the most flattering option on a petite woman.
While high heels are a quick, go-to way for short women to add some length to their bodies anything that's really heavy and bulky is going to do the opposite.
Bulky shoes, even heels, add a lot of bulk to the body and bring the eye down – shortening the body – rather than up.
Think of shoes in relation to your body's size and shape.
As a petite woman, opting for shoes that are similar in that aesthetic are going to work beautifully.
This means that a lot of those chunky dad sneakers and platform shoes are best to be avoided.
Large Handbags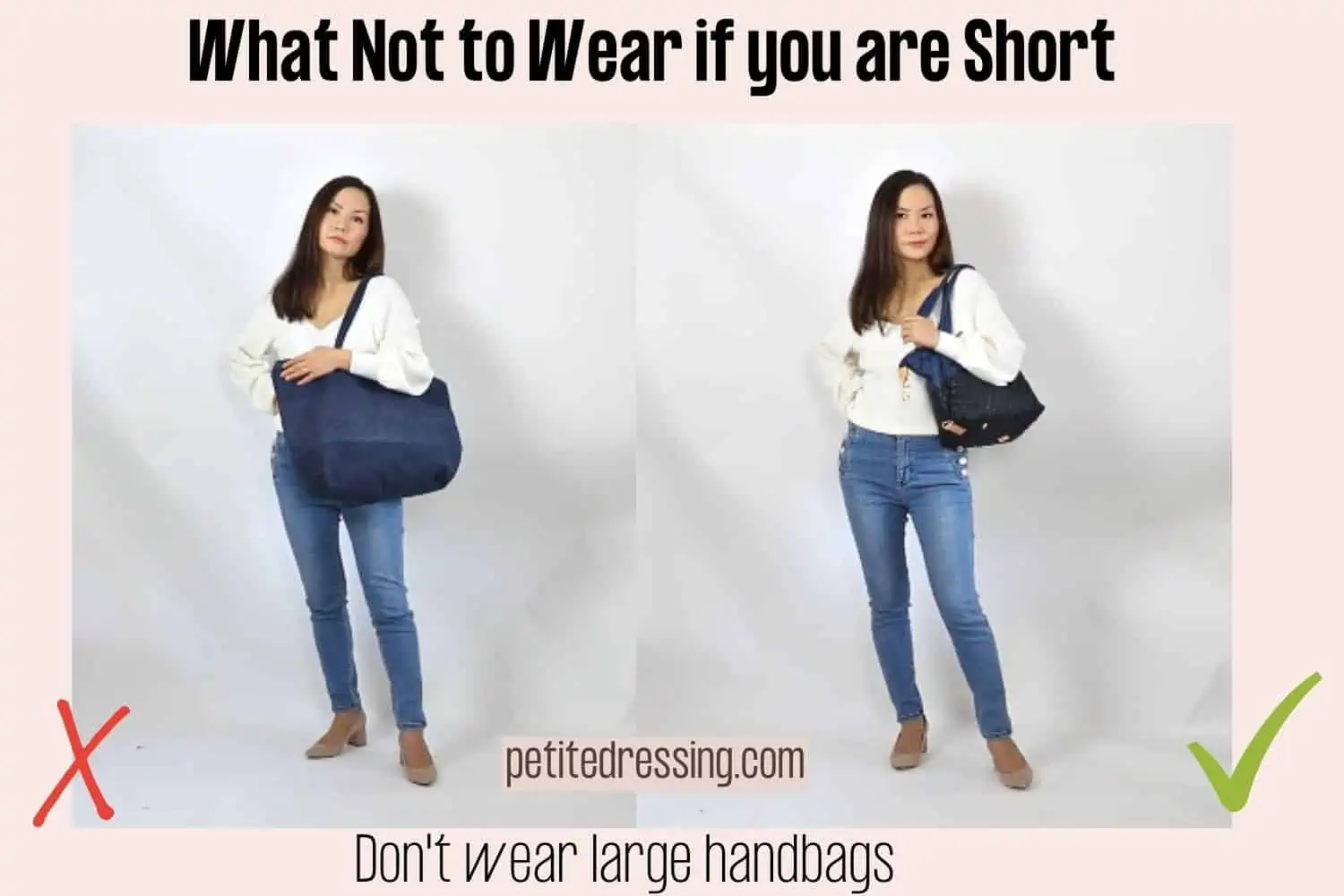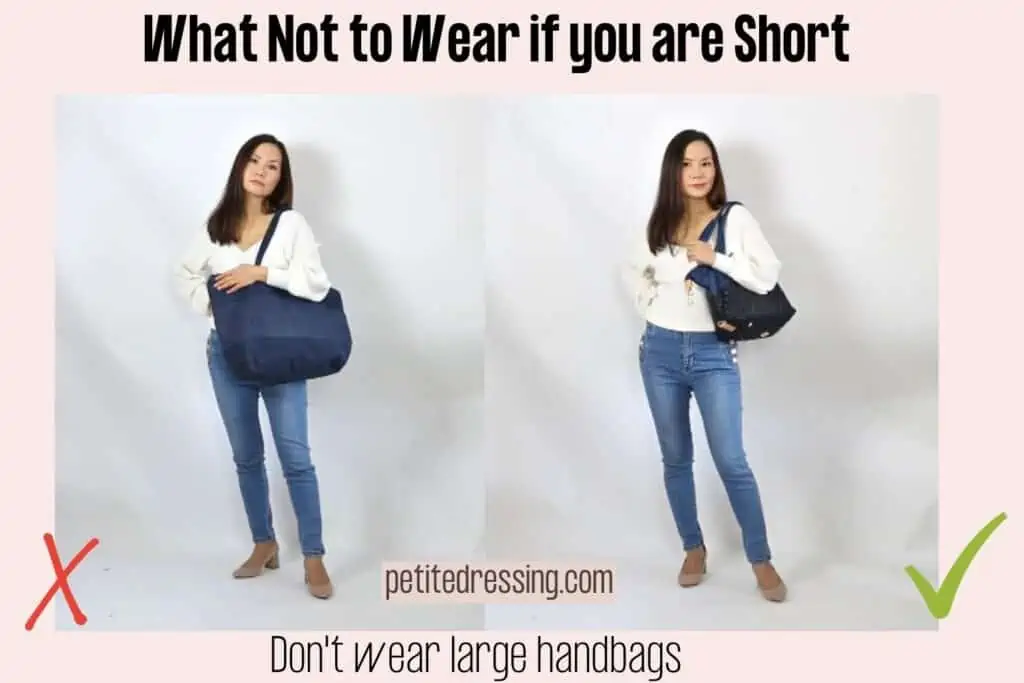 Handbags are a necessity for most women, whether you're heading to work or running errands, we need to be able to carry some necessities with us throughout the day. Large handbags can be extra helpful thanks to the additional space they offer, unfortunately they aren't the best option for short women. Big bags, much like oversized belts, can overwhelm the petite woman carrying them.
If a bag is too big, it can look like the bag is wearing you, rather than you wearing the bag. Small to medium sized bags are much better options as they are proportional to a short woman's frame. This isn't all to say teeny tiny bags are the only option, choosing a handbag that acts as an accent to your body and outfit is going to flatter so keep that in mind when selecting handbags for your shape.
Cropped Wide Leg Pants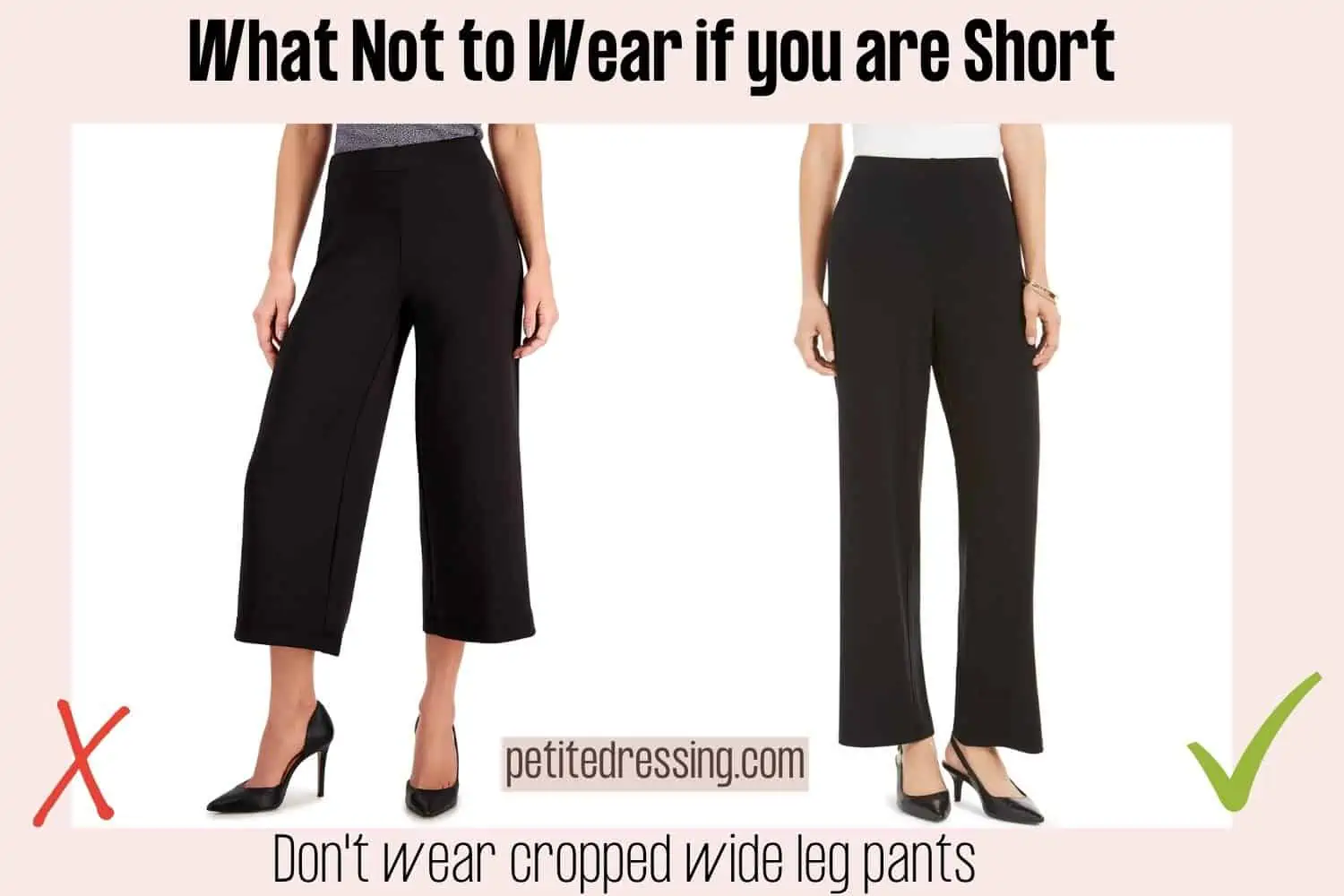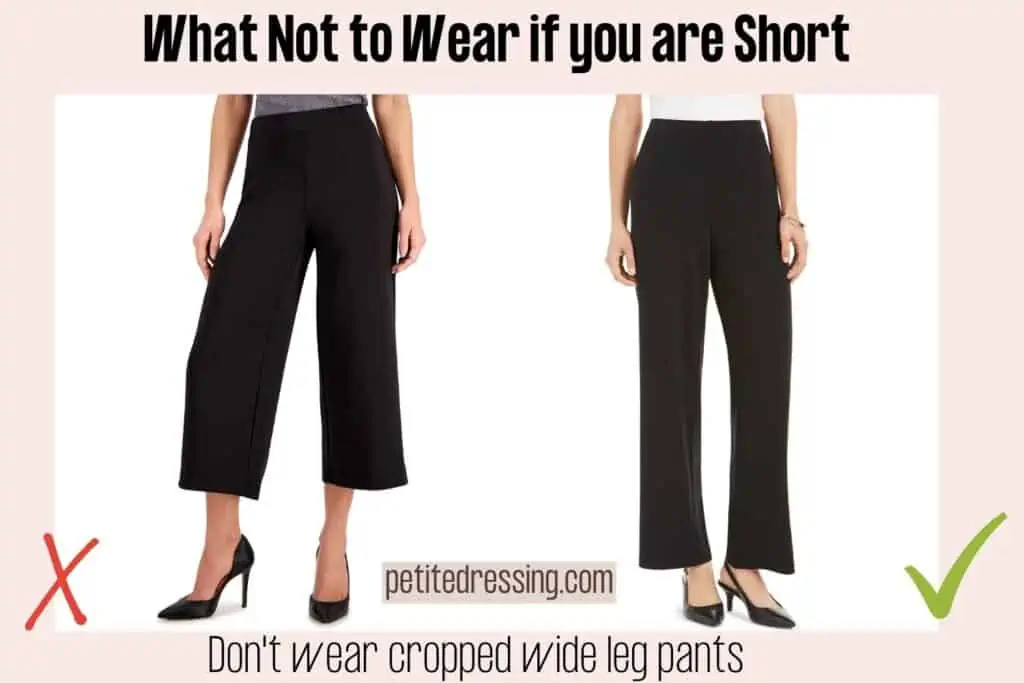 This silhouette has been trending in fashion recently and it can be fun, but really difficult to wear and flatter your body simultaneously.
Cropped pants have long been known to be a tricky style for petite women to wear.
When you have pants that are cropped, paired with a wide leg, it's a double edged sword that's best to be avoided as a short woman.
If you really love the wide leg pants look, stick to something in a full length when you are petite so that you get an elongated effect to your body that doesn't occur from cropped options.
While you're at it, focus on mid-high rise styles so you further lengthen the body and highlight the waistline.
Heavy Layers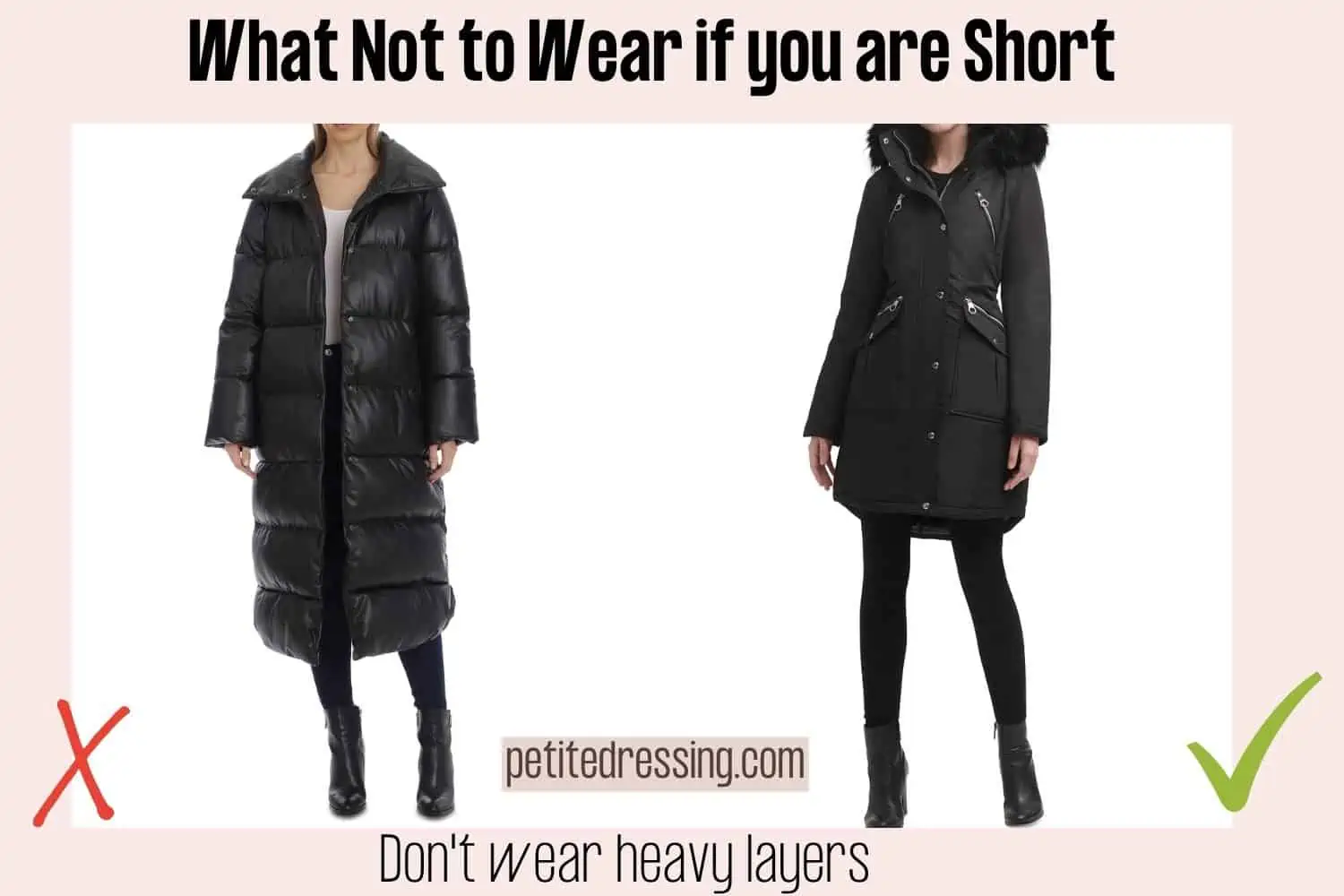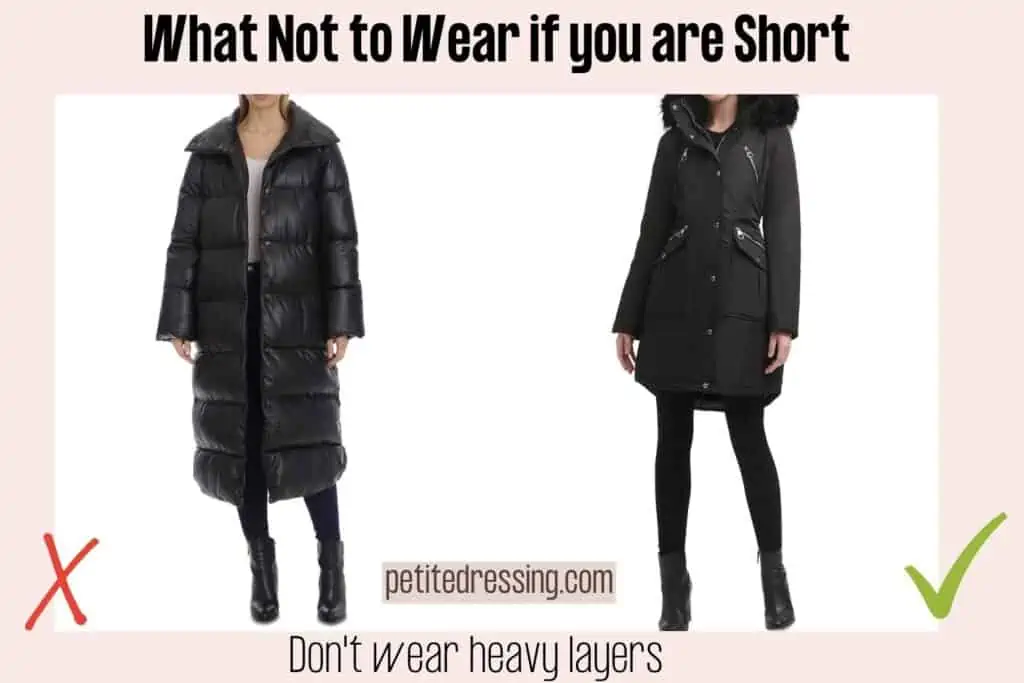 Layering is an essential way of dressing if you live in an area where it gets cold. Not only is layering functional, it's also a really fun way to make an outfit unique.
When you are short, layering needs to be strategic. Really all this means is it's best to avoid really bulky, heavy and oversized layers.
As cozy and warm as they may be, they're not the most ideal fashion choice as they often swallow up and drag down a short body type.
The goal, as a short woman, is to give your body a long, lean silhouette so keep layers simple.
Exaggerated Shoulder Pads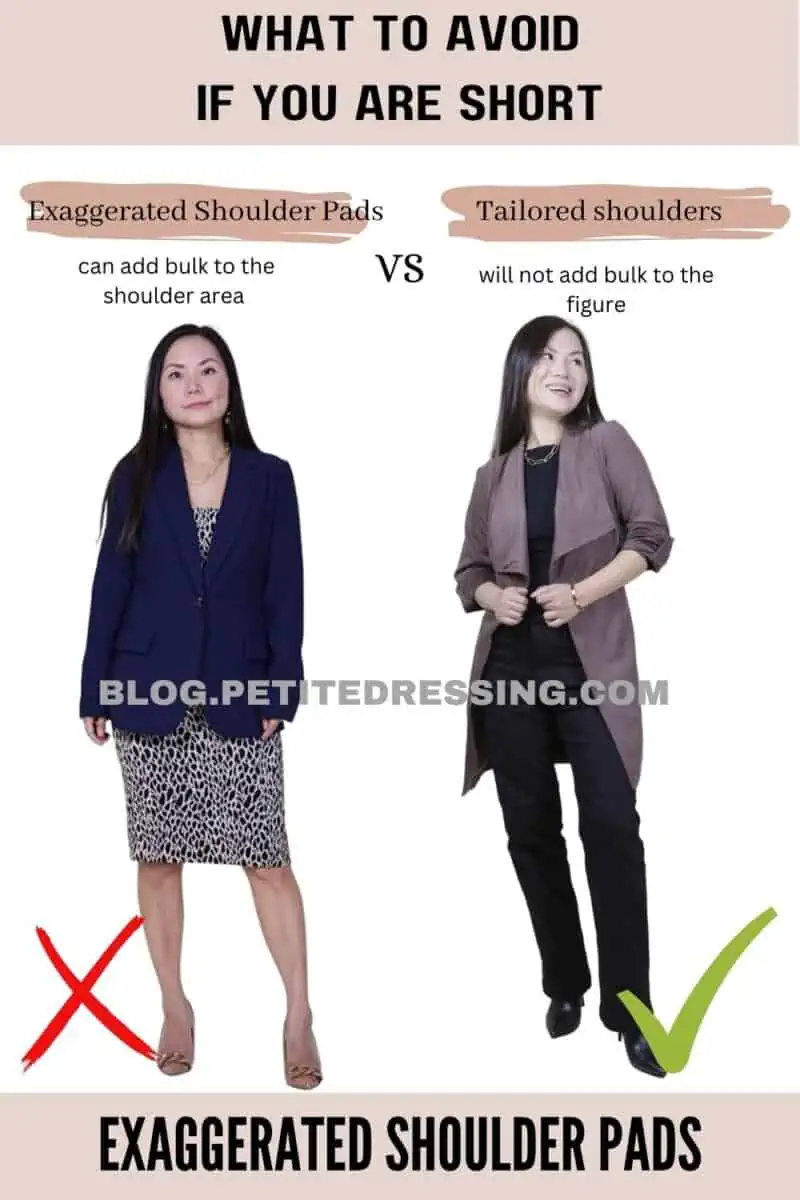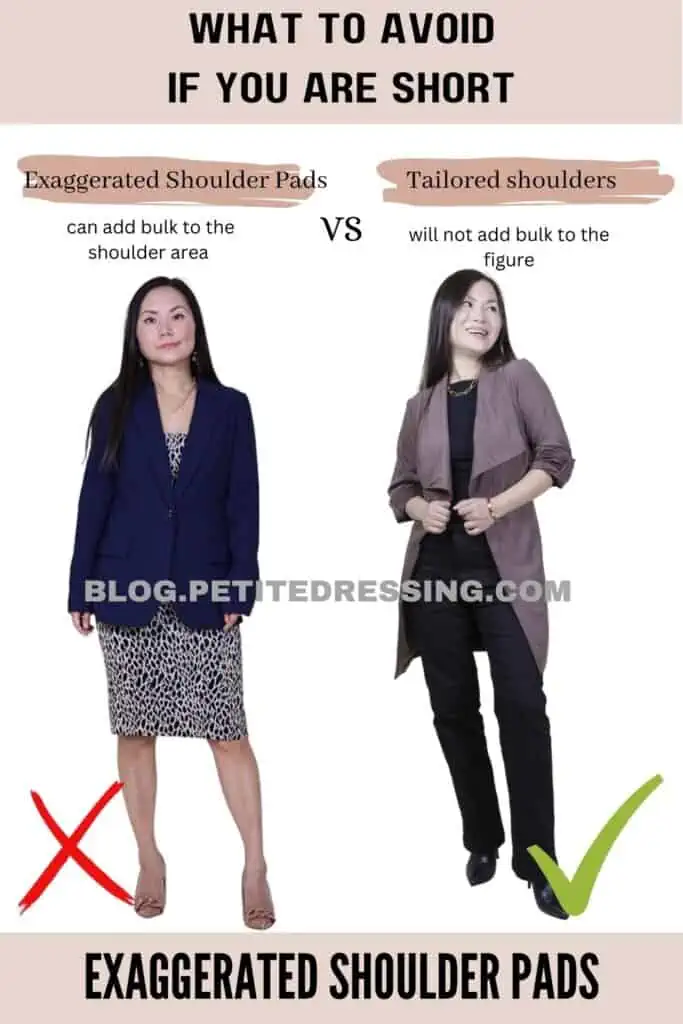 Big and puffy shoulders are very popular in the last several seasons, but they are not the best option for someone who is short.
The main reason is because they make your top look too wide.
If you are short, your goal is to look longer, which will make you look taller, and you never want to look wider, because that only makes you look shorter and heavier.
It is is not that you need to avoid all shoulder pads, it is just that you want to stay away those really exaggerated shoulder designs that are quite trendy on blazers and even sweaters nowadays.
Ill-Fitting clothing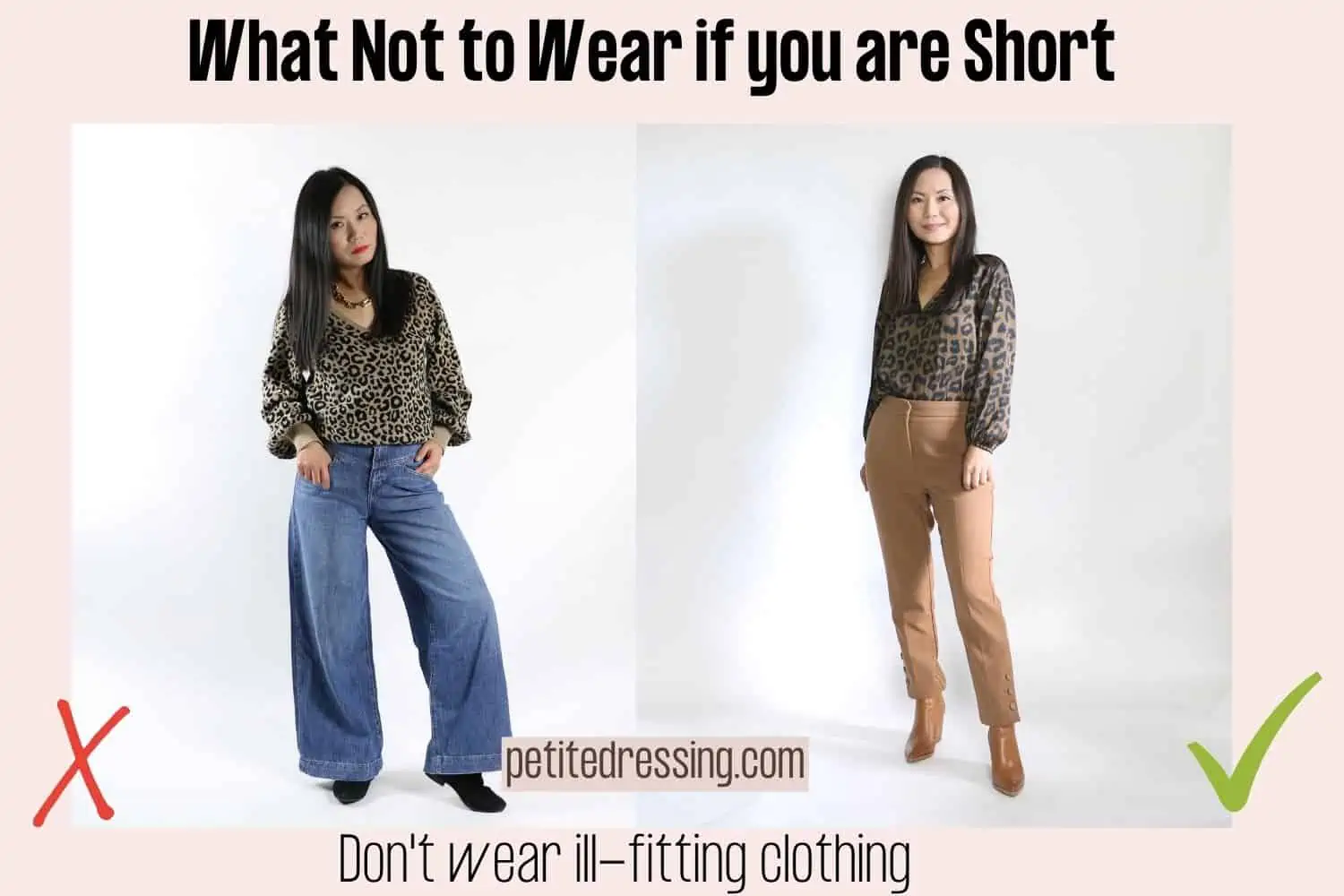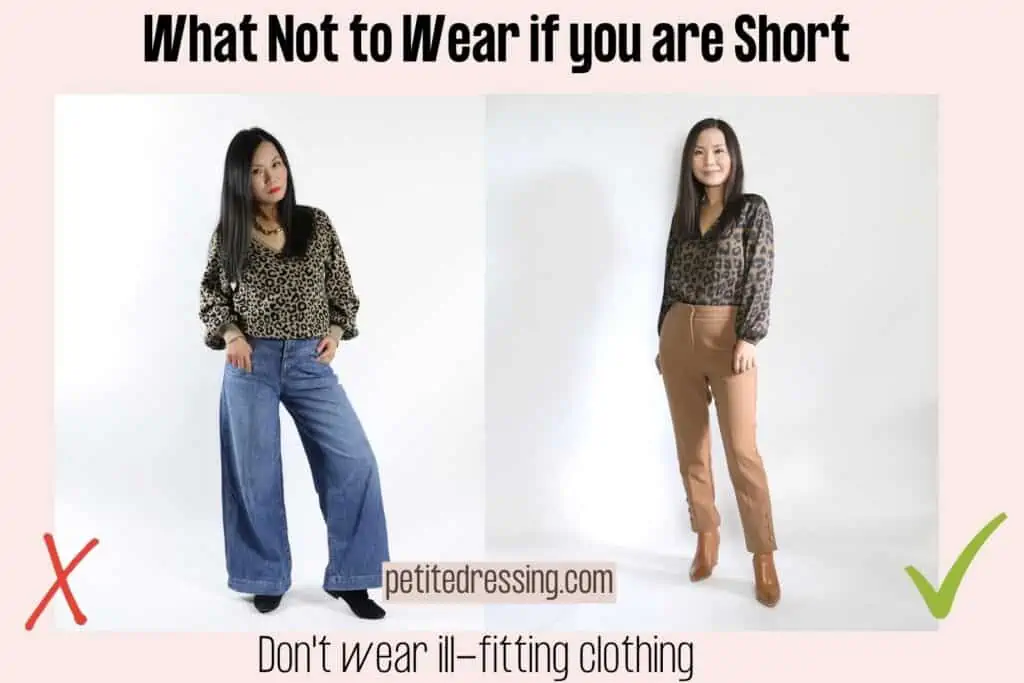 It probably doesn't come as a shock to hear that ill-fitting clothes shouldn't be worn when you're short.
To be honest, it doesn't matter how tall or short you are ill-fitting clothes don't flatter any body.
That being said, it's something that is even more essential when you're petite.
Wearing anything that doesn't fit properly is a slippery slope to shortening an already short frame.
Get into the habit of having things tailored when needed to prevent wearing anything ill-fitting.
Big Patterns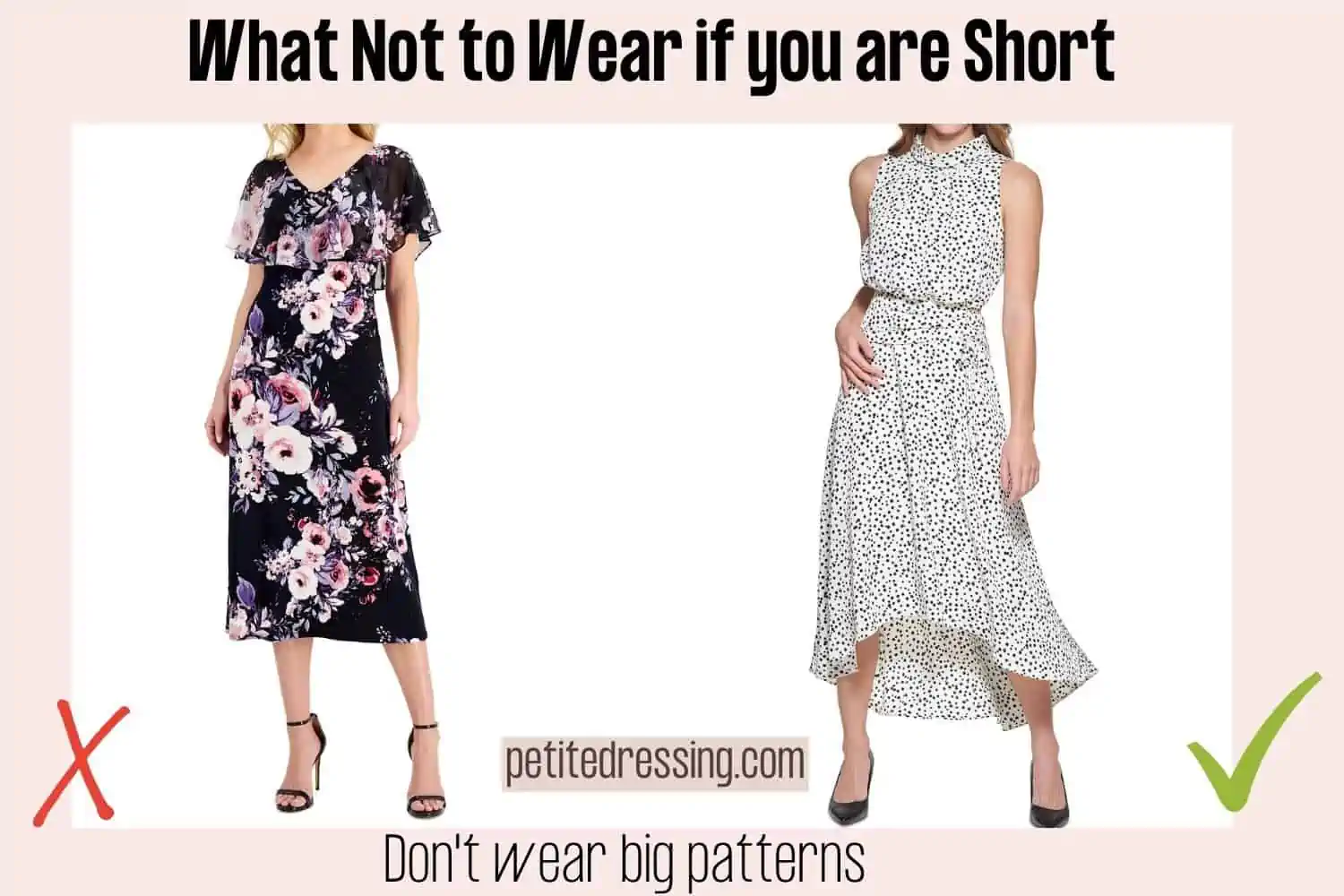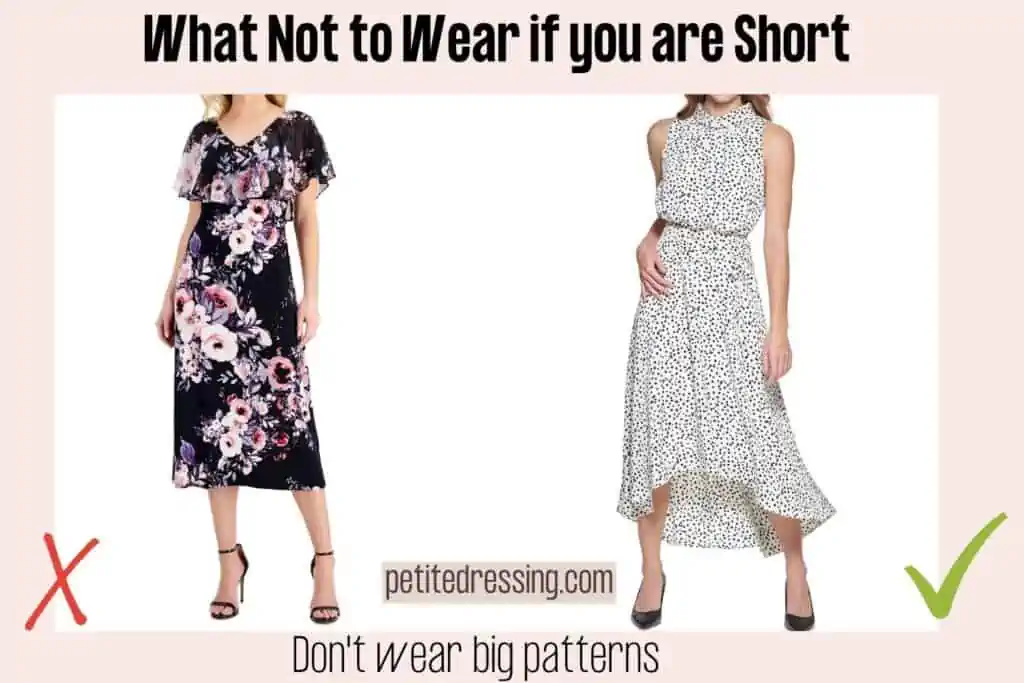 Patterns and prints add so much personality to an outfit, and really give you an outlet to have fun with your style.
One thing to keep in mind is to choose patterns that are proportional to your body type and size.
Similar to some of the other elements mentioned previously, wearing anything that's too large in comparison to your shape will quickly overwhelm a petite frame.
This applies to patterns and prints as well.
Ankle Straps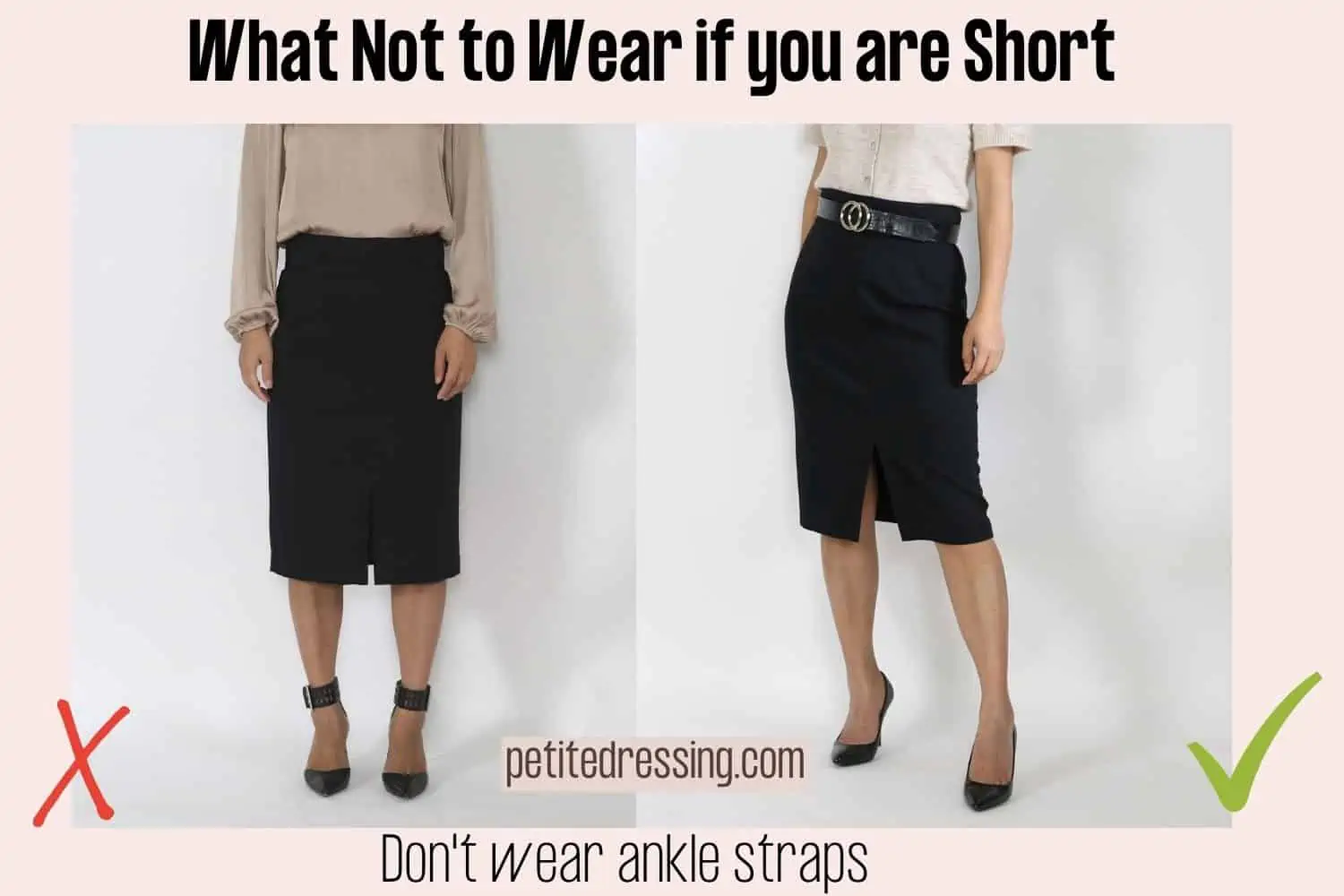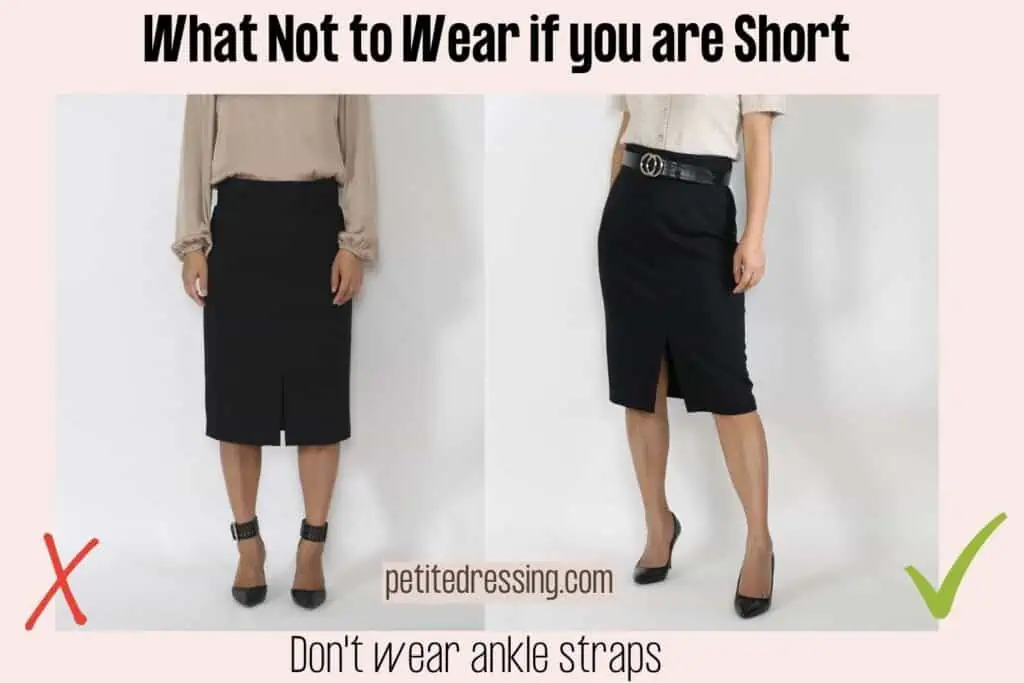 Yes, they're adorable and cute but ankle straps are best avoided for petite women.
What ankle straps do is they cut the leg off, right at the ankle, causing them to look even shorter.
Sticking to shoes without an ankle strap gives the illusion of a continued leg line that adds length subtly to your body.
Platform Shoes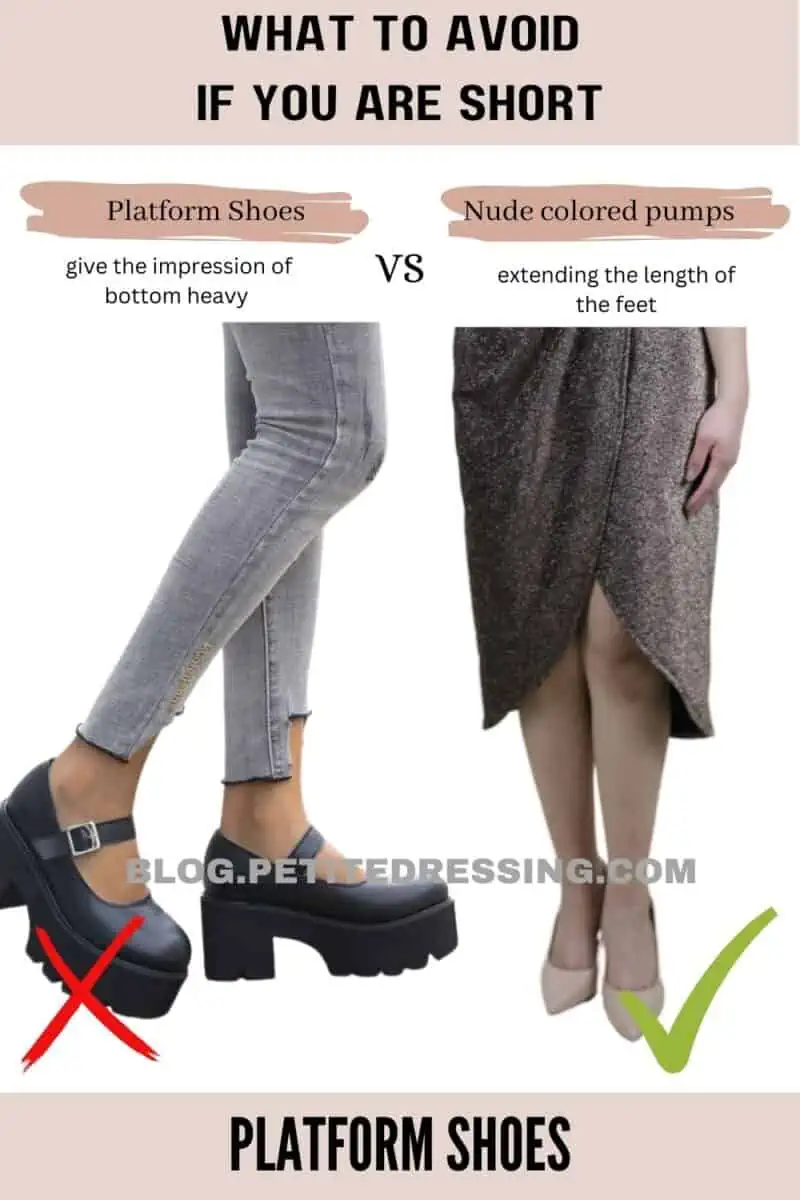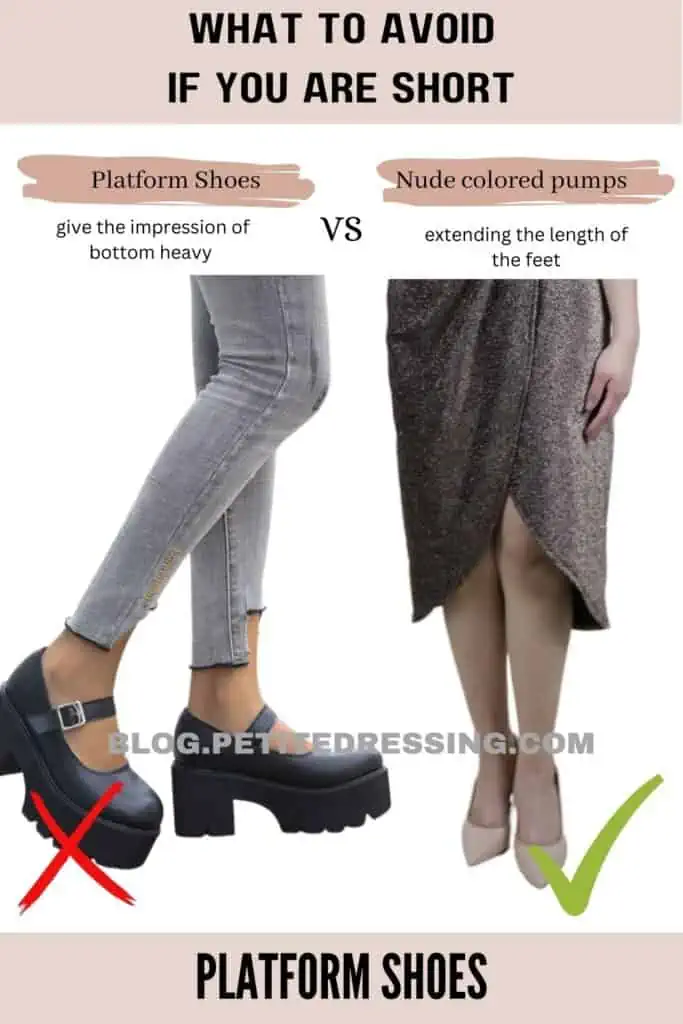 This may sound counterintuitive to you that short women should avoid platform shoes. Since a lot of petite women rely on heels to add a few extra inches, it seems natural they would resort to platform shoes because those seem more comfortable and can also enable you to wear higher heels.
The problem is platform shoes give the impression of bottom heavy. Instead of elongating your legs, they actually do the opposite visually. Therefore, they will not serve the purpose of making you appearing taller at all, even though you are wearing higher heels.
Another issue with these shoes is that they are rather to walk in. In fact, you have an increased risk of tripping off them when you walk, if the platform is too thick.
Square Toe Shoes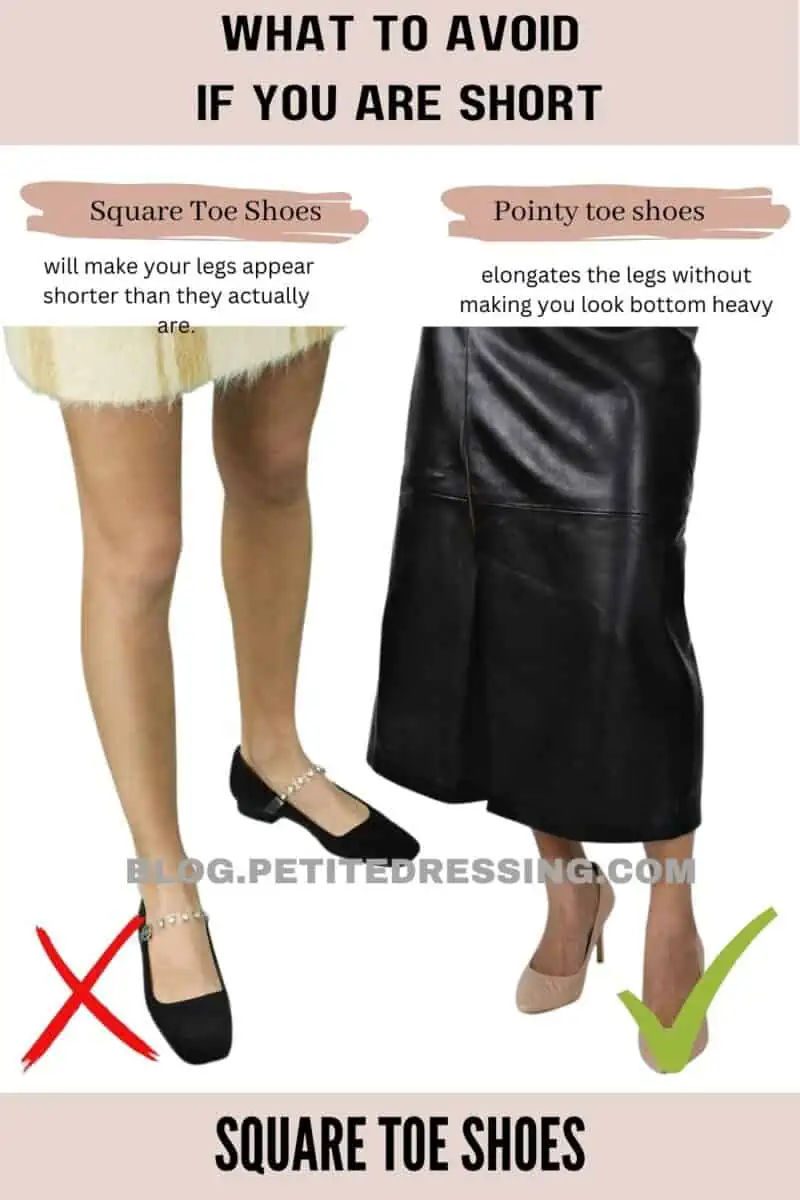 The square toe is a huge trend right now. It seems like overnight everything from loafers to boots have all become square-toe. If you are short, however, you need to resist this trend, as they are one of the least flattering toe shape for short women.
The reason is that any square-shaped toe will make the front of your shoes look wide. That will make your legs appear shorter than they actually are.
A much better alternative for shorter women to look taller is to go with pointed-toe shoes instead. Whether it's pointy toe heels or flats, they can create the illusion of longer legs, which is much more flattering than the platform shoes.
Gladiator Sandals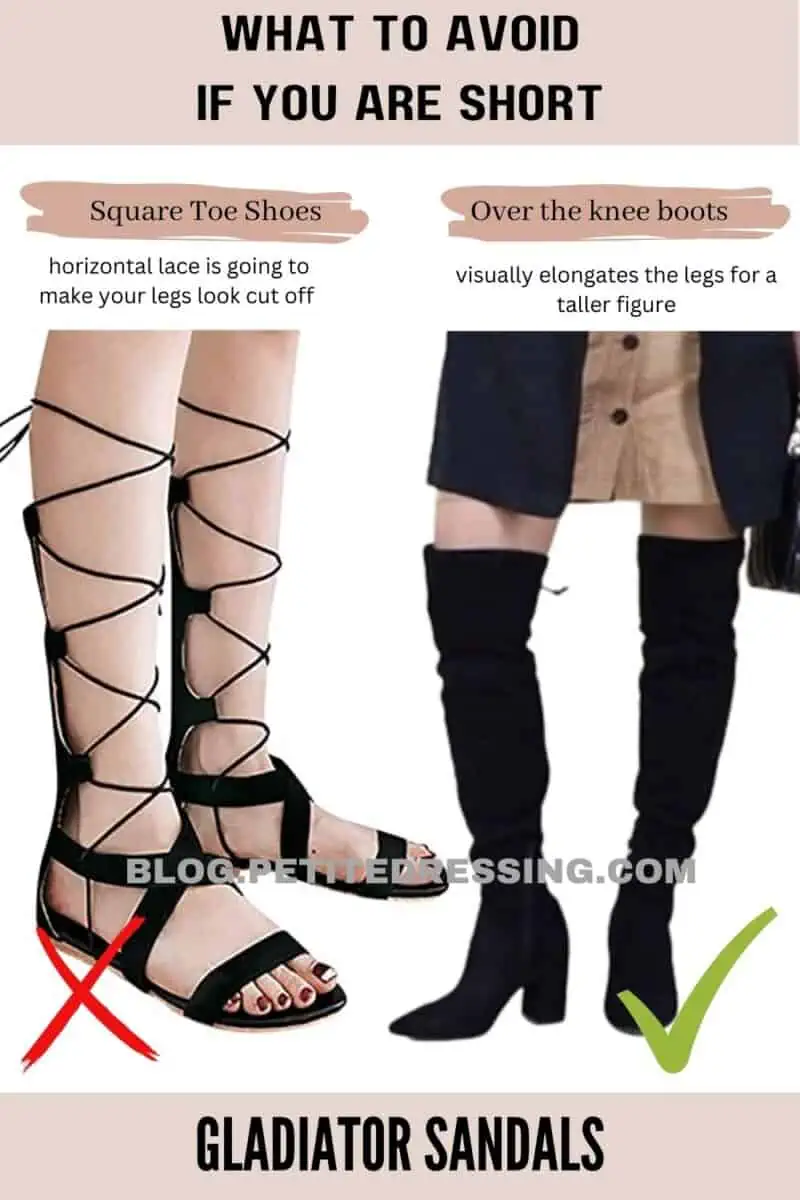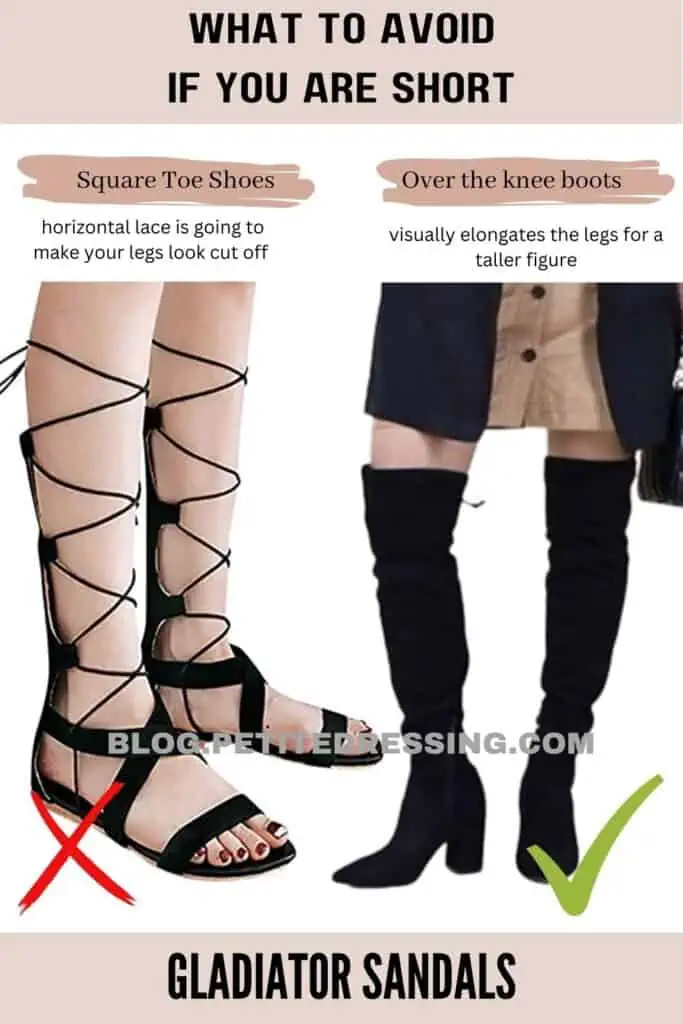 These are some of the very popular shoe trends, but they are really unflattering if you are short!
The main issue with this type of design is that they have too many horizontal laces.
Every horizontal lace is going to make your legs look cut off and therefore is less than ideal for someone who haves short legs, let alone when your sandals have multiple laces that can go up to your knees.