If you have high hips, you may consider that an advantage, because that typically implies your torso is shorter thus legs are longer. That is normally considered an "easy to dress" body shape. However, the eyes like balanced things. If you have higher hips, you can use the following styling tips to flatter your shape and achieve a more balanced body proportion.
Wear Longer Tops
The trick with high hips is creating the illusion that your torso is longer than it really is, this helps to create a more balanced shape overall.
One really simple, and subtle, way to achieve this is by wearing tops that are on the longer side. Long tops elongate the top half of your body. Even if you don't want to wear tops that are super long in length, simply wearing shirts untucked will create a similar effect.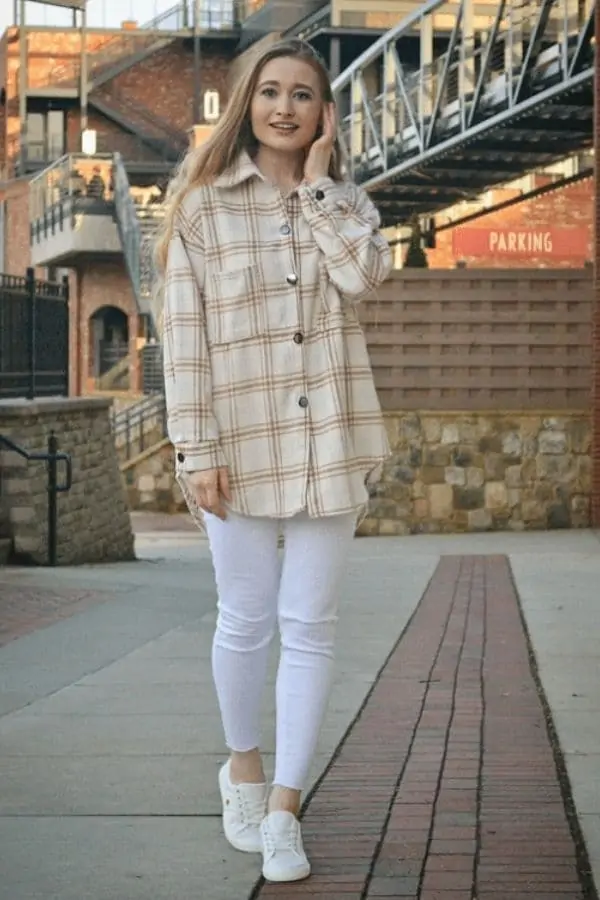 Styling the trendy shacket look is a great choice for high hips, to add some coverage to that area of the body. Katy embraces the silhouette with ease here.
Avoid Anything Low Rise
Even if low rise eventually comes back into style, it's not a flattering option when you have high hips or big hips. If you've ever tried to wear low rise in the past, you may have noticed they look even lower on your shape. The problem with low rise with this body type is it tends to make the appearance of elongated hips stand out even more, rather than flatter them. Plus, they shorten your legs. This is exactly why mid-rise and high-rise fit is the best option. When you have high hips, these silhouettes will fit to your natural body shape and simultaneously accentuate longer looking legs. Win-win! 
Wear Straight Leg Jeans
Anytime you're able to dress in a way that lengthens your legs, it's going to play up your shape in a favorable manner. When choosing different silhouettes for jeans, straight leg denim is the one you can always count on. Of course you can wearing other types of jeans silhouettes, but these will guarantee that your legs and high hip shape are flattered subtly.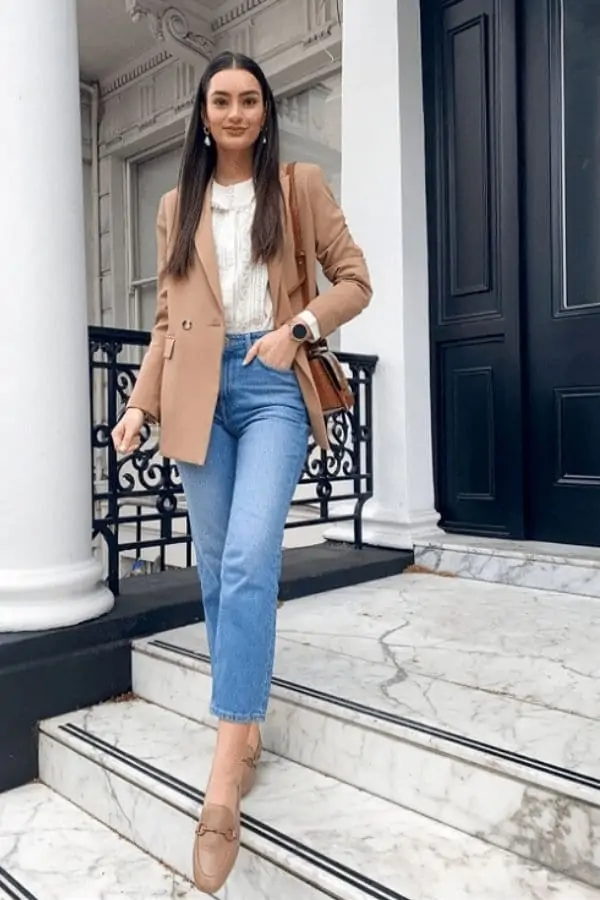 Straight leg denim is a major style win for high hips, as shown here by Patricia they elongate the leg line beautifully.
Wear bootcut pants
Similar to the straight leg shape, boot cut is another type that is universally flattering, especially if you are a woman with higher hips. Boot cut pants are well fitted from hips all the way through the thigh, but then start to widen under the knee. This type of leg shape can make anyone's legs look longer and leaner.
Avoid Details Around Your Hips
As fun as it can be to have denim, skirts, etc. with pockets, embellishments and even whiskering around your hip area it's best to stay away from these details with high hips.
Anytime there are details like this at the hips, it draws all the attention to that area of your body which will then bring even more focus to high hips.
It's not that you want to hide your shape in any way, but rather find ways to enhance and flatter your shape naturally with balancing tactics.
Stick to pants and bottoms that are minimal in design and detailing anywhere around your hips to achieve this.
This is especially true when it comes to choosing your jeans. Since denim are typically tightly fitted on your hips, you want to avoid any pockets too big or too exaggerated. You also do not want the pocket placement to be too high, for the obvious reason. If they are too high, they will only make your high hips look much more obvious and draw even more attention to them from behind.
Embrace A-Line Silhouettes
Bringing the attention towards the most narrow part of your midsection, or waist, is a stylist's trick to flattering high hips. You already know why low rise isn't favorable, the same factor plays a role in the best dress and skirt silhouettes to select for your body shape. One of the best silhouettes for you? A-line! This is because it draws the eye up, away from your hip area but not TOO much. Instead, the silhouette glides against your hips creating an elongated effect to your overall body type.
Empire Waist Anything
Similar to the way a longer top lengthens the torso, an empire waistline provides a similar effect. This is a highly favored silhouette for women with a high waist because it's also incredibly slimming. When the accentuation of the silhouette is just under the bust, it creates the illusion that your waist is smaller and longer. Two bonuses wrapped up into one silhouette. When shopping, or getting dressed, look out for anything that offers an empire silhouette, both dresses and tops.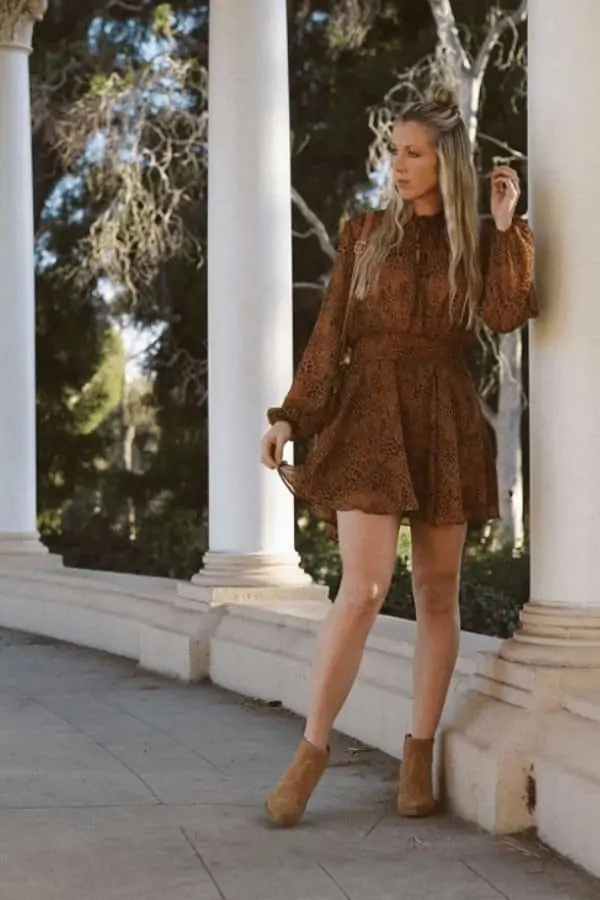 Callie is wearing a gorgeous a-line silhouette, one of the most figure flattering options for high hips.
Open Necklines are Best
Whenever you want to camouflage any part of your body, the easiest and best way to do it it to draw attention away from them. That is why choosing the right neckline is so important for women of any body type.
When you choose an open neckline, or otherwise known as lower necklines, it will bring some of the focus away from your high hip area, towards your face. This is another stylist trick that works wonders. Not only does it draw attention away from hips, it also gives the look of a longer top half when more space is exposed. This is something that you can really have fun with, open shoulder, v-neck, scoop, the list goes on and on. The point is to avoid necklines that are very closed off and favor those that show a bit of your collarbone area.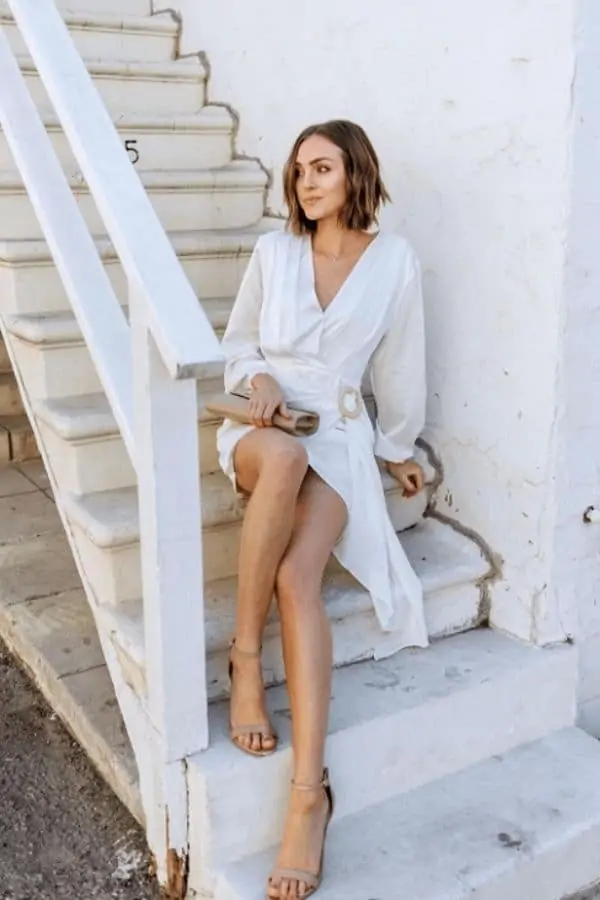 Here Tessa styled an open neckline dress that brings the focal point towards her face, naturally flattering high hips.
Wear Belts Cautiously
Belts are great for function and style, but be wary of them with high hips. The problem with belts when you have high hips is they tend to bring a lot of focus to that part of your body. When your hips are high, with a shorter waist most belts take up a lot of space which also shortens your torso.
As mentioned above, a goal for your shape is to elongate the torso so you can see where the dilemma is here. If you do need to wear a belt, whether function or fashion, stick to options that are thinner in width. This will give you the benefit(s) of a belt without the downsides that can come.
If you do want to define your waist, you can choose a belt that is the same color as your top, or your dress. That is a smart way to make your waist appear smaller, without making your already short torso appear cut in half by the belt.
When in doubt, the best option is to just avoid belts altogether so that you will not have to worry about styling it the wrong way and draw attention to your short torso/high hip body shape.
Skirt Lengths Matter
Another factor that plays a role in every body type is skirt length. Regardless of your height, the length of skirts (and dresses) can make a huge impact on the way something looks on your body. This also applies when you have high hips. The best length is just above the knees.
This length helps to accentuate long, lean looking legs without bringing too much attention to high hips. While a lot of dresses and skirts are in midi and long length right now, don't be afraid to get them tailored! Adjusting the length of clothing is a really simple fix that can turn a blah piece into a figure flattering stunner.
Simplyladyjaye is wearing the perfect length dress, just above the knee to flatter high hips.
Wear the Right Fitting Bras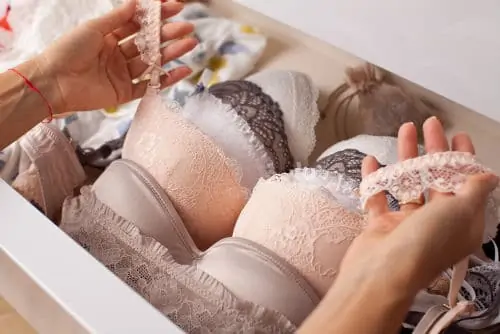 To be honest, a well-fitting bra is essential for every woman regardless of her body type. It makes a major difference when flattering your body shape. That being said, it's even more critical with high hips. Because your torso appears shorter, the right bra can make a difference. When your bra fits your shape properly it gives your body a much longer, leaner looking appearance – this is particularly true to your upper body.
Since women with higher hips also have a shorter torso, an ill fitted bra will not be able to provide the kind of support you need and they can make your breasts look like too close to your tummy. This is especially important if you happen to be well-endowed. You definitely need to find the right size and the high quality bra to give your "girls" the right amount of lift, which will also improve your overall posture and body shape.