Knowing what top styles look good on short and chubby women is necessary if you want to up your styling game. Therefore, we have a detailed guide explaining all the top styles that will complement your body type. These styles can be paired with different pants and skirts so you can have a variety of outfits for a lot of occasions. So, let's dive right in!
Styling Goal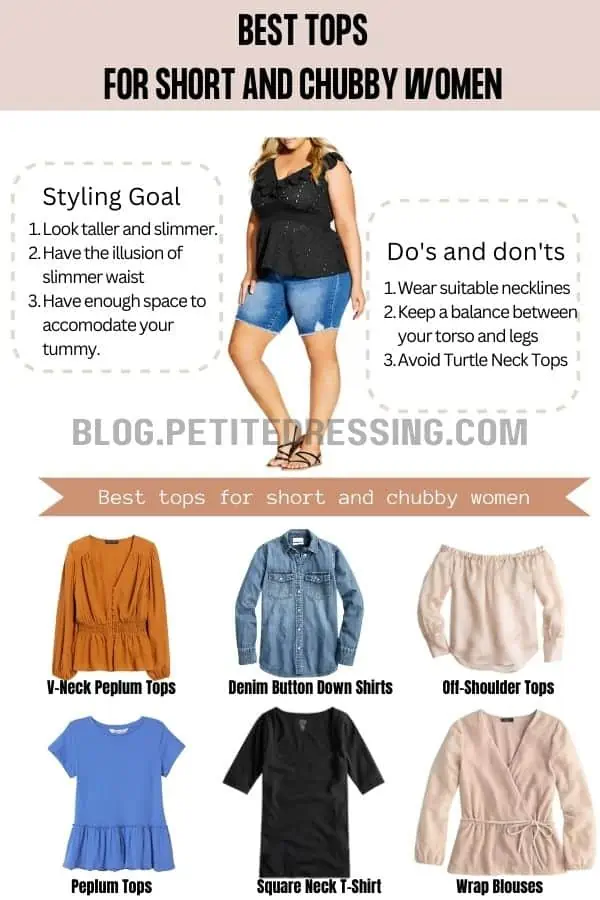 Wearing the right top is the most crucial element of your outfit. It can make or break your outfit. Going for a top that is suitable for your body type is what you should do. Here are a few tips to style tops for short and chubby women:
Wear suitable necklines like boat neck, square neck, sweetheart neck, etc.
Keep a balance between your torso and legs. If your top is fitted, go for loose pants or skirts, and vice versa.
Choose bold and big prints instead of congested ones.
Fill your wardrobe with plain and simple dark-colored tops that can be worn in multiple ways.
Using the right bra underneath your top is as important as the fitting of your top.
V-Neck Peplum Tops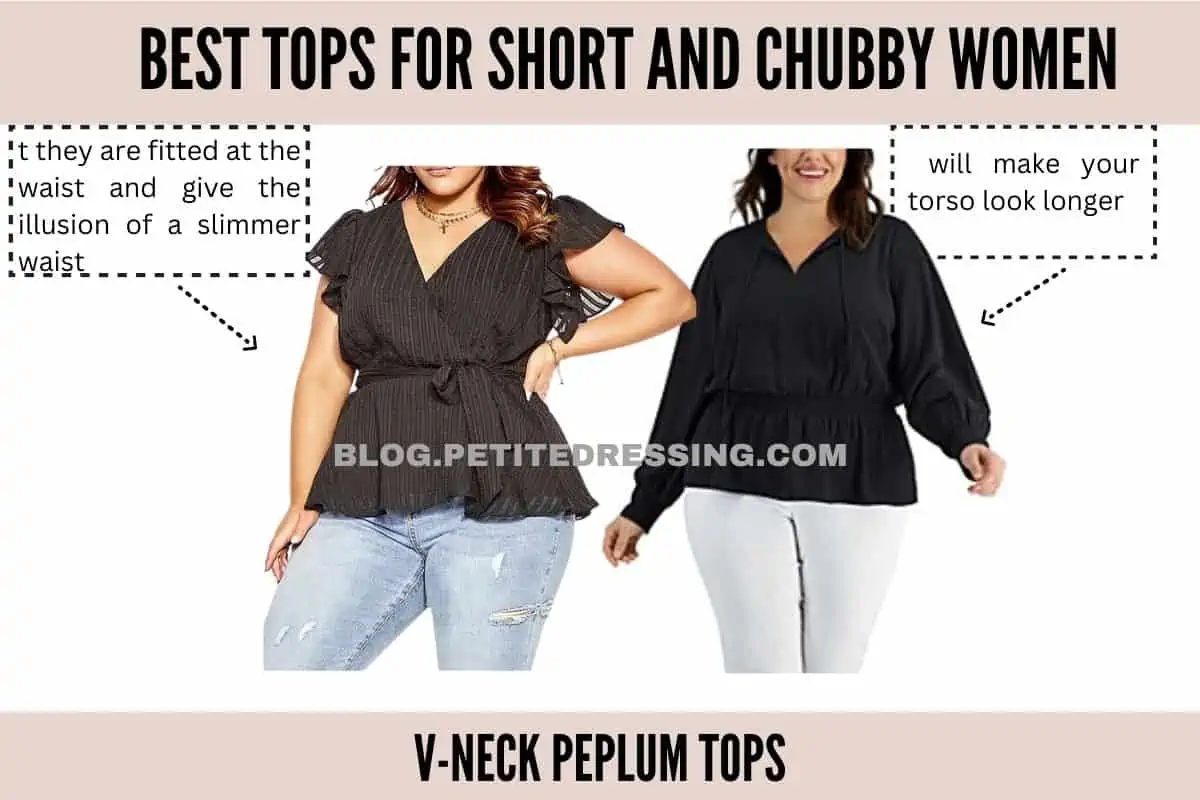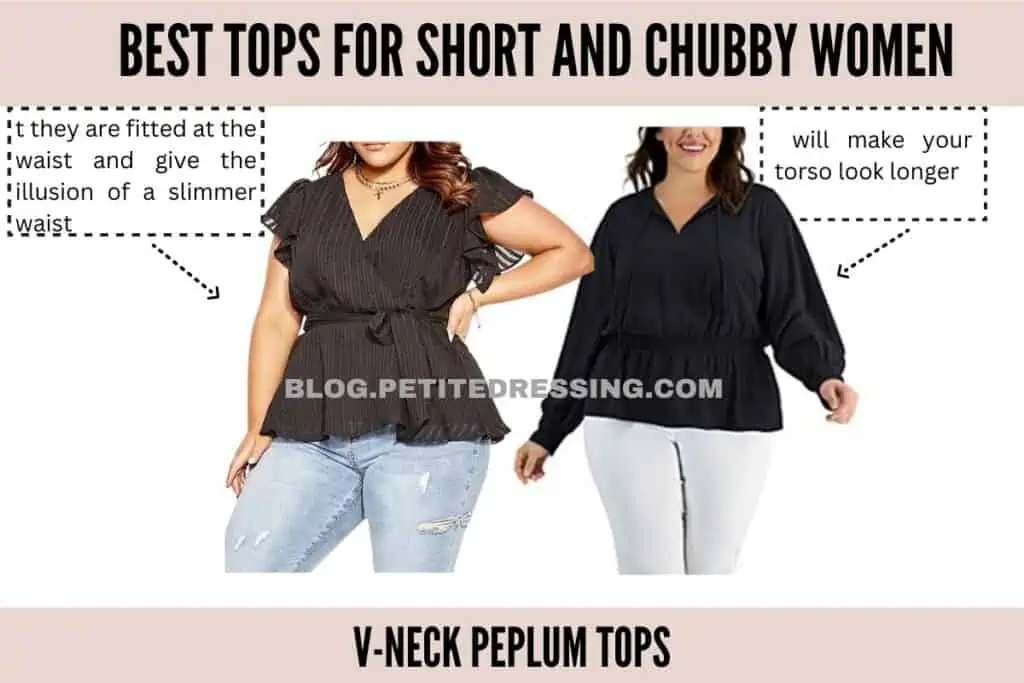 Peplum tops look elegant on all body types. Chubby and short women should try out V-neck peplum tops. They come in a variety of styles. But the best thing about peplum tops is that they are fitted at the waist and give the illusion of a slimmer waist. They complement chubby women a lot.
A V-neck is suitable if you are short and chubby. The fitted waist and flowy peplum design will make your torso look longer as well. It will definitely be a hit for your body type. Style this top with dark-colored skinny jeans.
Denim Button Down Shirts
Button-down shirts are hard to style if you are chubby. But let's break down how you can style a button-down shirt and look mesmerizing.
Choose a denim button-down shirt. The denim will hold the shape of the shirt instead of sticking to your curves and adding more pounds to your body. 
A stiff fabric is better when you wear a button-down shirt instead of a flowy fabric. Flowy fabrics like silk will sit right on your fat and make you look bulkier.
Style the denim button-down shirt with a midi-length white skirt. Make sure the skirt is high-waisted. Tuck the shirt inside the skirt and you will instantly look taller. It is a great style for short and chubby women. 
You can also wear button-down shirts with wide-leg high-waisted pants. Tucking the shirt inside your pants or skirt will make your legs look longer. So, you must try out this hack!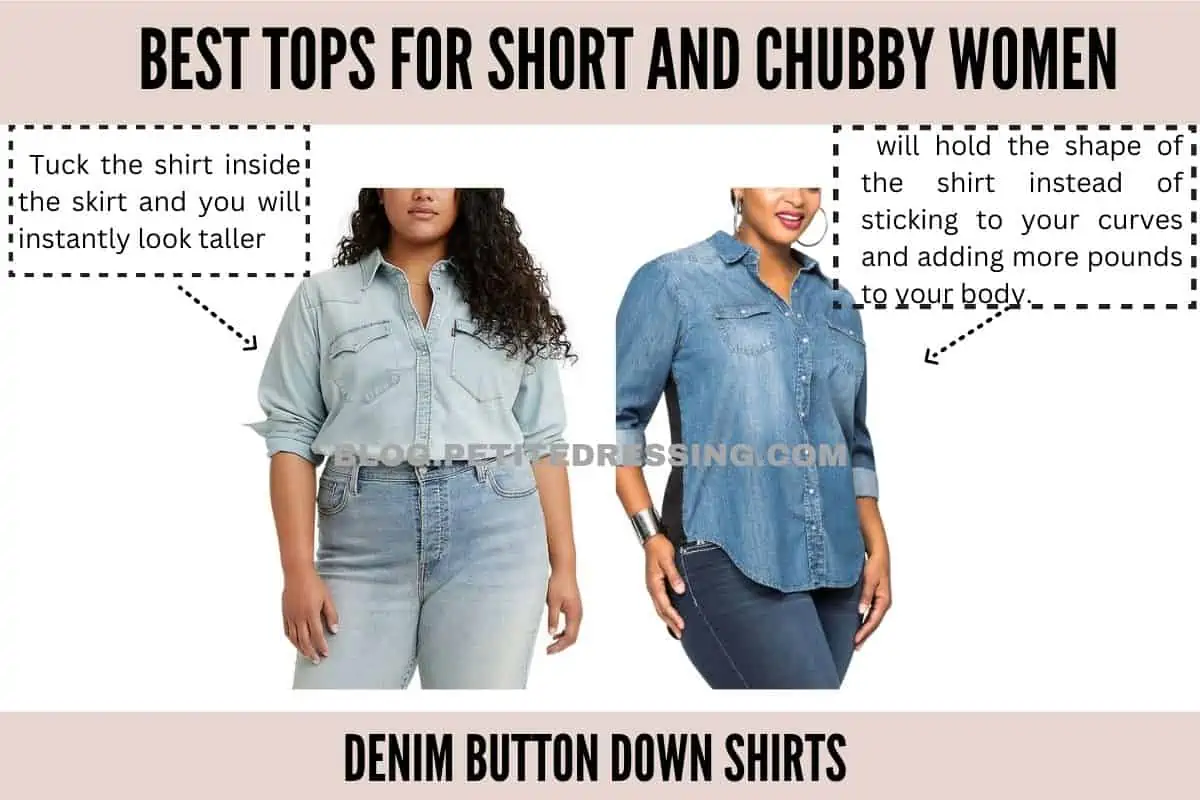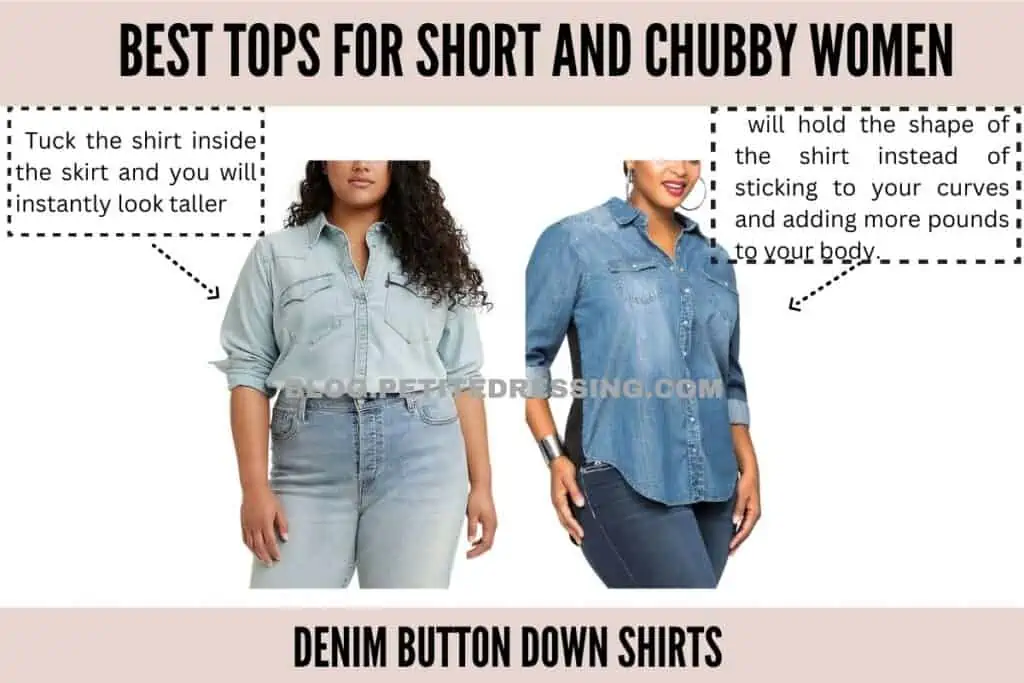 Off-Shoulder Tops
Plain off-shoulder tops are a must-have for chubby women. Invest in good-quality off-shoulder tops of different colors so you can have a beautiful outfit ready for any occasion. Off-shoulder tops are extremely easy to style if you are chubby. They instantly divert the attention from your chubby parts and bring it to your neck and chest area.
Solid colors in off-shoulder tops are a great choice for petite and chubby women. Pair the top with a high-waisted skirt, pants, or shorts. Everything looks great with off-shoulder tops.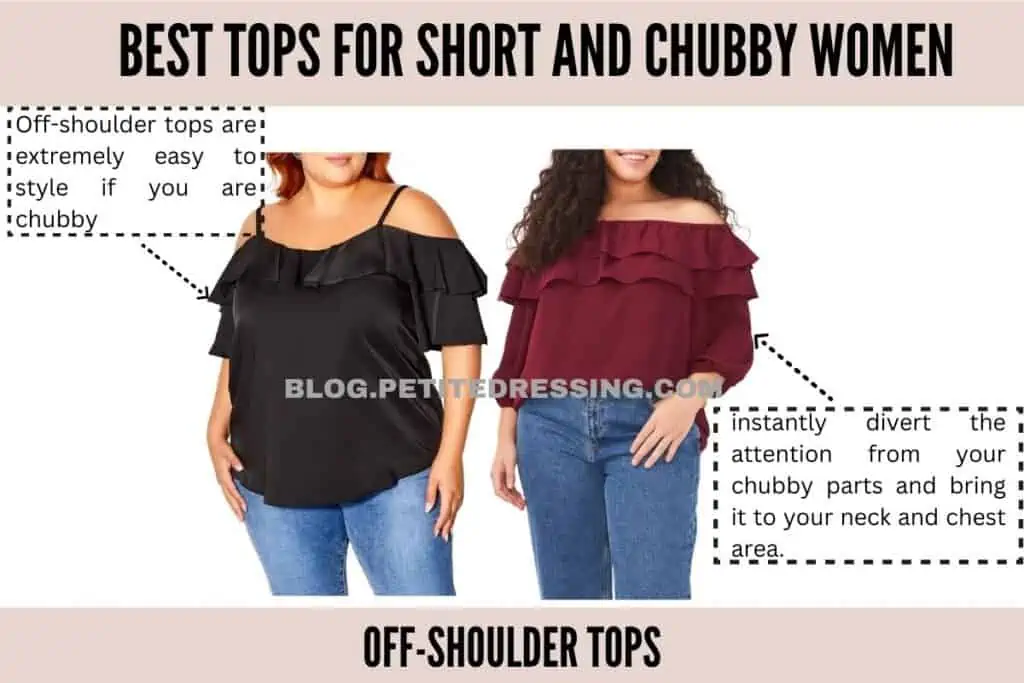 Peplum Tops
Shirred peplum tops that are tight on the chest and waist area are going to make you look so much slimmer. They fit your body perfectly while allowing enough space for your tummy to accommodate. Shirred tops not only look fashionable but also give the illusion of an hourglass figure.
Peplum design in shirred tops will make you look taller. The flowy peplum style will go under your tummy and sit on your hips. It is a perfect style for a petite and chubby body type. You can pair this top with skinny jeans.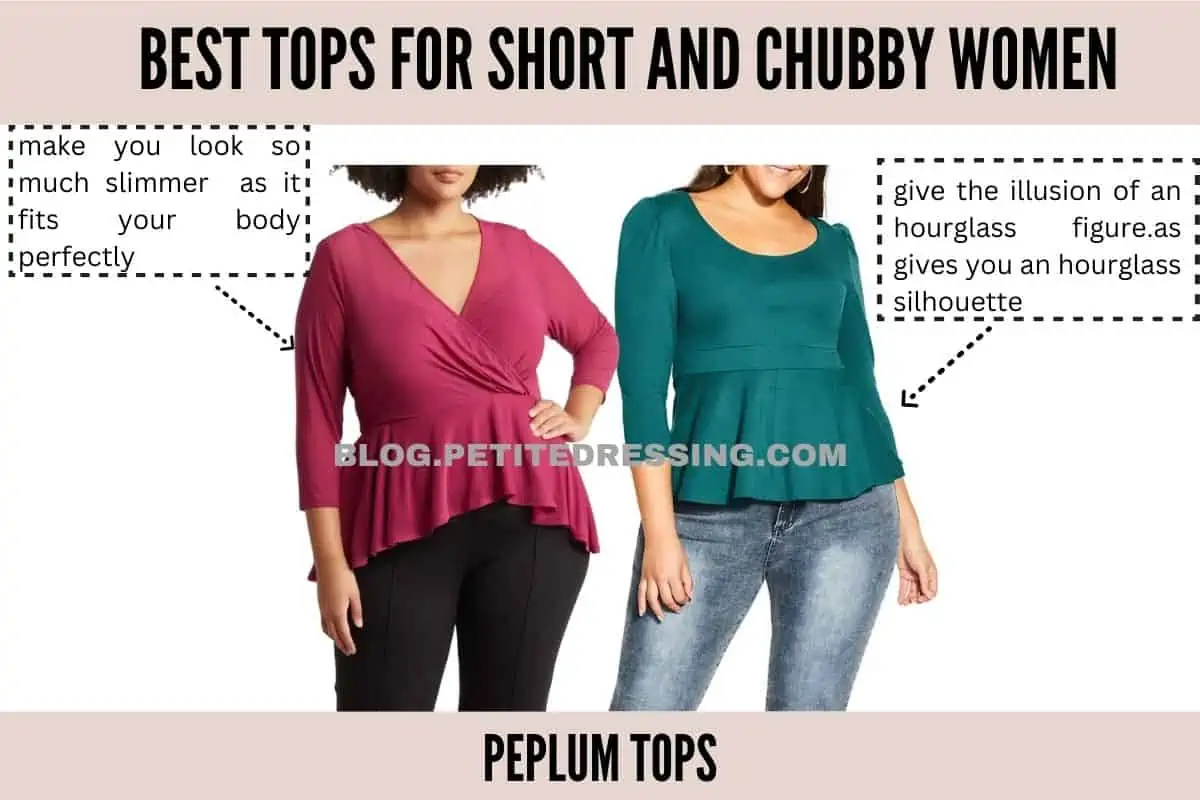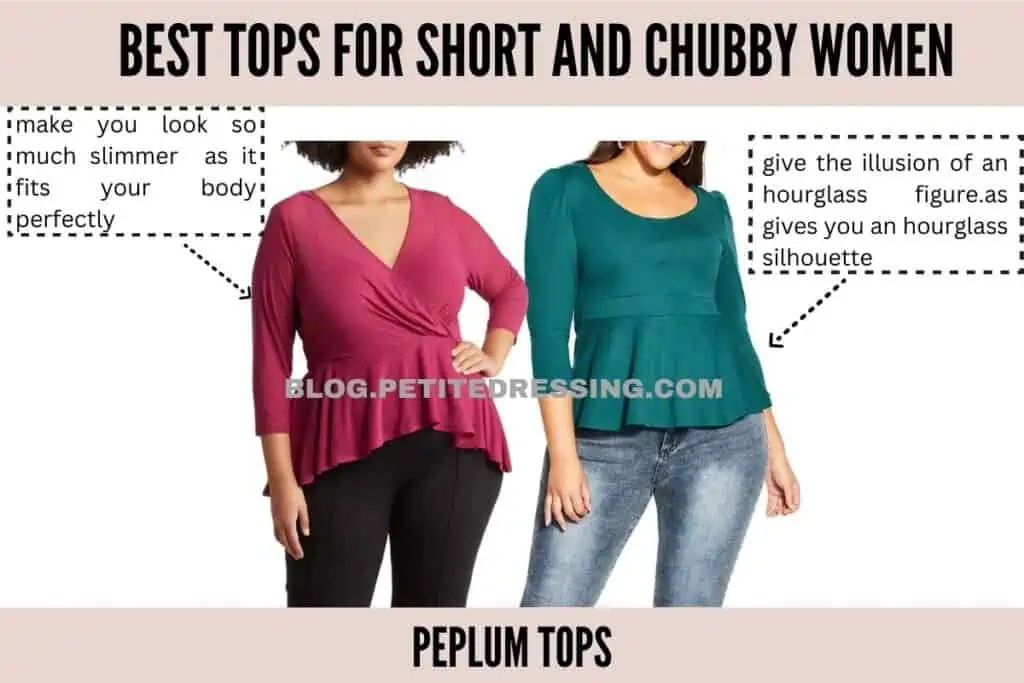 Square Neck T-Shirt
We all love to wear t-shirts in summer. Chubby and short women shouldn't stay away from t-shirts thinking they won't complement their body type. However, choose a square neck t-shirt more than the usual round or V-neck ones.
A square neck reveals your neck area more than the usual t-shirts. It instantly makes you look leaner. Go for a fit that is tight on your chest area and a little flowy on your tummy. Tuck in the t-shirt in your pants (preferably high-waisted pants). This way, your waist will look smaller and you will look tall.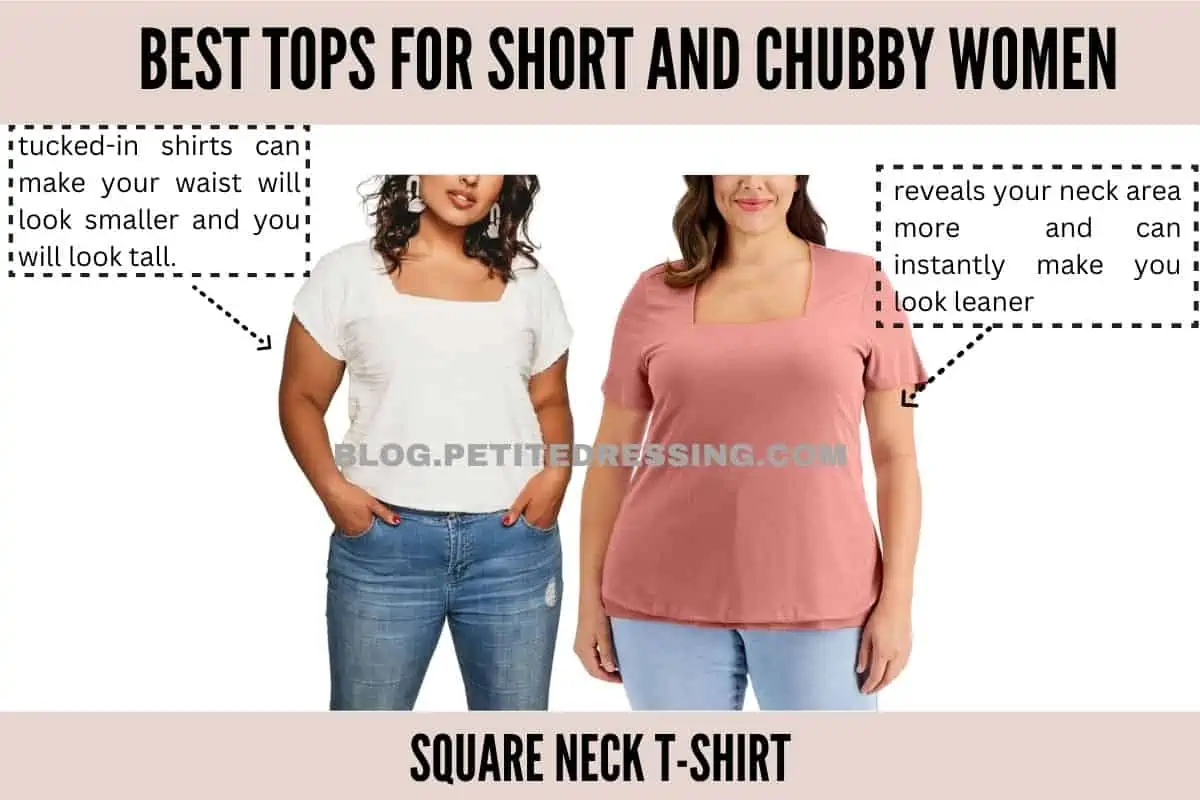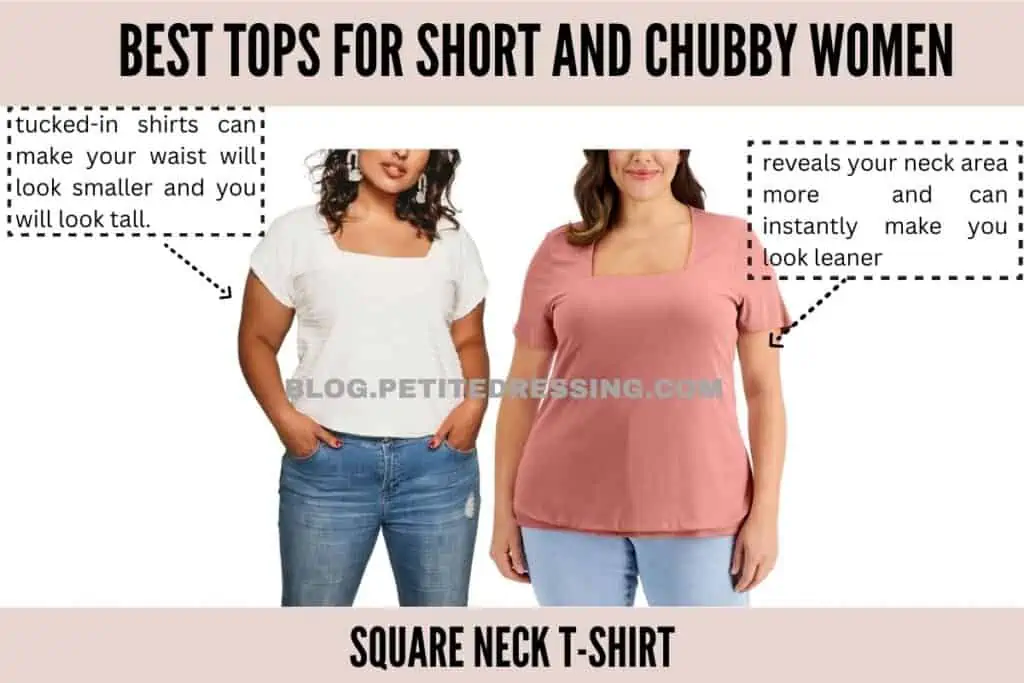 Wrap Blouses
Wrap blouses allow you to make your waist as small as you want. Making your waist slimmer will give the illusion of an hourglass figure. That's why it is one of my favorite styles for chubby women. The wrap tops make your torso look longer as they are flowy at the bottom. You can style them with skinny jeans and have a beautiful outfit for any occasion.
Puff sleeves are good for chubby arms. They won't add more weight to your arms. Tight sleeves can make them look heavier. If you have large arms, try out puff sleeves. Choose a neckline that brings attention to your neck. It will instantly give the illusion of a leaner physique.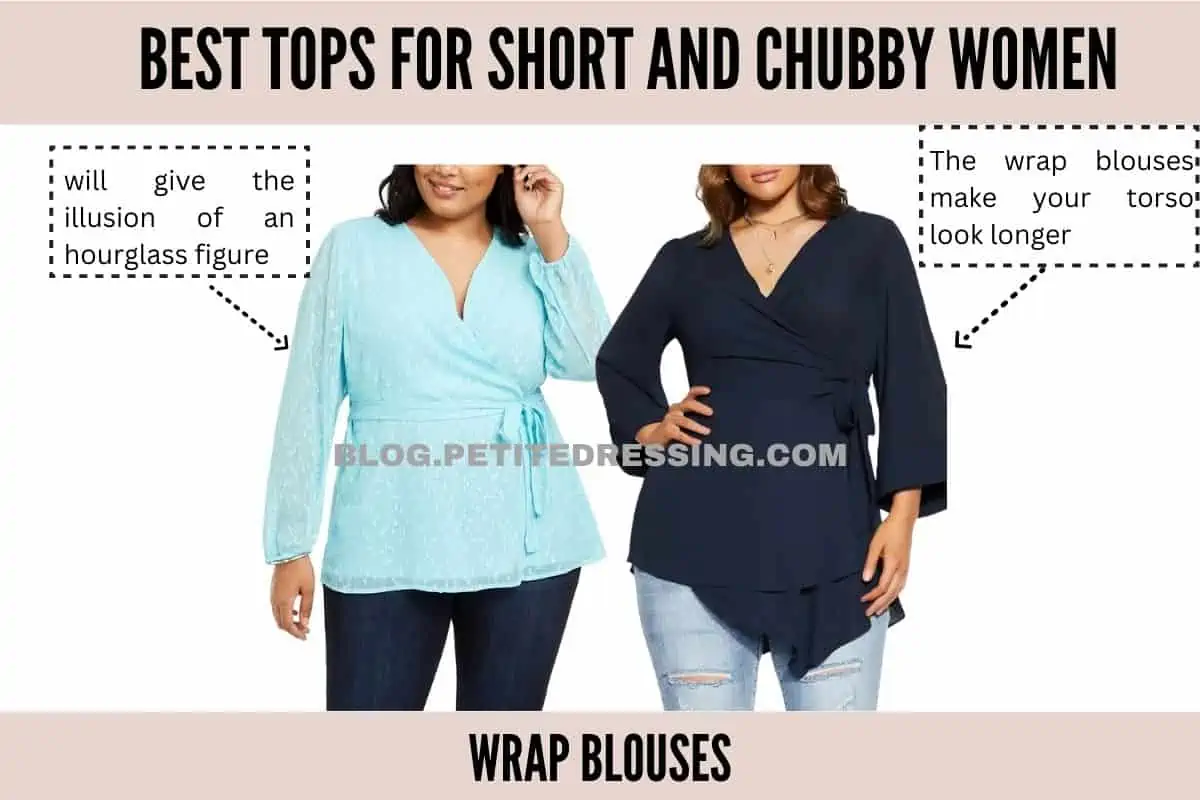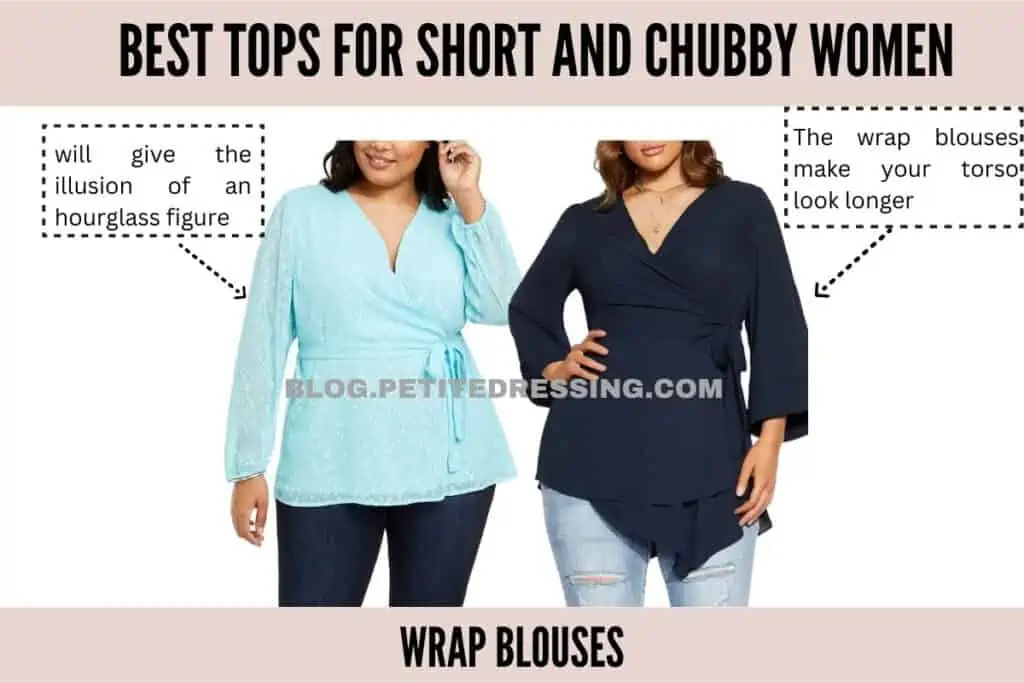 Sweetheart Neck Tops
Sweetheart neck is a personal favorite because of how luxurious and gorgeous it looks. The best part about this neckline is that it makes you look leaner. So, it is a great choice for short and chubby women.
The flared style with a sweetheart neck is a must-try for chubby and petite women. This style looks good on every occasion. You can dress up or down with this top by adding some jewelry or going for a simple and plain look.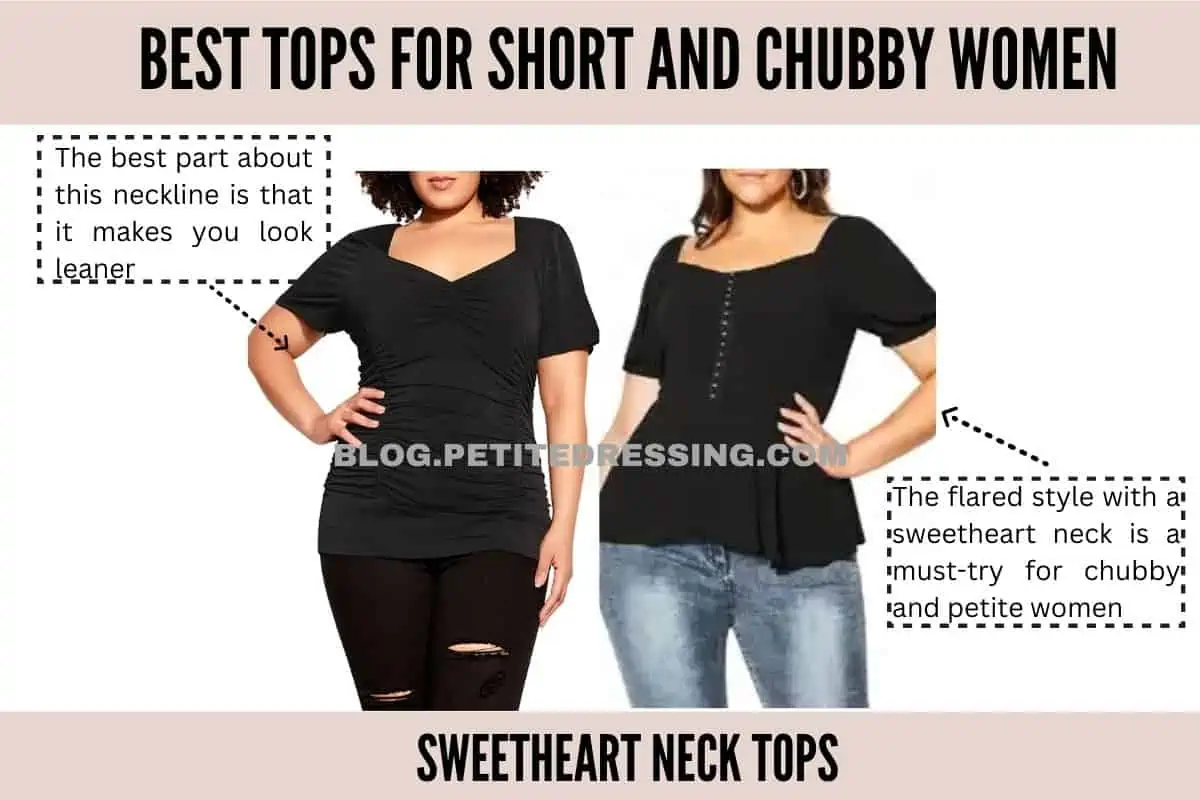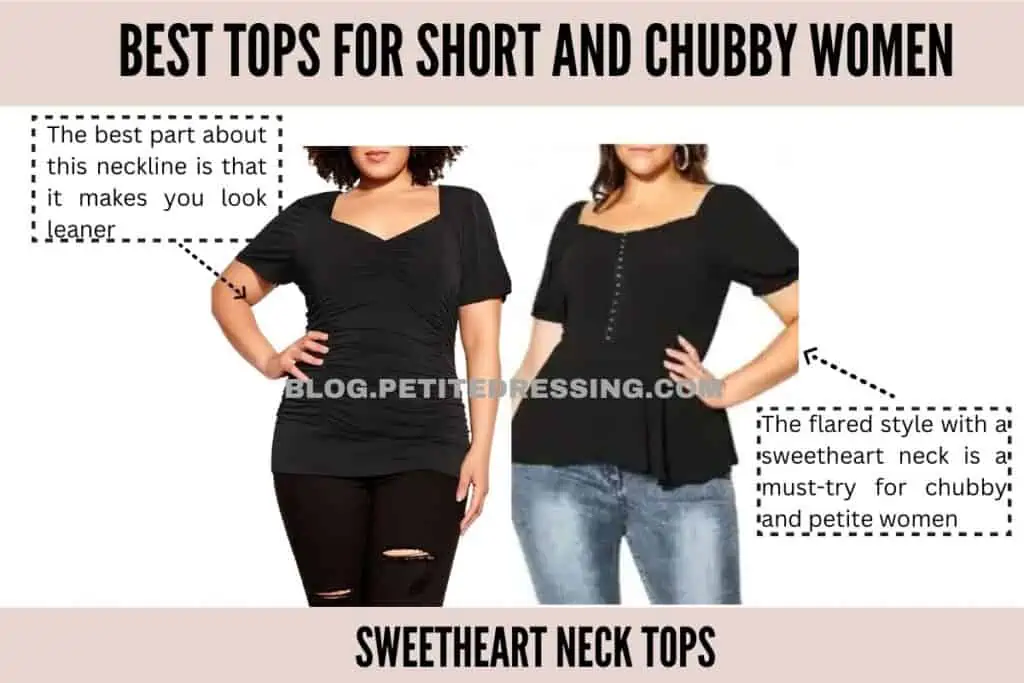 Avoid Turtle Neck Tops
Turtle neck tops will make you look shorter and chubbier. They make your body look bulky. This style isn't suitable for chubby and short women especially if you like to look leaner. It will only add a few pounds to your body instead of making you look flattering. Turtle necks are way harder to style as compared to necklines that show off your neck and shoulders.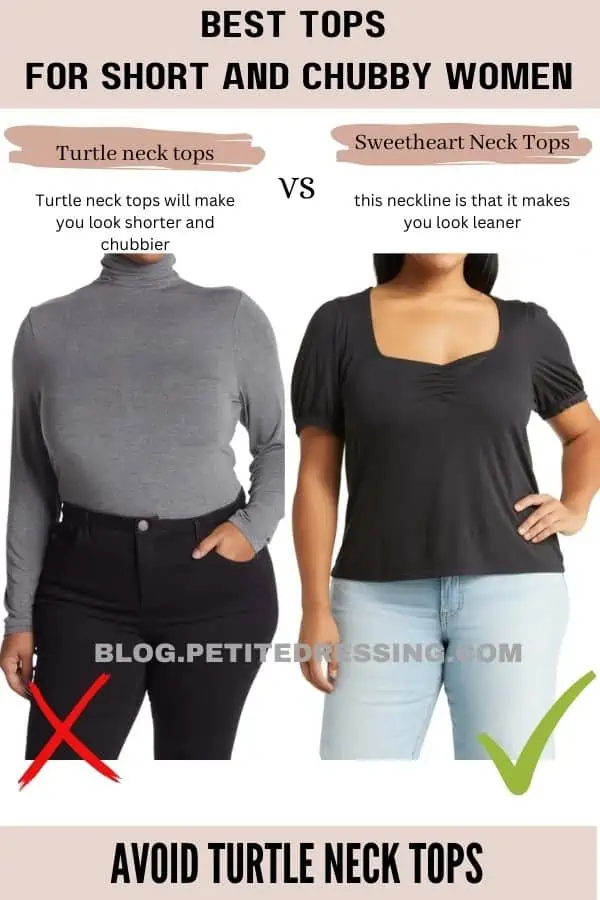 Avoid Tops with Frills
Excessive frilling in your top is only going to make you look chubbier. Anything heavy isn't suitable for short and chubby women. The less the fabric, the slimmer and taller you will look. So, leave the frill tops for skinny teenagers.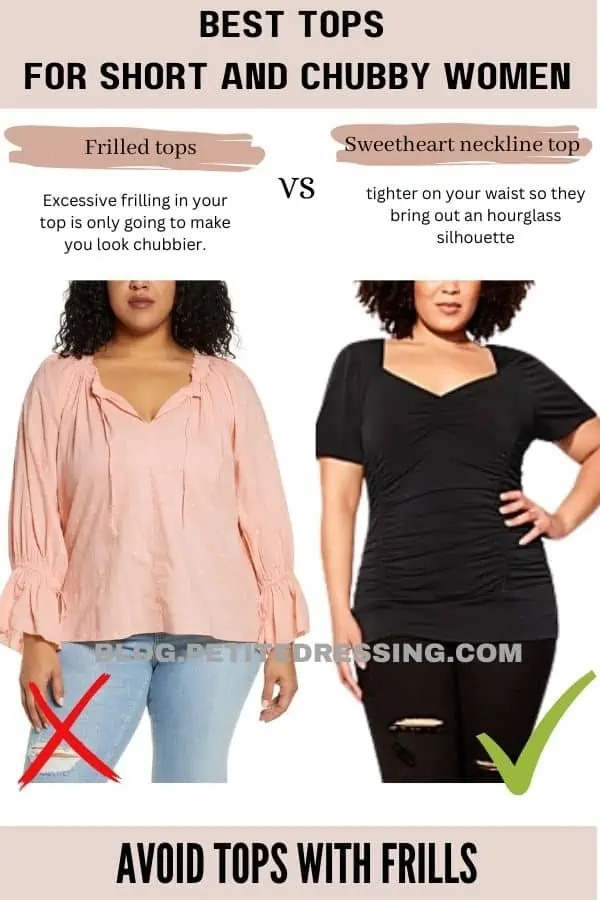 Avoid Loose Fit Tops
Loose-waisted tops aren't suitable for chubby and short women. They will make you look even shorter. Go for something that has a cinched waist such as wrap-around tops or shirred tops.
Final Thoughts
Now you know what tops look good on short and chubby women. You can easily style different tops and rock your fashion game. The hack to look good despite your body type is to find styles that flatter your body. Short and chubby women should focus on a suitable neckline such as a square neck, sweetheart neck, V-neck, etc. Go for something that makes your waist look smaller. It will give the illusion of a slim and leaner physique. Avoid bulky clothes with too much fabric. Choose fabrics that accumulate your fat perfectly instead of making it look like you gained a few pounds immediately.