Dressing to impress can be challenging when office wear is often seen as plain and boring. As a petite woman, it can be even more difficult to find business clothing that is both chic and properly fitted to your short frame.
There are many different styles of typical office-wear clothing that will make you look beautiful and classy while also dressing with the trends. This guide will show you how to dress as a petite woman working in the office, and how to stand out with your amazing fashion sense.
Jackets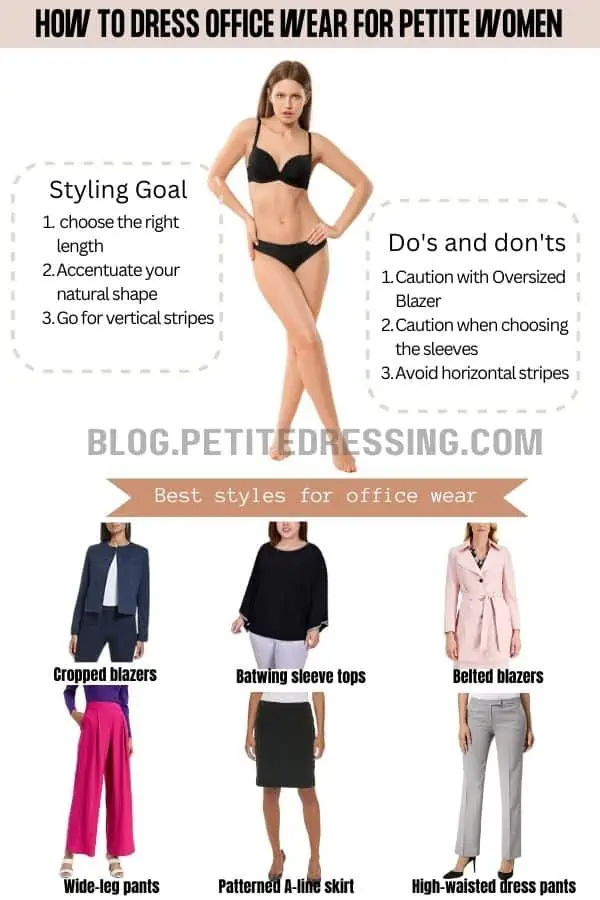 Cropped blazers
As a petite woman, it is important to wear clothing that looks the most flattering on your body type. Cropped blazers are an excellent choice for women who want to define their waist and attempt to slim the shape of their bodies. 
Cropped blazers are typically cropped right before your hips begin. This means that they will fall at the smallest part of your waist. If you wear high-waisted pants with a cropped blazer, you will be able to elongate your legs and make your overall frame look taller.
Belted blazers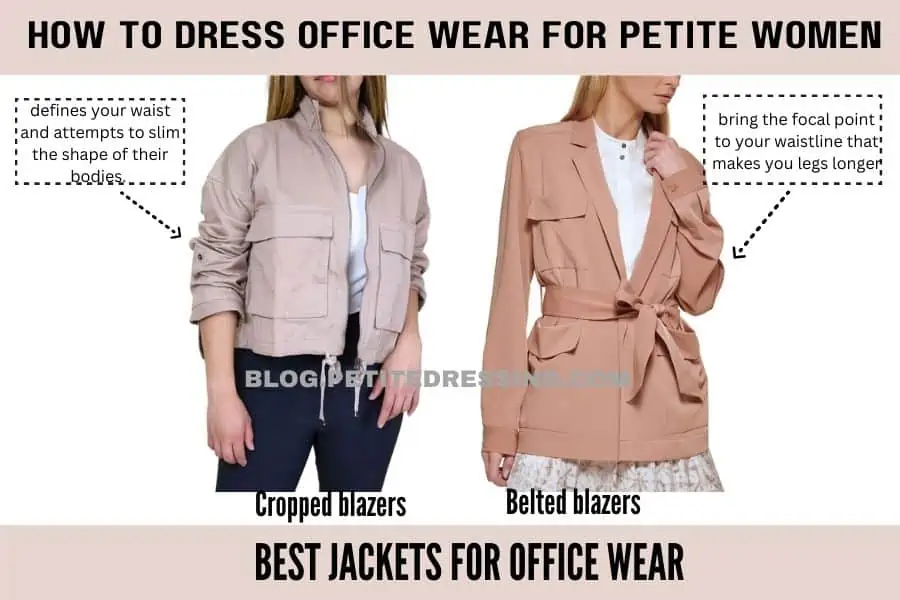 This is one of the most flattering jackets for petite women. The blazer combines the formalness of office wear with a belt, which is a feminine design to emphasize your waist.
The main reason such a combination looks great on a shorter woman is that the belt can bring the focal point to your waistline, which in turn makes the eye believe everything under this point is your legs and therefore make your legs appear longer than they are.
Caution with oversized blazers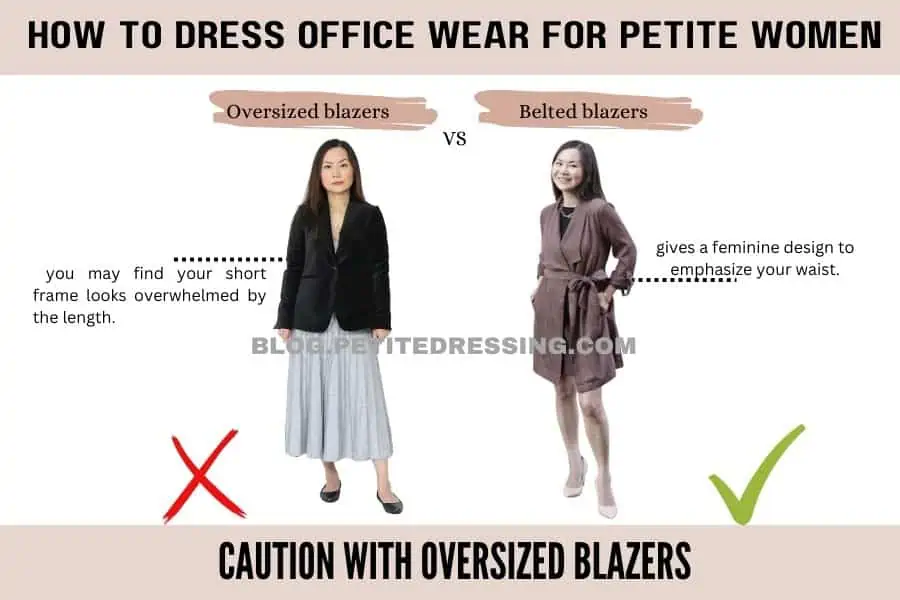 Oversized blazers are ideal for layering, and they look amazing on an outfit that is more form-fitting. This style of blazer is popular because of its comfort and formality.
However, if you are petite, even though you do not need to completely stay away from oversized blazers, you do want to be very selective about how you wear them.
Due to the fact that they have plenty of volume, it's not surprising that you may find your short frame looks overwhelmed by the length. So, if you want to look good in this type of blazer, it is key you either add a belt, or wear them open with fitted under layers.
Tops
Unbuttoned cardigans
Blazers may be too formal for the type of office that you work in. Instead, you could opt for a soft and comfortable cardigan. Cardigans will keep you warm while also adding a dressy touch to your outfit. 
Cardigans can be all types of lengths. For a petite woman, the safest bet would be a normal length of a cardigan, as long as it is unbuttoned. When you button up a cardigan, it does not create a flattering shape and typically ages your look. An unbuttoned cardigan allows you to show off the outfit underneath and stay comfortable.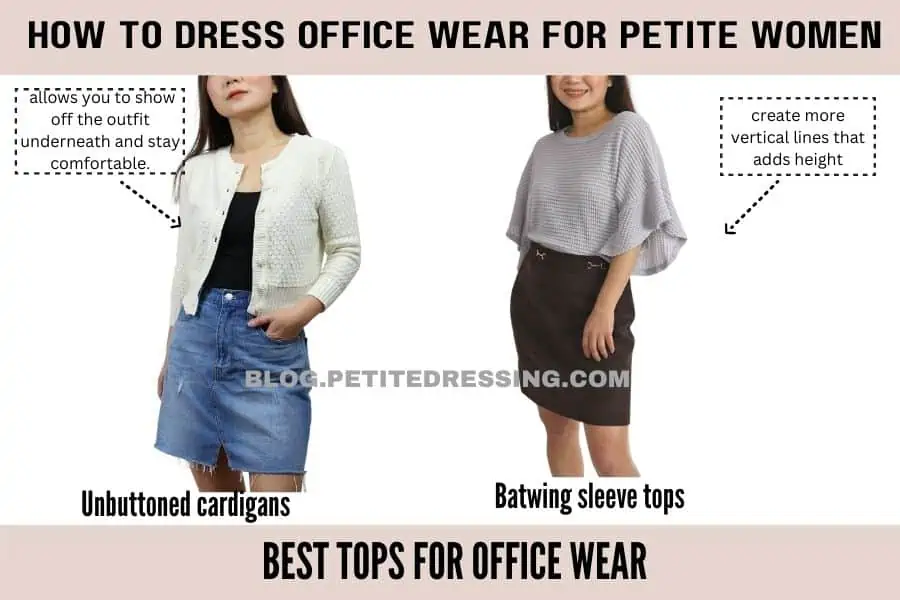 Batwing sleeve tops
Some offices are warmer than most people would like. If you can't control the thermostat, you can always control what outfit you choose to wear. Instead of wearing a plain t-shirt in order to stay cool, search for a batwing sleeve top. It is still a short sleeve style, but the shape of the sleeves looks more formal.
This type of shirt typically has a round or v-neckline. As a petite woman, you should go for a v-neckline in order to create more vertical lines throughout your outfit. These lines will end up making you look taller.
Tucked button-ups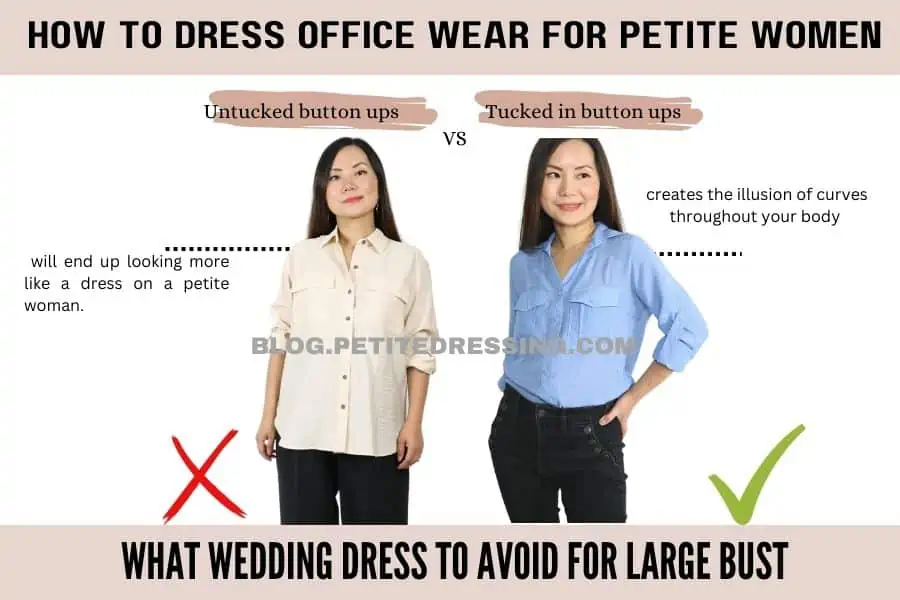 One of the most classic options for office wear is the long-sleeve button-up. It is versatile, dependable, and appropriate for all business settings. Some button-ups are long, and will end up looking more like a dress on a petite woman. In order to avoid this issue, try tucking in your button-up to the bottoms you are wearing.
When you tuck in this style of blouse, you are able to create the illusion of curves throughout your body. If you are not comfortable with a form-fitting shirt, you can pull some fabric out to leave more space around your waist and chest.
Pants
Wide-leg pants
Wide-leg pants will always provide plenty of space for women who have thick thighs or thick calves. The flare is typically seen as a dressy style of pants, depending on the type of fabric you choose. 
Wide-leg pants also provide breathability and comfort, which is important when you have to sit in the same workspace all day, for most of your week.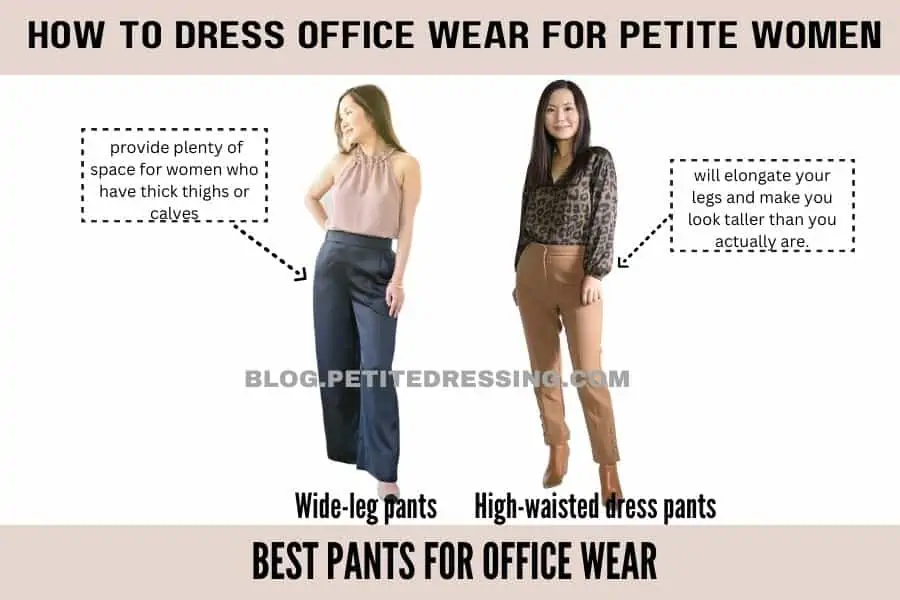 High-waisted dress pants
Dress pants are always an easy answer when it comes to deciding what to wear to work. They are appropriate for all formal business settings and easy to style. In order to achieve the most flattering look when it comes to dress pants, you should search for a pair that is high-waisted.
High-waisted dress pants will elongate your legs and make you look taller than you actually are. They will also accentuate your curves, while also leaving breathing room for your stomach.
Skirts
Patterned A-line skirt
An A-line skirt will look flattering on your body while also achieving the chic office wear style. Some plain A-line skirts will end up looking too casual for an extremely formal office setting. In order to combat this issue, you should try to find an A-line skirt with a subtle pattern.
For example, houndstooth or small printed plaid are excellent pattern choices for a business setting. When styled with a matching blazer or simple tucked-in blouse, you will achieve a flattering and trendy look.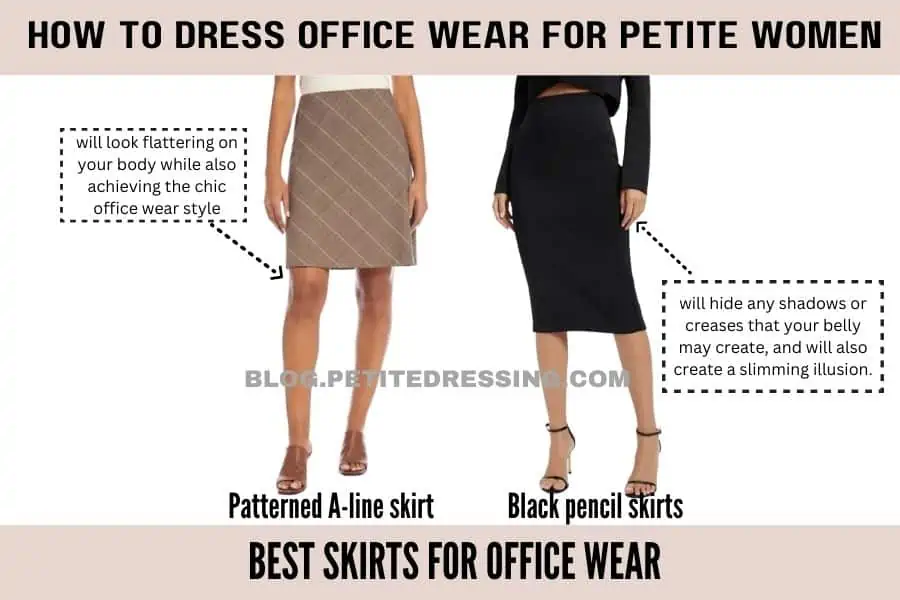 Black pencil skirts
Pencil skirts are a classic bottom choice for office wear. They are formal and flattering for many different body types. If you are insecure about your stomach, you may be afraid to try on a pencil skirt. To ease yourself into this style, try a black pencil skirt. The black fabric will hide any shadows or creases that your belly may create, and will also create a slimming illusion.
You can pair this with a cardigan or blazer in order to give yourself more coverage since black pencil skirts are very form-fitting.
Pantsuit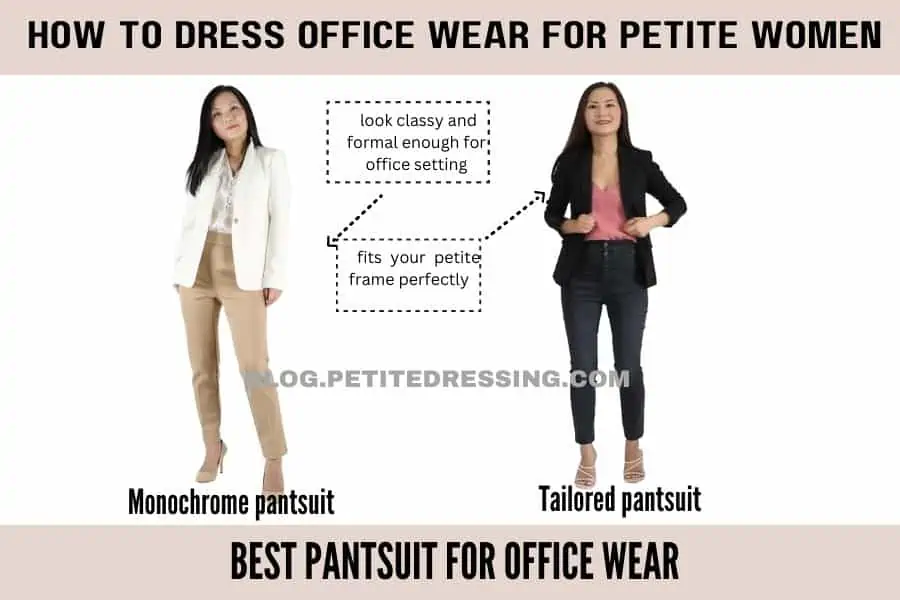 If you are the type of woman who loves to wear bold colors and eye-catching outfits, you can get creative with a pantsuit. Monochrome pantsuits are ideal for office wear because they require minimal styling effort and still look classy and formal enough for this setting.
You do not have to choose a bright color when searching for the ideal monochrome pantsuit. You can wear all black, or add a touch of color with navy blue.
It is important that you wear a pantsuit that fits your petite frame perfectly. The pants should fall just under your ankles, and the blazer should fit snug around your torso. If you struggle to find a pantsuit that works with your height, you can find a trusted tailor to fix the proportions.
Dresses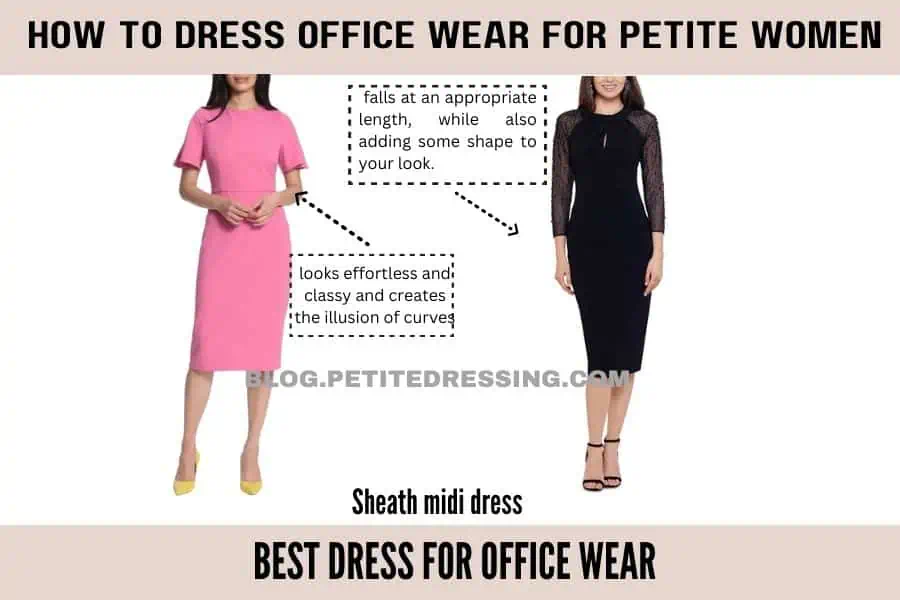 Sheath midi dress
When you wear a dress to work, you won't want it to be a poofy flowing gown. For office wear, simple is almost always the best choice. A sheath midi dress will fall at the appropriate length, while also adding some shape to your look.
Sheath midi dresses are simple, but designed to slightly cinch at the smallest part of your waist. This subtle cinch looks effortless and classy and creates the illusion of curves, even if you do not have them.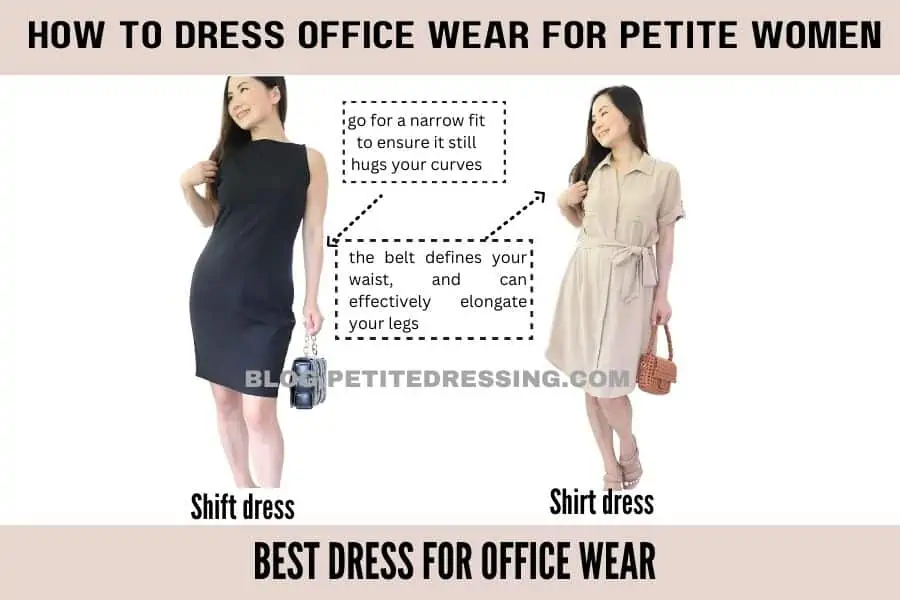 Shift dress
Shift dresses are the type of dress with a straight up-and-down silhouette. As suggested by the name, this is the kind of dress designed for office "shifts" (but obviously you can wear them outside of work too).
Since the style of the dress does not define the waist, petite women should go for a narrow fit to ensure it still hugs your curves but without being tight.
Shirt dress
This is one of the most classic office-appropriate dresses, no matter what industry you work in.
Since the shirt dress typically comes with a belt, the design can be very flattering for a short woman.
The reason is the belt defines your waist, and can effectively elongate your legs, especially if the dress sits higher than your natural waist.
Shoes
Black flats
Comfort is key when it comes to working any office job. You spend most of your day there and may have to walk around a lot, depending on your specific job. Black flats will be easy to slip on and provide you a solid level of comfort throughout your day.
Black flats will also match almost any outfit you can come up with. This makes them extremely versatile and dependable. You can even bring a pair of black flats with you to work in case your other shoes become too uncomfortable.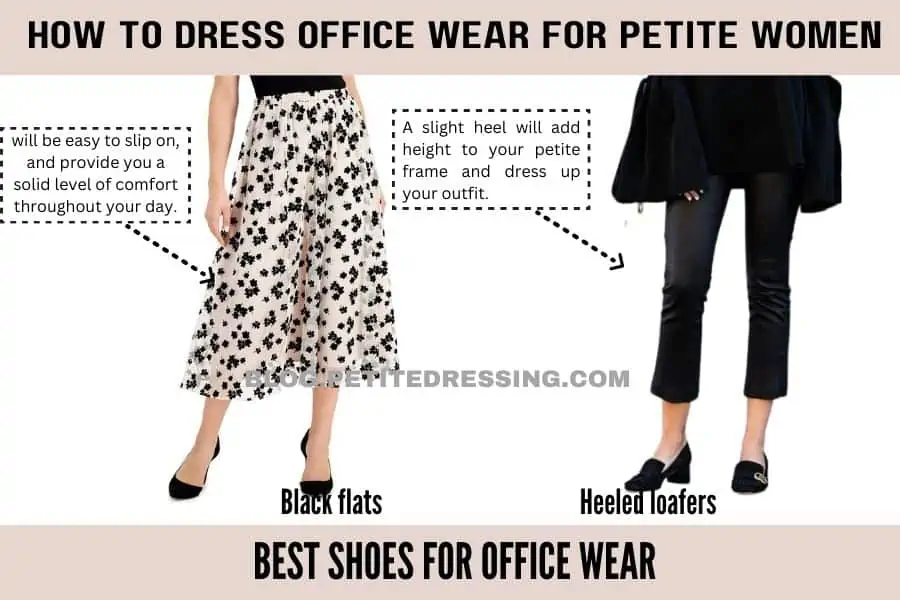 Heeled loafers
Loafers are dressy and often seen as academic shoes. They give your feet support while also appearing formal enough for the office. Some loafers may not be seen as the most feminine choice of shoes.
If you want to add a feminine touch and a boost of height, heeled loafers are the way to go. A slight heel will add height to your petite frame and dress up your outfit. You will want to stick to a moderate heel because loafers with a high heel will look more awkward than elegant.
Classic pumps
A pair of heels will always look good on any woman. They add height, which helps to slim your shape. Heels are feminine and classy and add a formal touch to most outfits. If you are used to wearing stilettos and want to go that route, then you should.
But most women are not used to wearing heels every single day. Starting with a classic 2-inch pump will be the right choice. You can bring a separate pair of shoes to the office with you in case the pain bothers you too much. It may take time to get used to the added height, but the flattering look will always be worth it.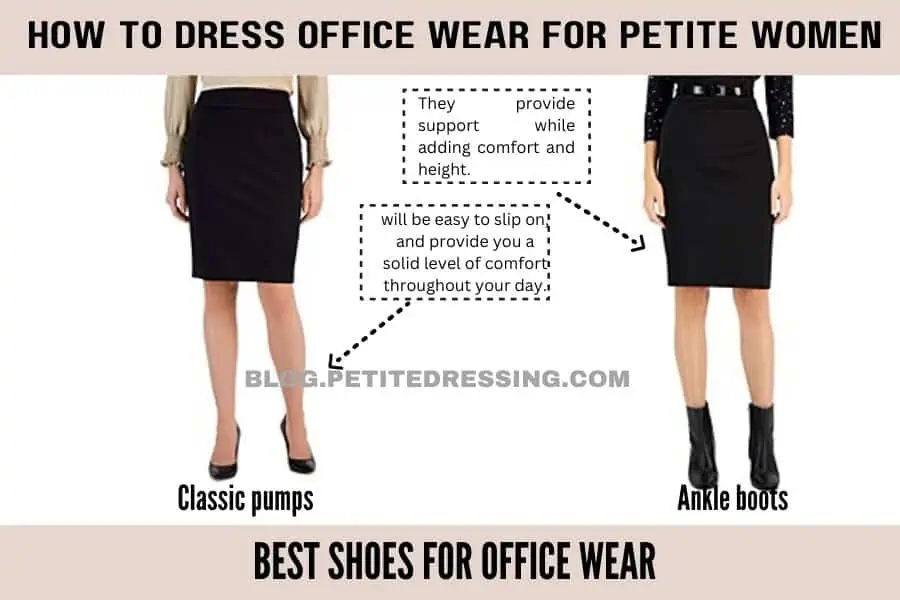 Ankle boots
Sometimes a pair of shoes does not give you the coverage you desire. Ankle boots are a perfect in-between when it comes to coverage and comfort. They provide support, while also keeping your feet warm. 
Ankle boots typically have a slight heel, which is always advantageous for petite women. Due to their coverage and shoe frame, you will not have to worry about struggling to balance with the added height. This style of shoe is chic and modern, and the support will make this one of your most dependable options.