Petite dress pants should be an essential part of your wardrobe.
First, let me clarify the dress pants we are referring to here is not just the "career pants", i.e. the black or navy suit pants that you often see people wearing in an office meeting of corporate America. Yes, those are dress pants, but that is the most conservative definition of dress pants. What I am talking about today is much broader than that.
Simply put, I am referring to well fitted petite pants that suit any occasions you need to feel dressed up. Even if you are not a corporate executive, you will find times when your petite dress pants can come in handy. That could be an important client meeting, but also could be a nice restaurant, or even a wedding. The list goes on and on.
Keep in mind, petite dress pants don't have to be boring or plain. Think petite celebrities on the red carpet like Emilia Clarke (5'2″) and Rachel Bilson (5'2″) wearing pantsuit.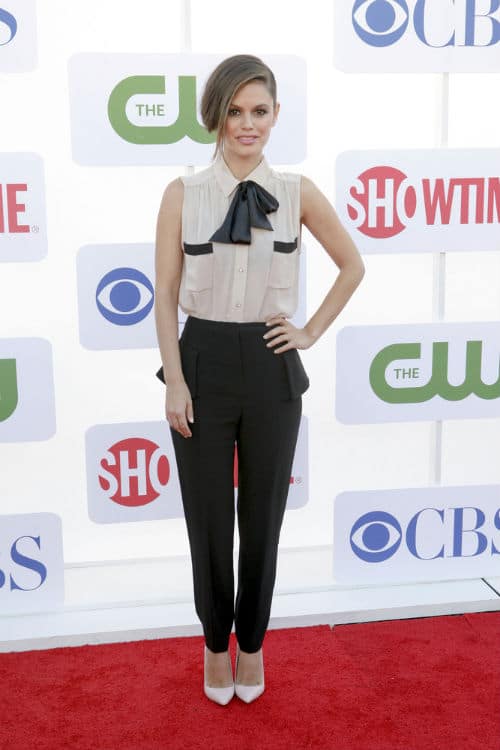 Now that you know the type of petite dress pants I'm talking about, let's dive in what you need to know about them.
The Fit
Since petite dress pants need to be well fitted, the number one thing you should be paying attention to is the fit of course.
With men's dress pants, traditionally there has been many rules on the fit, including what the waist and seat should be like, how the legs should be, and what are the different types of pant breaks and so on.
Do you feel overwhelmed by those terms? I did when I first heard about them. (Pant break? I need to google to find out what it is.) I feel lucky that I am a woman and we do not have to be restricted by all of these. The world of women's fashion is much more relaxed about those things.
That said, understanding some of the basics will give you the foundation and help you with choosing your petite dressing pants. Here is what you should know.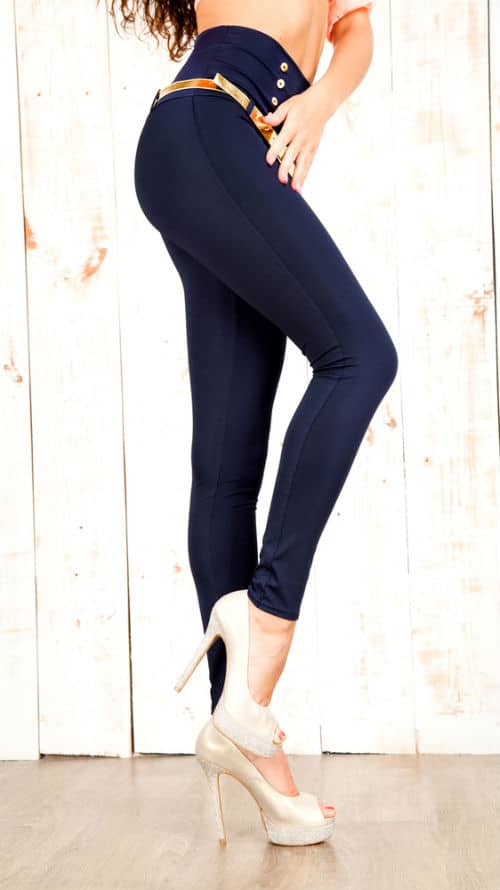 Waist- A pair of well fitted petite dress pants should not be too tight but also not too loose. They won't be as stretchy as jeans, because of the fabrics. On the other hand, they should be able to hold up without a belt. In fact, many petite dress pants are not supposed to be worn with a belt. A wider wait band has the benefit of sucking in your tummy, like a corset.
Butt-they should lightly hug your butt and not be saggy or super tight. You never want to feel like you are splitting the pants when you are sitting down!
Rise– They should hit around the high hipbone area, or even slightly higher. They typically will have higher rise than jeans. Rise is an important factor to the fit. You need to make sure the rise fits you properly when you try on the pants, because it is not something a tailor can easily fix later.
Leg shape
Unlike men's dress pants which always have narrow leg, our petite dress pants have so many more varieties.
Narrow leg
You may be familiar with this kind of pants because traditionally they are how the suit pants look like. These could further be broken down into straight leg or skinny pants, but they are both cut with a slim fit. Just as suggested by the name, these are the dress pants that are cut to narrowly hug your thighs. But still, you want to be able to pinch around 1/2″ to 1 inch of fabric on either side of your thigh. Without that, you might find it hard to sit down.
Wide leg
Many of us love petite palazzo pants to wear on vacation, but dress pants can absolutely have wide legs as well. Wide leg dress pants will look different from the kind of pants you wear on the beach, because of the fabrics and the fit.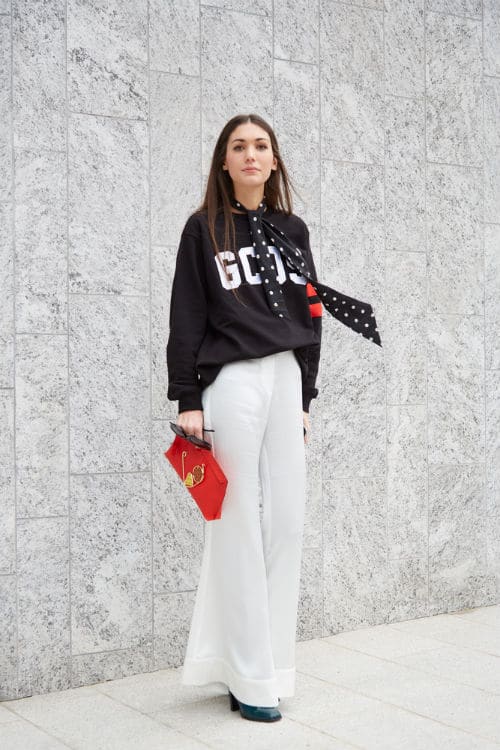 Bootcut
These are some of the most flattering cut for petite women, and they pretty much can go with any tops.
Flare leg
They should be your wardrobe staple. The flared out leg design is super flattering to shorter women who want to look taller.
Length
The inseam of your petite dress pants depends largely on two things: the leg style and the shoes you wear. I will talk more about shoes later, but here is the things you want to know regarding the leg style.
Straight leg pant length
With straight leg petite dress pants, the best length is to hang straight rather than gather at the top of your foot. Therefore, they should be no longer than your arch. You do not want them to bunch up around the ankle and look sloppy. Ideally, straight leg pants should fall just below the ankle, only slightly touching the top of the foot and the back of the shoe.
Skinny leg pant length
These are even narrower than the straight leg pants. So, if they are longer than your ankle, most likely they will bunch up. Ideally, you should be able to see your ankle when you wear these pants. On the other hand, it is not end of the world if your skinny leg pants do bunch up a little at your ankle (hey, we've seen them that way on some red carpet looks of petite celebrities, so, that could just be a different kind of look and not a big deal).
But, if you do want to go for a sleek look and do not want any extra fabrics around the ankle, hem your pants at a tailor or simply cuff them up for a quick fix.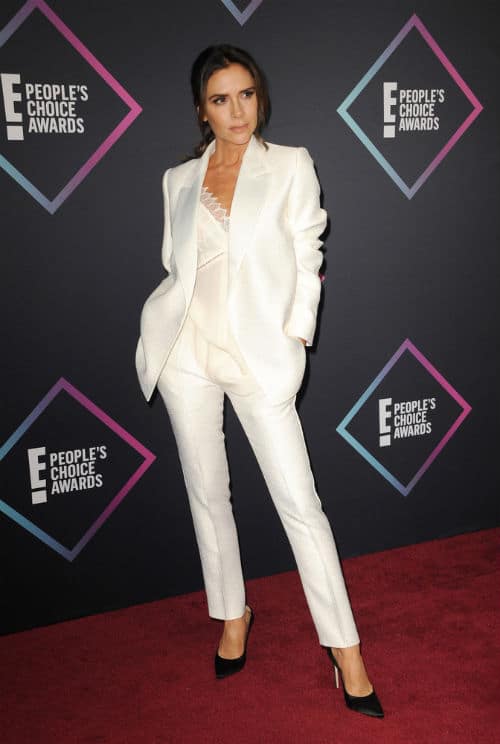 Wide leg pants length
Think long. You will find wide leg pants of different lengths at department stores and they can go from mid calf to ankle to full length. In my view, the longer the better for petite women.
Why? Petite women are short thus you need length. Anything wide stretches horizontally and will make you look shorter. How to counter that effect? Go long with your wide leg pants.
Of course the length should still be practical for you to be able to walk without tripping. You should still be able to see the tip of your shoes in these pants. They should cover the top of your shoe and leave a portion of the heel and toe exposed. You don't have to be exact, but to give you an idea, aim for a length that is 1/2 to 1 inch from the floor.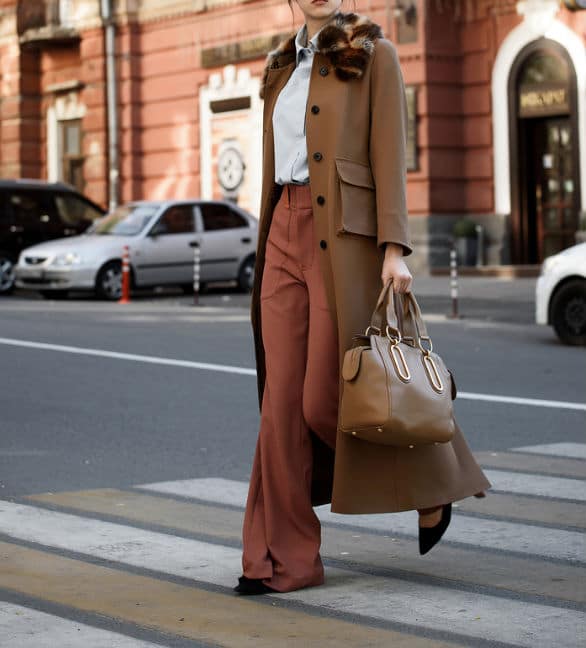 Flare leg or boot cut length
These are generally easy to style and you can be quite flexible about the inseam length, but you normally don't want them to be too short. Depending on the width of the flare, these generally look best when they cover the top of your foot, like the wide leg pant. To give you an idea, 1/2 – 3/4 inch from the floor is a good length.[
Fabrics
Fabrics are a big factor for dress pants, regardless they are for petites or not.
Traditionally, the highest quality of men's dress pants are made of wool or wool blend (with high percentage of wool combined with synthetic materials).
With our petite dress pants, again, we have so many more choices. They can be wool of course, but they can also be other high quality fabrics like silk, or a blend with other synthetic fabrics.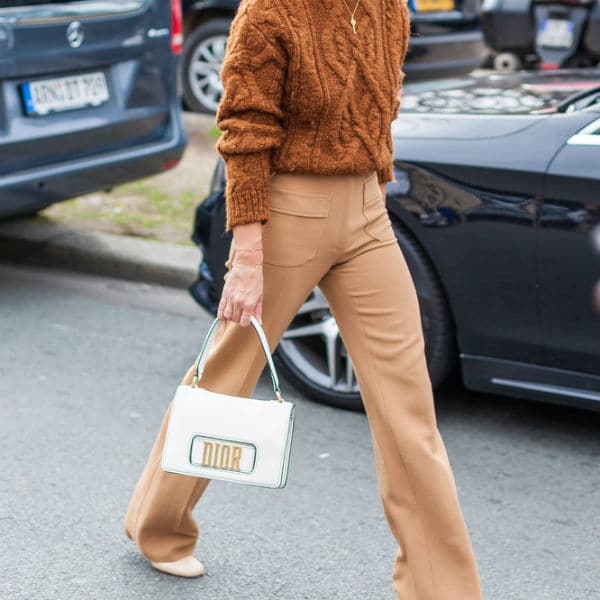 You can be totally flexible with what fabrics you like, but one thing you should keep in mind is the better the fabrics, they dressier they look on you. Higher quality fabrics are breathable and less prone to wrinkles, which is really important when you are wearing dress pants to your events or meetings.
My personal preference is natural fabrics vs pure synthetics, because I have highly sensitive skin that easily gets irritated with man made materials. Wool and silk are my go to choices. However, I have also noticed that wool can be itchy to my skin as well, unless they are specially treated. So, what is a fine balance? High wool or silk content with certain mix of rayon or other man made fabrics.
The most important part in deciding on the fabrics is to make sure they have the proper weight to be drapery enough. You absolutely do not want them to clinch on your legs, except for the skinny fit pants which are supposed to be snug fit.
Out of all the natural fabrics, normally I would say linen is a pretty fine material to wear in the summer. However, with dress pants they might not be heavy enough for the drapery effect. Linen pants have the inherent relaxed vibe and they may be better suitable for vacation.
Treat is as an investment
You should treat purchasing petite dress pants as an investment decision. That means, you should get the best value for your money but not go for the lowest price you can find.
Think about it- the occasions you need to wear those pants are typically when you want to leave a great impression. Whether you are with a client of yours or going to a wedding as a guest, you want to look expensive and want your pants to look fine quality.
With that said, you can still find petite designers who carry dress pants that fit a wide range of budget without having to break your bank.
The number one best selling dress pants in our Petite Dressing store are these made from 100% silk. We are offering our petite customers an introductory price to try them from the emerging designer Twenty Four Fashion in London. For the high quality fabrics, this price is unbelievably reasonable.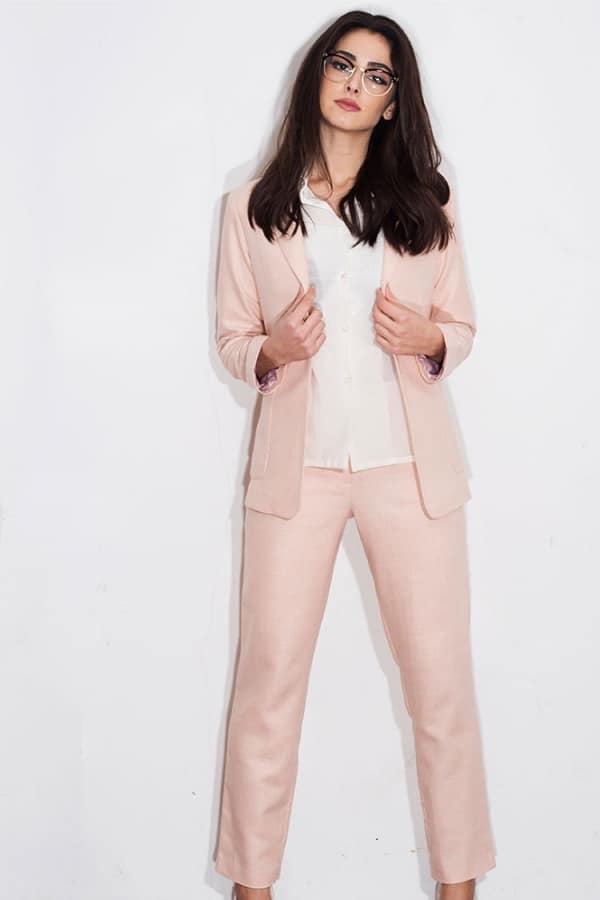 Best shoes to wear
Wear heels when you can
Heels. Heels. Heels.
Shoes are such a big part of our outfit that they can totally set the tone of your image. When you put on heels, do you instantly feel taller (dah!)? Your posture will also be different, no matter you are standing or walking. That is not an imagination. Heels change the weight distribution on your feet, so scientifically speaking, you do walk differently in them.
Since we are talking about dress pants here, heels are a no-brainer.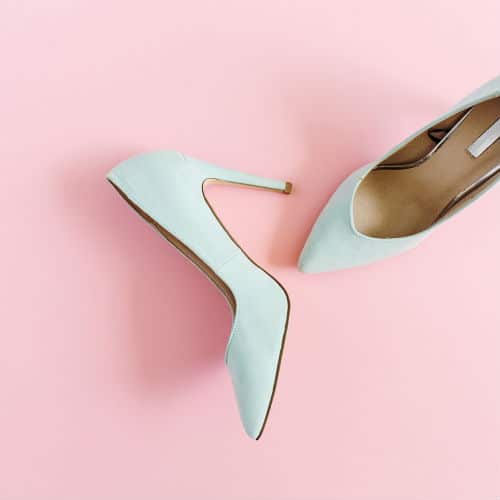 Your dress pants will look a lot better when you wear them with heels, especially with wide leg dress pants. Like I mentioned earlier, wide leg design by itself could potentially make you look shorter. But, with the proper length combined with high heels, they can work very well on petite women.
An important tip to style petite dress pants is to make sure color of your heels blend with your pants. That will ensure your bottoms form an unbroken vertical line, making your legs look much longer and your proportion look much better.
Is flats an absolutely no no?
There is always exceptions, so I don't want to say that you can only wear heels with petite dress pants ever. There probably will be times when you need to stand a long time or walk a long time in your dress pants, and you might find flats the only solution to save your feet.
Ankle length slim leg dress pants go better with flats than wide leg pants.
What do you do in those occasions? Wear dressy flats! That means your flats better have pointy toes, and they better match the color of your pants. (Read my post on Best and Worst Shoes for Petite Women)
Another important aspect about shoes, when it comes to styling your petite dress pants, is that they affect the choice of your inseam length.
If you plan on primarily wearing heels with your dress pants, then you should be wearing heels when you try on the pants in order to decide the optimal inseam. Are you showing the tip of the heels with the wide leg pants (just right)? Is the flare leg pants almost hitting the floor (too long)? These are the things you would only find out if you see yourself in the mirror with your heels on.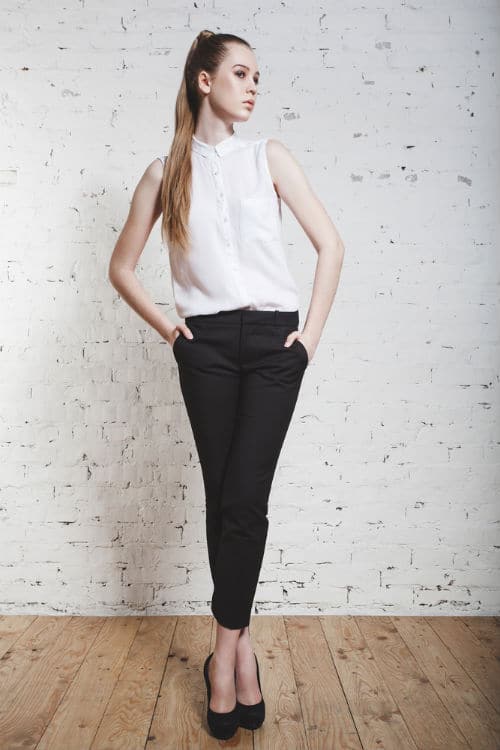 Now, if you already know there will be times you want to wear the dress pants in flats, then prepare in advance and try on the pants with flats to make sure your pants are not sweeping the floor.
Is there a solution for inseam that can work with both flats and heels?
In my view, that will only work with ankle length slim fit pants. For other styles, you may have to get two pairs, one for the heels and one for the flats.
My go-to stores
Here is a list of other recommended brands and retailers where you can find nice quality petite dress pants that will fit you properly and suit your budget.
Nordstrom
There is many reasons that Nordstrom is one of our favorite places to look for petite dress pants. An obvious benefit of shopping at Nordstrom is that you can find different brands that fit different budget. When you think of Nordstrom, you may immediately associate it with the world renown labels that you will only consider when you are in the mood for a splurge. It is true that they do carry the expensive designer brands, but you can also find brands of middle price range that won't break your bank account.
Better yet, they also have their own in-house brands for petites which you cannot find else where. Here is the list of petite brands exclusive to Nordstrom:
1901
Calson
Chelsea28
Halogen
For this reason alone, it's worth regularly checking back!
Brooks Brothers
Brooks Brothers is the place to look when you are searching an investment piece that will last for years to come. They are known for the top quality fabrics and the craftsmanship. Their design is normally clean and simple, best for the office setting or client meetings. If you love minimalist style, you will find the petite dress pants for you here.
Tahari ASL
I first noticed this brand because of their petite suits. Then I discovered you can find other good stuff here too such as petite dress pants. Since the fit and the cut are so important for petite dress pants, it is good to get them from a brand known for suiting- don't you agree?
Ann Taylor
This is a brand most petite women are already familiar with. What I like the most about them is the classy design. You can find dress pants not just for the office, but also good for other occasions you need to dress up.
Top 10 Dress Pants for Short Women
BOSS stretchy wool trousers (petite)
Our readers love the fine wool fabrics and the flattering bootleg cut. These are long trousers, so best paired with heels. The high quality fabrics and tailoring makes it suitable for not just office, but also dressy occasion like a luncheon, etc.
Eileen Fisher (petite) straight leg pants
Our readers love how comfortable these pants are! Because it has the elastic back waist, that makes it super easy to get on and off without unbuttoning. The fabrics are also very nice and look expensive. It has substantial weight, which enables it to be sufficiently drapery. Since it has no pockets, it has a flattering flat front.
The inseam is 29.5 inches for petite size. If you are like me (my inseam is 26″ at ankle), then you might want to wear it with heels.
Nic + Zoe (petite) the wonder stretchy pants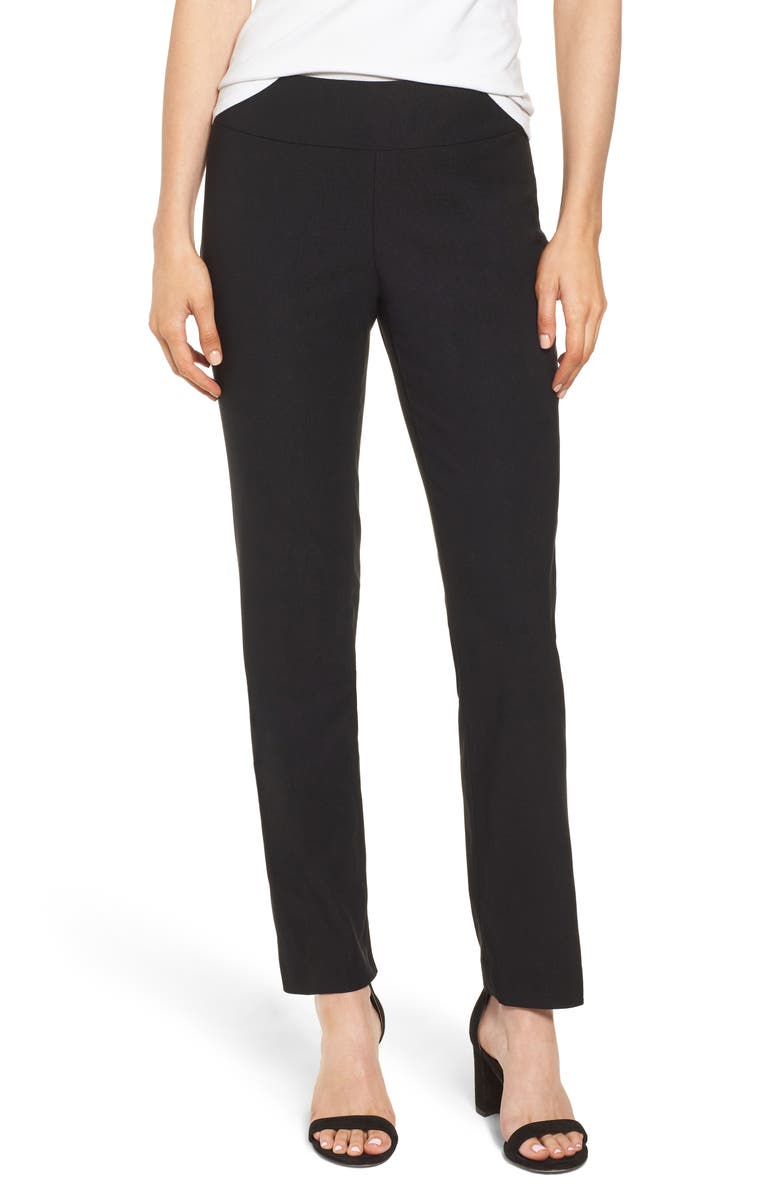 Nic +Zoe is a popular petite brand among our readers. These pants are the right weight to be drapery but not hot for the spring or even summer. The fit is great for shorter women. Inseam is 27″, which is just right for straight leg pants. The elastic waistband are great for women with midriff concerns!
Liverpool bootcut pants (petite)
Our readers love the bootcut leg, and mentioned they are very flattering. These pants are on the thin side, so they are great when the weather is not too cold.
MSK Petite wide leg
Our readers are raving about these dress pants for how comfortable they are with the elastic band and the wide leg. The light weighted fabrics is great for travel such as a cruise or any resort in the summer.
INC petite wide leg pants
Our readers love the comfort of the wide leg pants and the easy care- these pants keep their shape after washing and no ironing are needed. These are full length with 31″ inseam, which is likely going to look very long to petites, so make sure you pair them with heels, and have them taken in by a seamstress if they are too long.
Talbots petite palazzo pants
This is the new season from Talbots, with nice color selection for the spring and summer. The linen blend adds comfort and a relaxed feel for a dressy casual occasion in warmer months or vacation.
Ann Taylor belted pants (petite)
Our readers love how stylish these dress pants look on short girls! Their feedback is it's comfortable and the length is great for shorter women.
Ann Taylor petite sailor pants
These petite dress pants are highly rated by our readers as super stylish and also comfortable. These are thicker, so best before weather get warm.
Ann Taylor petite straight leg pants
Our readers love the color of these pants for the season, and they also like the fit.
Pants for Petites-Everything else you need to know
I highly recommend you read my other posts on how to find the best pants for petite women!