Wide-leg pants are comfortable and chic for women of all shapes and sizes. Learning how to style this type of pants can be a major challenge for women with short legs. The length, patterns, structure, and waistline can completely change the way wide-leg pants look on a woman.
The good news is that your search for understanding the do's and don'ts with wide-leg pants stops here. This guide will help you discover what styles of wide-leg pants are best for women with short legs, and what other materials, accessories, and traits to search for.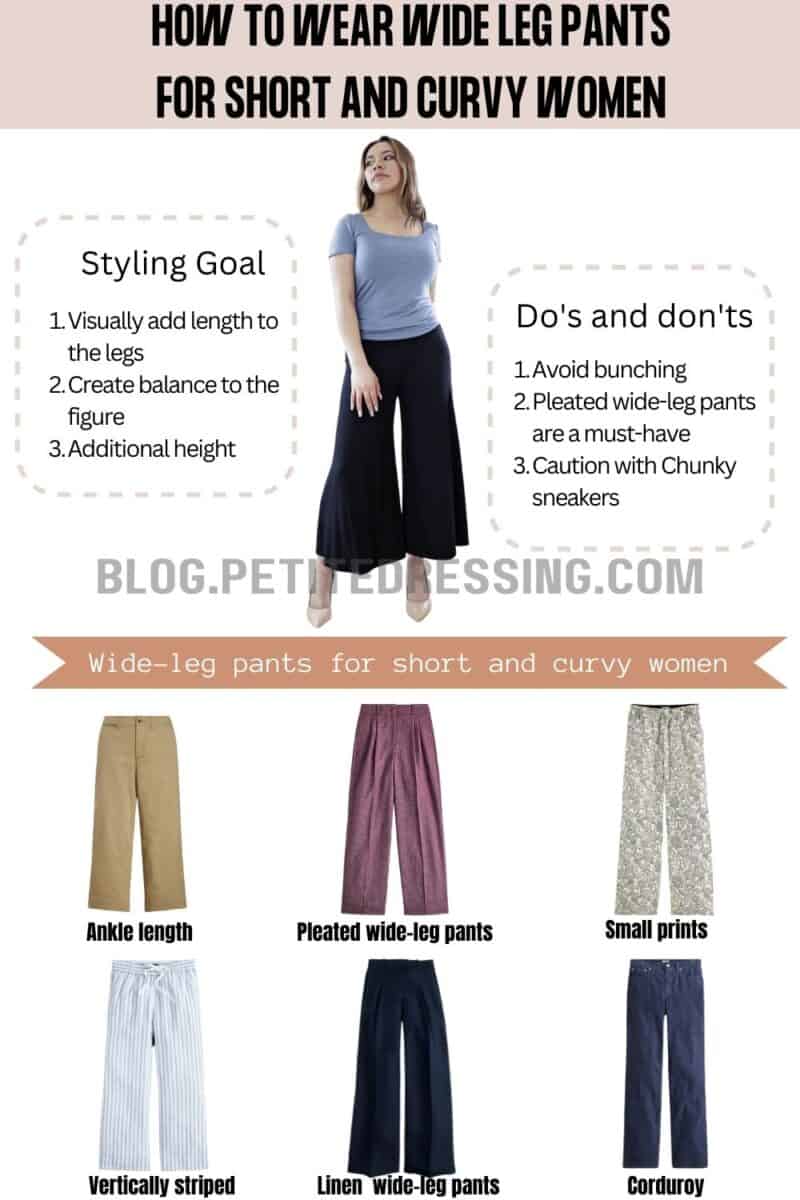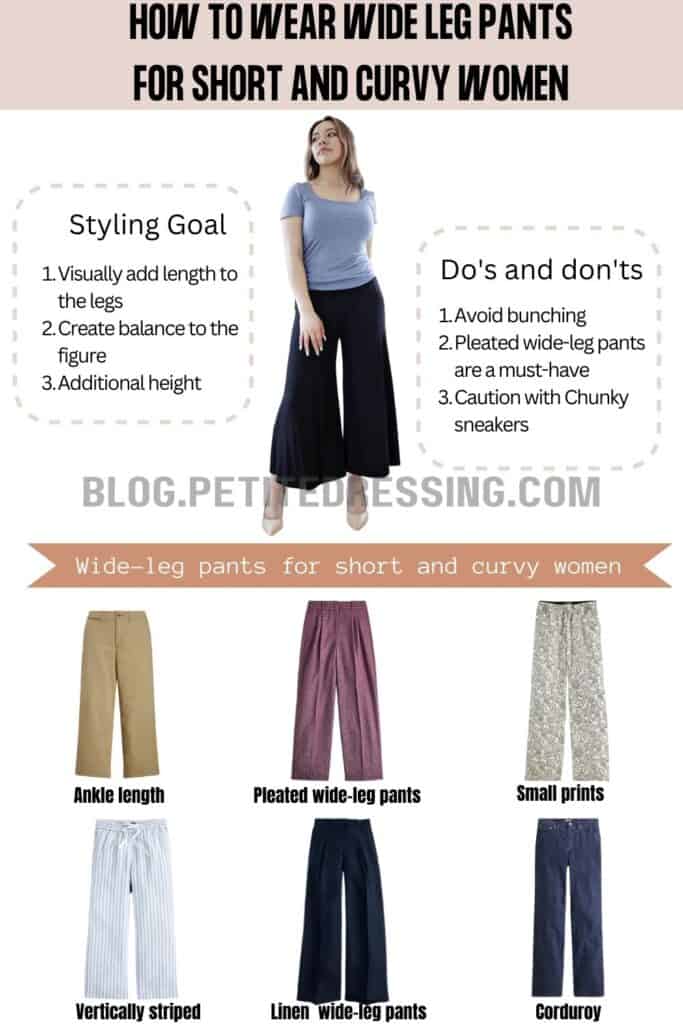 Best Length
Ankle length
For wide-leg pants, the hemline should be directed at your ankles. This is the ideal length because it is the direct cut-off between your legs and your feet, so you will have the perfect space to show off your shoes. This length will also make your legs look as long as they can possibly look since it takes up their full length of them.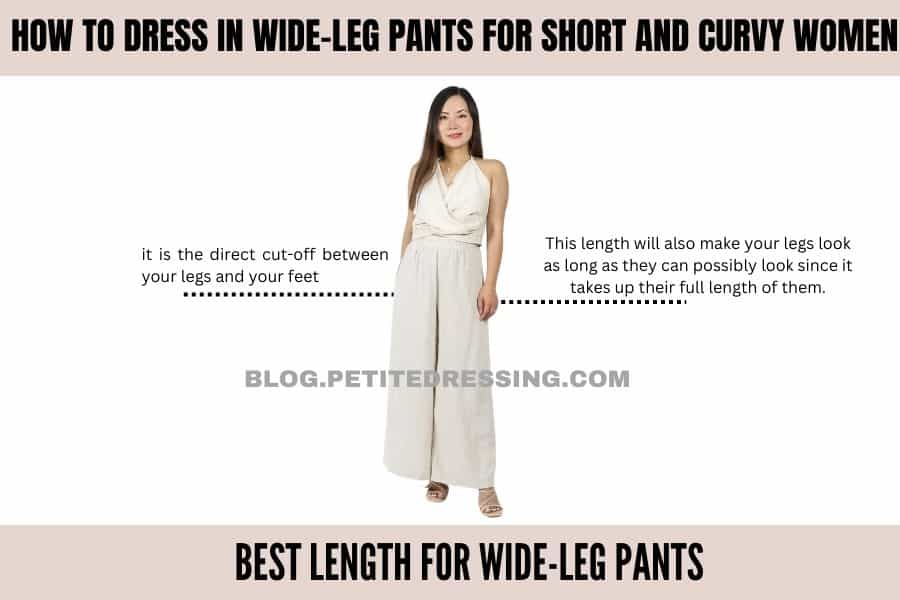 Avoid bunching
It is important that wide-leg pants should never cause bunching on your shoes.
If they cover up the flats or even heels that you are wearing, it will end up making your legs look even shorter than they actually are. Any woman with short legs knows that any style of pants should not drag on the floor, because it will only conceal your legs and shrink your height.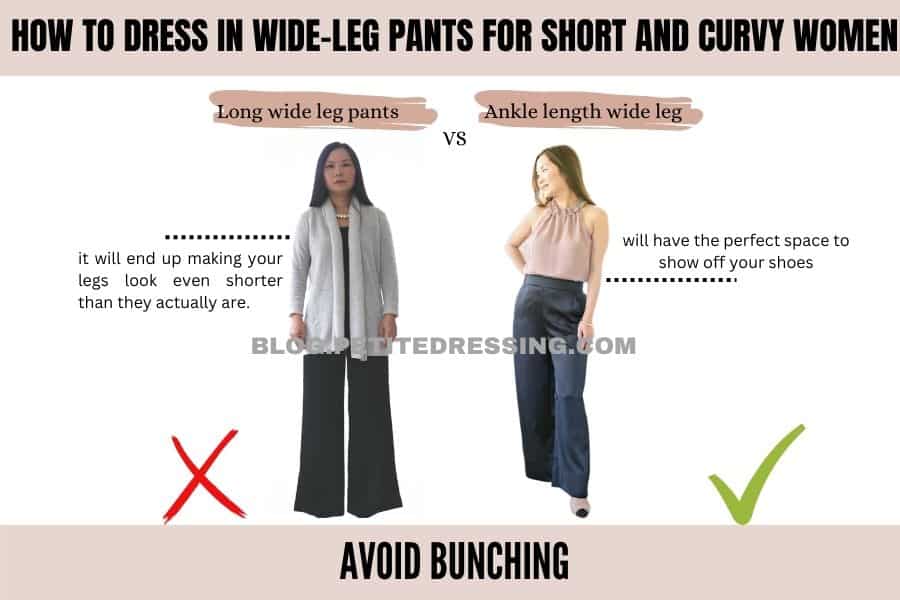 Avoid calf length
If the pant legs end up on your calves, this is not the most flattering length, especially when you are short and curvy. The flare of wide-leg pants will look awkward. This length will also make you look shorter. When you wear wide-leg pants that are too short, the flare will end up in the wrong place and make your legs look wider as well.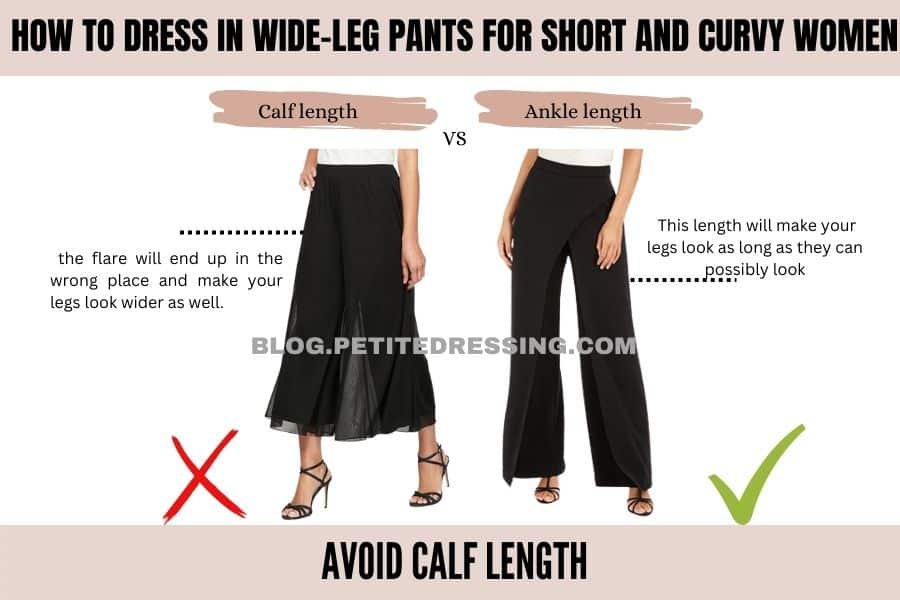 Best Styles
Pleated wide-leg pants
When you add pleats to a pair of wide-leg pants, they can serve as a fantastic distraction from your tummy. The pleats will cover up your stomach and provide a new texture and layer to the pants to spice up your outfit. This eye-catching feature may also help to draw attention away from your short legs.
It is important to make sure that the pleats are not too heavy or thick. They will end up adding extra bulk to your stomach and hips if they are too noticeable. The wide-leg pants already have a wider part to them that is not fitted so there is enough fabric from the start.
Small prints
Sometimes a plain pair of pants just is not enough for your style. If you want to wear some type of print or pattern on your wide-leg pants to add flair to your outfit, you have to be careful with the pattern you choose. If you have short legs, you should stick with micro prints and patterns.
Small prints are the ideal choice since they do not draw too much attention, but add an extra amount of spice and unique style to your outfit. It is important to avoid large prints since they end up making you look wider than you are. Large prints, because of the chaotic way they look on a woman's body, will end up adding width and making you look shorter as well.
Vertically striped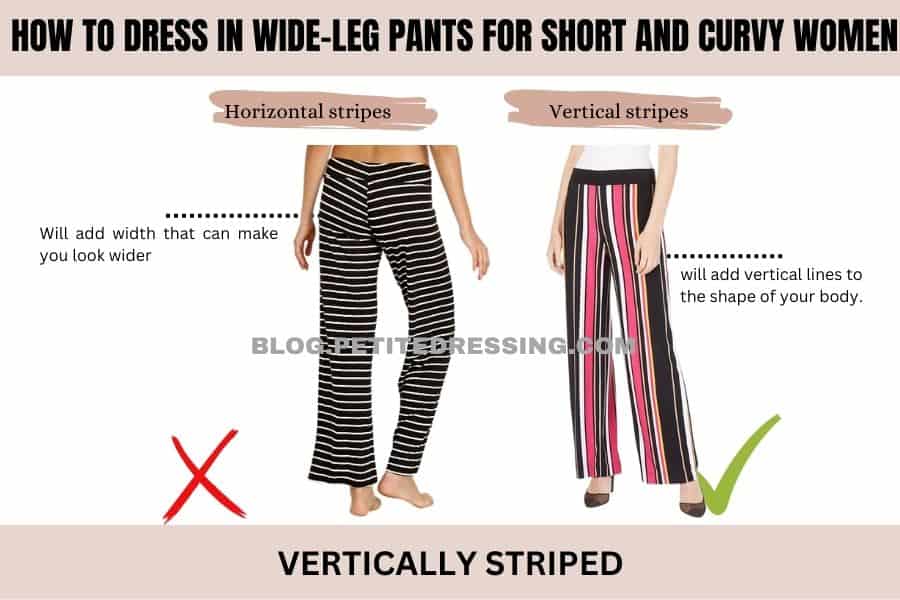 Since wide-leg pants literally have the word wide in them, they add more width to your look than you may desire. It is important to combat this, especially as a woman with short legs. Vertical stripes will add vertical lines to the shape of your body.
As the stripes stretch from the waistline to the hemline, they will make you look taller. Utilizing the column method adds height and elongates your body. As a woman with short legs, vertical stripes can make them look longer, which will always work to your advantage with your body shape.
Crossover waist
A crossover waistline is a great way to define your waist while adding some shape to the pants you are wearing. Crossover wide-leg pants have a waistline that has two panels of fabric that cross over your hips. This creates a v-shape in the middle, which is incredibly flattering.
Make sure that you wear high-waisted crossover wide-leg pants in order to get the best slimming effect. The v-shape will also make you look taller because it creates more vertical lines throughout your body. This style of pants is incredibly flattering and will help women create the illusion of an hourglass shape.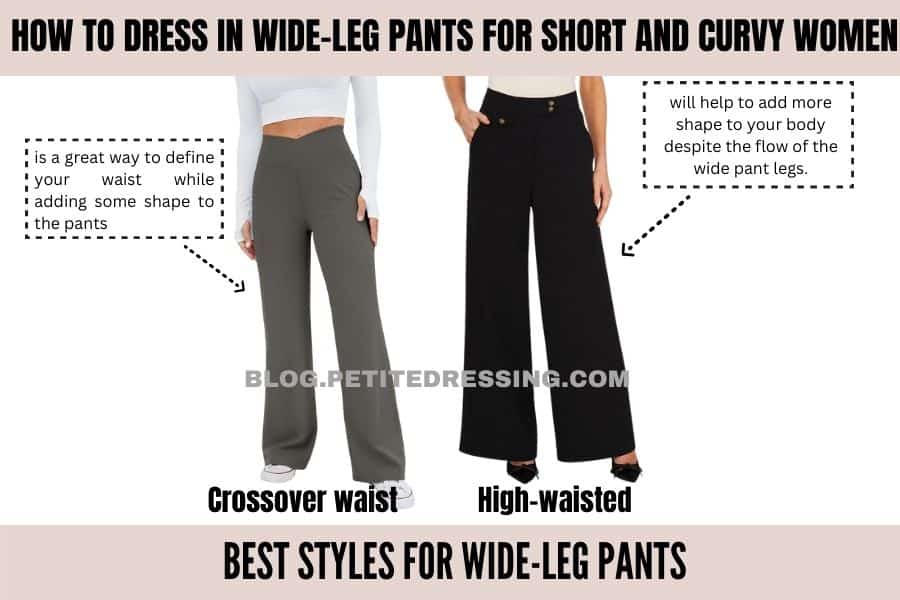 High-waisted
To combat the flare of the wide-leg pants, you will want to focus on defining your waist. High-waisted wide-leg pants will fall at the most flattering part of your waist. The pants will then flare past your waist and fall against your hips. This will help to add more shape for your body despite the flow of the wide pant legs.
The high waistline will help to elongate your legs. The length of the pants often decides how long your legs look. This is ideal for women with short legs because you can take some length from your torso and add it on to the bottom half of your body with this illusion.
Best Fabrics
Cotton twill
Cotton twill is one of the most common fabrics used to make wide-leg pants. Typically, cotton twill has diagonal lines that run across the surface of the pants. This fabric will remain structured and fit comfortably against the shape of your body.
Cotton twill is very dependable and sturdy, which is why it is used for so many different styles of pants.
Corduroy
Corduroy may be a heavier fabric, but it is an excellent fabric choice for wide-leg pants. The structure will always stay, and you won't have to worry about too many wrinkles or creases forming as you sit.
Corduroy pants have a very distinct texture, with vertical lines running from the waistline to hemline of the pants. Although these vertical lines are not extremely noticeable, the color you choose can make them stand out more. These lines will end up helping to elongate your body using the column method.
Linen
Linen is a breathable material that is ideal for wide-leg pants. The wide pant legs will give you plenty of room for your legs, especially if they are thick. Linen is breezy and flowy, and is an excellent choice of fabric for this style of pants.
This type of fabric can look both casual and dressy depending on what you style the pants with. Linen is typically cream or tan, which will automatically elevate your outfit. Lighter neutral tones look extremely classy on women.
Shoe Pairing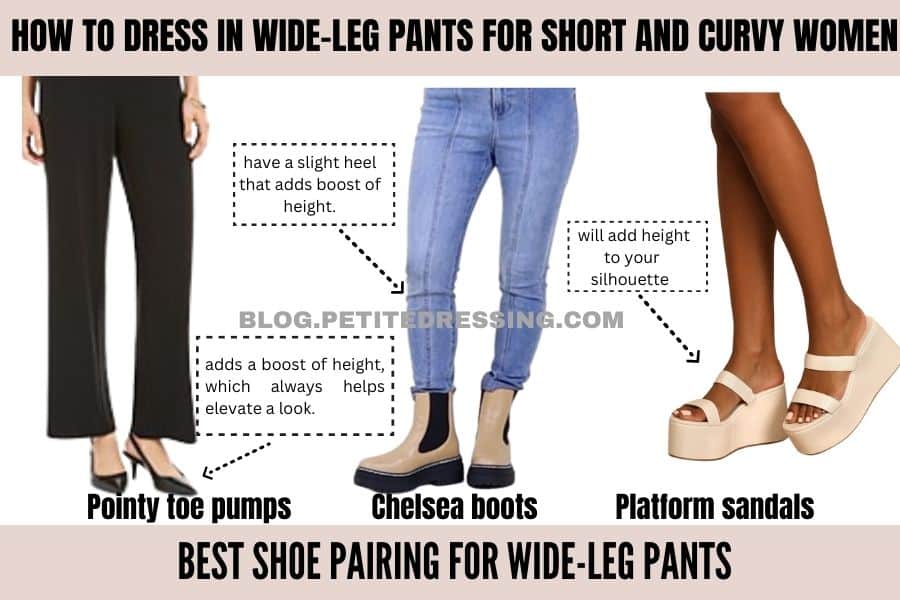 Pointy toe pumps
Pointy-toe pumps are always a flattering choice for short women. The heel of the pumps adds a boost of height, which always helps elevate a look.
This style of shoe is also great at combating the width of wide-leg pants. The shoes are thin and the point helps to balance out the pant's flare.
Chelsea boots
Chelsea boots are ideal for all seasons, especially colder months. Wide-leg pants have a flare at the bottom, so they will easily cover up part of the boot due to the length. You won't have to worry about tucking in your pants or cropping them. Chelsea boots also usually have a slight heel to them, which is an additional boost of height.
These boots have been very popular for the past few years, and their dependability is just another reason why they are an excellent styling choice.
Platform sandals
Wide-leg pants can be worn during all seasons which is partially due to their breathability and lack of form-fitting structure. If you wear this style of pants during the warmer seasons, you may want to wear a pair of shoes that are more open than others.
Platform sandals should be paired with wide-leg pants because of the way the style matches so well. Wide-leg pants are typically seen as a casual structure of pants, and sandals are just enough to match that style while also adding a more formal flair to the look.
The platform part of the sandals will add height to your silhouette and make your shape look more flattering. Adding some straps to the platform sandals will also make the outfit more interesting.
Caution with Chunky sneakers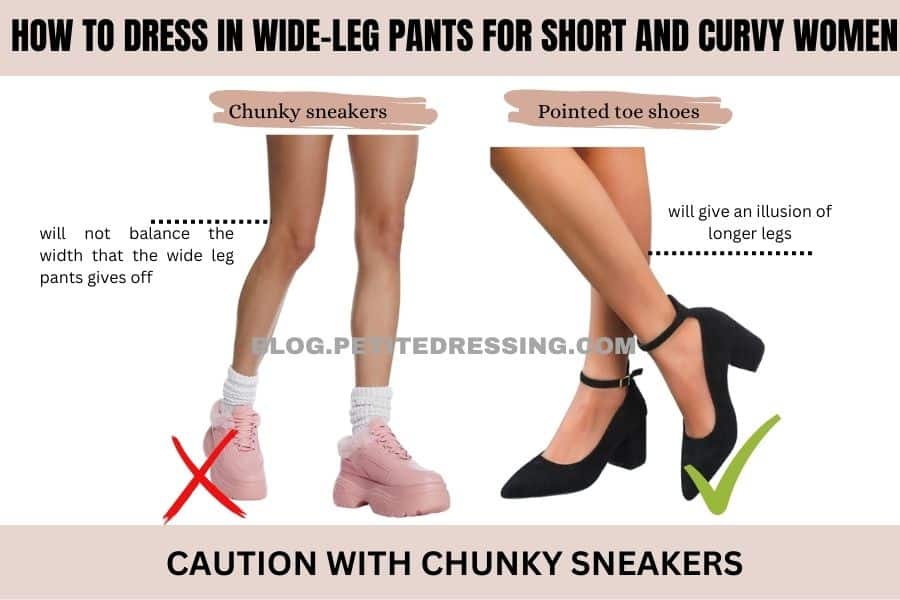 Comfort is key, especially when you are putting together an outfit that is supposed to carry you all throughout the day. If you want to wear some shoes that will provide support, style, and height, a pair of chunky sneakers is a perfect casual choice.
Some workplaces require that you wear sneakers. If you want to focus on always staying fashionable, even at work, you can wear wide-leg pants with chunky sneakers to make a plain work outfit chic and stylish. The chunky part of the sneakers will also give you a boost of height which is helpful for women with short legs.
The one downside of chunky sneakers is the added on bulk. Wide-leg pants already add width and bulk to your outfit, and chunky sneakers will not balance that out in any way. If you can find chunky sneakers that have less chunk and more height, it will be less of an issue.