Being a petite girl myself, I've always understood it takes extra effort to find the right coats because of our height. If you are petite and have a rectangle body shape, that means your body doesn't have obvious waist definition. Because of that, it is critical for you to choose the flattering styles to compliment your natural shape.
Since I have a petite clothing line for women 5'4″ and under, I receive feedback from thousands of my petite customers. Based on their feedback, I've put together this coat guide to help you find the right style coats.
Styling Goal
Accentuate your waist by going for coats that offer a nice cinch. As a petite rectangle-shaped girl, you have little to no waist definition and you have a very straight, angular figure so accentuating your waist should be very helpful to achieve better balance.
Look for details that will add volume but not overwhelm your figure as your relatively smaller frame could use a few statement details to give you more shape and definition. Double-breasted styles, belts, shoulder details (epaulets or straps), and ruffles are some examples.
Choose elongating structures that will make you appear as if you have a taller and leaner frame. However, since you have a rectangle-shaped body, you should veer away from structures that draw shapeless and straight visual lines as this can only emphasize your lack of curves.
Observe the proper length of the coat. The right length can make a huge difference on your visual body structure and height so look for coats that hit at the hip or mid-thigh for a more proportional look and avoid coats that are too long, as they can overwhelm the frame.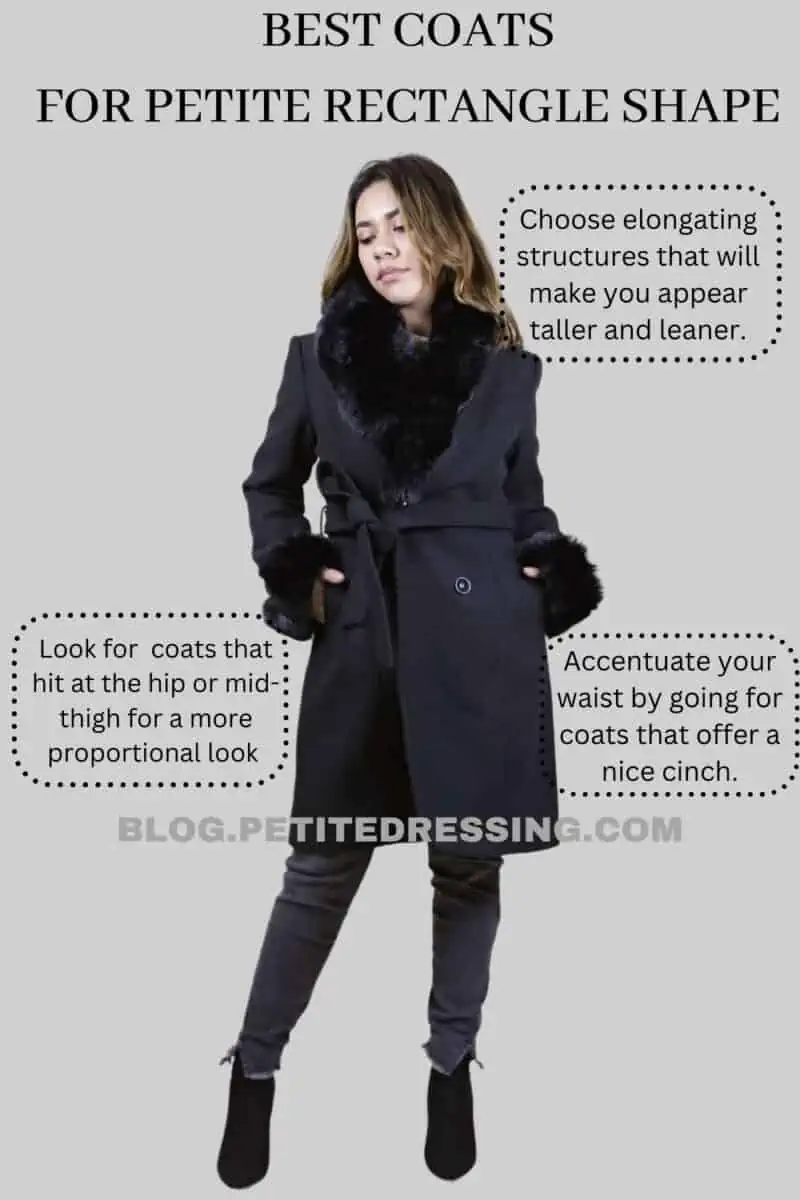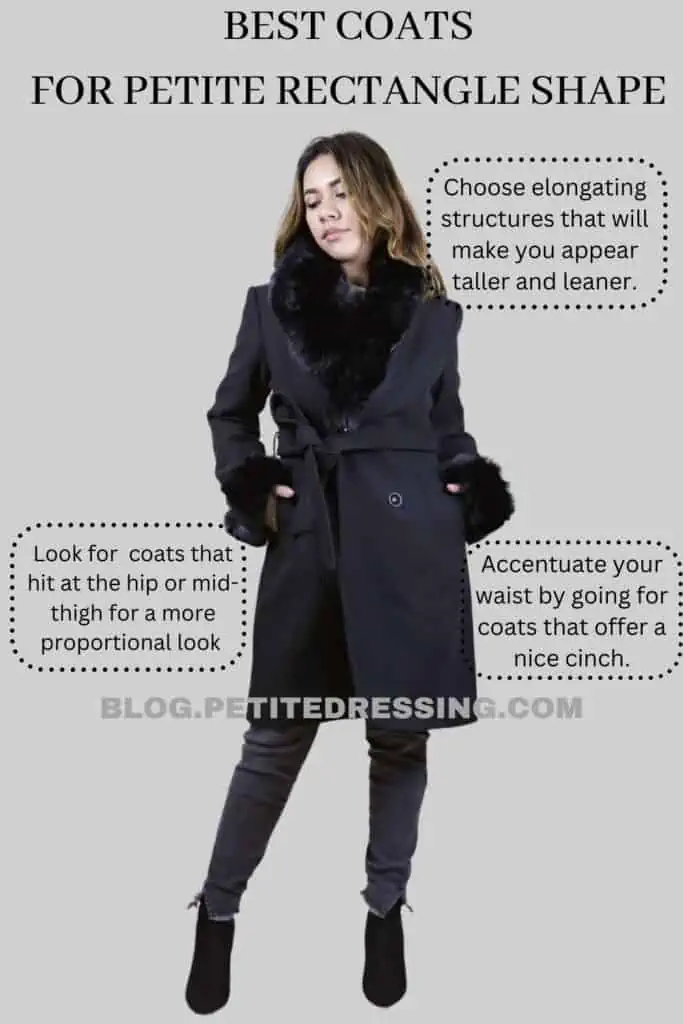 Are you ready to make your fall and winter fashion wishlist? Here are the coat styles that you may want to consider for your gorgeous petite rectangle-shaped body.
Belted Coat
Belted coats are a popular style of coat that features a belt or tie at the waist, creating a cinched and defined silhouette. They have been a timeless classic for many years and are an excellent addition to any wardrobe, including those of petite rectangle shapes.
Belted coats are particularly flattering for petite rectangle-shaped women because they define the waistline by cinching the waist. As a rectangle-shaped petite, you may have a straight up-and-down figure, with little definition around the waist so accentuating this area will instantly bring balance to your frame.
The right length of the belted coat to make a petite girl look taller is one that hits at the mid-thigh or just above the knee. This length will help to elongate the legs and create the illusion of height.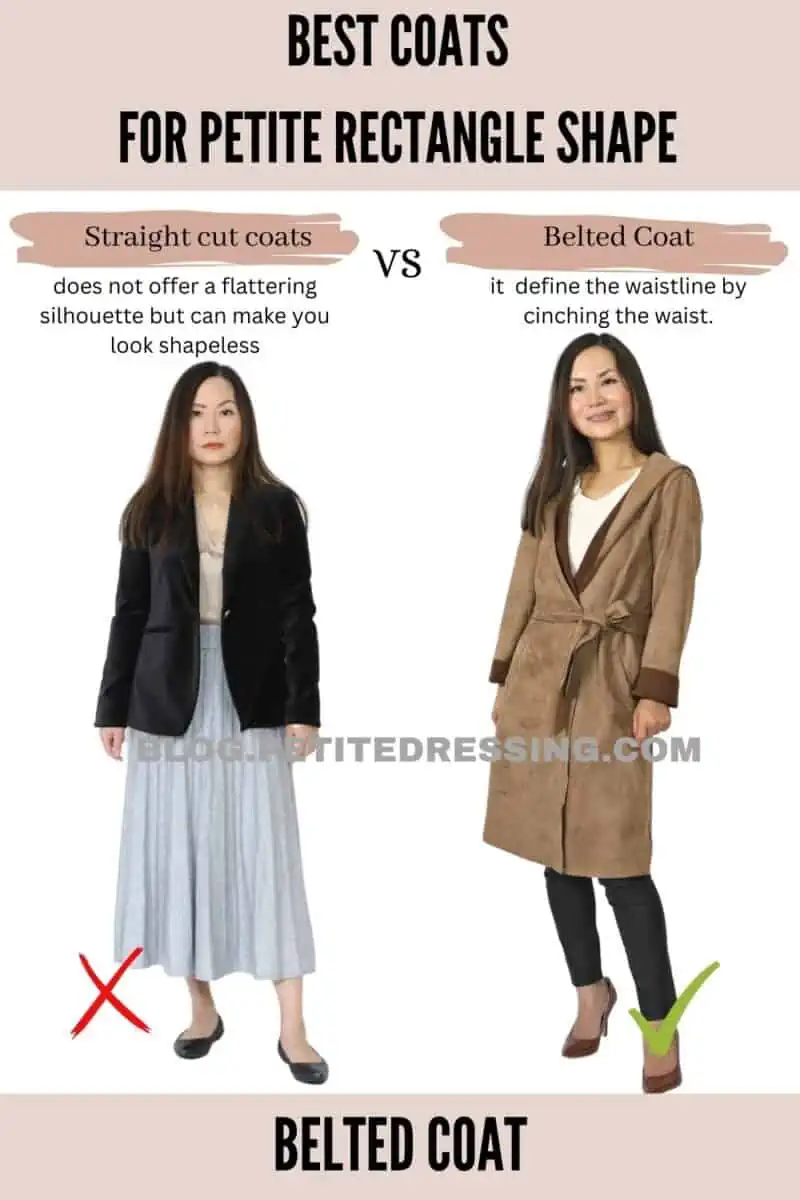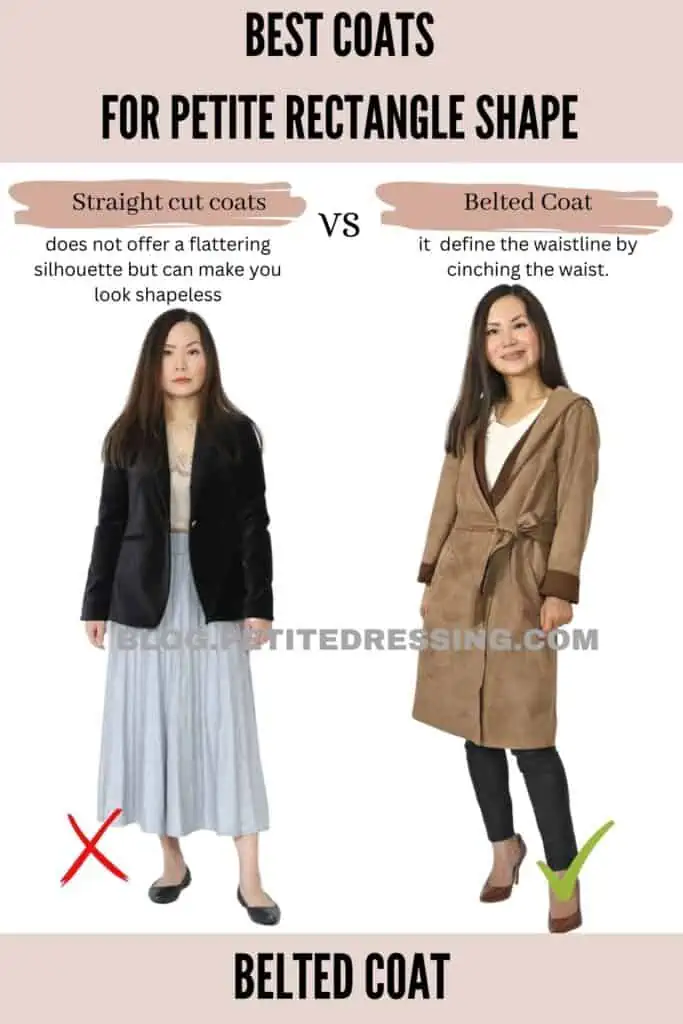 Trench Coat
There's something about a trench coat that screams sophistication and timeless style and while some body shapes find this tricky to pull off, petite rectangle shapes will love the structure of a trench coat! One of the main reasons trench coats work so well for this body type is that they add depth to your frame in a subtle manner.
With a trench coat, you can easily cinch in at the waist with its iconic belt to create a more defined silhouette. The belted waist creates the illusion of an hourglass figure, giving you the curves that a rectangle shape tends to lack.
It also has details that significantly add volume and shape to your body such as buttons, a wide lapel collar, and shoulder straps (epaulets). True enough, the devil is in the details!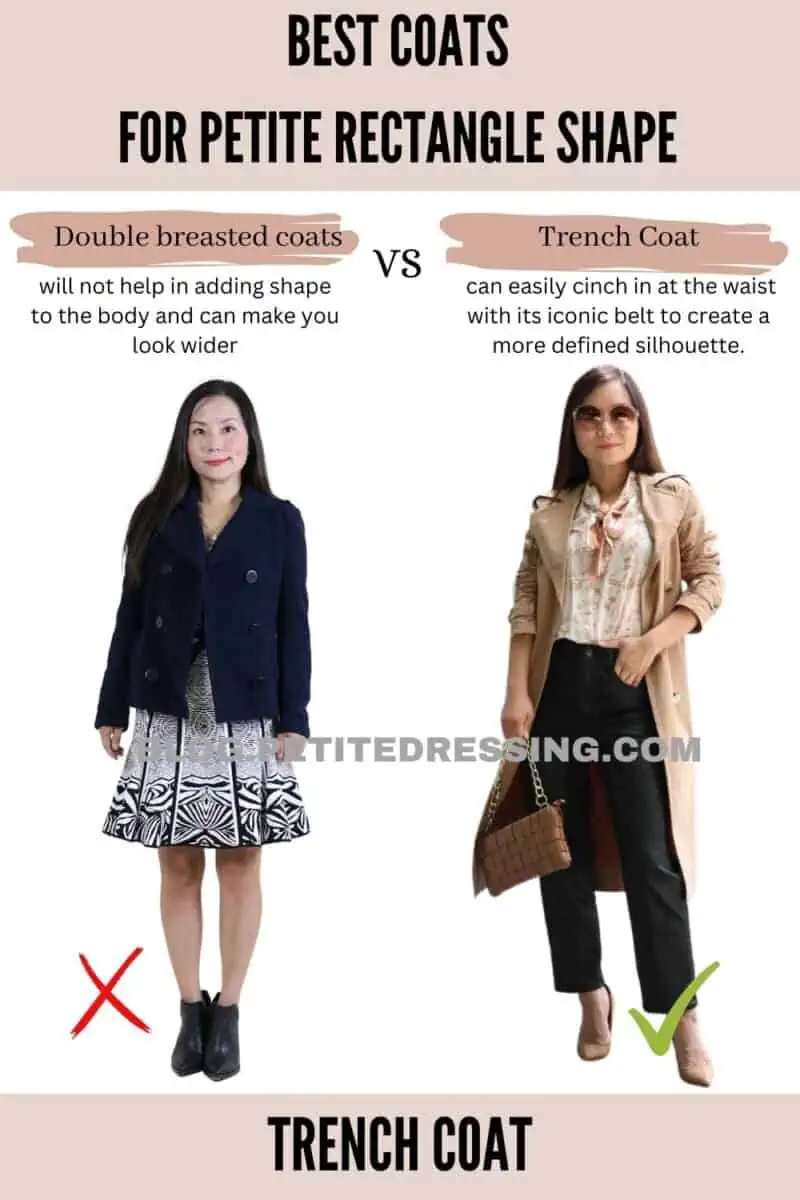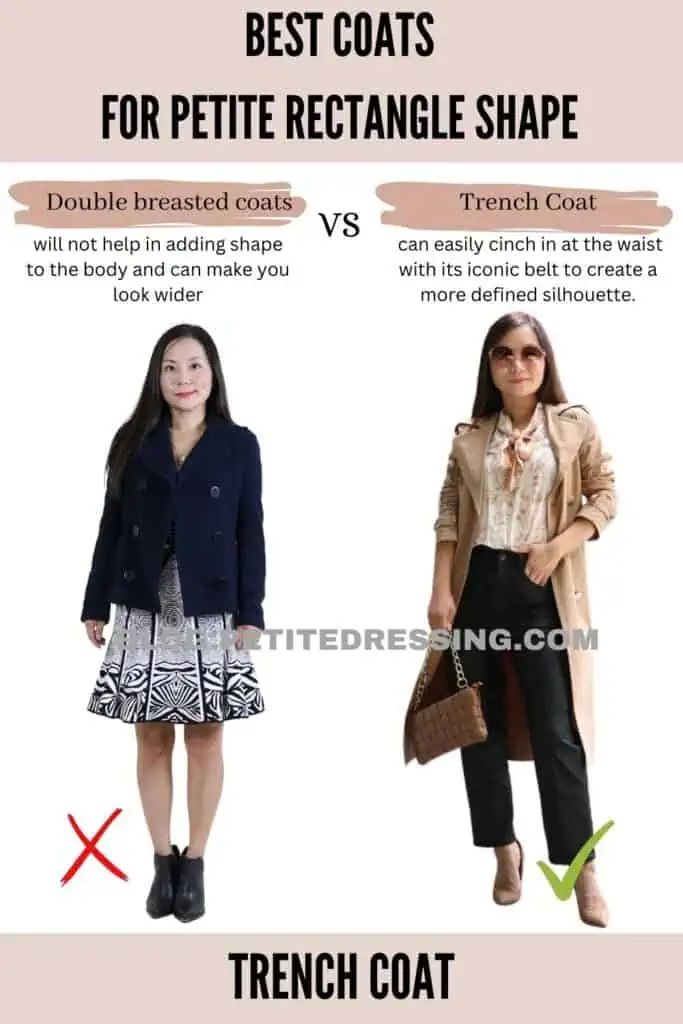 Peplum Coat
A peplum coat is one great example of a coat silhouette that provides enough volume to create the illusion of curves, which rectangle shapes tend to lack. This coat style is designed to be fitted at the waistline before flaring out to create volume around the hips, which is ideal to give your figure a more pronounced feminine shape.
The added volume around the hips gives the appearance of a more feminine and structured lower half, adding balance to the overall figure. In addition to this, the design of the peplum coat creates a visual vertical line that can make a petite woman appear taller.
Aside from its flattering design, the peplum coat is also a warm and cozy option for colder weather. The coat falls freely over the frame, avoiding the overemphasis of any areas of concern for petite rectangle-shaped women, and results in a streamlined look that is both comfortable and chic.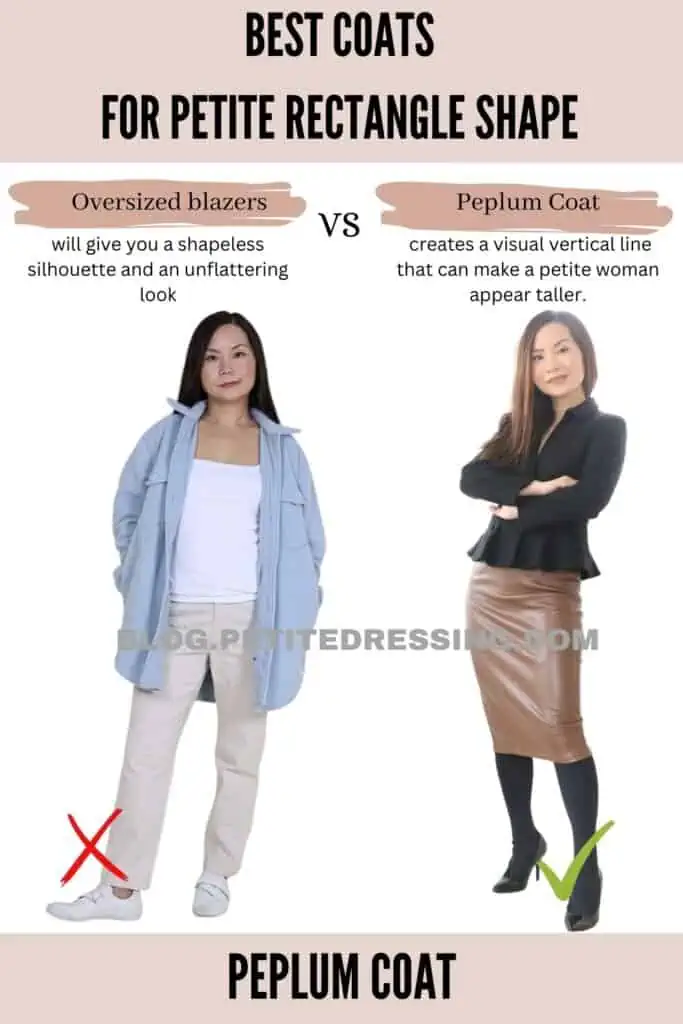 Structured Single-Breasted Coat
Structured single-breasted coats are defined by their clean, tailored lines and a single row of buttons down the front. This design creates a streamlined look that can help elongate a petite frame and give a natural-looking curve definition for rectangle shapes.
The structured nature of these coats also adds structure to a rectangle-shaped body, giving the appearance of curves and a more defined waistline. On top of this, the sleek silhouette of a single-breasted coat is especially flattering when worn in a structured material, such as wool or tweed.
When choosing a structured single-breasted coat for your petite rectangle-shaped body, there are a few things to keep in mind. Look for coats that feature a midi length and the coat should also fit snugly at the shoulders and nip in at the waistline to create the illusion of an hourglass figure.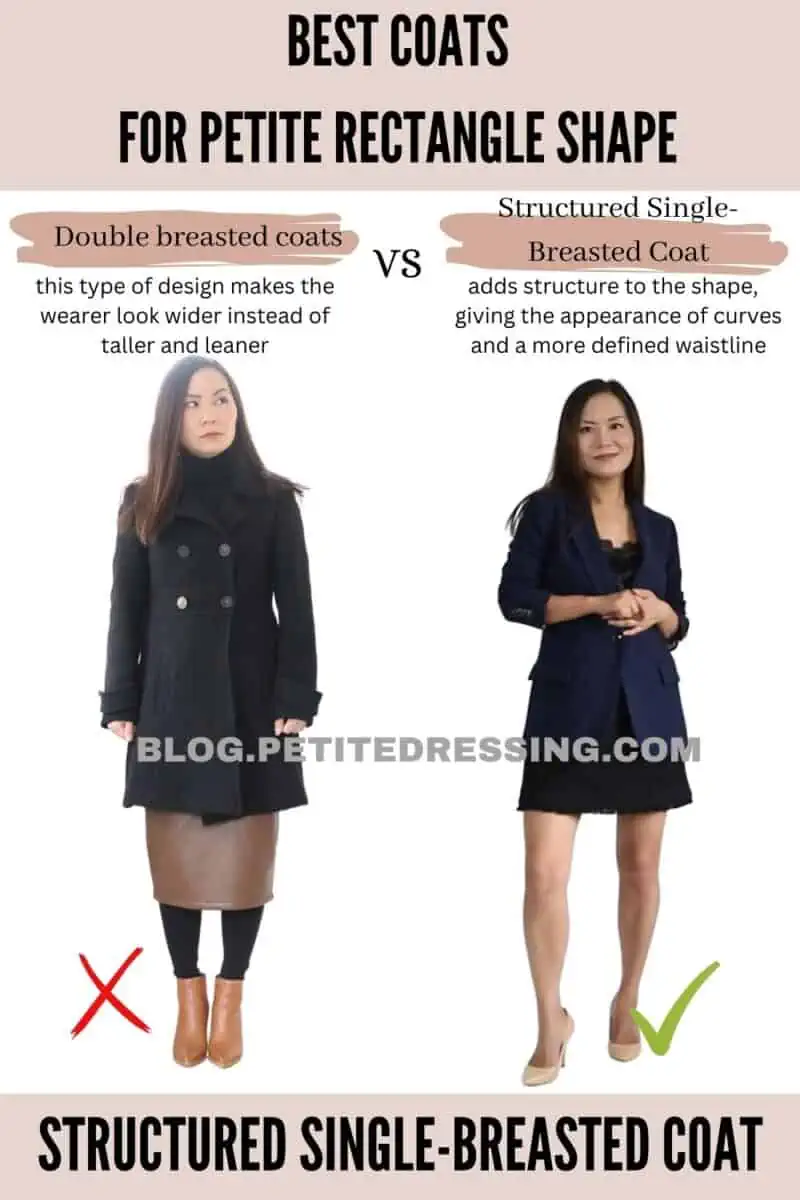 Biker Jackets (or Moto-Jackets)
Biker jackets (also known as Moto jackets) are also an exceptional choice for petite rectangle-shaped women due to their eye-catching design and shape-enhancing structure. With its short hemline and edgy vibe, the biker jacket can highlight the legs and create the illusion of height.
Because the legs are often seen as a petite rectangle-shaped woman's best asset, the short hemline of the biker jacket is a perfect way to showcase them. Additionally, the jacket's edgy vibe can help flatter the athletic build of the rectangle shape.
Most biker jackets have details such as asymmetrical zippers, wide lapel, and pockets which are all good for adding some volume to your upper body. This adds definition and shape to a rectangle-shaped girl's athletic frame.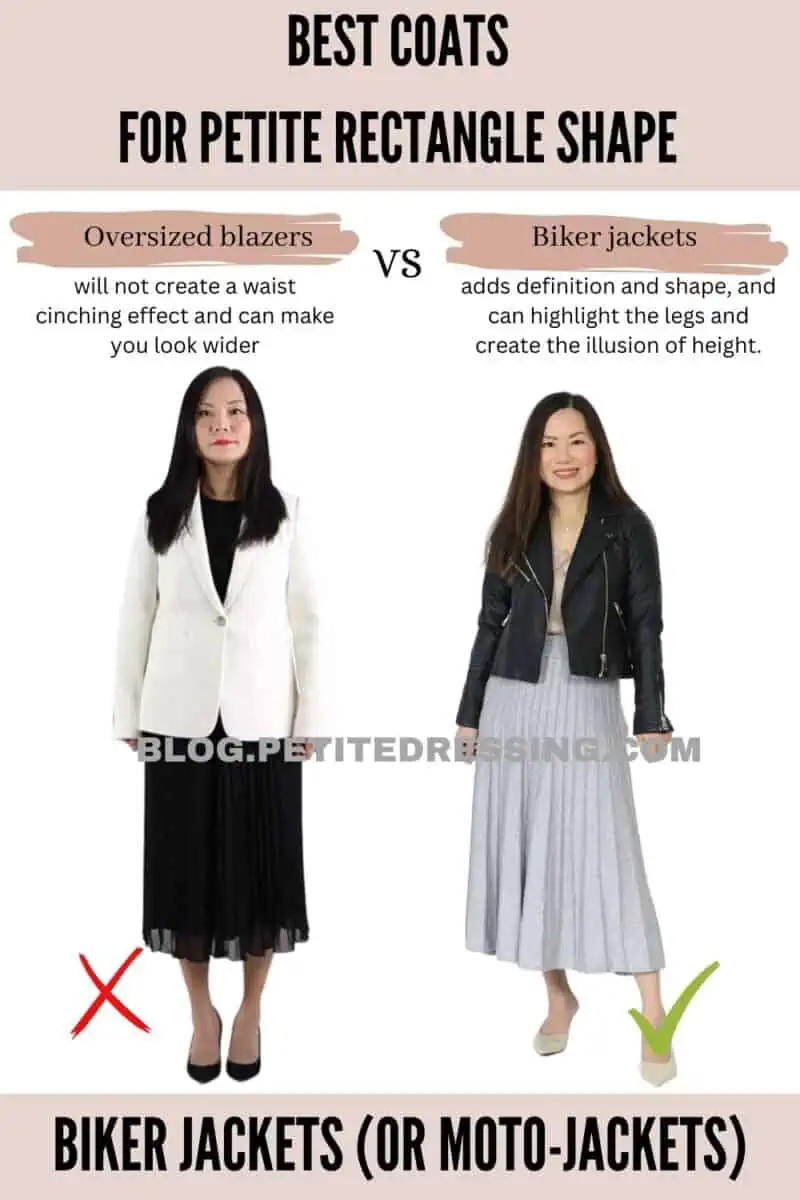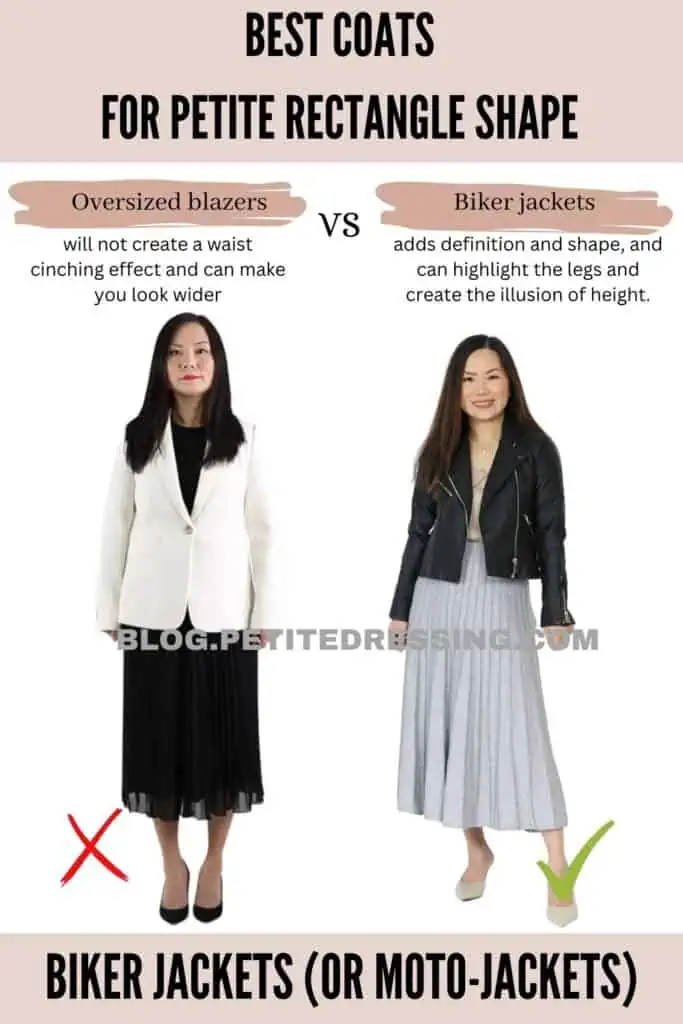 Wrap Coat
Wrap coats will always be a classic option for petite rectangle shapes because of how universally flattering they are! The wrap design of the coat creates a flattering, feminine silhouette in which the belt cinches at the waist, creating the illusion of curves and a more defined waistline.
This is great for rectangle-shaped bodies that may lack natural curves because it strategically brings your figure to a more prominent shape. Plus, choosing a coat in a solid, neutral color can help elongate the body (which is great for petites!) and create a streamlined look.
In addition to these characteristics, wrap coats can also be styled in a variety of ways to suit different preferences and body types. For petite rectangle-shaped bodies, it's important to choose a wrap coat that fits snugly at the shoulders and nips at the waist.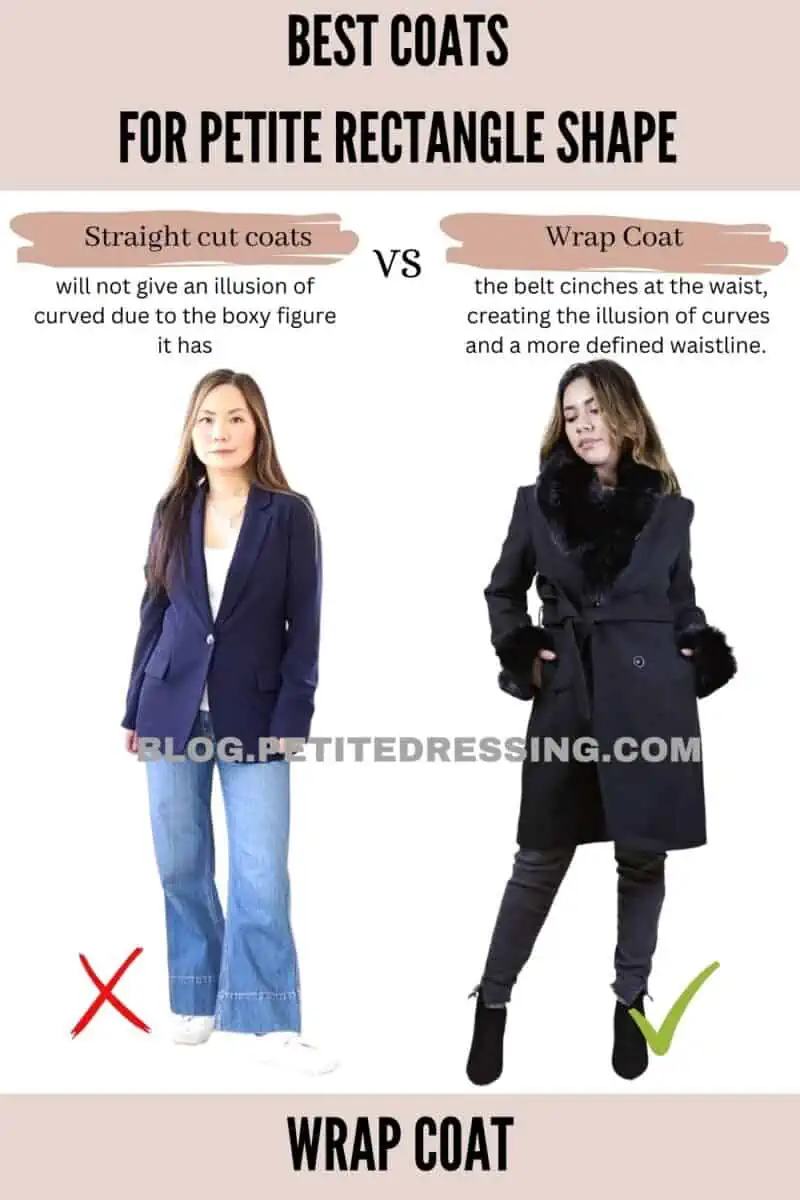 Classic Flared Coats
Flared coats are versatile and universally flattering which is why they are perfect for creating a more defined and feminine silhouette.
One of the key benefits of flared coats for rectangle body shapes is the way they create volume and shape on the lower body. When worn closed, the coat creates a flare-out volume on the waist area, which helps create the illusion of curves and a more feminine figure.
Even if you choose to wear your flared coat unbuttoned, it can still give the exact same effect of defining your figure by skimming the sides of your body and flaring out on the sides of your hips. This creates a more balanced and visually appealing overall silhouette, and helps draw attention to the lower half of the body.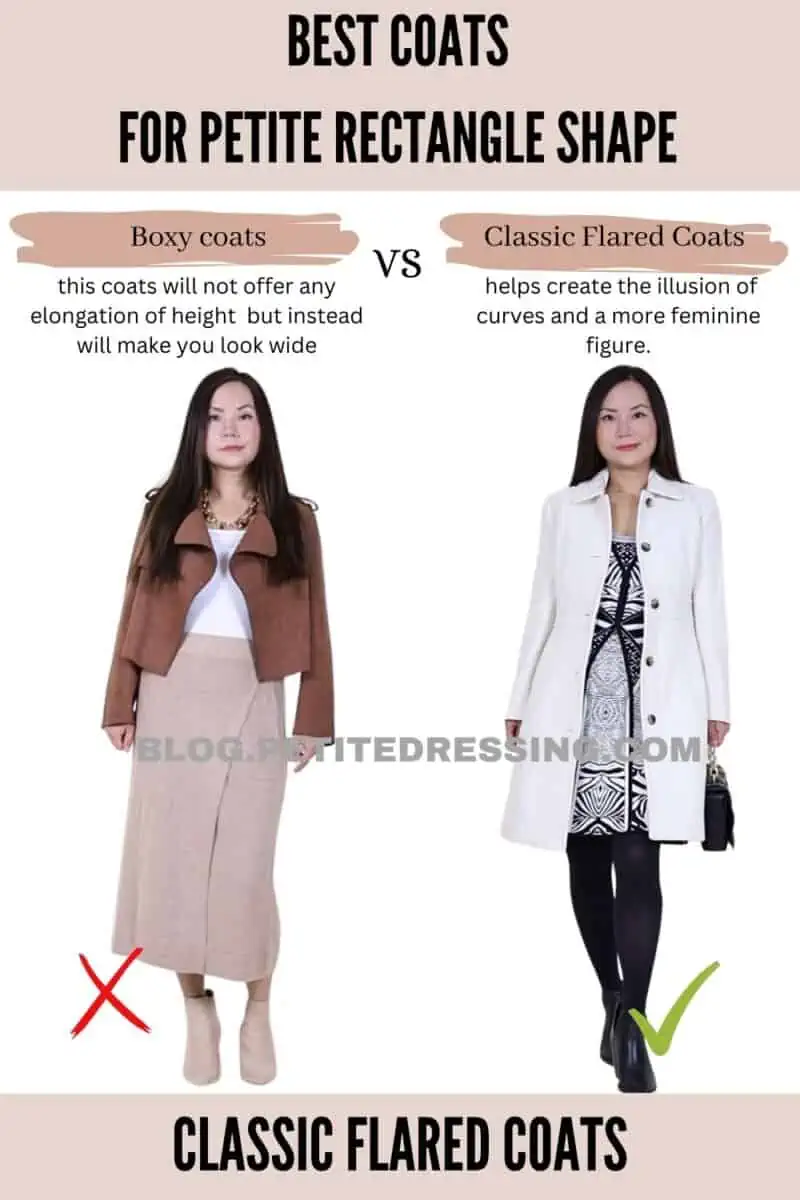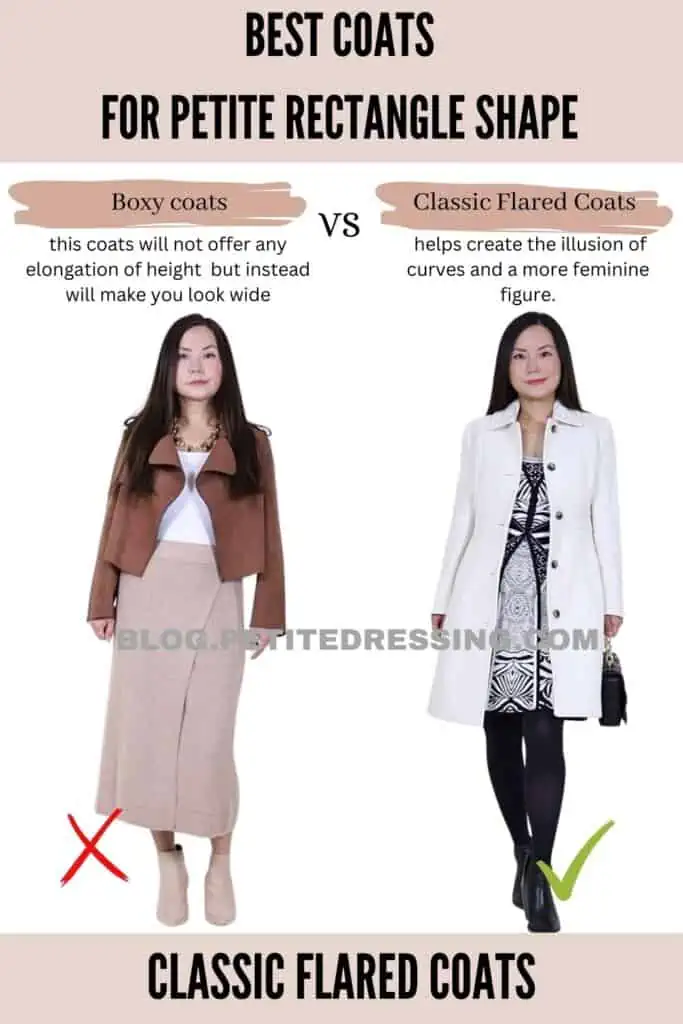 Avoid Straight-cut Coats
As you may have noticed in the coat styles we mentioned, all of them feature tailored structures that mostly have a waist nipping. With this mentioned, petite women with rectangle-shaped bodies may want to avoid straight-cut coats because they can make the body appear boxy and shapeless.
Rectangle-shaped bodies typically have a straight torso with little to no defined waistline, and a straight-cut coat can emphasize this lack of curves. Straight-cut coats often have a boxy shape that can overwhelm a petite frame, making the body appear smaller and shorter.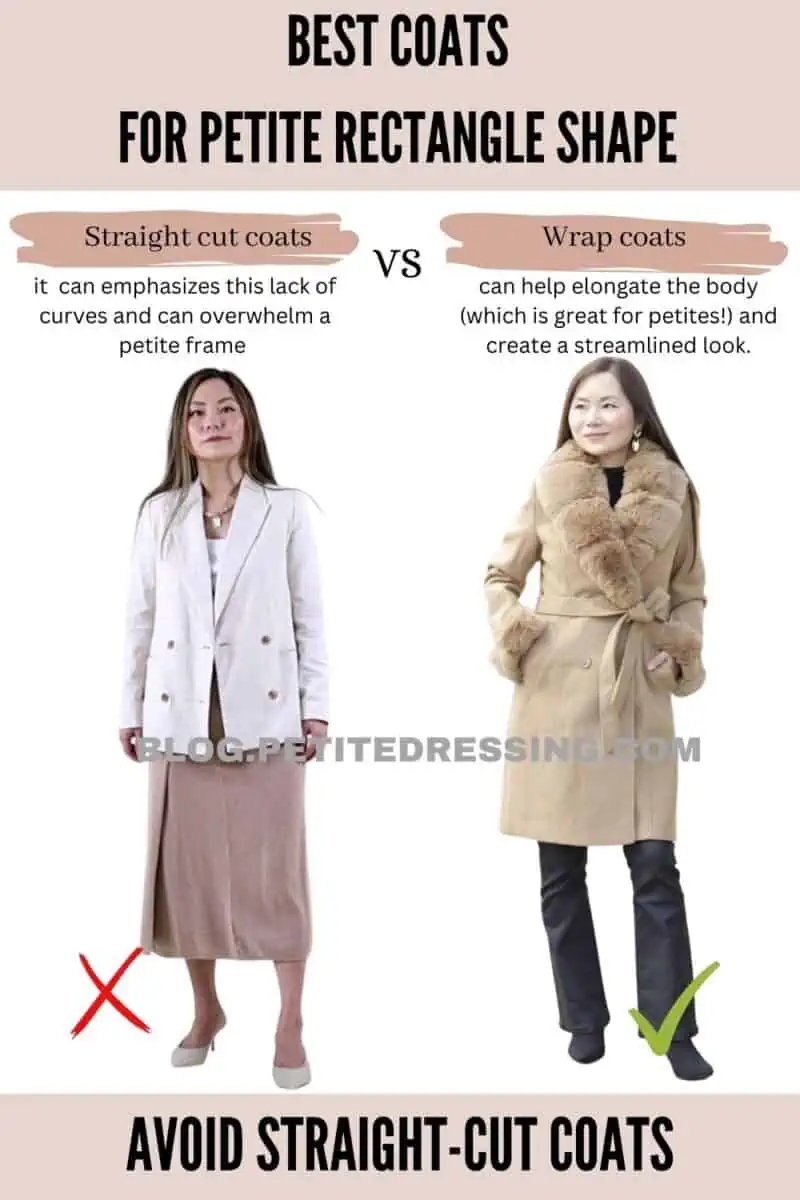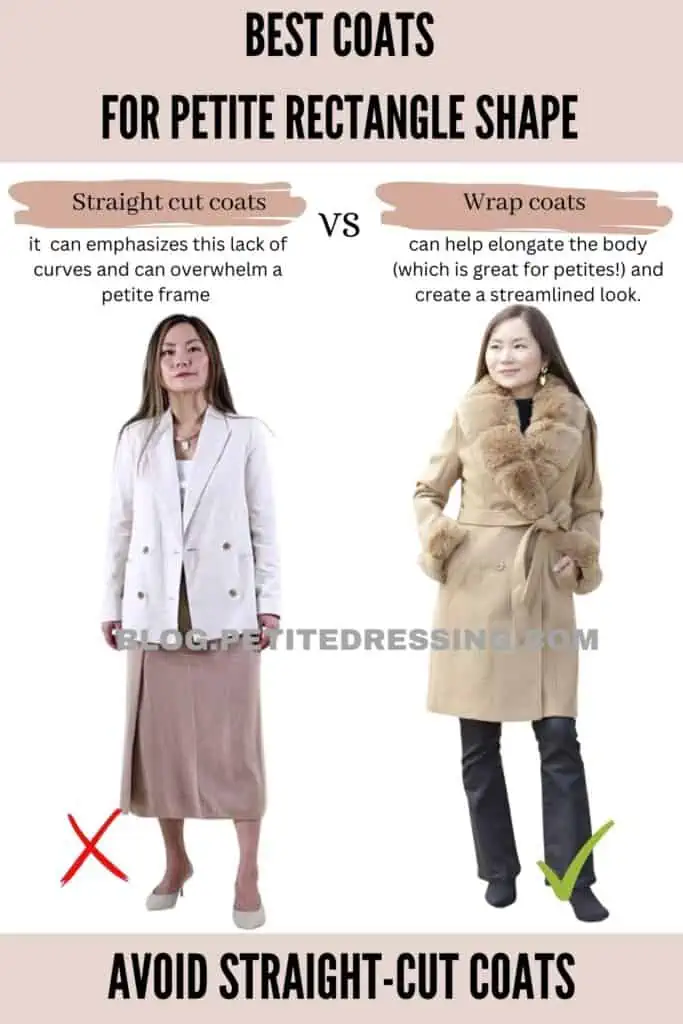 The Key Takeaway
The right coat can totally make you stand out and turn your figure into its best version! Choosing a coat to flatter your petite rectangle-shaped body shouldn't be complicated at all, as long as you keep the pointers from this style guide in mind.