It's always important to style yourself in a way that you'll embrace your natural body figure but I know it's not always a walk in the park especially if you're a petite girl like me. I'm 5'2 and I have gone through a personal journey of finding the right fit for petite women in all shapes and sizes.
Since I also own a petite clothing line, I hear feedback from thousands of my petite customers of all shapes and sizes. Styling this body shape can be quite tricky because you really have to work on your proportions to bring balance to its overall silhouette.
I've put together this guide based on my own experiences as well as feedback from my customers on what you should use caution or even avoid.
Styling Goal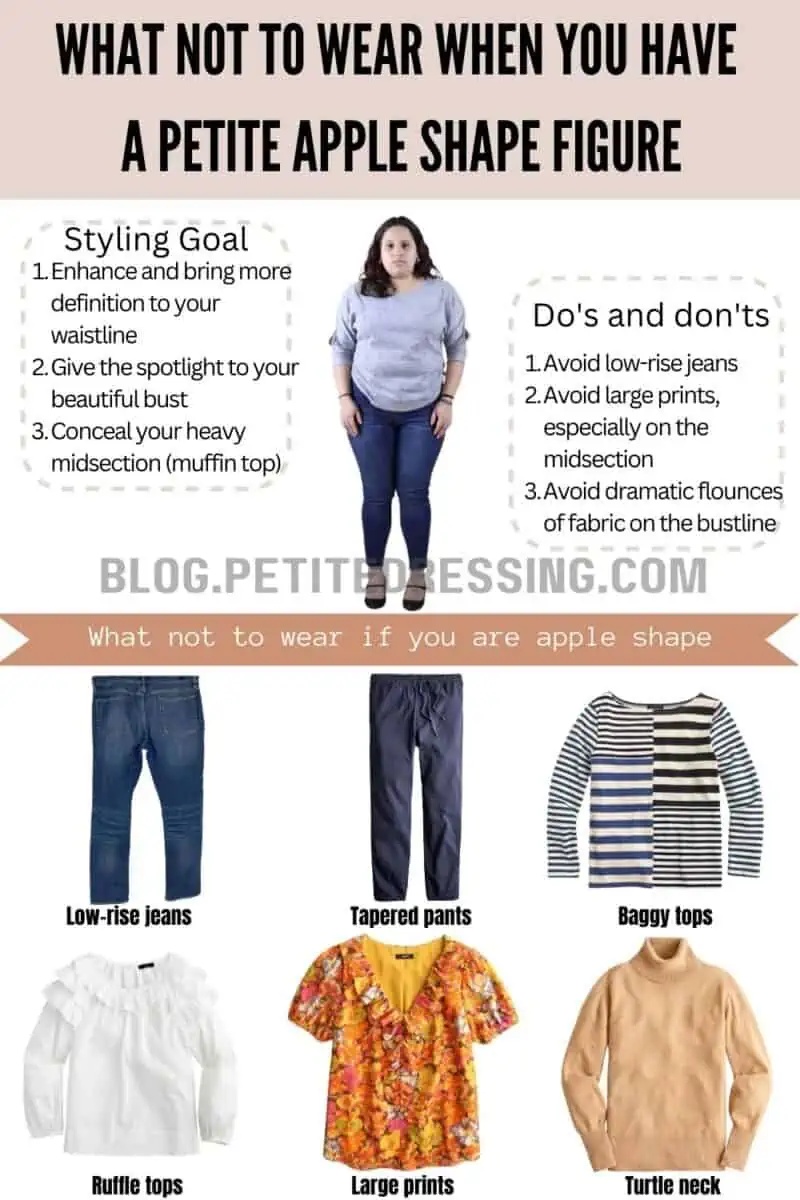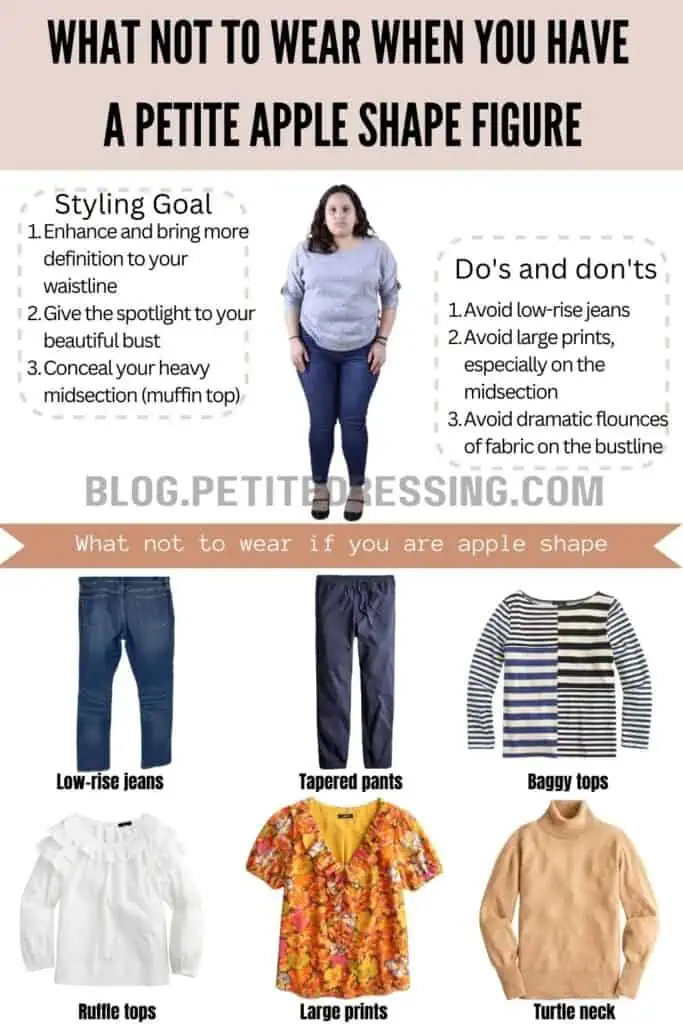 Enhance and bring more definition to your waistline. Short apple frames have little to no definition on the waist so it'll need more help to look more defined.
Give the spotlight to your beautiful bust. This is one of your best features so don't hesitate to flaunt it!
Conceal your heavy midsection (muffin top). Petite apple shape figures usually have more weight in the midsection or tummy area so you always need to consider how to prevent creating a bulge in this area.
Now that we have discussed our styling goals, let's dive into the factors you have to avoid in order to save yourself from fashion trouble!
Avoid low-rise jeans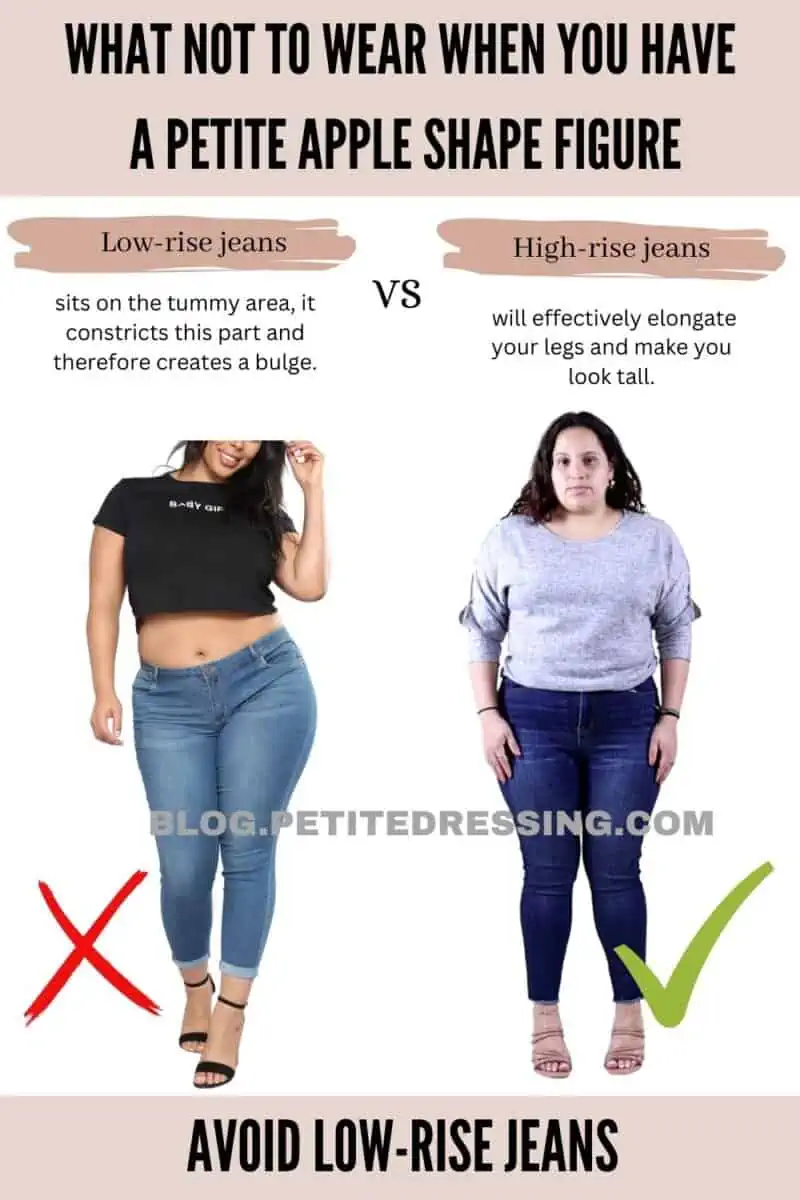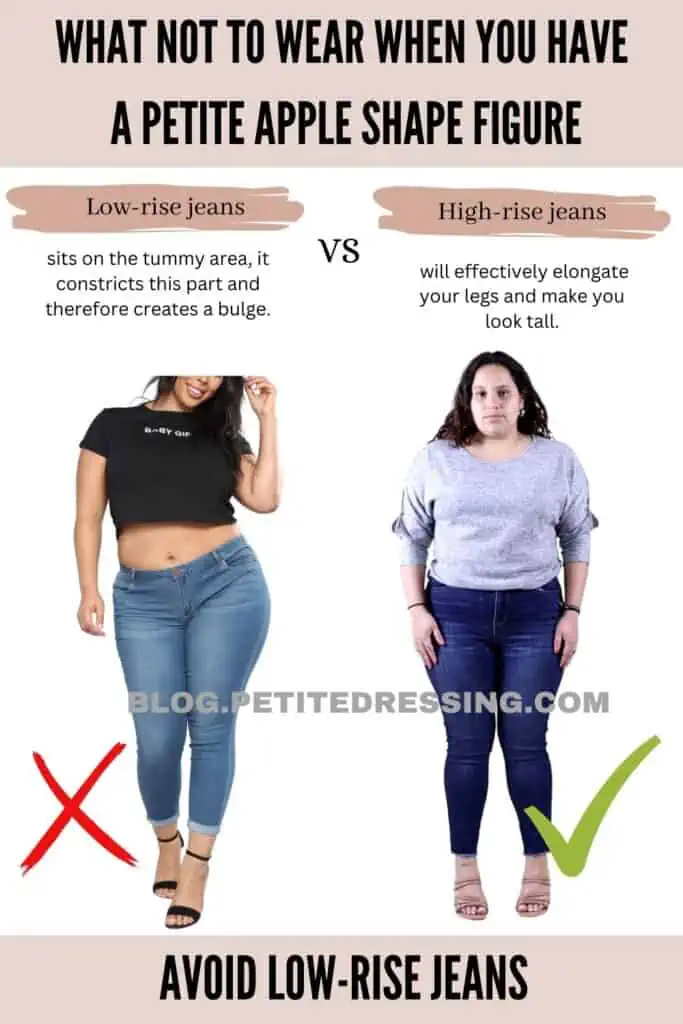 Low-rise jeans create an unflattering silhouette for petite apple shapes so it's one of the many things you have to avoid. Low-rise jeans sit below the waistline, which can make your legs look shorter and your torso looks longer so such an effect can make your frame look unbalanced.
Not only do low-rise jeans take off some inches from your height, but they also tend to emphasize the midsection by creating a muffin top. Short apple figures tend to have a heavier midsection so as the waistband of low-rise jeans sits on the tummy area, it constricts this part and therefore creates a bulge.
For jeans, you might consider opting for mid-rise or high-rise styles instead because these styles can help elongate your legs and create a more balanced silhouette. Not only that, they can provide more coverage and support, which can be more comfortable and flattering for petite apple-shaped bodies.
Caution tucking your tops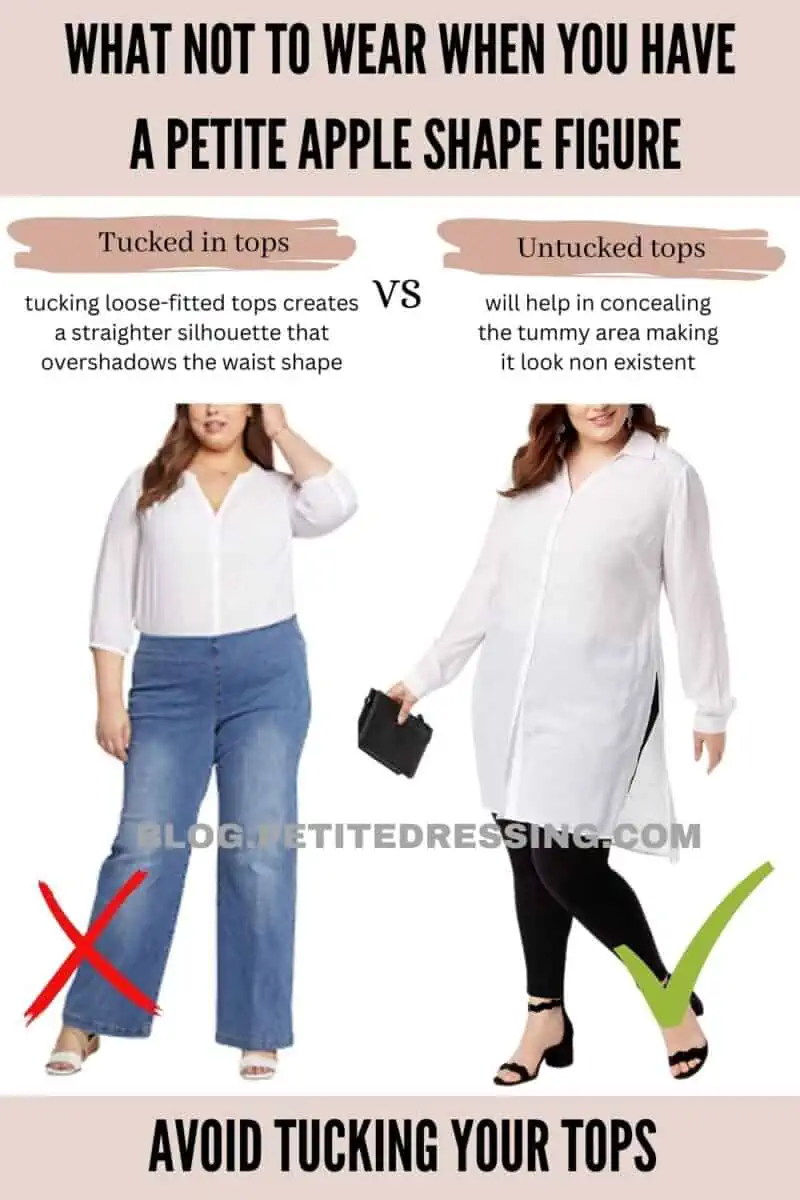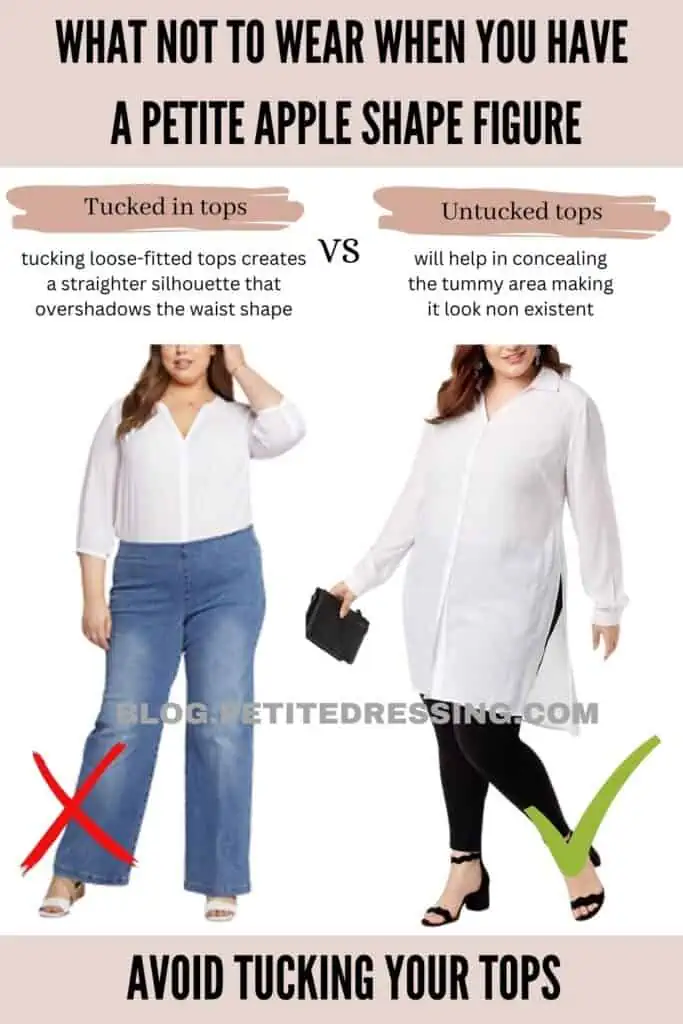 Tucking tops is a usual go-to style hack for many petite women because it instantly creates the illusion of longer legs. However, this does not quite apply to a short apple shape body because of the fact that it conceals the appearance of your waist.
Petite apple-shaped frames generally have little to no waist definition and tucking loose-fitted tops creates a straighter silhouette that overshadows the waist shape. I have to say that tucking your tops is quite stylish so if you still want to give it a try, there's a way to work around it.
So the key to making this work for your petite apple shape body is to opt for more form-fitting tops to tuck. It's also great to pair them with high-waisted pants to allow the pants' waistband to add definition to your waist.
Avoid tapered pants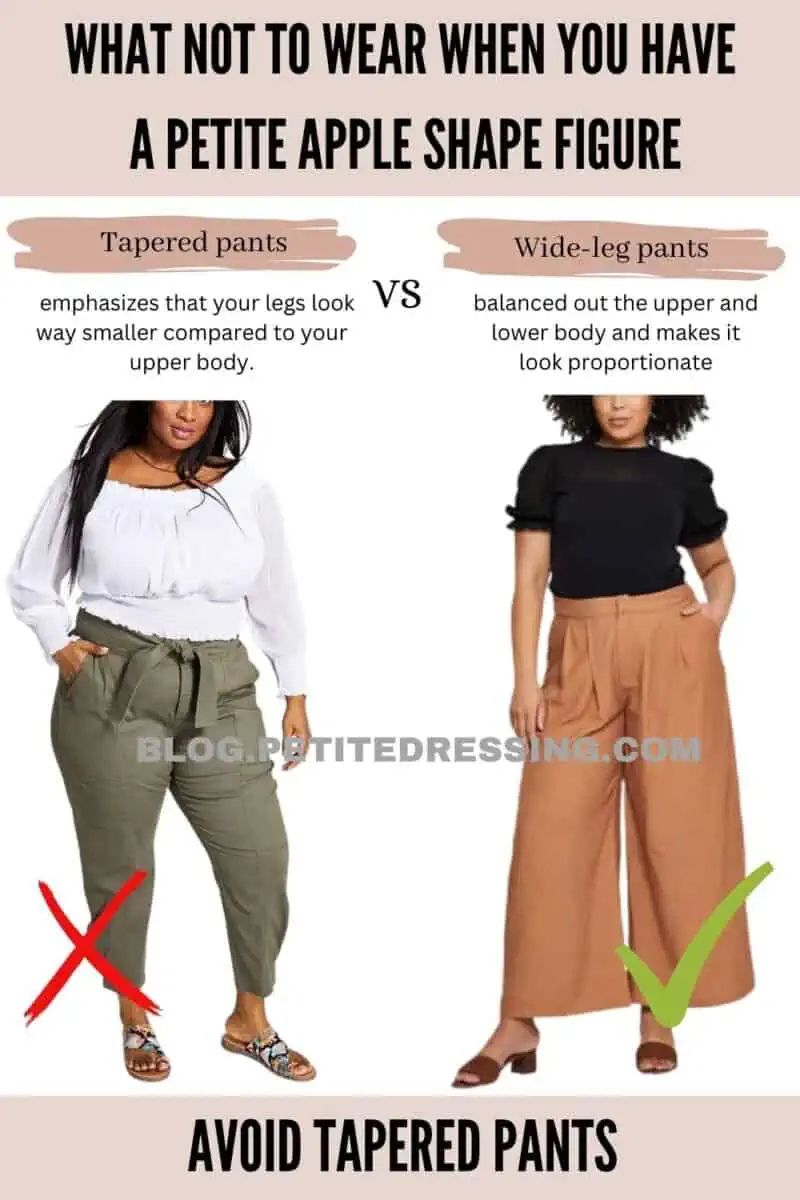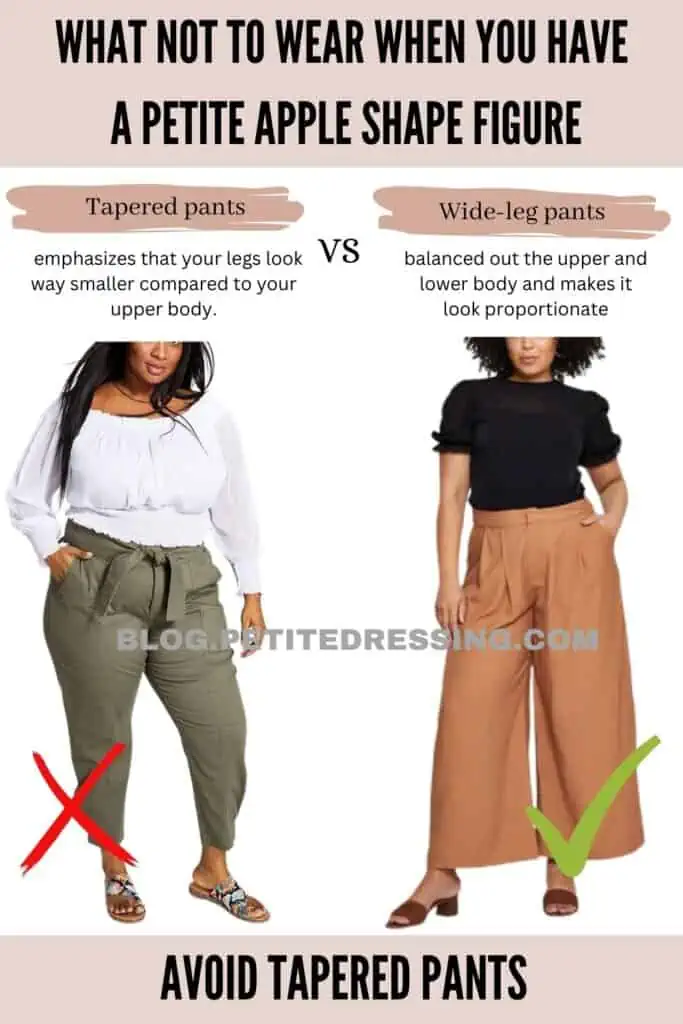 Tapered pants are a style of pants that gradually narrow towards the ankle and they are also sometimes referred to as "skinny" or "slim fit" pants. This means that they tend to cling tightly to your legs and therefore emphasize that your legs look way smaller compared to your upper body.
Apple-shaped bodies tend to carry more weight around the midsection, and tapered pants can emphasize this area. This is because the tapering effect draws the eye towards the narrowest part of the leg, which is often around the ankle, and therefore makes it apparent that your top is heavier.
Avoid baggy or loosely-fitted clothes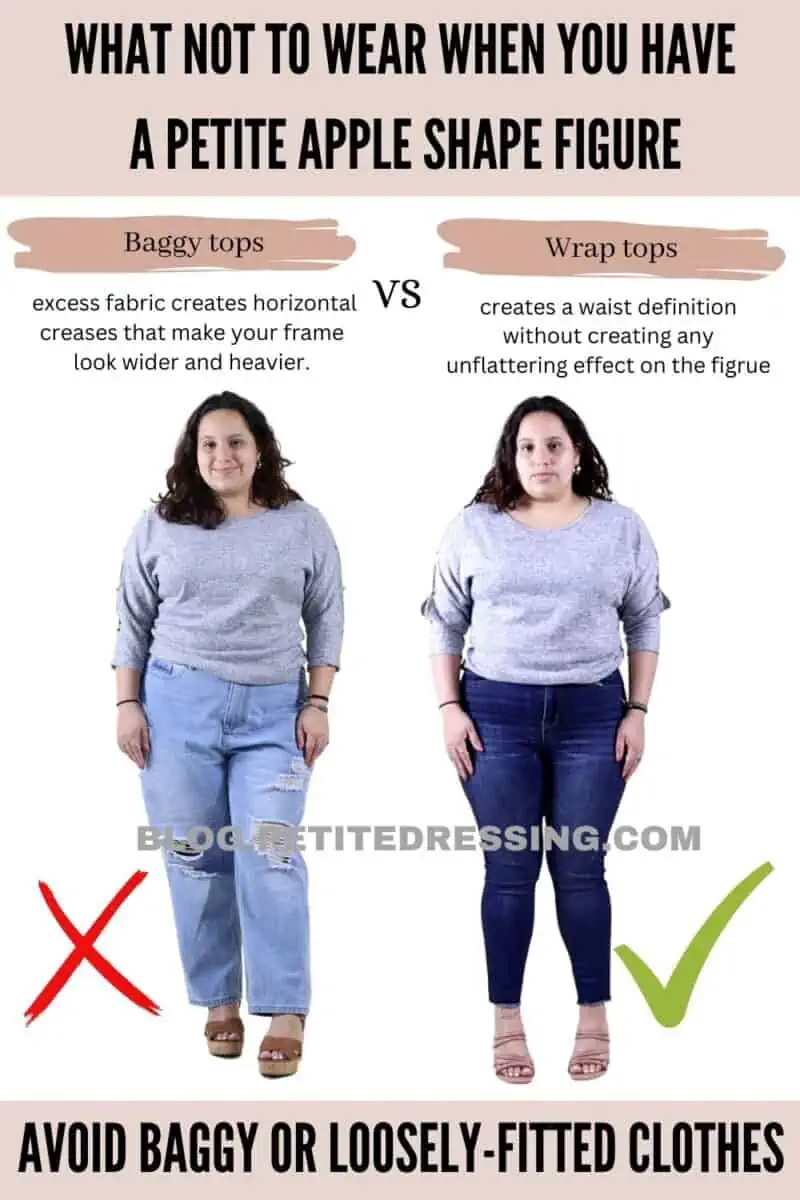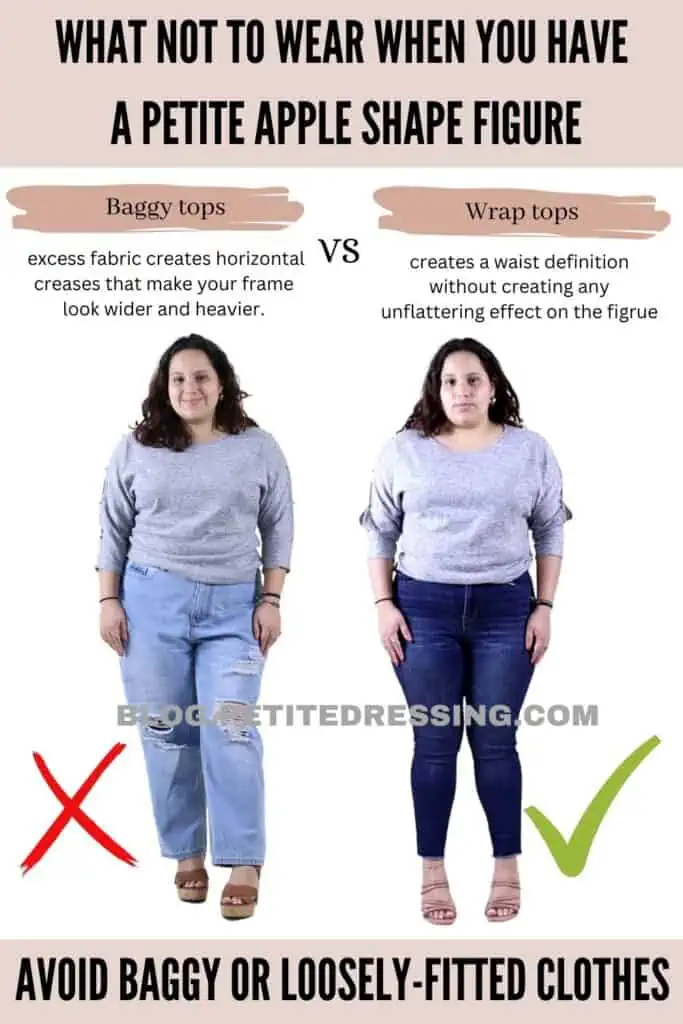 You're short and you've got a small body in general. So to add so much fabric to your clothing ensemble is to instantly drown your overall figure!
Baggy clothes can be unflattering for short apple shape bodies because the excess fabric creates horizontal creases that make your frame look wider and heavier. Since apple shapes lack waist definition, baggy or loosely fitted clothes won't ever be of any help.
While baggy clothes may be comfortable and on-trend, they may not be the best choice for short apple-shaped bodies. As an alternative to comfortable clothing, just look for elongating patterns and breathable fabric materials.
Avoid thick belts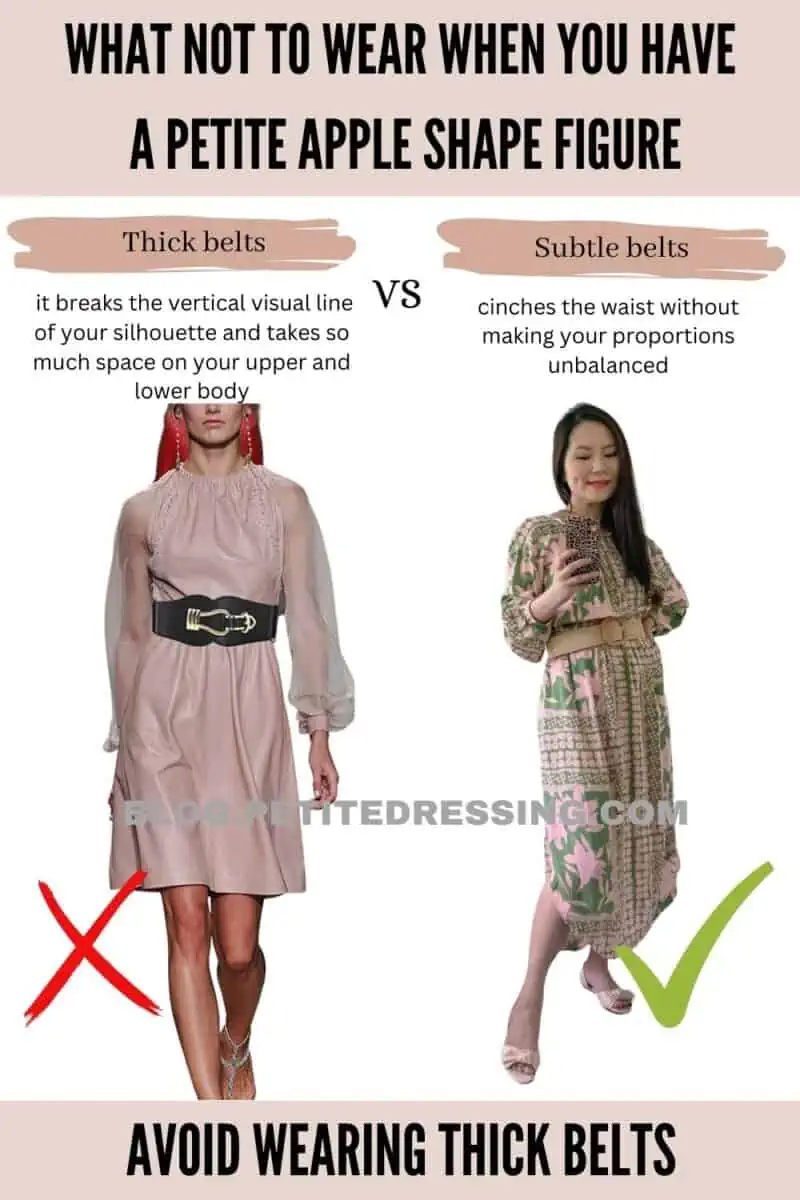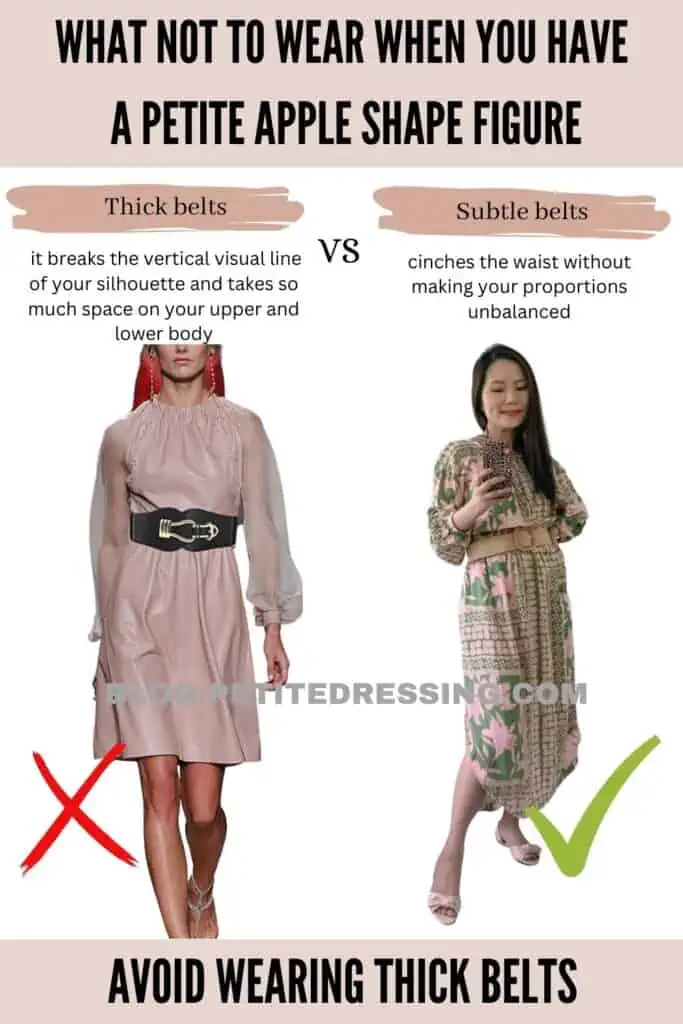 If you don't want your body to look like it's been split in half horizontally, then thick belts should be on your list of things to steer away from. One reason is that it breaks the vertical visual line of your silhouette and takes so much space on your upper and lower body, making you look way shorter than you actually are.
Apart from that, since apple-shaped bodies tend to carry more weight around the midsection and have a wider waistline, putting a thick belt on this area can actually draw more attention to the midsection and create an unbalanced look. Short individuals may find that a thick belt can make their torso appear even shorter, throwing off their proportions and making it more difficult to achieve a balanced silhouette.
Instead of thick belts, those with a short height and apple-shaped body may want to consider belts that are more streamlined and subtle. However, this doesn't mean you should go too thin – which brings us to our next styling faux pas.
Avoid skinny belts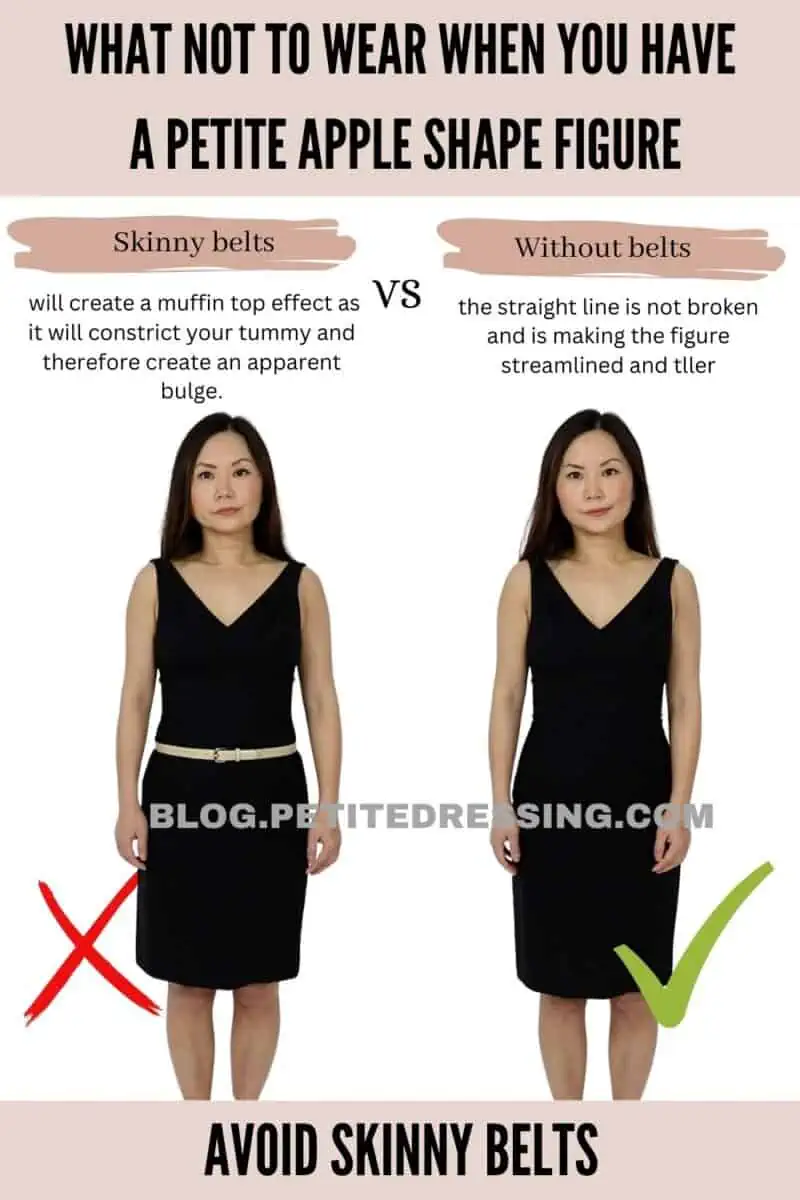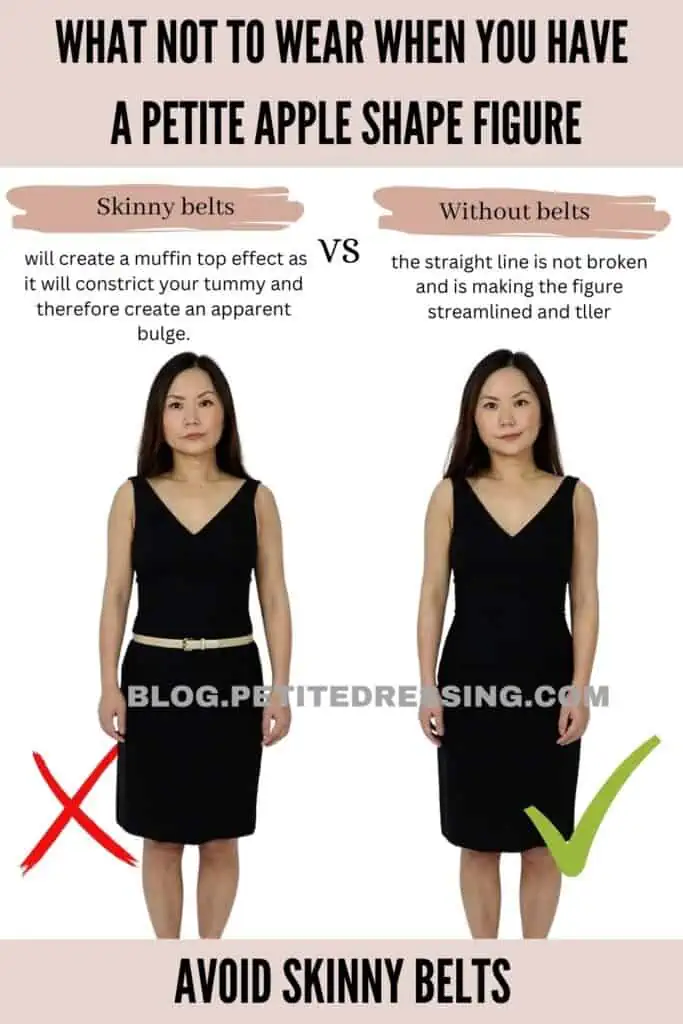 "You told me to avoid thick belts, but no skinny belts, too?!" Well, there's a very good reason behind this because just as how thick belts are unflattering, skinny belts aren't that flattering either for different reasons.
Again, petite apple body frames tend to have a heavier and wider midsection. Using a skinny belt will create a muffin top effect as it will constrict your tummy and therefore create an apparent bulge.
Ideally, if you'd like to nicely cinch your waist and enhance its definition, a belt that's around 2 inches wide should be perfect for a petite figure. It's not too thin nor too thick, so it's the right size to give the illusion of longer legs and a smaller waist.
Avoid dramatic flounces on the bustline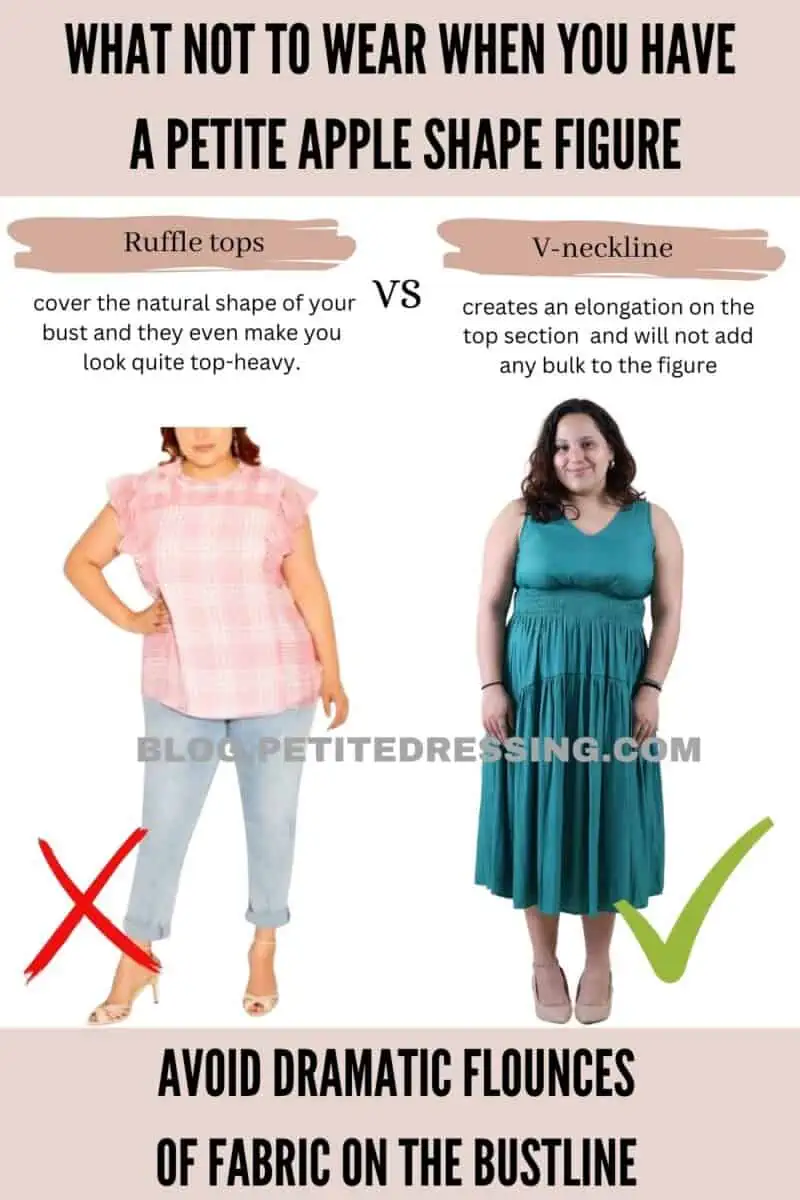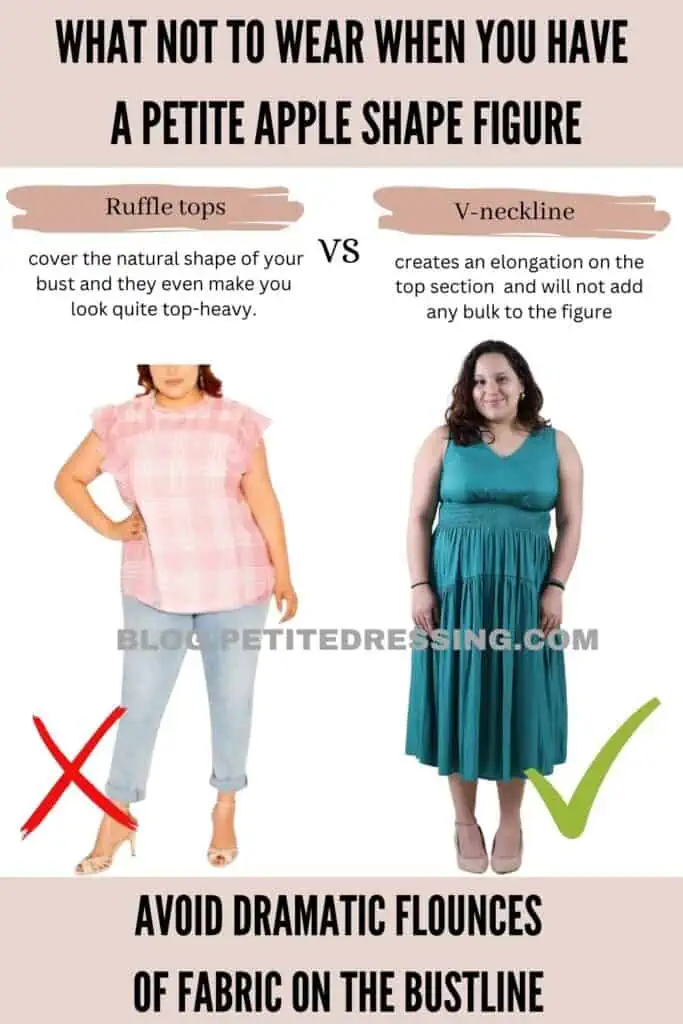 One of your most notable features would be your beautiful bustline which ranges from an average to a bigger size. Since it's an asset, it's only ideal that you let its natural beauty stand out!
This is why dramatic flounces of fabric placed on your bustline will never be your petite apple shape body's friend. Flounces of fabric such as big ruffles cover the natural shape of your bust and they even make you look quite top-heavy.
Dramatic fabric details such as this will draw unnecessary attention to your upper body and completely overwhelm your lower body, which is generally smaller or slimmer than your upper body. This will result in an unflattering visual balance on your body frame.
Avoid large prints, especially on the midsection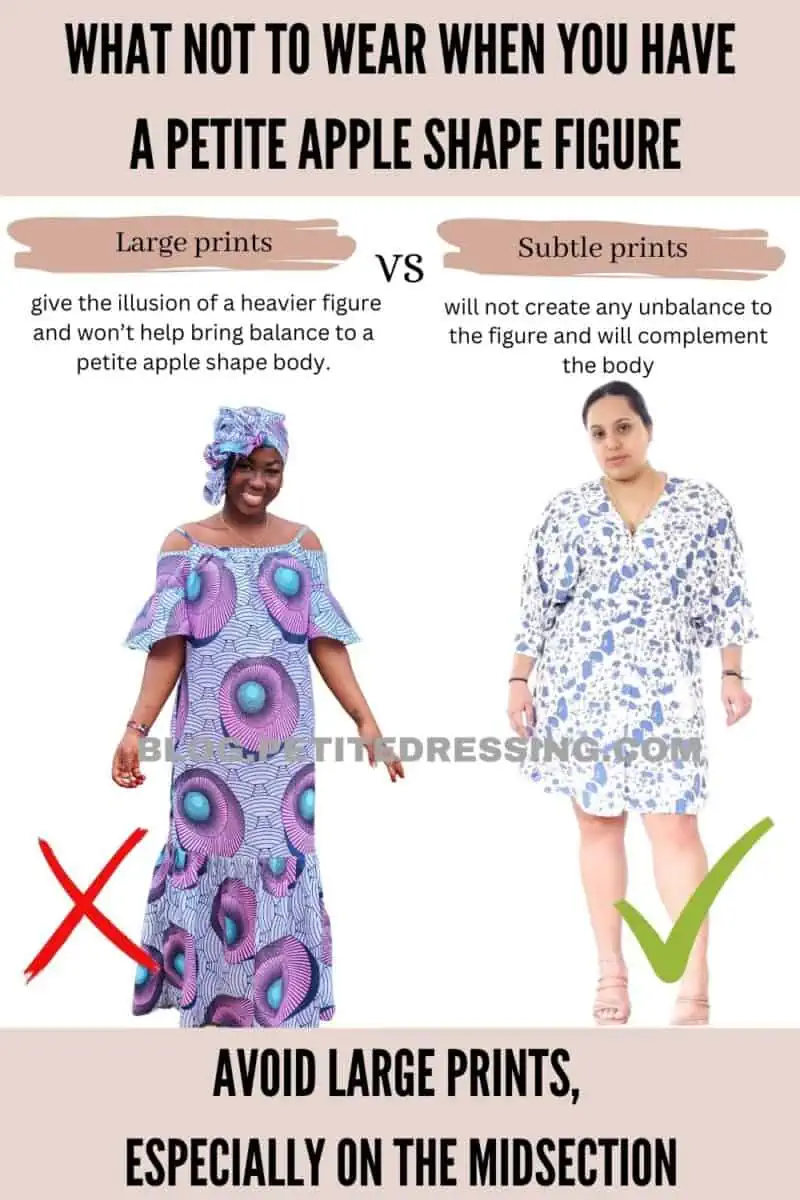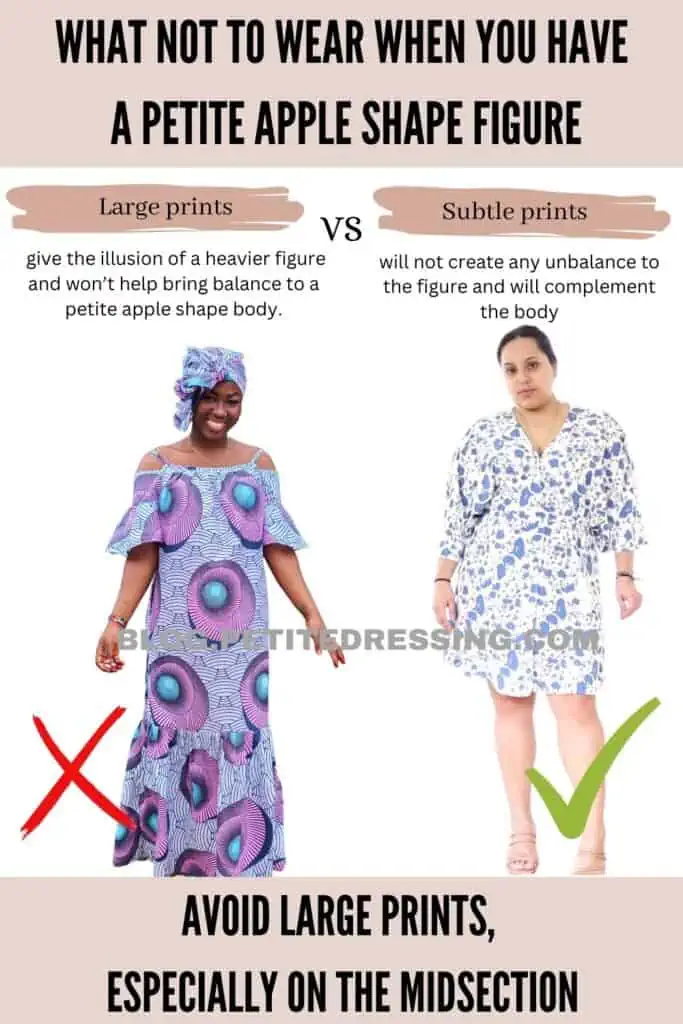 This shares almost the same unflattering visual effect that big ruffles create as large prints can be quite overwhelming for your short apple figure. Large prints and patterns give the illusion of a heavier figure so wearing clothes with such designs won't help bring balance to a petite apple shape body.
This most particularly applies to wardrobe pieces like tops or high-waisted bottoms as these cover the midsection area. Apple-shaped figures tend to have more volume in this area and large prints will make it look heavier and wider.
Avoid high or closed necklines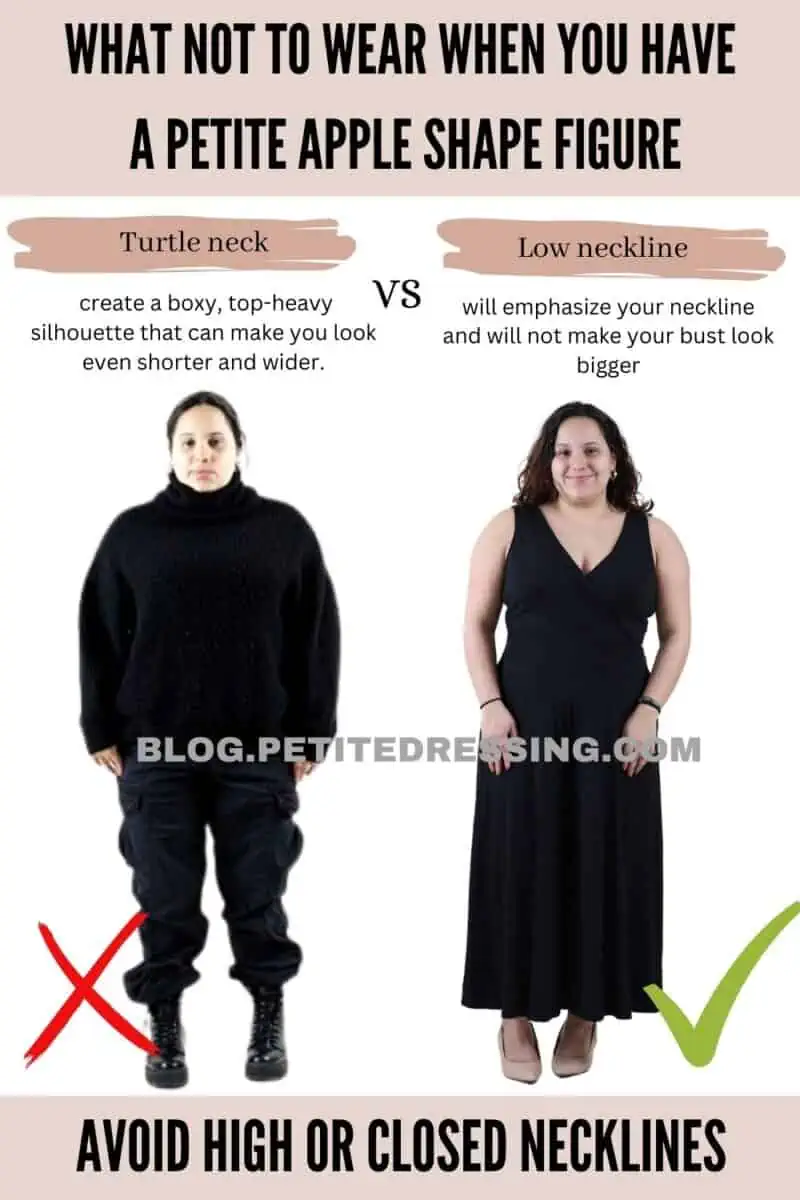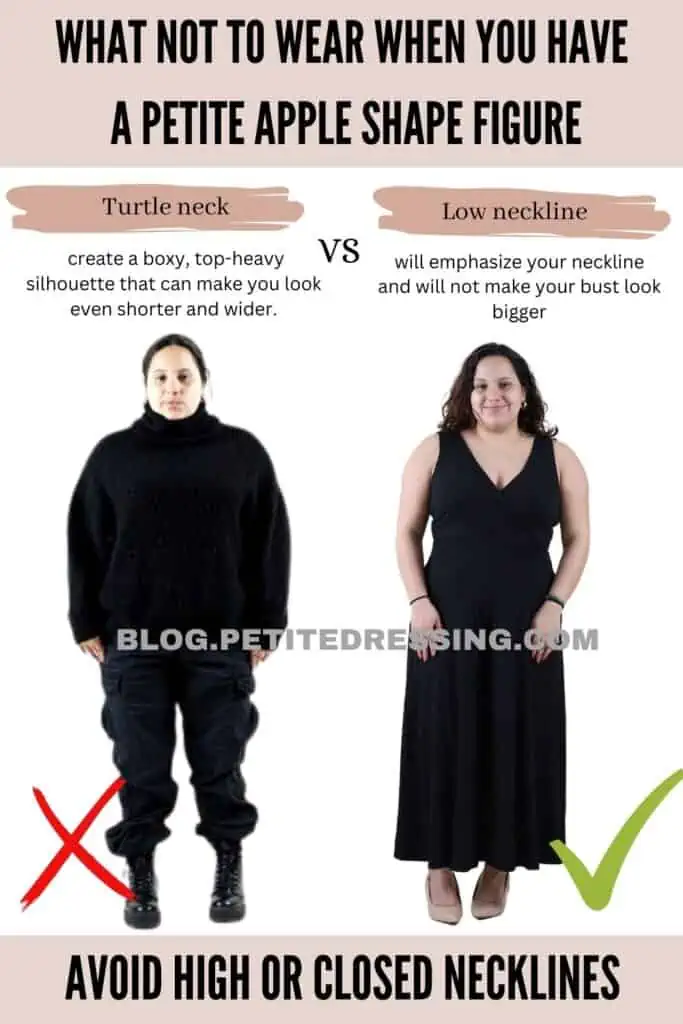 As a short girl with an apple-shaped body, it's important to dress in a way that flatters your figure and makes your body proportions look balanced. Unfortunately, closed and high necklines can actually work against you in this regard because these types of necklines tend to create a boxy, top-heavy silhouette that can make you look even shorter and wider.
Instead, opt for necklines that elongate your neck and draw the eye upward. V-necklines, scoop necklines, and off-the-shoulder styles are all great options that will help balance out your proportions and create a more balanced and flattering silhouette.