If you are short like me, wearing the RIGHT dresses can be a game changer for your style. Being 5'2″, I've struggled for years how to find flattering dresses for my height, and that's why I have a clothing line for petite women just like me.
First of all, I have come to the realization that nothing flatters a short woman more easily than dresses.
Not only are dresses versatile and classy, but they have the lengthening effect much needed by short girls. Because of its continuous patterns of fabrics, dresses can create the illusion of height.
Below is my list of must have dresses if you are petite!
Best Length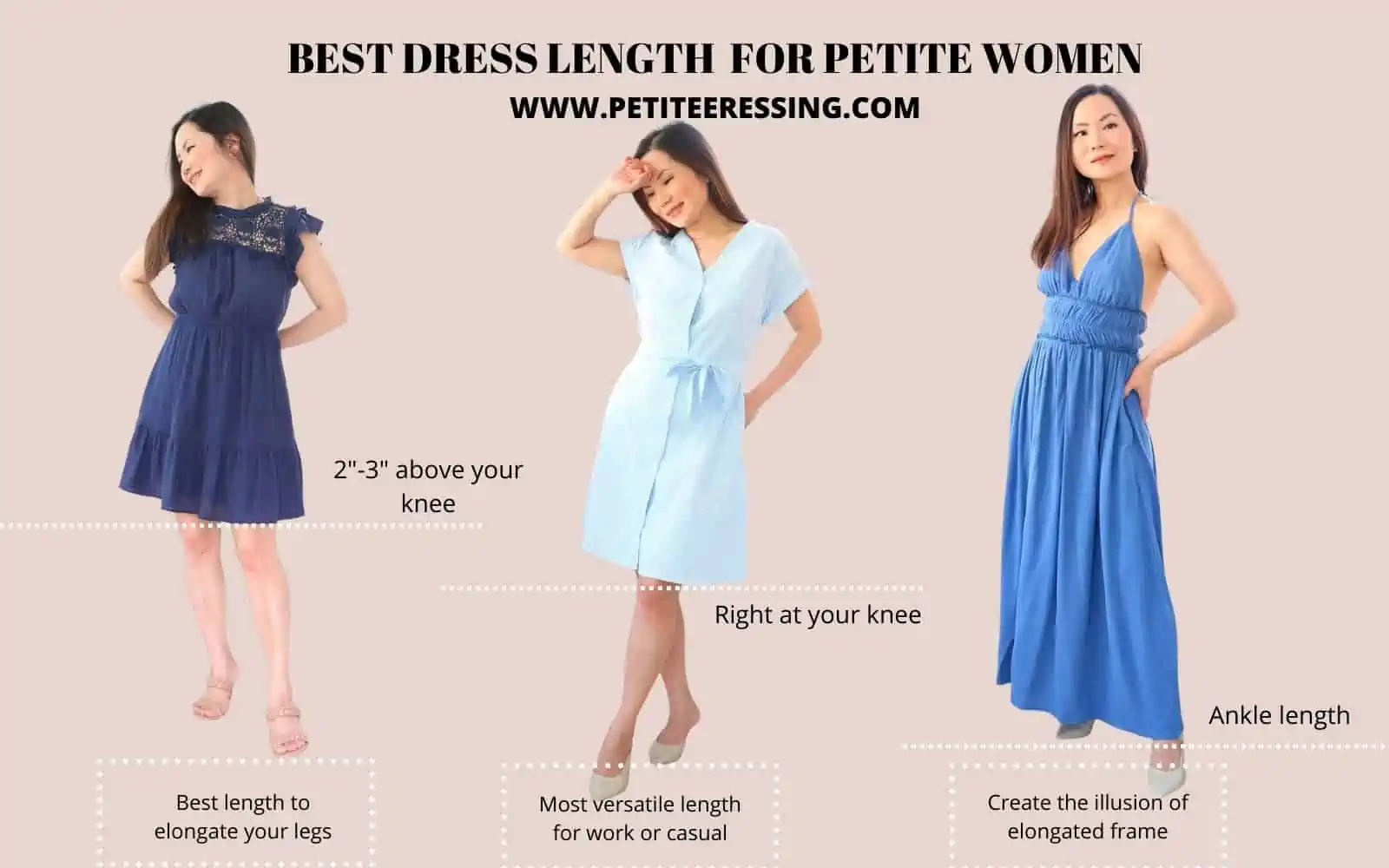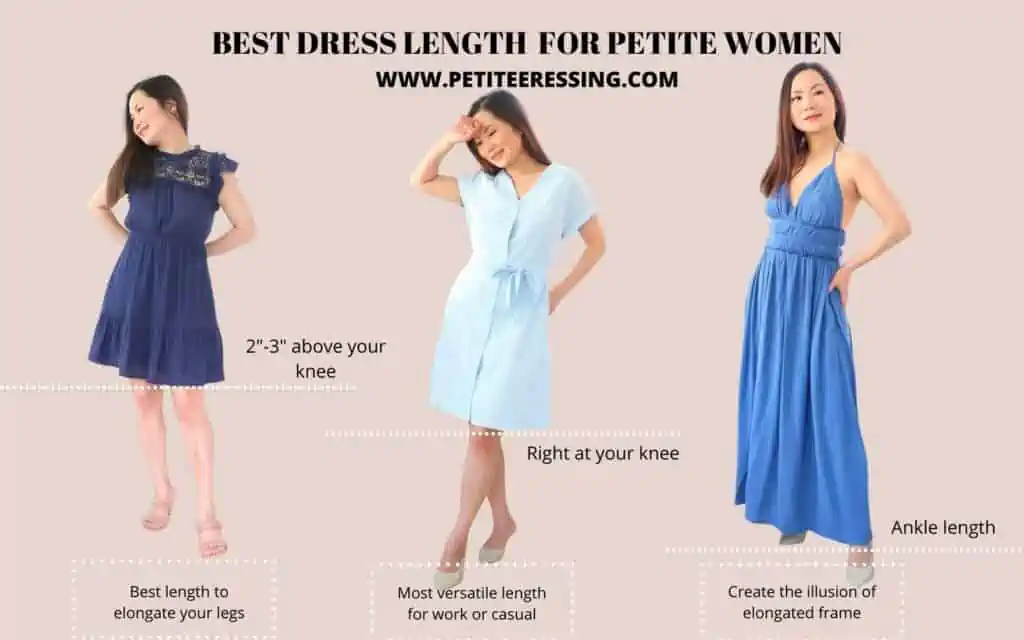 If you are short, here's the 3 most flattering lengths for your dresses:
The best dress length to make short legs look longer: 1″-2″ above your knee
The most versatile length for petites: right at your knee
The ideal length to make a petite girl appear taller and leaner: ankle length
Fit and Flare Dresses
Fit and flare dresses (also known as A-line dresses or skater dresses) are some of the best dresses for petite women.
If you are short, the best length is either short (1-2 inches above your knees) or a longer length like a maxi dress. These two lengths are always the most popular in my petite dress collections!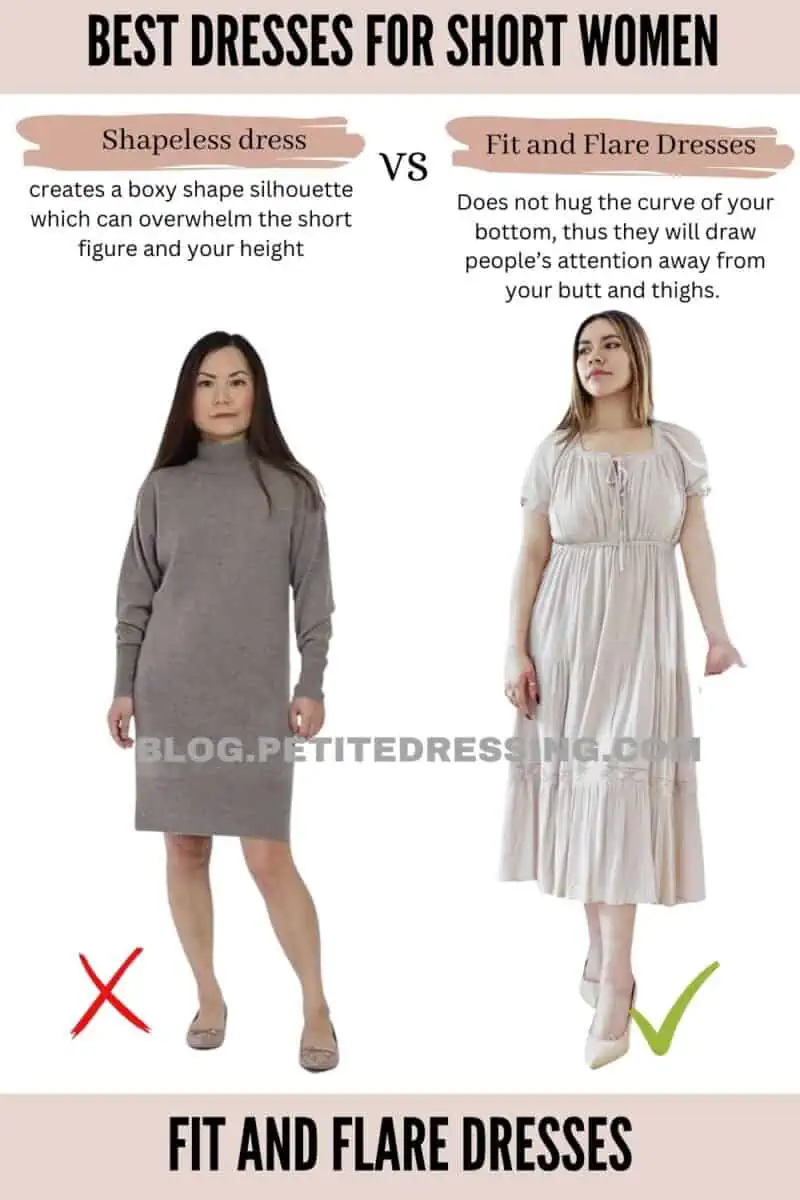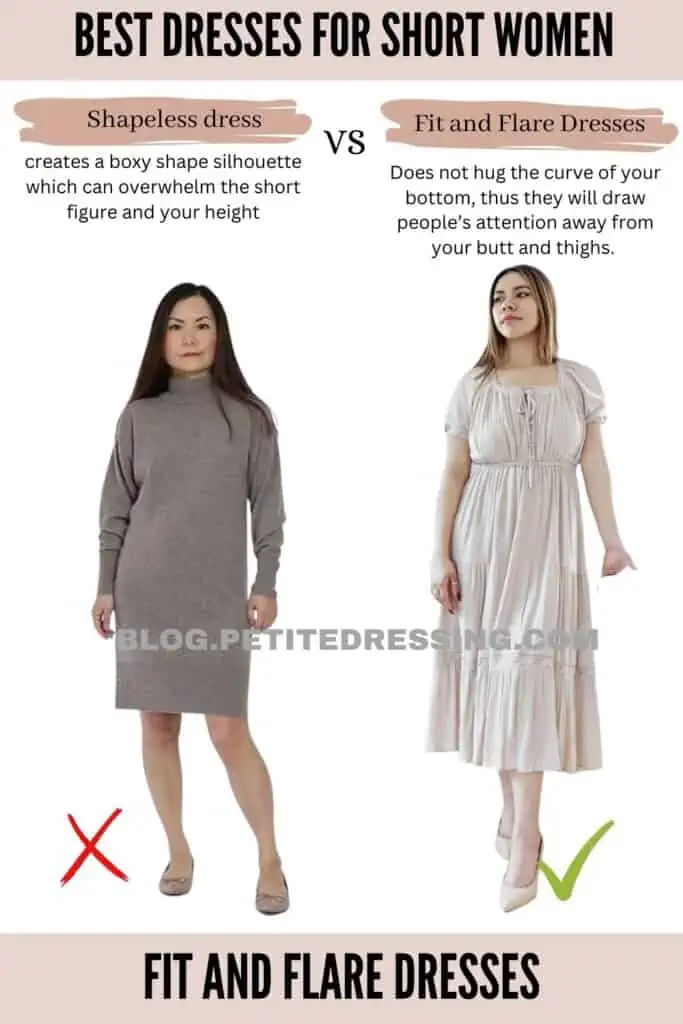 The A shape silhouette is commonly flattering because it is form fitting in your upper body (exactly what we need as short girls) but it is also more forgiving for your lower body.
They do not hug the curve of your bottom, thus they will draw people's attention away from your butt and thighs. They are especially recommended for women who do not want people to focus on their lower body, such as the pear body type.
Wrap dresses
Wrap dresses are one of my favorite dresses for short women of all time. 
Personally, I live in wrap dresses all year long and they are also the most popular among my petite customers!
Wrap dresses are universally flattering, whether you are 4'11" or 5'4″. They are the best choices for short girls who wish to emphasize their feminine curves (like Wendy, one of the petite models for my clothing line) or those who wish to create the illusion of curves (like myself, with a rectangle shape).
It's important to know that wrap dresses can come in different lengths too!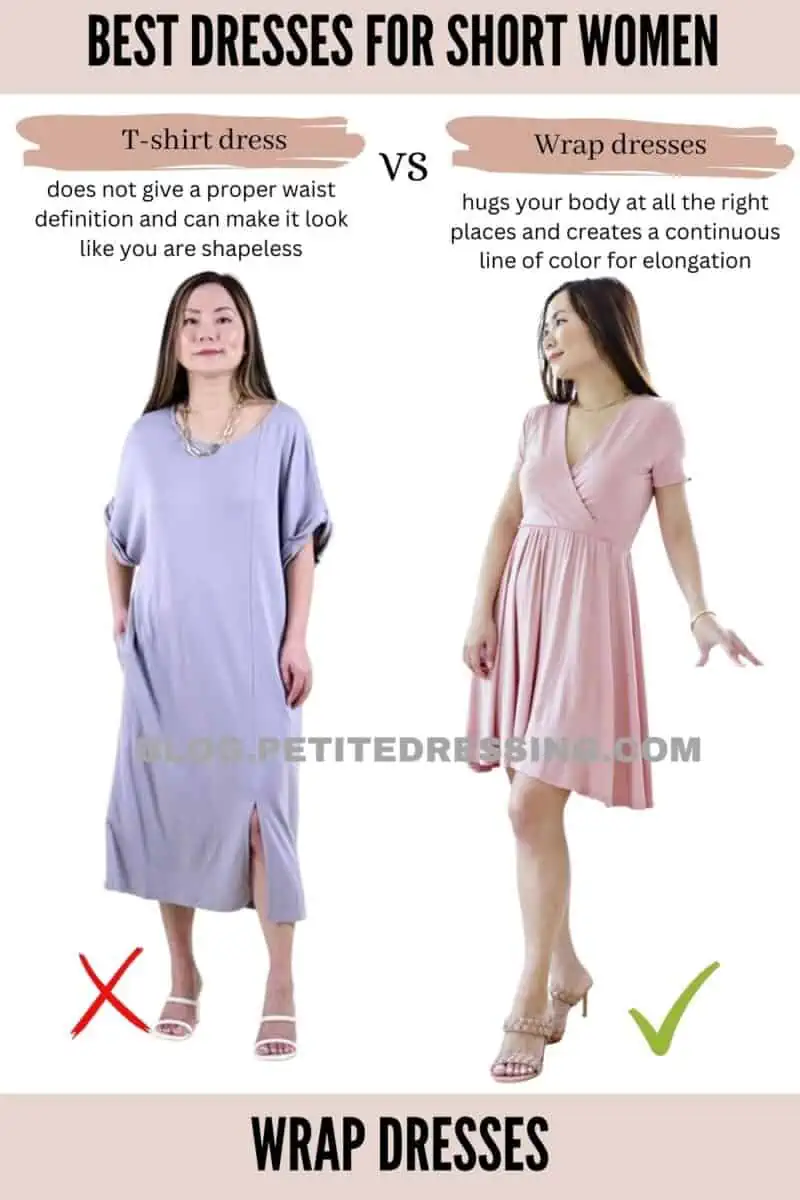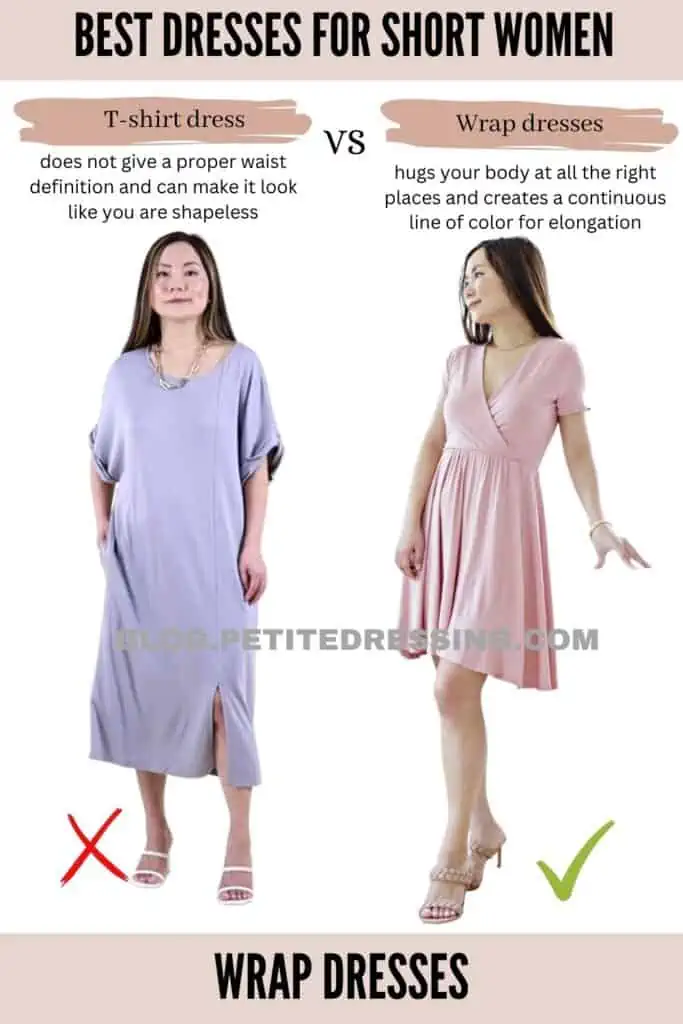 Like Victoria Beckham (5'3) mentioned in her latest fashion book "That Extra Half an Inch", the wrap dress is one of the things that once you have, it is hard to understand how you have lived all those years without. It hugs your body at all the right places and creates a continuous line of colors that elongates your body.
If you have no waistline, such as the apple shape or petite rectangle shape, the wrap will define your waistline. In terms of length, you cannot go wrong with any of them, whether they are above your knee, at your knee, or even maxi length.
For office meetings, a knee length wrap dress is always appropriate. For date nights or cocktail hours, above the knee will make your legs look longer. For vacation or resorts, a wrapped maxi dress looks classy and expensive.
Empire waistline dresses
If you want to take your petite fashion to the next level, look for details in petite dresses that will further flatter your particular body type. Empire waist is a terrific design for us short girls.
The empire waist is a dress where the waistline is high, and sometimes it is placed just below the bust line. Because it raises the waistline to above your natural waist, it effectively creates the illusion of a shorter torso and longer legs.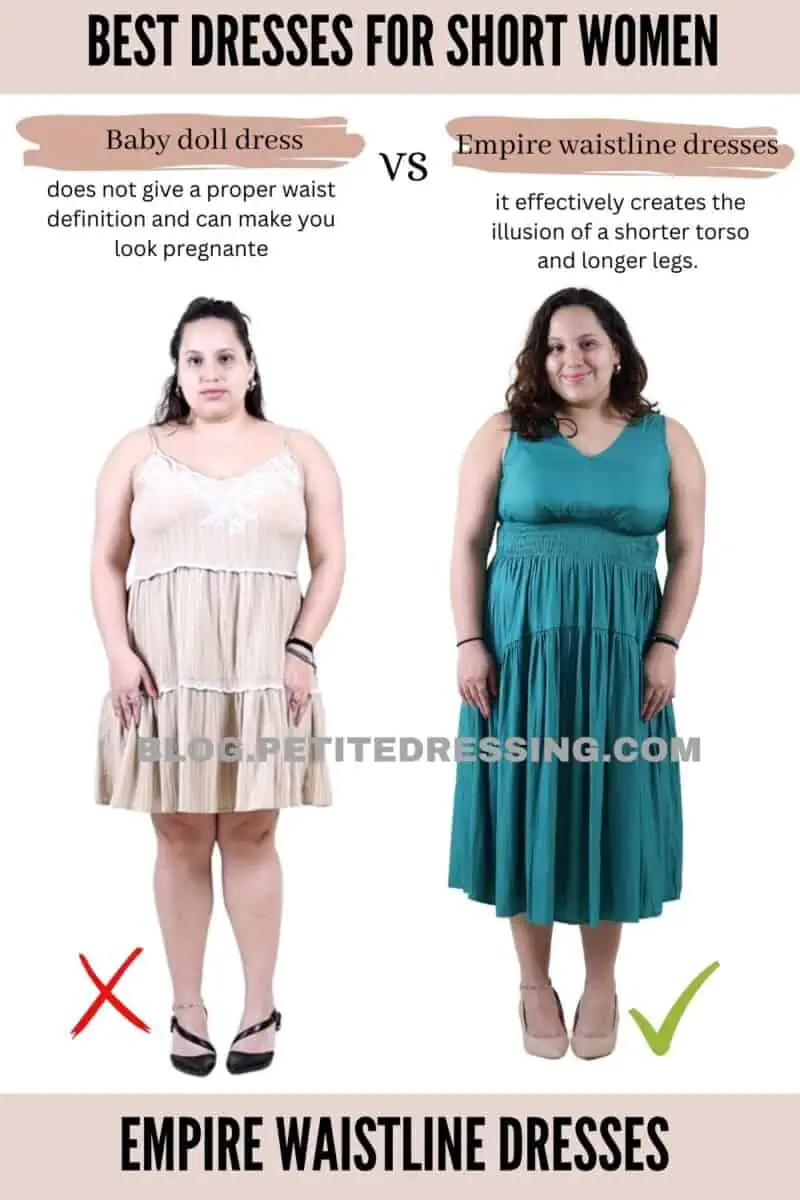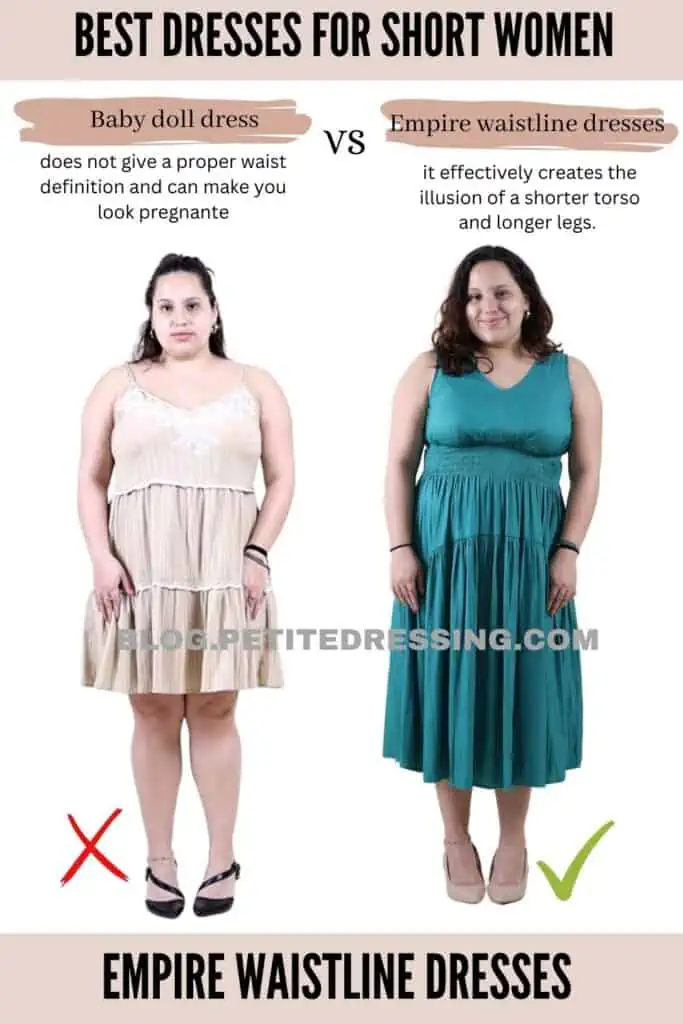 This is a genius design that is critical to flatter petites.
As you can see on Bianca, a high waistline followed by the skirt of the dress will create a perfect illusion of length and will help to camouflage your midsection or bottom if that is your concern (if you are a petite woman with an apple or pear shape).
For instance, petite apple shape women may be self-conscious about their midriff and do not want people to notice their stomachs, the best dress for them is a petite skater dress with an empire waist design. The Juliana dress is a perfect example. Because the waistline is elevated and the flare starts just a little under the bust line, it completely camouflages the stomach area.
Needless to say, since the elevated waistline is above your natural waist, it makes your bottom half look longer and optimizes your body ratio to the maximum.
Belted dresses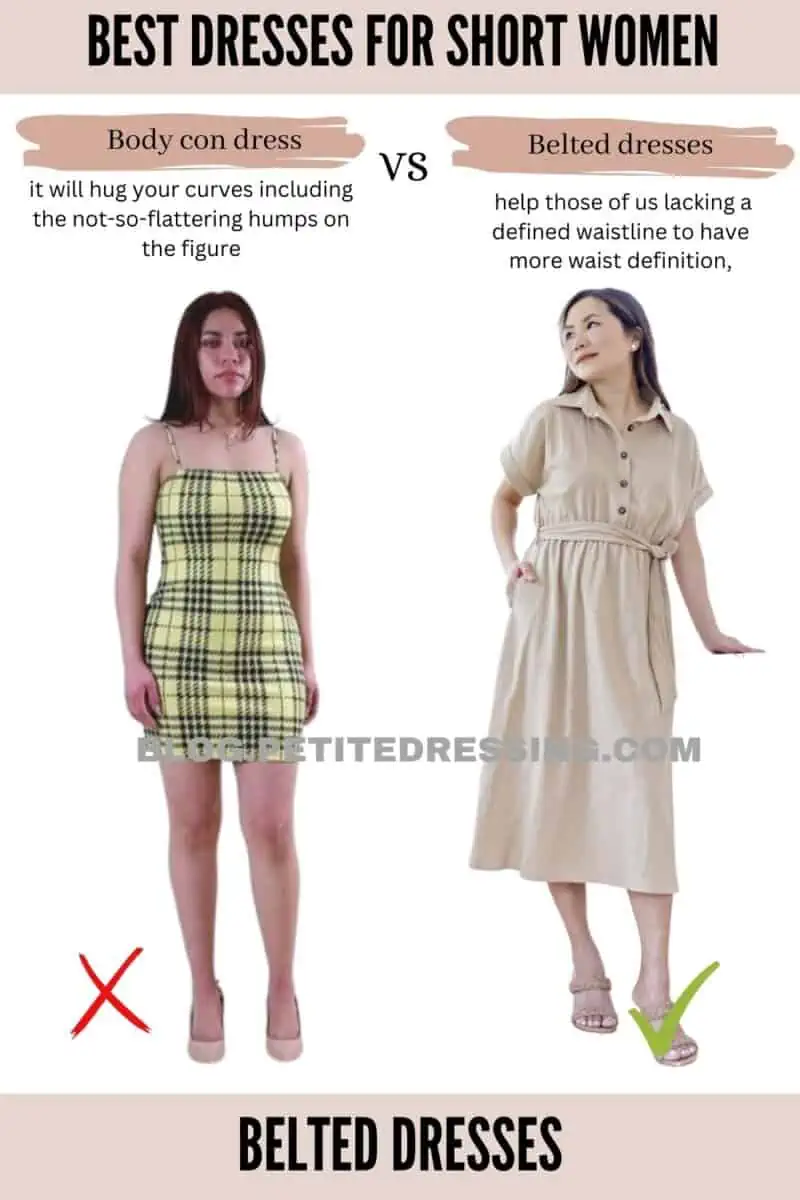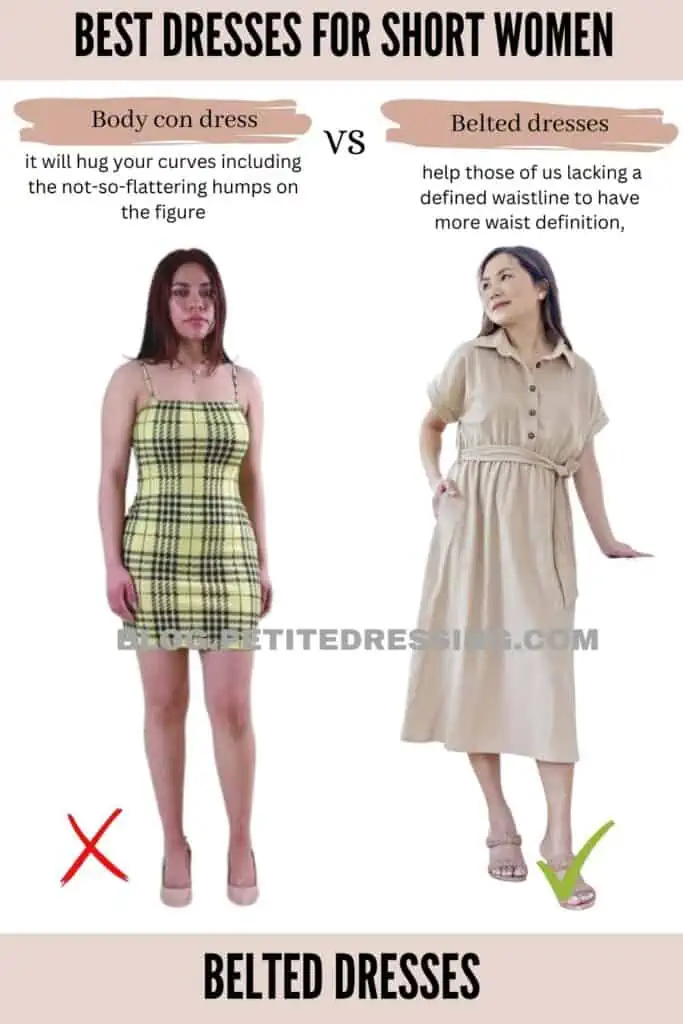 Speaking of best petite dresses, I must mention dresses with a belt is high on our list.
Why?
A belt can totally change the perceived ratio of your body.
The reason I call it the "perceived" ratio is that we are all born with a natural leg ratio and torso ratio, but we can change that through what we wear.
Ever heard of rule of thirds and the golden mean ratio?
Our body ratio looks the best when it is divided by the thirds instead of halves or quarters.
That is a universal law applicable to all height, and it is especially critical to us short women. We can totally use this rule to improve our body proportion and elongate our legs. See petite blogger Stefanie (5'3″) in our belted LBD.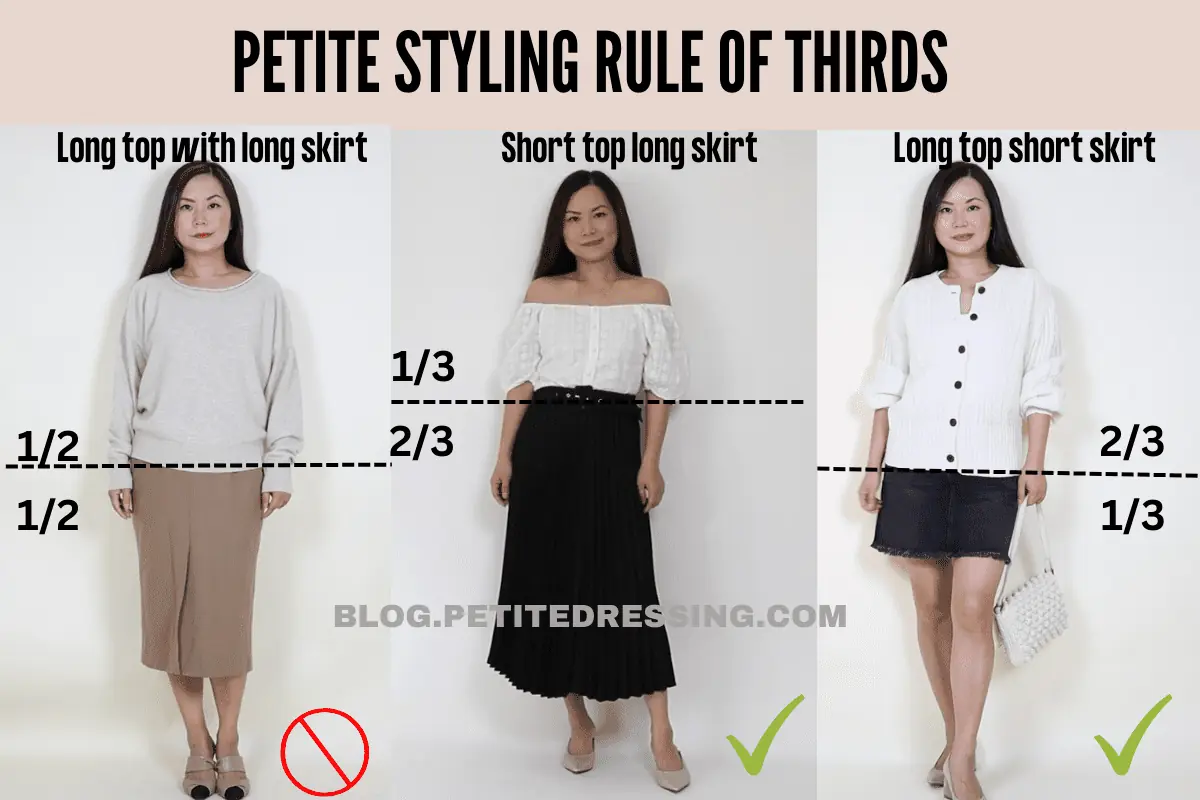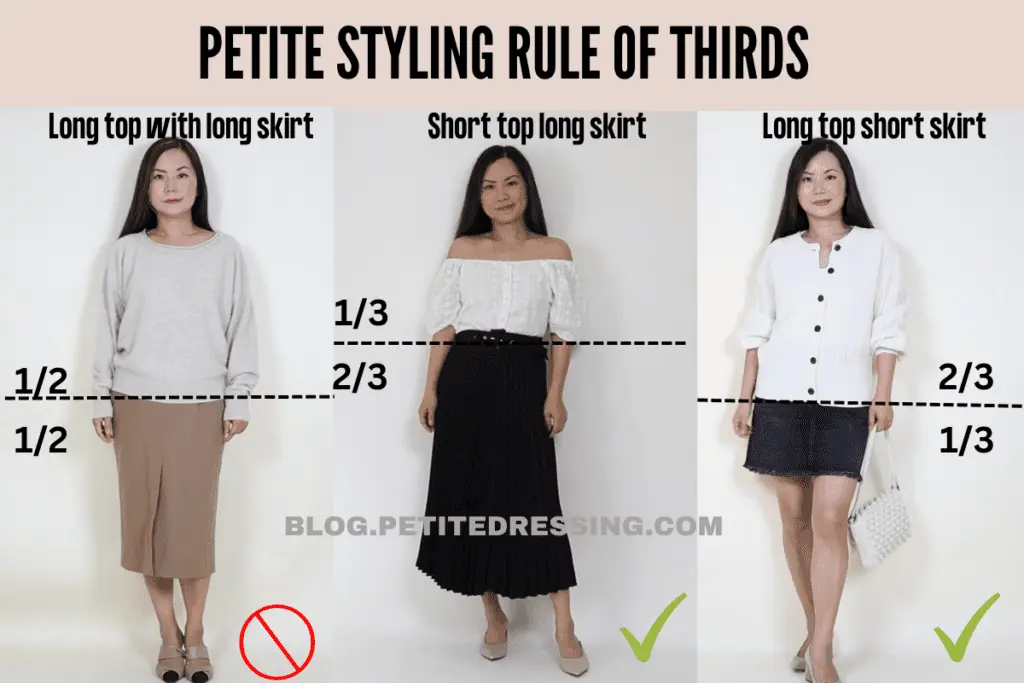 That is when a belt can come into play.
The key is to make sure the belt is positioned high enough to make your torso look shorter and your legs look longer.
Ideally, your torso should look like 1/3 of your body and your legs 2/3. The best color of the belt is one to blend with your dress.
That way will avoid making your body look cut in half while still adding subtle texture and interesting dimension to your outfit.
Dresses with a belt also help those of us lacking a defined waistline to have more waist definition, such as the petite rectangle shape or petite apple body type.
Maxi dresses
Are you surprised if I tell you maxi dresses are on our list of best dresses for short girls?
Sure, most stylists advise us to go with short skirts, because that is the most logical way to make our legs look longer.
That is true to some degree.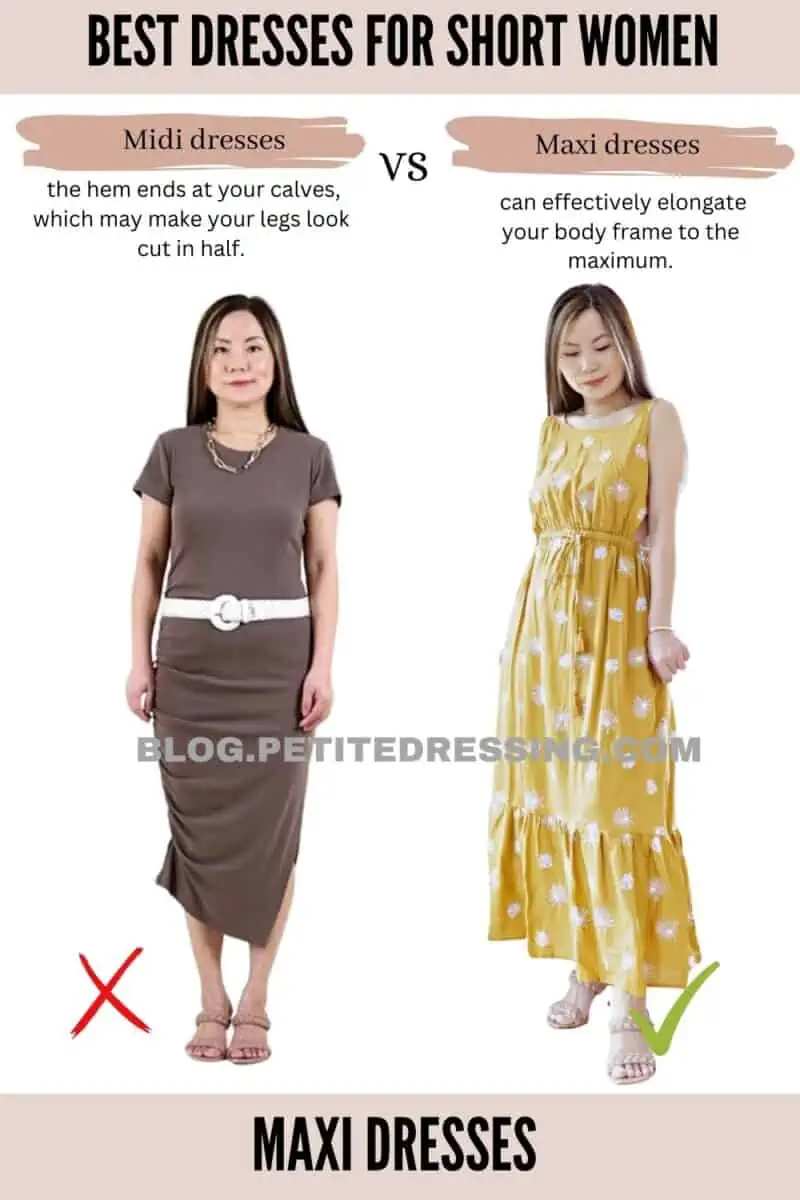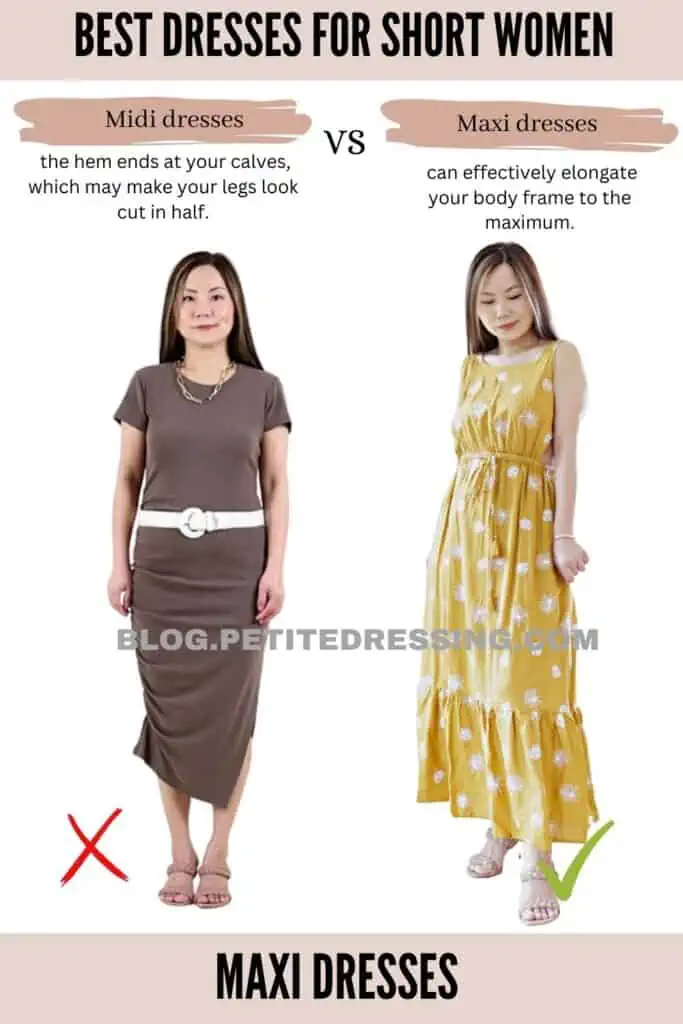 Wearing short dresses above or at the knee is one of the most obvious ways to lengthen our legs and look taller than we are.
However, wearing a long dress is another way of effectively extending our frame and thus could be very flattering to petite girls.
So why would it look good on short girls?
The reason is creating length in our outfit is one of the key factors in styling short girls, which can be achieved through creating a column of colors.
Because of its continuous color and pattern, a maxi dress can effectively elongate your body frame to the maximum.
Therefore, wearing a maxi dress the right way will actually make a short girl look taller. In fact, a maxi dress is one of the Most Recommended Styles for Petite Women.
Picking out the best maxi dresses for short women involves choosing the right length (as a starter), the right fabric, and the right style.
Because of how much it covers your body, it is critical to find the right pattern that will not make you look drowning in fabrics. Otherwise, the wrong style can totally swamp you and make you appear shorter.
In general, smaller prints or solid colors are great for women under 5'4″ to avoid the look that the dress is wearing you. Of course, there is no cut and dry answer to what is considered smaller print and what is not. It is all relative, and the important thing is to keep them in scale to your body.
If you are petite and skinny, go with tiny prints. On the other hand, if you are short and curvy, prints too small might make you look bulkier than you are. Read our detail guide "how to wear maxi dresses if you are short".
Lacey dresses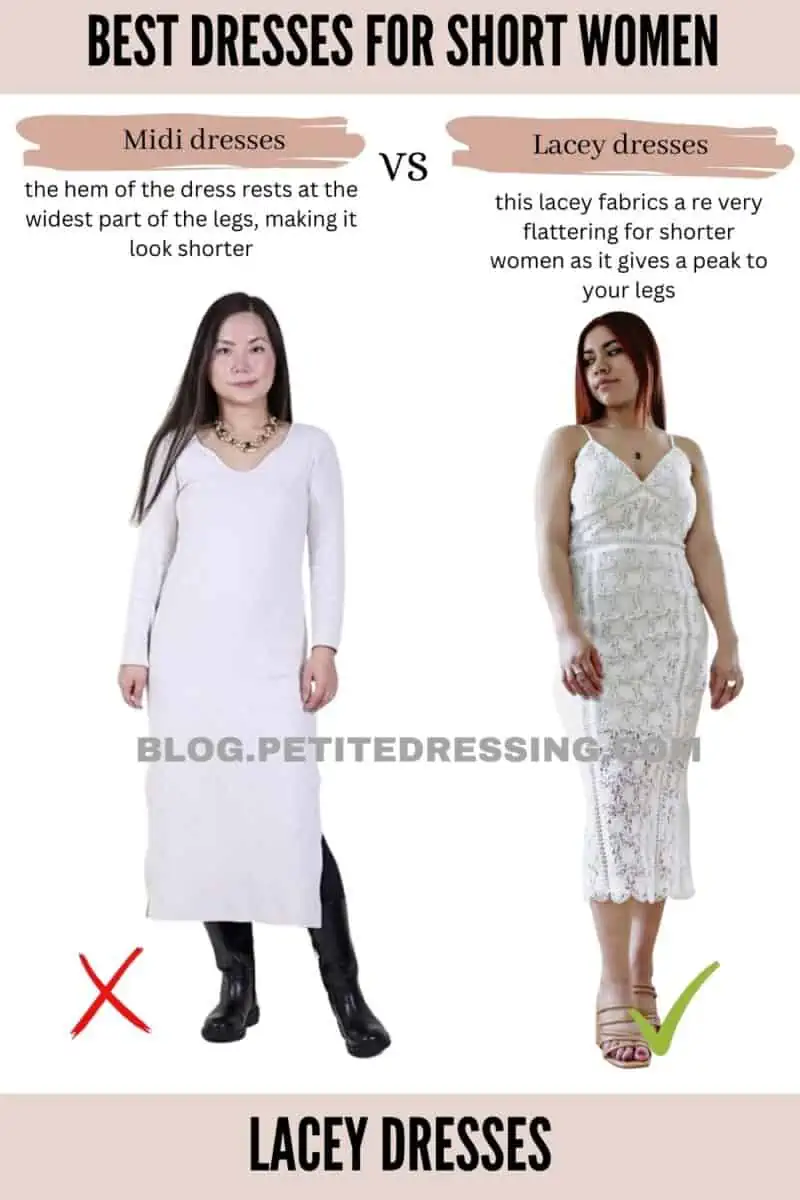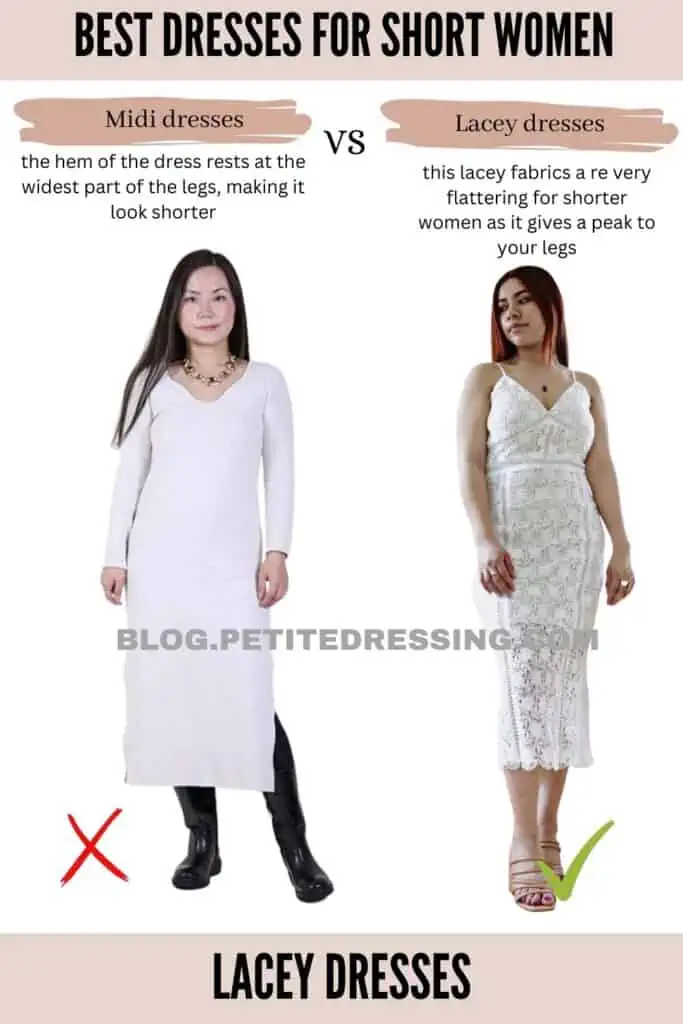 Dresses made from airy fabrics such as laces are very flattering for shorter women.
I was wearing this dress in this picture. Normally I do not recommend petites to go with midi length. The reason midi dresses hardly make it to our list of best choices for Petites is that the hem ends at your calves, which may make your legs look cut in half. While I have to say the length of midi dresses is the most challenging to pull off to short girls (a lot harder than either mini dresses or maxi dresses), it doesn't necessarily mean you have to stay away from them altogether.
The above dress is flattering because lacey fabrics can give the eye a "peek" into your legs way above the hem of the dress, thus making sure your legs do not look cut-off.
Dresses with Slits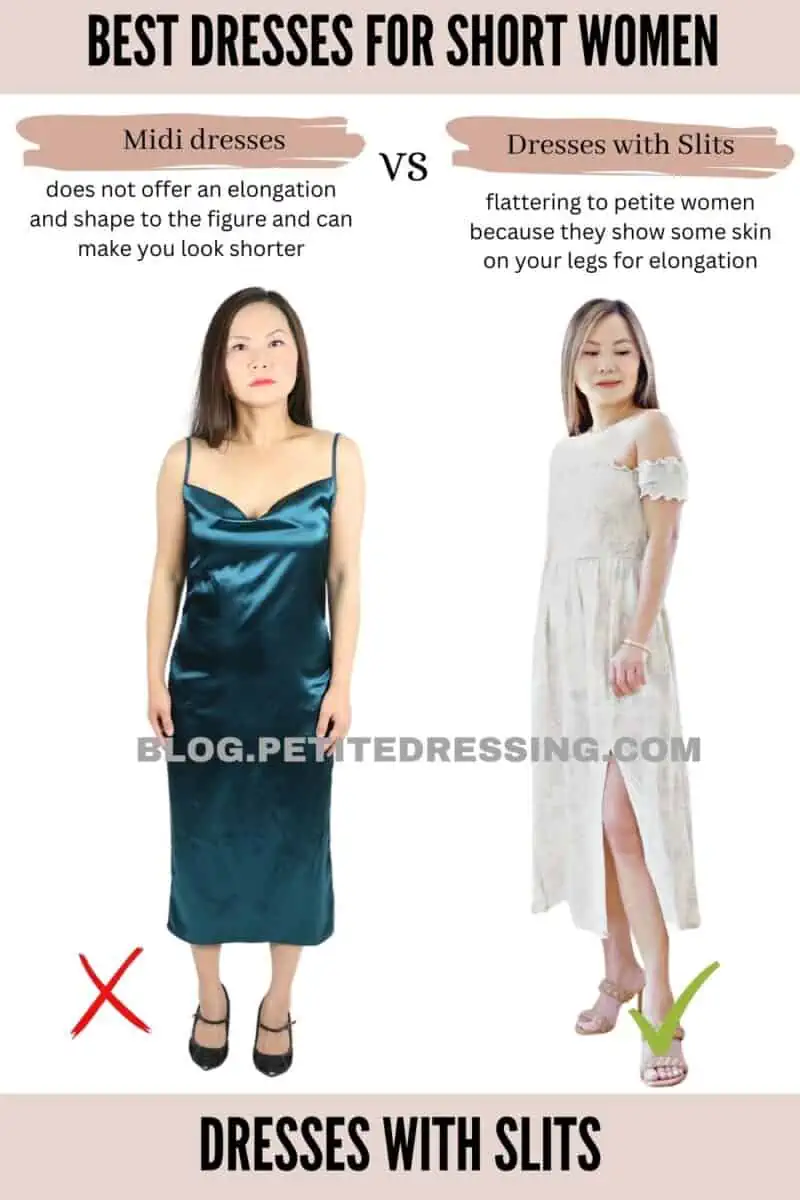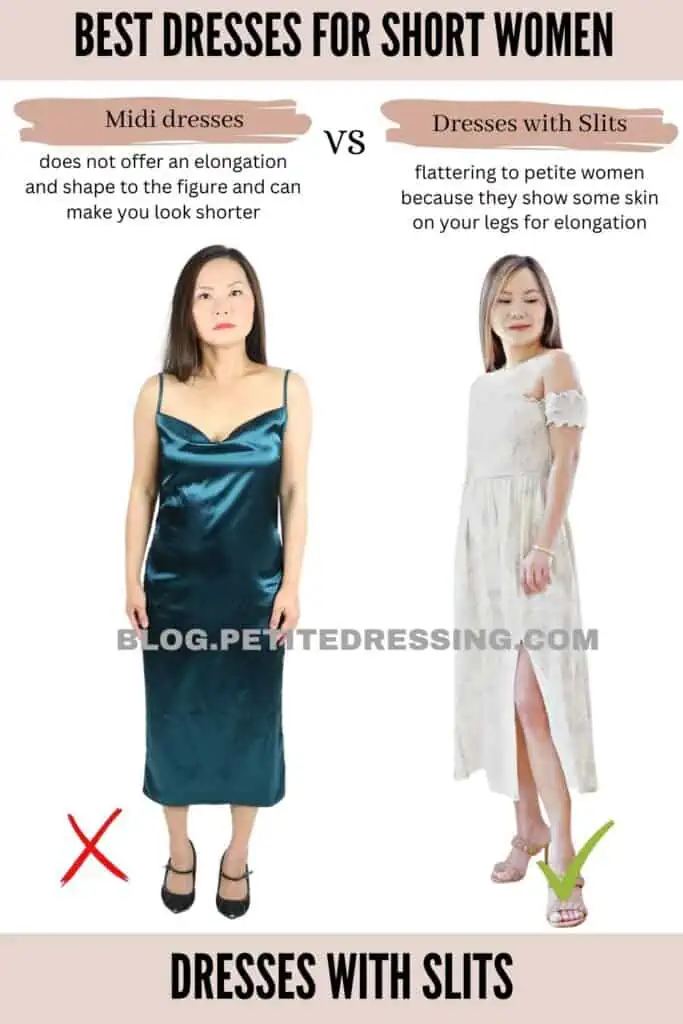 Dresses with slide slits are also flattering to petite women because they show some skin on your legs, especially when you are walking or sitting down, which compromises the drawbacks of midi dresses.
Finding the right dresses for petite women is not easy, and a lot of times it depends on your personal preferences.
Petite women come in all different shapes and sizes, and there are hardly any set rules on something that absolutely will look good or bad on you. Fashion is what each of us uses to express our own individuality.
Vertically inspired dresses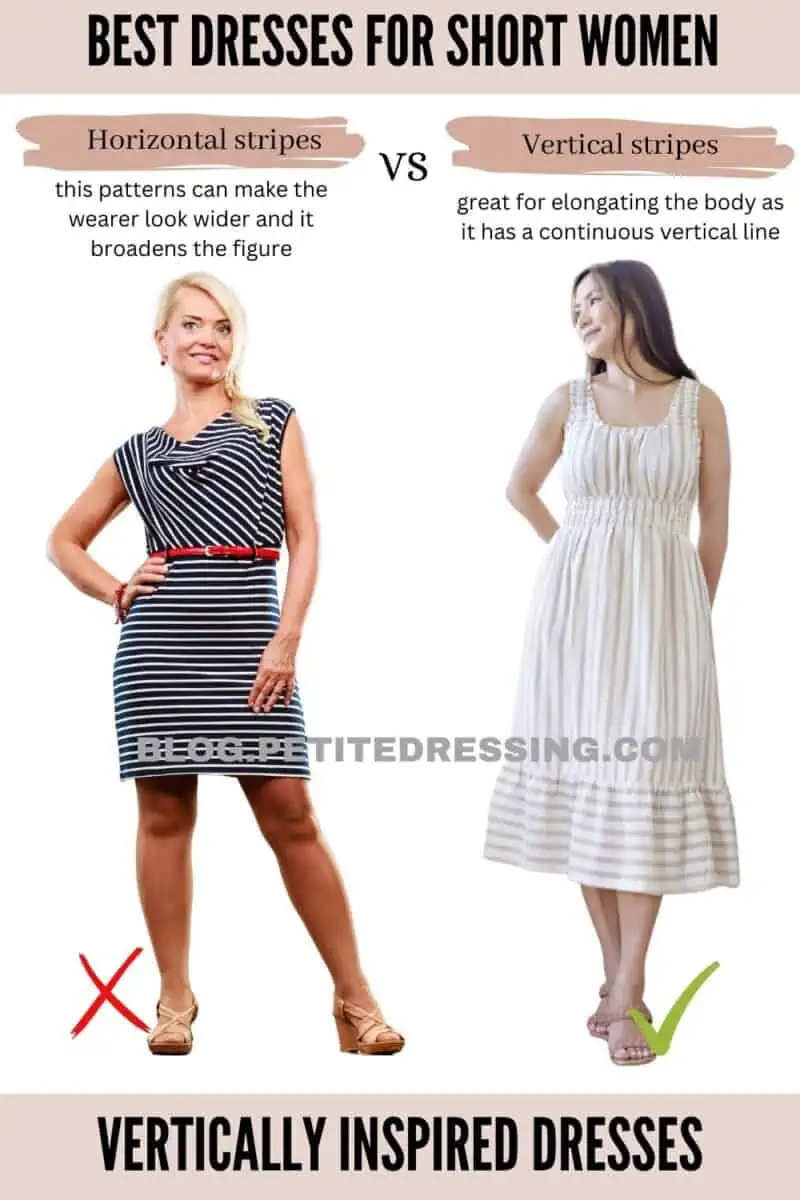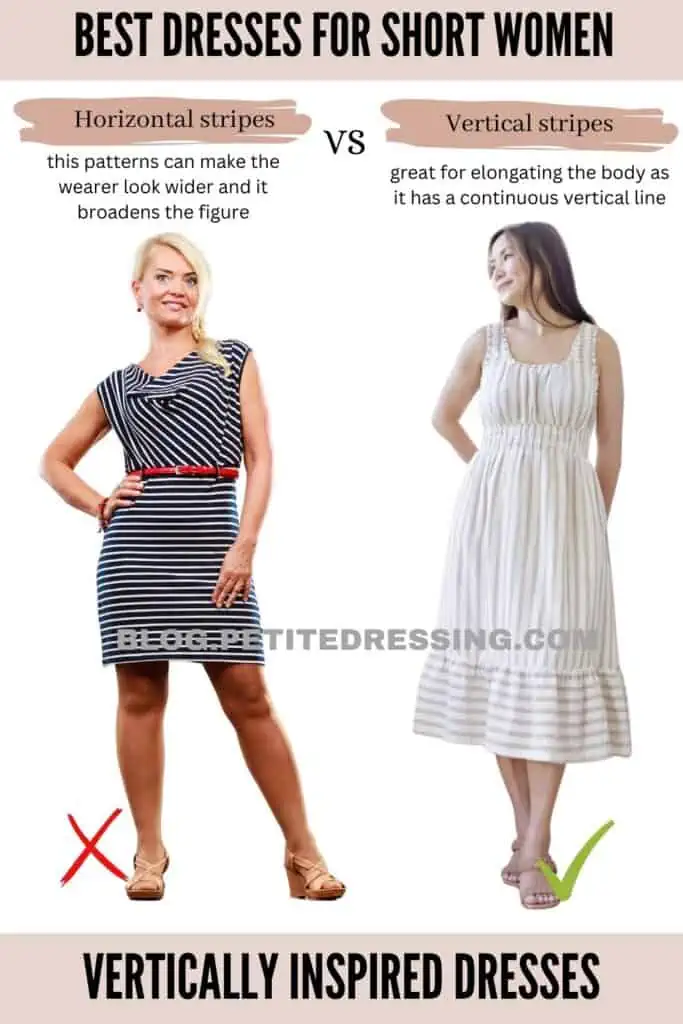 Dresses with vertical patterns or vertical designs are tried and true most flattering dresses for short women as well. Short women need to create length in what they wear in order to look longer and taller, and the most obvious way is to go with vertical patterns and designs. Stripes are the easiest choice of vertical prints. If you have a small body frame, going with something subtle is better than something loud and busy.
Since we are on the topic of what dresses look the best for short women, we should also talk about what doesn't work for Petites.
The key is to create a continuously long and unbroken line of your outfit and avoid horizontal lines. In general, petite women should look for form-fitting silhouettes and stay away from bulky, busy, and complicated designs. Anything that is too loose or too puffy will probably make you look overwhelmed by the dress and that is what you should avoid wearing.