Wearing a swimsuit when you are older than 40 can sometimes be difficult, especially if you have any insecurities with your body. But there are plenty of options available that will be extremely flattering.
A swimsuit should make you feel confident and supported so that you can focus on other things, like swimming or having a lovely vacation. This guide will help you discover what kind of suit will be best for you and your comfort.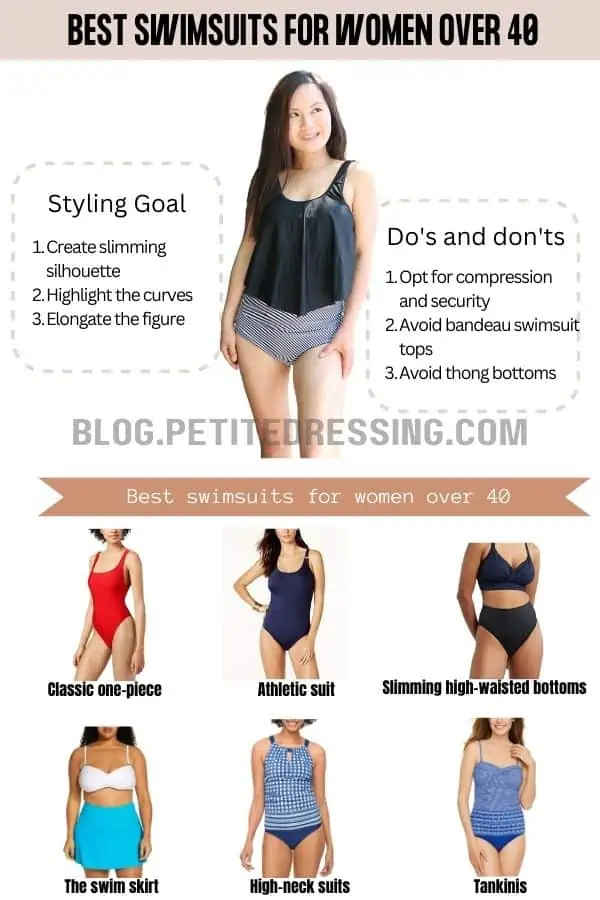 Classic one-piece
A one-piece swimsuit will give you a great amount of coverage. This style will be easy to throw on, and you can make sure your chest is well-supported as well.
One-piece suits will allow you to cover your stomach completely. If you are insecure about your sides, back, bottom, or chest, you can make sure that they are all concealed with this suit style.
This type of swimsuit will hug tightly to your curves since it is completely form-fitting. But you can find different cuts and shapes to create a preferred silhouette. For example, if you are confident with your back, you can get a one-piece that has a cutout on the back so that more attention is drawn to that area.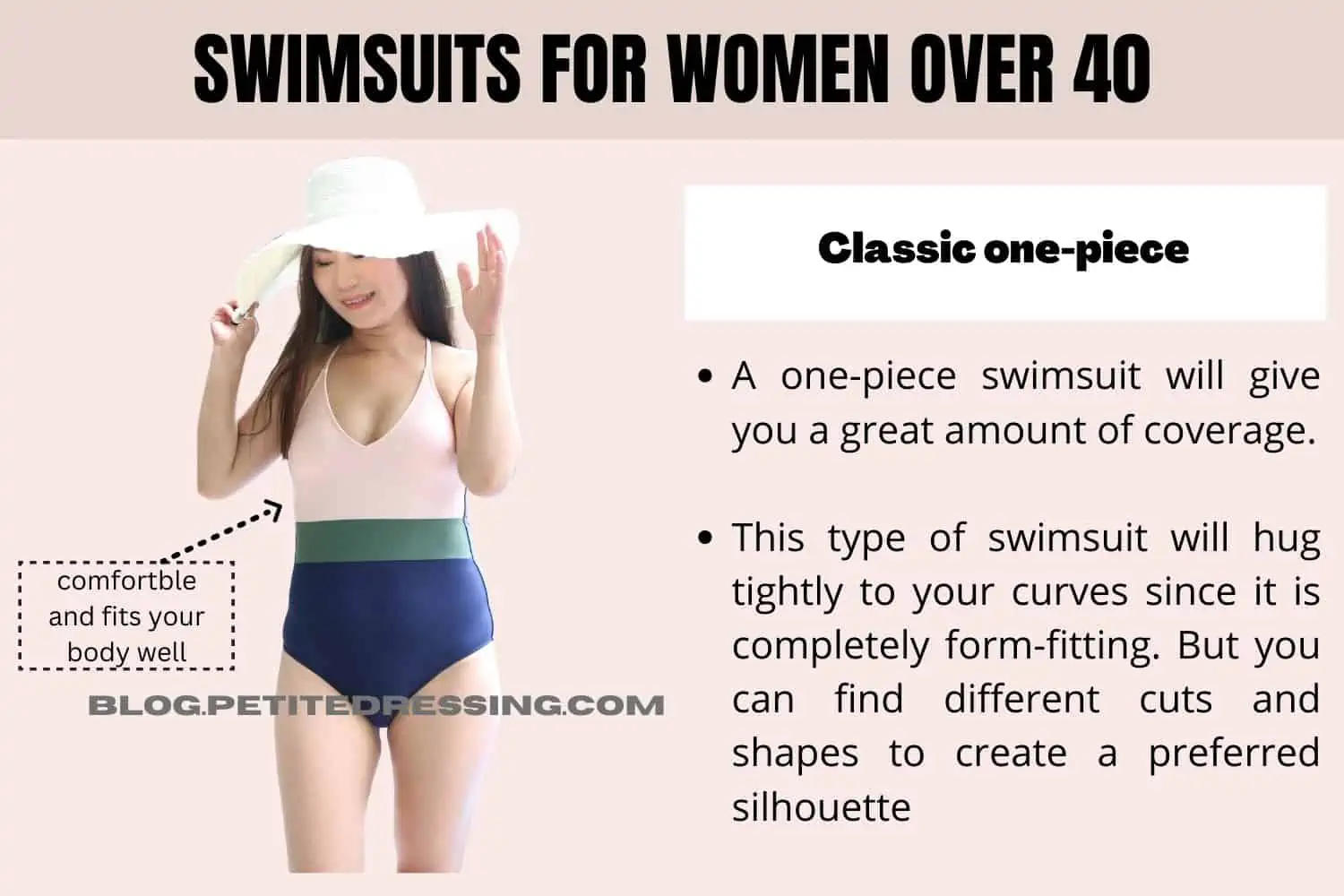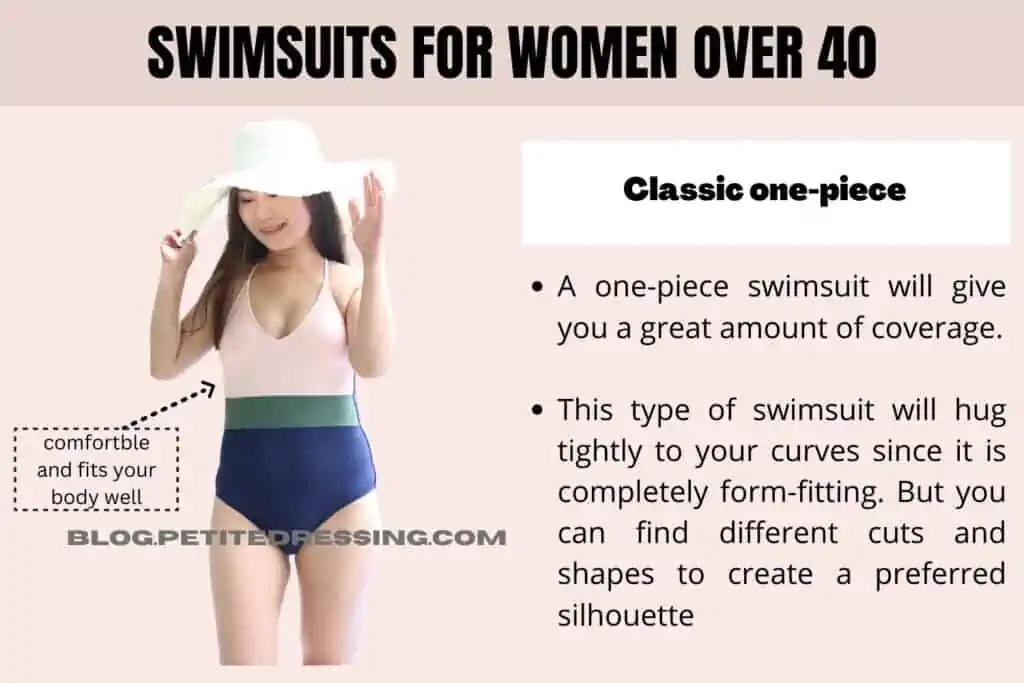 Athletic suit
There are suits made specifically for athletic purposes. They are made to compress your body and hold every bit of you in so that your own body does not get in the way of any activities.
This type of suit is made for high endurance, and you can count on the fabric to be very sturdy and dependable. If you find yourself more on the adventurous side and need a suit for more extreme occasions, you will want an athletic suit.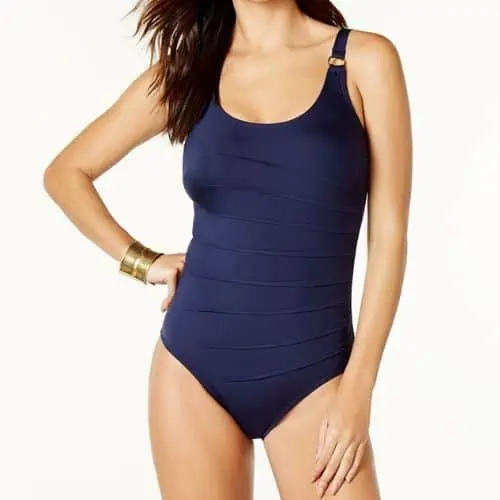 Why opt for athletic suits
Compression and security are the two main reasons why this type of suit is an excellent choice for women over 40 who want a suit that they can always depend on.
Slimming high-waisted bottoms
Anytime you wear bottoms that are high-waisted, you get to create a slimming silhouette with those bottoms. When the waistline is placed at the smallest part of your waist, the clothing will make your hips appear wider. This effect will make your waist appear much slimmer.
High-waisted bottoms also provide some tummy control if you can find the right fit for you. As you get older, you will likely have more stretch marks and cellulite on your body. If you want to cover those up, high-waisted bottoms provide a solid amount of coverage.
You can also utilize patterns and different cutouts to bring more attention to your hips or other areas. This works especially well if you want your stomach to be less noticeable.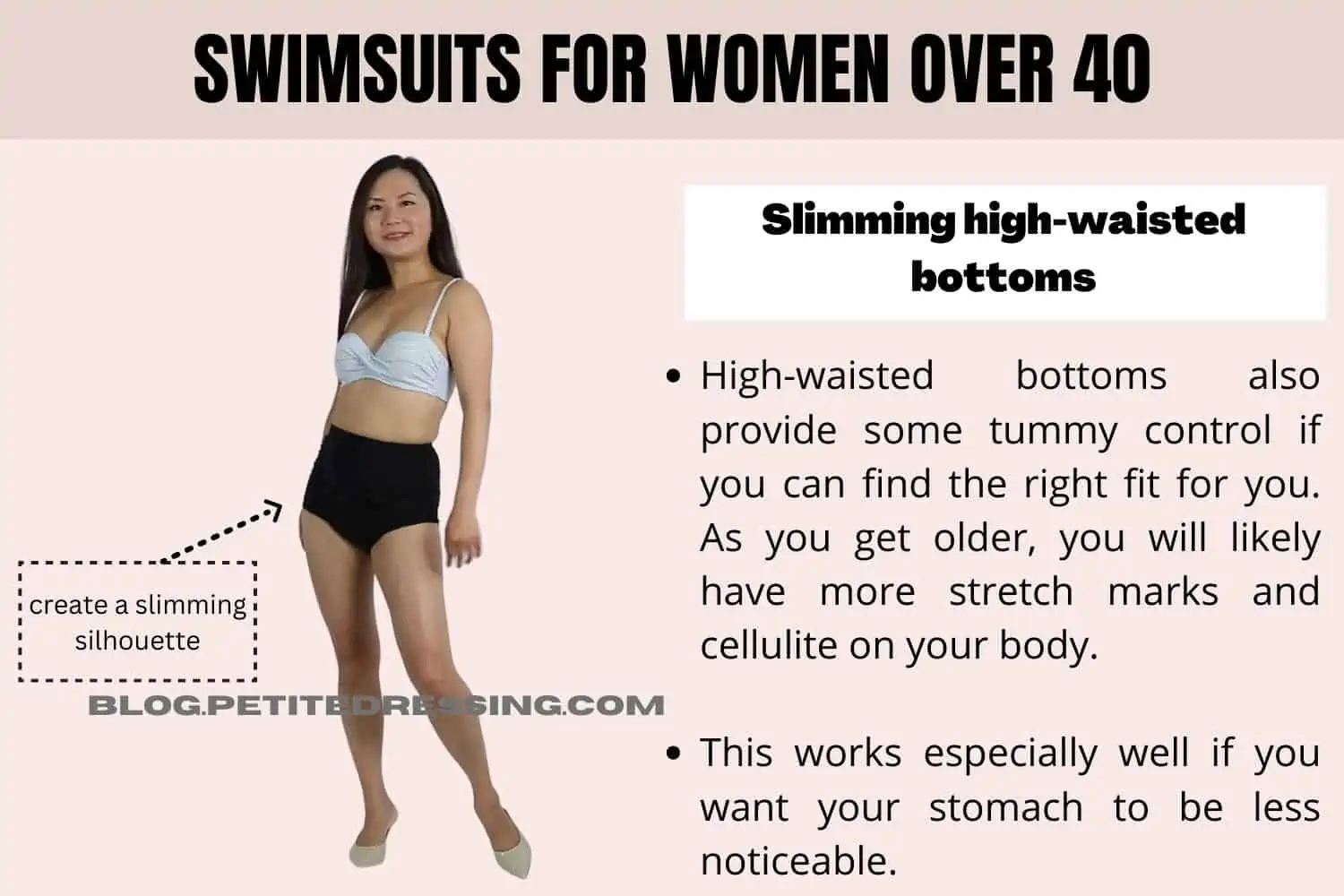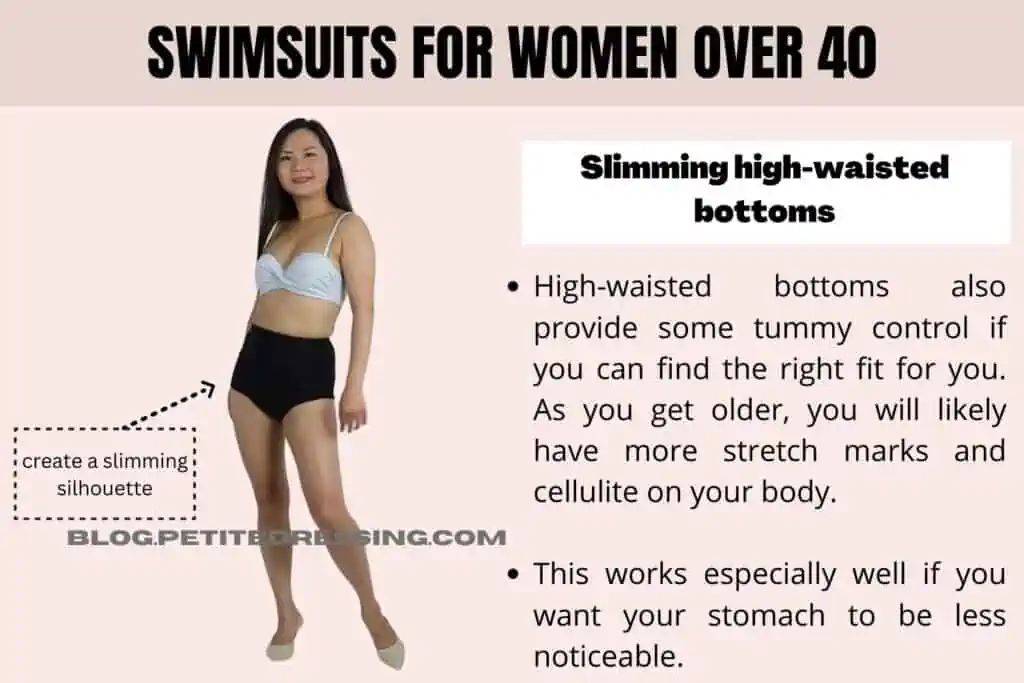 The swim skirt
Swim skirts are a very feminine and classy way to increase coverage all while wearing a chic skirt for your swimsuit.
Swim skirts are ideal for coverage of cellulite and stretch marks. The extra panel of fabric in the front hides your tummy. Depending on the length of the skirt you get, you can hide as much of your thighs as you desire.
If you want to be a little less modest while still covering up any insecurities, you can find swim skirts that will have a slit on one side so that you can still show off a part of your upper thigh.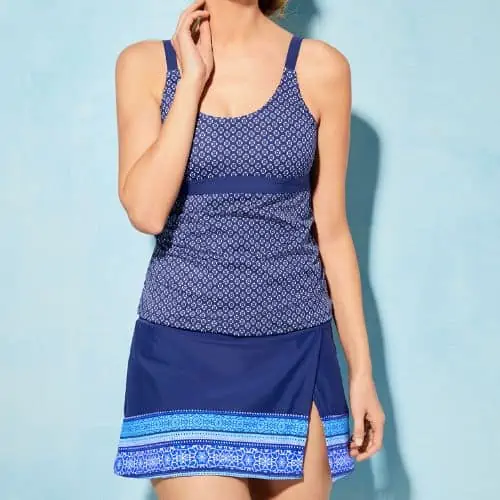 Swim skirts are a must-have, here's why
These skirts are commonly made with an A-line shape, which will also help you craft a more flattering silhouette.
When the suit gets wet, it will still cling tightly to your body, but the extra fabric will still be helpful in concealing insecurities you may have with the lower half of your body.
High-neck suits
Swimsuits are not always known to be supportive when it comes to the chest area. Most swimsuit tops are made cheaply with small patches of fabric that do not do a good job of keeping everything in.
High-neck suits are ideal for keeping your chest covered and protected. The most popular style for a high-neck would be a halter top, which usually ties, clips, or zips around your neck. The fabric will completely cover your bust, so you don't have to worry about anything falling out.
As you get older, your skin gets more sensitive, especially under the sun's rays. You can protect the sensitive areas around your chest with this type of swimsuit in order to avoid any unnecessary damage to your skin.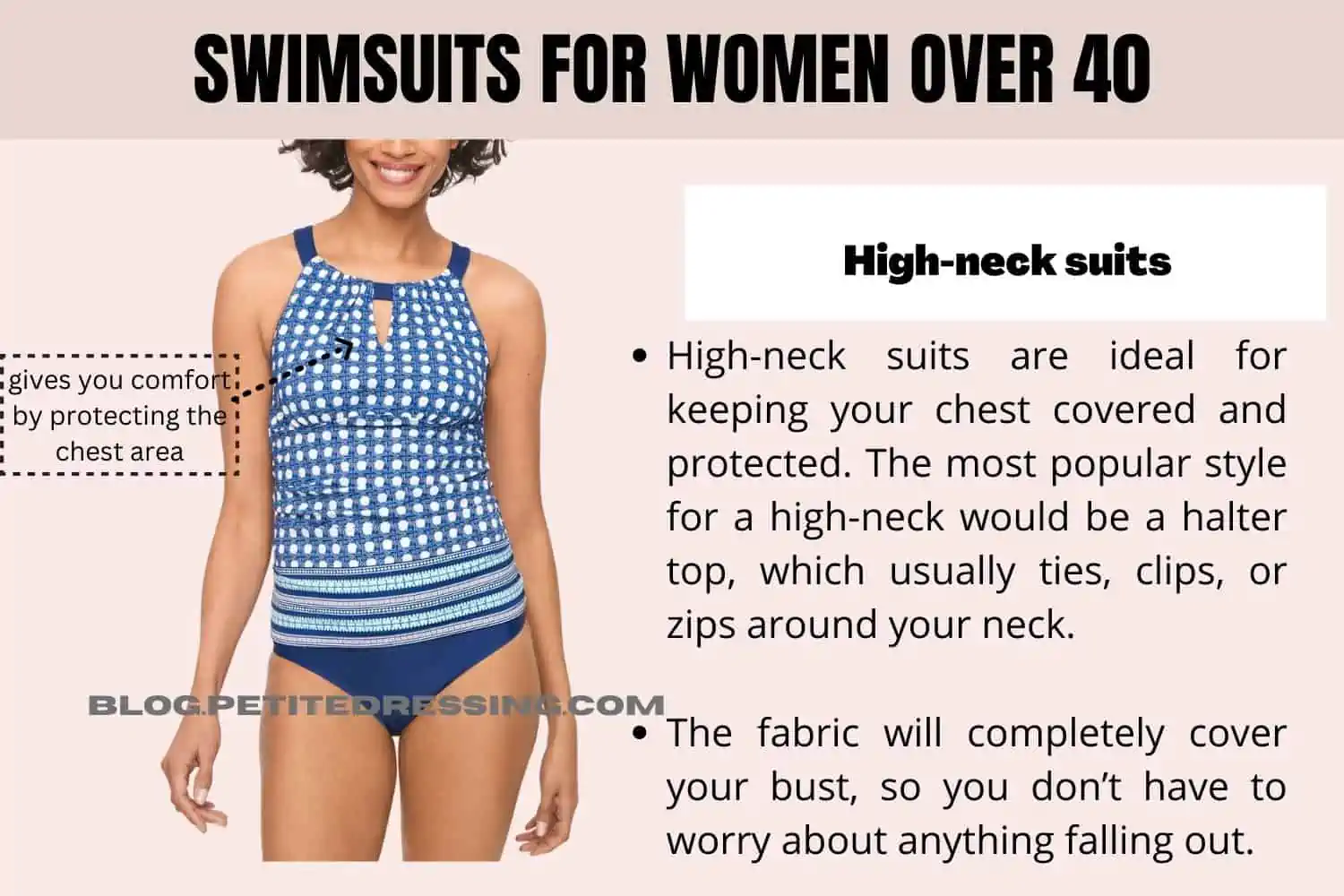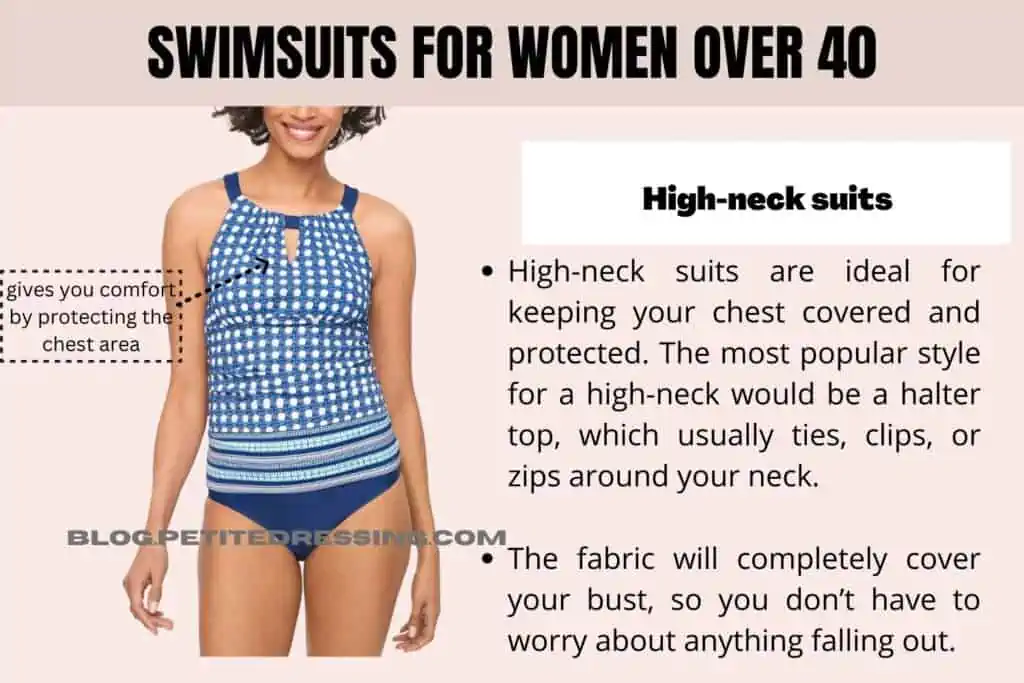 Tankinis
If you are looking for a modest solution for an ideal swimsuit, tankinis are an excellent choice. The tank top portion of a tankini completely covers your stomach. If you get a pair of high-waisted bottoms, they can be used for tummy control to conceal even more.
You can also find tank tops that are flowy so that they leave room for any bloating. The extra fabric provides more space for your body as it fluctuates.
With tankinis, you can mix and match different patterns and colors with the top and bottom. This gives you plenty of options for various textures and designs that will make you look as slim as possible.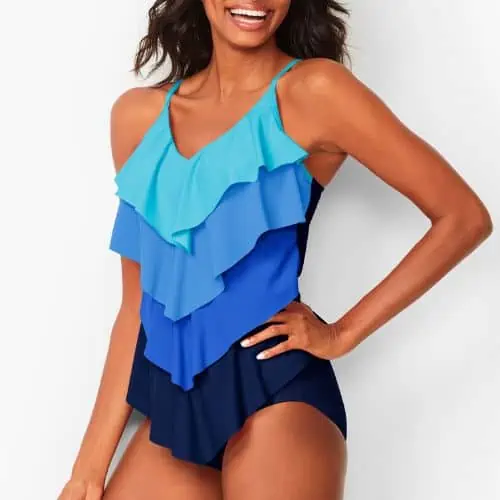 Tankinis are the best
Tankinis are universally flattering for women over 40
They provide security to battle against any concerns you may have.
Modest swim shorts
Swim shorts are very modest, and perfect for women who move around a lot in the water.
Depending on the length, swim shorts can completely cover your thighs and prevent any insecurities from showing. Swim shorts, depending on how high the waistline falls, can even create structuring to give more control over your stomach area.
Swim shorts are ideal for active women since they fit similarly to athletic biker shorts. This style of suit is great for long walks on the beach, high-endurance swims or playing some beach volleyball.
You won't have to worry about these suits falling down or creating any embarrassing moments since they are extremely form-fitting and secure.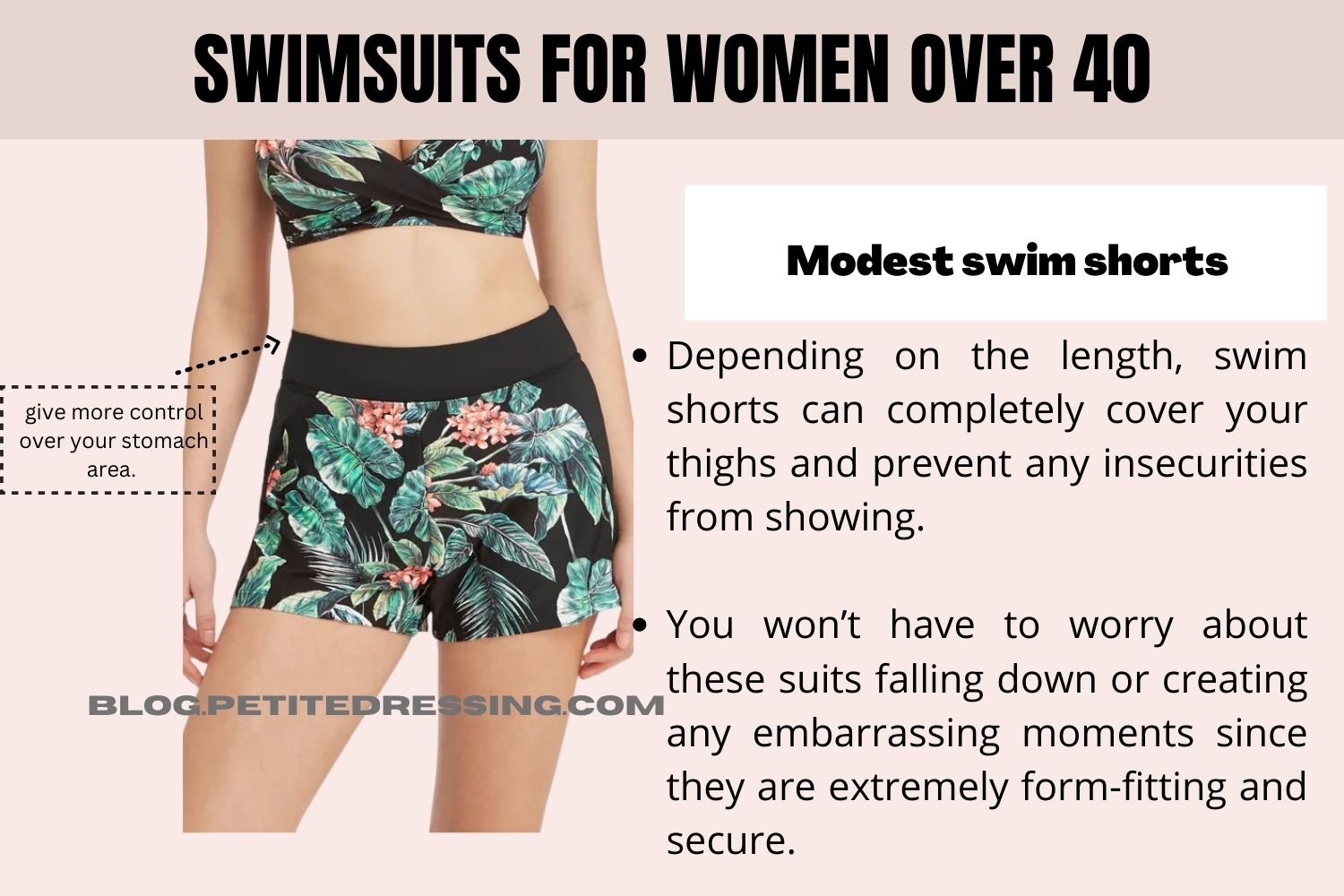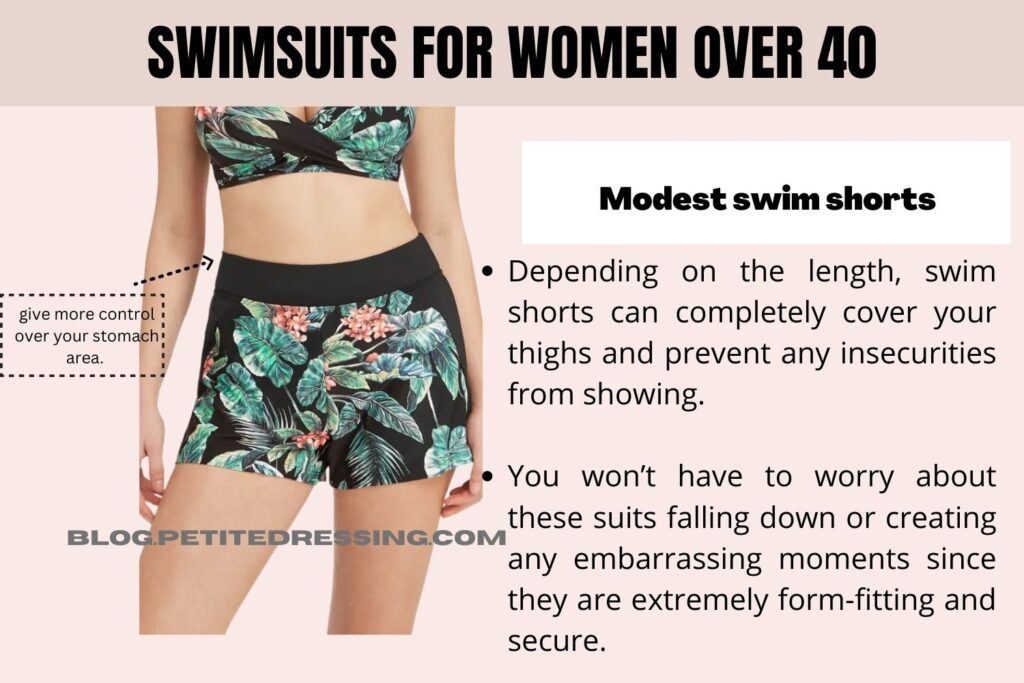 Swimdresses
You can find swim dresses that are long enough to cover up both your thighs and your stomach. The flare will provide plenty of fabric to keep any unwanted curves from showing.
The duality of providing plenty of coverage while also creating a feminine shape makes this an ideal swimsuit choice for women over 40.
If you are wanting to show some more thigh, you can find swim dresses that have a slit on one side. Most swim dresses will fall right at your upper thigh, but you can find longer ones if needed.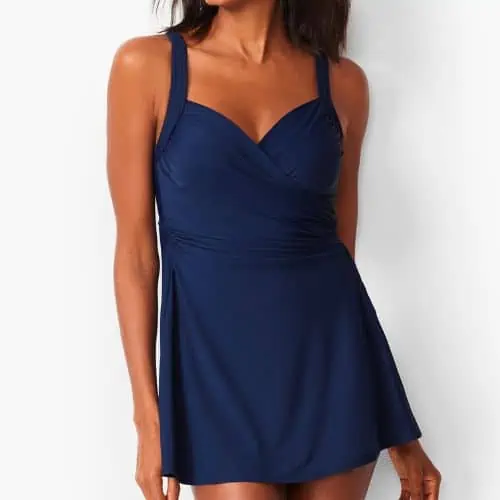 Swimdresses are flattering swimsuits
Swimdresses are perfect for women searching for a modest but flattering swimsuit.
Swimdresses are made to fit snugly around the smallest part of your waist and flare out, creating an hourglass silhouette.
Sleeves
As you grow older than 40, it can be difficult to keep your body in shape. If you feel insecure about your arms and any cellulite or stretch marks, sleeves are the perfect choice for you.
You can find compression sleeves that will give off the illusion that your arms are smaller than they are. You can also find shorter sleeves that are flowy that will completely conceal your arms and leave more to the imagination.
If you want to avoid long sleeves, you can find swimsuits that have ruffles on the straps that will help conceal the shoulders and armpit area, which may be where your insecurities are.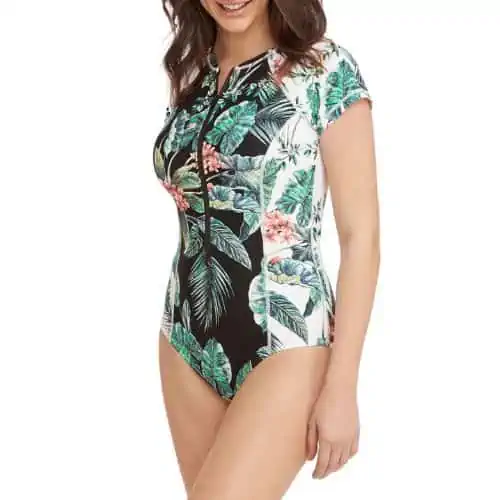 Benefits of using swimsuits with sleeves
You should be able to feel comfortable and ready to have a great day when you wear a swimsuit, so finding whatever works to make you feel your best is extremely important.
Avoid thong bottoms
Thong bottoms are extremely revealing and more popular amongst younger generations. Even if you may feel very confident with your bottom, thongs are not considered to be very flattering for women over the age of 40.
Thong bottoms are typically low-waisted and leave nothing to the imagination. They are usually made with very small pieces of fabric and provide no coverage. These types of bottoms are also very easily knocked down by ocean waves, which can create even less coverage.
This style of swimsuit bottom is seen as inappropriate for all and is barely considered a proper swimsuit. It is even more inappropriate to wear this type of suit if you are swimming in a public place where there are plenty of families and children since the style is very scandalous.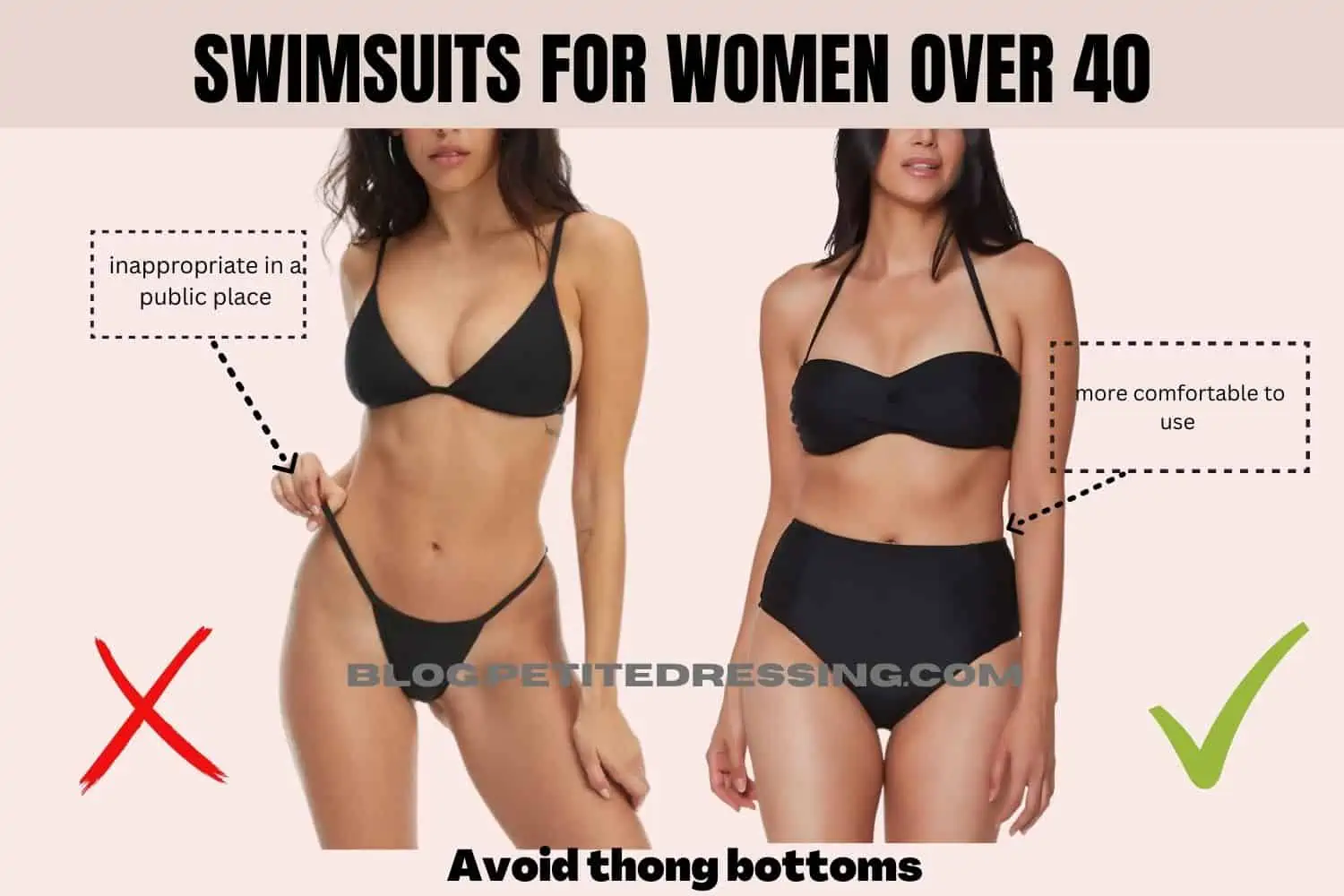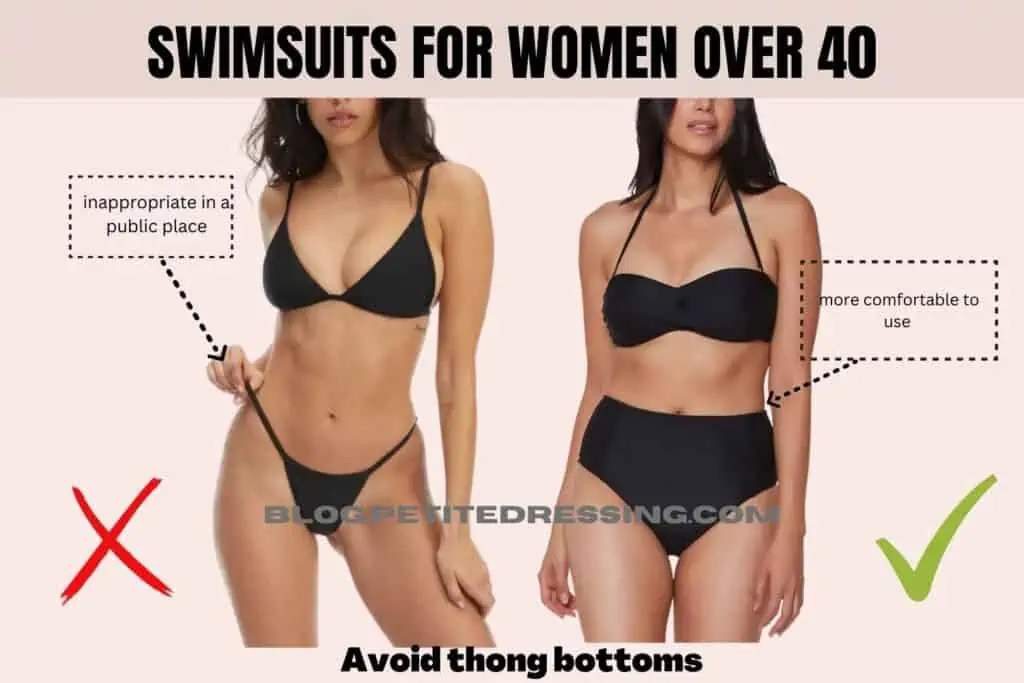 Avoid bandeau swimsuit tops
If you are a woman over the age of 40, you may notice that your breasts are not as perky as they once were. In order to keep them looking their best, you will want to find a swimsuit top that provides plenty of support.
Bandeau swimsuit tops will not give you the support or security that you need. Since they are strapless, the possibility that the top could fall down increases a lot.
There is nothing to keep this top on other than your chest, lack of movement, and a solid amount of luck. You probably don't want to have to continuously hike your top up in front of everyone countless times throughout the day.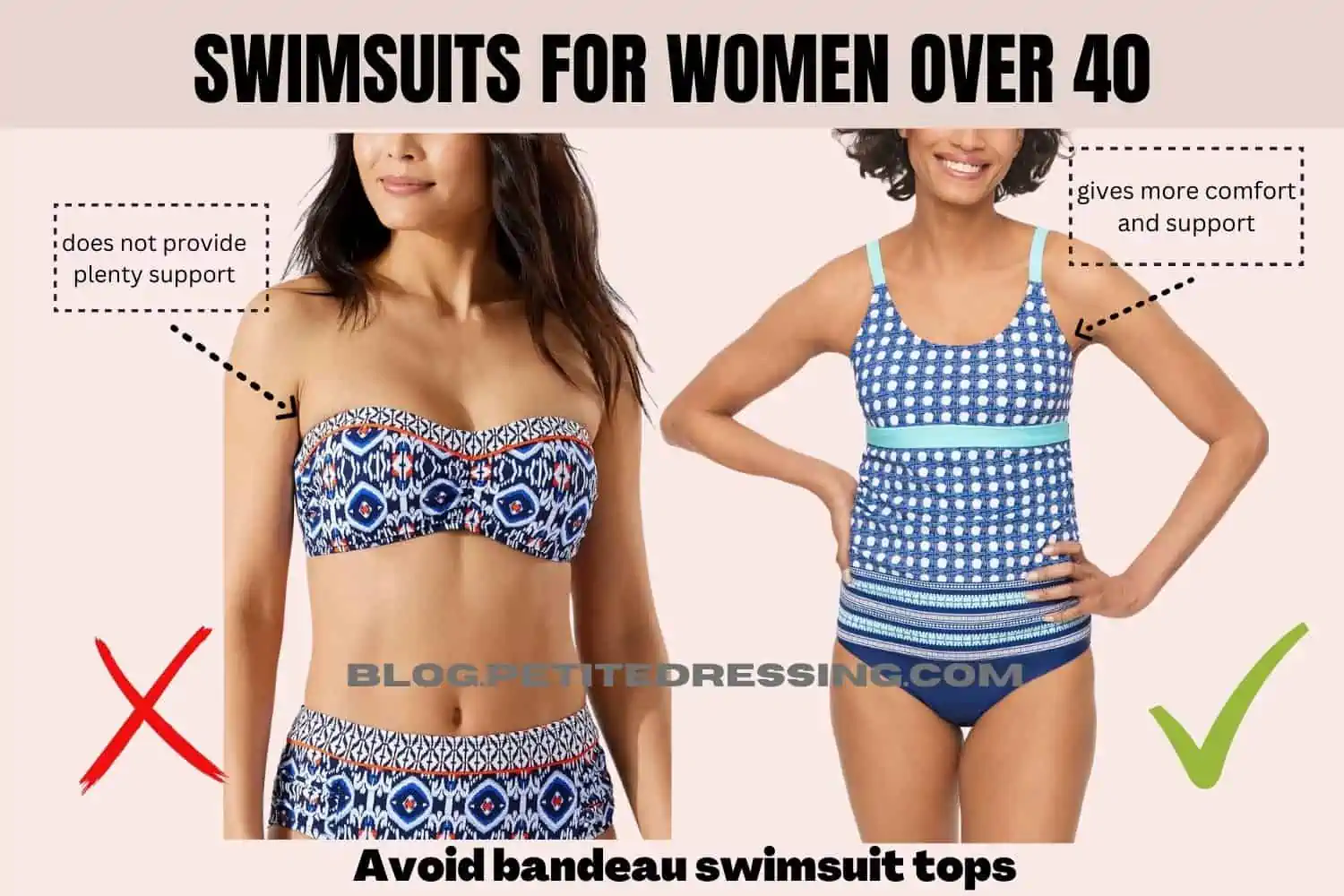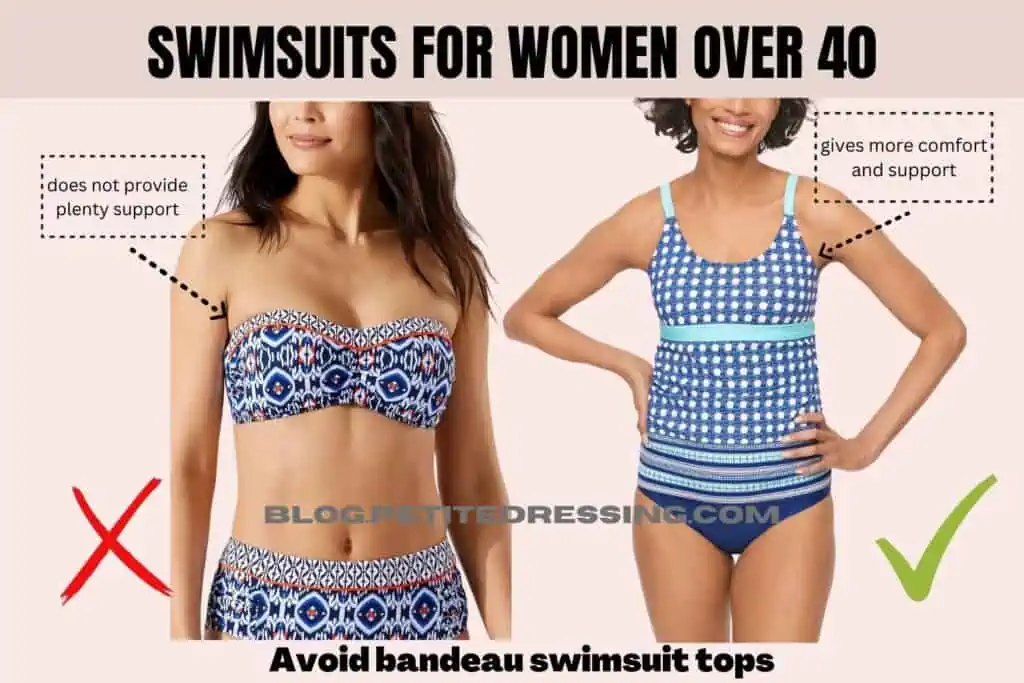 The straight neckline of a bandeau top is also incredibly unflattering. It squishes your breasts together and provides no other shaping or angling.