You may agree that choosing the right pair of jeans can be a daunting task, especially if you have short and thick legs. However, with the right tips and tricks, you can find the perfect pair that will flatter your body and make you feel confident in your shape.
While it's true that finding the perfect pair of jeans is an obvious challenge, the right style approach can make things more and more simple as you go. There are many different kinds of jeans out there that can efficiently flatter your short and thick legs effortlessly!
If you're currently looking to shop for more jeans, let us quickly walk you through different styling tips to make sure you make your jeans style work. Before going through the specific styles of jeans and everything else, let's briefly talk about what your styling goals should be.
Styling Goal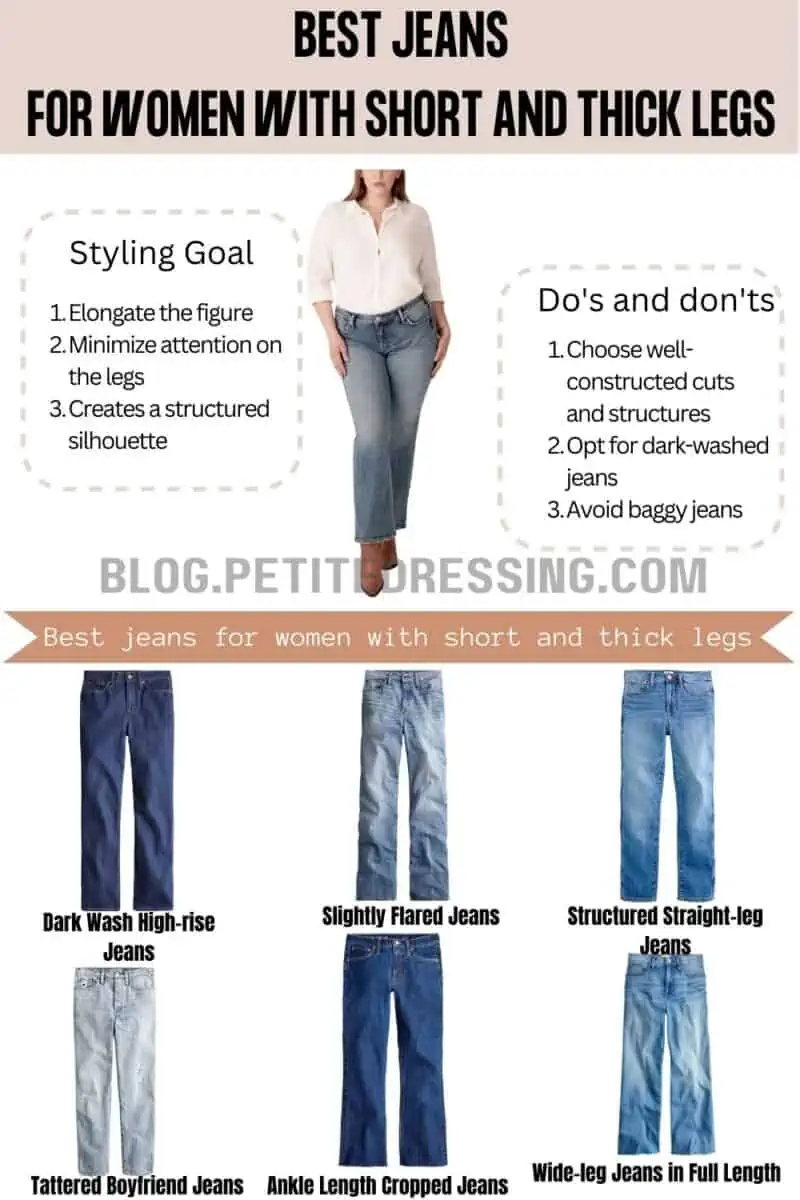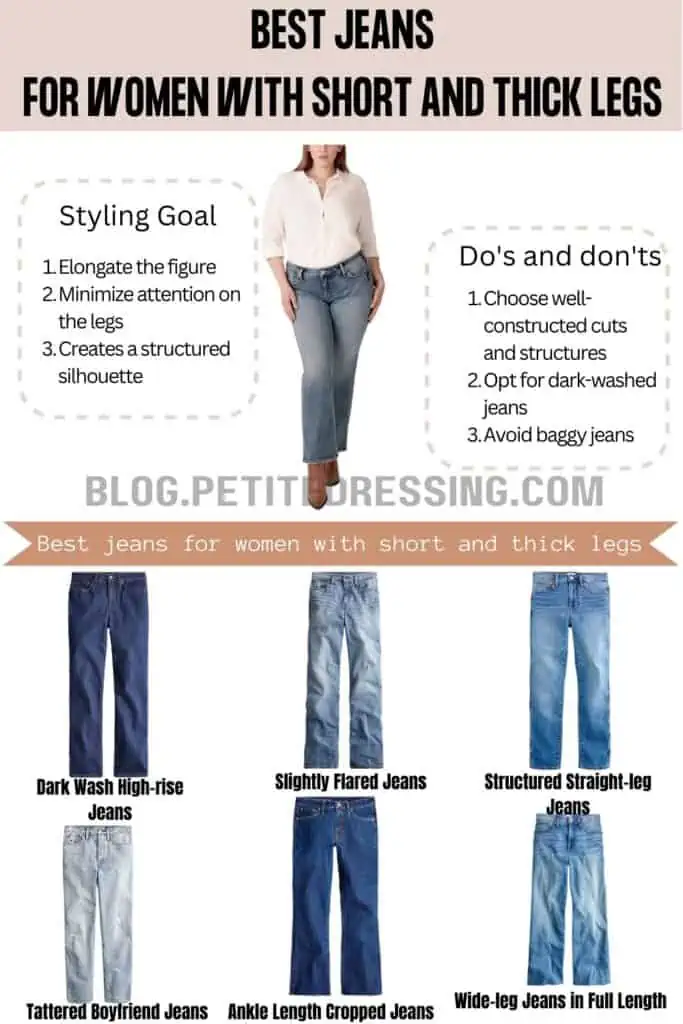 The right fit will make a whole lot of difference. For instance, if the fit is too loose then the jeans would make horizontal creases that will only add volume and wideness to your short and thick legs.
Choose well-constructed cuts and structures that feature figure-elongating effects to make your legs look longer and slimmer. Structures such as high-rise, wide-leg, or ankle-length jeans bring out the natural shape of your legs which is also a very efficient way to bring balance to your figure.
Dark-washed jeans should visually elongate the appearance of your legs. Dark colors in general have the ability to absorb light and therefore minimize the actual size of your legs to make them look slimmer.
These styling points aren't that difficult to remember and apply, are they? And now that we have briefly walked through them, let's dive into the specific styles of jeans that will look great on your short and thick legs.
Dark Wash High-rise Jeans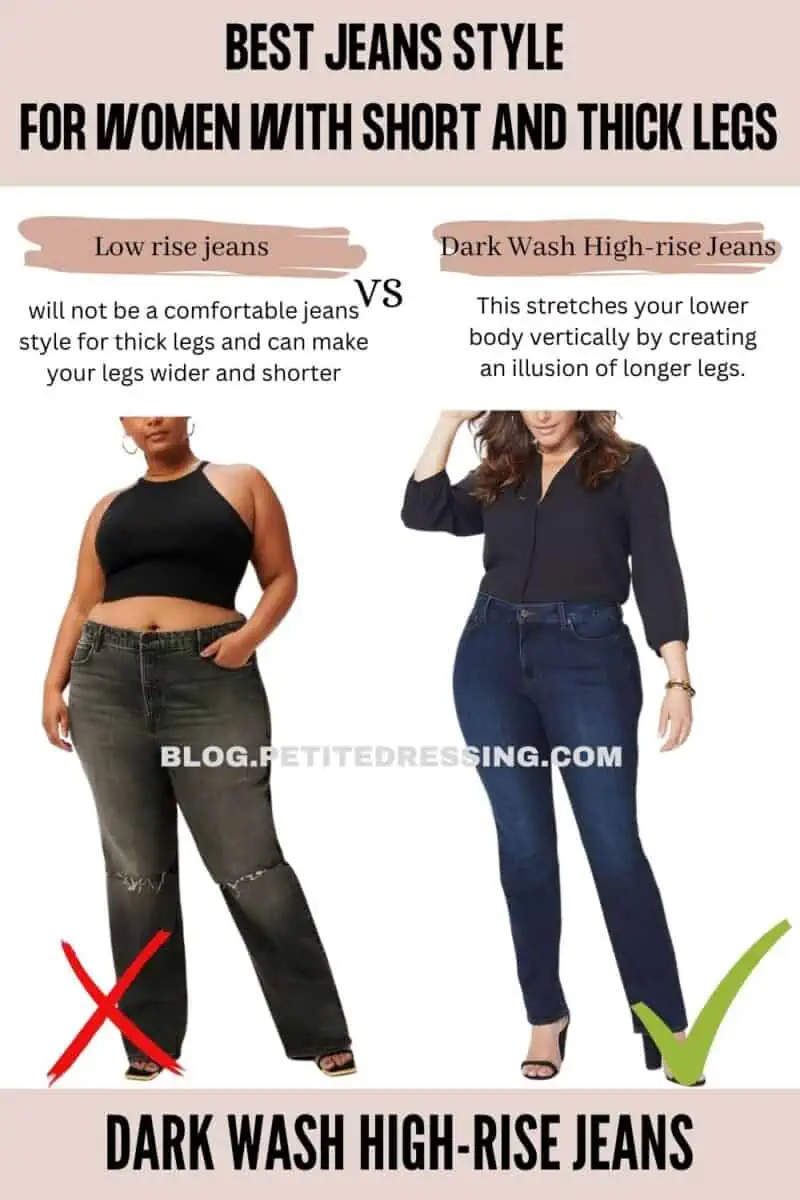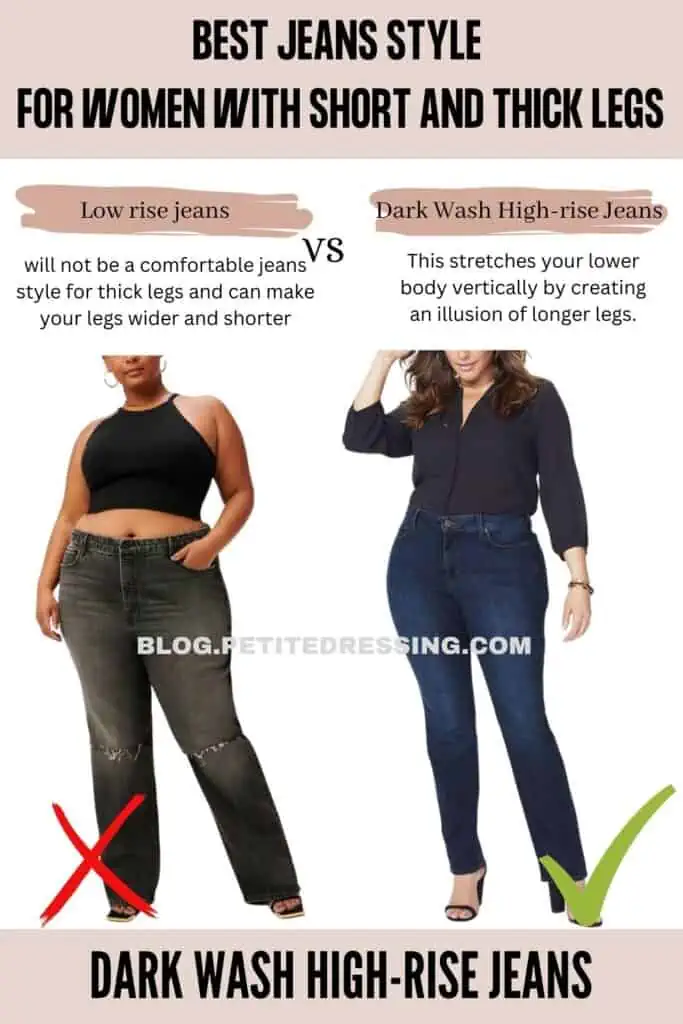 High-rise jeans will always be an ideal choice for women with short and thick legs because their waistband sits a little bit above the waist. This stretches your lower body vertically by creating an illusion of longer legs. 
Apart from the elongating effect that the deep color of the denim creates, dark wash jeans are also usually made with a structured and sometimes stretchy fabric that will skim through the legs and provide a comfortable and flattering fit. This dark shade omits shadows which can help smooth out any lumps and bumps, creating a more streamlined silhouette.
Dark wash high-rise jeans can also be styled in a variety of ways to flatter short and thick legs. They are quite versatile and the dark shade can be easily paired with most top styles. 
Slightly Flared Jeans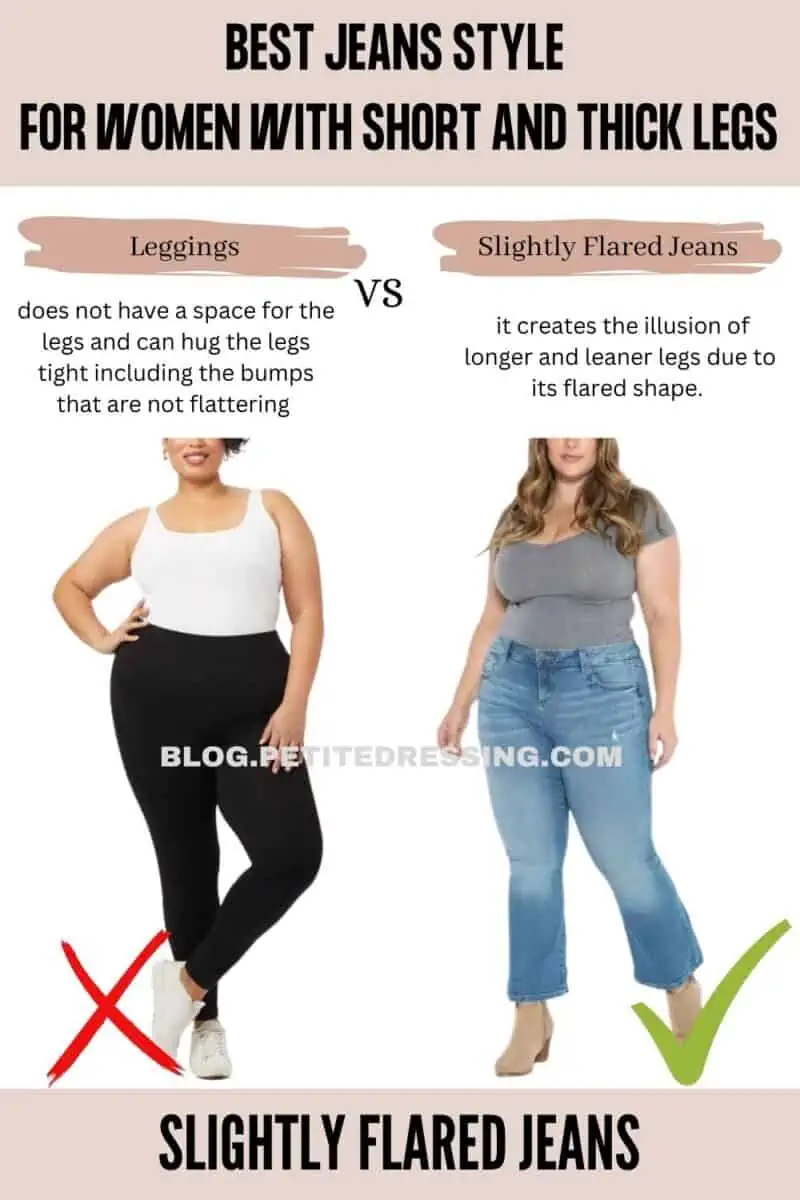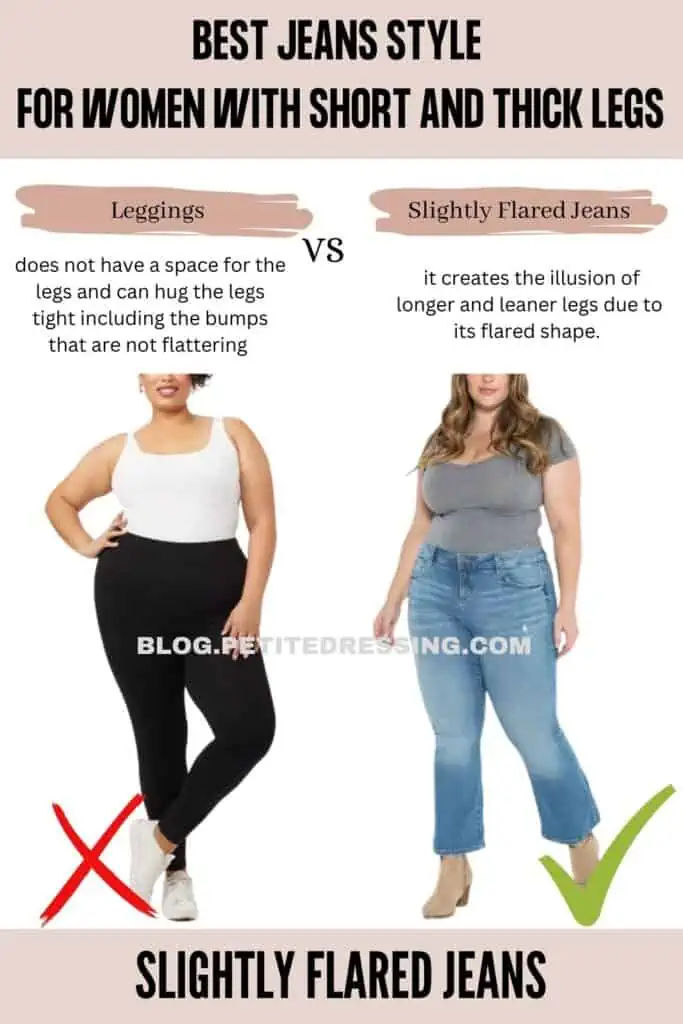 Another frame-elongating style of jeans would be flared jeans, a popular style that feature a wider leg opening that gradually flares out from the knee down. This style of jeans is often recommended for women with short and thick legs because it creates the illusion of longer and leaner legs due to its flared shape. 
The wider leg opening helps balance out the proportions of your body frame by making the legs appear longer for a nicer upper and lower body ratio. Most flared jeans also tend to have a higher waistline, which can help to elongate the legs even further. 
They also create a nice retro touch that brings out a stylish vintage vibe that you can easily match with many different types of tops, blouses, and jackets. Overall, flared jeans are a great choice for those with short and thick legs because they provide a flattering and stylish silhouette that can help to enhance and elongate the legs.
Structured Straight-leg Jeans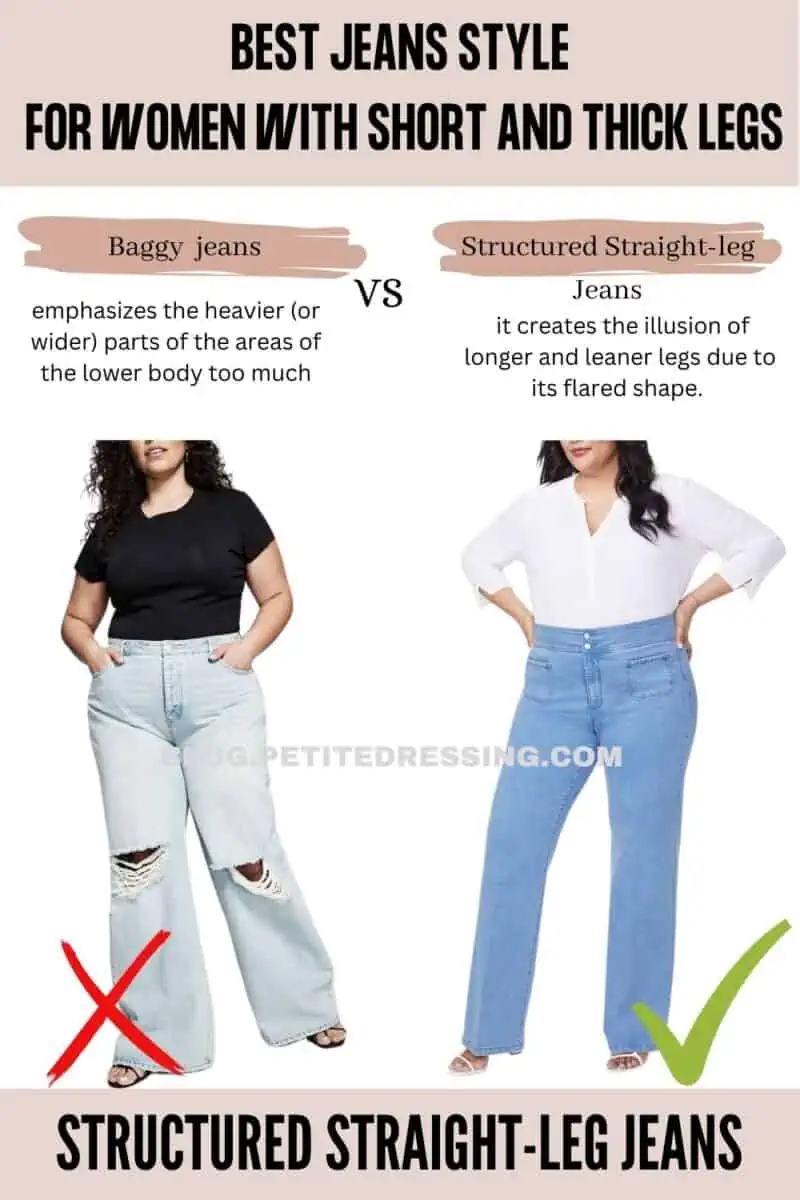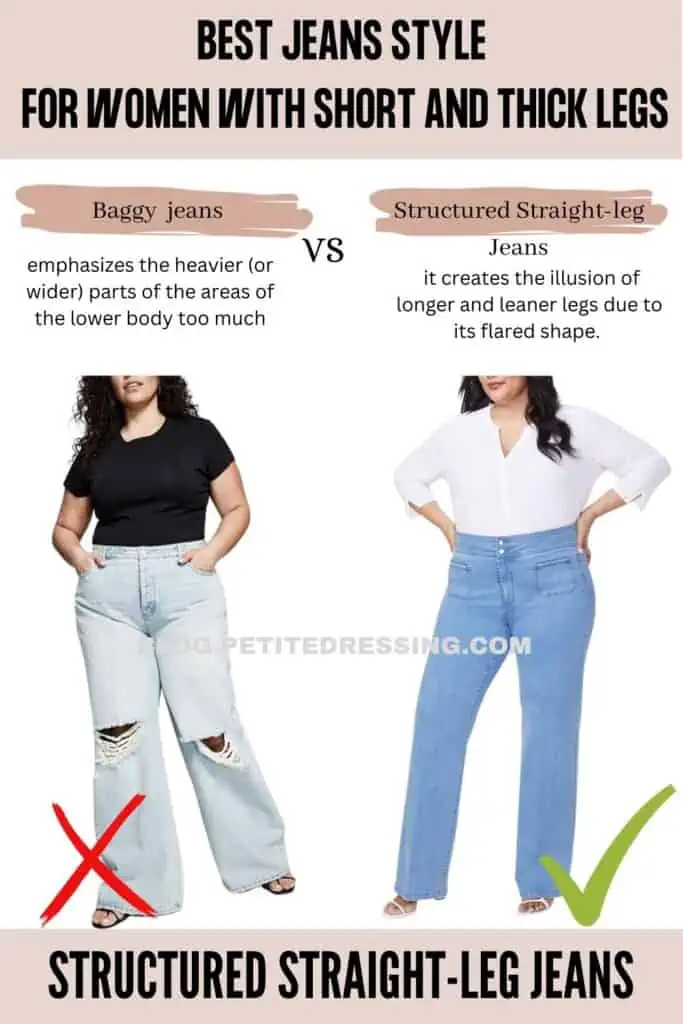 If you're looking for a pair of jeans that's very versatile, straight-leg jeans can be an easy go-to option for you. One of the reasons why this style works well for shorter legs is because its structure and cut simply elongate the leg line.
Compared to tapered or skinny jeans, which can make legs appear shorter and thicker, straight-leg jeans create a straight line from the hip to the ankle. This gives a neat silhouette that stretches the visual proportion of the lower body to make the legs appear nicely elongated.
When choosing straight-leg jeans for ladies with short and thick legs, it's important to find a style that doesn't emphasize the heavier (or wider) parts of the areas of the lower body too much. They also have a slightly wider leg opening for a comfortable fit.
Tattered Boyfriend Jeans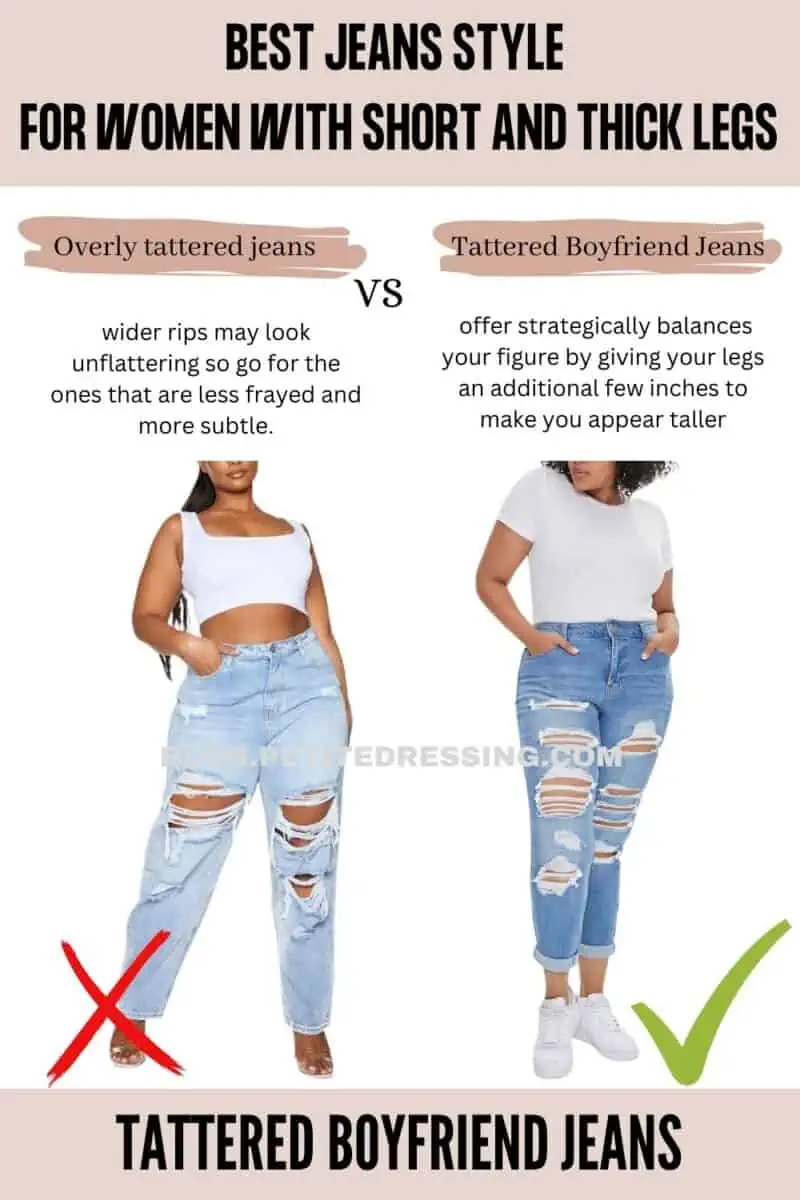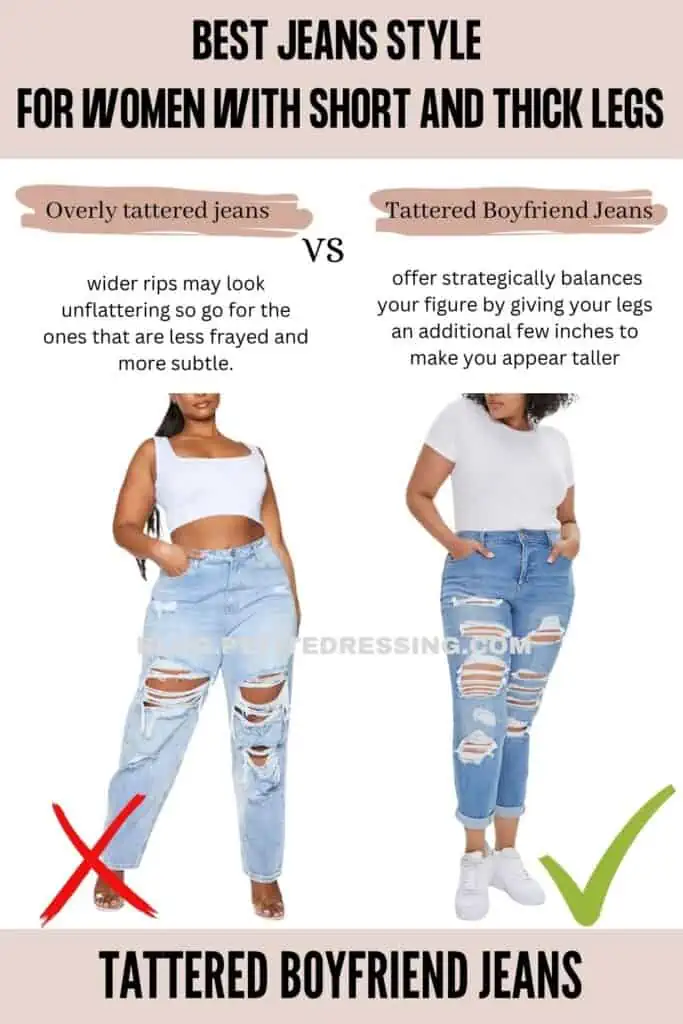 Feeling a bit edgy and boyish? Then you should give tattered boyfriend jeans a try as they are also quite flattering for those with short and thick legs.
Tattered boyfriend jeans are a type of denim jeans that feature a relaxedly fit style and intentional rips, tears, and fraying. The relaxed fit that boyfriend jeans offer strategically balances your figure by giving your legs an additional few inches to make you appear taller.
The tattered styling can be a fashionable touch for a pair of boyfriend jeans. However, if you have short and thick legs, wider rips may look unflattering so go for the ones that are less frayed and more subtle.
Ankle Length Cropped Jeans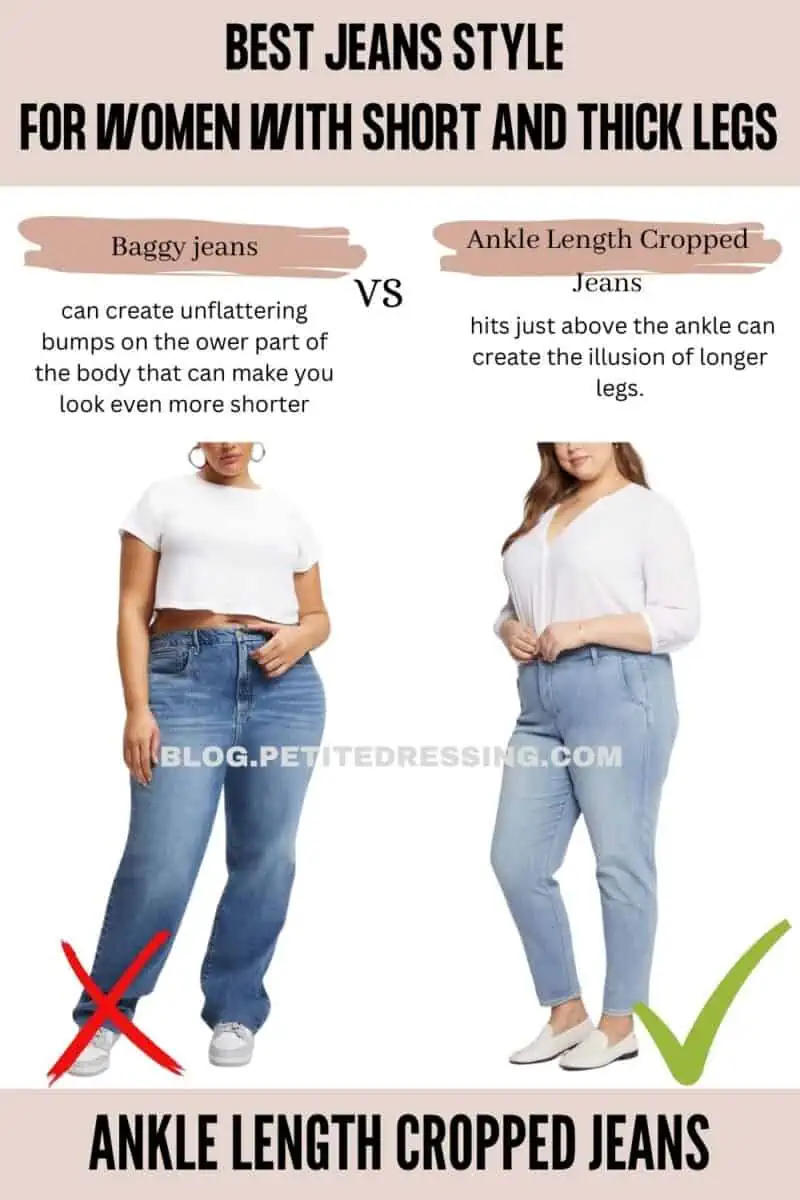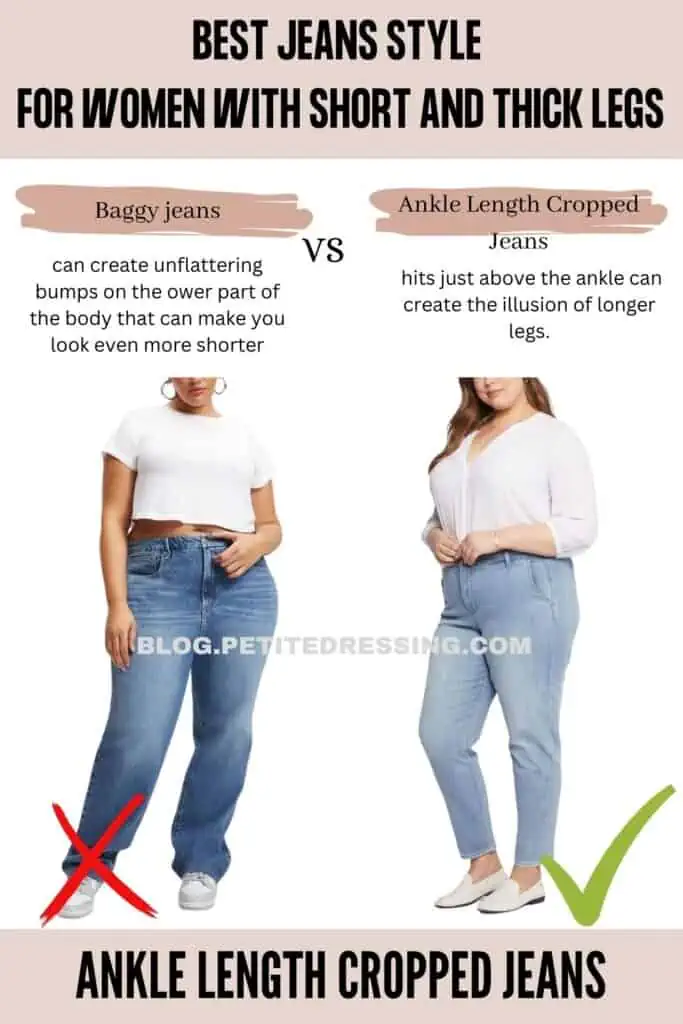 Apart from the proper fit, the right length is also of immense importance so when choosing a pair of jeans, you have to make sure that the end of the pants properly hits the right point on the leg.
For shorter legs, a cropped style that hits just above the ankle can create the illusion of longer legs. On the other hand, for thicker legs, you may go for cropped jeans that have a straight-leg or wide-leg style to balance out the proportions of your frame.
To bring more coherence to your overall style, pair your cropped jeans with shoes that are elevated for a few centimeters as this effect can efficiently make you look taller and leaner.
Wide-leg Jeans in Full Length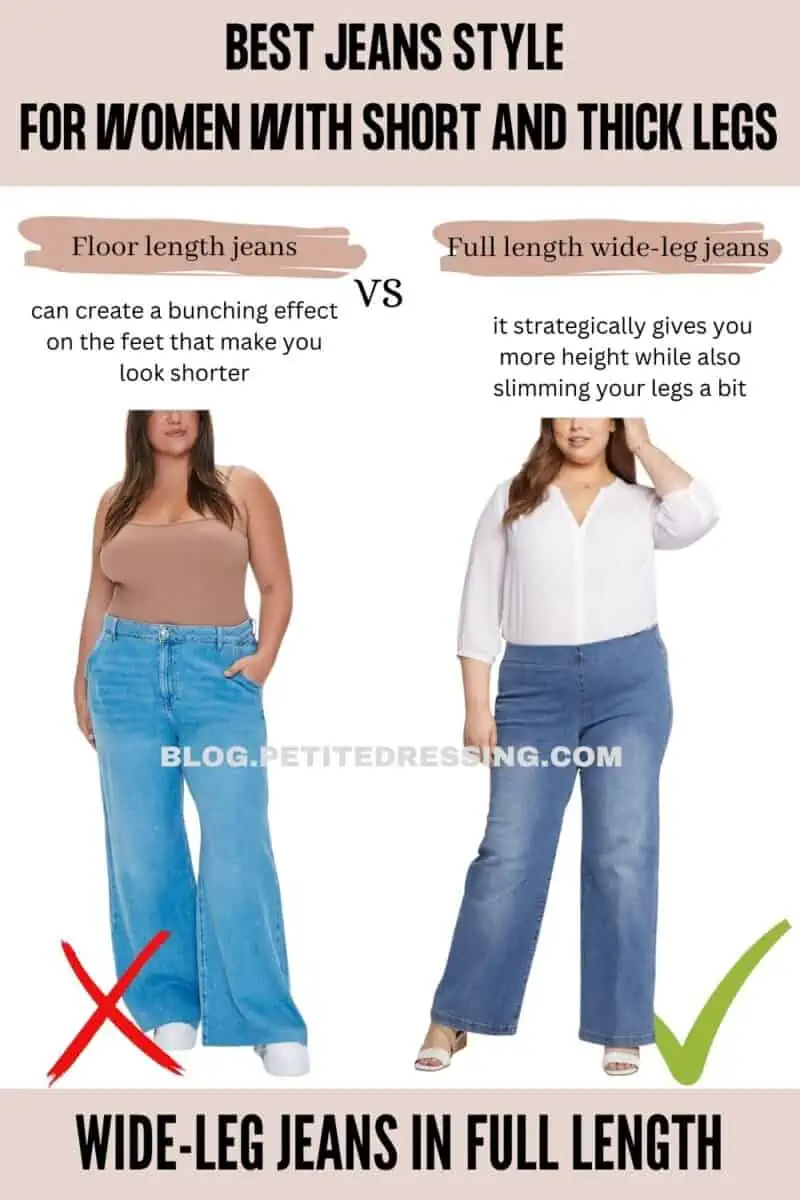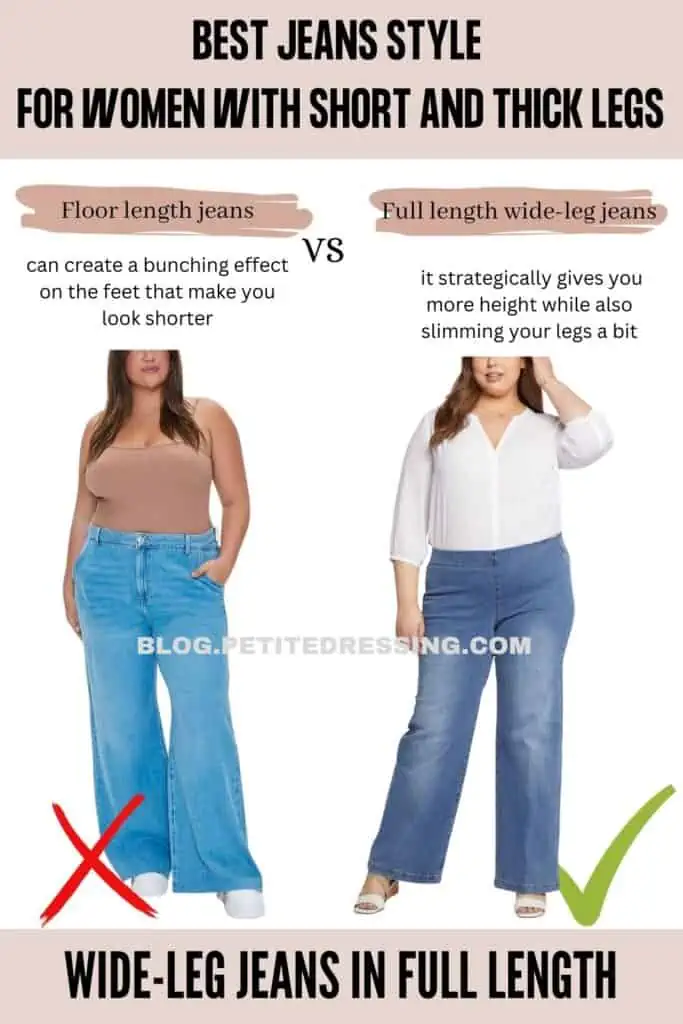 It's a common misconception among women with short and thick legs that wide-leg jeans are just for tall girls. However, that's proven totally untrue because the structure and length of a nicely-fitted pair of wide-leg jeans can turn your legs into looking more elongated and absolutely flattering!
The key to having a pair of wide-leg jeans to suit your short and thick legs is to go full-length. This means that the length of the pants should end right at your heels (but not anywhere longer than that).
As it covers a small portion of your heels, it strategically gives you more height while also slimming your legs a bit. It doesn't fully cover the heels of your feet so it won't drown your figure out.
Wide-leg jeans can also be very forgiving in terms of fit, as they do not cling too tightly to the body and can help to hide any areas that a person may be self-conscious about. With such wider legroom, you can absolutely expect comfort.
Fitted Mom Jeans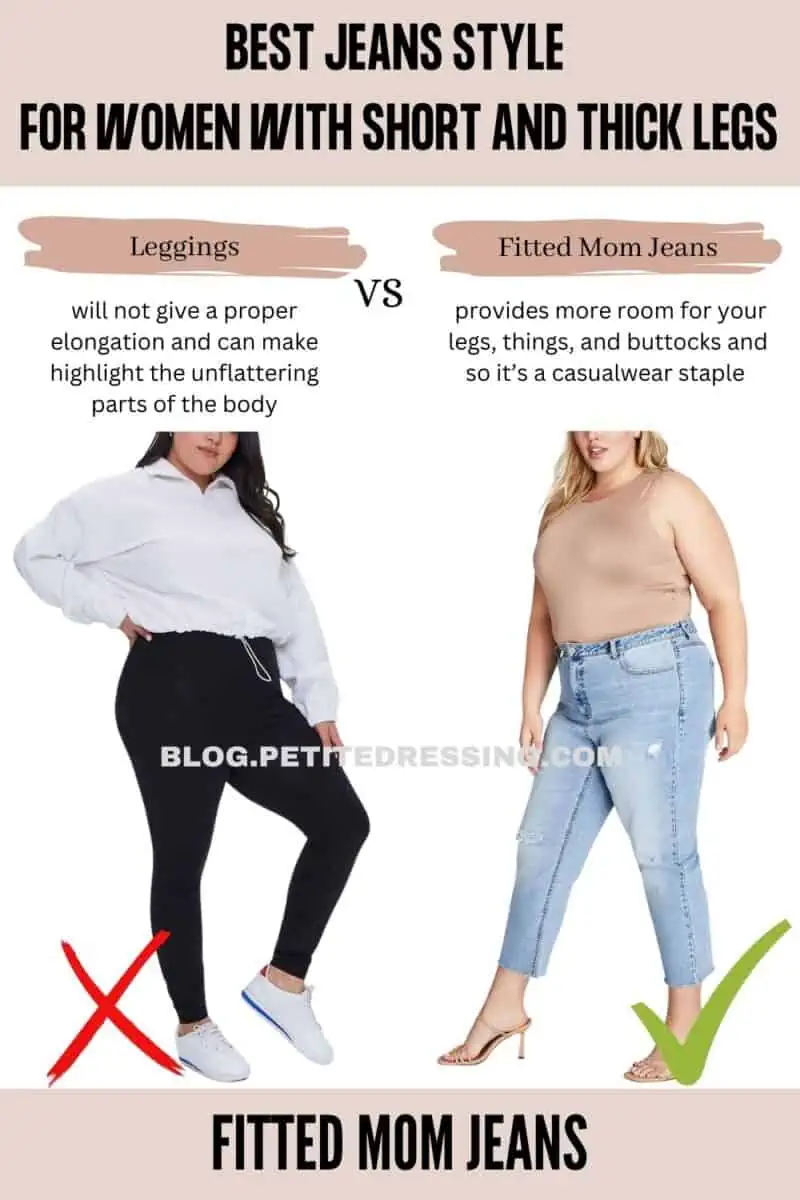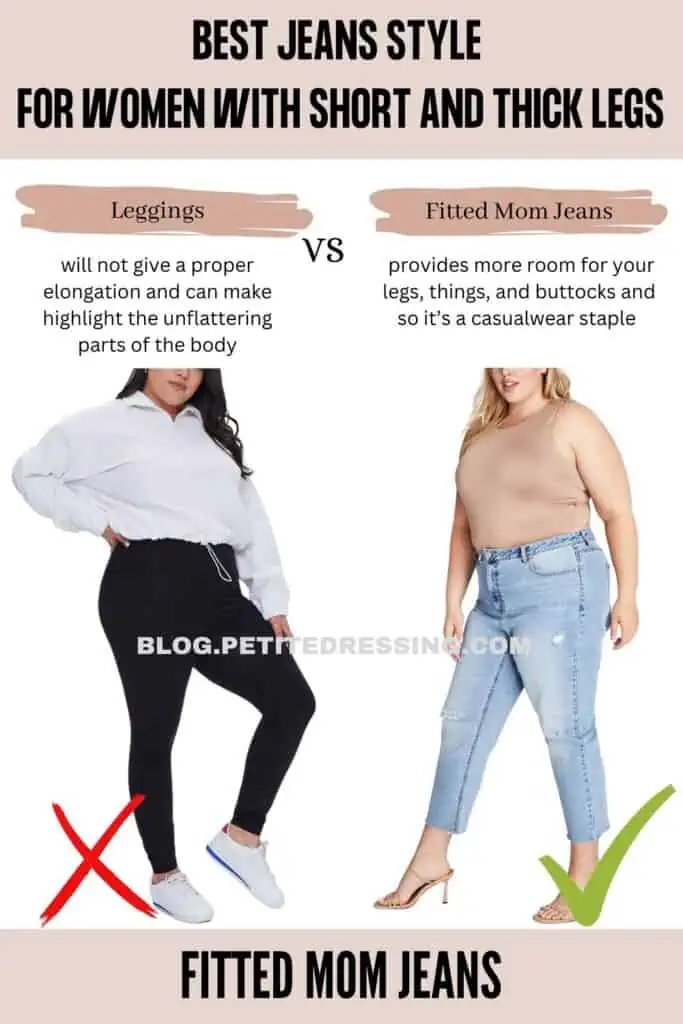 When we say "fitted", we're not implying a fit that's too tight and that's almost comparable to leggings. What we're talking about is the kind of fit that's tailored, almost like a pair of slim-fit mom jeans.
Just like wide-leg jeans, this also provides more room for your legs, things, and buttocks and so it's a casualwear staple for those who love comfortable and effortlessly stylish outfits.
It's not always easy to find the best fit but you can go for safe options when it comes to mom jeans. One example is a pair that's slightly tapered or fitted through the hips and thighs, as this can help to create a more flattering overall shape.
Streamlined Bootcut Jeans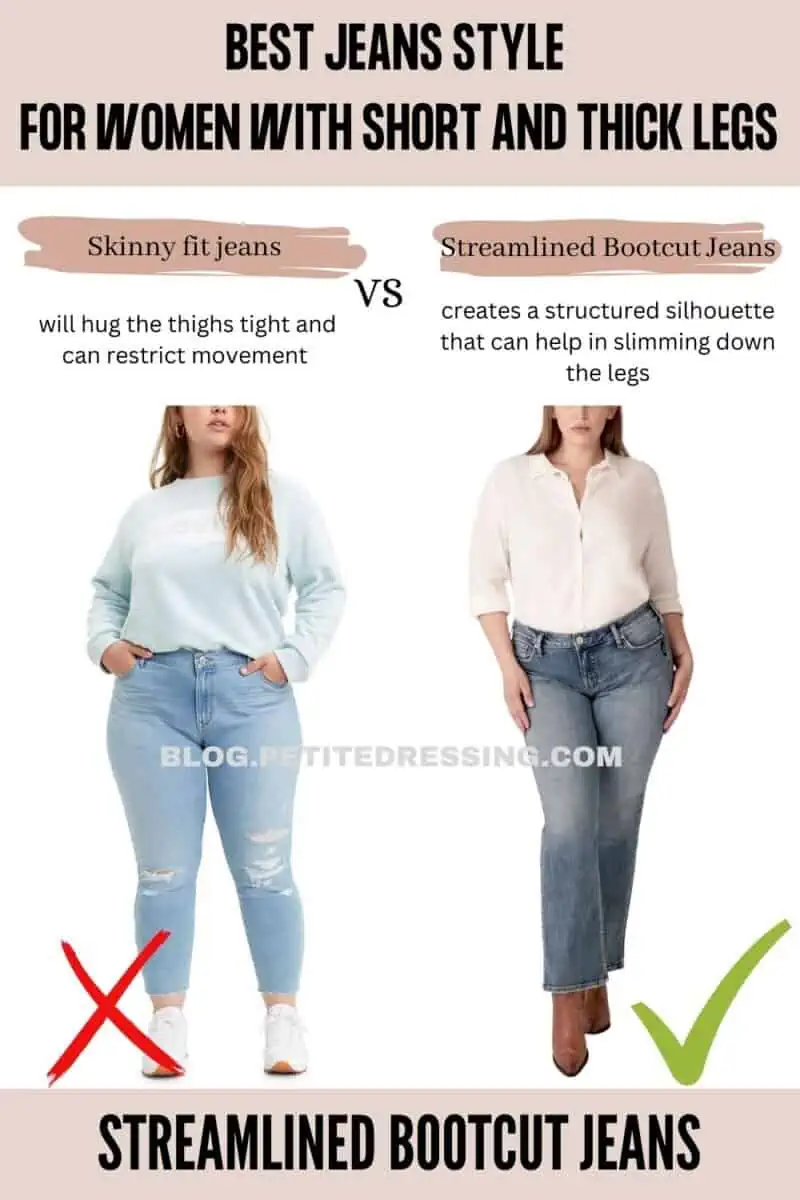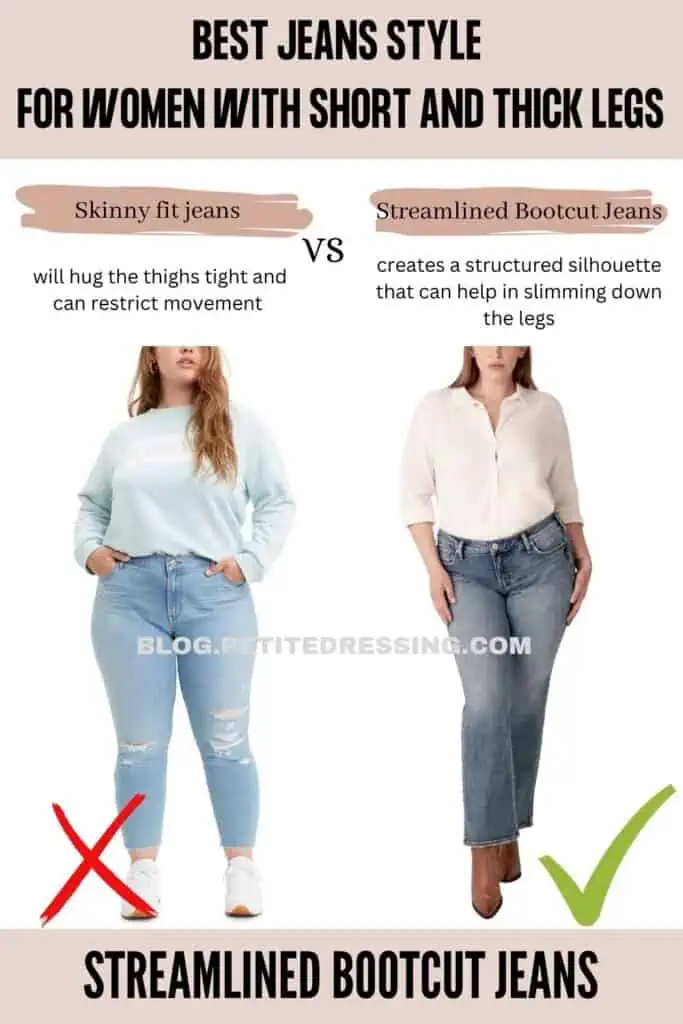 Bootcut jeans will always be on the list of the most flattering types of jeans for ladies with short and thick legs thanks to their streamlined structure.
Bootcut jeans are typically fitted around the thighs and knees, with the flare beginning just below the knee and continuing to the hem. The flare can vary in many different sizes but ladies with short and thick legs ideally should go for those with subtle flares.
The Key Takeaway
A good pair of jeans can take you to places and they are definitely a wardrobe staple! If you're concerned about the length and width of your legs, then we hope these jeans styles in this list can help you amplify your style in a flattering way.