Want to step out in style in summer while having a relaxing time poolside or by the beach? The fashion industry has evolved so much that there are swimsuits that look effortlessly good on curvy women. If you've been searching for the perfect swimsuit for your body type, your search ends here.
We've carefully curated six amazing swimsuits that are exceptionally flattering on curvy women, emphasizing your curves in all the right places. Similarly, you should check out our four swimsuit styles that historically don't look good on curvy women.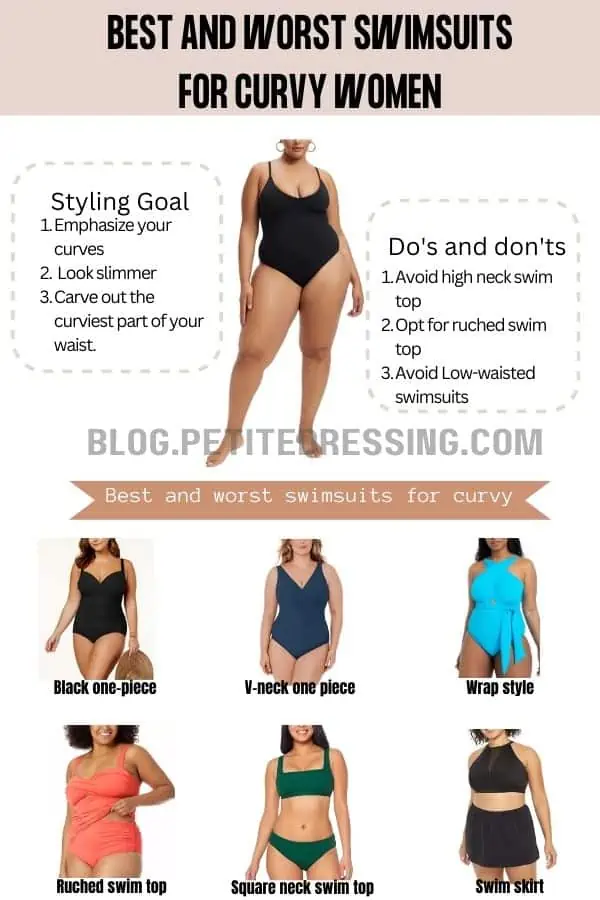 Swimsuits can look good on curvy women if you know what styles to choose. Only some styles can emphasize your amazing curves without putting a lot of attention on your tummy area. The good news is that these styles can, so let's check them out.
Black one-piece
A black one-piece on curvy women is magical to look at, and that's exactly the kind of reaction you would want to have when you put this on at the beach or pool. So, how possible is this?
Well, the black on your swimsuit is perfect for curvy women because it creates a slimmer silhouette with a sexy overall outlook. The one-piece, on the other hand, hits you at the smallest part of your waist, emphasizing your curves in all the right proportions.
So, the final result is a swimsuit that stays put without folding over or rolling down, giving extra comfort points. Whether you're diving, swimming, standing, or sitting, you don't have to struggle with a swimsuit that rides up in all the wrong places.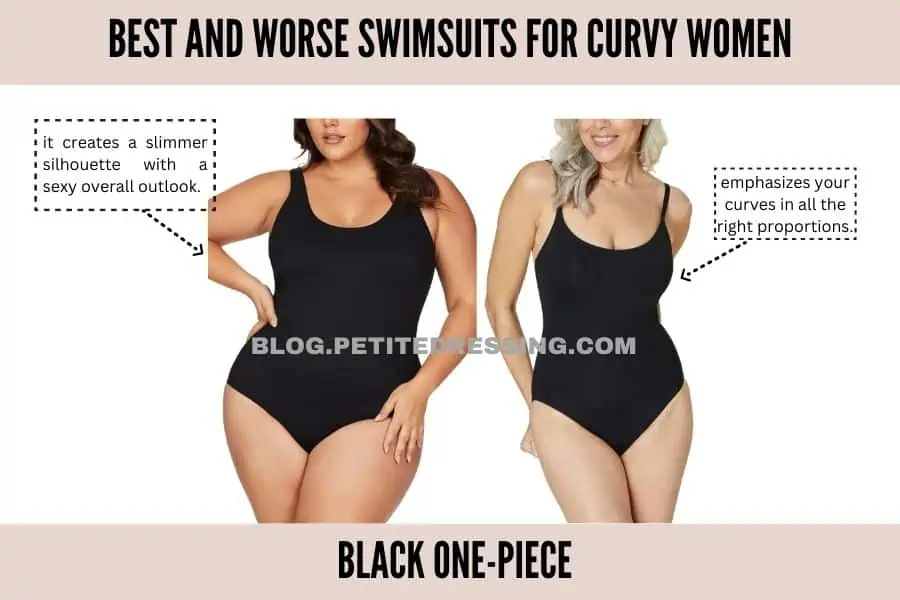 V-neck one piece
Just as a one-piece works perfectly for curvy women, the neckline also matters. While the v-neckline is a win for almost every body type in existence, it's definitely a must-have for curvy women with big busts who would love to have some fun with water-related activities.
The v-neckline is a favorite for curvy women because it creates an elongation effect, where the straight lines of the neckline add more length to the chest and neck area. Due to this elongation effect, curvy women with big busts have a more flattering outlook as the bust looks smaller.
Overall, it provides a slimming effect which offers a visual balance on all body parts. So, with a v-neck one-piece, curvy women can look slimmer while the one-piece emphasizes the curves where it matters most.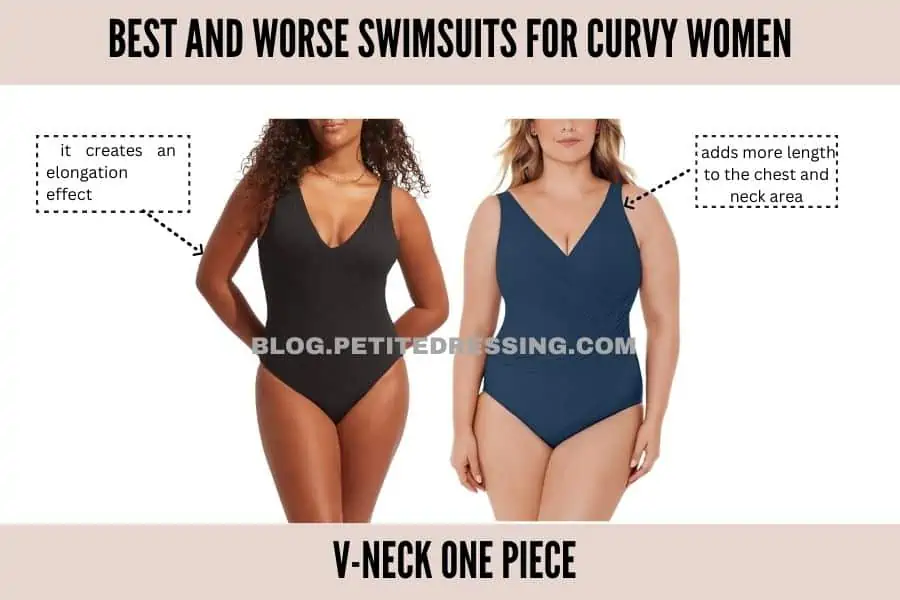 Wrap style
The wrap-style swimsuit is another great option for curvy women who want their curves to stand out in all the right places. You can choose the wrapped top style common in classic bikinis or opt for halter tops.
Regardless, wrapped top swimsuits are trendy and an amazing choice for women who don't want so much attention on their busts. Even better, it makes the bust area look smaller while carving out the curviest part of your waist.
So, feel free to explore the numerous wrap styles that have become even a favorite of more than a few plus-sized celebrities. Whether it's tied at the front or back, you'll get a trendy beach look every time.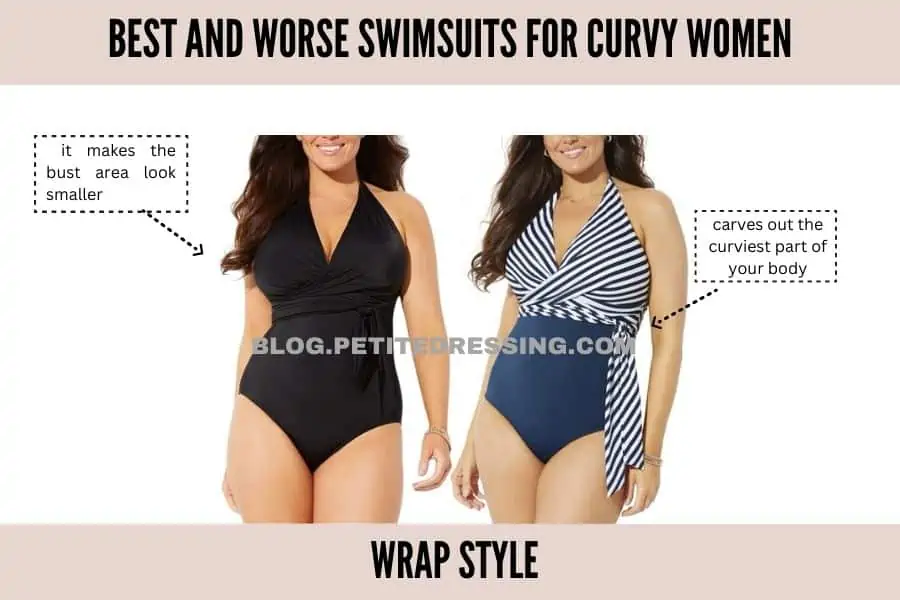 Ruched swim top
Ruching is created when a fabric is sewn together to create a rippled effect. Usually, this ruched effect is around the stomach, effectively hiding belly fat and the extra perk of the illusion of a flatter mid-section area.
So, it would be best if you had an idea of how this would be fantastic for curvy women, especially those with a bigger tummy area that you'll like to conceal without doing too much. Get ready to step out in a stunning ruched swimsuit bottom that highlights your sexy curves while drawing attention to your flatter stomach.
Even your thick hips and thighs are not left out of the slimming effect, making your waist the focal point. We recommend getting a ruched one-piece swimsuit with a halter top. The ruched area should stretch past your hips, giving an overall modern look. Finish this up with a plunging neckline, preferably a v-neck, and you're hotter than ever.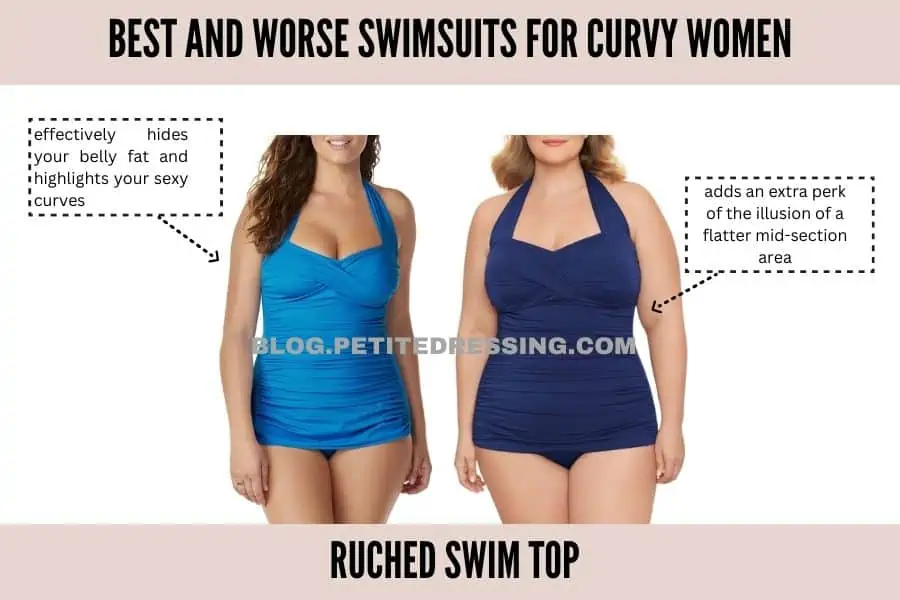 Square neck swim top
The square neck swim top may sound like it's not a great swimsuit style, but that's far from the truth. Just like the v-neckline, this square neck style is super flattering to the wearer, especially curvy and plus-sized women.
The magic here is that it produces a slimming effect on your body's shoulder and neck areas. So, you don't have to feel self-conscious with a square neck swim top as it has the extra benefit of a soft yet feminine aesthetic on your body.
You'll look amazing without showing off a lot of skin or cleavage. Even better, the square neck also adds more width to balance your hips if they are wider. All in all, this swimsuit style is universally flattering and always an instant hit with curvy women.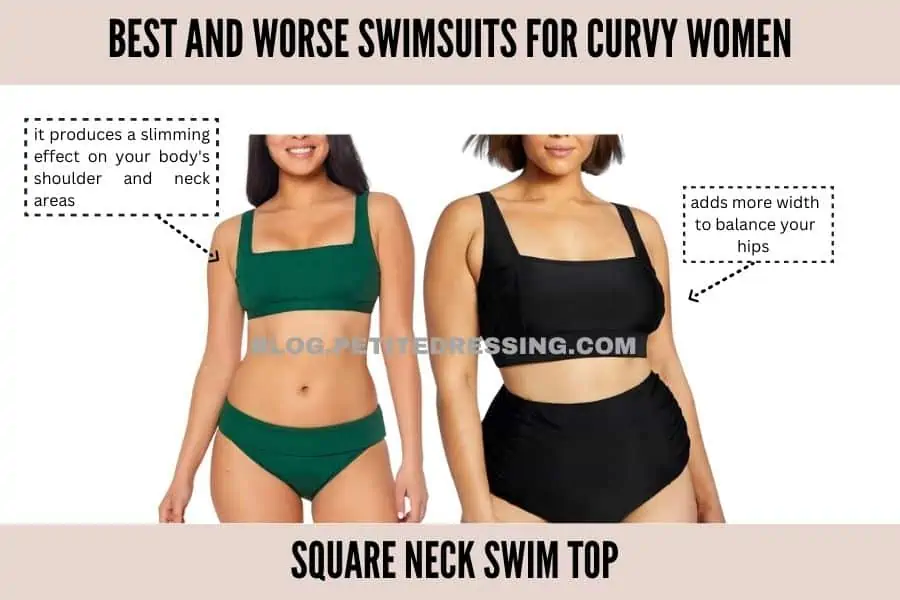 Swim skirt
Do you prefer sleeker styles? Then you should check out swim skirts and include them in your beachwear wardrobe. They are the perfect summer outfit when you need something that sits just right on your curves and even makes you look slimmer.
Not only are swim skirts stylish for curvy women, but they are also extremely functional. All you have to do is get them in light, quick-dry fabric, and you can get in and out of the water as often as you please.
Swimsuits are also a flawless combination of sophistication and elegance, all wrapped in one. They have a cute feel with a sleek silhouette, giving curvy women a more streamlined look. We recommend going for lengths that are above your knee, and you'll stand out in style.
Just as we have swimsuits that make curvy women look amazing, there are also varieties you should avoid. These styles will not give you a flattering look; some draw more attention to your tummy area or make you look bigger. Here are styles you should avoid.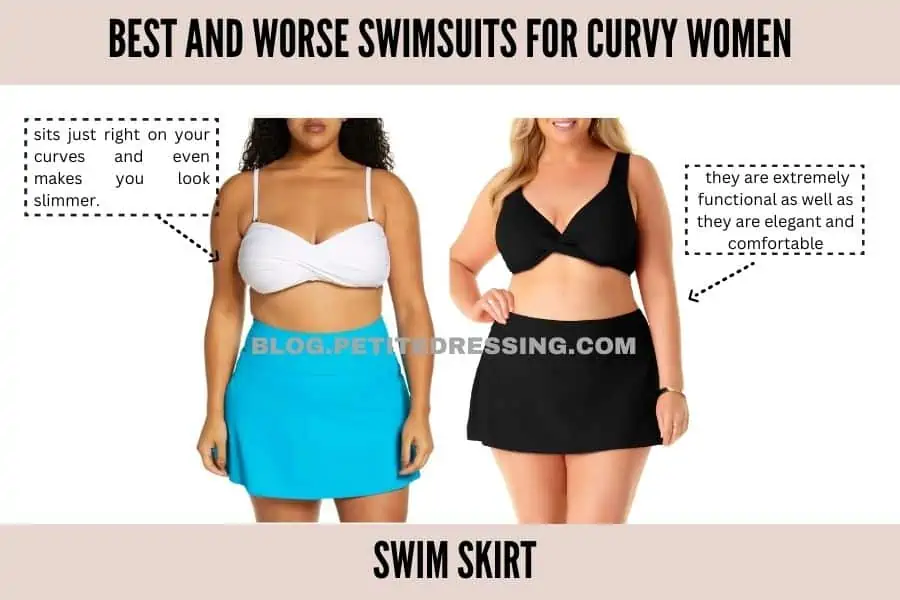 Avoid horizontal stripes
You may or may not have heard about how horizontal strips add more bulk to your body shape, making you look much fatter than you actually are. Although some people have come out to debunk this, it's completely true.
It's best to stay away from swimsuits with horizontal stripes as a curvy woman if you don't want to have a bigger body outlook. This swimsuit style adds more bulk to your waist, bust, and hips, which can be uncomfortable.
Overall, horizontally striped swimsuits don't give a flattering look to curvy women and should best be avoided.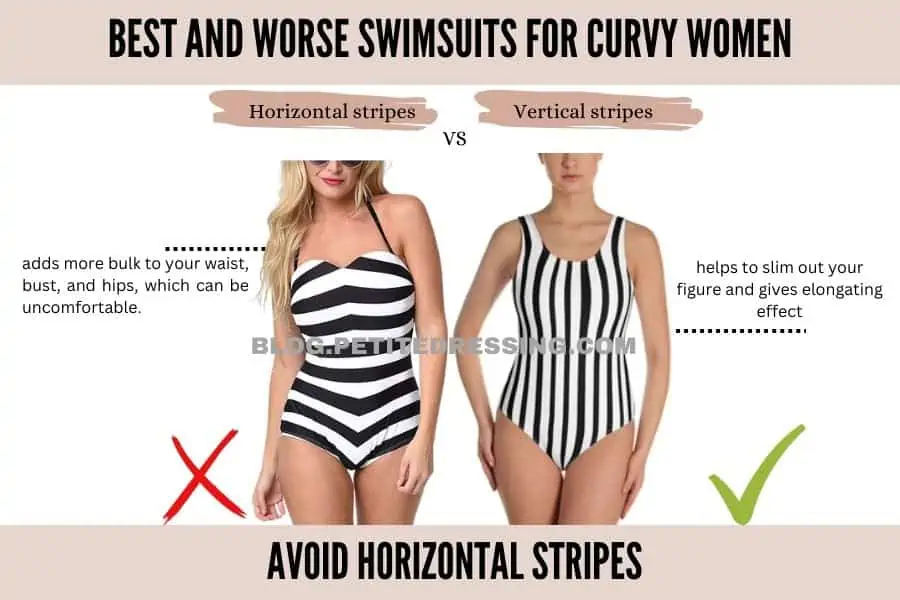 Avoid high neck swim top
High-neck swim tops are not a great choice for curvy women, especially women with a larger bust, and here's why. Since this type of swimsuit reduces the amount of exposed skin between the chest and chin, the result is that your bust appears bigger.
With your bust looking larger, this draws more attention to this area and makes your body's overall shape look uneven. It also shortens your neck, which is not exactly a good idea for women with an already short neck due to your curvy figure.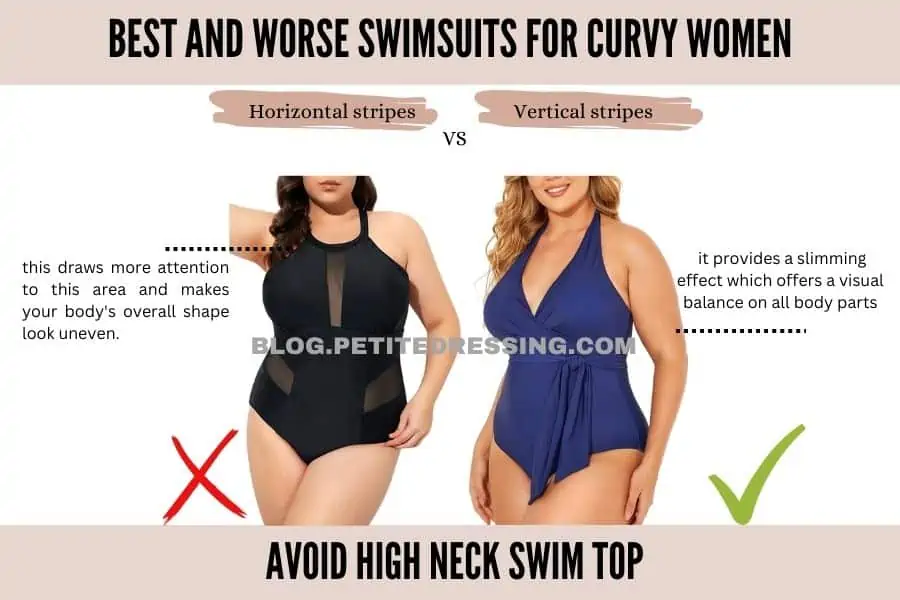 Avoid Low-waisted swimsuits
One of the biggest fashion faux-pas is low-waisted swimsuits, which can be very uncomfortable on any body type. It's much worse for curvy women because having a bigger backside could mean that low-riding swimsuits will reveal some extra bits that should remain hidden.
No one wants to see bum cracks. Also, low-waisted swimsuits accentuate the waist and hips in the worst possible way. It can be dangerous if you already have big hips and don't want this to add an awkward silhouette to your body.
Instead of low-waisted swimsuits, choose high-waisted swimsuits that cinch at the waist and highlight your beautiful hourglass shape. Usually, these come in a stretchy fabric that sits on your tummy in a way that smoothens out unwanted muffin tops. So, if you've been looking for a comfortable way to hide belly fat, choose high-waisted swimsuits over low-waisted ones.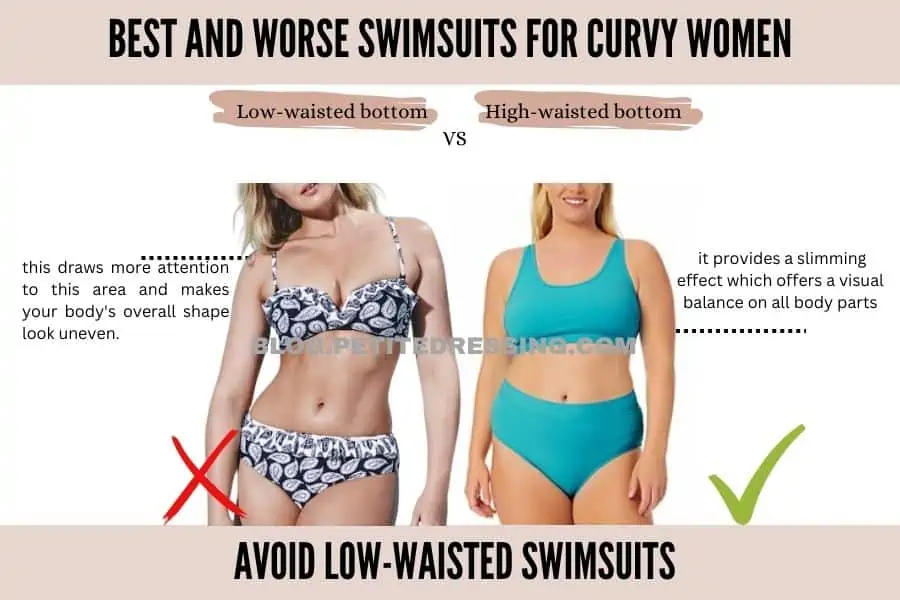 Avoid tops with ruffled chest
Here's the thing: ruffles are not all bad if you use them the right way. If the ruffles are along the bottom of the swimsuit, they can add more volume to the waistline, making your hips look bigger.
Feel free to try this out if you don't mind this effect. However, one look that's not exactly flattering is a swimsuit top with a ruffled chest. Just as the ruffles on the waistline add more volume, you get the same effects on ruffled tops.
So, this will make your chest area look much bigger, and not in a good way. Ruffled tops draw too much attention to your bust and give an uneven flow toward your hips. Therefore, it's best to avoid them a hundred percent.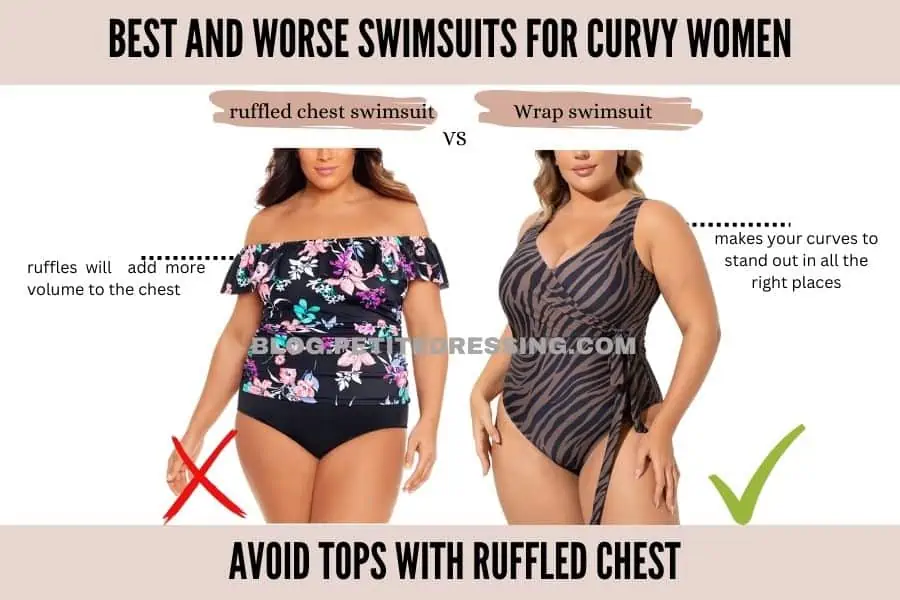 Now, you're ready to rock your summer like a pro. It's time to put an end to feeling uncomfortable in swimsuits or avoiding them completely because you don't believe there's anyone that's perfect for your body type. You'll be glad you got these swimsuits.