Jeans are one of the most popular choices for casual bottoms. Jeans have a solid structure designed to flatter any woman's curves.
Petite women are often afraid to wear a pair of wide-leg jeans because of their height. Dividing the idea into pros and cons will help you decide whether wide-leg pants work for petite women. 
Pros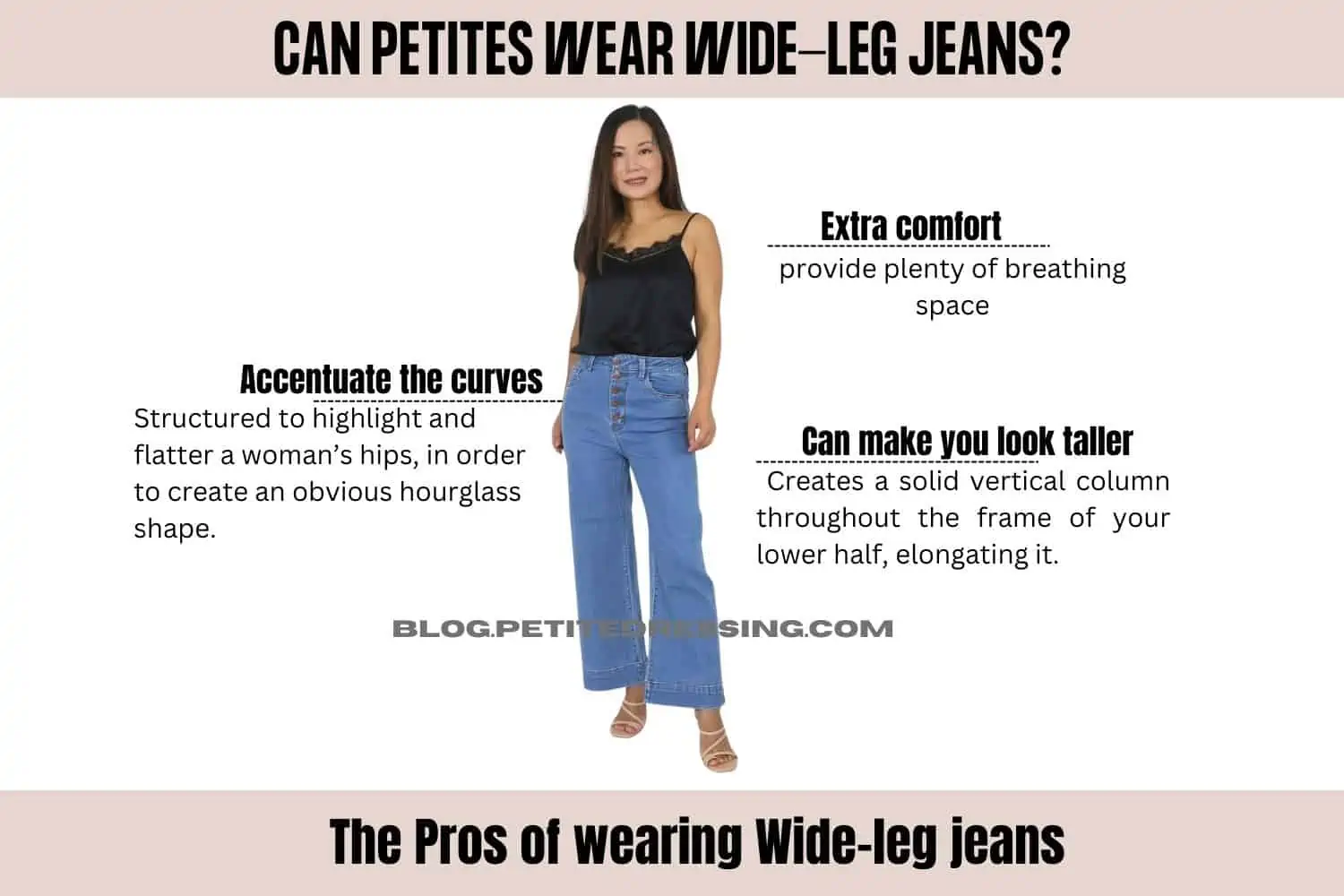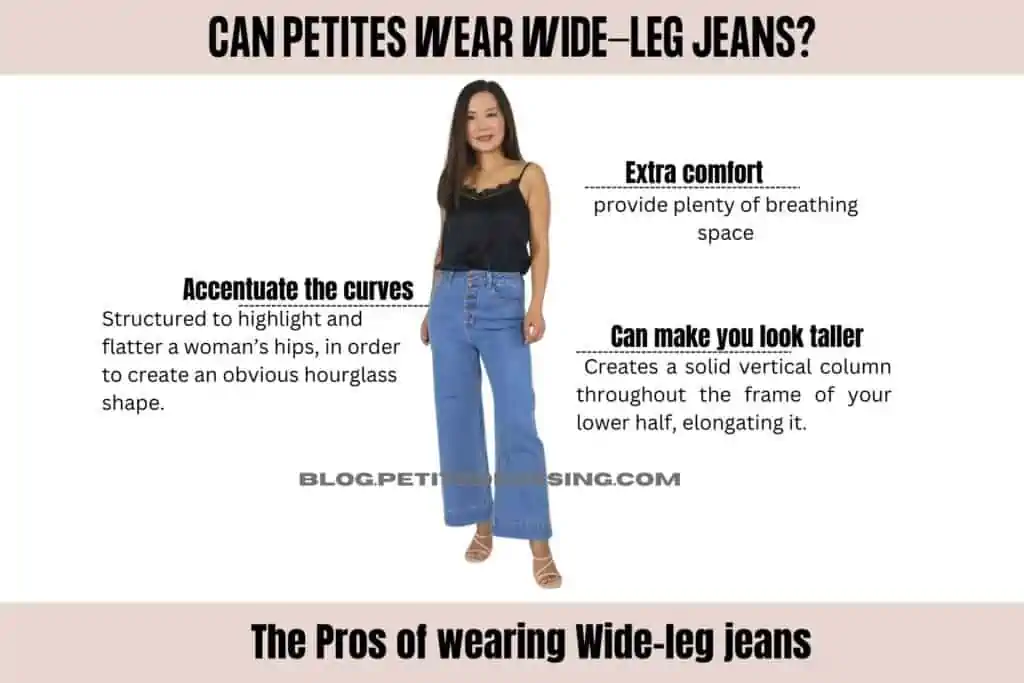 Accentuate the curves
Wide-leg jeans may be roomy around the legs, but they hug tightly onto each curve throughout your body. Jeans are structured to highlight and flatter a woman's hips, in order to create an obvious hourglass shape.  
Wed-leg jeans are more breathable and flow lower down on your body, so the cinch at your waist will look even more dramatic.
Extra comfort
Since wide-leg jeans are so much more open around the legs than other jeans, they will provide plenty of breathing space. You can move freely in this style of pants, which is not a common feature of many types of jeans.
If you have thick thighs or calves, you will not have to worry about stretching out the material and creating holes due to their friction. The wide jean legs will be able to resist ripping from friction because they do not cling to your legs.
Can make you look taller
Wide-leg jeans create two wide vertical columns. When you stand straight, the jean legs come together to form one vertical column. This helps to create a solid vertical column throughout the frame of your lower half, elongating it.
The column method can then be utilized throughout the rest of your outfit so that you can look as tall as possible with your petite frame.
Cons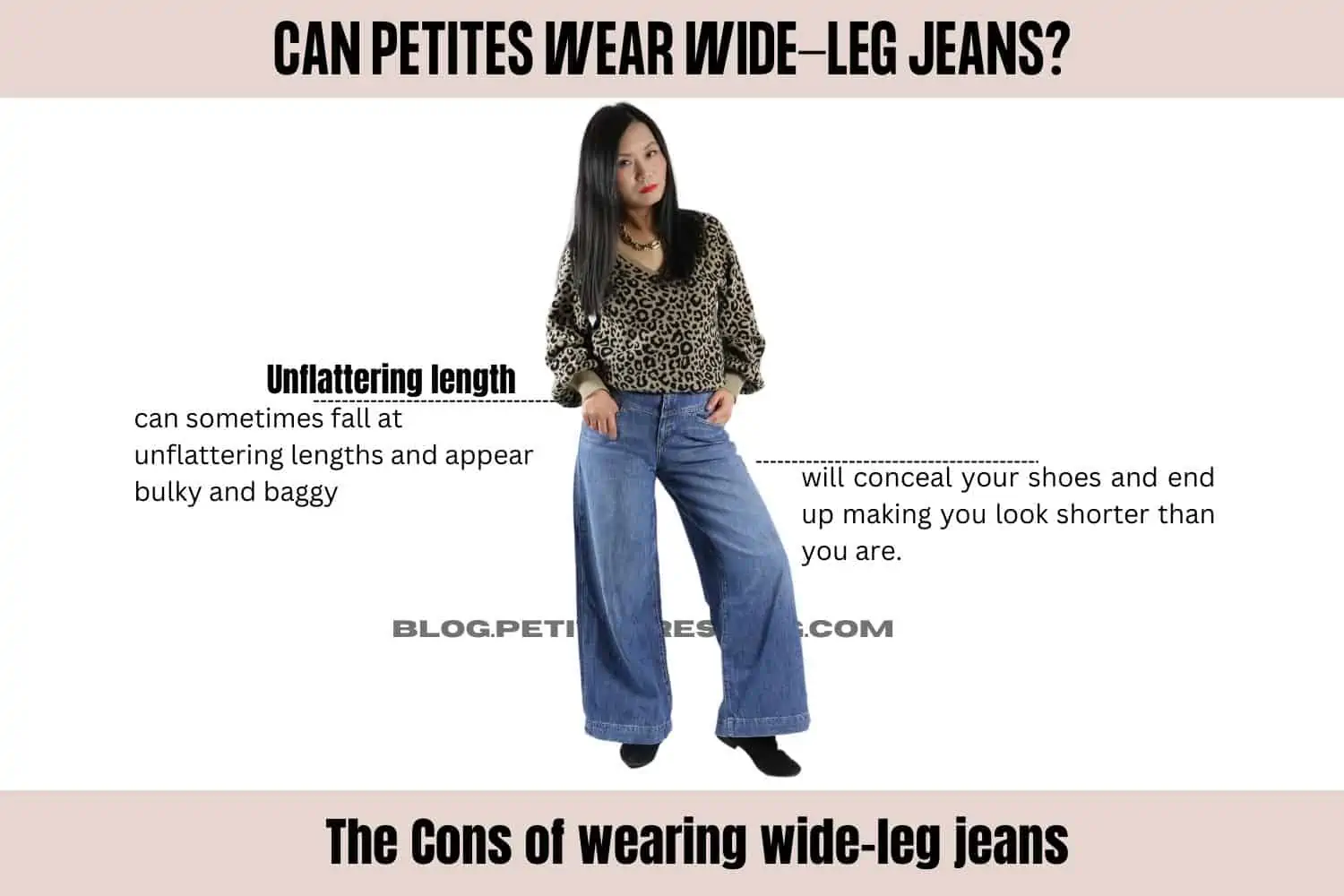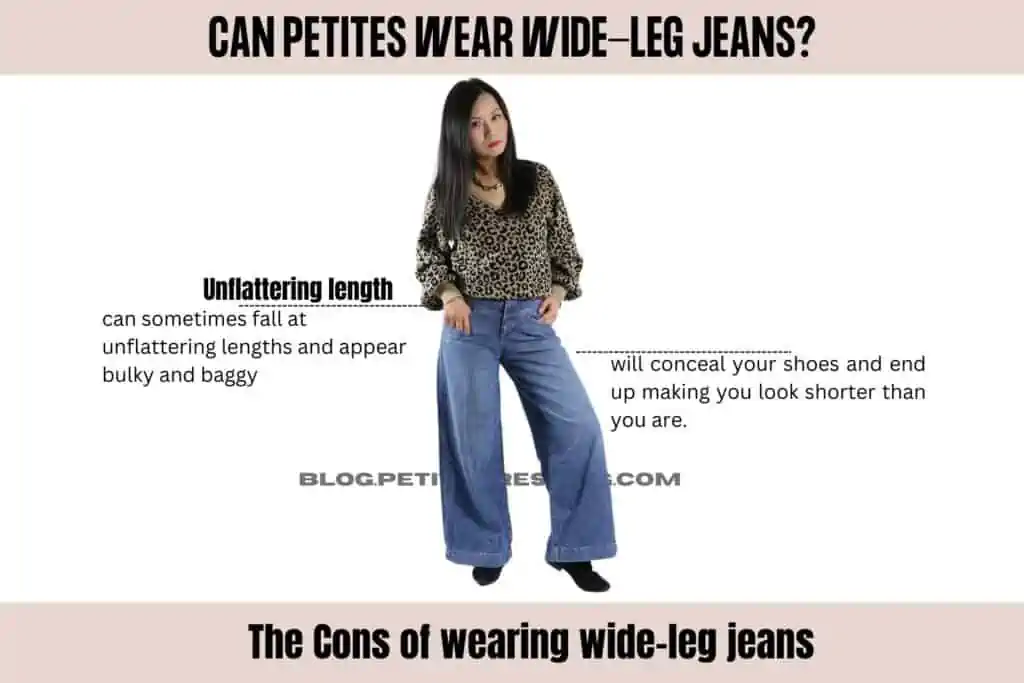 Unflattering length
Due to being a short woman, wide-leg jeans can sometimes fall at unflattering lengths and appear bulky and baggy. The wrinkle of the fabric will not look elegant and will make the outfit very casual and masculine.
The wide-leg jeans will fall over your feet and cover up your shoes. If the jeans are too long due to your height, they will conceal your shoes and end up making you look shorter than you are.
The pros definitely outweigh the cons when it comes to wide-leg jeans. The cons can easily be avoided if you are cautious about the type of wide-leg jeans you buy, and how you style them.
The following tips will help you find the best types of wide-leg jeans, and help you understand how to look the best in a pair of wide-leg jeans.
How to Style if you are Petite
Tuck in your shirt
Whatever you wear with a pair of wide-leg jeans should end up tucked into the waistline. Tucking in your blouse will help you accentuate your waist to draw more attention away from the width of the pant legs. 
A tucked shirt will allow you to build your own shape and silhouette. The way your silhouette will look with a tucked-in shirt will be determined by how high the waistline falls on your body.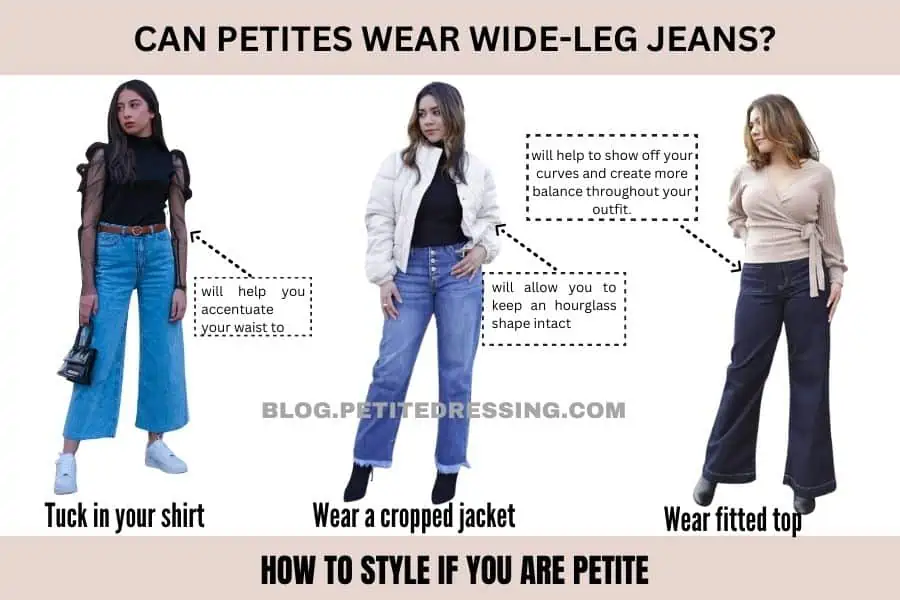 Wear a cropped jacket
If you end up adding a jacket to your outfit for additional layers, make sure that the jacket is cropped. This will allow you to keep an hourglass shape intact since a normal coat would mess up the waistline you had worked towards highlighting.
Get it tailored
As a petite woman, you know that it can be challenging to find a pair of jeans that will actually fit at an appropriate length. Most jeans will bag and wrinkle around your ankles because they are too long. And capris will still always end up just a bit too short.
Having a tailor you can trust is important as a petite woman. They can take your wide-leg jeans and hem them so that they fall at a perfect length and can flatter your body the way that they are designed to.
Wear fitted top
Since wide-leg jeans add so much extra fabric to the bottom half of your body, you can balance it out by wearing a fitted top. This will help to show off your curves and create more balance throughout your outfit.
Avoid stiff fabrics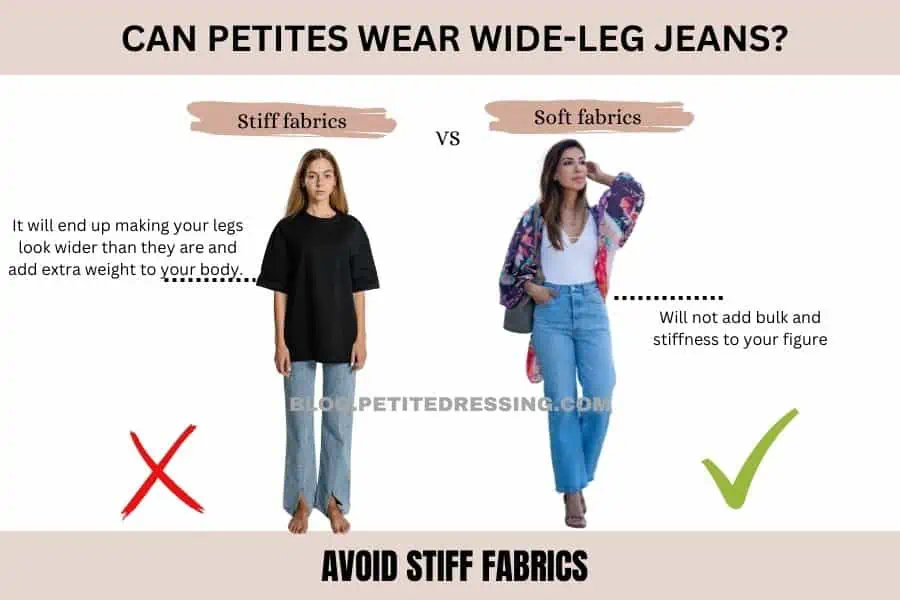 It is important for Petites to go with wide-leg pants that are not too stiff.
The reason is flowy fabrics will skim your legs and flatter your natural shape, whereas stiff fabrics will create more bulk.
It will end up making your legs look wider than they are and add extra weight to your body.
This will also create attention spanning from side to side due to the width, which will craft the illusion that you are shorter.