I am 5'2″ and I have a long torso short leg body type, so I understand the challenge of dressing and styling the outfits that suit women with similar body shapes. Besides, I also have a clothing line for petite women, thus I hear from thousands of my customers on a daily basis.
This issue definitely causes a major struggle when it comes to adding a top to your outfit.
There is such a large variety of tops to choose from, and some are not ideal for short women. This guide will show you what tops will be perfect for your height, and what tops you will definitely want to avoid.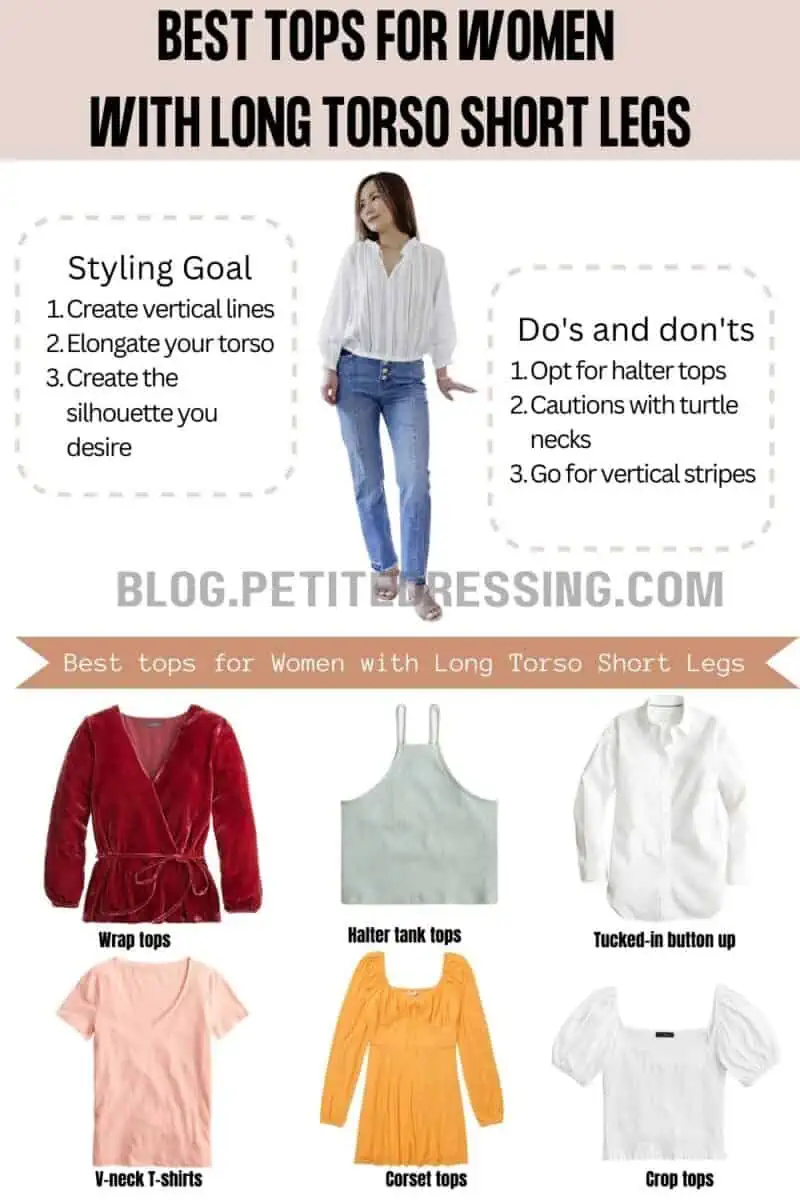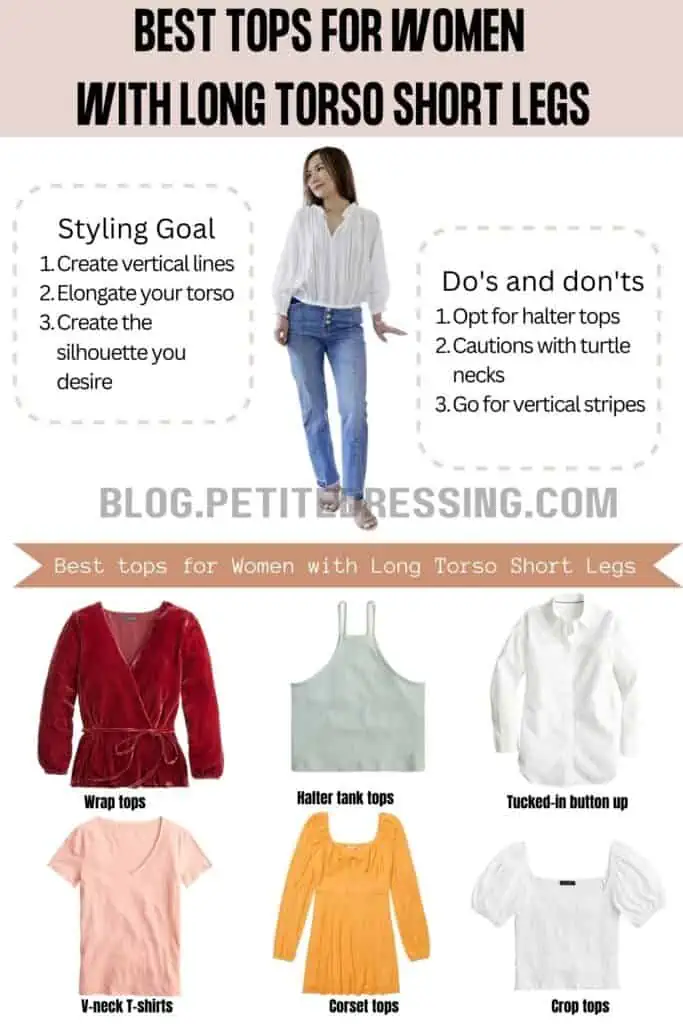 Wrap tops
One of the best ways to look taller is to define your waistline. Because your torso is longer, where you place the waistline is incredibly important. Wrap tops allow you to customize the waistline and shape of your upper body.
Wrap tops are tied in a knot at the hemline, which means you get to decide how high or low on your torso the top ends. These shirts are also incredibly flattering because the wrap typically creates a v-neckline. This will create more vertical lines and elongate your torso.
Wrap tops provide the opportunity to cinch your waist and create the silhouette you desire. The strings of the wrap will create a nice distraction that will also cover up some of your tummy. This style of shirt is visually pleasing to women of all body types due to its flexibility.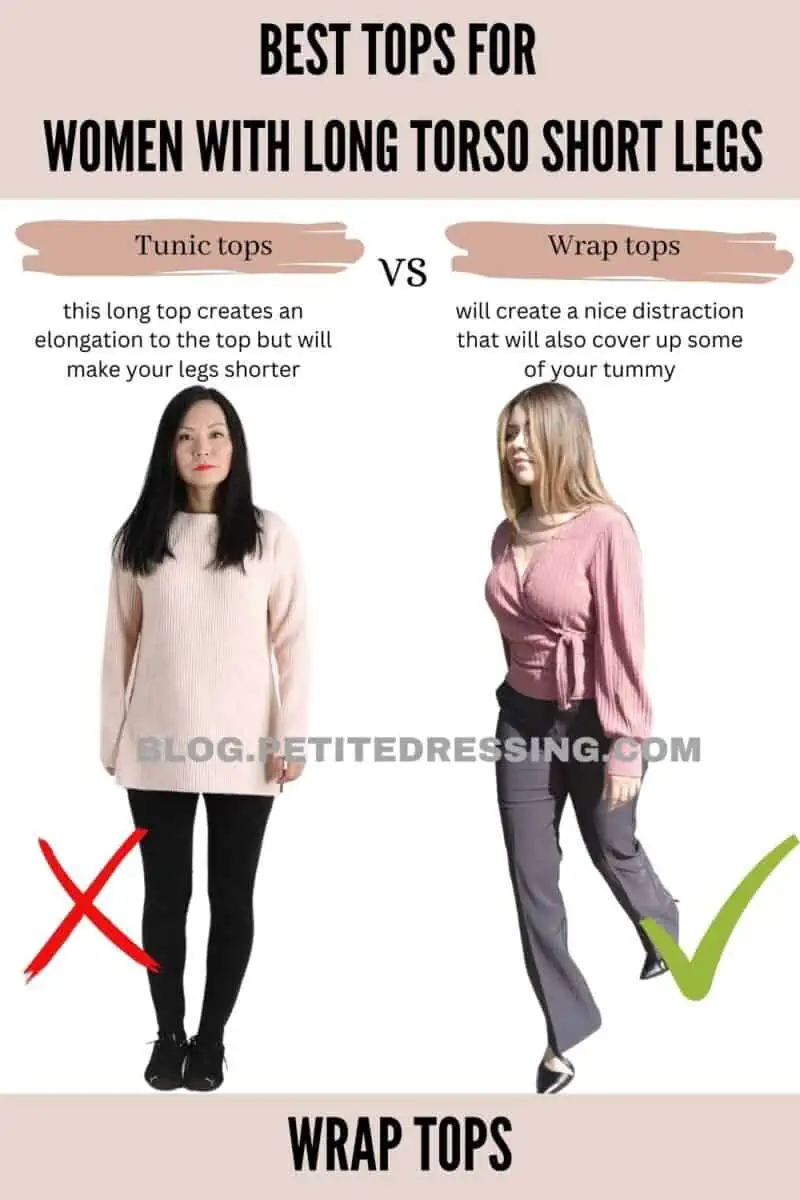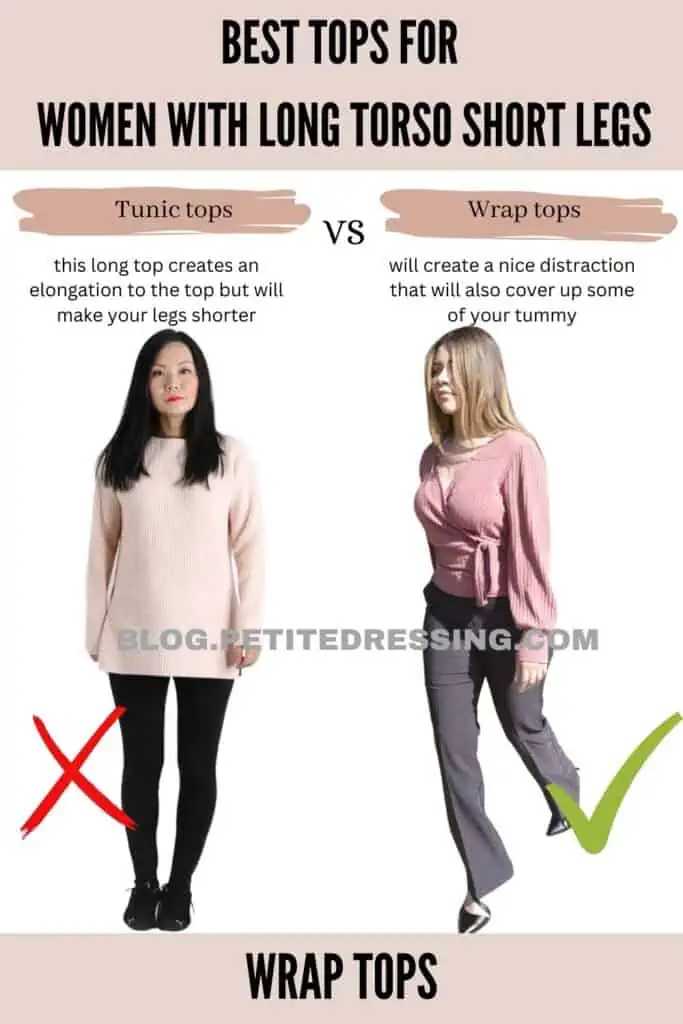 Halter tank tops
Halter tank tops are sleek, chic, and perfect for a summer day. Halter tank tops tie around the neck, instead of having two separate straps. If you go for a high-neck halter tank top, the way the shirt fits your torso will create vertical lines. With one panel of fabric covering your torso and shoulders, the column will help to elongate the upper half of your body.
Since halter tank tops are typically more fitted, it is more than natural to lean toward darker shades for this style of top. Black and dark gray will only be slimming and flattering on your body, so you should go for what makes you feel the most comfortable and beautiful.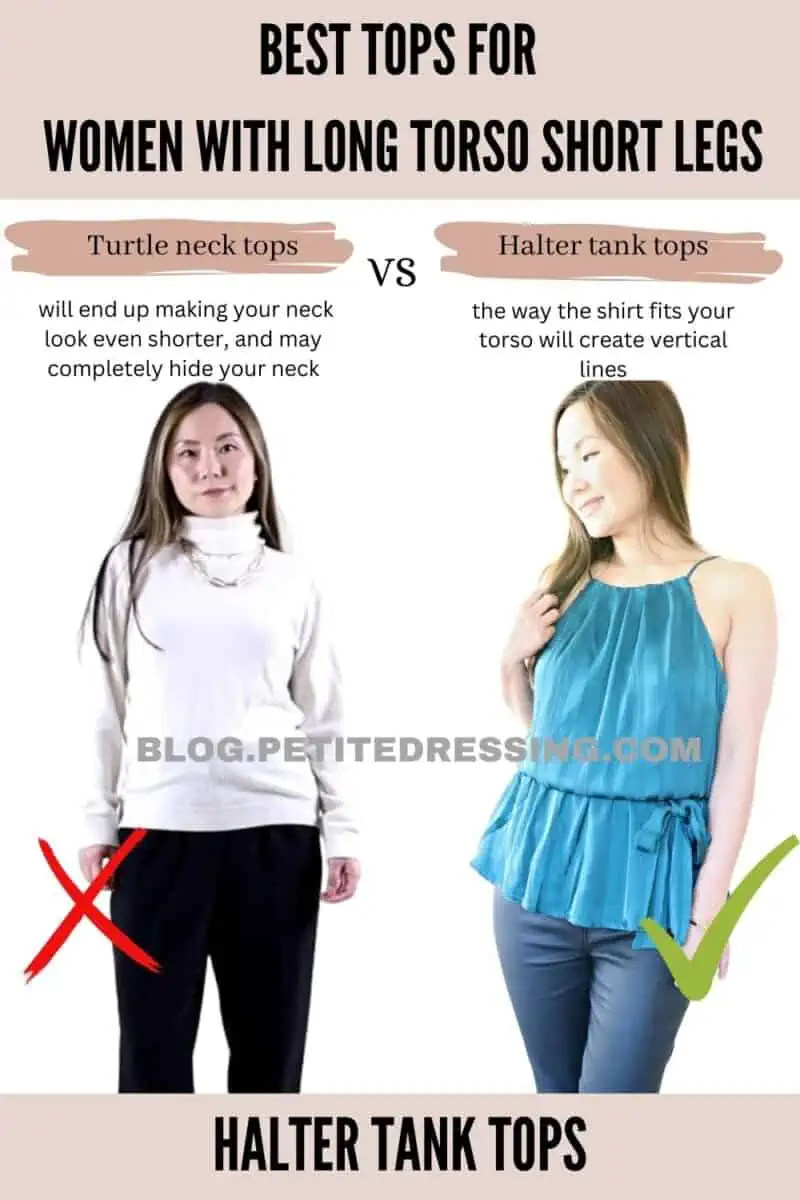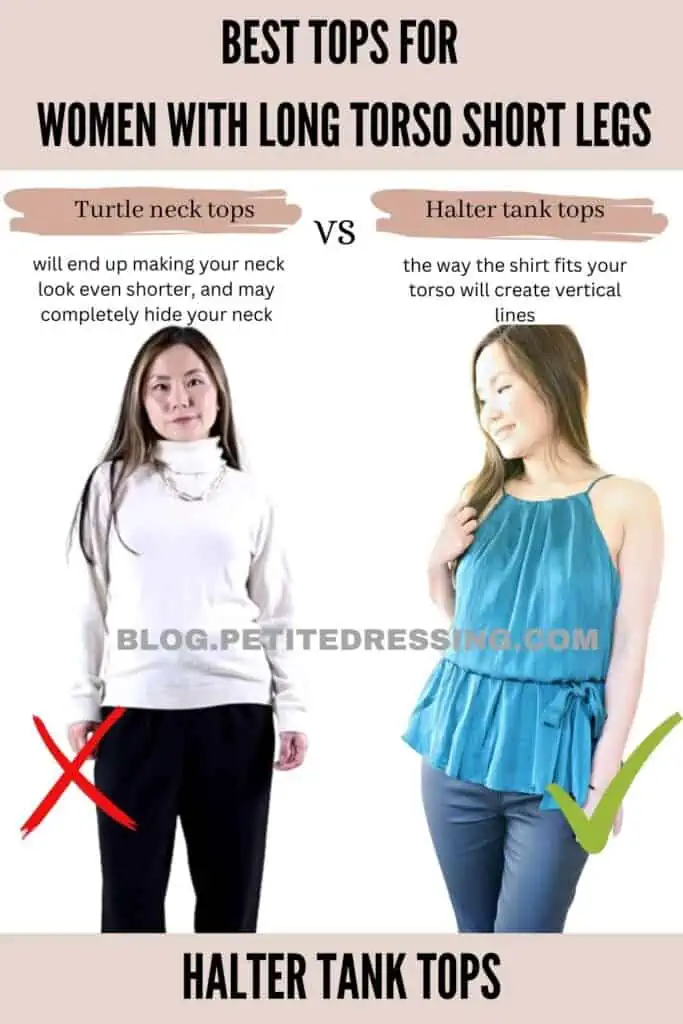 Tucked in button-ups
Button-ups are a classic choice of top. They are ideal for both formal and office attire and look amazing on women of all shapes. You can add or remove buttons to change up the neckline depending on the occasion that you are wearing a button-up for.
When you wear a button-up, it is best to make sure it is tucked in. Adding some shape to your body by defining your waistline will make you look more feminine and mature. Sometimes women with long torsos struggle to elevate their look because of their shorter legs. Baggy clothing will only end up making you look shorter than you are. 
If you still want the button-up to fit loosely, you can tuck it in and then pull some of the fabric out. This gives you space to breathe while also keeping a clean and elegant tucked look.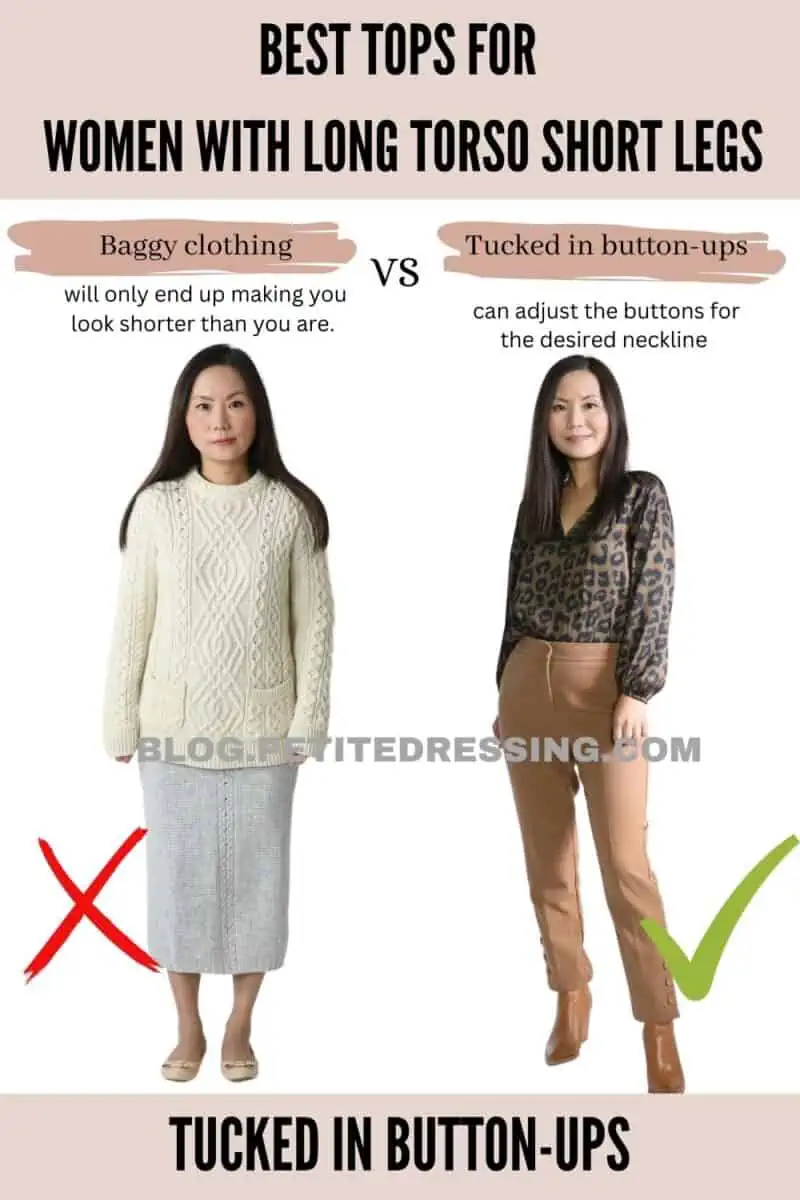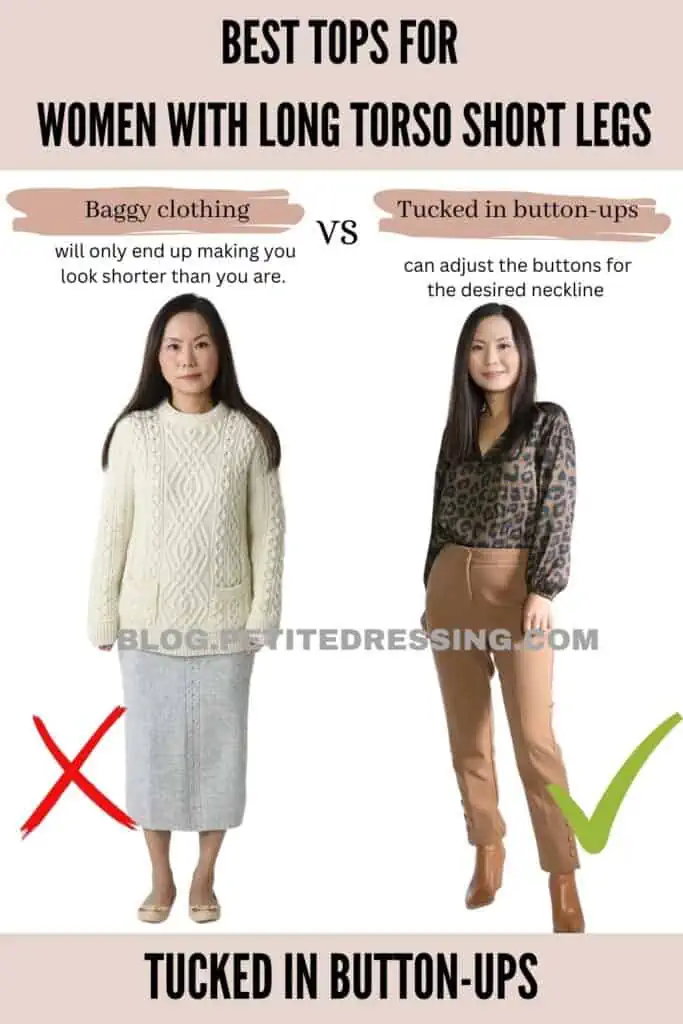 V-neck t-shirts
T-shirts are one of the most common types of tops to wear. They are comfortable, and casual, and are ideal for layering and styling basic outfits. One simple t-shirt can be styled in so many different ways, which is why most women have a wide variety of t-shirts available in their closets.
In order to make a t-shirt more flattering in your shape, you should go for v-necks. A v-neckline is ideal for short women because it creates vertical lines on the upper half of your body. These lines will elongate your torso and make you look taller, utilizing the column method.
V-neck t-shirts will also allow you to show some skin around your chest and collarbone area. If you are confident with that part of your body, you should definitely choose a deeper v-neck. This will also draw more attention to that part of your body, which may distract others from noticing how short you are.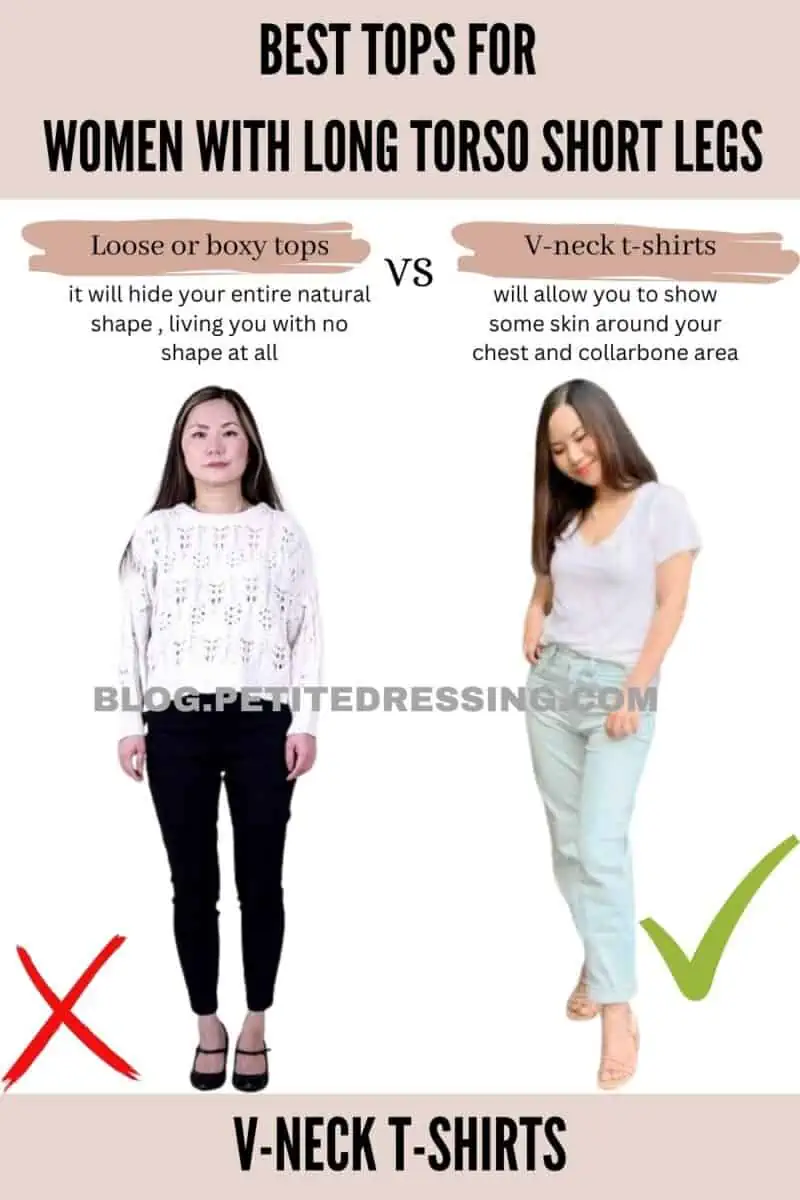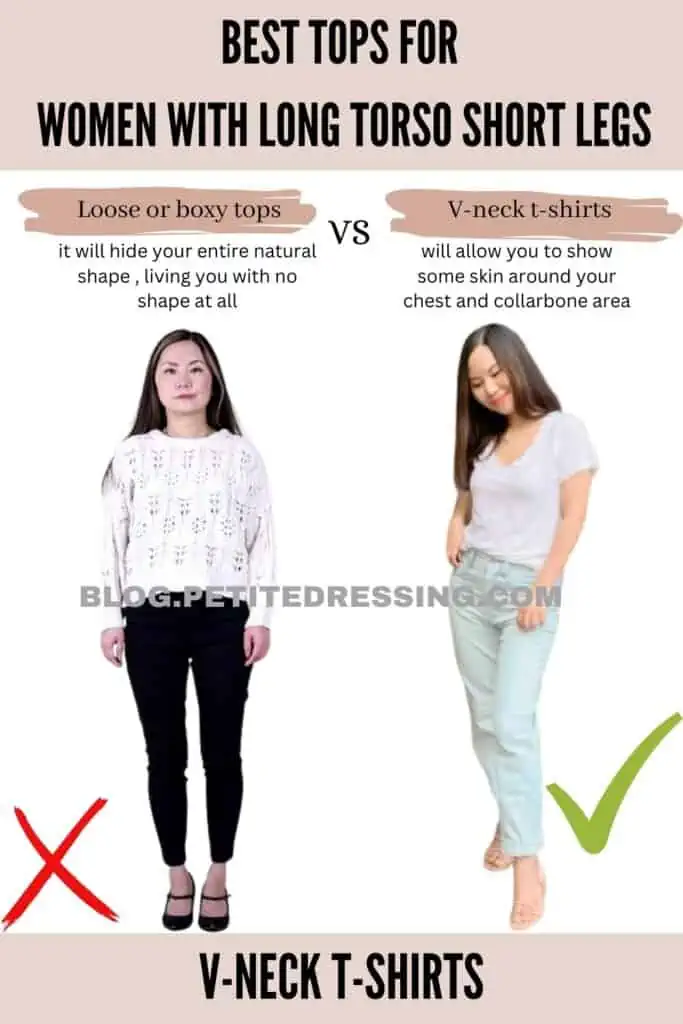 Corset tops
One of the most flattering ways to cinch your waist starts with a corset. When you wear a corset as a top, you get to accentuate all of your curves and highlight some of your most feminine features.
Corset tops are long but still define your waist. This allows you to make your torso look longer, without making the bottom half of your body appear shorter in any way. Corset tops can be styled with both casual and formal outfits. The dressy level will usually depend on what bottoms you pair a corset top with.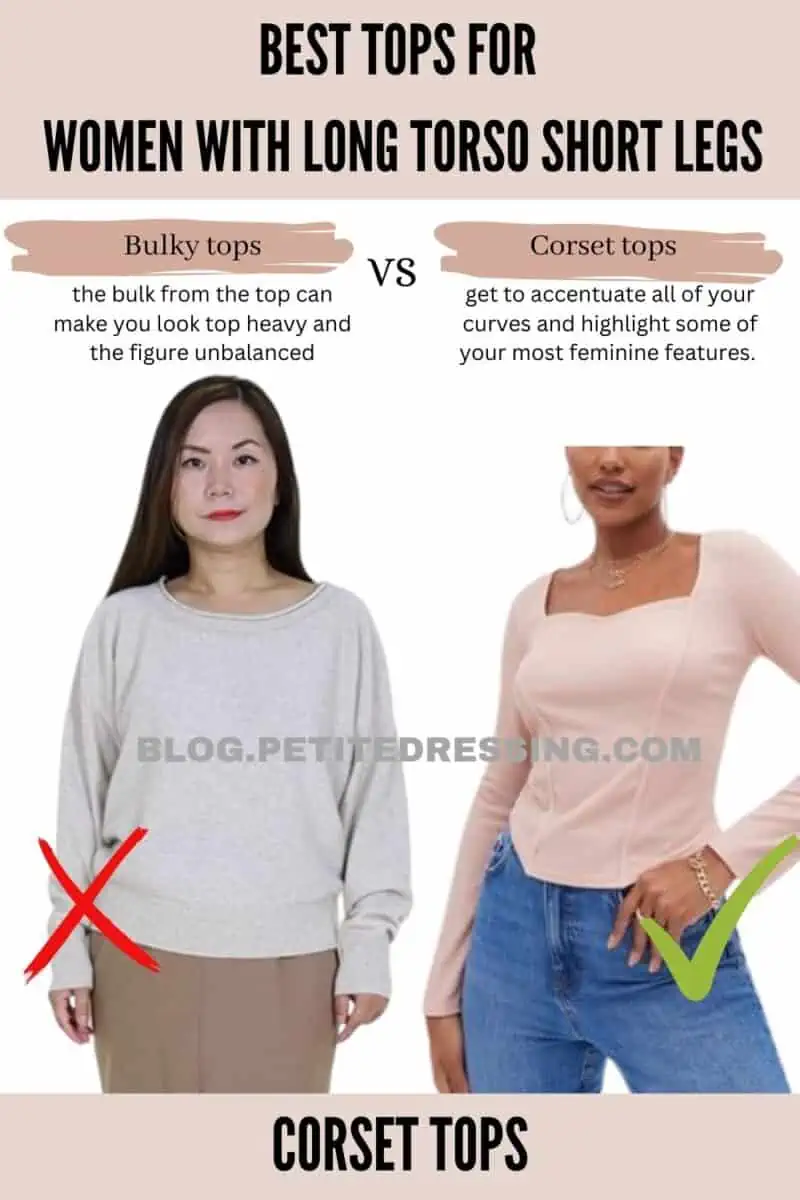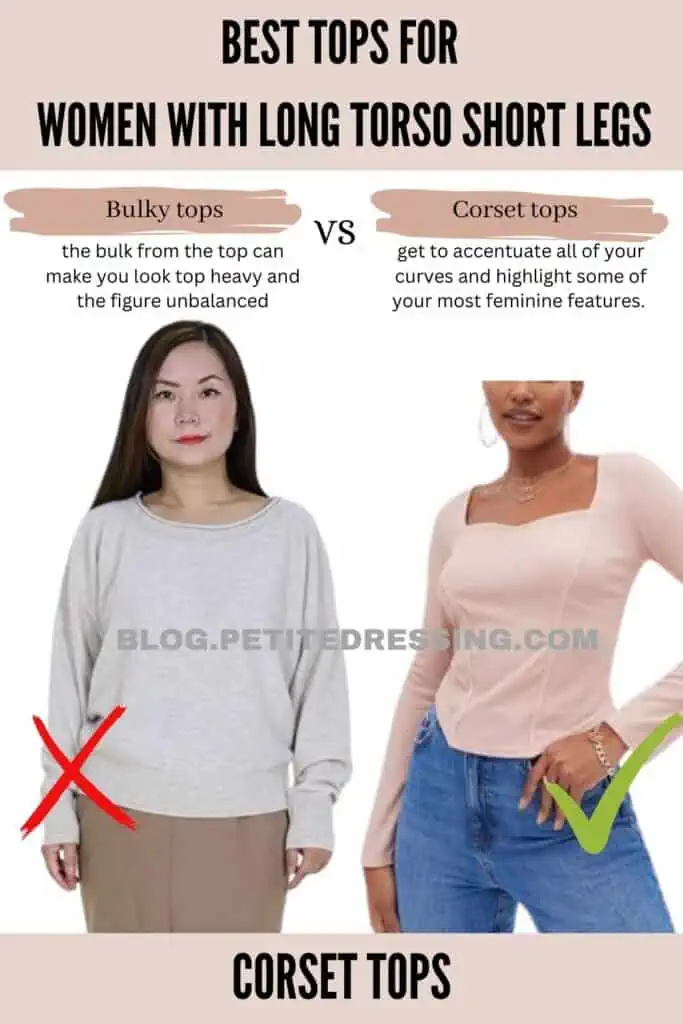 Crop tops
It is important to wear tops that will help you define your waist. You can elongate your legs with a pair of high-waisted jeans, and a crop top pairs perfectly with jeans. Crop tops are casual but always in style. They are comfortable, and the right length will never be too revealing.
Crop tops can be cut at the perfect length to show off your curves. Cutting the shirt right before your hips is the most flattering length. It is important that you don't wear a crop top that is cut too short. It may end up making your torso look shorter than it is, which is not ideal for our shape.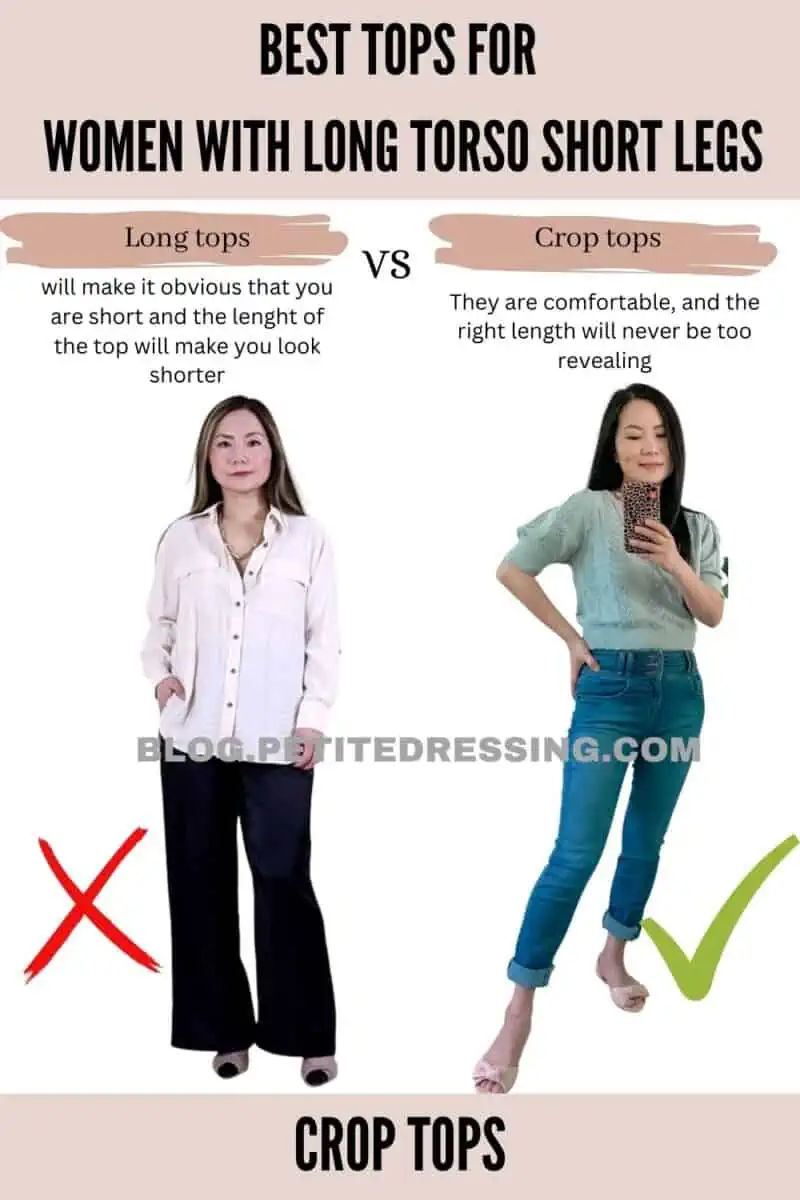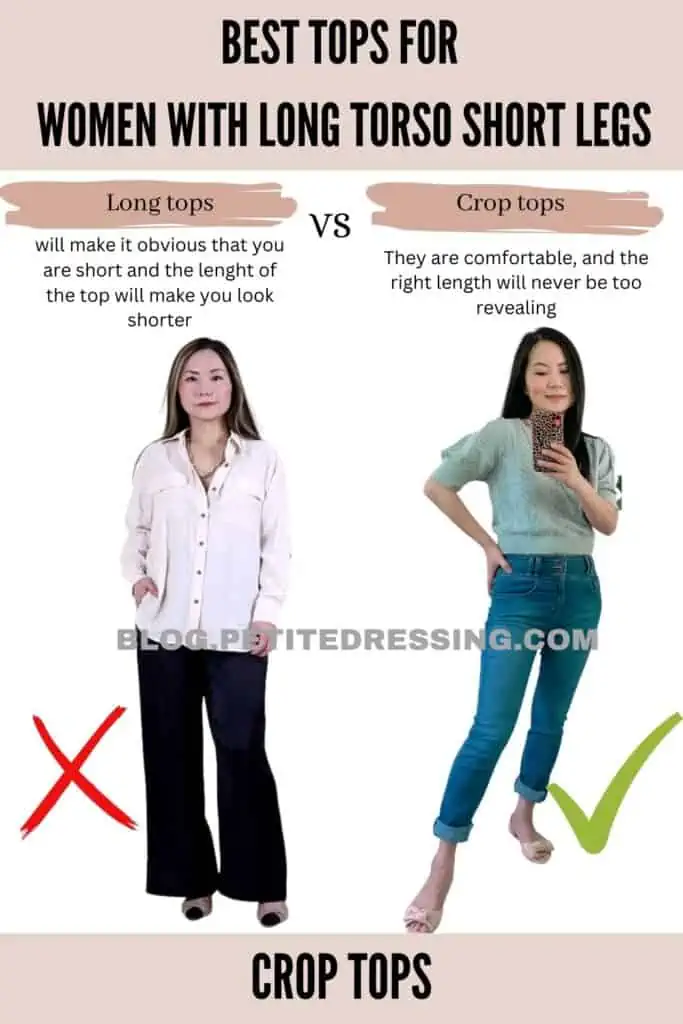 Vertical stripes
Adding some design to your choice of top is always a great way to spice up your outfit. When you choose a striped top, you will want to be careful about which direction the stripes are flowing. 
Vertical stripes will be a good option. As the vertical stripes stretch from the hemline to the neckline, they will end up making you look taller. This is due to the column method, where vertical lines create the illusion of added height. The thinner the stripe, the more powerful this effect will be.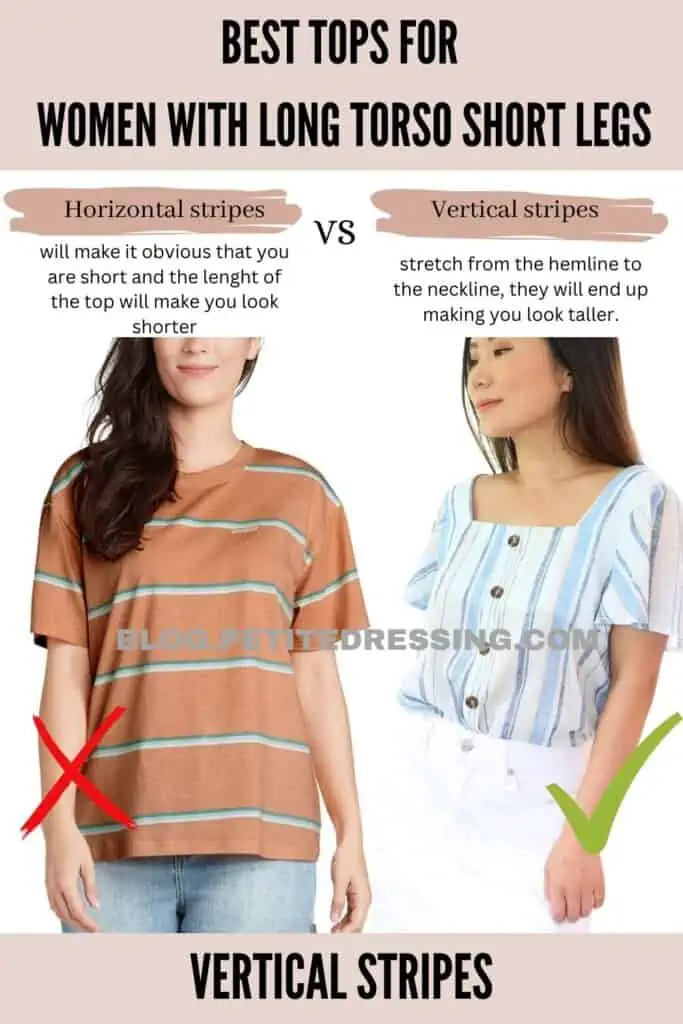 Peplum tops
Peplum tops are form-fitting and then flare out at the waistline, creating an hourglass silhouette.
This is perfect for women who are more straight-shaped and want a shirt that will make you look curvier.
These tops can be very flattering for women with longer torsos.
On the other hand, if that part is too short, it can end up making your torso look even shorter than it is.
The flare ends up making your hips look wider and adding shape to your body.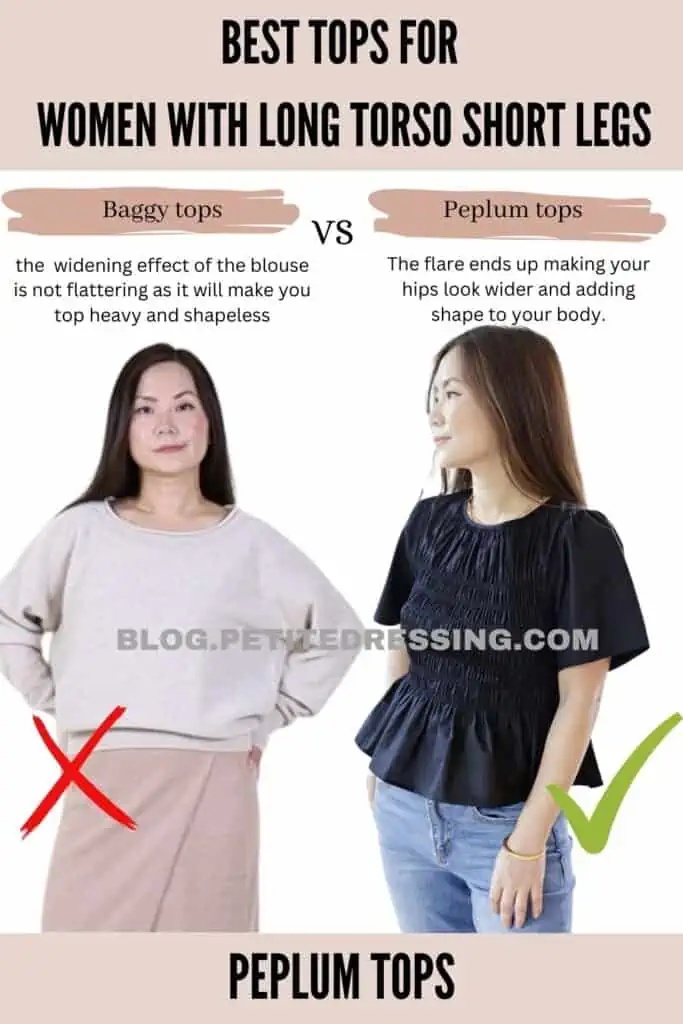 Caution with horizontal stripes
Horizontal stripes are the pattern you will want to avoid at all costs. Horizontal stripes will only make you look wider as they stretch from side to side. This will bring the focus on your body from side to side instead of up and down. The wider the stripes, the stronger this illusion will be.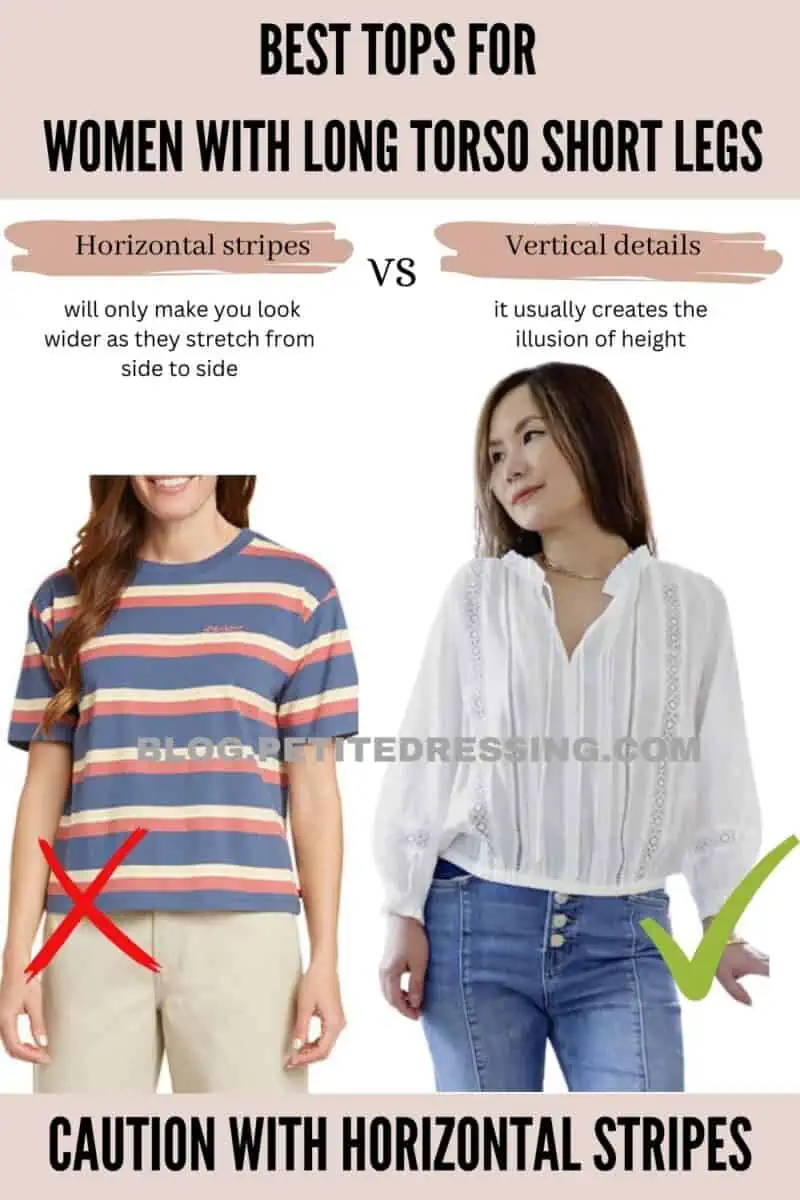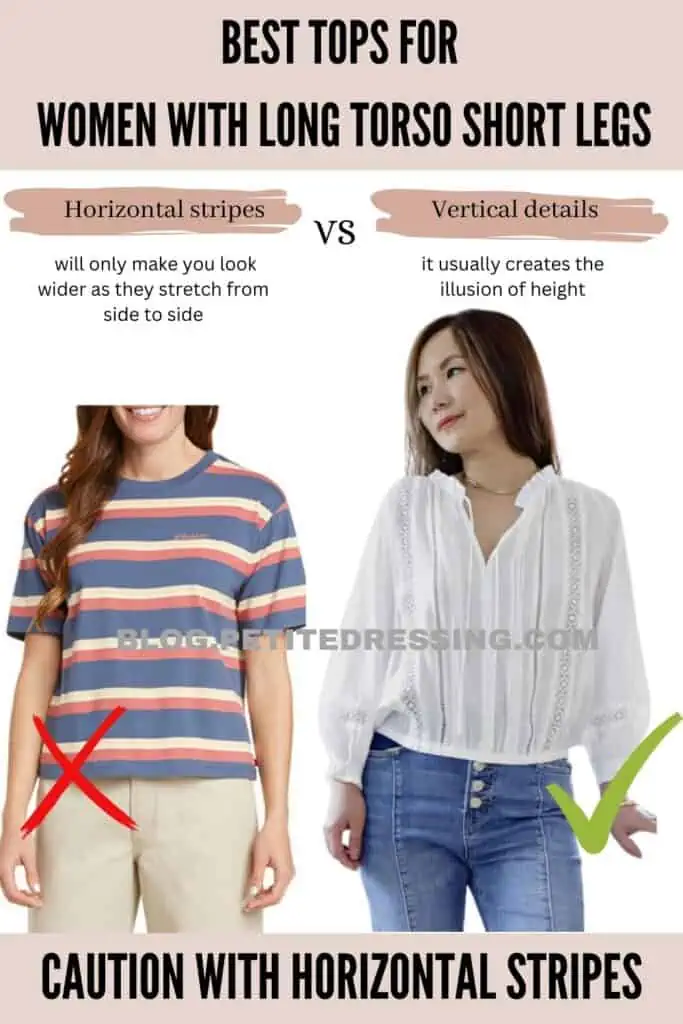 Caution with turtlenecks
Turtlenecks are comfortable and ideal for colder weather, but they may not always be the most flattering top choice. The main issue with a turtleneck falls within the neckline. Turtlenecks are bulky around the neck and add width.
Because our torso is already, a turtleneck will end up making your torso look even longer. Besides, this can also make your face look rounder and wider as well.
If you are determined to make a turtleneck work, try to choose a turtleneck that has a very moderate and slight turtleneck so that it doesn't cover up all of your neck and look unpleasant.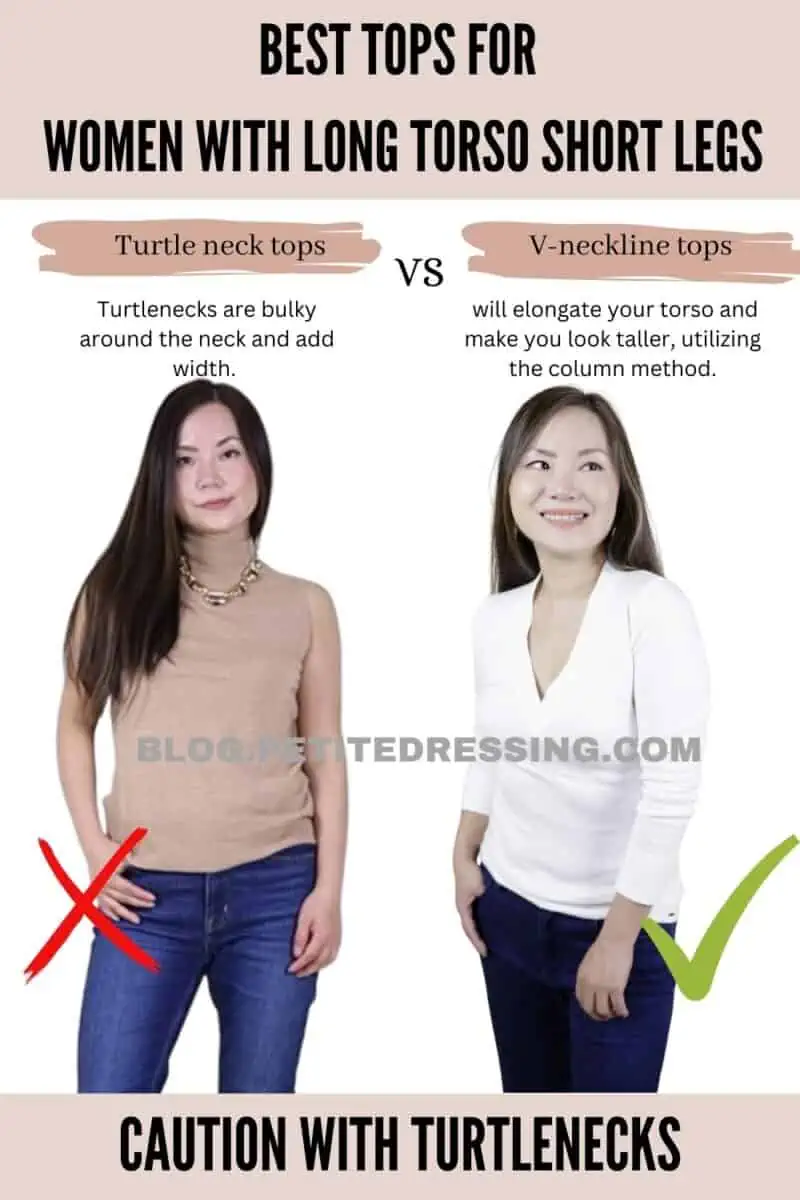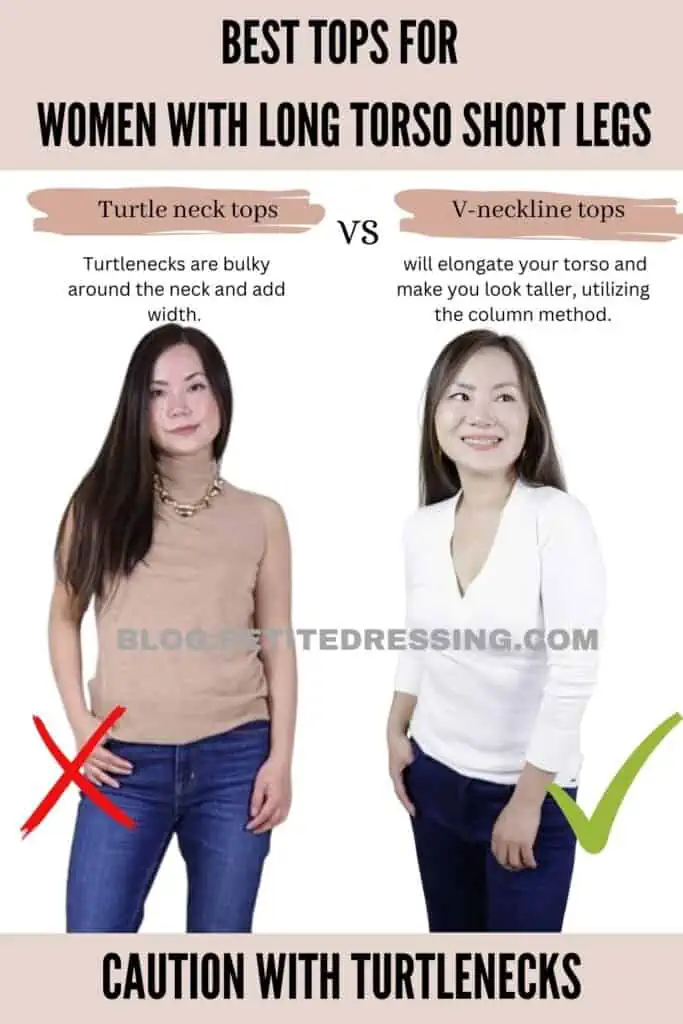 Avoid chunky sweaters
Chunky oversized sweaters are likely to create that exact problem when you throw them on. Although oversized sweaters are supposed to be cute and comfortable, they typically just look like dresses on shorter women like myself.
Chunky oversized sweaters can also end up looking bulky on you. This will only end up adding weight and width to your shape, which will in turn shrink your height. Typically, width goes hand in hand with the illusion of shorter height.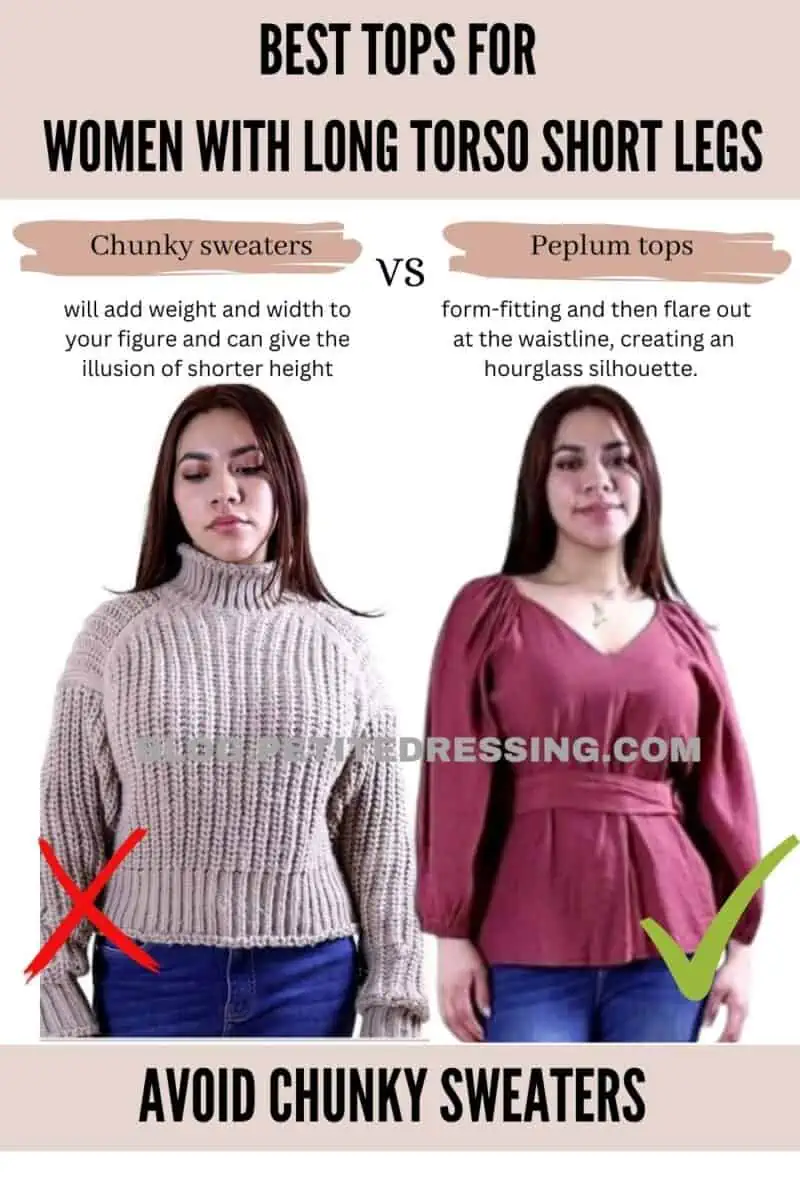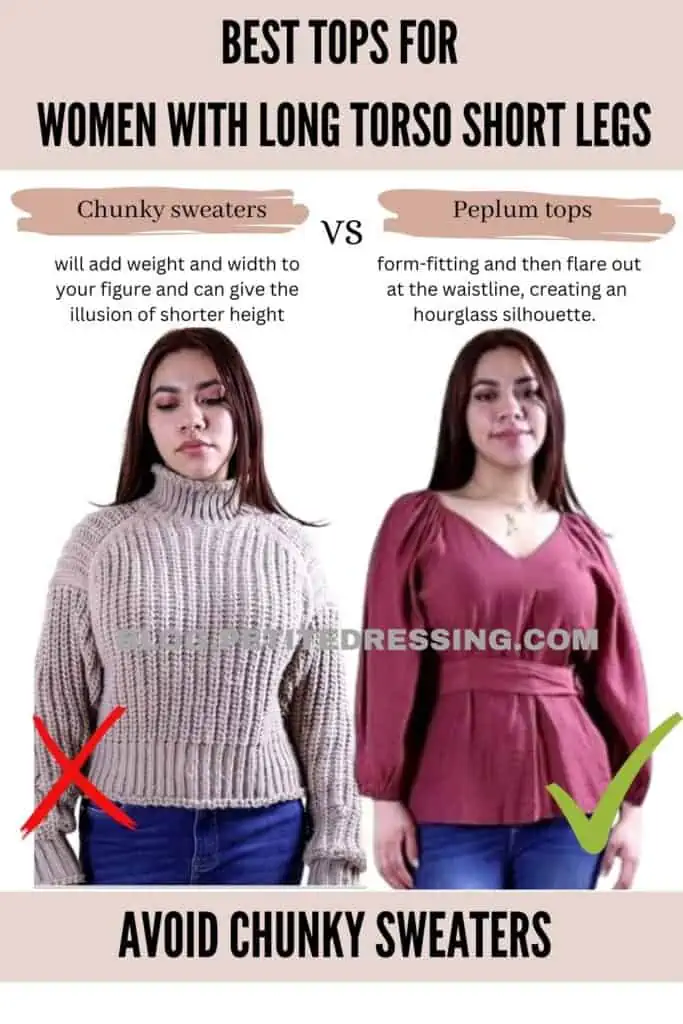 Avoid long-fitted tops
Long-fitted tops will cling tightly to your body from the neckline to the hemline, which usually falls past your hips. These shirts may look elegant and stylish on some, but they will end up making your torso look even longer.
These long-fitted tops will end up making it very obvious that your legs are short, and the length will make your legs look even shorter. This style of top does not look flattering on all body types, and can highlight any curves or creases that you may want to avoid.