Do you have thick, short legs? You're not alone! I'm a fellow petite with thick legs so I feel your frustration. As much as we want to fully embrace the bodies we were given, understanding how to dress it in a flattering way can be a process – regardless of your height and shape.
When you're petite, it's likely your legs are shorter than your tall girl friends. We have another post on "6 Things to Avoid for Petite Women with Short Legs", which talks about how to make your legs look longer. We also have a post on "How to Look Taller", if that is what you are interested in knowing,
Now, as a petite girl, if your legs happen to be also thick, it adds another dynamic to the style mix. With spring and summer in full effect, I wanted to share a few of the style tricks to dressing short and thick legs I've learned over the years to help you step into the new season with confidence (and style). These tips are easy to follow, and let's dive right in.
Focus on the Top Half
Ok so you wish your legs were longer and more slender. Dressing to shift the focus away from your thick legs is the best way to create more balance in your entire shape. When we DON'T do so, it often enhances what we are born with and can make our legs to appear even thicker and shorter than they are – I know, I know a petite woman's worst nightmare! Since we know we need to create some balance in your shape, you want to bring more of the focus in the way you're dressing to the top half of your body. There are a number of ways of doing this.
To give you an example, this is Rachael Bilson (5'2″). She is a typical petite pear shape with thicker thigh area. By wearing black straight leg pants, she is de-emphasizing her legs. Meanwhile, the bright color top with bow details at the neck draws our attention to her top. This is a perfect example of balancing out a petite women's thick legs.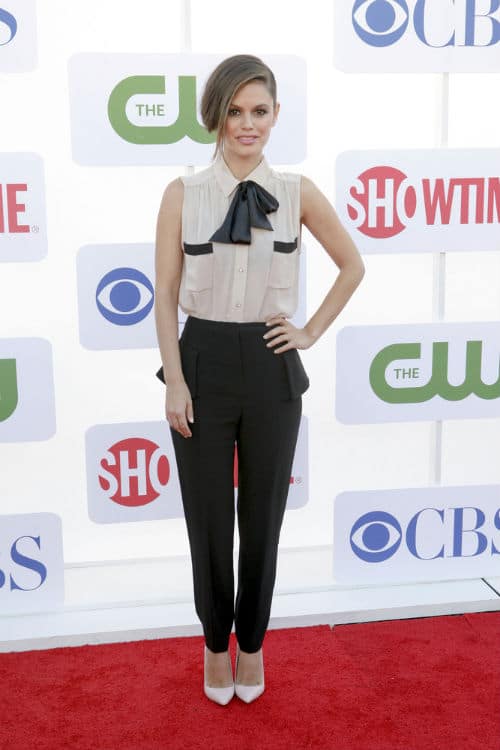 As I mentioned, there are countless ways of bringing the attention to the top half. A great way to bring more focus to the top half of your body is to play with colors. What generally works is to wear a neutral color on the bottom with a pop of color on the top half. For your bottom, you can opt for dark wash denim or straight leg pants, and for the top, a well fitted shirt or jacket that is not too tight.
Avoid Clingy Materials on the Bottom
Now you know you want to create more focus on the top half of your body, this also means that you will want to avoid clingy materials on the bottom half. Wearing clingy, very tight fitting garments on your bottom half (skirts, pants, etc) is going to do the opposite of creating balance and will bring ALL of the attention to your bottom half.
So instead of those skin tight bottoms, opt for skirts, pants or jeans that give you a bit more space to move. Think of pants like a straight leg vs. a skinny leg, for example.
One common question people always ask is "if my legs are already thick, can I wear wide leg pants?" The answer is you can, but you should be selective about the color, pattern and length of the wide leg pants. The benefit of wide leg is that they make your thick legs less noticeable. Of course, because you ARE petite you don't want to take this to the extreme and wear garments on the bottom that are TOO flowy, as they can shorten you drastically.
It's all about finding a balance, not too form fitting but not too big. This will give the illusion of a longer, leaner looking leg. If you are interested in knowing more, we have another post on "Palazzo Pants for Short Women".
Embrace High Heels
Most petite women are loyal to high heels. We love a little additional height! When you have short, thick legs high heels are even more of a benefit to you. Unfortunately, many flat shoes tend to bring you down (literally and figuratively) and can cause your thick legs to look thicker. While there are exceptions to every rule, if you want to create leaner looking legs pop a heel on!
Don't worry though, if you can't rock a 6" high heel all day long that's not necessary. Even a medium height heel will be enough to give you an added length boost to flatter your thick legs.
Skip Ankle Straps
Since we're on the topic of shoes there is a high heel (and flat) shoe type that thick leg ladies need to avoid at all costs. Ankle straps. As much as I love giving you creative leeway to rock what you love to wear, ankle straps aren't a good choice for a woman with short and thick legs. Wondering WHY this is such a style don't for thick legs? Wearing an ankle strap cuts off the leg line right at the ankle, which isn't great when you have short and thick legs. In fact, when you have thick legs the ankle strap emphasizes this fact by drawing attention to our thick legs and make them appear larger.
To be quite honest, ankle straps aren't great for ANY petite woman because they cause us to look shorter. Do yourself a favor and just skip the ankle strap heels and shoes altogether. There are so many other better options for my fellow thick leg petites!
That said, I do understand some of us do need to wear ankle straps at times. I know that because I have small feet and a lot of times I just cannot wear pumps without them sliding off my feet when I walk. If you are like me, you may not have much choice other than wearing ankle strapped heels. The solution for that is to opt for nude colors which look close to your skin tone and thus the straps will be much less obvious. Here is an example to the opposite.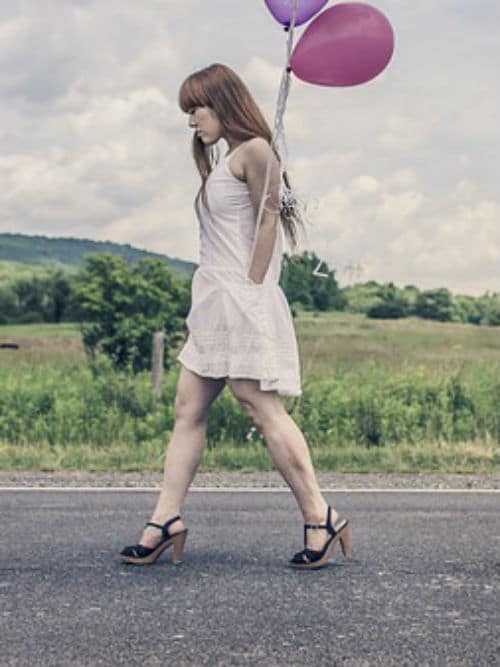 The girl in the photo is beautiful with short and athletic legs. If I were her, I would switch the shoes to nude color heels with skinny ankle stripe. Black shoes make the ankle strips most noticeable, which means your legs will look obviously cut off.
A-Line is Your Friend
We went into some of the pant styles you should be selecting to flatter thick legs, but you may be wondering about skirts and dresses. I don't know about you, but this time of year I LIVE in skirts and dresses for their ease and because they're fun to wear during the warm weather months. Similar to what I mentioned before, thick leg petites are going to want to avoid skirts and dresses that are TOO clingy in their fit.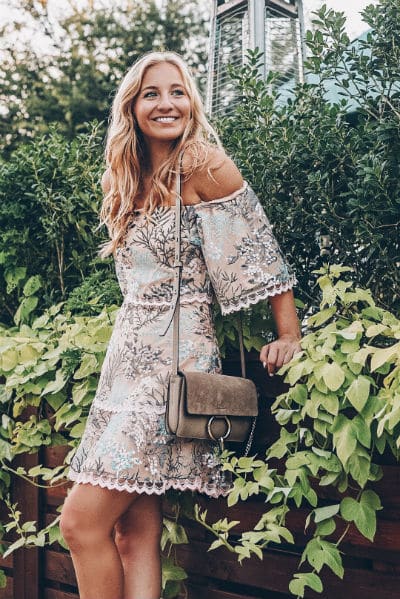 A-line silhouettes for both skirts and dresses are going to be your BFF (not to be dramatic or anything). The reason a-line is so great for short and thick legs is because it's the perfect balance between slim fit and too loose. Pus, a-line makes your legs appear slimmer because of the silhouette shape. Keep in mind that because you are petite you won't want an a-line silhouette that's TOO exaggerated in its shape as too much volume can have a reverse flattering effect. Additionally, anytime you find an a-line skirt or dress make sure the length is just above your knee. This length is best for a petite woman so it doesn't overwhelm your body and ensure that you're getting all the benefit of the silhouette to flatter your thick legs.
Pointed Toe Shoes are a Must
Now let's circle back to shoes. You may have gathered at this point that shoes play a huge role in dressing to flatter short and thick legs. There's one more shoe factor to consider when you have thick legs and that is to choose pointed toe shoes more often than not. It may sound like a very small shoe detail but when you have thick legs it can make a huge difference in figure flattery. The reason pointed toe shoes are a great option for thick legs is because they elongate your legs and create a slimming effect. Pretty amazing, right?
While I said high heels are a must have for thick legs I understand you may not want or be able to wear high heels every single day. In the case that you need/want to wear flats the best option is going to be a flat shoe with a pointed toe. It's going to be much more flattering for you than a rounded toe flat. So moving forward start seeking out pointed to flat shoes. The good news is that there are more pointed toe flat shoe options now than ever before so you will have plenty of choices to keep you stylish and to have fun wearing. Of course pointed to high heels are the ultimate style win for thick legs so don't forget about the heels either!