We often associate formal dresses or evening gowns with something flashy that even goes as far as showing a lot of skin. While going a bit risque with your formal dress is totally okay, you need to be a bit more mindful about which structures are the most flattering if your body shape leans towards the curvy side.
Since curvy women tend to be on the heavier side, some find it intimidating to find figure-fitting formal dresses. But well, formal dresses aren't always about skimpy fits and body-revealing designs but more about style and elegance!
In this blog post, we'll walk you through different styles of elegant formal dresses that will surely embrace your beautiful curvy figure. But you know the drill, let's discuss our styling goals first.
Styling Goal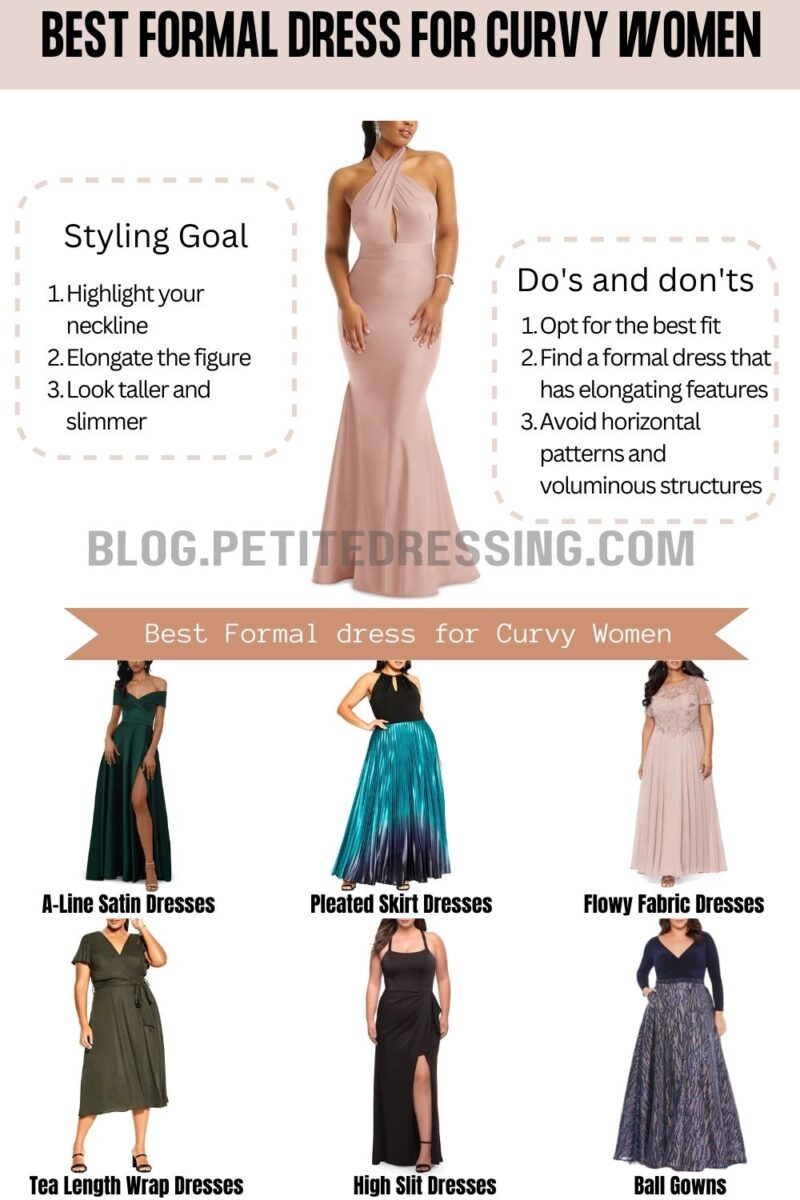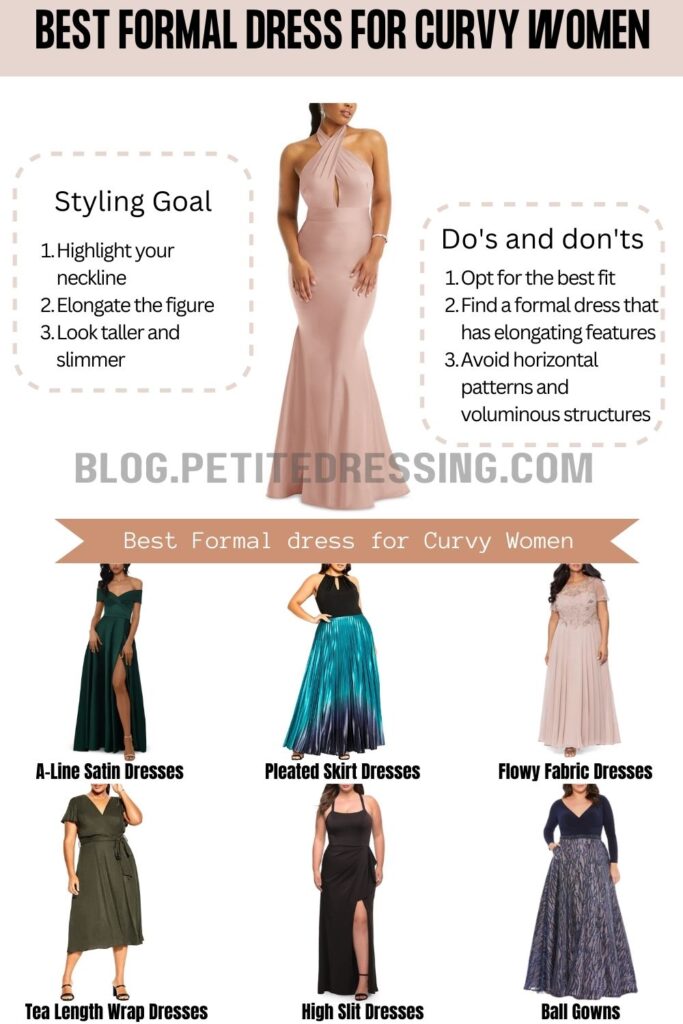 Opt for the best fit which means it shouldn't be too tight or too loose. In order to properly embrace your curves, it'll be much more ideal to go for a bespoke fit, especially because most formal dresses aren't as diverse when it comes to sizes.
Necklines matter so much when it comes to formal dresses because they will greatly affect the visual balance of your overall silhouette. Being a curvy girl means that your bust line is one of your body's best assets and the right neckline should help you highlight this very important feature.
Find a formal dress that has elongating features which means patterns, cuts, or designs that draw the eyes up and down. This is to give your curvy figure more balance by making you look leaner and taller without compromising your curves.
Avoid horizontal patterns and voluminous structures. These types of details can make you look heavier and wider which is something that curvy women need to be extra mindful about.
Keeping these styling principles in mind, let's now drive into different types of formal dresses that will surely flatter your figure.
A-Line Satin Dresses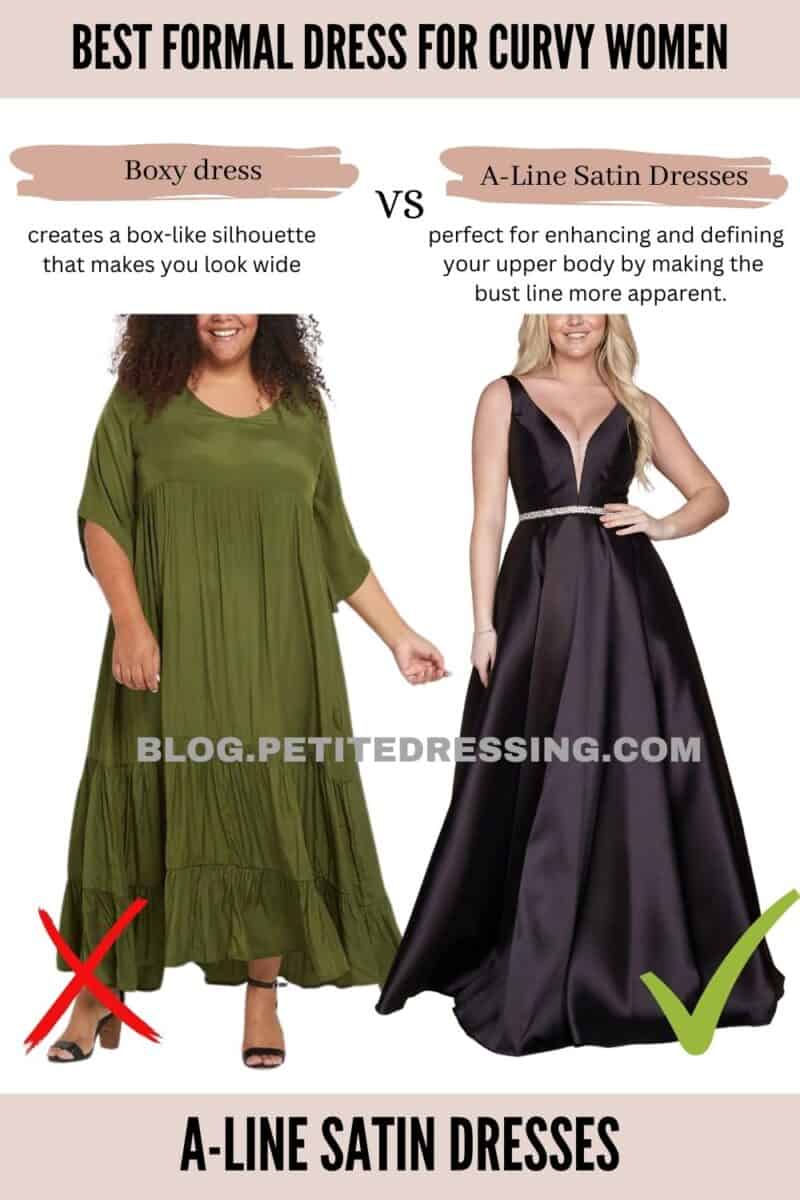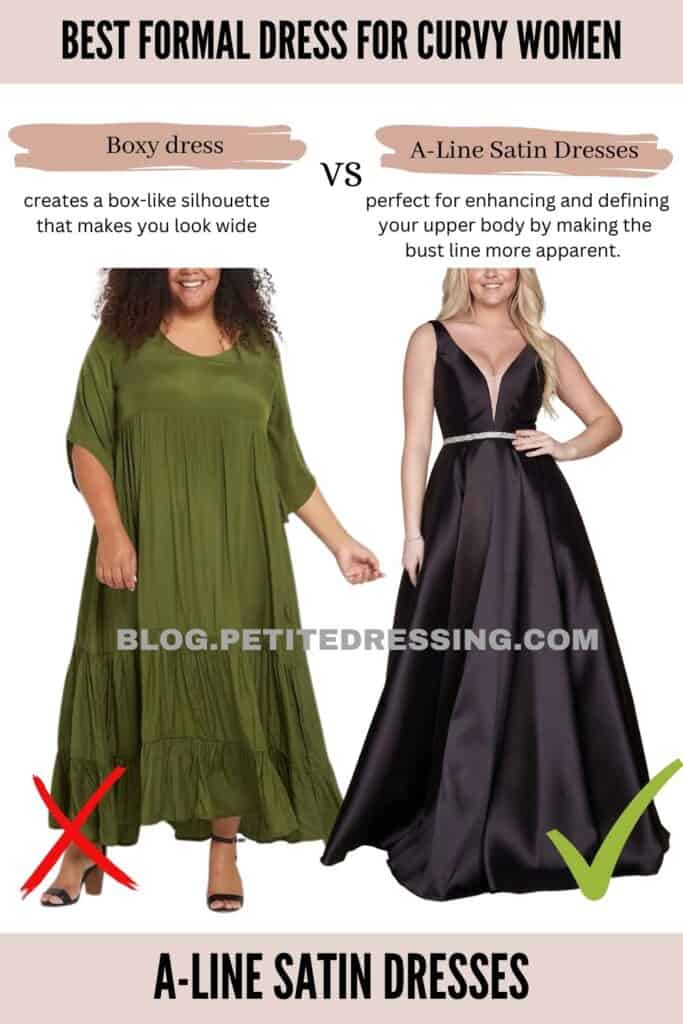 The classic fit and flare structure A-Line dresses give will always be one of the best choices that a curvy lady should go for. Its form-fitting bodice is perfect for enhancing and defining your upper body by making the bust line more apparent.
A-Line dresses also feature a waist seam that separates the bodice from the skirt which is also a very efficient way to cinch the waist and make it look smaller. This accentuates the waist and therefore creates a better balance between your upper and lower body.
The flare of the skirt also helps minimize the broadness of the hips and bottom allowing a more spacious and comfortable fit which is something you'd really want in formalwear!
Pleated Skirt Dresses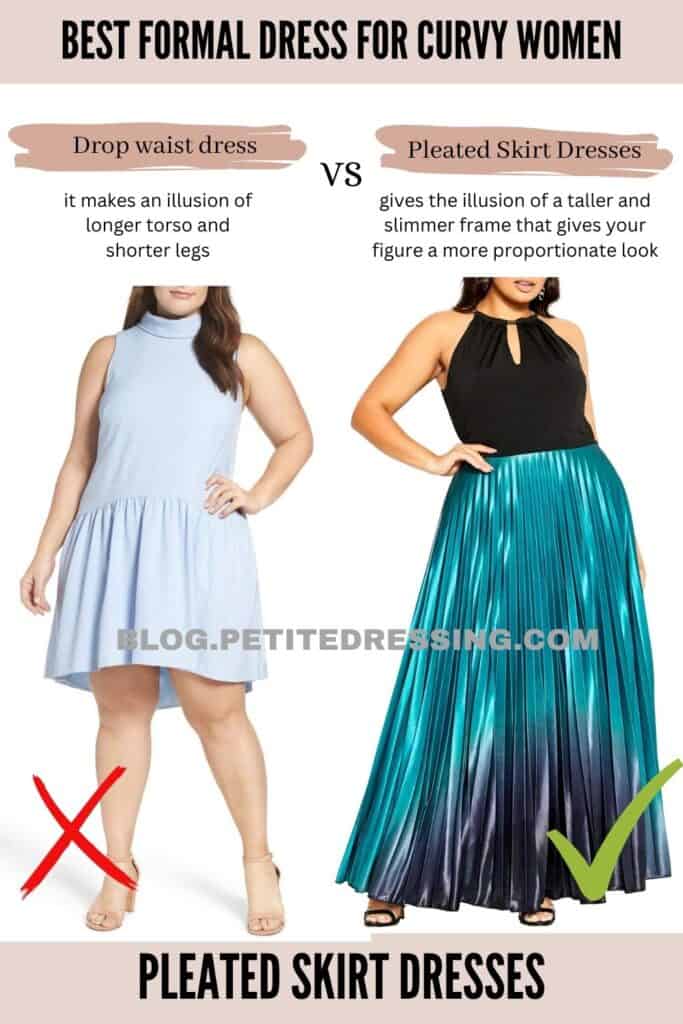 We often overlook how wonderful pleated skirts are, especially when you rock a curvy figure! Pleats are generally flattering for curvy women because they have elongating features.
Pleated skirts visually create straight vertical lines that continuously flow from the waist seam downwards. This effect gives the illusion of a taller and slimmer frame that gives your figure a more proportionate look.
It also subtly camouflages some concerns such as a stomach bulge or thick hips and thighs.
Flowy Fabric Dresses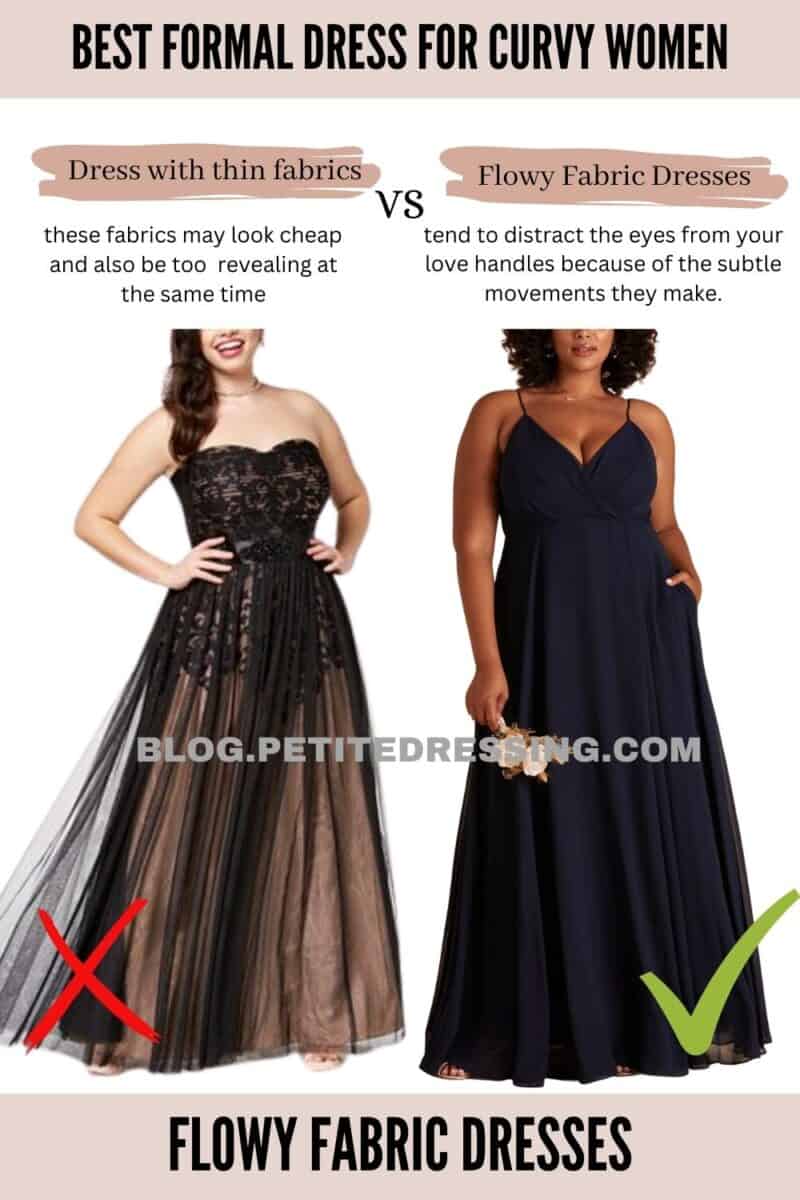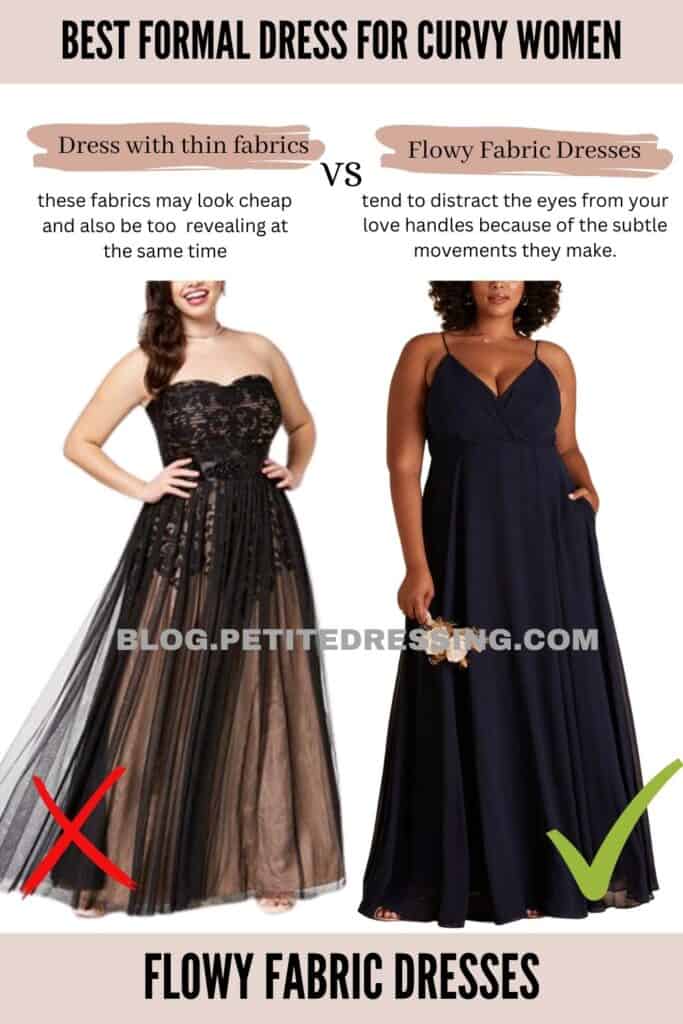 Flowy fabrics like chiffon, silk, and satin are great formal dress options when you have a curvy figure. It's because these types of fabrics are often form-fitting but at the same time, they tend to distract the eyes from your love handles because of the subtle movements they make.
Flowy fabrics are also very versatile because they can be easily seamed into layers for a more dreamy look. Since they are not restrictive, formal dresses that come in flowy types of fabrics are very comfortable to wear.
Tea Length Wrap Dresses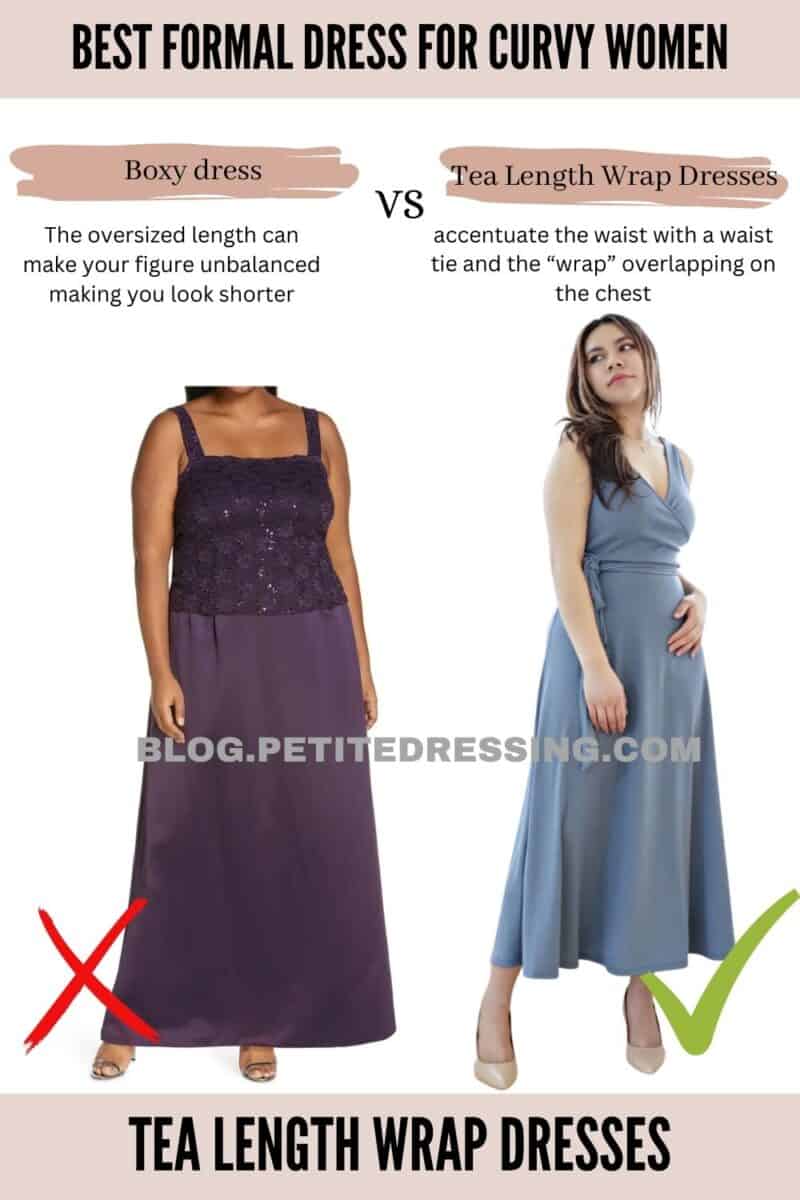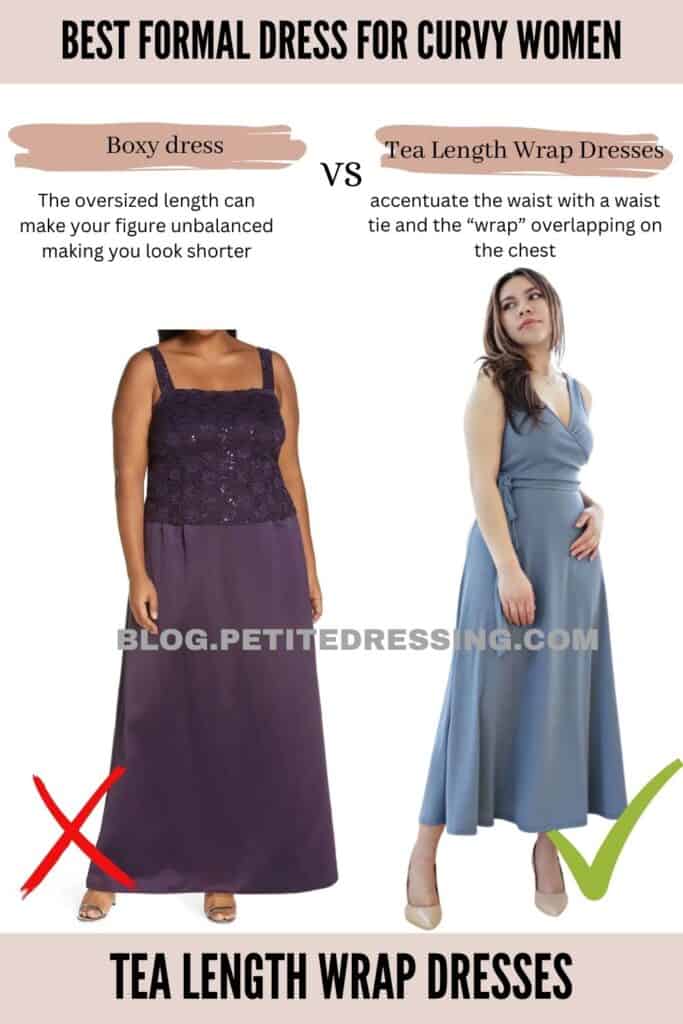 Of course, wrap dresses will always be a foolproof choice for curvy women because it flaunts the perfect structure that flatters a curvy girl's silhouette. Its form-fitting top and adjustable waist cinch are both very helpful in adding definition to your figure.
Wrap dresses accentuate the waist with a waist tie and the "wrap" overlapping on the chest part is a subtle way to give your bust line more shape and emphasis. Formal wrap dresses come in a wide variety of designs and necklines but one of the best (and classic) options would be the V-Neck wrap dress.
High Slit Dresses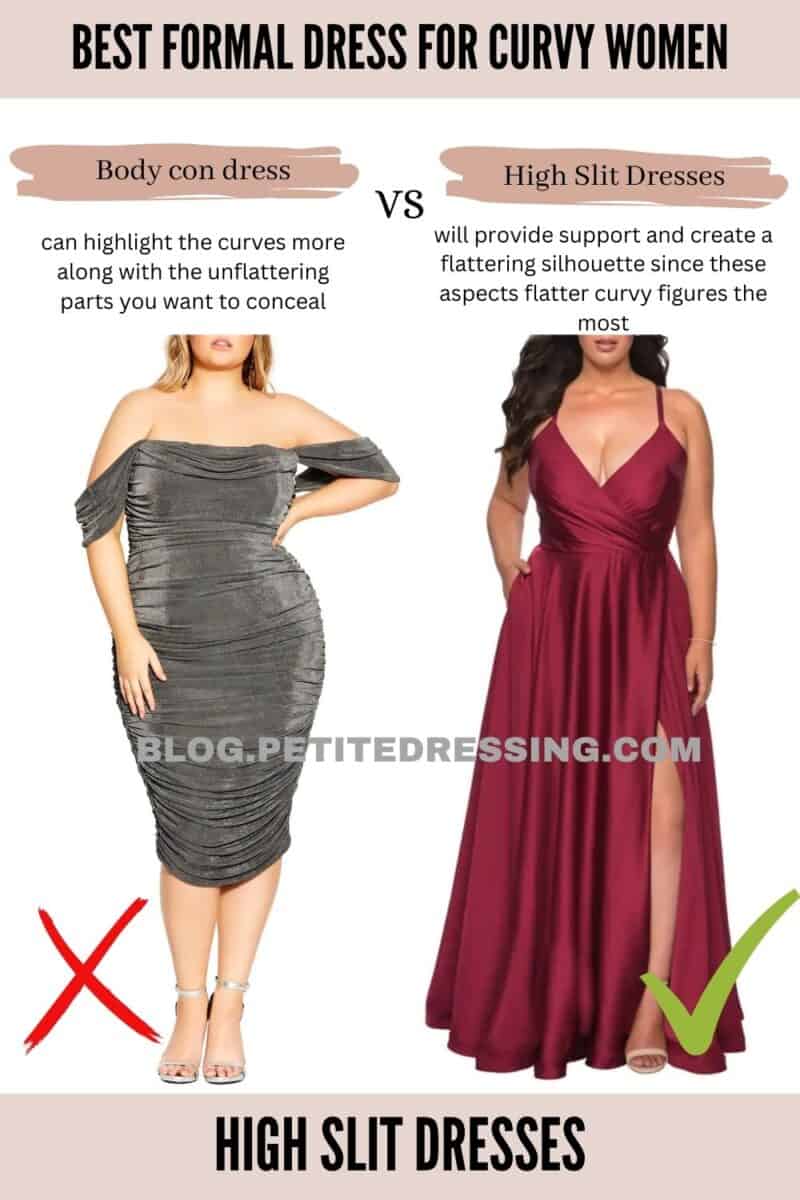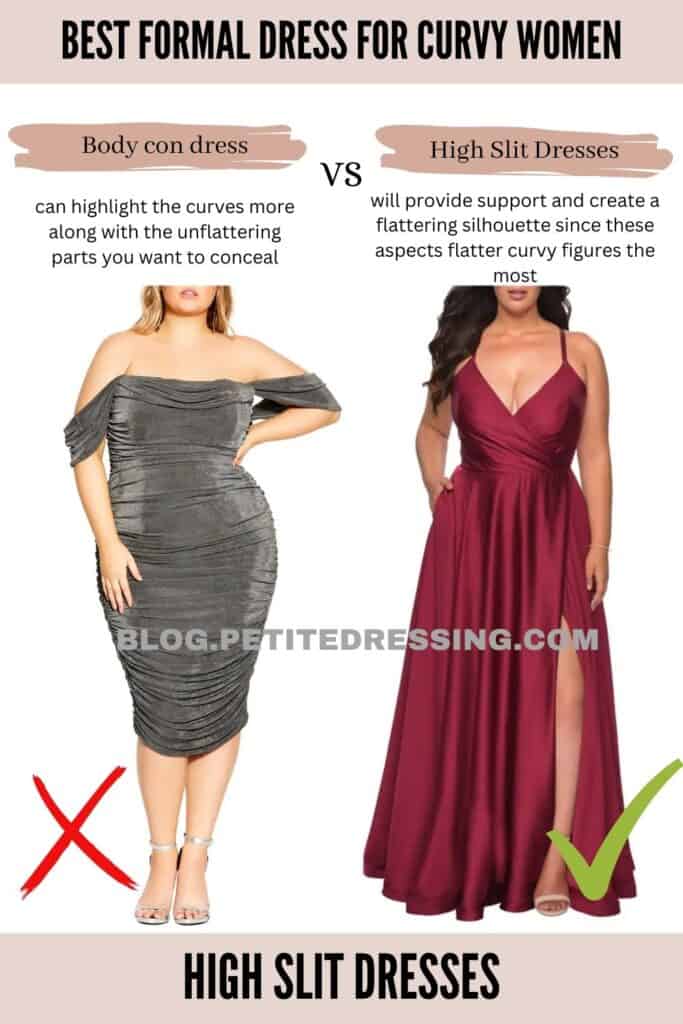 If you'd like to show some skin, then flaunt it! Going for a formal dress with a high slit is one of the best ways to do it because not only does this give a sexier appeal, but its vertical cut also slims you down and gives you a taller frame.
Since they also come in different styles, look for a high-slit dress that has a well-fitted bodice and a structured skirt that will provide support and create a flattering silhouette since these aspects flatter curvy figures the most. Avoid styles that are too loose or too tight, as they can add bulk and make your figure look unbalanced.
Ball Gowns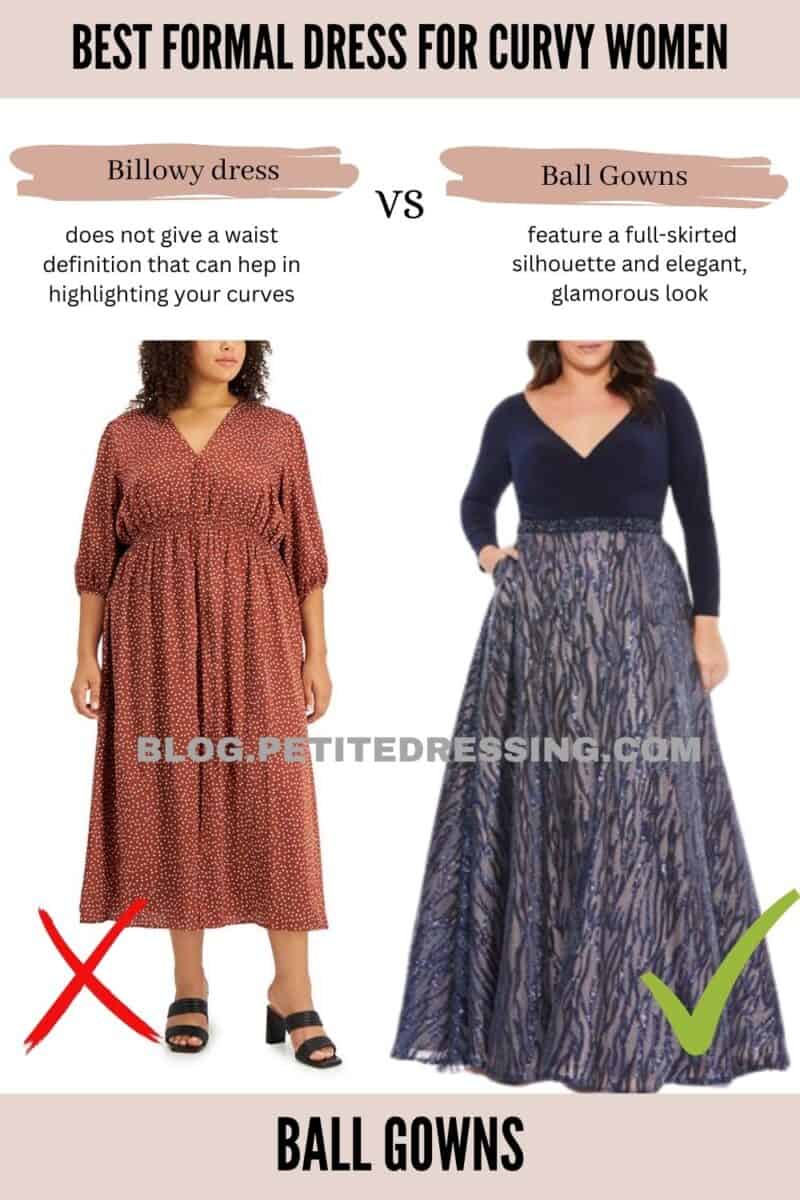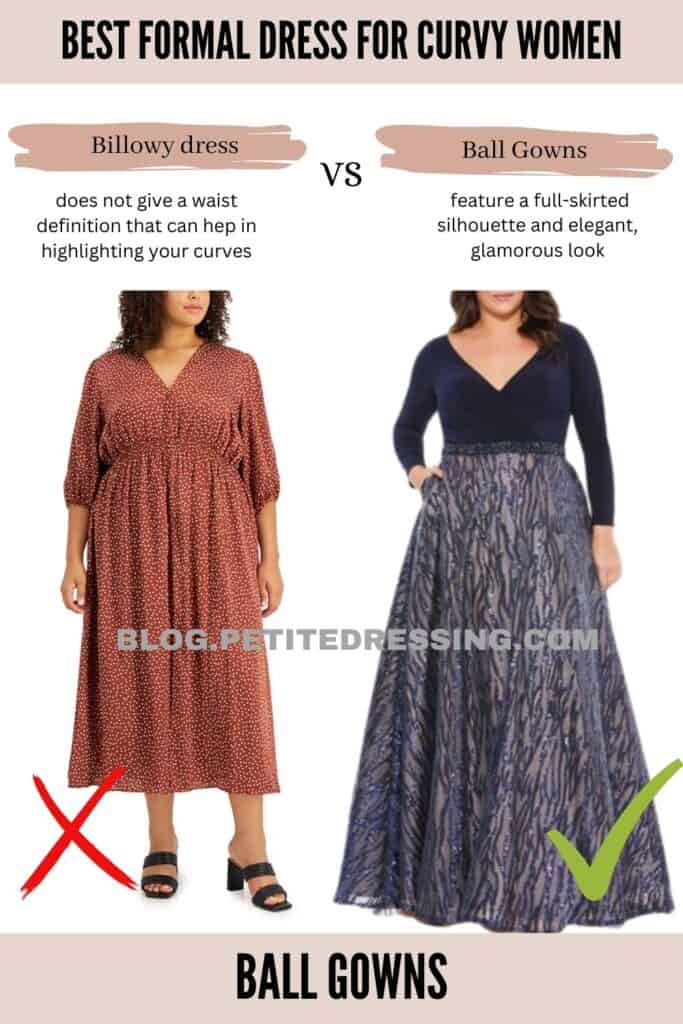 Some formal occasions require a more extravagant vibe and in an event that calls for such, a well-structured ball gown is the way to go!
They typically have a fitted bodice that enhances a curvy girl's bust line and a skirt that flares out into a full, voluminous garment made of luxurious fabrics such as silk, satin, taffeta, or chiffon. Ball gowns feature a full-skirted silhouette and elegant, glamorous look and they are also quite flattering on women with curvy figures.
For curvy figures, you can look for styles that fit well and provide support in the right places such as a bodice with structured boning or a corset that can help to smooth and shape your figure. A well-fitted waistband that sits comfortably on your natural waistline will help create an hourglass silhouette.
Empire Waist Formal Dresses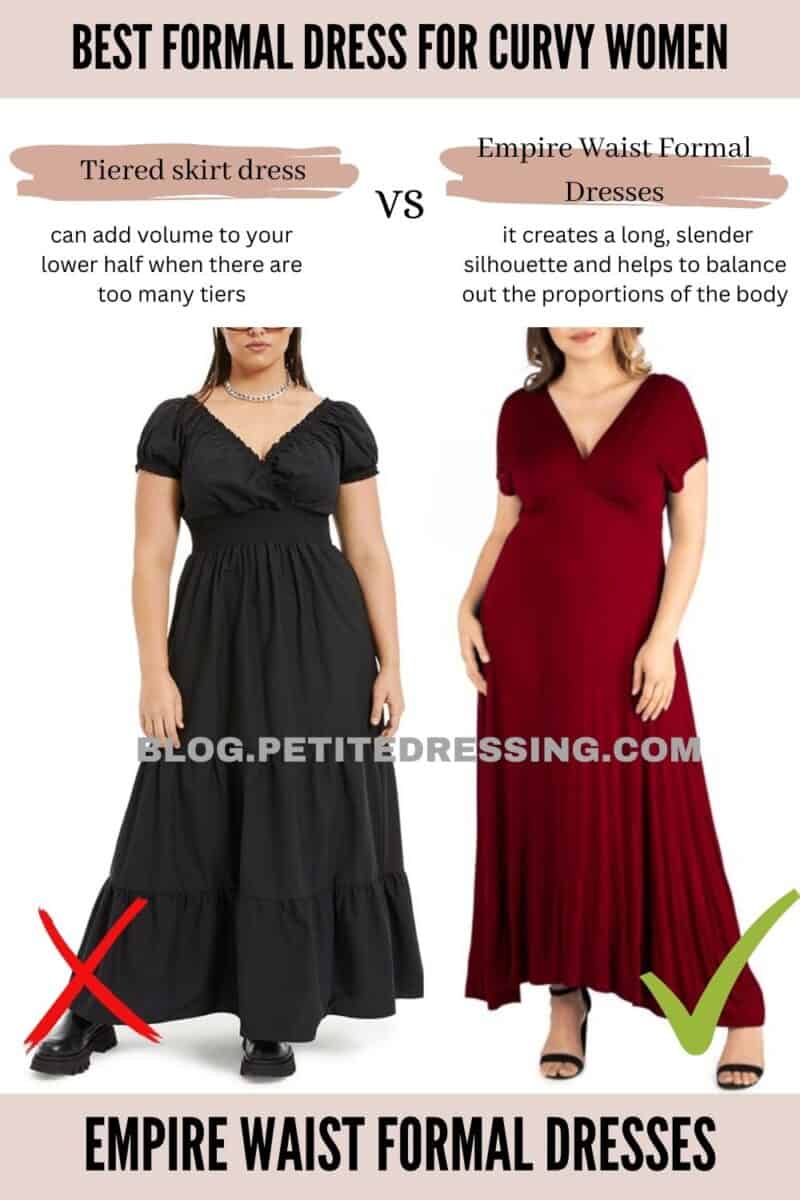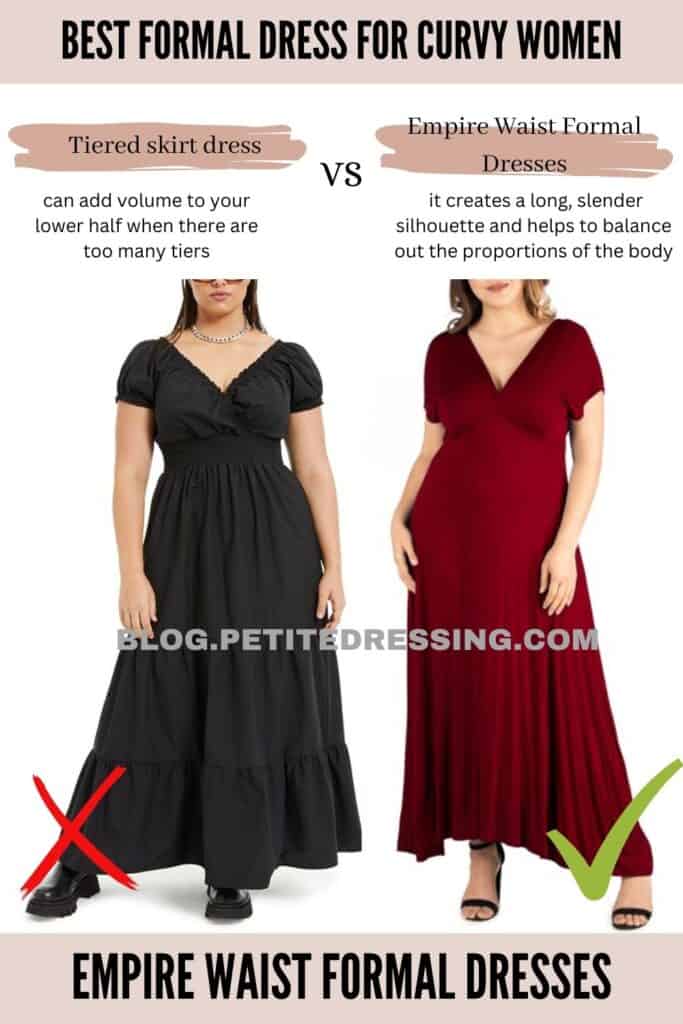 Empire waist formal dresses have a high waistline that sits just above the natural waist, and a flowing skirt that begins under the bust and drapes down to the hem. This style is deemed flattering for curvy women, as it creates a long, slender silhouette and helps to balance out the proportions of the body.
This structure also comes in different styles so look for the ones with a fitted bodice and a structured, supportive waistband. This will help to create a smooth and flattering silhouette for your curvy figure, while also providing support for your bust.
Mermaid Dresses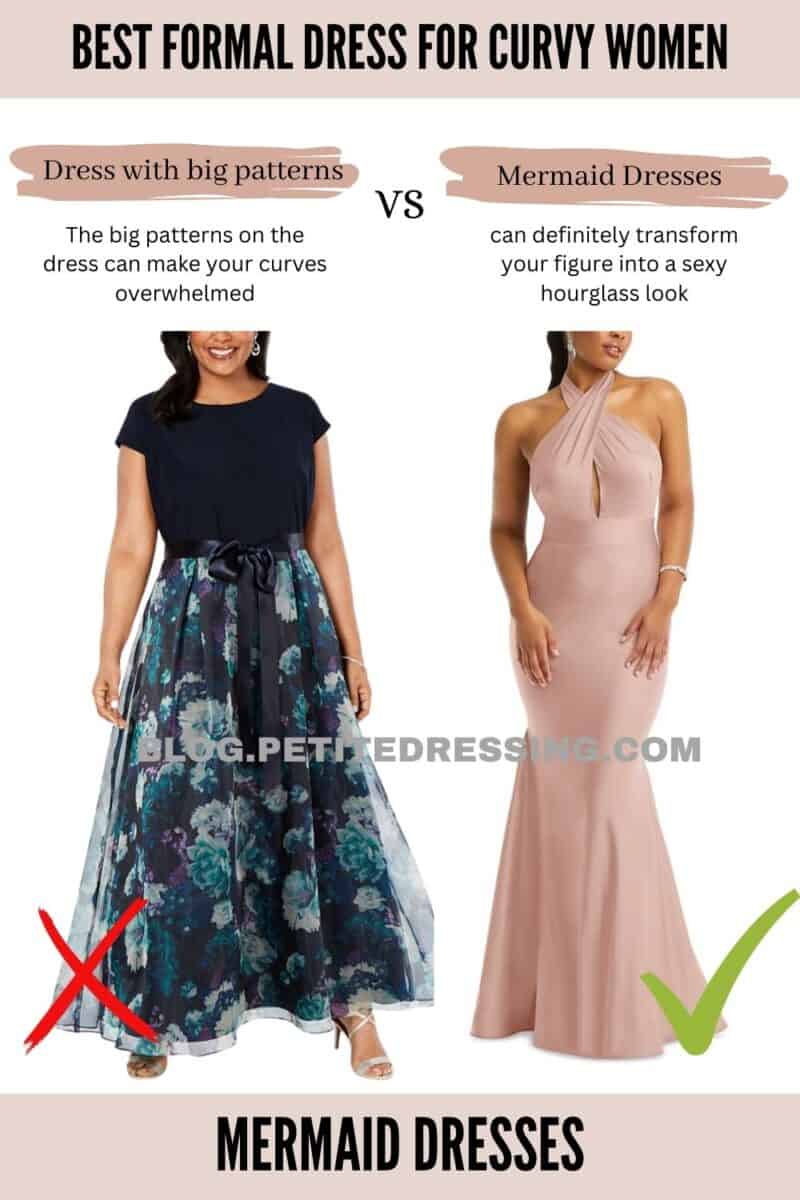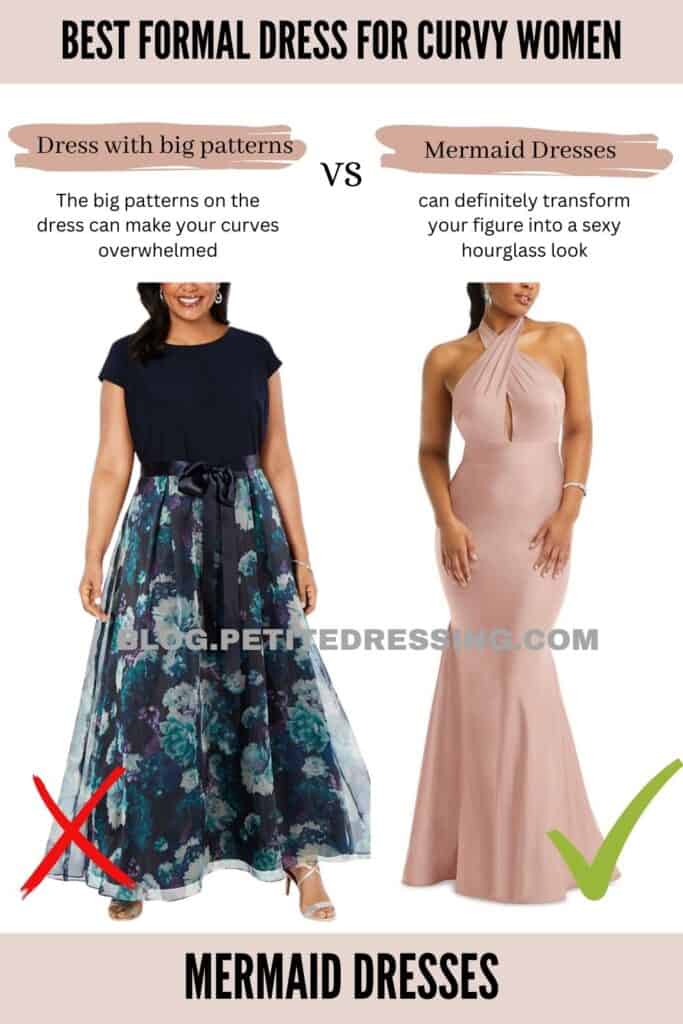 The grandeur of mermaid formal dresses has its own ways of flattering a curvy woman's figure. A mermaid silhouette features a fitted bodice that hugs the body from the bust to the knee, before flaring out into a dramatic skirt that resembles the tail of a mermaid.
Its best character is the way it embraces the body and therefore accentuates the beauty of your natural curves, most particularly your bust, waist, hips, and thighs. With the right waist cinch or by wearing a waist-shaper, a mermaid dress can definitely transform your figure into a sexy hourglass look.
Princess Silhouette Gowns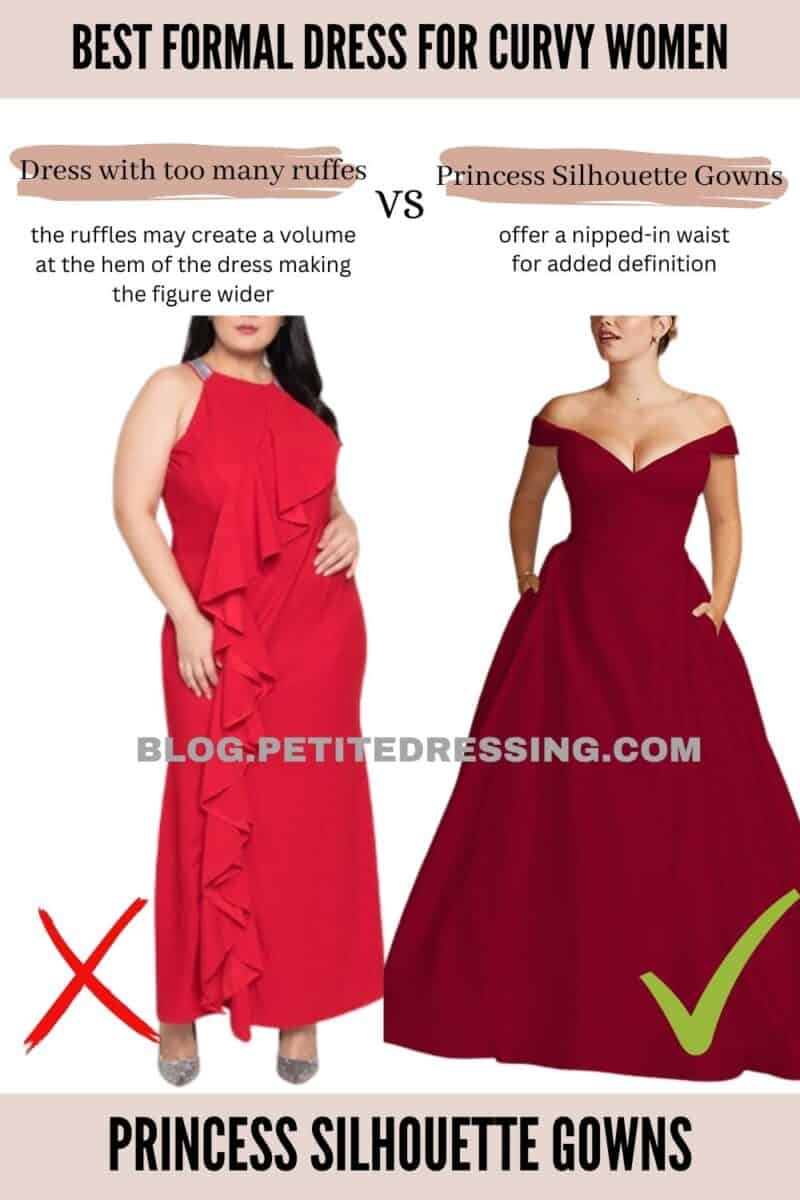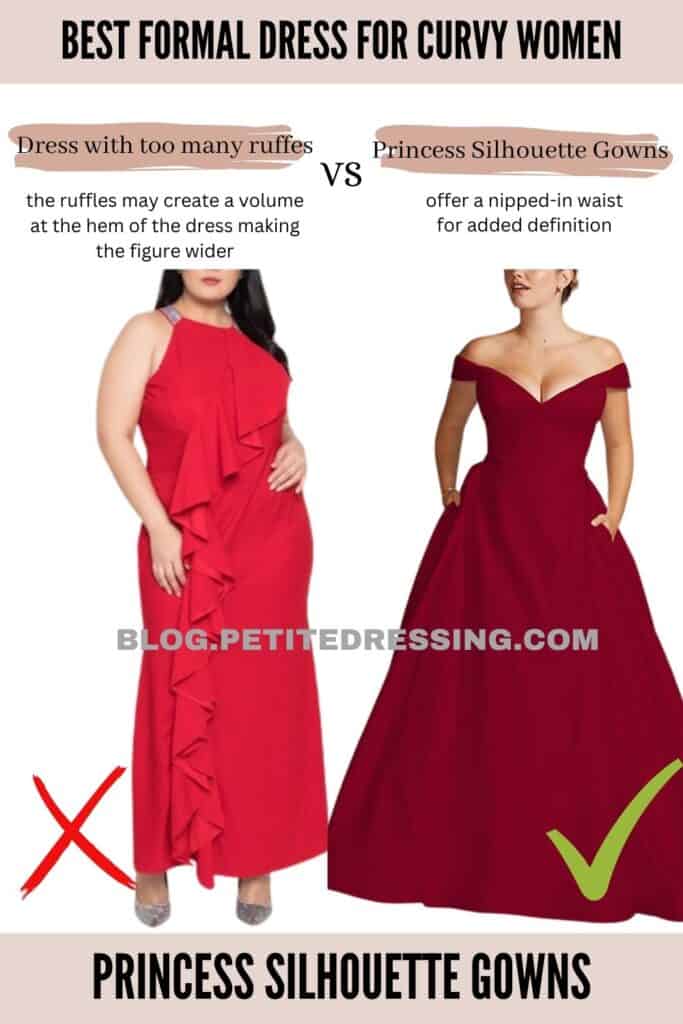 Princess dresses are also very fitting for curvy women because of their continuous fabric flow from the shoulders to the hem without a horizontal seam. Despite the absence of this horizontal seam that usually separates the bodice and the skirt, princess silhouette gowns still offer a nipped-in waist for added definition.
This style is inspired by the romantic, fairy-tale look of a princess, which is also why it's perfect for elegant, formal events. Princess silhouette dresses are typically made from luxurious fabrics that flow dramatically and are usually adorned with fancy embellishments such as lace, beading, or embroidery.
Sweetheart Neck Dresses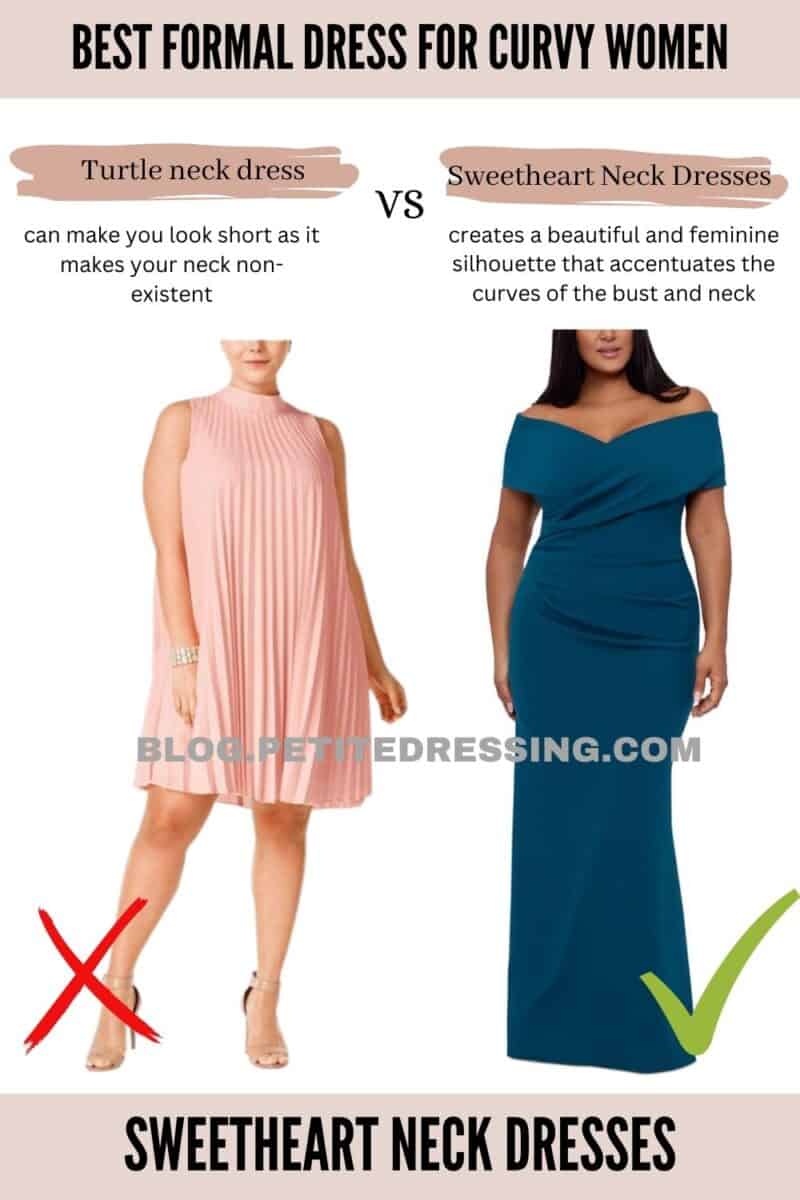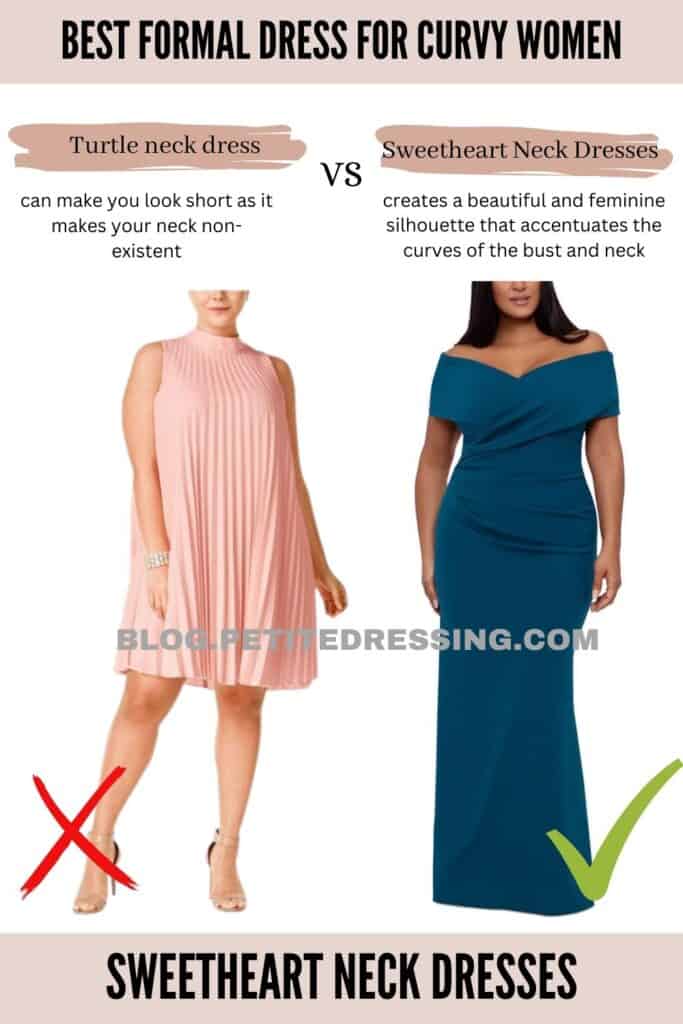 Open neckline styles are generally flattering for most curvy figures but since we're talking about formal dresses, let's make the look a bit fancier with sweetheart-shaped necklines. A sweetheart neckline is a curved neckline that resembles the top half of a heart which absolutely gives a very romantic vibe.
This neckline is very flattering for curvy women, as it creates a beautiful and feminine silhouette that accentuates the curves of the bust and neck. The curved shape of this neckline helps to elongate the neck and create a balanced look, while also drawing attention to the décolletage in a subtle and elegant way.
The Key Takeaway
Choosing a formal dress to flatter your gorgeously curvy figure shouldn't intimidate you at all! Let your voluptuous curves shine by going for dress silhouettes and structures that fit you right.
We really hope this comprehensive style guide made your formalwear shopping spree a bit more hassle-free.