If you are someone who struggles with a muffin top like me, then you are at the right place. Even though I am overall thin, I do have an obvious muffin top since I gain weight primarily around my midsection. Finding the right style pants is important for women with a midriff concern, because it can make a huge difference!
Since I have a petite clothing line, I receive feedback from thousands of my customers on what flatter their shape and what doesn't.
Based on my first hand experience, as well as feedback from my customer, I've put together this pants guide for women who want to hide a muffin top.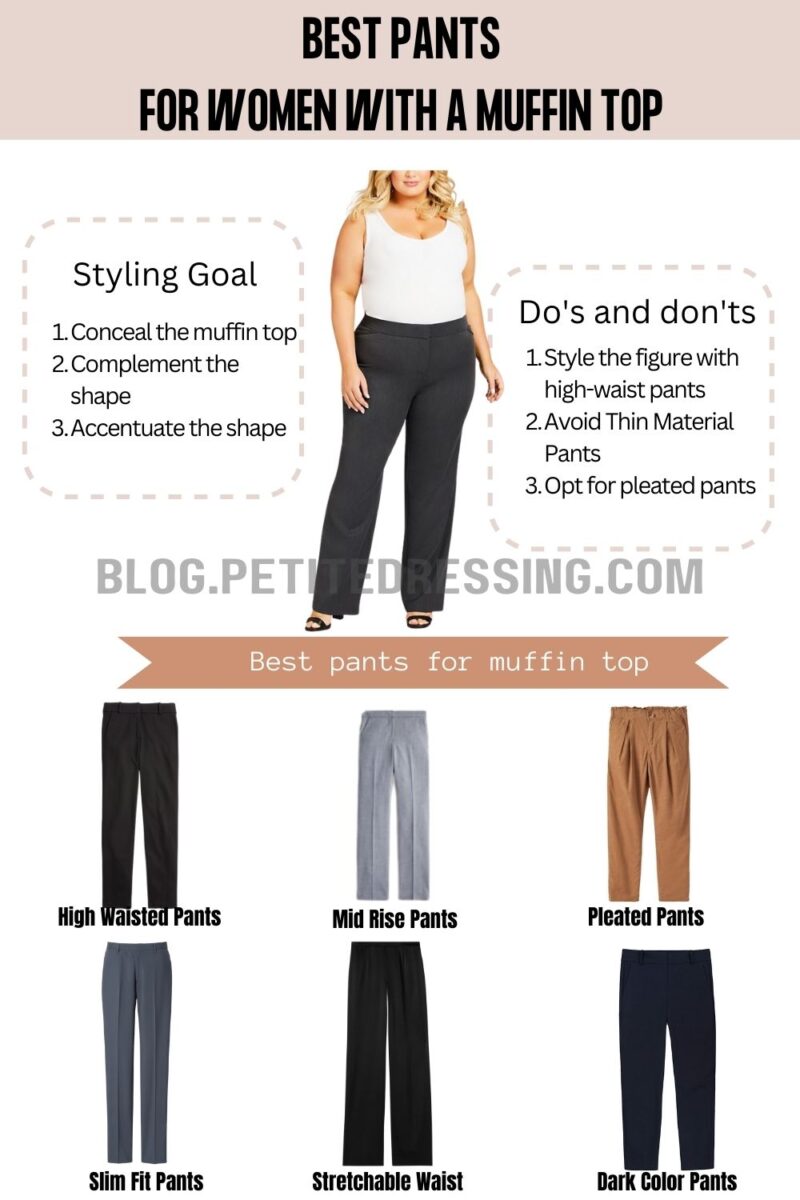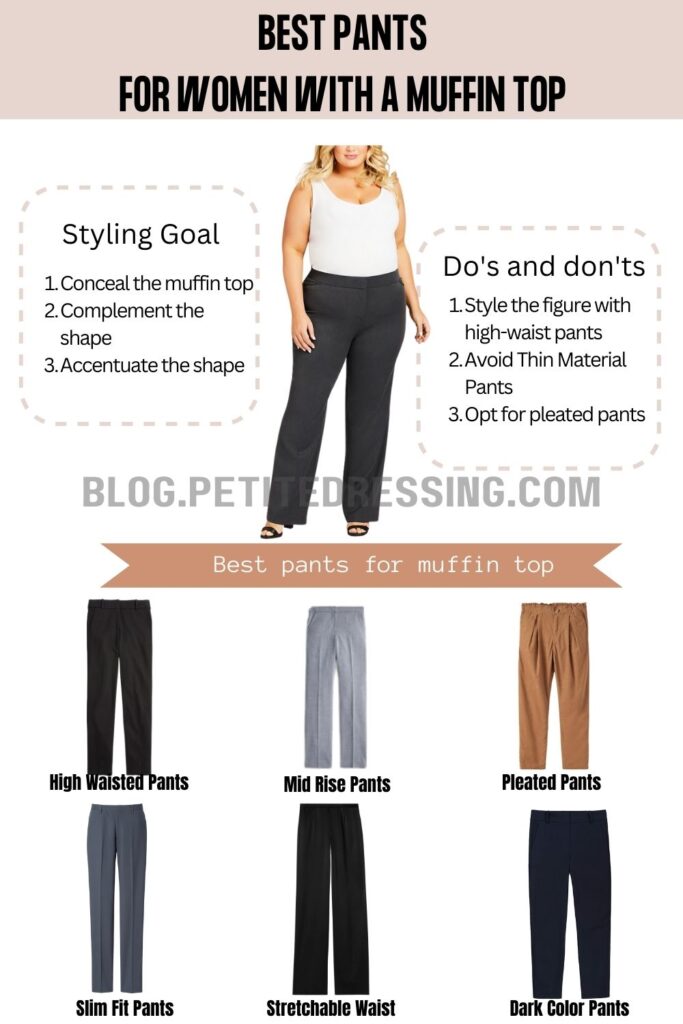 High Waisted Pants
Choosing the finest pants to hide your muffin top is mostly related to the length of the denim. Since the muffin tops are just around the waist area, so it is a great idea to hide them with the help of High Waisted Pants.
These Pants will simply cover your love handles, making them disappear in thin air. So, no need to run extra miles from today.
The best thing about High Waisted Pants is that they complement all body shapes and sizes. You can also wear all types of tops with them.
When looking for a pair of High Waisted Pants you can select stovepipe pants, baggy pants, peg-leg pants, straight pants, flared pants, and even toreador pants. Just make sure that all the above-mentioned pants are high-waisted.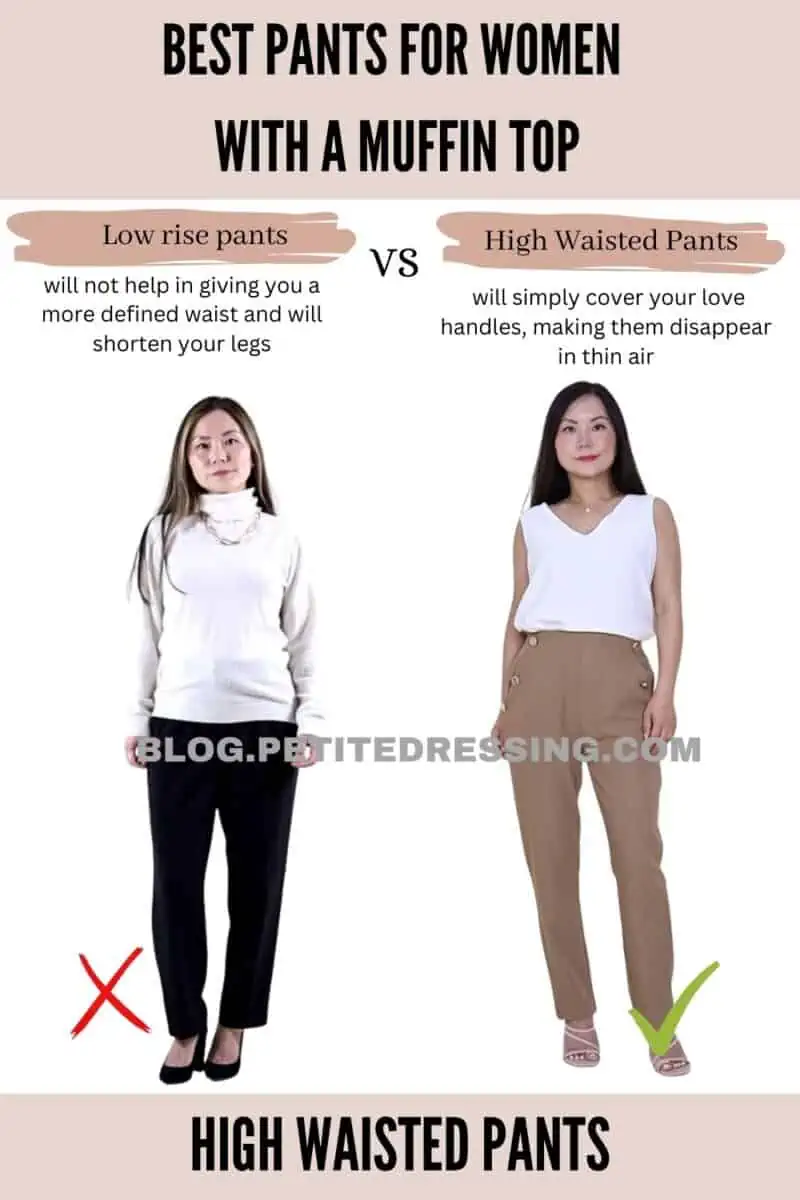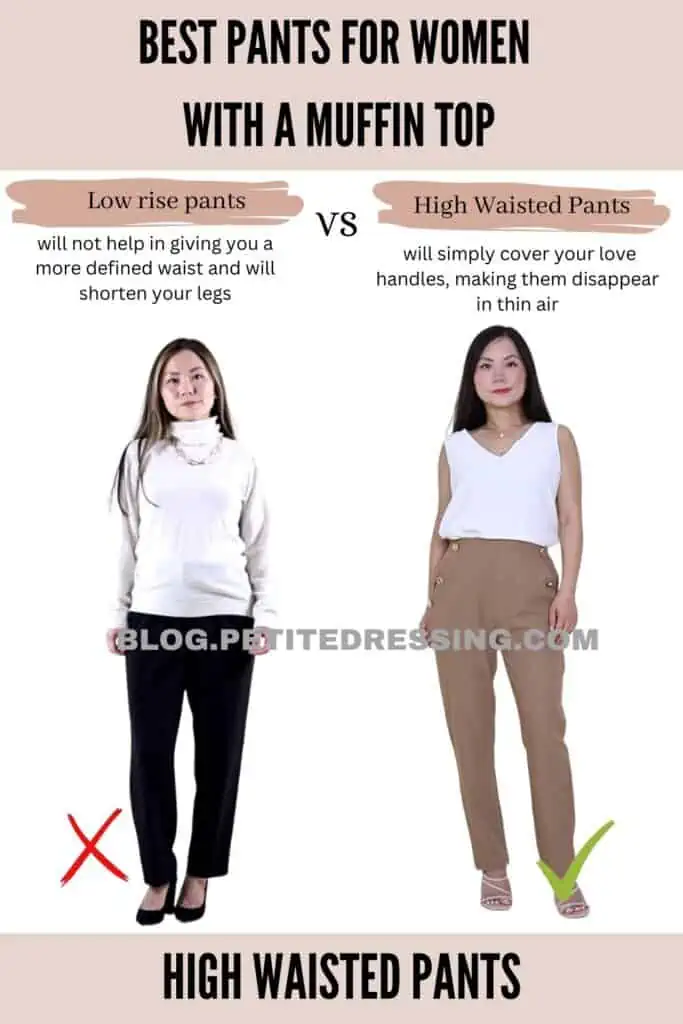 If someone asks you how to hide a muffin top in pants, then you can just answer with High Waisted Pants. It's time to embrace High Waisted Pants and keep everything tucked in place.
Mid Rise Pants
If you think High Rise Pants are not doing the job for you, then you can opt for Mid Rise Pants.
The Mid Rise Pants are also capable of hiding the muffin top as they sit in the middle area. Just like High Waisted Pants, they can conceal the love handles by tucking them.
In addition, Mid Rise Pants are also available in different styles of pants such as straight pants, toreador pants, and flared pants. Always make sure that the pants are mid-rise by trying them.
Try both High Rise Pants and Mid Rise Pants, compare, and choose whatever suits you the best.Similar to High Waisted Pants, you can easily pair any top, with your Mid Rise Pants. Just make sure that the length of the top is below the waistline.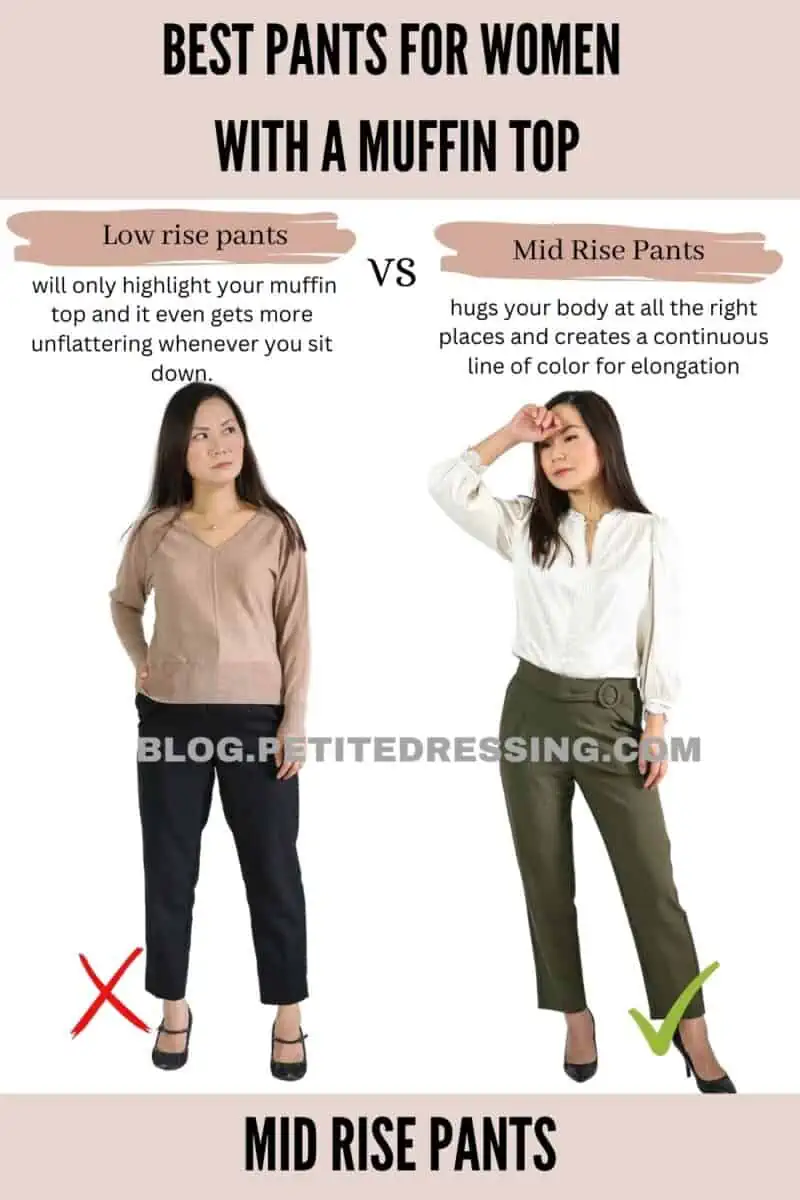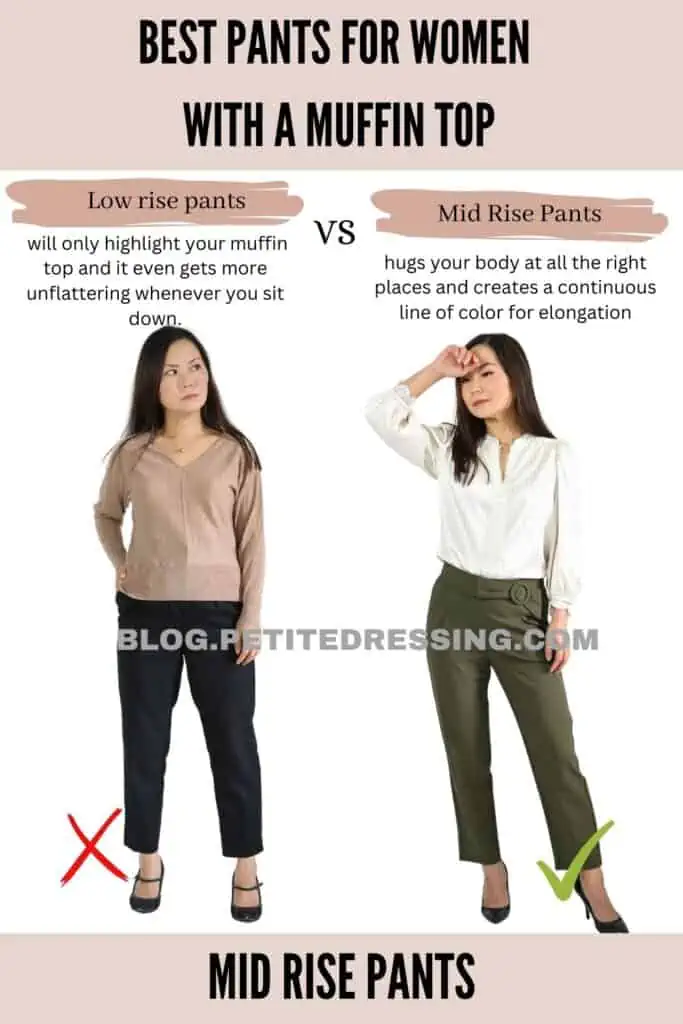 Pleated Pants
Another great option that you can consider to conceal that muffin top is to try out Pleated Pants. Pleated Pants in general don't stick to the skin and hence make the wearer look smarter in appearance.
When you wear pleated pants, your muffin top will hide under the pleats as they will not touch the fat. They also offer breathing room.
The pleats will also help to create a distraction. You can select pleated wide-leg pants, pleated straight pants, pleated flared pants, and pleated long flowy pants.
Pleated Pants are really flattering for people with belly fat and thick legs. They help balance out the appearance making you look slimmer.
Try out high-waisted or mid-waisted pleated pants, and get rid of the muffin top in a few seconds.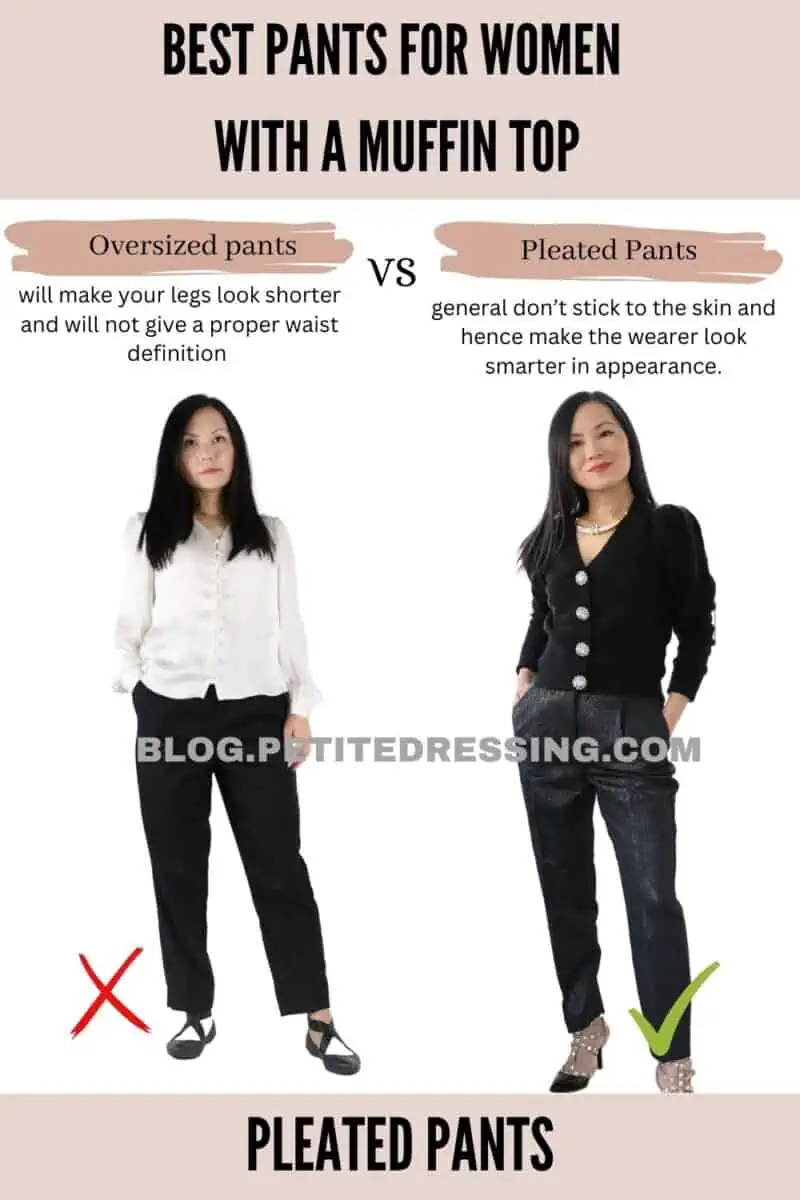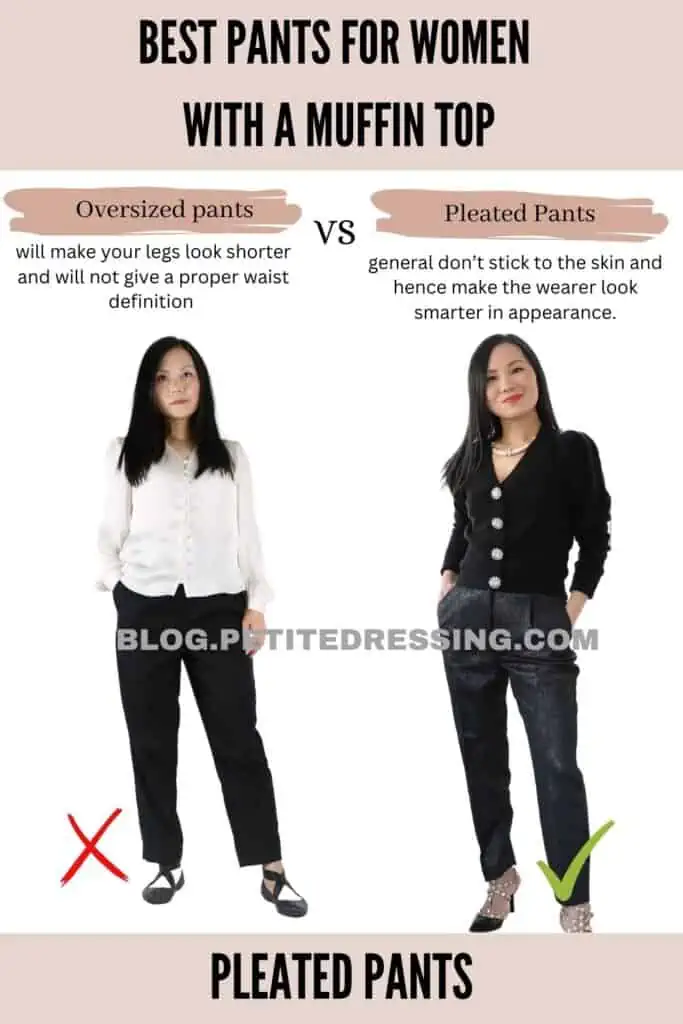 Slim Fit Pants
Opt for any stovepipe, tapered, skinny, or toreador pants, and pair it with a loose top. This will make your belly and hip area look smaller in general.
You can easily hide your belly fat now by selecting slim-leg pants.One more way to conceal the muffin top is to give chance to fitted pants. You also have to choose your top carefully when you are giving fitted pants a chance.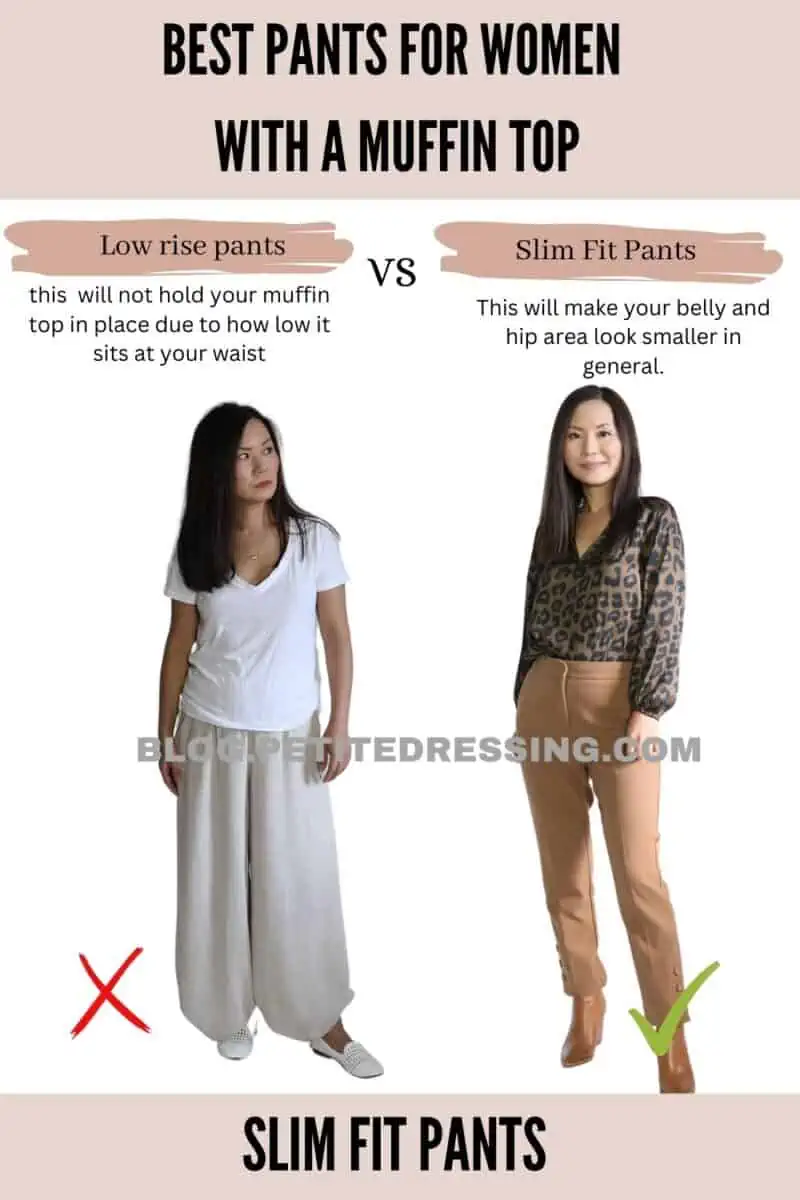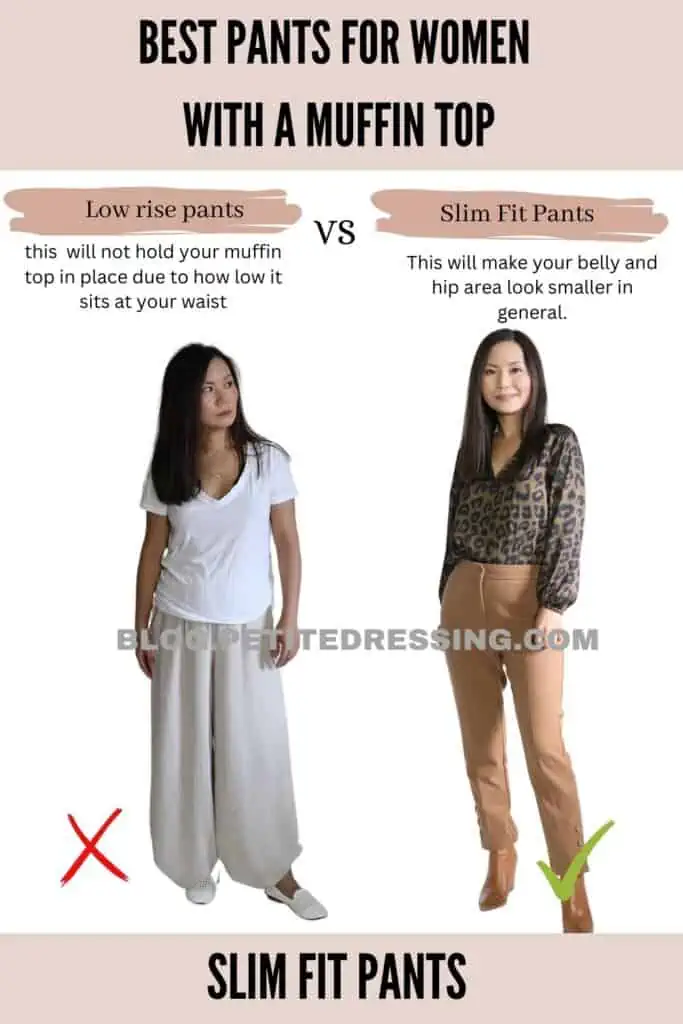 Stretchable Waist
The Pants Guide for women with a muffin top would be incomplete without mentioning the material of the pants. Even after buying High Rise or Mid Rise Pants, if you are still not able to conceal your muffin top, then check the material of your pants.
It is easy to cover the love handles with the help of stretchable pants. They will give you enough room to hide the muffin top.
Before buying a pair of pants, make sure to check the stretchiness. You can do this by stretching the pants from the waist area.
The stretchable material should also be of good quality. Low-quality stretchable materials can wear off quite easily, so it is best to avoid them.
Hence, If you want to keep your belly fat tucked in place, then your pant's material should be stretchable.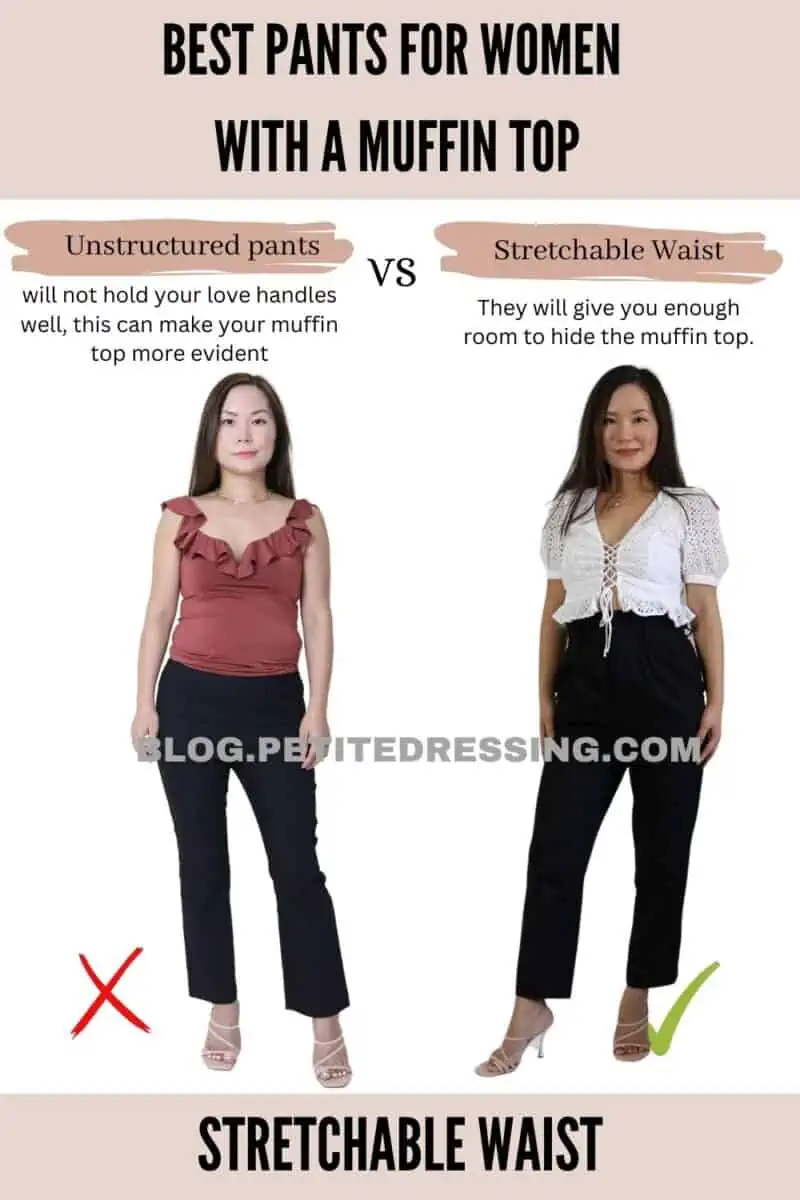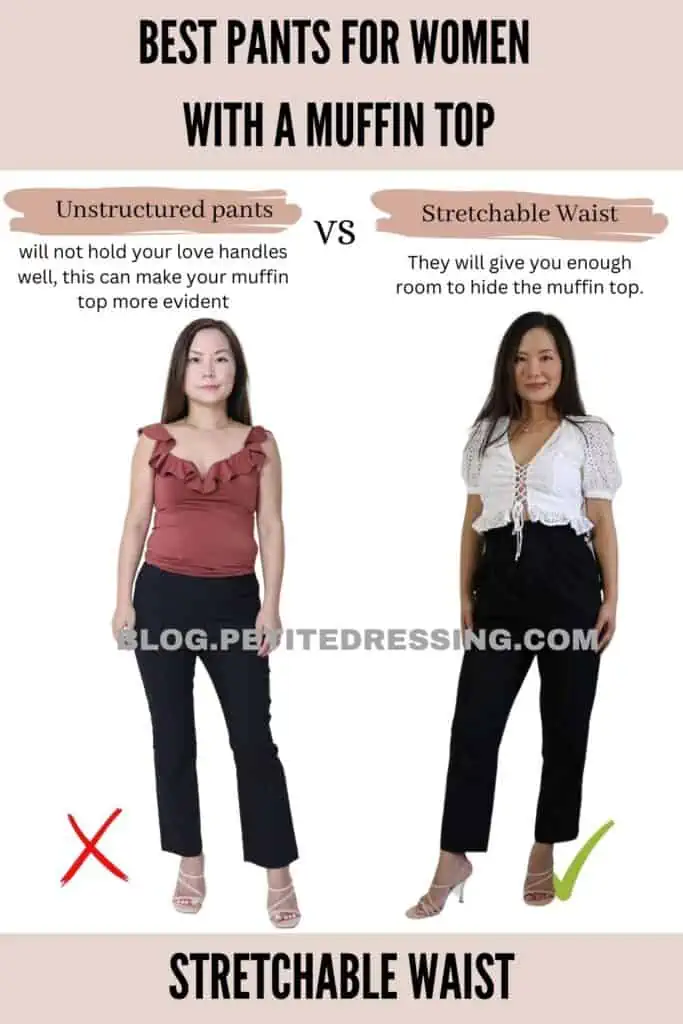 Dark Color Pants
Darker shades provide a slimming effect. Does this mean that they will also help you to hide a muffin top? Isn't it?
On contrary, avoid wearing lighter shades like white or fawn. This will create the illusion of wider legs and waist area which is what we want to avoid.
So, always try to select darker shades of pants. You can select brown, black, dark blue, navy blue, dark grey, and dark green colors of pants.
You can also wear the same color tops and bottoms to appear even slimmer.Wearing pants with darker shades will help to hide the extra inches off your belly fat. The reason is that dark colors make the bottom area look smaller.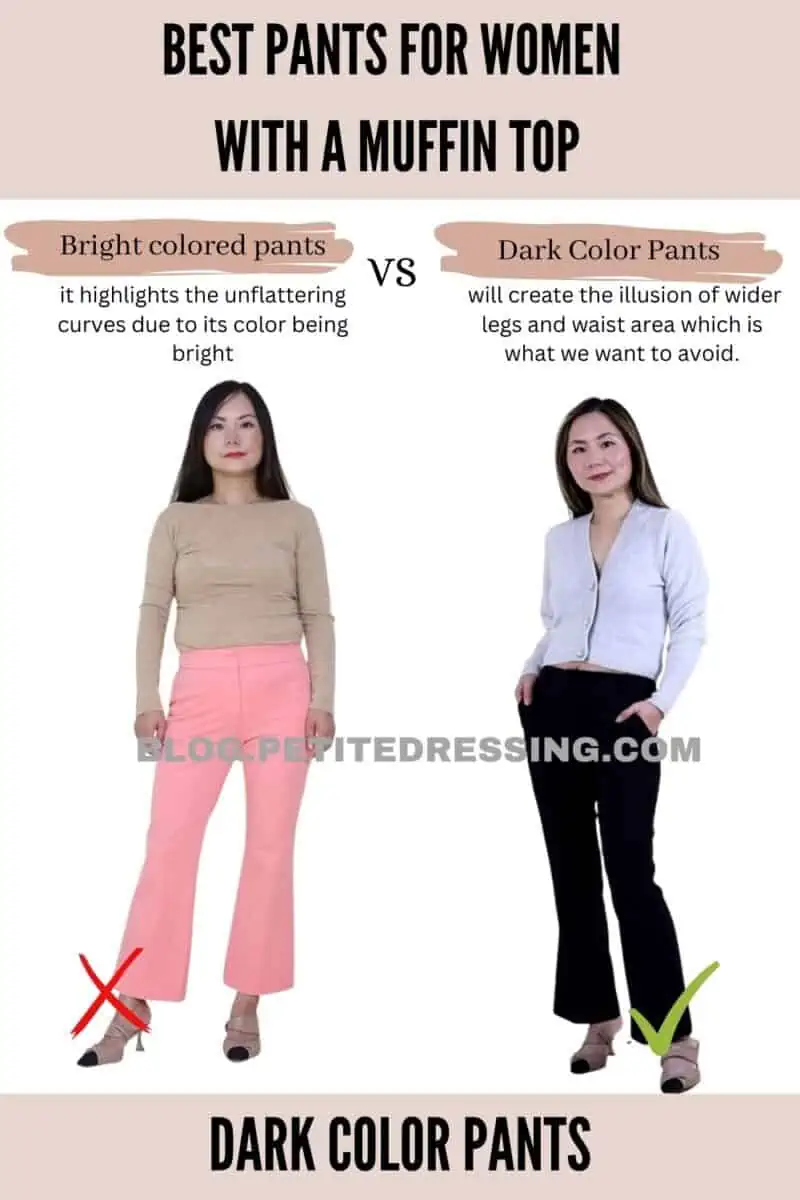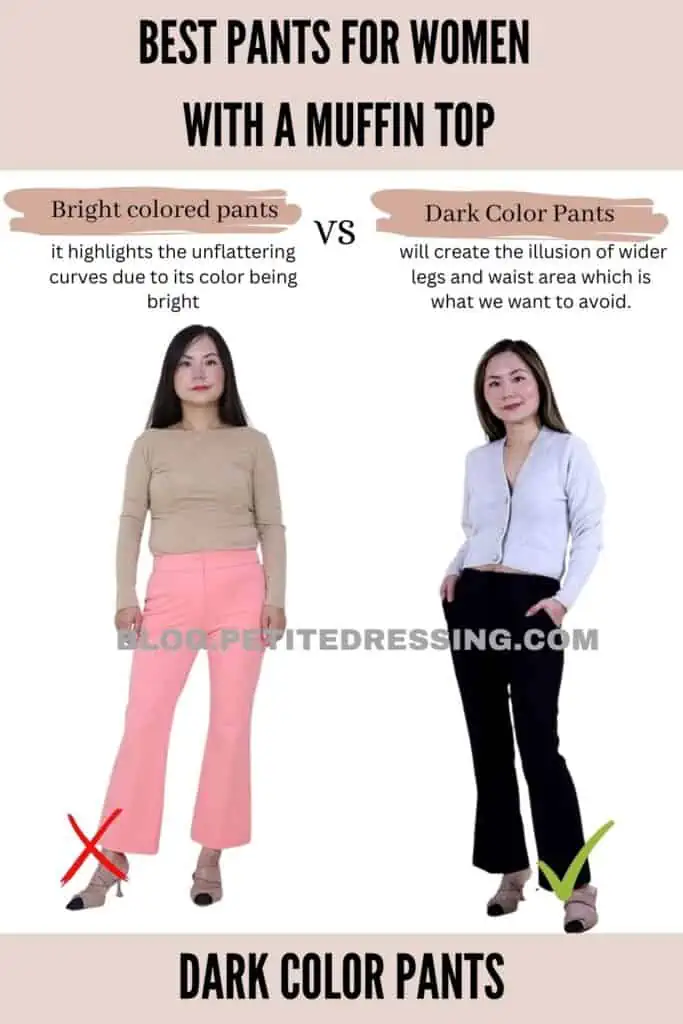 Caution with Belted Pants
Another way that would help you to hide the muffin top is to be watchful of Belted Pants. These pants can possibly draw more attention to the muffin top, if not worn properly.
We know women love belted pants. They look very cool, modern, and stylish.
They are also in fashion and are liked by many women. Belted pants are available in multiple colors, designs, and styles.
You can choose whatever style, color, or design you like. But you just need to make sure that they don't accentuate the muffin top.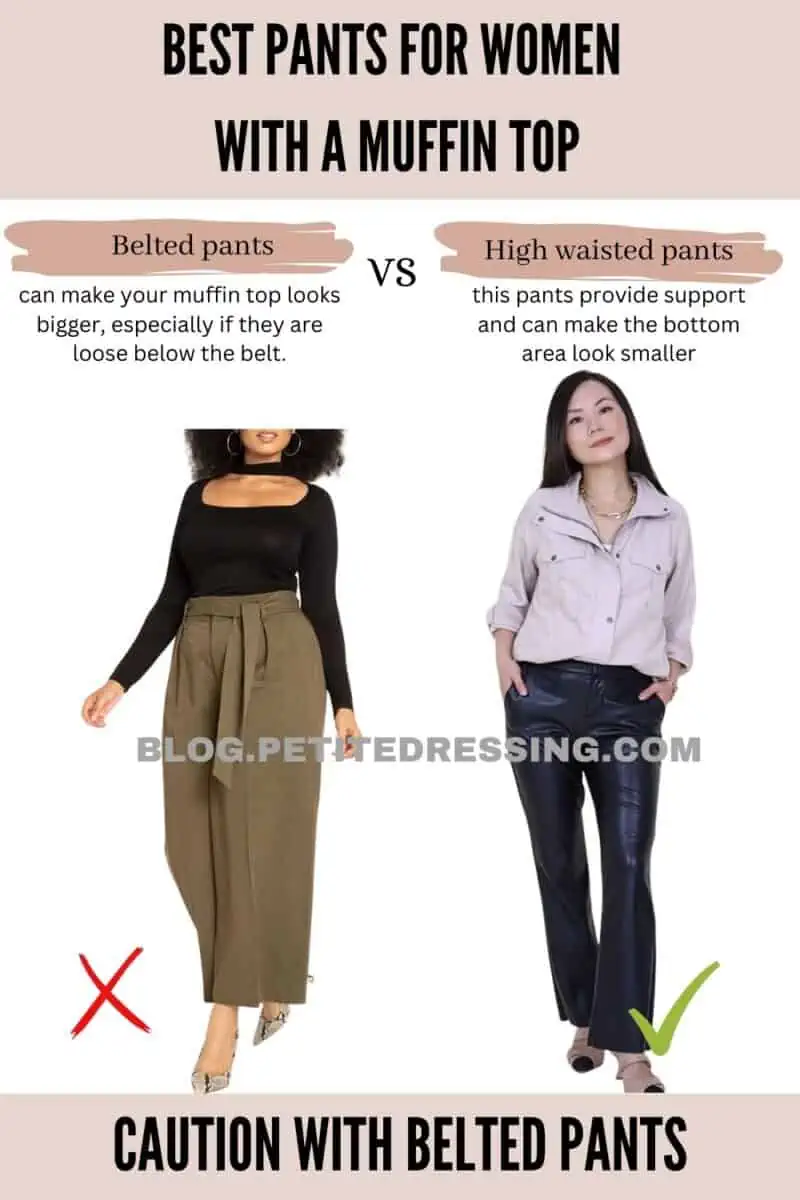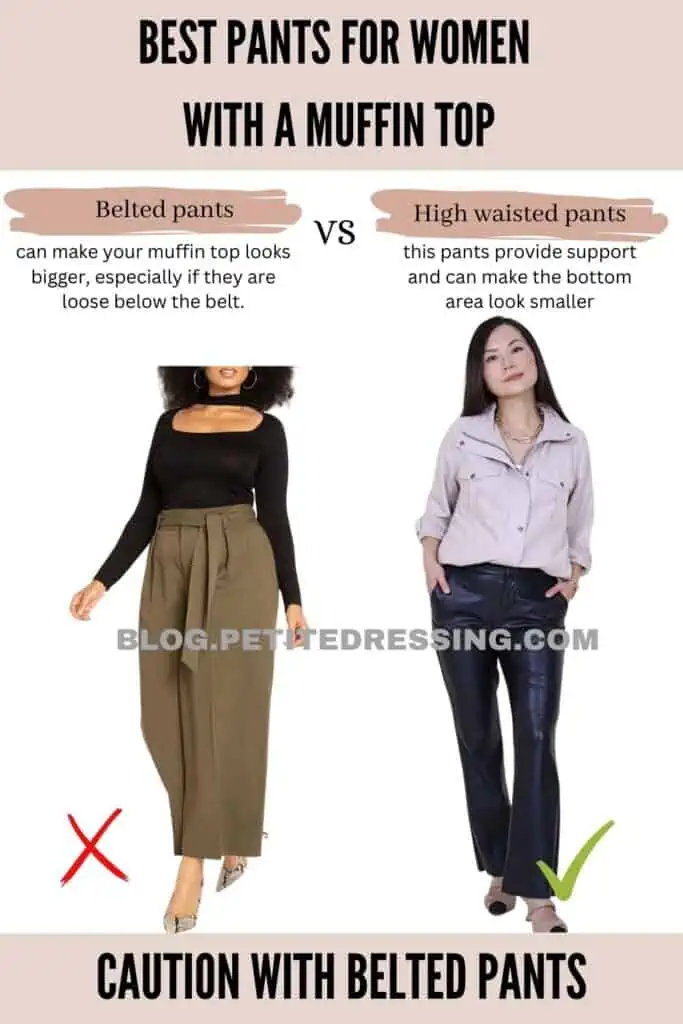 A wide belt over the top of the pants hides the muffin, but this might not be the case with belted pants.
The high-rise belted pants can make your muffin top looks bigger, especially if they are loose below the belt. The reason is that they can make the area below your waist look bigger.
When selecting belted pants, one has to keep in mind that the silhouette matters a lot. Whether you are selecting straight-leg belted pants, or wide-leg belted pants, just make sure the belt doesn't highlight your muffin top.
The printed belted pants are also loved by many. Prints can draw attention away from the love handles, so you can give printed belted pants a try.Wearing a belted top is not a great idea when you don't know the dos and don'ts to hide a muffin top. These pants might make the muffin top appear bigger than usual as the belt can push the fat above the pants.
We will advise you to be cautious with the belted pants if you have a muffin top.
Avoid Low Rise Pants
When shopping for new pants, avoid looking at the Low Rise Pants. These pants will make your love handles visible even more, as they don't even fully cover the waistband.
Low Rise Pants don't go over the stomach area and hence, you can't also tuck in the love handles. These pants can also show your small bump.
Moreover, Low Rise pants were famous back in the 90s, but they are not very common now. They are already not flattering for most body types as it accentuates the hips and the waist.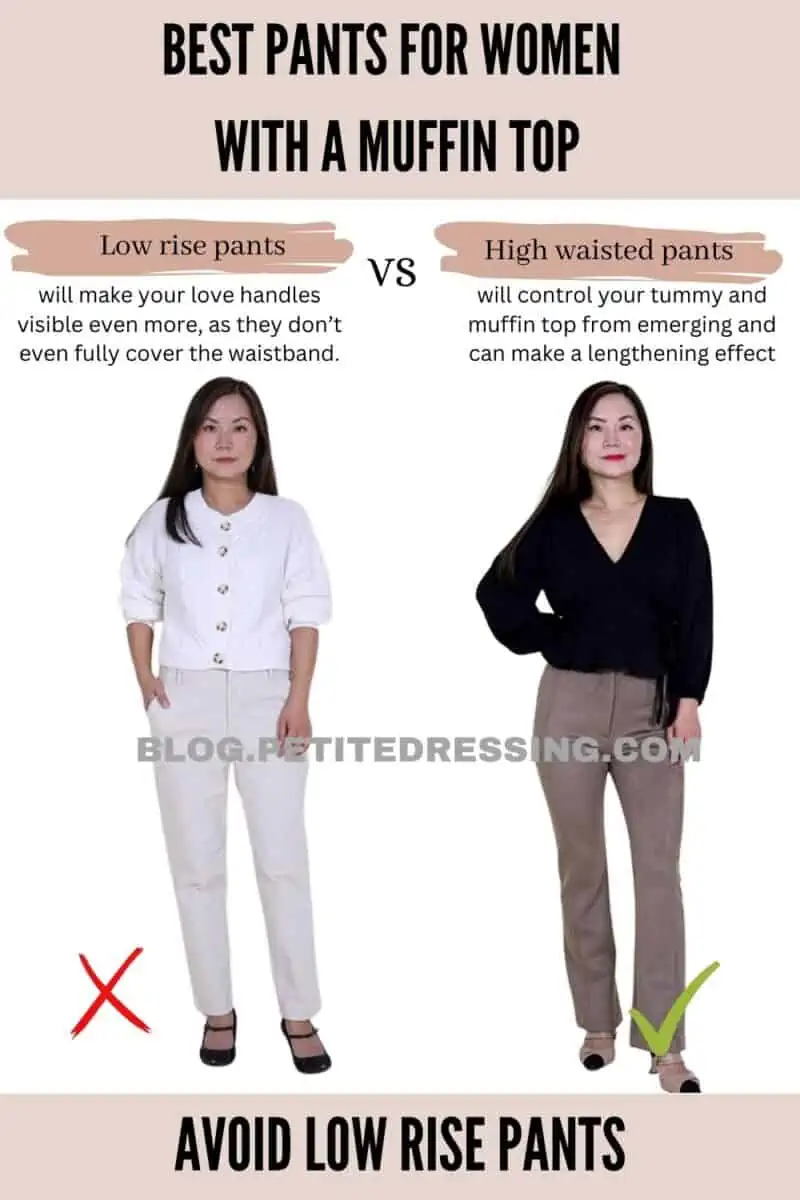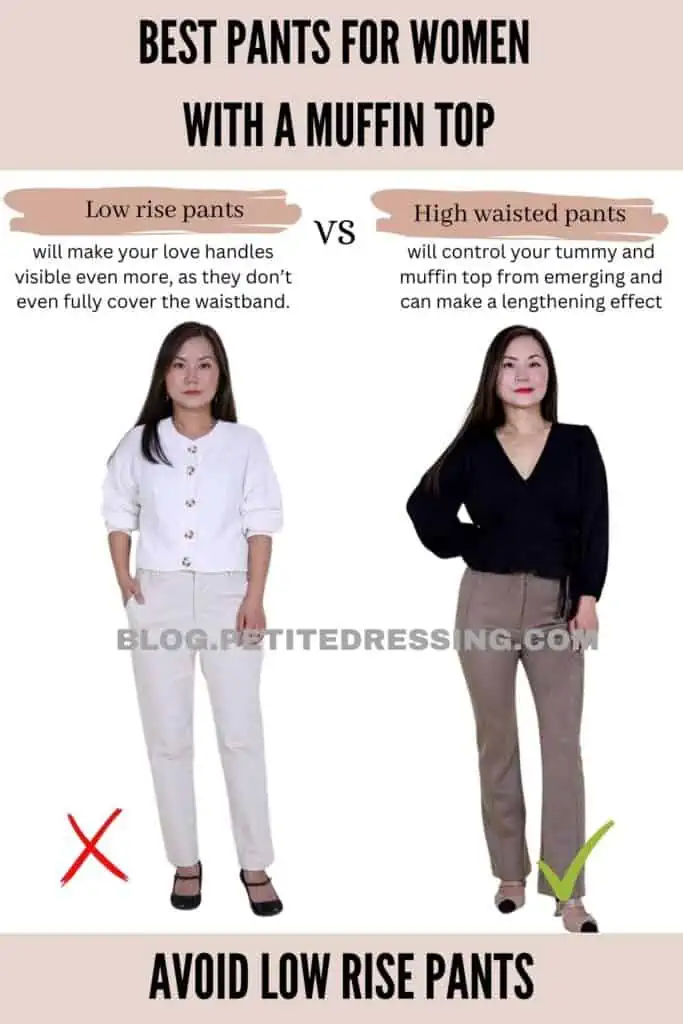 No matter how tempting the Low Rise pants look, please avoid them as much as you can if you want to hide a muffin top.
Avoid Tight Pants
One of the major causes of muffin tops is wearing tight pants, so it is best to avoid them. Tight pants cause the fat to accumulate above the waistband.
Although, tight pants look cool with most tops they are not worthy enough if they make your muffin top visible.
There is always a risk involved when it comes to tight pants. For instance, they can make your hip area and waist appear bigger.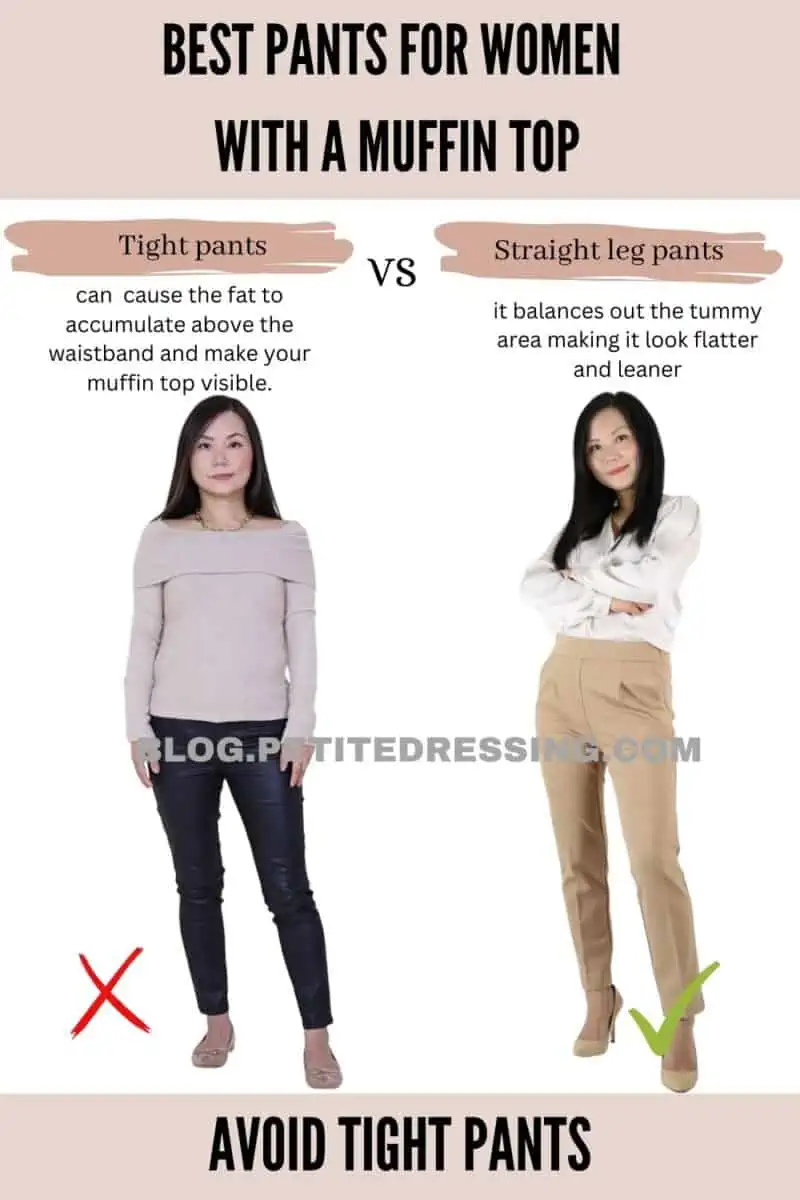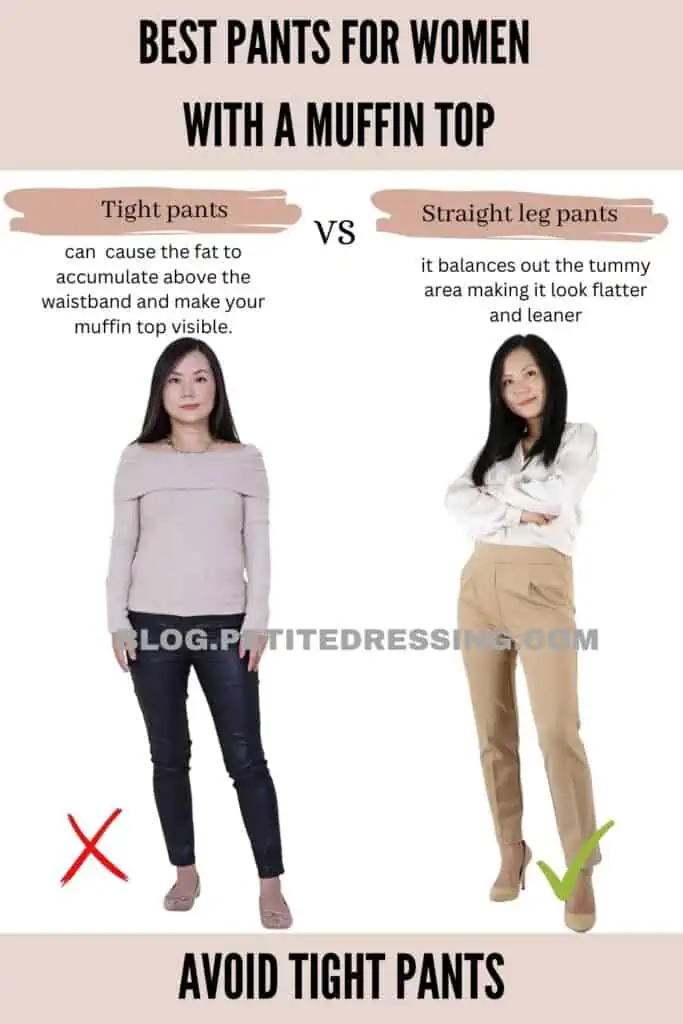 They are not only uncomfortable to wear but will also steal your confidence from you. Next time when you visit the store, avoid tight pants as much as possible.
Avoid Thin Material Pants
Thin material pants should also be best avoided as they will reveal your muffin top. The thin material tends to stretch across the belly area making the muffin top appear even bigger.
Pants made of thin material should be avoided at all costs if you want to hide a muffin top. This includes silk, chiffon, satin, and linen.
In addition, thin materials tend to wear off quite early, so it is best to avoid them.
Thin materials used in materials are often not of high quality. High-quality thick fabric is all you need to hide your love handles.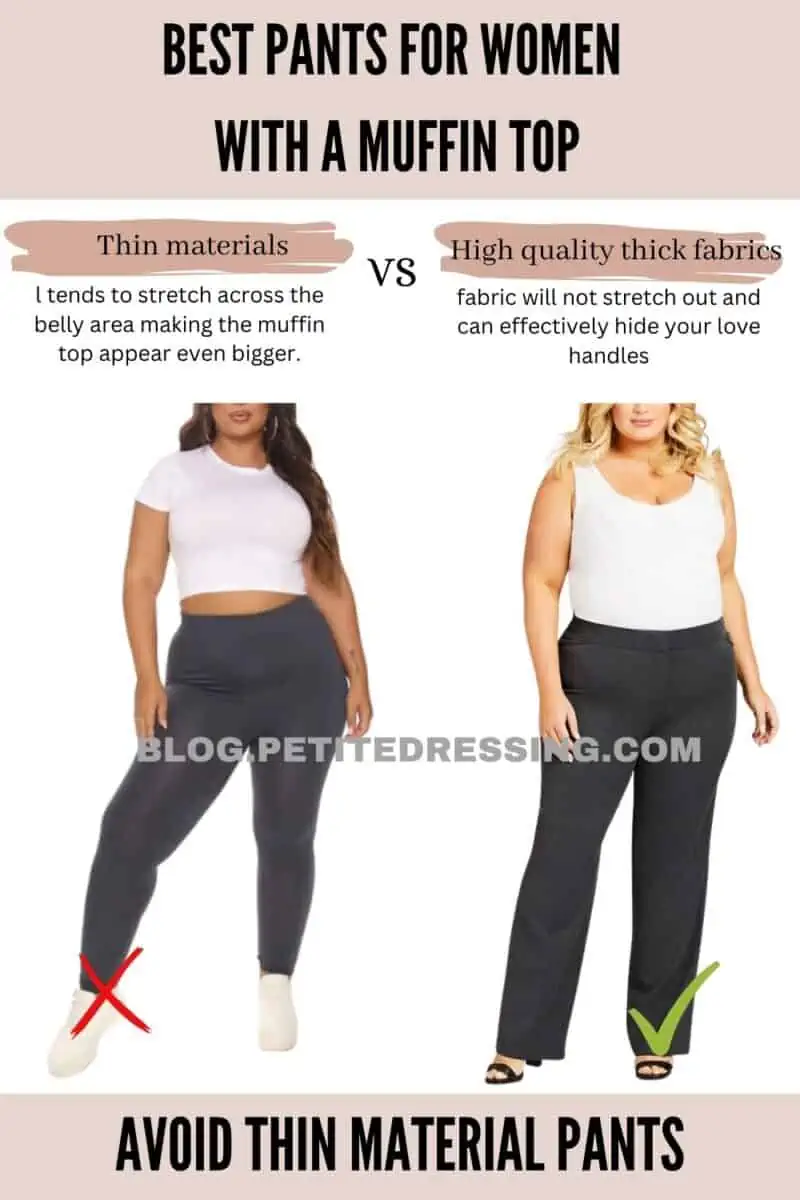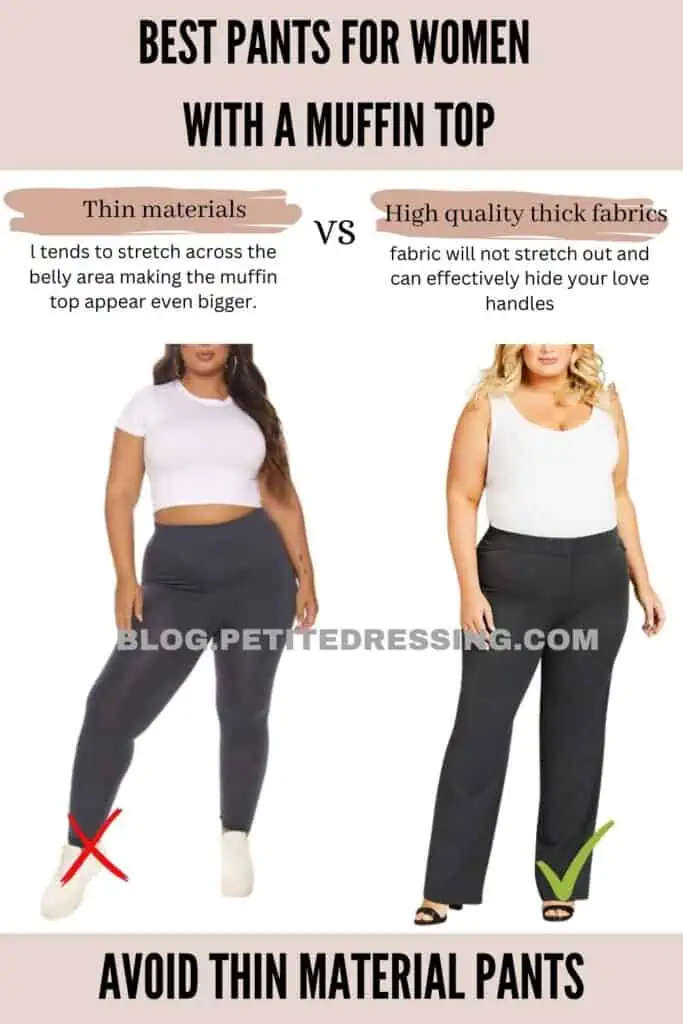 Moreover, you should also avoid jeggings as they will make your love handles appear to be bigger.
If a pant is high-waisted, dark in color, and made of high-quality stretchable material, then you will more likely be able to hide a muffin top. Try out multiple pants at the store, to find the right pants. It is hard to find the right pant, but it is surely doable!