We know how it can make you extra body-conscious when you have short and thick legs because choosing flattering clothing pieces can be a bit tricky. Of course, despite this being a bit of a struggle, it's more than possible to find gorgeous fashion pieces that would look good on your beautiful body shape!
Proportions and shaping patterns play a vital role in strategically tweaking your body frame. The right visual balance can be quickly achieved if you go for the right clothes and avoid the wrong ones.
There are more stylish wardrobe options out there than you think but at the same time, there's also a chunk of stuff there that you should gravely avoid in order to prevent a major fashion faux-pas. We'll make things easier for you by listing which clothing styles you should avoid.
Styling Goal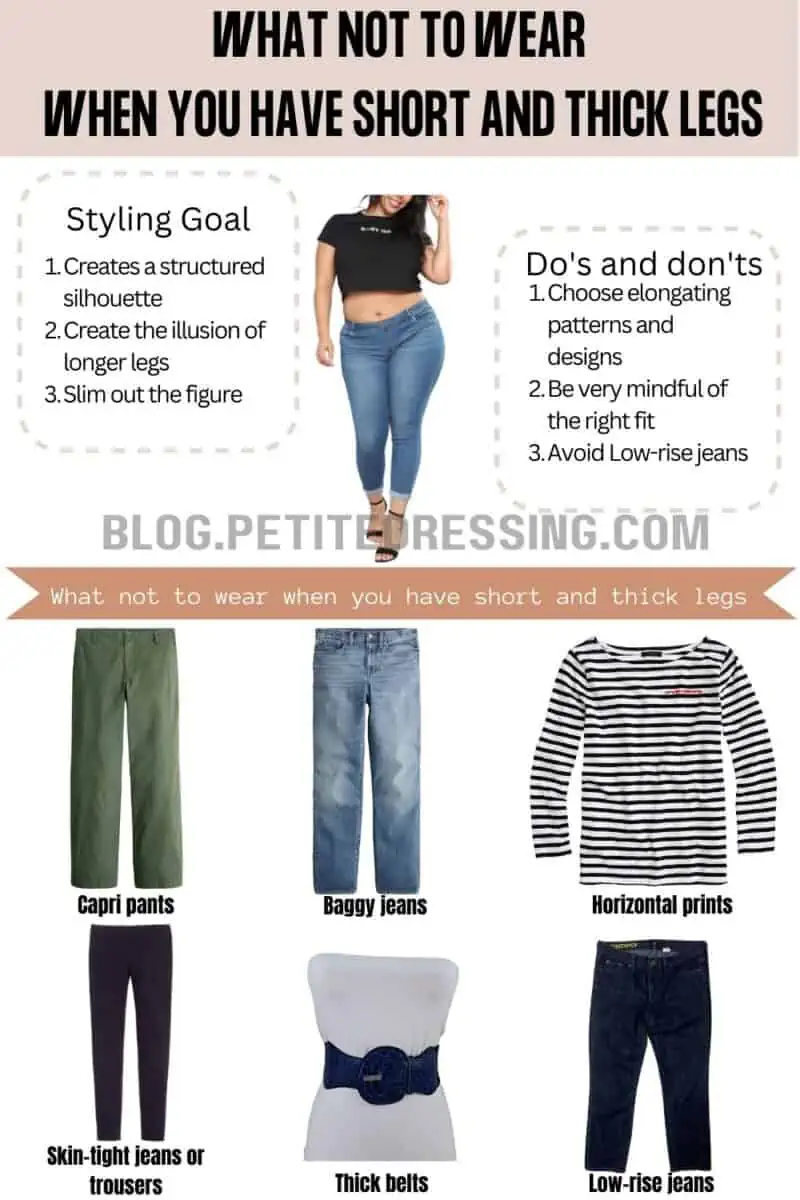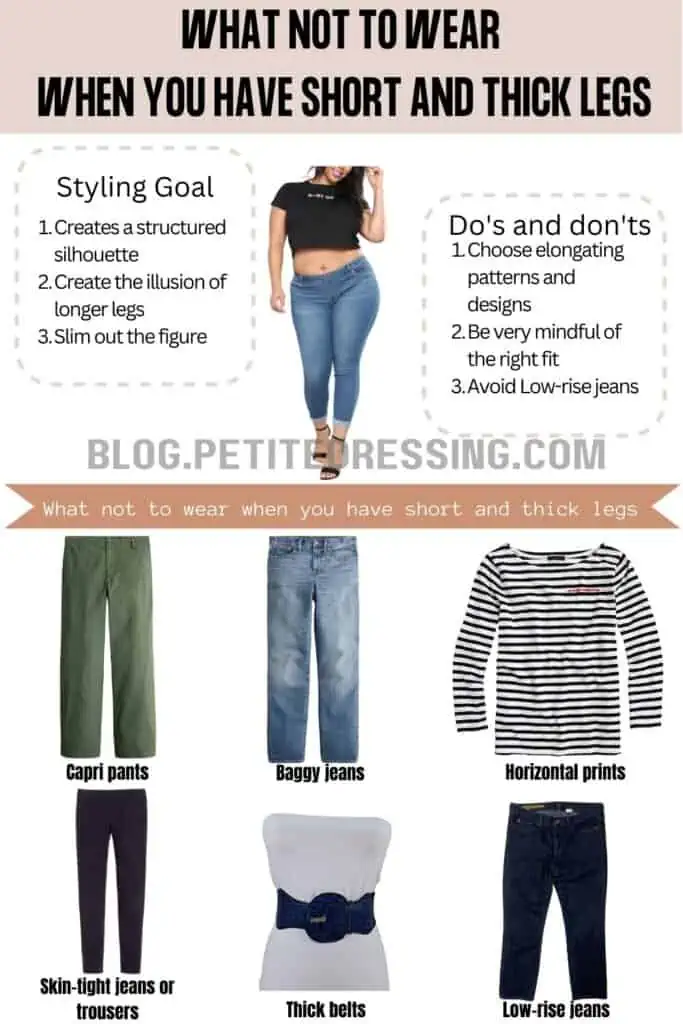 Choose elongating patterns and designs for your bottoms. Considering these when picking your clothes will help stretch your legs a bit more to make your body ratio look more proportioned.
Be very mindful of the right fit. Even if it's just the basic pieces, the proper fitting can definitely make a huge difference in your overall look so make sure your chosen pieces give a flattering and comfortable fit.
Avoid cuts, patterns, and prints that break the continuous visual line from your neckline to your ankles. One example is going for thick horizontal lines that obviously make you appear wider and shorter. 
Always try to draw attention away from your legs by veering away from loud patterns, heavy prints, or bulky embellishments for your bottom pieces. You wouldn't want certain designs to overwhelm your figure.
Capri pants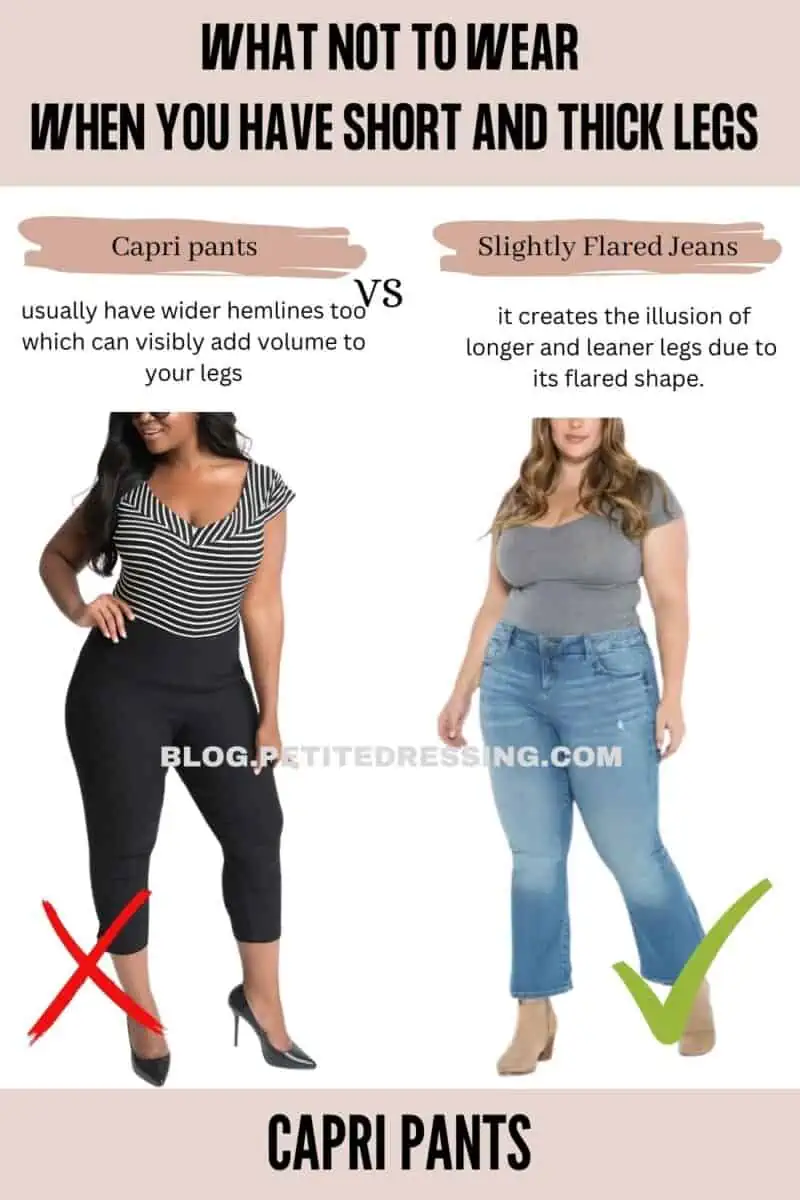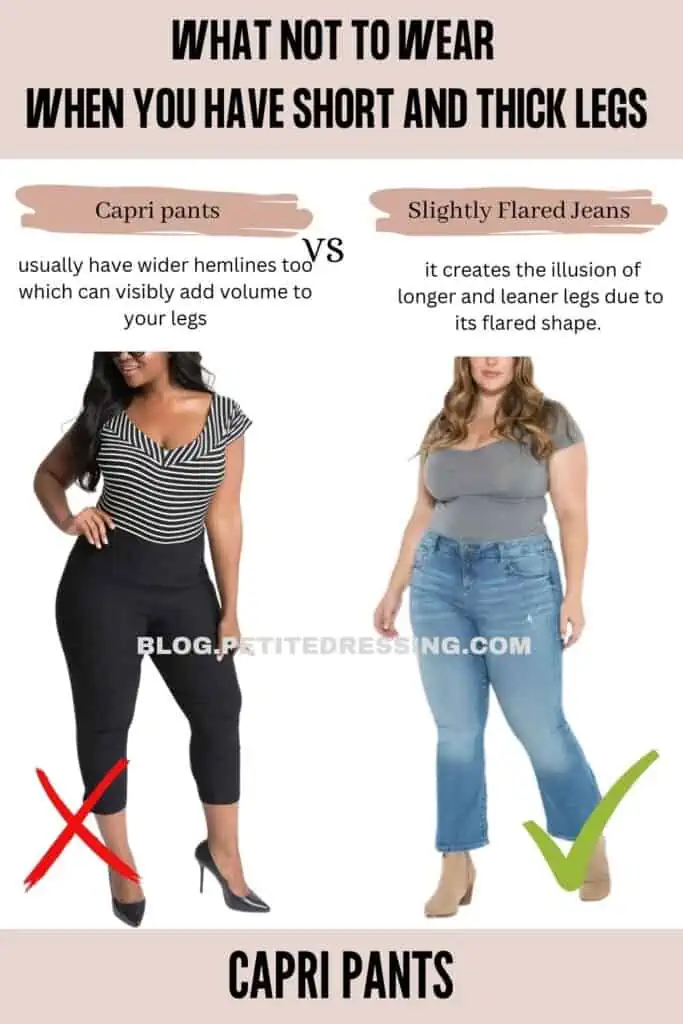 Cropped pants, which are also sometimes called capri pants are typically designed to hit the mid-calf, which can create an unflattering cut-off point on short legs. As they end at an awkward point, they will visually make your legs look even shorter than they already are.
Capri pants usually have wider hemlines too which can visibly add volume to your legs. This particular characteristic can further exaggerate the short and thick appearance of your legs.
So instead of insisting on wearing capri or cropped pants, go for a pair of pants that elongate the legs. This can be achieved by selecting pants that hit just right at the ankle (or slightly lower). 
Going for such length will create a longer line from the hips down to the feet. By choosing the right clothing items, you can create a balanced and proportionate look that enhances your natural figure.
Pants that are too baggy or loose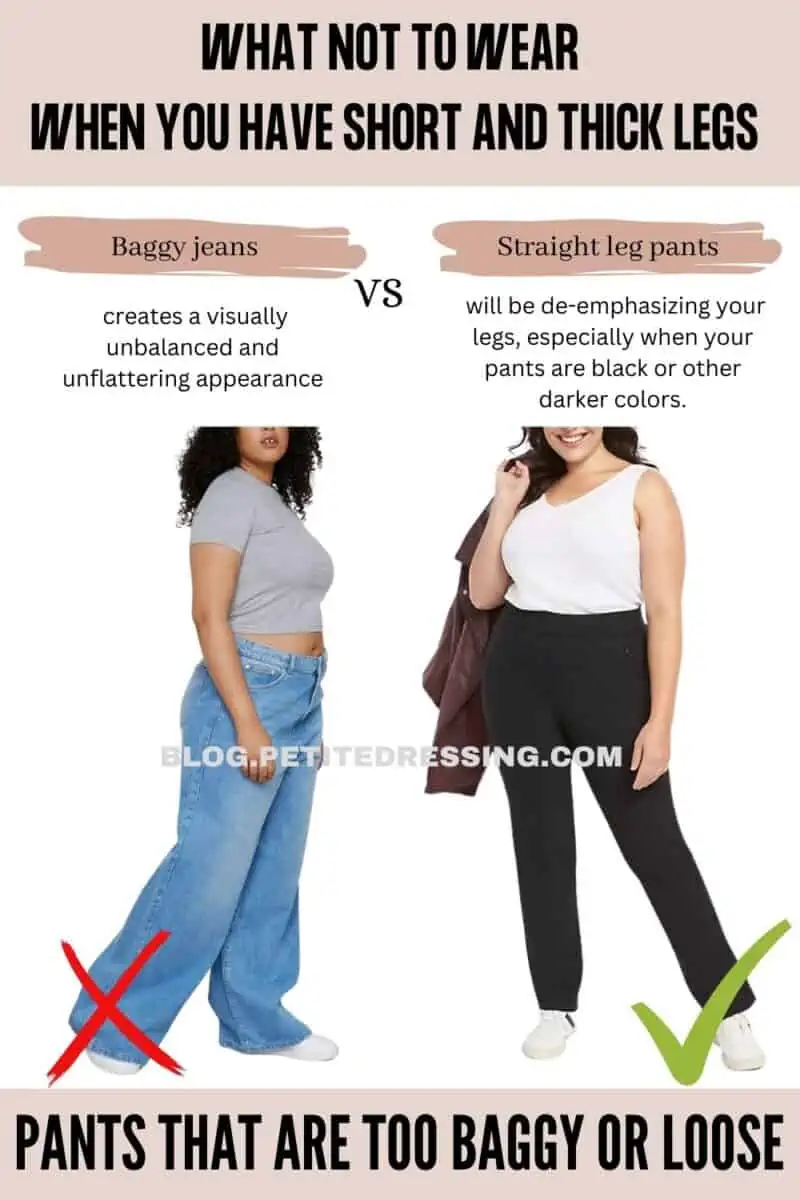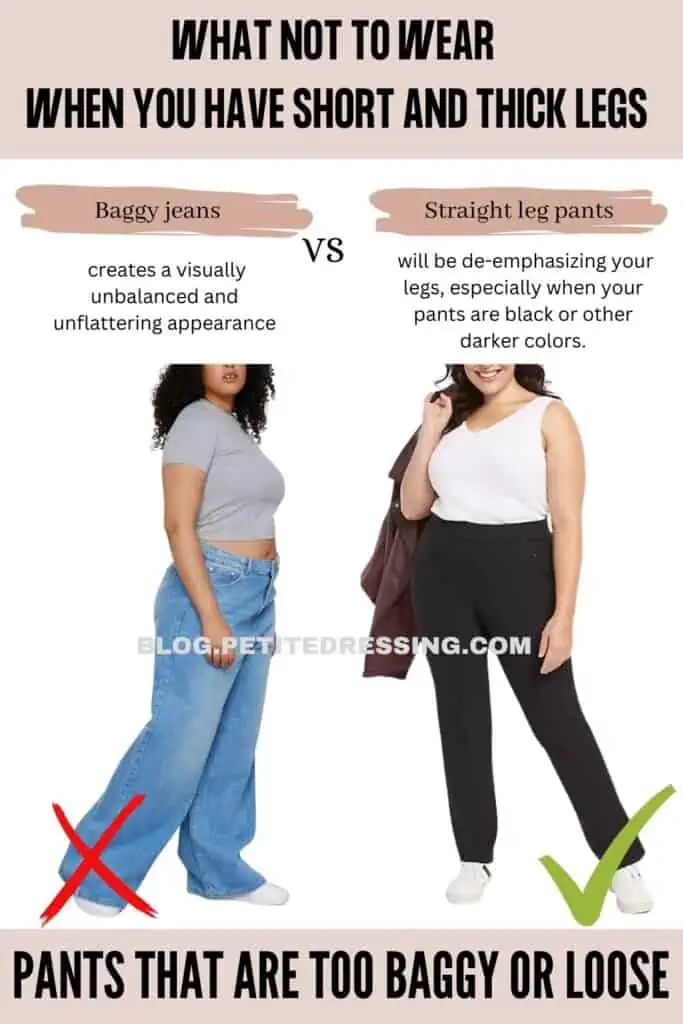 Oh believe us, the worst thing you can go for when you have short and thick legs is to wear baggy or loose clothing. It's simply because wearing baggy or oversized clothing instantly creates the illusion of a wider and bulkier frame. 
They usually create horizontal creases because they are oversized and this creates a visually unbalanced and unflattering appearance. Baggy clothes can also conceal your natural shape and proportions, which can further exaggerate the appearance of short legs and thick legs.
This is where one of the key points we briefly tacked on in the 'Styling Goal' section comes into place. If you have short and thick legs, you have to choose clothes that fit properly – not too tight and not too loose.
Horizontal patterns and prints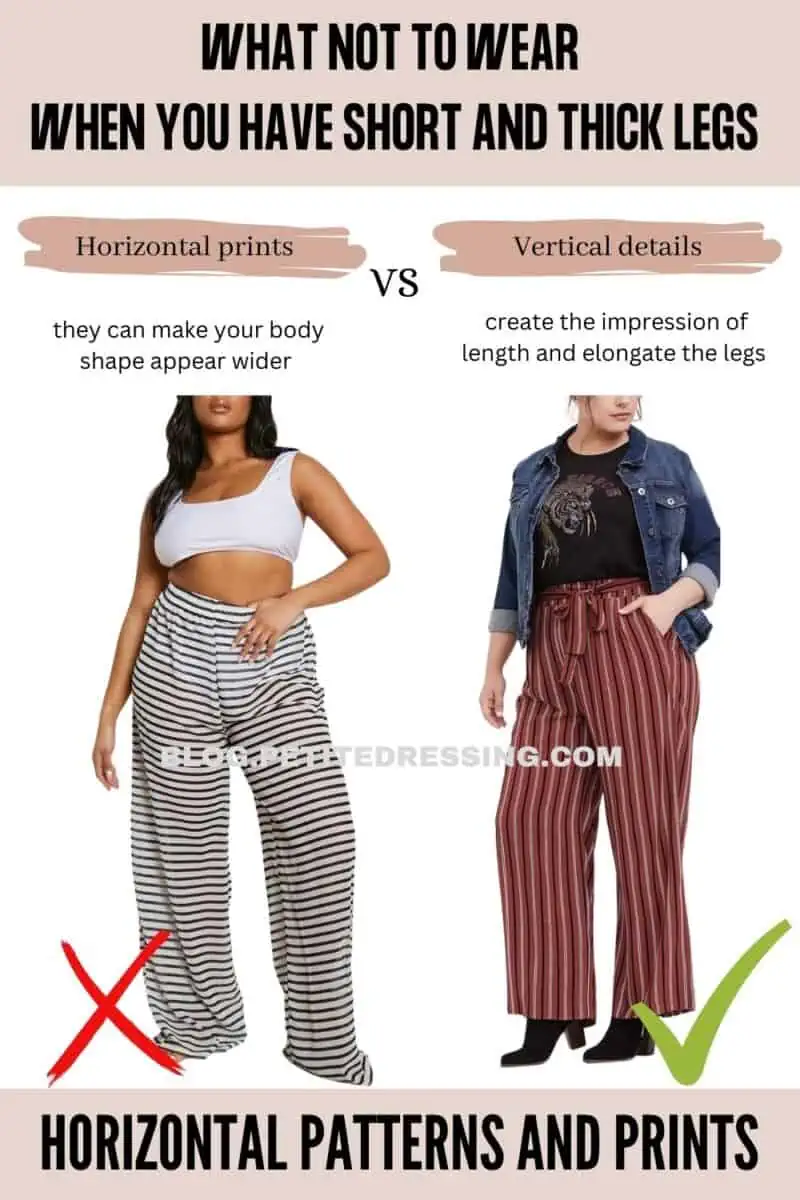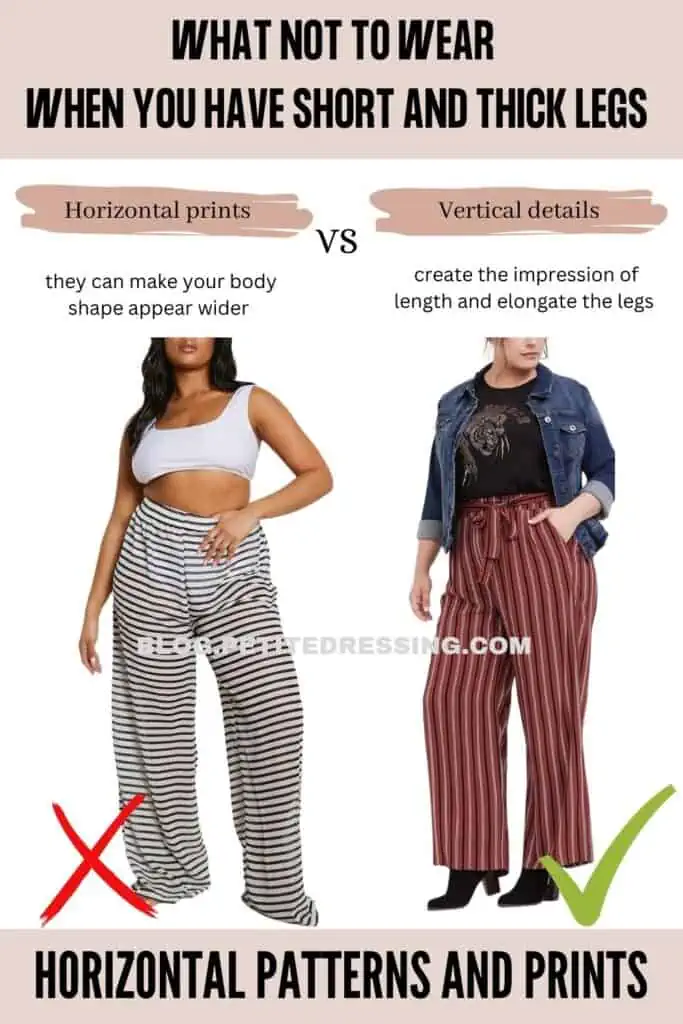 Horizontal patterns are not really the best thing to go for when you have short and thick legs for very obvious reasons. It's because they can make your body shape appear wider, which is why they are generally not recommended for ladies who have short and thick legs. 
Instead of horizontal patterns, go for clothes that feature vertical patterns or solid colors as they are more flattering in a way that they help create the illusion of length and make the legs appear slimmer.
Wearing clothing with a vertical pattern, such as pinstripes or vertical stripes, can create the impression of length and elongate the legs. Similarly, wearing solid colors helps tweak the lighting and shadow which cause a slimming effect while also drawing attention away from the width of the legs.
Skin-tight jeans or trousers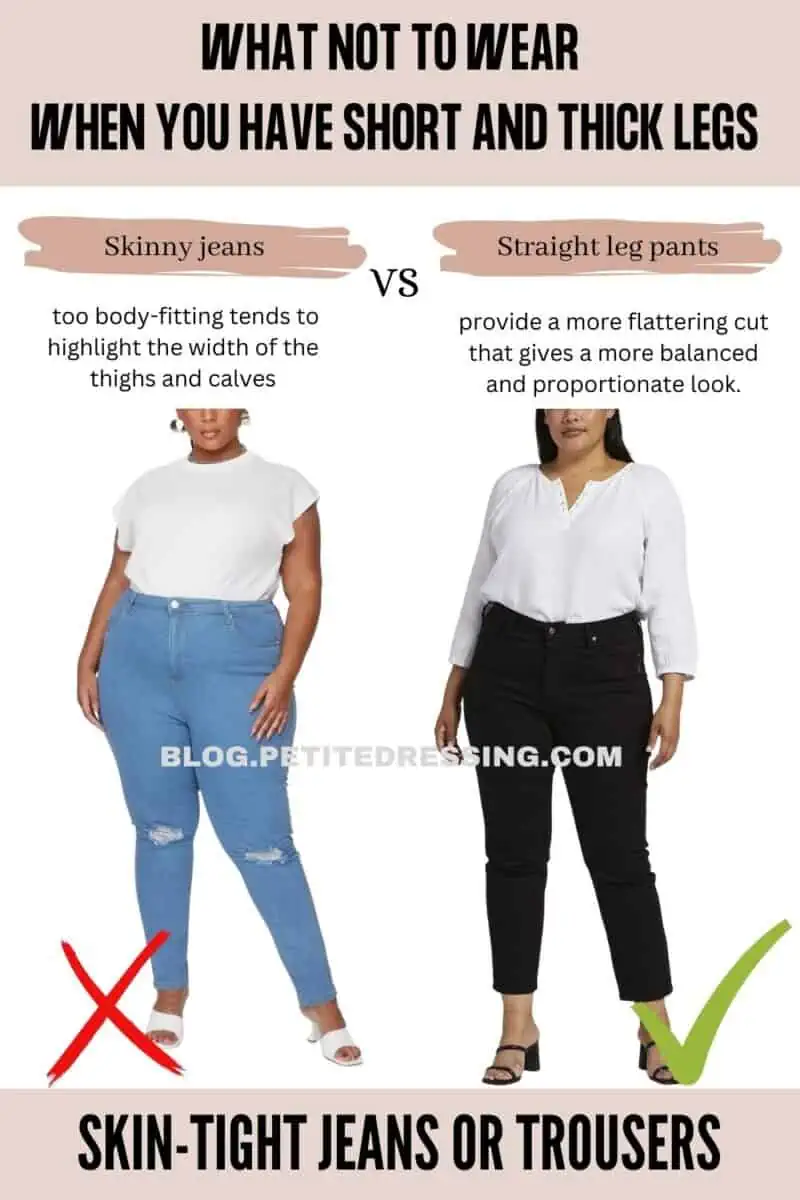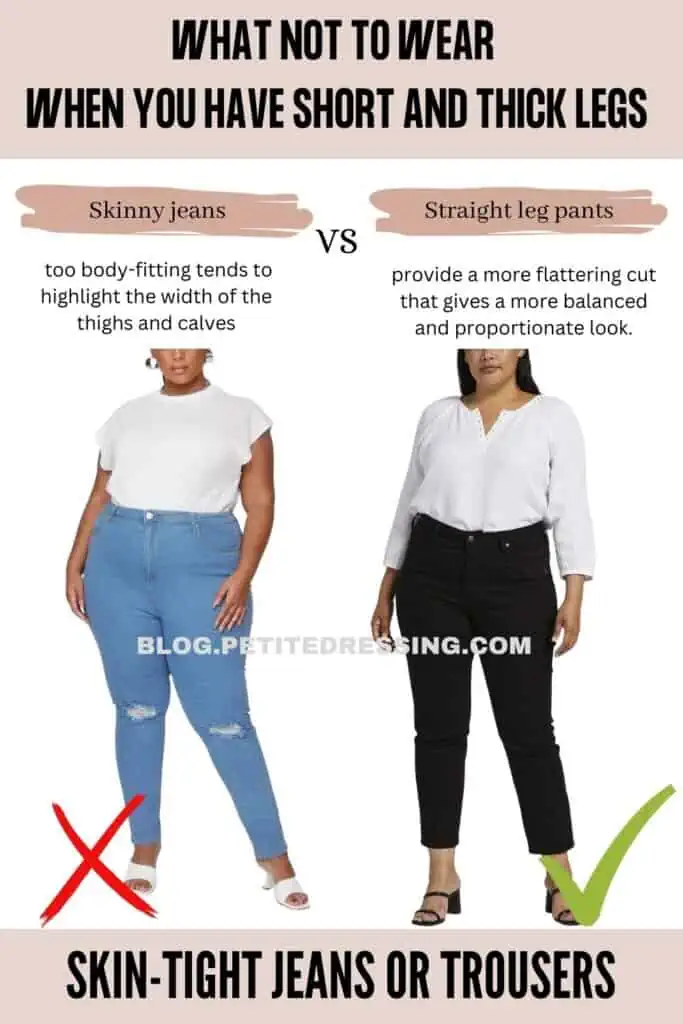 We know how difficult it is to resist the charm of the classic pair of skinny jeans. Well, to be fair, it can still work with short and thick legs but if you go too tight, then this is where the fashion faux-pas commence!
A pair of skinny jeans that's just too body-fitting tends to highlight the width of the thighs and calves. For someone with short and thick legs, wearing skinny jeans that are too tight can make your legs look shorter and thicker. 
The best skinny jeans alternative? Give straight-leg jeans or slightly tapered jeans a try as these styles provide a more flattering cut that gives a more balanced and proportionate look.
Thick belts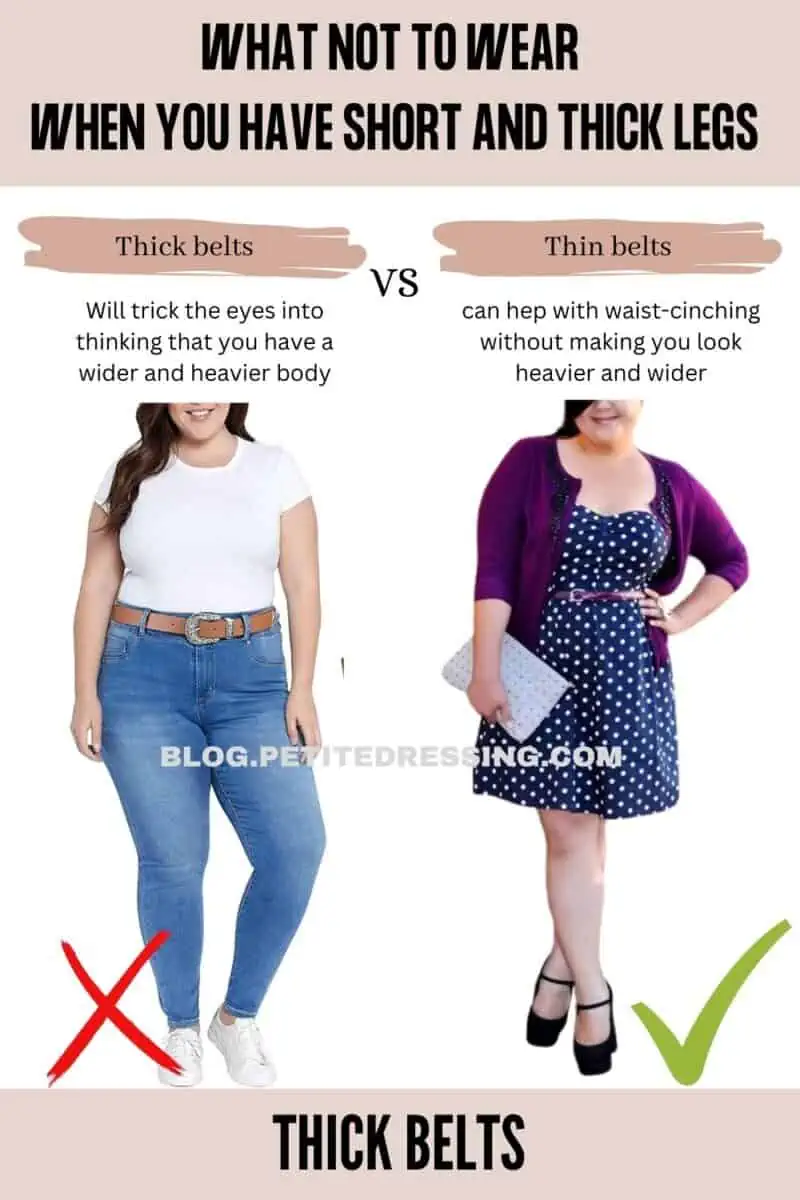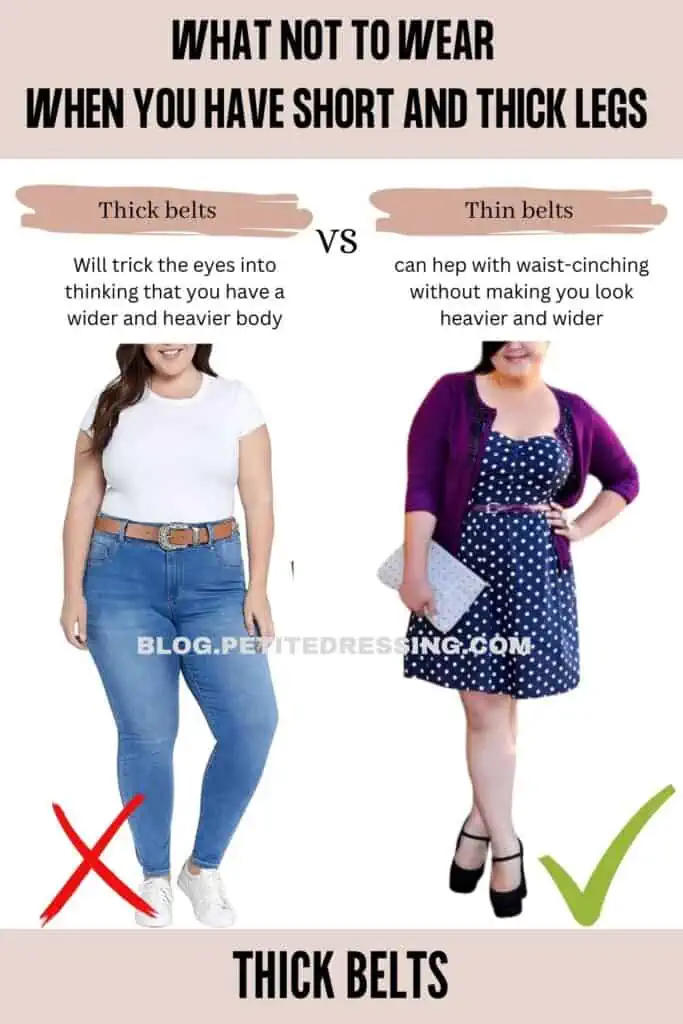 Belts are generally quite helpful in terms of adding definition to your body as it efficiently cinches the waist. However, it can be a horrible style disaster if you have short and thick legs wearing a 4-inch wide belt!
Just like what we mentioned in the previous heading, horizontal lines aren't exactly your best friend as a girl with short and thick legs. Thick belts are obviously very visible and they'll surely draw a lot of attention.
This attention also means that these thick belts will trick the eyes into thinking that you have a wider and heavier body. This also creates a clear separation line that will cut off several inches from your upper and lower body.
Low-rise jeans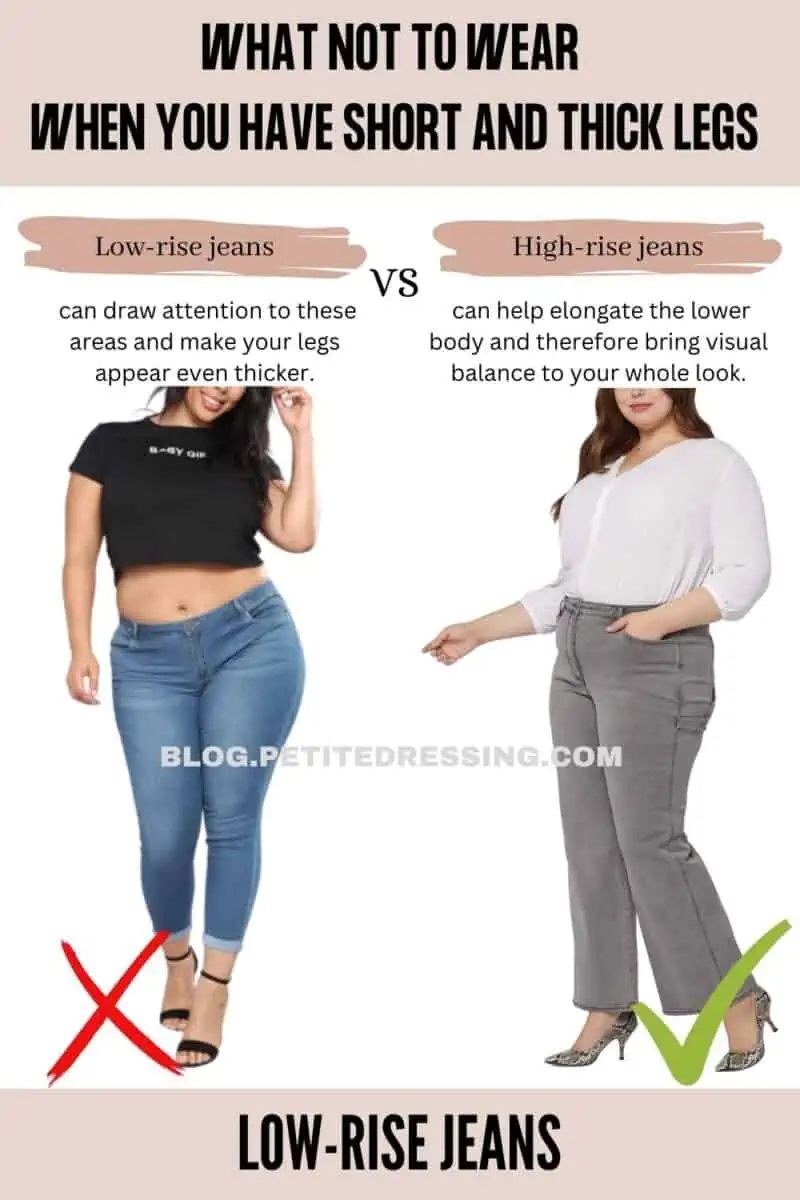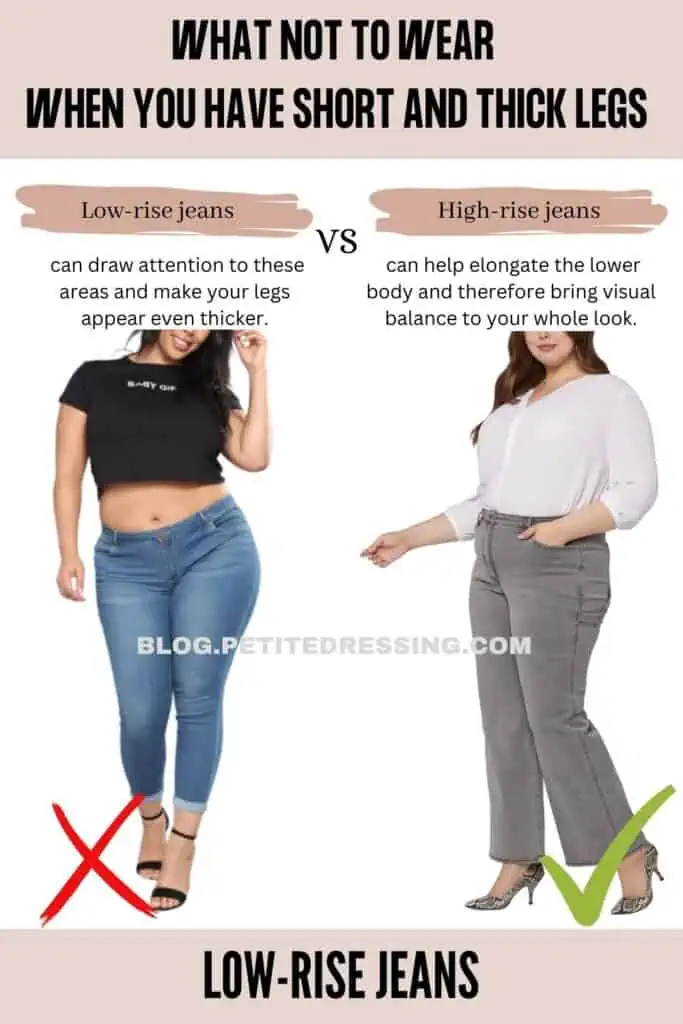 It's also quite apparent why low-rise jeans aren't your friends. Low-rise jeans can make your legs look shorter by cutting off the vertical line created by a higher waistband. 
If you have short legs, this effect can make your legs look even shorter, so it's important to keep your overall frame proportioned. You can achieve this by wearing a top or jacket that hits at the hip or lower to create the appearance of a longer torso, which can make your legs look longer by extension.
Low-rise jeans will absolutely highlight the width of your hips and thighs. Also, if you have a larger midsection or wider hips, a pair of low-rise jeans can draw attention to these areas and make your legs appear even thicker.
As an alternative option, mid-rise or high-rise jeans are definitely a more flattering choice as they can help elongate the lower body and therefore bring visual balance to your whole look.
Ankle strap shoes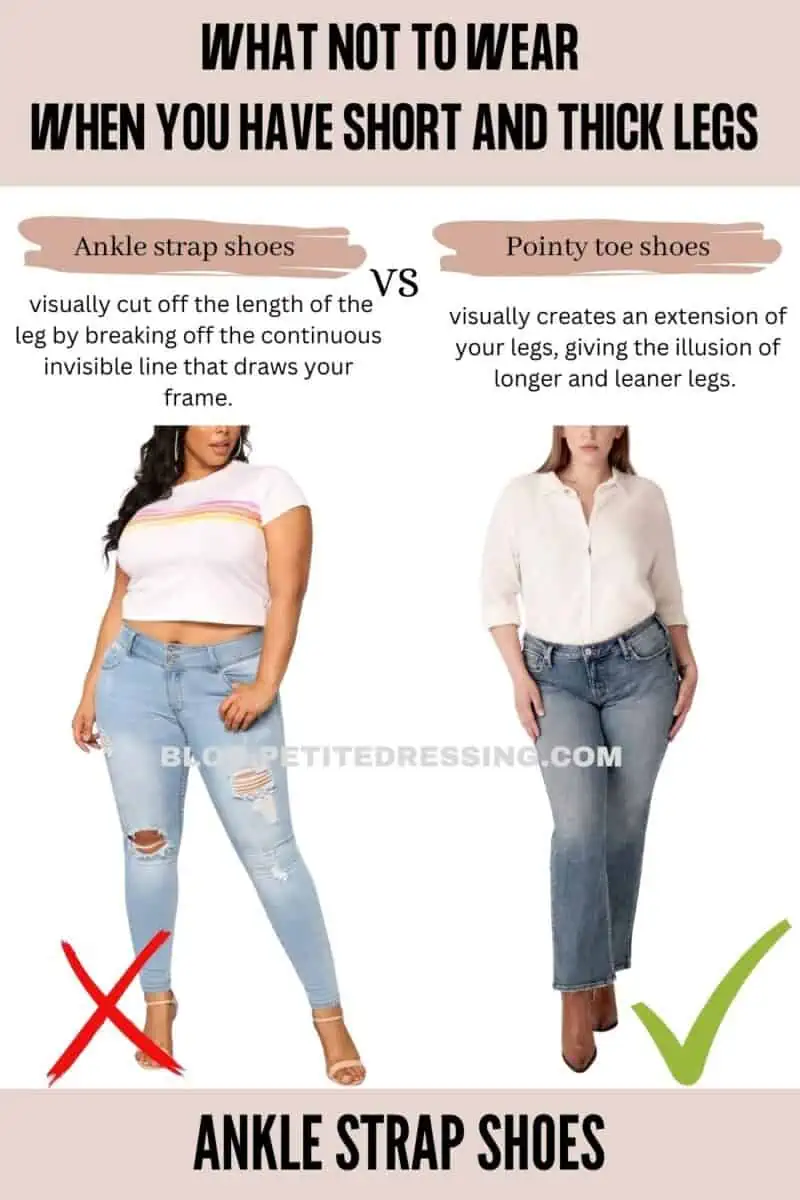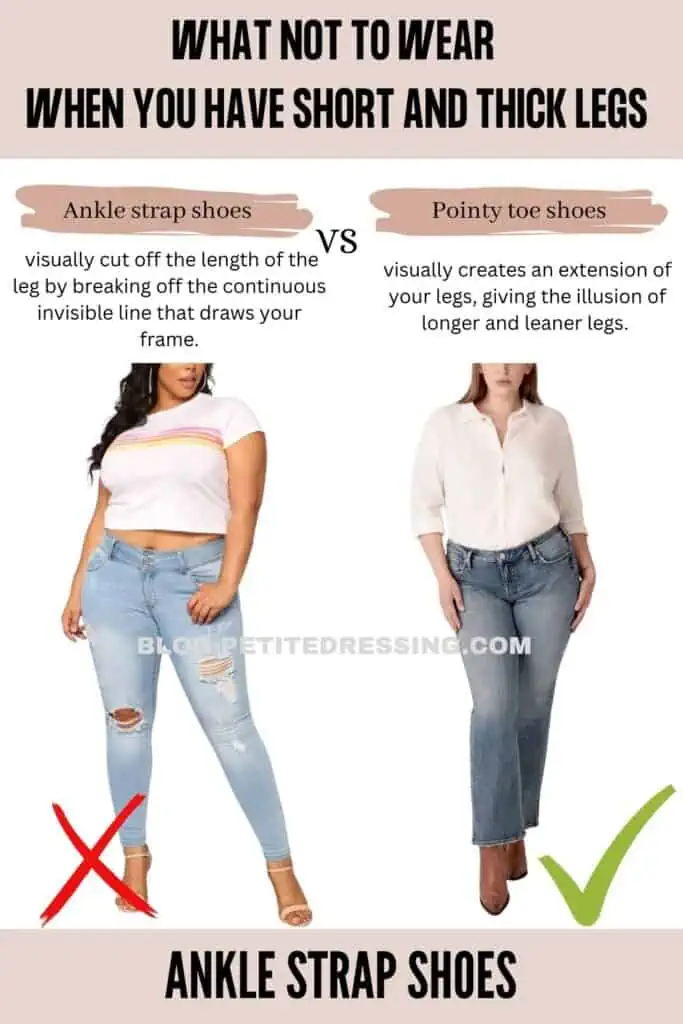 Ankle straps shoes and sandals visually cut off the length of the leg by breaking off the continuous invisible line that draws your frame. It's because the ankle straps specifically create a horizontal line that draws attention to the ankle and makes the legs look shorter or thicker.
Ladies with short and thick legs may look a tad awkward in ankle shoes or sandals due to this visual effect so it's better to consider shoes without ankle straps or with ankle straps that are thin and low-cut to create a more elongated look.
Alternatively, you could also try wearing shoes with a pointed toe or a nude color that matches your skin tone, as both of these can create the illusion of longer and leaner legs.
Mid-Calf Boots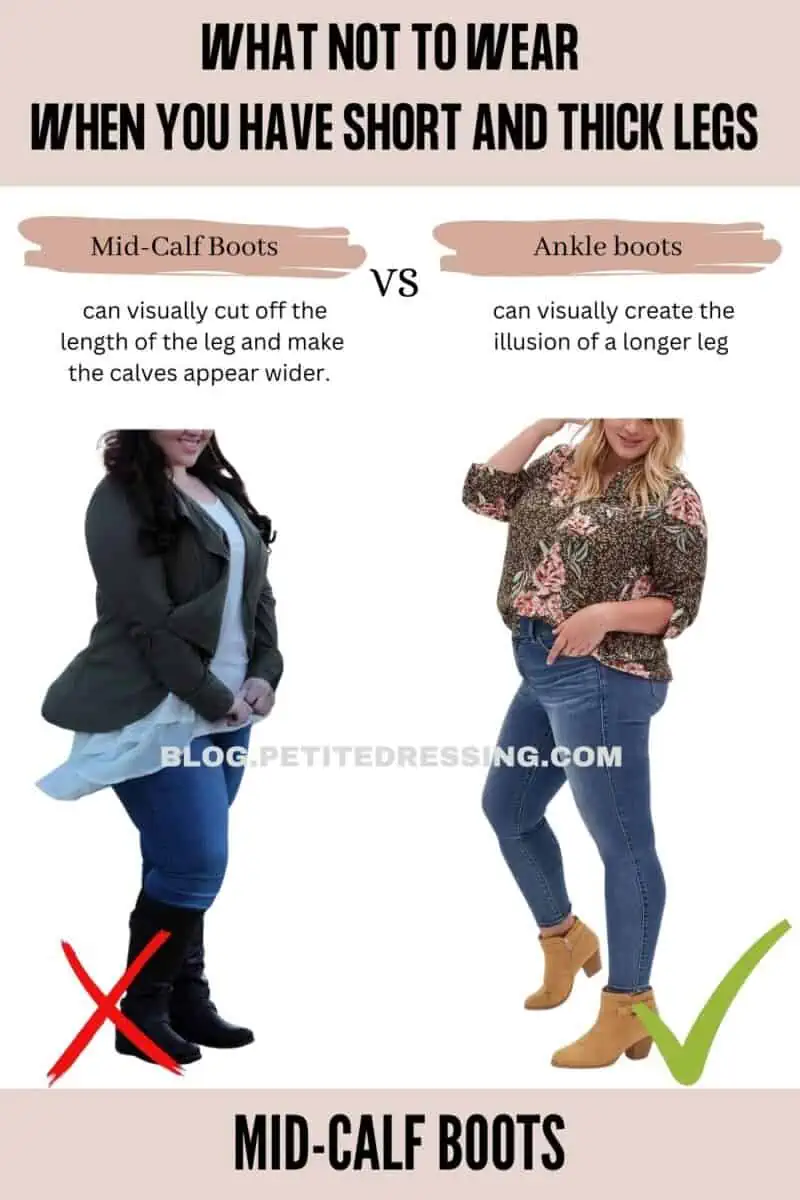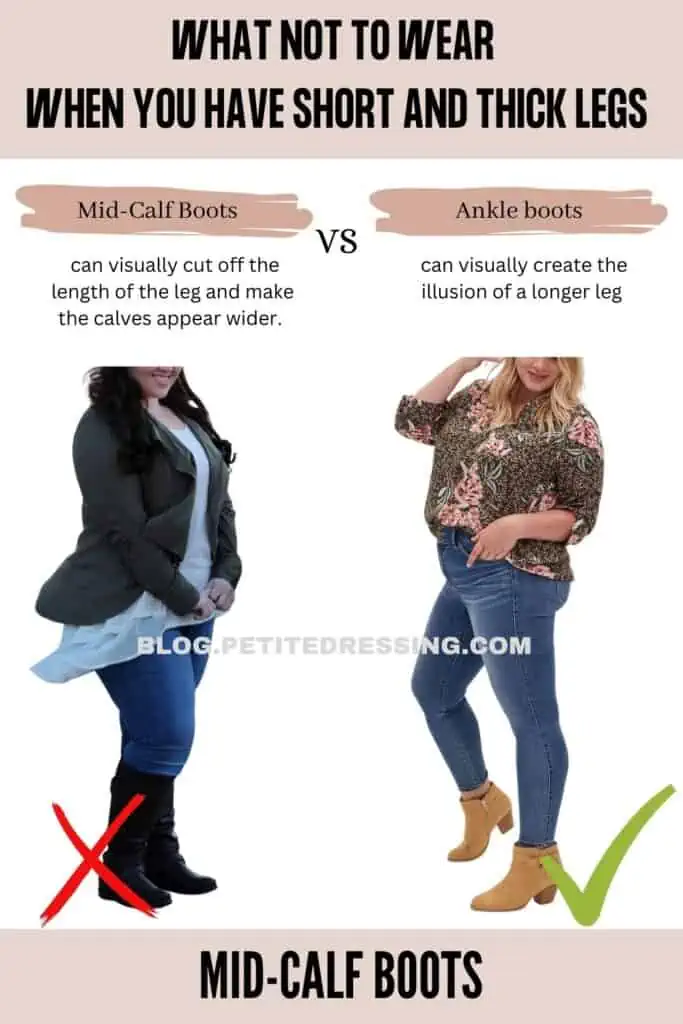 This also shares the same style principle with ankle straps, only worse! By wearing a pair of boots that goes up to your mid-calf, you are obviously taking off so many inches away from your height because this line on your mid-calf is critical in making your legs appear longer.
They can really look unflattering to girls with short and thick legs because they can visually cut off the length of the leg and make the calves appear wider.
Instead, look for boots that fit snugly around the ankle and have a tapered shape to create the illusion of a longer leg. Avoid boots that are too wide around the calf, as they can make the legs look wider and shorter.
The Key Takeaway
When you have short and thick legs, certain clothing styles and fashion trends may be less flattering than others but this doesn't mean that you should limit your style options! Regardless of your body shape, you are free to creatively express your style as long as you go by these style guidelines to make sure you choose wardrobe pieces that flatter you the most.