Mom jeans are high-waisted jeans with extra space in the hips and thighs. Moms in the 80s and 90s used to rock Mom jeans and hence the name mom jeans. They are also super comfy and can be worn by all ages at any time.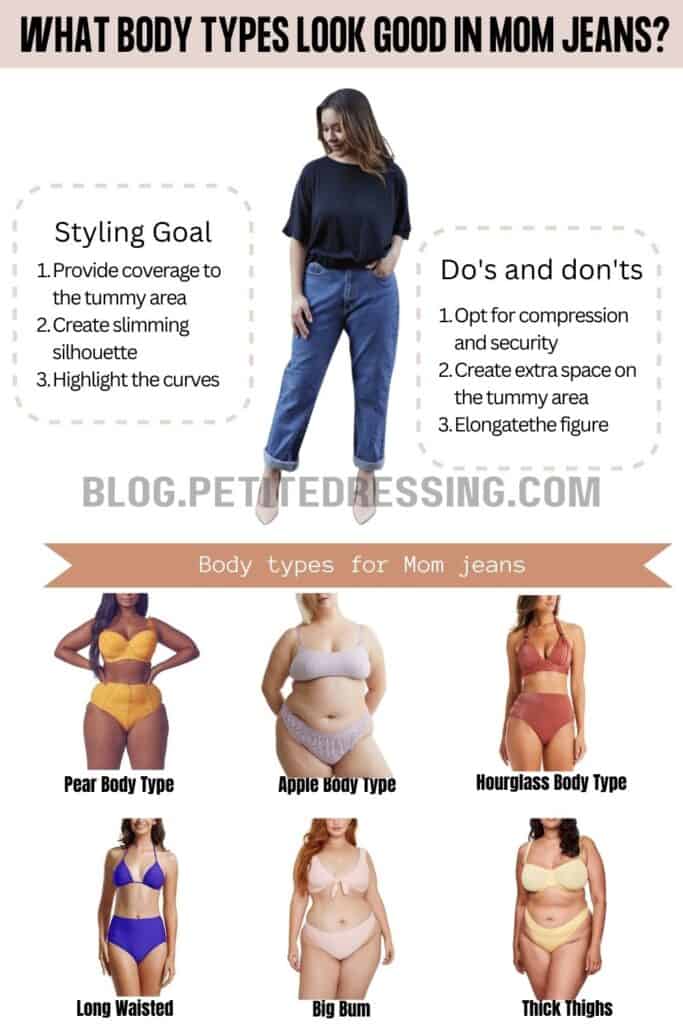 They recently made a comeback into today's fashion world, and everyone is in love with them mainly because of how comfortable they are.
However, Mom jeans is not for everyone! These are the body types that will look good in Mom jeans.
Pear Body Type
Having a tiny waist and significant hip categorizes you as a pear body type. Having broad hips makes your waist area look beautiful.
Mom jeans will look good on you, primarily because of your hips and thighs.
They will pop up well in the mom jeans because it is high-waisted and has a lot of room for your hips and thighs!
Try rocking a pair of mom jeans with a nice brightly coloured crop top. Wear a push-up bra to make your upper body and lower body look proportional.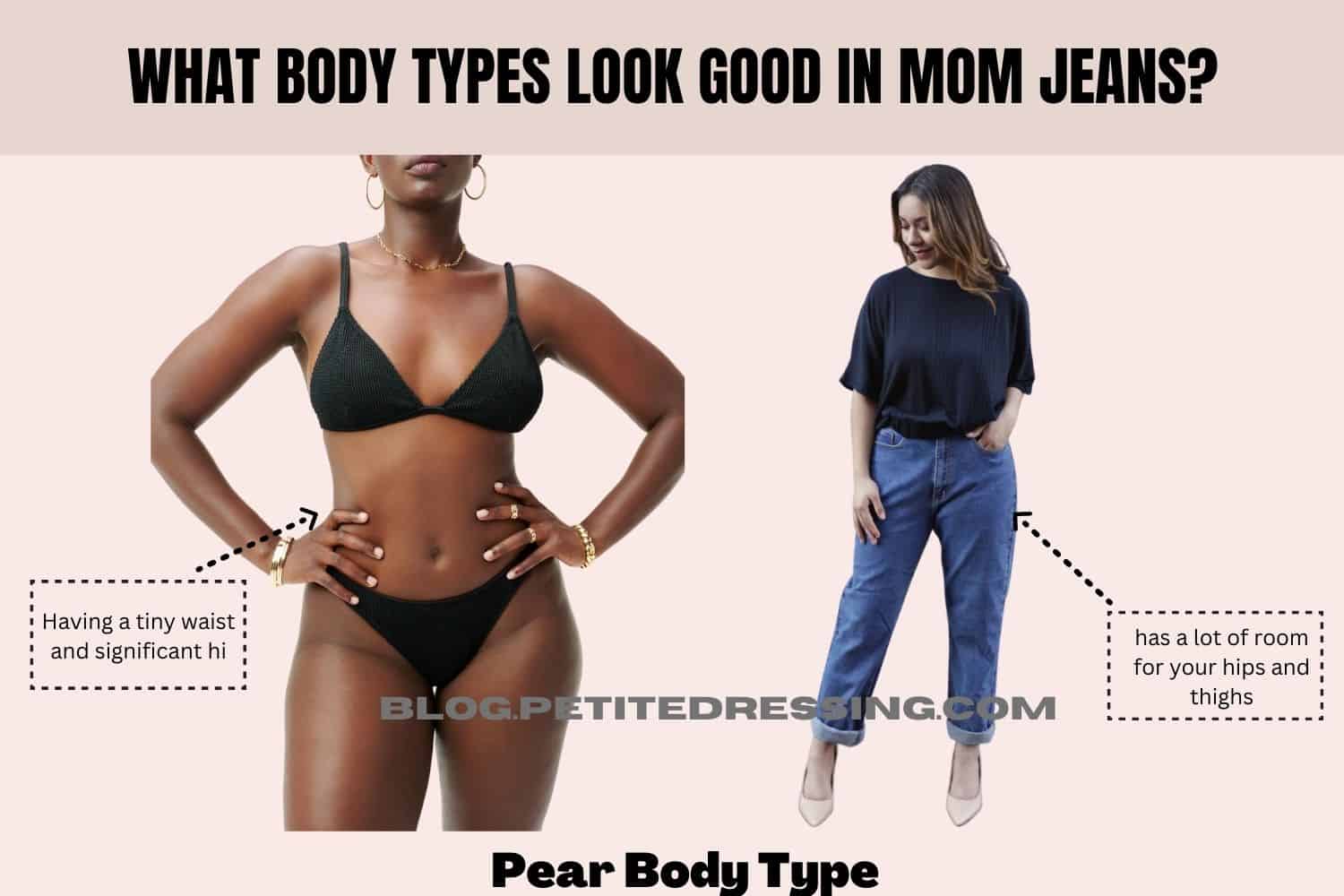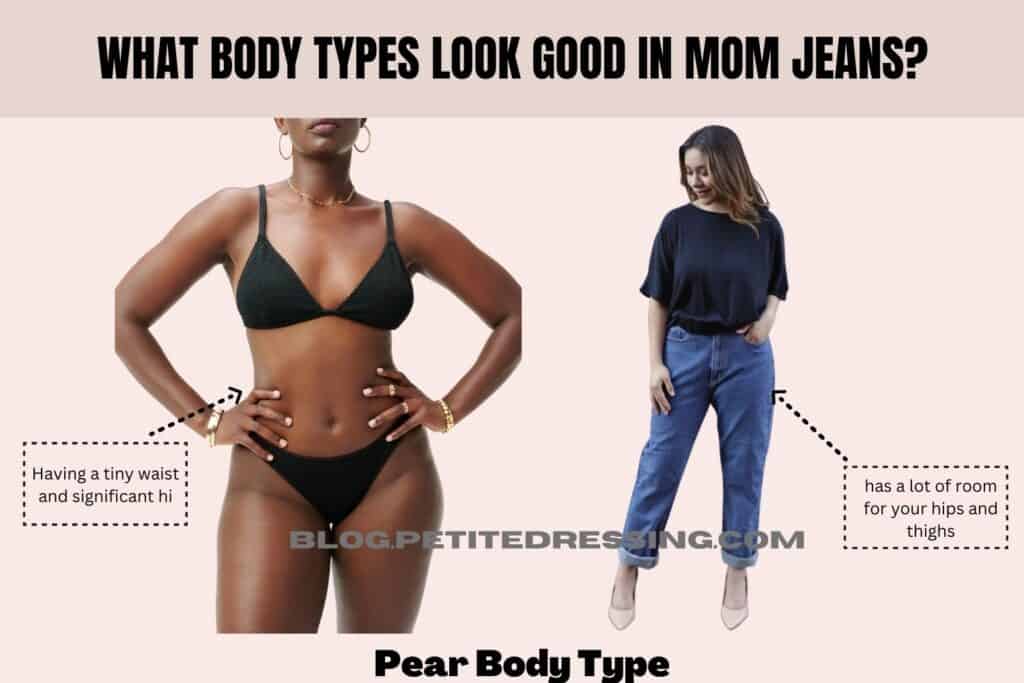 Apple Body Type
If you have this kind of body type, you have a larger bust compared to your hip section, and you do not have much natural waist definition.
The apple-shaped women tend to have midriff concerns, in other words, muffin tops.
That is exactly one of the reasons Mom jeans work great for your body shape!
Since they have a high-waisted design, you will feel much more comfortable in Mom jeans as they give your tummy full coverage.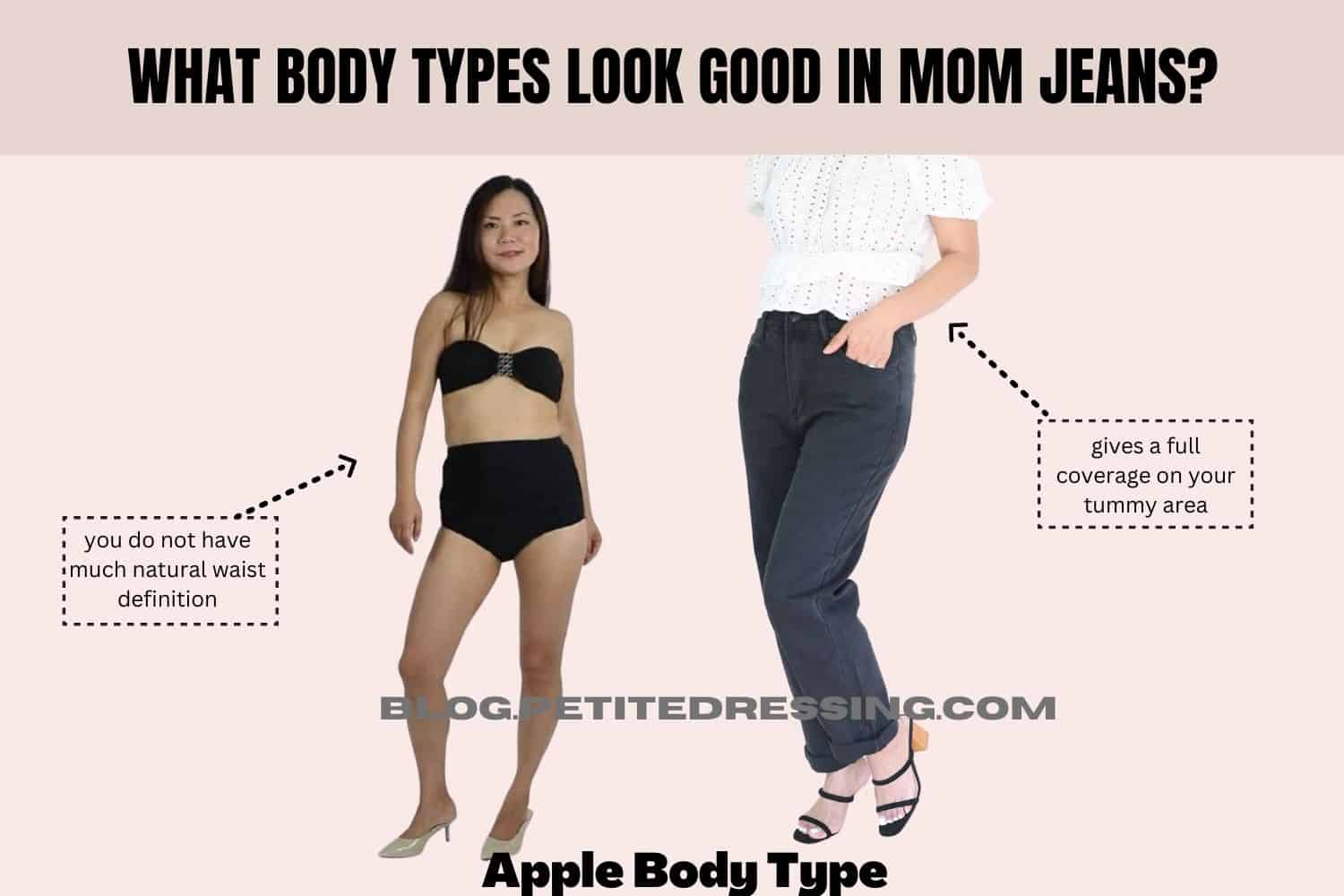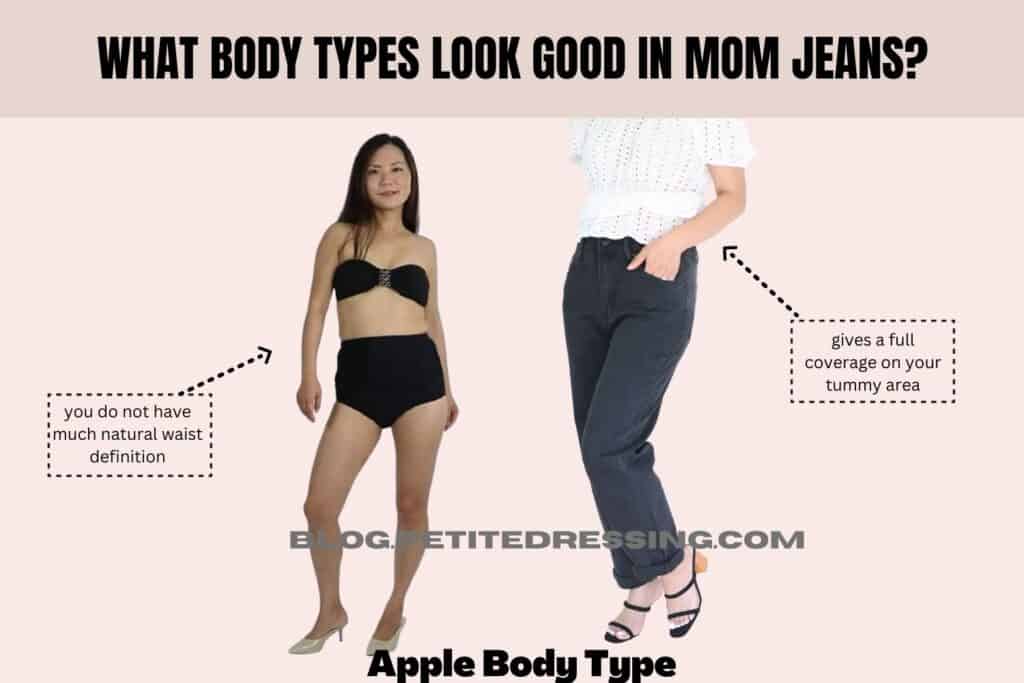 You carry weight in the midsection, and to avoid drawing attention to your waist area, when wearing the mom jeans, wear a statement top so that the eye be focused on the top, and not your midsection.
Hourglass Body Type
Having a well-balanced bustline with your full buttocks is every lady's dream.
Now that you have all this, purchase as many pairs of Mom jeans as possible. You can choose from a variety available in the market.
Many hourglass-shaped women tend to have a longer rise, and that is exactly why high-waisted jeans like the Mom jeans are the perfect option for you.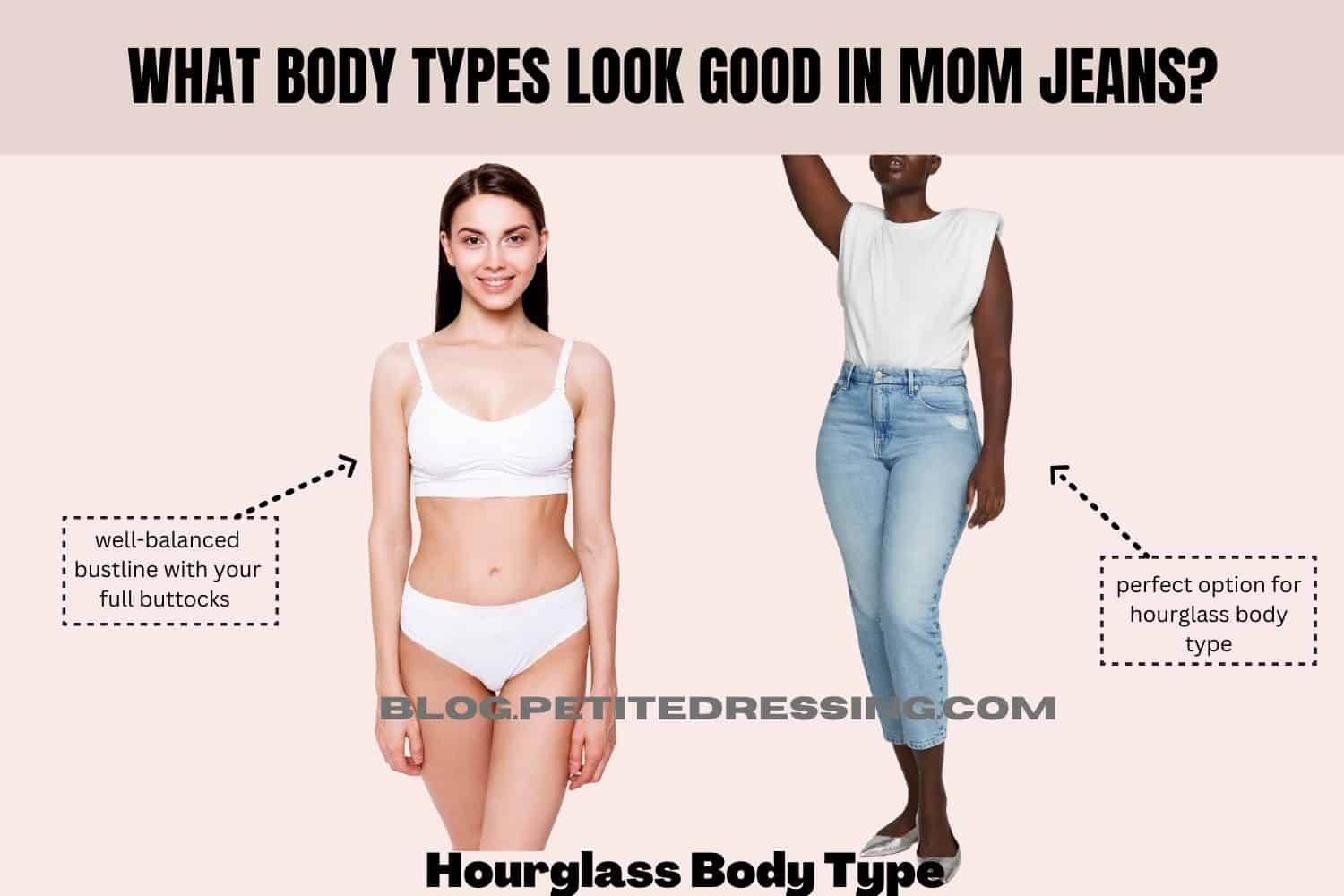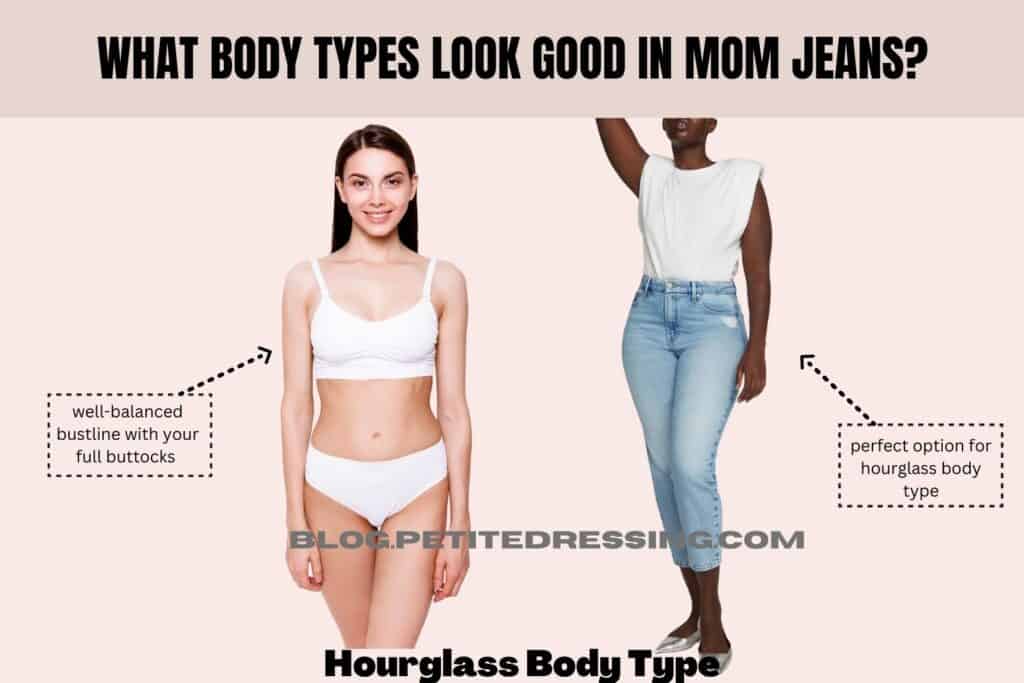 Long Waisted
Being long-waisted means Mom jeans is a heaven sent for you!
Since the Mom jeans are high-waisted, they are going to make you the most comfortable, compared with mid-rise or low-rise jeans.
Having a flat tummy when rocking the mom jeans is a plus, and if you don't have a flat belly, you can try using apple cider vinegar to help you burn fat around your stomach so that when you wear mom jeans,,, you look perfect.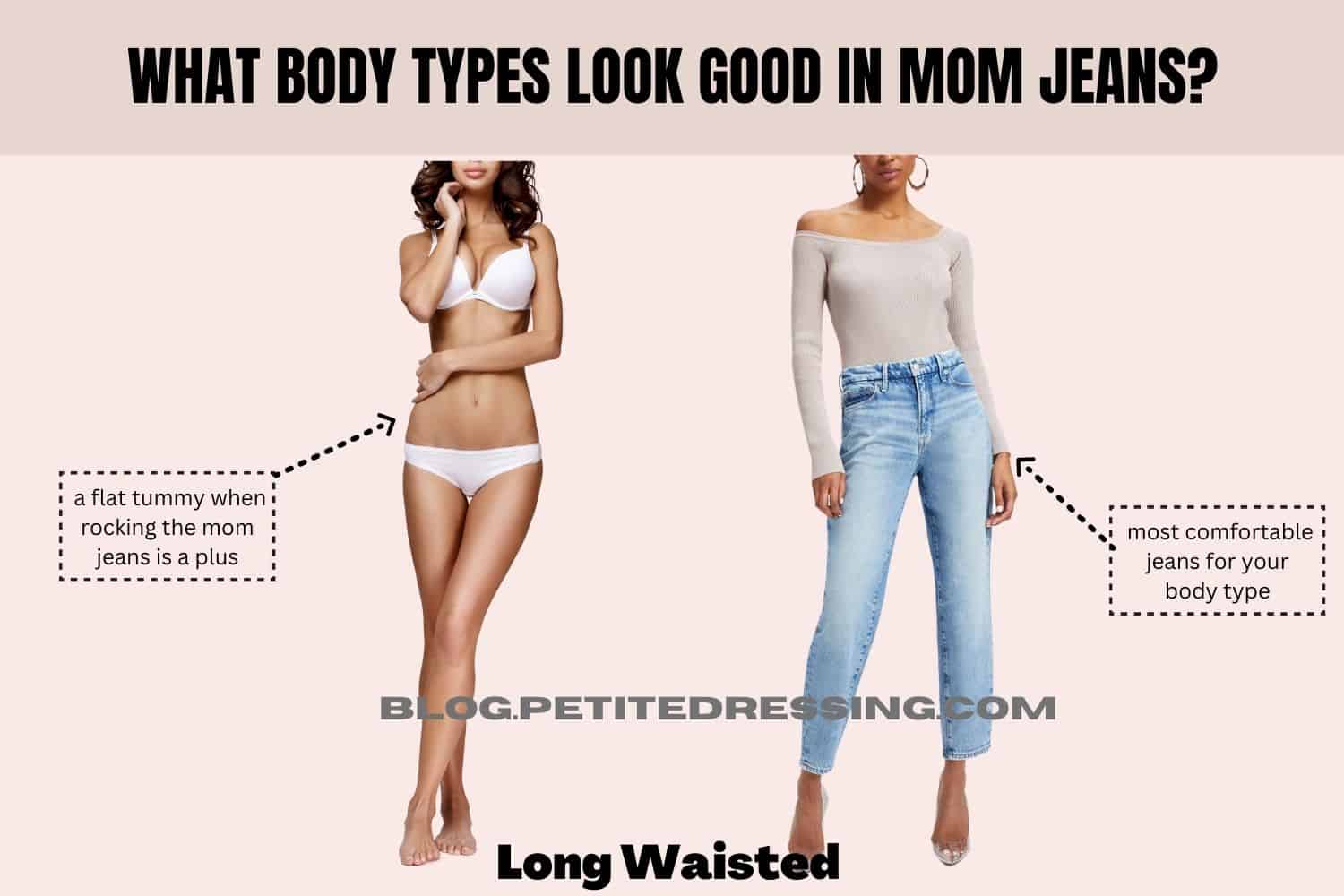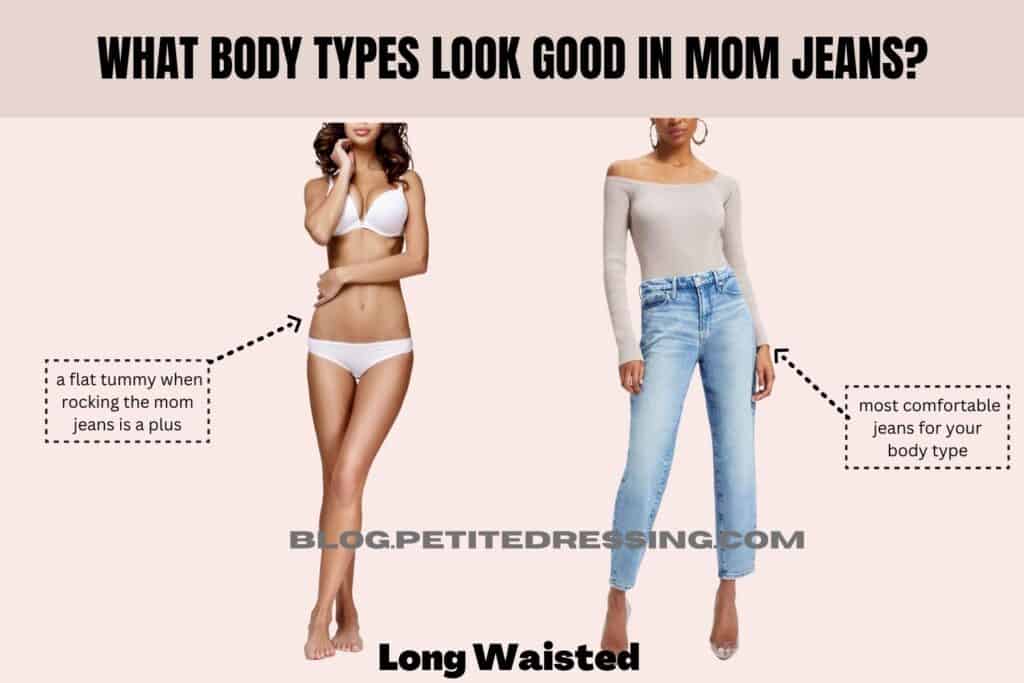 Big Bum
If you have a bigger bum, Mom jeans is one of the best options for your shape!
Since Mom jeans are cut with extra space in the hips, they can totally make you feel most comfortable whether you are walking or moving.
That's not all.
Since Mom jeans have higher waist, they can also make your waist appear more slender.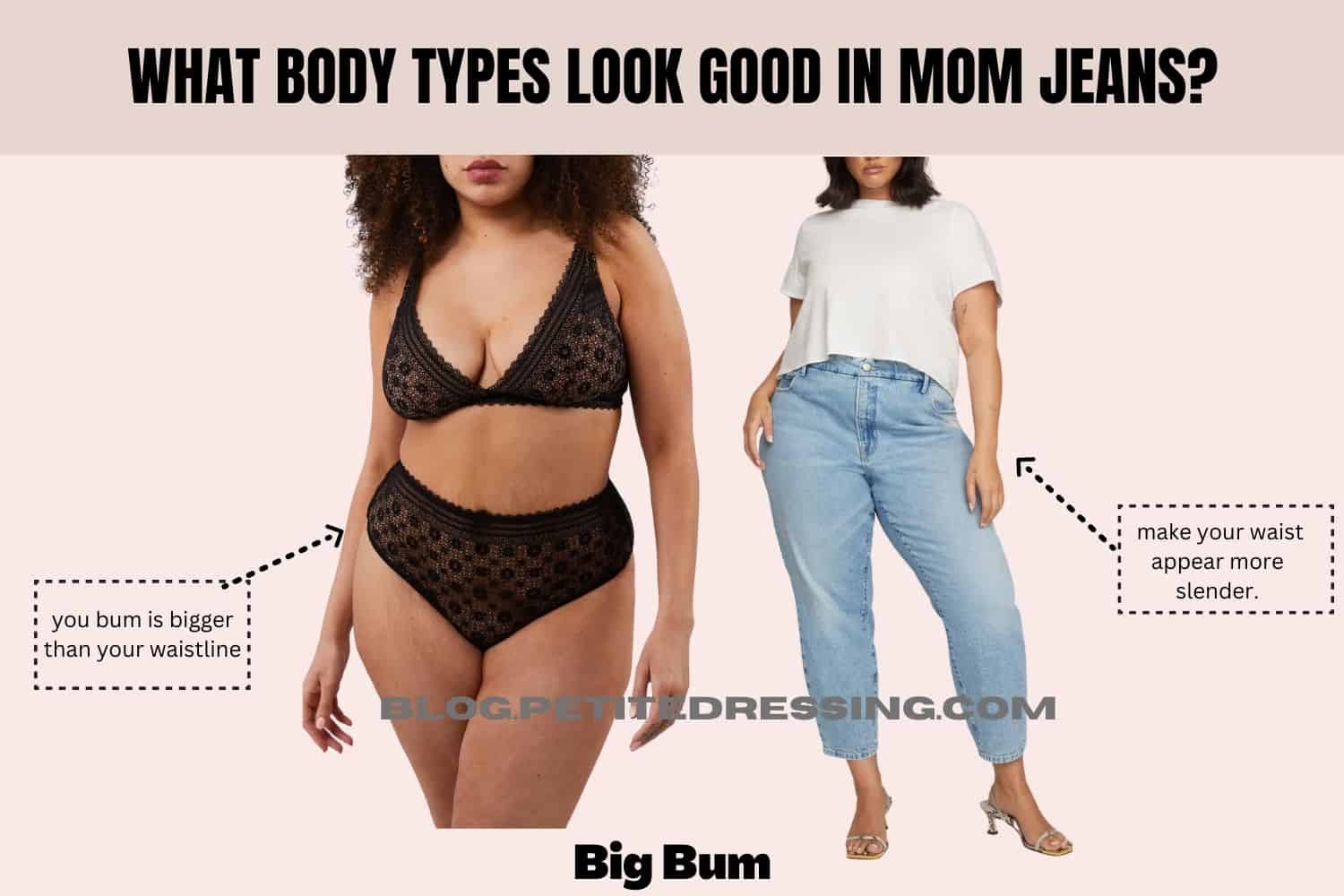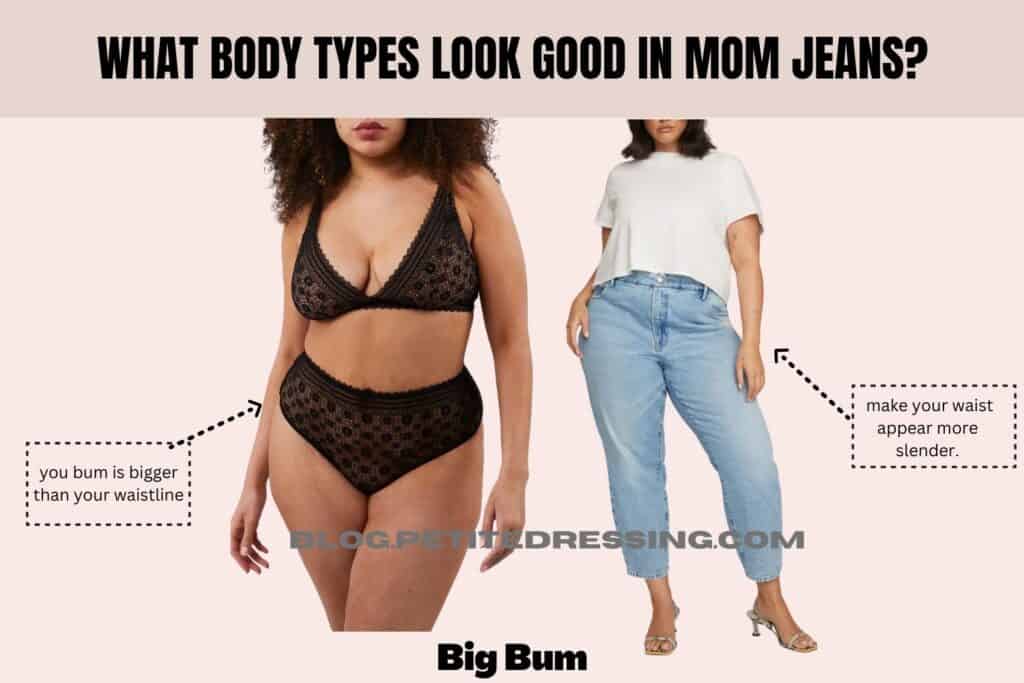 Thick Thighs
You have a suitable body type to wear Mom jeans!
Not only do they give you extra space in your legs, but also they will make your thick thighs appear slender.
Darker wash Mom jeans is your best bet, as these are proven to make your legs look slimmer and longer.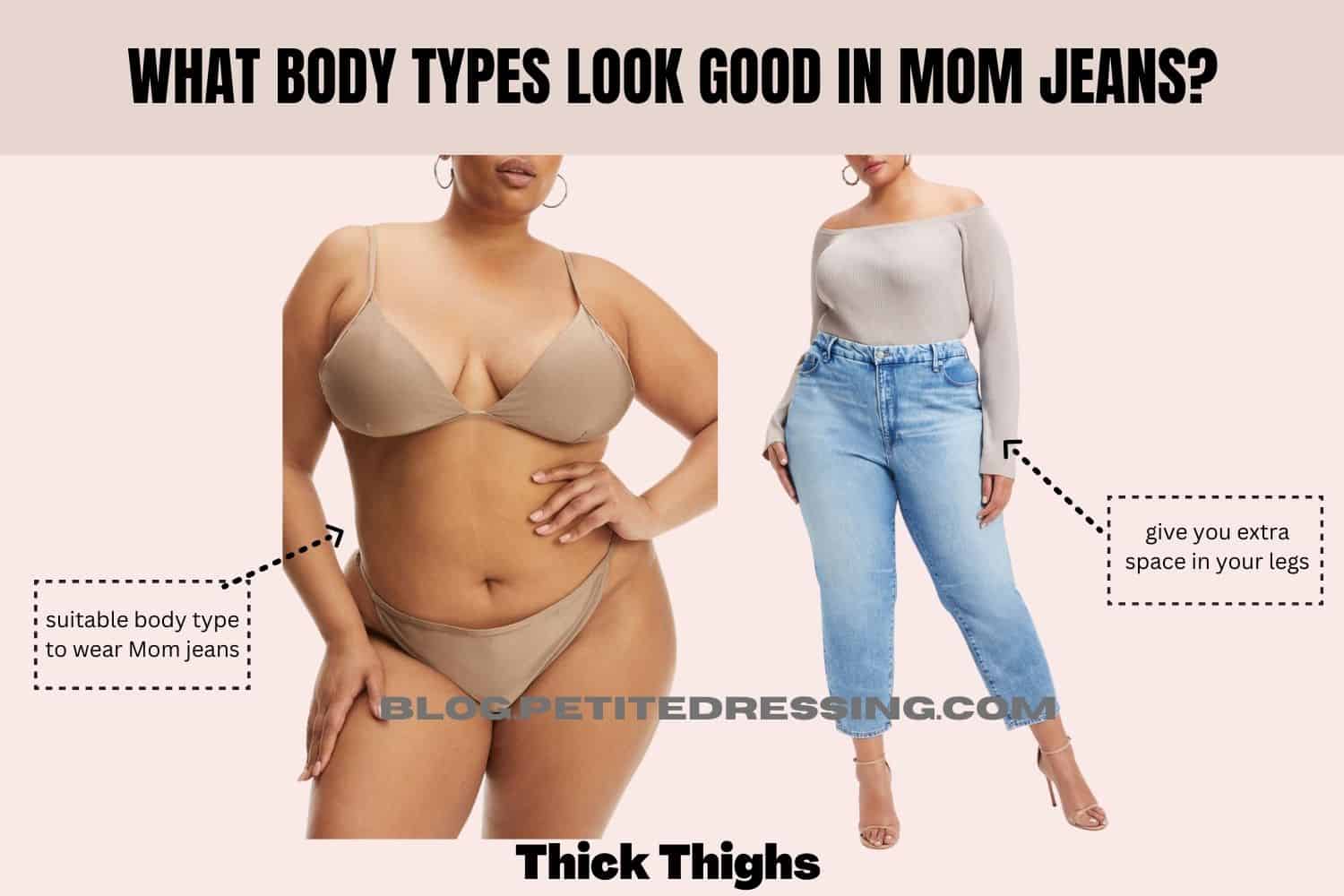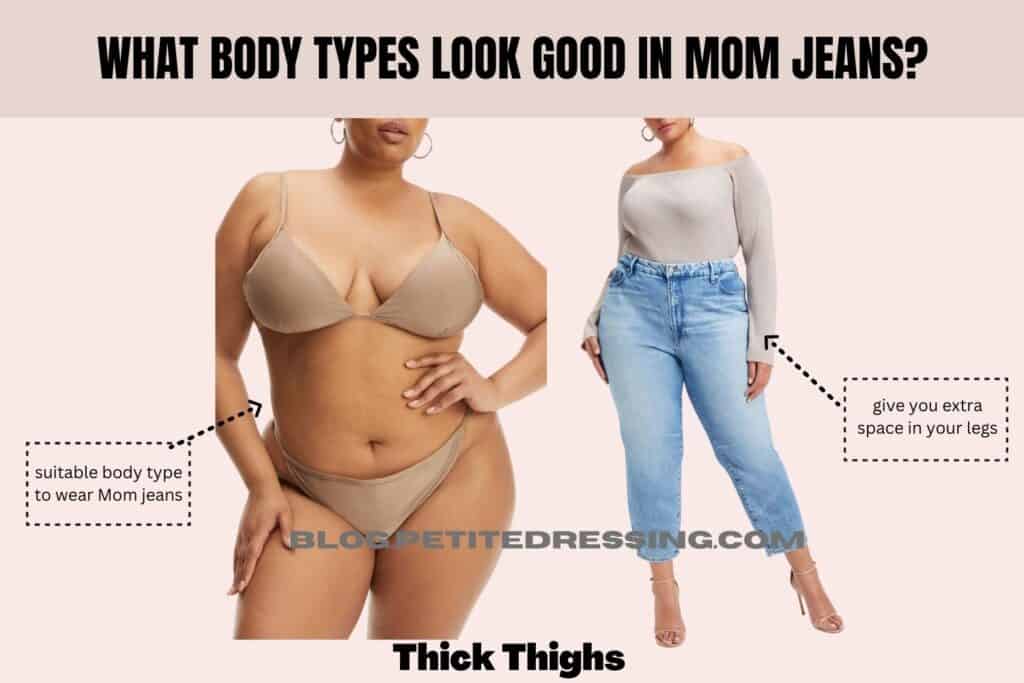 Top Hourglass Body Type
This is so close to being similar to the hourglass body type, the difference being that you have bigger buttocks than your hips.
Your shoulders are a bit round, with the waist being the highlight.
You also have well-shaped legs, which is a plus when rocking mom jeans because they are high-waisted. Choose the brightly coloured Mom jeans and a dark-coloured crop top to make your lower body more noticeable than the upper part.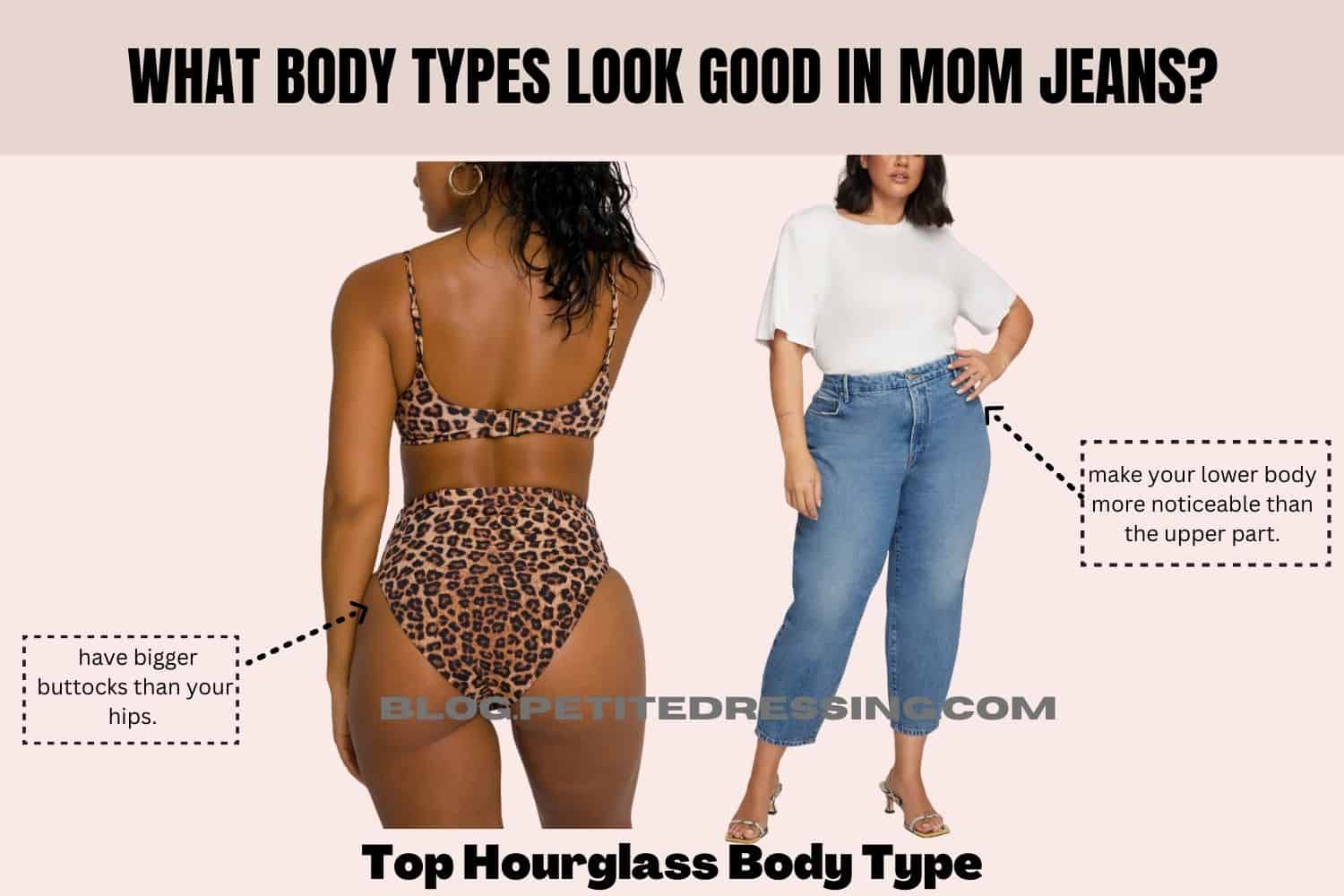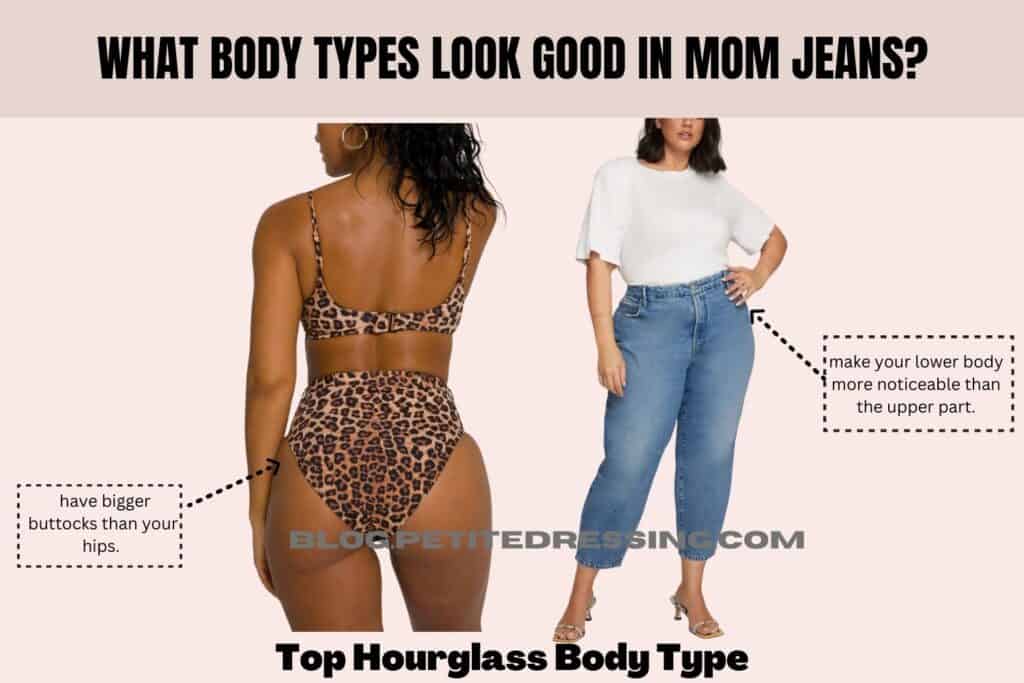 Skinny Body Type
Having slender arms and legs like yours is perfect for you to wear Mom jeans, as they will perfectly fit you.
Wearing ankle-length jeans is a definite plus for that casual 80s look.
Follow Kendall Jenner to get her way of rocking mom jeans as she loves wearing mom jeans.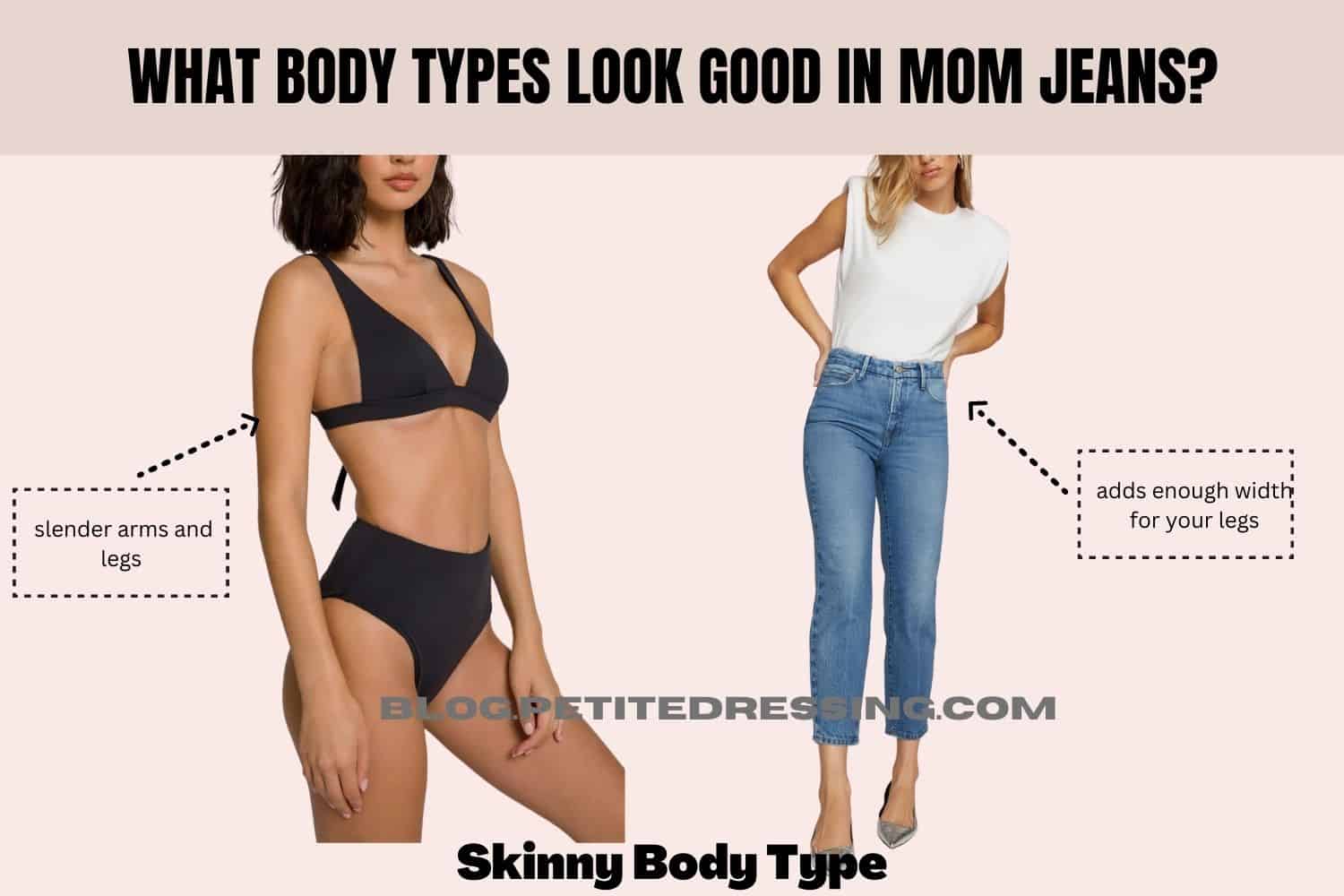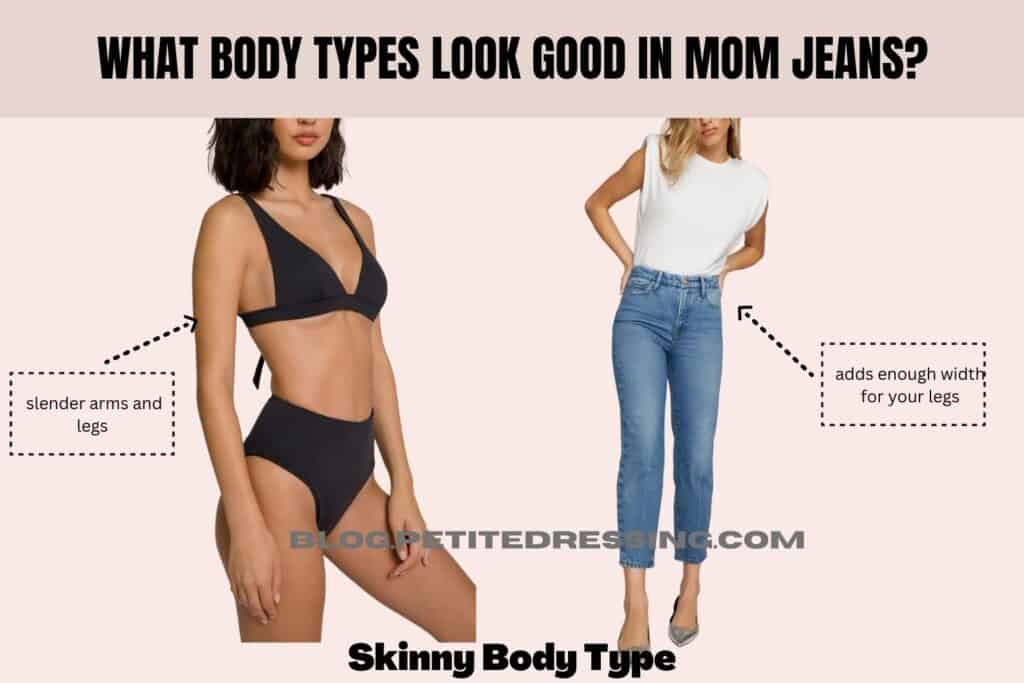 Athletic Body Type
Mom jeans are a suitable outfit for you, as they will hide out the tight calves.
You will also get a chance to show off your Abs if you pair the Mom jeans with a crop top.
A floral off-shoulder top with a pair of Mom jeans is an excellent look to kill the streets with.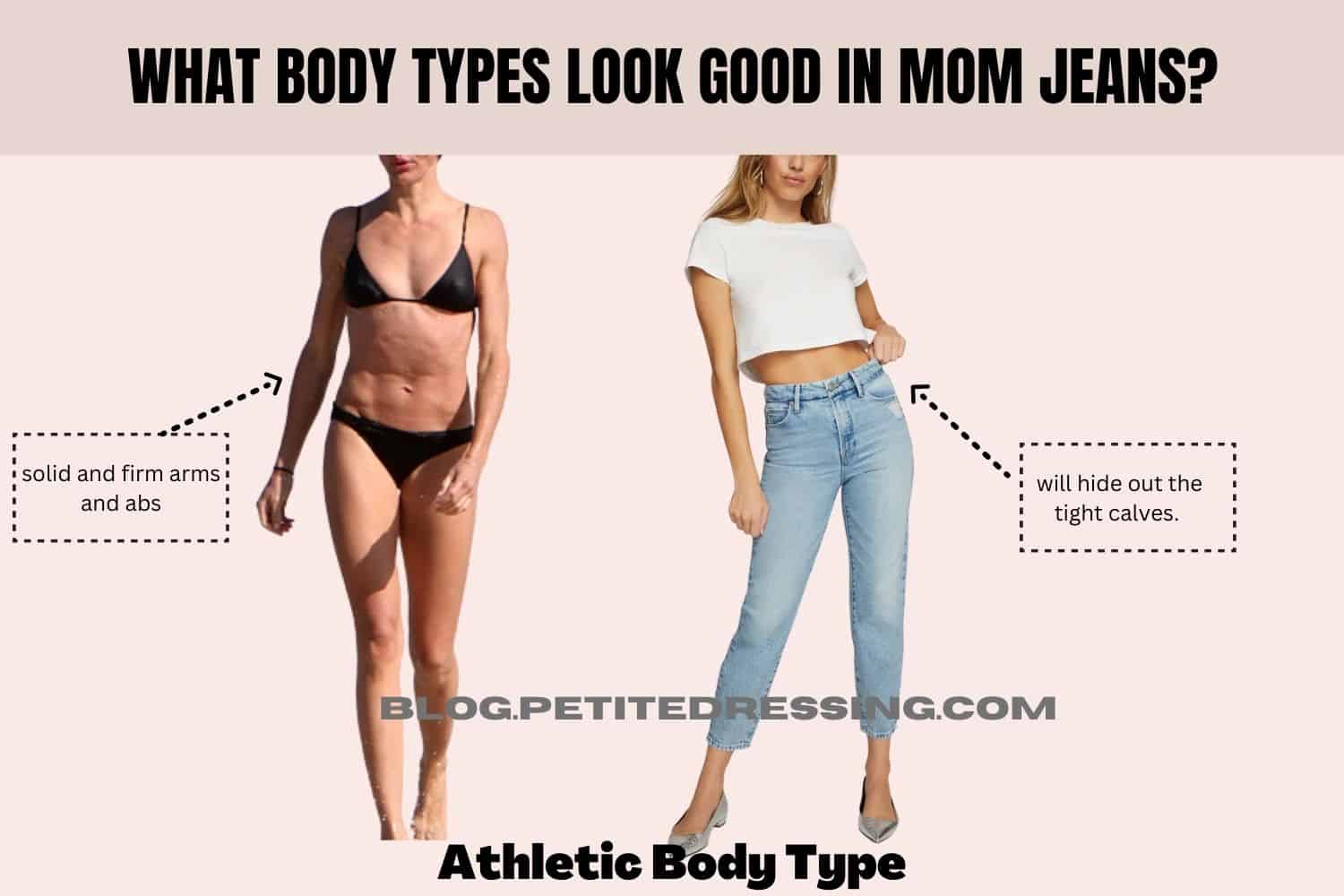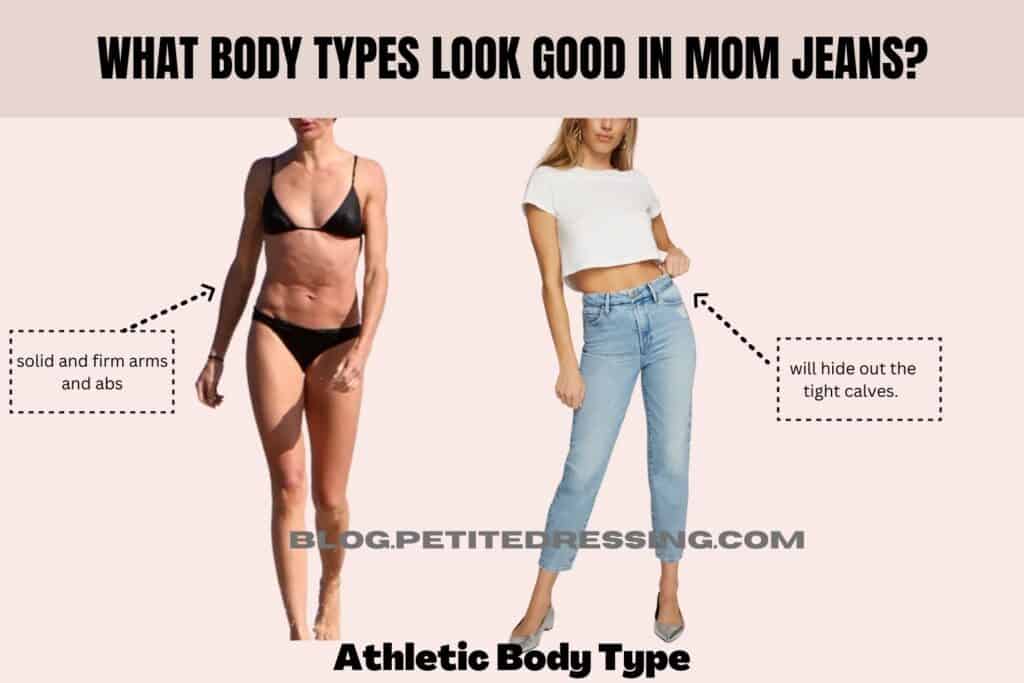 Body Types That Should Avoid Mom Jeans
Short Waisted
Having a short waist or long waist can make a big difference when you are choosing the right jeans for your body shape. Mom jeans are high-waisted, considering that you have a short waist, these are not your best options.
It's not that you should never wear them, but they are most likely going to make your torso look even shorter.
That means when you wear Mom jeans, it CAN look like they are sticking right under your chest.
For a more balanced look, consider mid rise jeans instead.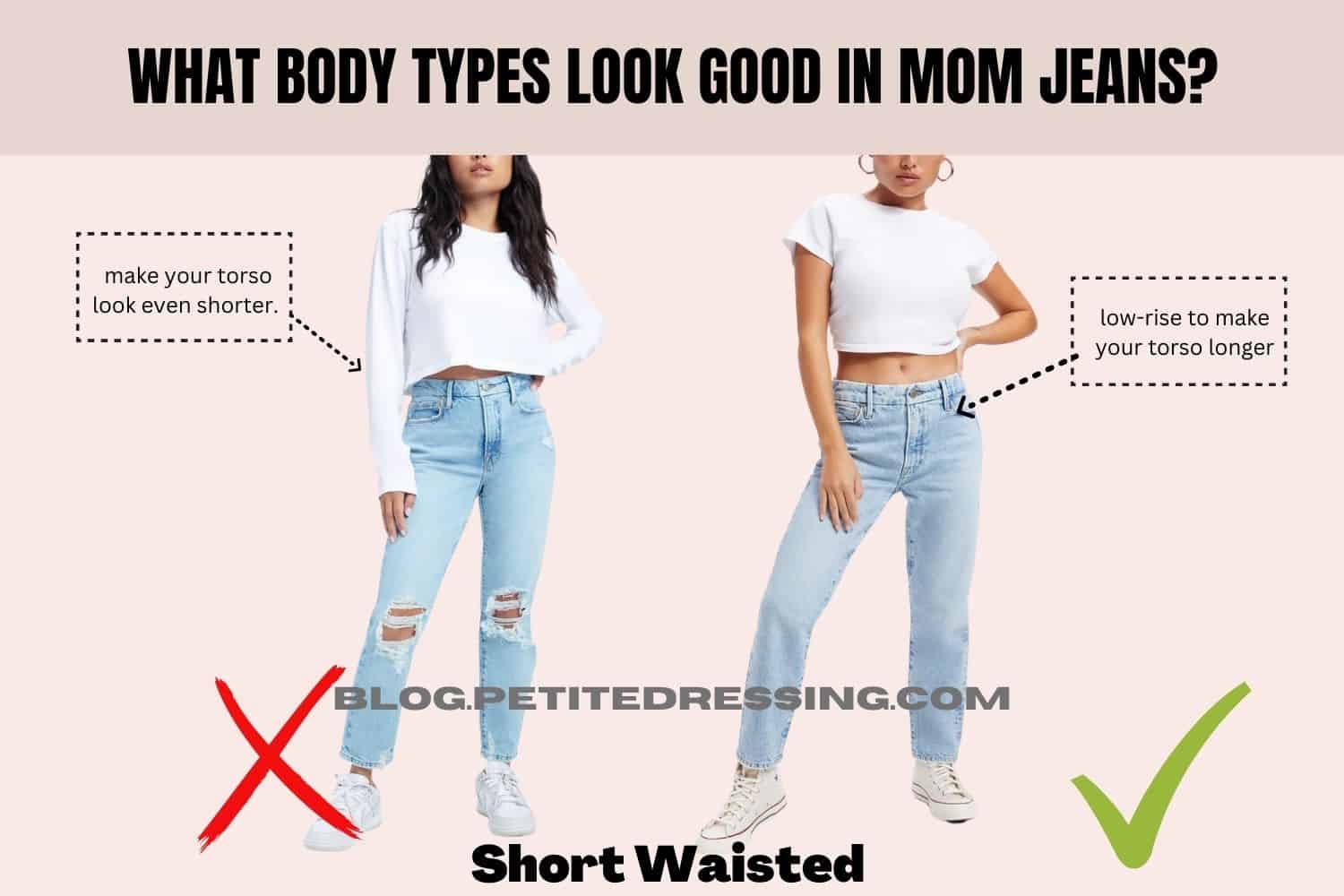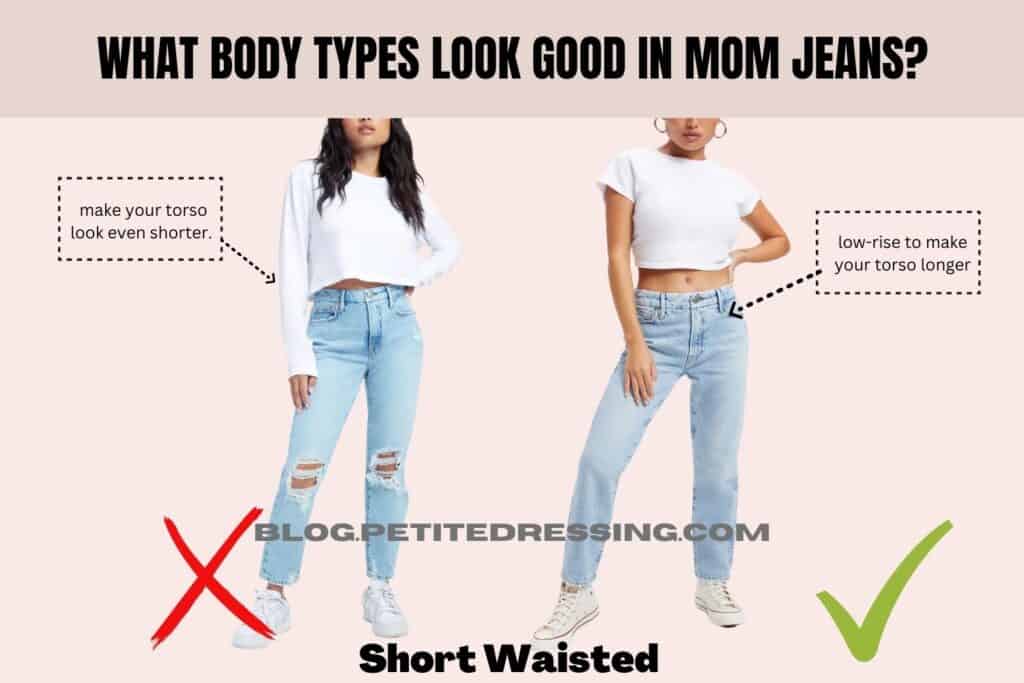 Flat Bum
If you have a flat bum, you probably want your jeans to make your buttocks to look fuller, not flatter.
That is exactly why Mom jeans is not the most flattering option for your shape.
Since Mom jeans fit loose in the butt, they create more space in the back of the jeans, which can make it more obvious that there's quite a bit of unfilled gap in the buttocks.
Instead, opt for tighter-fit jeans like the skinny which hug your butt closely and create the illusion of fuller buttocks.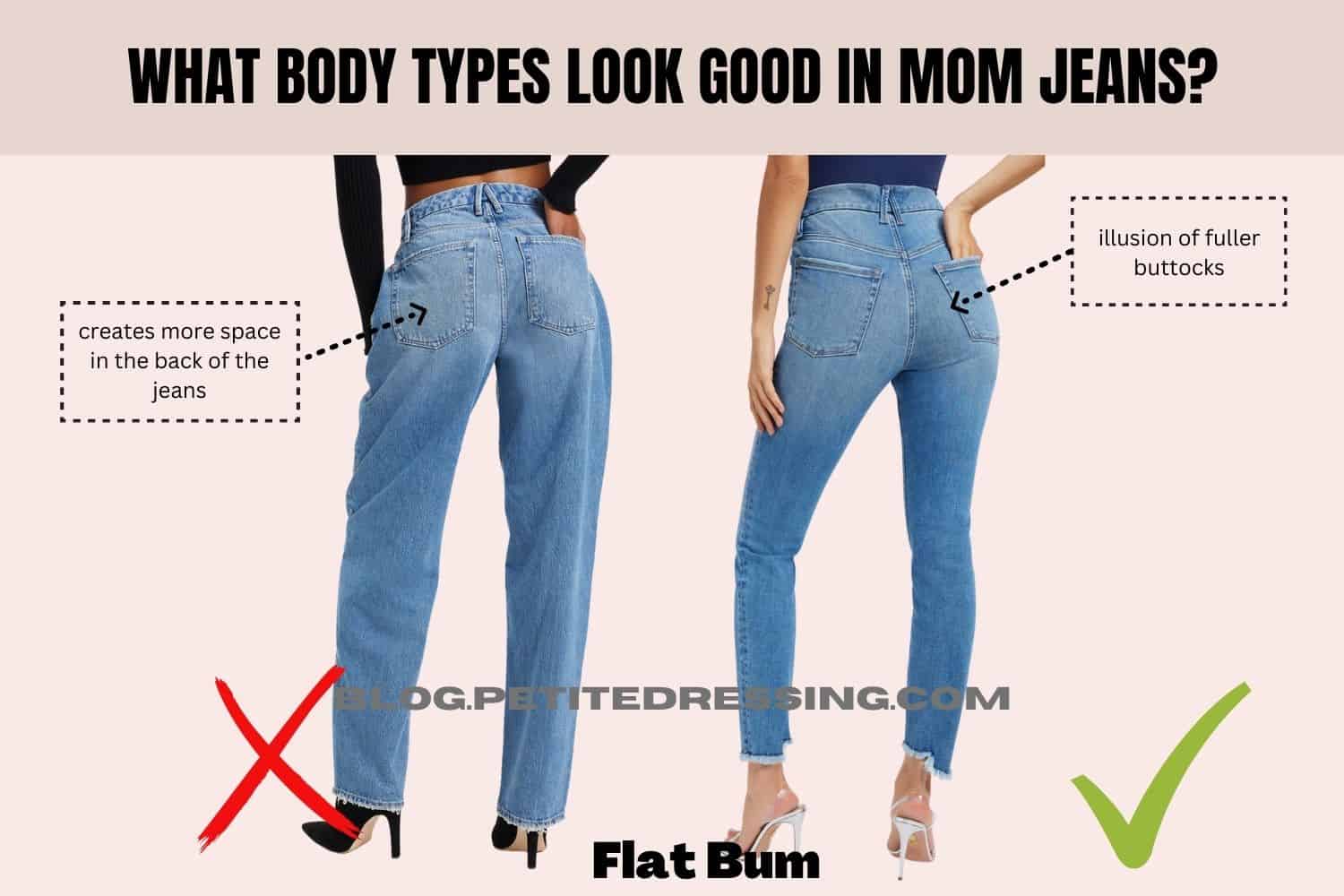 Rectangle Body Type
If you have this body type, your waist lacks natural definition, and it looks like your waist and hips go straight up and down..
A typical rectangle body type also tends to have a shorter rise, which means anything with a higher waist (like the Mom jeans) is not the best for your shape.
Of course, it is totally possible for you to be a rectangle with a longer waist, in that case Mom jeans can still work for you.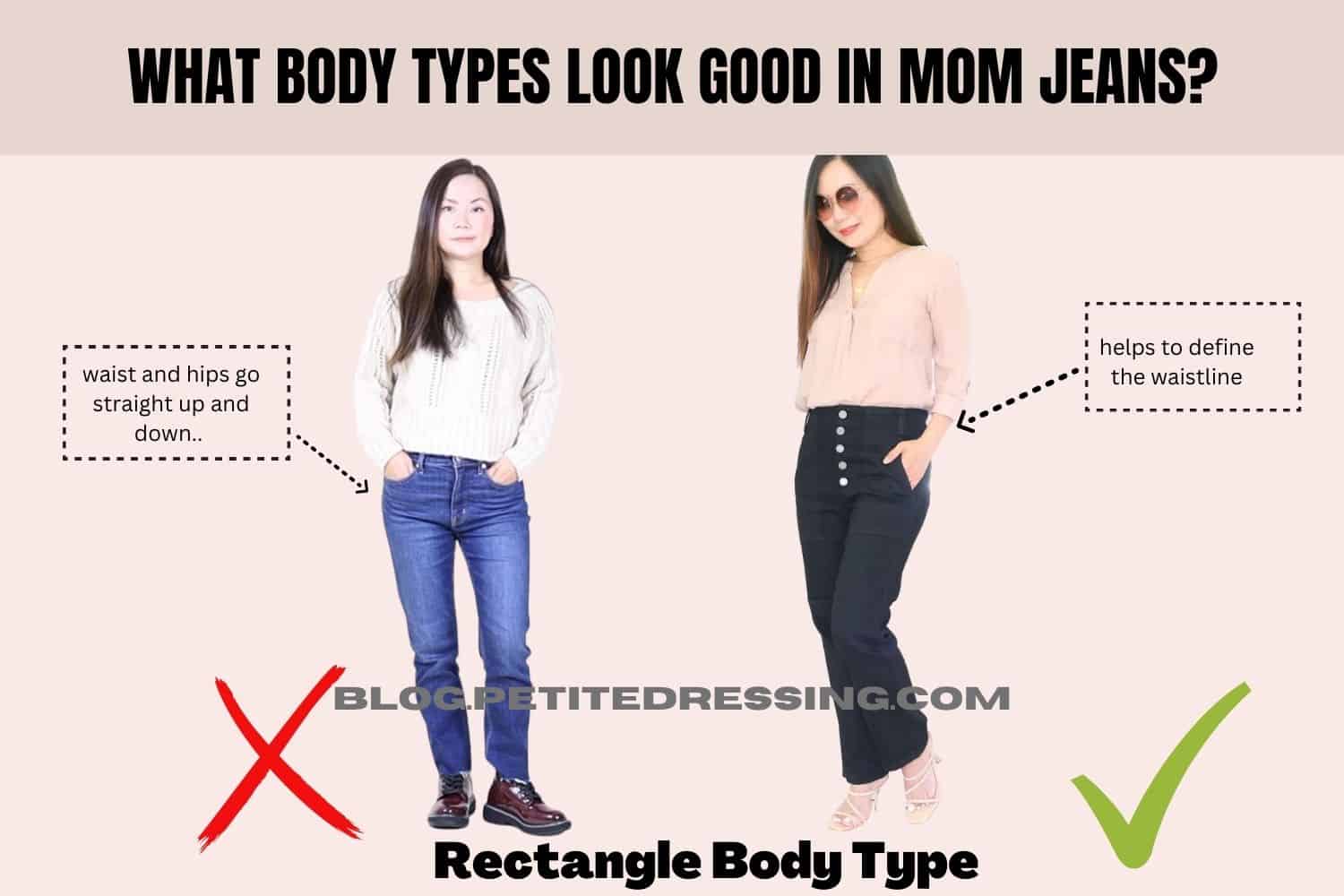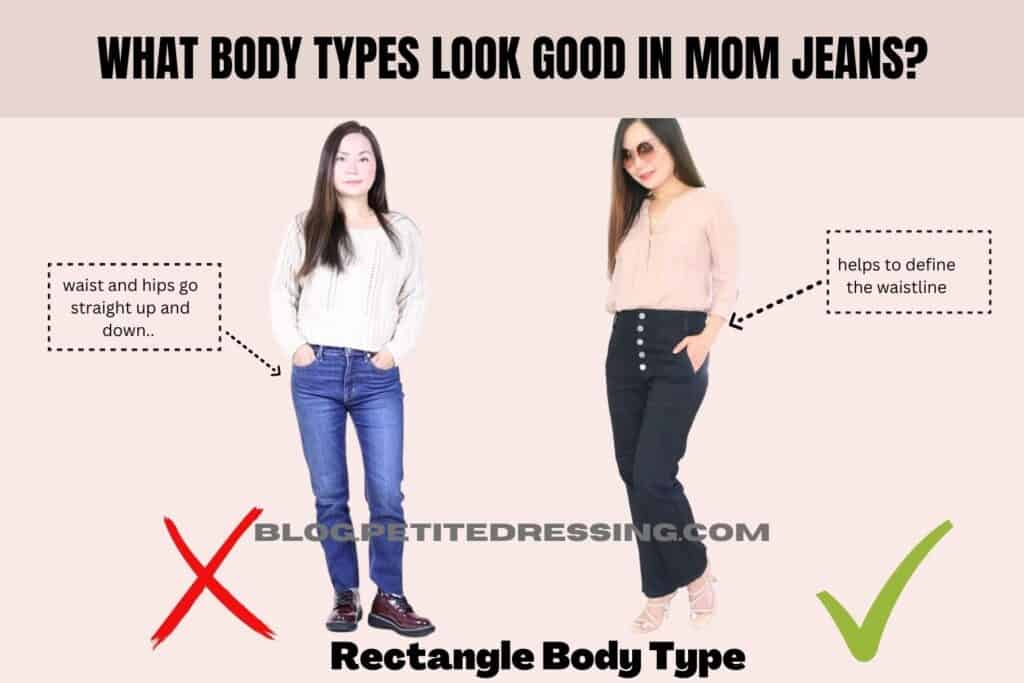 Inverted Triangle Body Type
You have broad shoulders and the rest of your body is slender.
Besides, inverted triangle body-shaped women tend to have narrow hips, especially compared with broad shoulders.
If you wear Mom jeans, they can make it look like there's too much extra space in the hips, and that is not the most flattering look for your shape.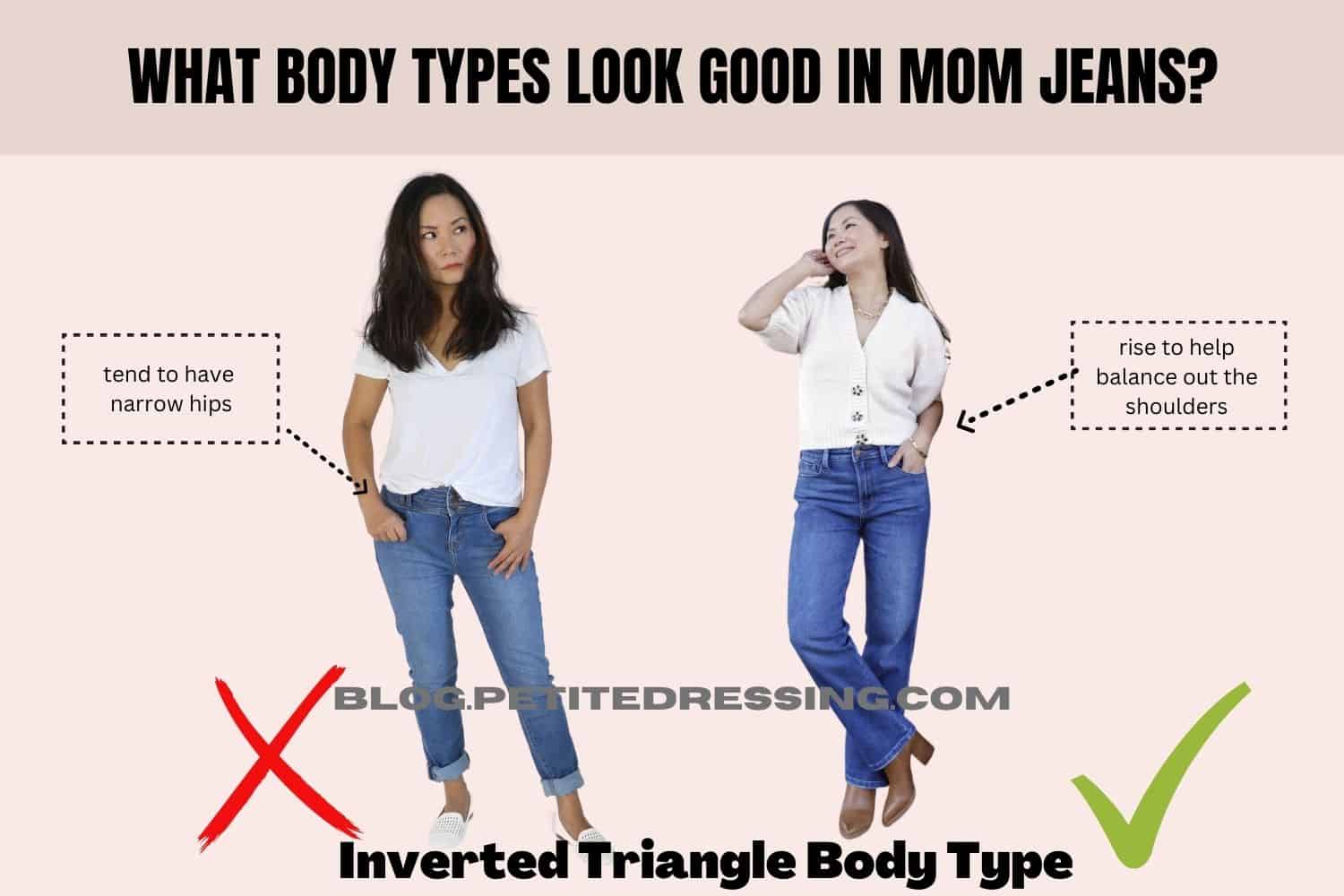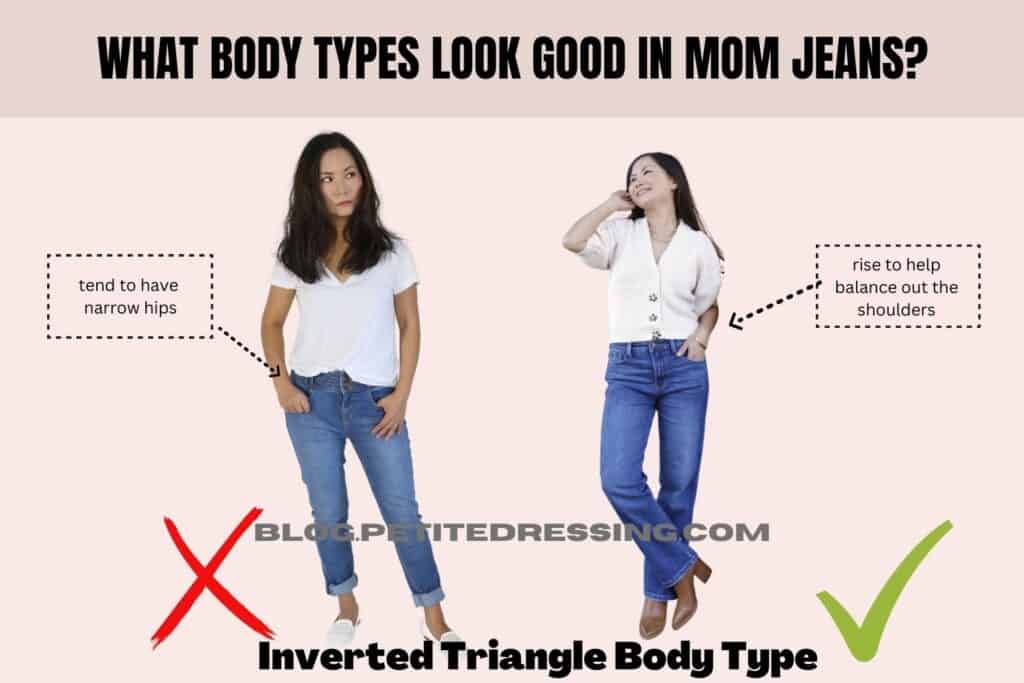 Lollipop Body Type
You have the same body type as Angelina Jolie, but unfortunately, Mom jeans will not look good. Mom jeans tend to make the body's lower part appear slender, and you already have a slim waist with long slender legs.
Your upper body will even worsen things because of the broad shoulders. Just avoid any clothing that will make the lower part of the body more petite. Invest in outfits such as dresses.