Are you a petite girl who is top heavy because of the large size of your bust? Then we perfectly understand the struggle of finding the right style of tops to flatter your shape!
Picking a top when you're short and busty can be quite tricky because some top styles can either look too overwhelming or too skimpy. If you're currently thinking of filling your wardrobe with more tops, then we're here to thoroughly guide you out.
Styling Goal
You should fully embrace your beautiful bust shape by going for clothing structures that will give your upper body more definition. Factors such as fit, neckline, prints, and length play a significant role in making your figure stand out.
The top should also elongate your torso to make you appear leaner and taller. There are also some styles that subtly reduce a bit of your bust size just to bring balance to your look.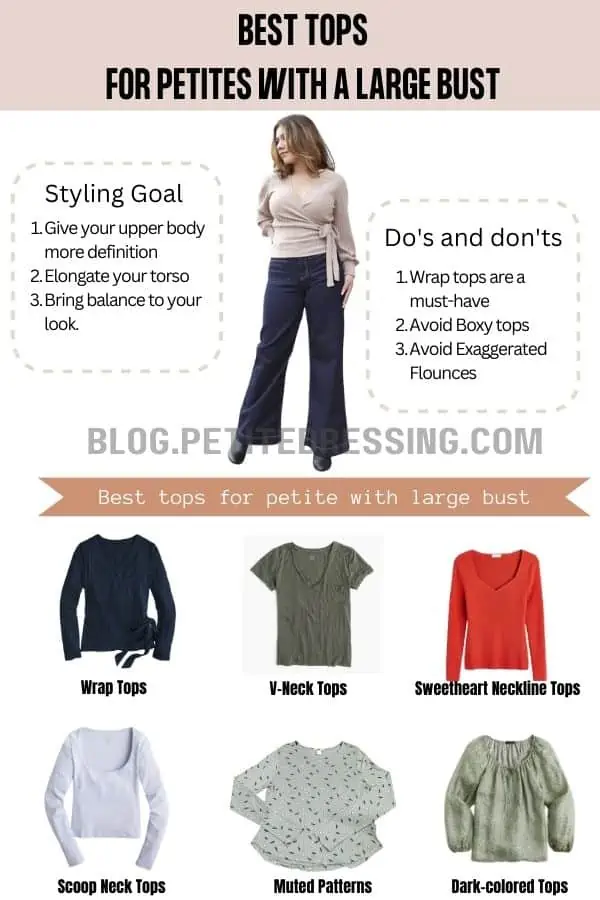 Wrap Tops
If you have already read a number of posts from our blog site, then you may have noticed how we always confidently recommend wrap-style clothing. It's simply because you can never go wrong with it at all!
Its universally-flattering design would also look amazing on busty petites because the classic waist tie it has is always a perfect way to cinch your waistline to perfection. It creates a visual illusion of a smaller waist which also helps in extending your upper body upwards.
In addition to what it does to the waist, it also has a very flatteringly snug fit on the breast area which embraces your bust line without being too tight and skimpy. This also provides comfort as it gives enough support to your large breasts while also keeping their gorgeously natural shape apparent.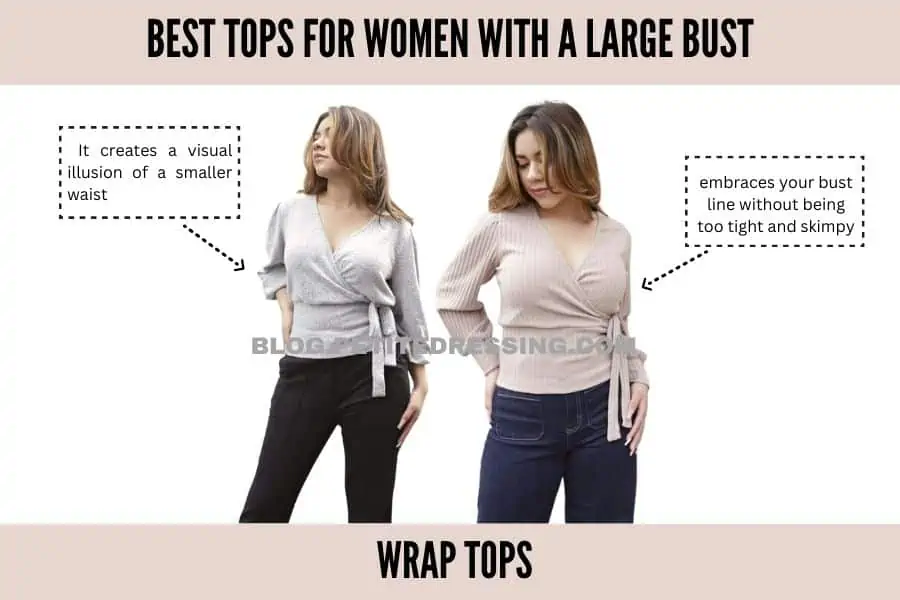 V-Neck Tops
V-Neck tops should be every busty petite woman's go-to top style. The cut of V-neck tops offers a nice amount of space on the neckline that gives your silhouette a slimmer and more elongated look.
Wearing a V-neck efficiently constructs a vertical line that makes your neck long and your shoulders sharper. Just note that ideally, V-neck tops that are not too deep work much better in enhancing the appearance of your bust so be mindful of how deep your V-neck goes.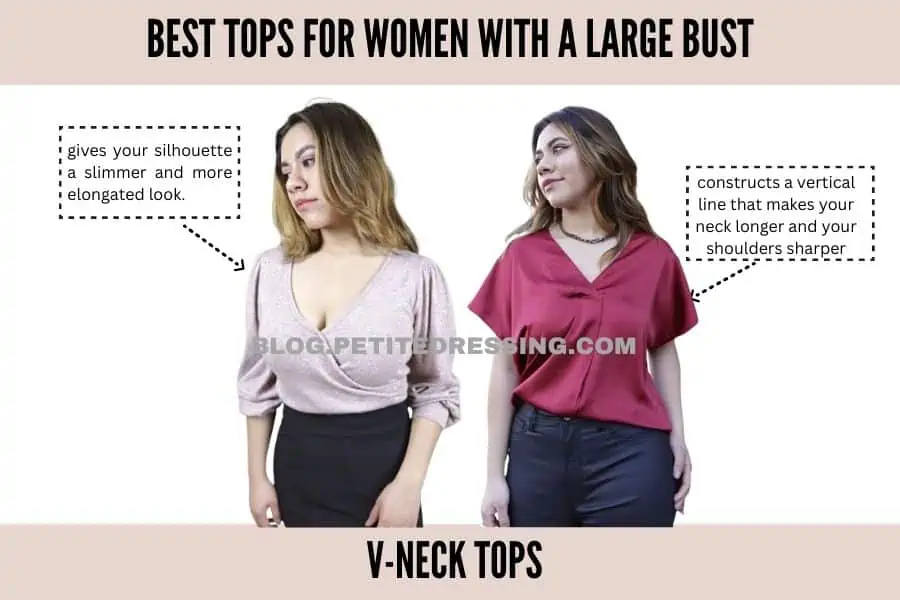 Sweetheart Neckline Tops
If you want something that's more unique and more feminine, tops with a sweetheart neckline are your other alternative option to the classic V-Necks. Its heart-shaped cut goes just right above your cleavage so it's a nice way to show off the shape of your bust without revealing too much.
Sweetheart neckline tops usually have a fitted bodice that works perfectly on petite women with large busts. Such a style hugs the waist nicely to give depth to the upper body and this will bring the impression of a longer and slimmer body frame.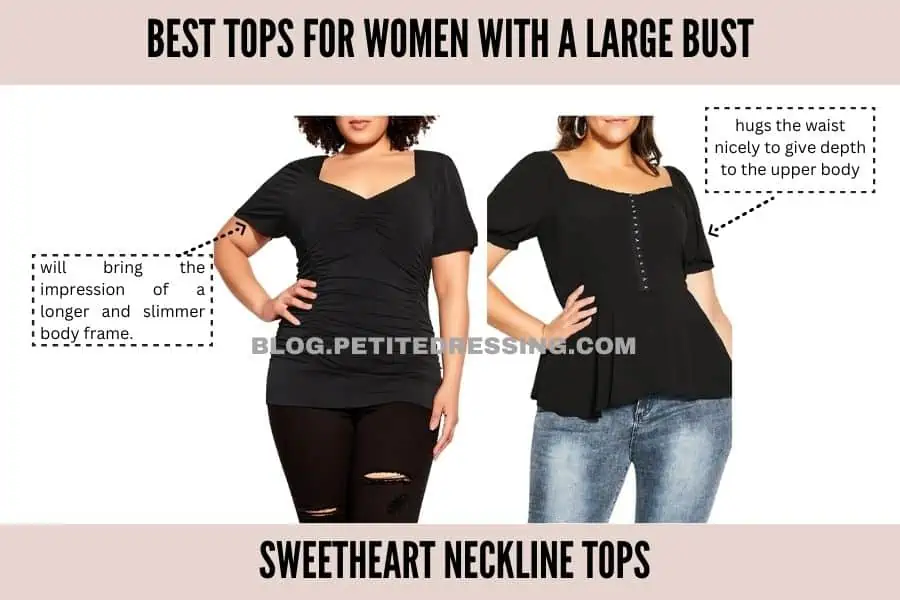 Scoop Neck Tops
This neckline style shares the same principle with the V-neck and sweetheart neckline. Tops with scoop neckline give your upper body more space to not compress the appearance of your torso.
Since it exposes a wider area of your chest, this helps divide the attention for the eyes not to solely focus on your large breasts. Proper space on the chest level will help balance the size (most particularly the visual length) of the torso and the legs.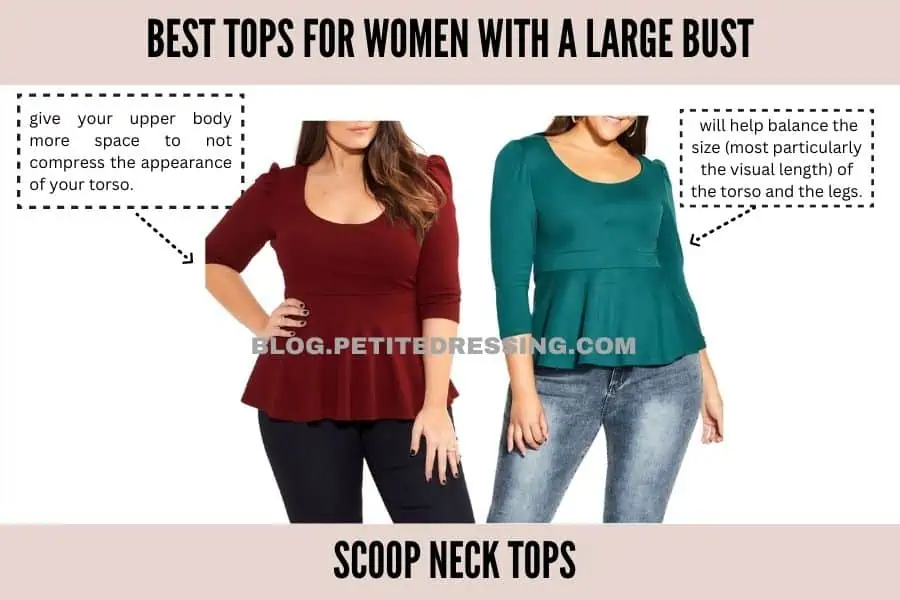 Waist Cinching Tops
Giving your waist proper definition is one of the best ways to make the silhouette of your body look more balanced. Tops with waist details such as belts, adjustable lace ties, and garter seams are just some of the perfect examples of styles that efficiently cinch the waist.
The key is to choose waist-hugging tops that are not too tight on the waist. Going for a well-structured waist-fitting top should easily help you achieve the visual proportions of your ensemble.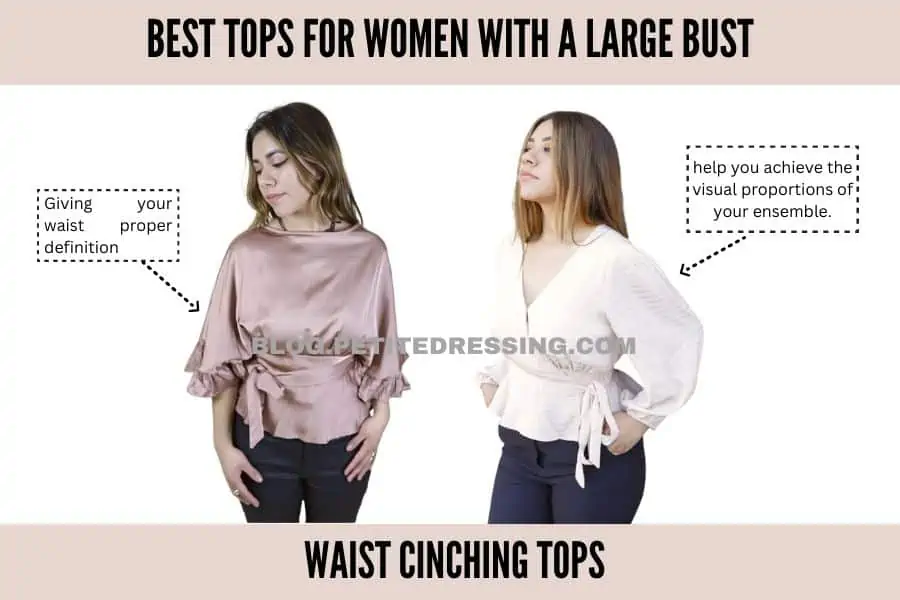 Muted Patterns
Dramatic patterns and huge prints will totally add volume to your body and since your torso already looks heavier thanks to your large bust, then you wouldn't want them to take more weight. 
This is why your best (and safe) choice is to stick to minimalist designs. Such muted patterns and simple designs will not draw too much attention to counterbalance the volume you have on the upper half of your body to your waist down.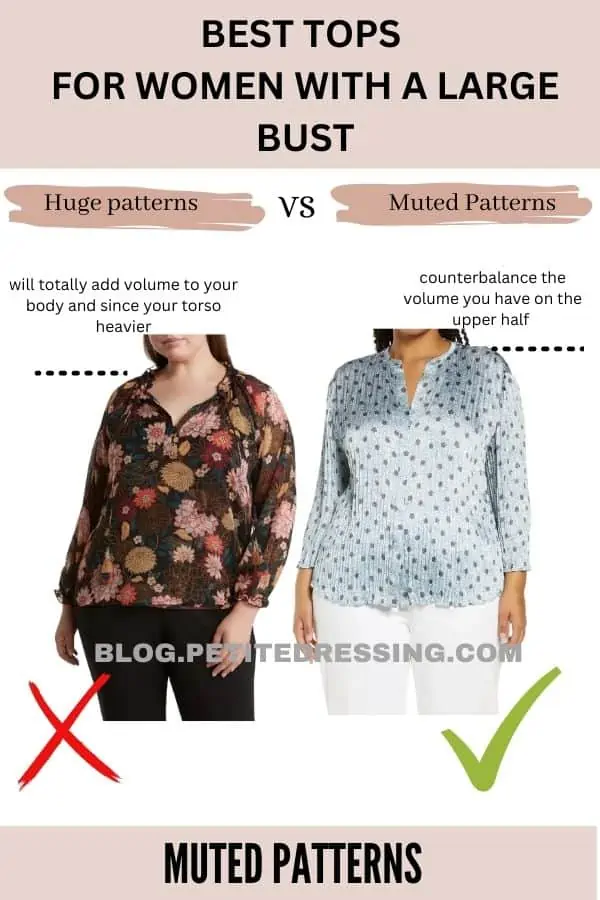 Dark-colored Tops
Of course, this doesn't mean you can't play with your color choices. However, if you aim to make your upper body look smaller and leaner, darker colors would do the trick for you.
Dark colors absorb more light which means it will cut some of your dimensions to slim you down. This is a good choice if you don't want your large bust to get the sole attention.
What if you're not into dark colors? Another alternative is to dress monochromatically by going for a top and bottom of the same color.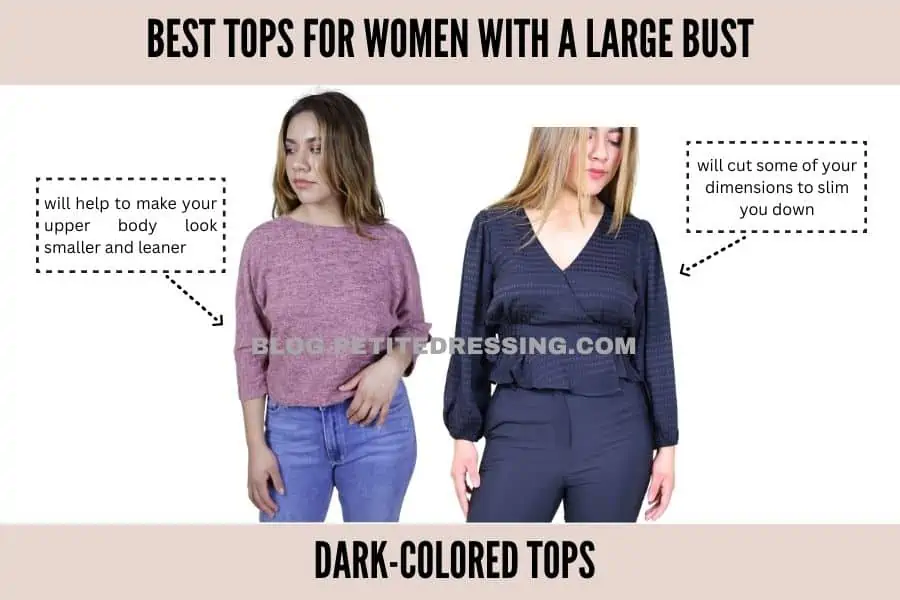 Button Shirts
Button shirts have always been a solid wardrobe staple for busty girls in general! So if you're petite and you have a large bust size, then you should start hoarding up button shirts.
The key to styling busty petites is to go for the proper neckline and this is where button shirts do a very versatile job. Depending on the amount of space you'd like to create across the neckline, you can easily do so by loosening some buttons.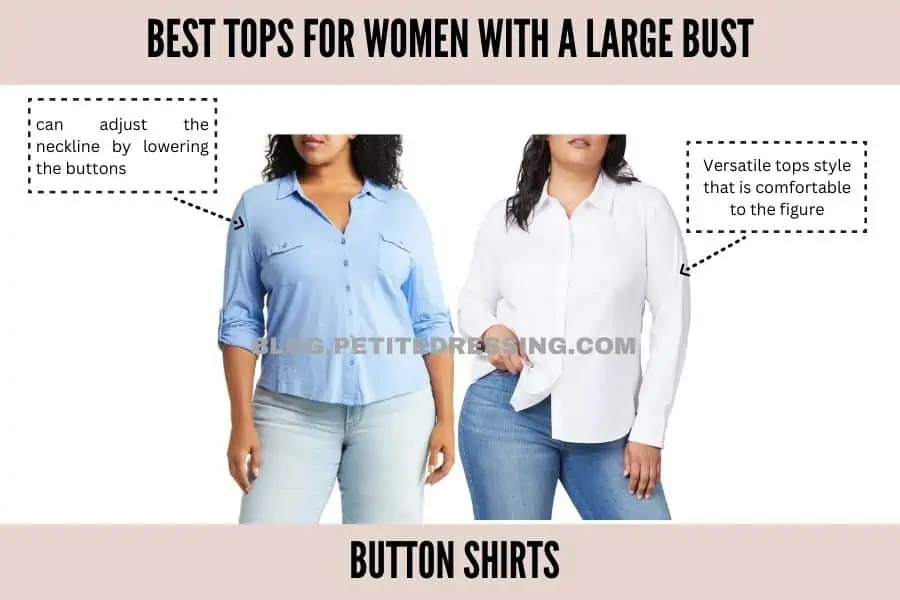 Tops with Stretchy Fabrics
Comfort should always be the top priority especially because petite women with large busts can cause a bit of discomfort sometimes. Imagine having to carry that extra weight on such a small body!
Try to veer away from fabrics that are too constricting and go for the ones that allow you to freely move, may it be flowy chiffon or stretchy soft cotton. Your top should also feature a fabric that gently hugs your form without looking too skimpy or baggy.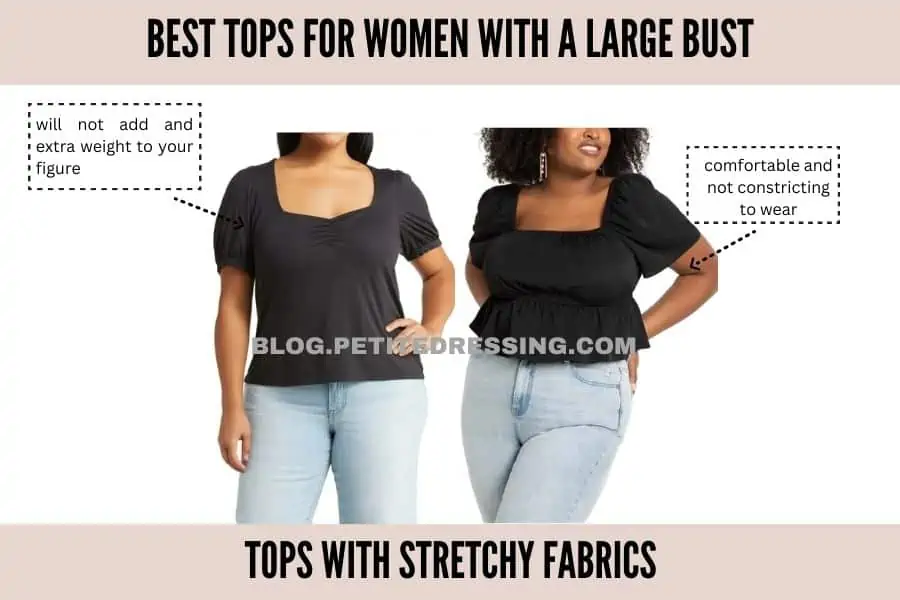 Avoid Boxy Tops
We know how boxy tops can be very comfy as they offer more room for your body to move. But as a petite woman with large boobs, going for such a style can only make you lose your shape.
Boxy tops will naturally skim through your bust line and so they will follow the big space it takes. This will make your shoulder line, arms, and waistline disappear causing you to look shorter and wider.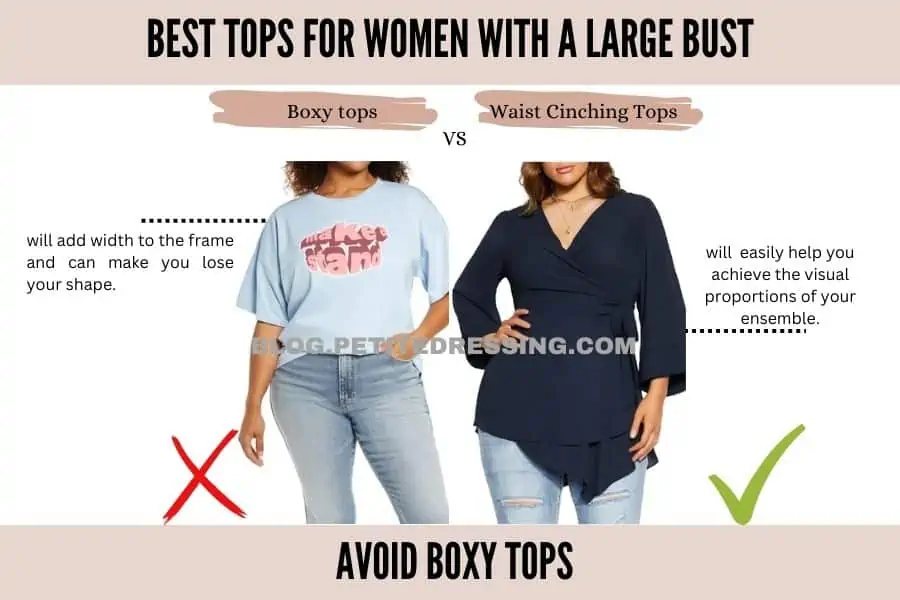 Avoid Exaggerated Flounces
Just like what we have already mentioned numerous times, the goal of perfectly styling a busty petite is to stick to tops that enhance your natural shape. If you resort to exaggerated fabrics such as ruffles, cascading fabrics, or dramatic pleats, this will obviously take so much space on your upper body and therefore make you lose your shape.
We know how fabric flounces can look cute and very feminine but you always have to be extra cautious with this design if you're petite and busty.
If you really want to give some fabric flounces a shot, you can definitely do so! Your option is to stick to those that aren't too big and voluminous.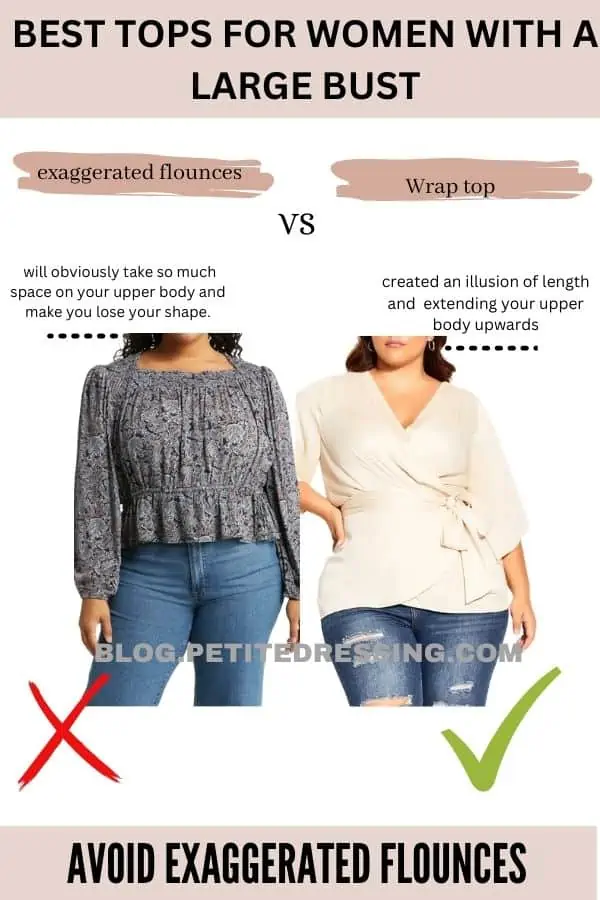 The Key Takeaway
You have more options for your tops, shirts, and blouses than you think! Being someone who's petite and busty shouldn't hinder you from experimenting with your looks.
All you have to do is think of pieces that flatter your shape. Work on your proportions and be mindful of the structure of your tops and you're all set!