Are you currently gearing your wardrobe up for some new casual wear styles for your curvy figure? Casual wear is one of the easiest clothing pieces to pull off because well, they're supposed to be effortless and comfortable.
While choosing casual wear pieces isn't that difficult, you'd of course still want to get the most out of it style-wise. And it's definitely by going for the ones that suit your body shape perfectly.
In this comprehensive guide, we'll walk you through different types of casual wear that would make your curvy figure stand out.
Styling Goals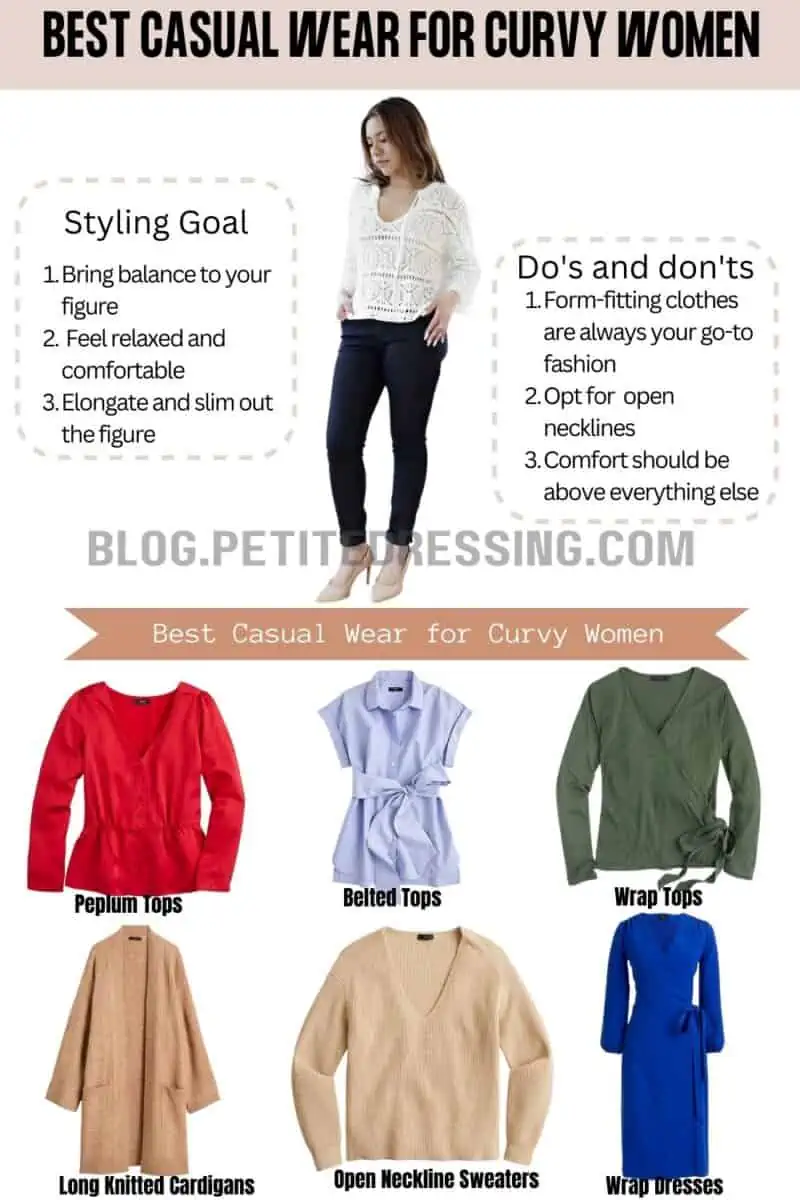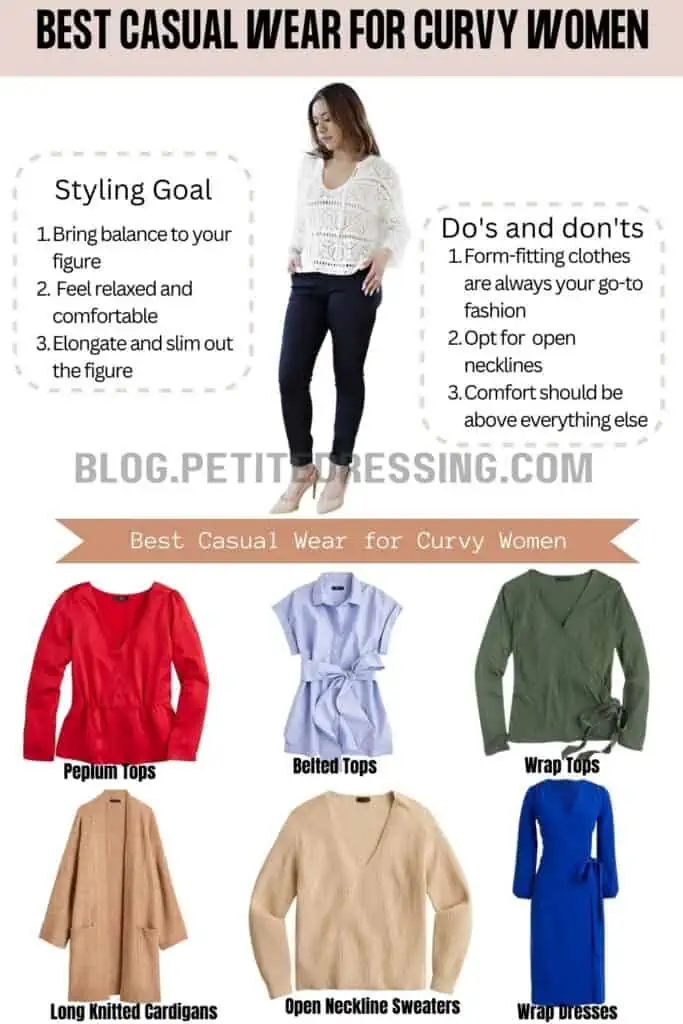 Form-fitting clothes are always your go-to fashion pieces when you rock a curvy figure. Being a curvy girl is something you should absolutely embrace by letting your natural curves show through clothes that skim through them.
Clothing pieces that feature open necklines should also help bring balance to your figure by making your upper body look leaner without compromising your curves. Necklines that are too closed and restrictive will make you look heavier.
Comfort should be above everything else because casual wear is meant to make you feel relaxed and comfortable all throughout the day. For curvy girls, it would be nice to go for fabrics that have a bit more stretch for additional ease.
Now that we've quickly tackled these key styling goals, let's break down each wardrobe piece by category and see which ones would look great on your curves.
TOPS
Peplum Tops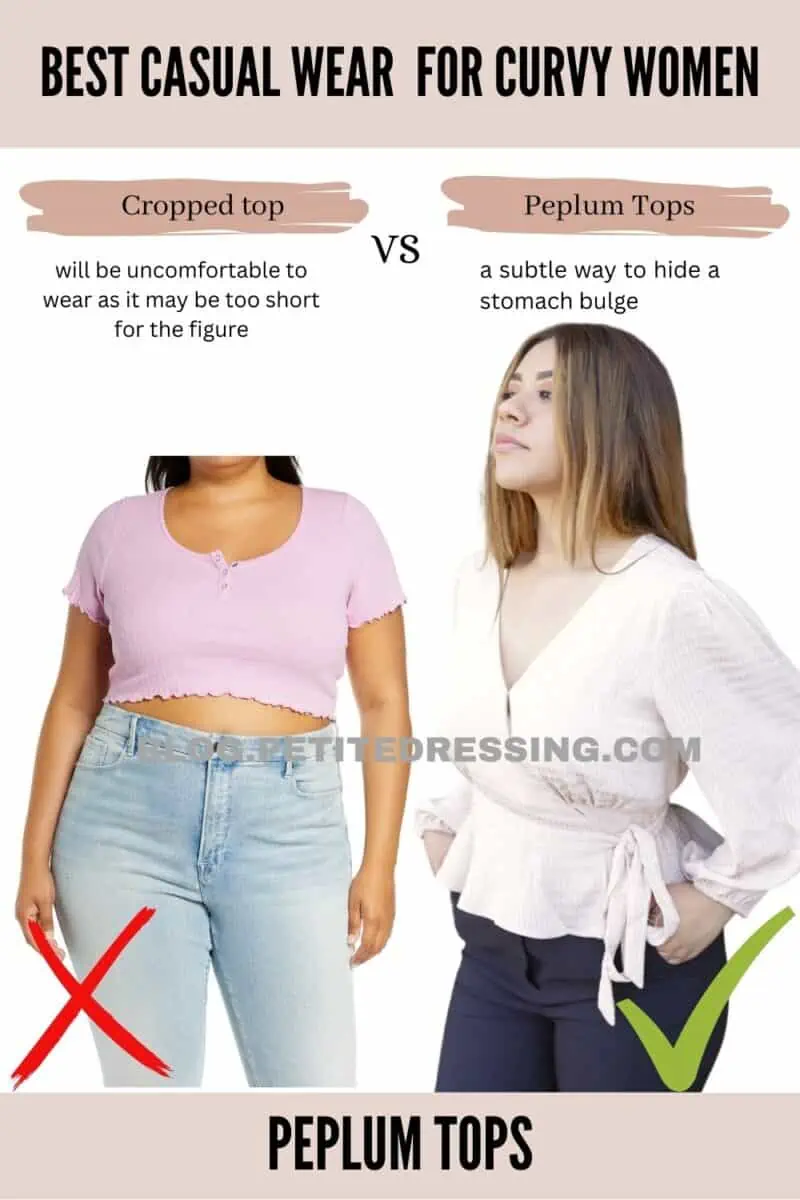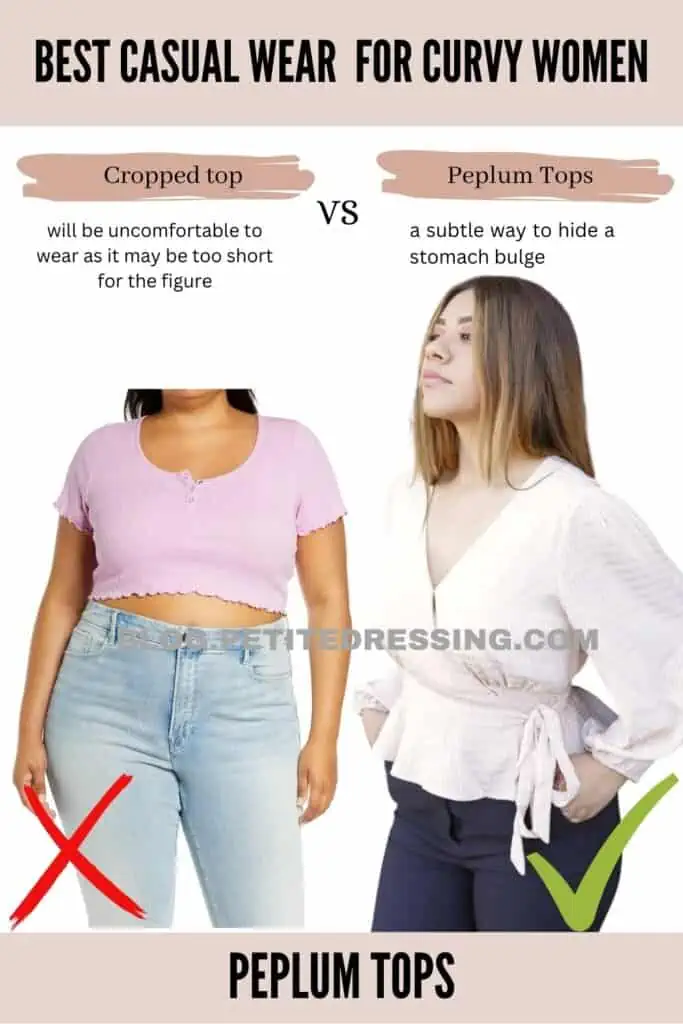 A peplum top features a slightly flared overskirt just right under the waistline which is great in terms of adding some depth to your upper half. In addition to this, the seam where the overskirt is attached helps define the waist to make it look smaller.
Having a muffin top is a common concern for curvy women so going for a peplum top is also a subtle way to hide a stomach bulge. Peplum tops go very well with form-fitting skirts and skinny jeans.
Belted Tops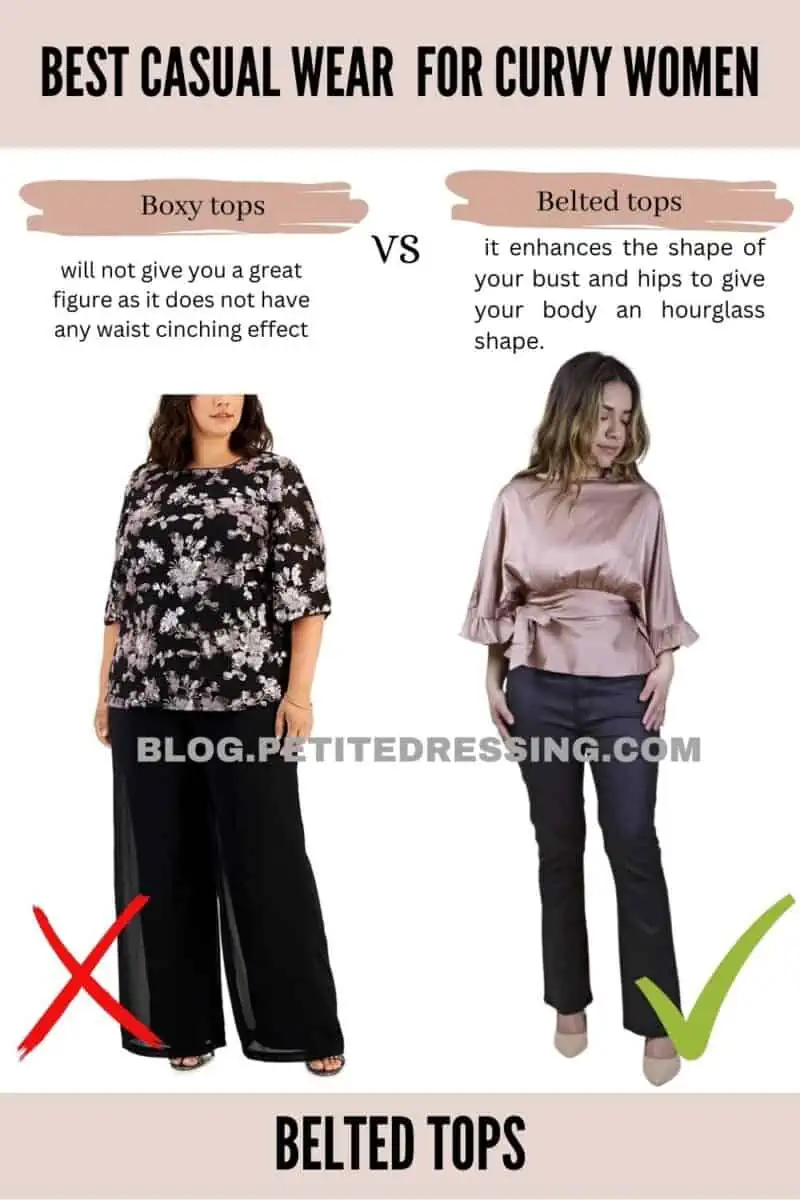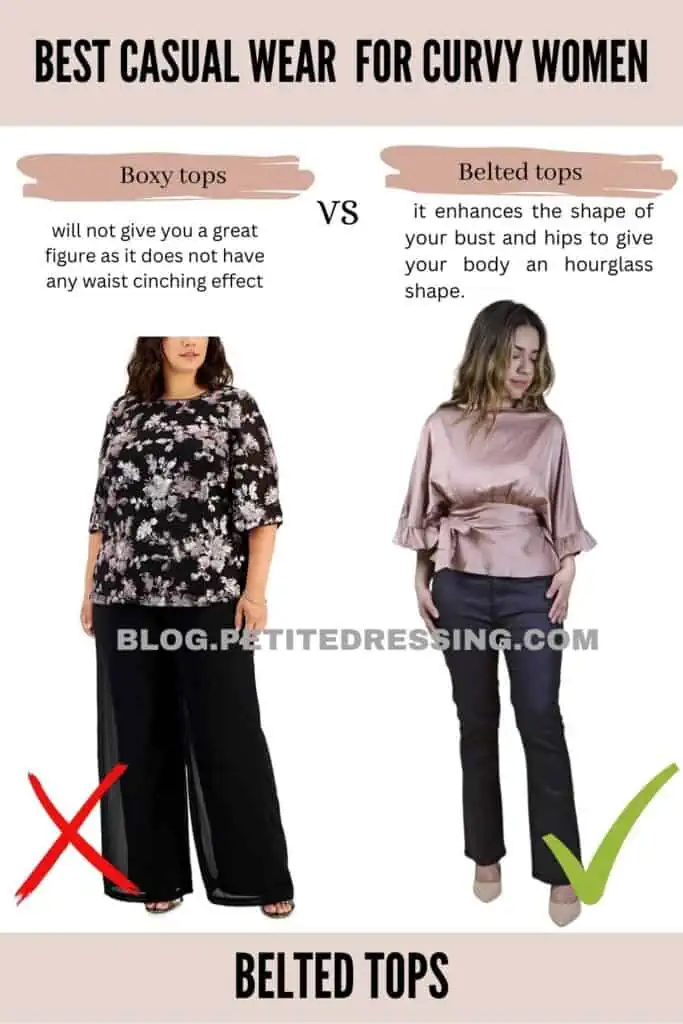 One of the best ways to enhance your voluptuous curves is to find clothes that cinch the waist. Waist nippings instantly give definition to your waist which makes your curves more apparent.
Belted tops obviously do an amazing job of cinching the waist, hence visually creating the illusion of a slimmer body without concealing your curves. As it makes the waist look smaller, it enhances the shape of your bust and hips to give your body an hourglass shape.
Wrap Tops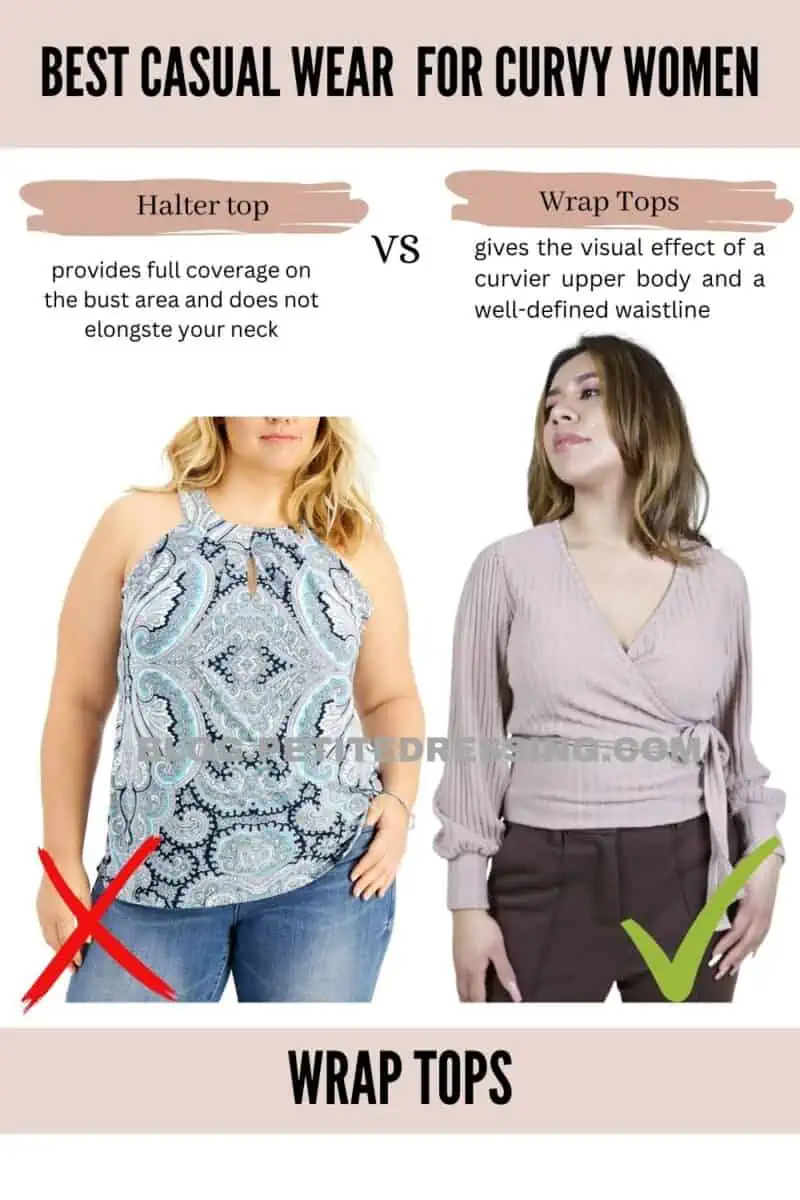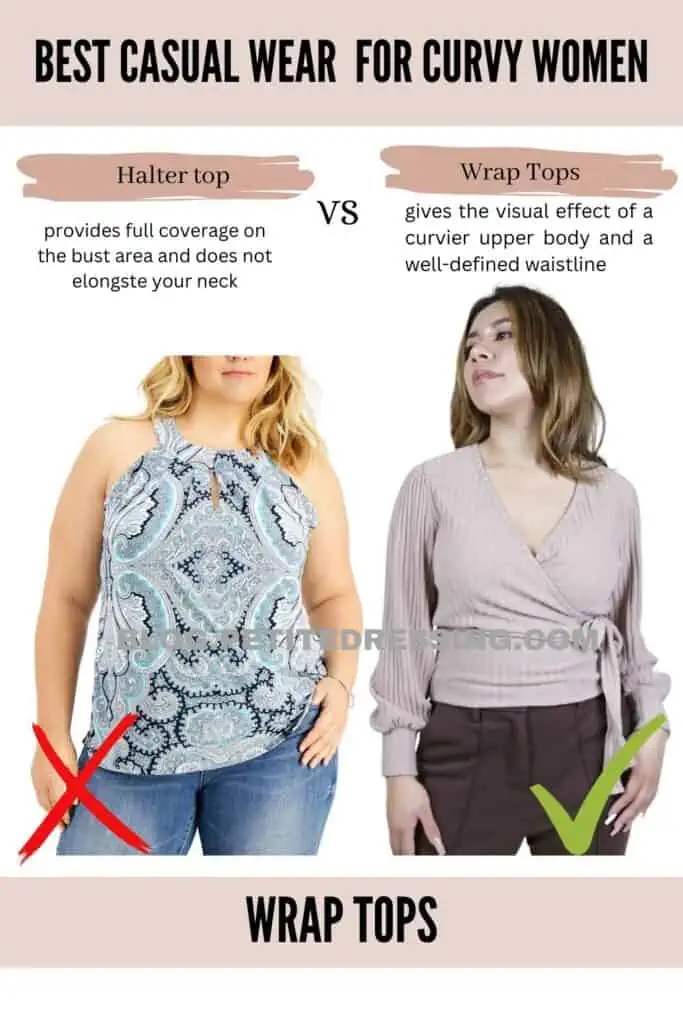 If you're thinking of something that's very easy to pull off, then wrap tops are totally a universally flattering piece that can suit your curvy figure. Wrap tops offer an adjustable waist tie so you can adjust the cinch accordingly.
As the wrap goes diagonally across the bust line, it also enhances this part by making your breast shape more prominent. This gives the visual effect of a curvier upper body and a well-defined waistline.
Tops with Square, Scoop, and V-Neck Styles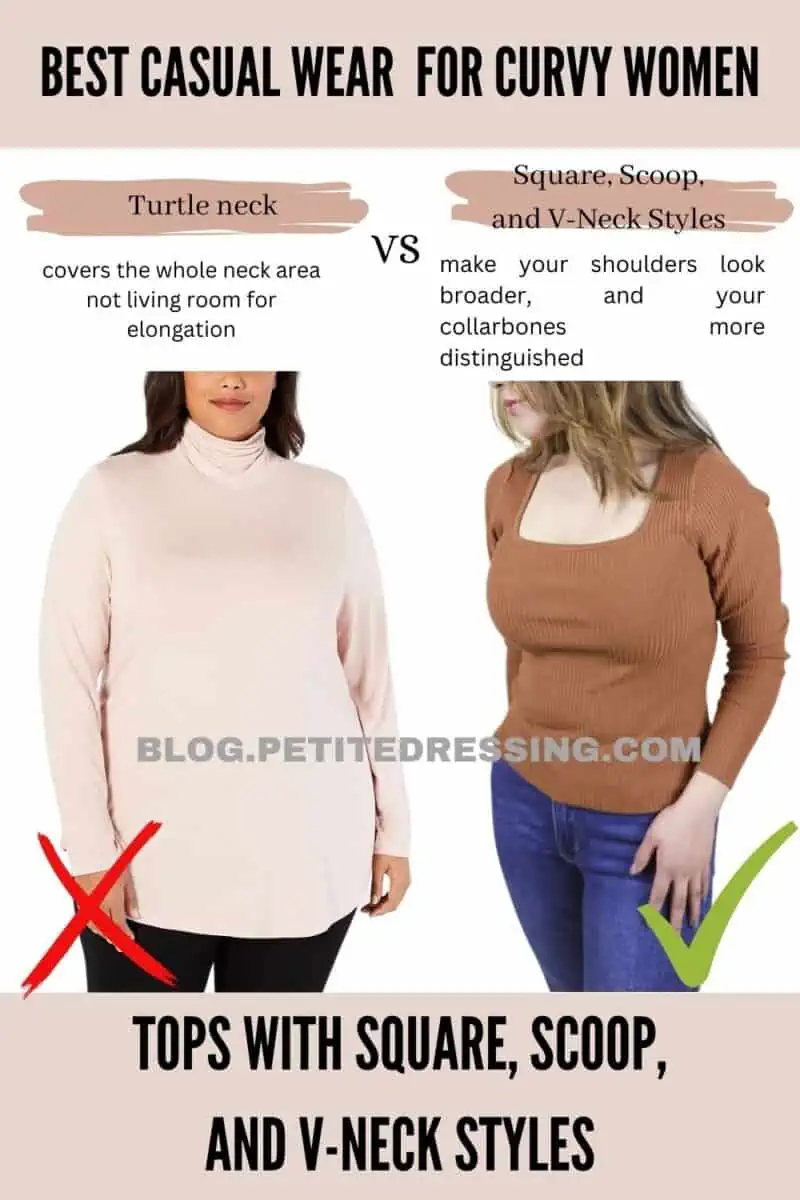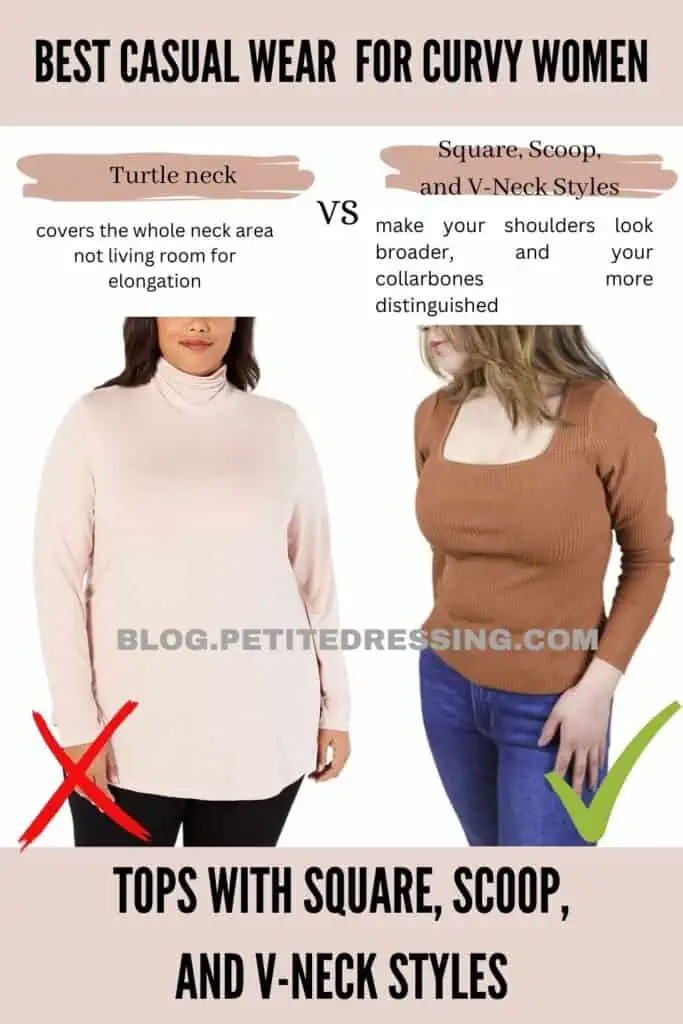 Necklines matter so much in terms of flattering your body shape. Curvy women tend to look heavier so open necklines such as square, scoop, and V-neck help slim your figure down.
Such necklines that open up more space on the upper half of your body create a visual balance that neutralizes the volume of your upper body. It makes your neck look longer, your shoulders look broader, and your collarbones more distinguished for a more slimming effect.
SWEATERS
Form-fitting sweaters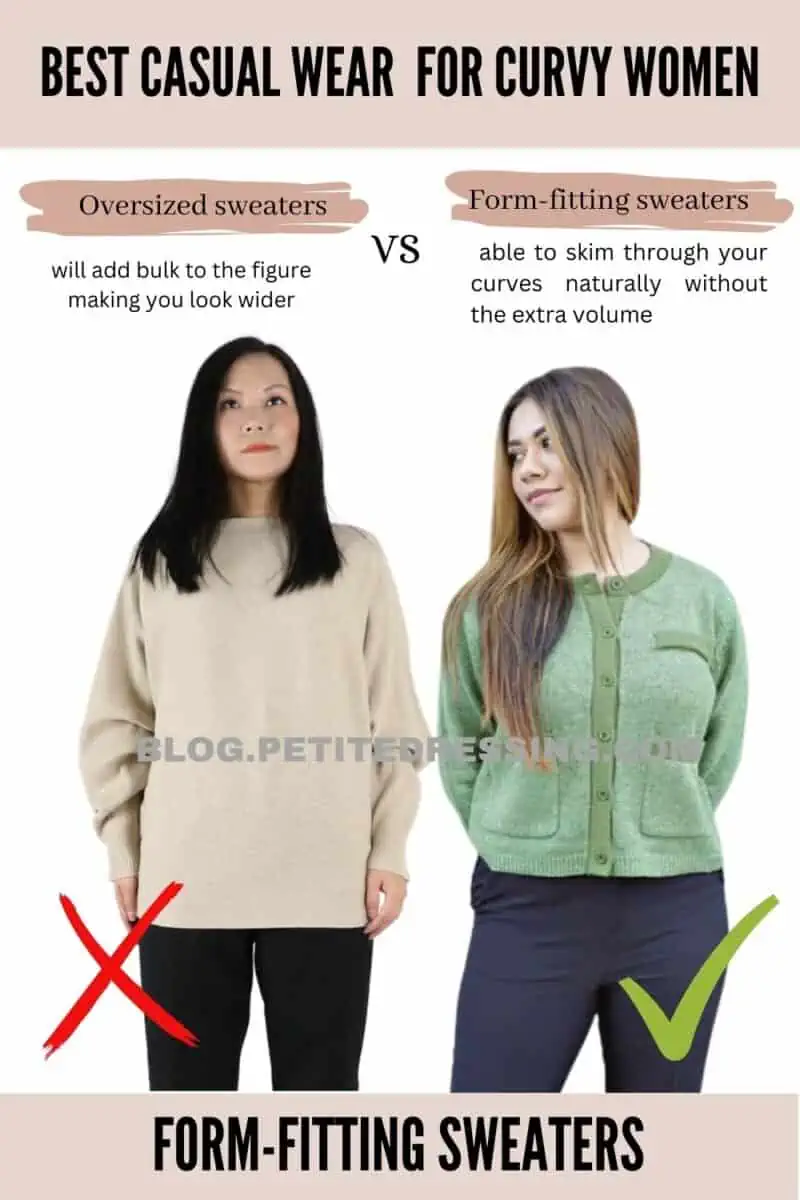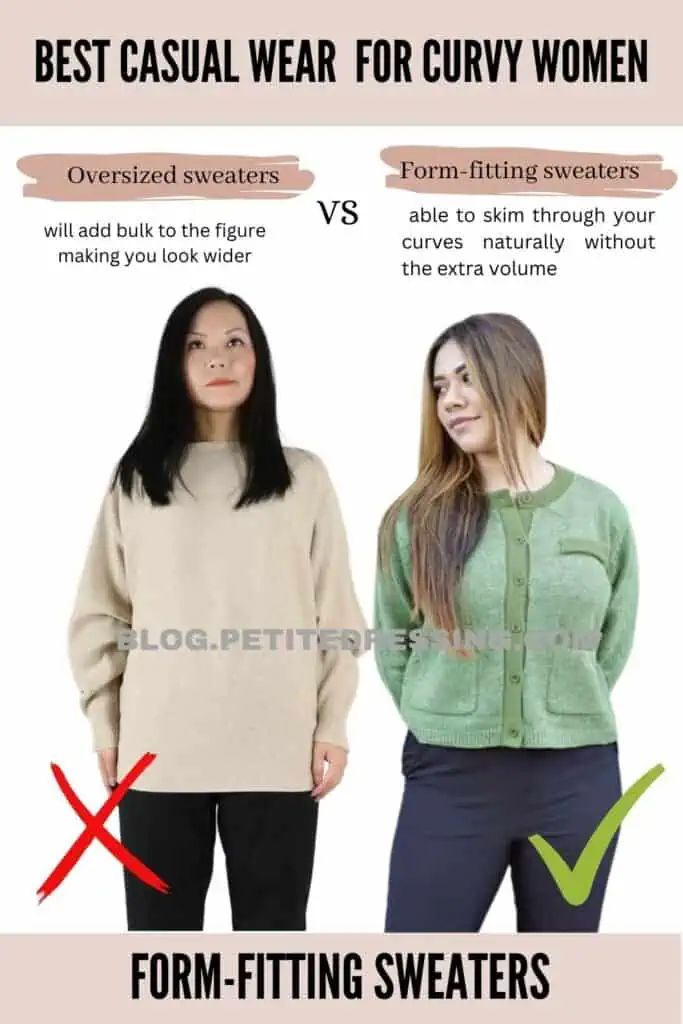 Sweaters are generally quite thick and baggy so you would usually find ones that are shapeless. Shapeless garments are a big no-no for curvy women because they conceal your body's best features which are your curves.
So if you'd like something warm and cozy, you can definitely still go for sweaters but you need to choose form-fitting ones. Form-fitting sweaters don't necessarily have to be tight, but they should be able to skim through your curves naturally without the extra volume.
Long Knitted Cardigans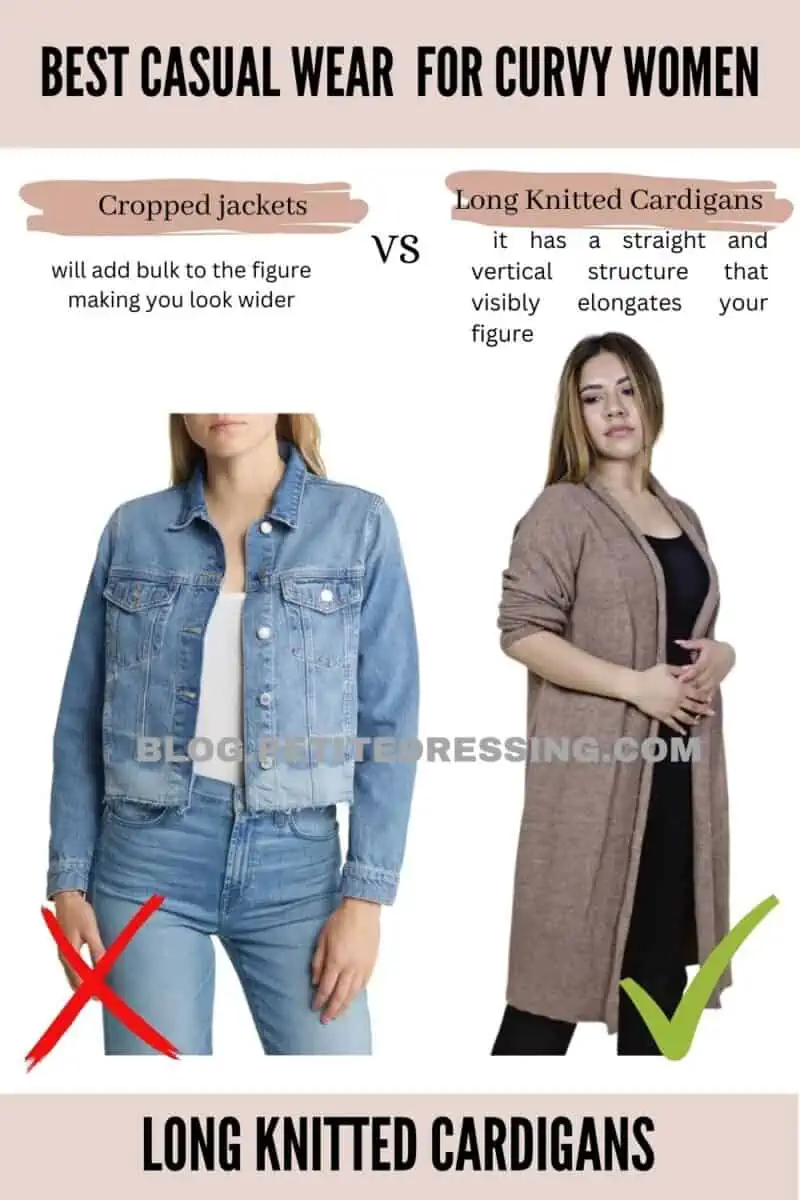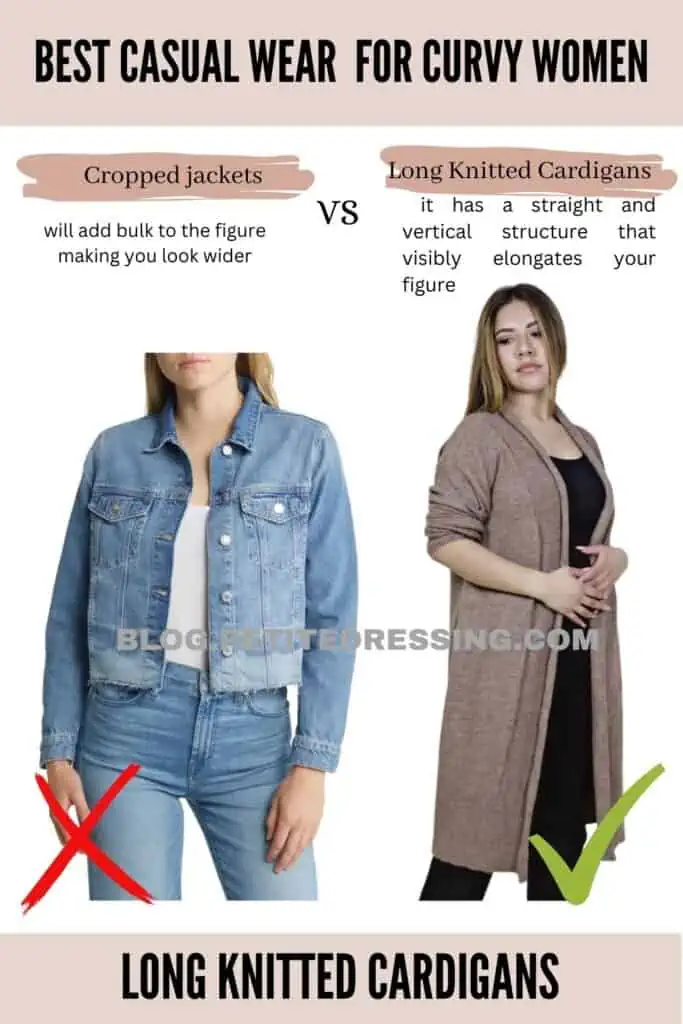 Here's a safer option if you'd like to keep yourself warm – long cardigans. These are usually fully open at the front or in some cases where it features buttons, they have an open neckline.
These characteristics help create a visually slimmer figure because it has a straight and vertical structure that visibly elongates your figure. In addition, knit fabrics are not just warm and cozy but also stretchy enough to embrace your curves.
Open Neckline Sweaters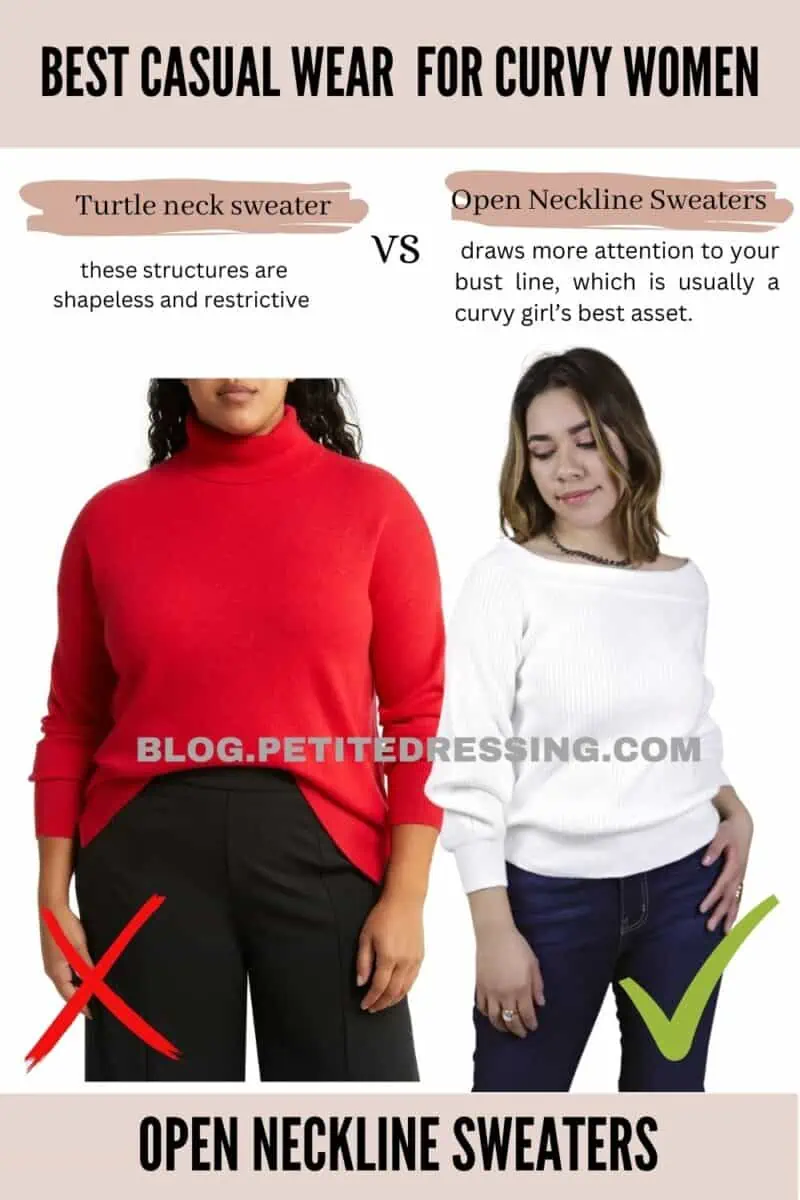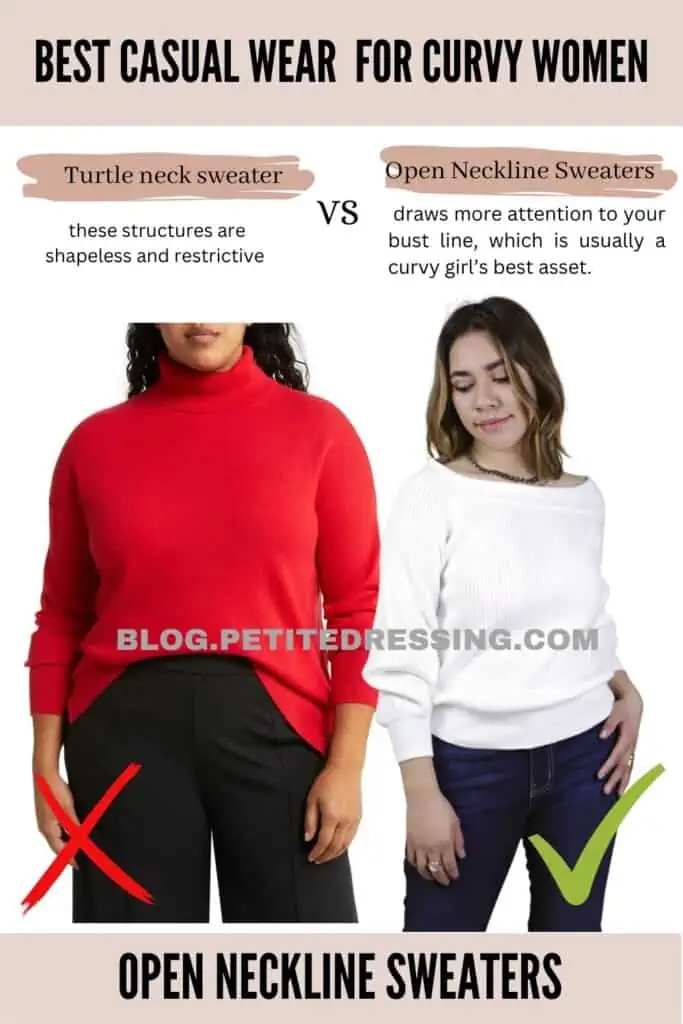 This shares the same principle with tops with open necklines since such designs help slim your figure down. We tend to go for turtlenecks or crew neck sweaters just for additional warmth but since these structures are shapeless and restrictive, it doesn't really do your curvy body proper justice.
So when choosing sweaters, V-necks and Scoop necklines are always ideal choices. This draws more attention to your bust line, which is usually a curvy girl's best asset.
BOTTOMS
High-waisted Pants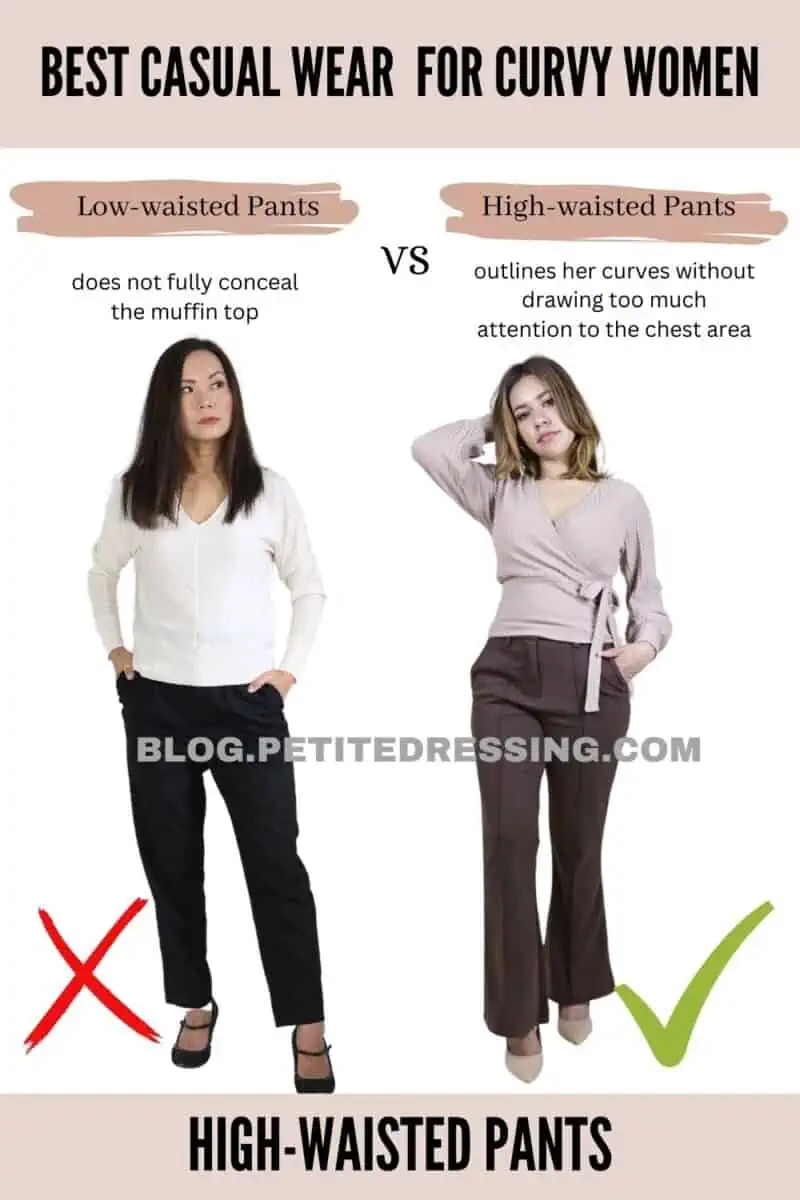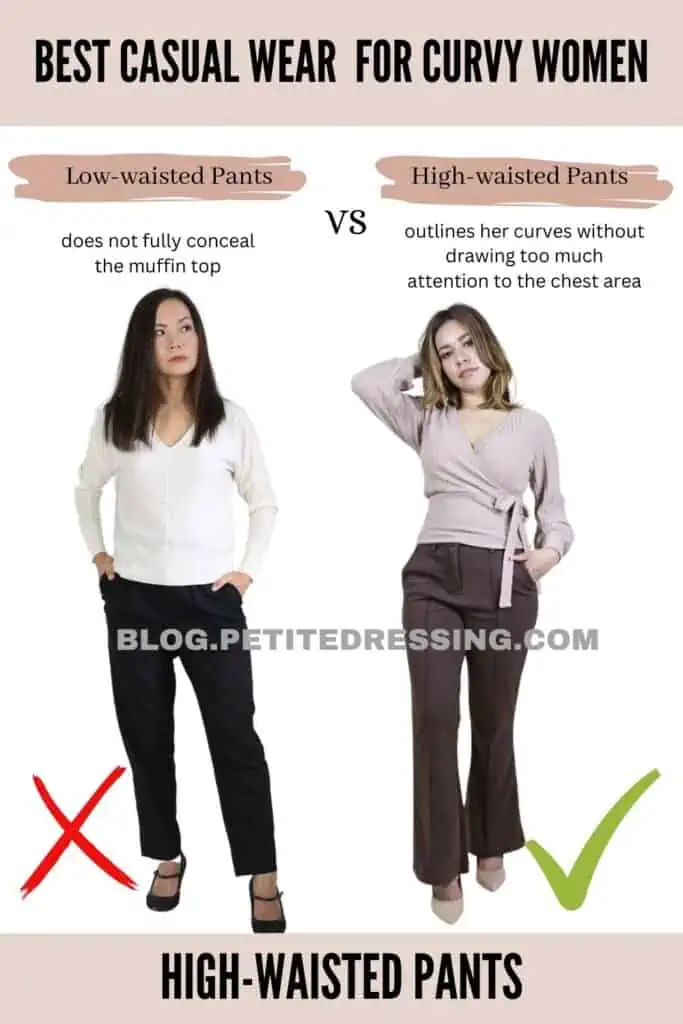 As mentioned earlier, curvy women tend to have a heavier midsection area hence the appearance of a muffin top. So in order to fully conceal a muffin top and balance out the proportion between your upper and lower body, go for high-waisted pants.
High-waisted pants feature a waistline that gives the illusion of slimmer and longer legs. Since its waistband is placed slightly higher than your actual waist, it helps cinch the waist to make it look smaller.
Flared Trousers
Flared trousers also make a great option for curvy women due to their flattering structure that highlights your hips and calves. As the pants flare out from the knees, it balances the significant volume present on where your curves are at; such as bust and hips.
It also has a wide-leg fitting which makes it roomier and more comfortable for curvy women's legs.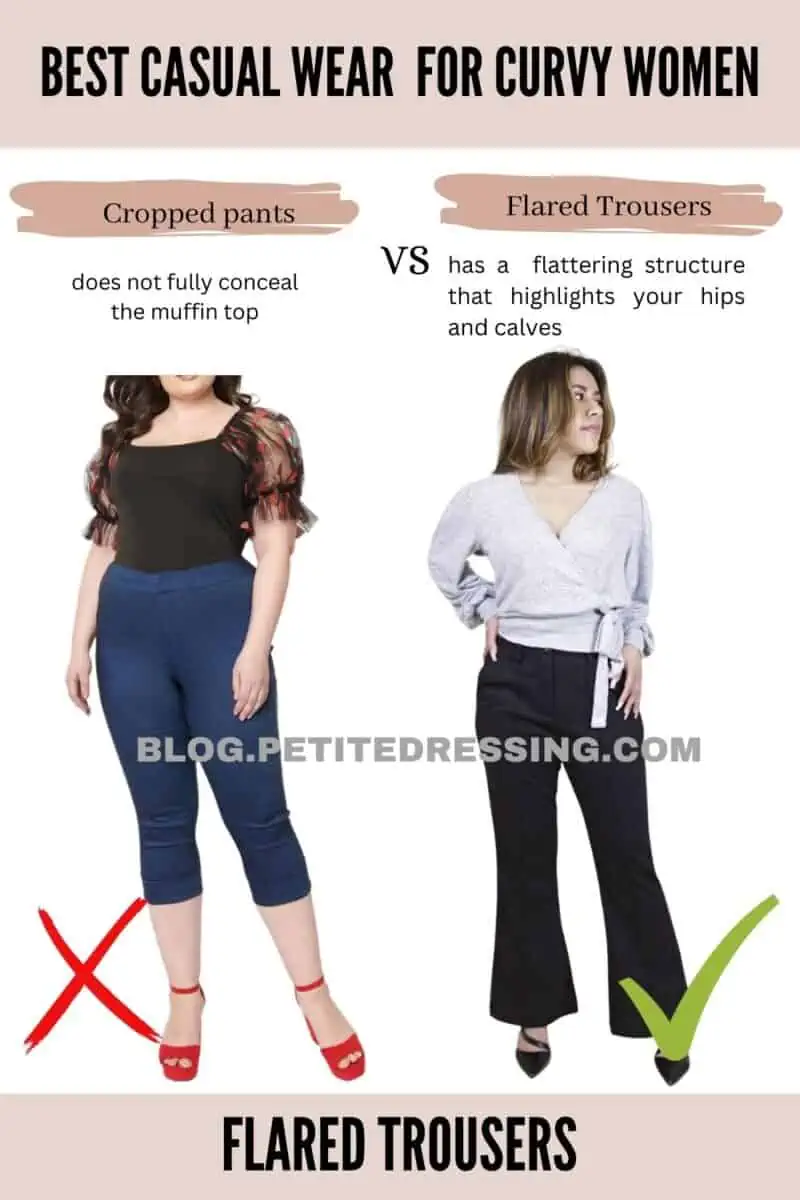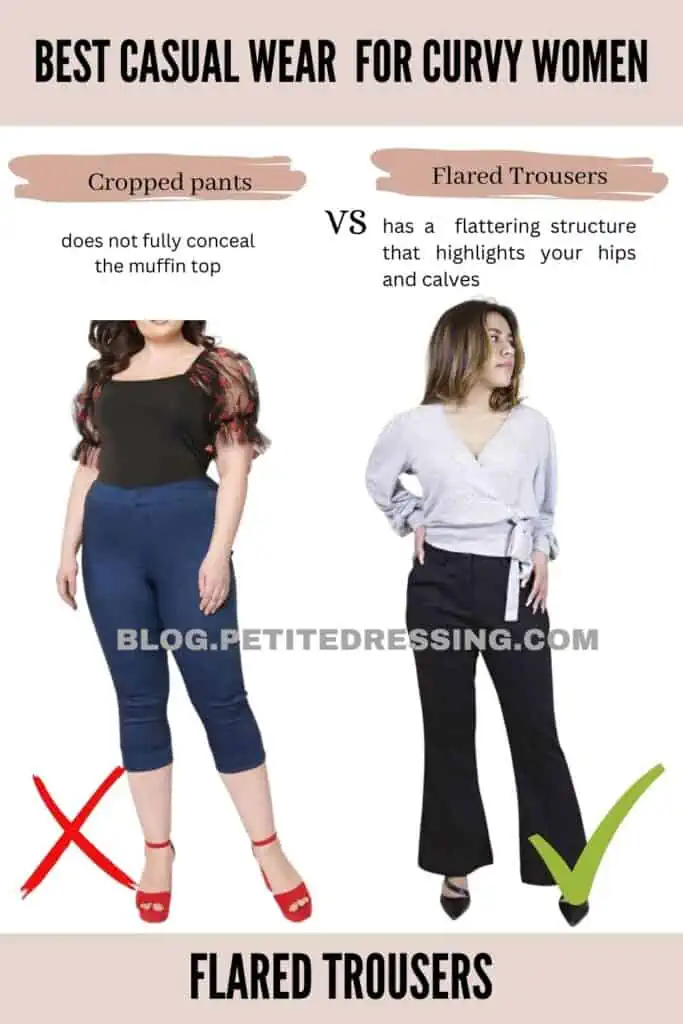 Skinny Jeans
Skinny jeans are also good for curvy women because of their form-fitting structure. When you're curvy, you normally take pride in the natural voluptuous shape of your hips and thighs, and wearing a pair of skinny jeans should highlight those.
DRESSES
Wrap Dresses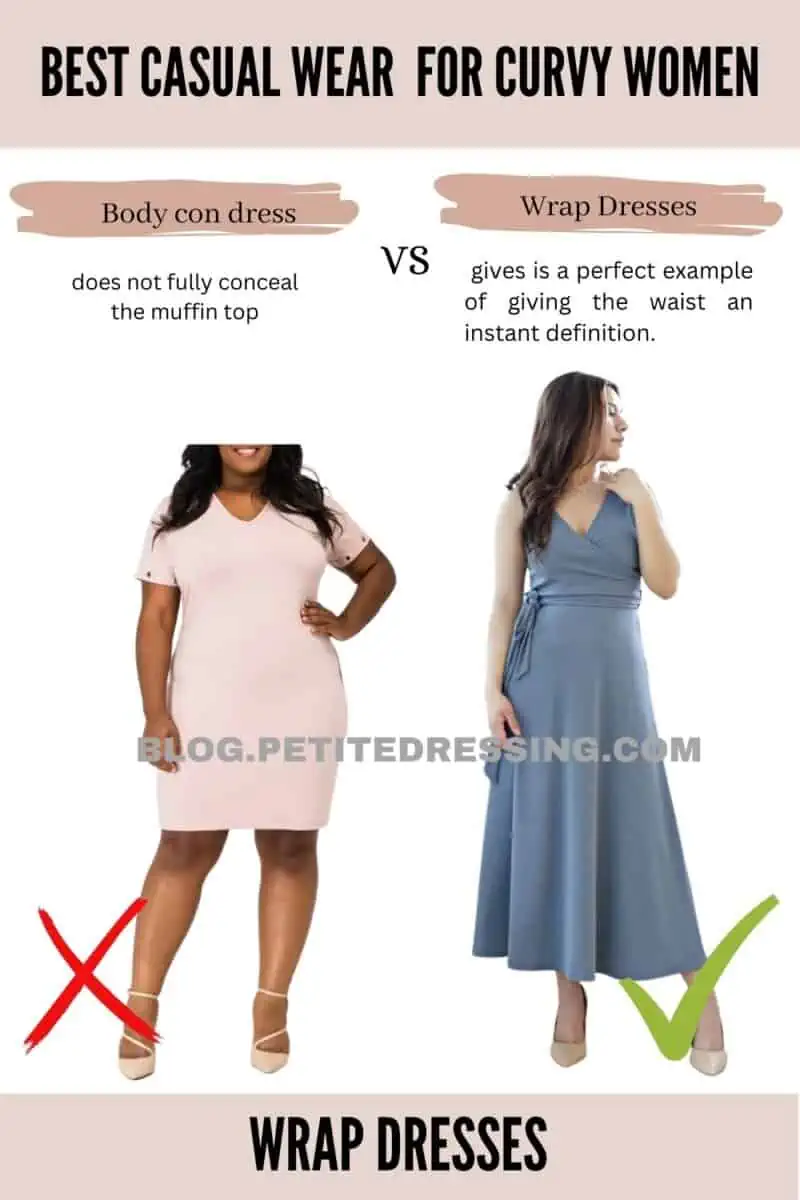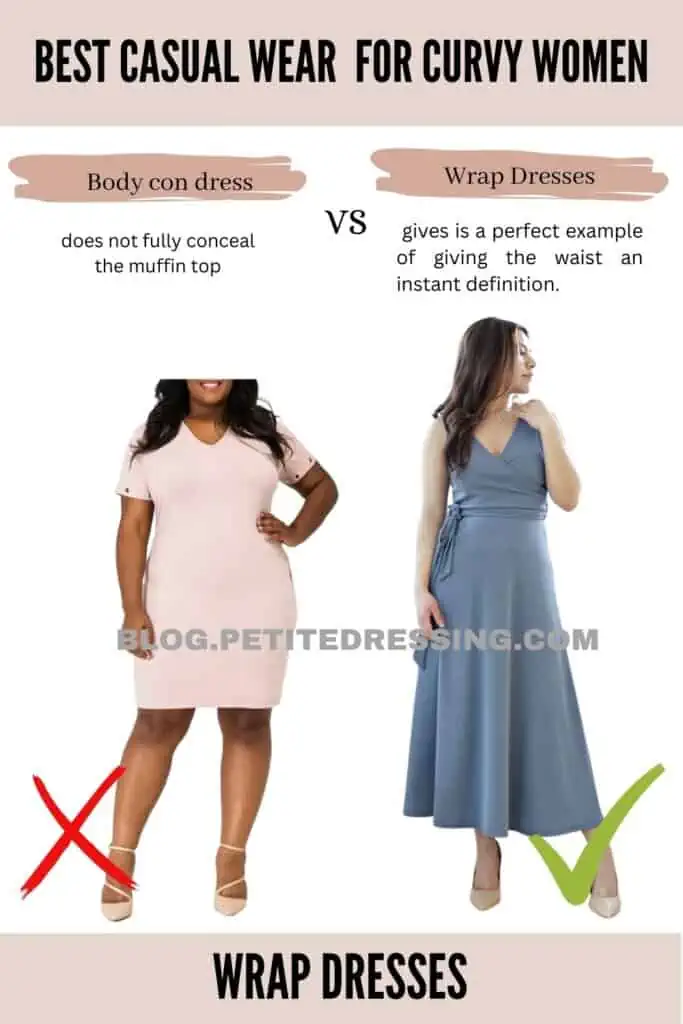 Just like wrap tops, wrap dresses also make great casual wear pieces due to the comfort it gives and the adjustability it provides. The cinch that the waist tie gives is a perfect example of giving the waist an instant definition.
With a smaller-looking waist, your bust line will look more flattering and balanced with your lower body.
Smocked A line Dresses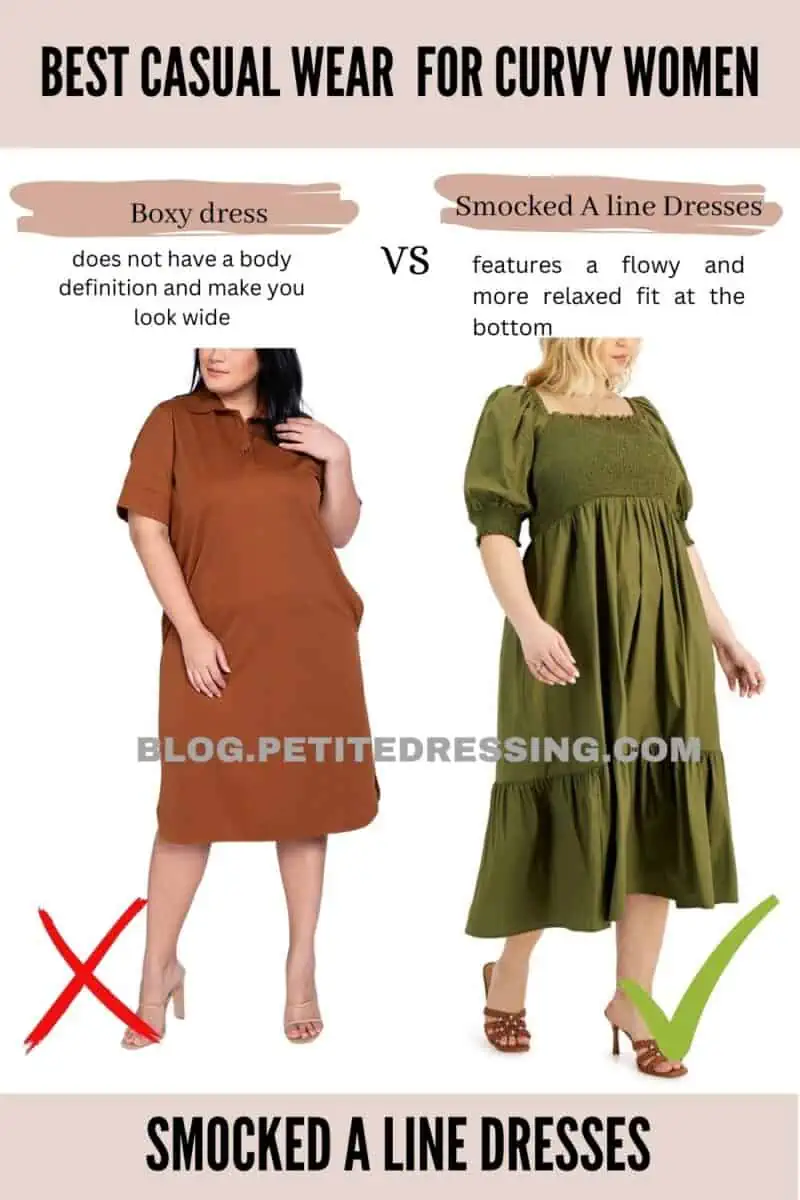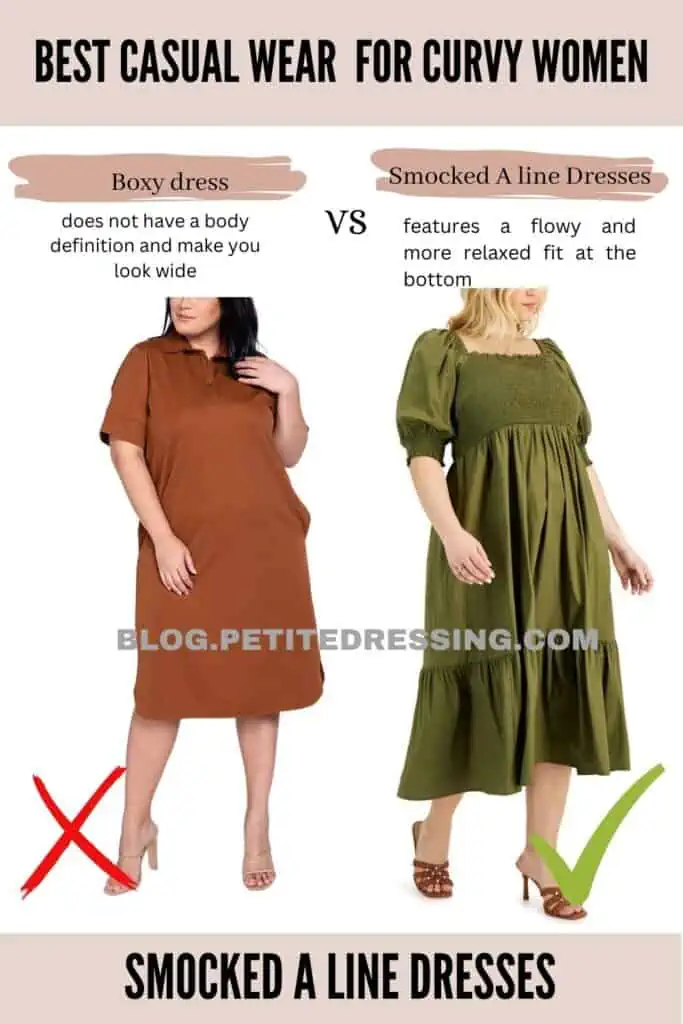 Smocked dresses feature gartered seams that are specifically designed to hug your body. For someone who's curvy, this would help enhance the natural curves of the upper half of your body, particularly your bust.
To balance its form-fitting top, the A-line dress silhouette features a flowy and more relaxed fit at the bottom which makes it a perfectly comfortable casual wear piece.
JUMPSUITS
Straight Jumpsuits
Jumpsuits are today's stylish casual wear garments! Its popularity is undeniable and it's definitely for a very good reason.
Straight jumpsuits feature a straight (vertical) silhouette that helps create a taller and leaner frame. This will help minimize the volume from your figure and bring more balance to your entire look.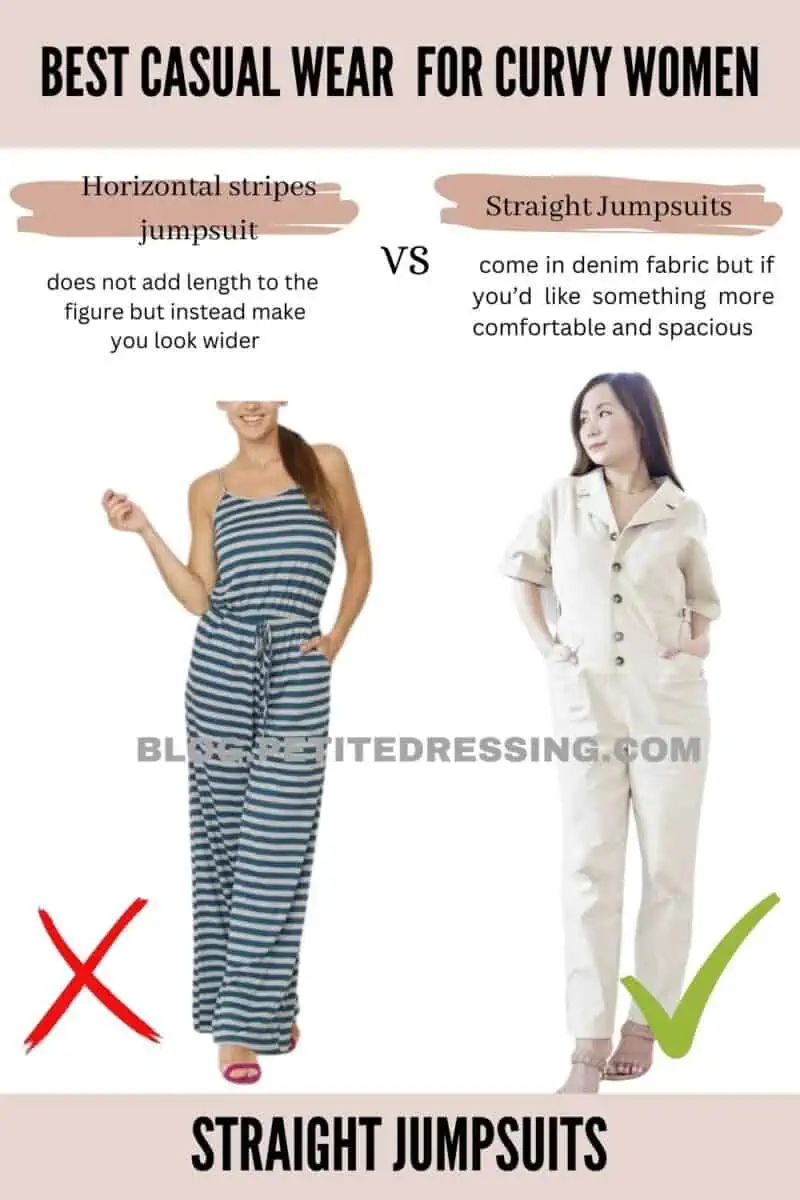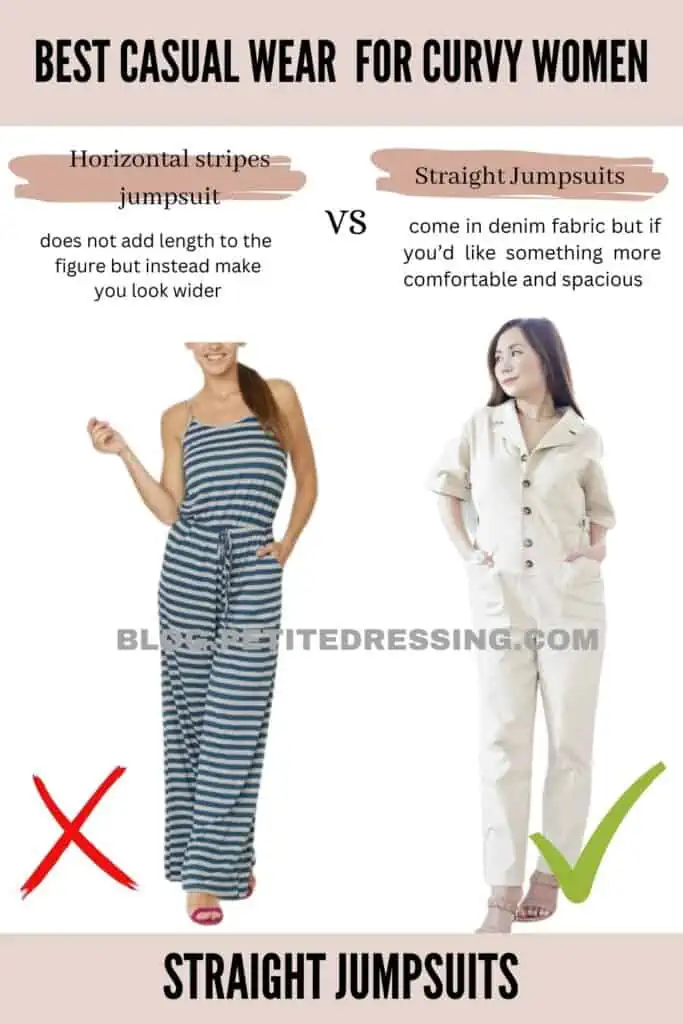 Overalls
Overall jumpsuits are also great casual wear pieces for curvy women because even if they are usually oversized and somewhat baggy, they can be easily paired with form-fitting innerwear that helps enhance your curves.
Most overalls come in denim fabric but if you'd like something more comfortable and spacious, try going for soft denim instead.
SHOES
Block Heels
For someone who's curvy, it's also possible that you're heavier than most ladies. With this mentioned, you'll be needing more balance with your shoes.
Block heels, also known as chunky heels, offer better balance because they are thickly designed. Since they look chunky, this vertical block of the heel also contributes to the visual look of elongating your figure.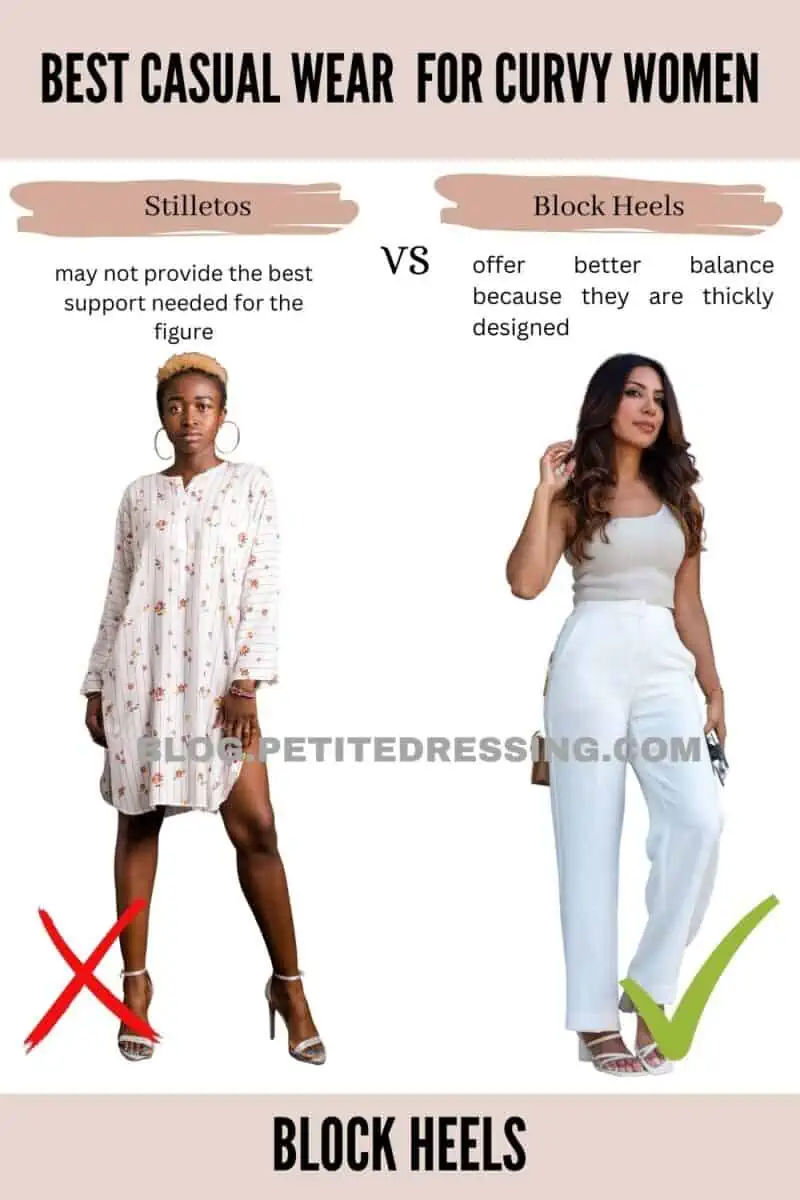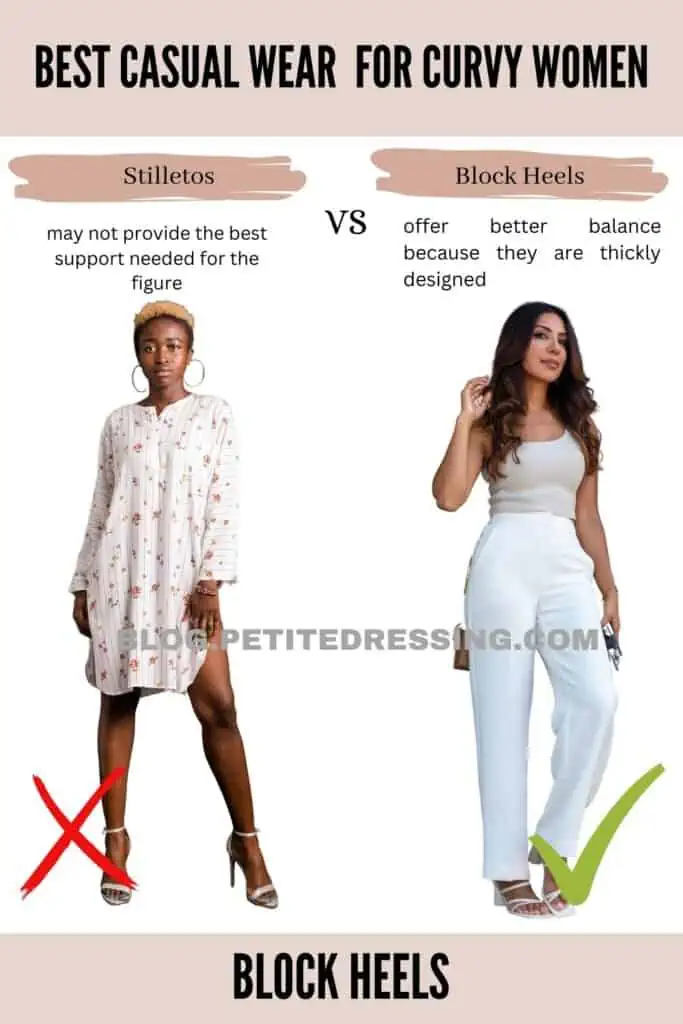 Ankle Boots
Curvy women would also look great in ankle boots because the shaft comes in a flattering length that elongates the legs. Ankle boots don't break the vertical line your eyes create so it continuously draws the eyes up and down.
Shoes in Nude Hues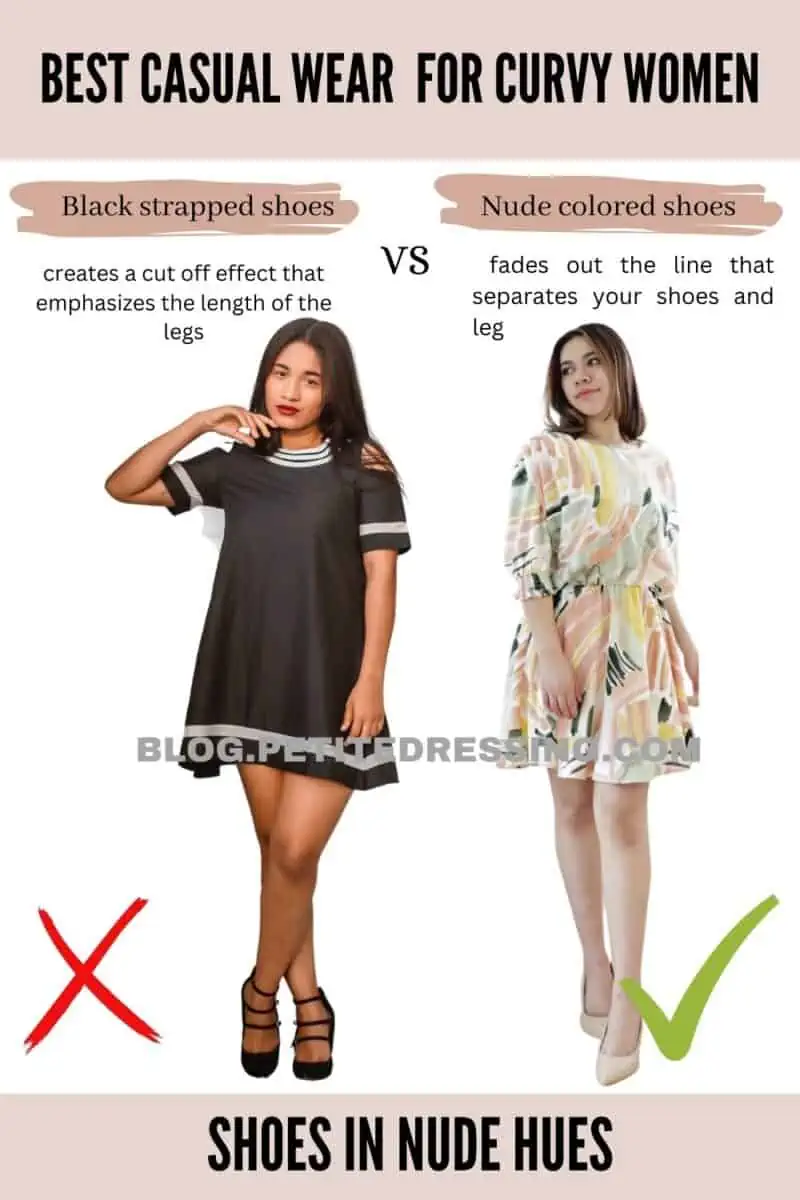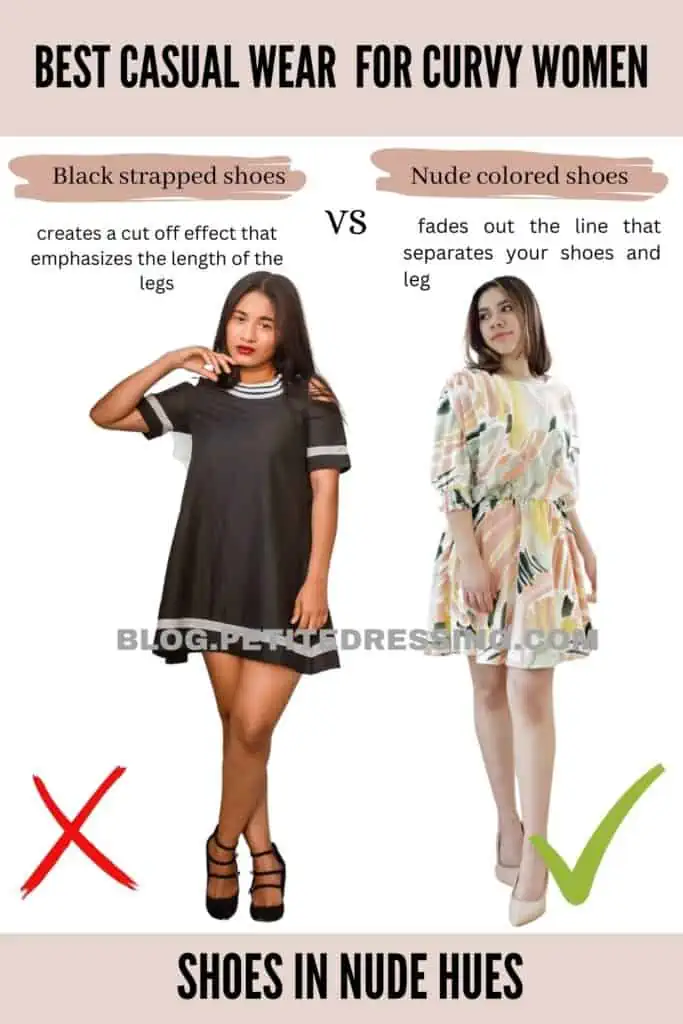 Nude colors blend well with your natural complexion so the effect of your legs seamlessly blending with the color of your shoes is a great trick to make you look taller. Since it fades out the line that separates your shoes and legs, it immediately tricks the eyes that you have longer legs.
The Key Takeaway
Casual wear is all about a comfortable fit. However, comfort should also involve style and proper fitting for it to look flattering.
Make the most of your curves and make sure you choose ones that will put your best features under the spotlight!