If you are a woman with curves, finding the right shoes is critical. Since curvy women have full bust and wider hips, you need the right styles of shoes to balance your shape.
Since I have a clothing line for petite women, I style models of all shapes and sizes, for example, Wendy, who is a typical curvy petite with 36D cup.
Based on my first-hand experience as well as feedback from thousands of my customers, many of whom are petite, I've put together this comprehensive guide to help you find the most flattering shoes.
Peep toe heels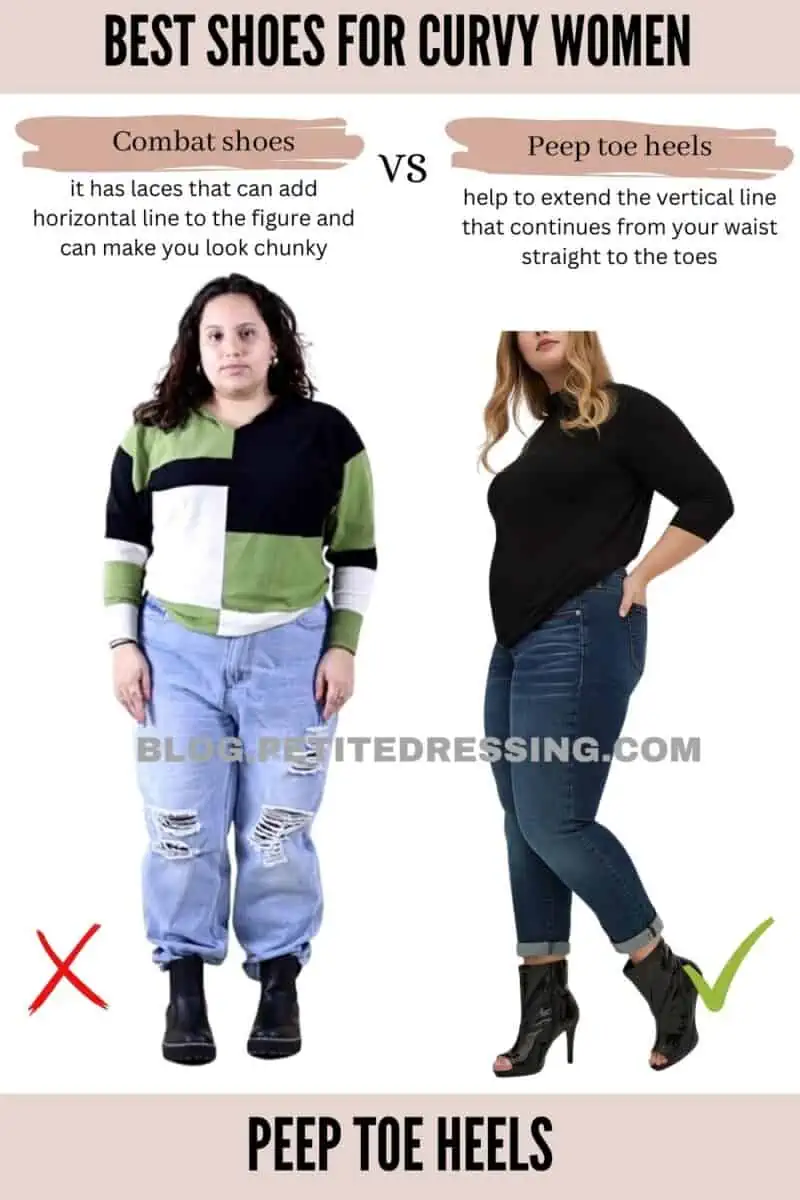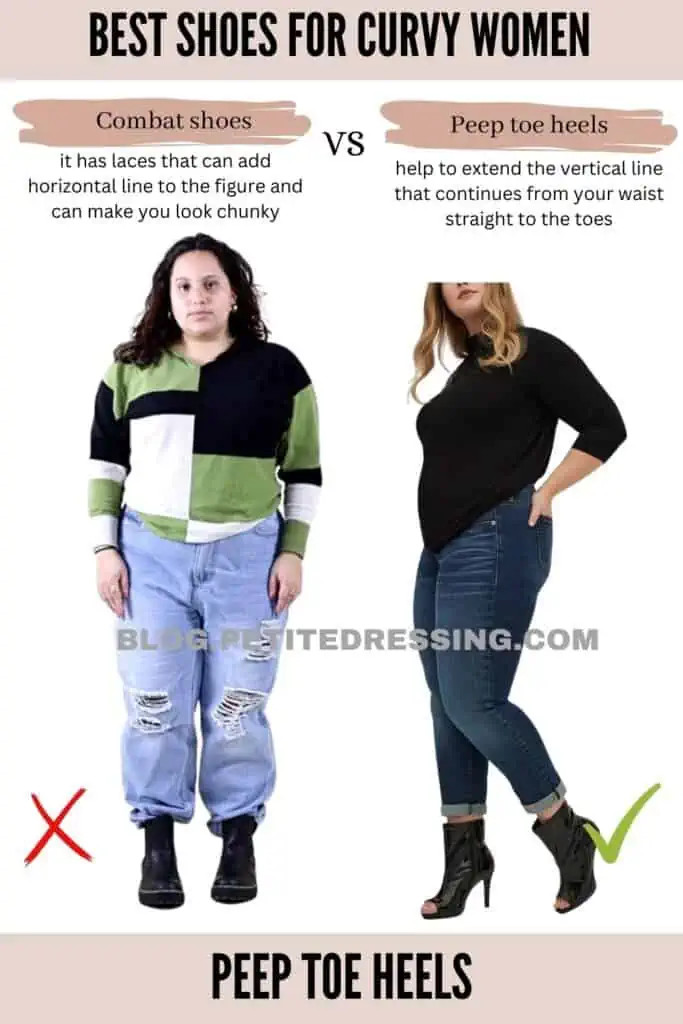 One of the best shoe styles to improve height and boost the posture of a curvy woman is peep toe heels. They are very comfortable and aesthetically stylish to reveal your toes and covey the appearance of length in your curvy shape.
Peep-toe heels help to extend the vertical line that continues from your waist straight to the toes with a spice of attraction for your toes. They are incredibly versatile and work well with different outfits making them a good option for a curvy woman.
They elevate your look and subtly change the overall vibe in your outlook without causing any discomfort in your toes. Slipping on a pair of peep-toe heels could be very sexy and liberating for you to appear elegant and stylish.
Ankle boots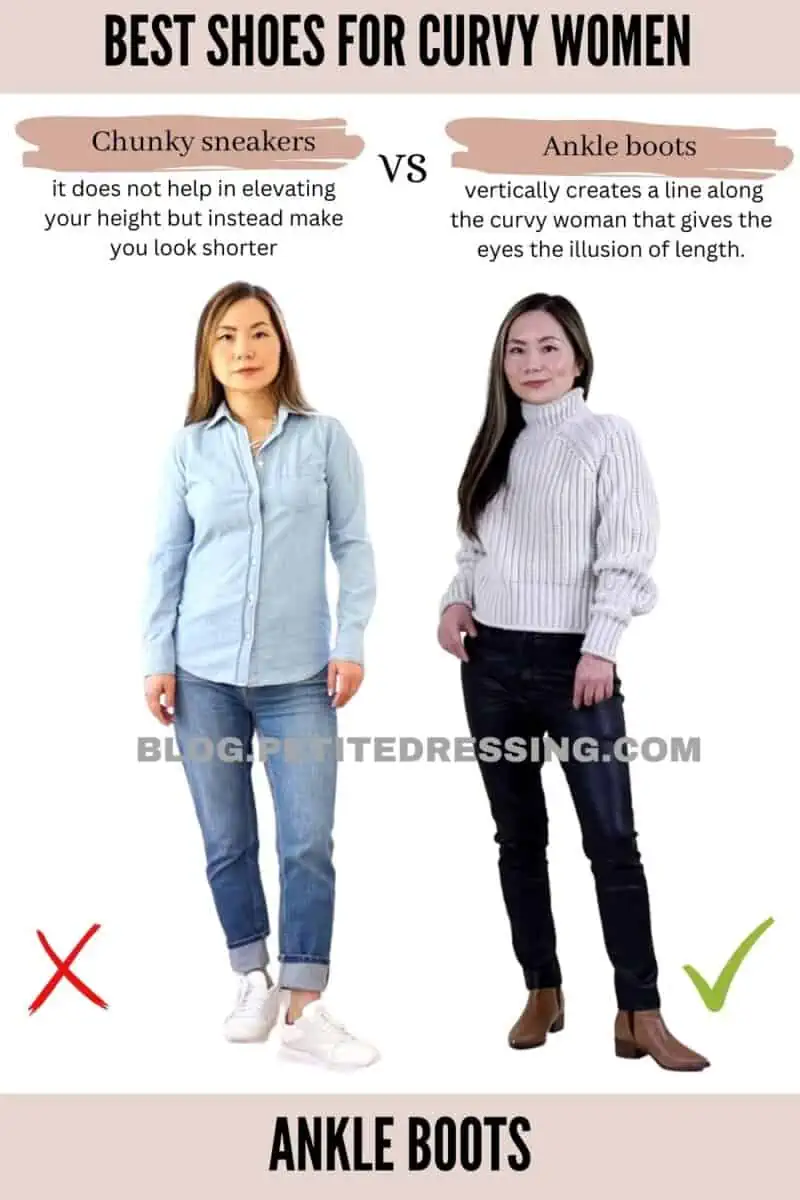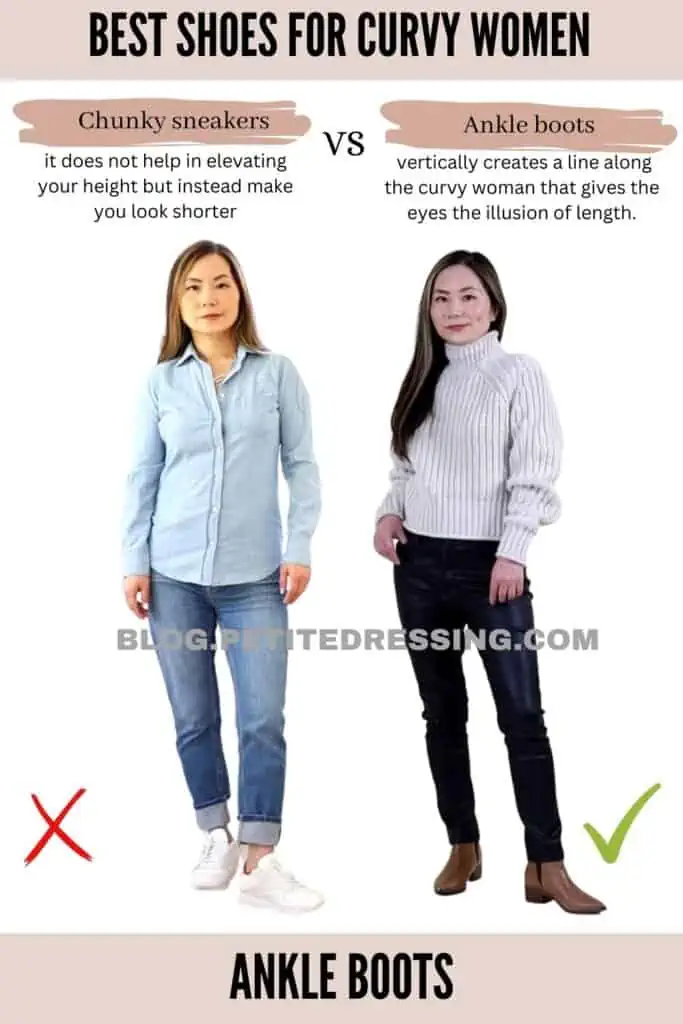 These styles of boots vertically create a line along the curvy woman that gives the eyes the illusion of length. The most recommended ankle boots are those with a pointed toe because they make the legs appear longer.
Most ankle boots are designed to provide comfort that could fit your wide feet. Style them with leggings of similar colors for a more visual balance.
Low vamp pumps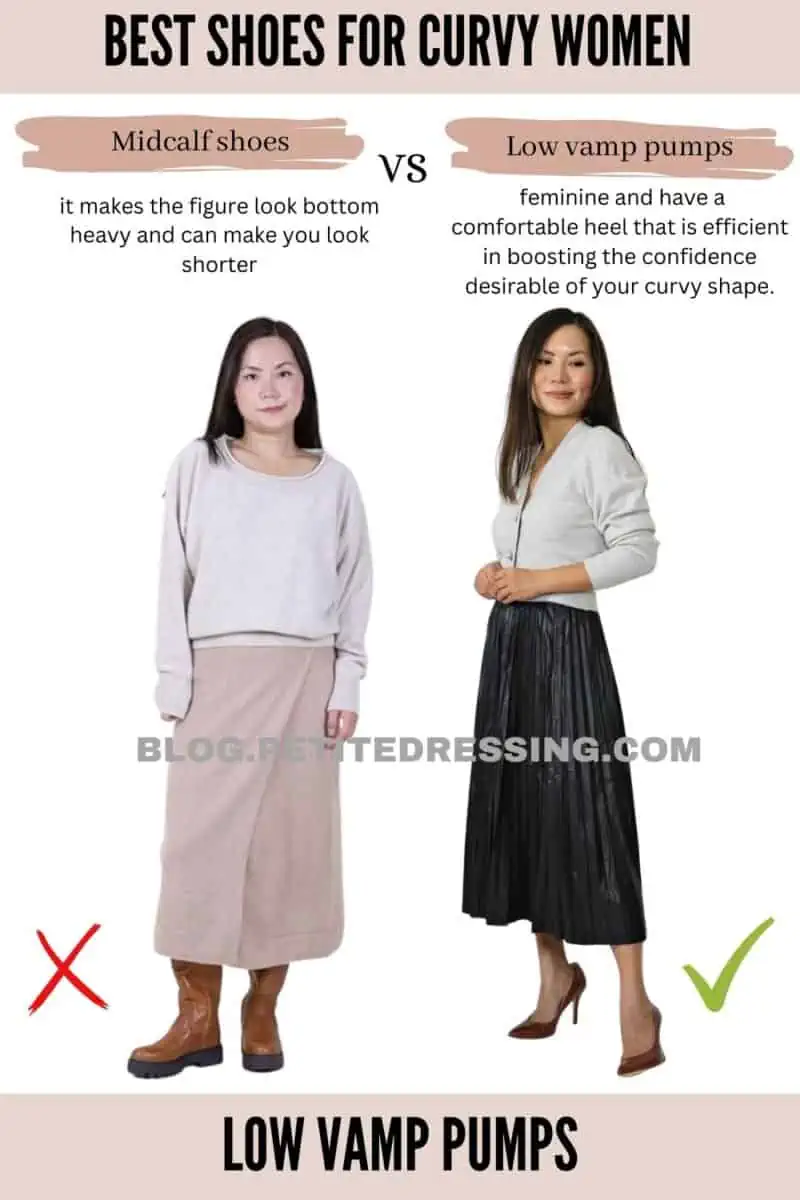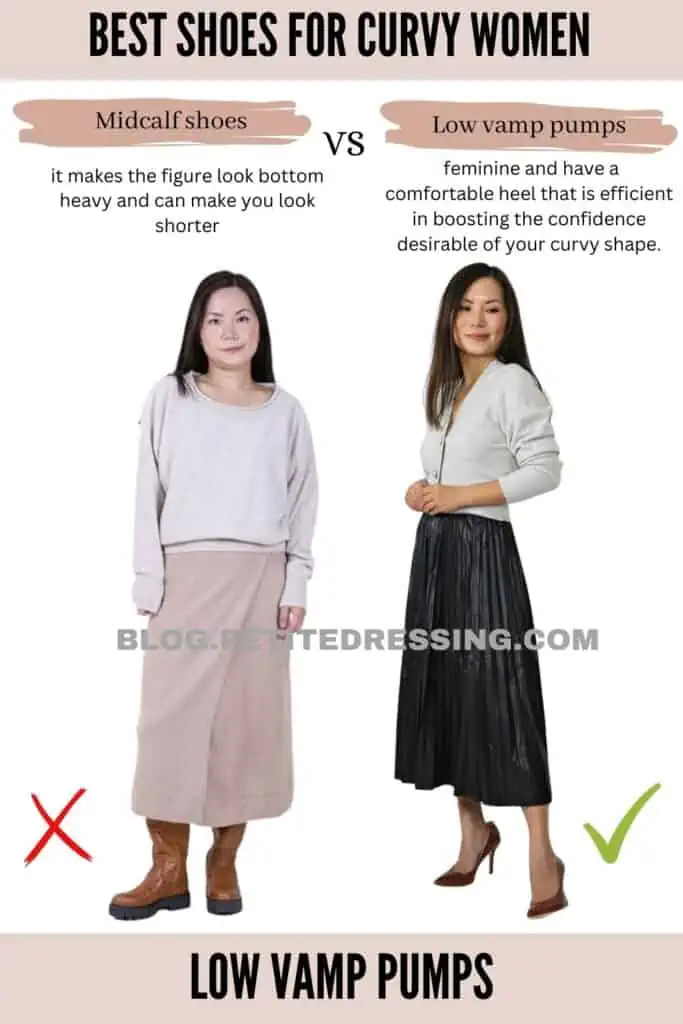 The best shoe vamp for a curvy woman are those with low vamps and that is why the low vamp pump is recommended. They are feminine and have a comfortable heel that is efficient in boosting the confidence desirable of your curvy shape.
They lift your figure and this in turn reduces the weight the curves have on your shape. The lower the vamp the better it is for your figure because your feet are less covered and this can create an extension in your legs.
Wearing a low vamp pump is an easy way to scream sophistication and appear elegant as a curvy woman. This shoe design has a stylish appeal that does not create any form of discomfort and that is more reason to make it a must-have shoe option for your curvy shape.
Pointed toe shoe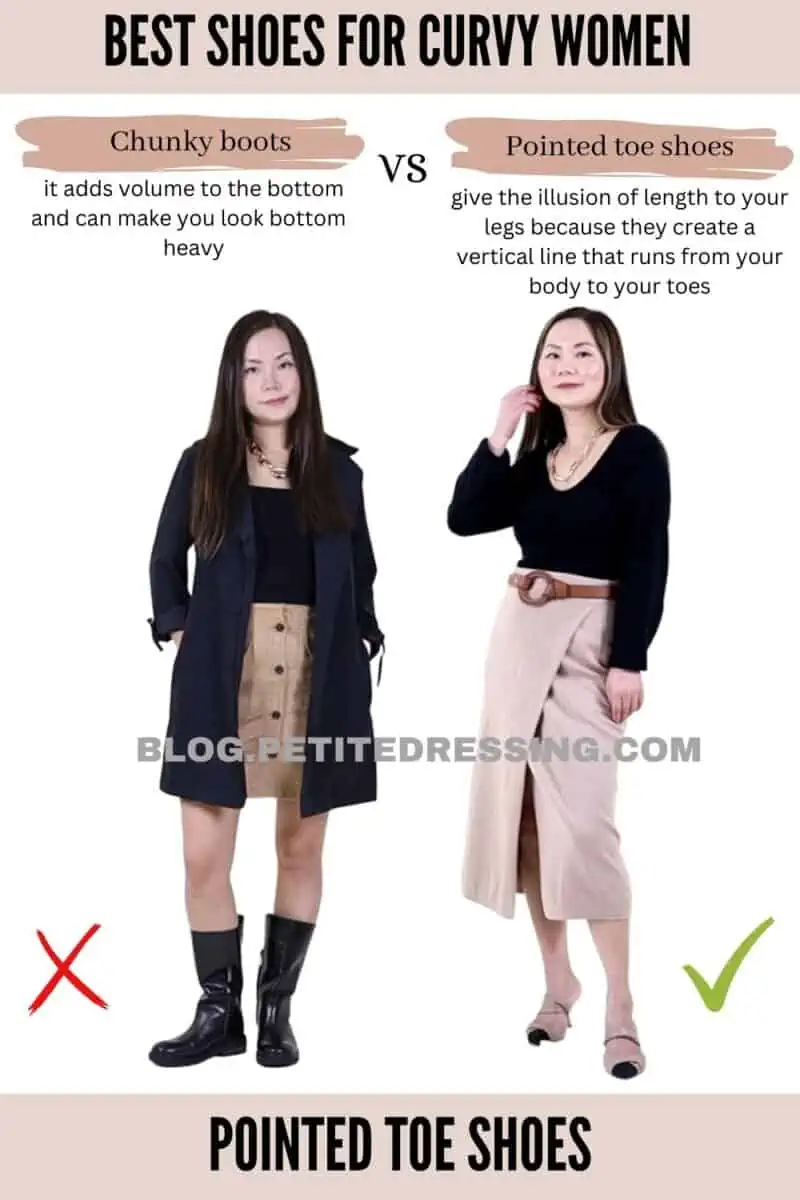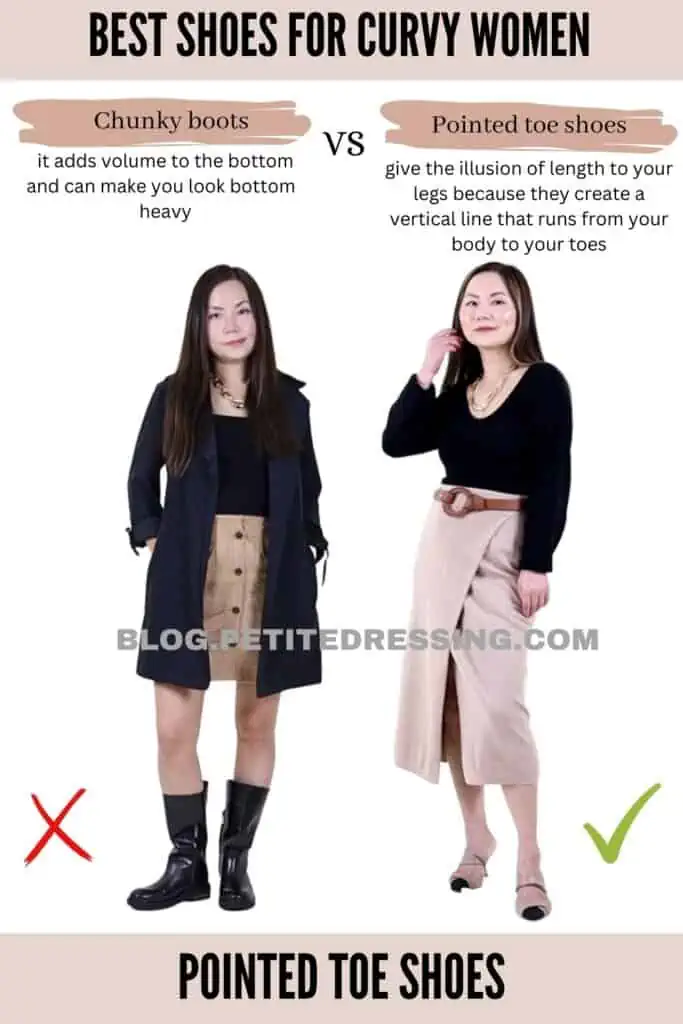 Pointed-toe shoes are very beautiful and glamorous shoes that could highlight the shape of a curvy woman and improve her confidence. They are versatile and work well with varied outfits.
They give the illusion of length to your legs because they create a vertical line that runs from your body to your toes. They also give a good lift to your curvy figure so they do not appear heavy.
This design of the shoe makes you appear feminine and sophisticated so they are a perfect choice for a curvy woman. They look fantastic on curvy women and help to balance out both the upper and lower half of her figure.
Knee length boots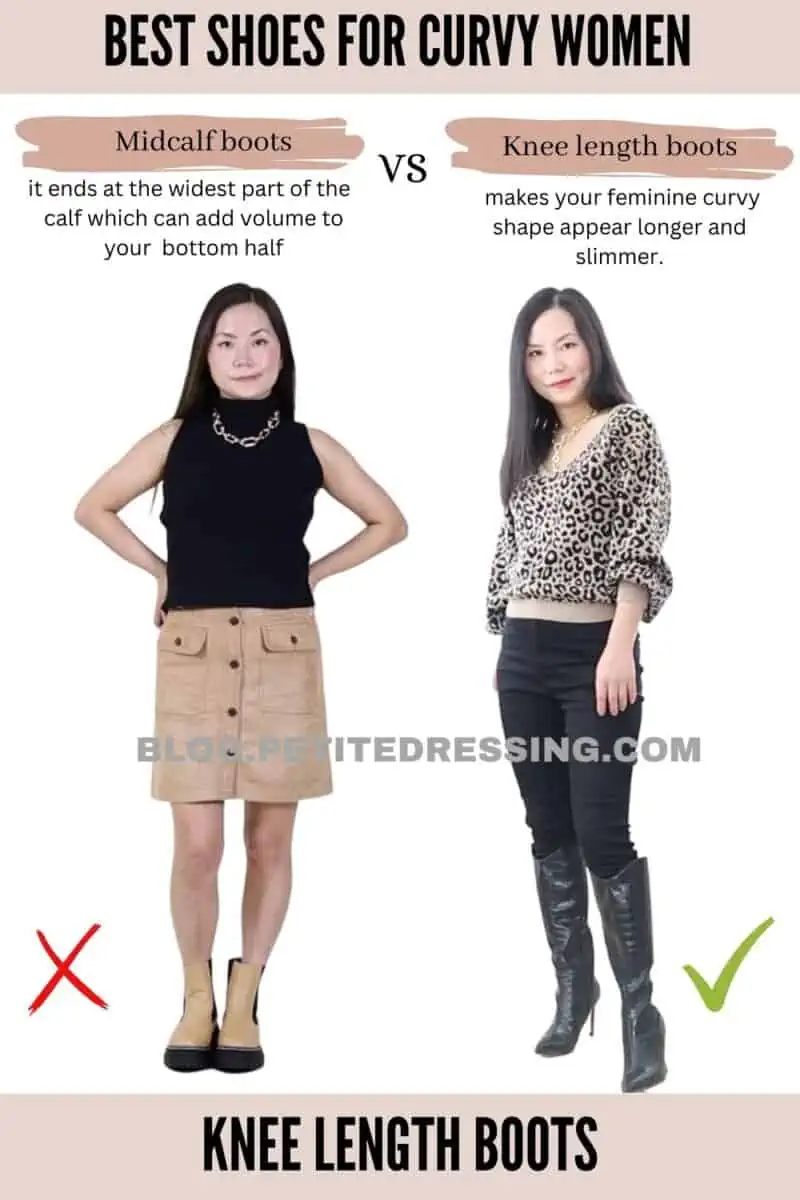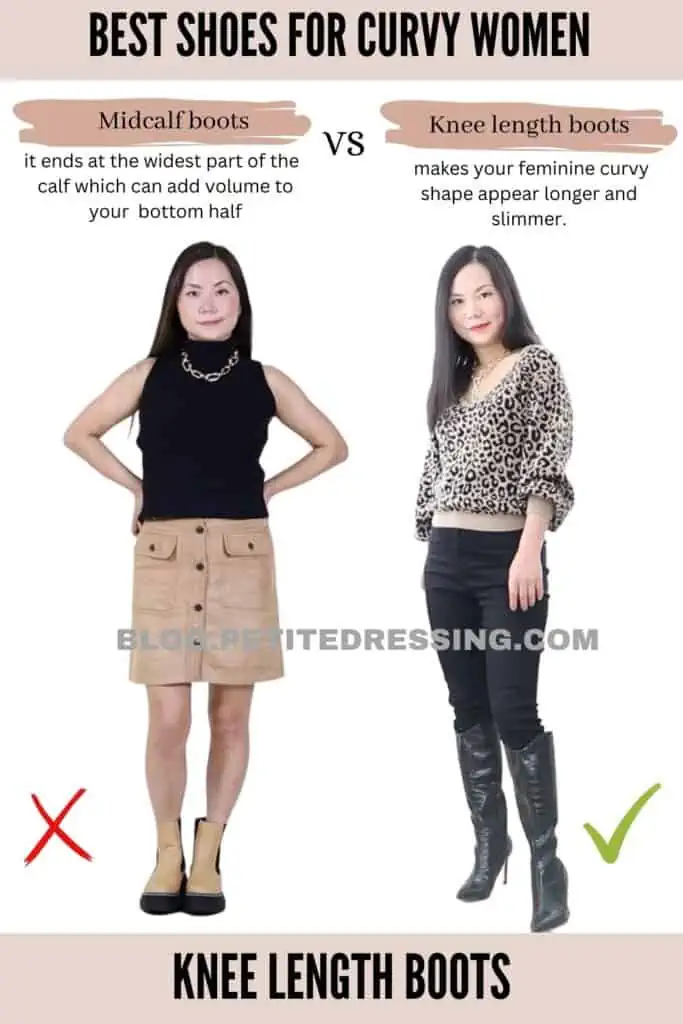 This pattern of boot often extends to the knee with a great stylish touch that elevates the look of a curvy woman. Knee-length boots have a unique design that makes your feminine curvy shape appear longer and slimmer.
A curvy woman should choose knee-length boots that accommodate her calf properly without causing any restriction or discomfort around the legs. You could opt for knee-length boots that dip in the front for a more lengthening effect.
Style your knee-length boots with the right bottom because that's the only way you can get the best fit for your curves. The knee-length boot is a simple shoe design that could give you the feel of confidence that you desire as a curvy woman.
Block heels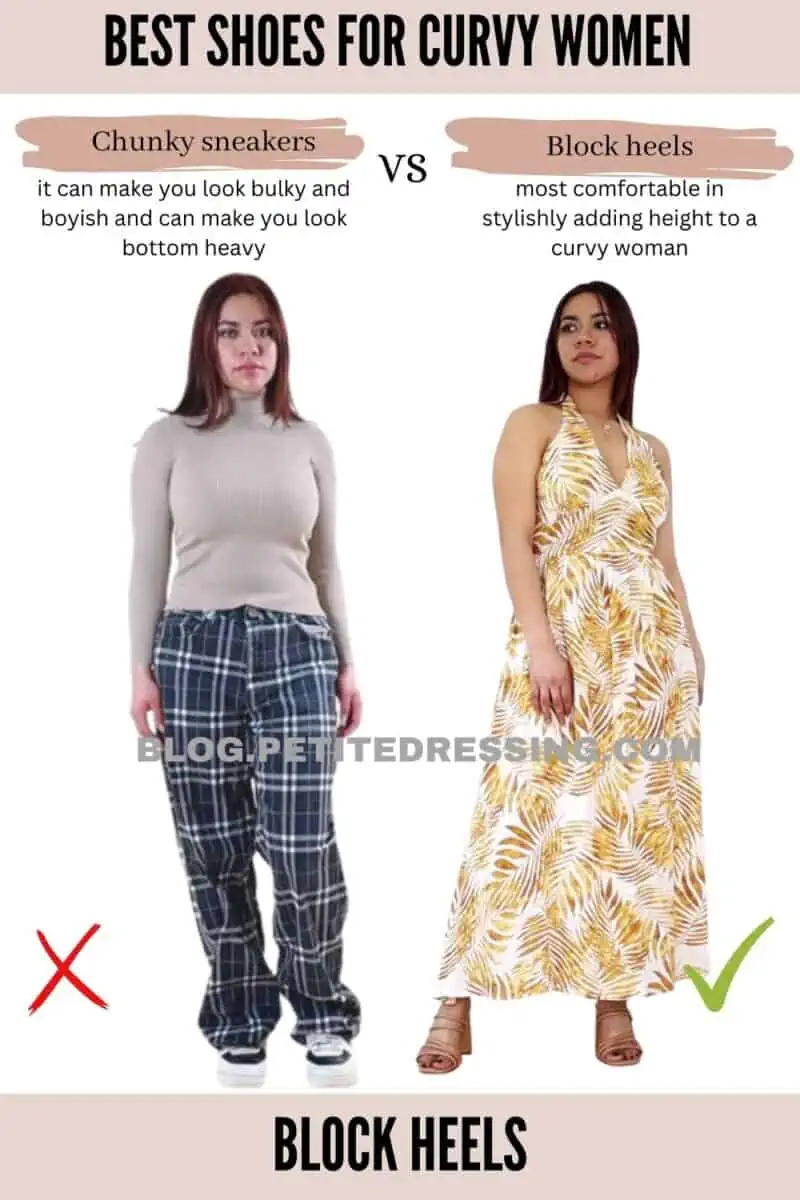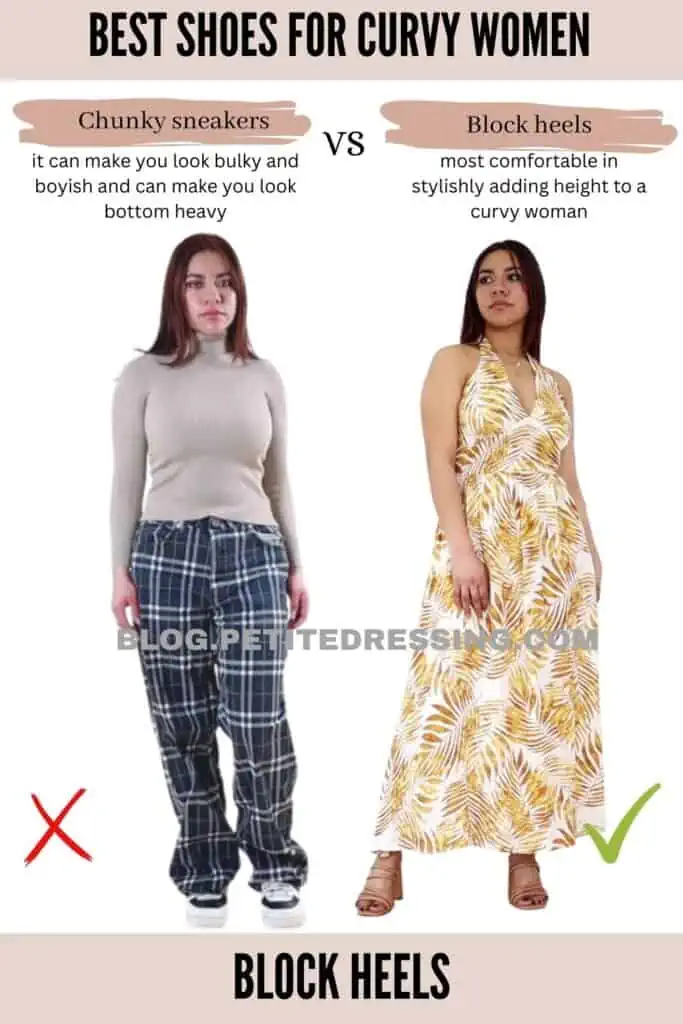 Block heels are most comfortable in stylishly adding height to a curvy woman. They do not also make your curves feel weighty so wearing them is not a bad option.
Choose block heels over stiletto heels because stilettos may seem too high and uncomfortable for your curvy shape. Block heels have a structure that complements your shape and allows you to step out with so much confidence.
They are a great way to complement your outfit and increase your self-esteem by giving you reasons to appreciate your curves. Block heels are an excellent shoe choice that improves the posture of a curvy woman.
Sling back sandals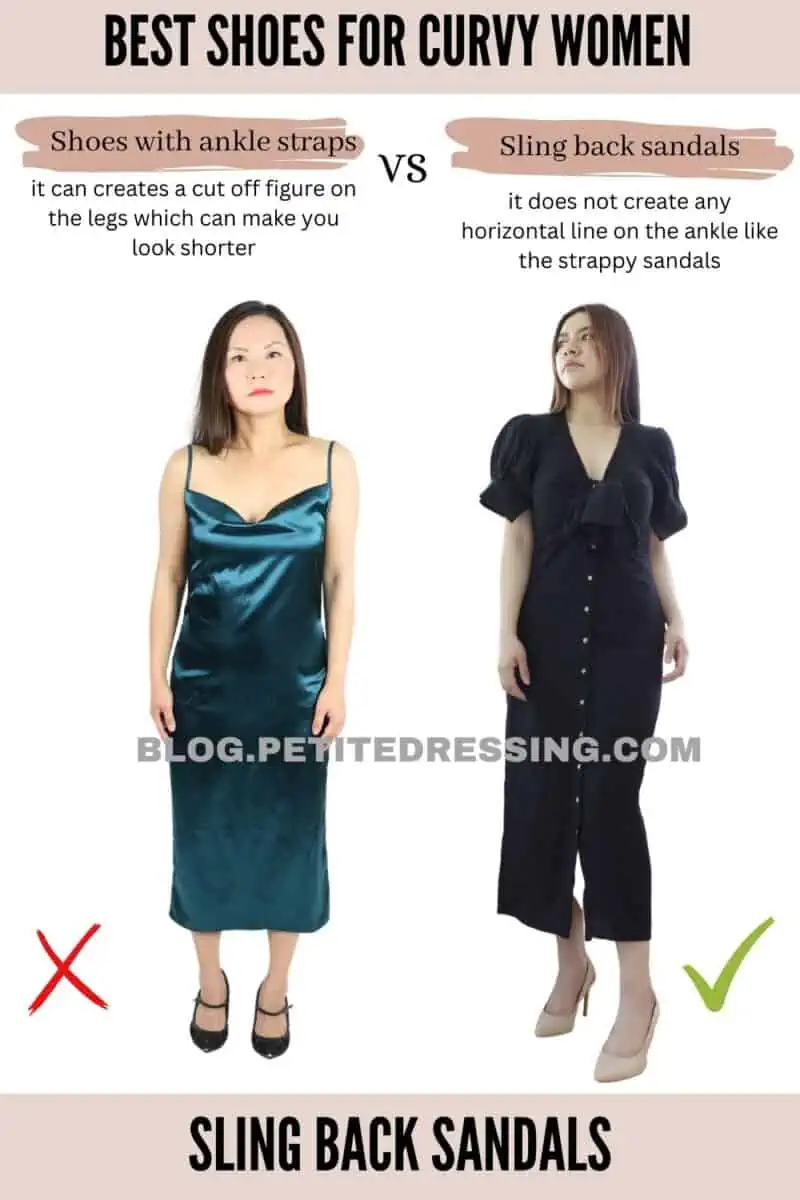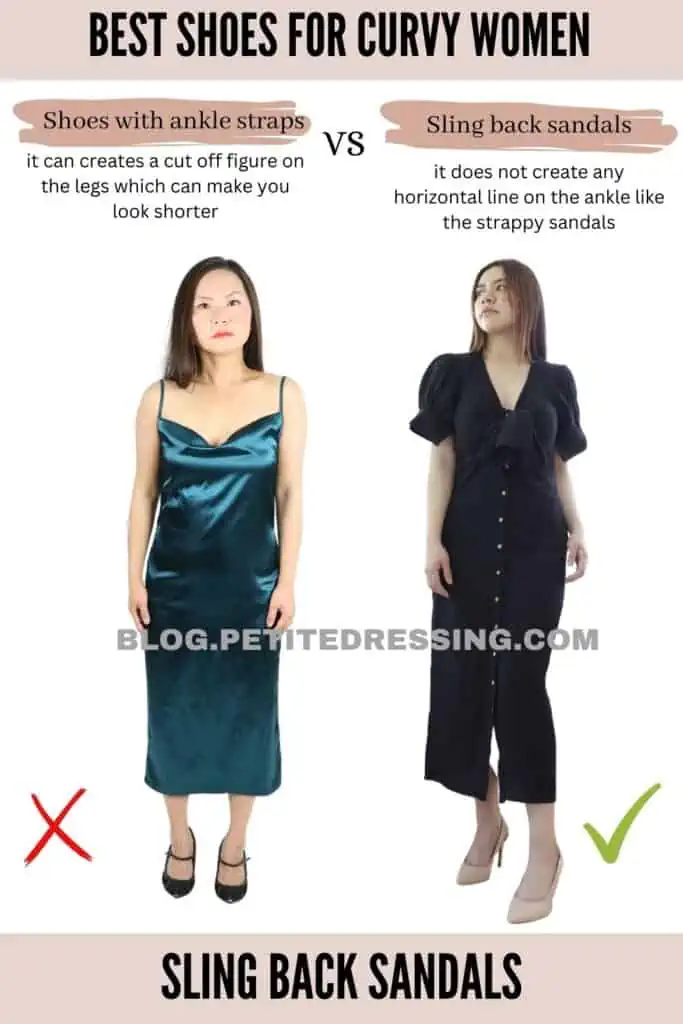 One of the most unique shoes that incredibly flatters the curvy woman is the sling-back sandal with a strap that sits right behind her heel. They are light on the feet and provide enough support for your curvy shape.
Sling-back sandals also have a lengthening effect on your shape because it does not create any horizontal line on the ankle like the strappy sandals. Your choice of strappy heel sole must not have wide straps or else they would create a contrasting effect of length on your figure.
They are easy to wear and are efficient in maintaining balance in a curvy woman.
Nude colored shoes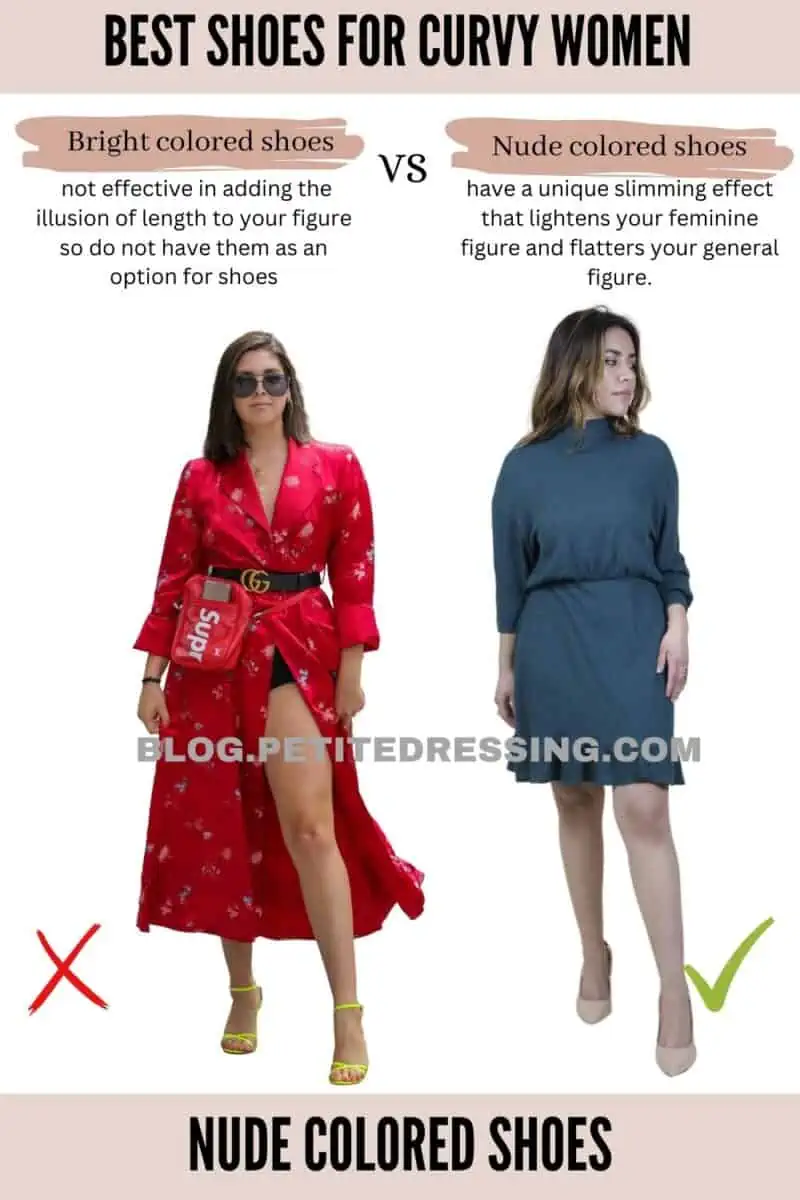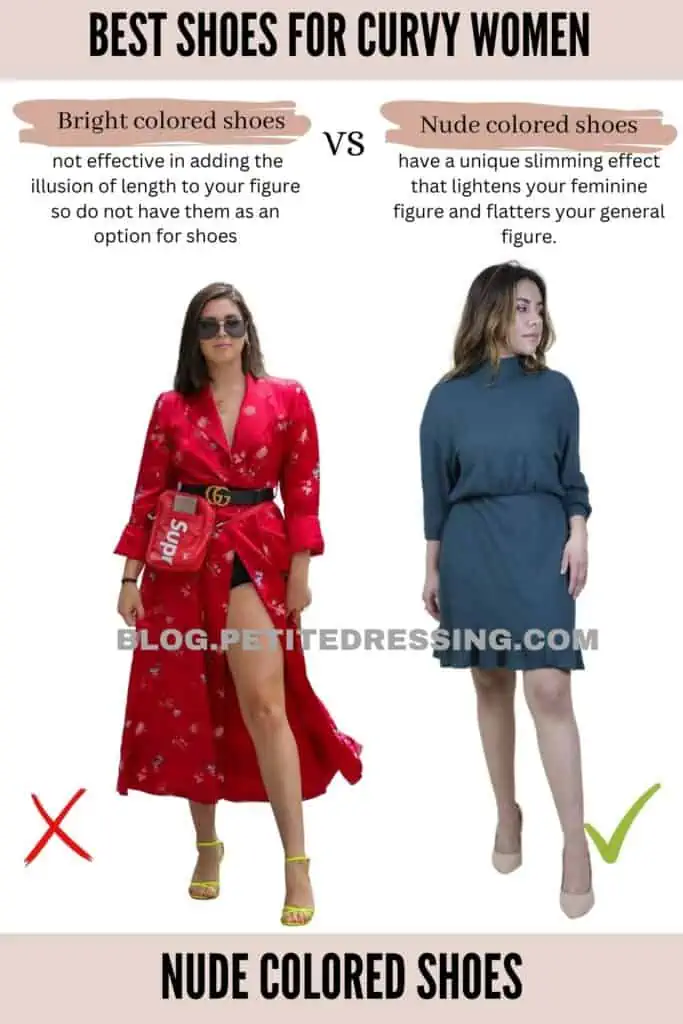 Colors that appear almost similar to your skin are very warm and stylish because they eliminate any form of a broken line in the curvy woman. Nude colors have a unique slimming effect that lightens your feminine figure and flatters your general figure.
Nude-colored shoes create a visual balance on the figure that makes you outstanding on any occasion. They give the eyes the illusion that you are tall and this in turn lifts off the weight in your curvy shape.
Bright colors are not effective in adding the illusion of length to your figure so do not have them as an option for shoes. They are low-confidence boosters that aren't recommended because they draw too much attention to your concerned area.
Avoid square-shaped heels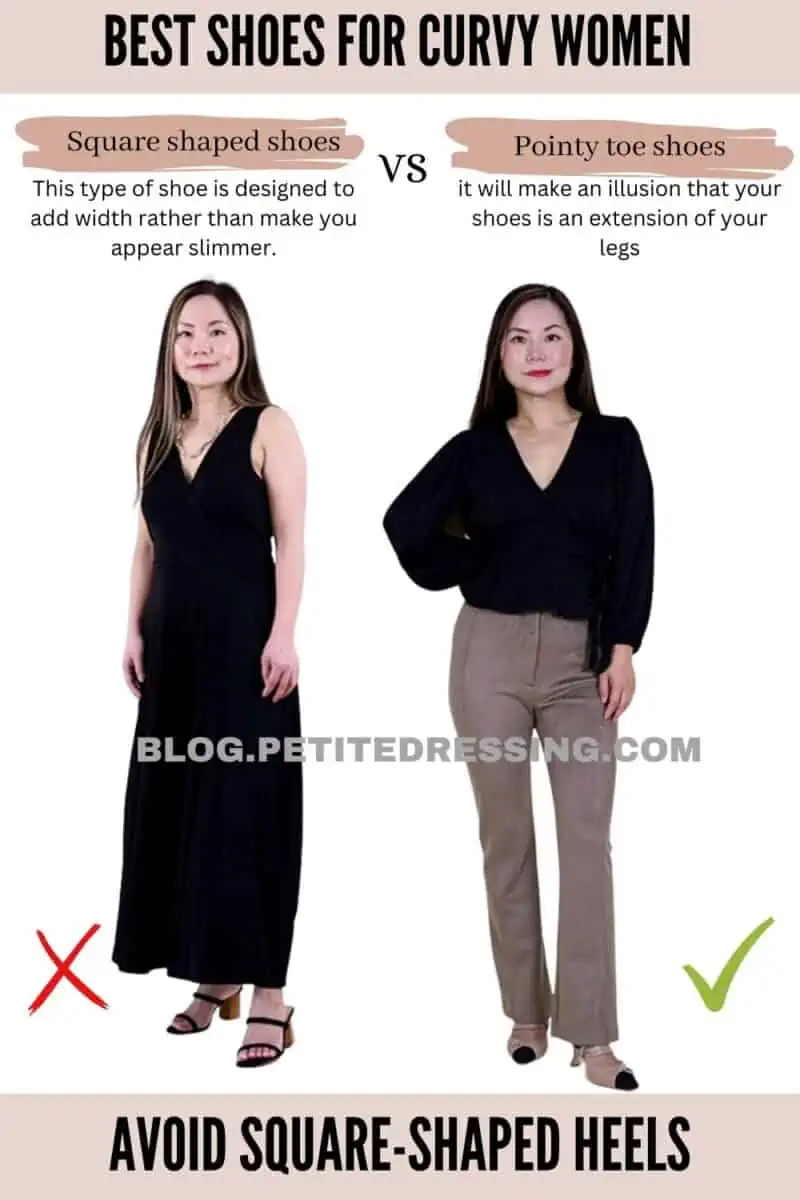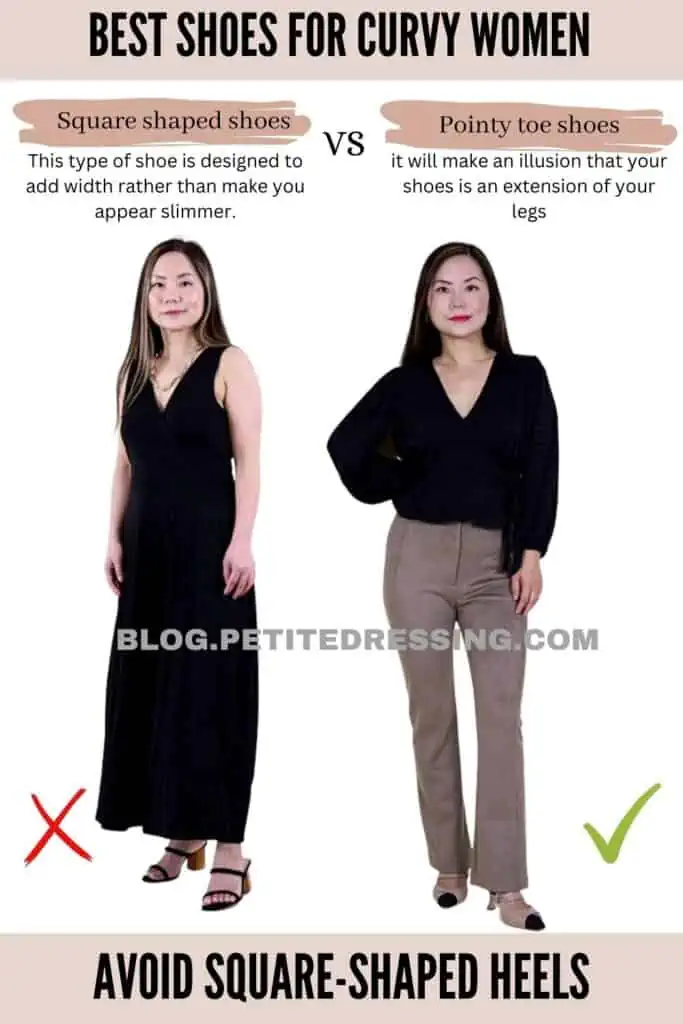 Square-shaped heels are not stylish for a curvy woman because they would create an imbalance in your figure. This type of shoe is designed to add width rather than make you appear slimmer.
They would make you appear shorter and not give your figure a sleek appearance. It is best to avoid square-shaped heels if you're curvy.
Avoid thick platforms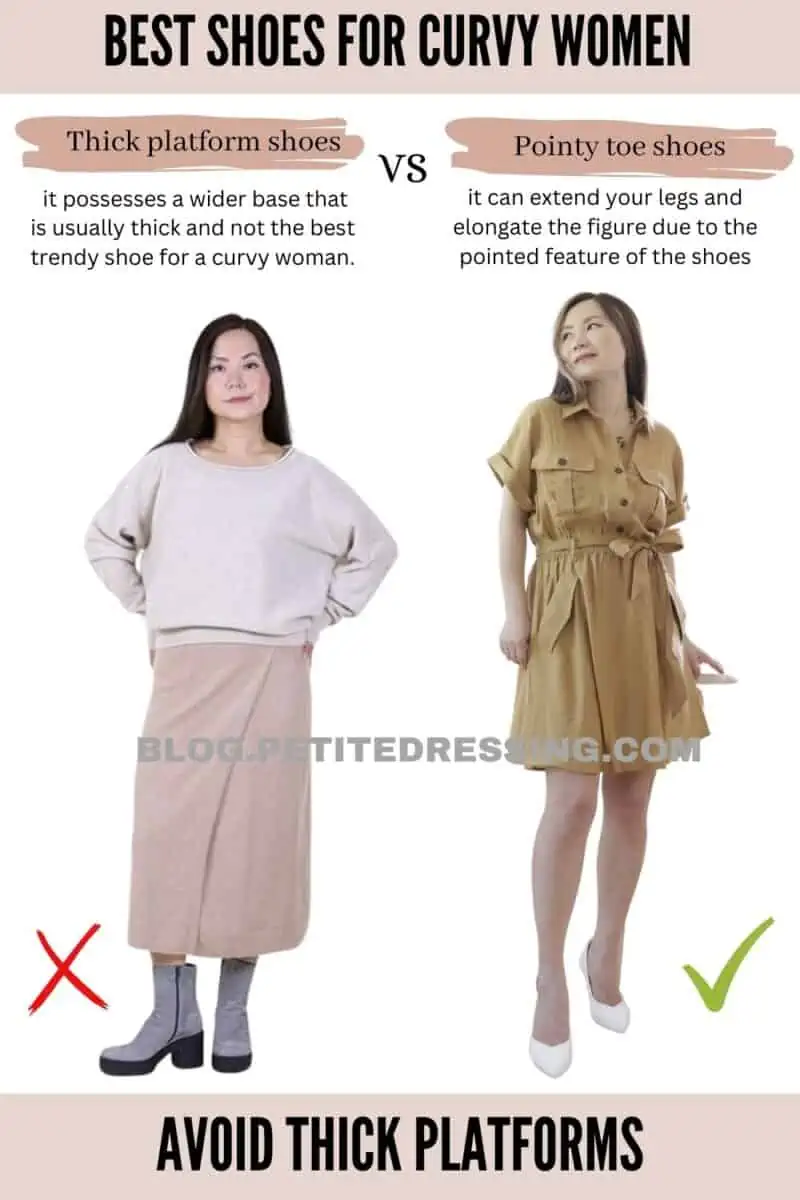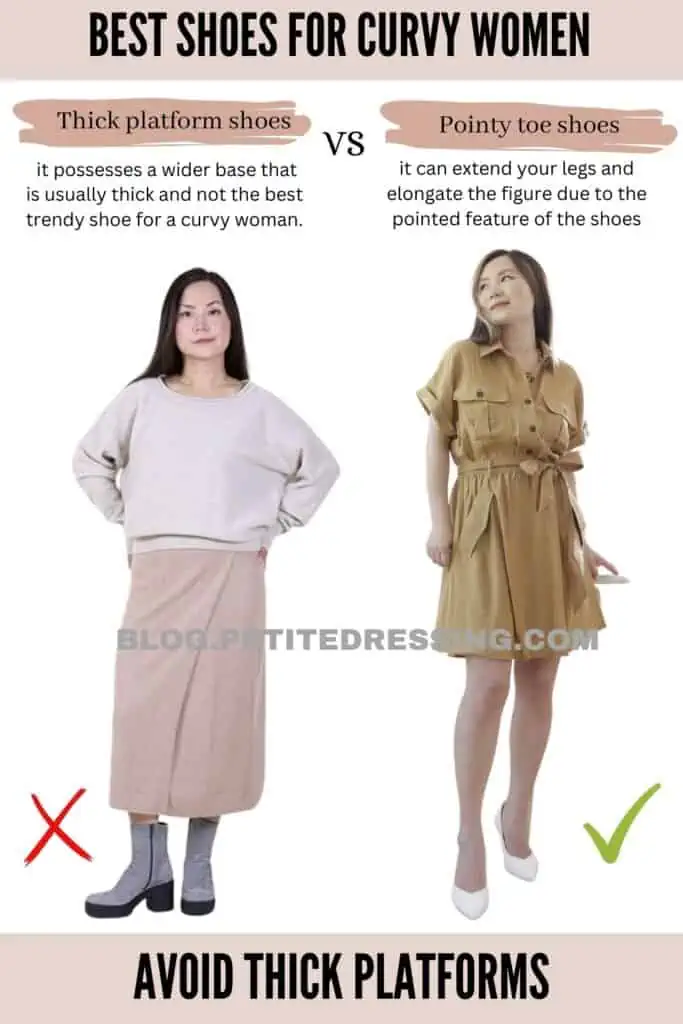 For a curvy woman, wearing shoes that would add more width to her curves is not a good idea. Thick platforms could lengthen your figure but it possesses a wider base that is usually thick and not the best trendy shoe for a curvy woman.
The thick platform shoe could make you appear broad and heavy and that isn't pleasing to your curvy shape. They can provide stability when walking but are not recommended for a curvy woman because of the less flattering heel it features.
They can easily add weight to your bottom half so do not wear them because they are undesirable for your overall outlook. Thick platform shoes do not flatter a curvy woman so wearing them should not be an option.
Caution with kitten heels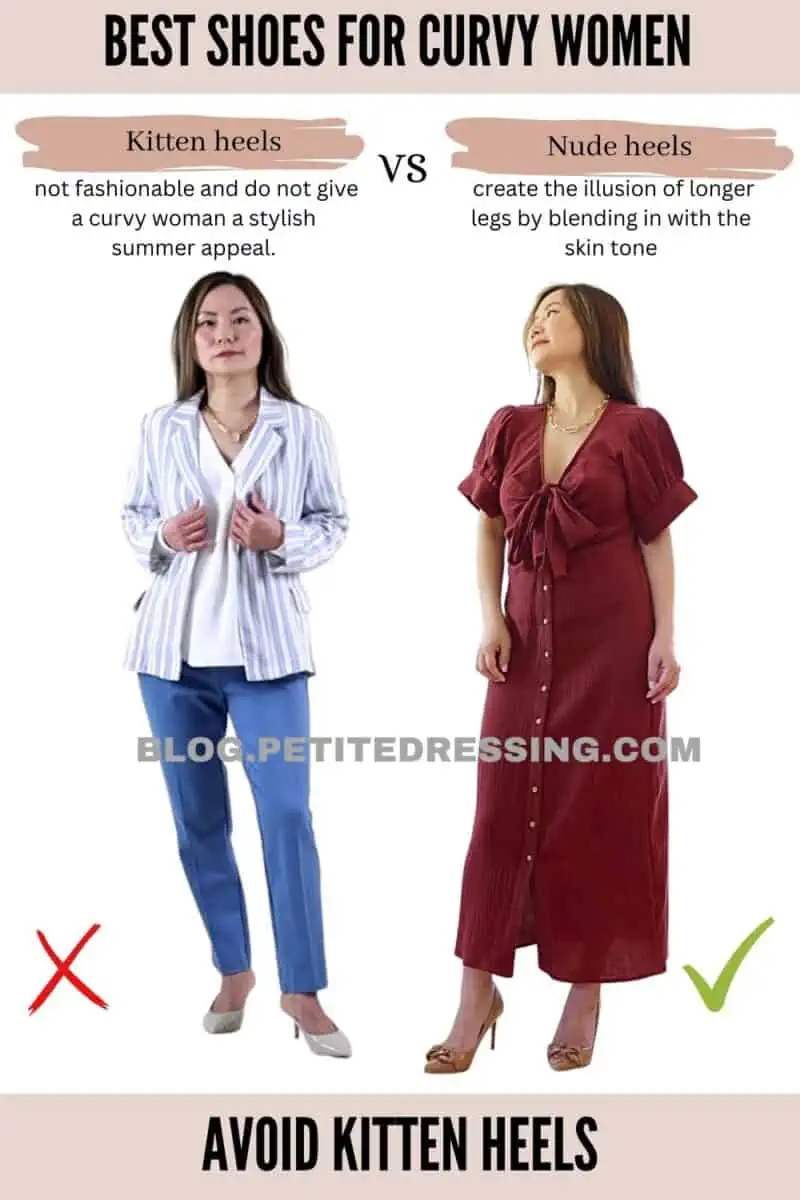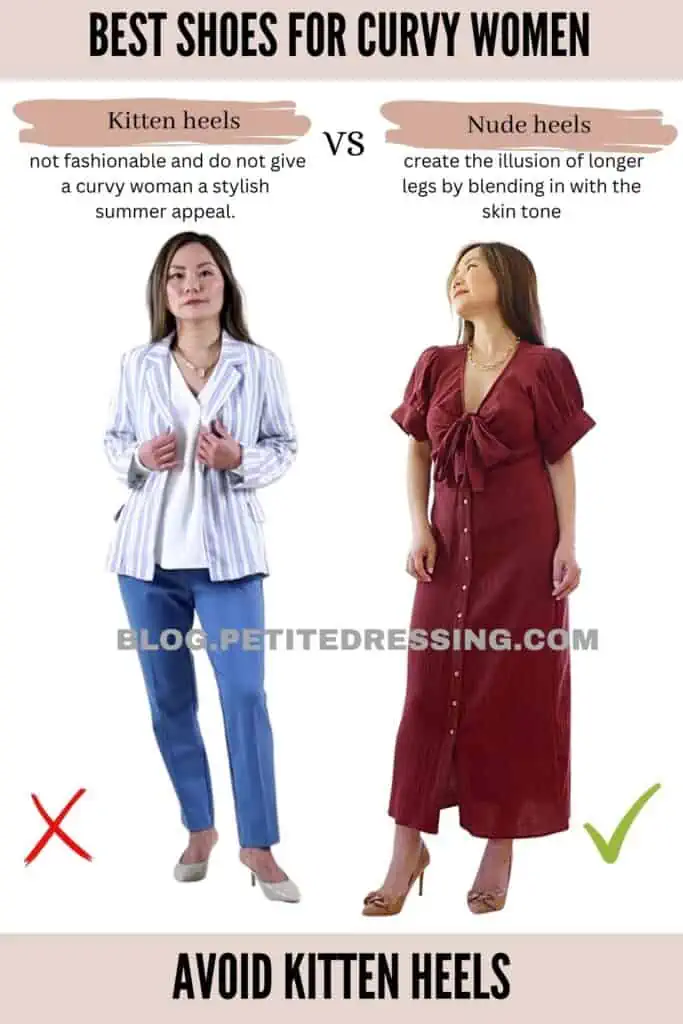 Kitten heels are comfortable and stylish, but it can look out of proportion if you happen to carry weight in your bottom half.
The kitten heels have very short heels that could be close to not being noticed because they do not add a considerable amount of height to a curvy woman. They are not flattering and could make the legs of a curvy look stubby.
Though the kitten heels may seem easy to wear, they do not give the curvy woman the necessary balance her body desires. Kitten heels are not fashionable and do not give a curvy woman a stylish summer appeal.
You should avoid kitten heels because they would make your curves look too bulky and add a weighty appearance to your figure. It is best to not wear kitten heels as they do not make you look sexy and are not effortlessly cool on your figure.
Caution with wedges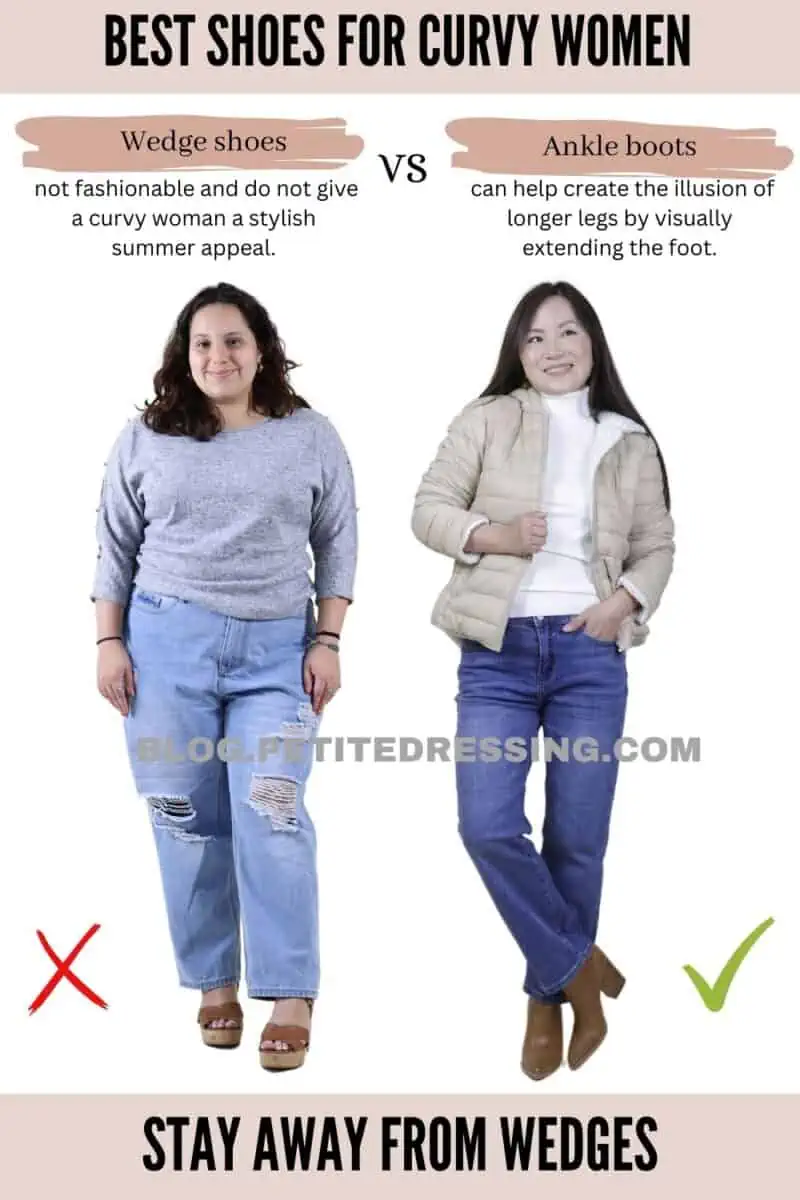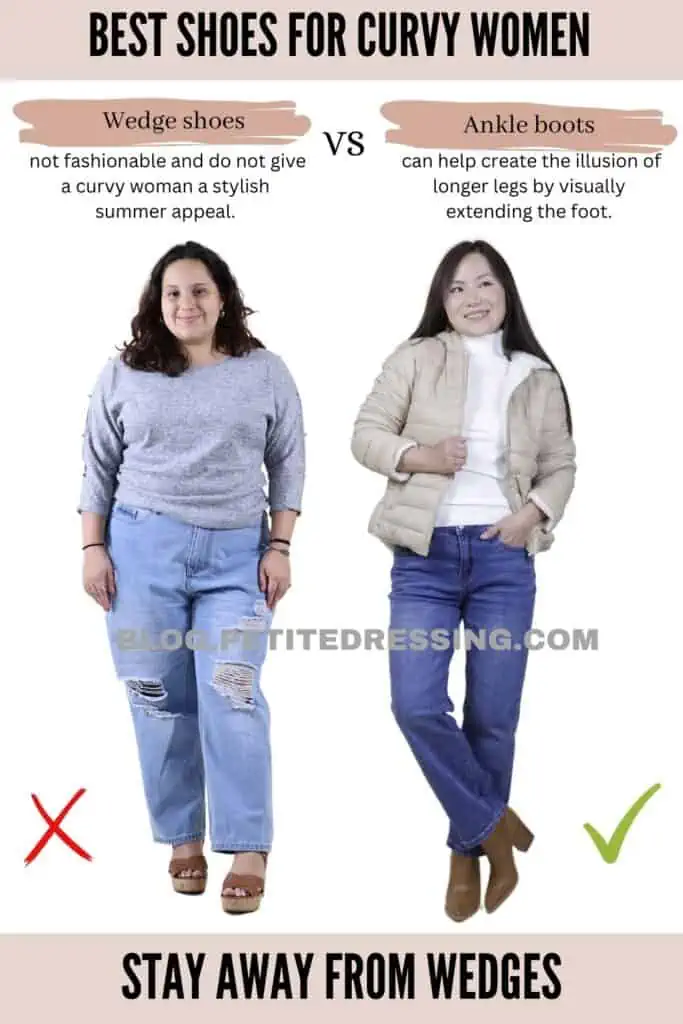 A curvy woman should wear shoes that add height and lets her appreciate her curvy figure. Wedges may add height but have an effect on weight on a curvy woman and that is why it is best to stay away from them.
They add so much emphasis to the curves by drawing the attention of the eyes to the curvy shape which in turn reduces the support necessary for your figure. They are not a fashionable choice of shoe to convey length and add height to a curvy woman.
Wedges do not give the best lift to a curvy woman so it is best to avoid wearing them no matter how simple they appear. Most designs are very thick and they could make your legs appear shorter.
Avoid lug soles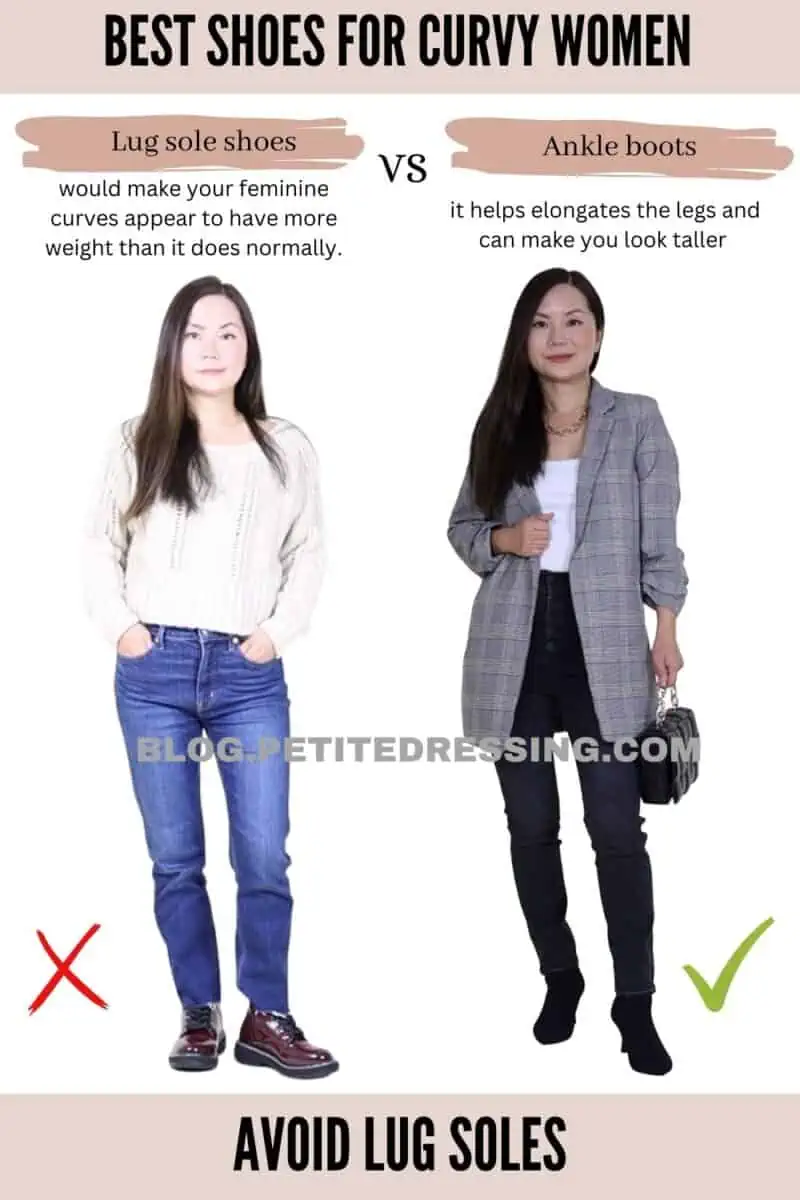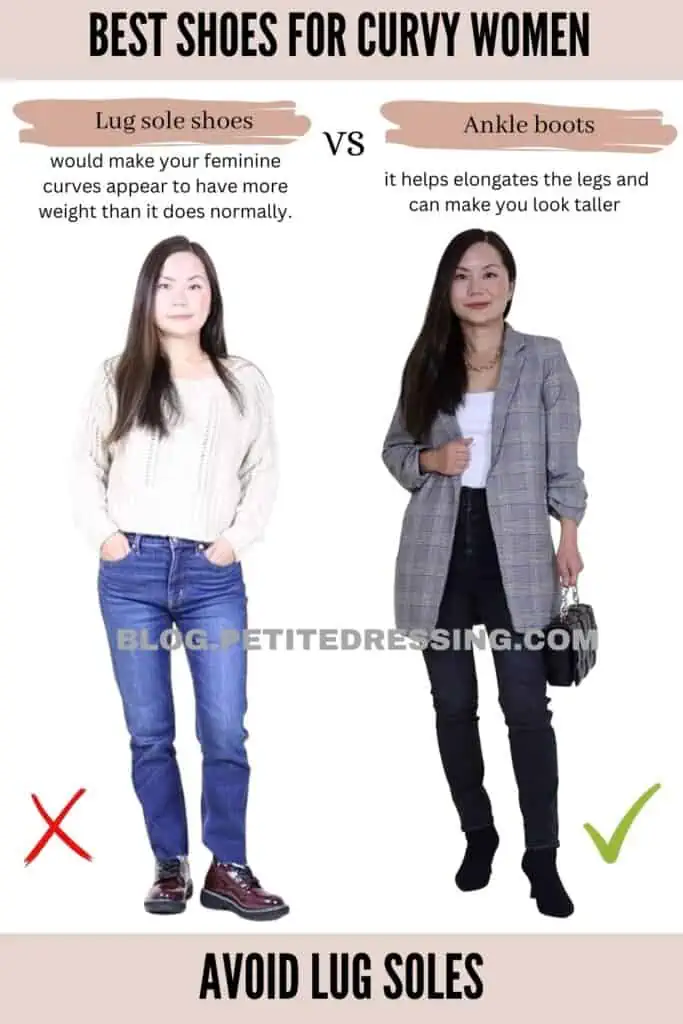 Lug sole is a thick rubber sole with deep indentations known to provide stability while walking but is not the best choice of sole for a curvy woman. The thick sole would make your feminine curves appear to have more weight than it does normally.
They may be on trend but are not flattering for a woman with curves and do not give them the best fit necessary to boost your confidence. Your curves do not need any shoe pattern that would not enhance them in a unique way.
For a better posture and fitting, a curvy woman should avoid wearing lug soles. Keep them away because they would not make you appear as stylish as you would want to be.