If you have an hourglass figure, you are typically well endowed with feminine curves.
Most hourglass shaped women have relatively slender waist, full breasts as well as full hips.
Since every woman's body is different, it is very possible for an hourglass to also have a bigger tummy.
The best ways to dress a hourglass shape with a tummy is to draw attention away from the "problem" area, and enhance the best assets of the hourglass, i.e. the full bust and the curvy hips.
V-Necklines are Ideal
Necklines play a big role in how our outfit look, but they are often overlooked by most women. Anytime you wear something that brings the attention away from your problem area, it will flatter your shape in a really beautiful way. It doesn't always have to be dramatic, either. Even subtle details, like a v-neckline. will do the trick.
When you have an hourglass shape, you can wear a variety of different necklines. Lower necklines generally are quite flattering to curvy body shapes such as the hourglass. Specifically, if you are looking to minimize the appearance of your midsection – opt for a v-neck. This brings a really subtle focus to your upper body and face.
Amanda Bray (above) have a full hourglass figure. The blush color sweater has a deep V neck, which enhances her assets and draw attention to her full chest and face.
Embrace Anything Peplum
As a woman with a naturally balanced hourglass shape, you already have a defined waist – lucky you! When you have a naturally defined waist, with a bit of a tummy, peplum silhouettes are incredible. Thanks to the defined waistline built in to a peplum silhouette, it further enhances your natural shape. The added benefit of a peplum is the flared element that helps to slim the tummy area. Dresses and tops alike can be found in a peplum silhouette, make this your new favorite.
Even a less dramatic peplum top, as seen on Lizzie, will hide your midsection while flattering your balanced shape.
Wear Wrap Tops
One style you can always count on as a woman with an hourglass shape is the wrap top.
This is a favorite because it's insanely flattering. It's a very simple, classic style (another bonus) that naturally fits to an hourglass shape.
The reason it's even more idea when you have a tummy is because of the wrapping element.
That 'wrapping' gives this slimming effect to the midsection. The best part is it does so very naturally and comfortably. No need to wear waist constricting clothes, the wrap styles are perfection for your shape.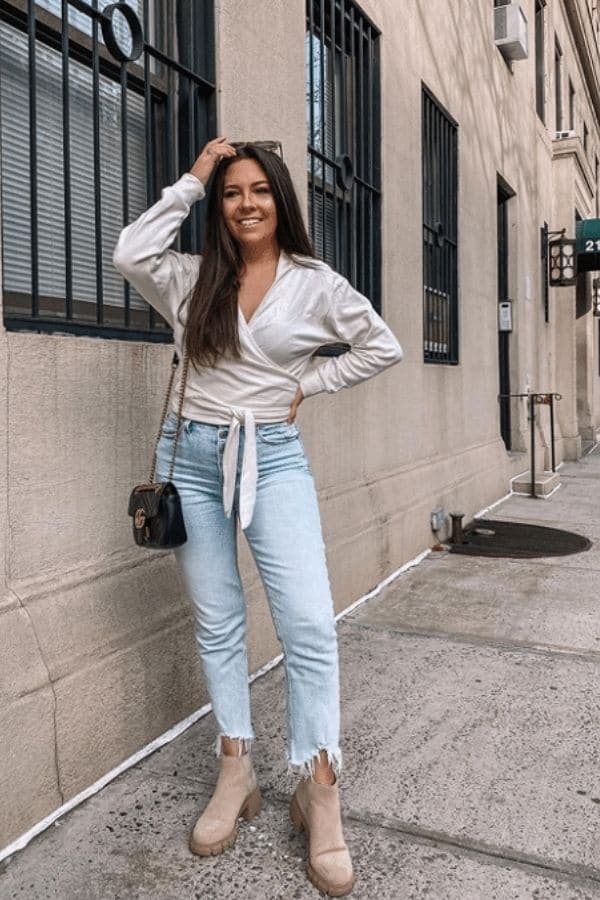 Wrap tops are a must have to celebrating an hourglass body type, particularly when you want to streamline the tummy area. Carey is wearing the wrap top perfectly here.
Wrap Dresses
Same as the wrap top, any wrap dress is also very flattering to an hourglass shaped woman with a belly. The wrapped around belt emphasizes the asset of the hourglass, i.e. the smaller waist, while the dress drapes down to camouflage the tummy.
Wrap dresses were invented by Diane Von Furstenberg in 1974, and ever since then, it has become an iconic piece in women's wardrobe. Regardless of your age group, a wrap dress is a must have. Wrap dresses can come in different lengths, but most of them are knee length, tea length or even maxi length. For women in their 50s and above, wrap dress is a tasteful style which shows off the feminine curve but also look quite elegant.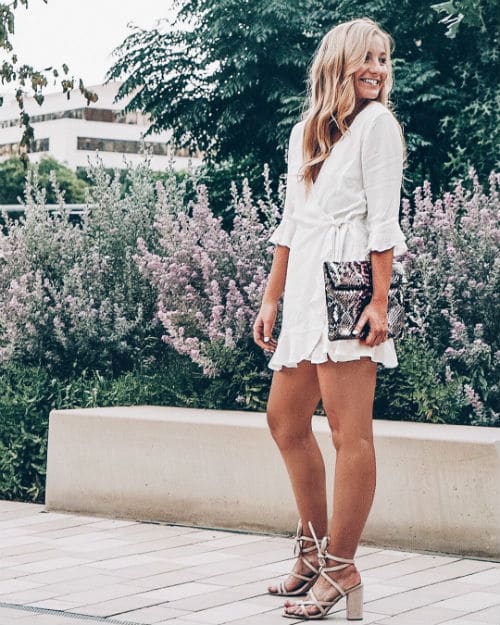 Fit and Flare Dresses
Another really great dress silhouette for your body type is the fit and flare.
A common misconception women have is that wearing very loose fitting clothes will 'hide' their tummy.
The problem with that is it actually draws more attention to the midsection and adds volume where you don't want volume. Instead, look for silhouettes that skim your body and create more of a natural shape. Again, you have a naturally balanced hourglass figure, so any type of dress that has that same shape is ideal. Fit and flare is one of those silhouettes and because it offers a defined waistline with a flared out bottom it slims your shape in the right places, and 'flares' over the midsection.
Fit and flare isn't exclusive to dresses, though. You can achieve a similar silhouette using a top and skirt. Just focus on creating a shape that is defined at the waist and goes out (aka flares) towards the bottom.
Wear Statement Necklace
Believe it or not, a statement necklace can minimize the appearance of a tummy. As mentioned above, highlighting an area that's away from your tummy is the slightest trick that makes a major impact. So even popping on a statement necklace will help you to make use of this trick. To make the most of it, wear a statement necklace with an open neckline to really amp up the focal point around your upper body.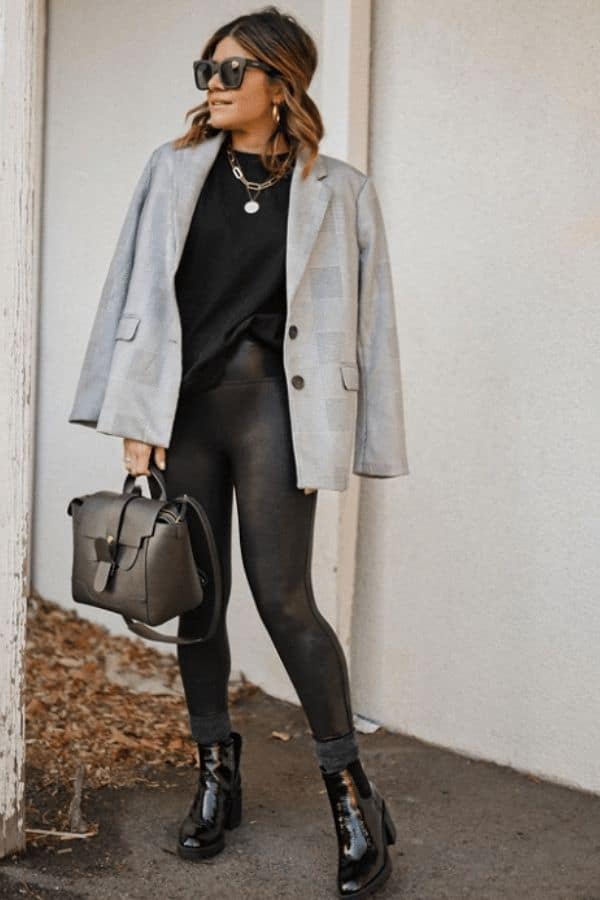 Carolina adds a subtle statement necklace pop to her outfit, a really easy way to flatter an hourglass shape with a tummy.
Avoid Detail Around Your Midsection
As tempting as it may be to wear pieces that have ruffles, flow, etc. around your midsection, it doesn't minimize your tummy, but instead adds to it.
This is why it's so important to avoid a lot of fluff, fabric, etc that may be at the tummy area.
Keep it simple here, opt for pieces that are streamlined around your midsection. It's slimming and elongating to your shape.
Don't Wear Anything Shapeless
Similar to adding a lot of fuss around your midsection, it's important to stay away from clothing that's shapeless. You have a natural hourglass shape to embrace! Even if you have a tummy, clothes that offer some shape to them help to flatter and enhance rather than hide what you have.
Since hourglass figure typically have a full bust, any loose or ill fitted clothes is only going to look like a tent hanging down from the chests. Not only that does not hide the belly, but also it makes you look more chubby overall.
If you have a dress, for example, that is quite shapeless look for ways to give it shape. One way to do this is by adding a belt around your waist.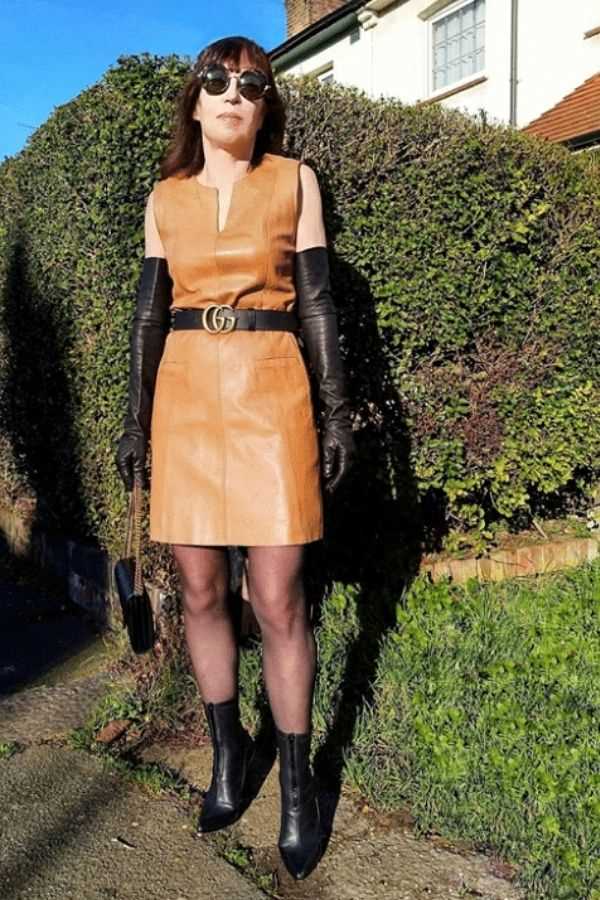 Marie wears a dress with just enough shape to enhance an hourglass shape and minimize the appearance of a tummy.
Opt for Straight Leg Pants and Jeans
Lucky for you, with an hourglass shape, you can wear a lot of different silhouettes and styles – including pants. However, when you are looking to flatter an hourglass shape with a tummy, one of the best style of pants or jeans you can wear has to be straight leg.
The reason?
It's the best shape to make legs (and in turn, your body shape) look long and lean. Anytime you're able to lengthen your body, a byproduct of that is that you look longer and slimmer all over.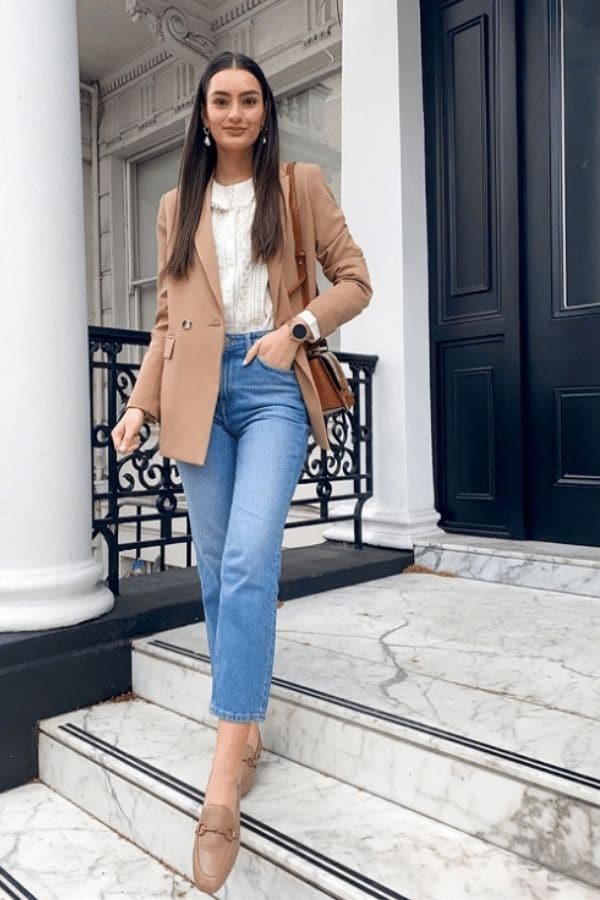 Patricia (above) was wearing straight leg jeans, which is universally flattering to women of all body types, but especially works well if you happen to have an hourglass figure with a bit of belly.
More and more brands have introduced the "curvy fit" to their denim line, and these are the best jeans for curvy figure as they are designed to go with your body shape.
Wear High Heels
Continuing the lengthening conversation, another go-to way to achieve this is by simply wearing a pair of high heels. This may be obvious, or not so obvious. But the fact is high heels have always had a way of elongating the body. There are a few things to consider when selecting high heels, if you really want to maximize this trick.
First, when it comes to the pumps, pointed toe options are the best if you would like to have longer legs. Second, in the spring and summer, or if you live in a warmer area where temperature is mild year round, peep toe is the best choice for the hourglass shape. Third, avoid anything that has an ankle strap as this tends to cut off the leg and can cause your leg to look shorter.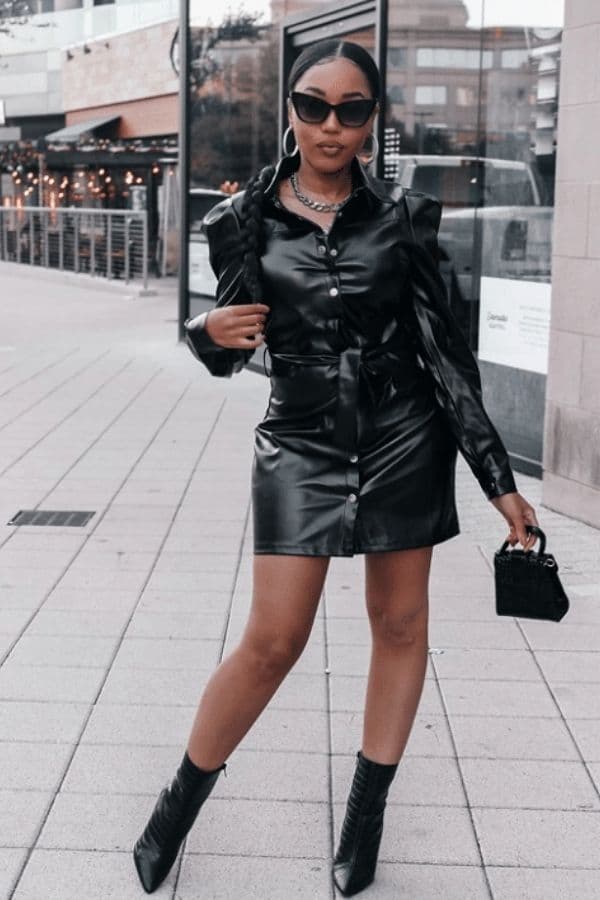 High heels instantly elongate an hourglass body type, Bri's pointed toe booties add even more length to her body.
Wear Darker Colors Around Your Midsection
There's nothing new about the theory of black, and other dark colors, offering a slimming effect when worn on the body. There isn't a need, however, to wear black from head to toe to look thinner. In this case, when you only want to minimize the tummy are,a you can simply wear darker hues over that section of the body to gain the benefit.
When you do this, the darker hue minimizes the area of the body it is on and creates some contrast to the rest of your look. Not only is this flattering, it gives you more opportunity to really style things in a way that speaks to your personal style personality and really have fun. For example, wear a black shirt with high waisted denim and a leopard print jacket over the top. Easy, flattering and stylish.