If you are a petite and curvy girl, the search for the perfect jean can be a challenging task. Every body shape is beautiful, but not all jeans are created to look equally good on you! The following is a complete jeans guide for petite and curvy women.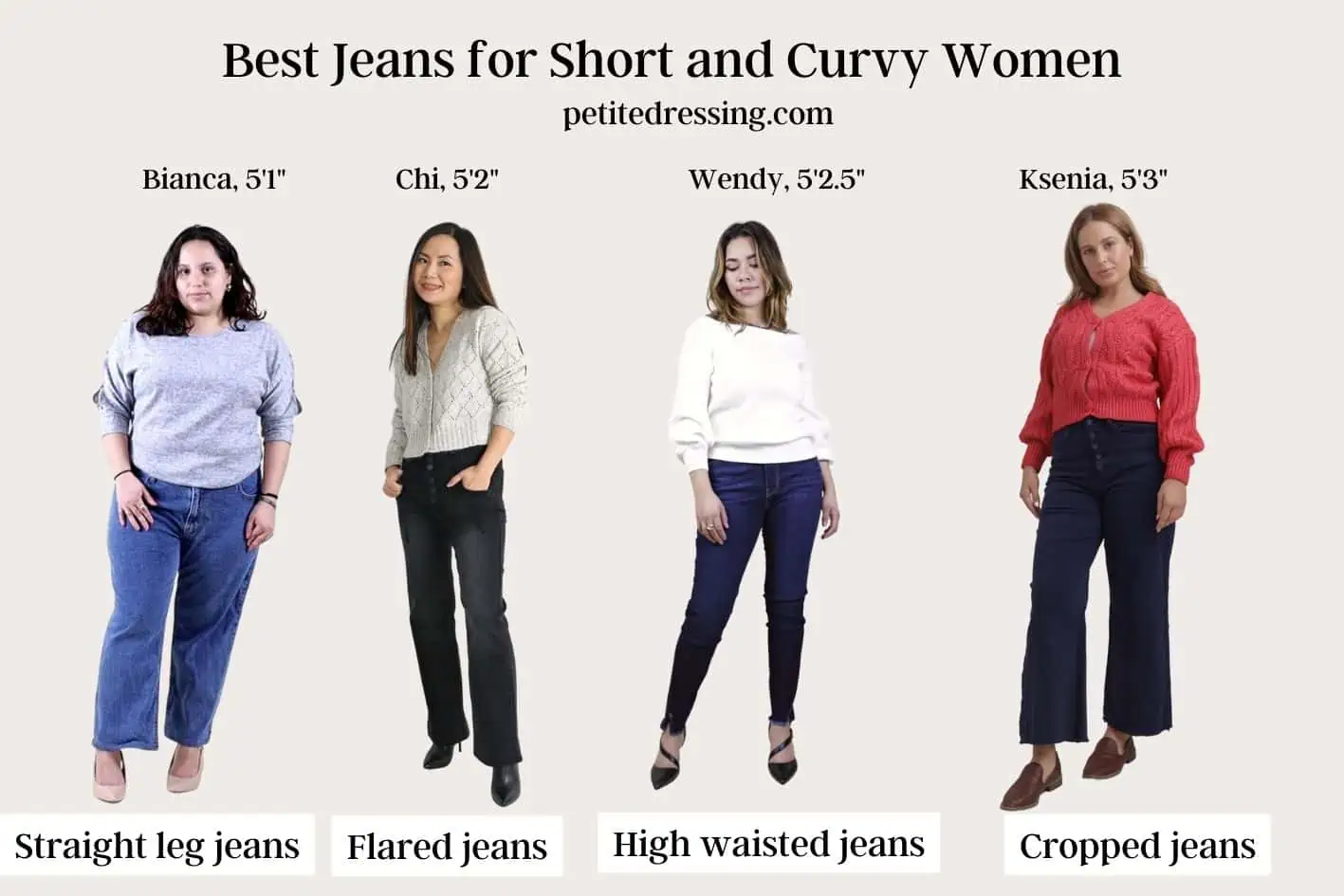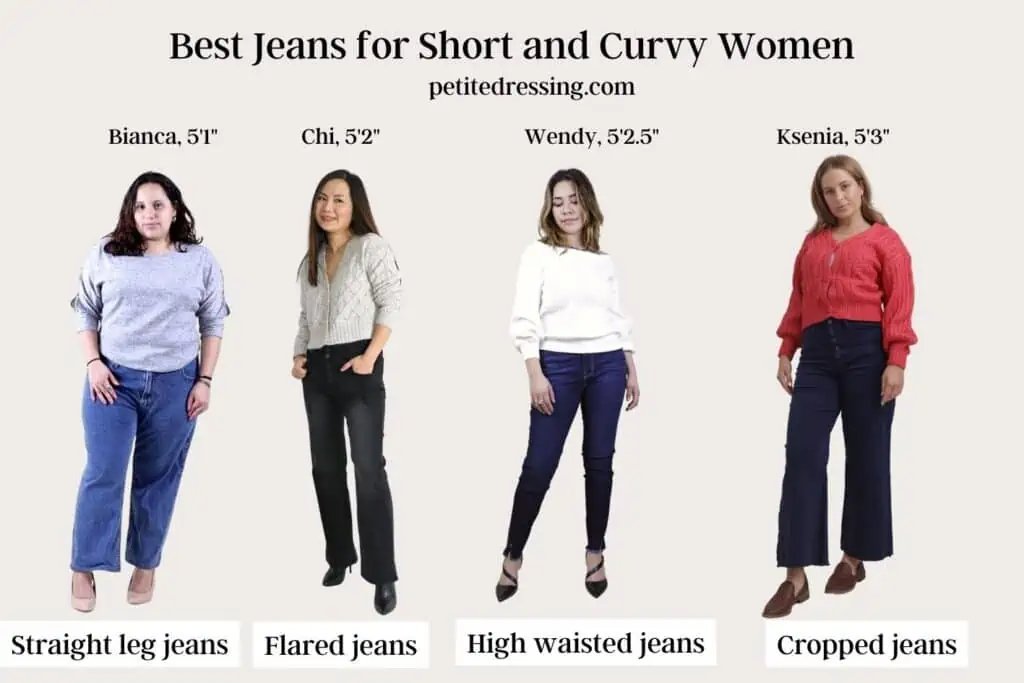 Slim fit
These sets of jeans are slim and form-fitting as well as have a flattering outline. This style of jeans has a nice silhouette and also has a cut that is close to your body and they don't cling to your hips and thighs as much.
When compared to a standard fit, a slim fit provides you with a considerably more defined silhouette, making it a more comfortable choice. Slim-fit jeans are designed to fit tighter around the waist and thighs while still eliminating the illusion of bagginess.
The slim-fit jeans are typically composed of stretch denim and they can also be made in non-stretch fabric. They are a great jean preference for comfort and a gorgeous look if you are to get the best choices for a short and curvy shape.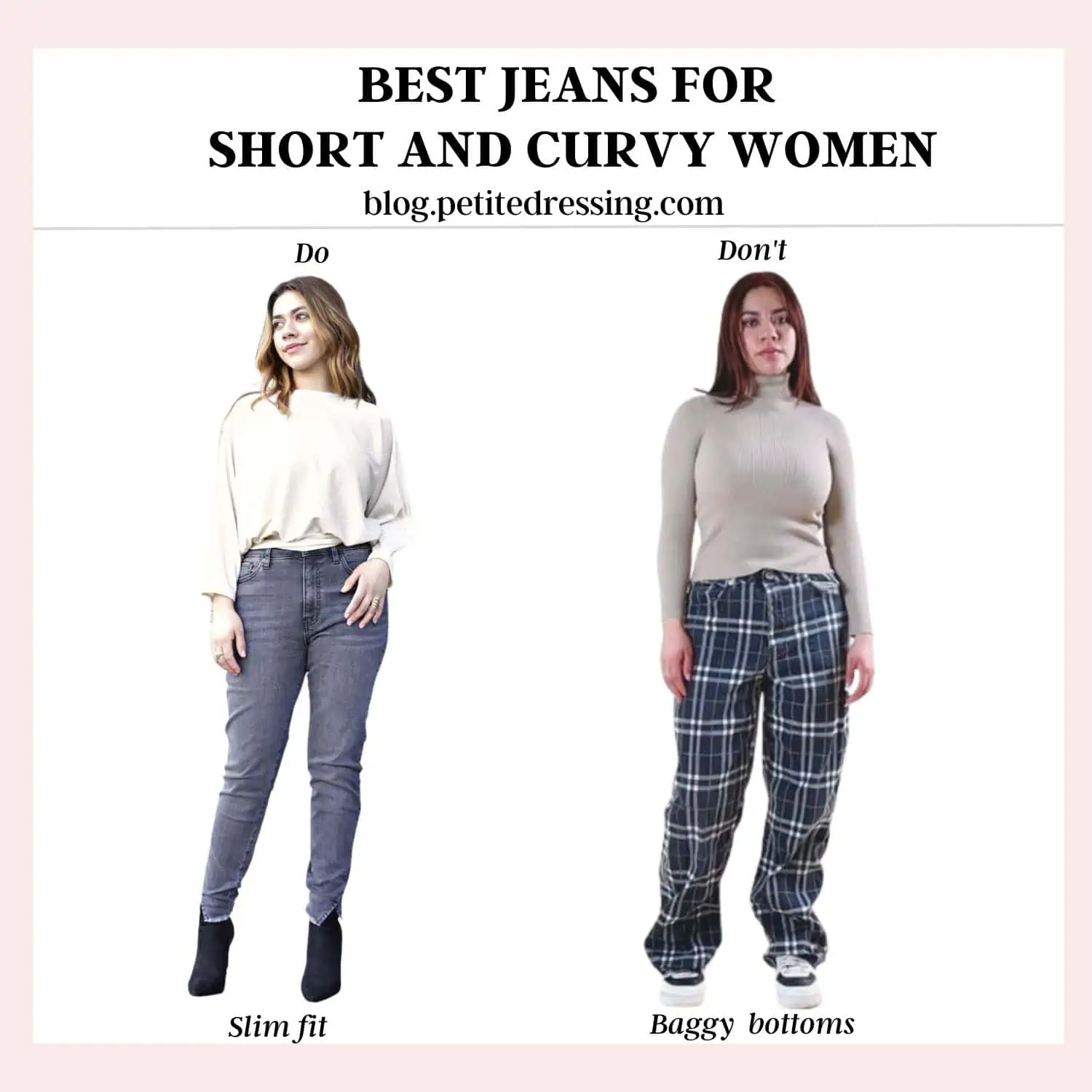 Crisscrossed Jeans
If you prefer something a little extra and soothing for a short and curvy shape then the crisscrossed jean was designed for you.
The crisscross jean is unique and classy jeans that feature overlapping waists but the high-rise design should be the best choice. It is designed to give a style that is not overly trendy but very much comfortable and suitable for a curvy shape. Pairing these with the right shoe, especially the high-heeled shoe, would give a longer leg that would help create a balance for your body.
High waisted jeans
Nothing replaces the importance of the high waist jean and it remains one of the best jeans for a short and curvy girl. The high-waist jean sits above the hips and aims to naturally highlight your waist and gives the illusion of a longer leg.
This design of jeans is excellent-hugging and a suitable silhouette for your curves. They rarely fall out of a rule and offer coverage and structure for the midsection, and are best if they are of the correct size.
High-waisted jeans exist in varied colors and designs but the most preferred ones are the black high-waisted straight-leg and boot-cut styles. Your wardrobe is incomplete without a pair of high-waisted jeans as they remain essential for a short and curvy girl.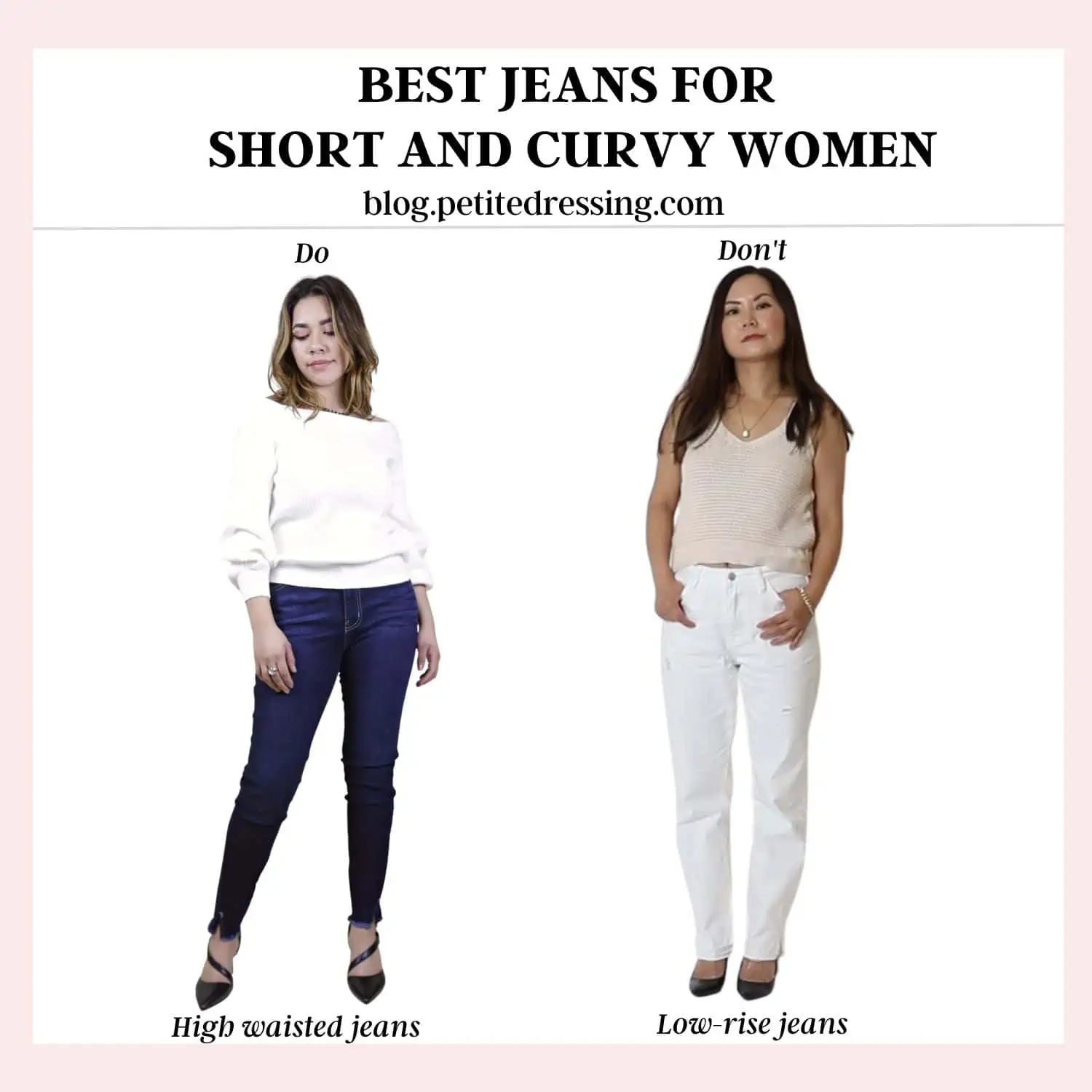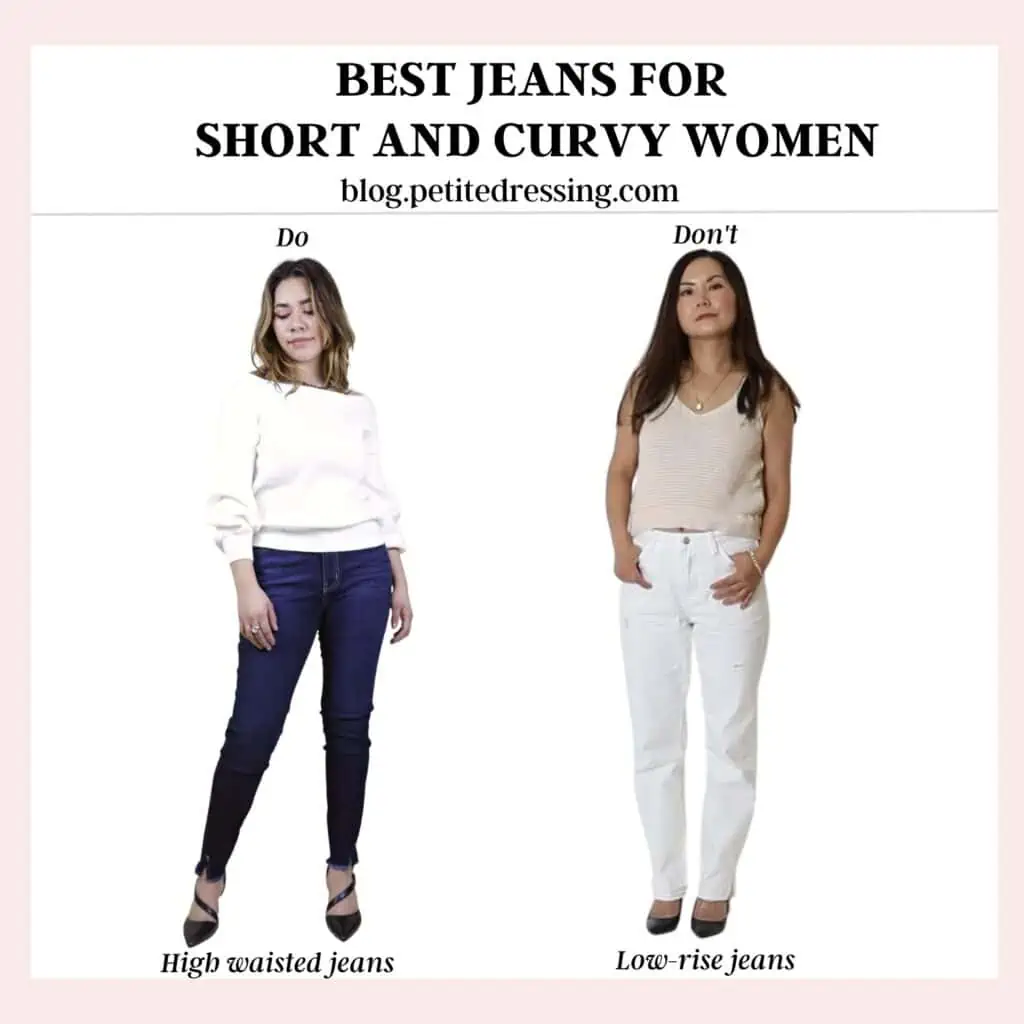 Straight leg jeans
Another wardrobe of jeans essential and the best choice for a short and curvy girl is the straight-leg jean.
One other thing to note about the straight jean is to avoid cuffed types as they would rather make you look shorter rather than give you the lengthening effect desired for a short and curvy shape.
They are one of the most recommended silhouettes for short and curvy girls because the legs were designed to create a lengthening illusion. The straight-leg jeans also make the curves look narrower and leg skinnier and this, in turn, gives your short and curvy shape the illusion of an elongated body. They do not stick to the body as much as skinny jeans and that makes them a more comfortable preference.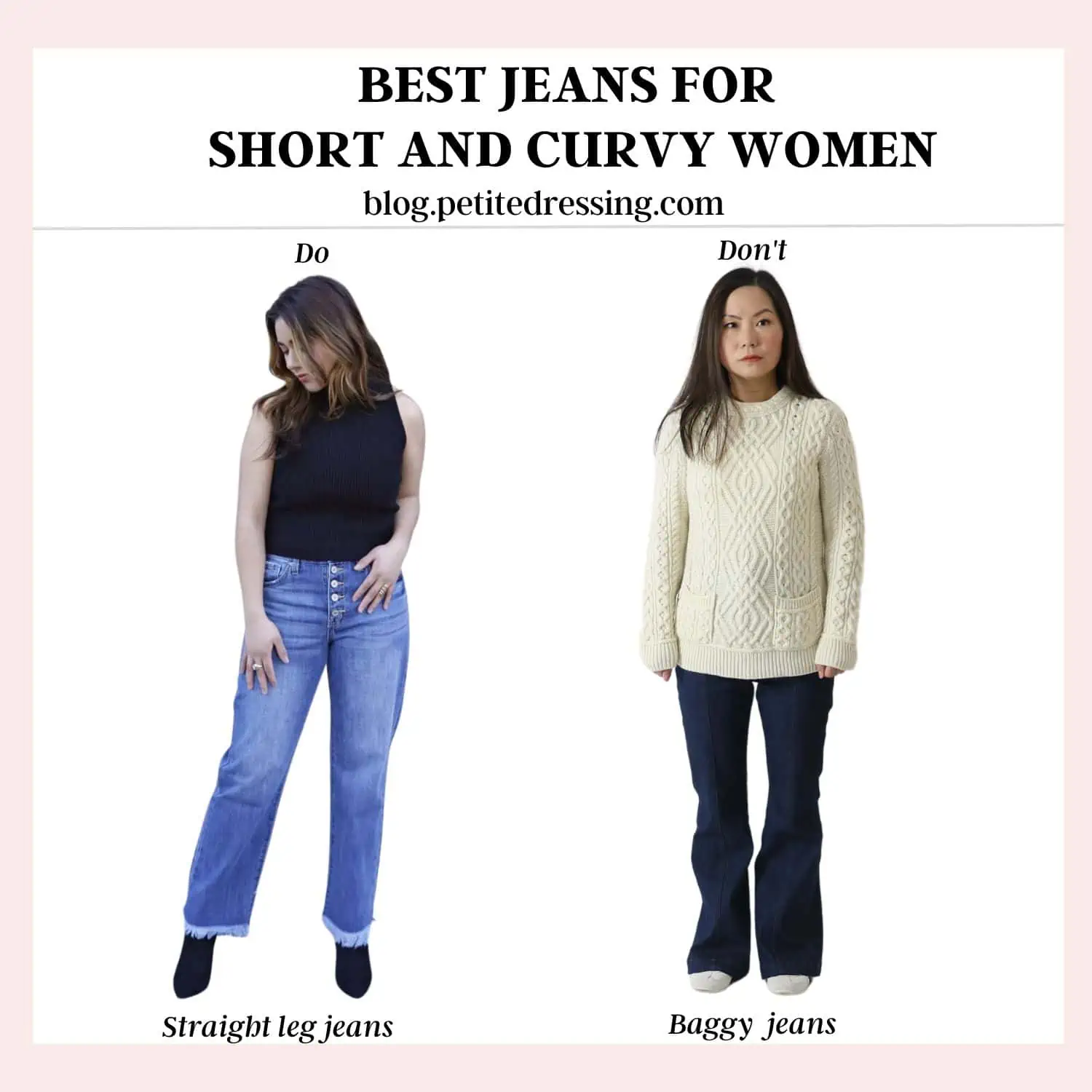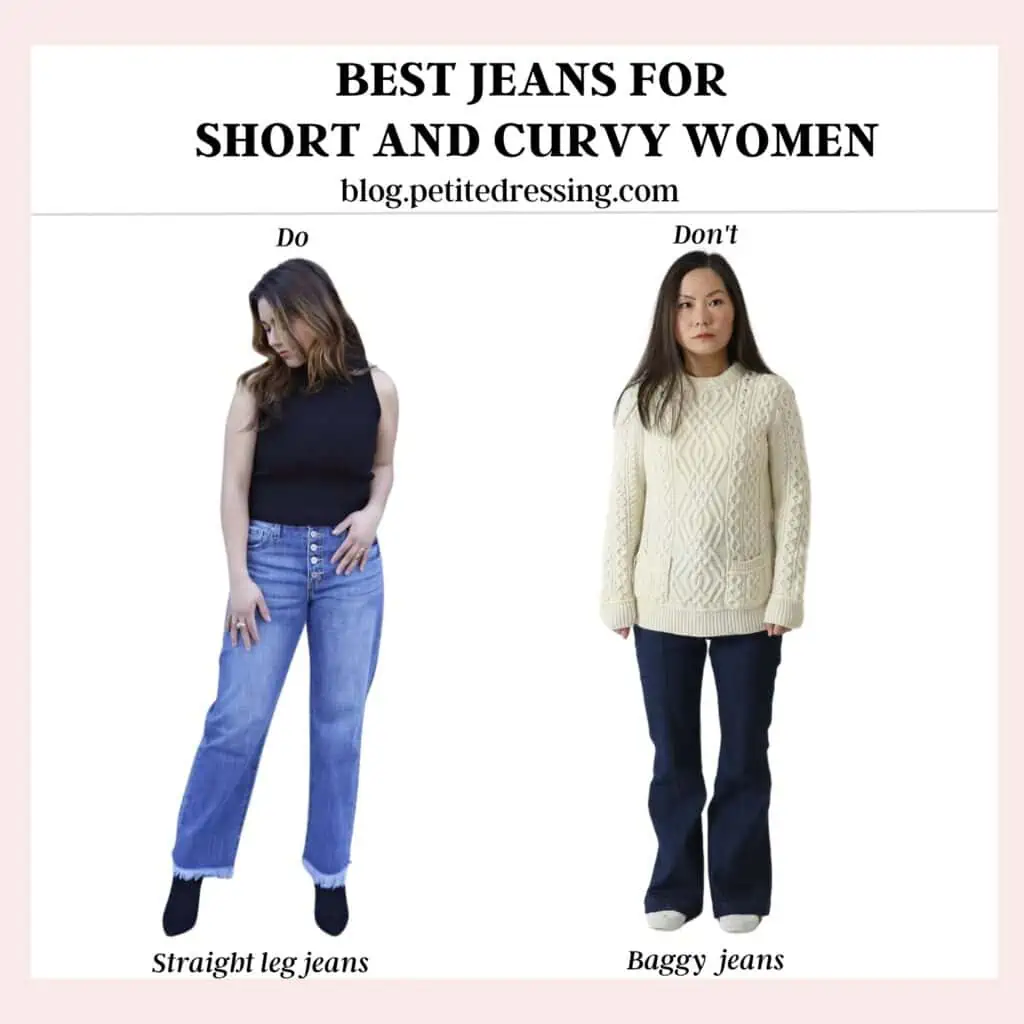 Flared jeans
You can never go wrong in style with flared jeans which are therefore very essential for a short and curvy girl. The idea of the flare in the jean helps to create some sort of balance in the body and hence it is appropriate for a short and curvy girl to pick a pair with a flare that is narrower than her hips.
Always choose flares that would cover most of your shoes and as a guide to choosing the right amount of flare for your curvy figure, shop for flares that are made specifically for short women so that you don't need to rehem them.
It is important to note that hemming flared jeans have a way of tampering with the shape of the jeans and make sure to not opt for flare jeans that are too short.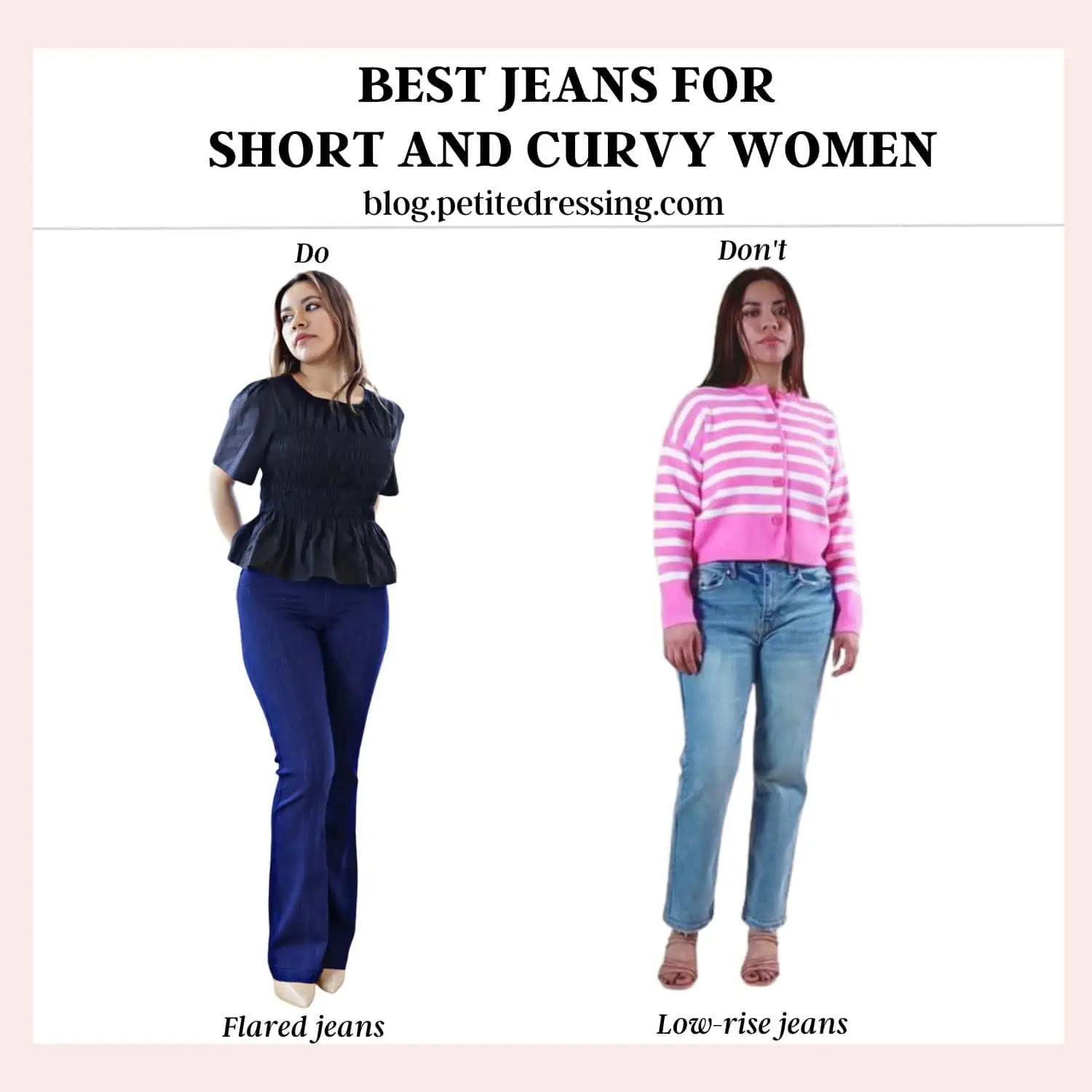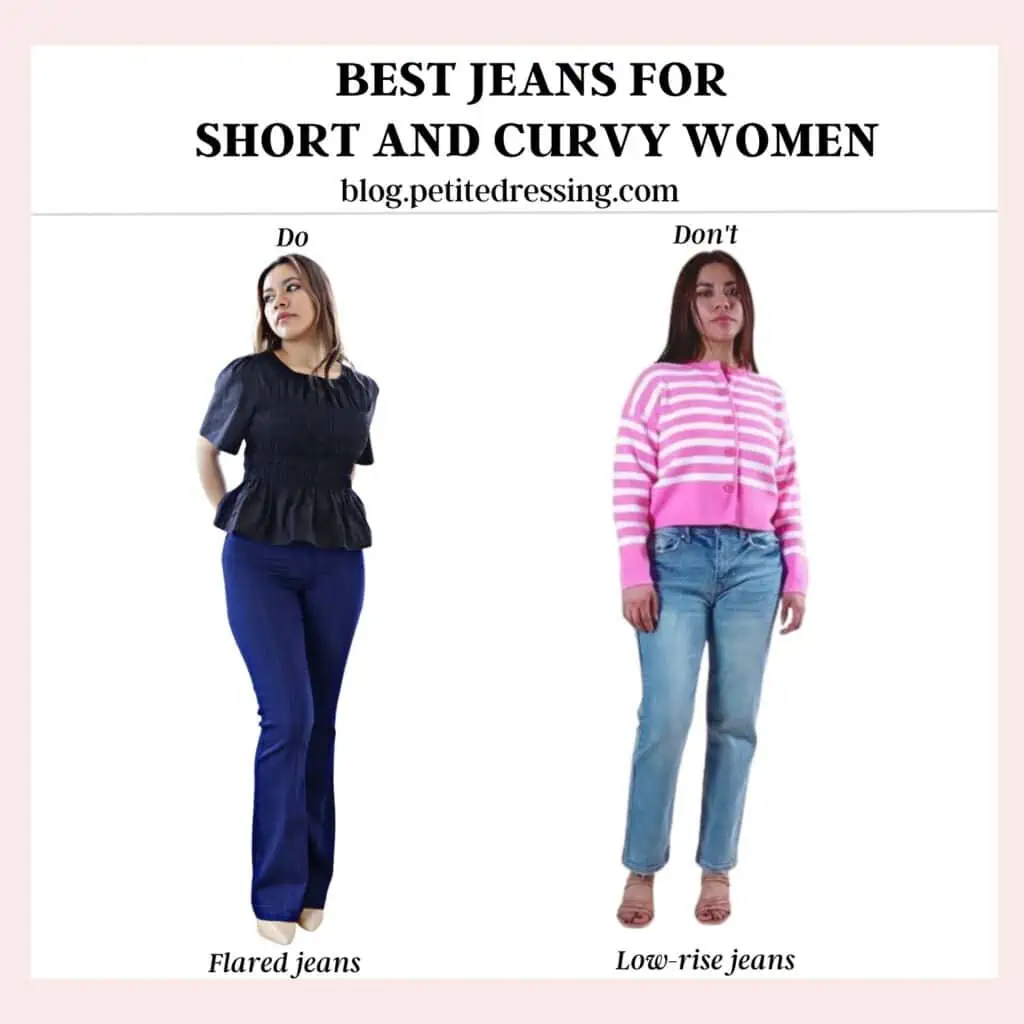 Boot Cut Jeans
The boot-cut jeans are stylish and flattering jeans that flare out slightly at the ankle and have a wide opening at the bottom.
The slightly big leg on the boot-cut jeans will help the curvy and short body balance out the top as it will highlight the tiny waist and curvy hips.
Short and curvy girls should pick boot-cut jeans that are at the right length. The reason is anything too short will make your legs look wider and anything too long will make your body look drowned. The high-rise bootcut jeans flatter the body more by adding length to the body and further do well in enhancing the curves of a short and curvy girl.
Boyfriend jeans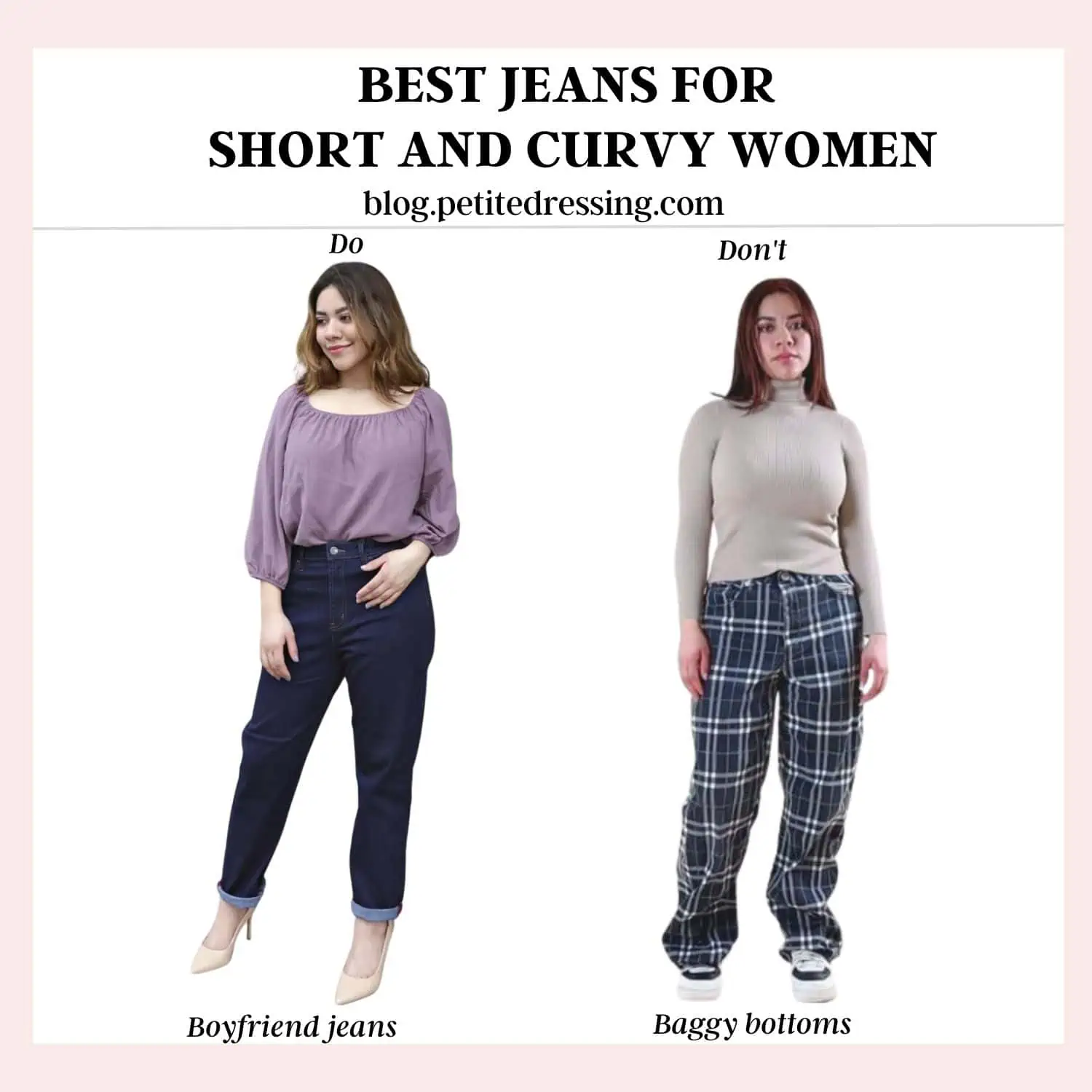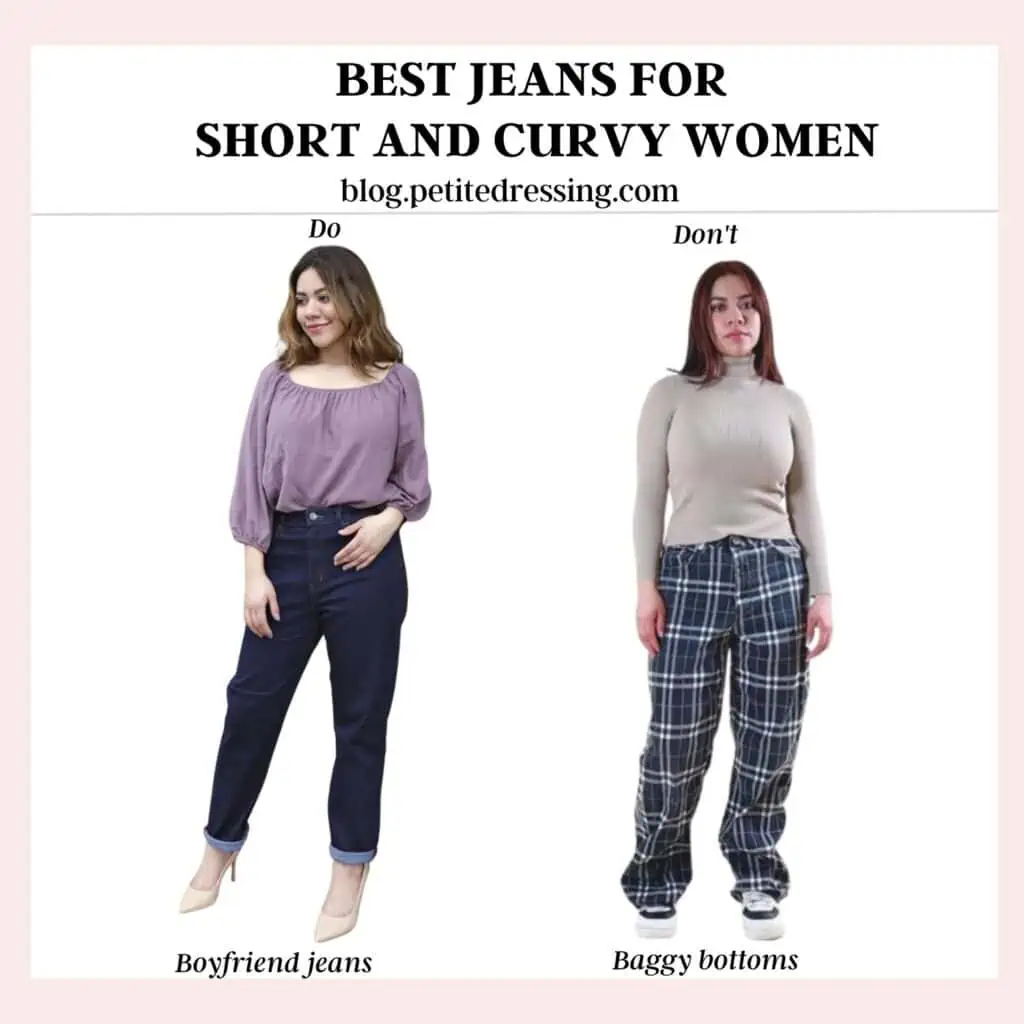 The Boyfriend jean is stylish and trendy jeans that are easy to wear and comfortable options for a curvy and short girl.
Make sure to find boyfriend jeans that are the right length at your calves to avoid you from rolling it up and it is best to avoid those that are too wide at the bottom and opt for those slightly tapered at the hem as this helps to elongate your legs.
The boyfriend jeans are a good choice of jeans for a curvy girl as they were properly designed to fit at the hips and should remain a wardrobe essential for a short and curvy girl in search of the best jeans for her shape.
Cropped jeans
Cropped jeans have their hemline just above the ankle and as such expose and highlight the narrowest part of the leg. It's a great way to elongate a shorter stature and is much easier to wear crop jeans to fall above the ankle, naturally highlighting the narrowest portion of your leg.
Cropped jeans will give you an overall slender appearance and can make your legs look longer than they are.
The shorter hem of cropped jeans is designed to deliberately draw attention to the lower part of your legs, meaning that your shoes will be one of the first pieces of your outfit noticed by the people around you and as such give a short and curvy girl the opportunity to choose flattering footwear.
Mom jeans
Another highly recommended jean for a short and curvy girl is the mom jean which is slightly similar to the boyfriend jean but looser around the hips. The boyfriend jean is also a preferred choice because they are uniquely designed to be more relaxed and are more comfortable than nearly any other style and are also an easy-to-wear choice of jean.
The classic mom jean is often high-waisted, which is a really good thing, and are a proper fit for a short and curvy girl as It ensures that the waist will be greatly enhanced and is known to be an area that many bottom curvy women love to embrace.
They are also a good wardrobe staple as they could be styled differently to create an elegant look for a short and curvy girl.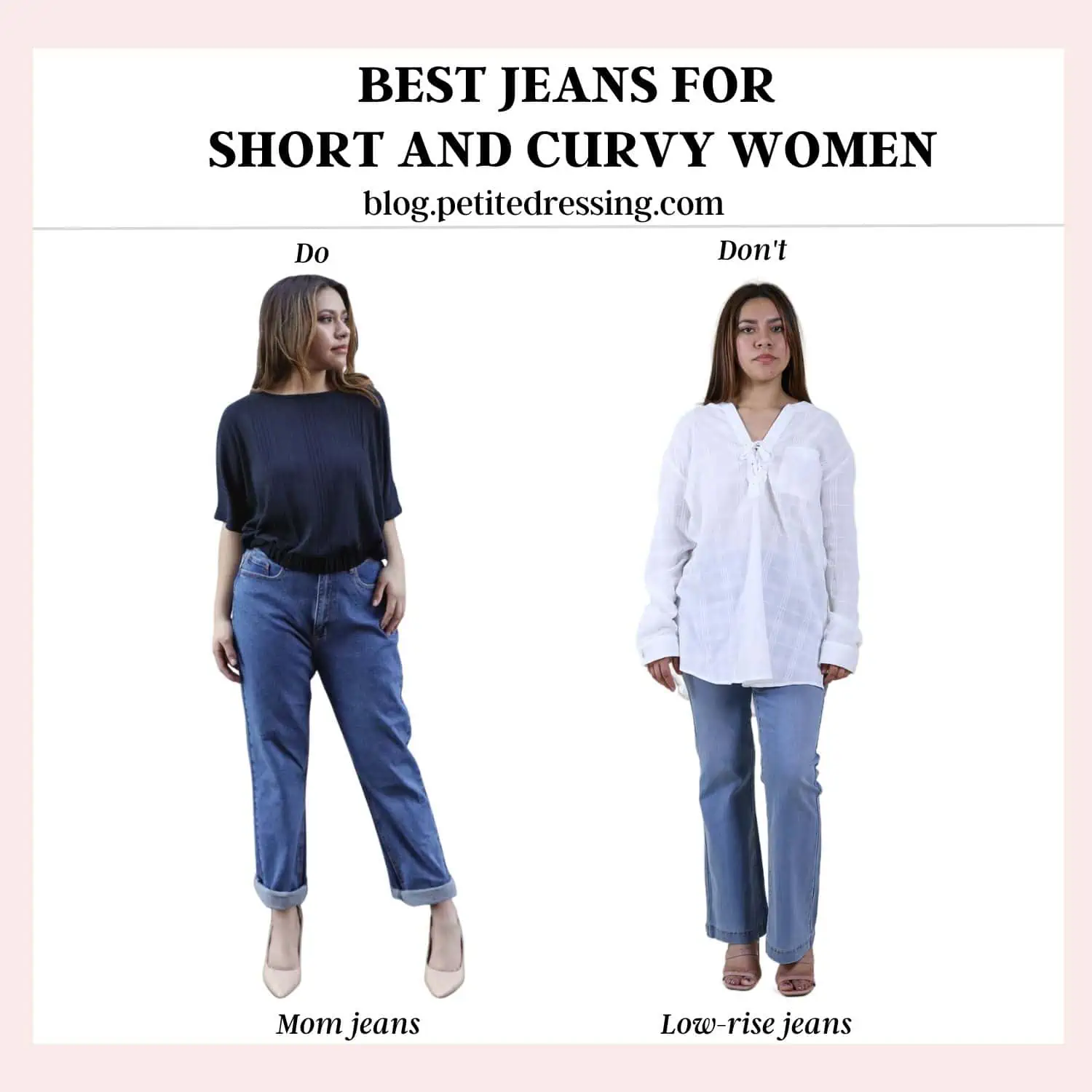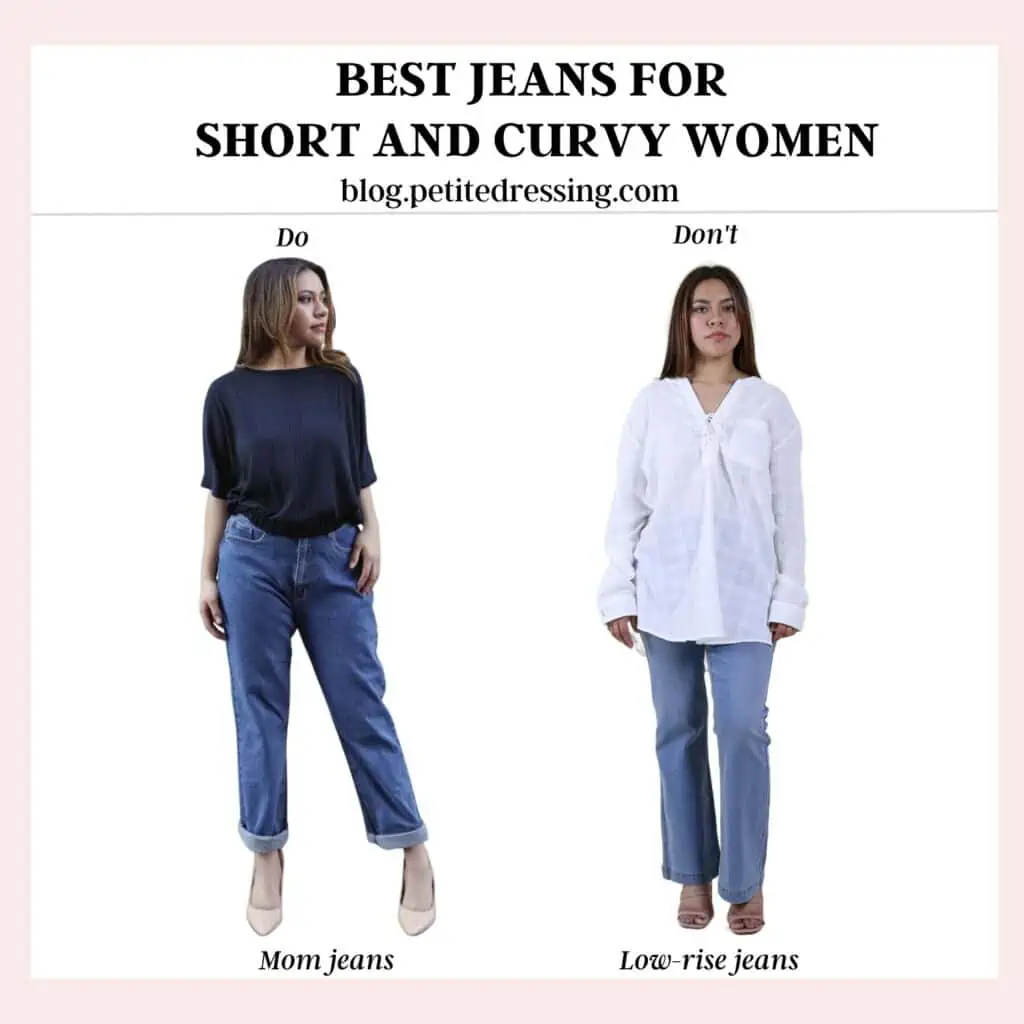 Caution with skinny jeans
Skinny jeans are types of jeans that are more form-fitting and tight from the thigh to the leg.
It is made in such a way that it adapts to the body's curves or shape making it a preferred choice for a curvy girl who likes to show off her curves but is not a great choice for a short girl. Skinny jeans are designed to be right and do not allow for enough comfort around the body.
They tend to shorten the legs rather than elongate as the case may be and as such aren't the best fit for one a short girl and one who doesn't want to show off her curves.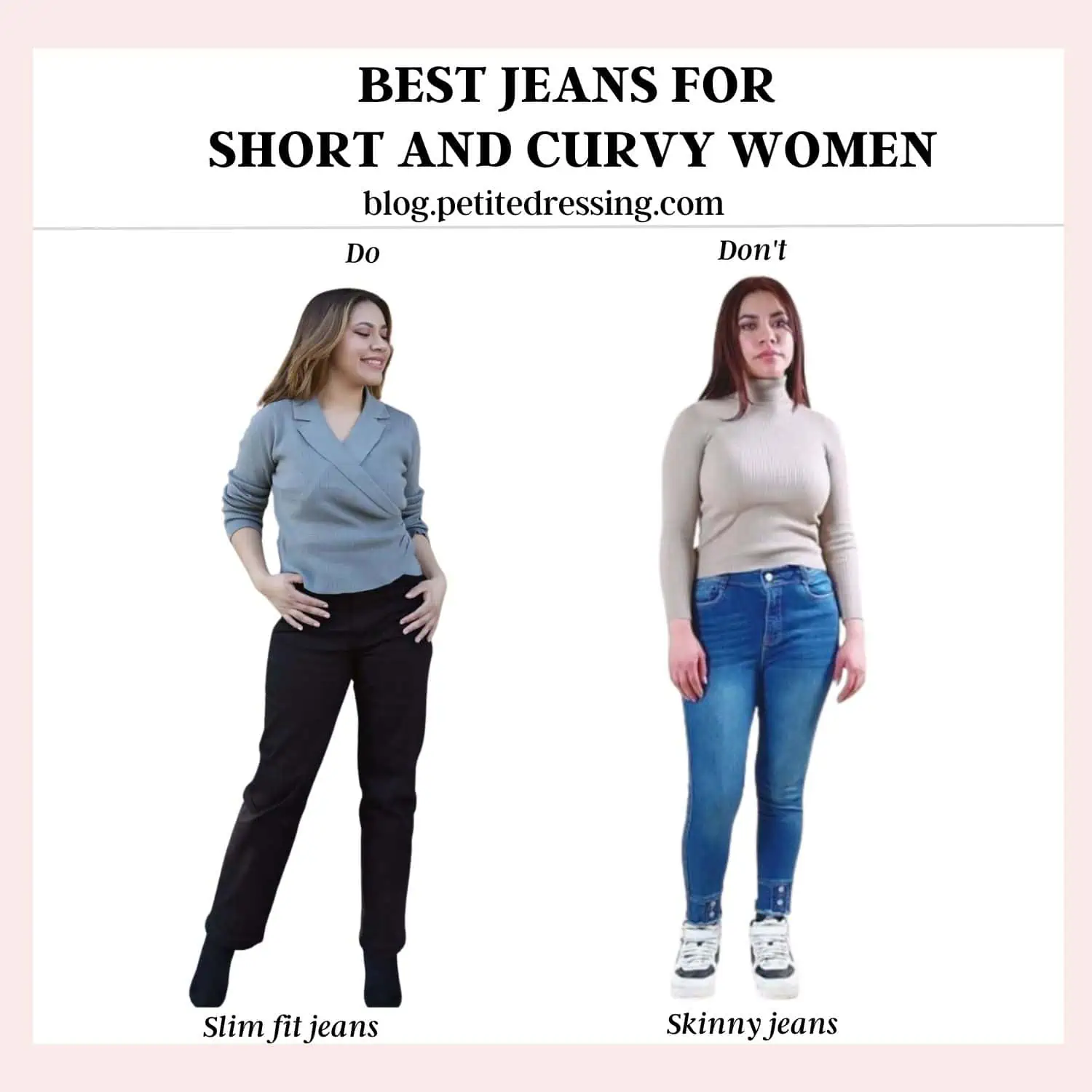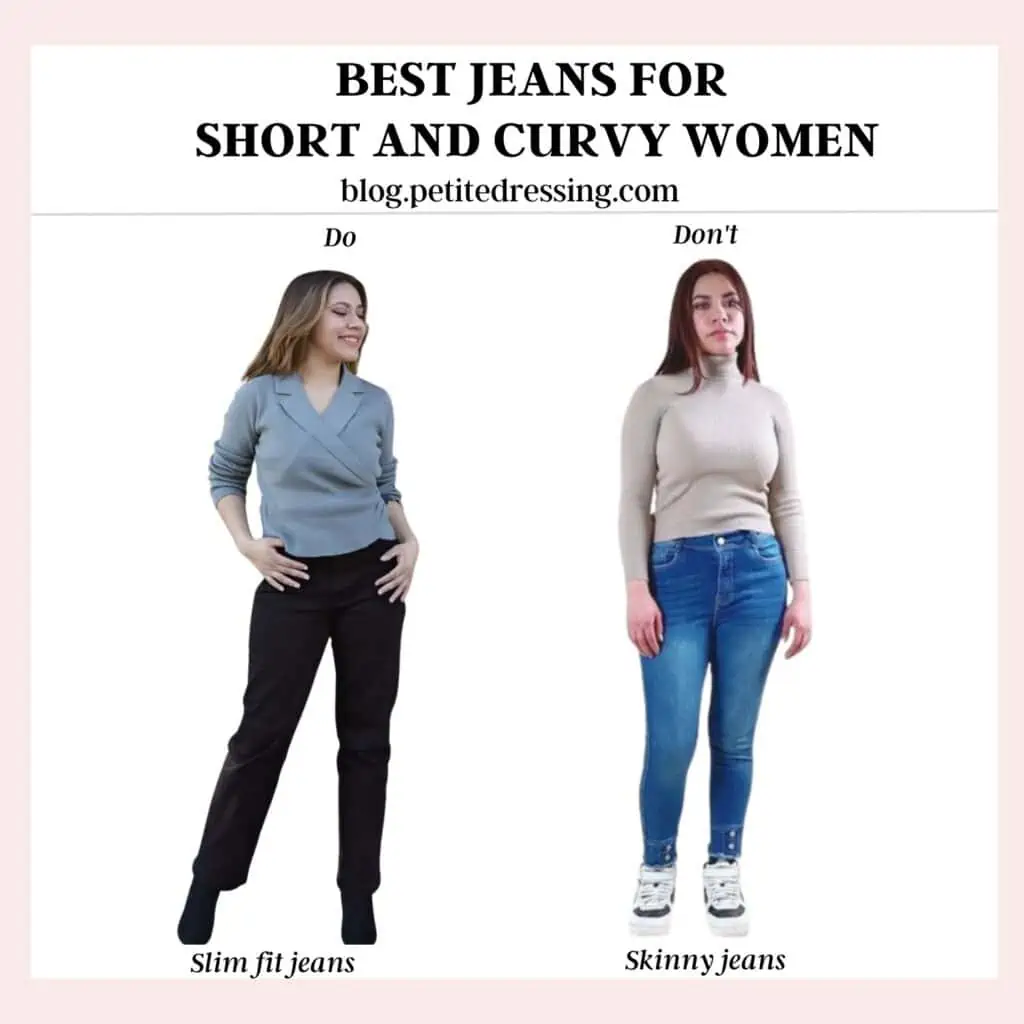 Avoid too many details in your jeans
You should as much as possible try to pay attention to jeans detailing. Over-sized pockets or buttons can overwhelm your style, so keep things simple in darker wash jeans without too many extra details.
The one exception is the distressed jeans, which can look modern and stylish on short and curvey girls without having to take away from their height.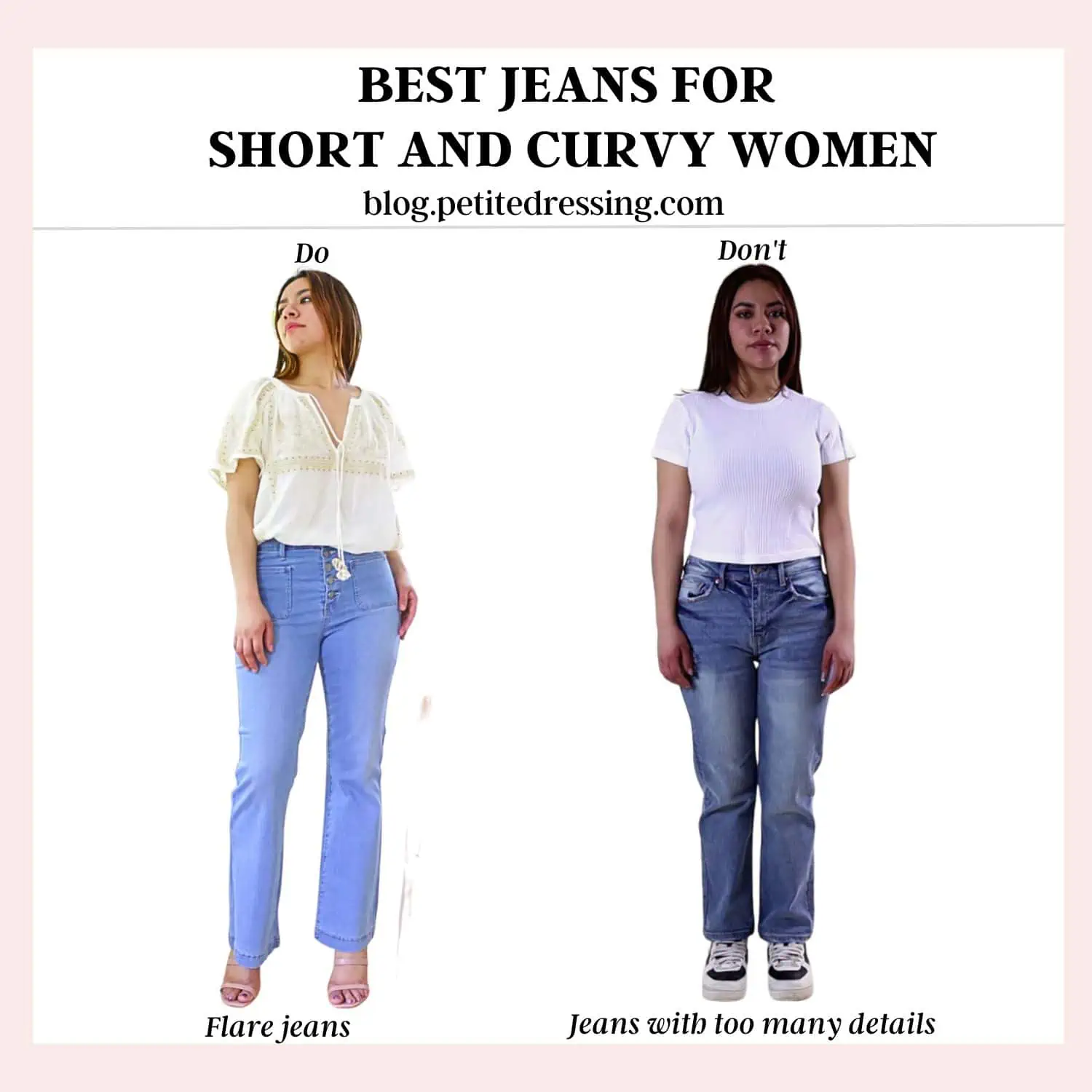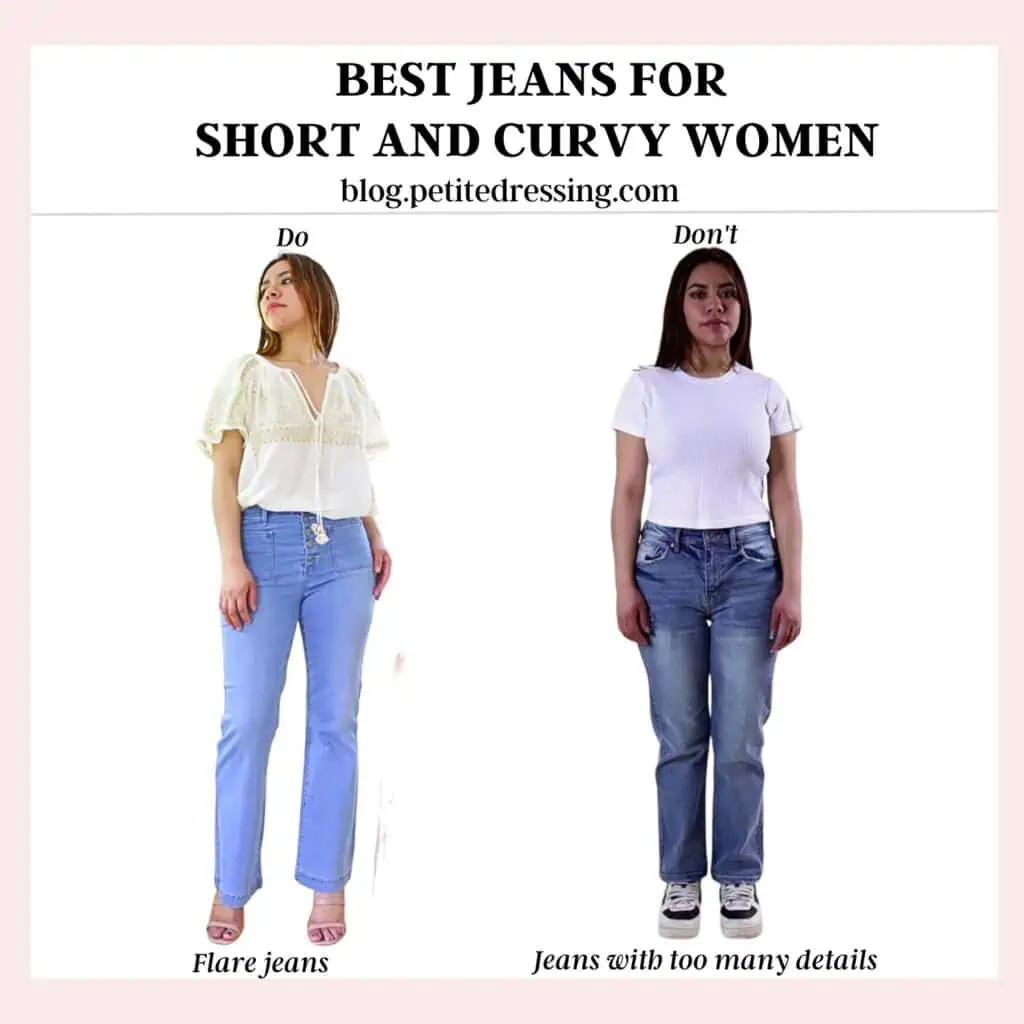 Avoid Low-rise Jeans
Low-rise jeans as the name implies are designed to sit right on your waist and create an even shorter frame for your body.
The idea is to wear flattering jeans that would make you look more elegant and not a jean that would reduce your confidence. If that is right, then the low-rise jean should be avoided at all costs. They are not form-fitting for a short and curvy girl and should not be found in your wardrobe.