If you are a curvy woman with a big bum, the best way to dress your body shape is to wear clothing that can create interest in your top half and achieve a visual balance with your wider hips.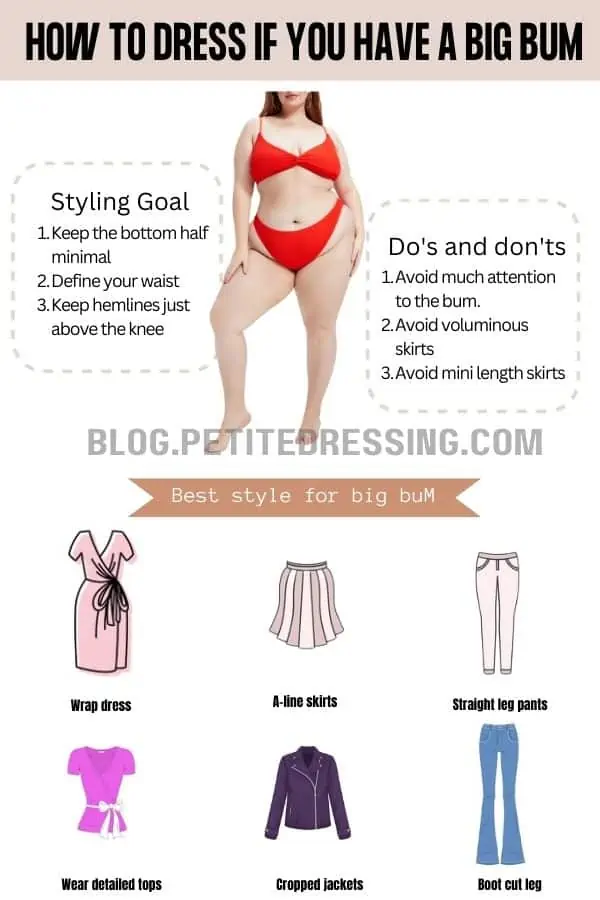 Keep the bottom half minimal
When you have a big bum, chances are you appear to be bottom heavy.
One of the main styling tips to keep in mind is to keep garments and styling minimal in that area of the body.
This means minimal pockets, little to no details like pleating and ruffles, etc.
Minimal details on the bottom half help to streamline that area of the body, which helps to flatter it and not bring TOO much attention to the bum.
High rise is best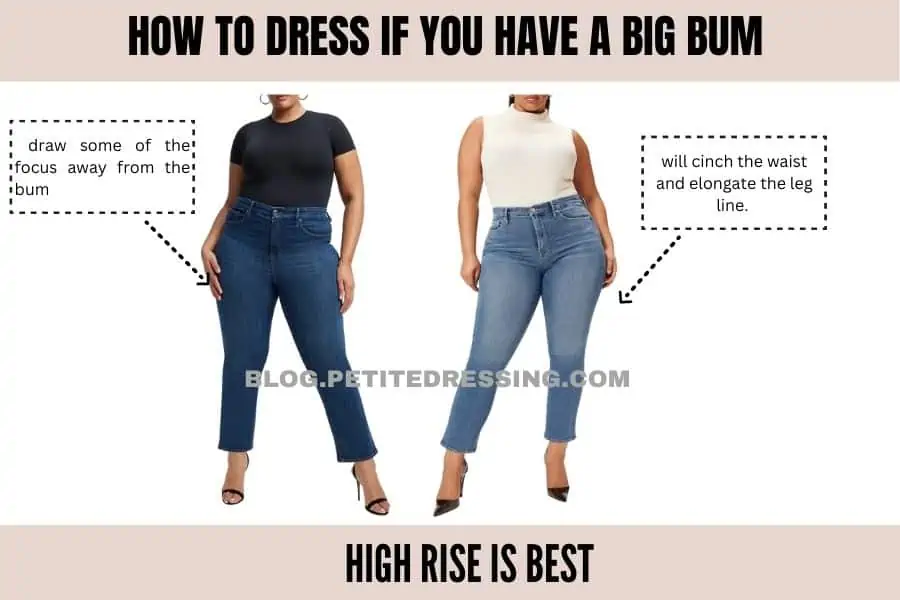 For most women with a big bum, finding the perfect pair of flattering pants is a struggle.
Aside from keeping the styles minimal (as mentioned above), another attribute you'll want to focus on is the rise – high rise jeans are one of the best styles to make your bum look good.
Higher-rise jeans or high rise pants draw some of the focus away from the bum, cinching the waist and elongating the leg line.
For many with a big bum, it's common to struggle with legs appearing shorter – which is why legs looking longer with a high rise is so important.
Not to mention, high-rise bottoms help to smooth the lower midsection area (the muffin top) if that's something you struggle with.
Highlight your waist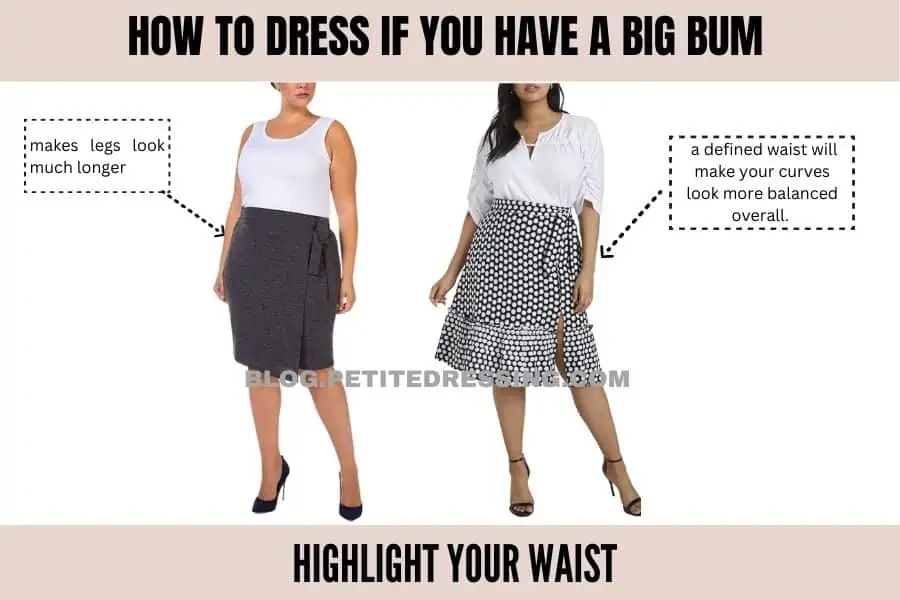 Highlighting your waist is an absolute must with a big bum.
Anytime you're able to bring more focus to your waist, it's going to do a few things to flatter your figure.
First, it's going to make your waist appear slimmer. Second, a defined waist will make your curves look more balanced overall.
Yes – even with a big bum.
And lastly, waist definition makes legs look much longer. All wining benefits to dressing your shape.
Bring focus to your waist in various ways like adding a belt, wearing high rise bottoms, tucking a shirt in – the list could go on and on here.
Wear skirts with Structure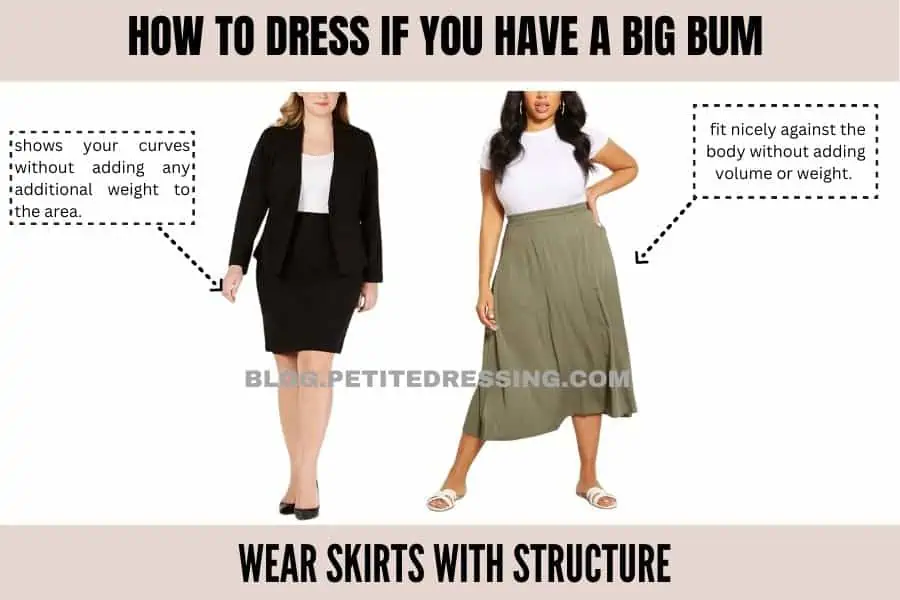 There are so many different types of dress styles and options available unfortunately, not all are flattering for a big bum.
The most flattering skirt styles are definitely those with structure to them.
These are going to skirt like pencil and a-line silhouettes – they fit nicely against the body without adding volume or weight.
Pencil skirts may be a surprise but they're one of the (if not THE) best skirt options for a big bum because it still shows your curves without adding any additional weight to the area.
Avoid voluminous skirts
The other side of the coin is skirts that are extremely flowy and voluminous are best to avoid with a big bum.
These flowy type skirts are options you might find with pleating, ruffles or very heavy or flimsy fabrics that add bulk to the body.
Remember this: anytime a fabric or garment has volume to it – it adds that volume to the area of the body it's worn on, and therefore they will make you look heavier.
Keep hemlines just above the knee
Hemlines play a huge role in whether or not something is flattering to the body.
This rings to be even more true for petite women, but petite or not, hemlines matter.
As a woman with a big bum, lengthening the bottom half of the body is a key trick.
This means opting for hemlines that rest either just above the knee.
Wear Straight Leg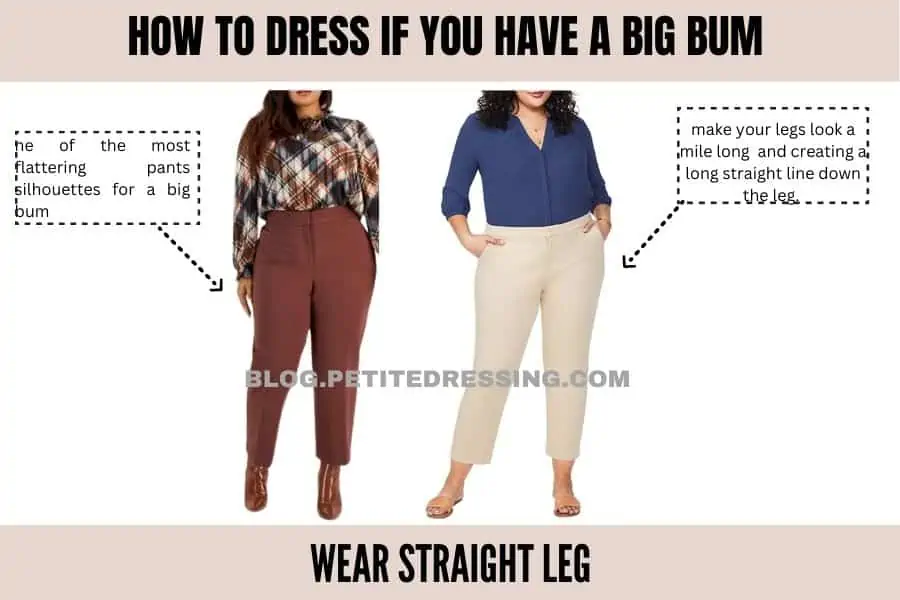 The silhouette of pants is definitely something to pay attention to when dressing a big bum.
One of the most flattering pants silhouettes for a big bum is straight leg.
Straight leg pants, or straight leg jeans, are going to make your legs look a mile long by skimming the hip/bum area and creating a long straight line down the leg.
Hemlines right under the knee
If you are not a big fan of short skirts above the knee, another way to flatter a bigger bum is to wear skirts right under the knee.
Either placement is going to elongate your leg line to enhance your shape overall.
Avoid mini skirts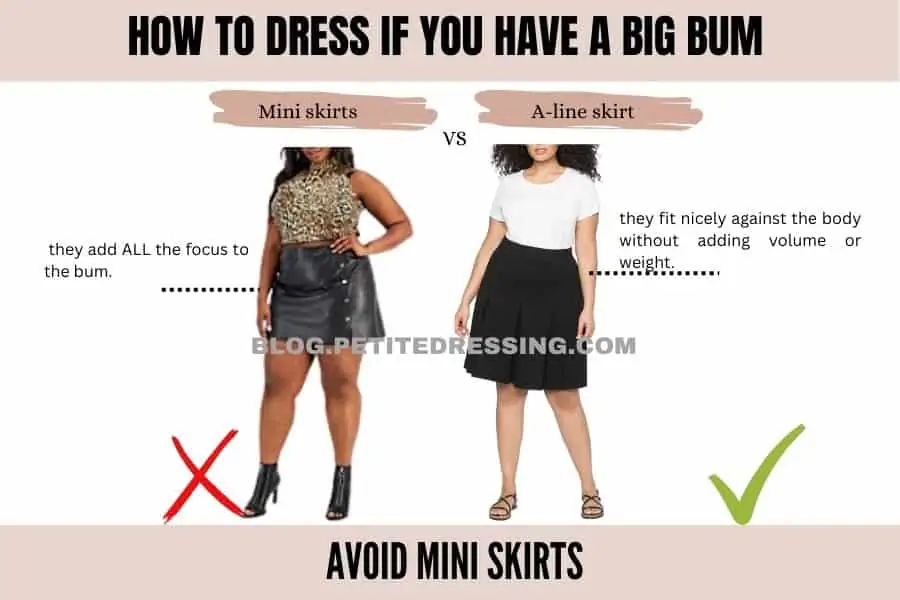 While on the topic of hemlines, mini length dresses and skirts are generally best to avoid with a big bum.
The issue that often arises with mini-length hemlines is they add ALL the focus to the bum.
If that's what you want to achieve, then it's a great option.
If you don't want all the attention to your bum you'll want to stick with something on the longer side.
Wear boot-cut leg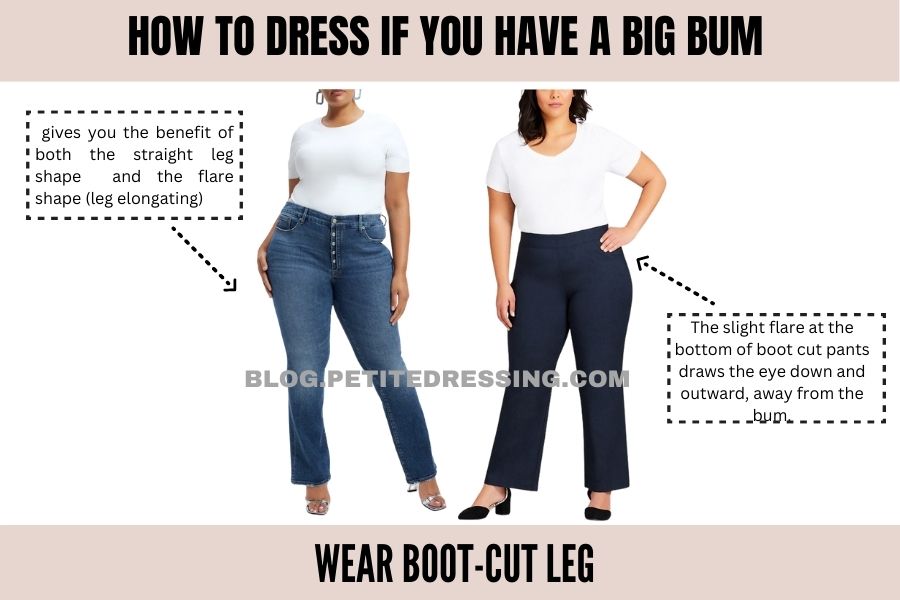 Like the straight leg, another pants or jeans silhouette extremely flattering to women with a bigger bum is the boot-cut.
Boot cut is somewhere in between straight cut and the flare.
Whether it's boot cut jeans or boot cut pants, it fits narrow from thighs to the knee, and starts to widen below the knee. The widening is modest, so that the ankle width of the boot-cut is wide enough to accommodate a boot under.
So, the boot cut gives you the benefit of both the straight leg shape (accommodating) and the flare shape (leg elongating)
Boot cut is a good option if you want to add balance to a big bum. The slight flare at the bottom of boot cut pants draws the eye down and outward, away from the bum.
Ditch skinny jeans
Skinny fit is a popular topic among women with big bums.
Flattering or not?
According to most experts, skinny fit isn't ideal for a big bum, because the way they taper in at the ankle leads to the bum and hip area becoming even more pronounced.
That being said, it's all about what makes you feel your most confident.
If skinny jeans are what brings you the most (style) joy – there's no shame in continuing to wear them.
Just try to opt for darker wash/colors and pair them with bold tops to create a bit of that figure flattery.
Wear detailed tops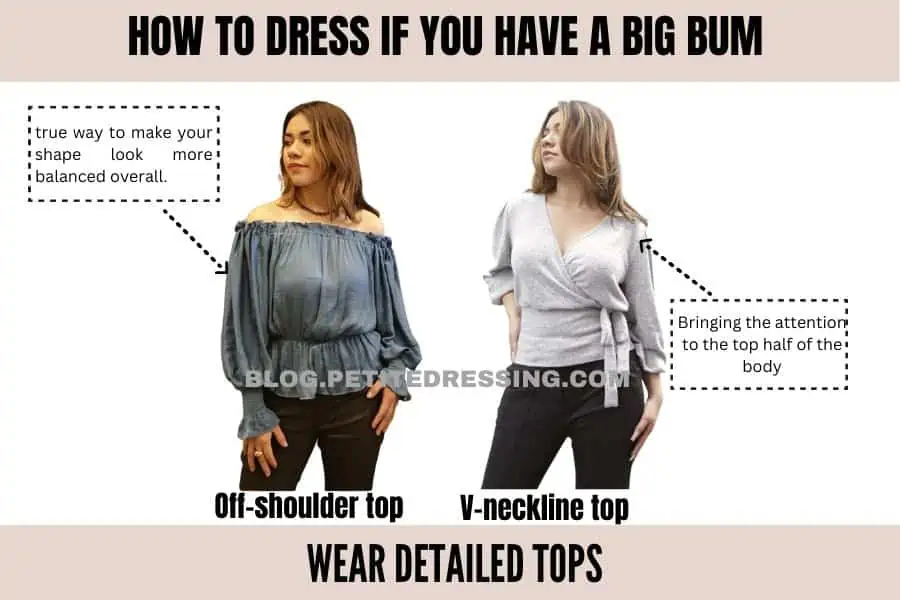 Because minimal pants and skirts are best, to balance a big bum, it's time to start favoring detailed tops.
Bringing attention to the top half of the body, with fun tops, is a tried and true way to make your shape look more balanced overall.
Detailed tops are something to make a staple in your wardrobe, it's also where you can really embrace your own personal style and personality.
Detailed tops can really mean anything from bold prints/patterns, embellishments, large pockets, open necklines, etc – to give you some ideas to get started with.
Avoid Long Tops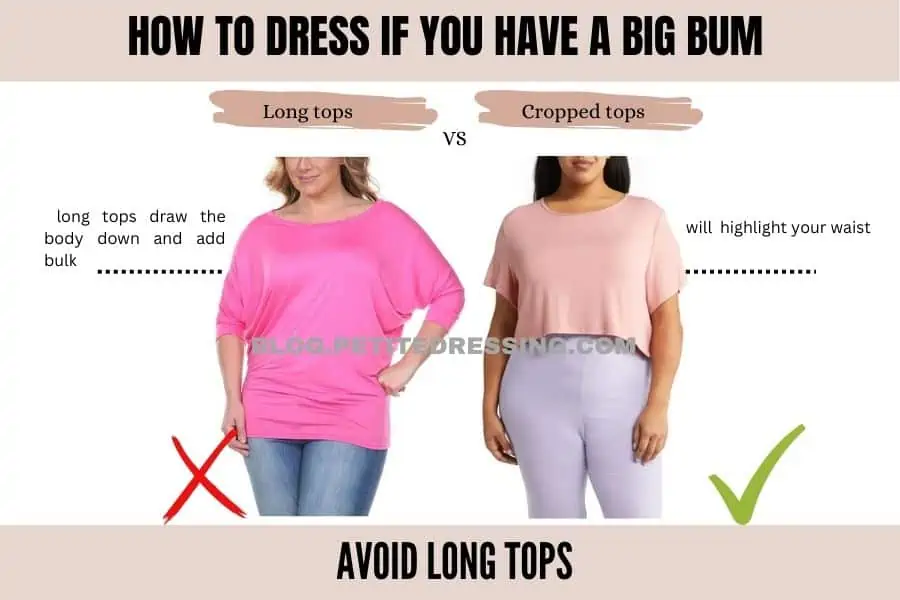 Long tops is really anything that rests at or below the hips.
This length in tops isn't the best choice with a big bum.
Why?
Because when a top rests right around a big bum all the attention goes to that part of your body and, more often than not, it makes it appear larger. Instead, stick with tops that are a bit on the shorter side – this will be something that's above the hips.
If you're comfortable, you can even enjoy wearing crop tops!
Avoid long jackets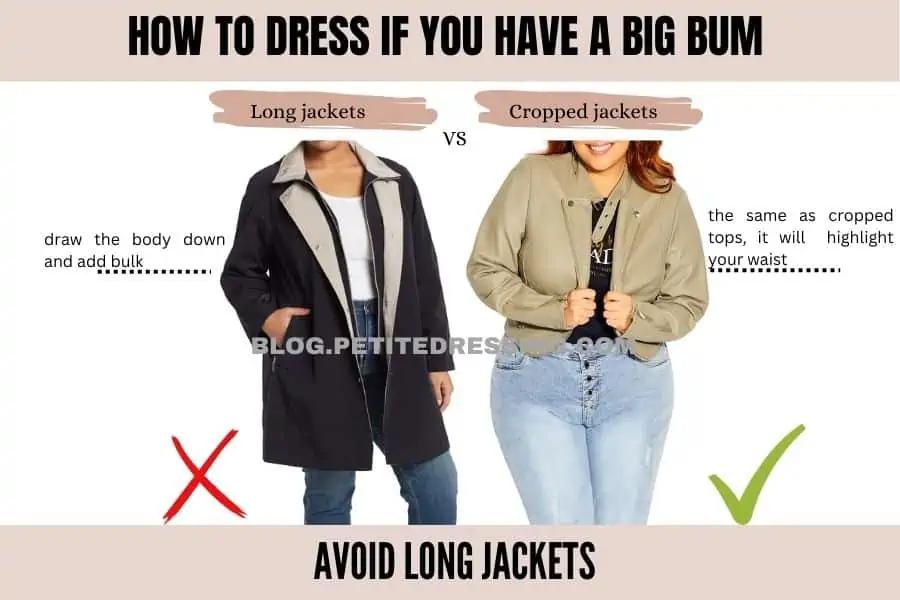 Similar to tops, but also worth mentioning – it's best to also avoid long jackets.
Just like long tops draw the body down and add bulk, longer-length jackets and blazers are going to do the same thing.
This means that also just like tops, it's best to stick with jackets that are on the shorter side.
Again, just above the widest part of your bum or hips is the most flattering length.
If you really want to highlight your waist you can go even shorter with a cropped jacket style.
Wear midi length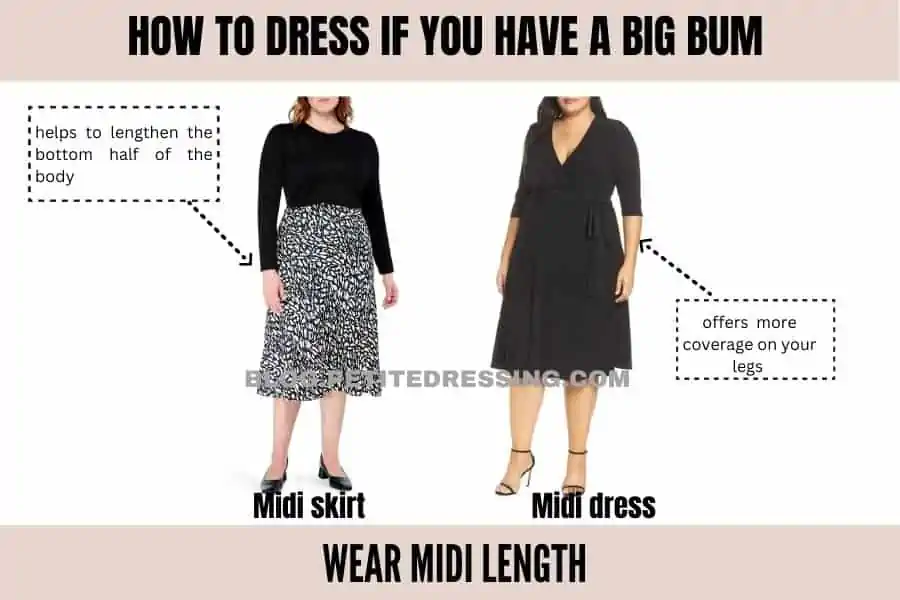 Honestly, this is something to give a try because you're going to be shocked at how flattering it is.
The added length provided in a midi length helps to lengthen the bottom half of the body, which as mentioned is a must for dressing a big bum.
The key here is to make sure the midi length dress or skirt offers an a-line shape to it.
The good news is midi length has become incredibly popular in skirts and dresses so if you like more coverage on your legs this may be the best option for you to begin adding into your wardrobe.
Wear A-Line silhouette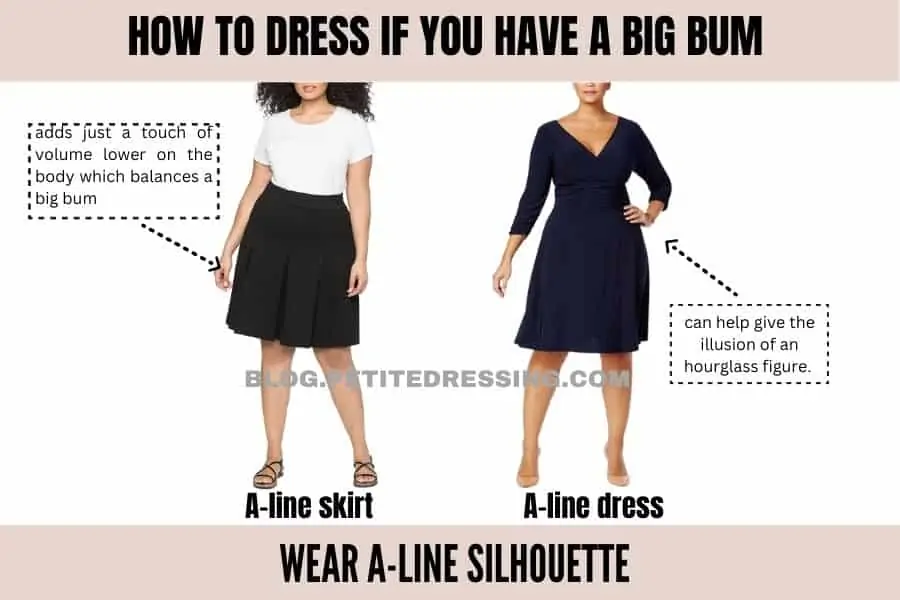 An a-line silhouette adds just a touch of volume lower on the body which balances a big bum and can help give the illusion of an hourglass figure.
This works with either A-line skirts or A-line dresses.
To make the most of this style, if you are wearing a skirt, make sure it's a high rise so you get the added benefit of a cinched waist.
Wear wrap dresses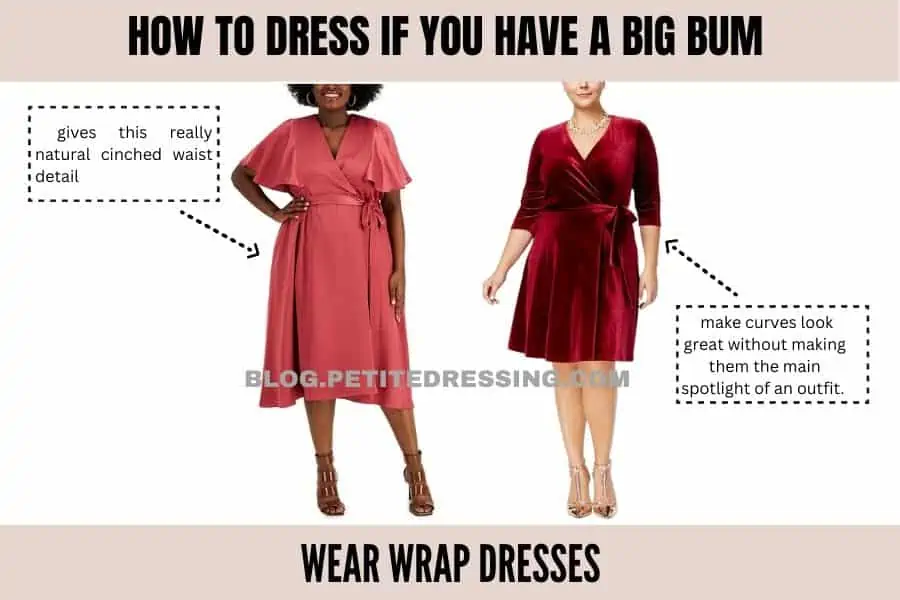 Another essential dress style that had to be mentioned here is the wrap dress.
This is a style that's flattering on just about everyone, but it's a MUST for women with a big bum.
The wrap style gives this really natural cinched waist detail and fits beautifully against the body.
In addition, because of the fit of a classic wrap dress, they make curves look great without making them the main spotlight of an outfit.
Not to mention, the classic shape creates this really wonderful balanced, hourglass-like shape to the body – even if you don't naturally have that hourglass figure.