Having a pear-shaped body means you have a luscious curvy figure and a slender waist. The key to find the right types of jeans need to consider the following traits of the pear-shaped body and styling goal.
Styling Goal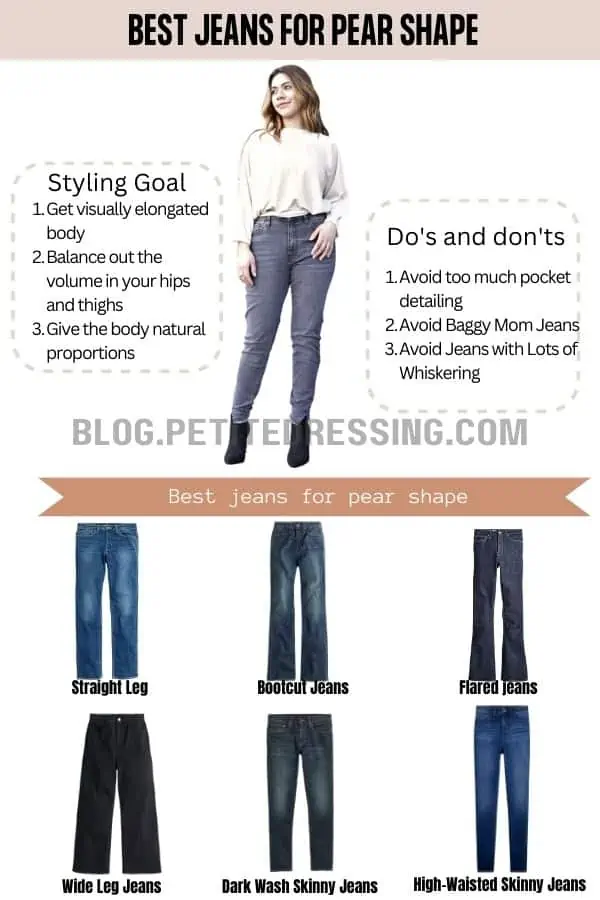 The most distinctive features of the pear body shape is your wide hips, which typically are wider than your shoulders, and you tend to have prominent thighs.
If you have the pear shape, it is important to find flattering jeans that can balance out your "bottom heavy" overall shape.
Many pear shaped women feel their butt and thighs are the widest part of their body.
Therefore, you should choose jeans that look slimming on you hips and thighs and therefore achieve a more balanced overall silhouette.
Straight Leg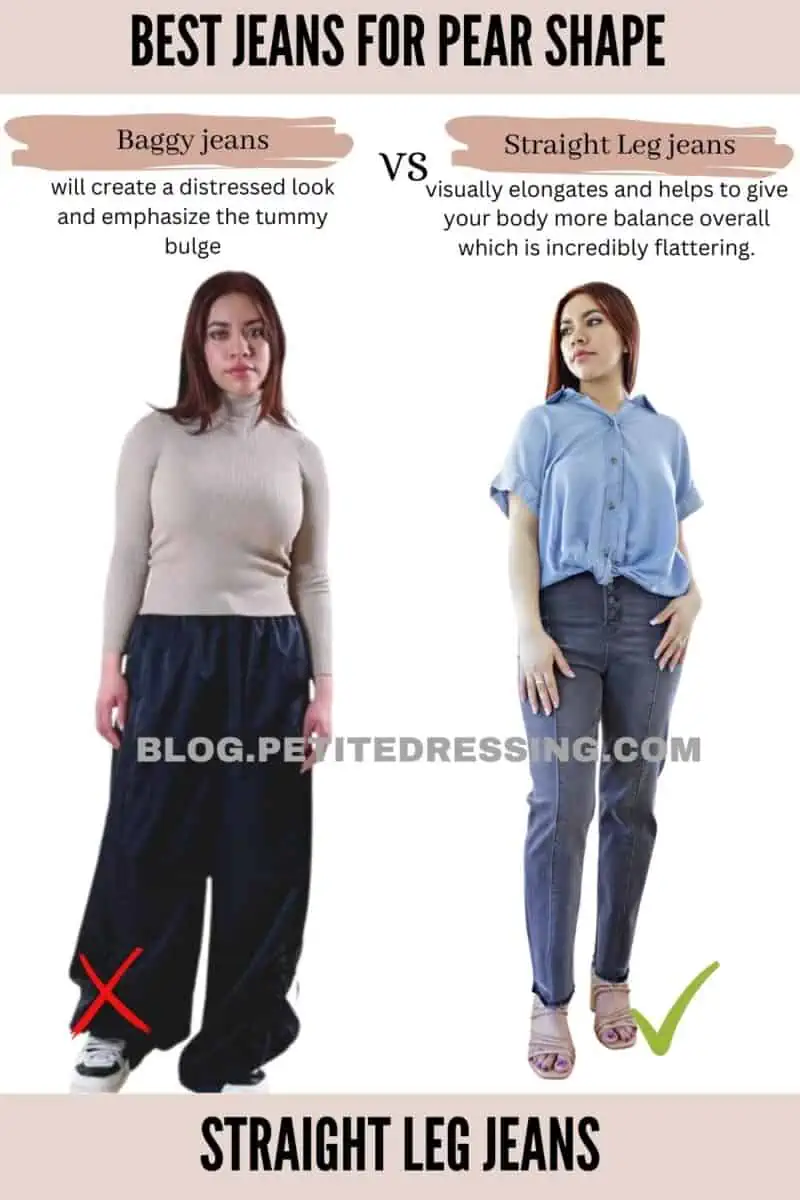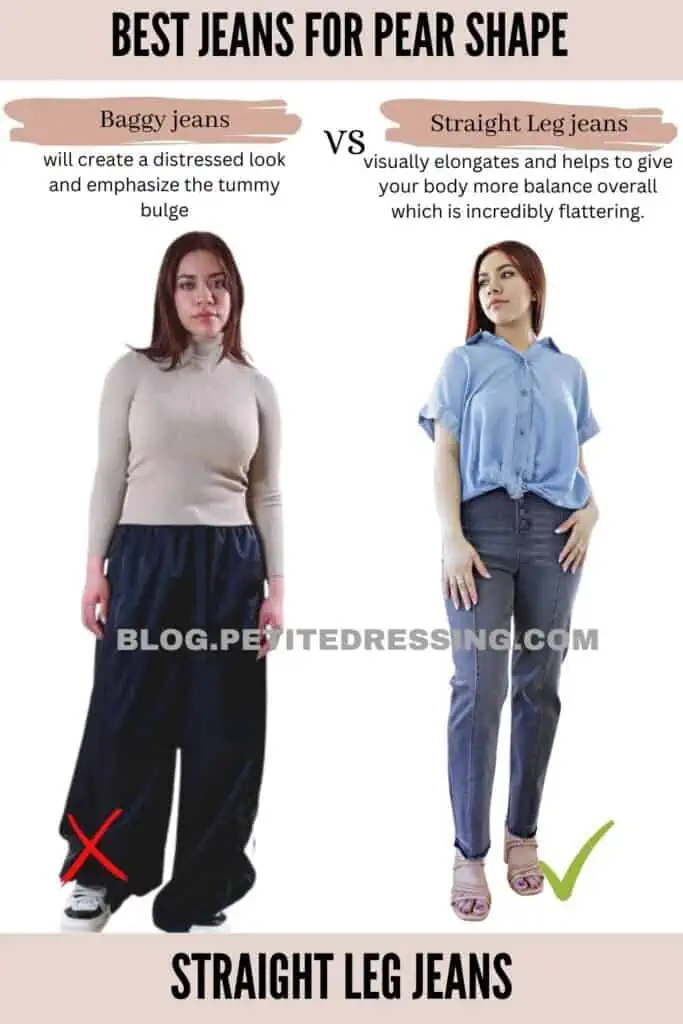 Choosing the best jeans for your pear shape is largely related to the silhouette of the denim, this goes for dressing any body type. One of the absolute best denim fits is definitely the straight leg.
If you're ever in doubt when finding the best jeans for your body, know this is an easy go-to choice for you to wear and flatter your shape.
A straight leg is ideal because of the long, straight line it creates down the body. When your body is pear shape adding length to the bottom half of your body visually elongates and helps to give your body more balance overall which is incredibly flattering.
Jordyn's distressed straight leg jeans add so much length and flatter her body type.
Bootcut Jeans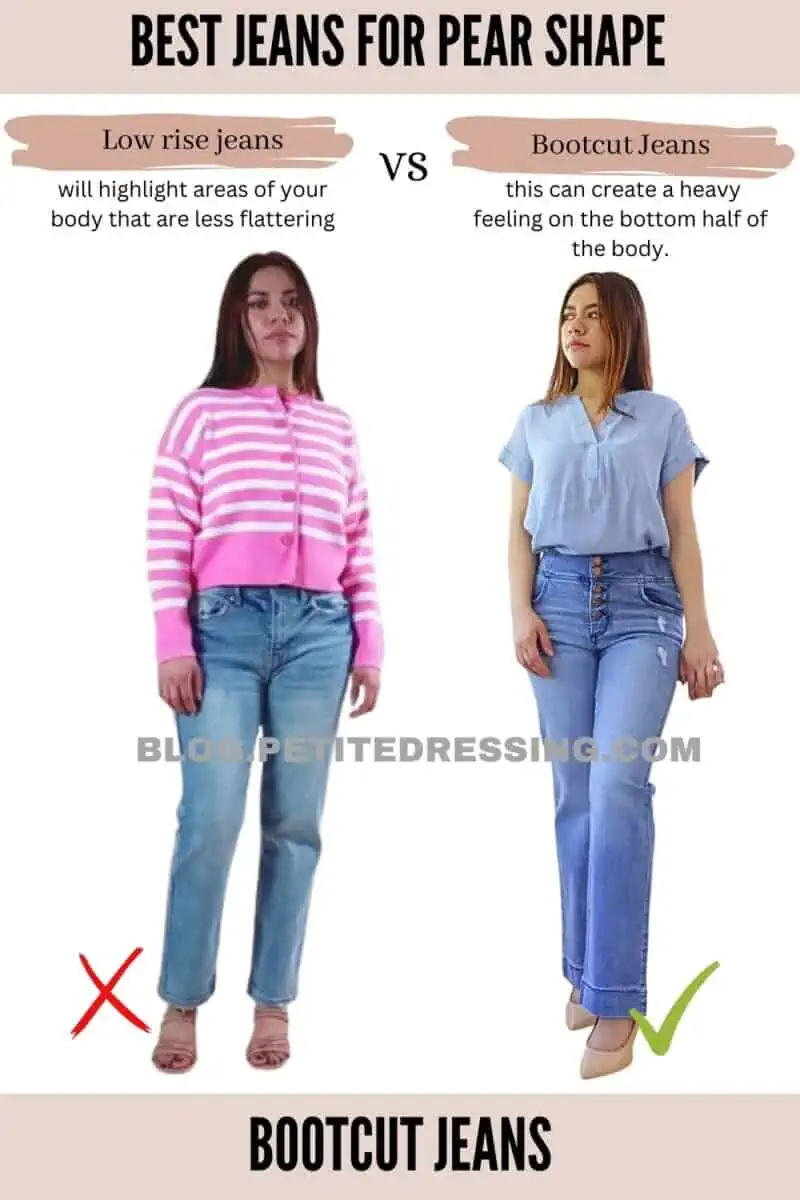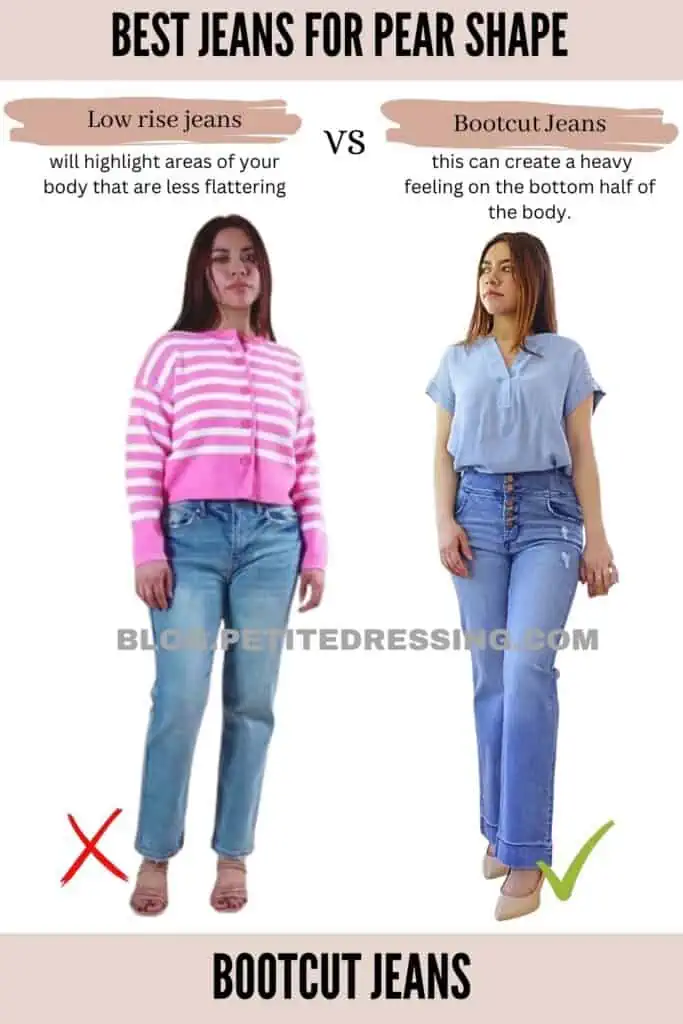 Whether you want another option that's different from the straight leg, or it's just not your favorite shape – bootcut is another great choice for pear shape bodies.
Bootcut denim works for your shape because, once again, it creates this really great balance for the body.
Just be sure the flare at the bottom isn't too wide – this can create a heavy feeling on the bottom half of the body.
Here Jordyn switched it up with a subtle boot cut to add balance to a pear shape.Bringing a subtle touch of volume to the bottom of jeans, the way boot-cut denim does gives this really beautiful shape that highlights a pear shape's natural curves around the hips and thighs.
Flare Jeans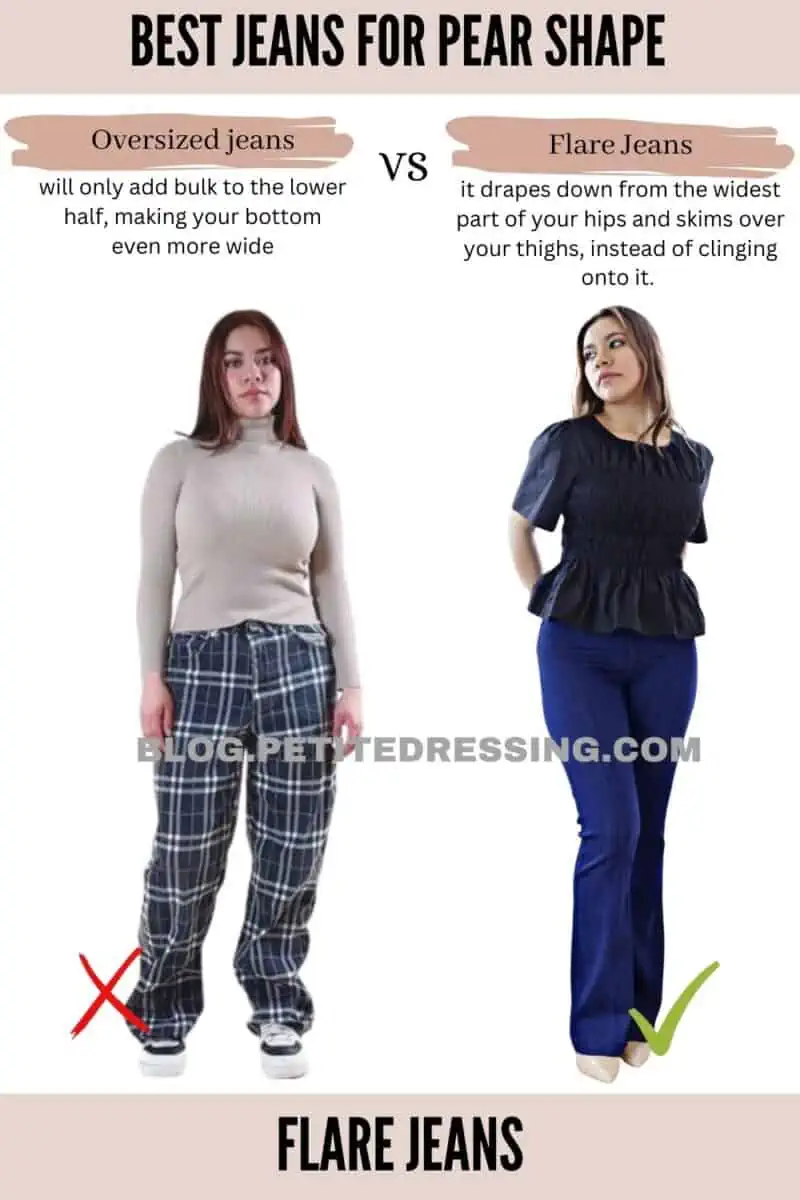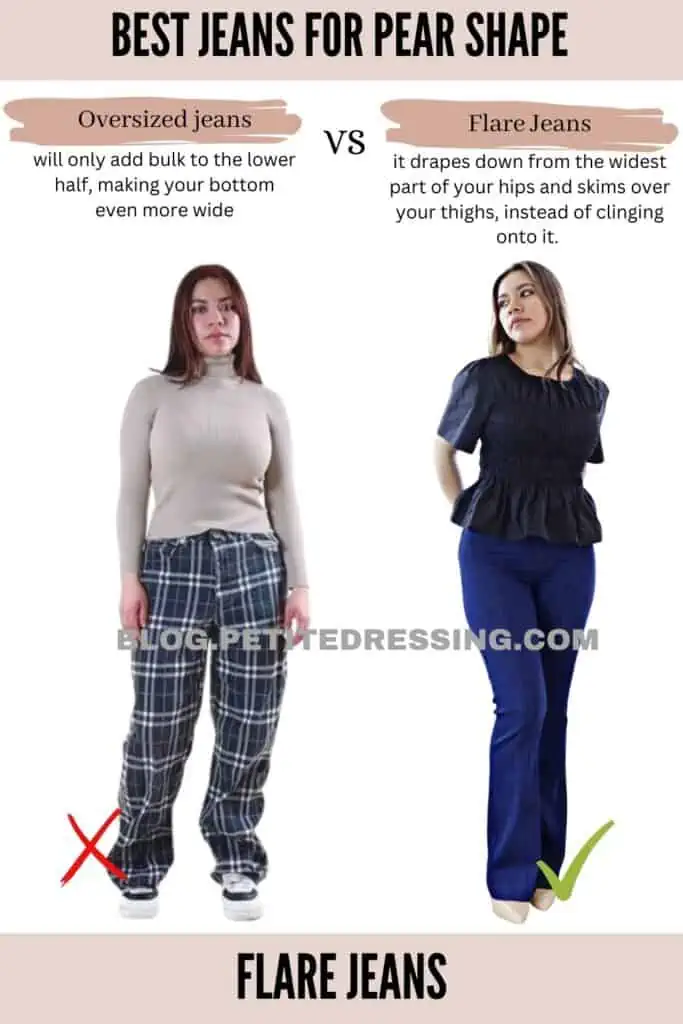 Just like bootcut jeans, flare jeans are a great option for pear-shaped women.
The flare jeans are fitted on your thighs all the way through your knees and widen under your knees. Therefore, it is able to balance out the volume in your hips and thighs.
Wide Leg Jeans
Wide-leg jeans are another shape that flatters the pear-shaped body.
The reason is it drapes down from the widest part of your hips and skims over your thighs, instead of clinging onto it.
That is why the wide-leg jeans can create a visual balance to distract away from the wider bottom of the pear-shaped body and because there is plenty of space in this leg shape, it de-emphasizes your hips and thighs.
Dark Wash Skinny Jeans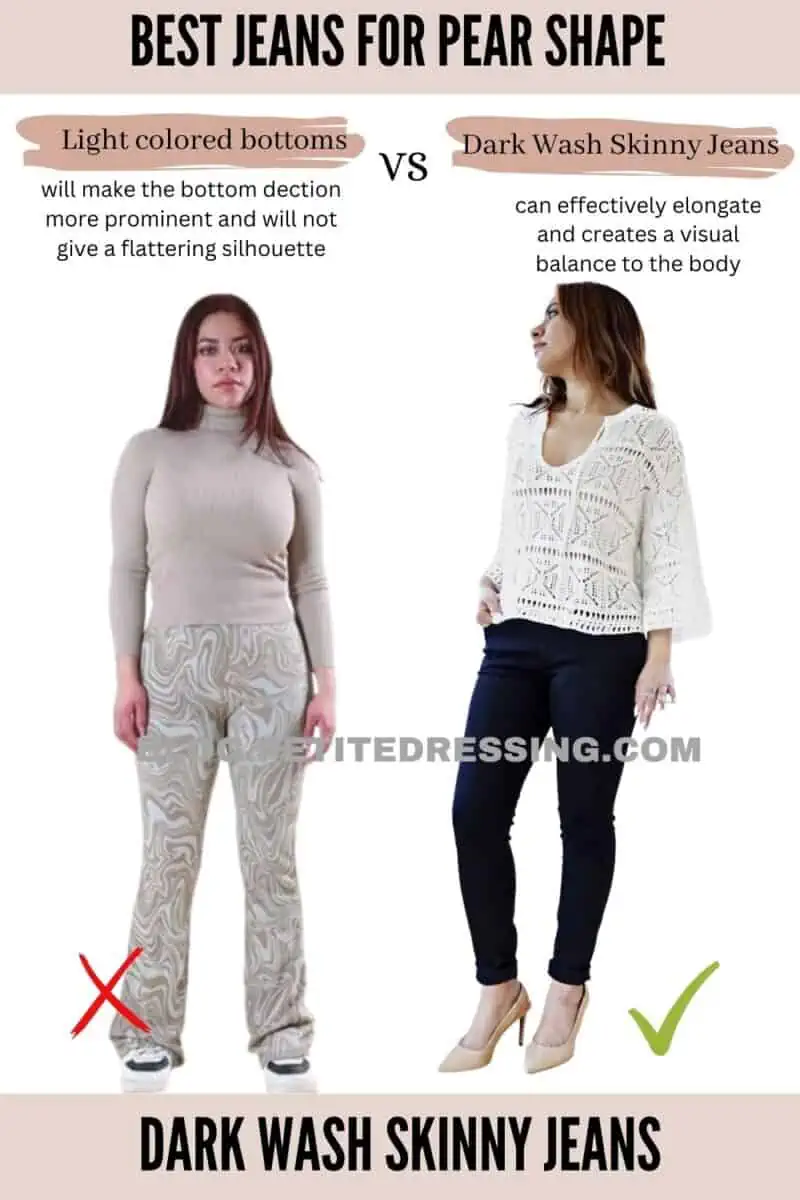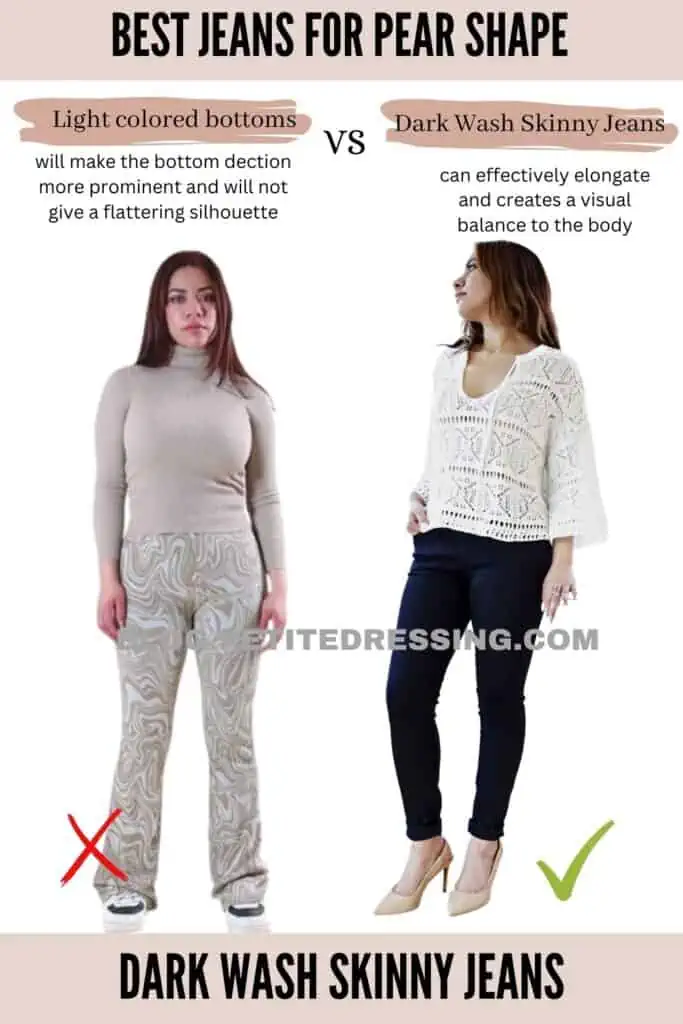 One of the common debates women who are pear-shaped have heard and struggled with is: can pear shapewear skinny jeans?
The short answer is yes.
If you love wearing skinny jeans, that's reason enough to wear them and feel great doing so.
When wearing skinny jeans with a pear-shaped body, there are a couple of things to keep in mind to enhance your shape so you feel even better in them.
First, select the wash/color of your skinny jeans strategically.
Because the focus is all on creating visual balance to the body shape, dark wash skinny jeans are your best bet.
This will allow you to wear the shape of denim you love, but also ensure that your bottom half isn't off-balance from your top half.
High-Waisted Skinny Jeans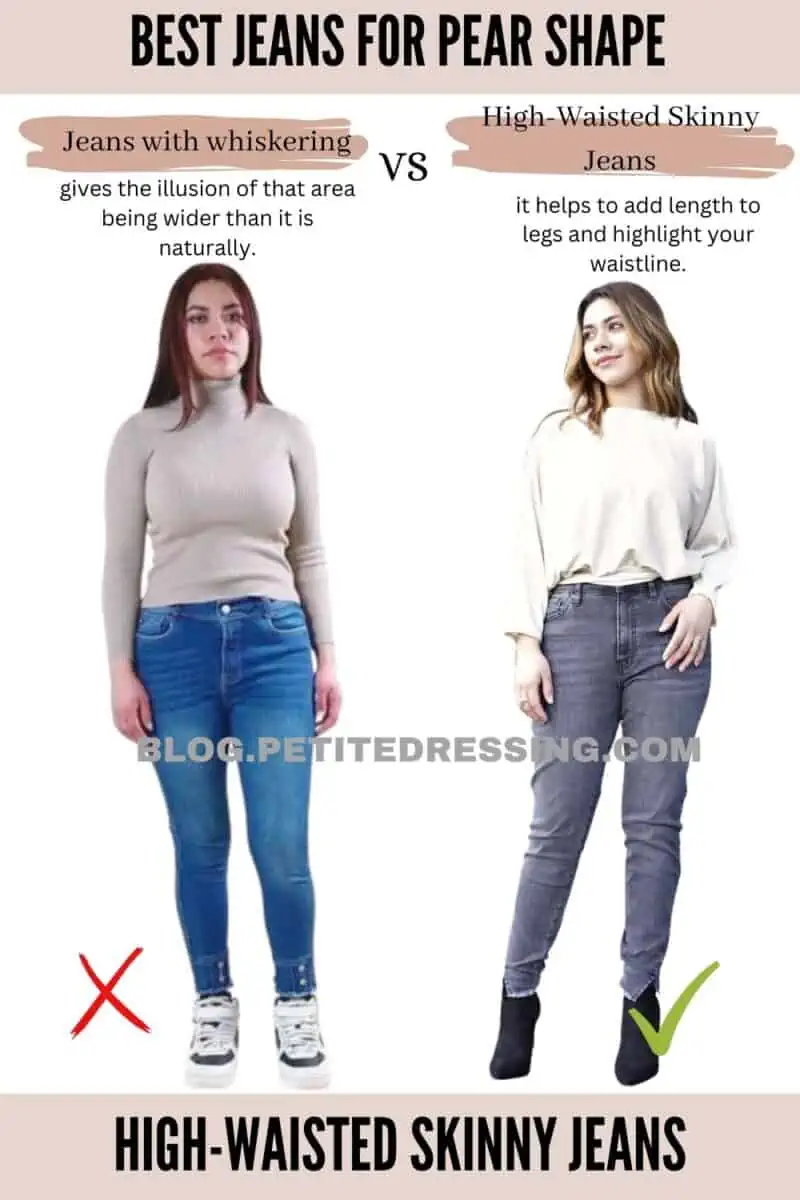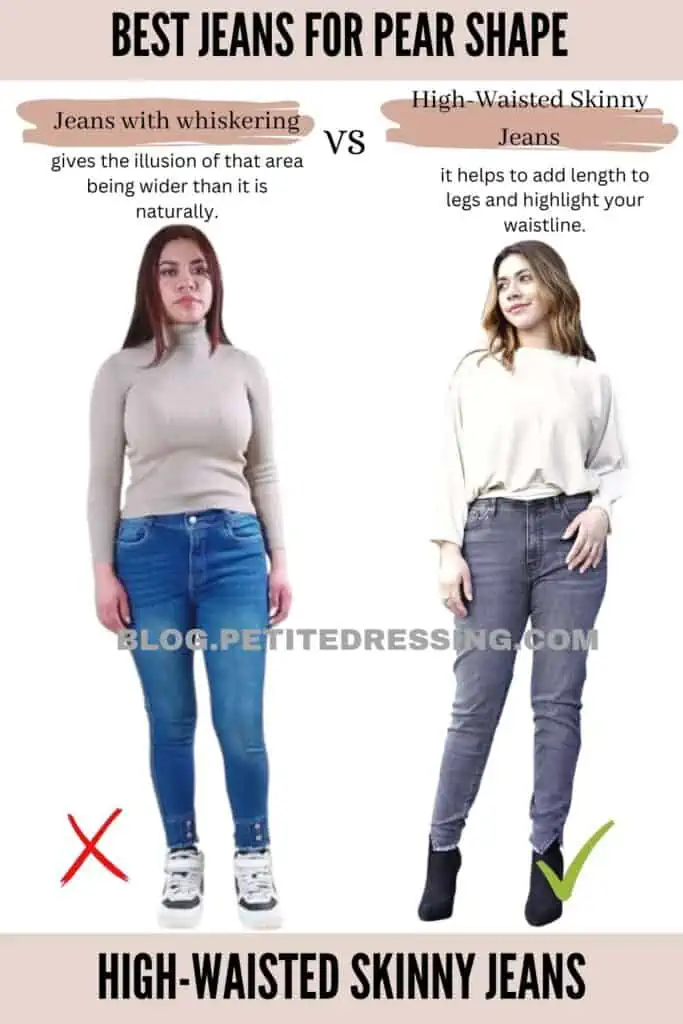 Choosing a flattering waistband for your skinny jeans is critical for the pear. High-waisted skinny jeans are best for pear-shaped bodies, it helps to add length to legs and highlight your waistline.
It's generally suggested that women with pear-shaped bodies favor anything high-waisted because of the way it draws attention to your naturally defined waist.
There are a lot of figure-flattering benefits that come from high-rise jeans for pear shapes, so wear this rise knowing it's a great choice for you.
Not to mention, a high rise has this great smoothing effect on the waist that holds everything in place – a major bonus.Since high-waisted jeans are so popular right now, you're in luck. Jeans that offer a higher rise will likely rest right on that area of your body and, in turn, will make your legs appear longer and leaner.
Skinny Jeans with Contoured Waistband
Look for skinny jeans that offer a contoured waistband.
This is where jeans fit higher up in the back, which is something that tremendously helps to prevent that dreaded 'gap' in the back so many pear-shaped women struggle with in denim.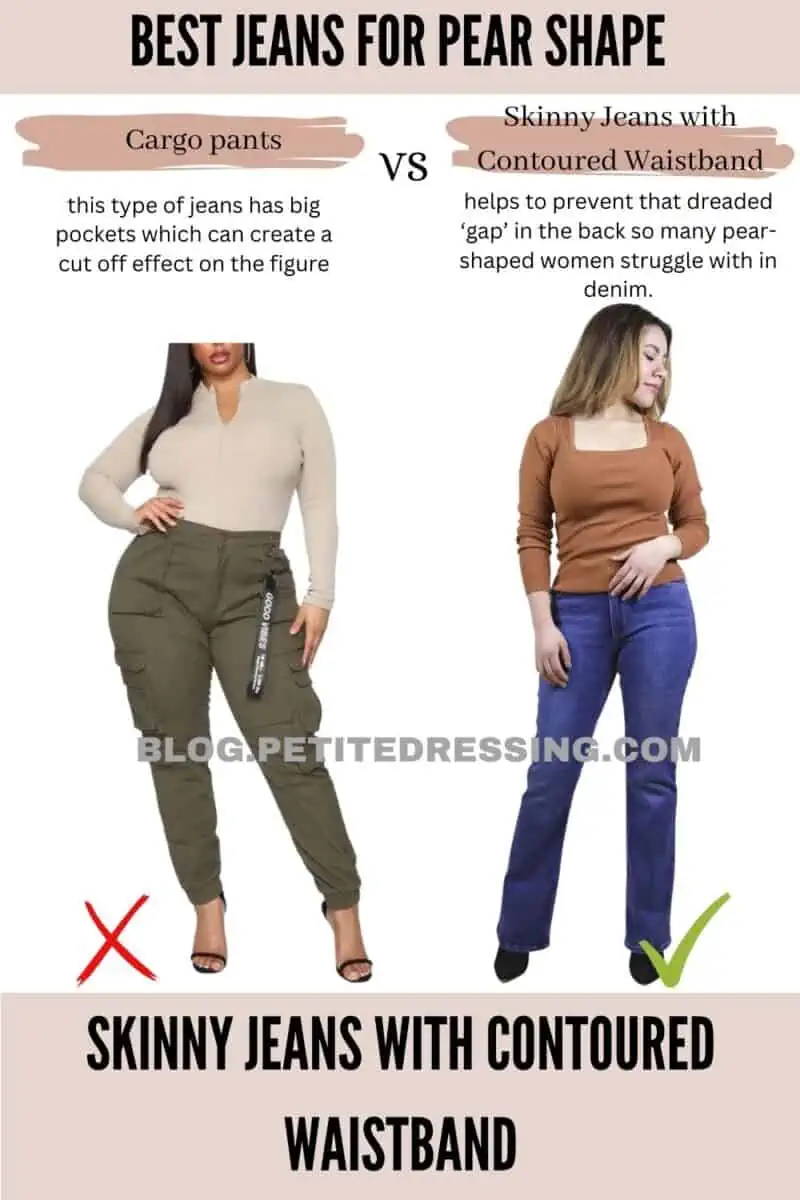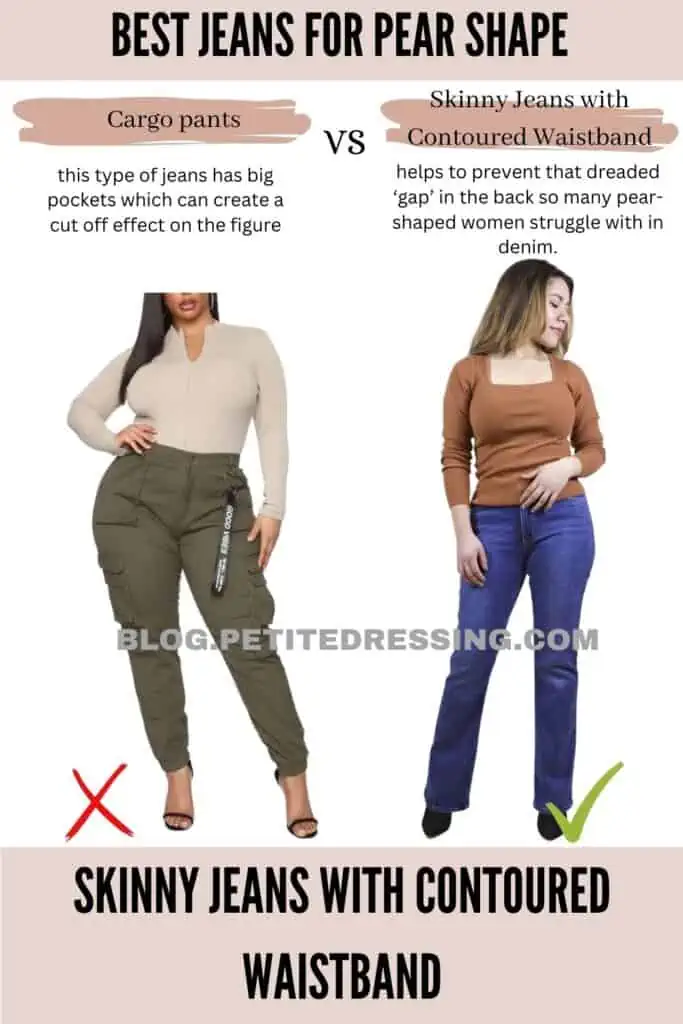 Amanda looks great in her skinny jeans. The black wash brings just the right amount of attention towards the top half to create this great balanced shape.
High-Waisted Mom Jeans
Mom jeans are probably the biggest trend in denim right now.
Is this throwback style flattering for a pear-shaped woman?
The short answer: is yes, but with some things to keep in mind.
Truthfully, just like with skinny jeans, if mom jeans (regardless of anything else) are something you enjoy wearing, you don't need any other reason to feel confident wearing them.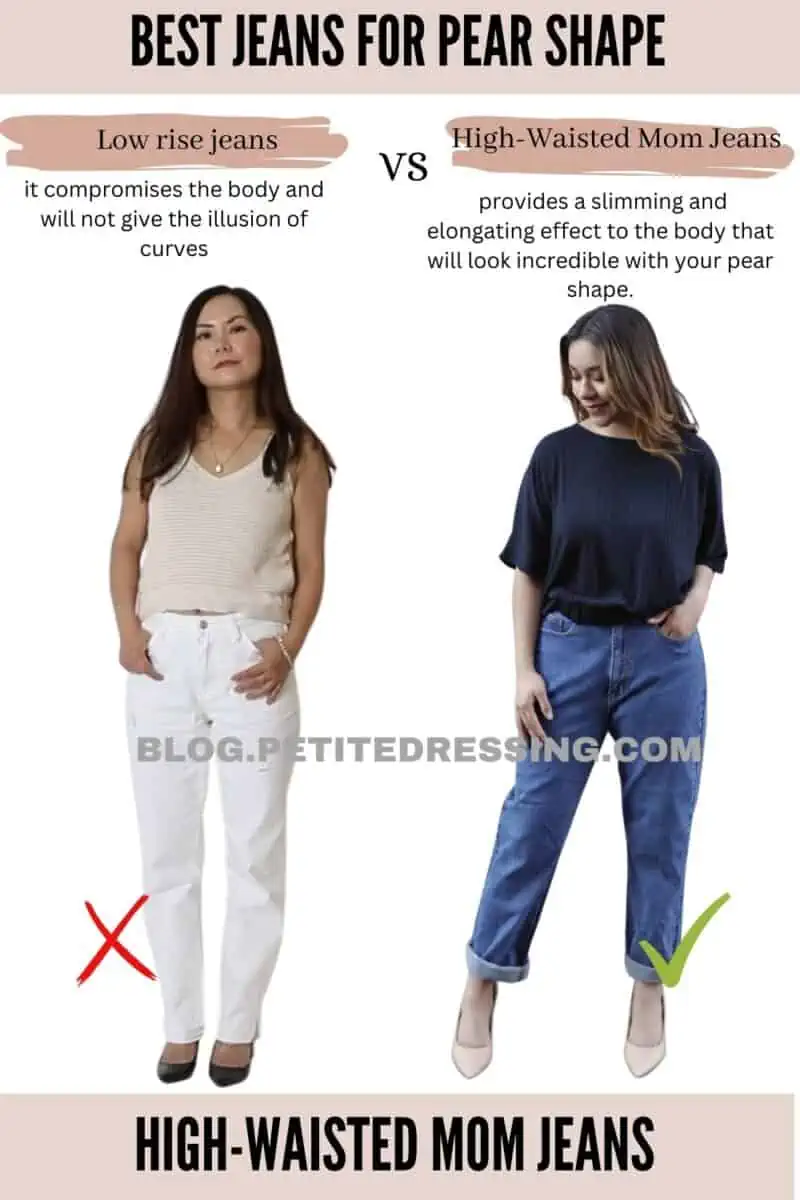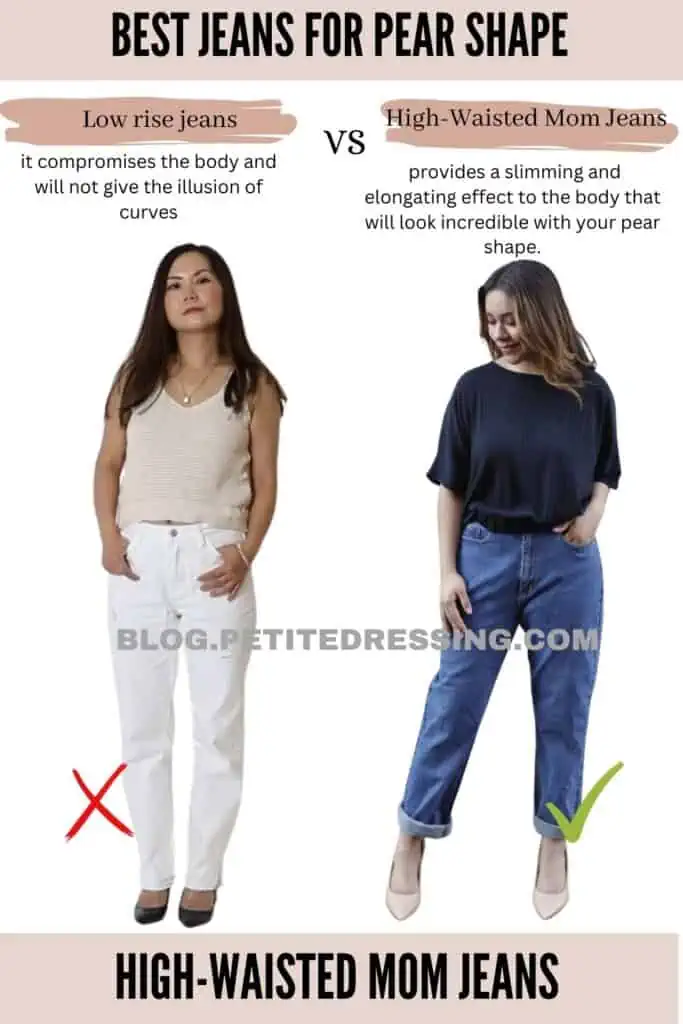 You will want to aim for a waistline that rests at the smallest part of your actual waist. This provides a slimming and elongating effect to the body that will look incredible with your pear shape.
Cam's mom jeans are just the right fit for a pear shape, not too loose and not too tight. Now, if you want to know some style expert-approved tips to wear mom jeans with a pear shape there are a couple of things to keep in mind. When wearing mom jeans, pay attention to where the waist lays on your body.
Stretchy Jeans
Denim has long had the reputation of being uncomfortable and difficult to fit, thanks to spandex denim has become much more comfortable and easier to wear – even for pear shapes!
The truth is, if you have a pear shape focus only on denim that offers some stretch to it.
This is going to be a game changer in the way denim fits your body and feels as you live your life in your jeans. When denim has a good amount of stretch it allows the denim to hug your curves without creating any sort of unfavorable pinching to your body.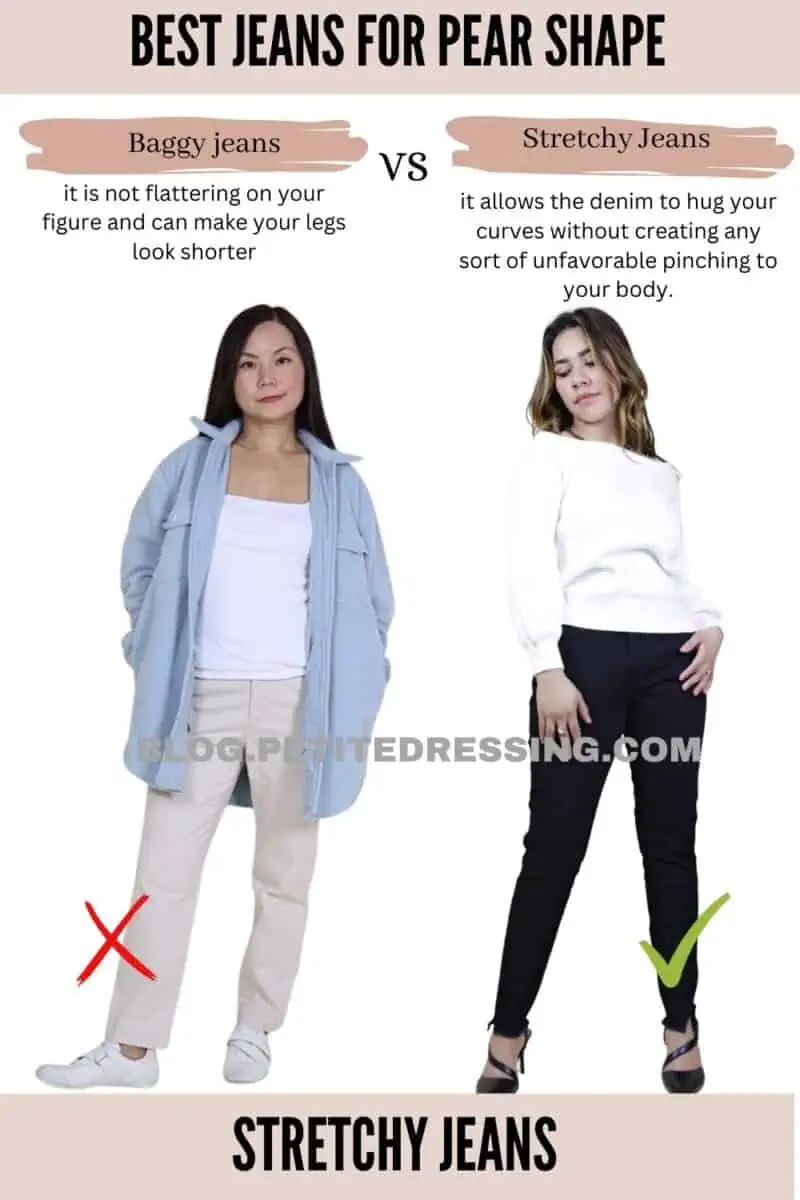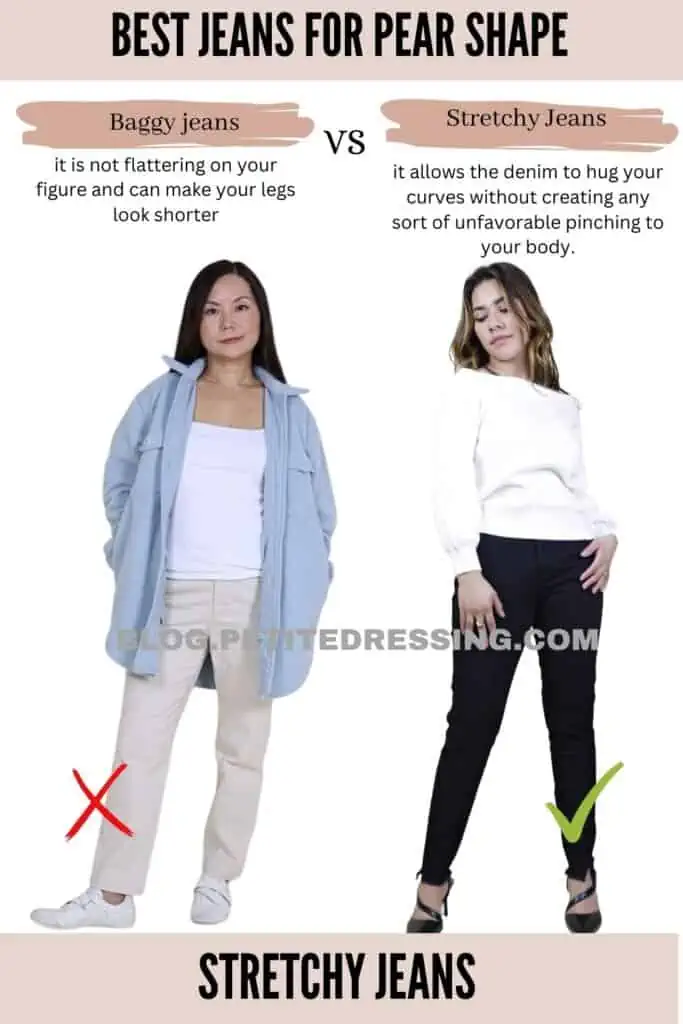 Tighter Fitted Jeans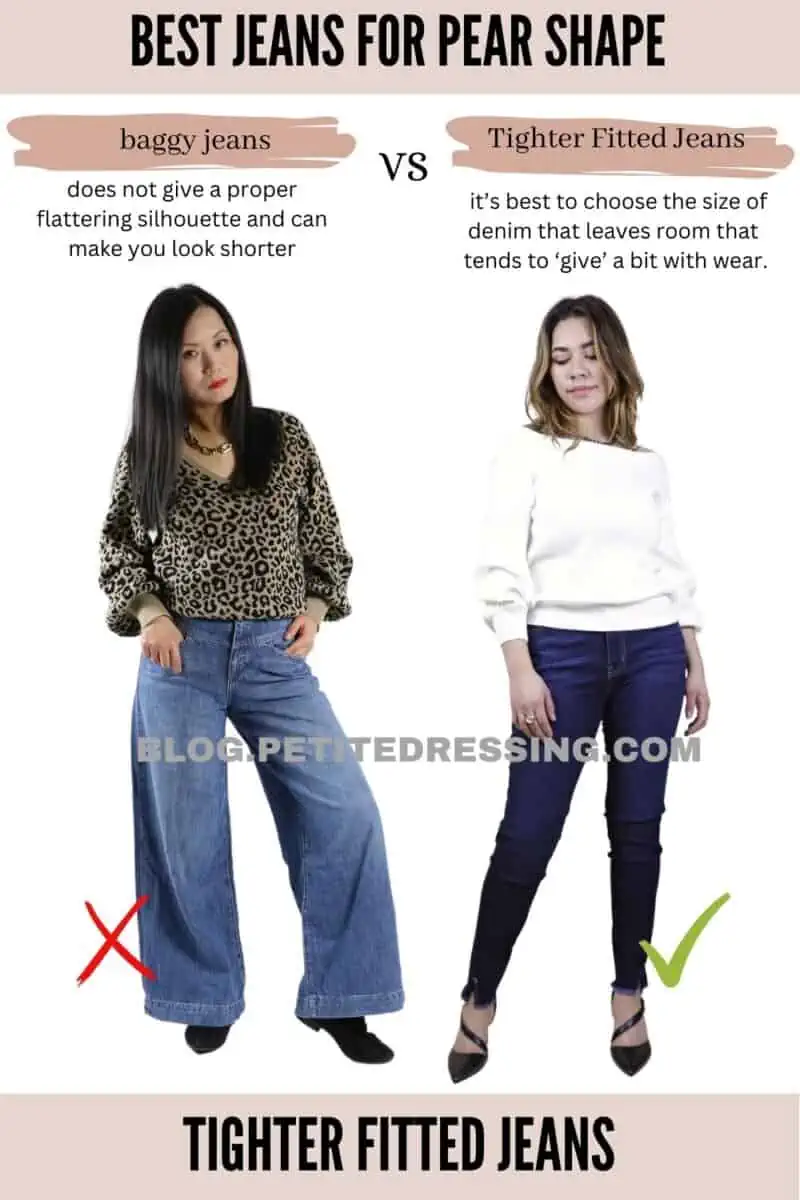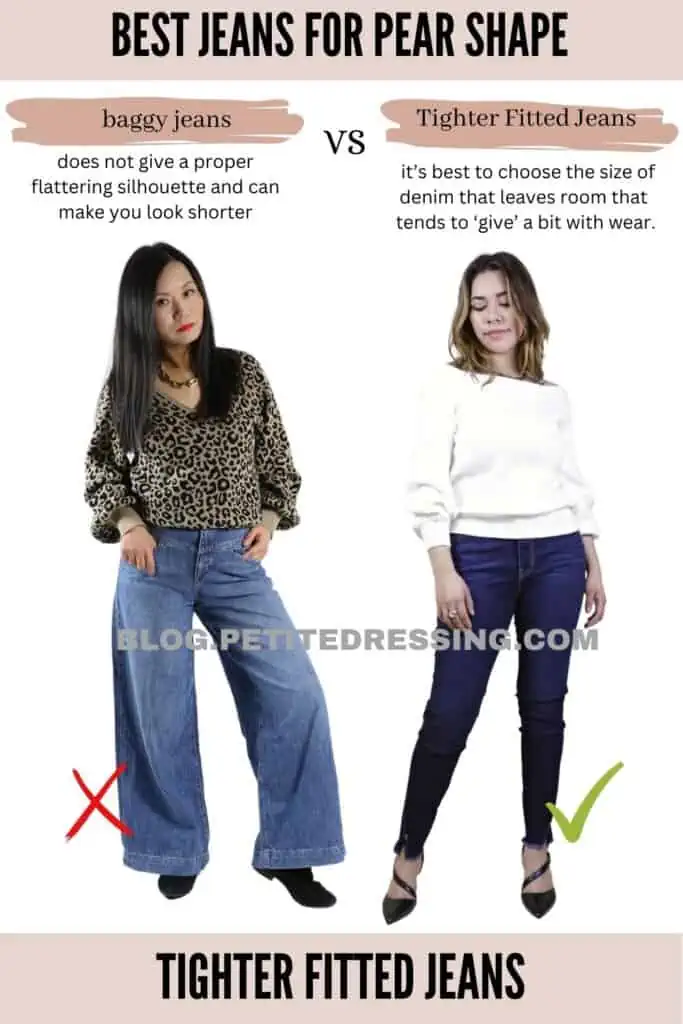 Denim, especially denim with stretch to it, tends to 'give' a bit with wear.
This is why in order to really make the most of your denim purchases, it's best to choose the size that leaves room for that give to happen.
When we wear denim and they start to stretch (or give), if that factor wasn't taken in to consideration we often end up with jeans that are way too loose and bit – especially around the waist.
So while you want jeans to be comfortable, they should be just a bit snug when you first purchase them to allow for this give to occur.
Cropped Denim
Cropped denim is another big trend in the denim world right now and fortunate enough for you, it's a great choice to enhance a pear shape body.
The great thing about cropped denim is it brings a bit of attention to the bottom of the legs, which can help elongate and balance curvy hips.
The cropped denim should rest right around your ankles, and never be at the calf.
This aids in lengthening the body as opposed to shortening – which is something that can happen with cropped denim (mostly petite women!).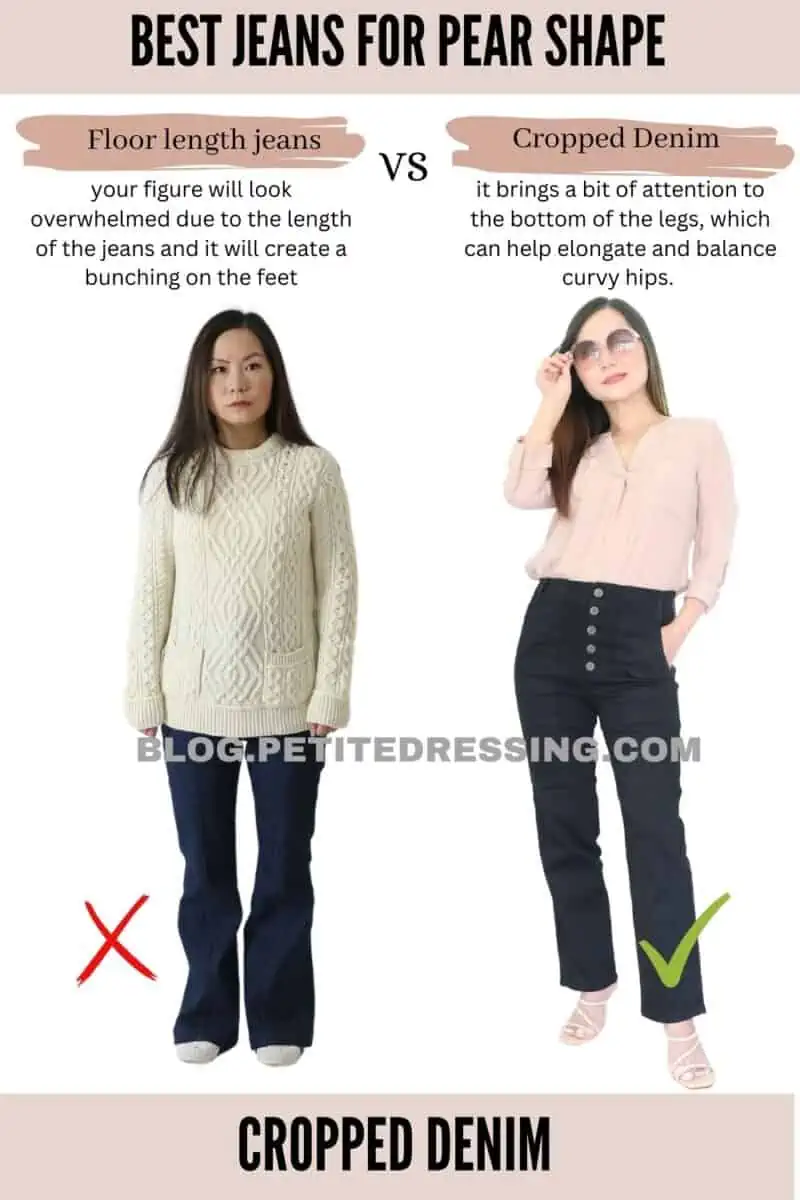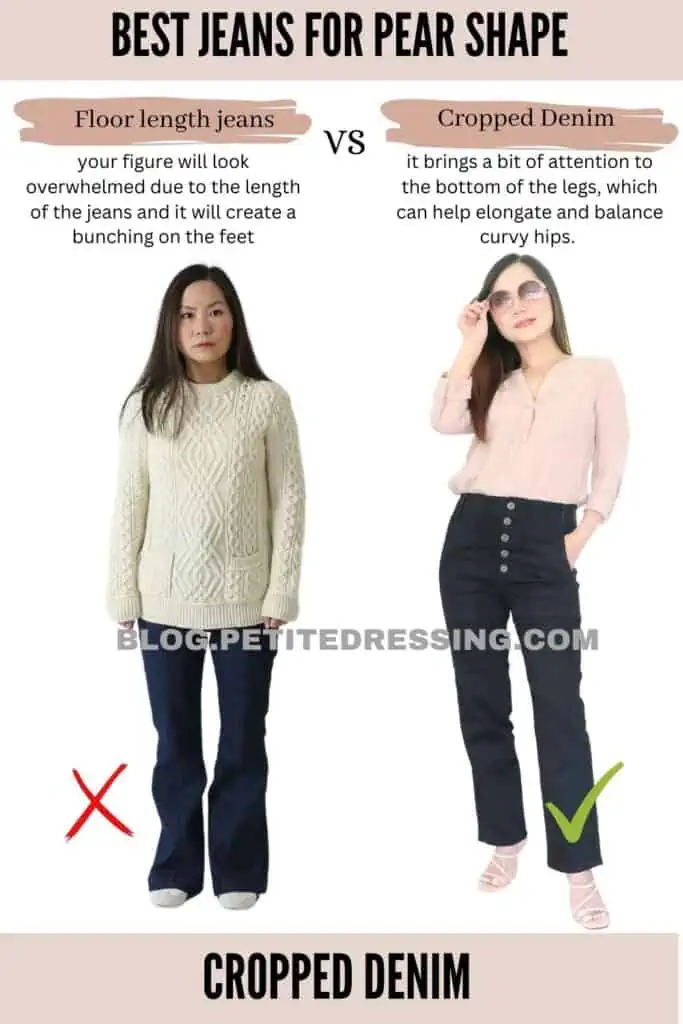 Cam's cropped and distressed denim looks incredible for a pear shape to give the body natural proportions. Just be sure the length of the cropped jeans is right! This is especially crucial if you're a pear-shaped petite woman. As long as the length is right, though, cropped straight-leg jeans are a major win for a pear shape.
Avoid Baggy Mom Jeans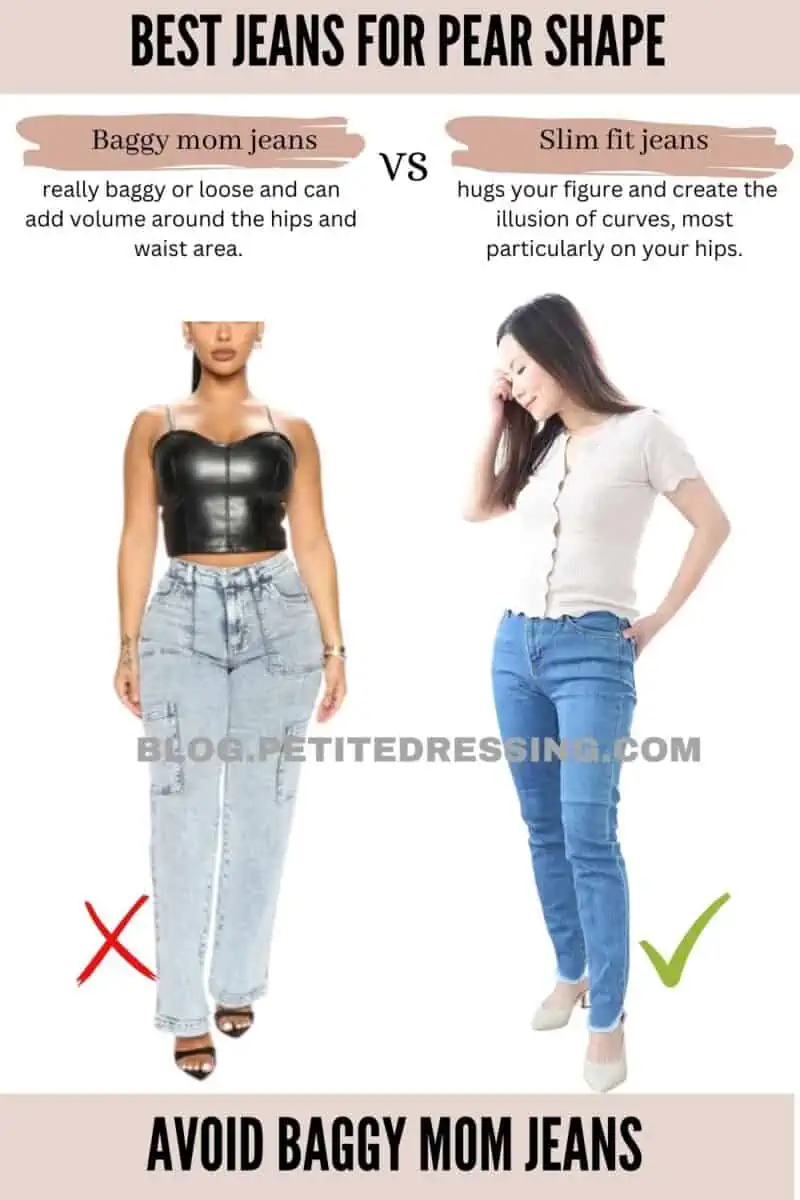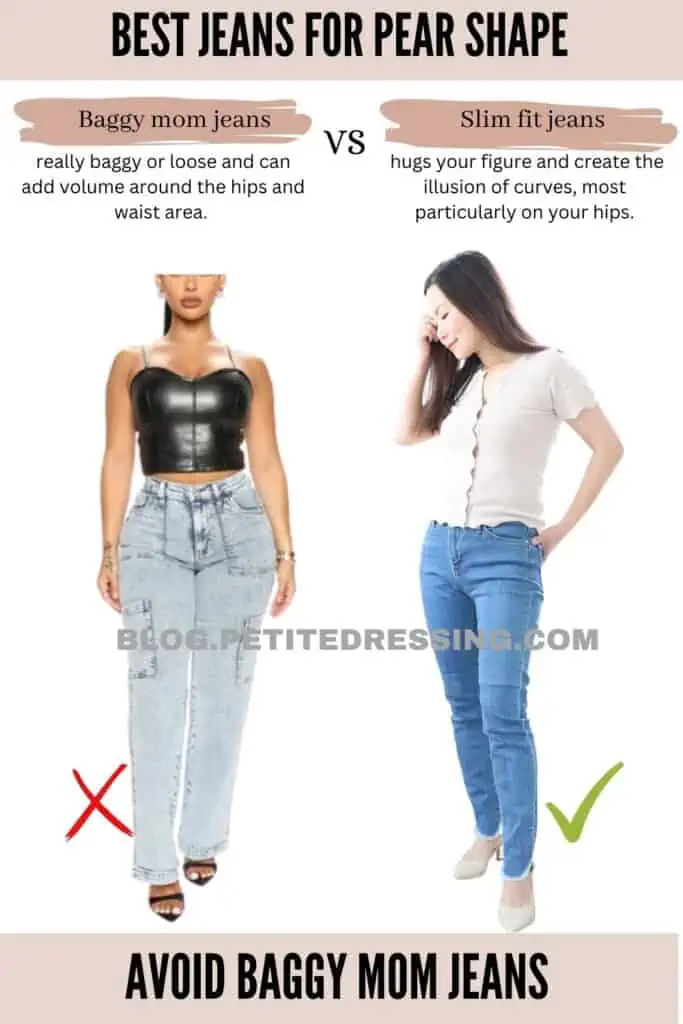 The first is to avoid Mom jeans that are really baggy or loose around the hips and waist area.
When you have a pear shape, adding extra bulk to that area tends to add too much bulk to your body's shape and isn't always the most flattering option.
Instead, stick with mom jeans that fit closer to your hips, waist and bum area.
Avoid Jeans with Pocket Details
Pockets play a much bigger role than many realize when it comes to finding the perfect pair of jeans, especially when you are focused on flattering your body type.
Pear-shaped women are lucky enough to have natural curves around the waist and hips because of these curves, however, pockets are something that needs to be a focal point when selecting your denim.
In general, no pockets or pockets with very minimal detailing are ideal for your shape.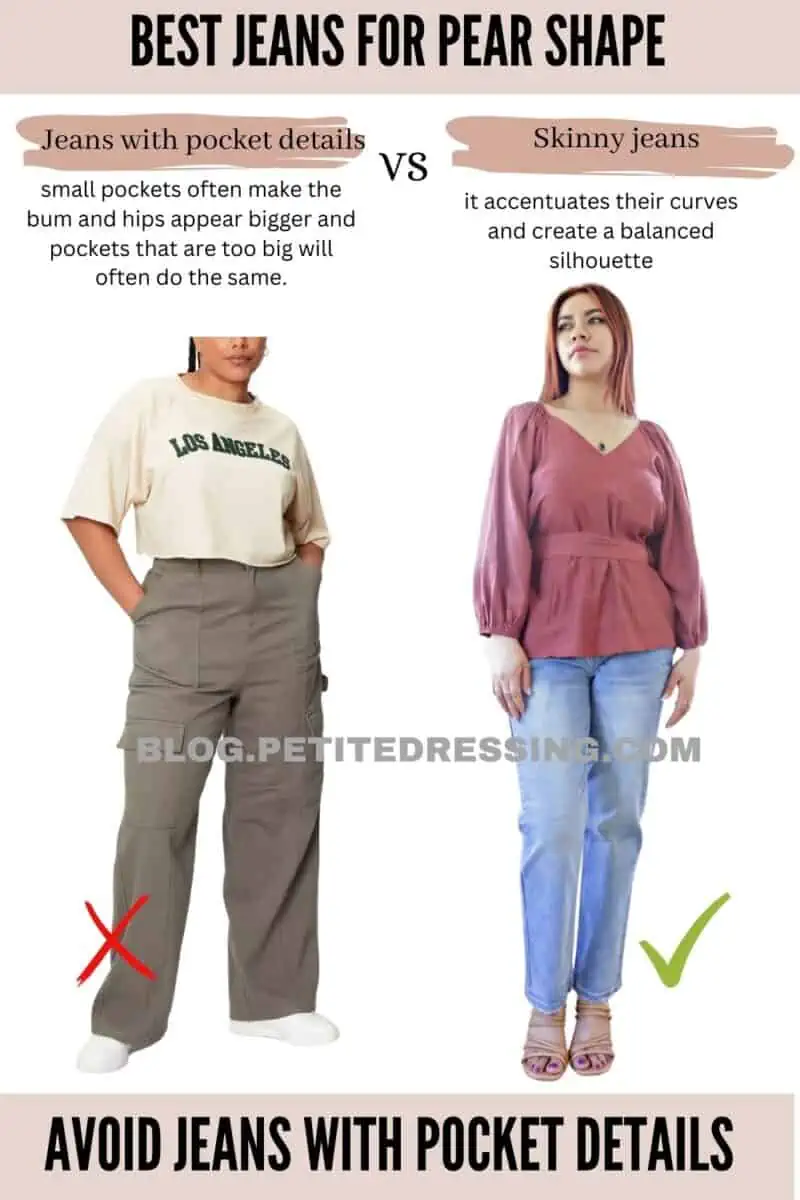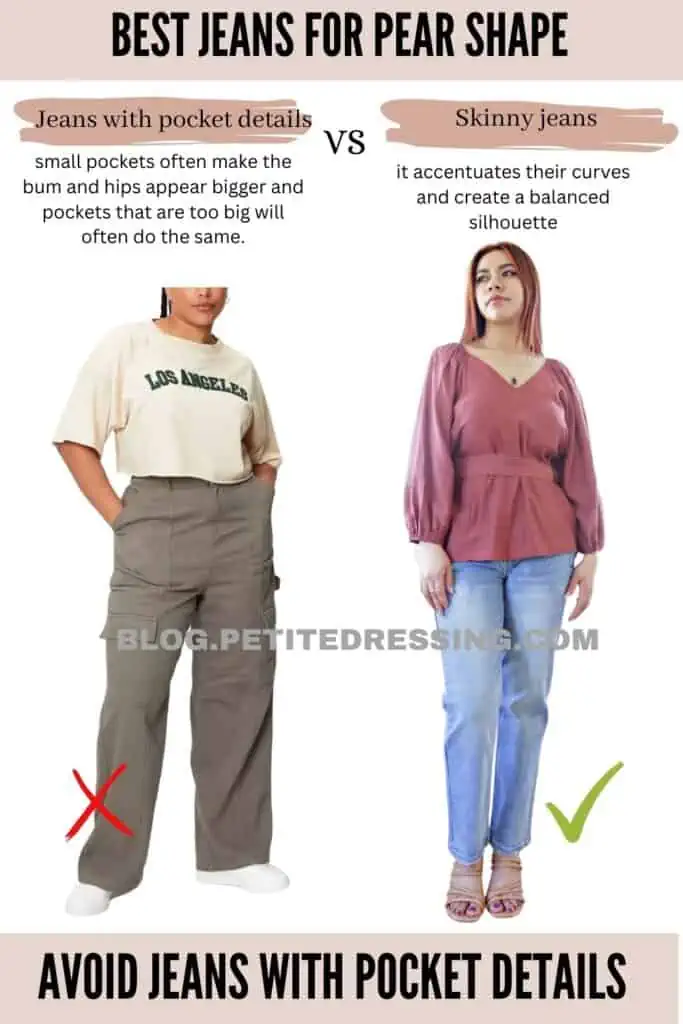 This way the pockets won't add bulk to your curvy hips. Flap pockets, embellishments, and pockets that create a gap are all included in this.
Now, when it comes to the actual size of pockets it's important to avoid pockets that are too small and too big.
The pockets, in size, should be consistent to the size of YOU. When pockets are too small they often make the bum and hips appear bigger and pockets that are too big will often do the same.
Avoid Jeans with Lots of Whiskering
Whiskering and fading on jeans are something you see often. If it's something you enjoy in your denim, by all means, have fun with it! In general, however, it's a tricky detail to wear for pear shapes and it looks as flattering as possible.
The problem with whiskering, in particular, is it's often done by creating an outward-like line around the hips which gives the illusion of that area being wider than it is naturally.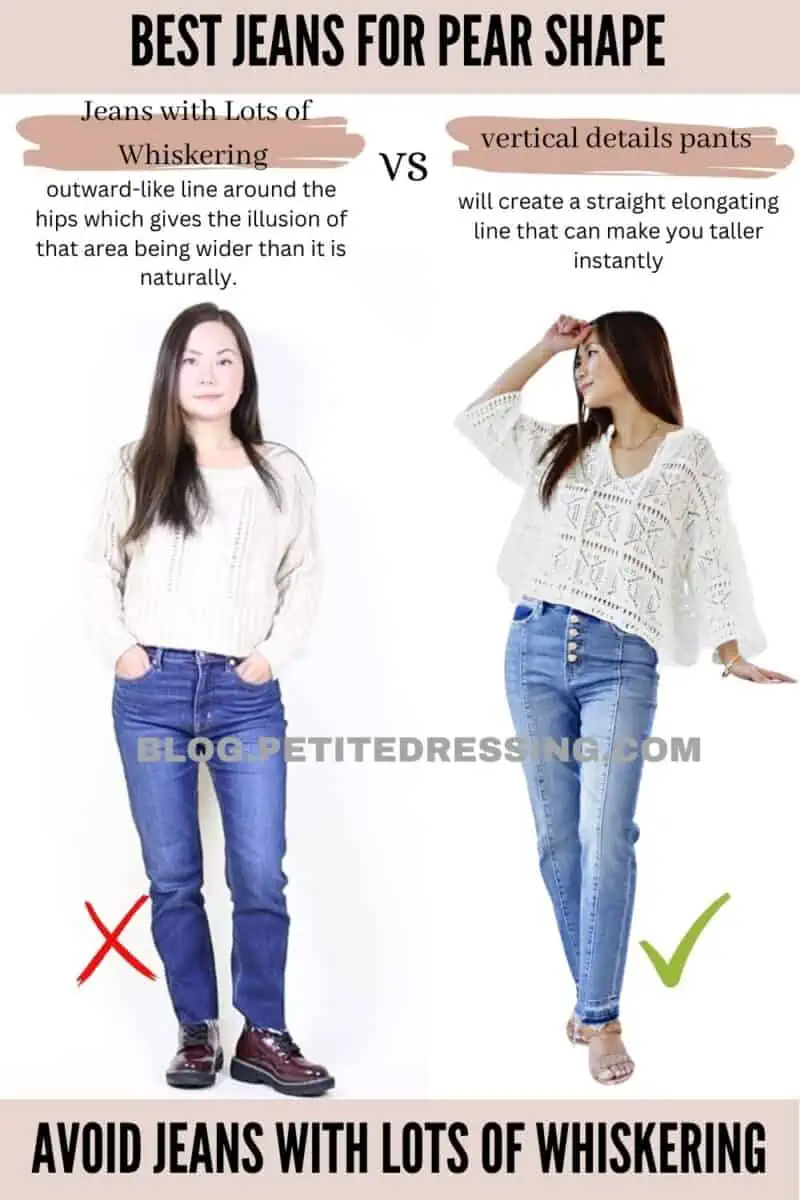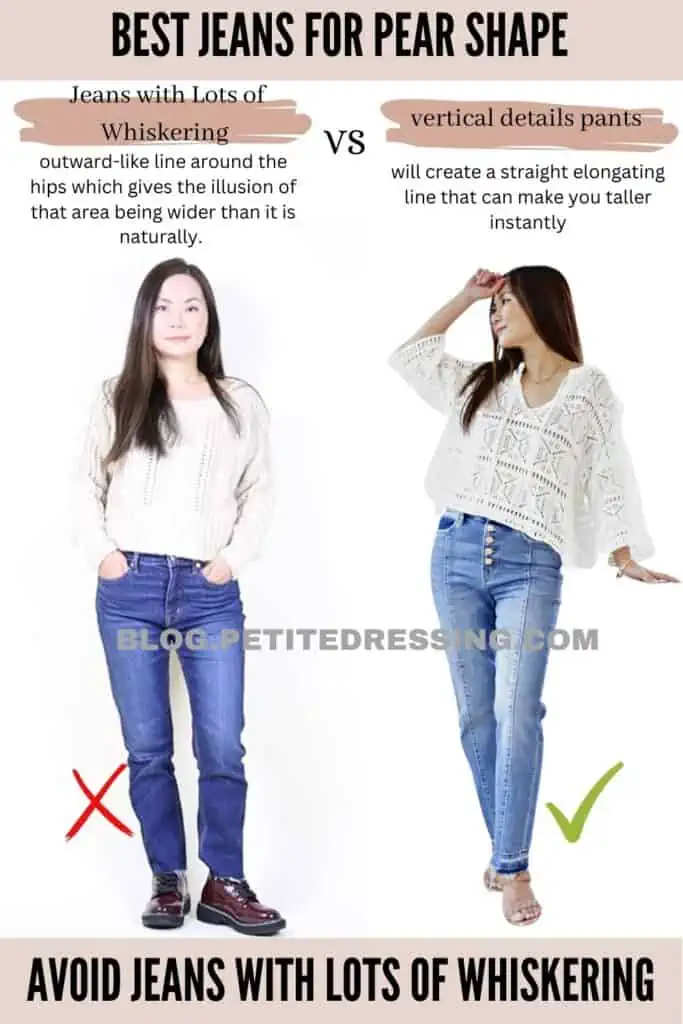 If this isn't something you want to achieve with a pear shape, it's best to skip this detail and opt for denim without a lot of this fading around the hip.
Really love the look of fading on denim?
Another option is to choose denim that has fading down the front of the legs, this is a much more figure flattery route because it creates this long line down the center of your leg.