Hourglass shape is known for having a small waist and full hips, which is what makes your shape the most feminine body type but can also create challenges for casual outfits, especially when you are looking for jeans.
Jeans is a structured garment, which means having the right fit can be a bit more of a challenge. Knowing which style denim flatters your own body type can be a journey. If you have an hourglass figure, in this guide I will help you better determine which style jeans are going to be ideal for your body type.
Lucky enough, there aren't a lot of types of jeans that won't look great with an hourglass figure. Of course, there are some that are going to be top tier in the flattering department – here is the 8 types of jeans that will look the best if you have an hourglass body shape.
High Waisted Jeans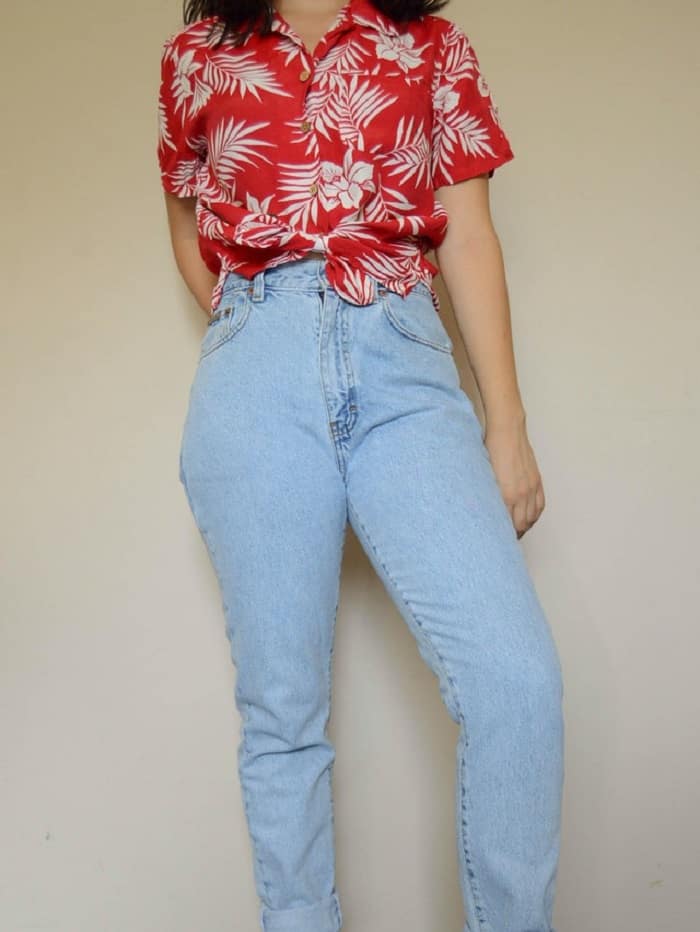 To be honest, high waisted bottoms in general are always going to be a style win for an hourglass figure, especially for hourglass with a tummy. Anytime you have a garment that highlights your naturally defined waist it's going to further accentuate that attribute.
High waist design can make anyone's waist look slimmer, because it reaches the smallest part of our torso. When you have an hourglass shape, this is going to bring more focus to one of your best assets, i,e, the tiny waist.
If you haven't added high waisted jeans to your wardrobe yet, now is definitely the time to do so. Because it's such a flattering fit for an hourglass figure it presents itself as a classic piece for your wardrobe. Meaning, even though high waisted jeans are trendy now doesn't mean you still can't wear them a couple of years down the line.
Regardless of the style leg in the jeans, as long as you have a high waisted rise chances are it's going to look really great on an hourglass shape. This fit really allows you to wear even more jean styles and still ensure they're flattering on your figure.
Straight Leg Jeans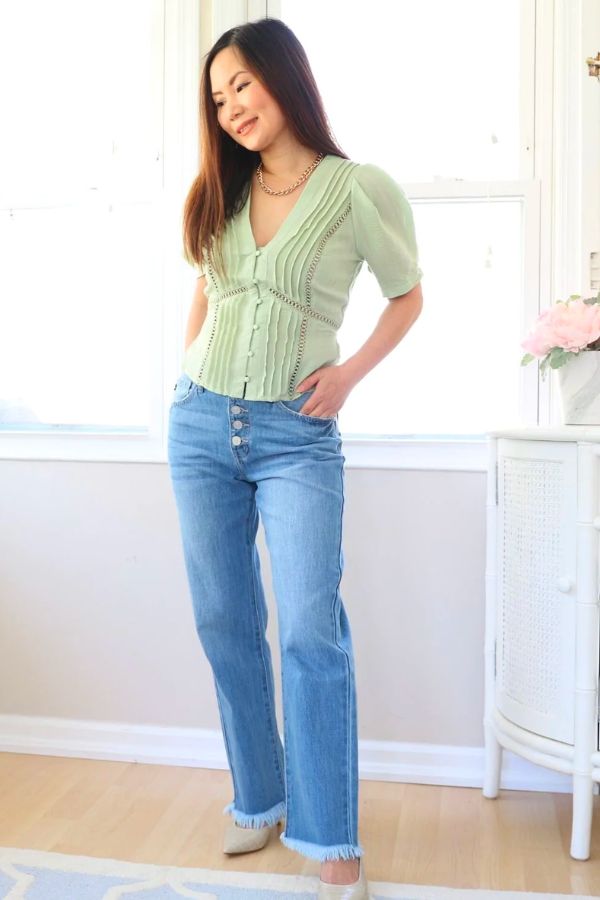 Another style of denim that's become a huge trend over the past year: straight leg jeans. The good news? They're something to embrace with an hourglass figure.
The reason straight leg jeans are such a great choice is because they allow your naturally balanced shape to really take the stage. They don't take away from it in the way some styles can.
Straight leg jeans really balance out the curvy body shape of the hourglass, because it is not completely clinging to your legs. Since hourglass overall comes across as the "rounded" shape, straight leg jeans is a perfect balance of volume that is most in harmony with your shape.
Another reason to adapt straight leg jeans into your denim collection is because they often add length to your legs. Because of the, well…straight line that's created down the leg it instantly adds the illusion of longer looking legs to the body. A major bonus if you're a petite hourglass!
Make sure to favor straight leg jeans in either a mid or high rise fit. This will give you figure flattering benefits all around.
Bootcut Jeans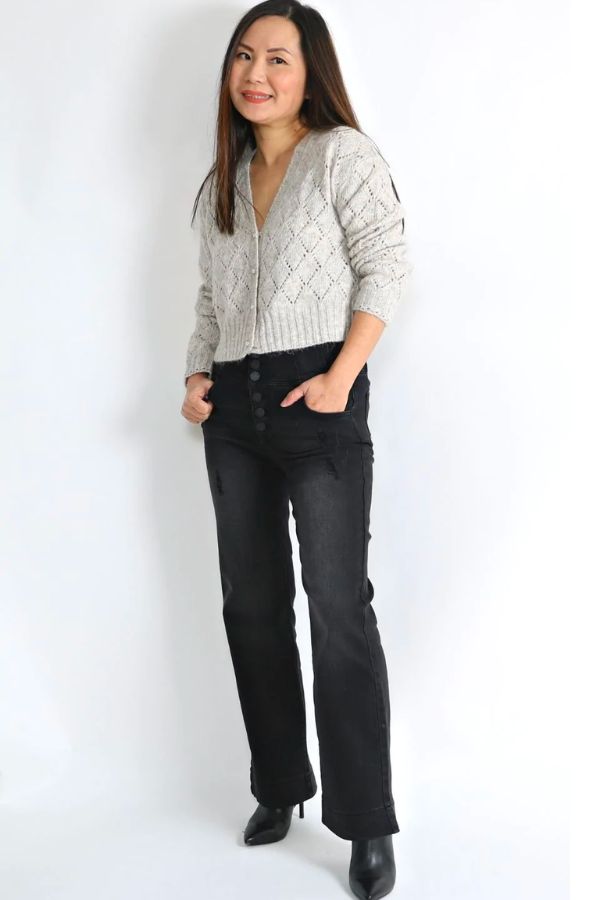 This may be a surprising addition to the list but boot cut jeans are incredibly flattering for an hourglass shape. Thanks to the subtle flare that bootcut provides, it gives balance to a curvy figure.
When looking for bootcut jeans just ensure that the flared shape isn't too exaggerated, leaning towards a true flare fit. The more subtle the flare the better. Because your shape is already proportioned and balanced just a slight flare will add the little extra 'oomph' to your shape.
Just like with the straight leg jeans, make sure you stick with a mid or high rise in bootcut jeans. These are the two best rises for an hourglass regardless of the style.
Skinny Jeans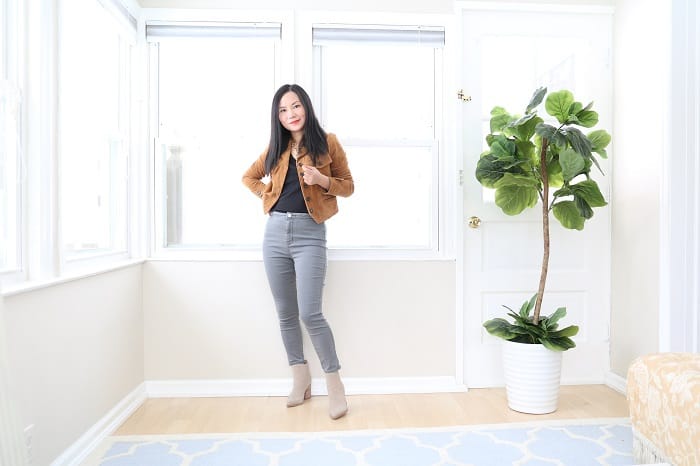 Believe it or not skinny fit jeans are another flattering denim choice for an hourglass figure. Although it may not be THAT surprising because your shape is proportioned, it makes it easier to wear things that look flattering.
The key when wearing, or shopping for skinny fit jeans is ensuring that they aren't TOO skinny. Of course they're meant to be fitted, they shouldn't be uncomfortably snug. More often than not when opting for skinny fit you'll want to focus on options that are stretchy in their material for more comfort.
Slim Straight Jeans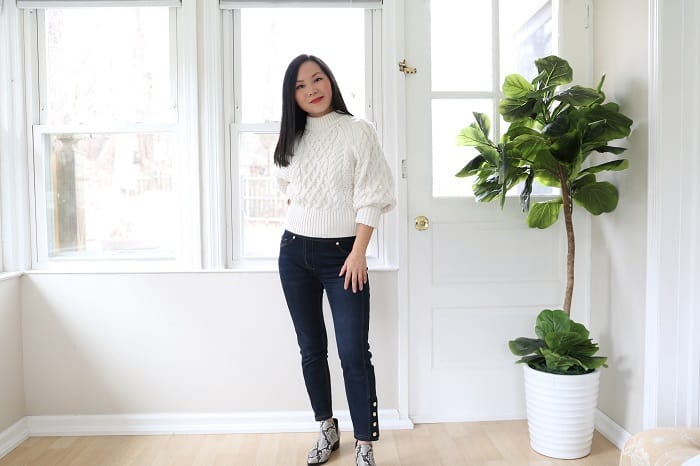 This is a style you may not have heard of before, but it's one you may want to make present in your wardrobe. Skinny straight leg jeans are pretty much exactly as they sound, they're a combination between skinny and straight leg fit.
In other words, they're a slimmer fit (not as slim as a true skinny) with a straight leg silhouette. Because of the straight leg element, they don't taper in around the ankle area the way a true skinny fit denim does.
As you can imagine, because both skinny and straight leg style jeans are such flattering options for an hourglass shape – the combination of them is a definite must have.
Cropped Flare Jeans
Cropped jeans burst onto the fashion scene a couple of years ago and have really held their own in the trend department. They're a great alternative to full length jeans as the temperatures rise, or when you just want to switch things up in your style.
Cropped flare, sometimes called a kick flare, are something to give a try as an hourglass shape. Just like the way a classic bootcut jean enhances an hourglass, the cropped version does the same thing.
When trying this particular type of flared jean out, you will want to focus on high rise styles. Because of the cropped length, the high rise will ensure your legs don't get cut off and look shorter than they are – which is something that can happen with a cropped fit and a low rise.
Curvy Fit Jeans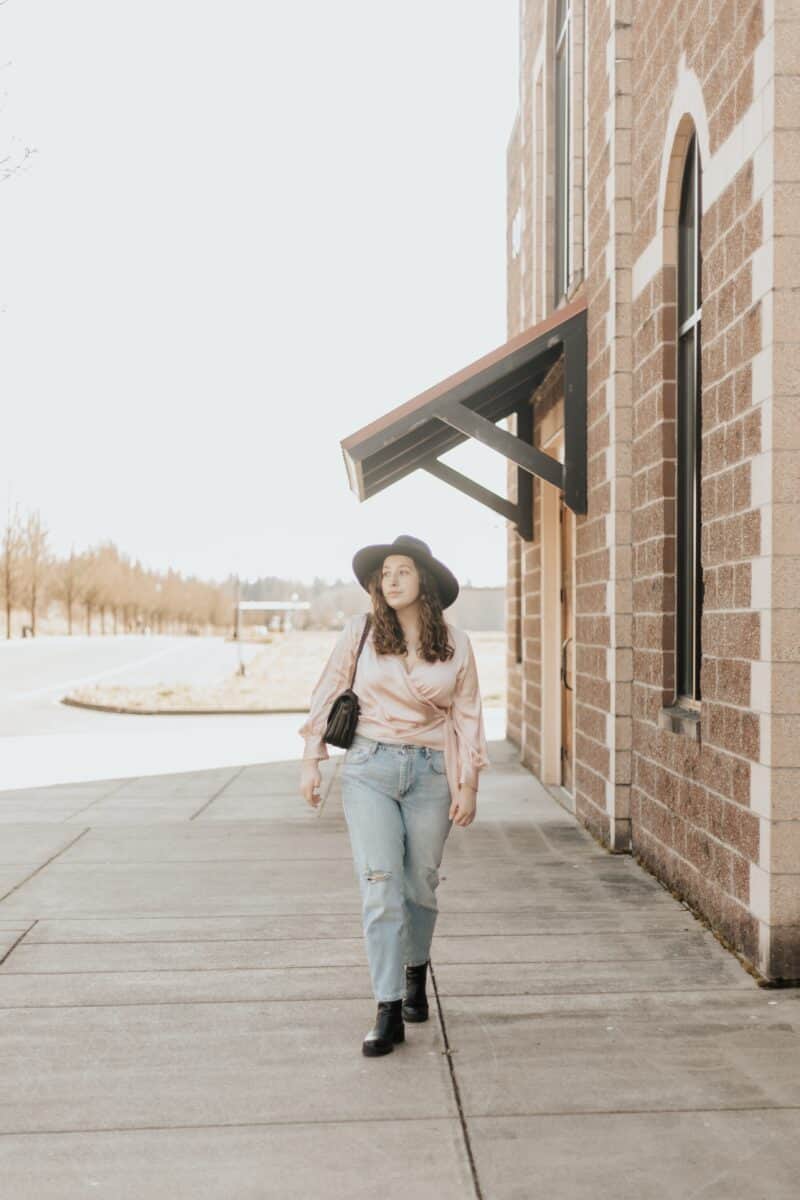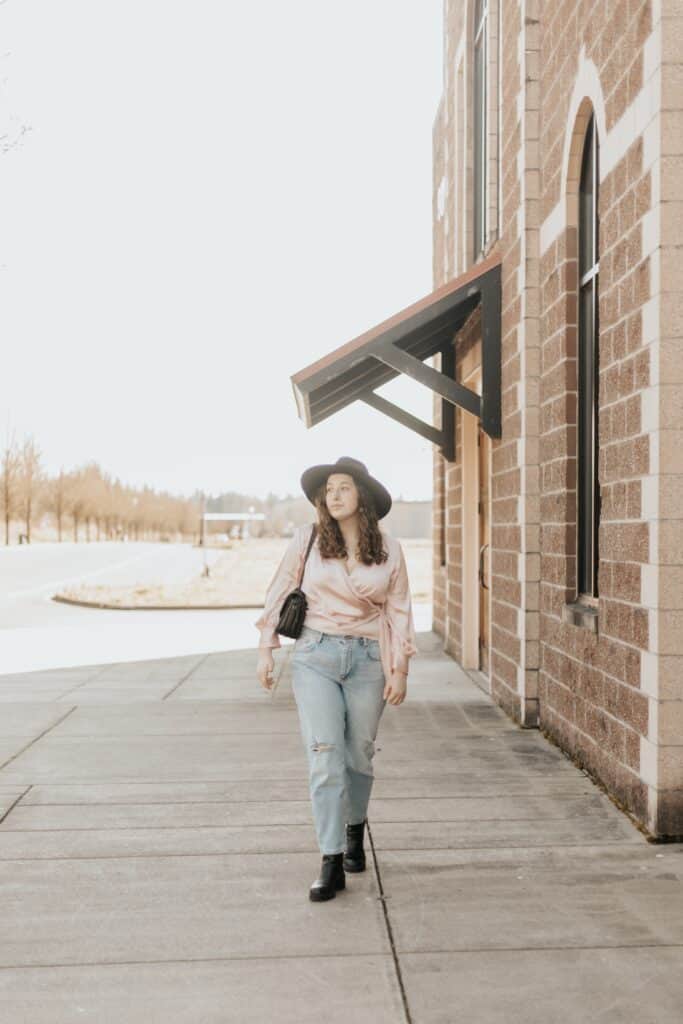 Ok, this is not a particular jeans leg shape, but a jeans fit that is specifically flattering for hourglass shaped women.
When shopping for jeans as an hourglass figure, most experts suggest always favoring 'curvy' fits. More and more brands are beginning to offer a variety of different fits, including curvy, to better suit different body types.
For an hourglass, the curvy styles are often the most flattering and comfortable to wear. As you continue your jean search, keep an eye out for any brands that have this attribute included in their size ranges. It can make a huge difference!
Dark Wash Jeans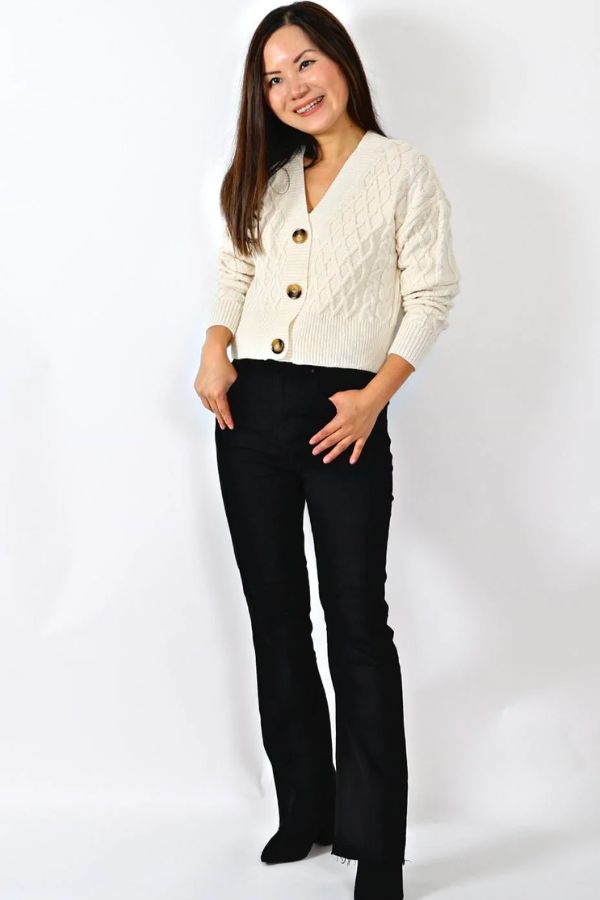 Hourglass shape women come in different sizes. Some hourglass are skinny, while others may be plus size. However, one thing all hourglass shape have in common is they come across as "fleshy" instead of "bony".
That means even when an hourglass shape is a thin, she would always look fuller than she actually is, because of her curvy body shape.
Because of that, darker wash denim is highly recommended for the hourglass. In general, darker colors are slimming, and lighter colors are expansive. Therefore, it is easy to understand that darker shades of denim can make an hourglass women look leaner.
Black is commonly considered the most slimming, but darker colors do not always have to be black. There are many different washes of jeans on the market that are dark grey, grey black, deep navy, which are also wonderful options for the hourglass shape, as they can all make your figure look leaner and longer.
Jeans are a wardrobe staple in every woman's wardrobe. Especially now that fashion has been more casual over the past couple of years. While jeans are such a wardrobe must have, they're also one of the hardest garments to shop for in women's fashion. With this guide, you should be able to now find the perfect pair of jeans for your hourglass shape!
I hope you find these tips helpful! I am also excited to mention that I am one of Google's paid early testers for their Thank with Google pilot program! Thank with Google is a brand new experimental feature that allows you to purchase a virtual sticker to show your appreciation for content on this website!
You will find different kinds of stickers to select from, and every time you send a paid sticker you can add a personal message to me! Whether you send a paid sticker, or a free one, I truly appreciate it. Knowing that my content is helping another woman with her style journey is what motivates me and keeps me going. If you do send a paid sticker, it will help me with maintaining the blog so that I can write more free content for you!
You can find the Thank with Google feature in multiple places on my site. If you try it out, let me know what you think!