OVERALL STYLING GOAL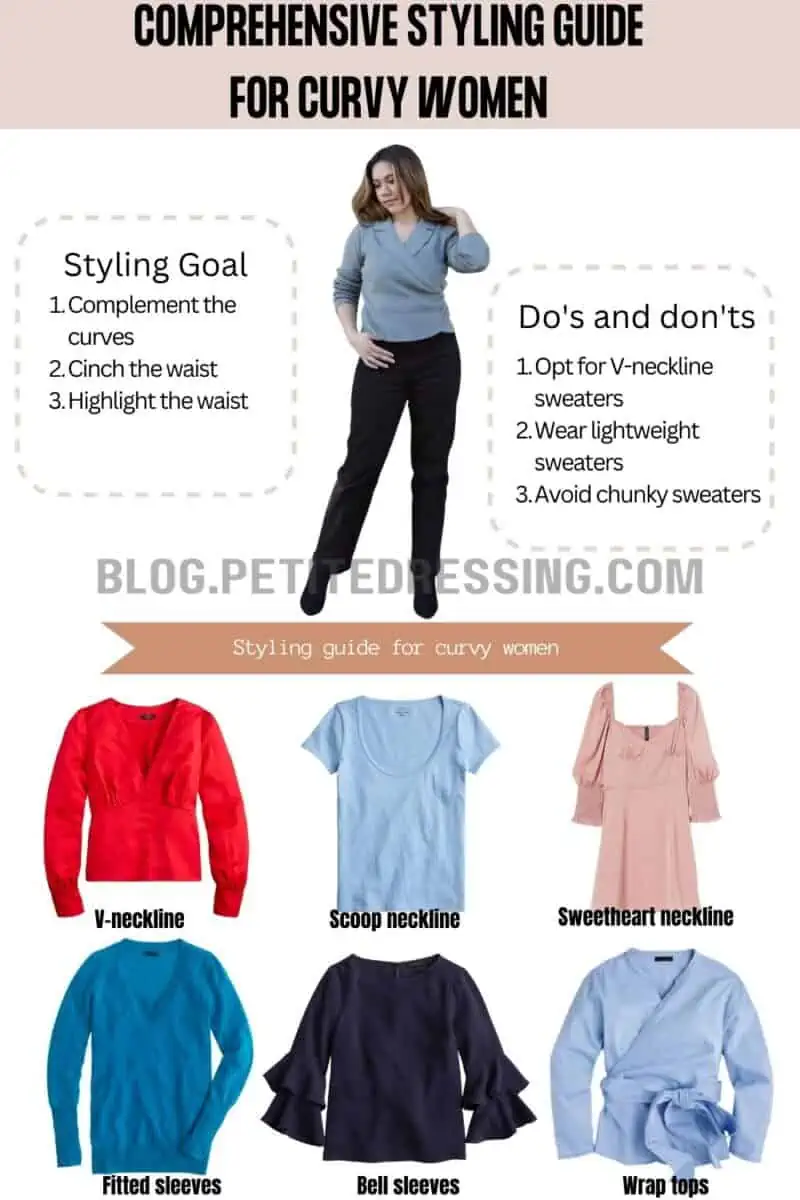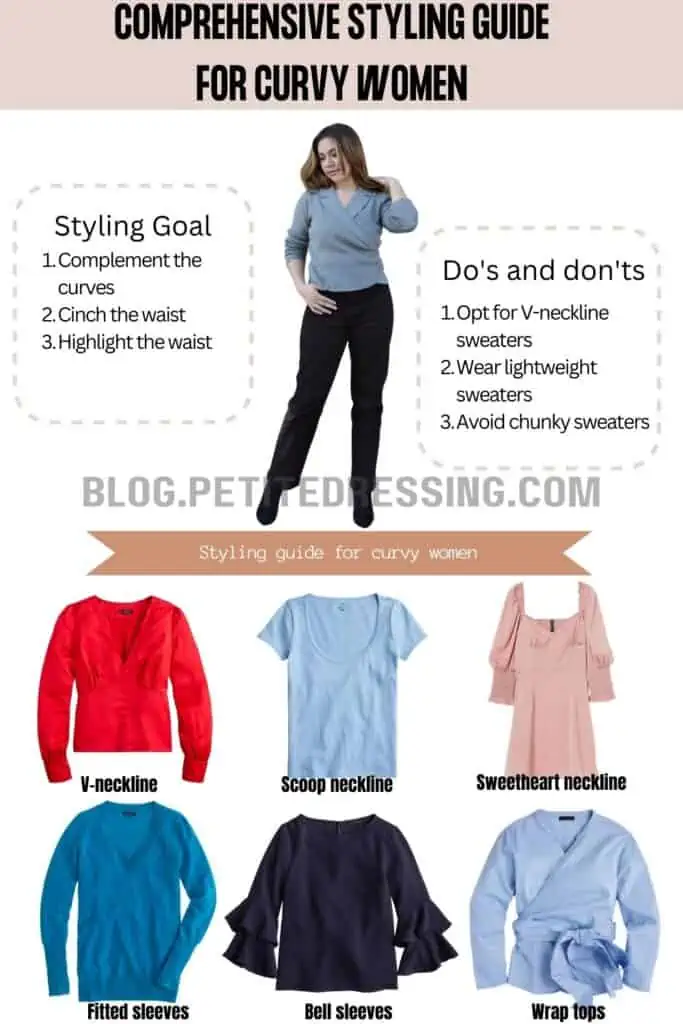 The first rule to styling any body shape is to have a good knowledge of your shape. A curvy woman has a bigger thigh and a defined waist.
This means that to achieve a flattering and balanced outfit, your clothes have to be fitted around the waist and the hips. It also needs to have a good fit in the upper body.
Follow your natural silhouette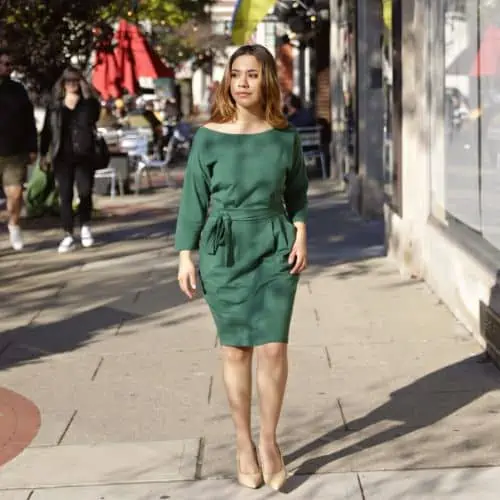 Tips to remember when choosing clothes when you're curvy
Invest in good shapewear and bra
Wear clothes that hug your frame but aren't too clingy.
Avoid clothes that draw peering eyes to the hips and shoulders
Avoid untucking your tops over the curves
Avoid using boxy silhouettes to hide your natural curves
Define your waist
Use belts or fitted garments to accentuate the waist
Wear darker color shades of clothes around the waist
Don't wear boxy clothes that don't define the waist.
NECKLINES
To properly style a curvy woman, you must pay keen attention to proportions by not wearing necklines that would give more visual width to your upper half.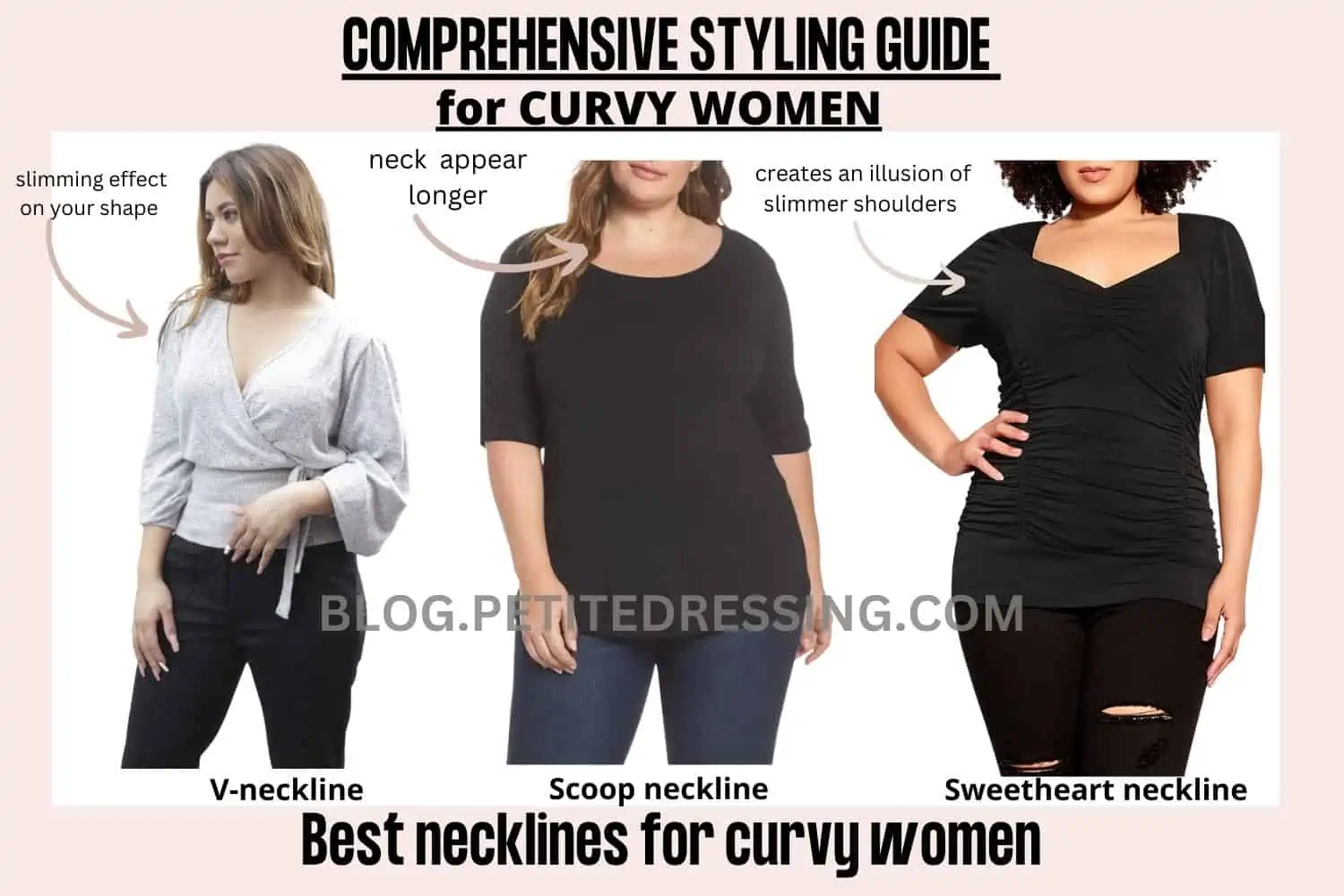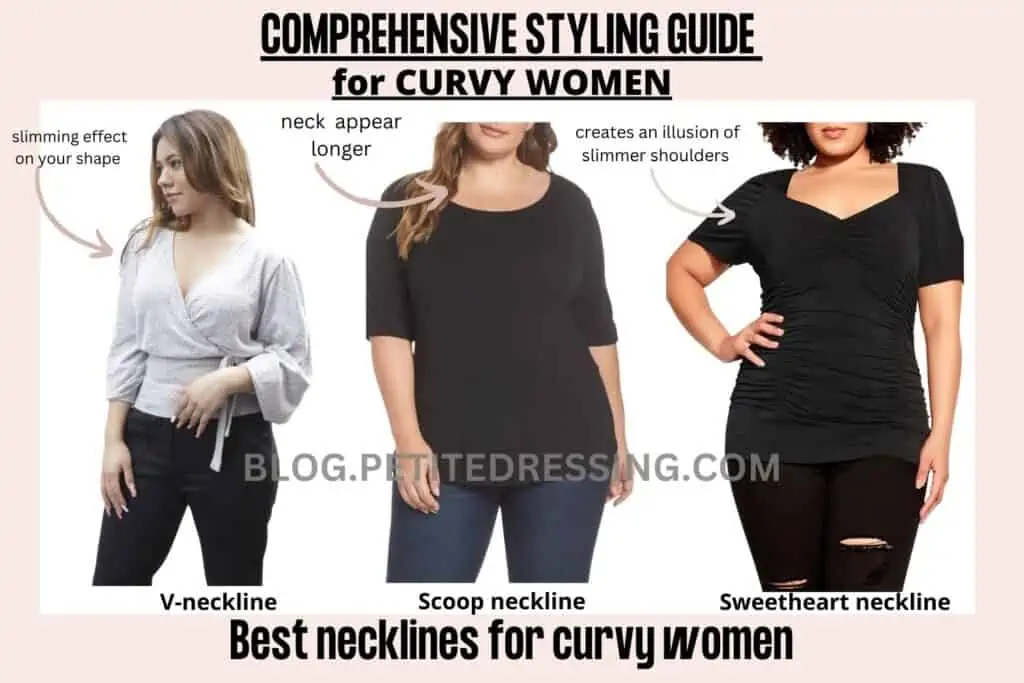 V-neckline
This neckline has a slimming effect on your shape. With a V-neckline, the eyes are found to be moving vertically and not horizontally.
It is a good choice of neckline that is seen to be universally flattering on a curvy woman. They create a visual marker that works in accordance with your shape.
Scoop neckline
It has an effect on the neck of a curvy woman by making it appear longer. The scoop neckline is a warm and stylish neckline that gives you a classic look.
Sweetheart neckline
The sweetheart neckline creates an illusion of slimmer shoulders while also enhancing the bust in the right silhouette.
Avoid turtle necklines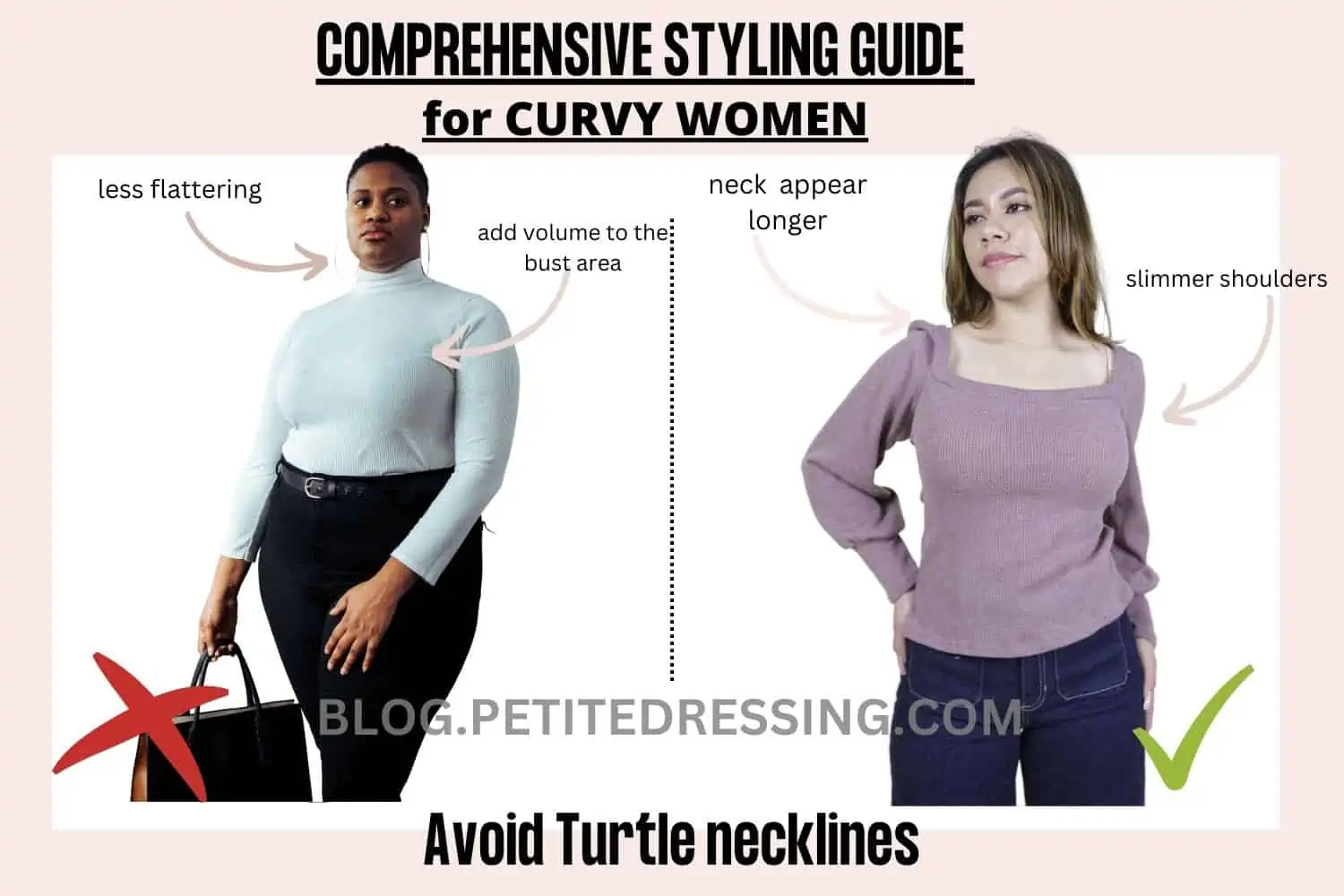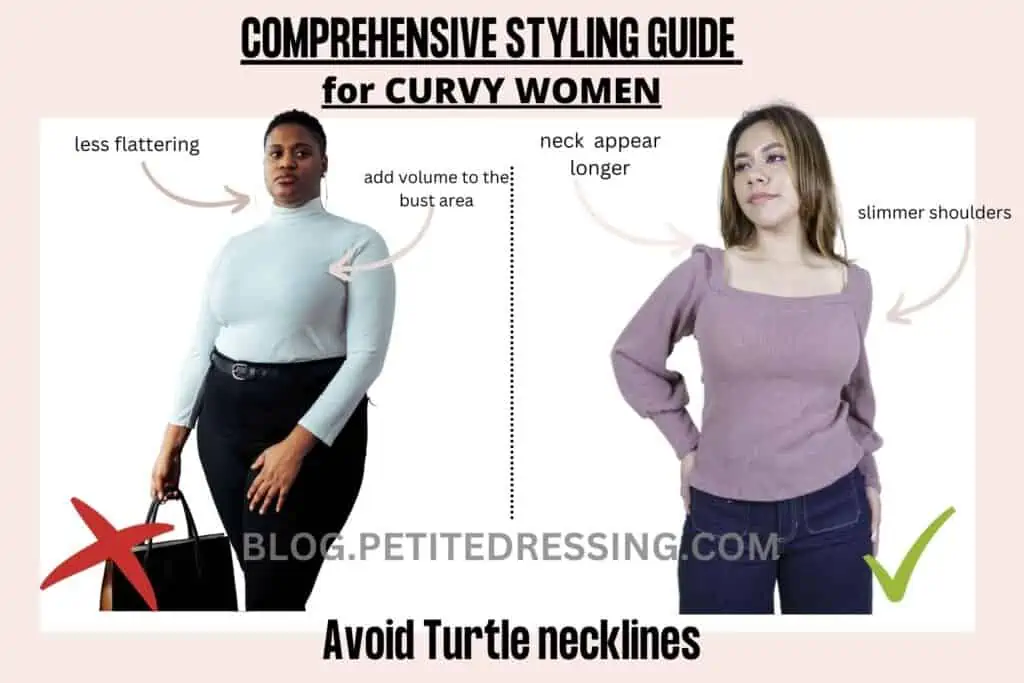 You should avoid the turtle neckline because it is less flattering on a curvy woman as it would add volume to the bust area. It's impossible for the turtle neckline to help you achieve balance in your overall body frame.
SLEEVES
The sleeves of your dress should help balance out the visual lines and add a vertical element to your curvy frame. There should be no extra width added by the sleeves to both the shoulder and the hipline.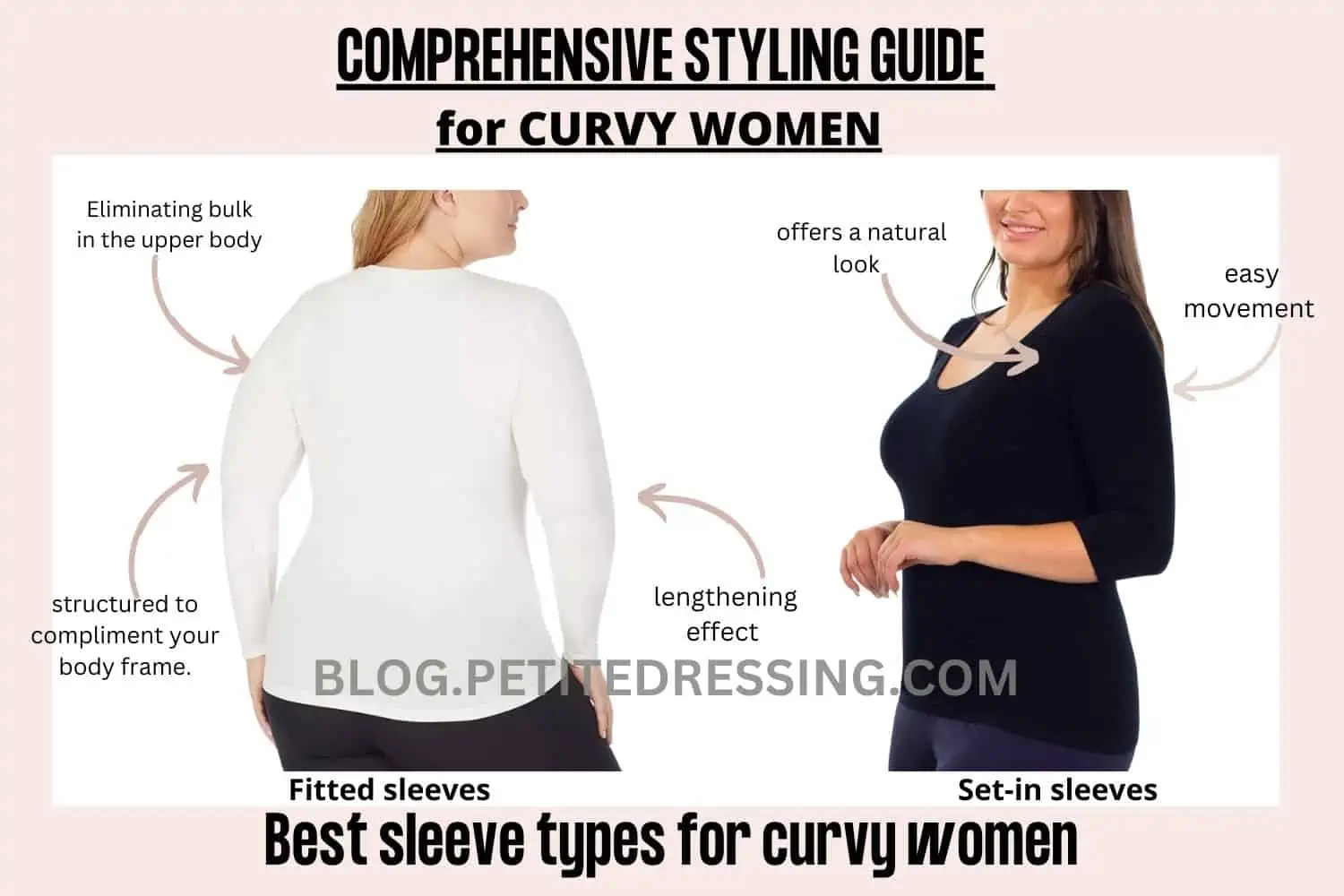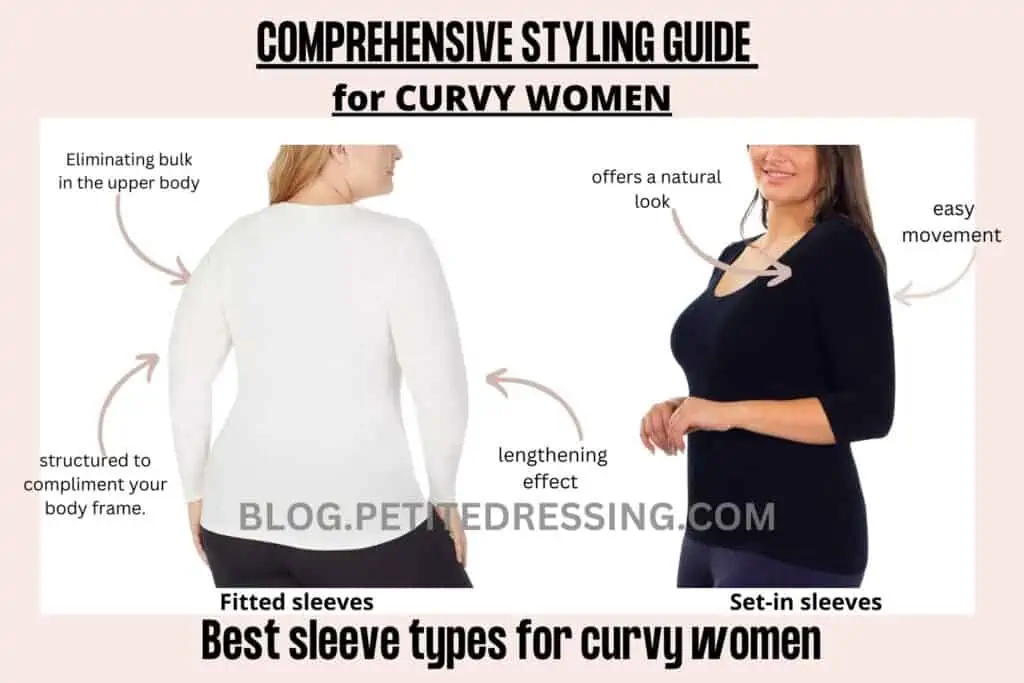 Fitted sleeves
Eliminating bulk in the upper body can be done by wearing fitted sleeves. Fitted sleeves are well structured to compliment your body frame.
Instead of opting for the voluminous sleeve design, you should pick the fitted sleeve design so you can easily attain balance.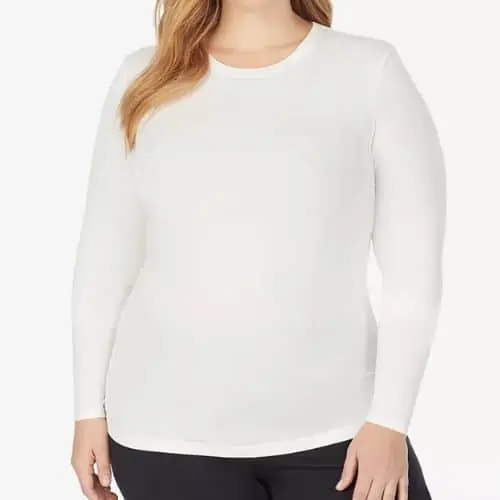 Why opt for fitted sleeves
Fitted sleeves also have a lengthening effect because of the vertical line they create for your body.
They have a feel of simplicity and help to reduce the attention of the eyes around the upper body.
Set-in sleeves
It's a sleeve cut separately and stitched into the armhole of a finished bodice. It is a well-tailored sleeve that follows the natural curves of the body.
There is enough room created for easy movement of the arms by the set-in sleeves.
This sleeve is a great choice for curvy women because it offers a natural look to your overall body frame.
Avoid bell sleeves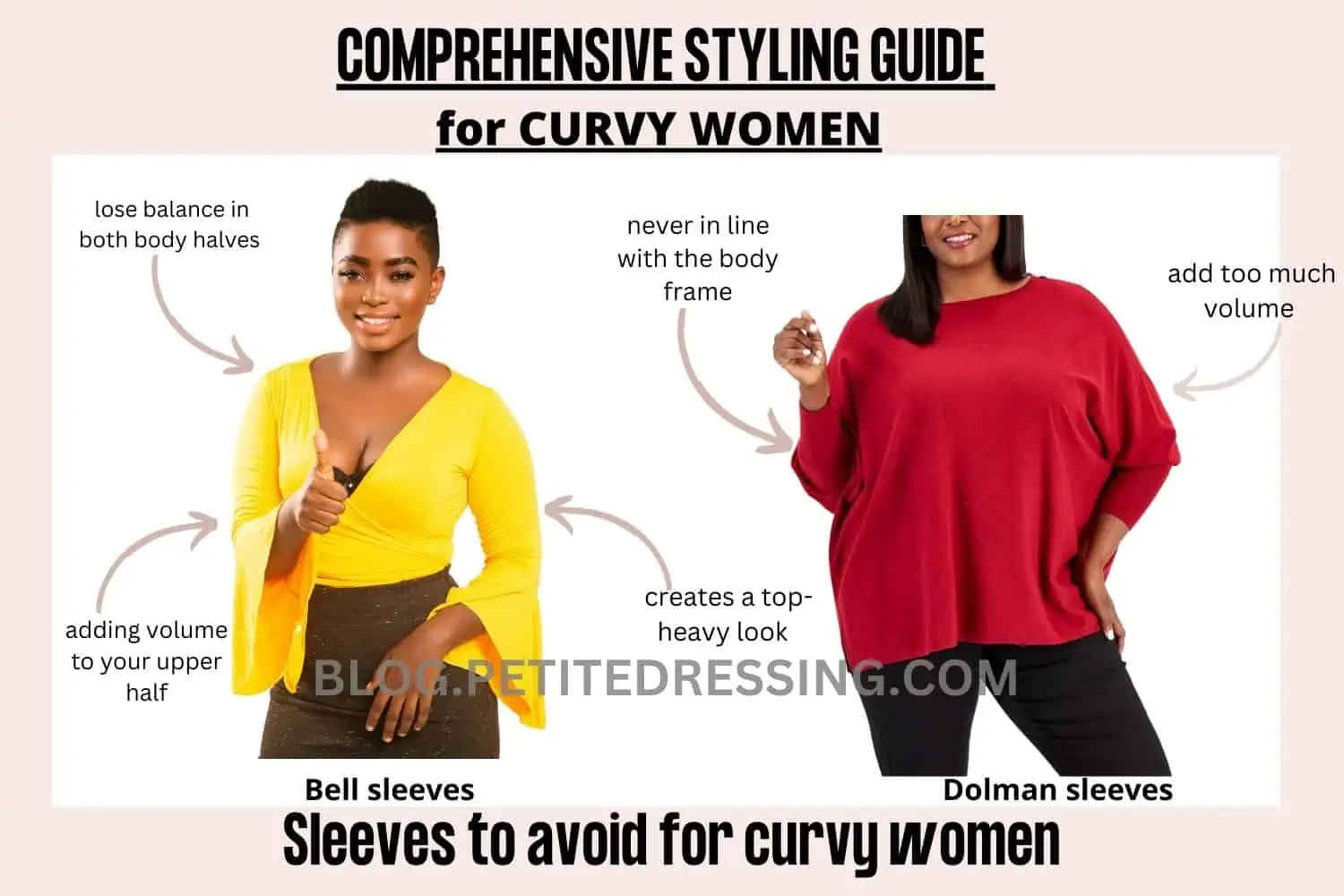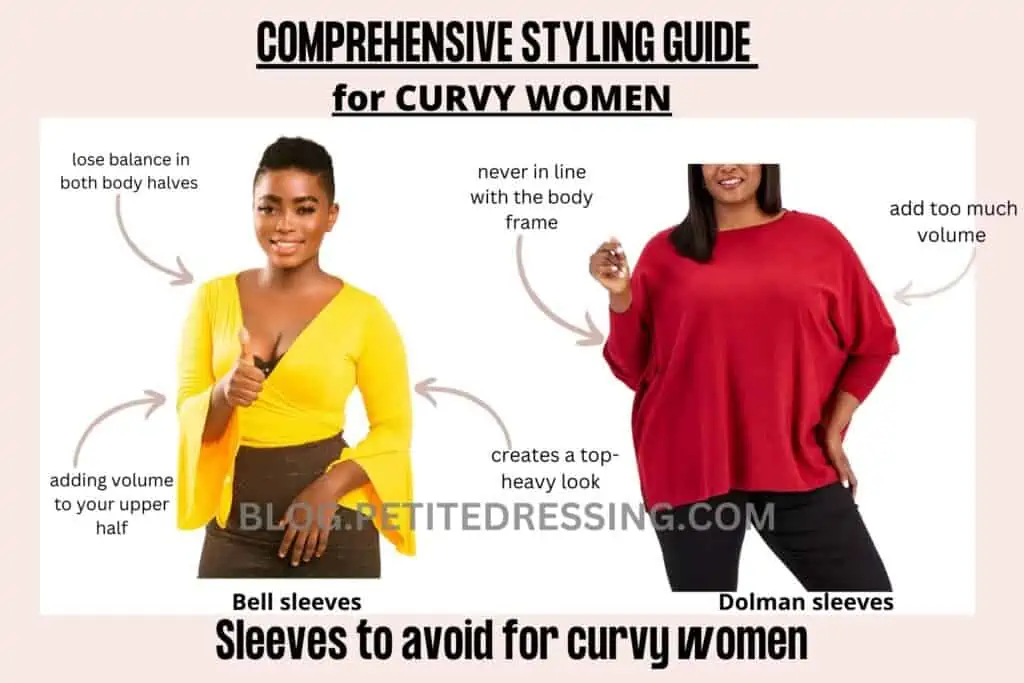 You should avoid the bell sleeve because it is a type of sleeve with a very high tendency of adding volume to your upper half.
It is a sleeve that does not properly complement your body frame.
It creates a top-heavy look for the curvy woman that effortlessly makes her lose balance in both body halves.
Avoid dolman sleeves
The features of the dolman sleeves are never in line with the body frame of a curvy woman so it's best to avoid them.
The flexible line that is formed by the dolman sleeve can make a curvy woman lose her shape because it minimizes the appearance of the waistline.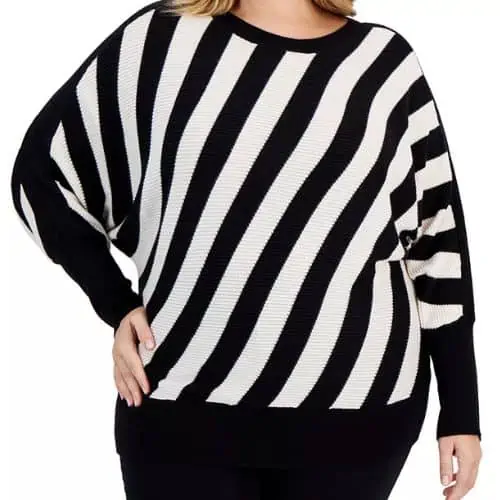 Here's why you should not use dolman sleeves when you're curvy
This sleeve can add too much volume near your bust line and that can be very uncomfortable.
TOPS AND SWEATERS
The right tops and sweaters for the curvy woman should be flattering at the right places without having to make you appear shapeless in your upper body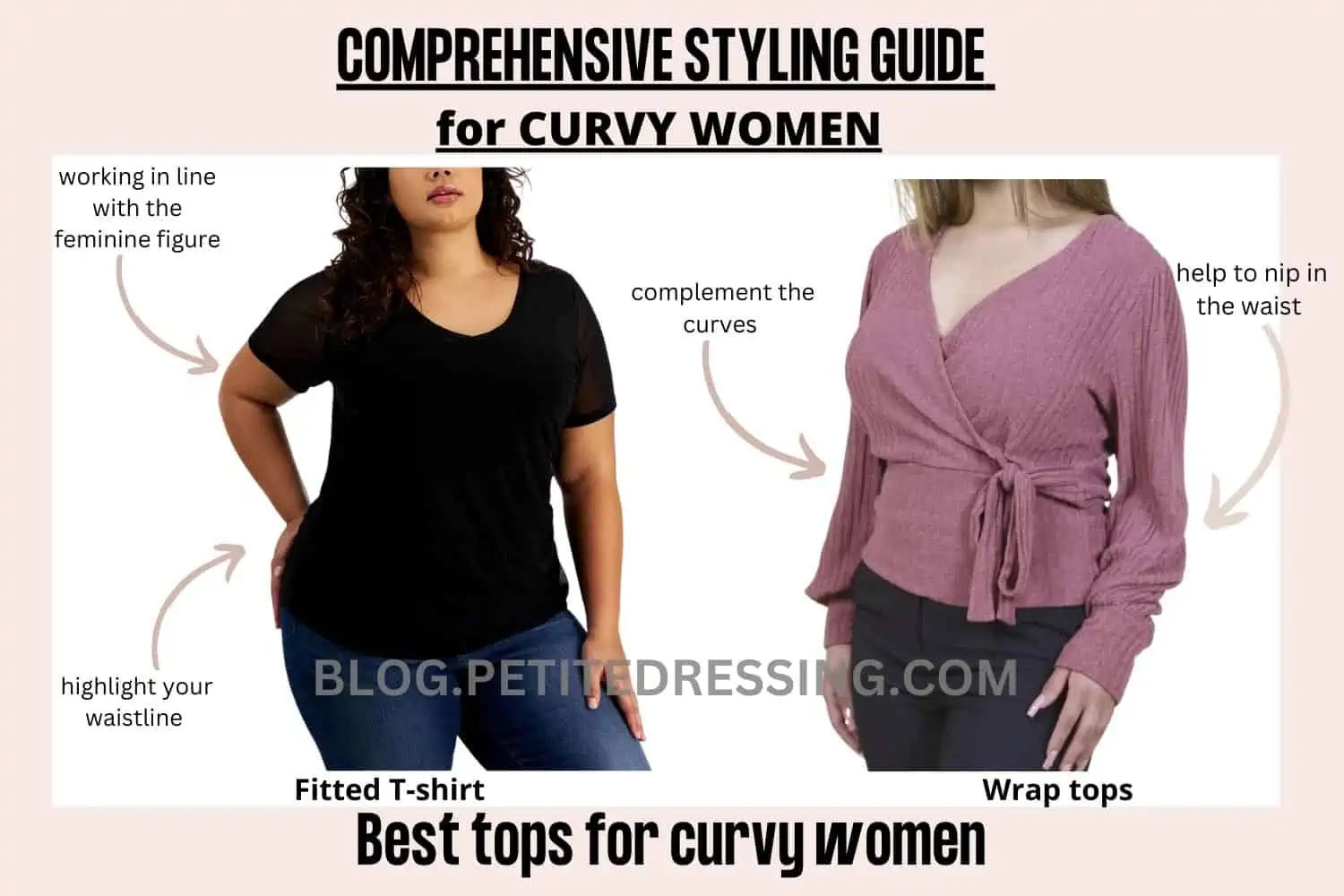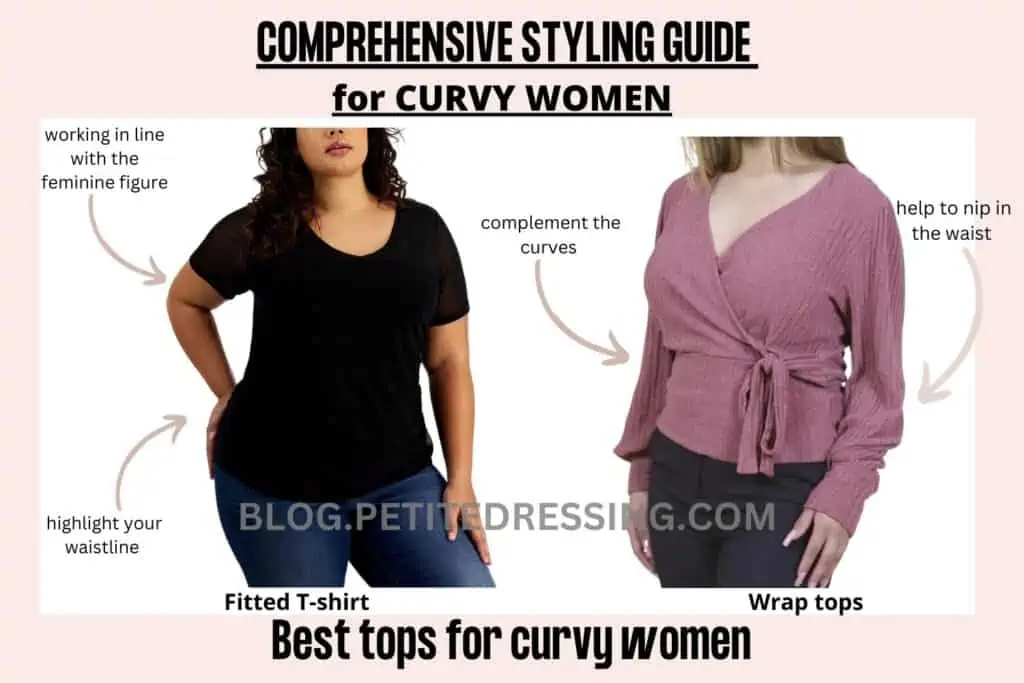 Fitted T-shirt
Most recommended cloth designs are fitted patterns because they are known for working in line with the feminine figure. A fitted T-shirt helps to highlight your waistline and should therefore be your go-to style.
It flatters the curvy woman and offers comfort to her general figure without making her top-heavy.
Fitted doesn't mean it should hug tightly to your figure if your structure must be retained.
Wrap tops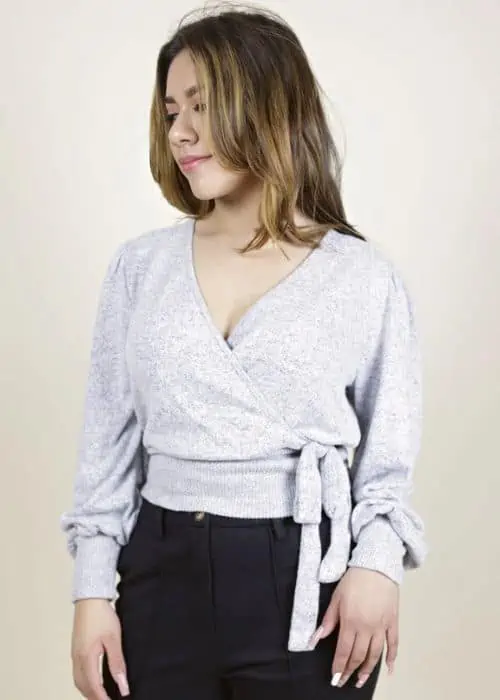 Wrap tops are a must-have
This top has a V-neckline that is flattering and stylish for the curvy woman.
They are an everyday style that enhances the waist and uplifts your look.
Wrap tops are incredibly flattering on curvy women because they help to nip in the waist. They are easy-to-wear top styles that also complement the curves and offer you comfort.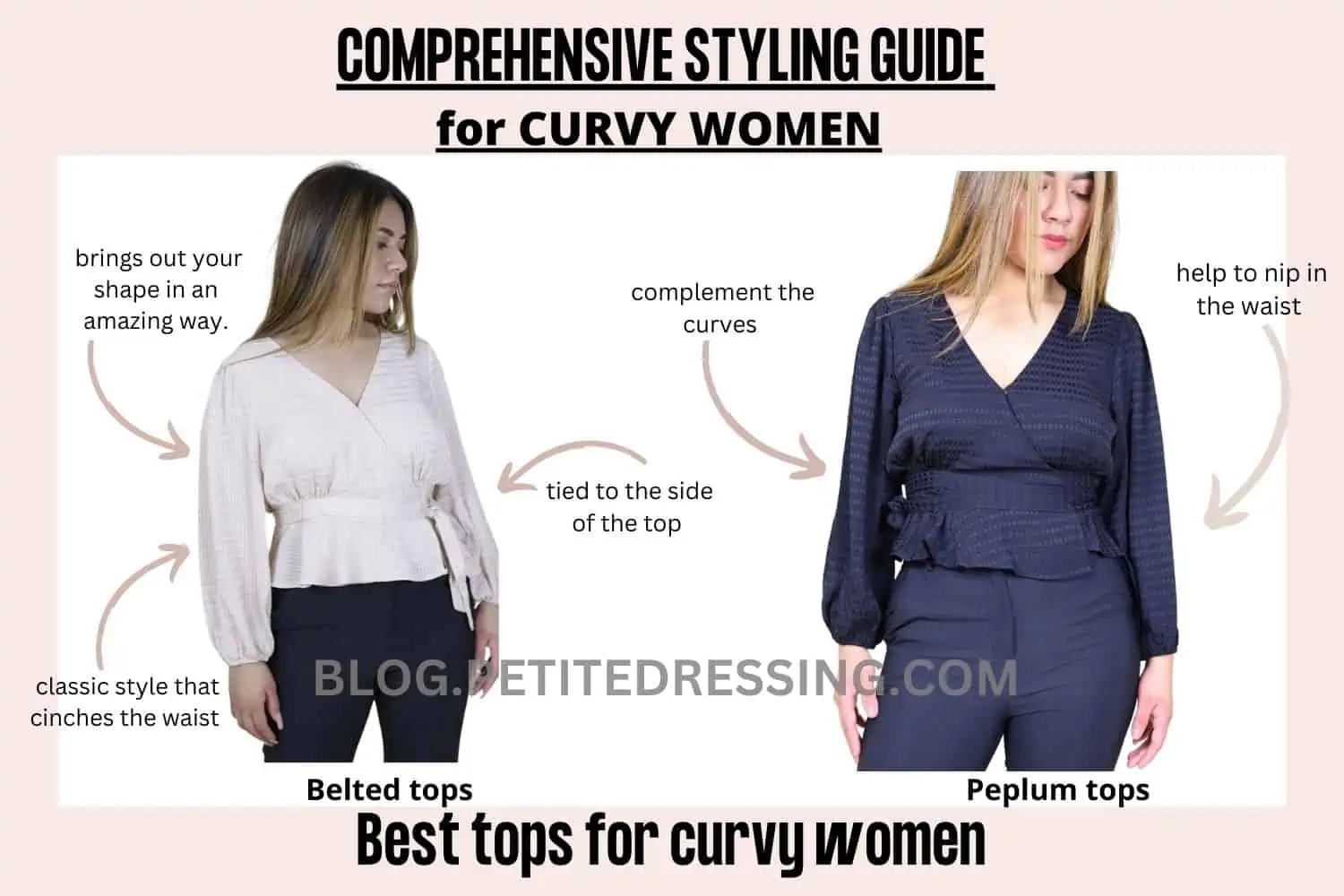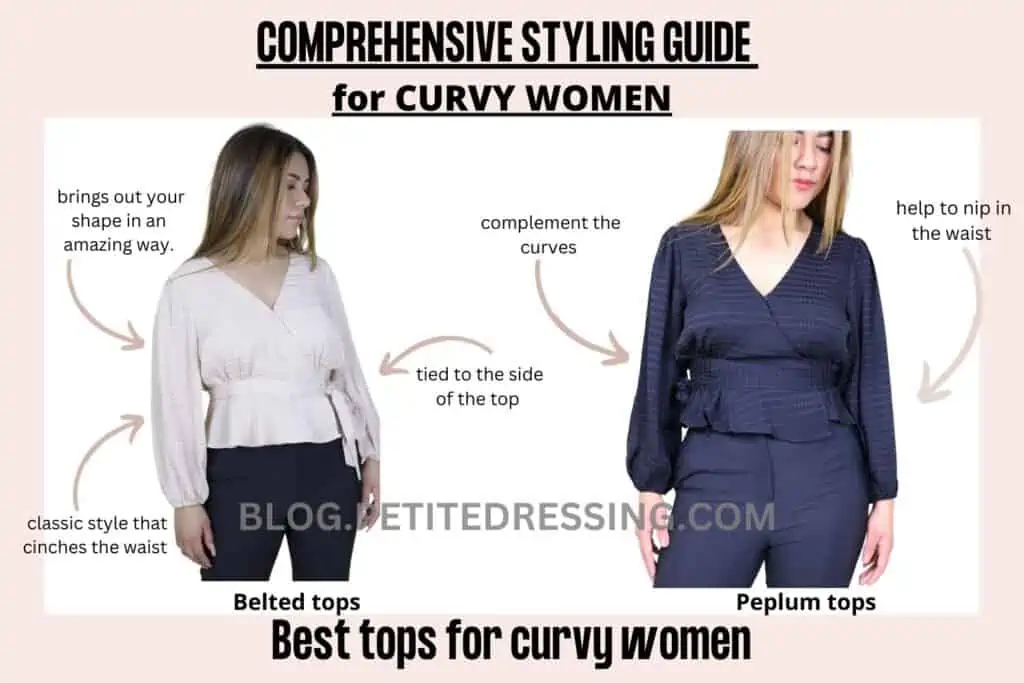 Belted tops
The top is a classic style that cinches the waist and helps to strongly focus the attention of the eyes on the waistline. It is definitely a great choice of belt for the curvy woman because it brings out your shape in an amazing way.
With thin belts, the attention of the eyes around the waist would be reduced. You can also style your loose tops with belts for a more structured look.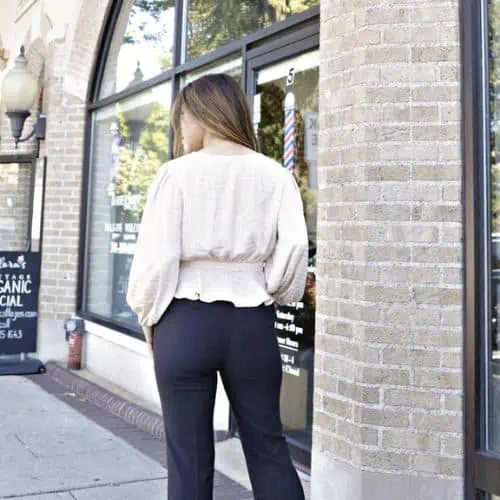 How to use a belted top
The most flattering belted top designs are those that are tied to the side of the top.
Also, you should wear tops with thin belts so your waist could be properly defined.
Peplum tops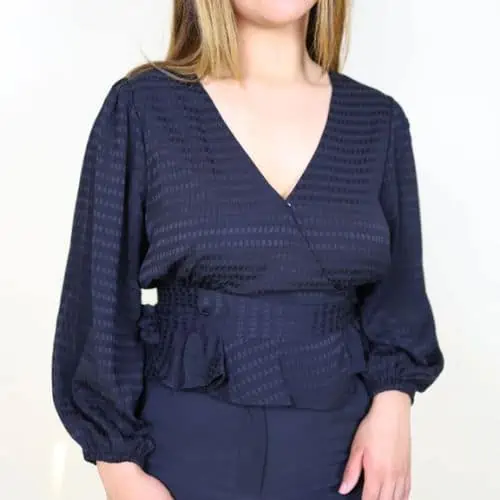 Peplum tops are the best
The top adds volume to the top half so balance could be attained with the curvy hips in your lower half.
They elevate your waist and give your natural curvy shape a desirable appearance so you could look poise and elegant
Peplum tops are beautiful top designs that are fitted at the top part of the body and flare out over the curves. While making the choice of the peplum top, make sure the flare hits at your natural waistline for you to get a better fitting.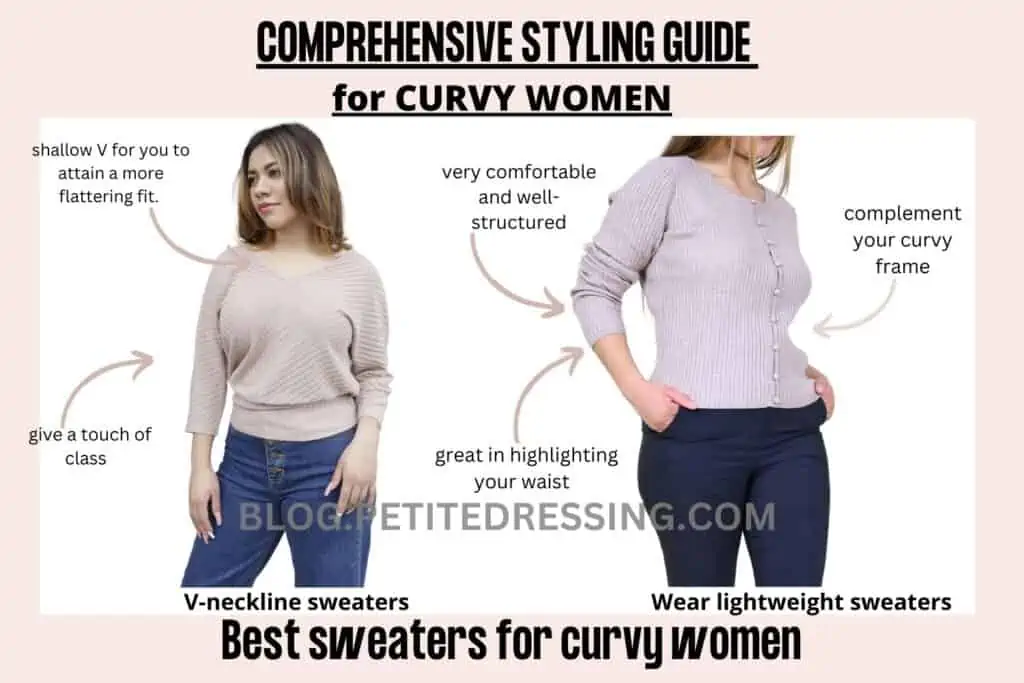 V-neckline sweaters
You should make the V- neckline sweater one of your most accommodating sweaters if you have a curvy shape.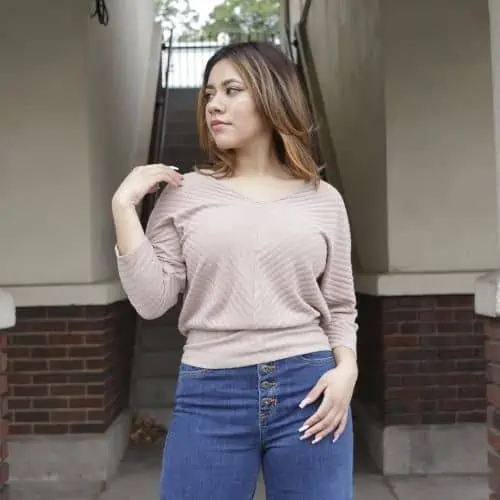 How to choose a V-neck sweater
This sweater can give a touch of class to the curvy woman especially because it can be well-layered.
Go for the V-neckline that has a quite shallow V for you to attain a more flattering fit.
Wear lightweight sweaters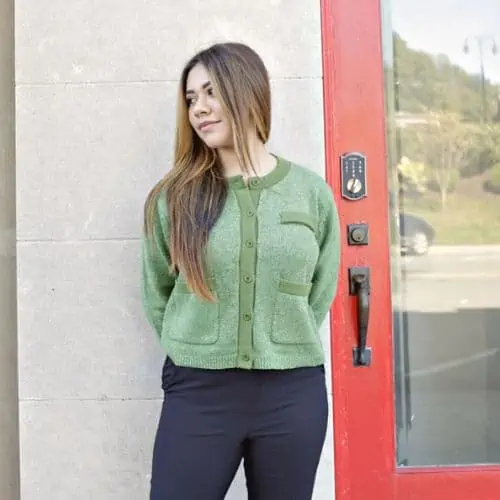 What to expect whne using a light-w3eight sweater
One way to eliminate weight in your upper half is by simply opting for a lightweight sweater.
This type of sweater is also very comfortable and well-structured to complement your curvy frame.
Lightweight sweaters are easy-breezy sweaters that can be well layered on a curvy woman. They are also great in highlighting your waist and improving your appearance.
Avoid chunky sweaters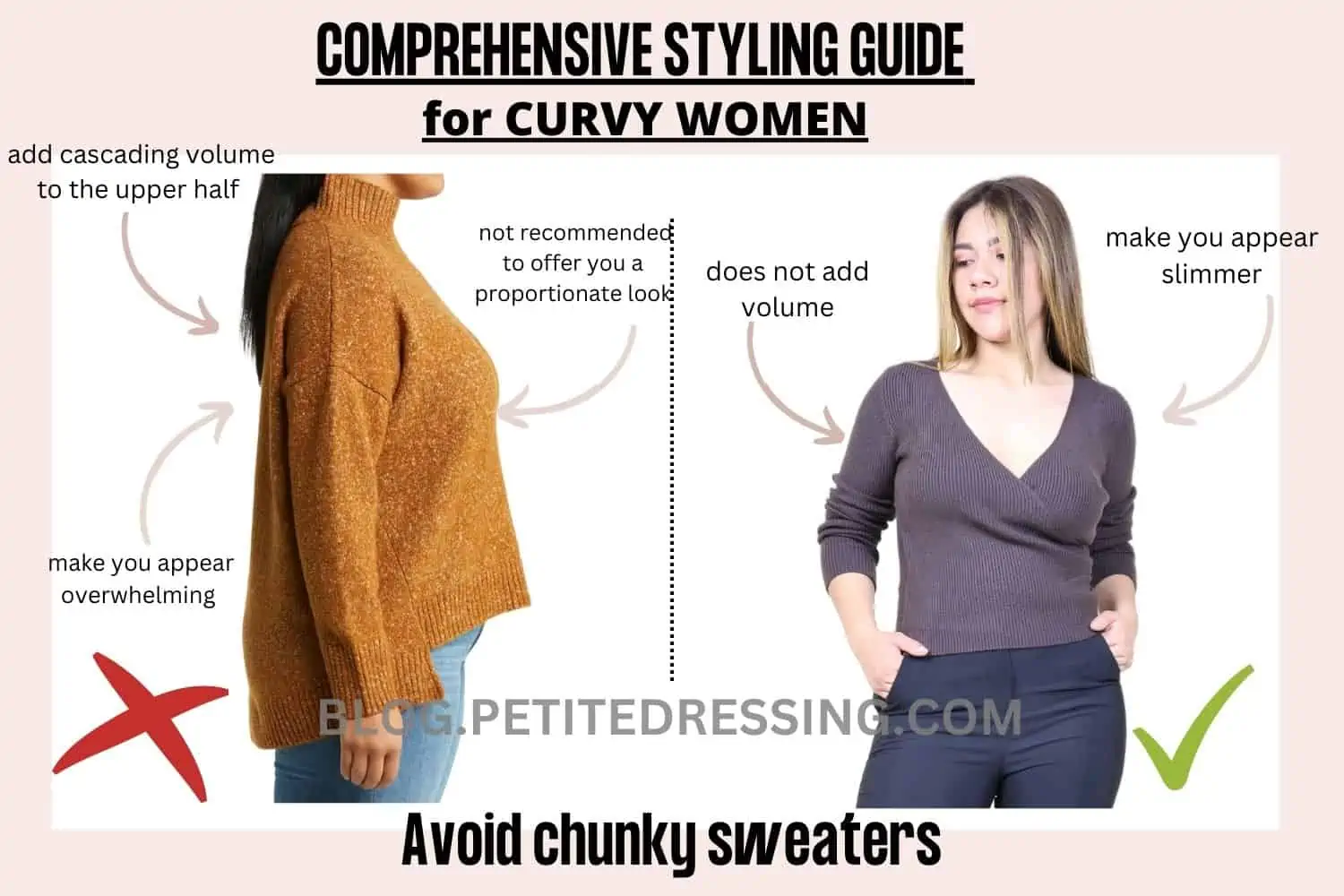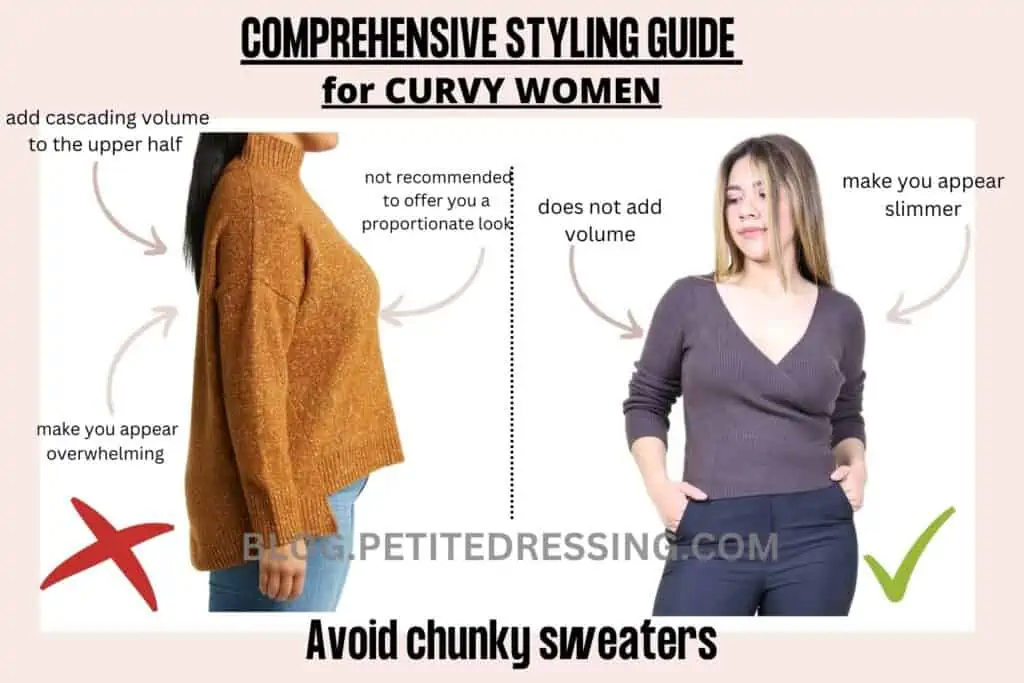 As the name rightly implies, the chunky sweater can add cascading volume to the upper half of the curvy woman. These types of sweaters are not recommended to offer you a proportionate look, so you are advised to avoid them.
Chunky sweaters do not look great on curvy women because they do not highlight the waist and accentuate the curves. They also have the tendency to make you appear overwhelming.
JACKETS AND COATS
Both the jackets and coats of a curvy woman should be well fitted to highlight the waist and also follow the natural curves.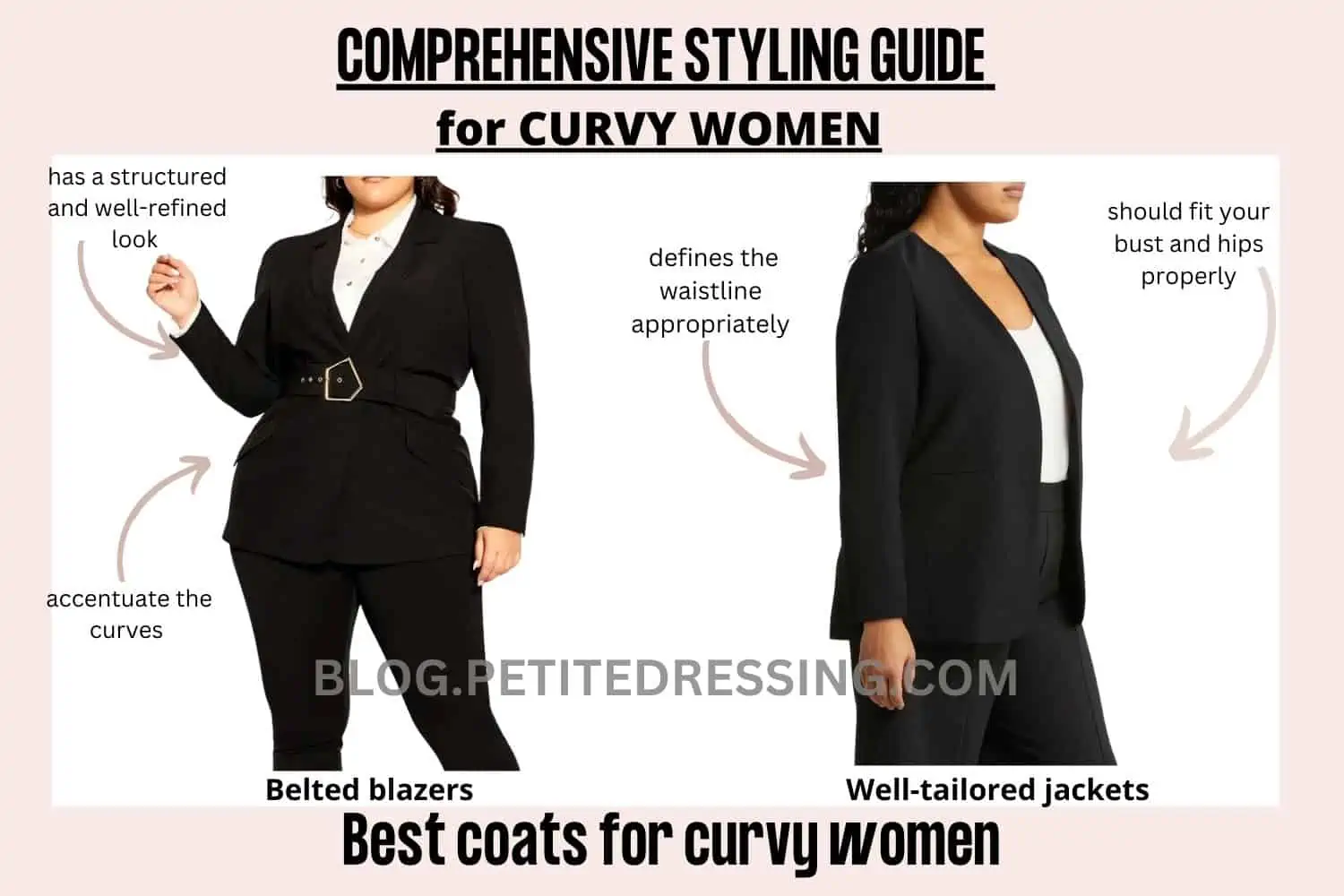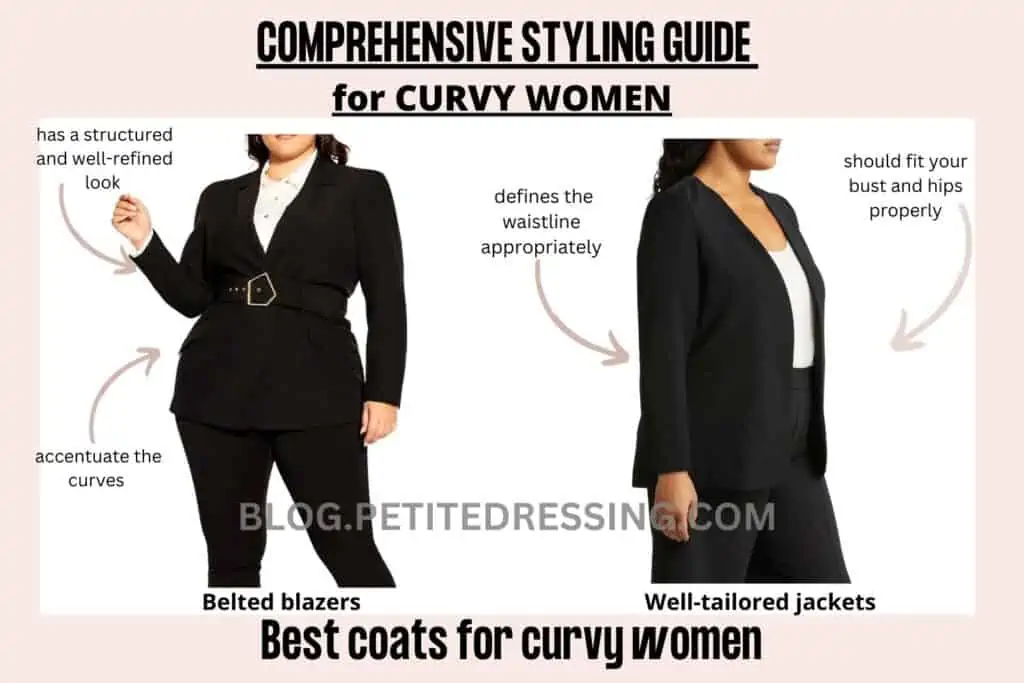 Belted blazers
A belted blazer is perfect for the curvy woman because it helps to comfortably nip in the waistline. This type of jacket also provides proper coverage for the feminine figure.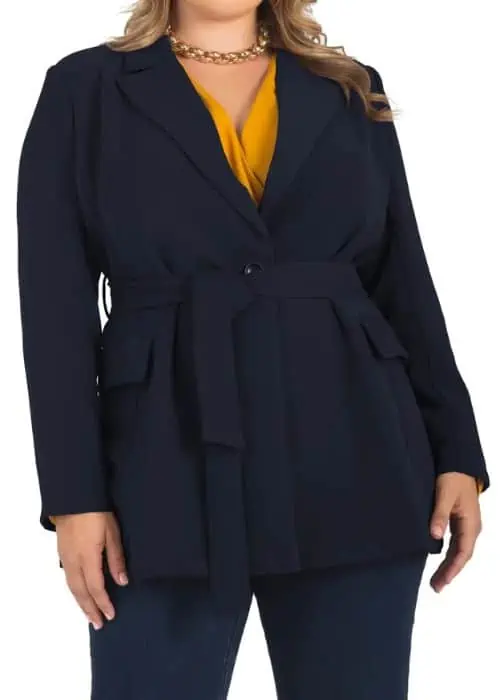 Why opt for a belted blazer
It also has a structured and well-refined look that is suitable for the curvy woman.
The belted blazer helps to accentuate the curves and give the woman a touch of elegance and sophistication.
Well-tailored jackets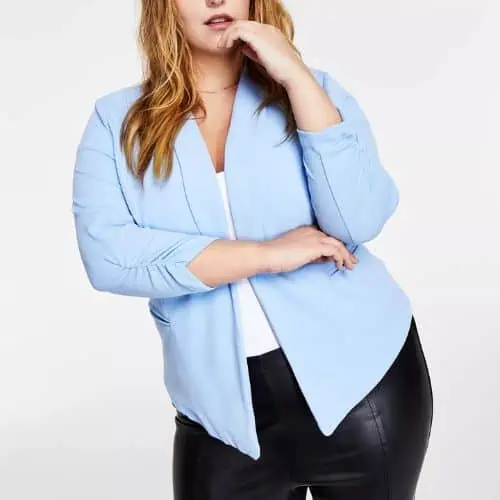 Well-tailored jackets are a must-have
A well-tailored jacket should fit your bust and hips properly if it must align with your curvy shape.
Tailored jackets should be sewn without adding any shoulder pads to them to avoid you from losing shape.
Make sure your measurements are well taken before the jackets get tailored to your shape. A well-tailored jacket is very flattering on a curvy woman because it defines the waistline appropriately.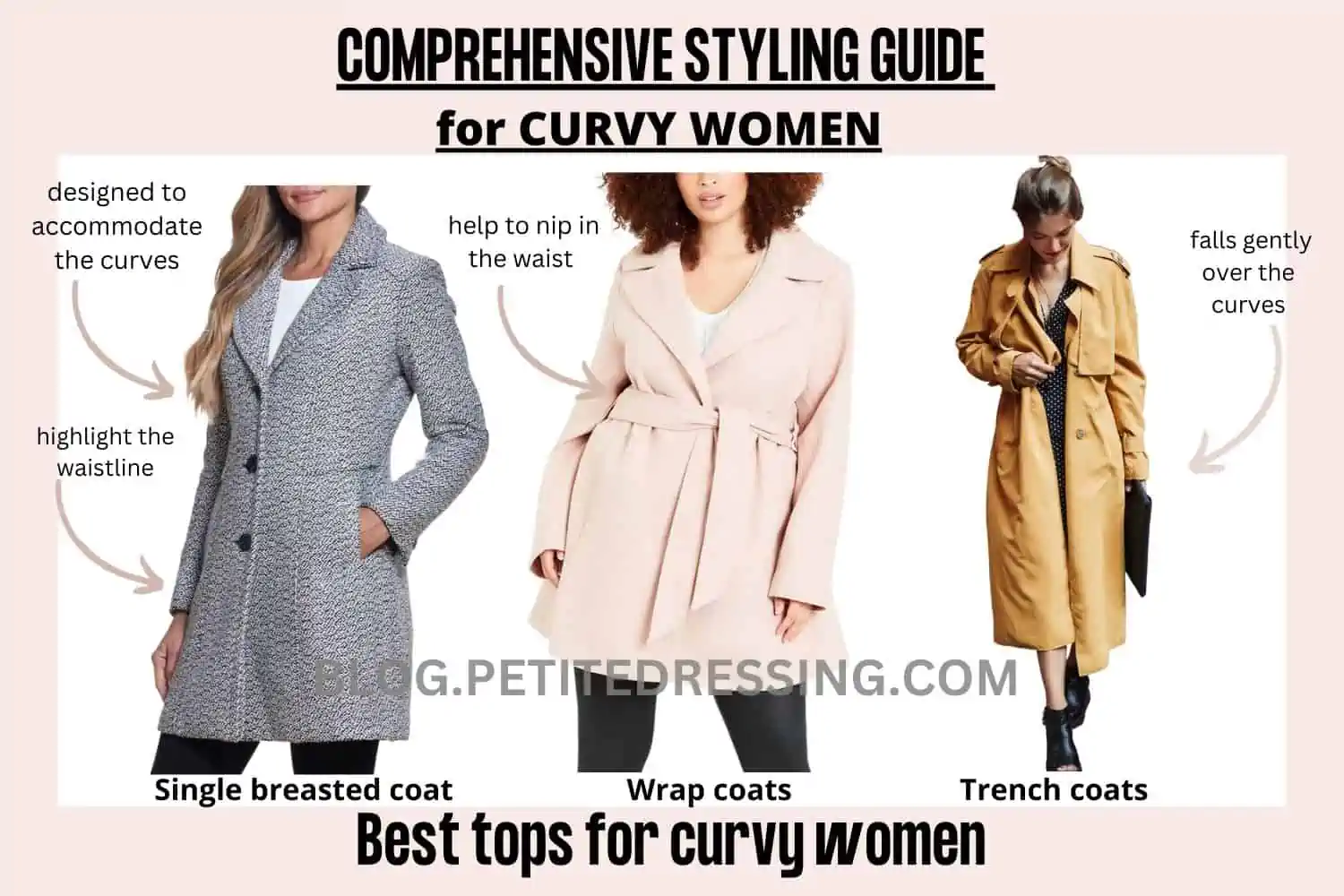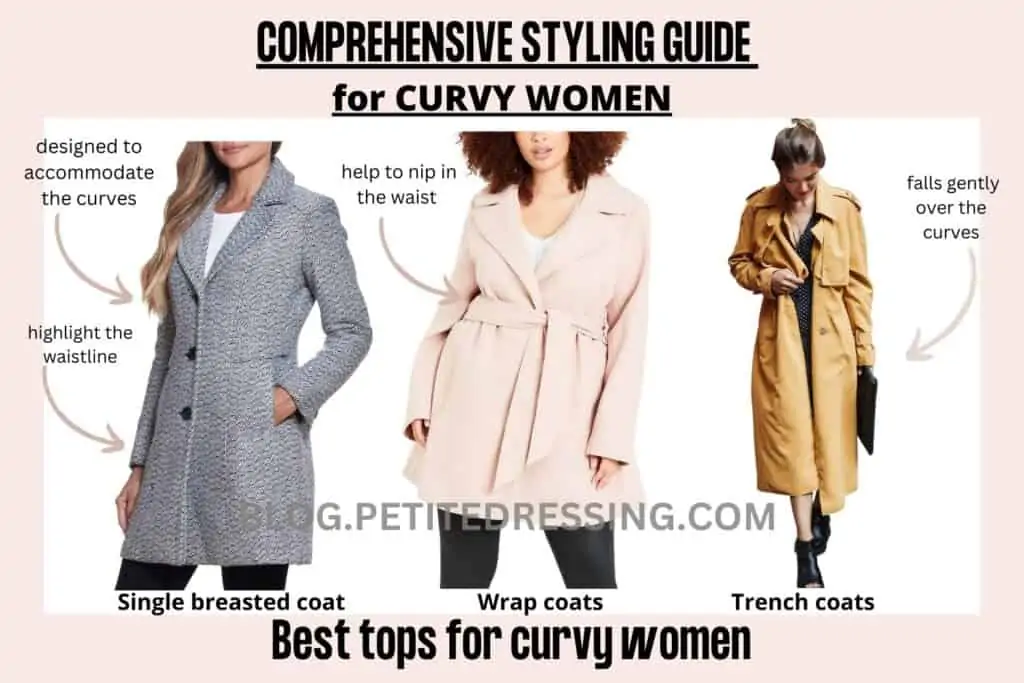 Single breasted coat
This jacket has a single point of fastening that further offers a slimming and flattering effect to the curvy woman. It is a very simple and stylish coat style that a curvy woman can comfortably rock in winter.
The single-breasted coat is well-fitted and designed to accommodate the curves and highlight the waistline.
With no added bulkiness around the upper figure, the single-breasted coat remains a very essential coat collection for the curvy woman
Wrap coats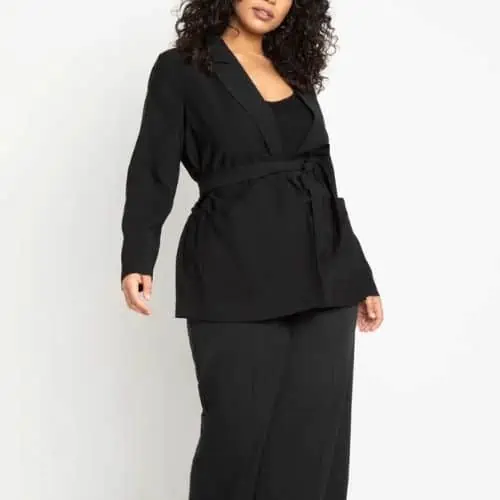 Wrap coats are an essential staple for your wardrobe
One great coat that helps to nip in the waist of a curvy woman and still helps embrace her curves is the wrap coat.
They are super comfortable coats that can be adjustable to suit your figure.
Wrap coats also offer enough coverage to the body making them great confidence boosters for the curvy woman.
Trench coats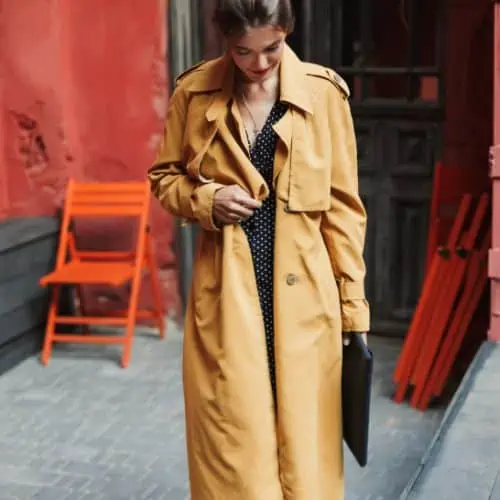 Why Trench coats are the best
Elegance and poise are two unique qualities that the trench coat presents to the curvy woman.
It falls gently over the curves of the woman and slims out her body frame.
These coats are often form-fitting coats that do not look unbalanced on any body shape so consider them a good fit for the curvy woman.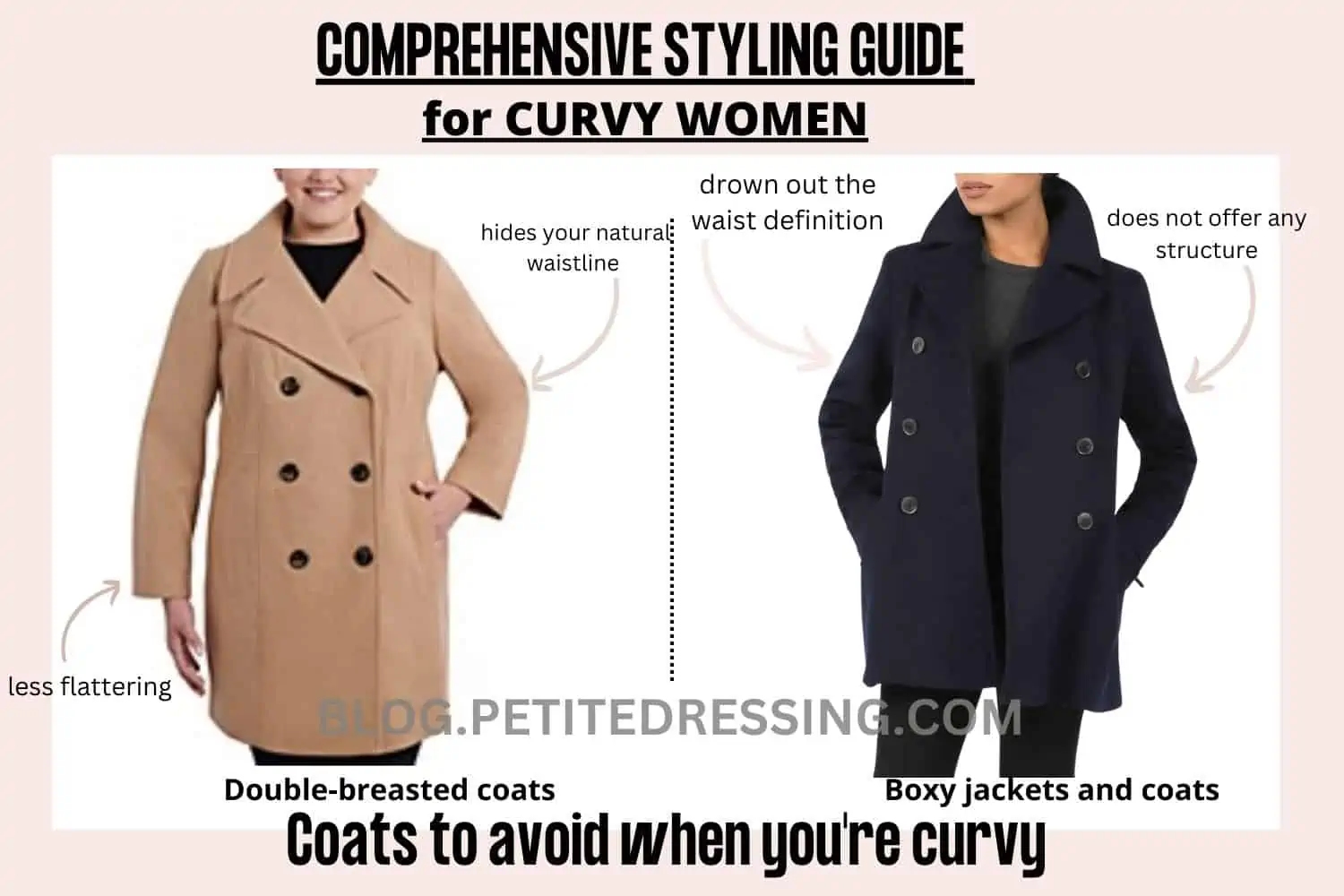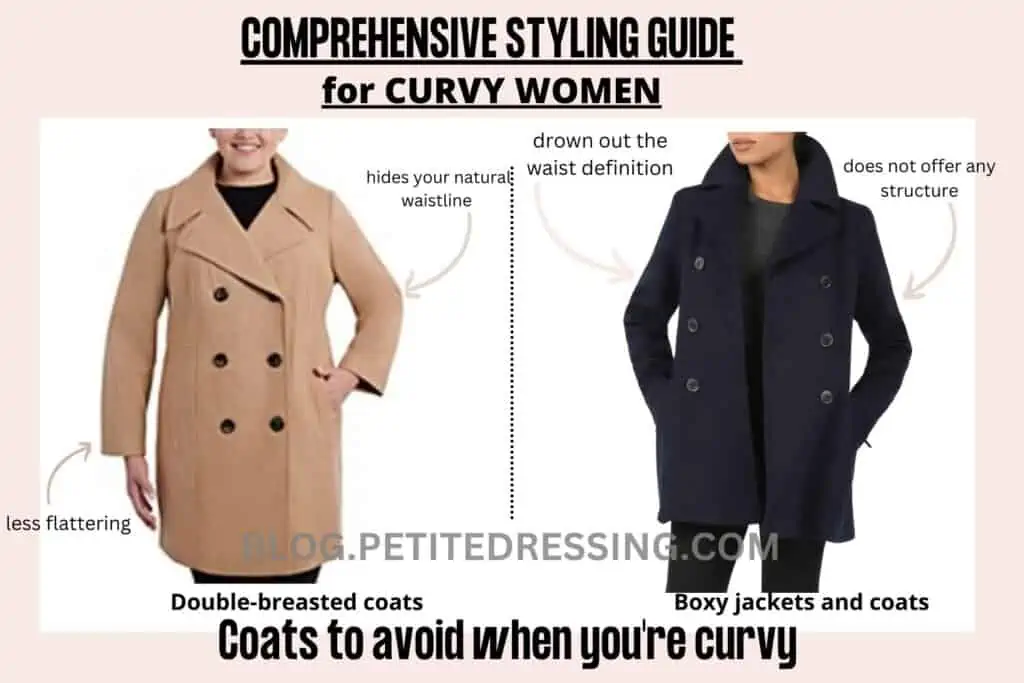 Avoid double-breasted coats
The coat can create a lot of visual clutter to your outfit so avoid wearing them if you have gracious curves.
This type of coat can hide your natural waistline because of its bulky front detailing.
The double-breasted coat has large buttons and an overlap that isn't flattering for the curvy woman.
Avoid boxy jackets and coats
These sets of coats do not offer any structure and sophistication to the curvy woman. Adding them to your classic wardrobe should never be an option for you.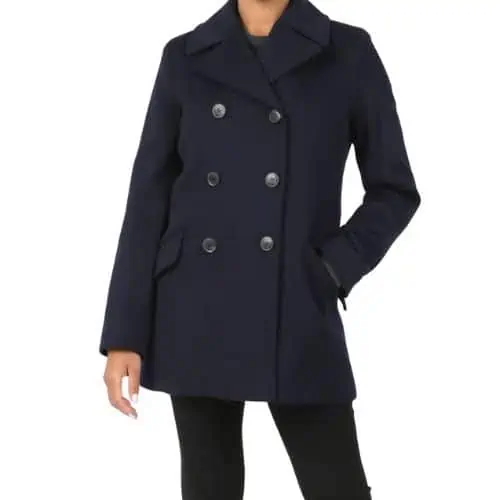 Here's why you should not opt for boxy jackets and coats
Boxy jackets and coats have no fitting on a curvy woman because they would drown out the waist definition.
You cannot embrace your curves with a boxy jacket and coat so avoid them.
PANTS
The most desirable pant for a curvy woman must accentuate the curves and highlight the waist. It must also work in accordance with the upper body part so your figure could appear well-proportioned.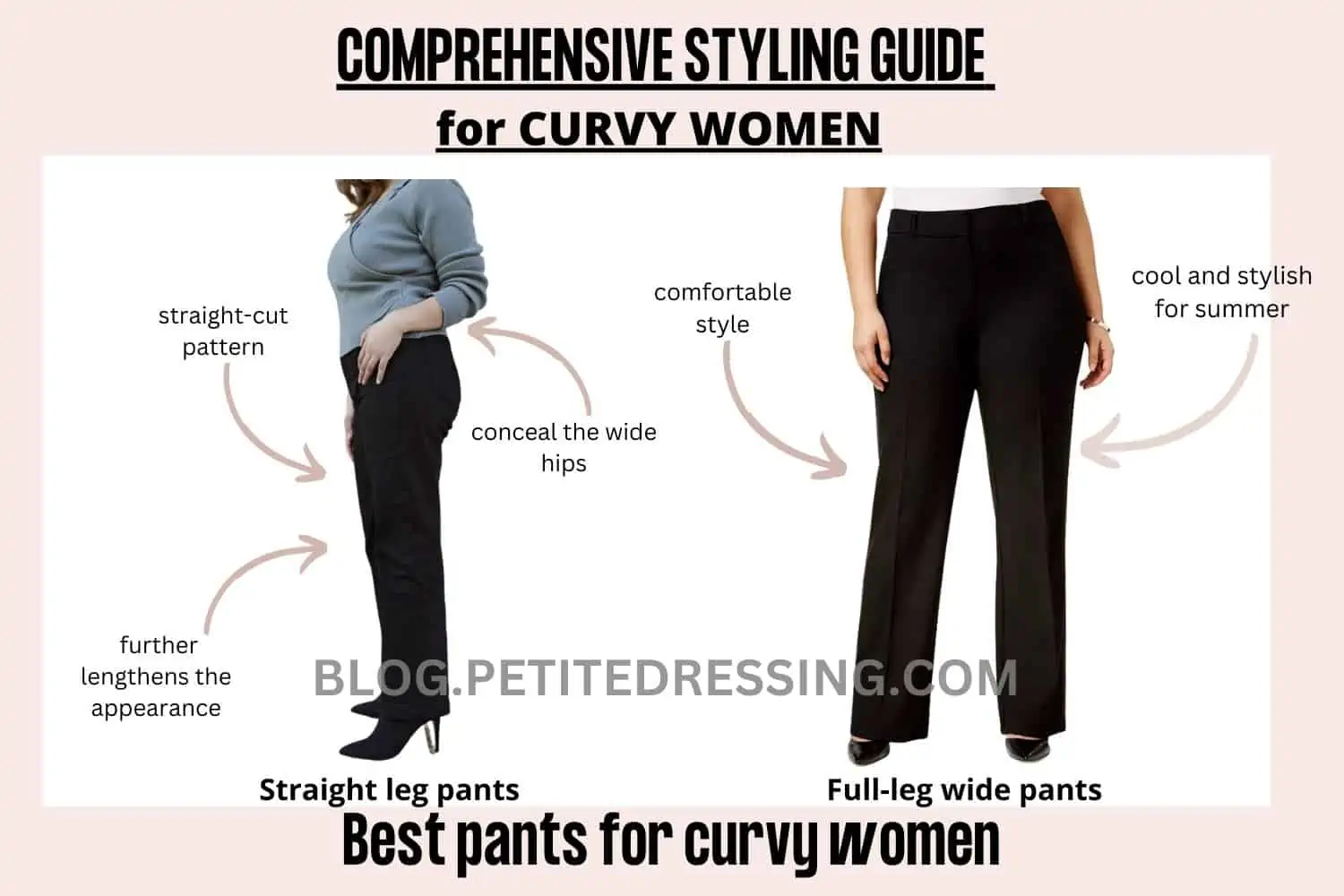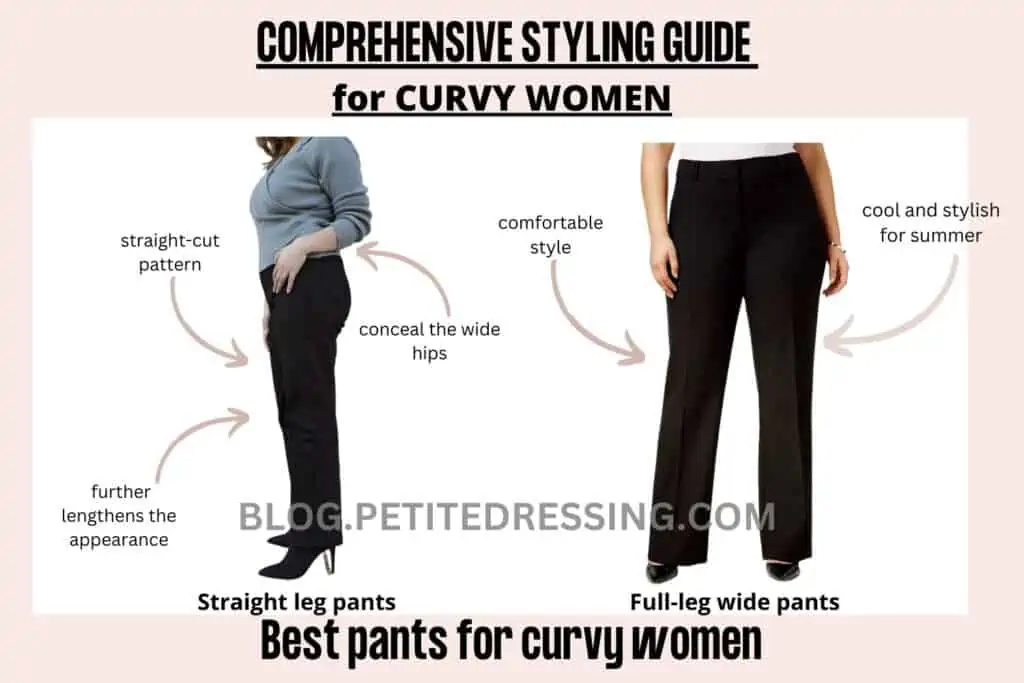 Straight leg pants
The straight-leg pant is recommended for a curvy woman because it has a straight-cut pattern that is very accommodating. It further lengthens the appearance of the legs without overemphasizing the curves of the woman.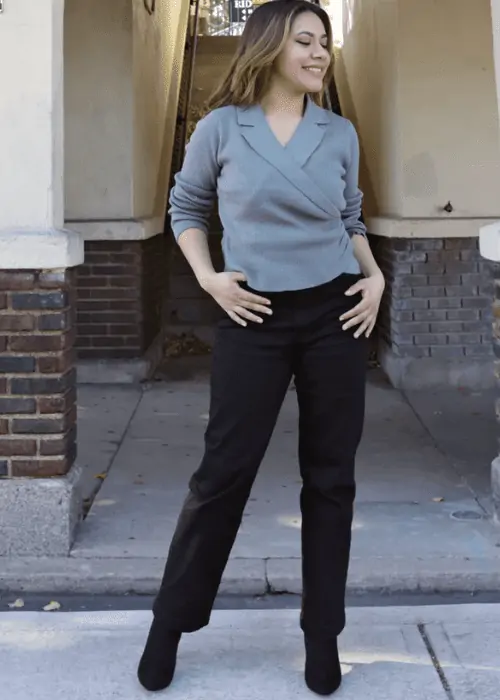 Why you should opt for straight-leg pants
The pant helps to conceal the wide hips and the heavy thighs by slimming your silhouette.
They also have a professional look that a curvy woman would appreciate.
Full-leg wide pants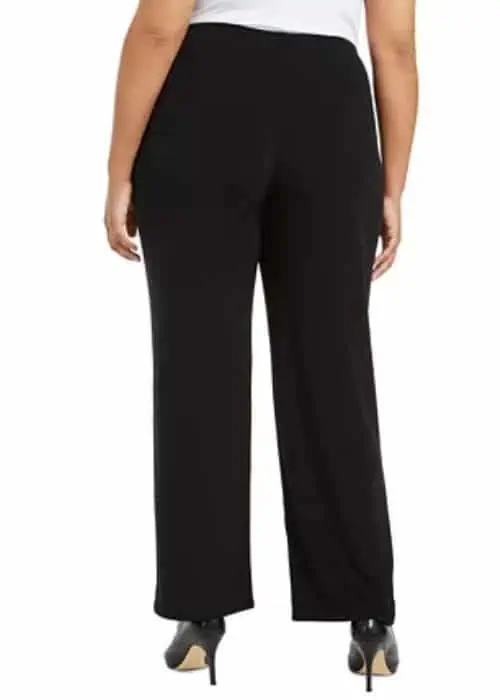 Wide-leg pants are the best
It gives you a feminine feel that is cool and stylish for summer.
You should make them a part of your favorite pant styles if you are a curvy woman.
The full-length wide-leg pant is one of the best pant styles for the curvy woman. The pant is a very comfortable style that accentuates the hips and lengthens the figure.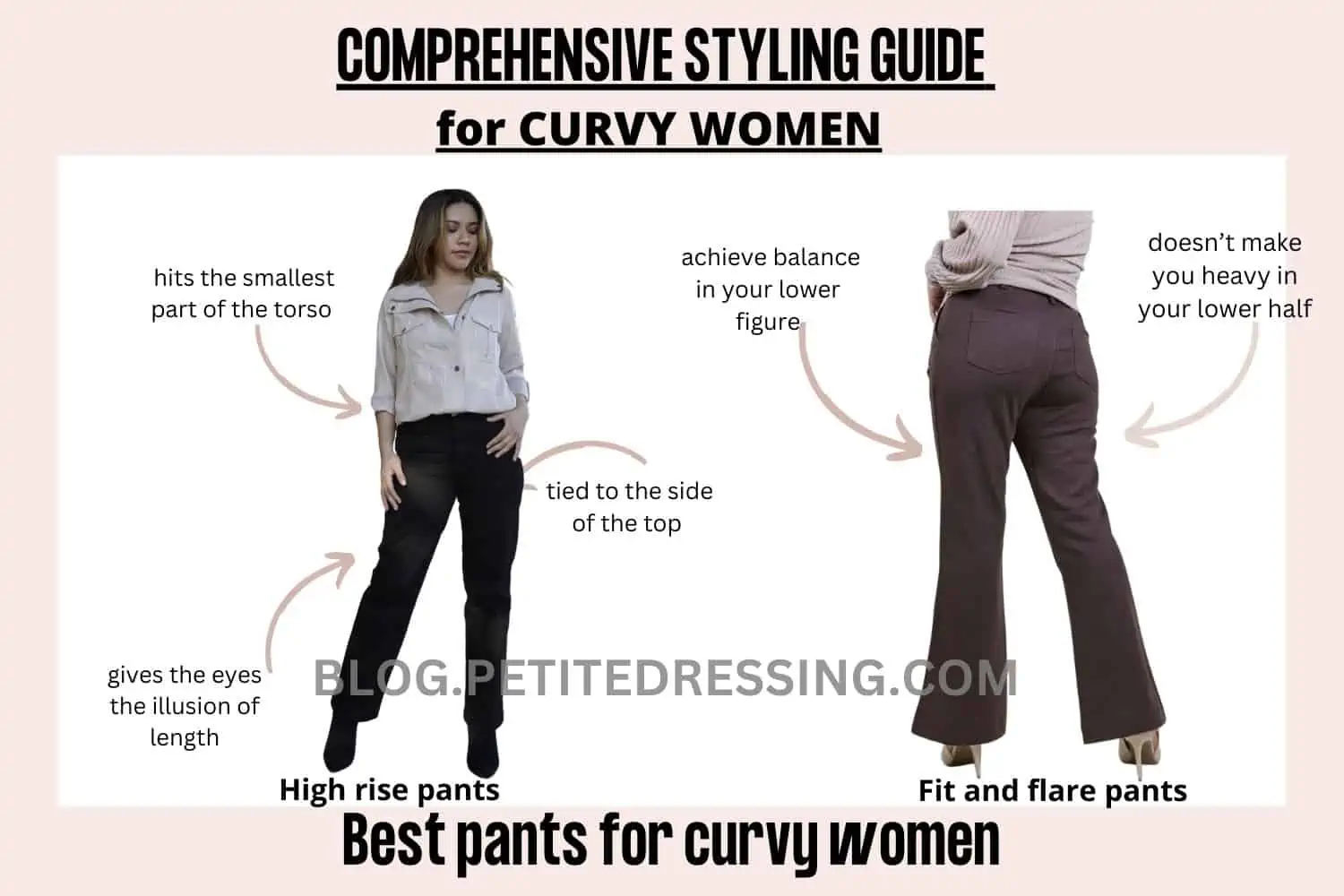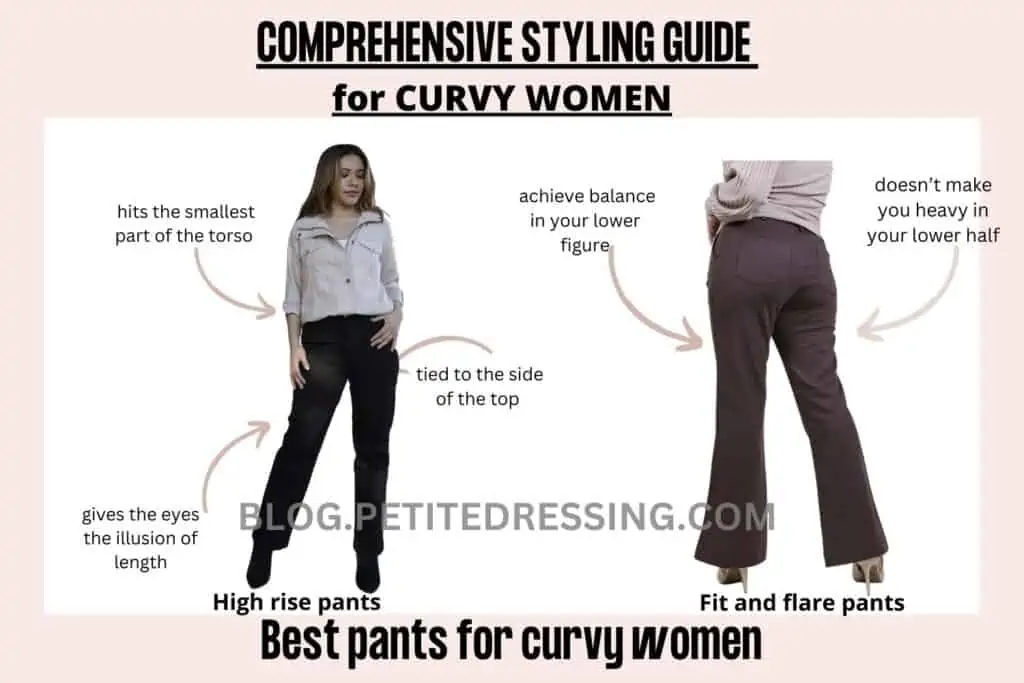 High rise pants
This pant style is an ideal pant design that a curvy woman should own if she intends to accentuate her hips. The skirt hits the smallest part of the torso and gives the eyes the illusion of length in the legs.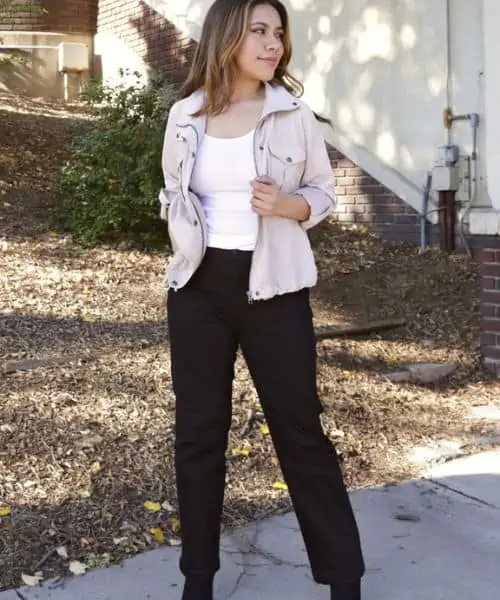 High-rise pants is a must-have when you're curvy
It also has a way of slimming down the hips, so it doesn't appear big than it is.
A curvy woman should own this easy to style pant and pair them with the right tops that work with her figure.
Fit and flare pants
it's a beautiful pant that helps you achieve balance in your lower figure. The flare in the lower part of the pant aligns with the width of the curves.
Though it is important that you avoid wearing those patterns that have too wide flare, so it doesn't make you heavy in your lower half. This pant is also a design that could also make the legs appear longer.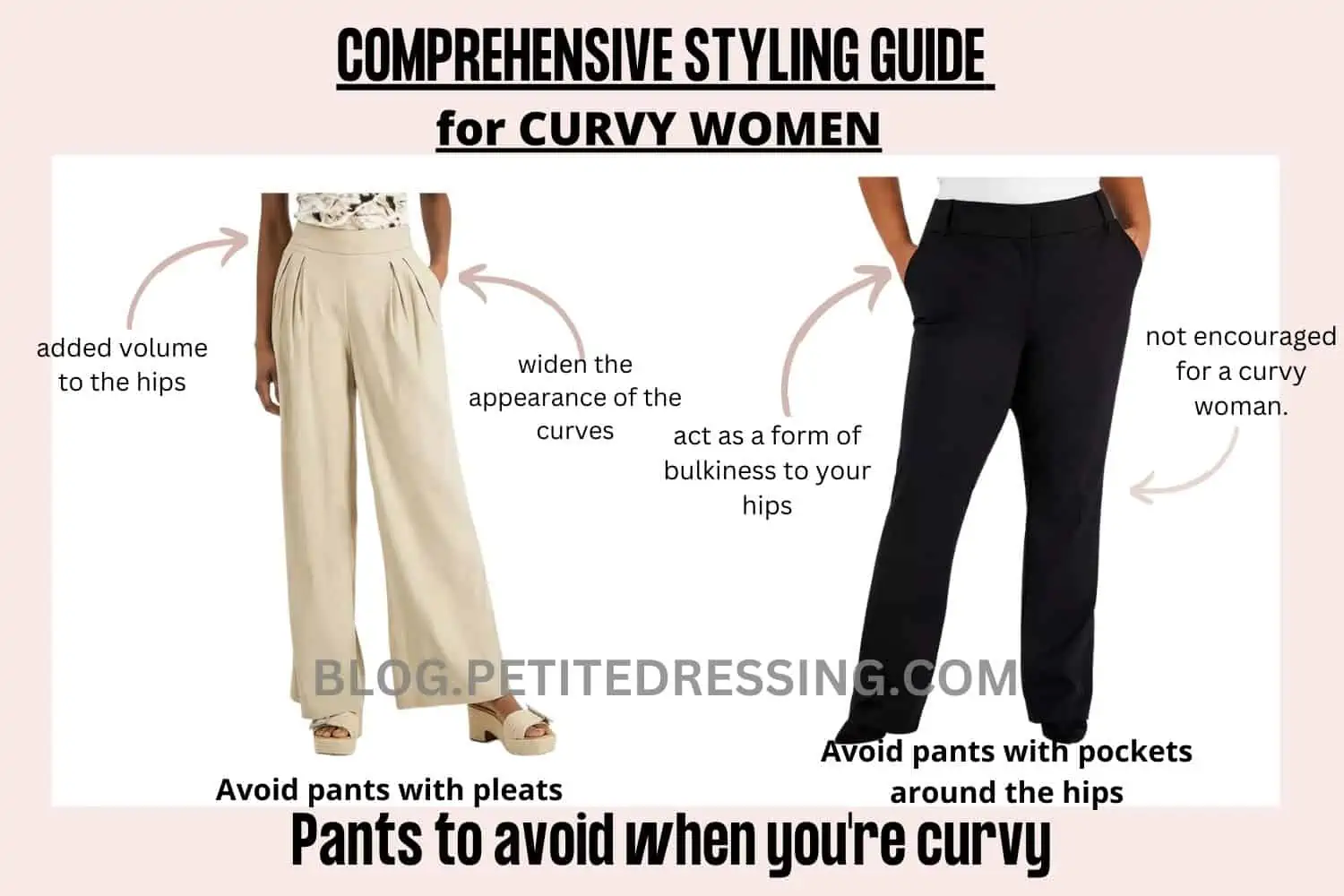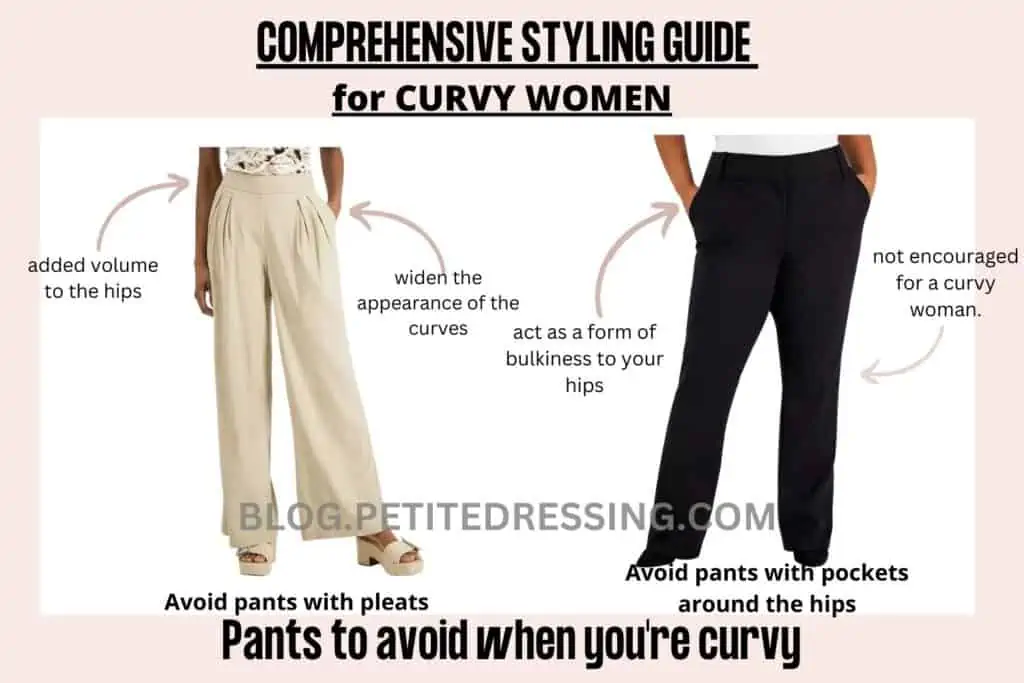 Avoid pants with pleats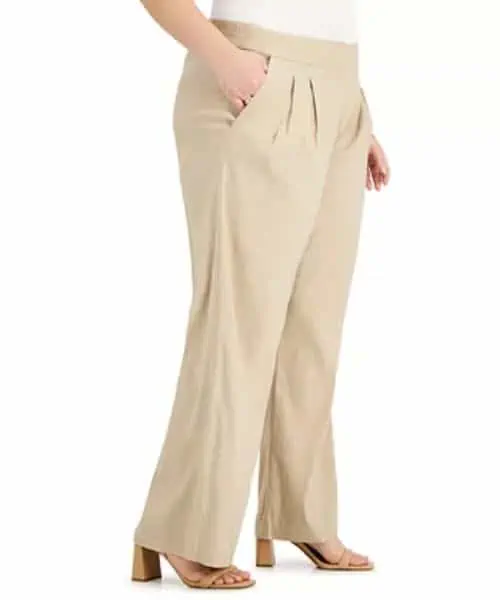 Why you should avoid pleats
Pleats in the pants of a curvy woman is an embellishment that could widen the appearance of the curves.
The added volume that pleats offer the hips is not stylish, so it is best that you avoid them on your pants.
Avoid pants with pockets around the hips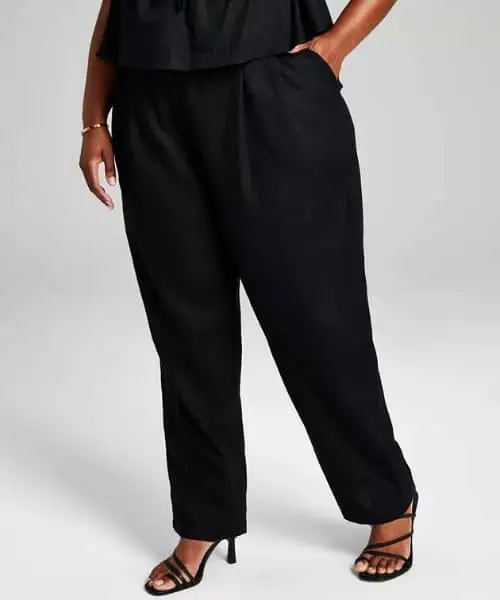 Why you should not opt for pants with side pockets
This would most certainly act as a form of bulkiness to your hips.
Pocket detailing especially at the hip region is not encouraged for a curvy woman.
Practice keeping pockets from your pants and try to keep your pants as plain as possible. That way there is a better balance in your body proportion.
JEANS
Your jeans should create a proportion that is in line with the rest of your body frame.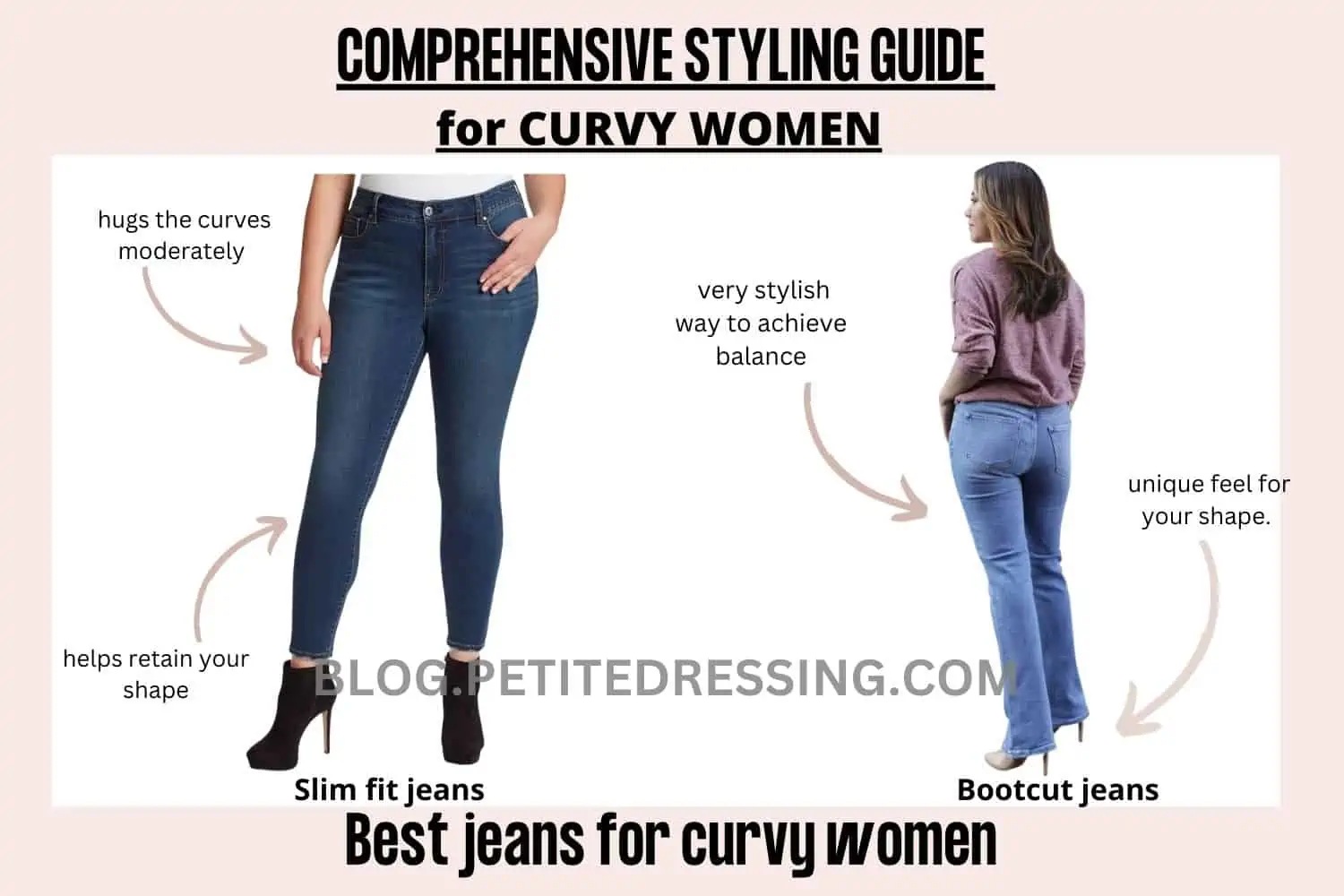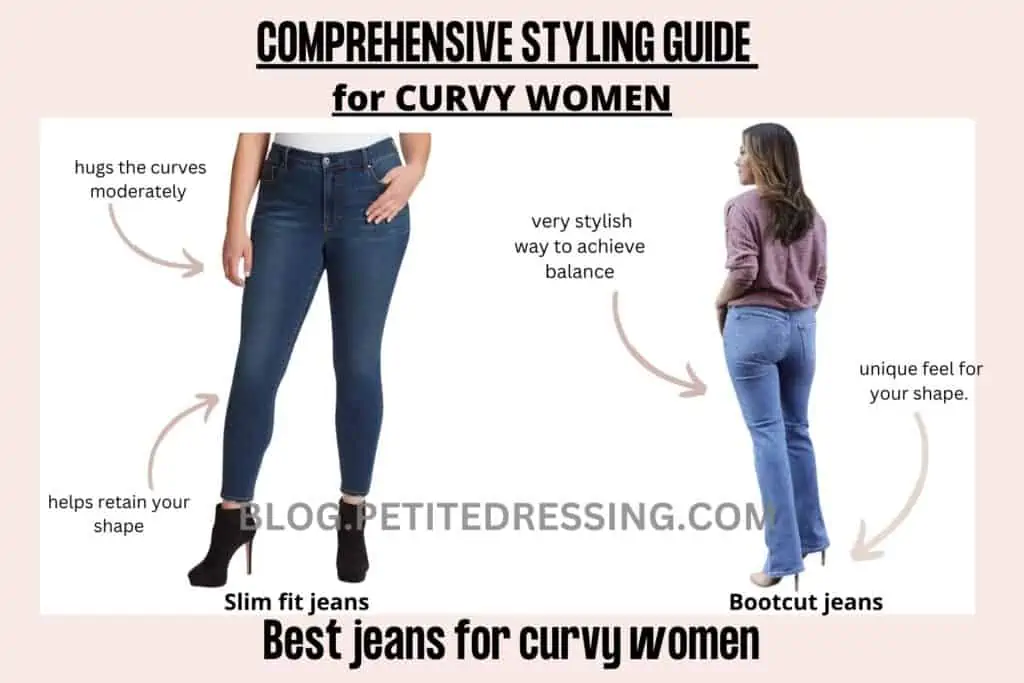 Slim fit jeans
The slim-fit jean is a very simple style that hugs the curves moderately and doesn't make you feel uncomfortable. A jean style like this is very calm on the body as it helps retain your shape.
The slim-fit jean helps you appreciate your curves and as such it's advisable that you stick to them instead of the skinny styles.
Bootcut jeans
You should wear bootcut jeans if you have a curvy shape because it is a very stylish way to achieve balance. The slight flare it possesses towards the hem of the jean is what gives it a unique feel for your shape.
The bootcut jean doesn't just accentuate the hips but also balances out the shoulders in the upper body. They offer a sexy and classic look making them an important jean style for the shape of a curvy woman.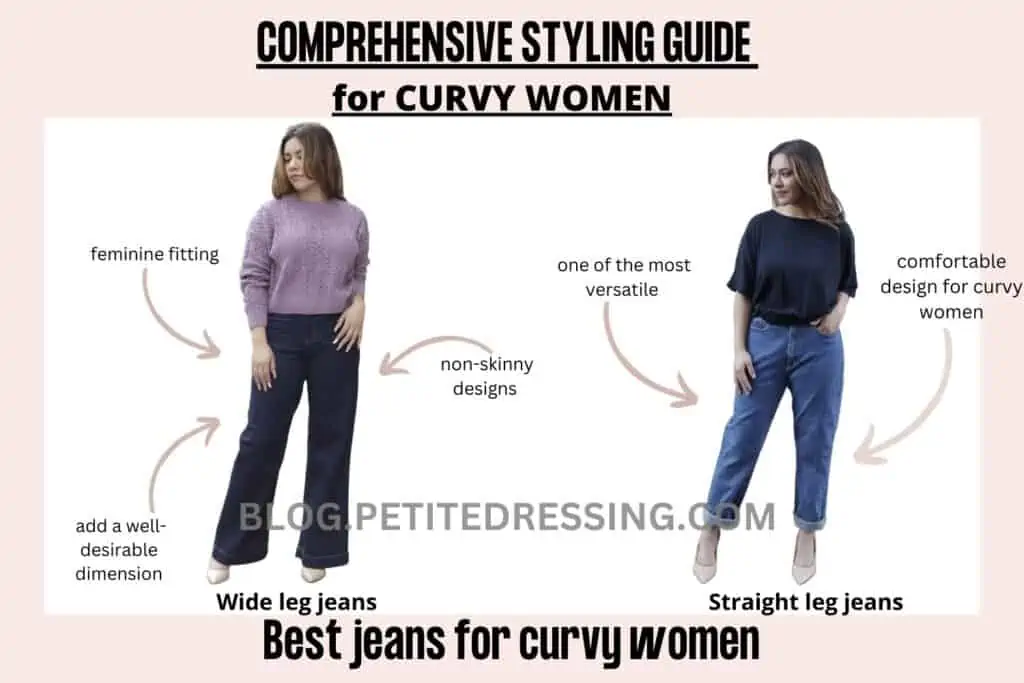 Wide leg jeans
Wide-leg pants are known for the feminine fitting they offer through the hips and the general comfort they give to the feminine figure.
They are non-skinny designs that add a well-desirable dimension to the curvy woman. You should appreciate the wide-leg pants for your shape because they are one of the best flattering styles.
Straight leg jeans
These jeans style is unarguably one of the most versatile and comfortable designs for curvy women. This is simply because they have a straight cut that runs from the waist all through the hips and legs without clinging to any point.
The straight-leg jean you intend to opt for should be a design that hits around your ankle bone, so they don't make you feel bottom-heavy. 
Avoid low-rise jeans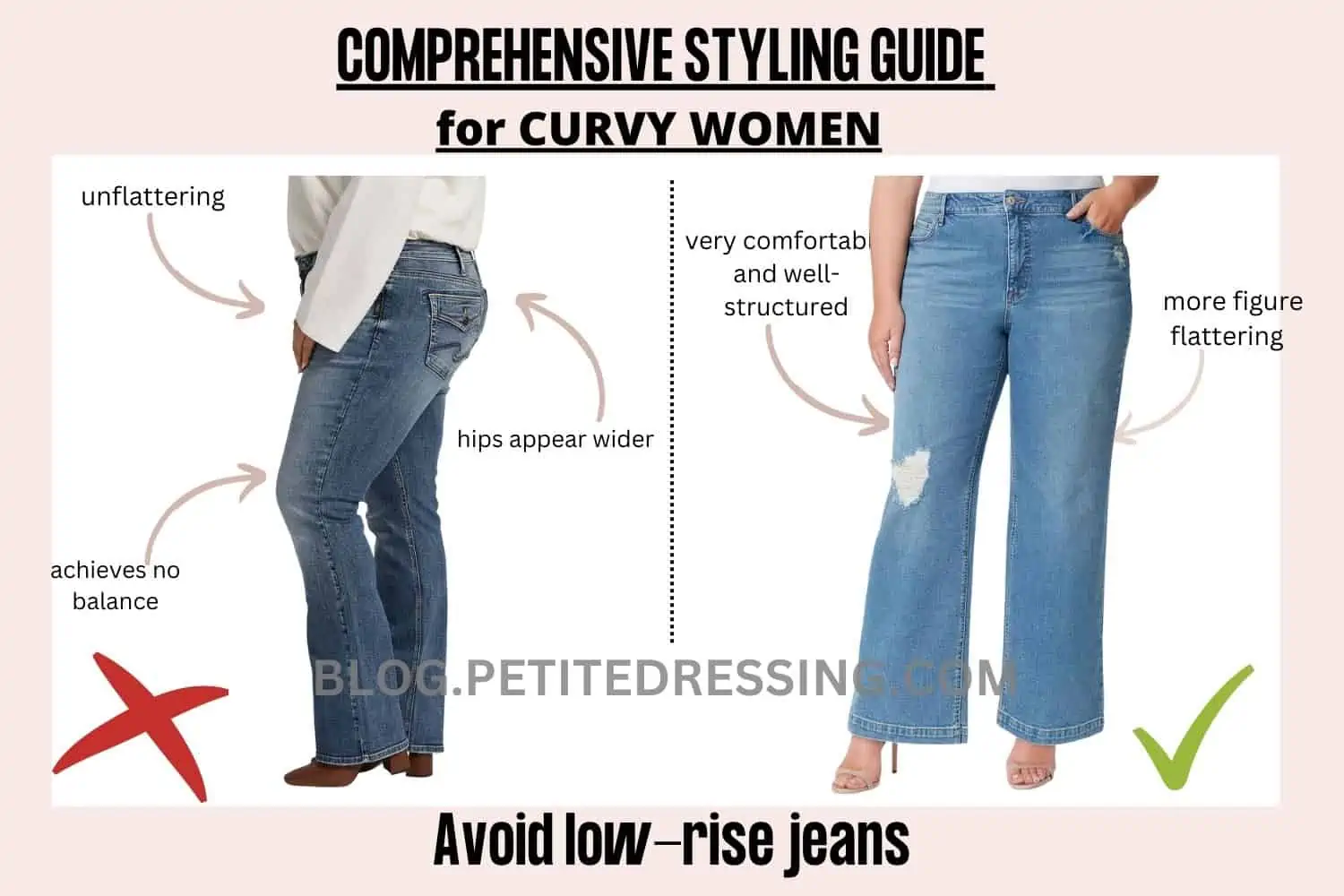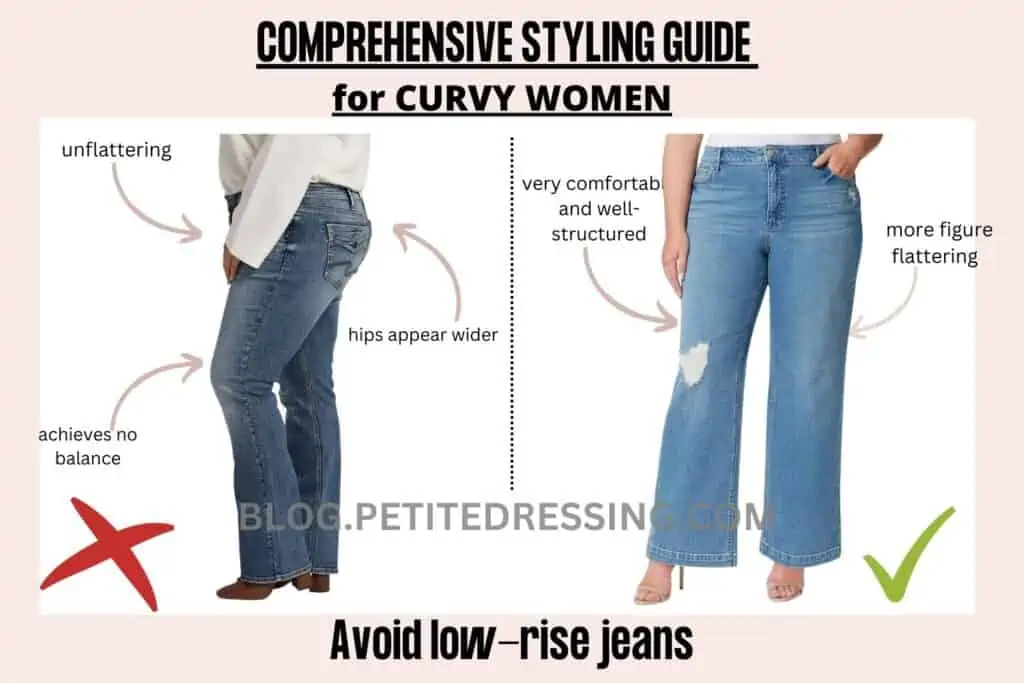 There are various rise of jeans but low-rise jeans are invariably the least recommended. Wearing low-rise jeans would make the hips appear wider than they are because they are designed to extend below the natural waistline.
They also make the legs appear shorter and the torso appears longer. If the balance is a part of your styling goal, then the low-rise jeans should not make it to your wardrobe.
It is better that you settle for either the high-rise jean or the mid-rise jean on your curvy frame. These styles are more figure flattering than low-rise jeans.
SHORTS
The best shorts for curvy women should not be uncomfortable and should be designed to balance out all the body proportions.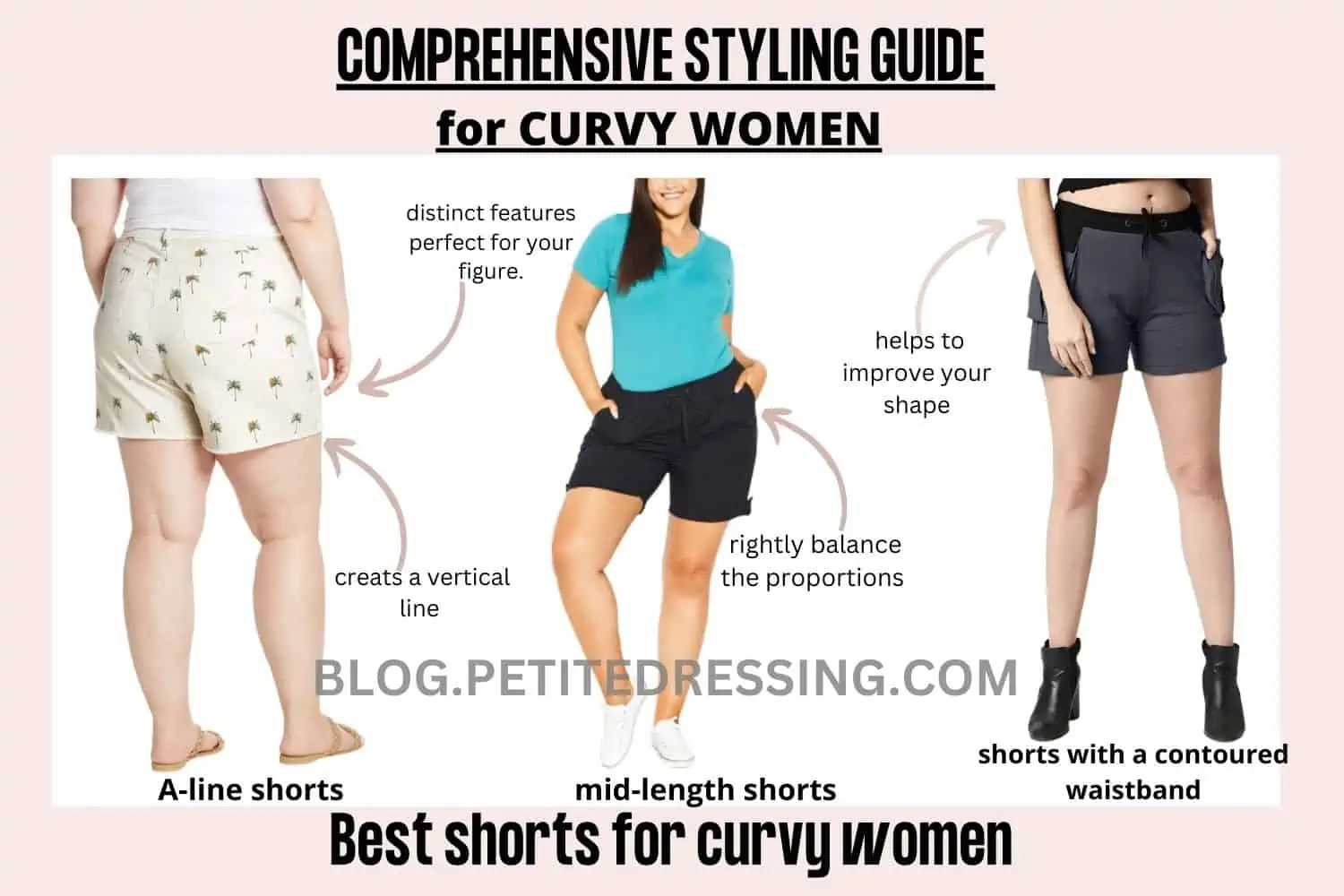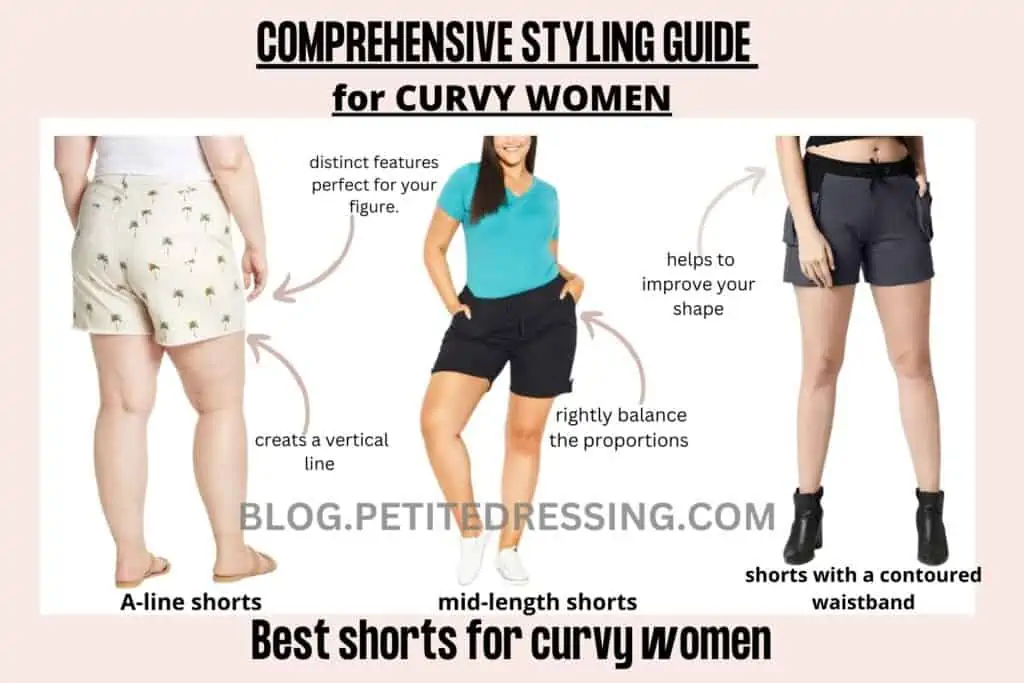 A-line shorts
One very flattering short design for a curvy woman is the A-line short with distinct features perfect for your figure. The short is patterned to cinch your waist stylishly and comfortably before flaring over your curves.
So, it performs the work of length in your lower figure by creating a vertical line from the waist to the hem. The A-line short is a simple style that doesn't let the eyes focus all of its attention on your gracious curves.
It maintains your shape and still gives it an elegant structure. It not only flatters your curvy frame but also lets you attain balance.
Wear mid-length shorts
A length of this sort is never too long nor too short for the curvy woman. A too-short design could make you appear heavy in your bottom half because the hips and thighs would look bigger than normal.
A too-short style would cut off the vertical lines in your body and that's not a great way to get styled. The mid-length short is the most desirable short length that would rightly balance the proportions in the body.
Wear shorts with a contoured waistband
You should pay attention to the waist of your shorts especially if you are curvy. A contoured waistband is efficient because it helps to improve your shape.
This is done through strategically designed lines that create a lifting effect for your thighs. The rise in a contoured waistband hits high at the natural waist to provide a slimmer silhouette for the curvy woman.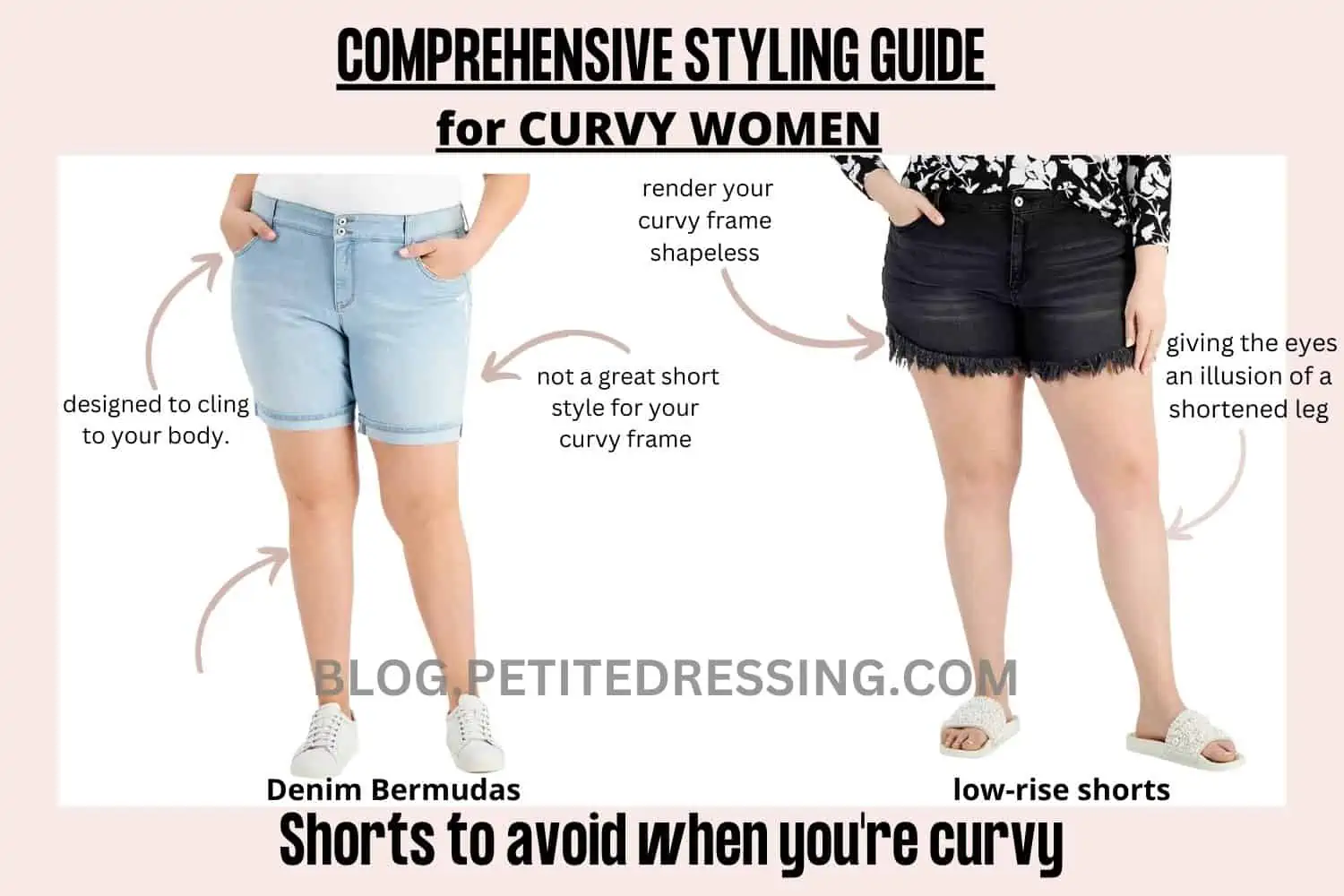 Avoid Denim Bermudas
You should avoid drawing the attention of the eyes to your body if you are curvy. The Denim Bermudas are not a great short style for your curvy frame because they are designed to cling to your body.
They would accentuate the curves and make you uncomfortable, so it is best that you avoid this less-flattering short.
Avoid low-rise shorts
Low-rise shorts would render your curvy frame shapeless so do not attempt opting for them. They are not designed to define your natural waistline.
They are effective in giving the eyes an illusion of a shortened leg because they elongate the torso. It is more appropriate that a curvy woman wears a high-rise short or a mid-rise short style as they are more figure flattering.
SKIRTS
When choosing the right skirts for the curvy woman, make sure the skirts work in line with her body proportion. It must not add volume to her lower body frame for a better fit to be attained.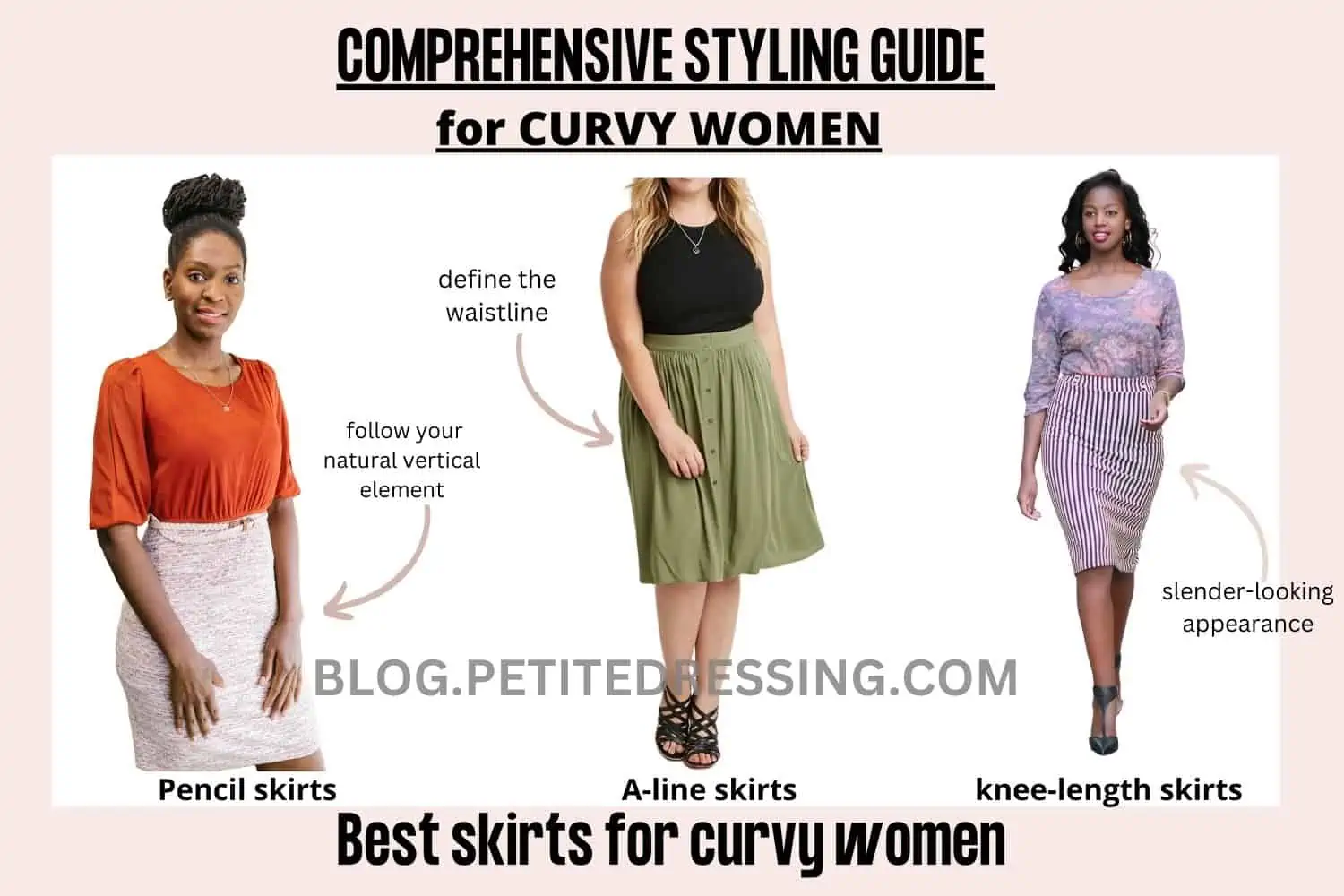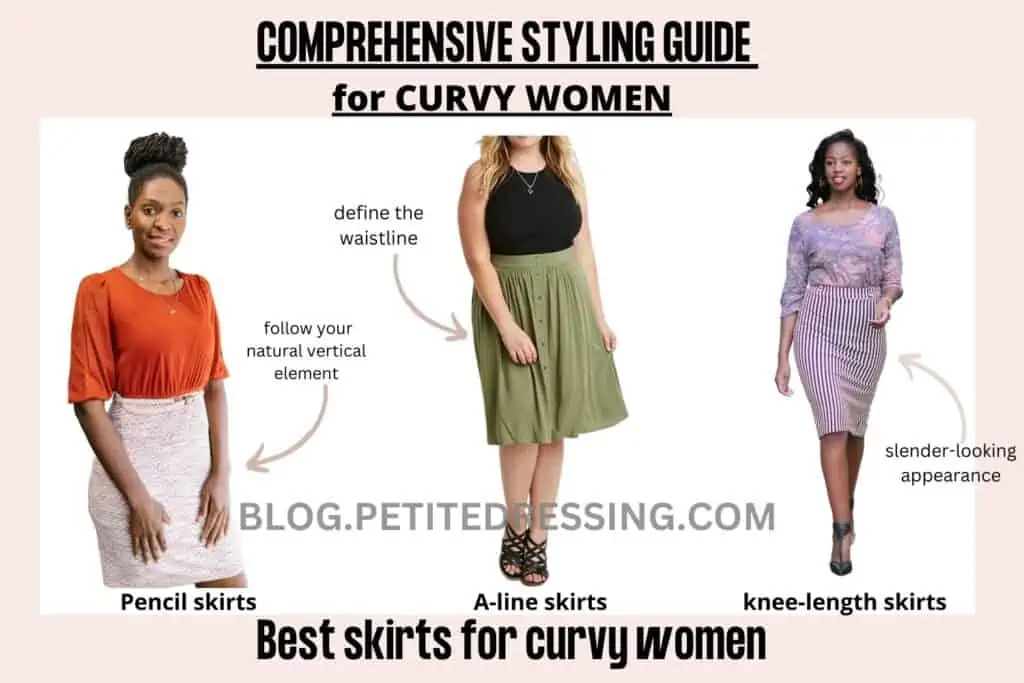 Pencil skirts
Pencil skirts are very flattering skirt styles that follow your natural vertical element without hugging tightly to your shape. It is a structured skirt encouraged to be owned by the curvy woman so make the best out of it.
They are a classic silhouette designed to define your waist and eliminate any form of horizontal line from your shape. The skirt also adds a taste of maturity and class that the curvy woman would desire.
A-line skirts
This skirt is particularly flattering on a curvy frame so make them a major part of your wardrobe staple. They are good in camouflaging the concerned area in your lower body.
The A-line skirt helps to define the waistline before flaring out over your curves. The width of the hips is not just minimized using the A-line skirt but is also great in improving figure-lengthening effects.
Knee length skirts
For a more flattering effect, the knee-length skirt is most recommended for a curvy woman. This is because they have a more natural feel on the hips by giving them a slender-looking appearance.
The knee-length skirt does not add volume to the curves like the mini-length skirts would normally do. That's the more reason you should make them your best preference rather than the mini-length designs.
Avoid tulip skirts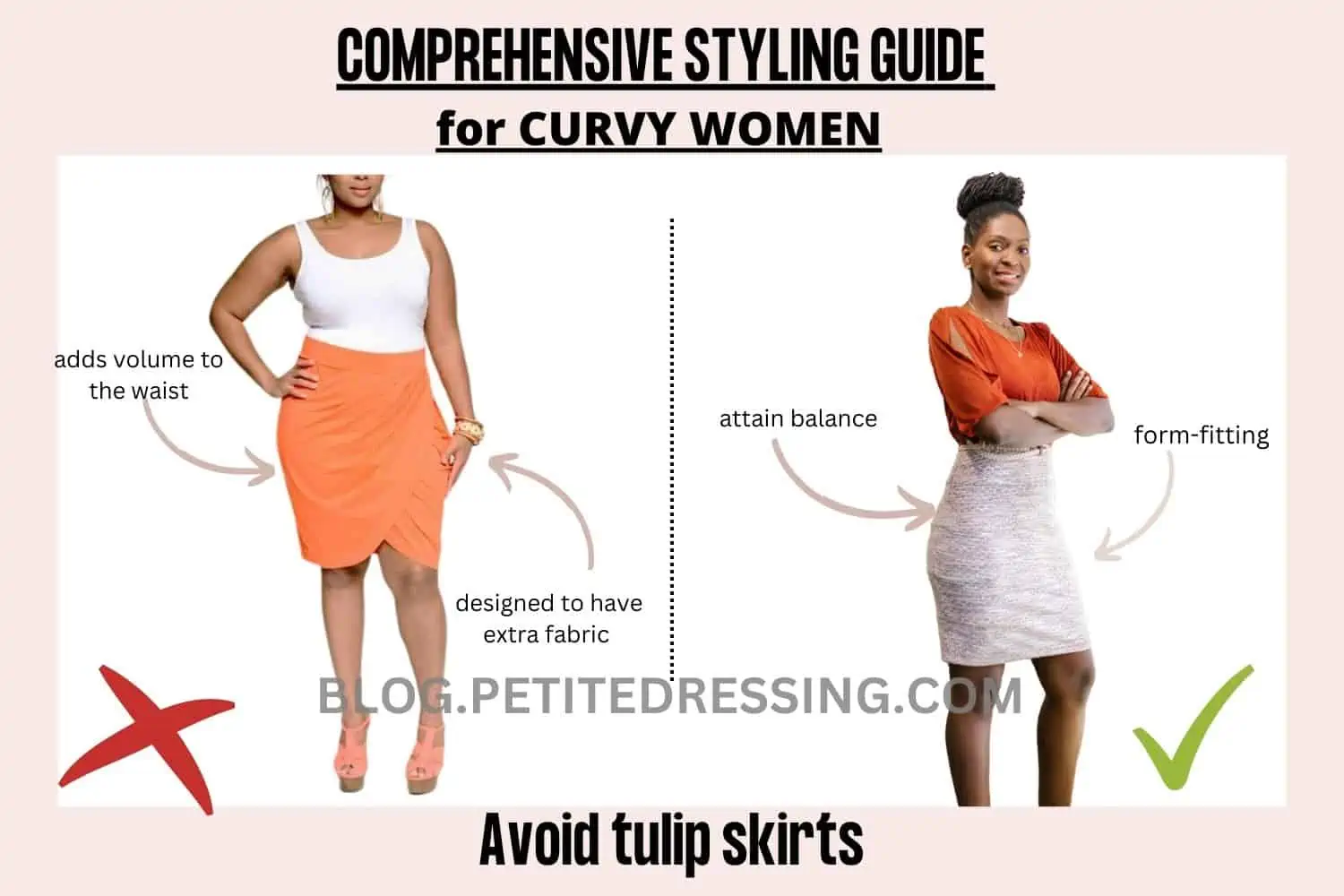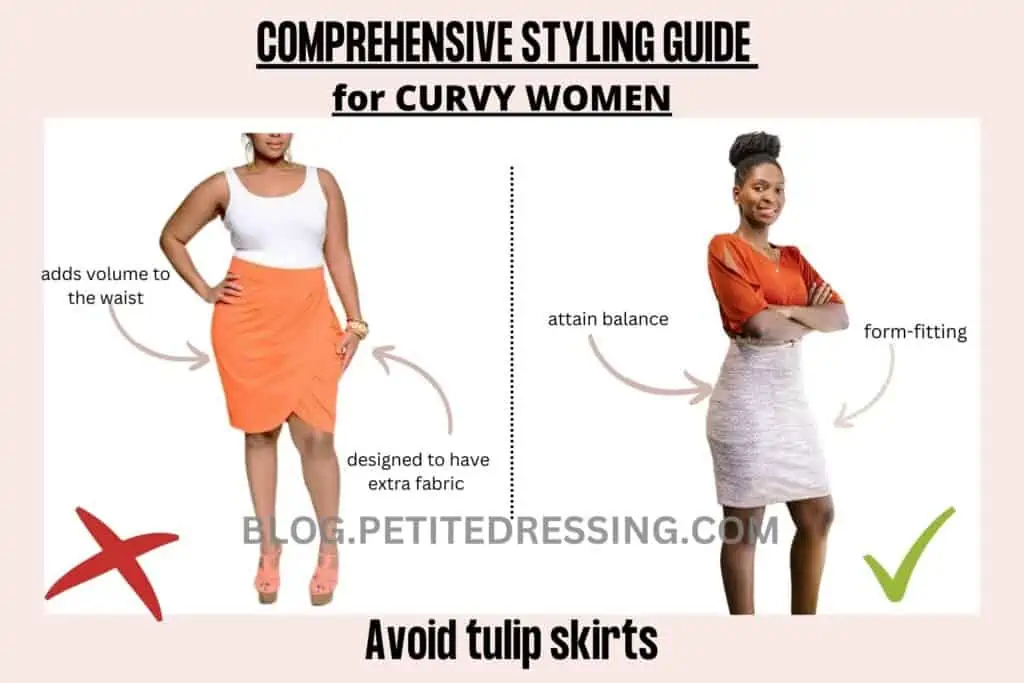 The tulip skirt is designed to have extra fabric added to it that makes it less fitting for a curvy woman. You should avoid wearing it especially because your figure does not need the added volume that it adds.
They are not flattering on your figure and would not help you attain balance in your overall curvy figure. You have a great asset that you should appreciate but that is impossible if you put on a tulip skirt.
DRESSES
Dresses are yet another way to show off your shape, but it is important that you pick those that are not too bulky on a curvy frame.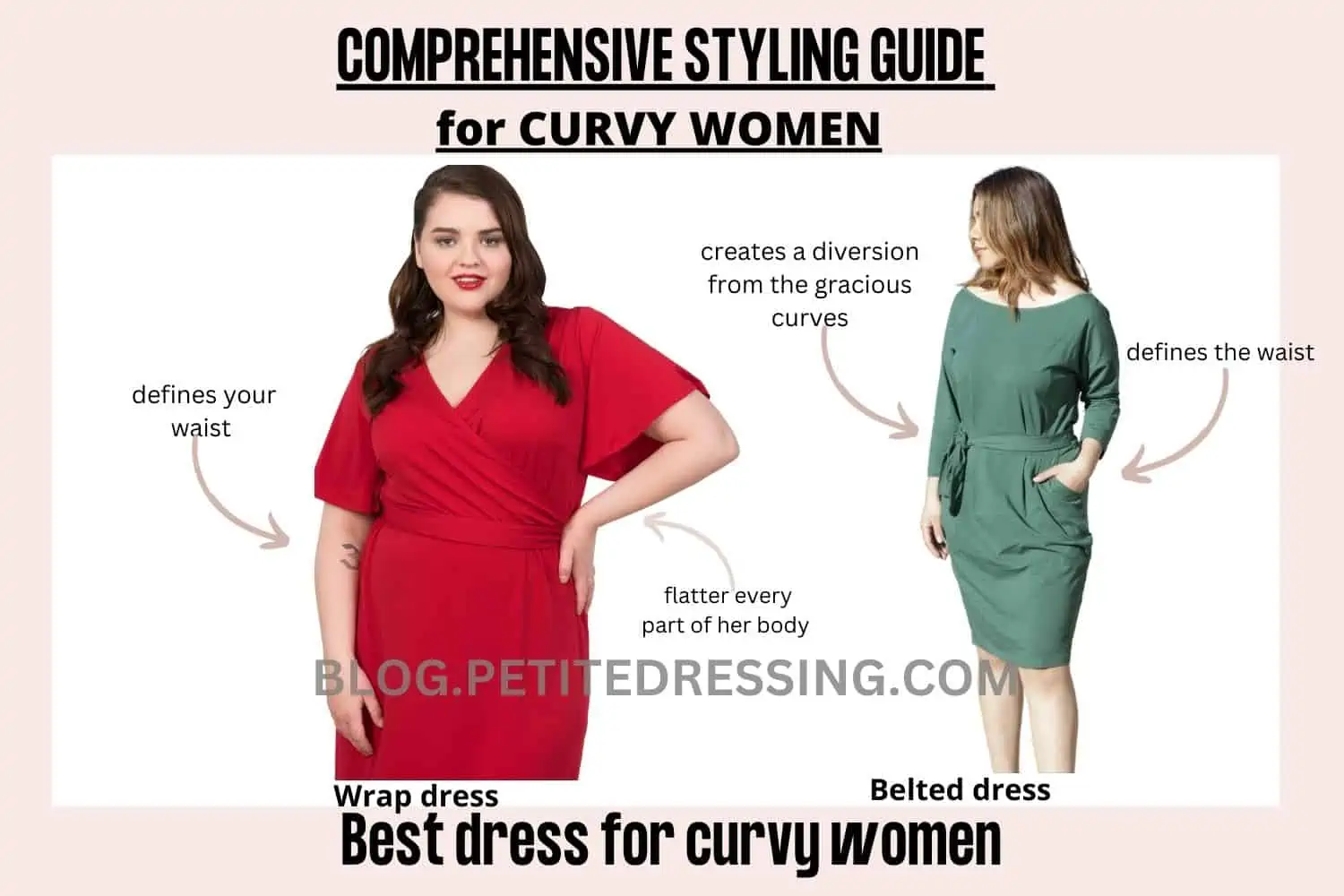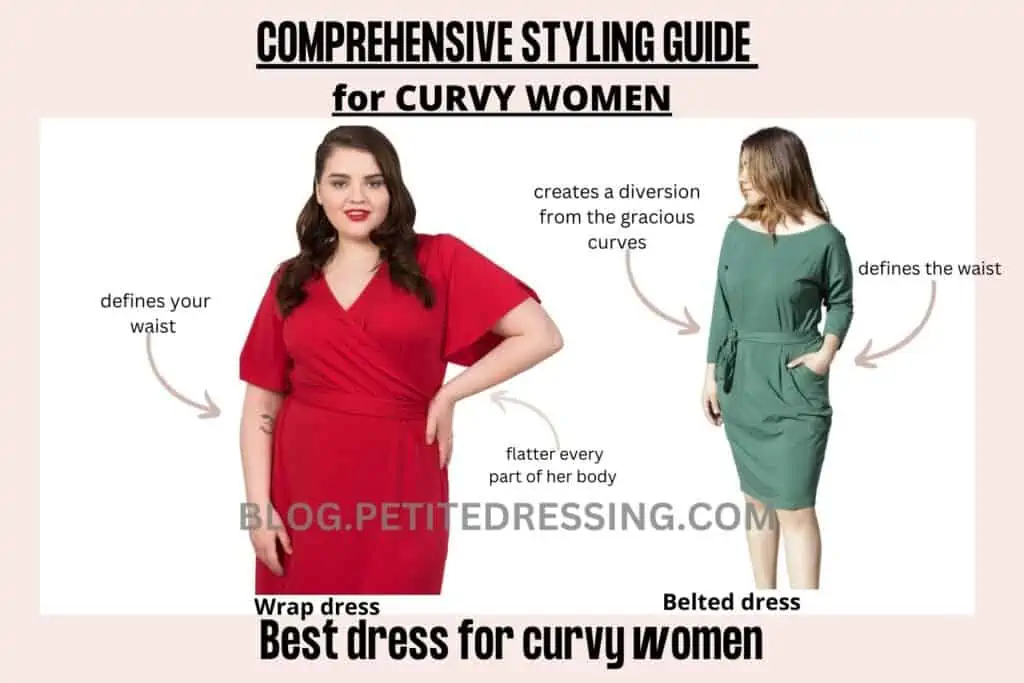 Wrap dress
This is invariably one of the best dress designs for a curvy woman that flatter every part of her body. It doesn't create any form of disproportion around your figure.
The wrap dress features a neckline that helps to minimize the focus of the eyes on the hips. It rather pulls it in a vertical way toward the chest area.
This is an exceptional dress style because of the way it nips and defines your waist before falling gently over your hips. You would always look gorgeous in this dress so build confidence around it and wear it for any occasion.
Belted dress
This type of dress gives a curvy woman a streamlined look that helps her own her shape comfortably. It brings more attention to the defined waist and creates a diversion from the gracious curves.
You should opt for dresses that have contrasting color belts and are of smaller sizes so they could have a better effect on your figure.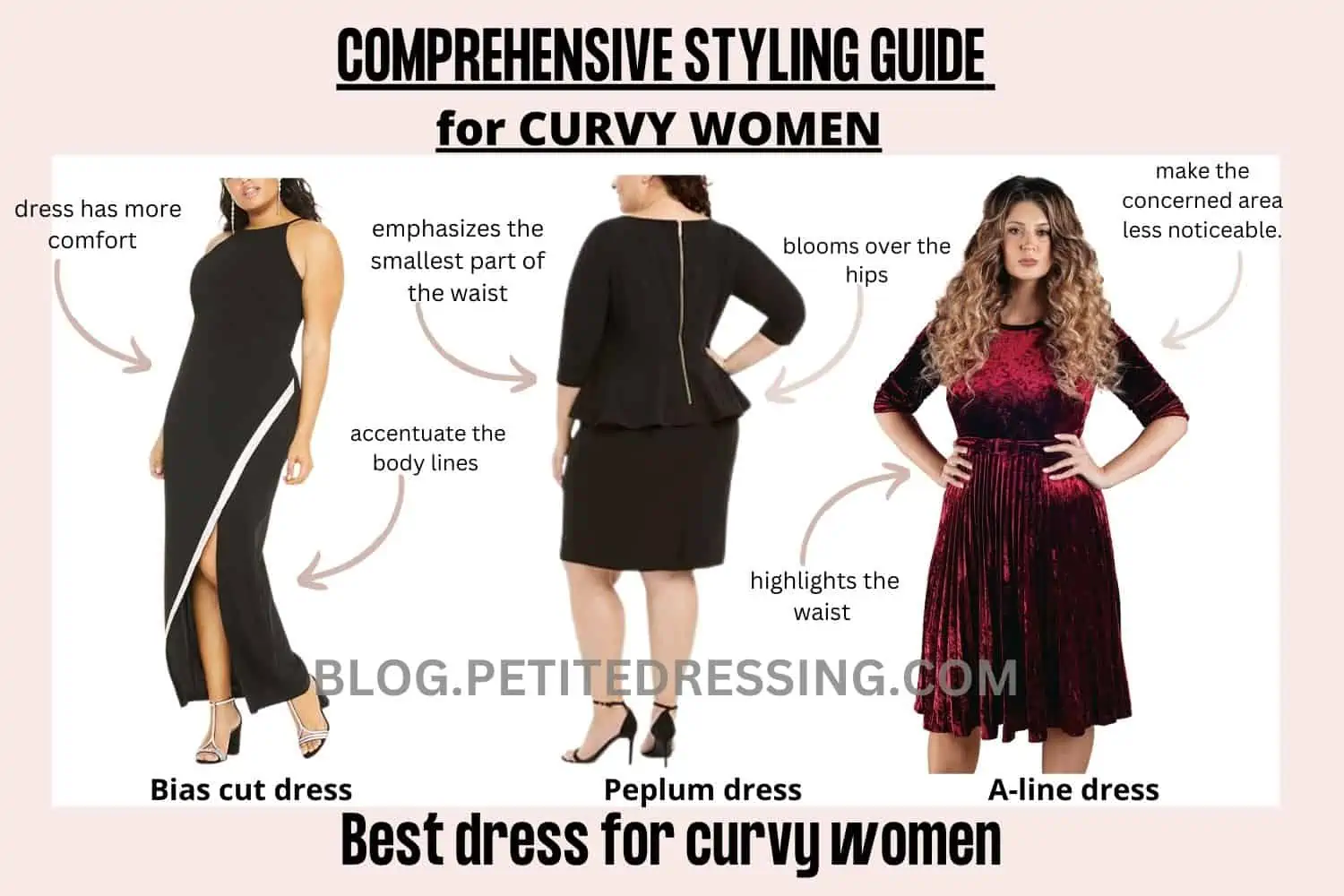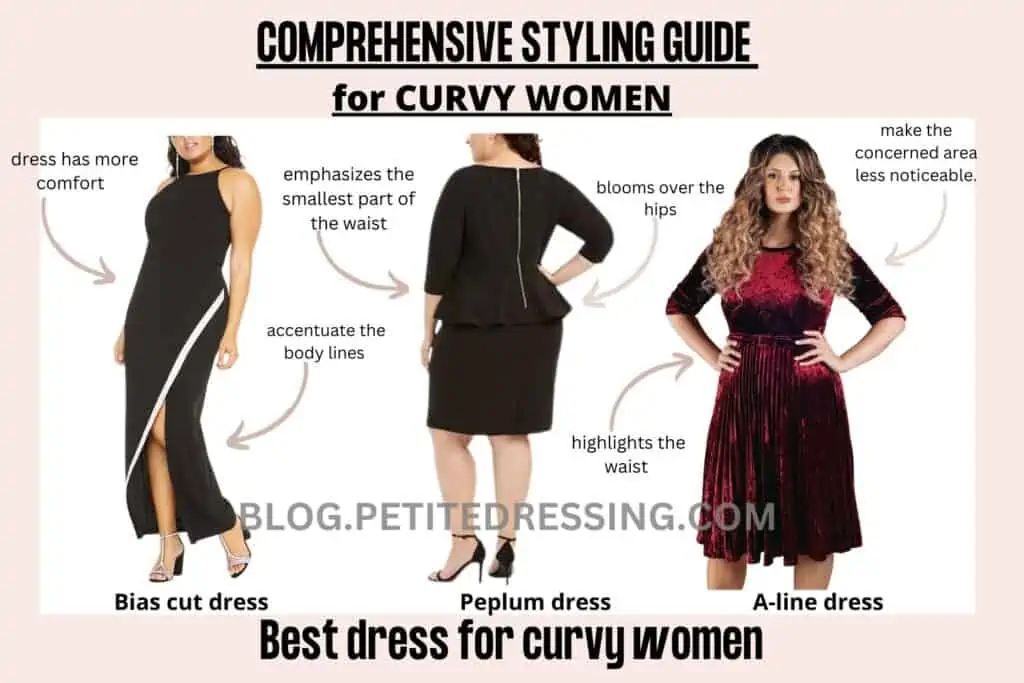 Bias cut dress
The bias cut describes the angle at which the dress is cut (at about 45 degrees) to suit a curvy woman. This way the dress has more comfort and elasticity to accommodate the curves.
It helps to accentuate the body lines of the woman while still maintaining a balanced proportion in her figure.
Peplum dress
You should own a peplum dress if you have a curvy physique. This is essential because it emphasizes the smallest part of the waist and blooms over the hips.
The peplum dress is a very beautiful design that oozes elegance and sophistication. It further reduces the consciousness you have for your figure so you could embrace your feminine shape comfortably.
A-line dress
Don't even try to turn away from the A-line dress if you are curvy because they are one of the best dresses that you would love. The A-line highlights the waist and further helps to make the concerned area in your shape less noticeable.
With this dress, your hips are well accentuated and your overall shape well refined. They also improve your looks by adding more length to your legs so you can look taller.
Avoid loose-fitting dress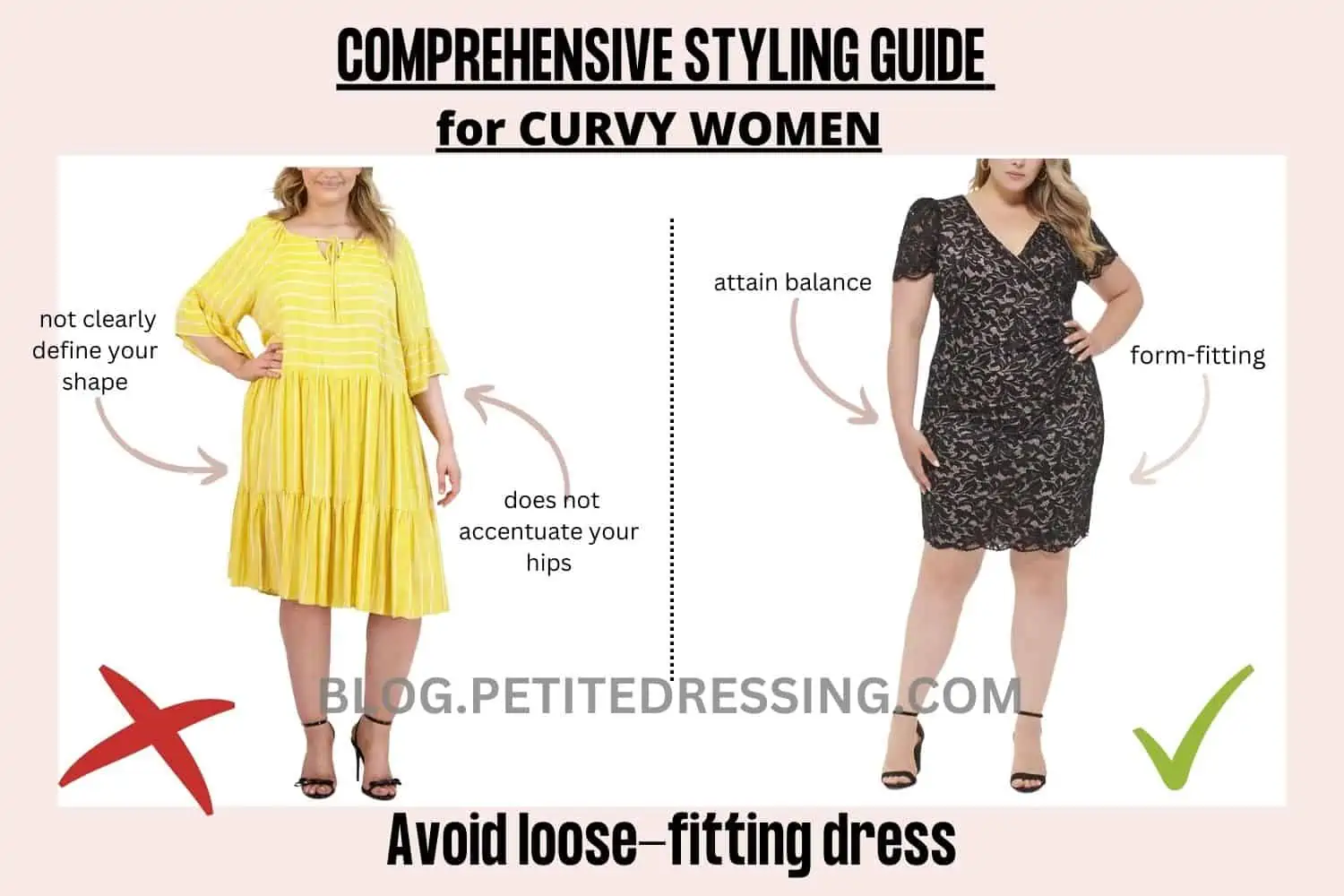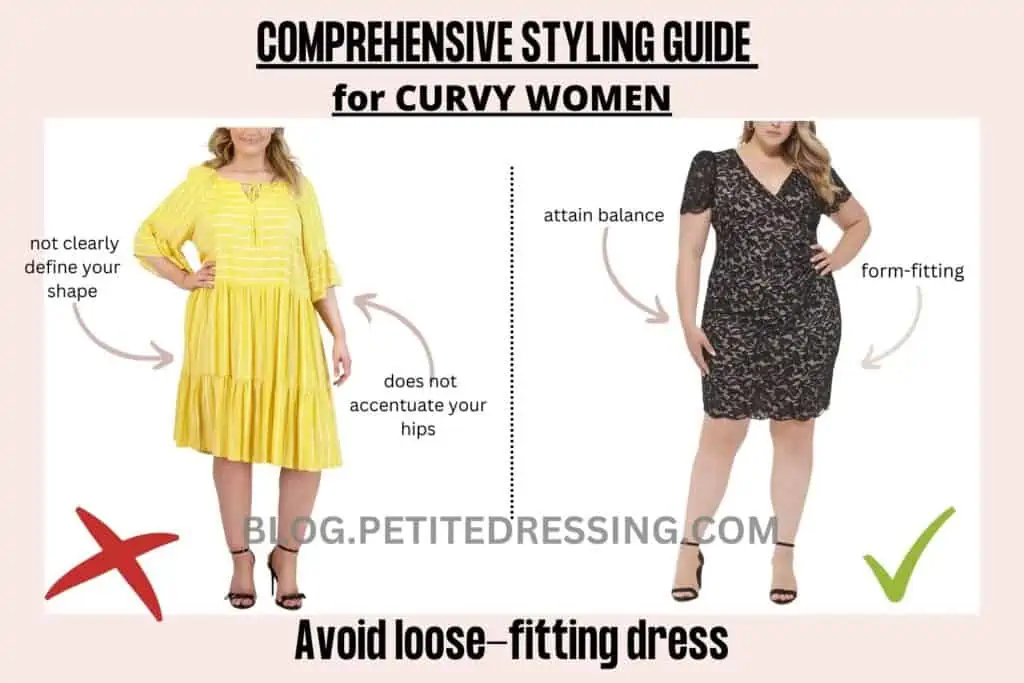 The intention to conceal your curvy figure should not be carried out with loose-fitting clothing. This does not clearly define your shape, nor does it accentuate your hips.
They would only make you appear less sexy and could also make you feel drowned in your entire outfit. Most loose-fitting dresses are too bulky so exclude them from your best dress designs because they won't flatter you.
JUMPSUITS
A curvy woman should wear a jumpsuit that flatters her overall figure and helps her attain balance in both the upper and lower region.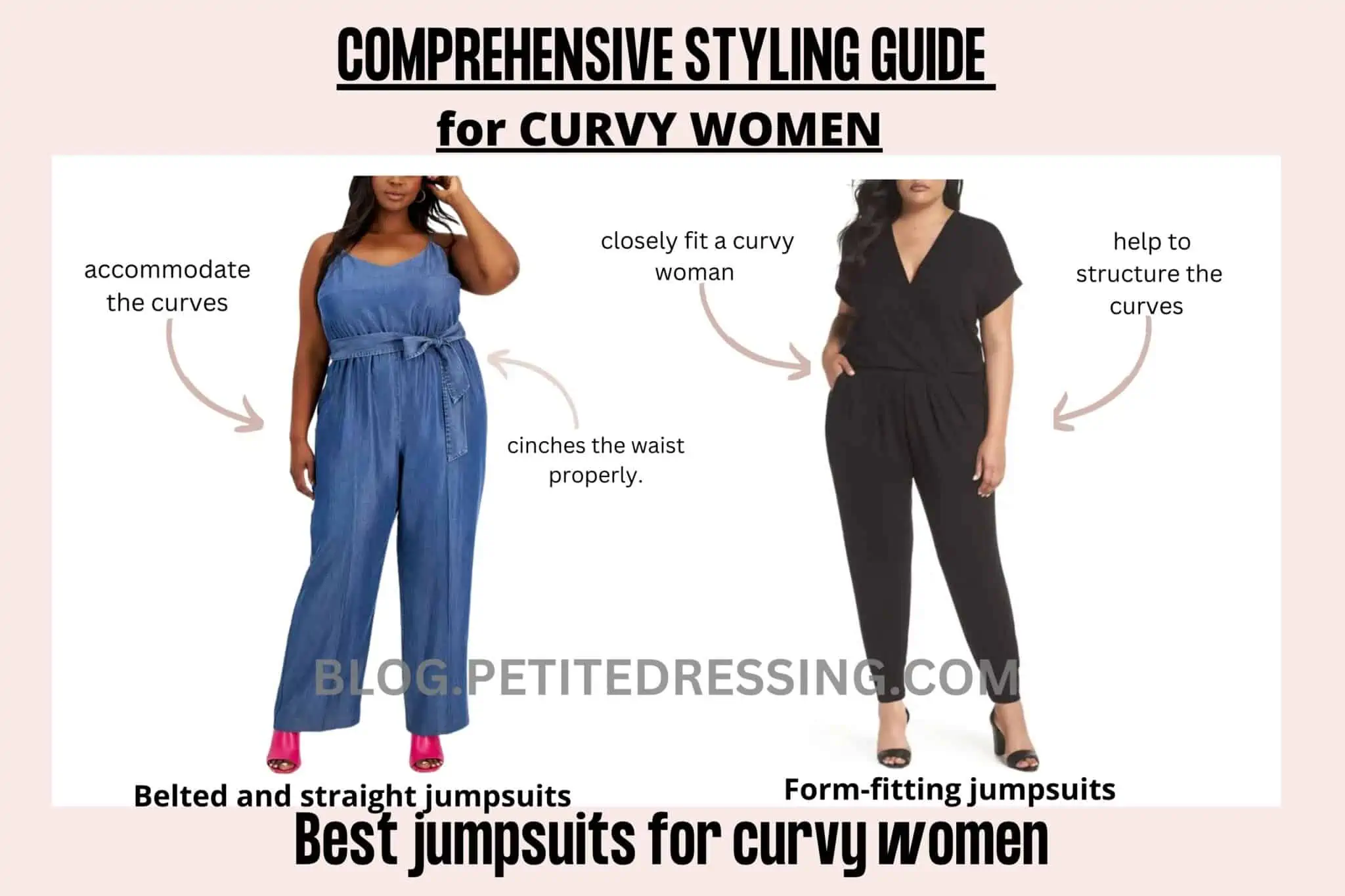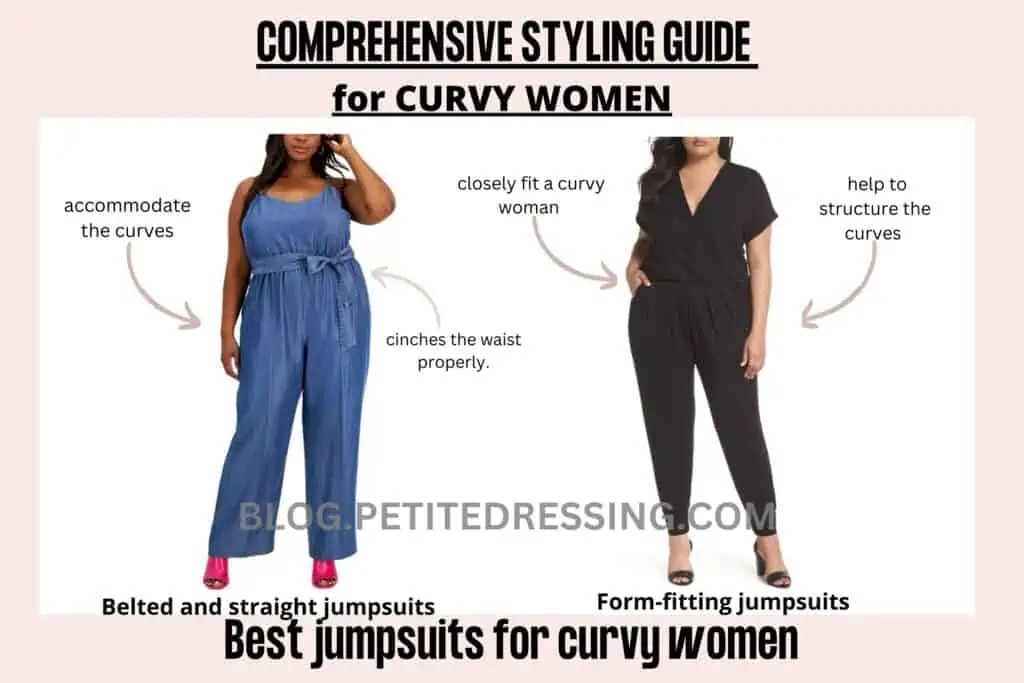 Belted and straight jumpsuits
The upper and lower sections of the jumpsuit are very important regions you must take note of. The belted and straight jumpsuit are complementary parts that work well with a curvy woman.
This type of jumpsuit runs straight on the lower part to accommodate the curves and the belted section cinches the waist properly.
Form-fitting jumpsuits
This jumpsuit is made to closely fit a curvy woman without hugging her frame tightly. Form-fitting jumpsuits help to structure the curves of the woman properly so she does not lose her overall shape.
Avoid jumpsuits for unnecessary details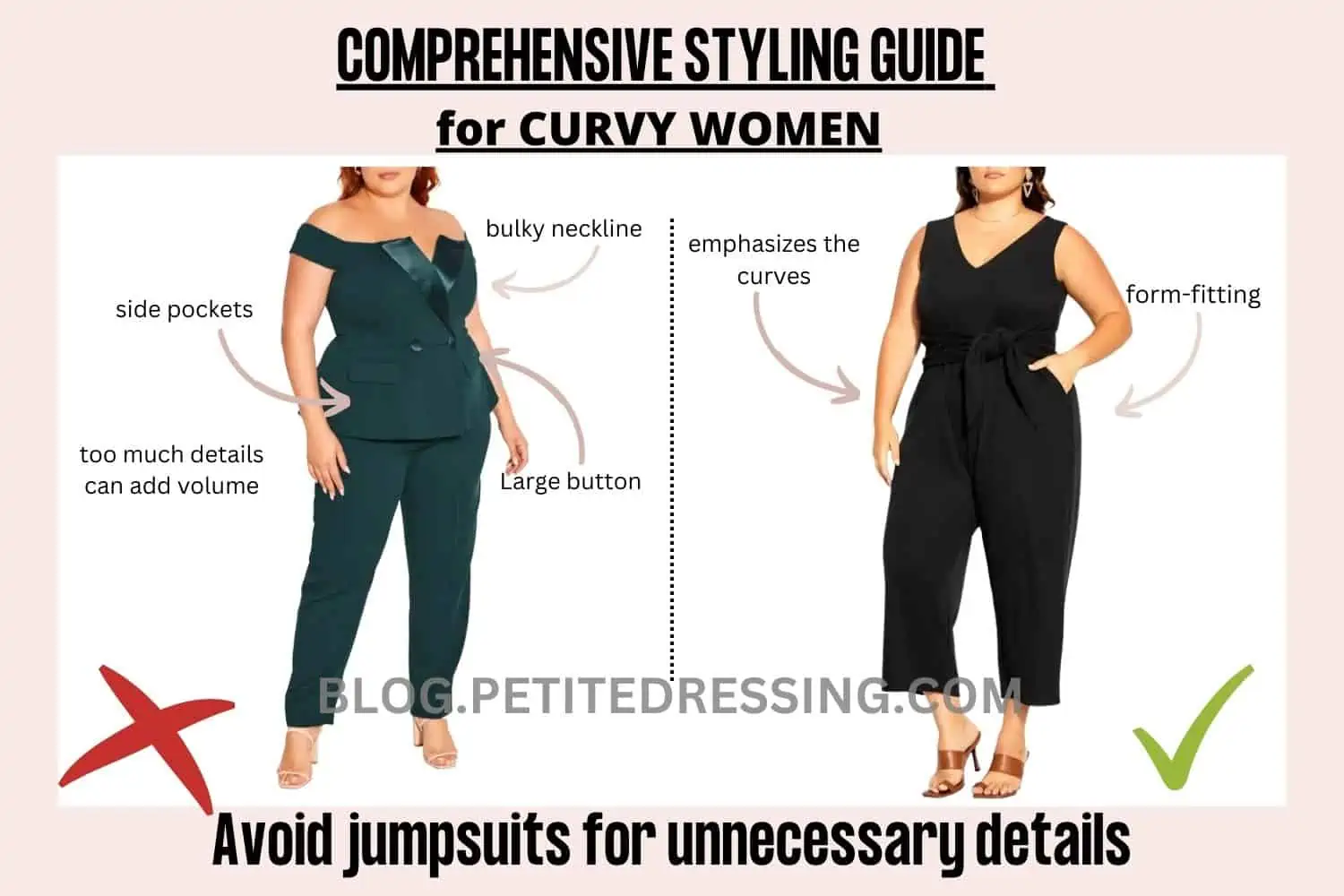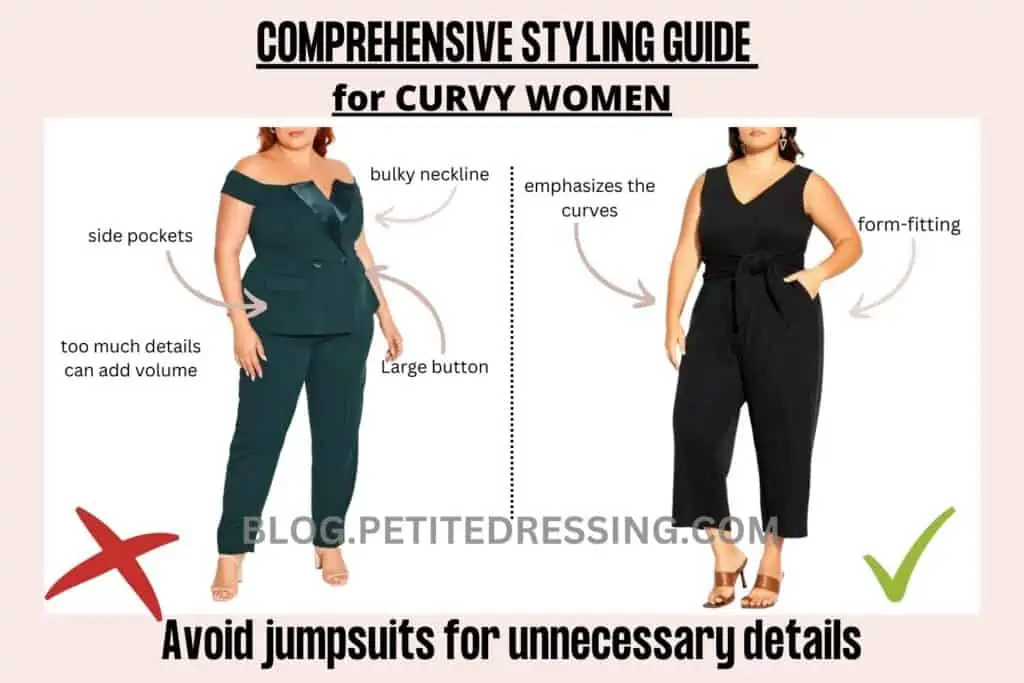 They would create attention that works against your shape. They also add excessive volume to your curvy frame and that is a less flattering feature.
SHOES
Shoes for a curvy woman should not add extra weight to her figure.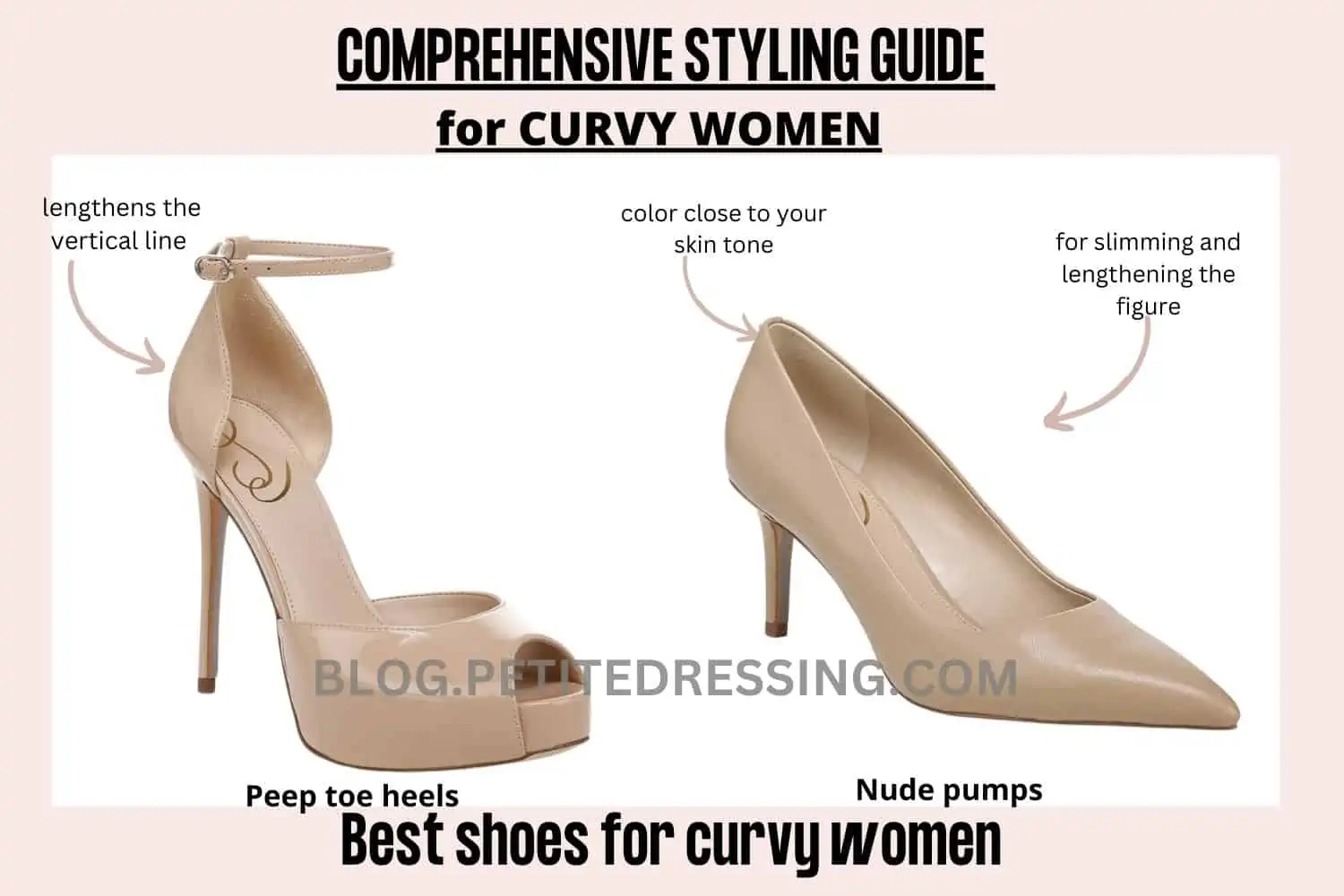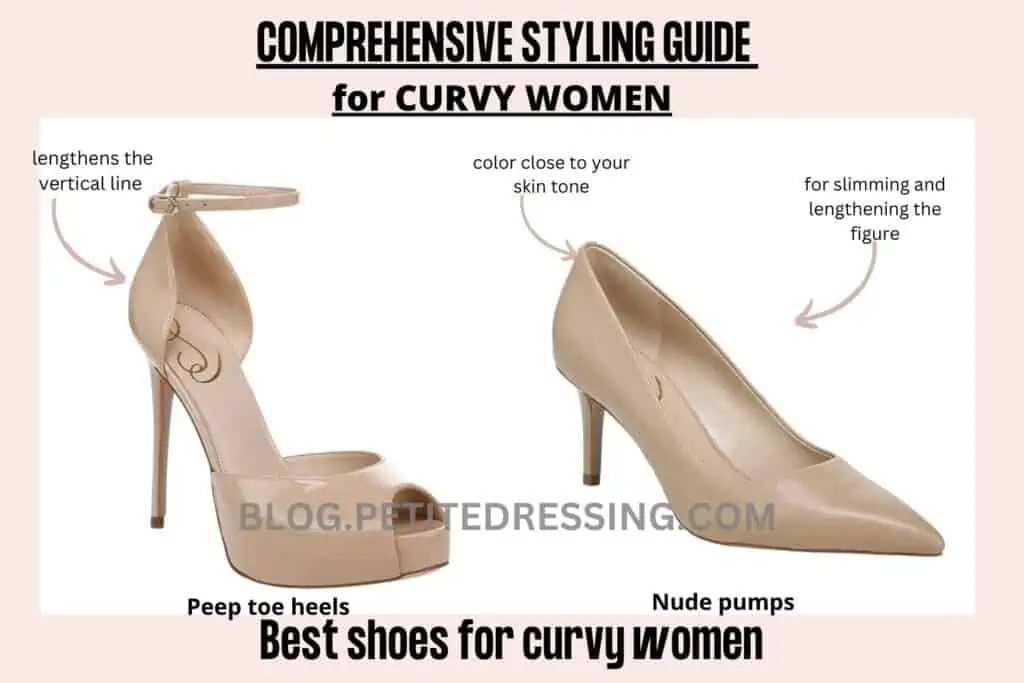 Peep toe heels
It lengthens the vertical line in the curvy woman without making her appear bottom-heavy.
Nude pumps
They are great for slimming and lengthening the figure, especially those colors that are close to your skin tone.
Avoid wedges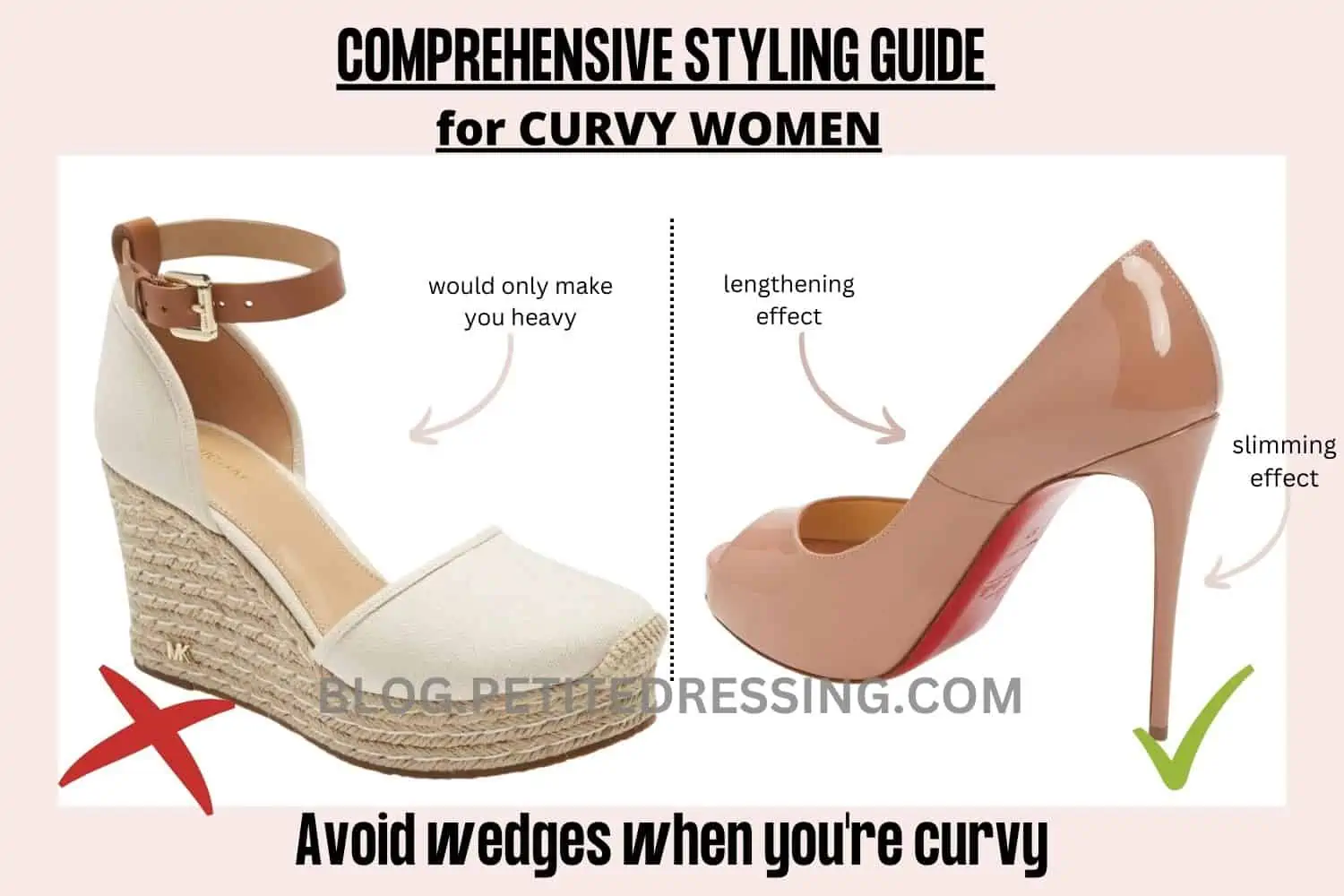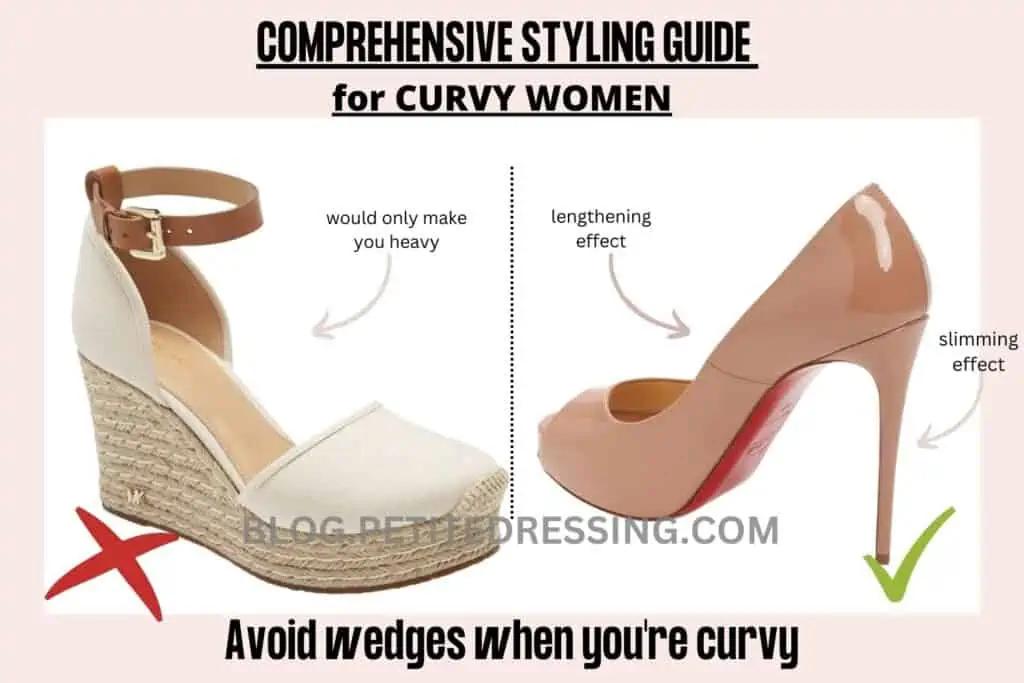 Avoid wearing wedges if you have a curvy frame because they would only make you heavy in your lower body.
ACCESSORIES
The right accessories for the curvy should complement her general outfit.
Statement earrings
This type of earring draws attention to the face and limits the focus of the eyes on the curves.
Thin belts
instead of bigger sizes, the thin belts should be your best pick because they define your waist better.
Avoid crossbody bags
: They are not the right way to accessorize your curvy frame.