Having a curvy figure is such an amazing blessing so you should always go for stylish wardrobe pieces that allow you to flaunt your curves! While there are a ton of clothing options out there for curvy girls, one of them is always deemed very tricky – Jumpsuits!
So as a curvy girl, can you actually rock a jumpsuit? The quick answer is YES and we're here to guide you out on which types of jumpsuits would beautifully embrace your natural curves.
Styling Goal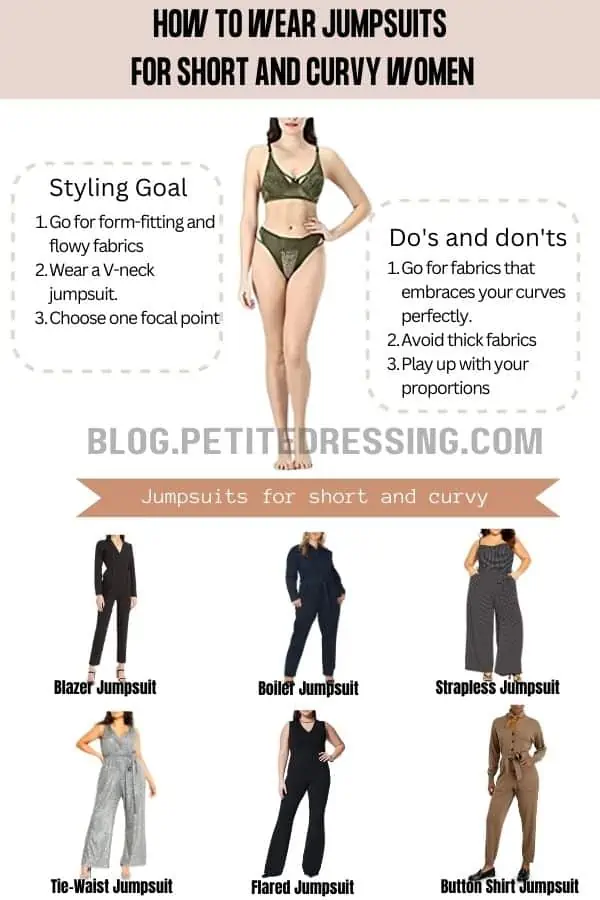 Jumpsuits flow continuously from top to bottom which also usually feature a straight silhouette. You wouldn't want your curves to be hidden nor be extremely constricted in a jumpsuit so here are some factors you need to consider first.
Avoid thick fabrics – thick and stiff types of fabrics won't smoothly skim through your curves so they have the tendency to conceal your curves and just create a monotonous straight line. Go for form-fitting and flowy fabrics instead since these will embrace your curves perfectly.
Be mindful of the cut and design – think of the right length, neckline, fabric flounces, and prints. Depending on your height and how voluptuous your curves are, you need to choose flattering designs with these categories in consideration.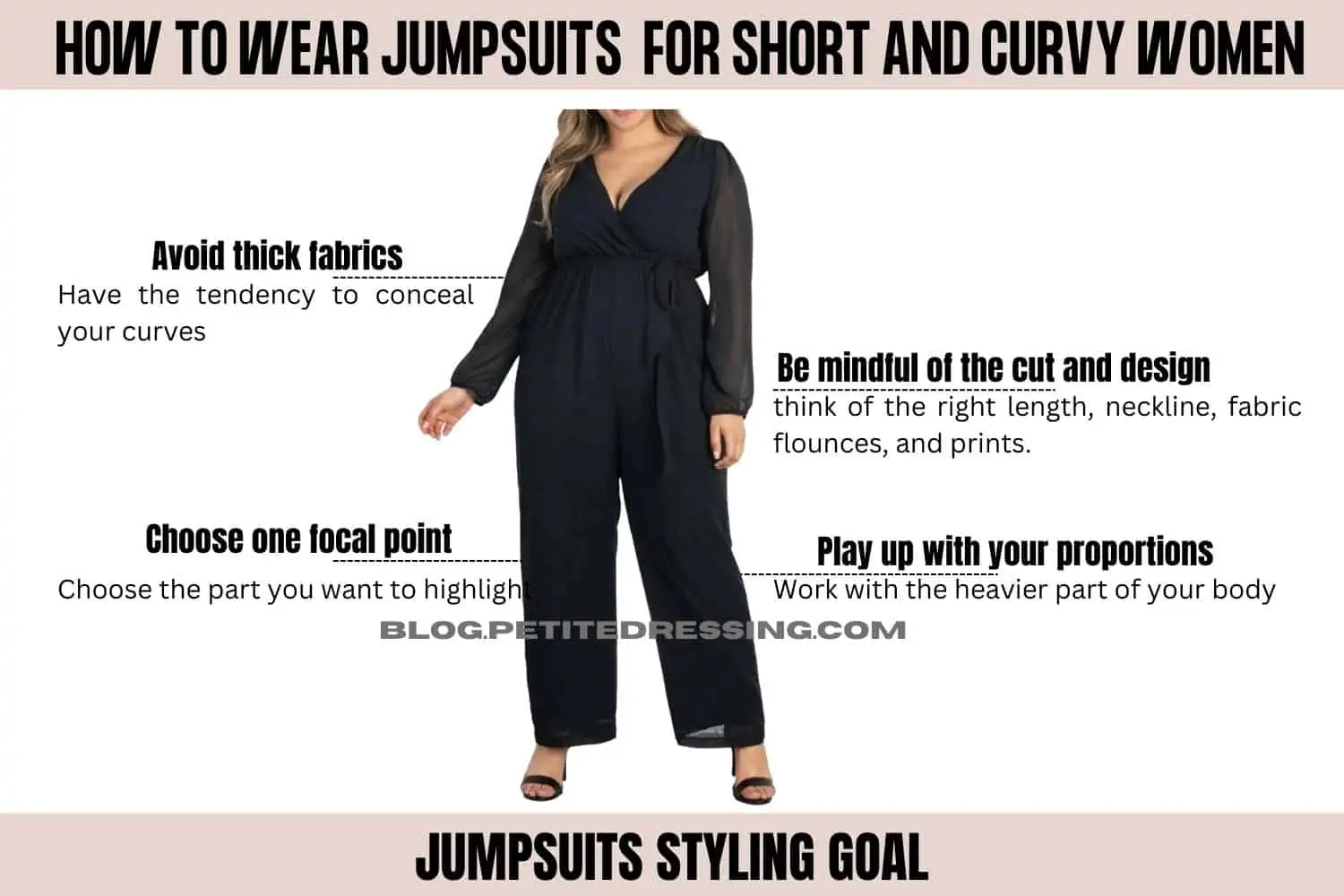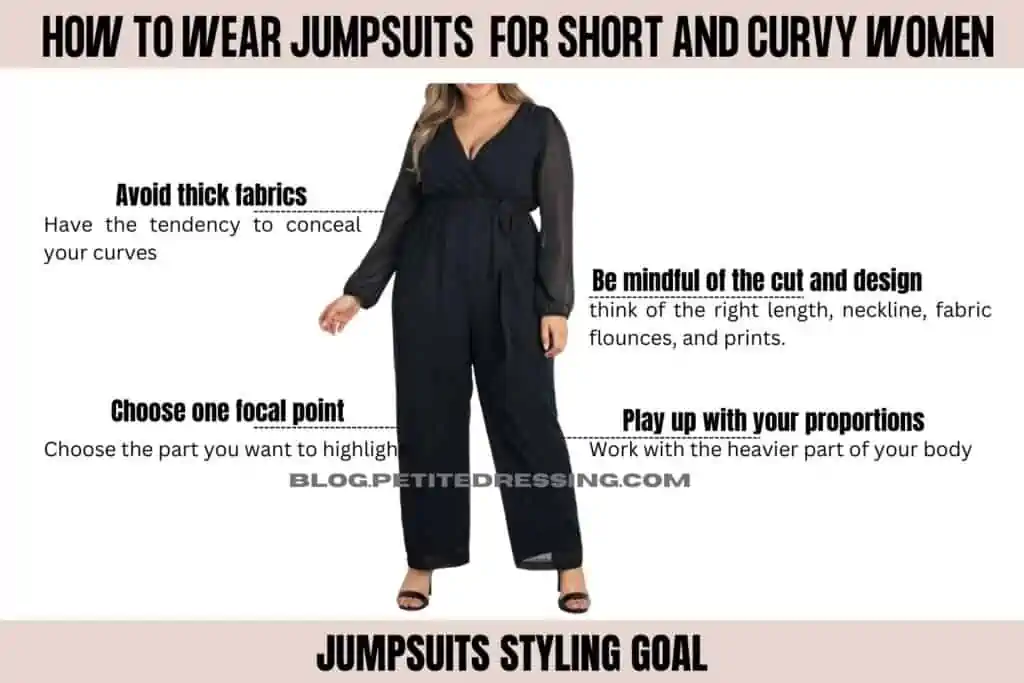 Choose one focal point – of course, you would love all your curves to be in their fullest glory but since jumpsuits feature a continuous and streamlined silhouette, then highlighting too many points in your body can be distracting. For instance, if you want your bust area to be the focal point, wear a V-neck jumpsuit.
Play up with your proportions – identify which parts of your body are heavier or slimmer and work your way towards neutralizing them.
Are you all set? Well here, we have listed different types of jumpsuits that will look super attractive on your curvy figure.
Blazer Jumpsuit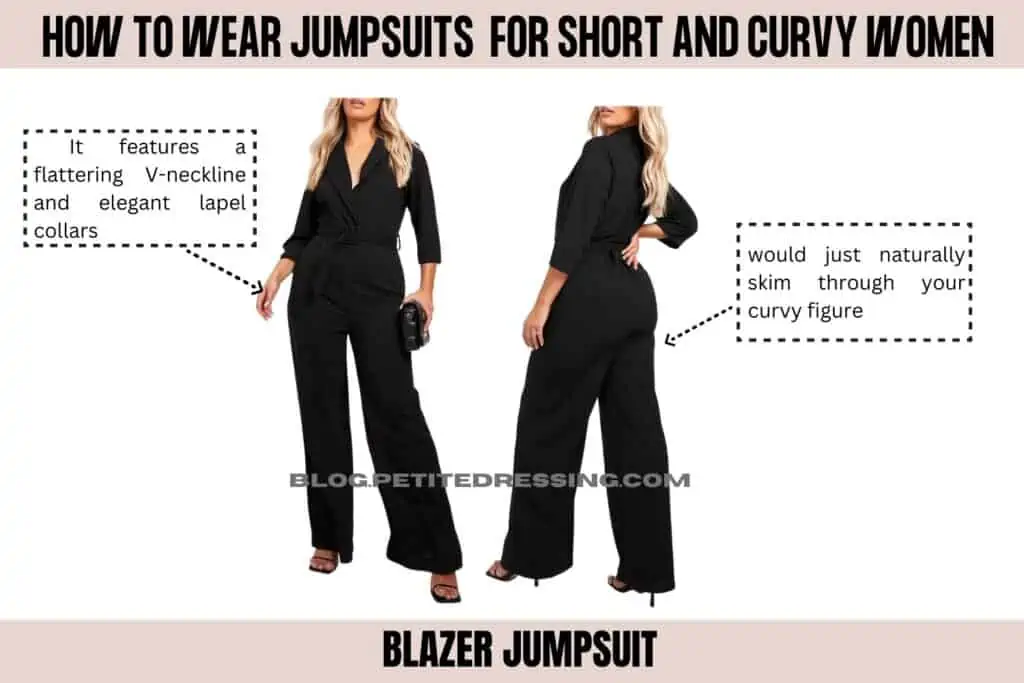 If you're looking for a jumpsuit that's more formal or smart casual, blazer jumpsuits should be something to set your eyes on. It features a flattering V-neckline and elegant lapel collars that are perfect if you'd want to draw focus on your beautiful bust line.
Blazer jumpsuits also often come in very structured fabrics like linen or silk blend which adds to the sleek silhouette. These types of fabrics aren't too thick so they would just naturally skim through your curvy figure.
Boiler Jumpsuit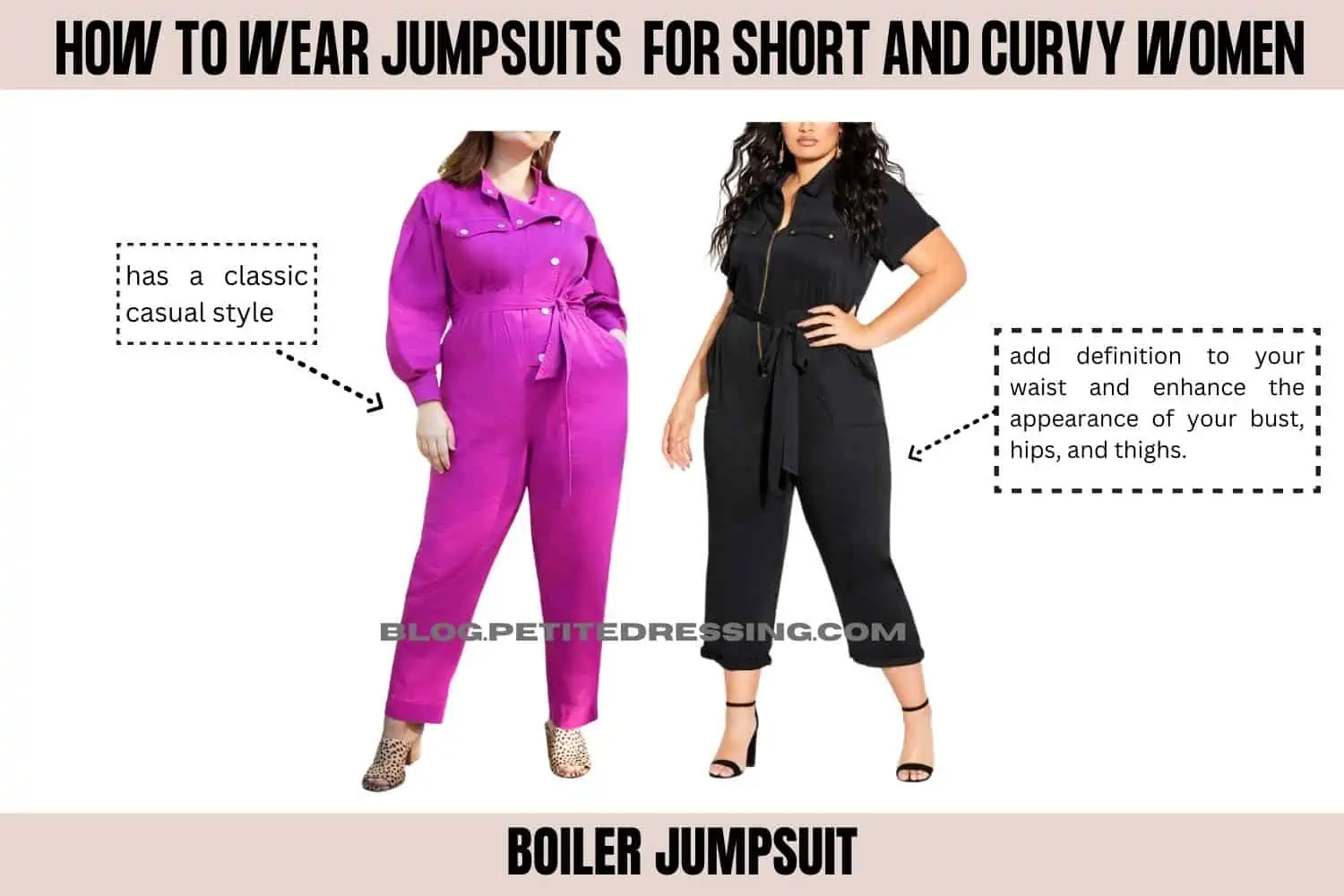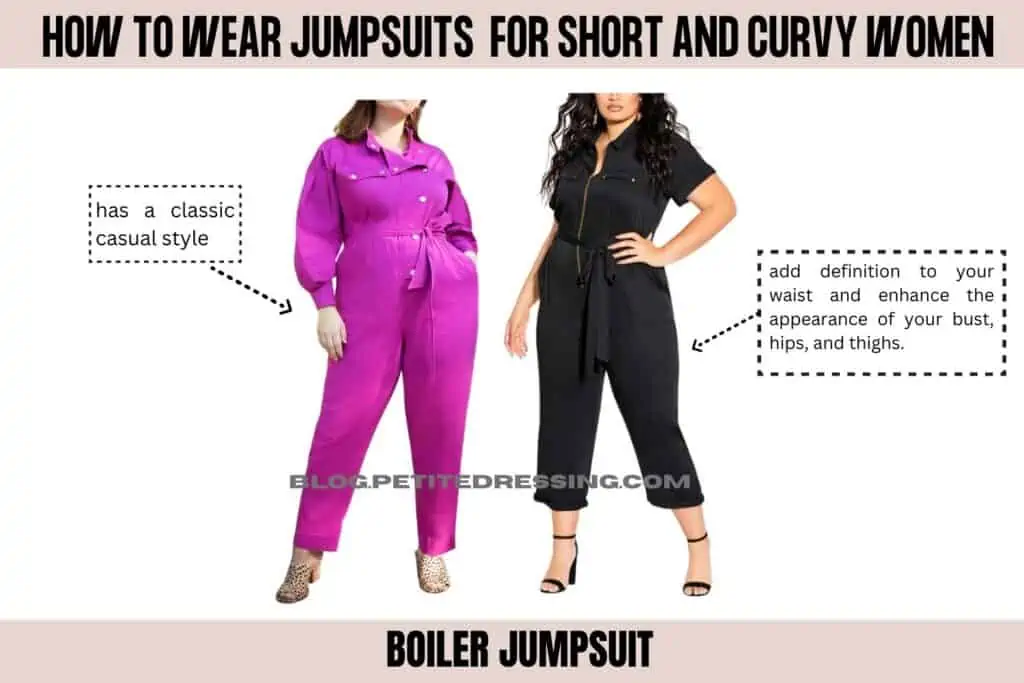 This is just a classic casual and streetwear choice! Boiler jumpsuits don't have dramatic and compressing seam lines so they provide superior comfort.
If you're looking for a jumpsuit that you can wear with casual sneakers and that has more coverage, then you should give boiler jumpsuits a try. Find one that has a snug waistline detail to effectively add definition to your waist and enhance the appearance of your bust, hips, and thighs.
Strapless Jumpsuit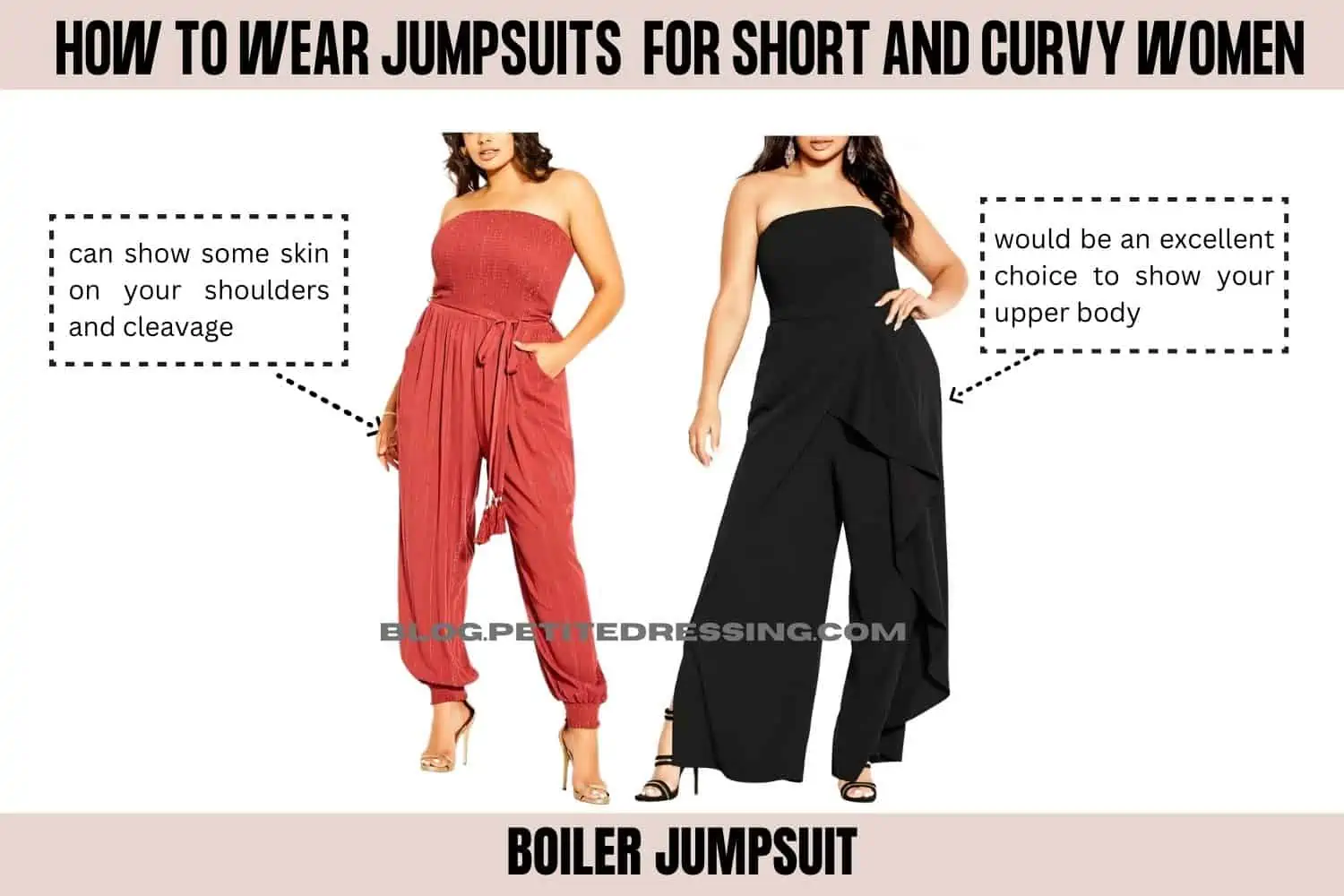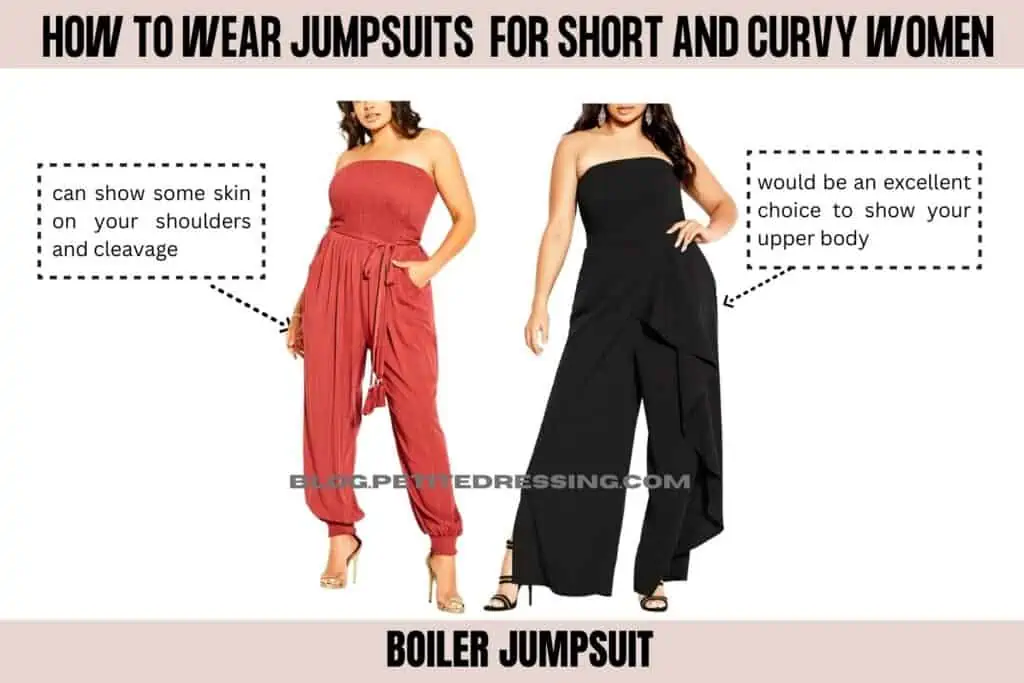 What is a summer outfit without strapless and tube clothing pieces? Jumpsuits come in such a design too and you'd be surprised at how gorgeous strapless jumpsuits look on curvy girls!
The key goal of strapless jumpsuits is to show some skin, most particularly your shoulders, and probably some cleavage too. So if you're aiming to have your upper body as your focal point, strapless jumpsuits would be an excellent fashion option for you.
Tie-Waist Jumpsuit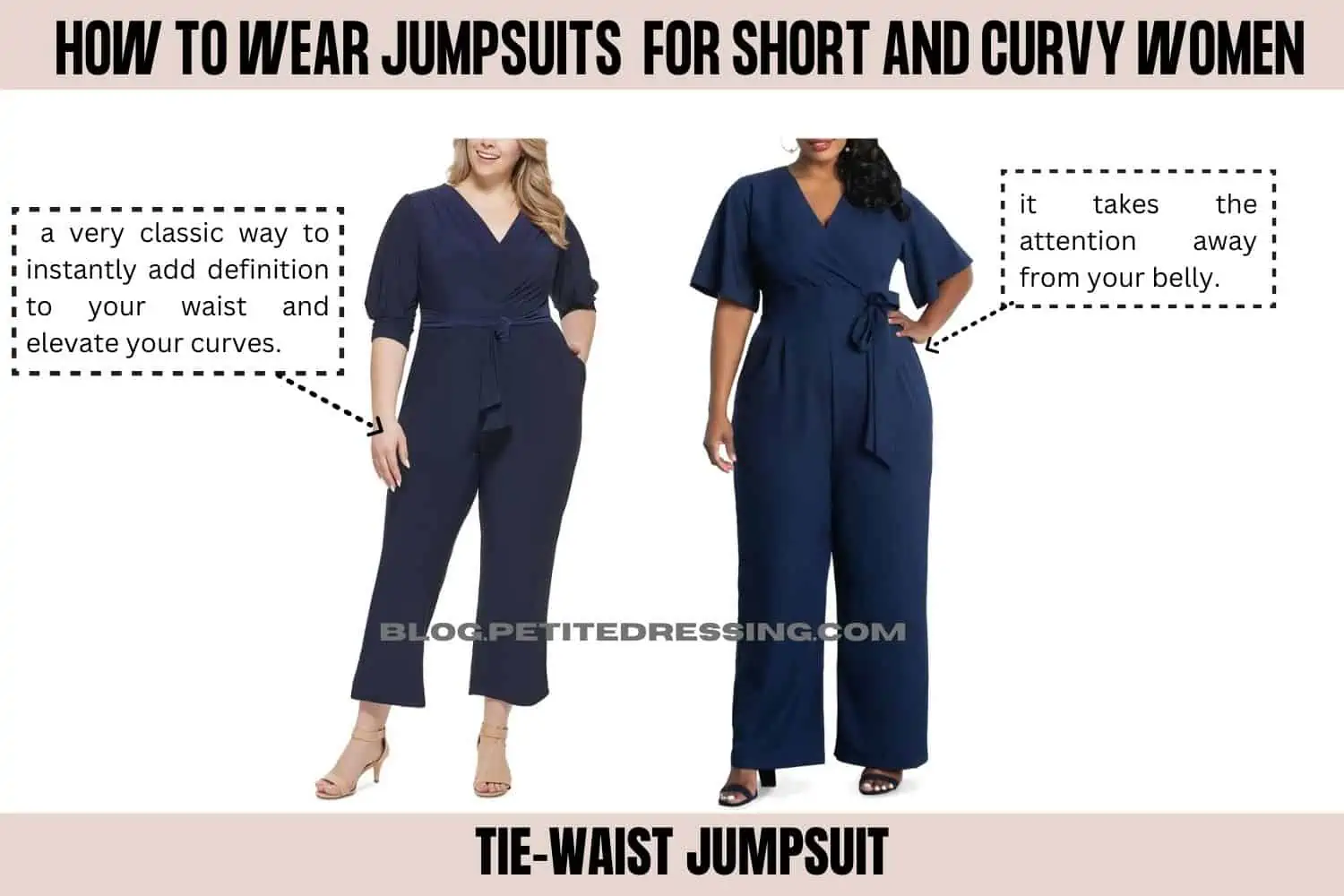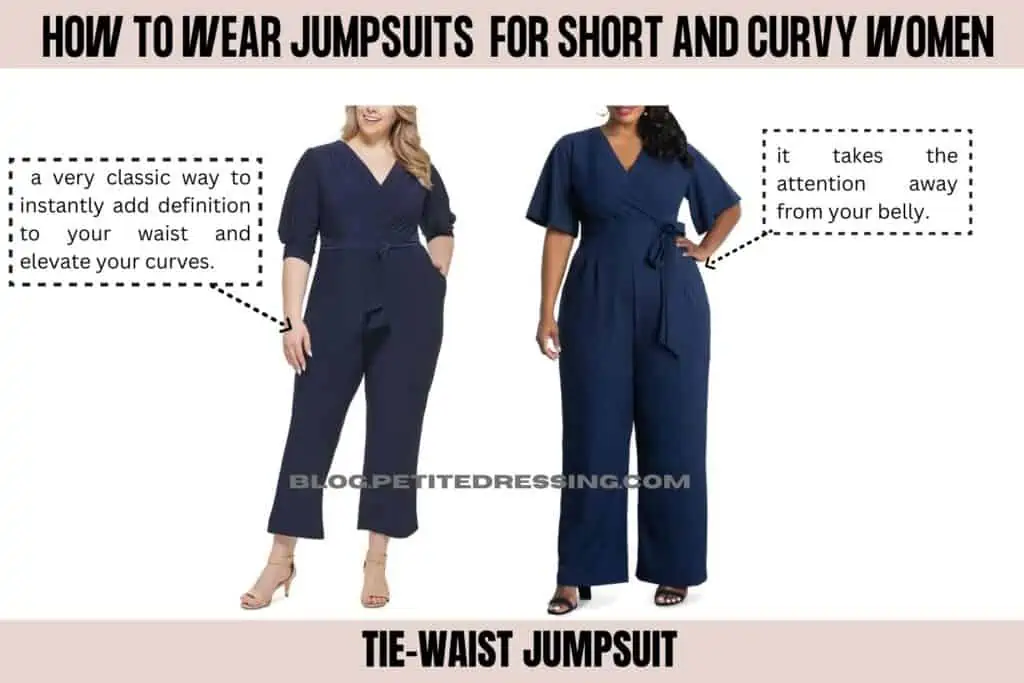 Most jumpsuits have waist details and wrap ties are quite common finds for a good reason. Wrapping a tie around your waist is a very classic way to instantly add definition to your waist and elevate your curves.
Tie-waist jumpsuits are very easy to find and since the options are pretty broad, you need to find one that works enough to enhance your curves. The key to finding the right one is to first pinpoint your body's concern.
For example, if you have a muffin top or a heavy midsection, then you should go for the ones in which the waist tie is of the same color as the rest of the jumpsuit. You may also consider going for a thicker tie to take the attention away from your belly.
Flared Jumpsuit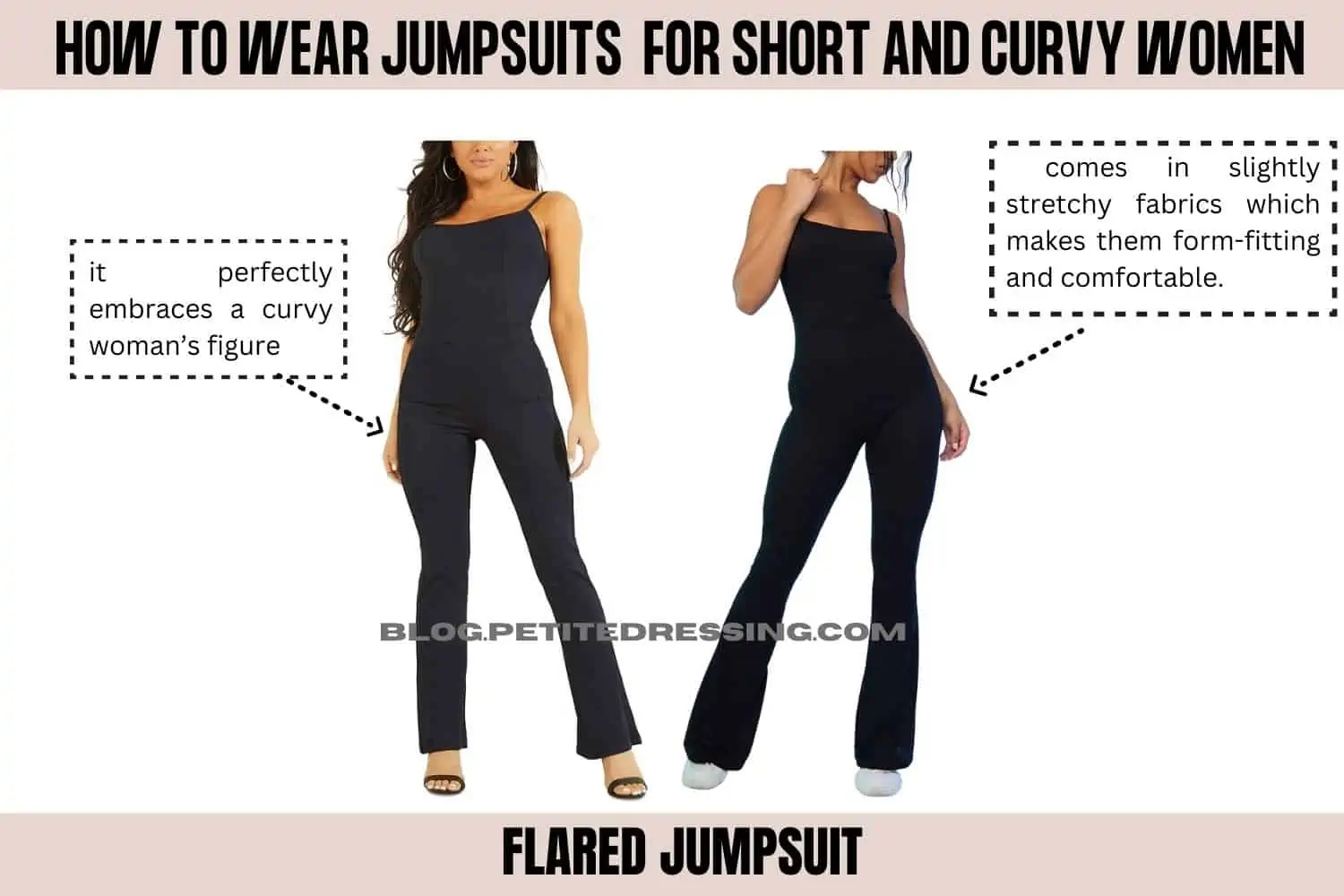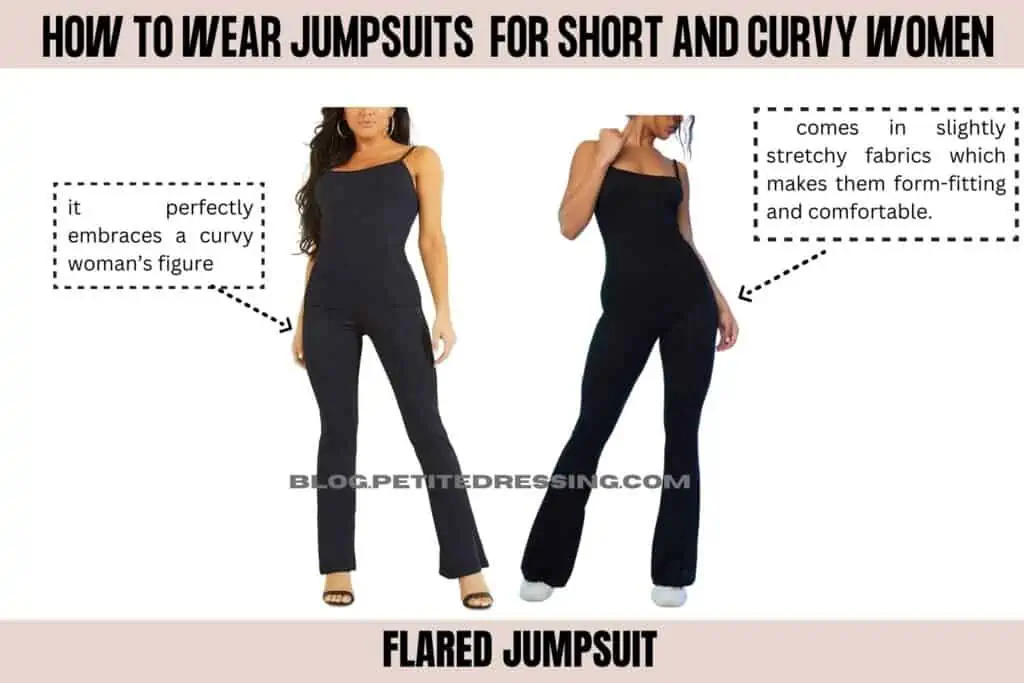 We have to say that a flared jumpsuit is one of the sexiest types of jumpsuit out there to perfectly embrace a curvy woman's figure. Flared jumpsuits usually come in slightly stretchy fabrics which makes them form-fitting and comfortable.
For curvy women, the ones that flare out near the hemline are the most flattering because it gives emphasis to the voluptuous shape of the legs. So if you want your focal point to be your legs, then try going for a flared jumpsuit.
Overalls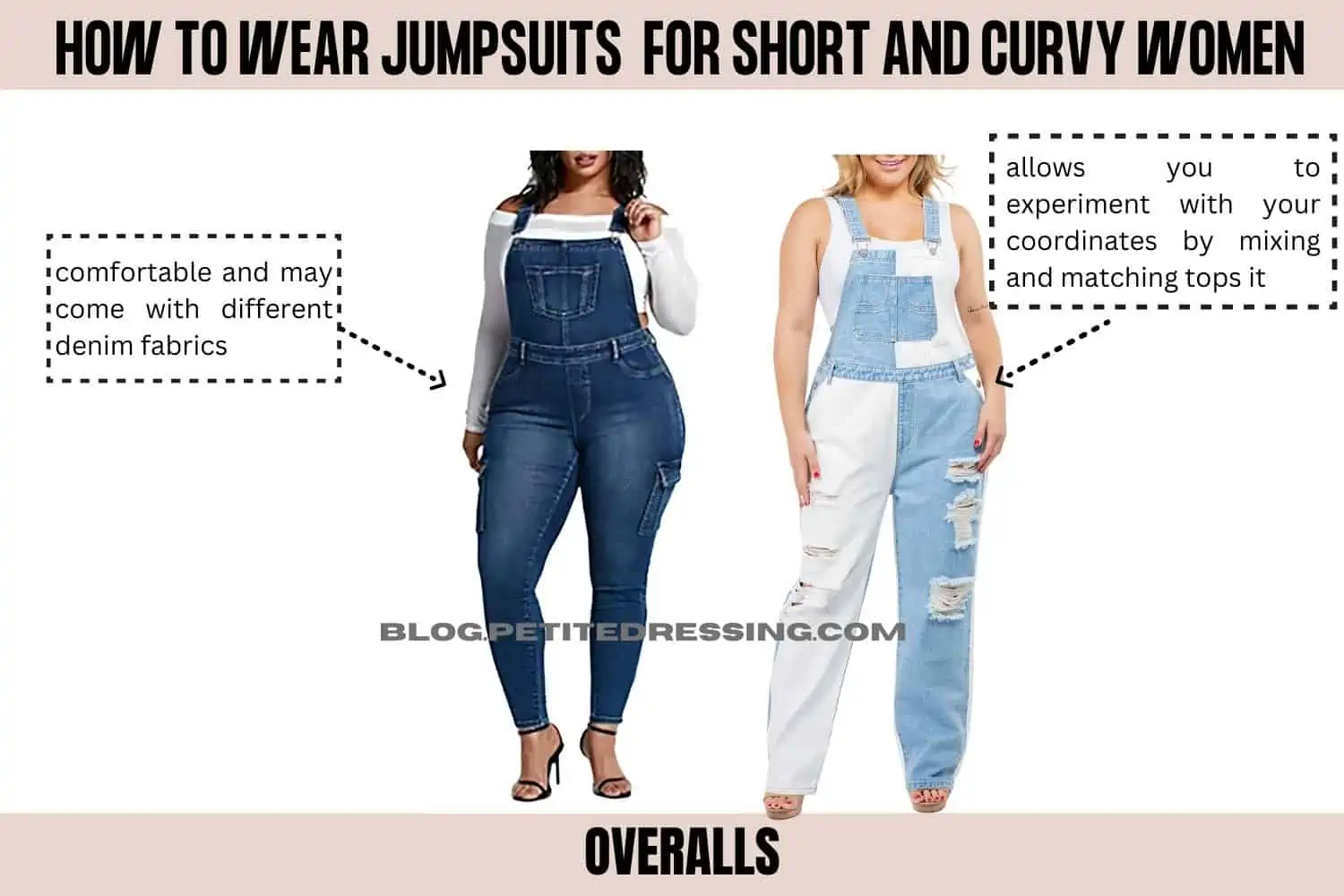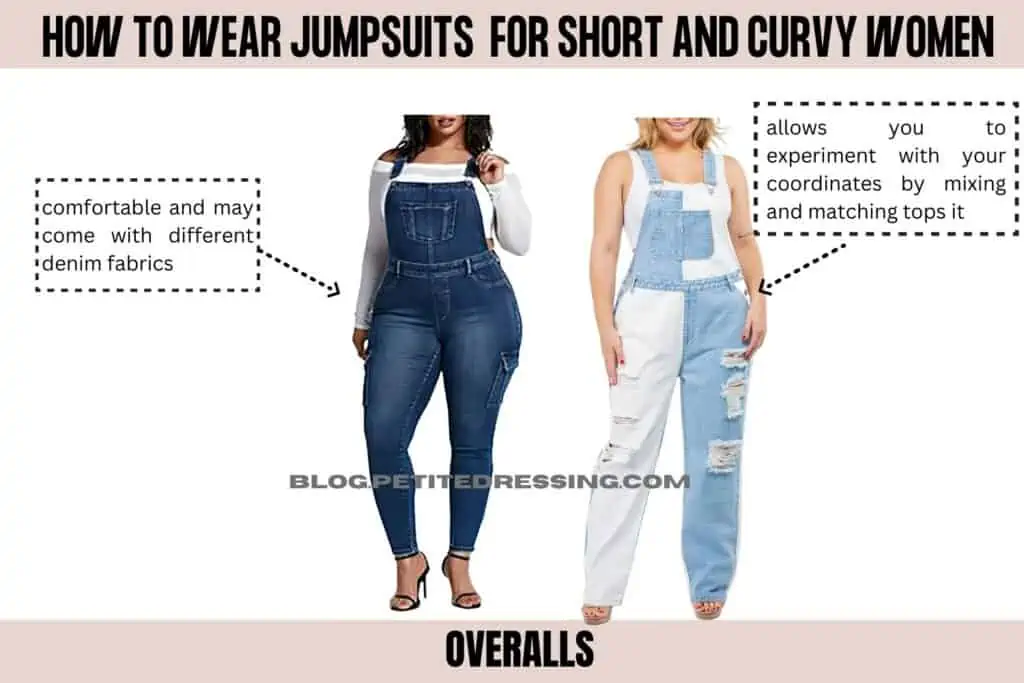 Overall jumpsuits usually come in a variety of denim fabrics. For curvy girls, you'd like to go for fabrics that aren't constricting so a great alternative would be soft denim or chambray.
Styling overalls are quite fun too! It allows you to experiment with your coordinates by mixing and matching tops. Most types of tops can work with overalls but if you'd like your curves to stand out, you can opt for tight-fitting cotton shirts or sleeveless tops.
Button Shirt Jumpsuit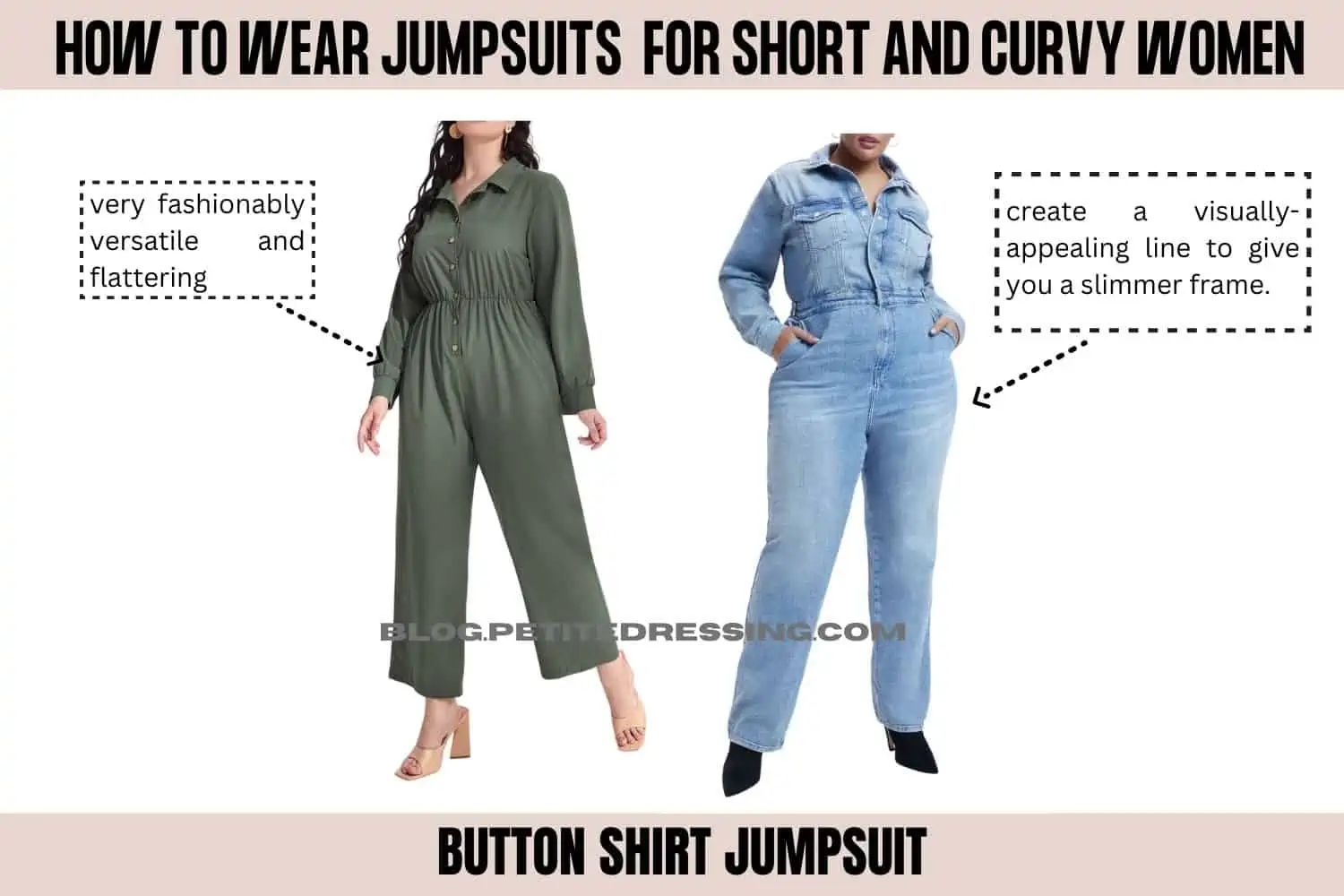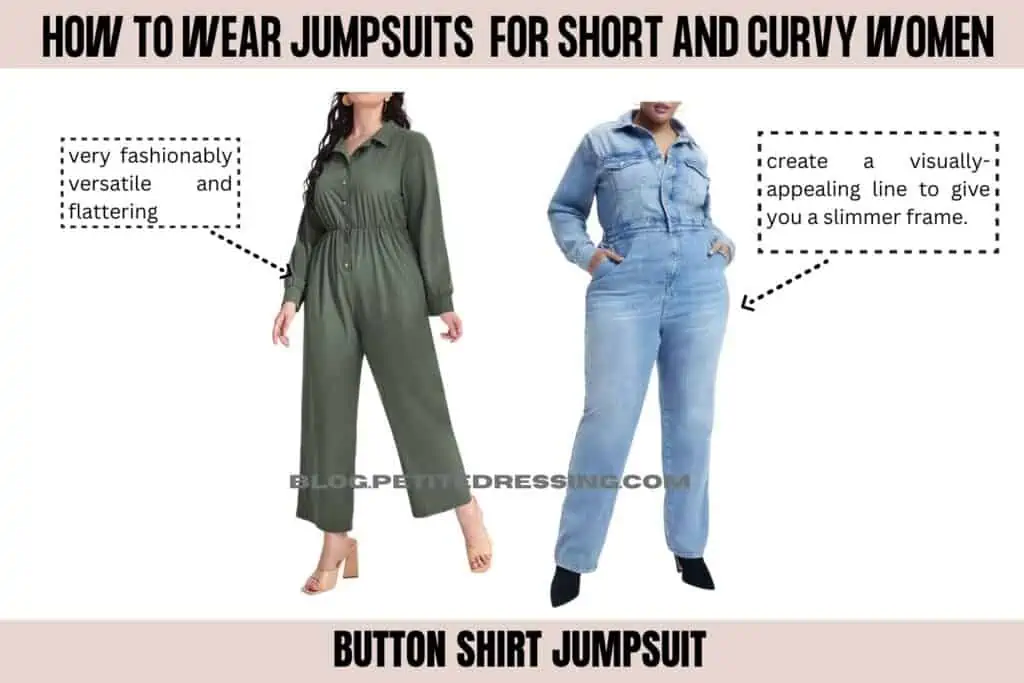 Here's another type of jumpsuit that can take you to casual events and a job meeting at the same time! Button-shirt jumpsuits are very fashionably versatile and they're also one of the most flattering wardrobe pieces for curvy girls.
It features a neat column of buttons and a subtle waistline seam that helps create a visually-appealing line to give you a slimmer frame. And by slimmer, we don't mean concealing your curves but rather creating a balance for the entire frame to look very put-together.
If you wish to give a slightly sultry twist, wear it with a few buttons unbuttoned to create a nice plunging neckline.
Vertical Printed Jumpsuit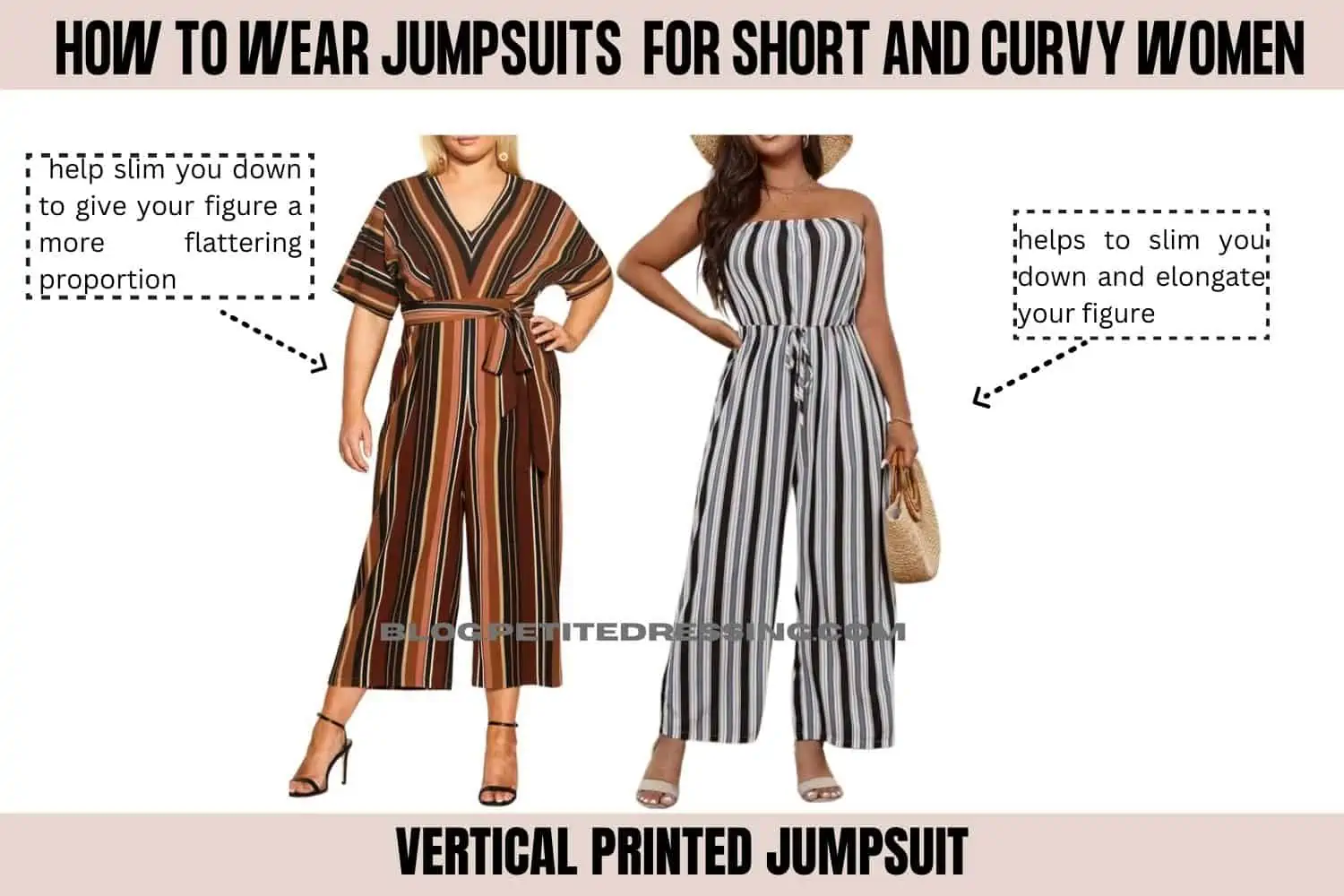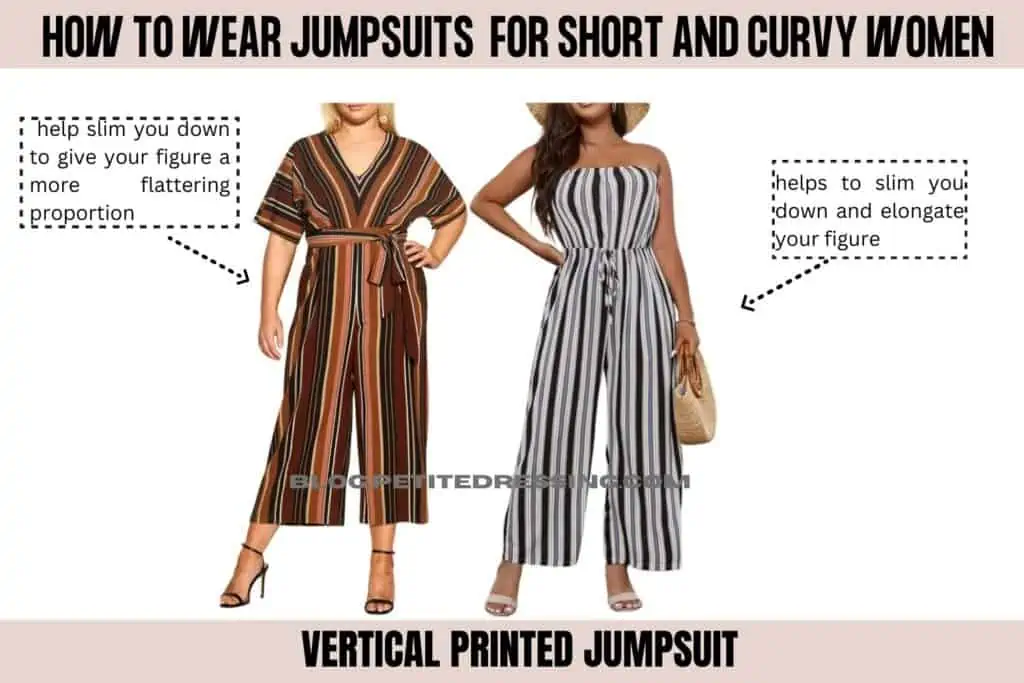 If you're the kind of curvy that's top and bottom heavy, then jumpsuits with vertical prints should help slim you down a bit to give your figure a more flattering proportion. The print could be anything, from stripes to muted plaids, as long as it presents a vertical pattern.
Don't worry about losing your curves when you go for a vertical printed jumpsuit because you can absolutely still flaunt them if you go for the right fabric. Since you've got your vertical prints to slim you down a bit, then you can go for slightly body-fitting structures (but not too tight).
Tank Jumpsuit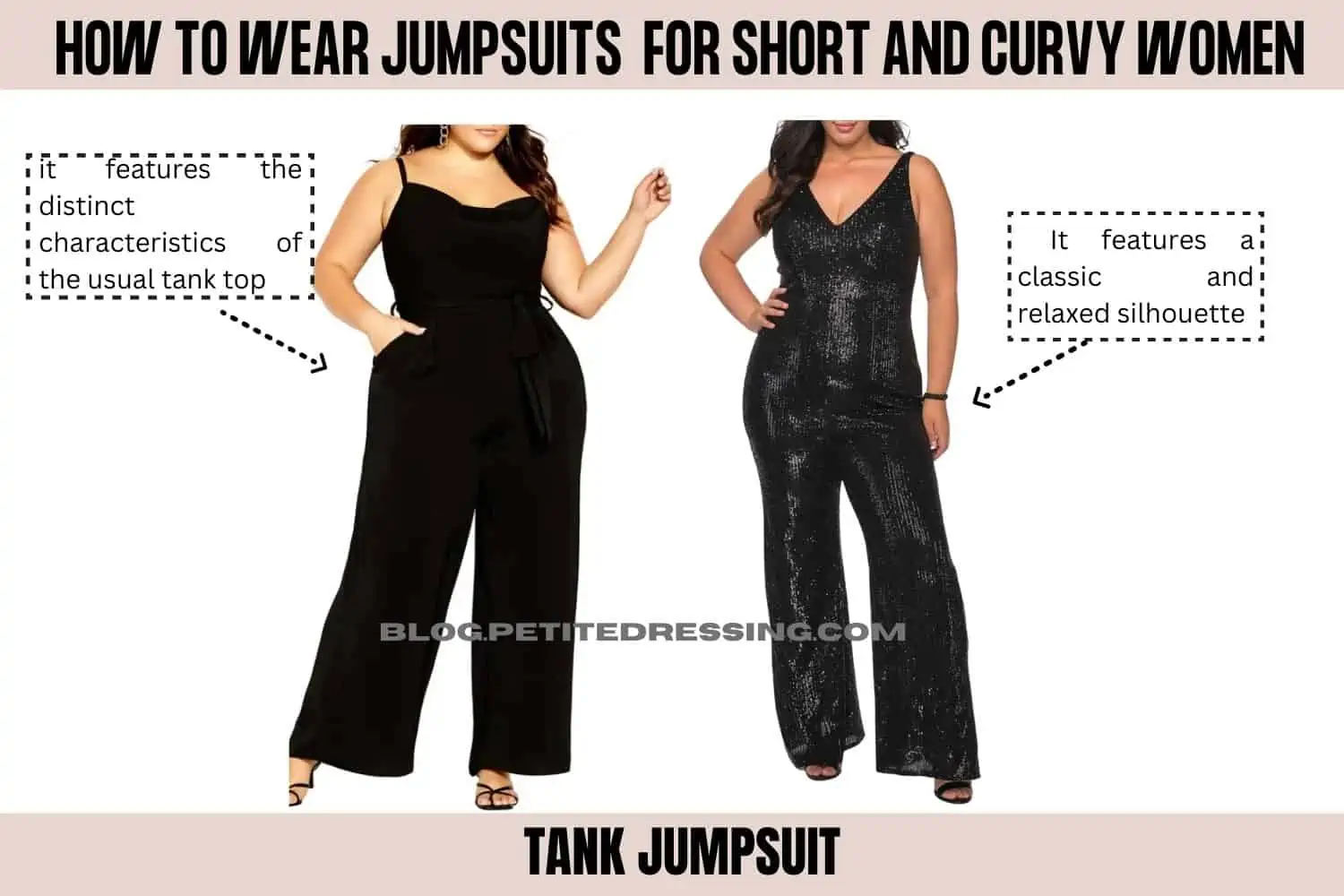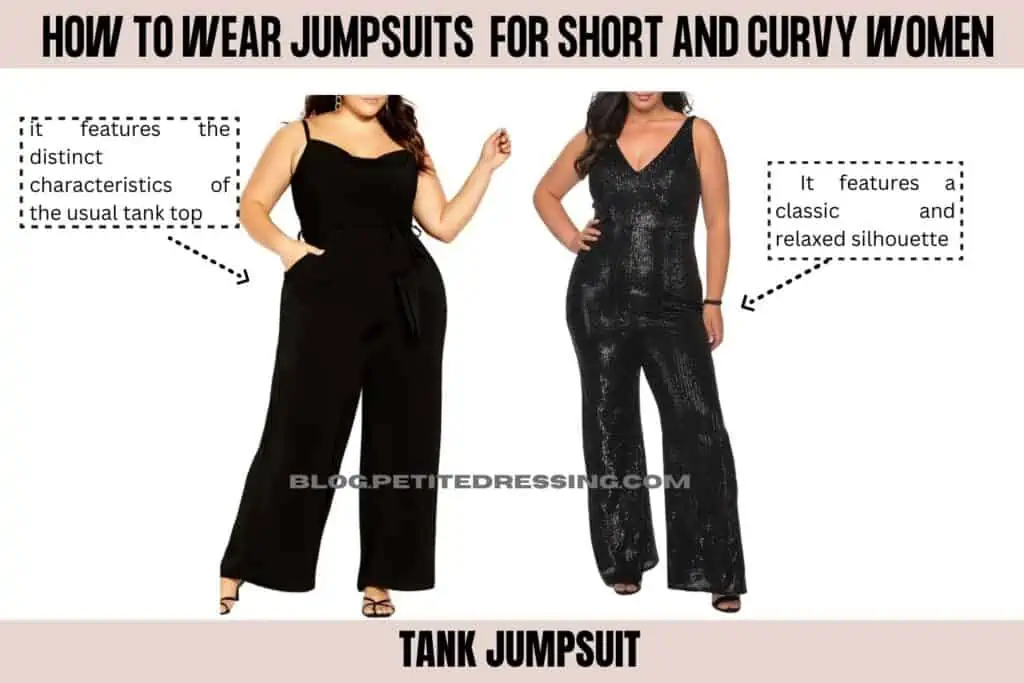 Another summer jumpsuit option would be the tank jumpsuit. From the name itself, it features the distinct characteristics of the usual tank top so you can expect great comfort from this wardrobe piece.
Tank jumpsuits are also great for curvy women because their low-scoop neckline gives your chest area more prominence. It features a classic and relaxed silhouette that's perfect for everyday wear.
Most tank jumpsuits are made from cotton fabric so the comfy fit it has nicely flows over the curves of your body. It subtly enhances your curves without being too tight on your figure.
Wide-Leg Jumpsuit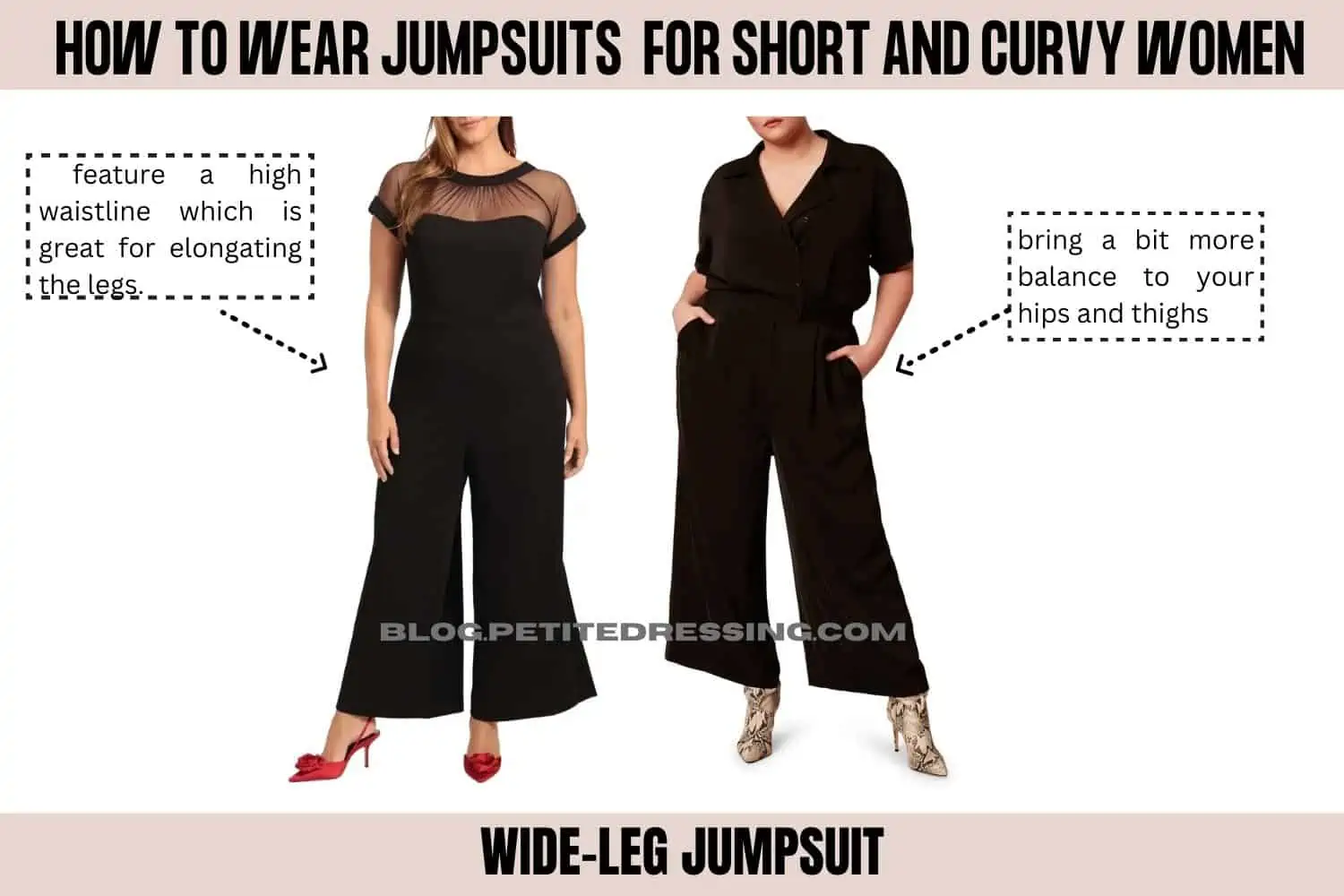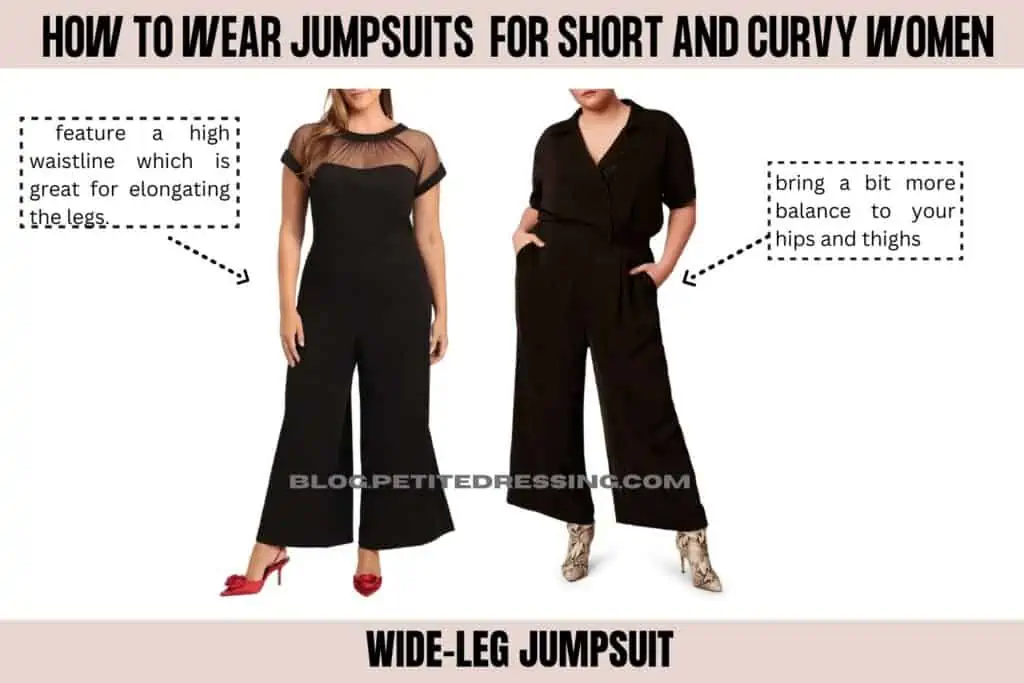 If you're bottom-heavy and you'd like to bring a bit more balance to your hips and thighs, then the best way to do this is by wearing wide-leg jumpsuits. Wide-leg jumpsuits feature a high waistline which is great for elongating the legs.
Since they are quite trendy, wide-leg jumpsuits come in a vast variety of designs so it might be a bit overwhelming to choose which one is for you. This is where you need to review our styling goal at the beginning of this article because while wide-leg (palazzo) jumpsuits are undeniably stylish, not all types are okay for curvy girls.
Playsuit Romper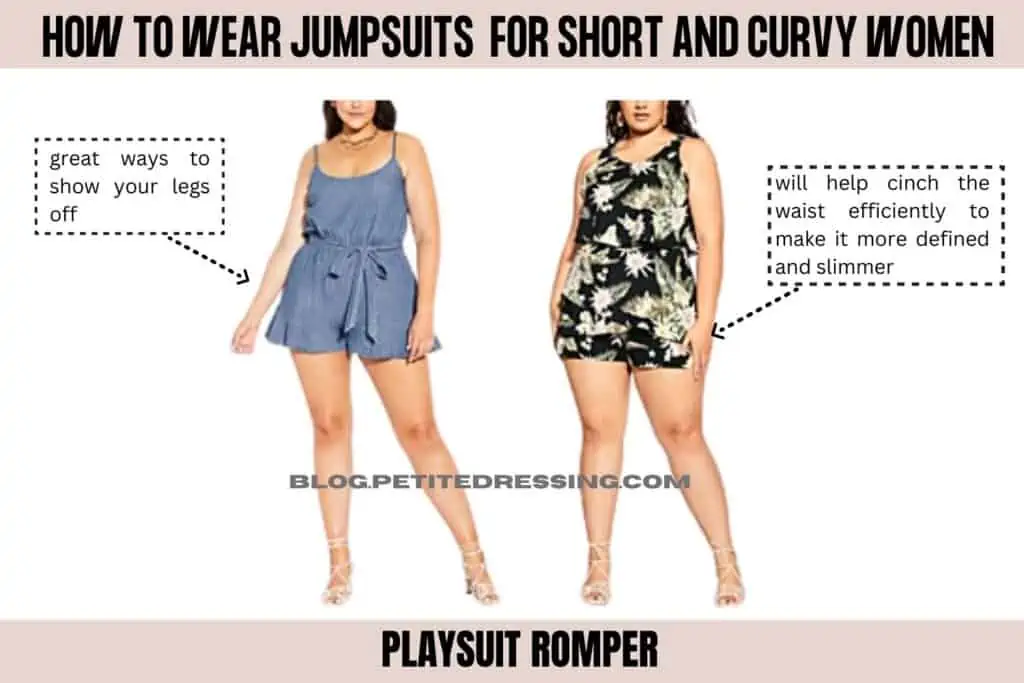 If you want to show your legs off, then playsuits would be great because they come in short lengths. To have your playsuit romper successfully rock your curves, find one that has a thicker waist seam or tie.
This will help cinch the waist efficiently to make it more defined and slimmer. The way it will hug the waist will give your curvy figure a much more prominent form.
If you're the kind of curvy girl that's bottom-heavy, then you may want to skip playsuits. On the other hand, if you'd like to accentuate the shape of your bust then you may opt for a playsuit that has a spacious neckline.
Off-the-Shoulder Jumpsuit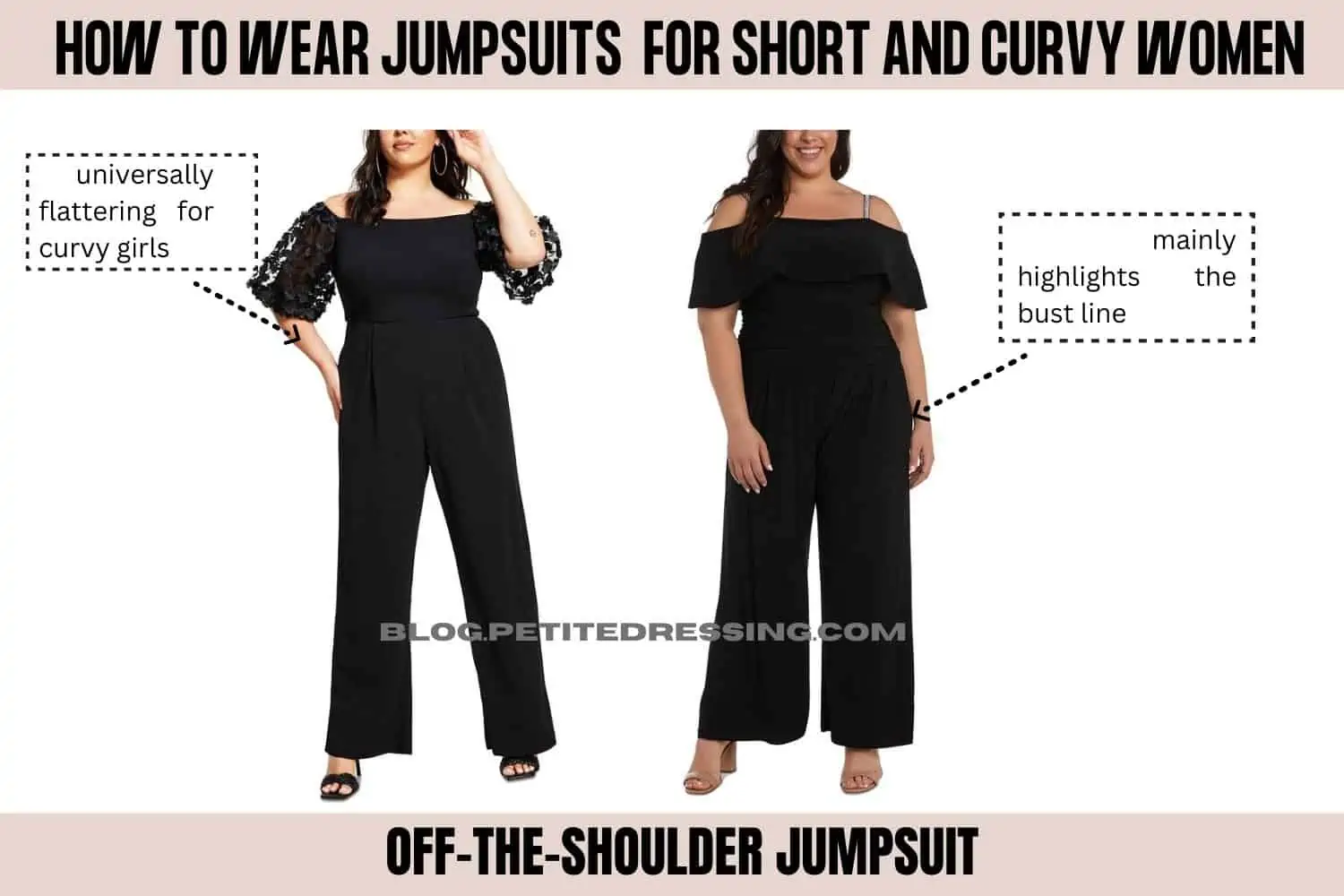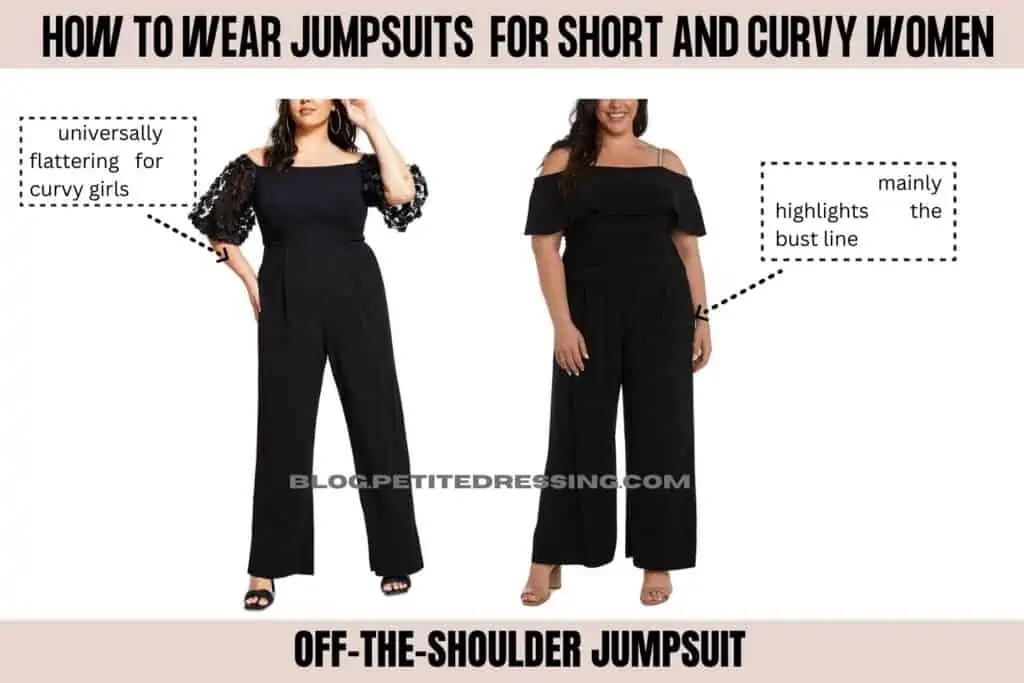 Off-the-shoulder structures are also quite universally flattering for curvy girls because it mainly highlights the bust line, which is a curvy girl's best asset. This is also a nice opportunity to flaunt subtle flounces of fabric such as circular ruffles and double-edge ruffles placed along the bust line.
It's nice to go for flowy fabrics when opting for an off-the-shoulder jumpsuit because not only does this feel immensely comfortable, but it also gives a nice summery vibe to your entire ensemble. Wide-leg, straight-leg, and skinny bottoms would perfectly complement your off-the-shoulder top.
The Key Takeaway
Never be intimidated by jumpsuits! It's time to fully ditch the misconception that jumpsuits are only for those with small and slender frames.
Explore your options and understand your curvy figure better for you to come up with specific styles that would match your figure.