If you have big bust, your luscious curves can make a lot of your friends envious, but dressing your body shape could be more challenging.
The reason is whatever you wear, your bust is likely to become the focus of your outfit, which makes it harder for you to try some trends and look stylish, compared with women with smaller busts. Having bigger breasts normally also means that you are top-heavy, so the best way to dress is to create a balanced outfit and avoid anything that may add more bulkiness to your top.
High Necklines
Necklines are critical in defining how we look.
They are especially important for women with big bust, but they are often the most overlooked details in our outfits.
High necklines include options like turtlenecks and crewnecks. When you have a big bust, these types of necklines are difficult to wear because they cut the body off and shorten the space around the bust area.
Opting instead for necklines that open up the space around the bust and chest like v-neck and scoop necklines. This extends the space and creates more balance to the bust.
Ruffles Around the Bust
One major don't do if you have a big bust is wearing ruffles around that area of your body.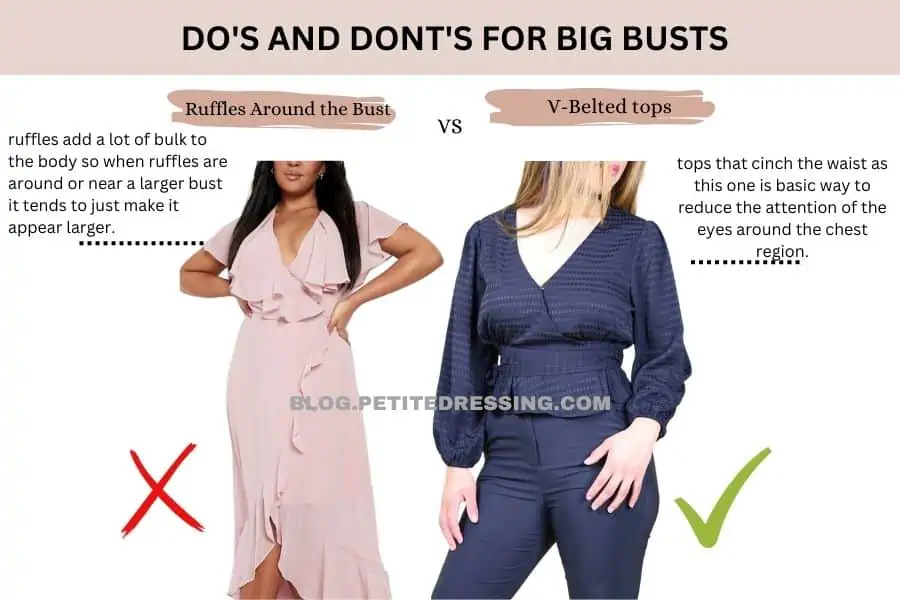 While fun and feminine, ruffles add a lot of bulk to the body so when ruffles are around or near a larger bust it tends to just make it appear larger. Instead, keep the fabric and detailing minimal around the top half of the body. This will allow your shape to be shown without adding weight or bulk.
Voluminous Sleeves
Similar to the way ruffles add bulk, voluminous sleeves can do the same to the body – especially when you have a big bust.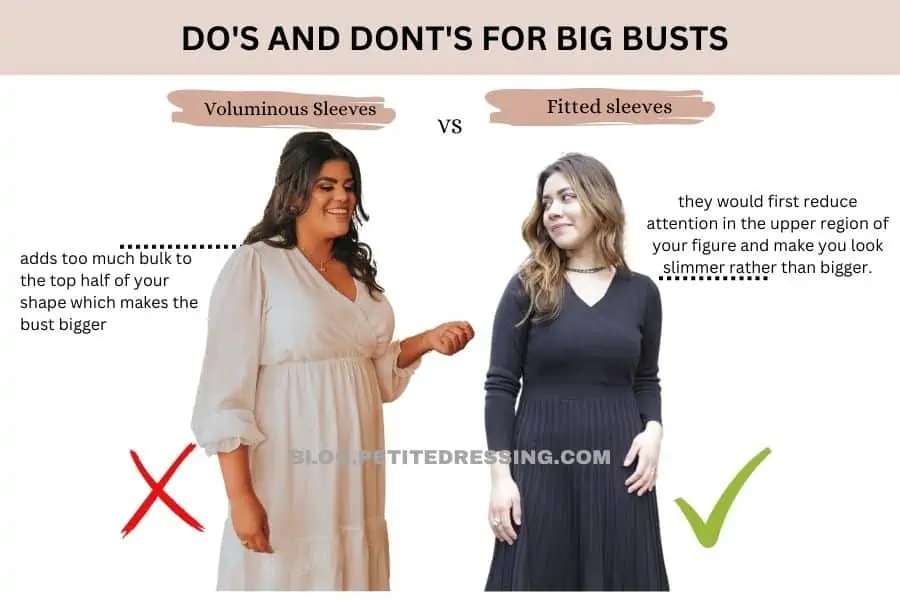 Keep sleeves slim and fitted to arms. This is important for a couple of reasons. First, it creates some space between your arm and bust/torso area which helps to provide a slimming effect to the body. Second, it keeps from adding too much bulk to the top half of your shape which – you probably guessed – makes the bust look bigger too.
Boxy Tops
Comfort is important when getting dressed, however, you're going to want to be strategic about the types of tops you wear to feel comfortable when you have a big bust. Many women tend to associate loose and shapeless tops with 'comfortable' and while they may be that, they're not the most flattering options.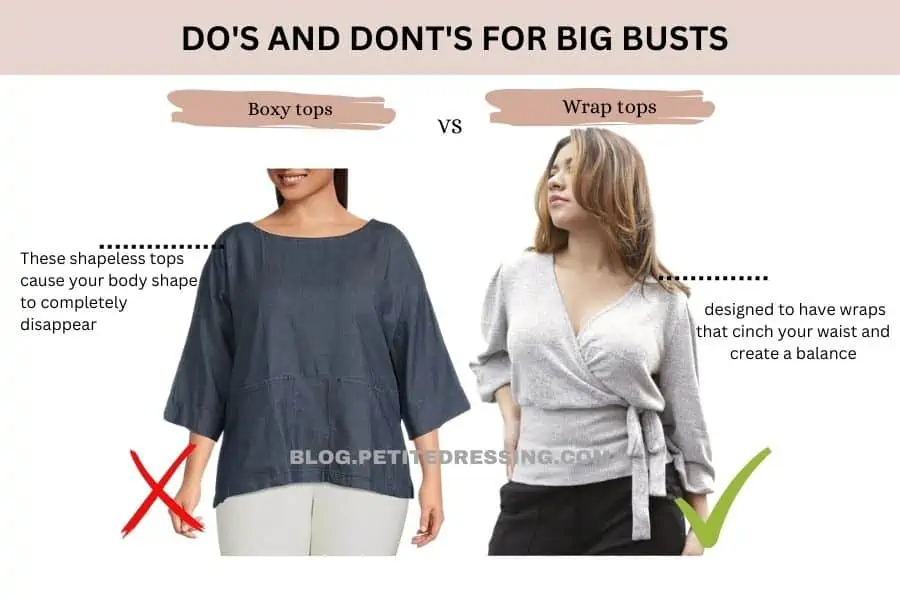 These shapeless tops cause your body shape to completely disappear, causing it to look larger than it is and bring even more emphasis to the bust. The best option is to focus on tops (and dresses, jackets, etc.) that are fitted to the body. This will help to create a clear waistline definition which helps to slim and flatter a larger bust.
Cut-outs near your Bust
Cut-out tops or dresses are quite an on trend, and they can look edgy and sexy. However, if you have a big bust, then you need to use a lot of caution with cut-outs.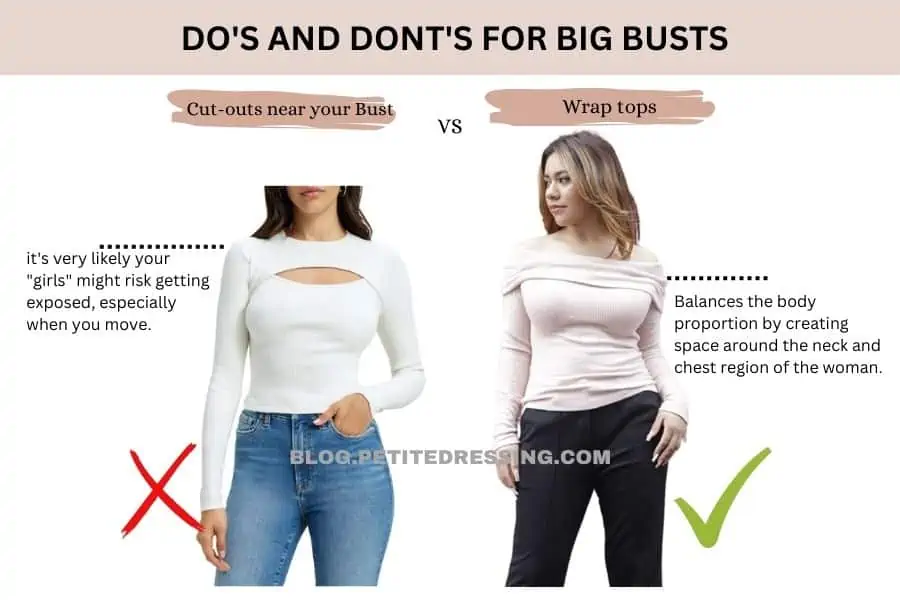 If you have bigger bust, they are taking a lot of space on your torso! This is especially obvious when you are petite with large bust, because you have a shorter torso to begin with, compared with taller women. If you wear a top or dress that has cut-outs near your bust area, it's very likely your "girls" might risk getting exposed, especially when you move.
Instead, wearing dresses or tops that properly cover up your full breasts are much more classy ways to dress for women with large bust.
Spaghetti Straps
Creating balance to the body is so important, especially when dressing a big bust. This is why spaghetti straps are best to avoid for your body type. While they can be fun to wear and experiment with the problem that many women with a large bust come to find is that they don't offer a lot of support and draw a lot more of the focus to the bust.
Spaghetti straps are very thin which often means they require a strapless bra – not always the most ideal option for big-busted women. More than that, super thin straps can look disproportionate on a big bust. Your best bet is to stick to straps that are a bit wider allowing you to wear a bra with straps AND balance out a larger bust.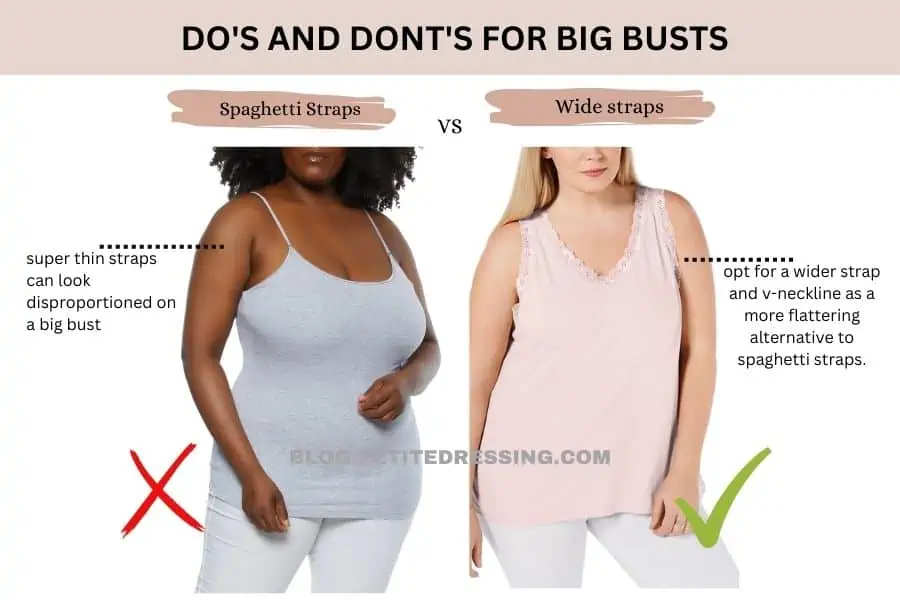 Above, Jordyn opted for a wider strap and v-neckline as a more flattering alternative to spaghetti straps.
Shoulder Details
If you want to draw more attention toward the bust, shoulder detailing is a way to do that.
If that's not your goal you're going to want to avoid this at all costs.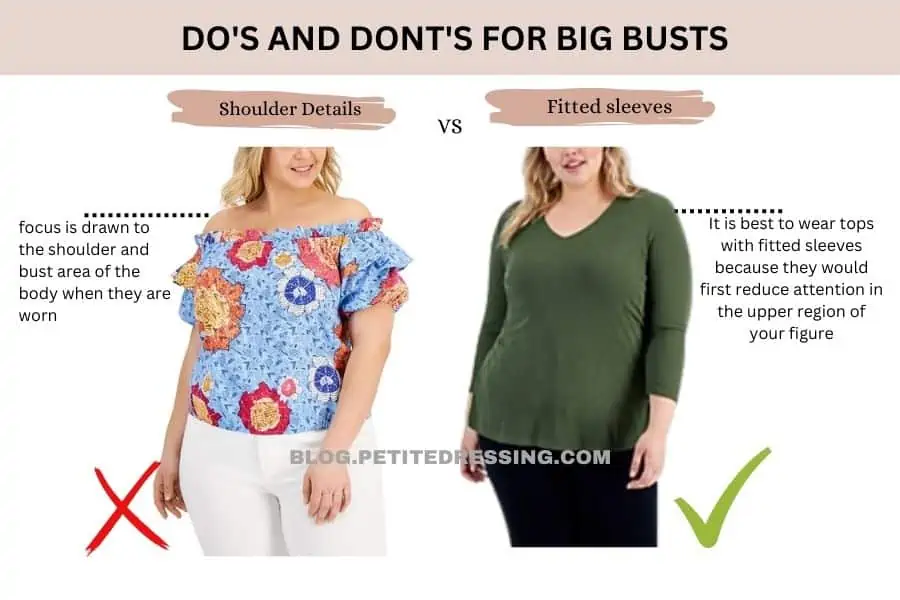 Shoulder detailing can be things like shoulder pads, cap sleeves, embellished shoulders, etc.
These are all fun and stylish details in clothing but the issue that arises is how much of the focus is drawn to the shoulder and bust area of the body when they are worn.
Keep it simple on the top half to flatter a larger bust rather than making it the focal point.
Cropped Length Tops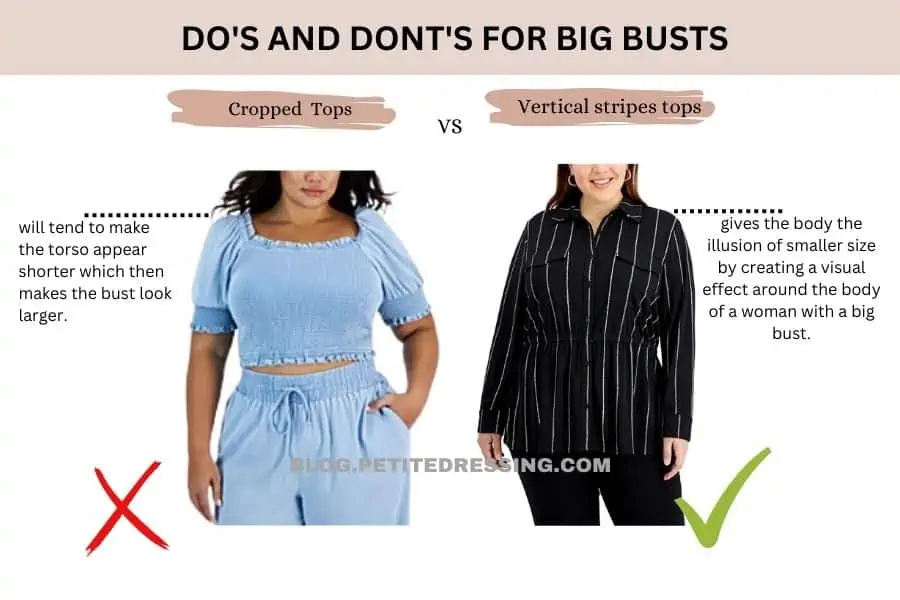 Adding length to your torso is a great way to create some subtle balance to a big bust.
Wearing crop tops, because of the shortened length, will tend to make the torso appear shorter which then makes the bust look larger.
To avoid all of this tops with a little extra length are something to begin adapting into your wardrobe more often. A longer torso means the bust is minimized and slimmed.
Double Breasted Jackets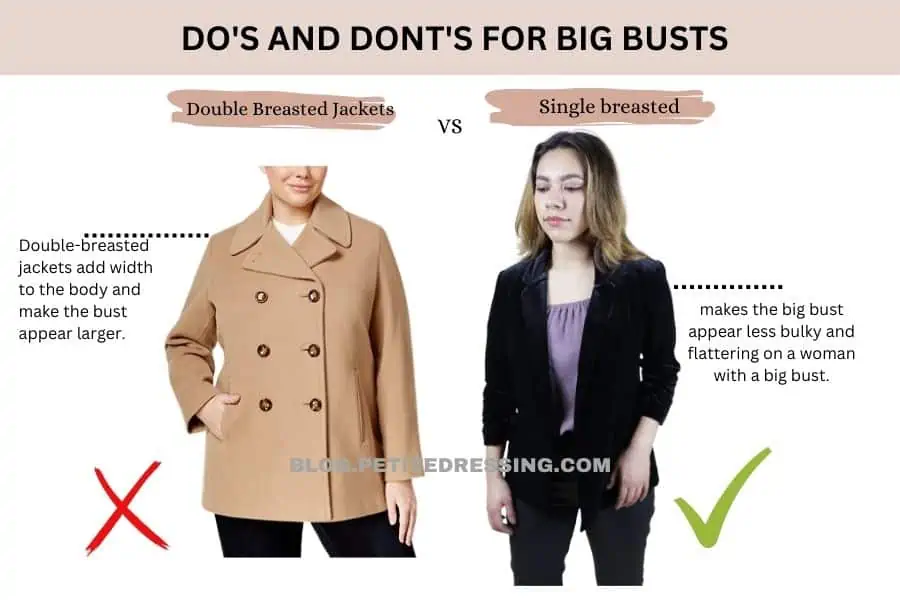 Double-breasted jackets add width to the body and make the bust appear larger. In all honesty, jackets with a lot of extra detailing like a lot of buttons, pockets, etc. are something to wear cautiously with a big bust because they add bulk and volume to the top half of the body (aka the bust).
This is why single-breasted and minimal jacket detailing is a great alternative to flatter your body type. Streamlined jackets will allow your body to look proportioned and balanced.
Wide Belts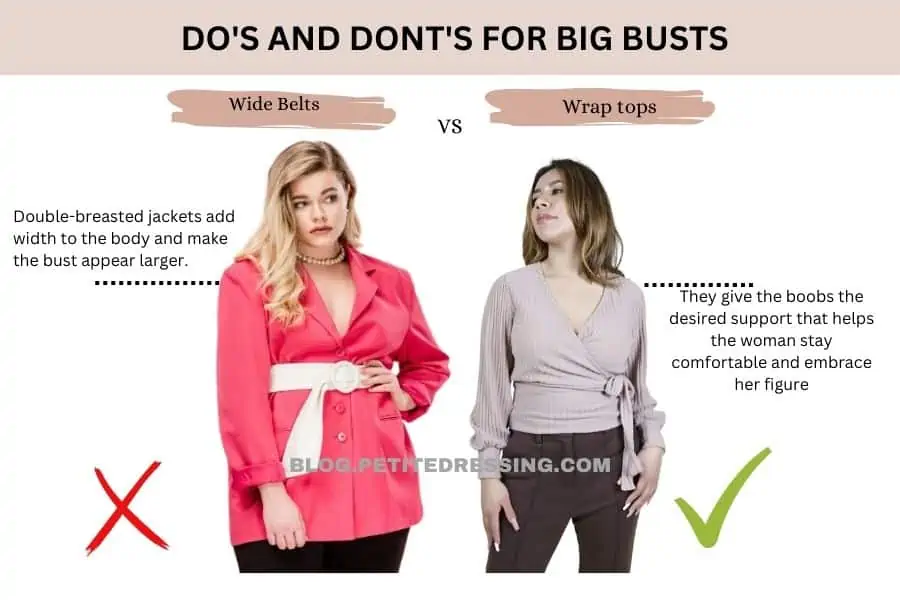 Belts can be one of the best ways to add definition to the waist, which is something to strive to achieve with a large bust. That being said, the belt(s) and their width are important to pay attention to in order to maximize on the figure flattery element of this accessory.
If you have a big bust it's best to avoid very wide-width belts. Wide belts take up a lot of space on the torso, shortening that area of the body and bringing more focus to the bust.
This is especially crucial because most busty women have a shorter torso, so we want to avoid shortening it further. Instead, keep belts on the narrow side 2-3" is best.
This narrow width gives you waist-cinching benefits without overwhelming the torso.
Horizontal Lines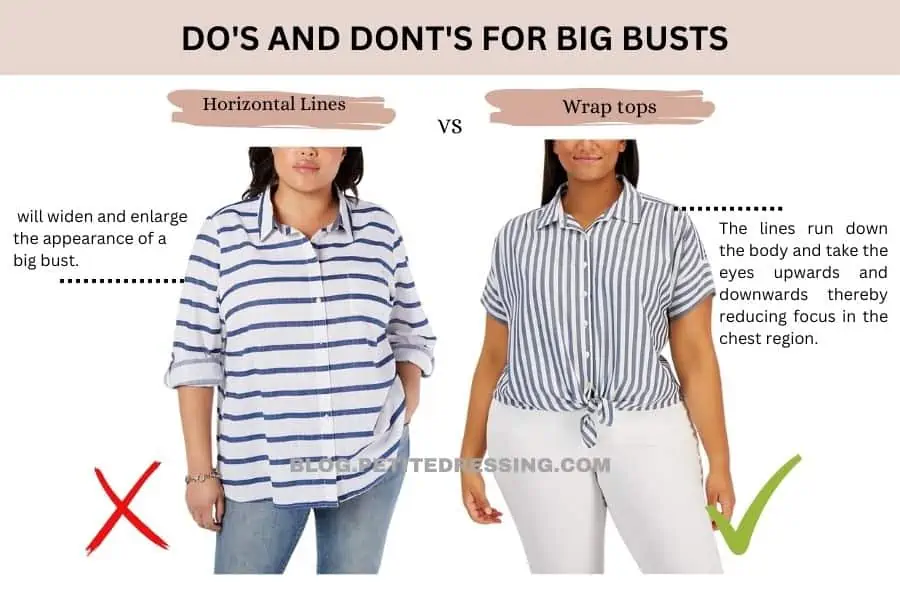 This is a tip you've probably heard in the past, but it's important to circle back to the classic style tips every so often.
If you have a big bust wearing horizontal stripes, particularly on the top half of the body, isn't the most flattering option.
Horizontal stripes widen the body, or part of the body, they are worn on.
That means when they're on the top half they will widen and enlarge the appearance of a big bust.
If you really love wearing stripes, keep it to the bottom half of the body.
By wearing stripes on the bottom it will bring more attention to that part of your body and create this really great illusion of balance to your shape.
Add a little extra length to legs by opting for vertical stripes instead!
Chunky Necklaces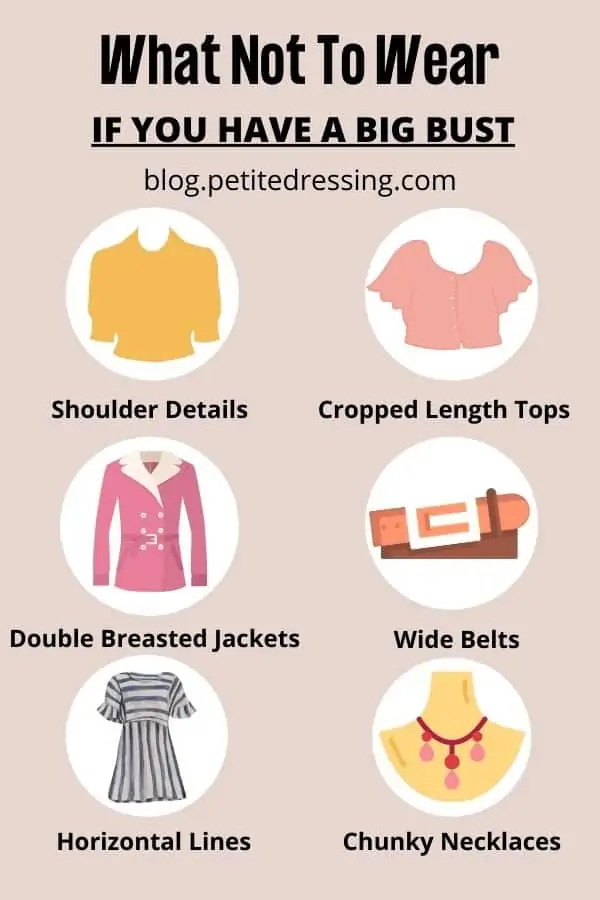 Another style that can be fun, but difficult to wear with a larger bust. Chunky necklaces are, well…chunky. They're heavy, bulky and add a lot of extra weight to the neck area. By now you know this isn't something that is ideal with a large bust.
One thing worth mentioning is that if you are a heavier-set woman with a large bust, your choice of jewelry should be in scale to your body. That means tiny little necklaces may not be the most flattering on you, either, because they form a comparison with your curves and can make you look even heavier.
A better alternative to chunky necklaces is statement earrings and longer-length necklaces.
Opting for necklaces that are longer in length, and a bit more delicate, is going to add length to the torso. Keep necklaces on the minimal side in terms of design and structure, as a good rule to follow.
This gives you a chance to continue to experiment with necklaces and jewelry without creating bulk and ensuring that your shape is enhanced nicely.