What do you wear during evening hangouts with friends or a simple family gathering? You don't have to dress formal all the time. However, choosing the right casual dress for any occasion is super important.
This casual dress guide for short and chubby women is a great place to start. We've put together five amazing casual dress styles that you can rock to events without feeling self-conscious. Be sure to stick around for our extra tips on dress styles to avoid as they don't flatter your body shape.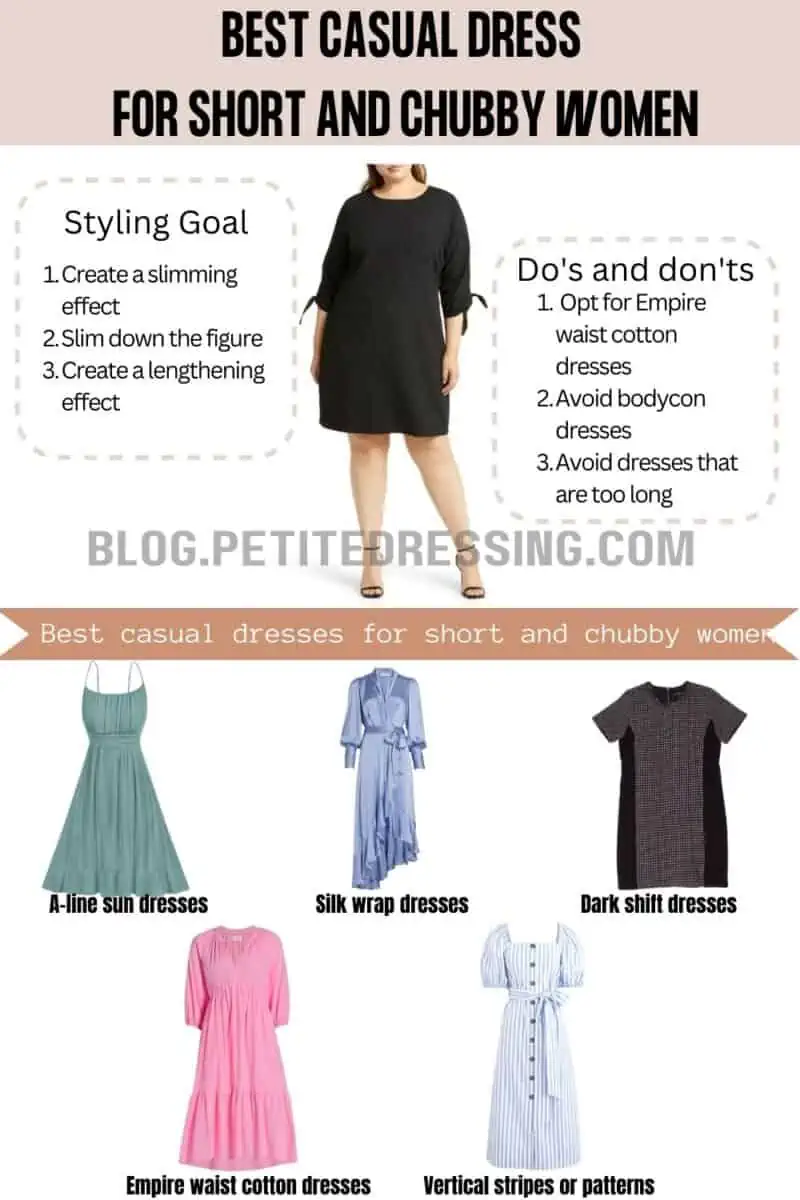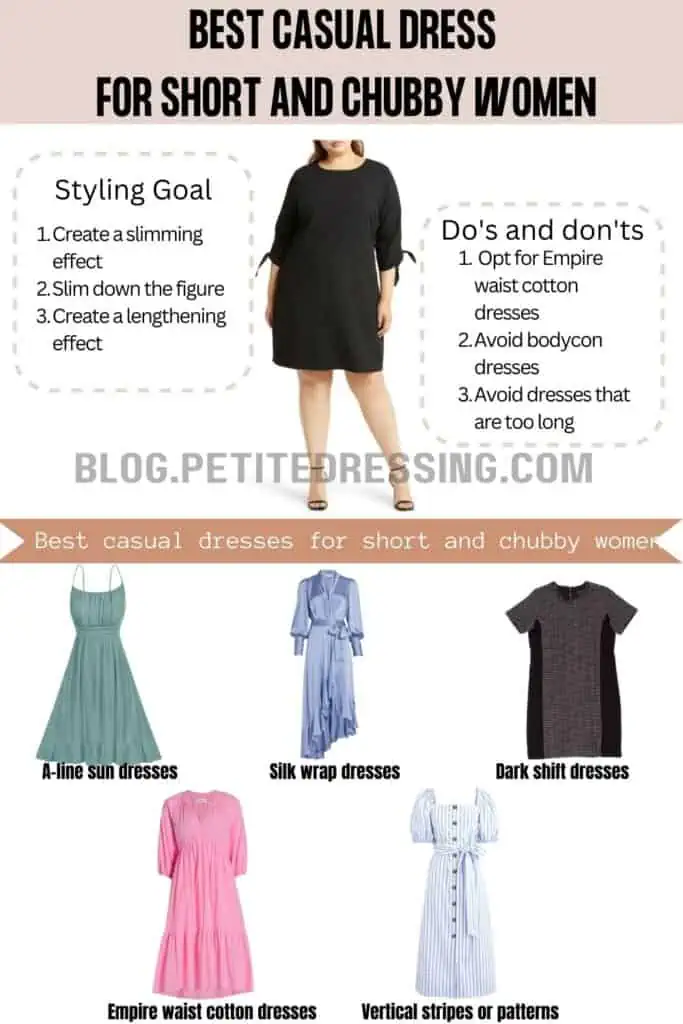 A-line sun dresses
Got big hips? A-line sun dresses are the best casual dress style for you. The A-line dress has a natural flare at the bottom half of the dress. This flare allows the dress not to cling to your hips like most tight-fitting dress styles.
Therefore, this gives more than enough room to accommodate women with bigger hips. This makes it perfect for short and chubby women. A-line sun dresses also work for women with thick thighs.
It has a flattering effect as there is more space for the thigh area as opposed to slimmer dress styles. So, if you want your thick thighs to not be so visible, you should consider rocking an A-line sun dress.
Since this dress style doesn't cling to your thighs, it will help you achieve this seamlessly. Also, it gives you an overall more balanced silhouette, especially if you're bottom-heavy as it will skim over your hips to create a natural hourglass shape.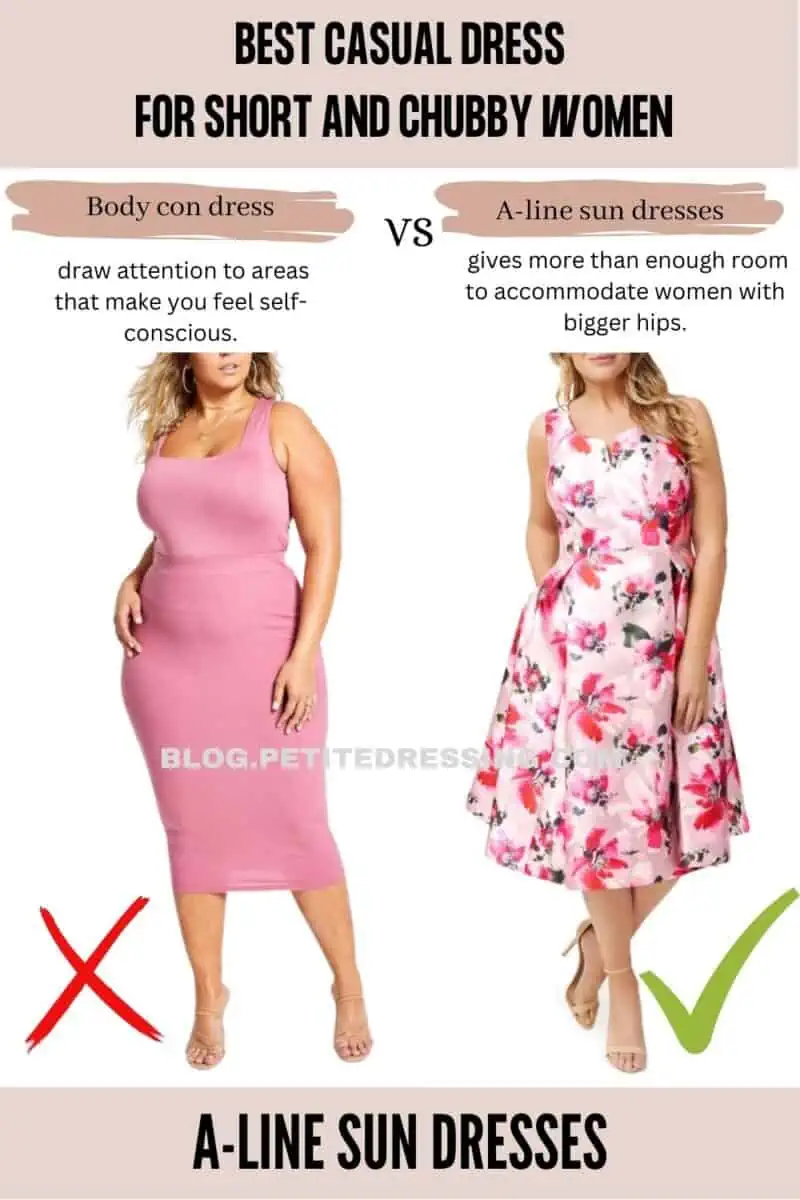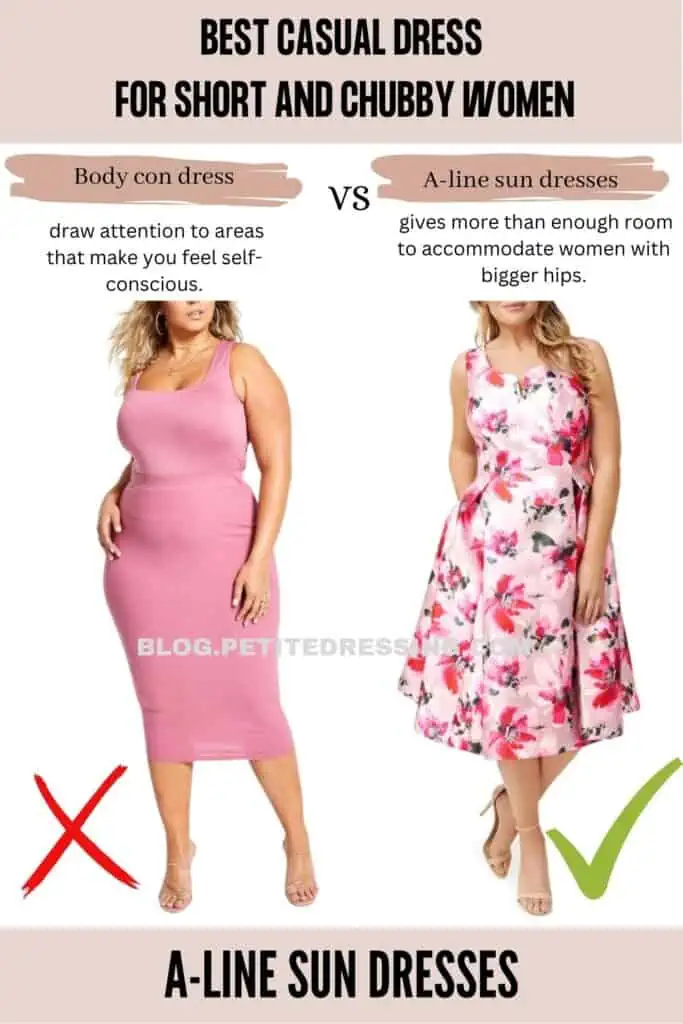 Silk wrap dresses
One of the most flattering styles for short and chubby women is the feminine wrap dress. This comes highly recommended by anyone who has seen how amazing plus-sized women look in this dress style.
Most wrap dresses have a belted design which comes in handy for breaking your torso and enhancing your waistline. Therefore, this belted style will create the illusion of the perfect hourglass body shape as it adds more definition to your waist.
Another huge plus of wrap dresses is that they are also flattering to women with bigger busts. So, be sure to choose styles made with high-quality fabric as this ensures that there's enough freedom and flexibility when you put on this dress.
Also, opt for darker colored wrap dress as this will add to the slimming effect and help to balance out your body proportions. A black wrap dress in your wardrobe is a win any day. You can rock this to various occasions, including casual outings where you don't want to dress over the top.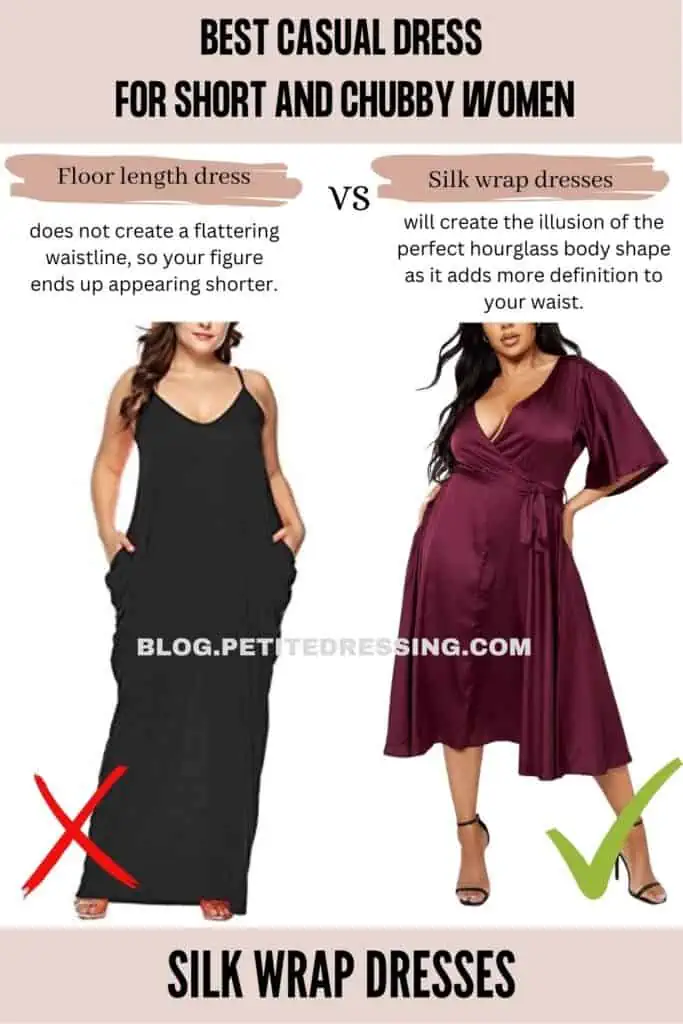 Dark shift dresses
Dark-shift dresses can help you feel confident as you rock this comfortable piece of clothing. Shift dresses are known for their relaxed silhouette and when combined with the slimming effect of dark colors, what you have is a stylish dress that promotes your self-expression without being self-conscious of your body type.
Shift dresses have a straight cut that is known to camouflage areas of your body you want to keep hidden and balance out your body proportions. Ultimately, the important thing is to wear an outfit that makes you feel good.
With how flattering the dark shift dress is on short and chubby women, this shouldn't be an issue. This dress style will help you highlight the best parts of your body and effectively hide muffin tops.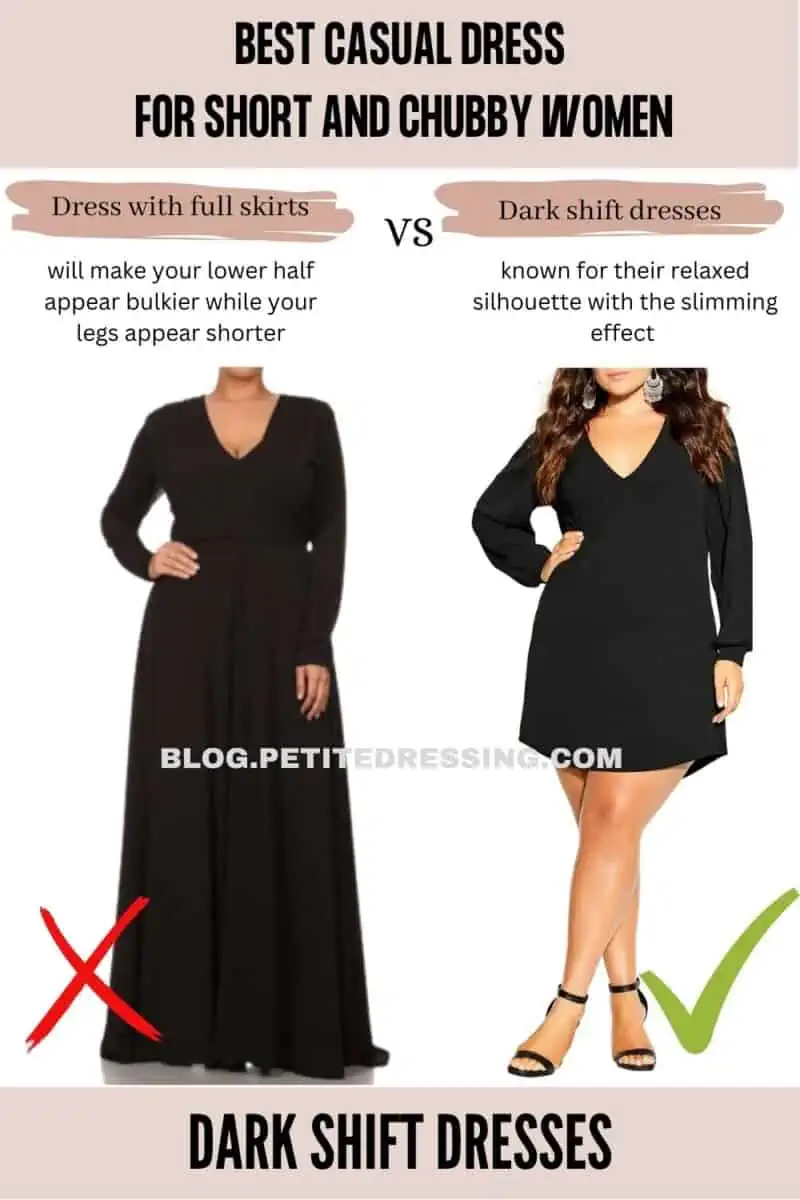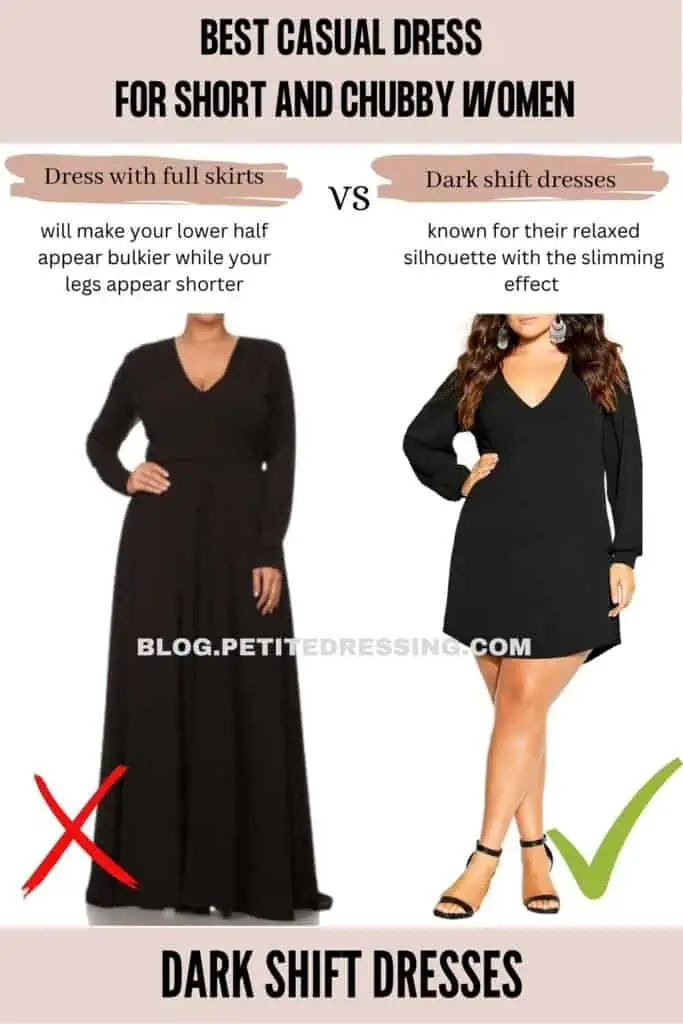 Empire waist cotton dresses
An empire waist cotton dress is a flattering choice for diverse body types, from apple-shaped to pear-shaped. Therefore, if you're short and chubby with any of these body types, it's important to find one that fits your waist and bust perfectly.
Pear-shaped chubby women should focus more on a waistline fit while it flares at the bottom. However, you should look out more for a loose, flowing top, and fitted bottom if you're apple-shaped. As soon as you've passed this hurdle successfully, you're ready to enjoy the benefits of an empire waist cotton dress.
You can effectively hide your muffin top by opting for an empire waist dress with a tie at the waist. This will accentuate your curves at the slimmest part of your waist and create a shapely look.
The empire waist cotton dress is a breathable dress style that's designed to be fashionable and classy. Of course, it's also a great choice if you want to appear sexy without going over the top.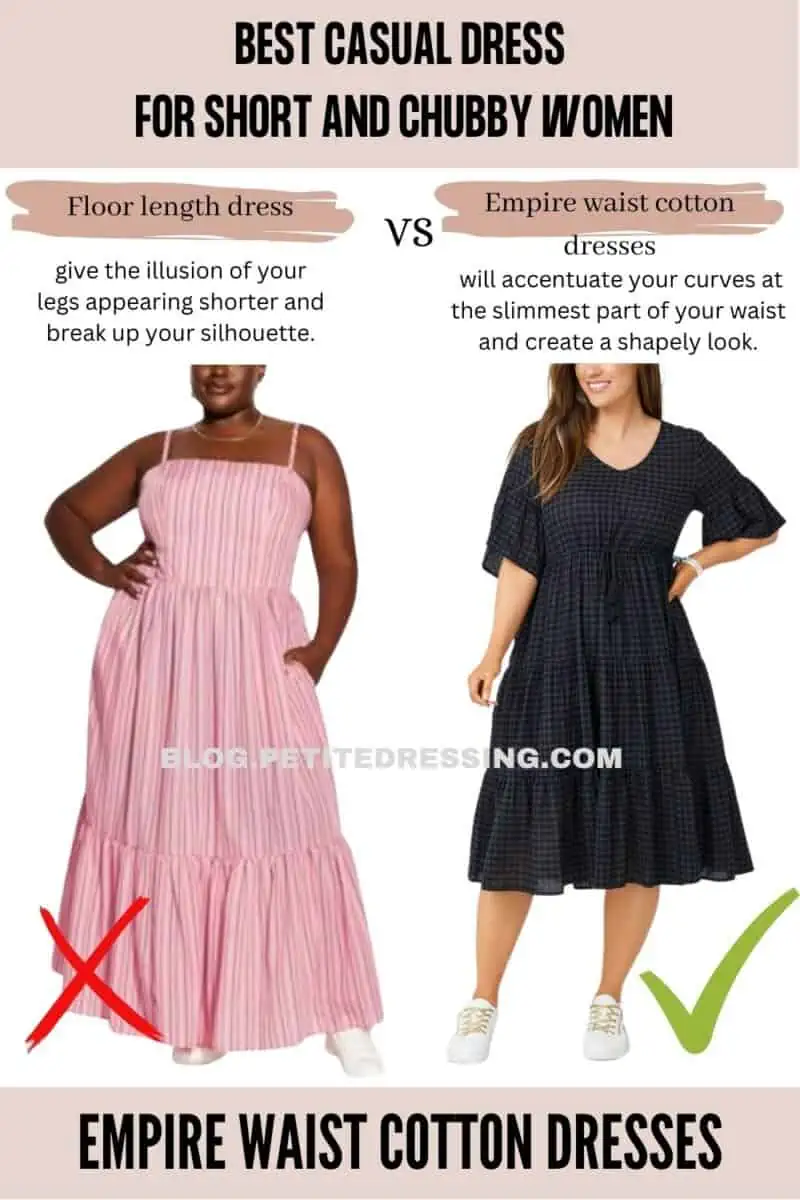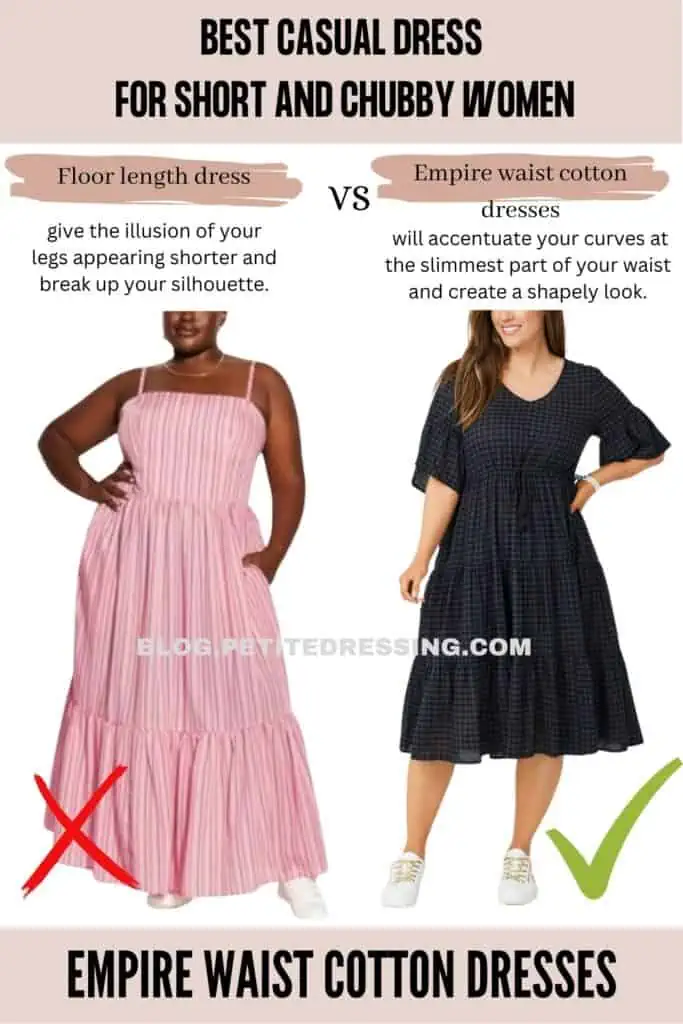 Vertical stripes or patterns
Since time immemorial, vertical stripes on clothing have been a stylish choice for women of different body types. Regardless of your height or weight, you can make deliberate stylish choices that will reflect your personality and what you love.
With vertical stripes or patterns on your clothing, you don't have to put on complicated styles to achieve the desired effect. In this case, that would be elongating your figure and creating the illusion of being taller.
For short and chubby women, vertical stripes or patterns on your clothing can be very flattering since they give the impression that you've added a few extra inches of height. They do this by drawing the eyes upwards rather than sideways.
With this, they create a continuous unbroken line that elongates your frame and gives you a more positive feeling about your overall appearance. You can rock vertical stripes on dresses and tops. Your shoes also matter.
Nude shoes are great for enhancing the illusion of longer legs. Also, don't go for extremely high-heeled shoes as these can get uncomfortable and make your legs look bulkier.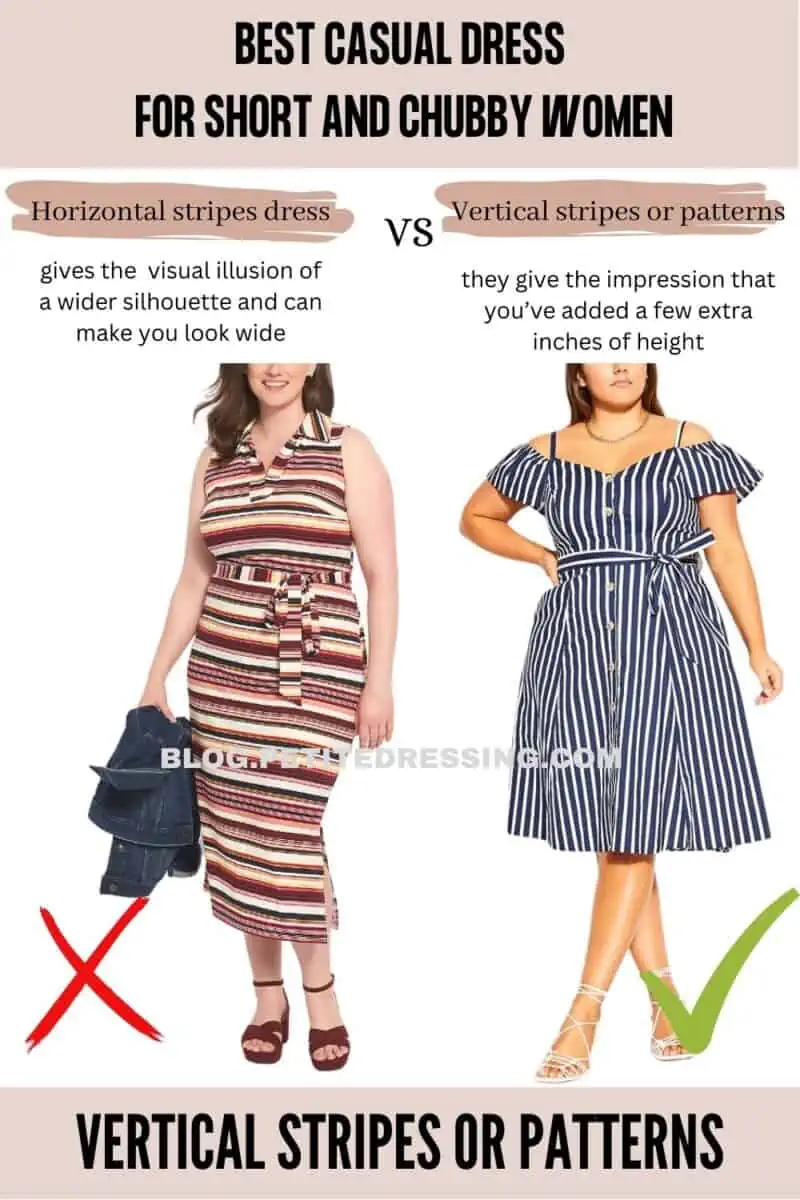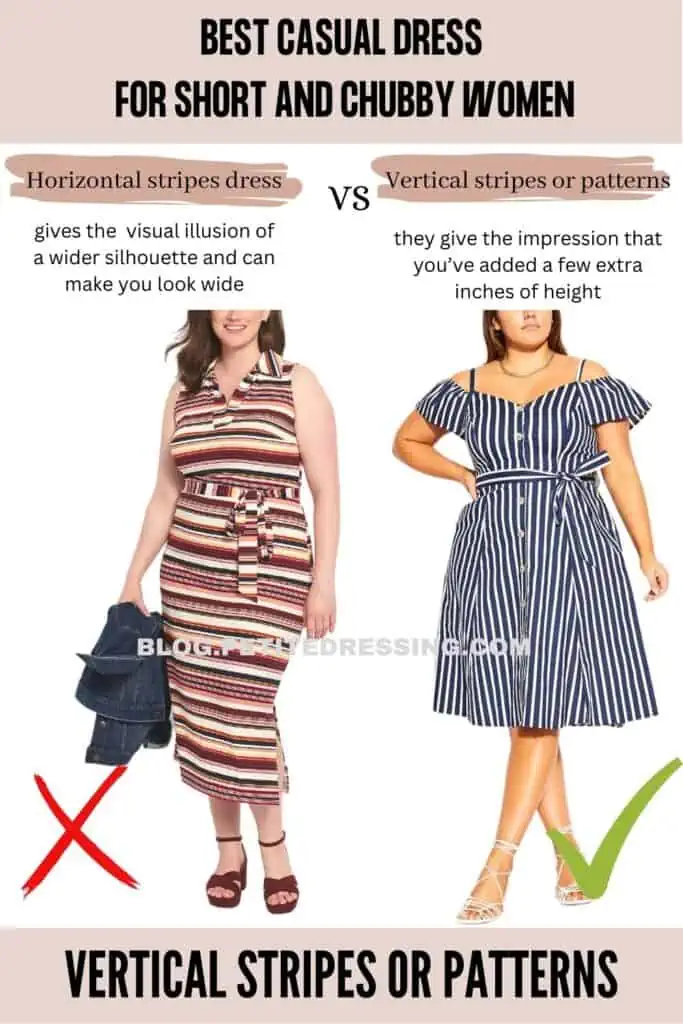 Avoid dresses that are too long
It's not rare for short women to fall in love with long dresses because they are comfortable or simply adore the look. Of course, the first rule of styling is to opt for what makes you feel good about yourself and your appearance.
However, extremely long dresses don't always look good on short women and you should be careful with them. Dresses that are too long can instead give the illusion of your legs appearing shorter and break up your silhouette.
Sometimes, they don't create a flattering waistline, so your figure ends up appearing shorter. It's also important to talk about how uncomfortable long dresses can get. It can be awful to trip on your dress because it's too long or makes it difficult for you to walk freely.
Most short women love to pair heels with long dresses. However, you may not find it comfortable to put this on all day. So, we highly recommend completely avoiding dresses that are too long.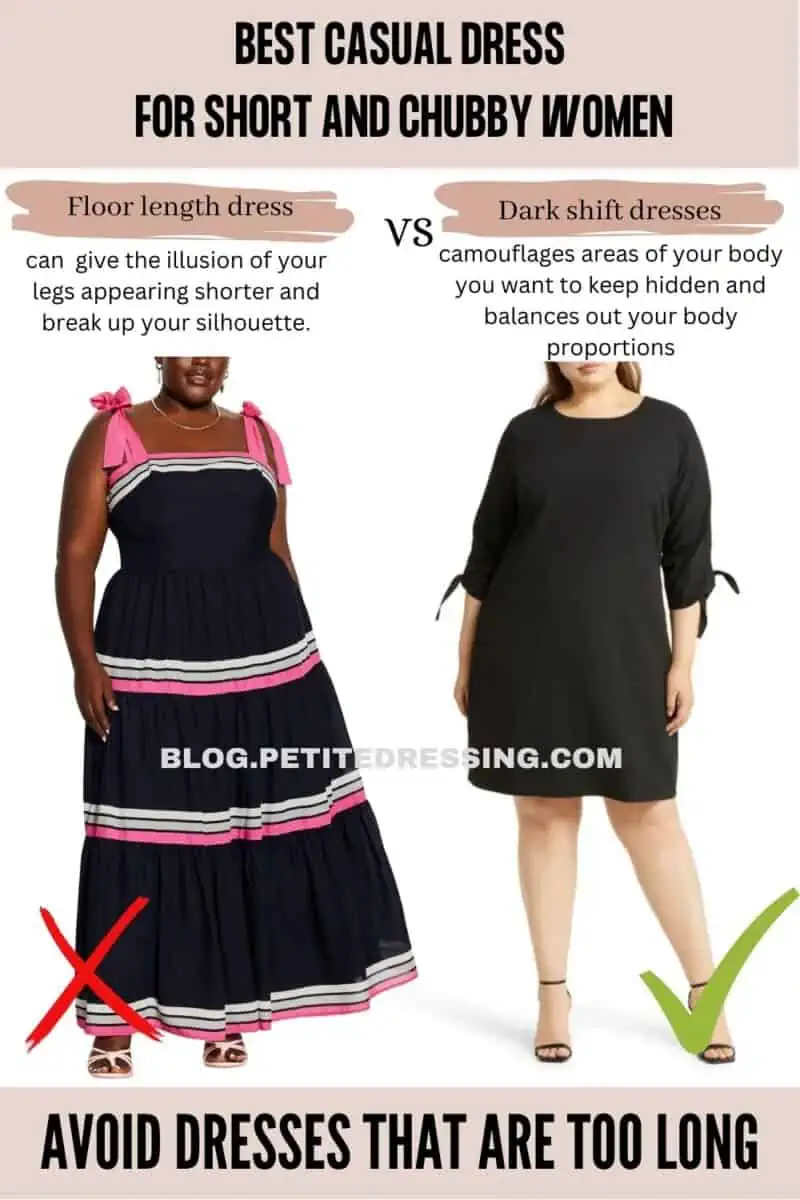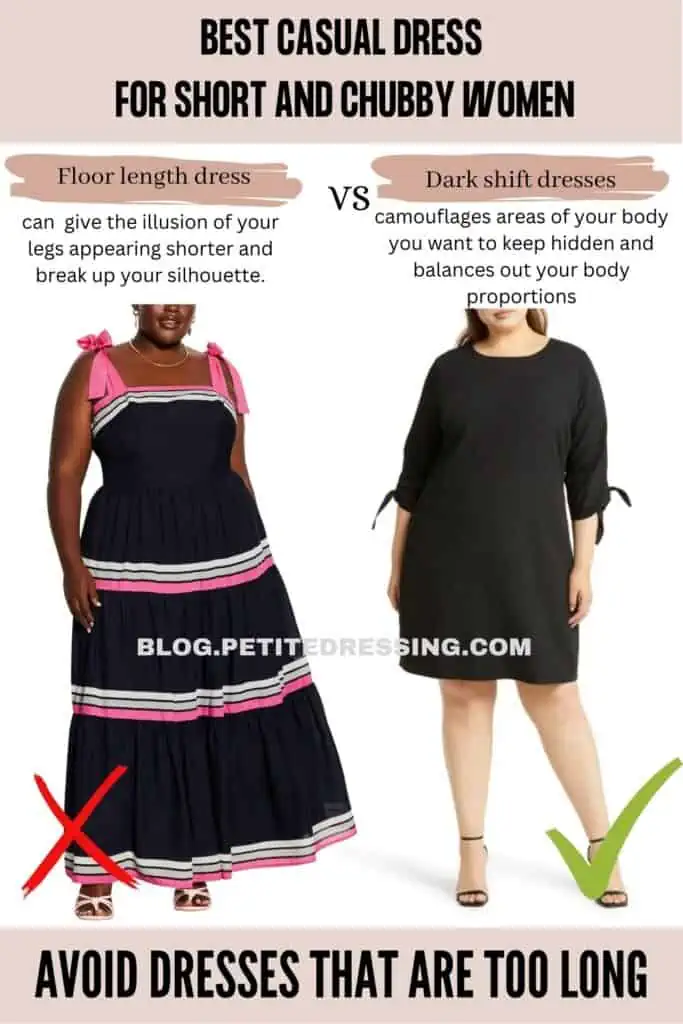 Avoid bodycon dresses
The common feature of most bodycon dresses is that they hug the body as they are designed specifically to show off your body figure and highlight curves. This can be a good and bad thing. For short and chubby women, it can highlight curves alongside the not-so-flattering bumps on your body.
Bodycon dresses will emphasize every lump and bulge you have, which is not the best look to have if you're going for classy and sophisticated. So, it's best to avoid bodycon dresses if you don't want to draw attention to areas that make you feel self-conscious.
Apart from this, tight-fitting dresses can also hamper your movement as they tend to be restrictive. Overall, this is not the prettiest option for short and chubby women who don't want to draw the eyes so much to their wide hips.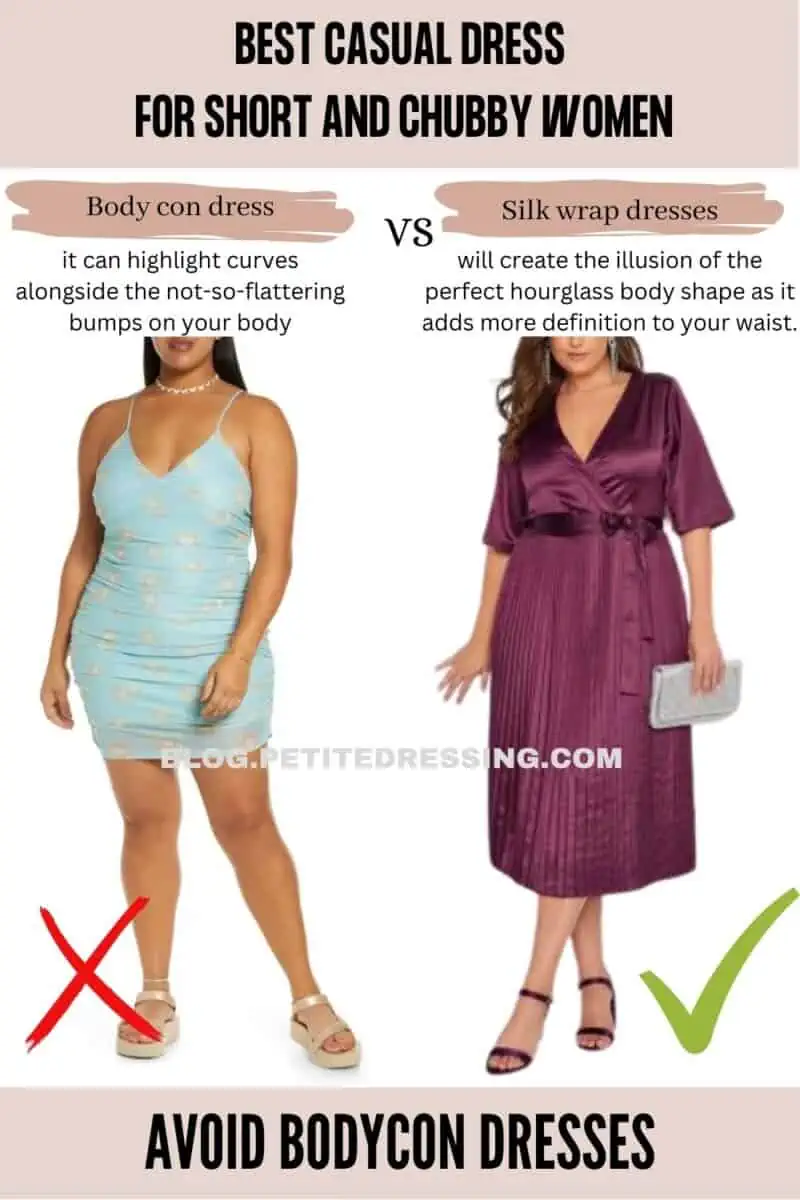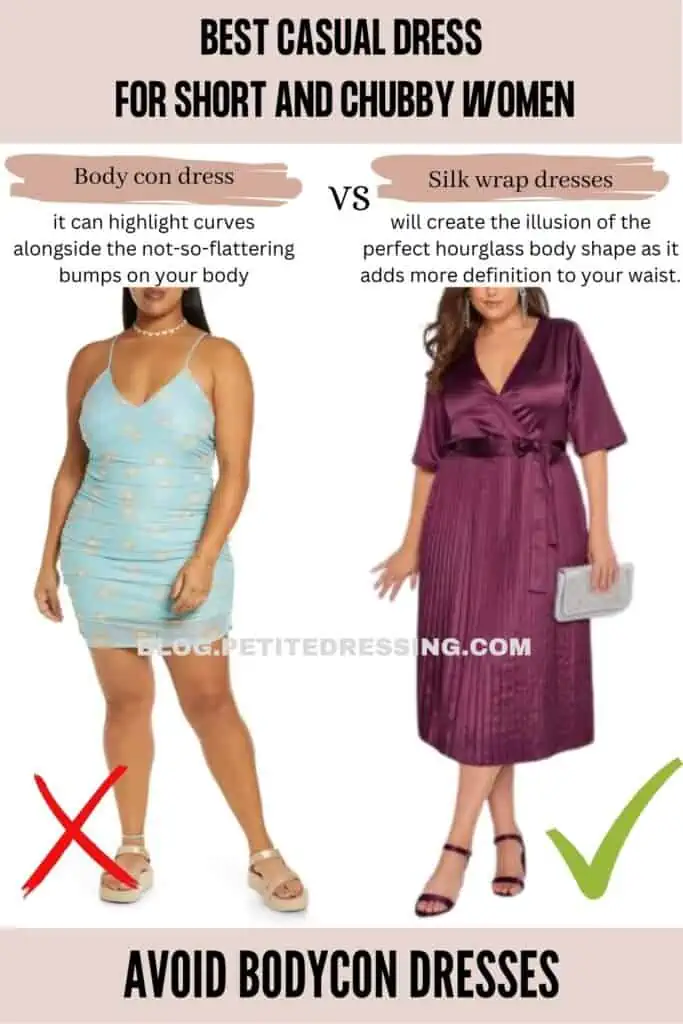 Avoid dresses with full skirts
As a rule of thumb, both dresses that are too tight and those that are too loose are not good for short and chubby women. This definitely applies to dresses with full skirts. The full skirt has a bulgy look which adds more volume to the lower half of your body visually.
This extra volume will make your lower half appear bulkier while your legs appear shorter. This is the opposite of the effect you would want to have on your body frame. Short and chubby women should opt for dressing styles that make them appear taller and slimmer.
Dresses with full skirts won't help in achieving this. Instead, they present a shorter body frame and an overall not-so-flattering silhouette.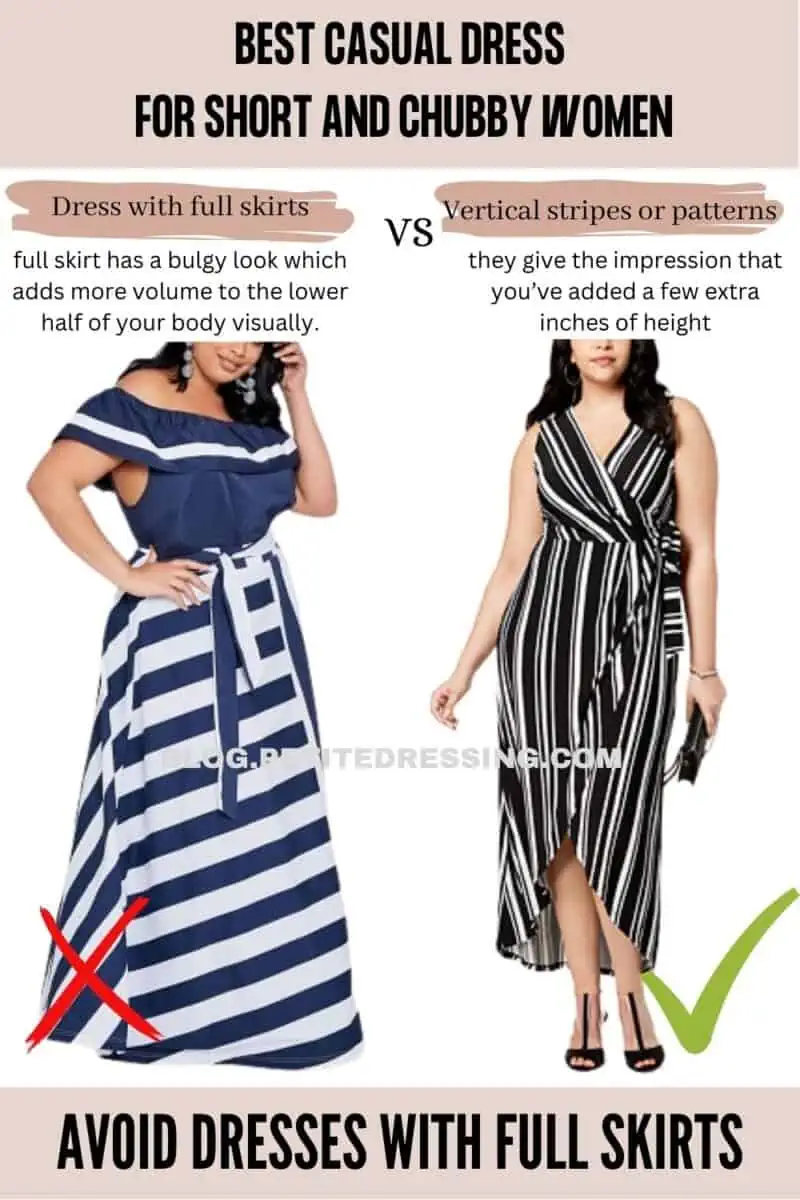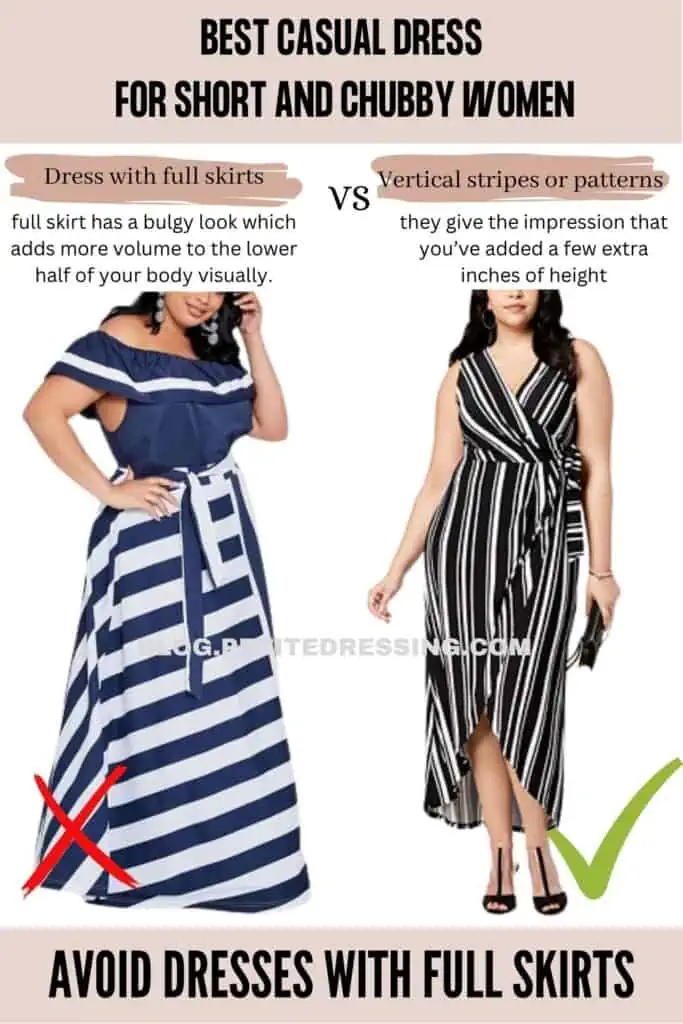 Ultimately, don't sacrifice your comfort when choosing the best casual dresses for your short and chubby body frame. Also, it's important to complement your dresses with the right shoes and accessories.