I'm 5'2" with a clothing line for petite women, which has helped me understand how to dress shorter women.
Of course, there's been a lot of trial and error while working with petite models of various body shapes for fitting and photography, some of whom have the hourglass shape (like our model Wendy). Here are my top shoe choices for petite women with short hourglass figure.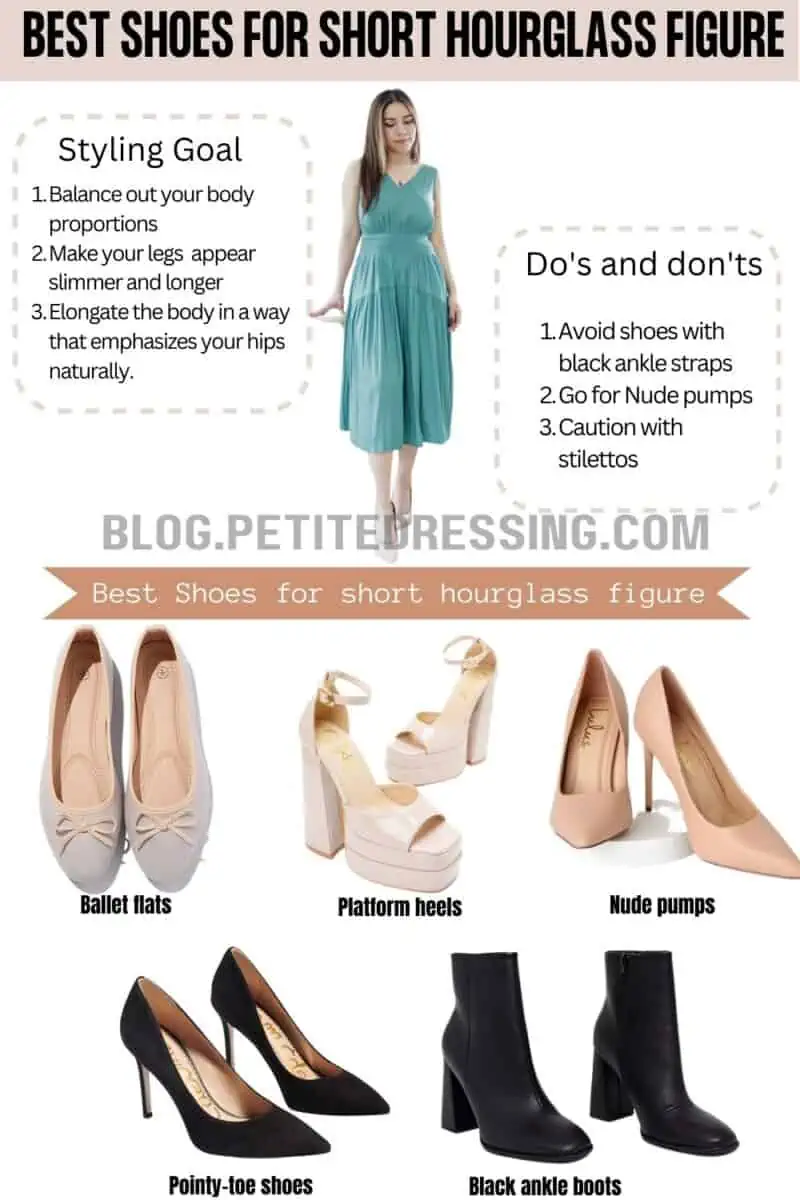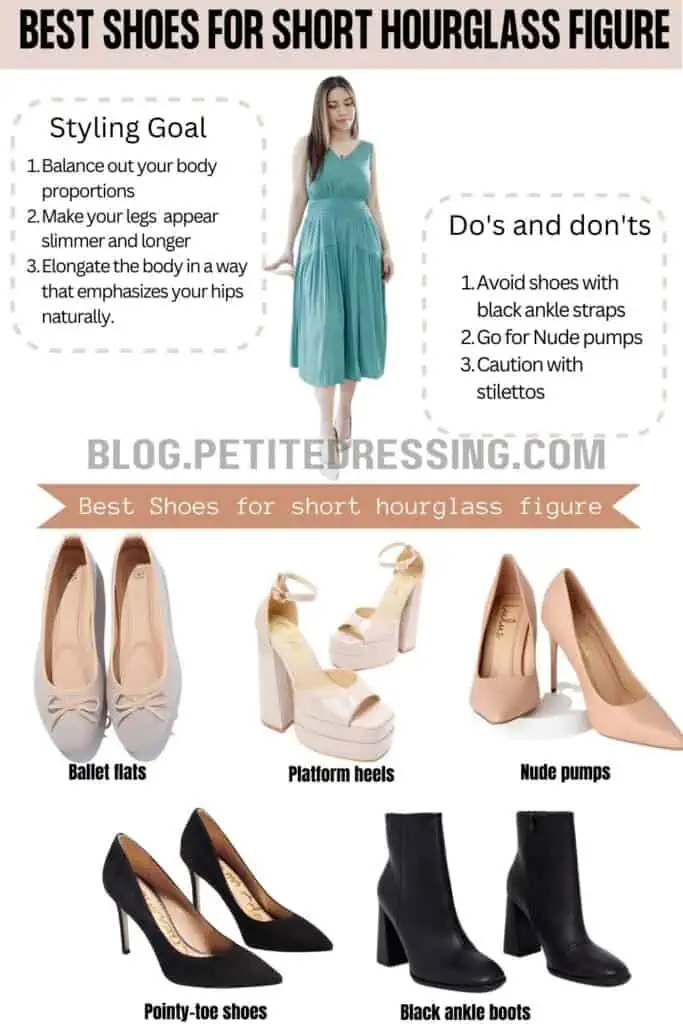 Ballet flats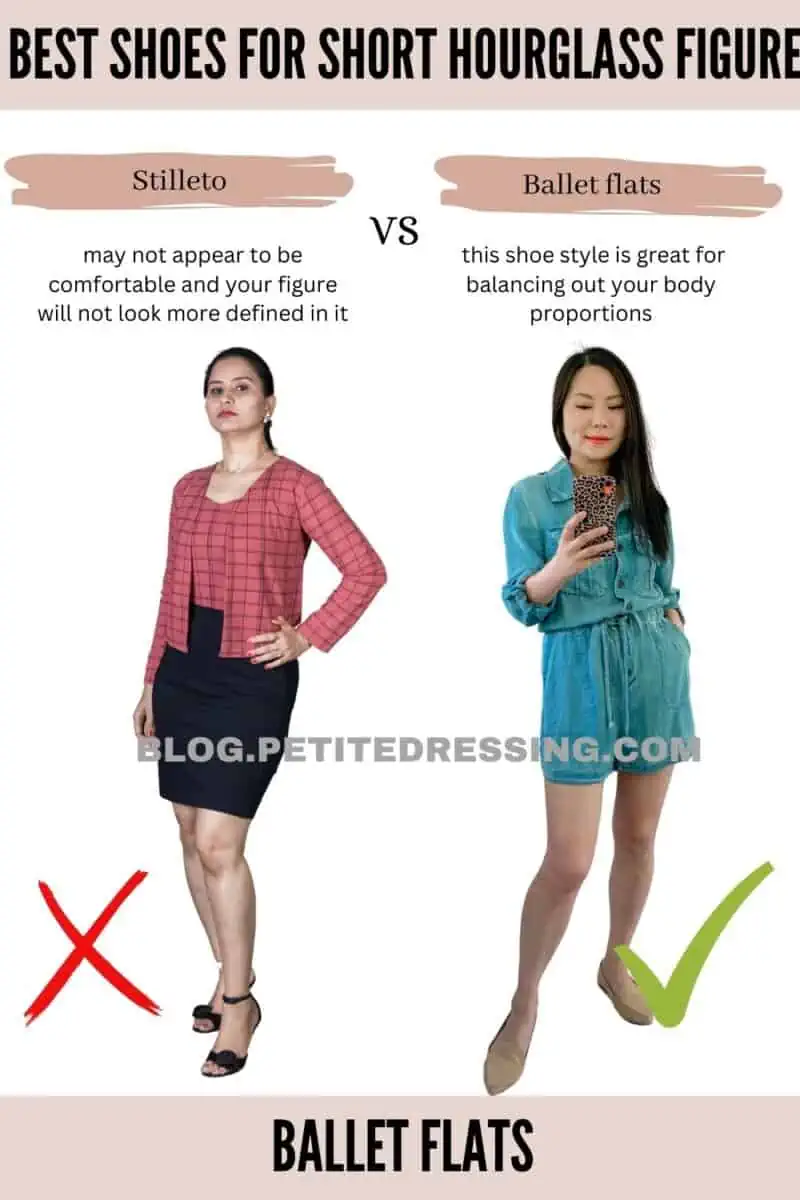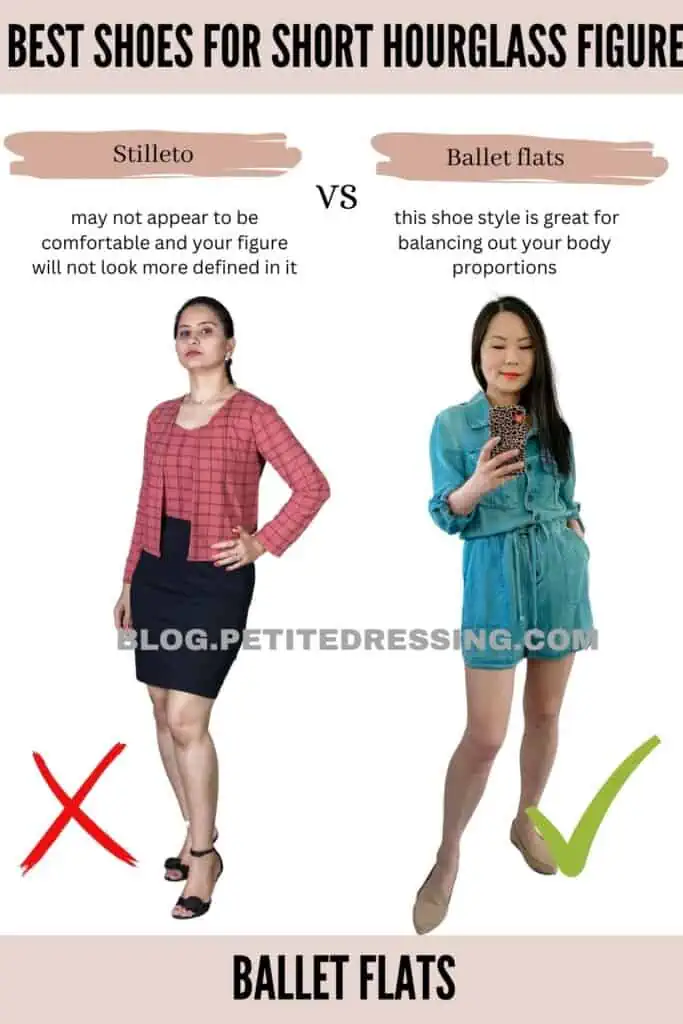 Ballet flats are an incredibly elegant shoe style that petite women with hourglass figure can use to complement a wide variety of outfits. Most ballet flats have a sleek and streamlined design that creates a flattering look on your feet.
It also helps that this shoe style is great for balancing out your body proportions. I have to award extra points to ballet flats for comfort. This is a very important feature as no one wants to wear shoes that pinch after only a few hours.
However, with ballet flats, you don't have to worry so much about this. They are easy to wear and comfortable, which means that you don't have to sacrifice comfort for style. I consider this super important for women with a short hourglass figure, especially if you're one of those that feel a bit self-conscious about your petite body frame.
It's best to avoid shoes that can make you unsteady on your feet. Ballet flats are a sophisticated yet safe option, and with numerous options available, you can definitely find one that tickles your fancy.
Moderate platform heels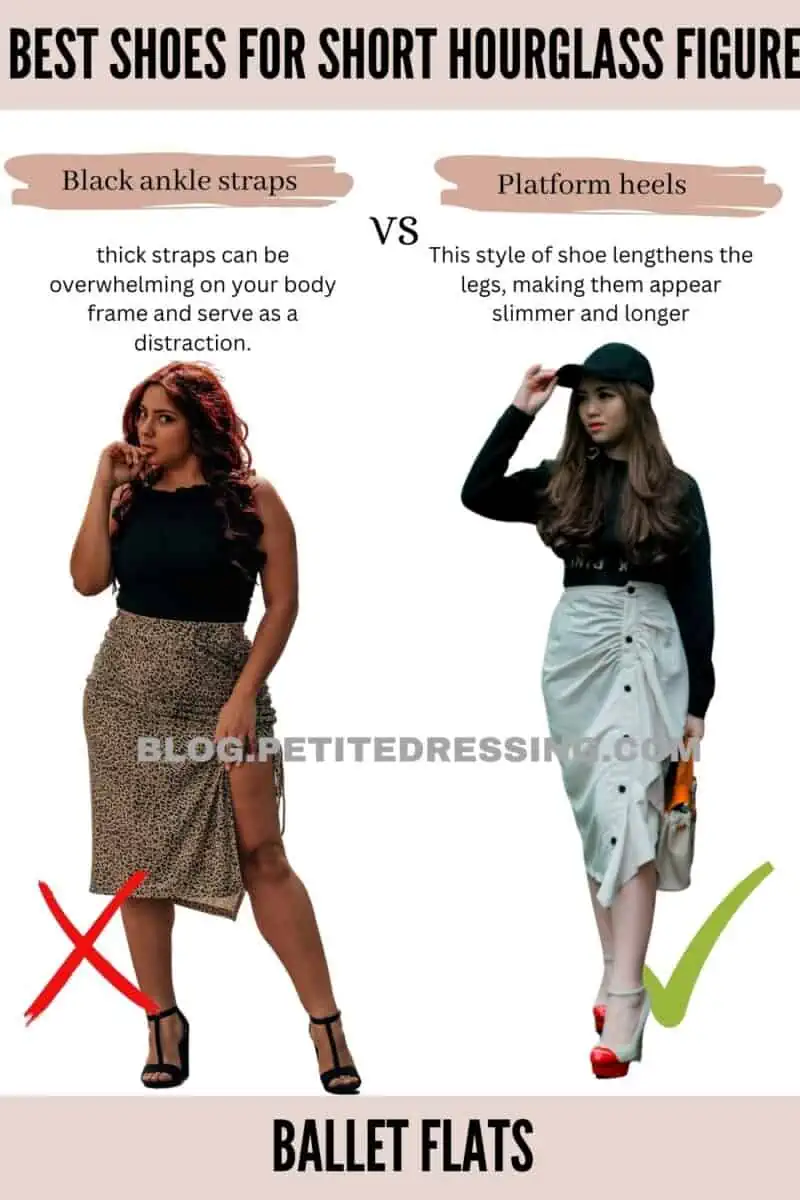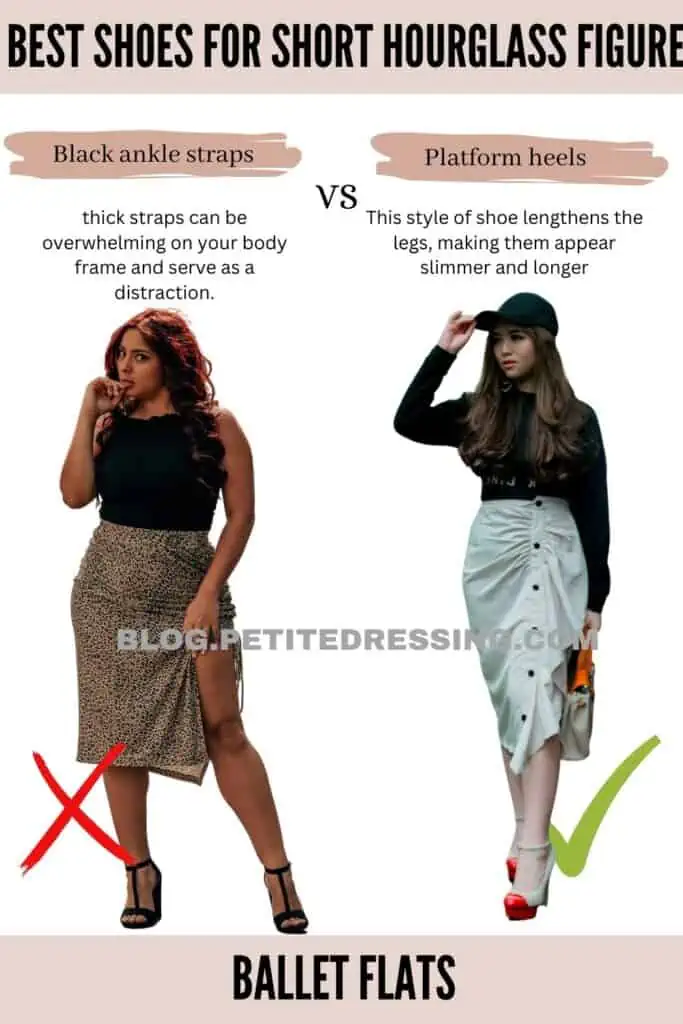 If you're not a huge fan of flats and need something that would add a few extra inches to your height, consider going for platform heels. Apart from making you visually taller and more elongated, platform heels have an extra effect on your legs.
This style of shoe lengthens the legs, making them appear slimmer and longer. I recommend going for platform heels with moderate heels as this is what helps in balancing your body proportions and enhancing your curves.
Overall, platform heels help to form a cohesive look that is flattering to your hourglass shape. Usually, these come in different sizes and designs. You can opt for those in solid colors or patterns.
However, you want to make sure the platform is not too thick.
This is critical, as thick platform bottoms can make you look bottom heavy, which in turn make you look shorter!
Besides, it's important to make sure that they fit well and you can take some time to practice walking in platform heels to be sure there won't be any discomfort at your event. Enjoy the eye-catching style of platform heels that you can rock with various outfits.
Nude pumps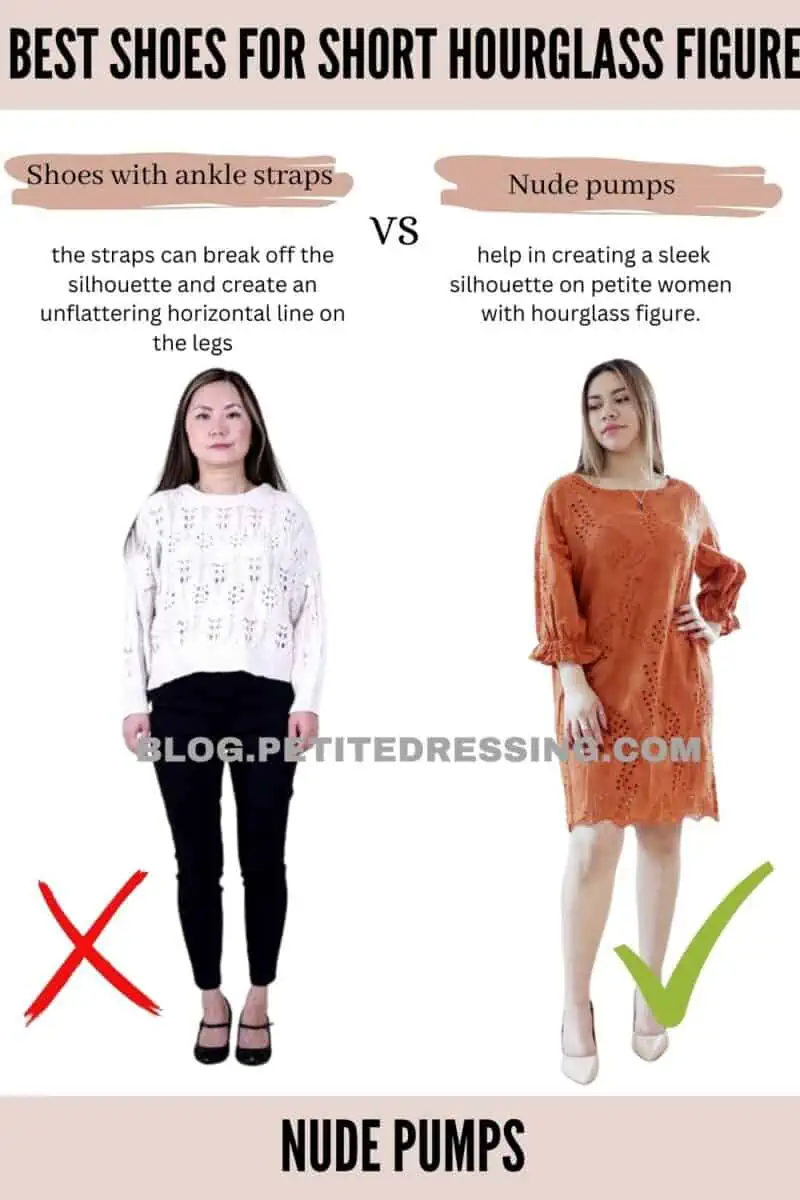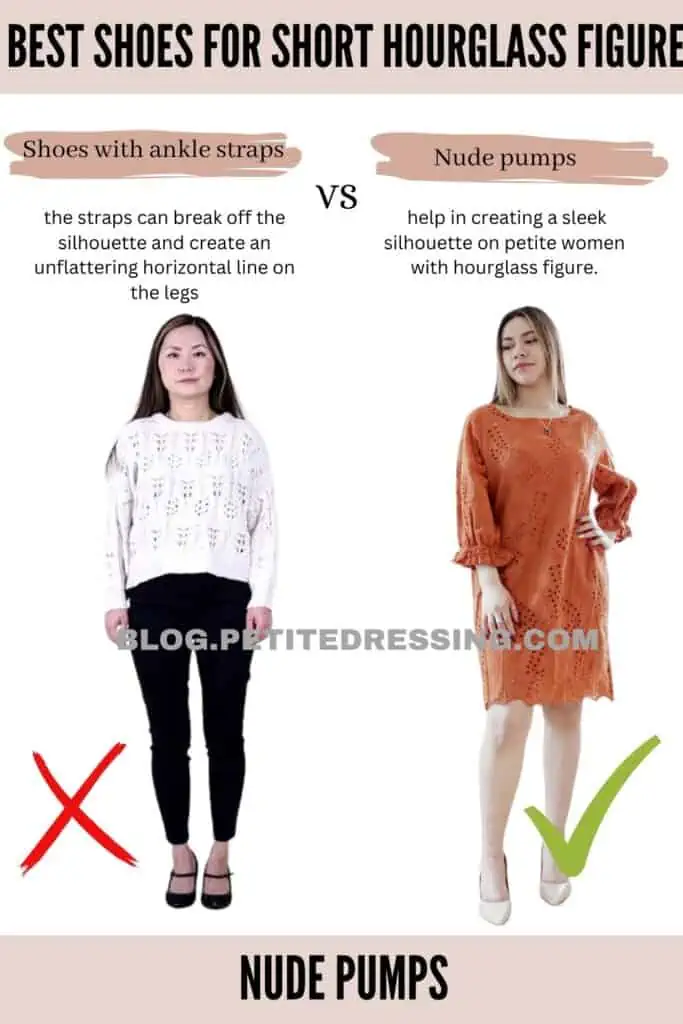 Nude pumps are shoes that are usually close to the skin tone of anyone that wears them and that's what makes them special. The fact that the color is close to your skin tone adds to the illusion of length, as it makes you appear taller.
This shoe style is also incredibly versatile, which means that it is not picky with outfits. You can wear this on high-waist jeans or skirts, and you'll look amazing. However, it's important to choose a comfortable pair that's appropriate for the occasion.
Factors to consider include how high the heel should be and if you want the nude pumps to have a few designs. I recommend going for plain nude pumps which makes it easy to wear on different outfits. Go for those with pointed toes, as they help in creating a sleek silhouette on petite women with hourglass figure.
Pointy-toe shoe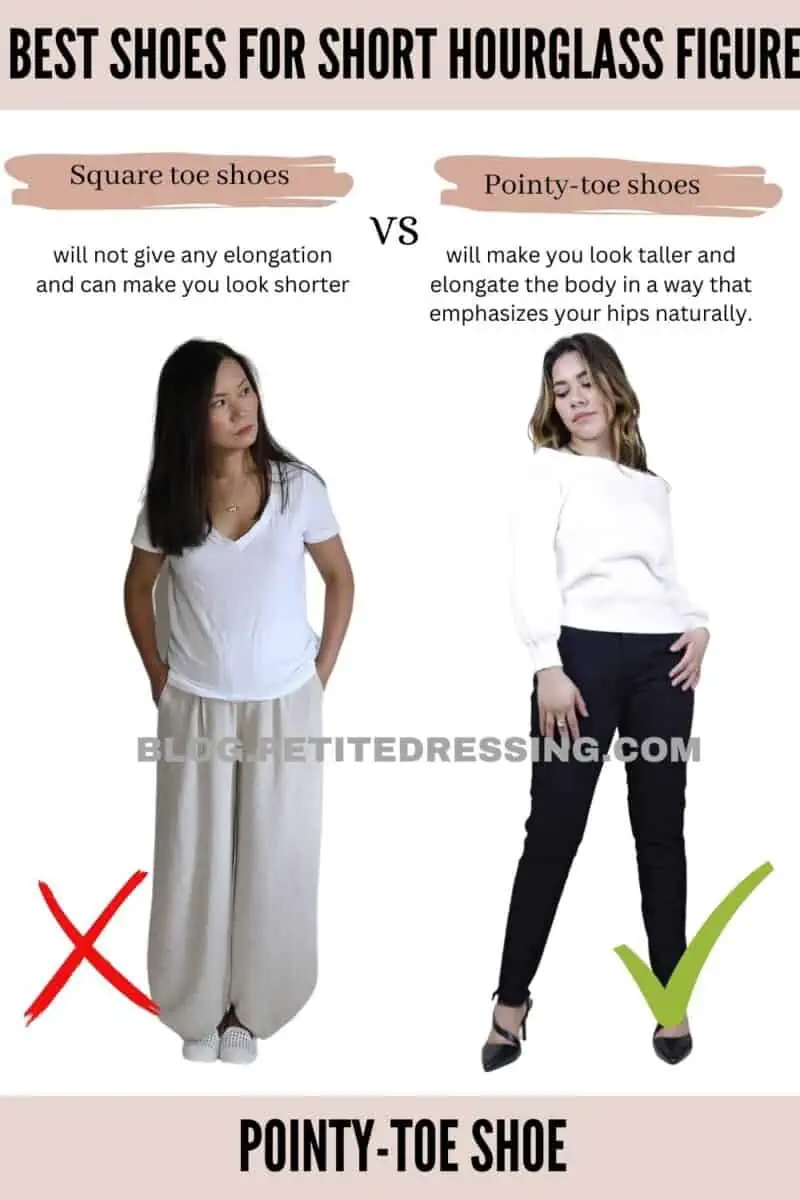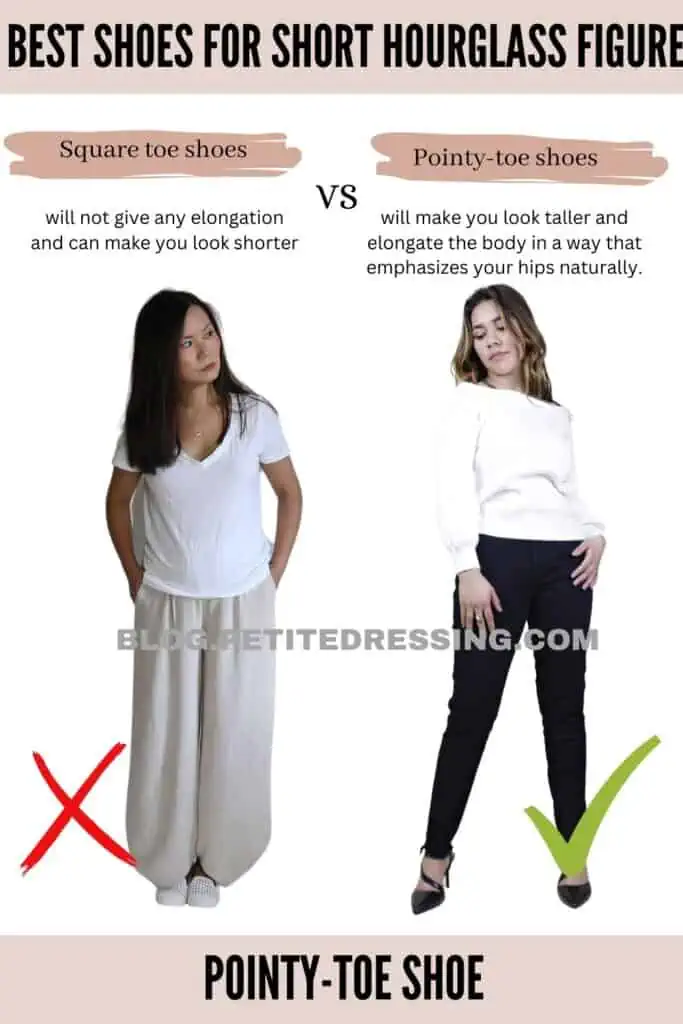 Whether you're wearing shorts, pants, skirts, or dresses, combining them with pointy toe shoes will give you an exceptional outlook that's perfect for different occasions. This works great for petite women with an hourglass figure.
Pointy toe shoes are perfect for creating a streamlined look that's beneficial for your curvy body shape. This will make you look taller and elongate the body in a way that emphasizes your hips naturally.
It's always great to put on shoes that work well with your best assets. In this case, that's your natural curve and your walking posture on pointy toe shoes makes your bum more rounded as well. Therefore, this helps in balancing your body proportions.
This style of shoe with its sleek design is also beautiful to look at and they make your feet come to life beautifully. Look out for pointy toe shoes in black.
Black ankle boots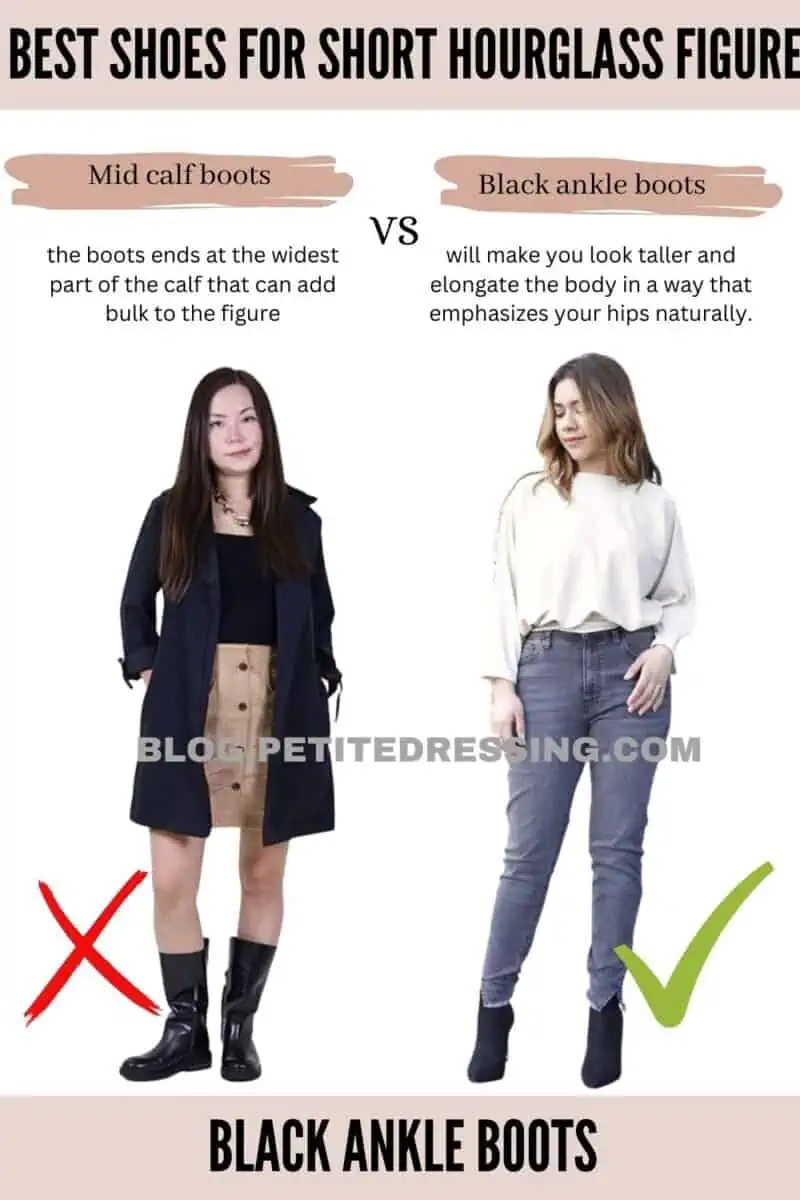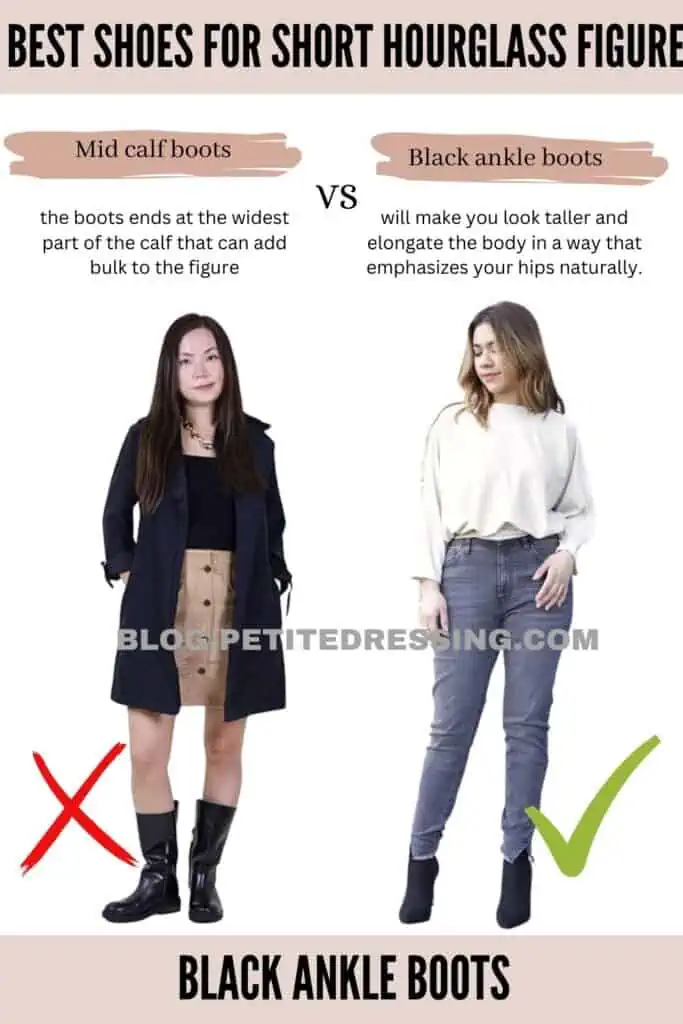 One universal fact about black is that it has a slimming effect on any wearer. Women with a short hourglass shape can benefit a lot from wearing black dresses, skirts and especially shoes. Black ankle boots are one of my top choices for petite women.
They usually have a small heel which is effective at adding a few inches of height. So, if you're a short woman with an hourglass shape, you will appear more elongated and taller. Every time I want to seamlessly add some inches to my height, this is my go-to choice.
Meanwhile, they have slimming effects on the calves and ankles, which creates a streamlined look on your feet. Wear this on a fit-and-flare dress for semi-formal occasions or on high-waist shorts for casual events, and you'll look amazing every time. Enhance your hourglass shape and balance your body proportions with black ankle boots.
Avoid shoes with black ankle straps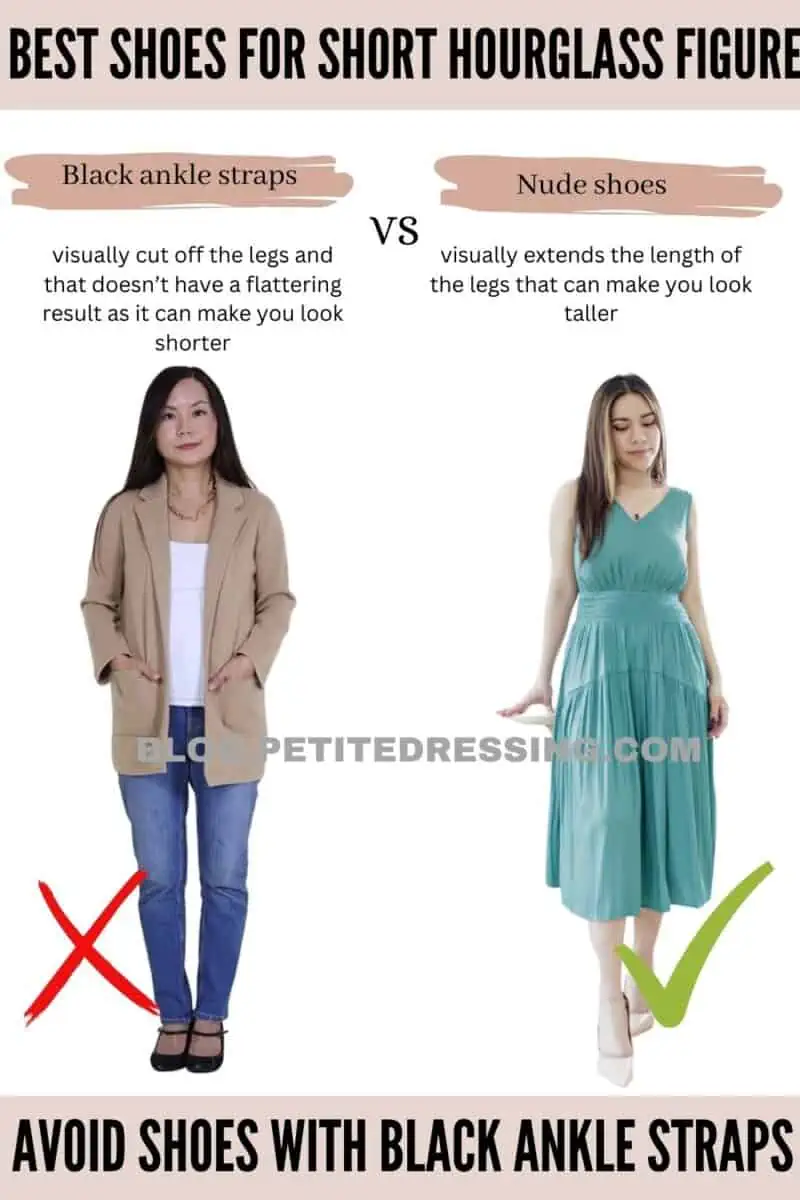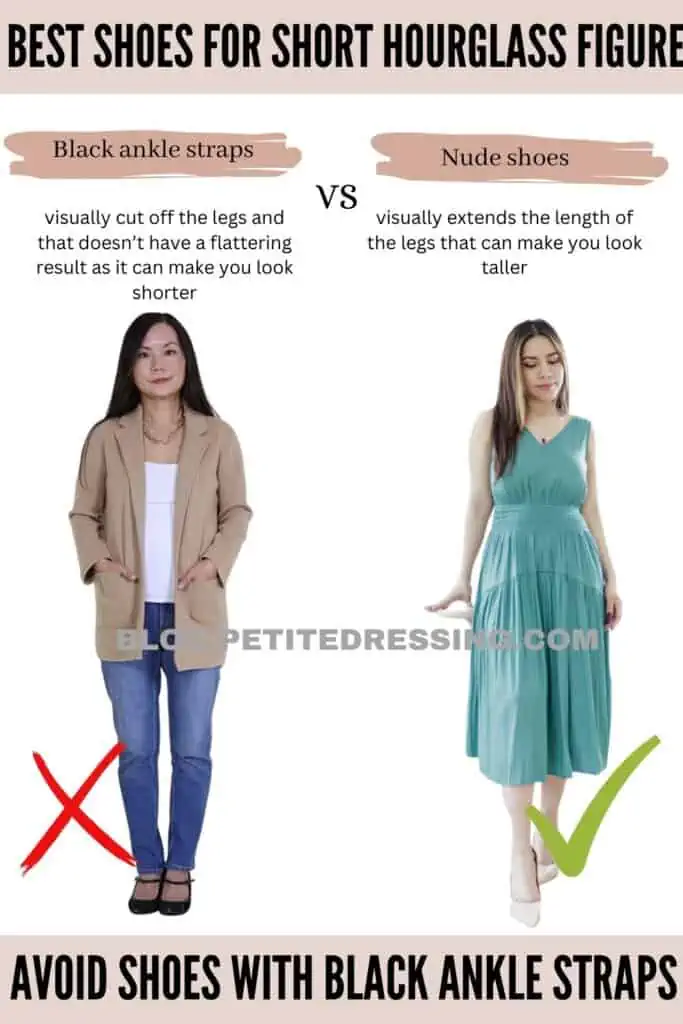 Black ankle straps visually cut off the legs and that doesn't have a flattering result on petite women with hourglass figures as it makes them look shorter. If you fall in this category, you should opt for shoes that elongate the legs rather than shorten them.
Since strap placement can be tricky, it's best to avoid them completely. The thickness of the ankle strap also matters. If you must wear strappy sandals, go for very thin ones as these are flattering. However, thick straps can be overwhelming on your body frame and serve as a distraction.
While strappy shoes with lower heels are more flattering than those with higher heels, there are too many factors to consider if you want to wear shoes with black ankle straps. Therefore, I think it's better to completely avoid them since they don't have a good effect on the feet of petite women.
Caution with thick wedges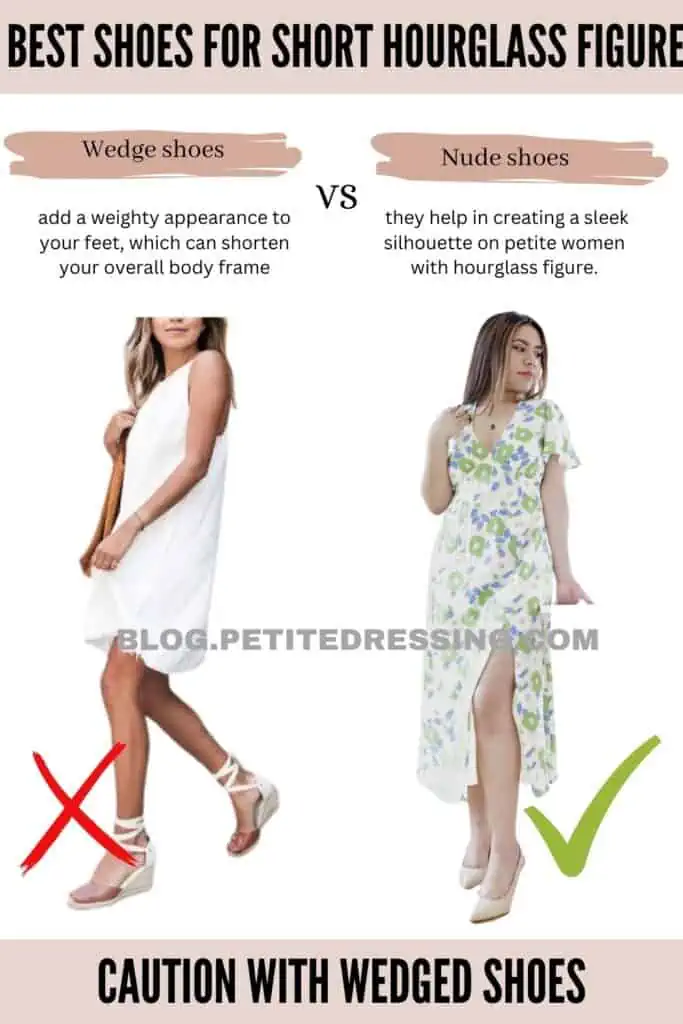 When choosing footwear, style matters a lot as it has a huge effect on how it makes a short woman appear. While some shoe styles make petite woman taller, others do the opposite. One of the worst shoe choices for petite women is wedged shoes.
Interestingly, many women love wedged shoes and it's not difficult to see why. They are a great alternative to stilettos because they offer a lot more stability when walking. However, petite women would be cautious with wedges, especially when they are too thick!
The thing is thick wedged shoes add a weighty appearance to your feet, which can shorten your overall body frame. Wedged shoes can be bulky and this is overwhelming on petite women.
Caution with stilettos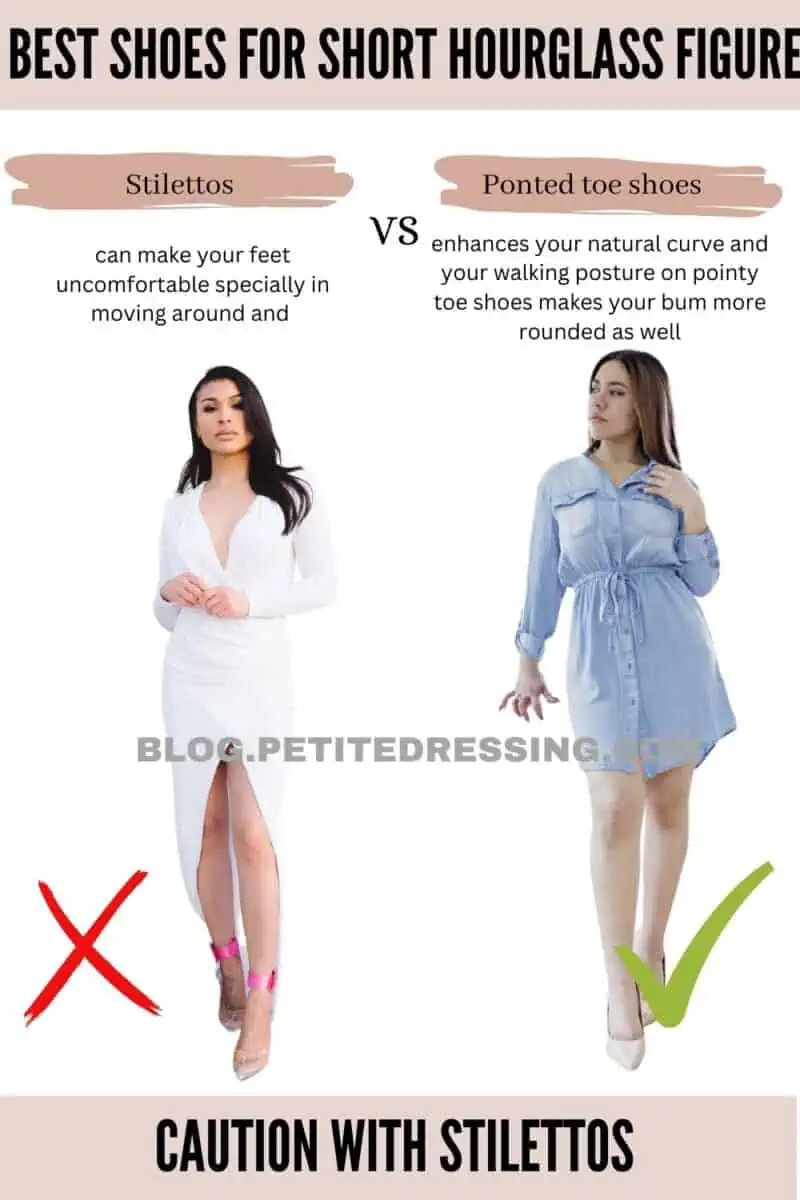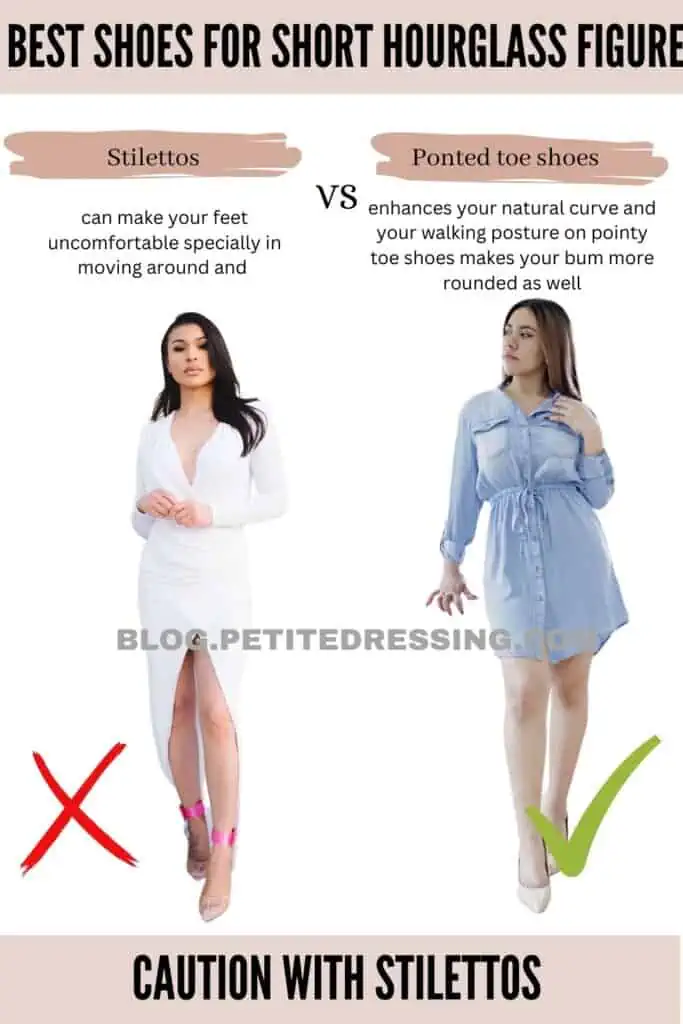 While stilettos can be elegant and stylish, petite women should exercise caution with them. It is easy to think that stilettos are great for short women because they help in increasing height with several inches.
However, this is a bit far from the truth. Most stilettos are too high and they make petite women look out of proportion. Apart from this, they make walking difficult and draw a lot of attention to your appearance in a way that's not flattering.
Therefore, I try to avoid stilettos as much as possible, especially as they make my ankle look thinner. If you must wear this style of shoe, it's best to keep the heel height at a maximum of three inches.
Shoe shopping can be fun if you know what to look out for. These shoes will beautify your feet and help you stay comfortable at every occasion.