If you have a big bum, this doesn't mean you can't wear casual dresses that will highlight your figure and make your big hips not so obvious. There are tons of casual dresses that can help you achieve it and this detailed guide will take you through the best.
WHAT TO LOOK FOR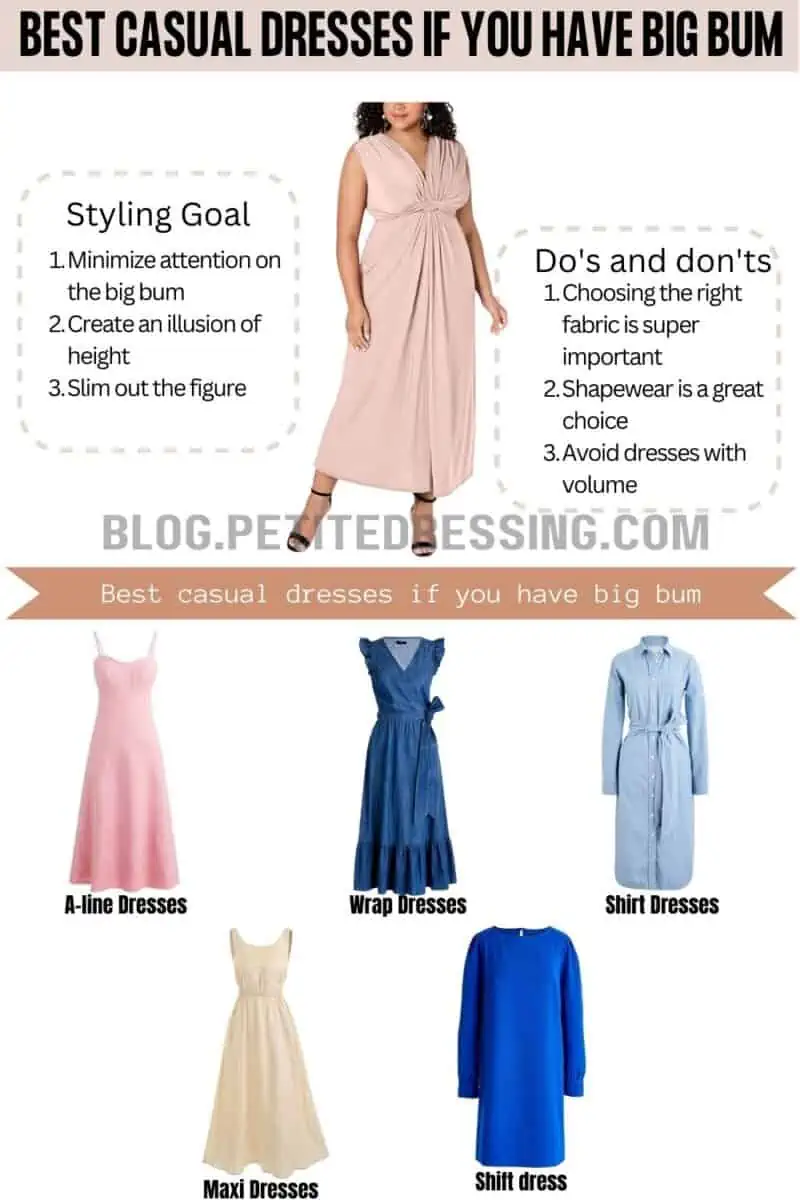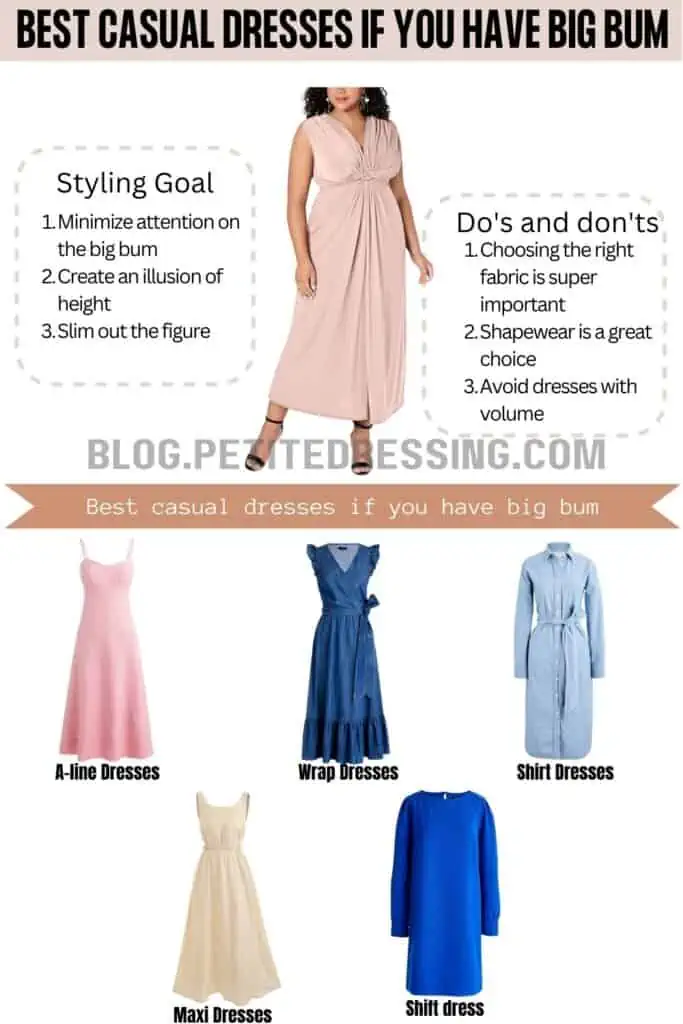 Choosing the right fabric is super important. Look out for fabrics that are more structured and thicker, as this will flow smoothly with the silhouette of your big hips and smoothen out any bumps. This includes ponte, cotton and denim. Structured fabrics help in giving you a more streamlined look.
When in doubt, look out for a fit and-flare silhouette dress that gives a more balanced outlook as it skims over your hips freely and flares to give you a better overall look.
The biggest fashion tip lies in the slimming power of darker colors. Dark colors like gray, navy and black are great options if you want to make your bum look smaller.
Close-fitting dresses are completely different from too-tight dresses. While close-fitting dresses highlight your curvy figure without making you uncomfortable, an overwhelmingly tight dress will only draw more attention to your big hips as it will make it look bigger.
Shapewear is a great choice for self-conscious women with a big bum. Wear this underneath your dress to add more to the overall smoothening effect. It's great for pulling off a streamlined silhouette.
A-line Dresses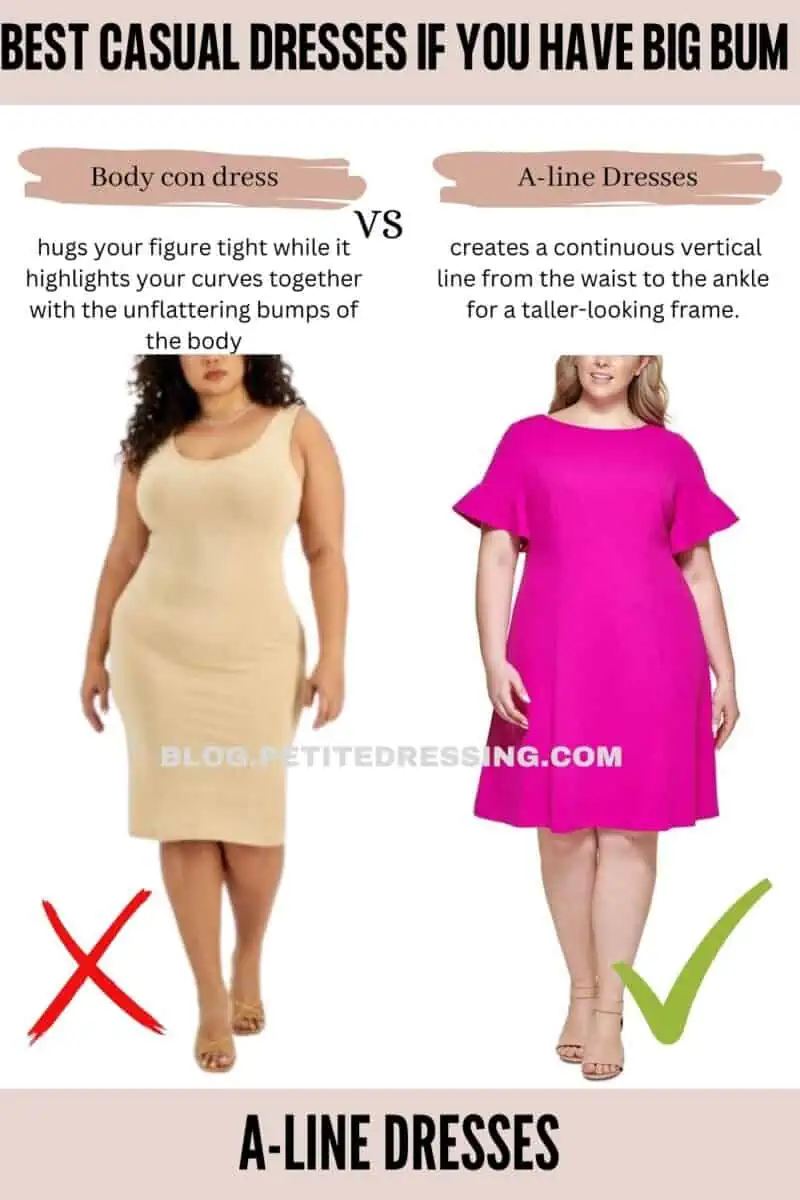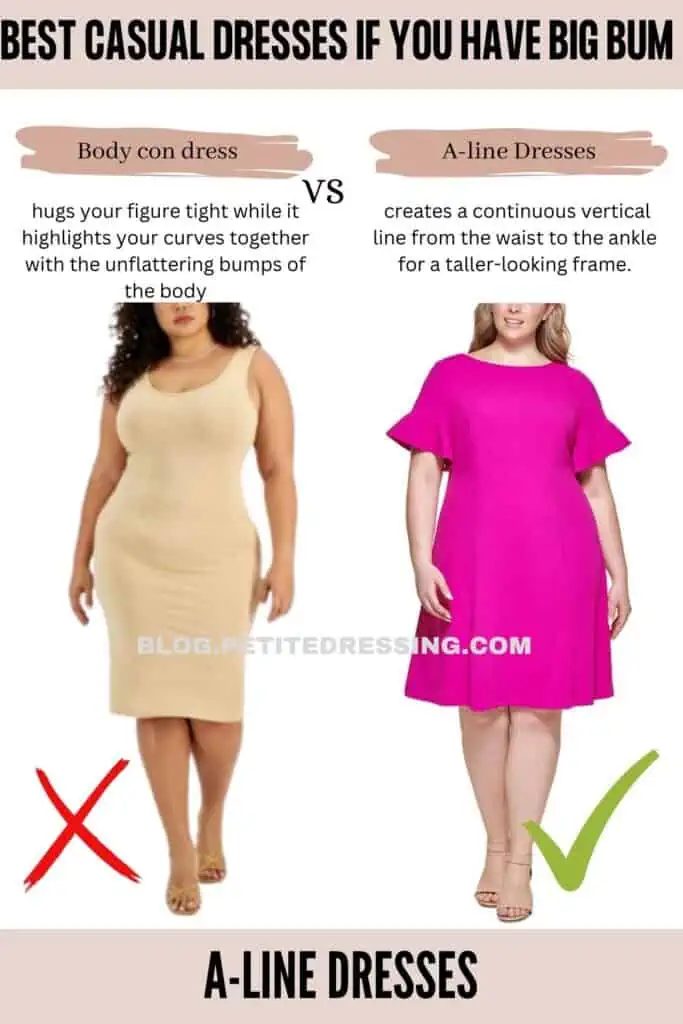 One of the best ways to create a defined waistline that will help to make your big bum not so obvious is to wear A-line dresses at casual events. This is perfect for balancing your body proportions as it also draws attention away from your big hips, just as you would prefer.
Overall, you can get a more flattering silhouette with A-line dresses fitted at the top before the gradual flare towards the bottom half. This helps create an hourglass silhouette that's great for women with big hips.
If you've been concerned about how you can make the size of your thighs and hips more proportional to that of the rest of your body without spending so much, here's your answer. The flared style of A-line dresses helps to achieve this.
It's also so much better that this is a practical and comfortable choice, as it's not too loose or too tight where it rides up uncomfortably. This versatile dress style can be worn to almost every occasion, especially for casual events. This is great for anyone that wants to achieve a flattering and balanced silhouette without sacrificing your sense of style or personal comfort.
Wrap Dresses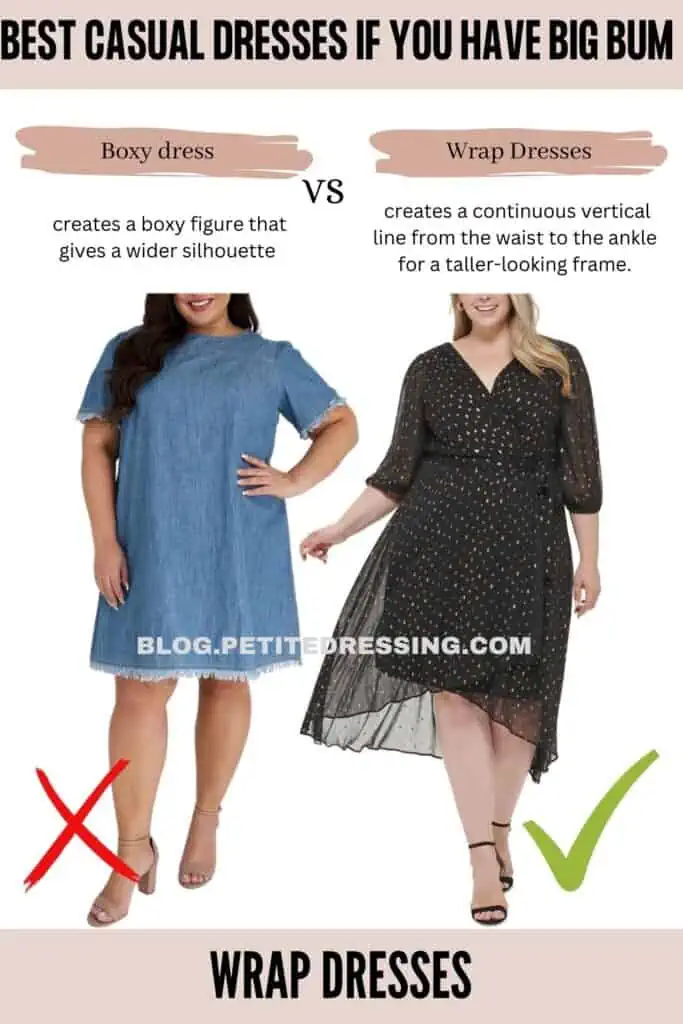 Here's another flattering dress style for women with a big bum. This is perfect for women looking to accentuate their curves and minimize the focus on specific parts of the body, especially your big hips.
Thanks to the waist-cinching style of wrap dresses, this helps create a flattering hourglass shape that's great for drawing more attention to the smaller parts of your body while drawing the focus away from your big bum.
For wrap dresses that come in a flattering v-neckline style, the benefits are even more. This v-neckline helps in drawing attention upwards and away from your big hips. There's so much to love about wrap dresses, including the fact that you can easily adjust them to fit your body just the way you want.
This way, it's completely up to you to get a comfortable fit that flatters your beautiful curves. Wrap dresses are extremely versatile, and that means you can wear them on different occasions without worrying about looking out of place. You will love absolutely banging at casual events too.
So, if you're looking to visually reduce attention on your big bum when rocking casual dresses, you should consider wrap dresses that are perfect for accentuating your curves and giving that extra boost of confidence you need.
Shirt Dresses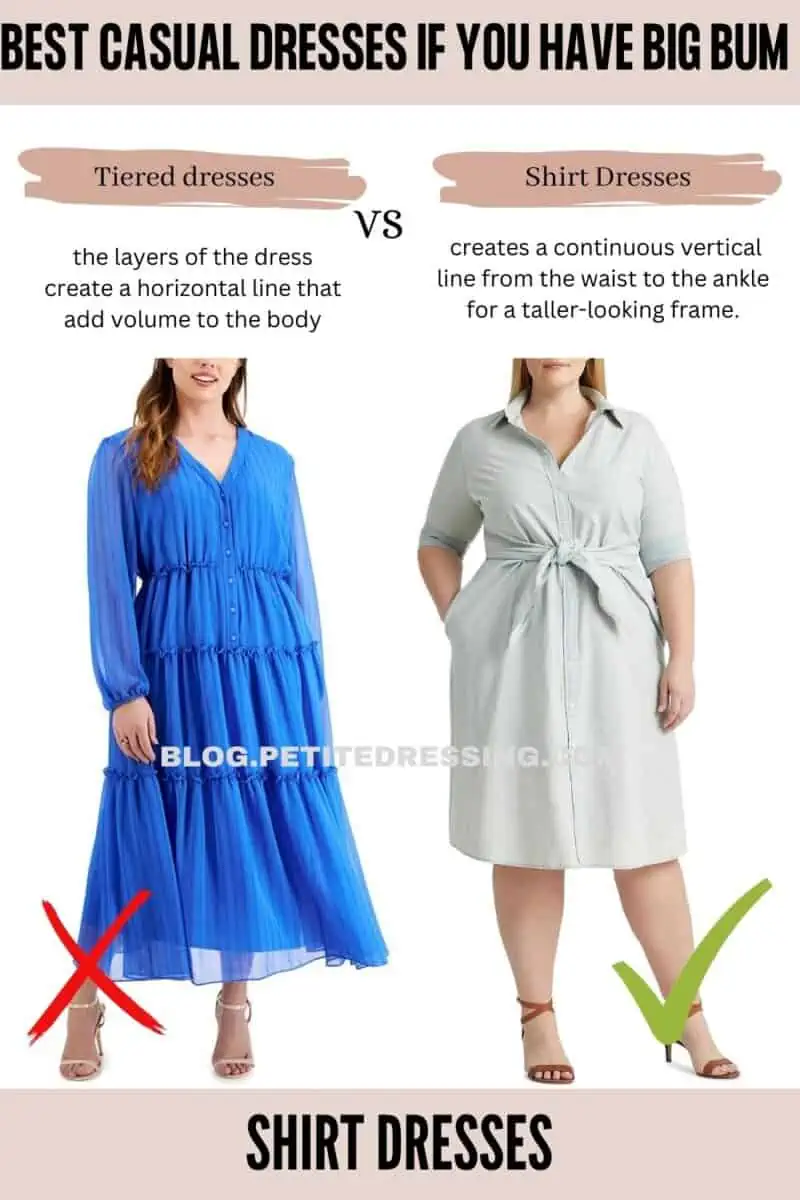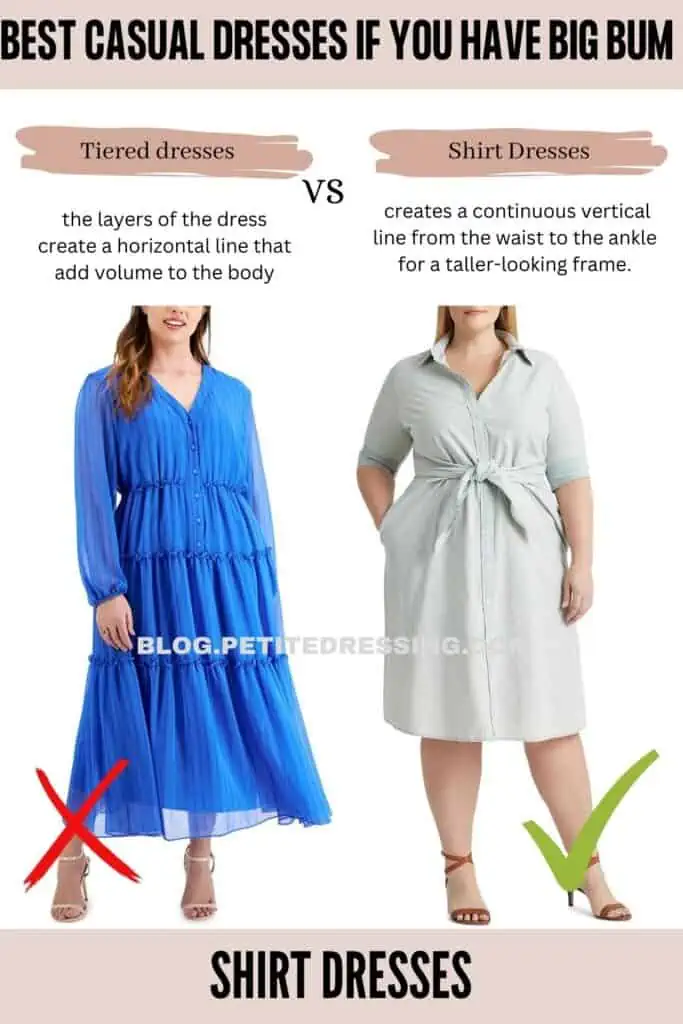 Shirt dresses are as simple as they sound but you can definitely glam things up with the right choice of accessories. If you want to achieve a polished and streamlined look where there is minimal attention on specific parts of your body, especially your bum, you should definitely look into buying some extra shirt dresses for your closet.
The first thing we have to talk about is how comfortable shirt dresses can be. The buttoned-up front works amazingly well with the overall style, which is perfect for creating a straight silhouette that reduces attention on your big hips. Most shirt dresses have a straight and relaxed fit with more attention on the center of your body.
It's not rare to find shirt dresses with a belted waist. This addition gives you the freedom to adjust the fit until you're comfortable with the final result. This also skims your figure to create a flattering hourglass shape without making your big bum so obvious.
Be sure to look out for shirt dresses in breathable fabrics like linen or cotton, so you can have this as a practical choice to wear for various occasions. Overall, shirt dresses will make you feel stylish and comfortable, especially if you're a woman with a big bum.
Shift Dresses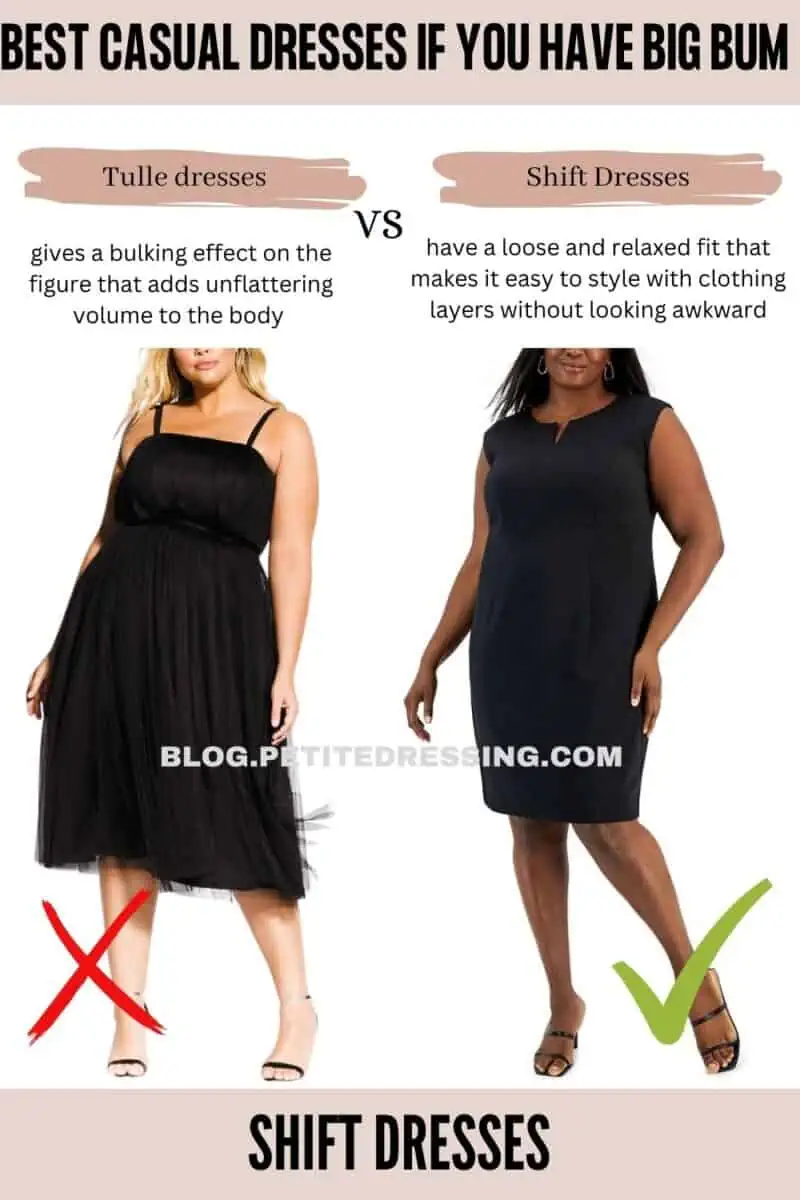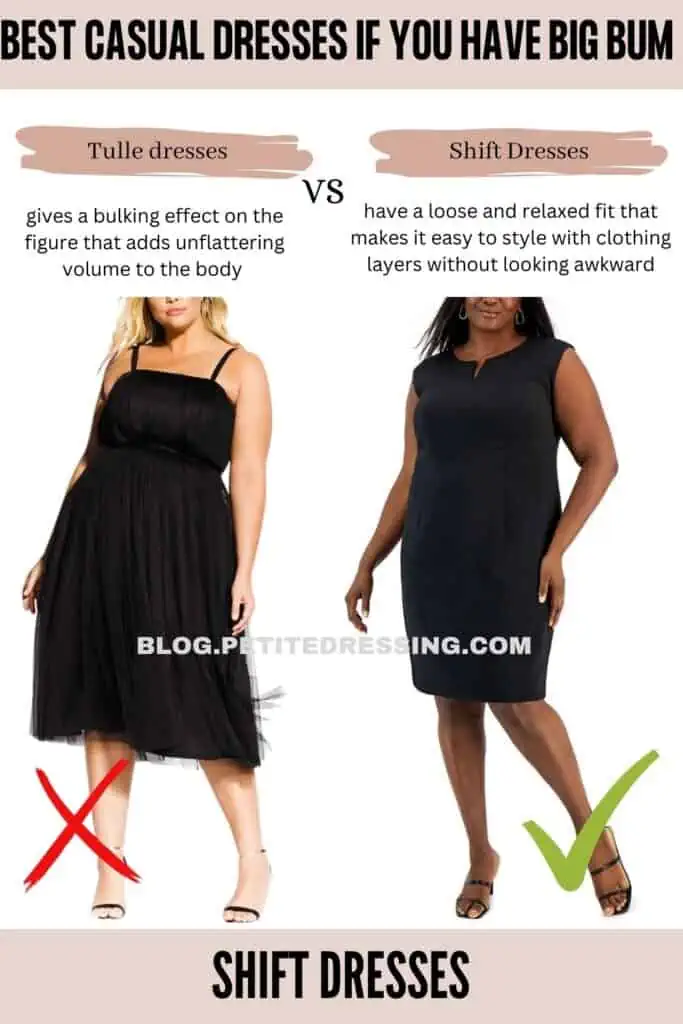 The loose and relaxed style of shift dresses that minimize attention on the lower part of your body makes this style of dress a good choice for women with a big bum. This is a good choice for several reasons, including the loose and boxy fit that creates a comfortable and relaxed silhouette.
Apart from this, shift dresses are incredibly versatile. All it takes are a few different styling choices and you've got a new look for every day of the week. Make them as dressy as you want for diverse occasions.
A feature that contributes to the effect shift dresses has on the silhouette of women with big hips is the straight cut. This cut style helps to create a streamlined silhouette that's effective in drawing attention away from your hips while also minimizing your curves to a size that's proportionate with your overall body frame.
Meanwhile, it's important to pay extra attention to the type of fabric used for the shift dresses. While they can be made in various fabric styles, it's best to opt for breathable options like linen and cotton. Shift dresses have a loose and relaxed fit that makes it easy to style with clothing layers without looking awkward. With this, you can achieve different looks.
Maxi Dresses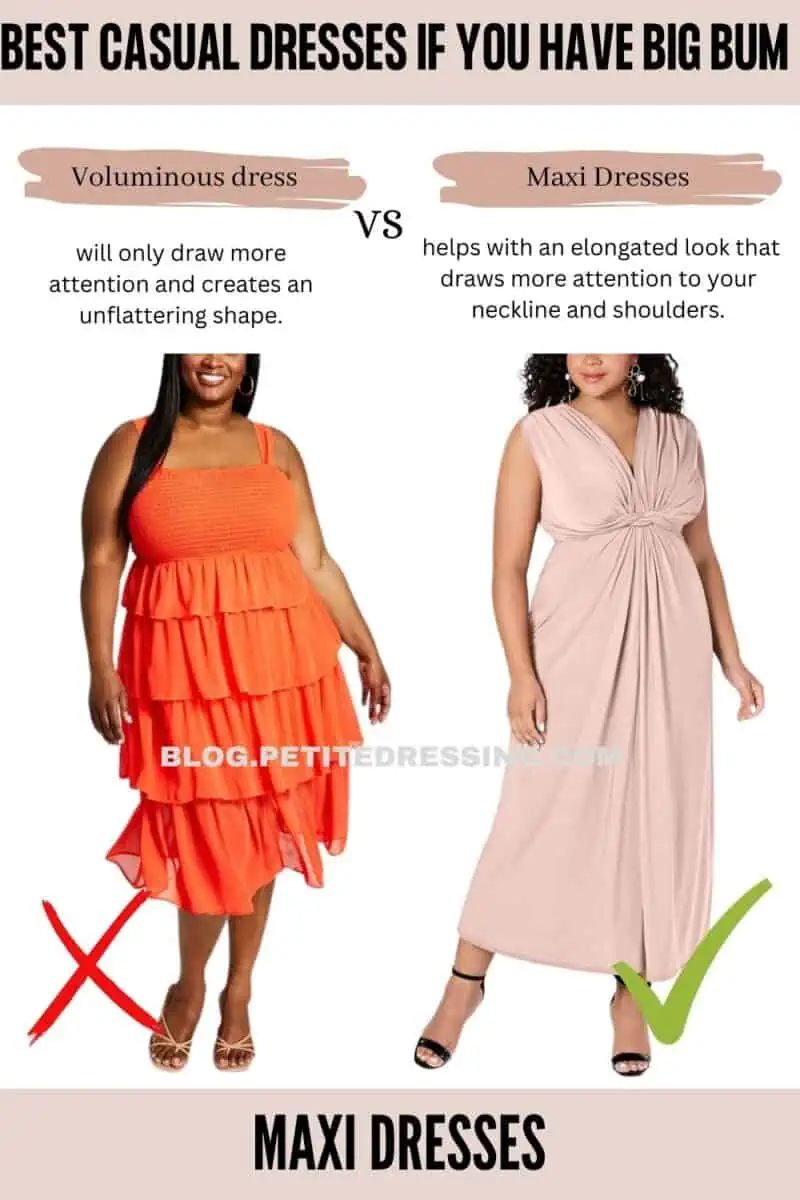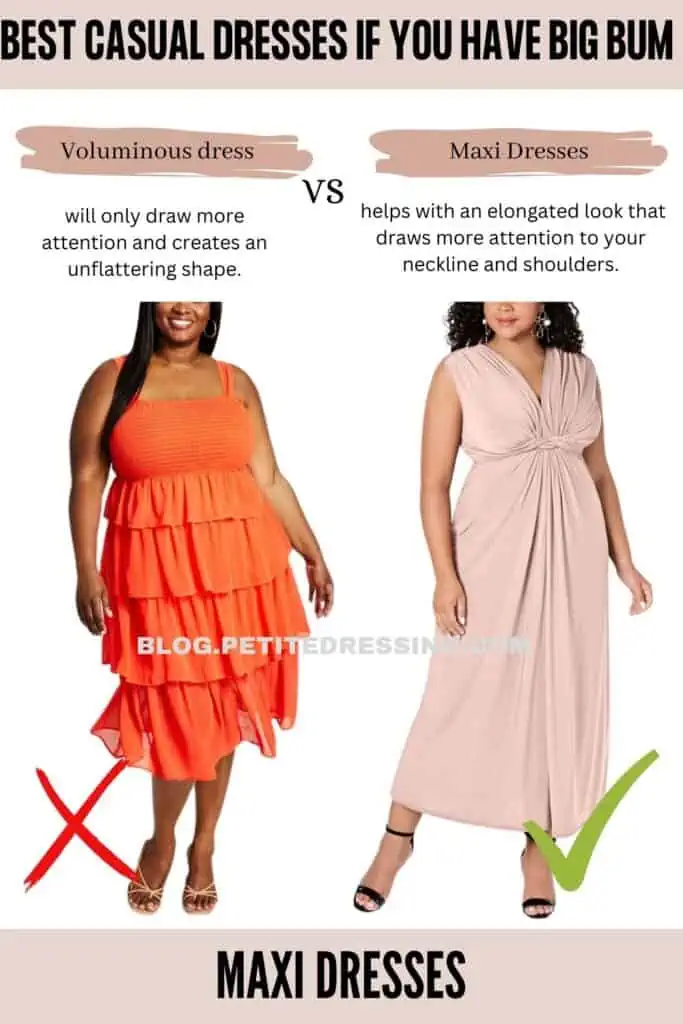 Maxi dresses with a slit hemline help in balancing out your body proportions, so your big hips aren't so conspicuous when you wear this dress style. This is a great choice if you're looking for a stylish and comfortable dress that absolutely flatters your unique curves. So, why's a maxi dress perfect for you if you have a big bum?
Let's start with the flattering silhouette that's possible thanks to the empire waist or A-line flowing style of this dress. This is also perfect for minimizing attention on your big hips. Most maxi dresses are long and flowing, and this helps with an elongated look that draws more attention to your neckline and shoulders.
Avoid dresses with volume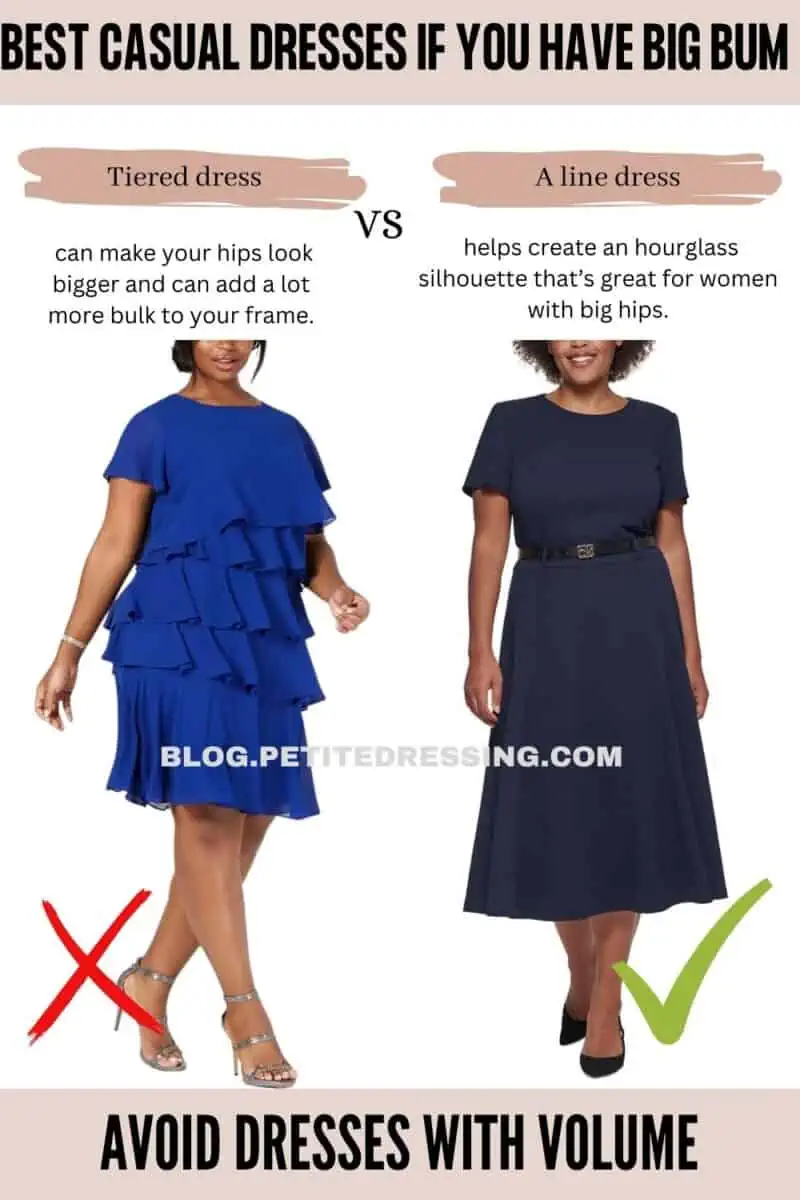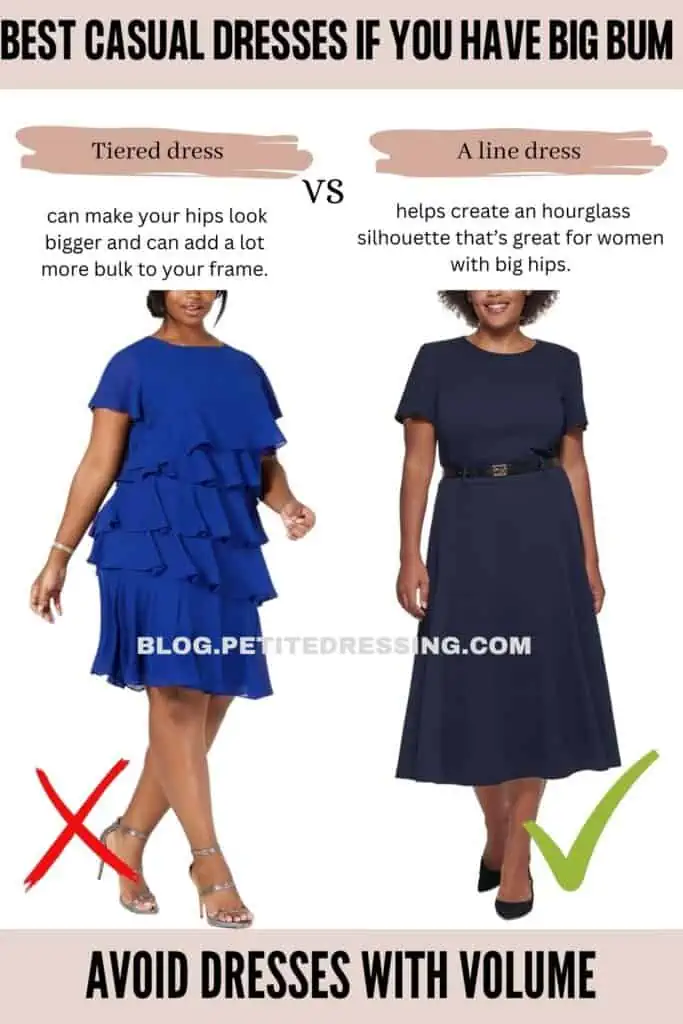 You should avoid dresses with volume if you have a big bum. This excessive volume, especially around the thighs and hips, will only draw more attention to this area of your body which creates an unflattering shape.
Dresses with excessive volume can make your hips look bigger. Apart from this, they are usually made from heavy fabrics, which add a lot more bulk to your frame. The goal is to wear dresses that you can style easily and wear for hours without getting uncomfortable.
To achieve this, you should avoid dresses with volume, which place a lot more emphasis on your big hips. This dress can also be a hassle to style to your satisfaction. Therefore, you can save yourself the trouble.
Time to start shopping!